At dawn of 31 March, I will embark on a 100-mile trek in order to raise funds for the Cameron Bespolka Trust. Below I will attempt to explain why I am doing this walk – an effort that I hope you will consider a valuable one, and in turn sponsor me.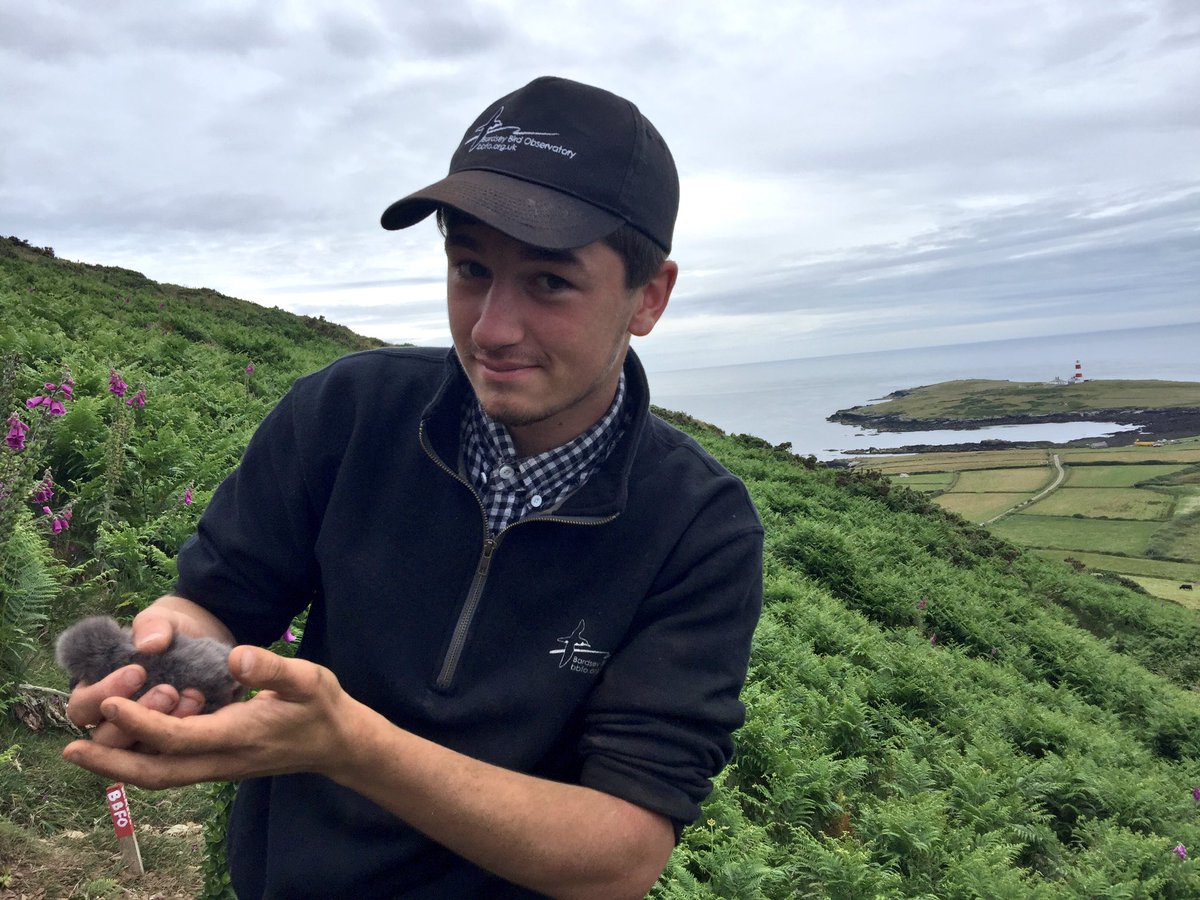 Elliot Monteith on Bardsey Island.
What is the Cameron Bespolka Trust?
Following the tragic passing of Cameron Bespolka in 2013 at just 16, his family set up the Cameron Bespolka Trust in his memory. Its direct focus goes towards inspiring today's youth to cherish and respect wildlife, but in particular our feathered friends, the birds, as Cameron Bespolka was a much loved and admired young ornithologist on the international stage.
What do they do?
The Trust organises and funds projects, both on its own and in collaboration with other parties, to create an educational and inspiring experience for young people. By doing this, it creates the foundations for new and improved programs and opportunities that enable young people to get actively involved in conservation. The knowledge young people gain from projects such as the BTO Bird Camp is priceless, and goes towards enriching the many events which the trust funds and organises for teenagers to attend.
By working closely with groups such as the British Trust for Ornithology (BTO), Royal Society for the Protection of Birds (RSPB) and the Wildlife Trusts, the Cameron Bespolka Trust is not only encouraging but also bringing young people together to appreciate nature – especially those who may not have the means to do so otherwise. It is becoming increasingly rare for young people to be exposed to the outdoors; the Cameron Bespolka Trust is trying to reverse that by adding this important dimension to their lives.
Over the years since Cameron's passing, the trust has been involved in supporting and organising a wide range of events. These events range from BTO Young Birders' Camps, The Hampshire Ornithological Society Young Birders Camp, offering a Scholarship for one UK Young Birder per a year to attend the Cornell Ornithology Young Birders Weekend in the USA, RSPB Phoenix Weekends and partnering up with the Homeless Children's Foundation, when they sponsored 11 homeless children in Florida to attend a Nature Camp. None of that would have been possible if it were not for the Cameron Bespolka Trust.
The following video was produced by young zoologist Amy Hall about the BTO's Bird Camp in 2017, a project supported by the Cameron Bespolka Trust, which I'm grateful to have been a part of ...
Why am I doing this?
I am undertaking this 100-mile trek because I believe in the work that the Cameron Bespolka Trust is doing. Having also gone through what they have, I utterly admire Cameron's family and friends for setting up the charity, with its direct and sole aim to actively engage with young people and encourage them to explore the wonders of the natural world. It is providing the next generation with the best opportunities available to support and develop their knowledge of the natural world, for both personal reasons and to turn their love for wildlife into their future professions.
Content continues after advertisements
Having been fortunate enough to attend multiple events supported by the trust, I can say from the heart that it makes a difference in more ways than even the trust itself originally had in mind. Not only do kids gain essential skills in conservation, scientific study and ornithology, but they also form great friendships. Having Asperger's syndrome, I grew up isolated and being obsessed by the wild didn't really make me an attractive person to prospective friends. However, by going to events such as BTO Bird Camp & RSPB Phoenix Weekends, myself and others were given the rare opportunity to socialise with similarly aged and like-minded folk.
Where will the walk be happening?
Starting from my home in Birkenhead on the Wirral peninsula, my trek will take me along the picturesque North Wales coast and end at the humble seaside town of Aberdaron on the Llŷn Peninsula. In total, I will be travelling 105 miles – it may be the longest of the three routes I could have logically chosen, but it will be by far the most beautiful.
If anyone wishes to join me for a section of the walk, I'd be hugely grateful for the company and support. Please feel free to get in touch and we can organise.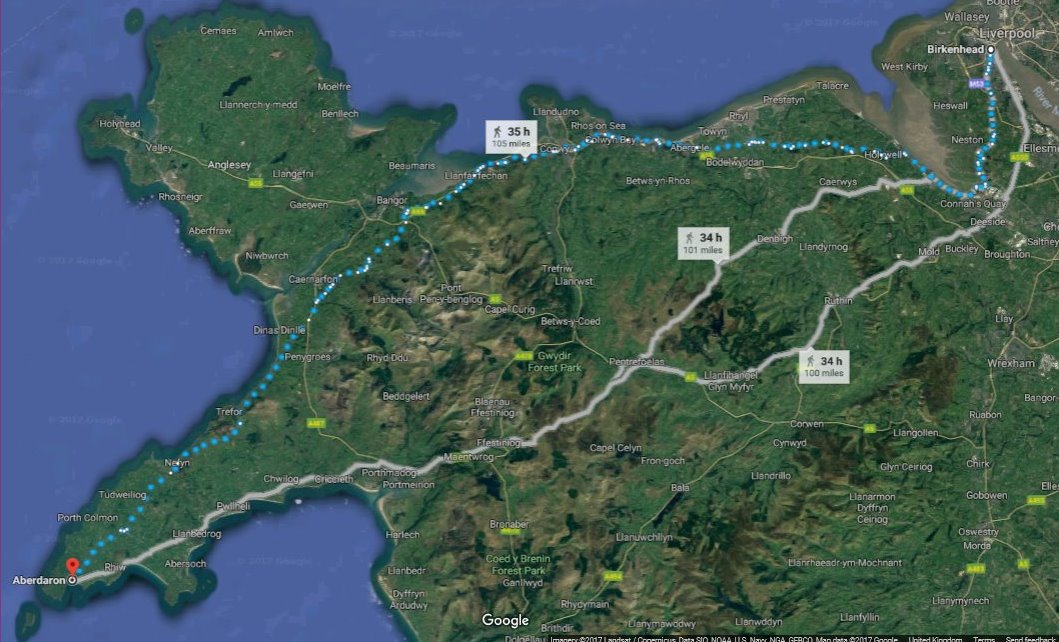 Elliot's planned route.
When will it be happening?
The walk will commence at 7 am on 31 March 2018, with my arrival on the beach at Aberdaron aimed to be at midday on 7 April.
I hope that this short article has given you an insight into why I'm doing this walk and that you might consider giving a donation to help the Trust's fantastic work continue. If you want to know more about the Trust, please visit www.cameronbespolka.com.
If you'd like to make a donation, please head to my JustGiving page and pledge what you can.