In this era of cheap air travel, short breaks are all the rage – particularly as an escape from Britain's wintry murk. Many birders spend a week on Tenerife and love it. But what if we don't have the luxury of time? What if we have just a weekend to see Tenerife's 21 most special taxa? Is it possible to fly out from Britain on Saturday morning, 'clean up' and return on Sunday evening? I decided to find out ...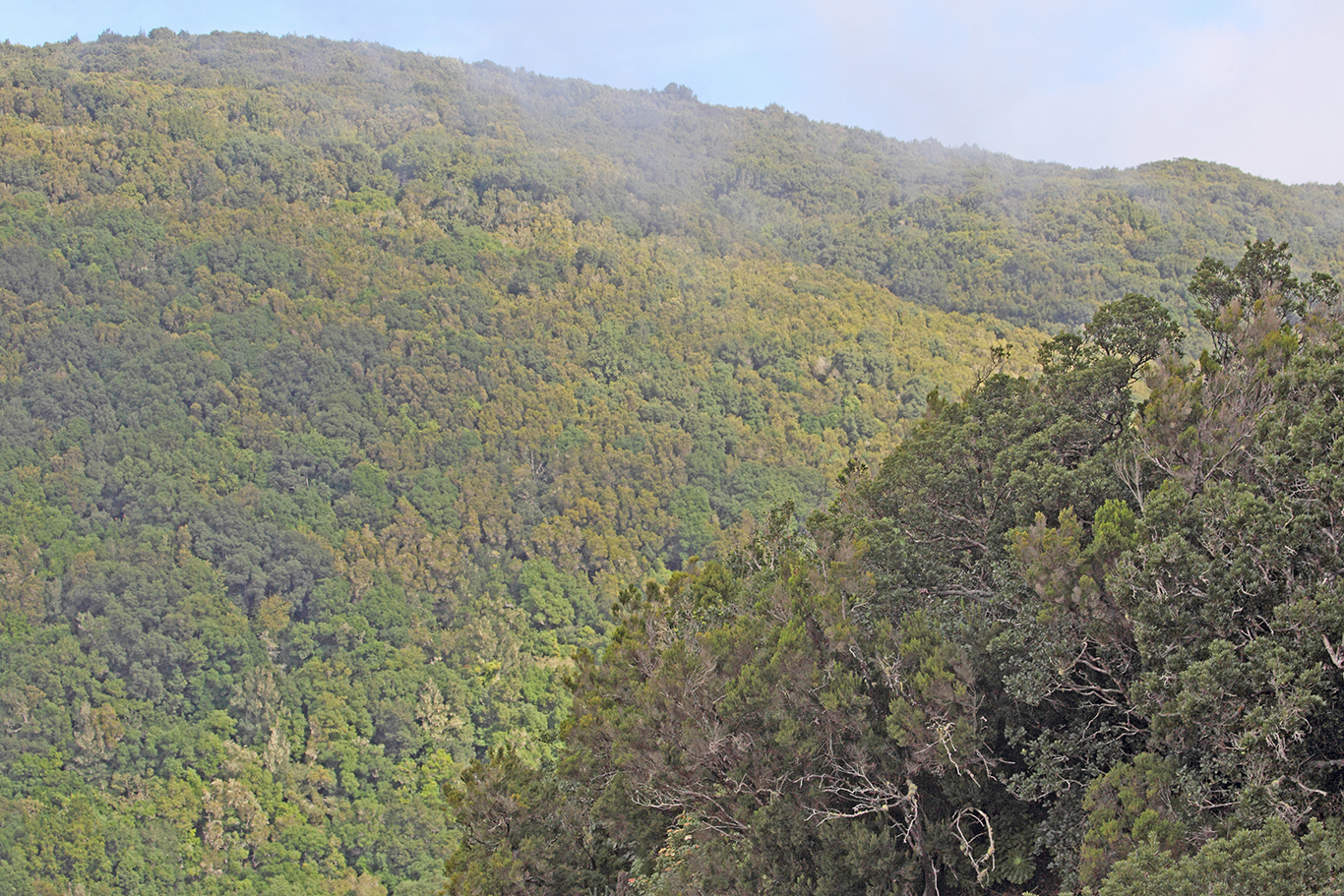 Little of the native laurel forest typical of the Canary Islands remains on Tenerife. However, a significant relict patch can still be found in the Anaga mountains (James Lowen).
I was 'pishing' for all I was worth, wearing out my lips by incessantly smacking them together. I was panting with the exertion imposed by the altitude here on Mount Teide, which at more than 3,700 m is the tallest mountain in Spain. Daylight was fading as rapidly as the air was cooling, and Tricia – my companion for the afternoon – had yet to see Tenerife's most famous bird species, Blue Chaffinch.
Then a shadow darkened the spartan understorey flanking El Portillo's puddle of a pond. A flicker of life tantalised us amid the olive-green leaves, and a vague shape materialised into a warbler. Canary Islands Chiffchaff, like Blue Chaffinch, occurs solely on the Spanish archipelago that gives it its name, a splattering of Europe 60-odd miles off the African coastline. A second chiffchaff appeared and another called. Soon we were surrounded by a score of flitting, flirting passerines.
The warblers' attentiveness then coaxed a gang of African Blue Tits from the foliage. Where on earth had they been hiding? These are blue tits, but not as you know them. The birds' plumage is so richly toned that they appear clumsily Photoshopped. The subspecies here is teneriffae, an endemic taxon to which some taxonomists grant full-species status. Tits and chiffchaffs began calling, drinking, bathing and cavorting in front of us, all within a few metres' range.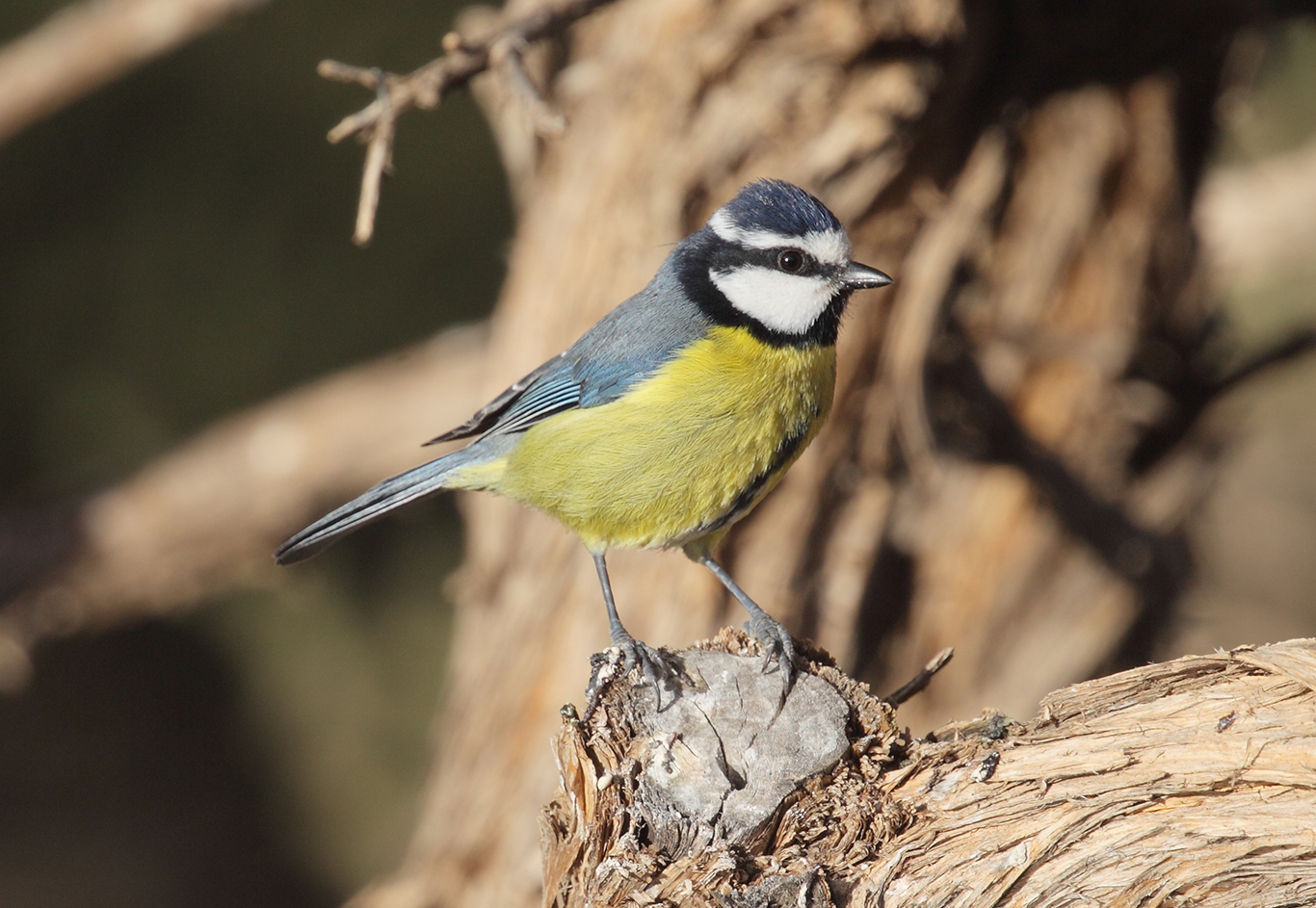 A parid from a parallel universe, the form of African Blue Tit found on Tenerife has distinctively contrasting plumage, making it a bolder-looking proposition than its British congener (James Lowen).
Their garrulous exuberance persuaded our target bird that we posed no threat. Out slunk a glorious male Blue Chaffinch, as ultramarine as the winter sky into which the nearby peak of El Teide thrust. Tricia was enchanted; she called me the 'bird whisperer'.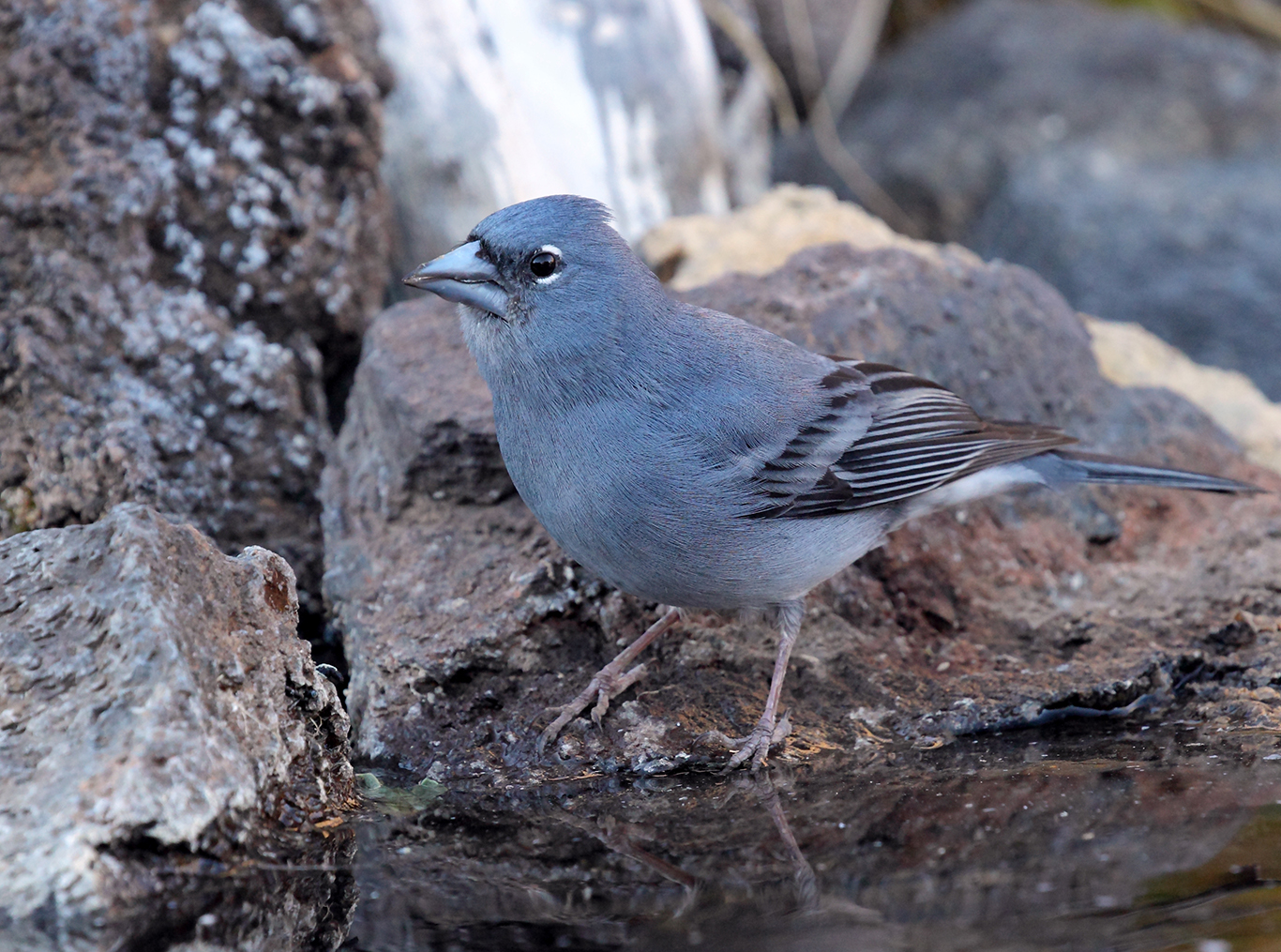 Tenerife Blue Chaffinch is probably the most famous of the island's unique avian species, and has recently been split by the IOC as a full species, from its close relative in Gran Canaria (James Lowen).
Content continues after advertisements
Europe's Galápagos
Tenerife, the largest of the Canary Islands, is a double-faceted location. To most visitors, it is a package tourist destination. For birders and wildlife-watchers, however, it is Europe's answer to the Galápagos. A score of landbirds – eight regionally endemic species, complemented by 14 subspecies – occur nowhere else in the world. Tenerife Blue Chaffinch, Bolle's Pigeon, Atlantic Canary and their ilk are ensconced in a series of spectacular landscapes, from evergreen laurel cloudforests to desiccated pine woodland, from searing ravines to a volcanic caldera, in a land of almost perpetual sun.
Given that I was actually in Tenerife for four January days, I needed to simulate the weekend timescale. As luck would have it, my free time – mid-afternoon onwards one day plus a full day before the flight home – matched perfectly a single-weekend itinerary. Travel editor Tricia Haynes accompanied me for the afternoon jaunt, and groundbreaking travel publisher Hilary Bradt joined the longer stint. Neither are ardent birders, but both craved an injection of Tenerife's natural riches as an antidote to the sterility of its tourist resorts.
Fortified by a copious lunch, Tricia and I drove northwards into the pine-draped foothills of central Tenerife. We stopped first at Las Lajas picnic site, a famed location for Tenerife Blue Chaffinch. The caramel-coloured ground was parched and rocky. A handful of families were finishing their sandwiches or clearing ashes from open-air barbecues.
I quickly spotted a few blue chaffinches hopping around under picnic tables, but they had flown by the time Tricia emerged from the toilet block. She was despondent: these seedeaters occur only on Tenerife and Gran Canaria, and each island is now known to host its own distinct species. Her mood was immediately brightened by two Great Spotted Woodpeckers of the subspecies canariensis probing pine cones.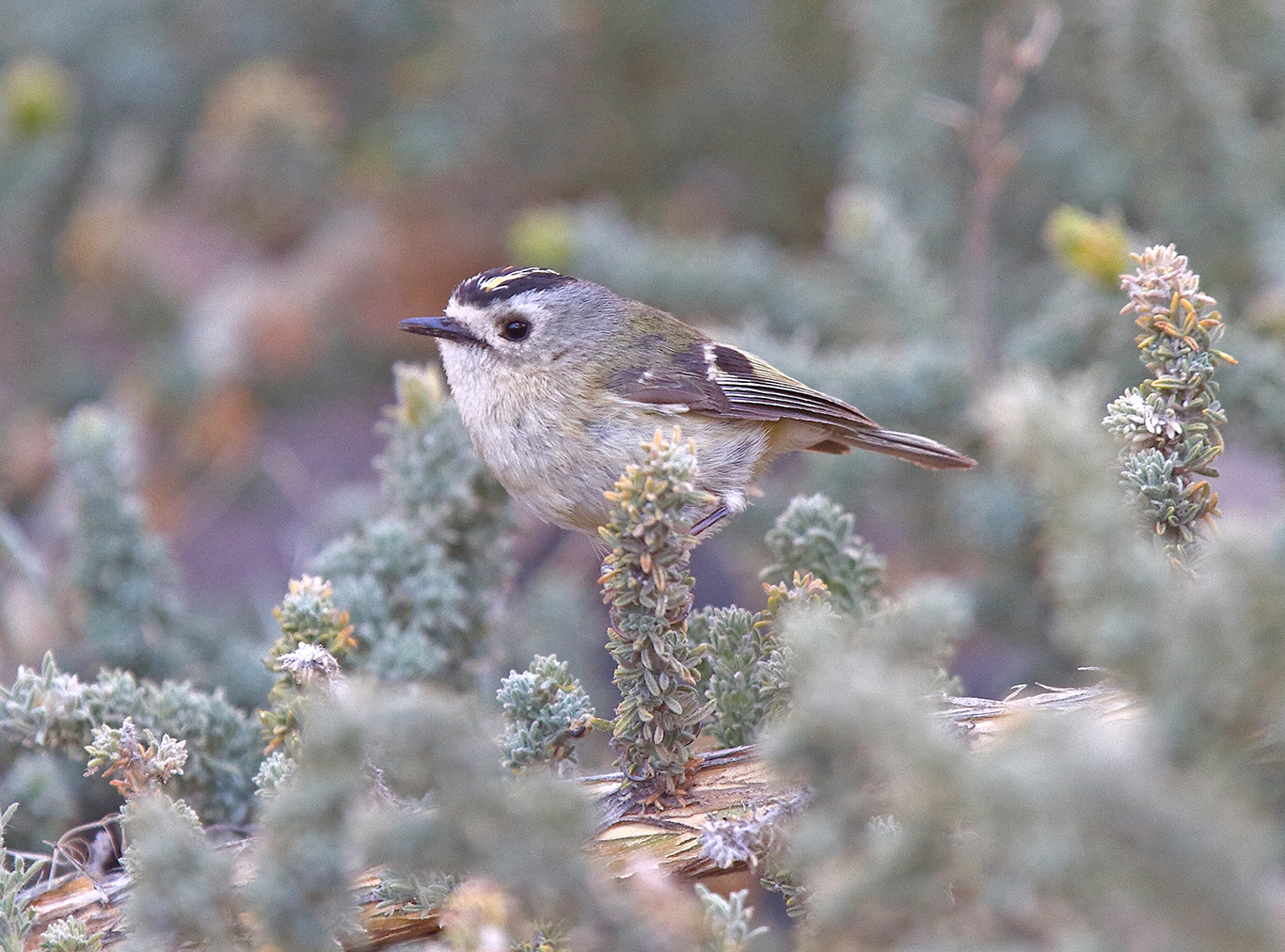 Tenerife Goldcrest (or Kinglet) is potentially a candidate for splitting, being significantly larger than the more familiar European version (Alick Simmons).
A high-pitched call alerted us to a Goldcrest of the subspecies teneriffae. Tenerife Goldcrest is a larger, smarter bird than that familiar to British birders, with broad black stripes meeting on the forecrown and contrasting with a markedly white face. Unsurprisingly, some authorities fancy it as a full species. The crests moved steadily through foliage, rarely revealing themselves for more than a few seconds.
Best of all was a flock of Atlantic Canaries. The yellow-and-green finches remained in the shelter of bushy trees, occasionally dropping to the ground. Living in Norwich, my local football club is nicknamed the Canaries, so seeing these glorious birds perhaps brought a touch of East Anglia to the African archipelago.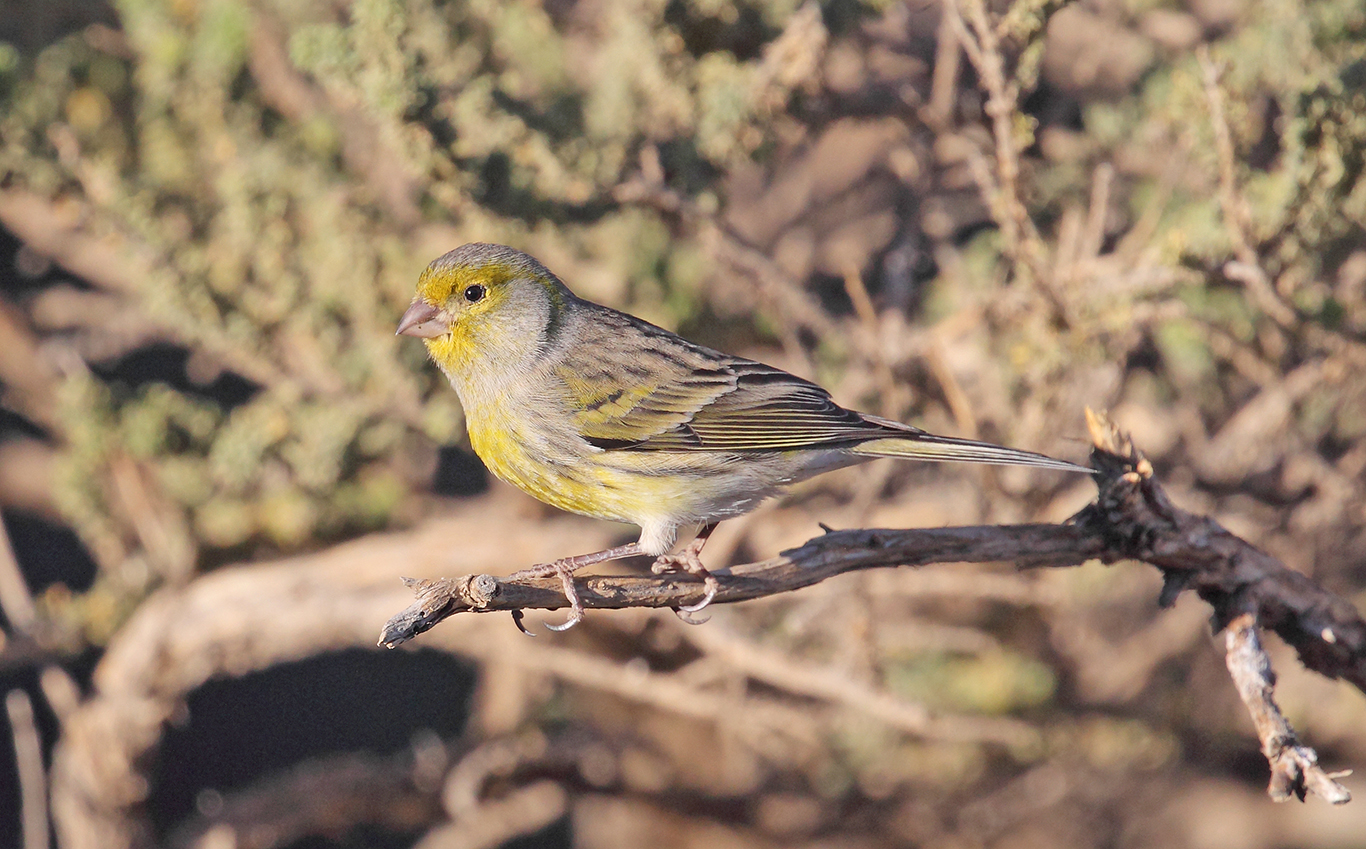 Atlantic Canary is widespread over all the Macaronesian islands, and is like a European Serin on steroids (James Lowen).
The bare terrain was also favoured by two common birds of contrasting size. Endemic to parts of Macaronesia (the Canaries, Azores, Madeira and Cape Verde Islands), Berthelot's Pipit strides fearlessly around any open habitats. Ravens of the North African race tingitanus were similarly bold, but markedly smaller than British birds.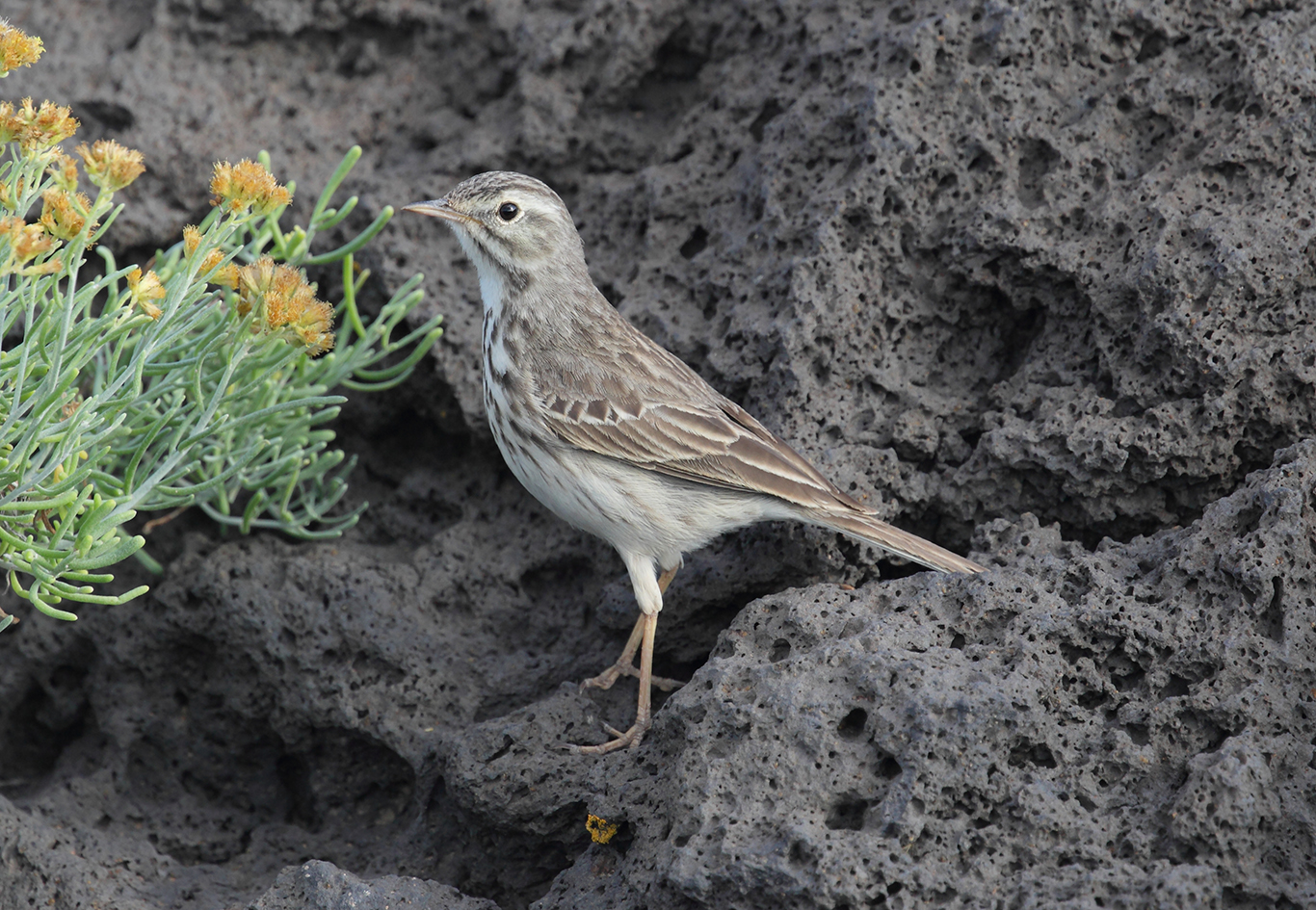 Berthelot's Pipit is another endemic found throughout the Canary Islands, and can often be tracked down at picnic areas and camp sites (James Lowen).
With afternoon waning in inverse correlation to Tricia's desire to see Tenerife Blue Chaffinch, we headed to El Portillo visitor centre in the volcanic crater below Mt Teide. Following a tip-off in the recent Crossbill Guide (Canary Islands II: Tenerife and La Gomera), we hurried towards a secluded pool behind the rock garden. Which is where, after 15 bird-free minutes, I started pishing ...
Subtly different raptors
Mission successful, we left Teide southwards for the coast. En route, several Kestrels of the West Canarian subspecies insularum hovered overhead. More surprising was a male Eurasian Sparrowhawk (of the Macaronesian subspecies granti) zipping along the skyline as we reached the town of Los Cristianos. As we entered the hotel grounds, a Blackcap (of the West Canary subspecies heineken) burst into song – perhaps refreshing the parts that other Sylvias can't reach? As dusk settled, Yellow-legged Gulls (regarded by some here as the subspecies atlantis) ceased wheeling over the rocks to settle on the sea.
It might have been time for the gulls to sleep, but I still had 'work' to do. Calories replenished, I returned to the field, driving terraced cultivations in the dark until I chanced upon my quarry, a Long-eared Owl (of the West Canary subspecies canariensis). Then it was back to the hotel to recharge ahead of a busy following day.
Heading south
One advantage of lodging in Tenerife's southern resorts was the area's succulent scrub. This offered the greatest chance of Southern Grey Shrike (Canary subspecies koenigi); a brief roadside stop proved successful. Heading north-east towards mist-shrouded laurel forests on the Anaga Peninsula, a fortuitous wrong-turn produced a Barbary Partridge wandering across a central reservation. While not endemic to the islands, there are few better places to see this gamebird than the Canaries.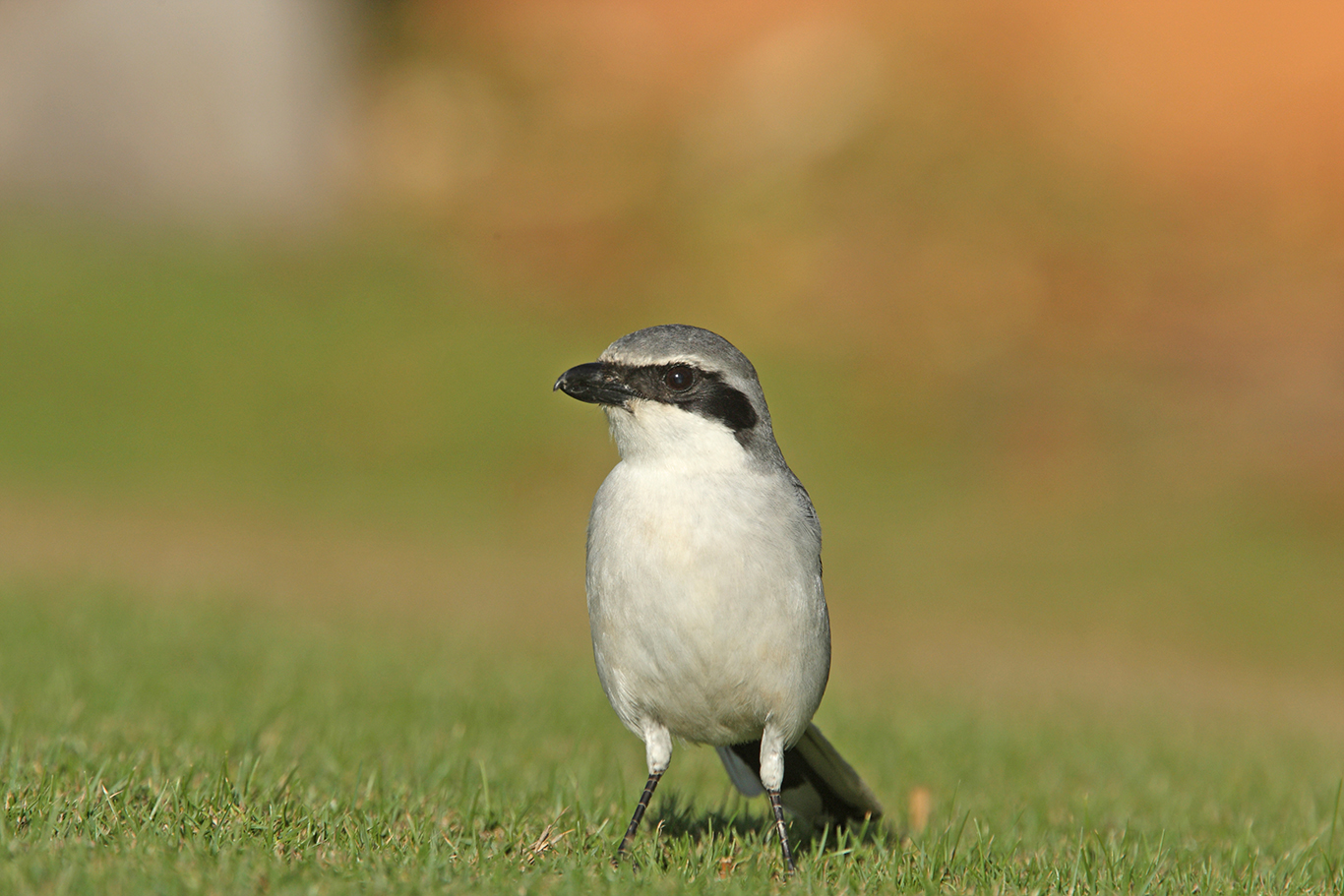 The form of Southern Grey Shrike found on the Canary Islands has also recently been mooted as part of a separate species, Desert Grey Shrike. It is found in the arid southern lowland areas of Tenerife (James Lowen).
Our primary target in Anaga's humid montane forests was Bolle's Pigeon. We arrived at Llano los Viejos too late to see this scarce columbid feeding on the ground, but located three shy birds, perched motionless in trees upslope. The luxuriant vegetation also sheltered ample Tenerife Goldcrests, Canary Islands Chiffchaffs and African Blue Tits, plus three more subspecies for our list of target taxa.

The other columbid unique to the Canary Islands' laurel forests is Bolle's Pigeon. Both may be seen with luck from watchpoints near the main roads (Alick Simmons).
Blackbirds (Macaronesian subspecies cabrerae) appeared smaller and sootier than nominate European birds. European Robins (West Canary subspecies superbus – also a mooted split) were larger than British individuals, with a deeper contrast between red breast and white belly, and more grey surrounding the red bib. The most marked differences – deep blue mantle, bright green rump – were exhibited by the sumptuous Central Canary subspecies canariensis of Chaffinch.
It was tiresome to tear ourselves away from such splendid habitat, which oozed butterflies, lizards and attractive plants alongside birds, but we did. Heading along Tenerife's north coast, we arrived at Mirador las Grimonas, a viewpoint adjoining the busy main road. To the north, land slipped away sharply towards the sea. We faced southwards and scanned upwards. An even steeper slope, intermittently flecked with laurel forest, rose to sheer cliffs. Here, we were told, no birder had ever failed to see the sought-after Laurel Pigeon.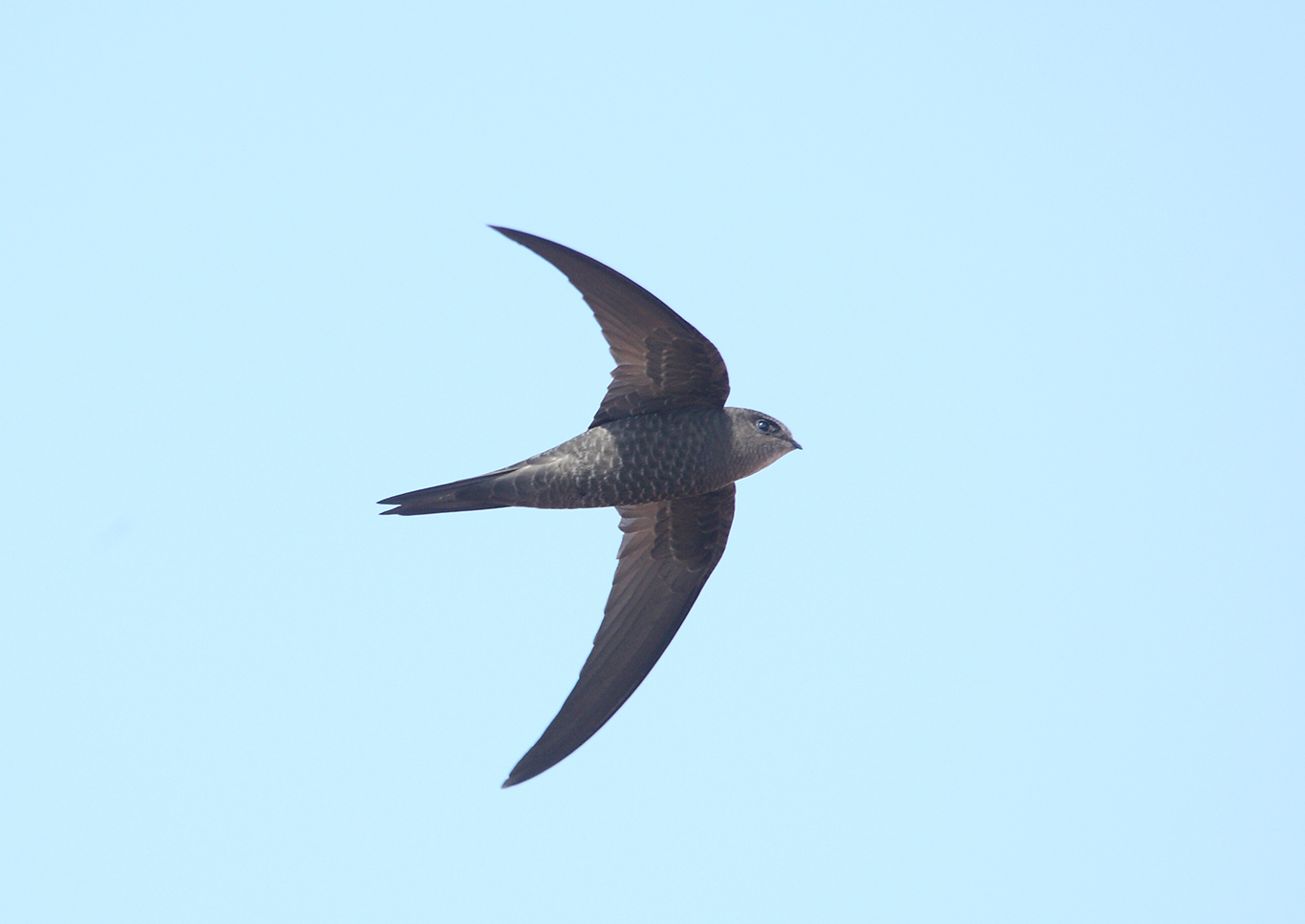 Plain Swift is a breeding endemic on the Canaries and Madeira, wintering in adjacent areas of continental Africa – though some birds remain year round (James Lowen).
Fifteen minutes in, we began to think we were in the wrong place. We were seeing no birds at all, let alone pigeons. Then everything came together: four Common Buzzards (of the Canarian subspecies insularum) circled, mobbed by a Barbary Falcon, while a couple of Plain Swifts (a Macaronesian endemic) raised eyebrows as they are reportedly rare on Tenerife in winter. Then the Laurel Pigeons – plump, dark and white tailed – started winging around. A dozen birds included five poised together in the canopy of a distant tree. Magnifico!

Laurel Pigeon is one of two endemic laurel forest specialist pigeons, distinguished by its pale tail-tip (Fran Trabalon).
With our evening flight home calling our number, we decided to finish on this high. Knowing that Eurasian Stone Curlew of the West Canary subspecies distinctus (also viewed as a potential split in some quarters) were nigh-on impossible to see on Tenerife, we paid only a cursory visit to El Medano desert, which neighbours the airport. This was our only failure in one-and-a-half days of not particularly rushed birding in which we saw all the other landbird forms for which Tenerife is famed, whether full species or regionally endemic subspecies.
Granted, it would be a shame to fly to Tenerife for a single night. Away from the tourist stretch, this marvellous island offers such varied landscapes and diverse wildlife that a month-long stay would not be excessive. But for birders on a tight timescale or budget, or anyone craving an escape from British gloom, a top-drawer birding weekend on Tenerife is eminently feasible. Tempted?
Acknowledgements
James Lowen travelled as a guest of Hume Whitehead and Tenerife Tourism Corporation.
First published in Birdwatch 297: 45-48 (March 2017).
TENERIFE
VISITING
• There are daily flights from most international airports across Britain and Ireland.
• Tourist infrastructure is of the very highest standard and there are bargains to be had for flights, hotels and car hire year-round – check online.
FURTHER READING
• Birds of the Atlantic Islands by Tony Clarke (Christopher Helm, £25.99 – bit.ly/bw297northatlantic or order on page 57).
• Natural History of Tenerife by Philip and Myrtle Ashmole (Whittles Publishing, £26.99 – bit.ly/bw297tenerife or order on page 57).
• Finding Birds in the Canaries by Dave Gosney (Easybirder, £7.50 – bit.ly/bw297canaries or order on page 57).
ONLINE RESOURCES
• Search for 'Tenerife birding' on www.google.com to read numerous trip reports.