I first visited the Cairngorms in 1987 in the company of three other birders when we stopped off for a day's visit on the way to Shetland. It was early June and in those days you could take the ski-chairs to the top and then wander around without restriction; we did this and saw very little. My lasting memory is of walking across the top and getting totally disorientated as a blizzard arrived from nowhere and I couldn't see further than a few yards in front of me.
Over the years I've been back a few times, the most recent on a late spring visit and again wandered around for almost two days with one Snow Bunting and two Ptarmigan seen reasonably well. But I wanted better than that, and so I promised myself that next time I would have a guide to show me the best areas. I got in touch with Marcus Conway, a name that will surely be familiar to many readers as a contributor to the magazine and for posting stunning Ptarmigan images on BirdGuides.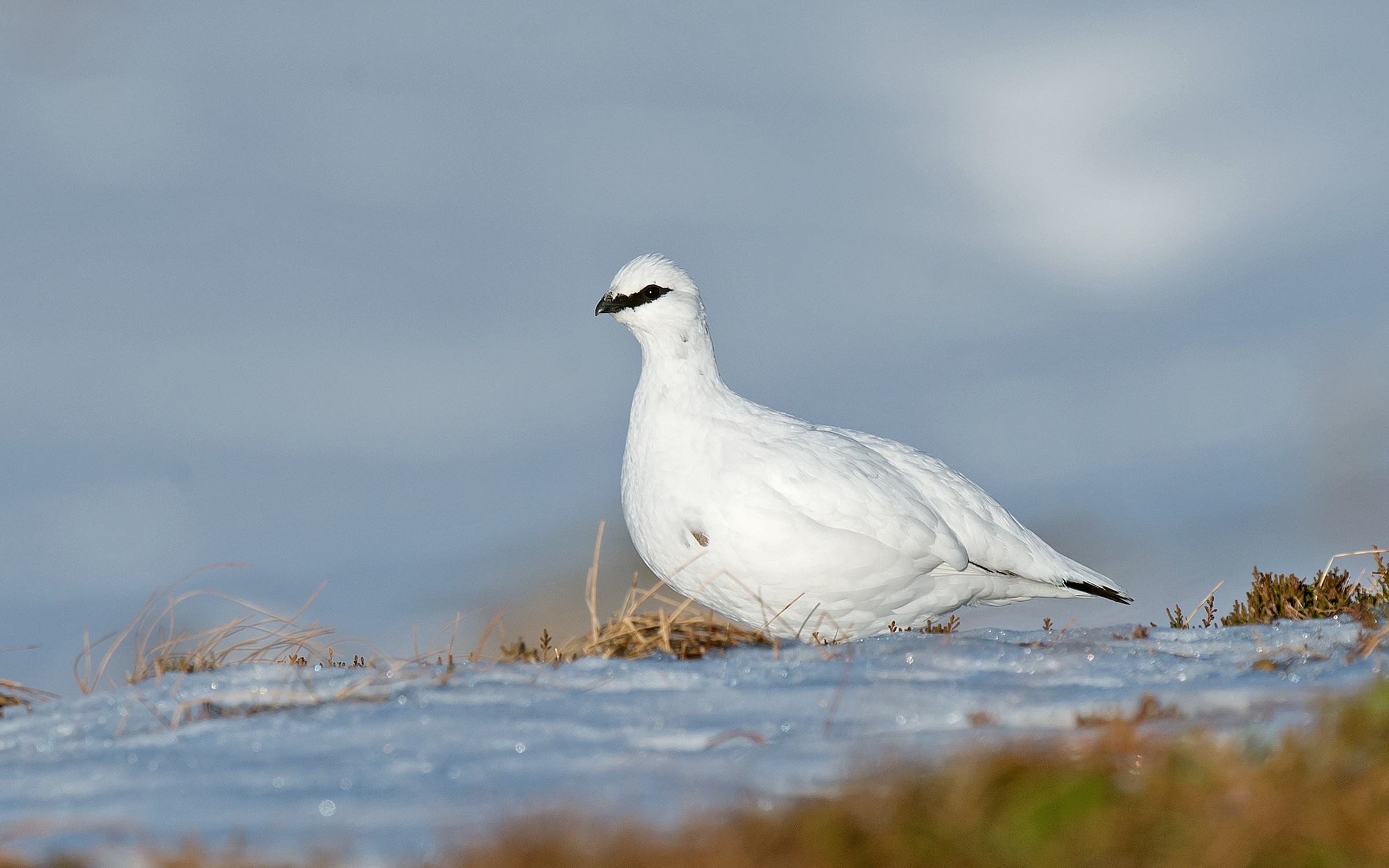 Just behind this male bird was a group of six or seven females feeding in the snow-covered grasses below the ridge (Steve Young / www.birdsonfilm.com).
Marcus agreed to guide me and we met at the Grant Arms Hotel in Grantown-on-Spey, Highland. This was to be my base for the next three days and nights. It is something of a birder's dream hotel – as well as lovely rooms and wonderful food, it has its own Bird Watching Wildlife Club (BWWC), a newspaper (The Watcher), a superb library and lecture room, and guided walks if you need them. If only all hotels were like this!
The first day began on Cairngorm itself; a perfect sunny, beautiful, crisp and cold winter's day. Before we started, waterproofs and boots were put on, water bottles put into rucksacks and then Marcus produced the magic bag – full of every bar of chocolate I could think of. I could tell it was going to be a good day.
The walk began through thick snow and on some icy footpaths. The ski side of the mountain was obviously very busy, and although we were walking along a different aspect to the popular ski slopes there were still a number of people around. As well as a few photographers ahead in the distance there were other people just enjoying a stroll, while some were on skis taking their dogs for a walk.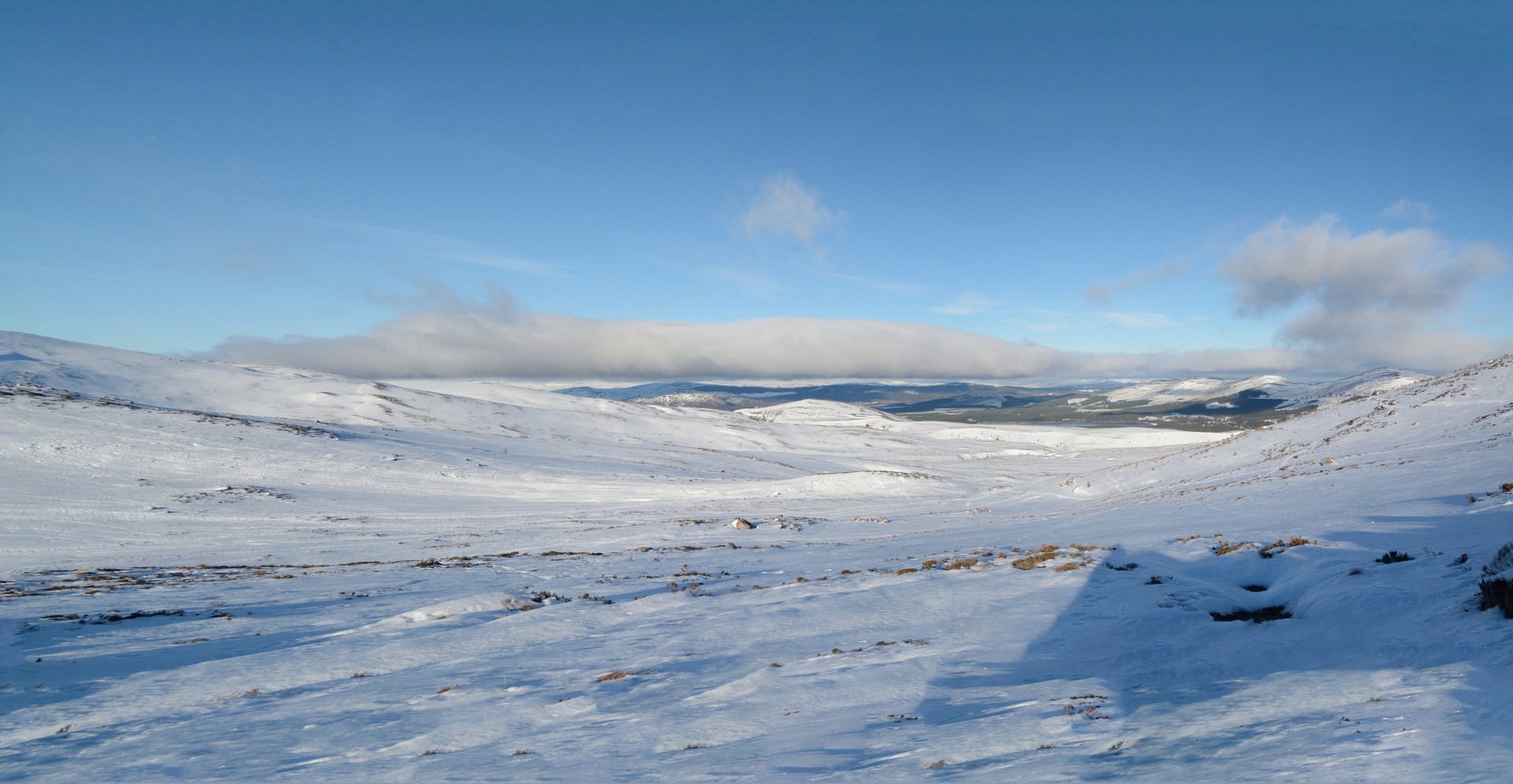 JuIt may look lovely, but weather conditions can change very quickly on the mountain; be prepared for the worst (Steve Young / www.birdsonfilm.com).
The target species here was Ptarmigan, and it was soon located by Marcus. The next four hours were spent watching and photographing these speciality birds of the mountains. Resplendent in their white winter garb they, were perfectly camouflaged against the snowy landscape. With care they could be approached to a reasonable distance, but one individual in particular decided to sit and feed by the path as people walked past without noticing it. Luckily it remained in place as we approached and we took a nice series on shots.
Good numbers of Ptarmigan were seen, with a few distant flocks also recorded and some small groups watched flying across the mountain backdrop. We also saw a number of Red Grouse, glaringly obvious compared to the Ptarmigan.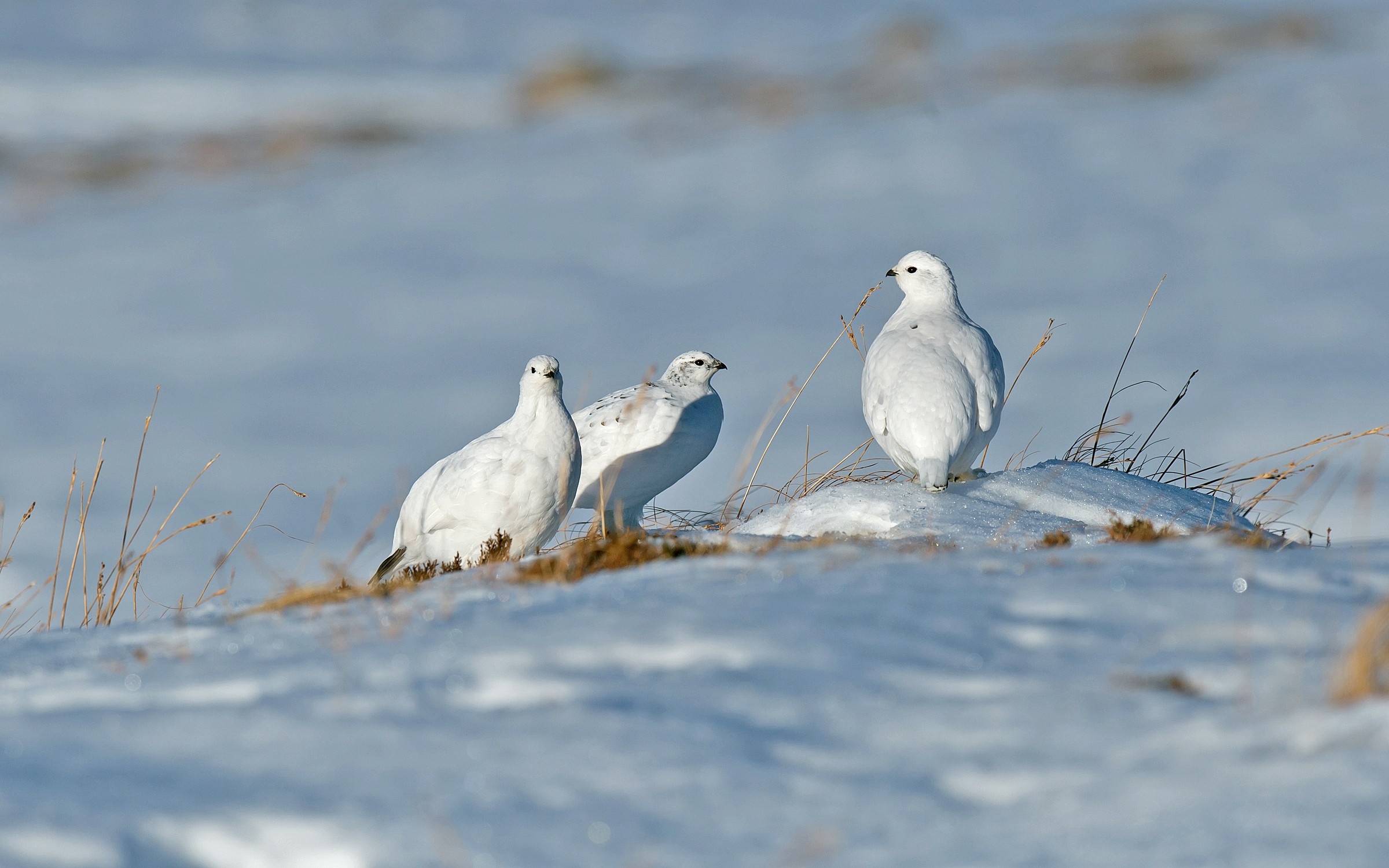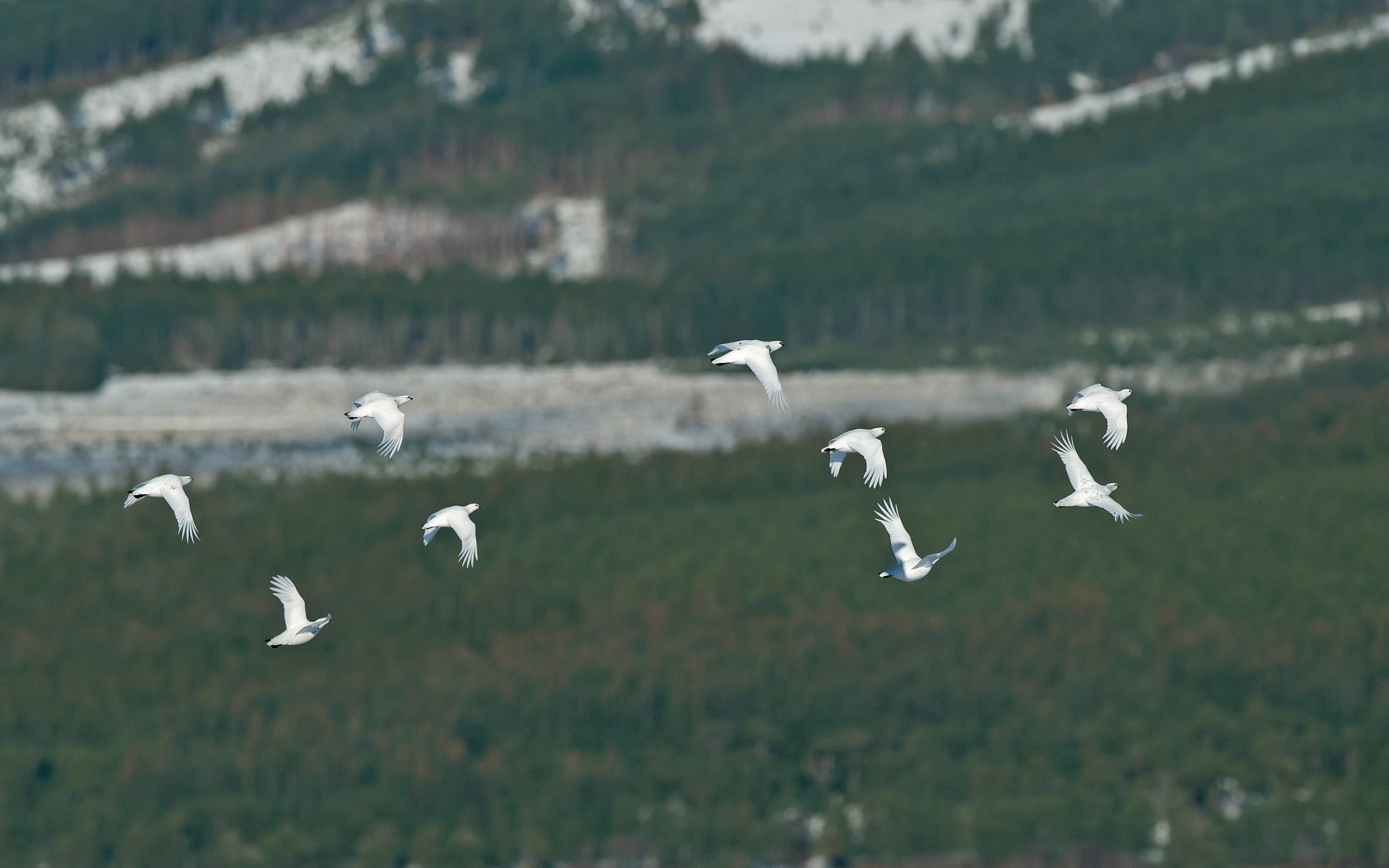 Ptarmigan is the target bird for many photographers – and birders – during the winter months in Highland. There is just something about the species that makes it so popular and photogenic (Steve Young / www.birdsonfilm.com).
After a short break and a couple of bars of chocolate, it was time to head back down the mountain. This was slightly more difficult than going up due to the icy conditions, but safely negotiated. Back at the car park was a small flock of Snow Buntings flying around the picnic area, but as it was quite busy we decided not to send too much time here and set off for a short lunch break.
The rest of the day was spent photographing Red Grouse at a few sites along various minor roads that Marcus knew well; it was just a matter of finding one or two birds that were close enough to the road. Early morning on the following day, I returned to Cairngorms to spend some time with the Snow Bunting flock. I took some nice images of one particularly bright individual, and then photographed more Red Grouse at a leisurely pace. It was a very enjoyable way to pass the time.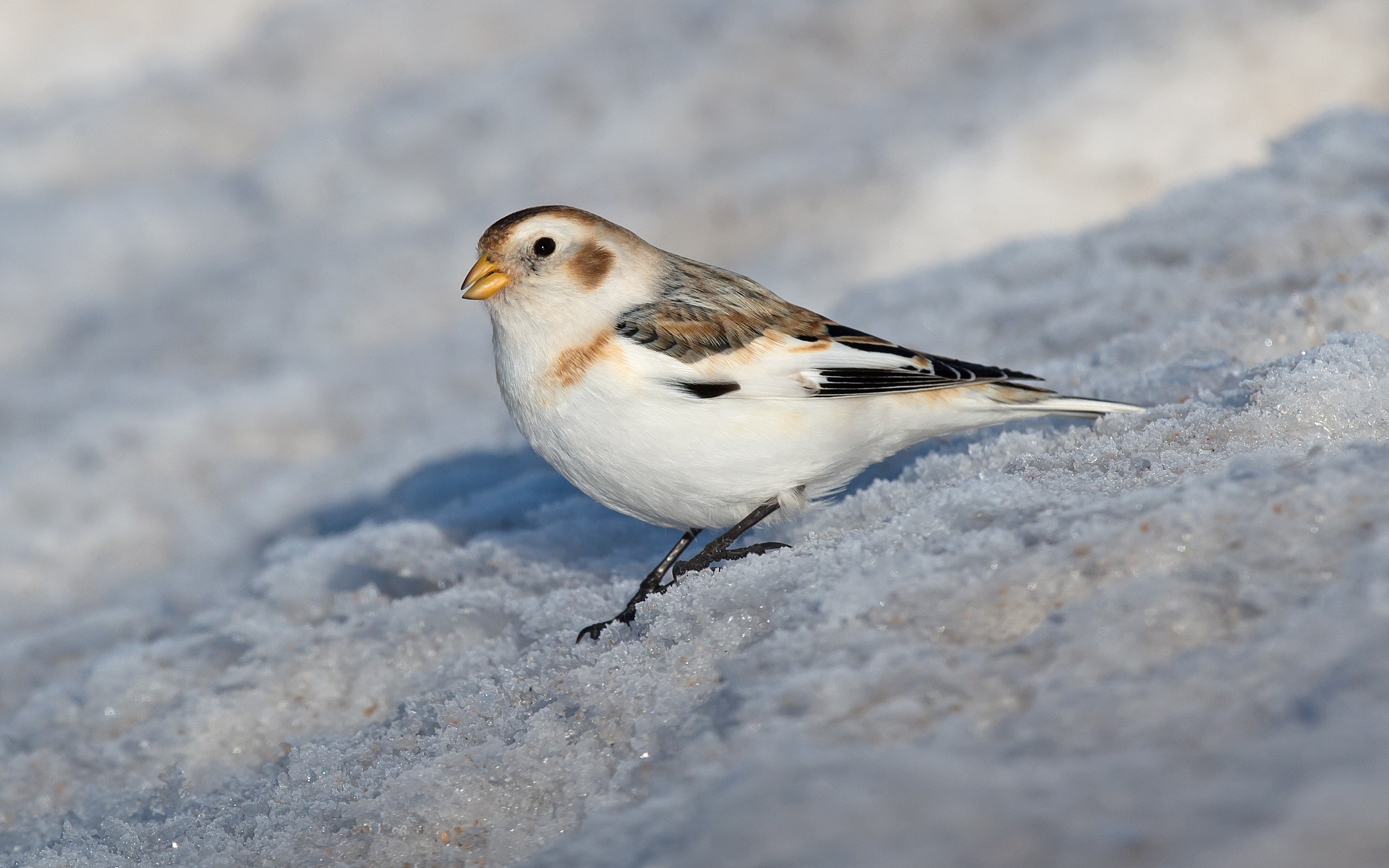 A small flock of Snow Buntings was present near the café and picnic area during Steve's visit. This was one of the brighter birds (Steve Young / www.birdsonfilm.com).
My final day was spent at Loch Garten RSPB in the car park photographing Crested Tits. This can a something of a photographer's circus, with many taking their own perches, food and seating to wait on for the birds to perform. And perform they did over the space of a couple of hours, coming very close to feed on peanuts forced into various crevices in trees or just from feeders put up by photographers. Peanut butter was also smeared over pine bark, but I don't like this idea at all as you end up with photos of birds with butter all over their bills – not a good image. As well as the Crested Tits there were plenty of Coal, Great and Blue Tits to photograph, some so tame they took the peanuts out of people's hands.
It had been a superb and successful three days. I'd seen and photographed everything I'd wanted to with a great guide in lovely accommodation in beautiful surroundings. What more can anybody want in a winter break? Well, a Harlequin Duck would be nice and a slight detour on the way home to Aberdeen was the perfect way to end the trip.
This article was originally published in the February 2016 edition of Birdwatch. Marcus Conway can be contacted at marcus@ebirder.net. For the Grant Arms Hotel, telephone 01479 872526 or email bookings@bwwc.co.uk.