By 8 am, I had been sitting on a particularly uncomfortable rock for two hours while continually staring down into a gully. A couple of hours earlier, a bird had appeared briefly close to a large rock 10 m below my viewpoint; the views were very poor, but it surely had to have been the bird I was looking for …
Meanwhile, the rest of the group had wandered along the high-altitude road to see what else was around in the early morning. As I had joined the tour late I had some catching up to do and the bird in the gully was my main target. The morning was remarkably cool and slightly misty. Despite wearing a fleece I was actually cold, something I have never felt before in previous visits to Mindanao, including this site, which was more than 1,000 m in altitude.
Few other birds were showing, although I had seen two beautiful Mindanao endemics: Olive-capped Flowerpecker and Lina's Sunbird. The sunbird is a particular speciality of this location and quite easy to see here. It has a highly restricted range within the mostly inaccessible mountains of eastern Mindanao and is extremely difficult to see elsewhere (Collins 2016). The plan was to have my DSLR ready for the moment the bird appeared but, unaccountably, when it finally happened I was holding binoculars.
The bird appeared from the left and hopped onto the right-hand side of the rock – a remarkable moment. There was no time to switch to camera, but there, posing briefly on the rock, was a Bagobo Babbler! The babbler was described by Kennedy et al as "unquestionably the most secretive bird in The Philippines", despite being quite widespread and easy to hear at high-altitude sites on Mindanao. Although labelled a babbler, this bird was quite robin-like, with long legs, a remarkably long and broad tail and warm brown upperparts contrasting with grey face and body. The subdued plumage reminded of Long-tailed Bush Warbler, of which a distinct local form (or more likely a full species) is regularly seen here, but there was none of the mouse-like creeping typical of that species.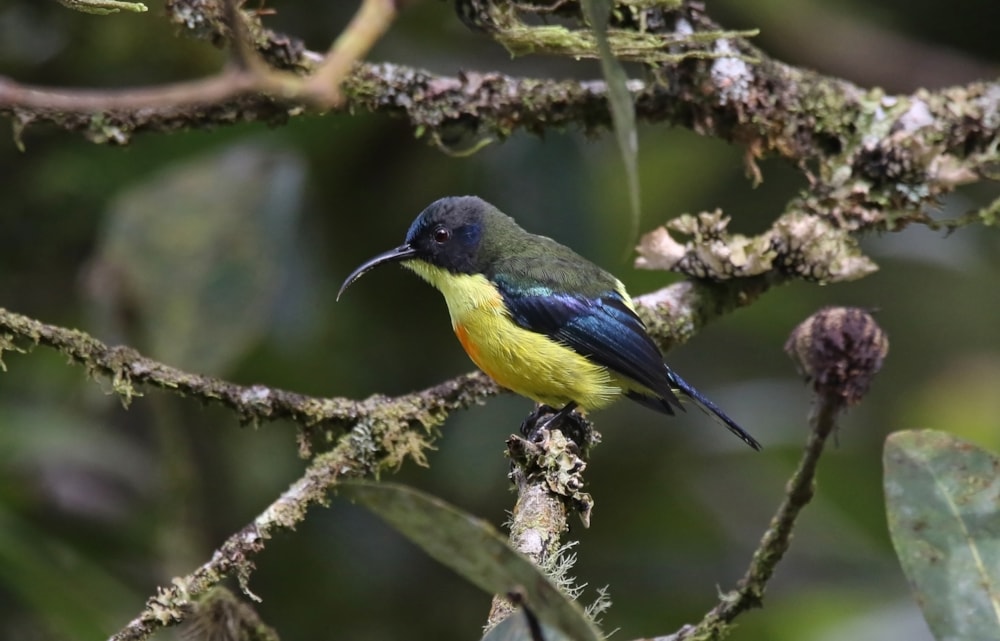 Lina's Sunbird, Compostela, Mindanao (Peter Simpson).
With my sighting, Bagobo Babbler had now been seen on three successive days on tours led by Mindanao resident birder Pete Simpson to this mountain site near the Compostela Valley. At the time of writing, there is just one known photograph of this species, which is widely regarded as one of the most difficult of all Asian birds to observe. I had missed my chance to take that second photograph, but to see this virtually invisible species was reward enough.
The babbler was an early highlight of a tour initially led by Pete, who was guiding visiting birders Jerry and Annie for this section of their longer tour. I had joined for the last day of guiding by Pete and, at midday, Jerry, Annie and I joined driver William for transfer to the town of Bislig, from where we would access the lowland forest at the Paper Industries Corporation of the Philippines (PICOP). As we said goodbye to Pete, it was obvious he was deeply exhausted from weeks of touring and was relishing a few days off to spend with his family. It seemed he had no plans to do any birding on route home, but I mentioned that I planned to check my favourite wader site of Panabo later in the week in the hope of finding Mindanao's first Spoon-billed Sandpiper. Whatever his motivation, Pete did check Panabo on his long drive home, with consequences for us all.
Meanwhile, in the early afternoon and two hours after leaving Pete, our small group checked into the Paper Country Inn in Bislig for a three-night stay. We said hello to our guide, Zardo Goring, whom we knew from previous visits. Zardo, a former employee at PICOP, guides birders into what was once 1,200 square miles of pristine lowland forest, and is some of the last remaining on Mindanao. Although this was well-managed forest previously, following the decline of the company settlers, illegal loggers have largely de-forested the area. Many highly endangered endemic birds are hanging on there but most can now only be found in the more remote areas around Roads 4 and 42. These sites have remnant forest but are a long drive inland.
Fortunately, on these rough roads we were driven by William in a comfortable SUV and would not be using the jeepney with no suspension used by most tours here. On arrival we spent a few hours at the Bislig disused airfield, where we had excellent views of Eastern Grass Owl, King Quail and brief views of Middendorff's Grasshopper Warblers, which were giving their strange song from the sides of the runway. Returning to the hotel, the group was in high spirits and ready for a very early start next day in the hope of seeing some owls.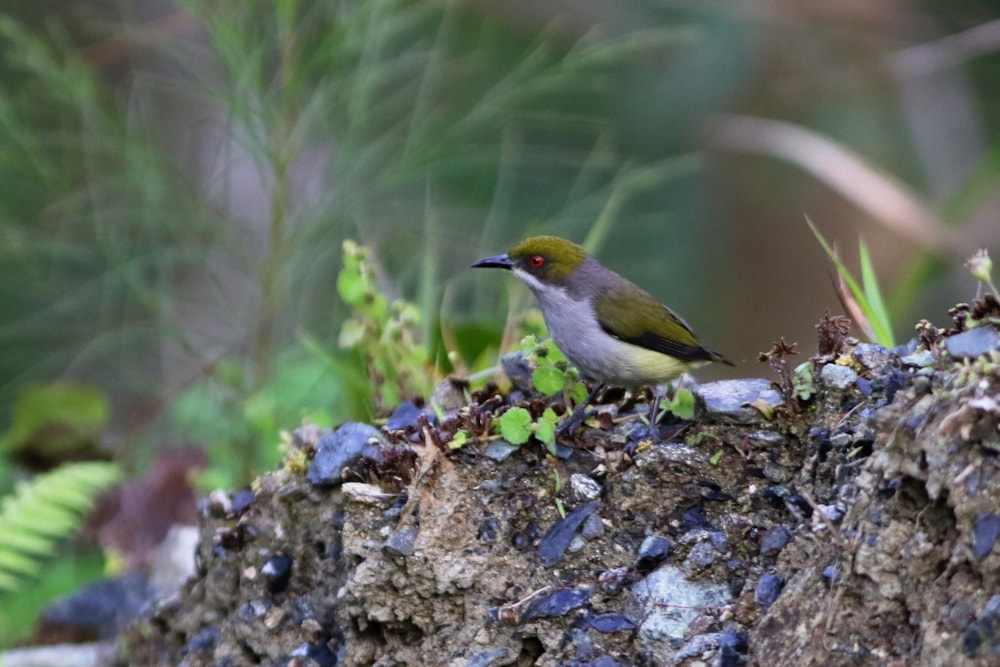 Olive-capped Flowerpecker (Andrew Collins).
Internet and phone connections at the hotel were poor, but that evening I received a short but astonishing text from Pete. Evidently, despite exhaustion, he had found the energy to drop into Panabo and checked the sea and fishponds for waders and terns. Incredibly – indeed, almost unbelievably – he had photographed a Chinese Crested Tern. It was the first Philippines record since 1905 and a species described by Kennedy et al as "probably extinct". However, in 2000, four pairs were discovered on an islet off the coast of China and in 2017 birds were found breeding in South Korea. It remains Critically Endangered, with a world population of fewer than 100 birds; some sources indicate just 50 birds remain. The wintering area is poorly understood, but since 2010 there have been a few sightings of wintering birds off Seram, Indonesia. With Seram as the only known wintering site, it is hard to know whether the Panabo bird was on territory or on passage (it was 10 March).
Pete had watched the tern for 15 minutes – but would it still be there tomorrow? As a group we now had something of a dilemma: we were ready for birding in PICOP and at least five hours drive from Panabo, but the opportunity to see Chinese Crested Tern seemed too tempting to ignore. In the event we settled on a compromise: to visit Road 42 early as planned and make a decision by 9 am about whether to try Panabo.

Despite the close presence of a calling Mindanao Hawk-Owl before first light on Road 42, we only managed brief flight views. Surprisingly easy to see, Rufous Hornbills were calling and flying at first light. Indeed all three of the hornbill species at PICOP (which also included Writhed and Mindanao Hornbills), gave good views that morning. It has been suggested that the remaining reduced forest cover means that surviving long-lived birds are now easier to see because they have so few places to hide. Of course, breeding success must be low in such degraded habitat so this situation is unlikely to last.
Our main target was Wattled Broadbill, which had been seen there on a previous tour. The broadbill is hard to find as it sits quietly in cover; the mixed flocks that morning were very small and the broadbill did not appear. However, outstanding views of calling Azure-breasted and Philippine Pittas made for an interesting time. But by 8.30 am it was beginning to rain heavily, so thoughts turned to the long drive to Panabo. Fortunately, I knew the site quite well and where the majority of terns were likely to be. So, with both Zardo and William happy, we all set off.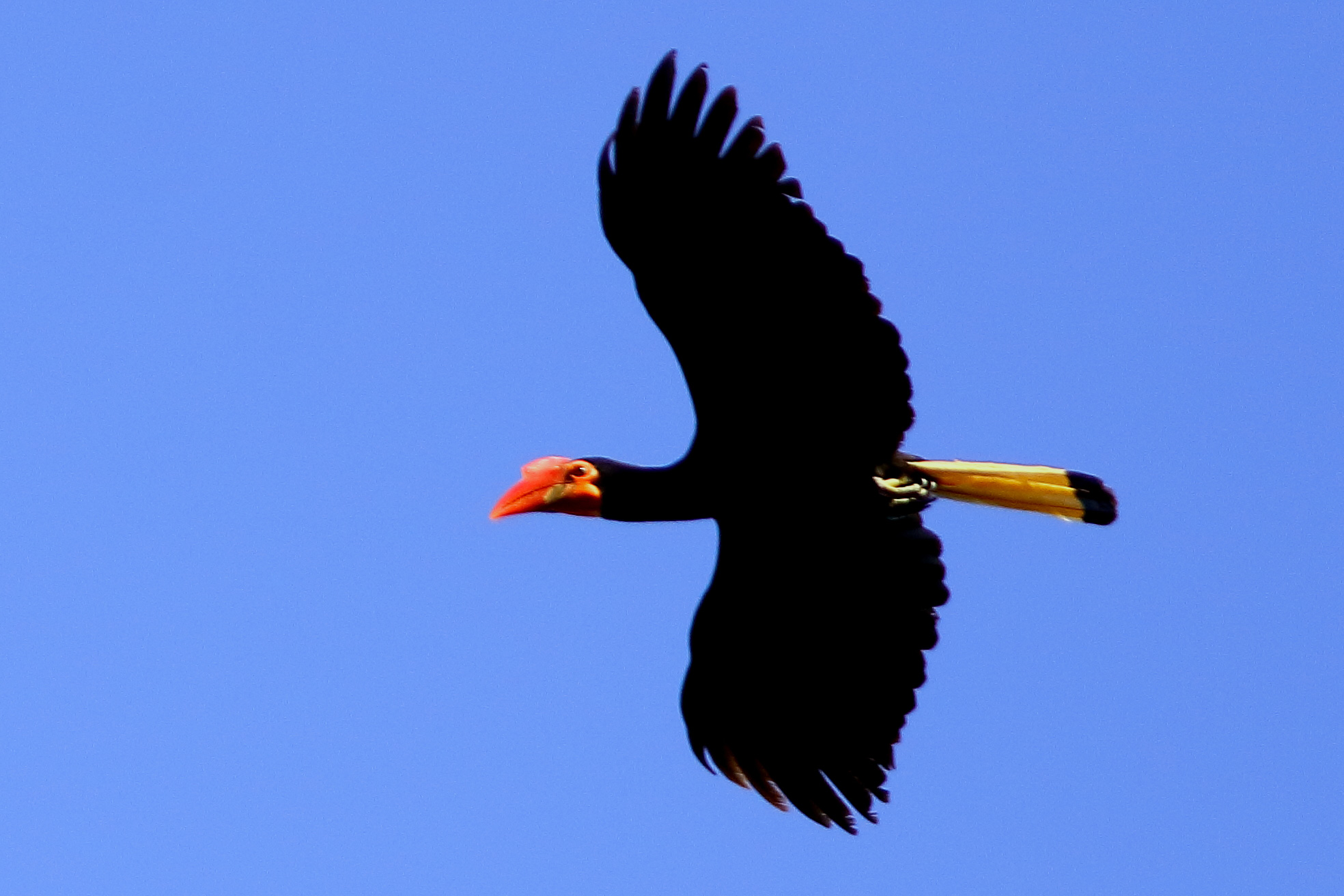 Writhed Hornbill (Andrew Collins).
Panabo is a port on the Davao gulf about an hour from Mindanao's capital, Davao City. The first part of the short drive from the highway looks unpromising but closer to the sea the fish ponds usually throng with shorebirds. Many of the waders easily seen here are not even listed as previously recorded in Mindanao by Kennedy et al and Pete's recent discoveries have highlighted the importance of Mindanao's coasts for globally rare waders.
We arrived at about 2 pm and soon marvelled at the wader spectacle: masses of Pacific Golden Plover, Great Knot, Grey-tailed Tattler, Red-necked Stint, Greater and Lesser Sand Plovers, White-headed Stilt, Terek Sandpiper and even an Asian Dowitcher. Among the hundreds of Whiskered Terns were smaller numbers of White-winged and Gull-billed Terns. The tide was high and we thought the Chinese Crested Tern might join Gull-billed Terns to roost near the ponds, but there was no sign. We returned to scan the bay but many of the larger terns (apparently all Gull-billed) seemed far out around the distant fish pens. After an hour we were beginning to wonder whether Pete's exceptional discovery was a bird simply passing through and perhaps even the wintering one at Seram heading north.
At 3.30 pm, a further check of the fish ponds produced nothing new, so we waited to cross the busy road to re-check the bay. At that point Jerry briefly picked up an interesting looking tern just offshore. A very long articulated lorry immediately obscured the view, delaying Jerry's shout of "There it is!" In a somewhat chaotic few seconds, we all focused on a large, pale tern with long, black-tipped yellow bill. It drifted off east in the direction of Davao but, expecting it to return soon, we waited by the fish quay. However, despite waiting until almost dark at 6 pm, we had no further views. We were elated but slightly puzzled by a single sighting in four hours. Perhaps we had witnessed the bird leaving?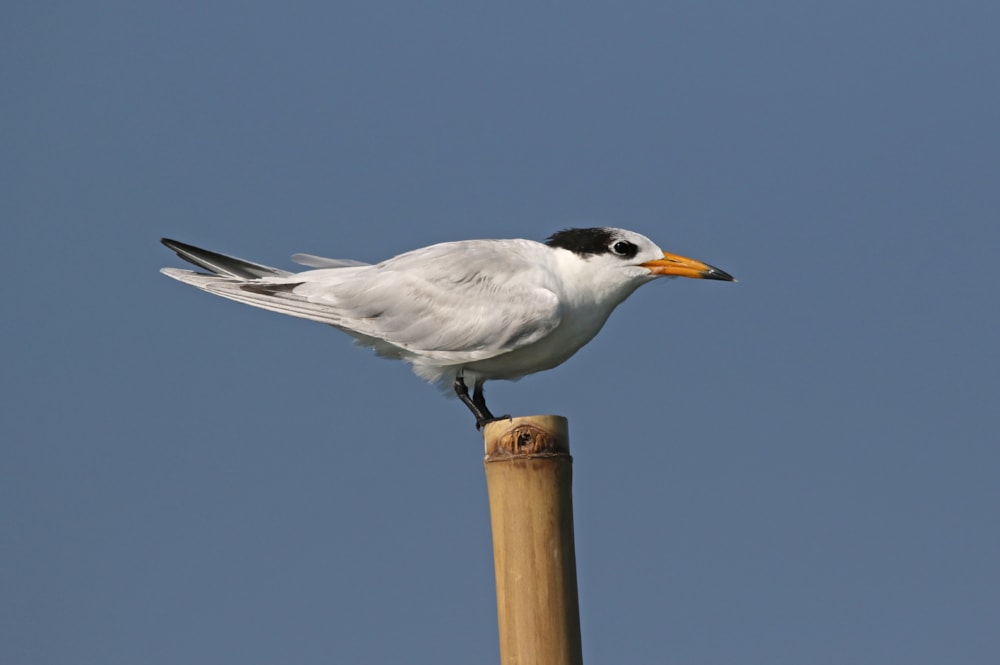 Chinese Crested Tern, Panabo, Mindanao (Peter Simpson).
We returned to continue our PICOP tour and saw some remarkable birds, but sadly no broadbill. As we left Bislig towards Montevista on the highway, where I was to say goodbye to Jerry and Annie as they continued their tour, I sent Pete a text asking if the Chinese Crested Tern had been seen again. He had no other reports but was looking for it himself that morning. However, picking up my lift at Montevista later that day, I received a new text from Pete: he was now watching three Chinese Crested Terns from the end of a rickety jetty at Panabo, about a mile to the east of where we'd looked previously, and could see the birds perched on bamboo poles supporting the distant fish pens. Pete waited for me to get there and I was able to see two of them. It seems likely that the presence of three birds in such a rich area suggests a new and important wintering site had been found for this Critically Endangered species.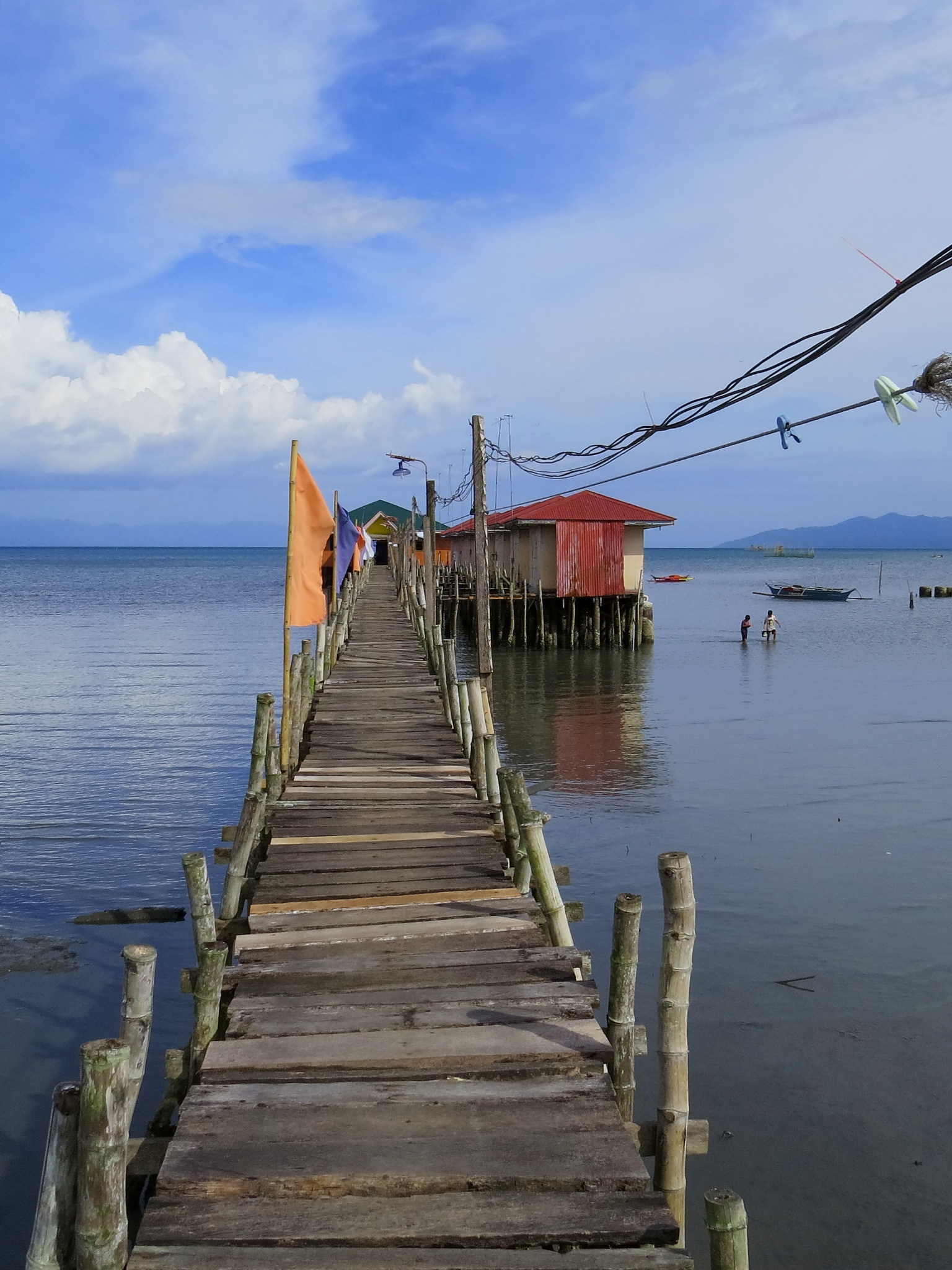 Making use of the rickety jetties proved a good way to obtain closer views of the terns (Andrew Collins).
Mindanao is a challenging birding location. Aside from widespread catastrophic deforestation, the island is also troubled by decades-long conflicts between the government and various insurgent groups, in which many thousands have died. The island currently remains under martial law. The ongoing conflict means large tracts of the island remain unsafe for birding, particularly west Mindanao which is strictly off limits, since this is where radical Islamic groups operate.
Despite these serious issues, the east of the island remains free of trouble and Pete has been able to establish many new, safe and exciting birding sites, with careful co-ordination with local officials and the army to ensure security. This new wintering site for Chinese Crested Tern is just a couple of hours' drive from the only known regular wintering site of the exceptionally rare and sought-after Japanese Night Heron. Furthermore, Mindanao remains by far the best place to see one of the world's most impressive raptors, the Critically Endangered Philippine Eagle. The presence of these and other rare and unique species makes Mindanao one of the world's most exciting birding destinations.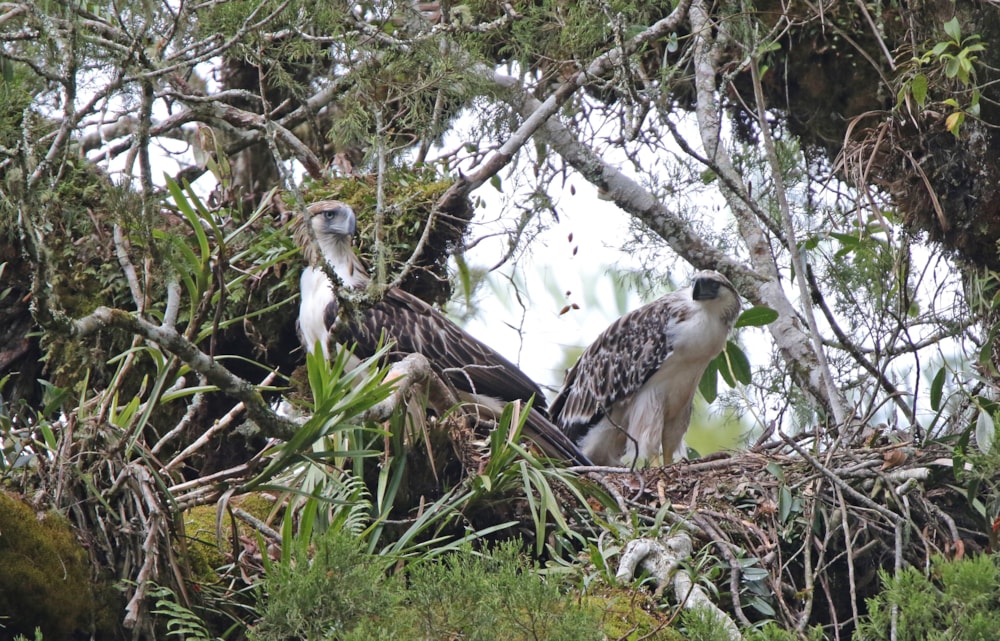 Philippine Eagle, Mindanao (Peter Simpson).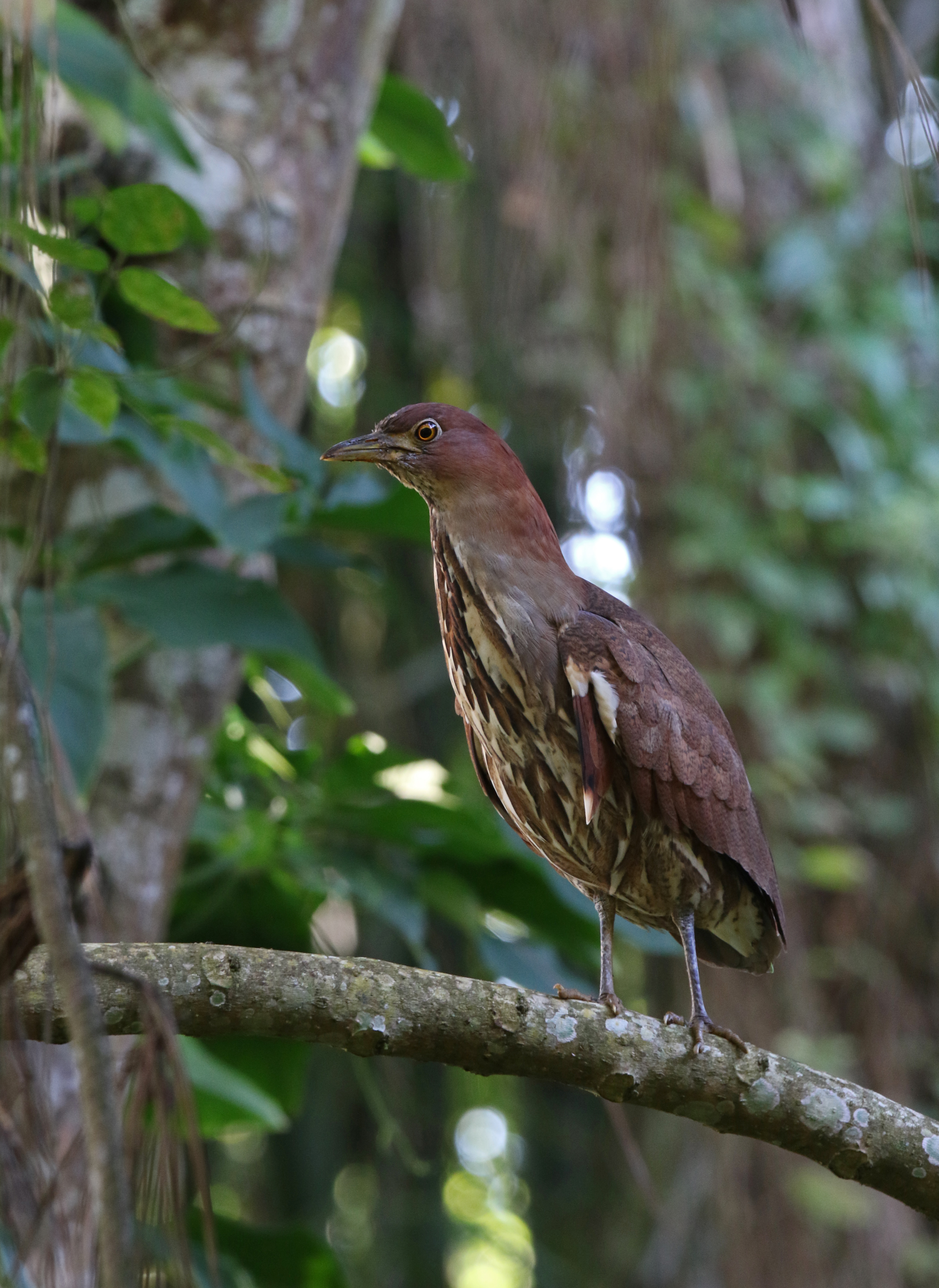 Japanese Night Heron, Mindanao (Peter Simpson).
References
Collins,A R. 2016. Taking the high road to Lina's. BirdingAsia 25: 19-23.
Collins, A R. 2017. Japanese Night Heron Gorsachius goisagi on Mount Talomo, Mindanao, Philippines. BirdingAsia 28: 82-84.
Kennedy, R S, Gonzales, P C, Dickinson, E C, Miranda, H C, and Fisher, T H. 2000. A Guide to the Birds of The Philippines. Oxford. Oxford University Press.