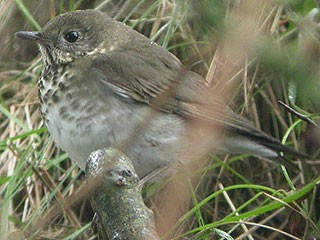 Grey-cheeked Thrush: Old Head of Kinsale, Co. Cork (photo: Paul and Andrea Kelly).
Last time I wrote I told you of my intention to make public my affections for The Old Head of Kinsale, the most easterly of the headlands that stretch westwards from Cork City forming what amounts to a series of 'fingers' jutting out into the foaming torrent of the Atlantic Ocean. Recent events there have given me this opportunity to do so.
"I've always enjoyed my visits to The Old Head of Kinsale," I wrote in my journal at the beginning of October last year. "I haven't got my mega-rare bird there...yet – somebody else's Woodchat Shrike last May is the most notable bird I've seen – but my list of sub-rares includes Common Rosefinch, Melodious Warblers and Yellow-browed Warblers, and Firecrest, not to mention a number of birds known to be rather scarce in Ireland: 3 Lesser Whitethroats, a Ring Ouzel, 2 Turtle Doves, and an (eastern) Yellow Wagtail. Throw in a couple of Black Redstarts, Whinchats, Pied Flycatchers, Reed Warblers, and usually half-a-dozen to ten Chiffchaffs, and rarely a visit goes by without something of note. The constant presence of Choughs is always a reminder I am in Ireland, not England."
To tell you the truth, after a worrying series of disappointingly blank visits since the start of last October I was beginning to wonder if my faith was somewhat misplaced. As October came around this year and the true rarity season loomed, the question was whether I would be spending all my days at Ballycotton – where I've had notable success – or whether I'd be sharing my attention with The Old Head in an effort to fill in the blanks. No real rarity there for me yet; never been an American passerine there at all (despite American Redstart, Philadelphia Vireo and Hermit Thrush at nearby Galley Head to the west, and Northern Parula, Yellow Warbler, Red-eyed Vireos and Bobolink at sites to the east). Historically, there's an old mid-1870s record of Rufous Bush Robin there, no less, and more recently, Radde's Warbler, Dusky Warbler and Western Bonelli's Warbler – though nothing rarer than Rose-coloured Starling has been seen since I've been in Cork.
First, the practical considerations. I don't have a car. After a ridiculous number of driving lessons from the age of 18-22 (somewhere in the region of fifty I'd say) and three failed tests, I gave up the idea of ever getting a license, and I've had no real burning need to put straight that ambition in the course of the past fifteen years. I walk...and bus, most everywhere.
Buses to Ballycotton from Cork City run reasonably regularly, three times a day, except Sunday. Buses to Kinsale run every two hours from the city, but they only continue the extra ten miles to The Old Head on one day a week, Thursday, and on that day they go three times in the one day. When I once politely enquired of the bus driver the reason for this timetable peculiarity, thinking, perhaps, a former market day, after a moment's consideration, he replied: "...Because it only runs on Thursday." Which is just the kind of admirably old-fashioned down-to-earth logic that precludes any further discussion.
There is one pub at the base of The Old Head of Kinsale, The Speckled Door, but no shops, and though the place could in no way be described as 'remote' compared to, say, Dursey Island or the Mizen Head in true far south-west Cork, and compared to Ballycotton with it's lively little village, it is certainly out on a limb. My only form of accommodation there if I should ever want to spend the night (I did it once, two years ago) is to camp, and to put myself at the mercy of the vagaries of the Irish weather and possible extreme isolated misery in the event of things turning soggy. Sure, I spend a lot of time camping at Ballycotton, but I have friends in the village who look after me in the rain - not least birder Phil Davis and in his sister-in-law Maire who runs a superb B and B – and a relatively straightforward bus-ride back to the city.
From a purely birding perspective I doubt I need to tell you much more about Ballycotton. It was already well-known to me long before I came to Ireland for its remarkable list of rare waders (Long-toed Stint, two Red-necked Stints, etc.) as well as its annual clutch of more regular scarcities sometimes including up to five species of American shorebird in one day. I have found Sharp-tailed Sandpiper, two Citrine Wagtails, two American Golden Plovers, a Broad-billed Sandpiper, two Semipalmated Sandpipers, a Buff-breast Sandpiper, half-a-dozen Pectoral Sandpipers and a Tawny Pipit out on its vast seaweed-strewn, muddy shores. Though I'm not sure I can officially call it my 'patch' - because unlike Whitburn and Cape May before it I don't actually live there – it is still, nevertheless, the one spot above all others I have chosen to lavish my attentions on and to cherish as my 'own'.
Then there was the Booted Warbler.
Around two years ago, with a good number of waders already under my belt, I decided to challenge myself to come up with a decent passerine out on the 'headland' at Ballycotton. I say 'headland' but in reality, if one looks at a map of the Irish south-coast Ballycotton projects nowhere near as far out into the Atlantic as does, for example, The Old Head of Kinsale. The list of passerines (aside from the three Citrine Wagtails that had already been seen out on the marsh before I got here) according to Phil was surprisingly low – Greenish Warbler being about the best; also Red-backed Shrike, Yellow-browed Warbler and older, more historical records of Red-breasted Flycatcher and Melodious Warbler. However, to my eyes, Ballycotton's height – it stands out for miles from the surrounding landscape – as well as its lighthouse was remarkably similar to my old patch at Whitburn, where, though apparently in the 'shadow' of such looming monsters as Flamborough Head, there is no arguing with the list of quality rarities (as well as 'lesser' rarities) that have turned up at my former base. It is here I must hark back to what I wrote last month about simply walking round and round until something jumps out in front of you for indeed that is more or less what happened when, last September, I bumped into a Booted Warbler (Ireland's second) right there on the path before me. Mission accomplished?
Now it sounds easy. It usually does when you find your rarity and the hours and hours of continuous searching are behind you. Faith becomes renewed. However, I then went on to an excruciatingly unsuccessful last October, employing the exact same tactics (primarily at Ballycotton, but also, on Thursdays, at The Old Head) as I had in finding the Booted. That's when you start wondering whether you're doing the right thing? The flip side of Ballycotton for passerines – and now I'm going to start comparing it with The Old Head of Kinsale – is that there's an awful lot of cover. Now this has its 'advantages' in that there's enough to keep you going all day if the mood and weather are right, but if you're short of time (or you're not 'in the zone') it can be intimidating to be confronted by so many choices as to where exactly to go. It's so easy after an unproductive two hours of passerine-bashing to give up and head down to the marsh where at least the waders are right there in front of you and where in the morning you said to yourself "I'm not going to settle for a White-rumped Sandpiper when there's a chance of a Red-eyed Vireo in the offing" now you'll quite happily 'settle' for the former!
The Old Head of Kinsale, in a way, doesn't quite present so many dilemmas. There are far fewer settlements on the Old Head and only about half-a-dozen gardens (all very small) and the feeling is that if something is there, then you are going to see it. It is an 'easy' place to 'do'. Ah, but what if nothing is there...! Then where do you go?
Such dilemmas are, I'm sure, common to all us birders who make a point of concentrating our energies on finding our own birds before anyone else gets to see them. How I long for a return to my raw twitching days at times! How much easier it seemed to go and look for a bird somebody else had found and pinned down for you and save you the bother of going through all these unbearable decisions! I'm only venting here, you understand! I know well the agonies of standing for hours knowing there's a such-and-such that you've travelled four hundred miles to see in that bush and yet the little so-and-so won't show itself. The point is, whichever activity you choose, if you want to be 'successful' – in other words, if you want to experience that unmistakable 'high' that only birding can bring at times – you've got to be able to accept the tension. I love October but I can't ever remember a good one that didn't have its protracted moments of inner turmoil.
I haven't even mentioned the weather yet! When I resigned from the thrills and spills of twitching in order to search exclusively for my own birds, it didn't make things any easier for me. In fact, sat there staring at a map, and watching weather forecast after weather forecast well into the night, hoping Ian MacCaskill was going to point the finger and say "This is where you want to go, Graham, right here", I could almost become paralysed with indecision. More than once, I found myself on the slippery slope to where such internal struggles lead to frustration and doubt and an abandonment of all desire to go out birdwatching at all! I'm sure we've all been there, too! This year, hopefully thanks to the therapy-inducing privilege of having these pieces to write for BirdGuides, I've found myself more objectively detached from my dilemmas and I've recognized in some existentially enlightening way (for now) that such internal battles are my own choice and indeed the very spice of why I love birding as well as the actual thrill of seeing the birds themselves.
One more thing, before I tell you what happened this October, why the title of this piece: Torn Between Two Lovers. Well obviously I'm nicking it from an old pop song from the seventies, if you go that far back. But what I'm suggesting is that, at a different level to the head-wrecks of the practicalities above, is a matter of the heart. Ancient wisdom speaks metaphorically of the land (Earth) as a female (and the male as the sky); elsewhere I might be able to write some abstract college essay literalizing my triangular 'relationship' – myself, Ballycotton, The Old Head – as some epic Greek tragic-comic love affair that parallels actual 'life'. In other words what I'm saying (believe this or not) is that more than once in my outdoor musings, gazing forlornly up a bare tree I wondered if Ballycotton wasn't in a 'huff' with me for having an 'affair' with The Old Head. Would I be better off fully engaging myself in the throes of this new passion? If I tried to share the two around, dividing my time equally between both, might I end up losing out altogether? As a single man (and a confirmed bachelor for the time being) I hope I may say this without causing offence to the maritally well-off: if I am married to Ballycotton, then The Old Head of Kinsale is my bit on the side!
Just a thought in the background. I won't mention it again.
Anyhow, Ballycotton: Monday, first week of October, and I'm wandering around in the rain, not seeing very much and pondering my itinerary for the month (see above!). Suddenly I came up with a firm make-or-break decision: "if I don't see anything noteworthy at The Old Head this Thursday, then that's It! I'm finished with that place - it's Ballycotton for me for the remainder of the autumn."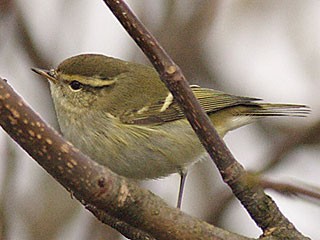 Yellow-browed Warbler: Despite their increasingly regular occurrence, there is no diminishing the appeal of this superb sprite. (photo: Sean Gray).
Thursday came, and what do you know, three Yellow-browed Warblers in fine, still conditions; two quite briefly, and one, most significantly, thoroughly enjoyed at close range in one of the most productive spots on the headland – the so-called 'plantation'. This, in truth, is no more than a small cluster of conifers, sycamores and hawthorns and a dense tangled understorey of brambles, nettles and thorns. So pleased was I with this latest example of elfin-like, trans-Siberian beauty I came back three times during the day and spent almost two hours in total gorging on its presence.
Forty-eight hours later: I finish work exceptionally late on the Saturday night (actually 01:30 on Sunday) and check the messages on my mobile phone. "American thrush, probably Grey-cheeked in the plantation at The Old Head of Kinsale!" My emotions, to say the least, were terribly mixed. I said last time out didn't I (It's autumn - are you having as much success finding rare birds as you'd like) that I have a tendency to skim through areas and that if you spend a while gazing at a favourite set of trees you're liable to trump me. How truly that statement had come back to haunt me! Though I saw four Grey-cheeked Thrushes on the Scillies in the remarkable 'fall' of 1986, and though I have seen several dozen in Canada and Cape May (where they are perhaps the least regular of all Catharus thrushes) this is a bird I would have dearly loved to have found.
And yet, at the same time, I felt deliciously happy! Happy that the spot I had coveted had finally proved his worth. I was happier still for the finder, Martin Stiles, whom I'd met on several occasions in the past – a bloke who could quite easily qualify for the title 'the nicest guy you could ever meet'. Actually, it was Martin's wife, Carol, who had first spotted the Thrush and called his attention to it, so if anyone had good reason to be brassed off it was he – yet by all accounts the following morning (when it was confirmed as a Grey-cheeked) he was beaming with unadulterated pleasure, not least because this was the second time such an event had occurred to this husband and wife team. Remarkably enough (for they count themselves as nothing more than 'weekend' and 'vacational' birders who are nowhere near as rabid in their passions as the rest of us) several years ago, in very similar circumstances, they had stumbled across Ireland's first-ever Hermit Thrush at nearby Galley Head. I must remember to ask them what their secret is next time I meet them.
The Thrush showed on and off to a steady procession of twitchers on the Sunday. I had to work. It was still there next day when I went down to Ballycotton to try out my own luck (and technique) in lashing rain on the Monday. I'd decided to leave the bird be until I could get the bus down on the Thursday. Then, at the exact same spot on my circuit as I had delivered my now-or-never ultimatum to The Old Head the previous week, I reneged: and decided to move lock, stock and tent down to The Old Head Tuesday, and camp there for the remainder of the week (until work called me back to the city on Friday).
For someone who frequently used to hitch-hike long distances around the UK in my twitching phase in the mid- to late Eighties, it's strange to recount how timid I was about hitching the ten miles from the town of Kinsale to The Old Head on Tuesday morning. I once did the full twenty-mile walk out there and back (not including tramping five or six miles around the head itself) for a Woodchat Shrike, with Andre Robinson, but that was in the spring, when we were in far less of a hurry. It took me all of twenty minutes to get a lift today - dropped off by a couple of English golfers on the way out to the course at the tip of The Old Head - right outside the plantation itself.
There were only four people present at the site, though the flattened nettles and temporary paths cut through the long, matted grasses spoke of a much greater human presence over the previous forty-eight hours. There were no dramatics in my acquisition of the Thrush, it was a mere forty-minute wait, followed by super close-range views for over half an hour. The fifth Grey-cheeked Thrush I have seen this side of the Atlantic, bringing it into line with the five Swainson's Thrushes I saw in south-west Britain between 1987 and 1990. The intimate nature of the experience at such a rare bird was a testament both to the joys of being in Ireland where birding crowds are that much smaller, and the benefit of turning up when the initial excitement has simmered down. By all accounts, there had been the usual crowd stresses over the course of the weekend, with twitchers obliged to stand back, keep their distance and allow thirty or forty others to get their view of the bird. I'm sorry if it sounds disingenuous, because I was once a member of such crowds, but fortunately or unfortunately, I've been 'spoilt' by too much time spent abroad, and I still like my birds to have that personal one-to-one thrill, or at least in moderately manageable-sized groups.
This thought was not at all on my mind when I heard - not long after I'd watched the Grey-cheek for what I didn't know was to be the last time, flick its wings and dive down into its own private patch of cover - that a Green Heron had been located at Schull, not fifty miles from where I was standing. No, the reason I turned down a lift to see it then (and again the next morning) was that I now had to honour a vow to myself to remain at The Old Head and unearth my own goodies (not W. E. Oddie!). For sure, I'd like to have seen the Heron in more 'convenient' circumstances, but I was excited for its discovery in a purely vicarious way without any of the 'shadow' side of gripped-off disappointment that the Thrush had first inspired.
What was of more immediate concern to me now was the weather. Flying in the face of the weatherman's prediction for a shower-free day, it seemed to me the frontal system that I'd endured as gracefully as possible at Ballycotton the previous day (a front that was supposed to have cleared the Irish mainland by midnight last night) had now turned back on itself and was currently in the process of releasing what droplets of the Atlantic Ocean it still owned upon me and my possessions. Not for the first time my thoughts plagiarized a memorable quote from a P.D. James novel I once read: "There is something ineffably depressing about water in the wrong places..." 'Wrong places' in this context meant down the back of my neck, in the pockets of my rain-coat, down the sides of my legs, through the roof of my backpack. It had been so wet the day before my waterproofs hadn't had time to fully dry out and now the accumulated moisture added increasingly to my bad humour. I left the Thrush to pitch my tent in a persistent and debilitating drizzle.
The remainder of the afternoon was largely uneventful. The rain gradually tapered off and I found another Yellow-browed Warbler, calling so insistently I was able to telephone a friend and allow him to hear it at the other end! I retired to the comforting warmth of The Speckled Door for a meal and Guinness and Irish coffee to help me sleep through the night.
And what a night. This time the forecaster's expectations were spot on: the wind went from south-west to north, the skies cleared and temperatures dropped. Remarkably for mid-October, in relatively mild southern Ireland, I awoke to frost on my tent. My brand new tent. My old tent (I had it 'lifted' earlier in the year at Ballycotton) had a notorious piece of personal history permanently attached to it. That previous tent was the first one (after an unhappy succession of camping disasters) that I had actually spent thought and money on. I had proudly carried it around Costa Rica with me on my travels there four years ago - a super-lightweight, easy-to-assemble, one-man waterproof affair that I became so attached to I didn't even dare open it and use it for its intended purposes until late in the trip! Finally the night came when I could put off no more; I pitched it late in the afternoon somewhere on the shores of the Pacific Ocean and went off happily for a sunset stroll along the beach. I came back two hours later, in pitch-black darkness, to the unearthly sound of what appeared to be a pack of wild dogs scrabbling voraciously inside the walls of my expensive new canvas abode. Raccoons! These daytime cute-looking super-furry-animals had been transformed into a crepuscular gang of scavenging thieves that had discovered the smell of granola cereal in my backpack and having used their incisors to cut a snout-sized hole in my tent were now taking it in turns to remove a week's worth of food from my belongings.
That hole remained a legacy in my tent for the next four years - unmended. I mention it in this context because it led to a series of misadventures that culminated in a small field mouse using it as a portal while I was pitched in Ballycotton this spring, and - unable to find its way out - nibbling a Morse-code pattern of dots and dashes the entire length of my (first-ever, equally expensive, top-of-the-range, up-to-date, lightweight, modern) sleeping bag. The slightest movement within the bag on my behalf now results in a small puff of down being emitted from one of the tiny gnaw-holes - to the extent I doubt it will be too long before I have to replace that, too. How many mouse-directed expletives, therefore, filled the Kinsale air this October morning when I rose to find not only my outer tent sheathed in actual panes of ice, but that my tossings and turnings and frequent cold-induced awakenings throughout the night had resulted in me awakening in what looked like a chicken coop!
What did I say last month about not suffering for my birds any more!
But enough of that. From a point about ten minutes into my first dawn on The Old Head of Kinsale (once I'd warmed up) and for the next forty-eight hours there, I have to say it fulfilled my expectations of it insofar as I am able to report to you happily of the satisfactions it brought. There was not to be, I tell you now, in case you're expecting this tale to be like the proverbial bus story "we wait a hundred and fifty years for the first American passerine to turn up at the Old Head of Kinsale and then the second one arrives five minutes later" anything especially rare to follow. No, two things: one, the disappearance of the Grey-cheeked Thrush on Tuesday night vindicated my decision not to wait until the Thursday and provided a retrospective warm glow in the background every time I thought about it and; two, as I had a kind of hunch it might, the clearing skies of Tuesday night/Wednesday (after seventy-two hours of cloud and rain) led to a nice little arrival of birds in the morning.
The first birds, as I vacated my frost-panelled, down-infested tent, were a tight-group of 15 Swallows which, a bit like me, were emerging from their roost-site and shaking their ice-coated wings at the glorious spectacle of a red ball of sun and the promise of a day that had freshness written all over it. Already, at this early hour of the morning, The Old Head was in fantastic form scenically – one of the major attractions of my being here. Now we come to one of the central issues of this piece and why I feel duty-bound to have mentioned the place at all. At its best, this is as spectacular a backdrop in which to be birding in as anywhere I've been in the world - part rugged, part gentle in its attractions: a full three hundred and sixty degrees of rolling, undulating green and gold fields and postcard perfect skies everywhere you look. Views out east and west to Seven Heads and Galley Head are vivid and wild, dotted with copses and distant farmsteads, and always, the rich blue of the sea. As I've sometimes noticed in other areas of outstanding natural beauty, there are times when I look at the scene here and I can scarcely believe it is real. A word I love...numinous...is the best I can use to describe something like this – a kind of shimmering, surreal presence, that seems to link the actuality of what I sense with my vision to some unseen corridor of our imaginations, part past-nostalgia; part future-longing. It is like walking around inside an actual work of art.
My first point of call, the plantation, where there was no early sign of the Grey-cheeked Thrush. Only momentarily was I on my own: within minutes two British twitchers – Stuart, whom I met in Ballycotton last autumn, and Tom, stopping en-route to the Green Heron, wisely (in my and their opinion) seeking out the Grey-cheeked first, before any resulting 'crowd' might ensue. I was only sorry for them that it chose never to show again. Together we watched eighteen fluffy little silhouetted forms drop in from the skies, alight briefly and move on – Coal Tits, presumably 'continental' birds if they'd allowed us more time.
I pressed forward on my own - thanking but 'no-thanking' my friends and their offer of a lift for the Heron. Chaffinches came in; three groups of a dozen; more Coal Tits in ones and twos; Skylarks, Meadow Pipits both moving; twenty or more Swallows; ten House Martins. What was most remarkable for me was that (as I've said briefly already) the wind was slightly but distinctly northerly, and the birds were heading directly into it. I've seen this hundreds of times over ten years in Cape May but never as far as I can remember on this side of the Atlantic. South-westerly force four or five and six, yes, but not northerly three or four?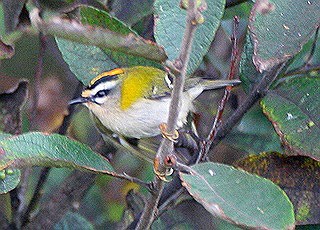 Firecrest: A favourite with many birders, and always a pleasure to see. (photo: Sean Gray).
I passed a garden – the 'orchard' we call it – and heard a sound I thought I recognized. I'm usually pretty good on calls but one persistent blockage of mine over the years has been that I've never felt comfortable with Firecrest. I've lost count of how many times a lower-pitched, hoarser Goldcrest has led me astray. This had to be one though, surely...and it was, after fifteen minutes waiting. Like Yellow-browed Warbler, Firecrest is a bird you just have to see every year to remind you how good they are. Last Thursday when I was watching three Yellow-broweds here at the Old Head there were thirty-five Firecrests on Cape Clear Island not far away from me - and yet I couldn't see one. That made it all the more pleasing to see this one here and later on in the day I saw another (at much closer range) and for thirty minutes or more – no wonder it was the bird so many seasoned birders referred to as their 'personal favourite' in the book Blokes and Birders.
Talking of Yellow-browed Warblers, the bird I discovered in the rain yesterday afternoon was still 'in residence' in the same spot as yesterday - now in bright sunshine, though calling less frequently. The location it inhabited I christened 'the Magic Garden' several autumns ago after finding a Melodious Warbler there (on my very first visit) and subsequently noticing that it seemed to hold birds even when other areas were empty. The name seems to have caught on. Other gardens in the area held up to seven or eight Chiffchaffs and yet another Yellow-browed (briefly at first, much more protracted in the afternoon), while three or four Willow Warblers were unusual this late in the year.
Prowling around at a steady pace, enjoying the peace and quiet of the Head, the sounds of cows replacing the roar of city traffic, the occasional kyee-ah of a Chough, I came to a steep, sheltered eastern gully. Scanning across with binoculars (again, referencing my previous BirdGuides article) is not always my idea of fun - yet having already made one or two exploratory ventures into the gully on previous visits that almost cost me a broken limb, it was the only sensible thing to do. Looking down from the top of the precipice it was difficult to judge scale correctly. I needed to prop my binoculars on a fencepost to steady them while trying to make sure a distant female Blackbird wasn't a Black-throated Thrush, which it wasn't. But, right next to her a sudden flash of wingbars and white tertial tips led to an interesting bird. Another Yellow-browed Warbler? No, a Common Rosefinch...the third I've 'found' in Ireland (whereas none in north-east England).
I'd reached that particular time (1pm) and that particular place on the headland where I'd checked all my usual spots such that I could be fairly sure this would be my peak for the day. So I decided to treat it as such. Okay, it was 'only' a Common Rosefinch (and it wasn't exactly close) but as far as I was concerned, watching an 'uncommon migrant', out in the open, feeding on blackberries in full, glorious sunshine, was as satisfying a way as any to round off a splendid little morning.
Just as I thought, that Rosefinch was to be the last of my notable sightings for The Old Head for this particular October. The following day was to be beautiful, mild and sunny and I spent most of it (having ascertained most birds except one Yellow-browed had left The Head) lounging in the long grass. The following Thursday's bus journey was memorably unmemorable and I left in early afternoon.
Meanwhile, back with the 'missus'...I spent three wretchedly wet days in a row at Ballycotton in strong, easterly winds - 'ideal' conditions in one way, but bloody awful if you ask me! Between what my friends the weathermen euphemistically termed 'showers' (though where one 'shower' ended and the next began only an expert presumably could tell?) I did garner some fragments of joy. A juvenile Hobby – a very scarce bird in Ireland; certainly my first – passed me at eye-level along the clifftops one morning, and later in the day a Black Tern (also an Irish 'tick') struggled past the pier. A very grey-coverted Little Stint had me thinking about Red-necked...until its structure satisfied me otherwise; a Yellow-browed Warbler, despite my half-dozen or so at The Old Head, was a personal first for Ballycotton; and two separate Ring Ouzels at least caused some interest upon the local grapevine. Up to a dozen Black Redstarts always gave reason to whip the binoculars out from under the raincoat and risk a few splashes on the lenses.
And that, at the time of writing, is that! It is a Tuesday afternoon. I have two more days' holiday left before the end of the month, tomorrow and Thursday. Light rain is forecast for tomorrow, sunny Thursday; strong southerly winds both days...I'm thinking I may get the nine'o'clock bus down to Ballycotton tomorrow morning, check the marsh at high tide and then do the gardens, although maybe if it rains I'll be better off doing the latter first, but I'd prefer to walk the cliffs, though it's a long way and if I go to Kinsale instead I could hitch to the Head and then camp on the...
If anything exciting happens, I'll write and let you know.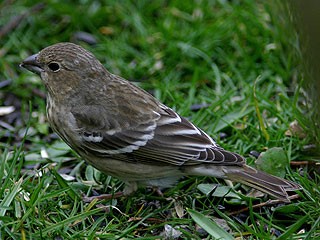 Common Rosefinch: Perhaps not the most stunning of birds, but always a good reward for the self-finder. (photo: Jim Nicolson).