After an indulgent Christmas, many of us crave a refreshing winter walk and plenty of RSPB nature reserves up and down the country will be opening their doors on Boxing Day. There's so much to see at this time of year, from huge flocks of wildfowl and waders to Common Starling murmurations, and of course there's always the chance of a winter rarity. Here are a few ideas for inspiration …
Burton Mere Wetlands, Cheshire
This winter wildlife haven is full of birds. Probably the most spectacular (and noisy) are the thrushes and Common Starlings that have come from the Continent to feast on our unfrozen farmland. Hen Harriers winter out on the saltmarsh, but will regularly hunt the pools and wetland here. Both Whooper and Bewick's Swans over-winter on the estuary and occasionally drop in for a feed or even to spend the night. Frozen days are the best time to see the usually shy Water Rail as it is forced to leave the cover of vegetation to find somewhere to feed. On Boxing Day, the visitor centre will be open from 9.30 am-4.30 pm. Find out more: Burton Mere Wetlands.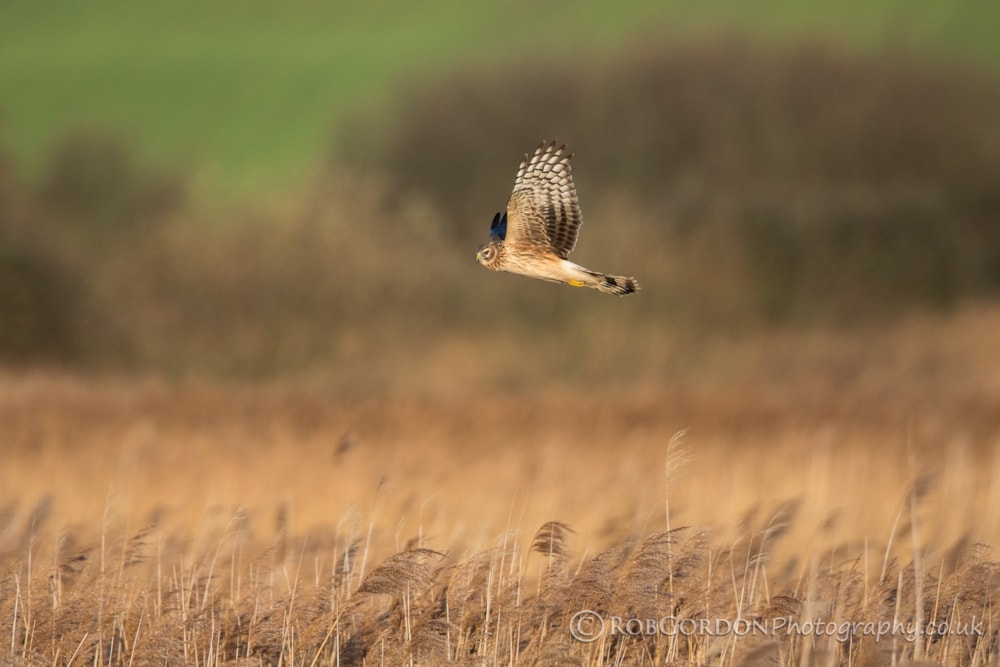 The Wirral supports a small wintering population of Hen Harriers, with these birds making regular forays to Burton Mere Wetlands (Rob Gordon).
Crook of Baldoon, Dumfries and Galloway
The view that opens up as you approach the reserve's car park is breath-taking. Cairnsmore of Fleet and the Galloway Hills act as a backdrop to wild saltmarsh and mudflats which positively ooze with birdlife. This stunning site plays host to thousands of winter visitors such as Pink-footed and Barnacle Geese and a large number of Common Shelducks and Whooper and Mute Swans that feed and roost on the merse. In the hawthorn and crab apple trees you might see hundreds of Redwings and Fieldfares. Other birds that can be watched in numbers include Eurasian Oystercatcher, Eurasian Curlew, Ringed Plover, Northern Pintail and Eurasian Wigeon. There's a guided Boxing Day walk along the flood bank at 2 pm. You can find details and further information at Crook of Baldoon.
Frampton Marsh, Lincolnshire
In 2016, readers of Birdwatch magazine voted the reserve as 'Site of the Year' in the Birders' Choice Awards, recognising the sizeable number of rare birds visiting each year. So why not visit one of the RSPB's most amazing wetland nature reserves this Boxing Day? In winter Frampton Marsh becomes a magnet for thousands of birds who will make this fantastic place their home for the colder months. See the huge gatherings of wildfowl and waders that have come from as far as the Arctic Circle. The site is also very good for winter flocks of European Golden Plover, farmland birds and numerous birds of prey, while there is also a Common Starling murmuration.
The visitor centre will be open 9.30 am-4 pm, offering fantastic views across the reserve. Find out more: Frampton Marsh.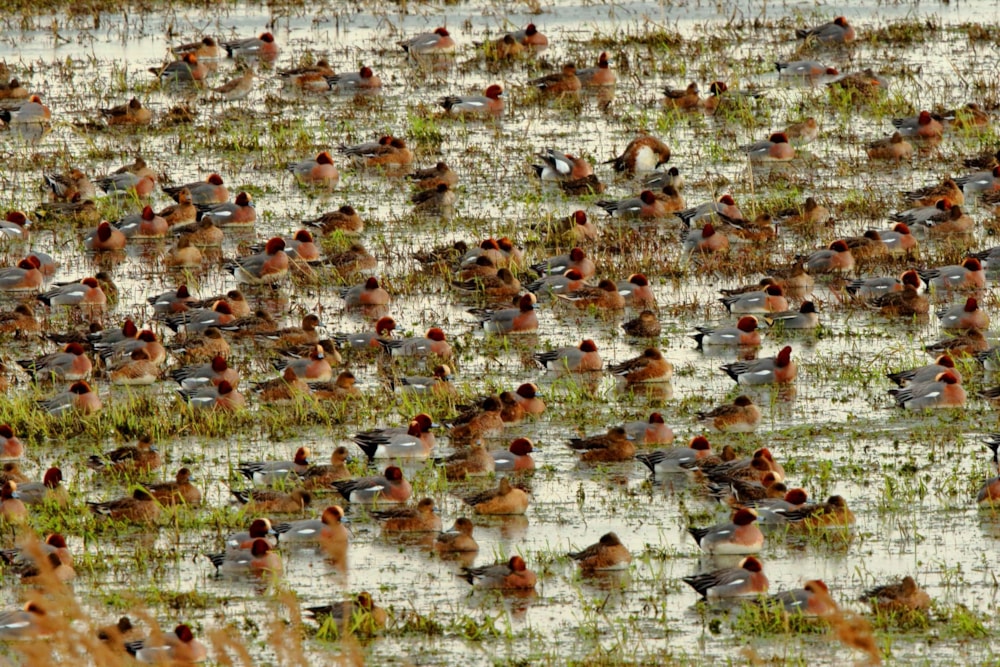 Vast flocks of Eurasian Wigeon, as well as other wildfowl and waders, grace the scrapes at Frampton Marsh (Bryan Hutchings).
Labrador Bay, Devon
This nature reserve near Shaldon was purchased in 2008 to help secure the future of Cirl Bunting, a rare songbird whose population is almost entirely restricted to south Devon.
The number of birds on the stubble here should increase at this time of year as food becomes harder to find. Look for the buntings perched on hedges around these areas. Males will sing all year round, so listen out for their rattling tunes. Find out more: Labrador Bay.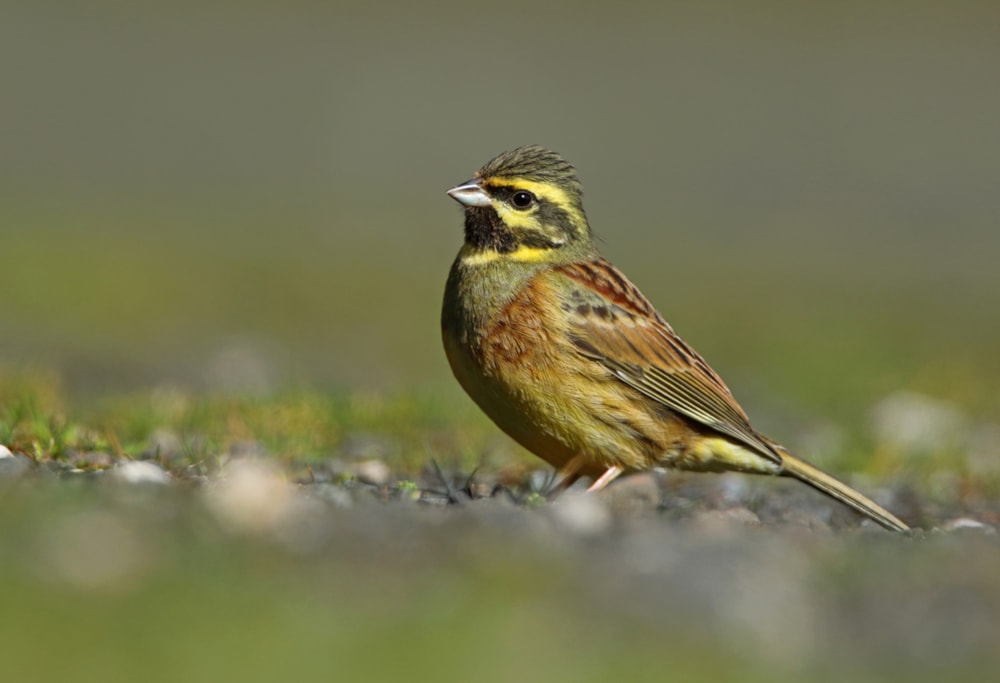 Cirl Bunting, undisclosed site, Devon (John Dickenson).
Leighton Moss, Lancashire
Leighton Moss has the largest reedbed in north-west England and is home to some really special local species such as Eurasian Bittern, Eurasian Bearded Tit and Western Marsh Harrier. Eurasian Teal, Northern Shoveler and Gadwall join the resident ducks to congregate in large numbers on the pools. Bitterns and Water Rails can be seen out on the ice during cold spells. Flocks of Eurasian Siskins feed in the alders, while herds of Eurasian Wigeon and Greylag Geese graze the saltmarsh at the Allen and Eric Morecambe pools, and are regularly disturbed by wintering Peregrine Falcon and Merlin. Find out more: Leighton Moss.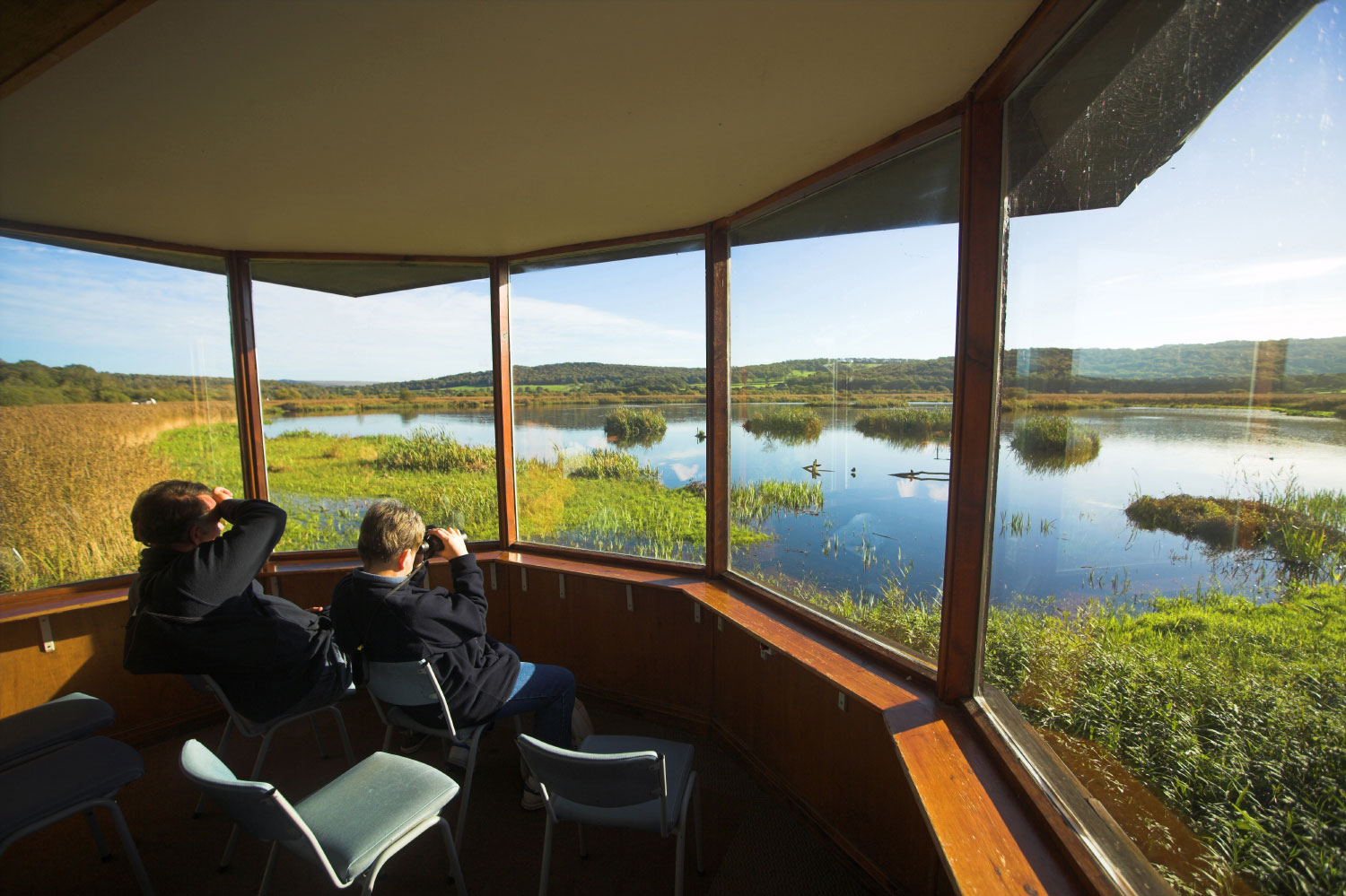 Looking out from Lillian's Hide at Leighton Moss, Lancashire (Ben Hall/RSPB images).
Portmore Lough, County Antrim
If you enjoy walking and wildlife, Portmore Lough is a great day out at any time of year. There will be large flocks of European Golden Plovers and Northern Lapwings congregating on the flooded meadows. On the lough, Common Pochard and Tufted Duck numbers are at their peak. Greylag Geese and Whooper Swans noisily come to the water to roost just before dusk. Tree Sparrow, Common Linnet and Chaffinch flocks are at their maximum on the crop field behind the car park, as seed elsewhere is in short supply. The reserve's car park and toilets will be open 9 am-5 pm. Find out more: Portmore Lough.
Pulborough Brooks, West Sussex
This tranquil wildlife oasis is just a couple of hours' drive from London, and is a perfect getaway for a festive day out. This corner of the South Downs National Park is teeming with birds at this time of year, with thousands of wintering ducks, geese, swans and waders using the flooded fields. Look out for Eurasian Wigeon, Eurasian Teal, Northern Pintail, Northern Shoveler, Ruff, Common Snipe and Bewick's Swans. Short-eared and Barn Owls, Hen Harrier, Peregrine Falcon, Merlin and Eurasian Sparrowhawk are also regularly seen hunting over the reserve. The car park and nature trail will be open from 8.30 am, and the visitor centre will be open from 9.30 am. The café serves bird-friendly coffee, fresh sandwiches and delicious locally baked cakes. Find out more: Pulborough Brooks.
Sandwell Valley, West Midlands
Sandwell Valley RSPB is a great starting point for exploring the unique and beautiful green space that is Sandwell Valley Country Park. Winter wildfowl including Goosander find refuge on Forge Mill Lake and Island. Resident Tufted Ducks are joined by their cousins from colder parts of the Continent, with Common Goldeneye occasionally visiting. Wintering Northern Lapwings flock to the reserve from the north. Fieldfares and Redwings gather in the poplar trees before going to roost at the end of the short winter day. Water Rail can be heard squealing from the reedbed and marshy areas. Find out more: Sandwell Valley.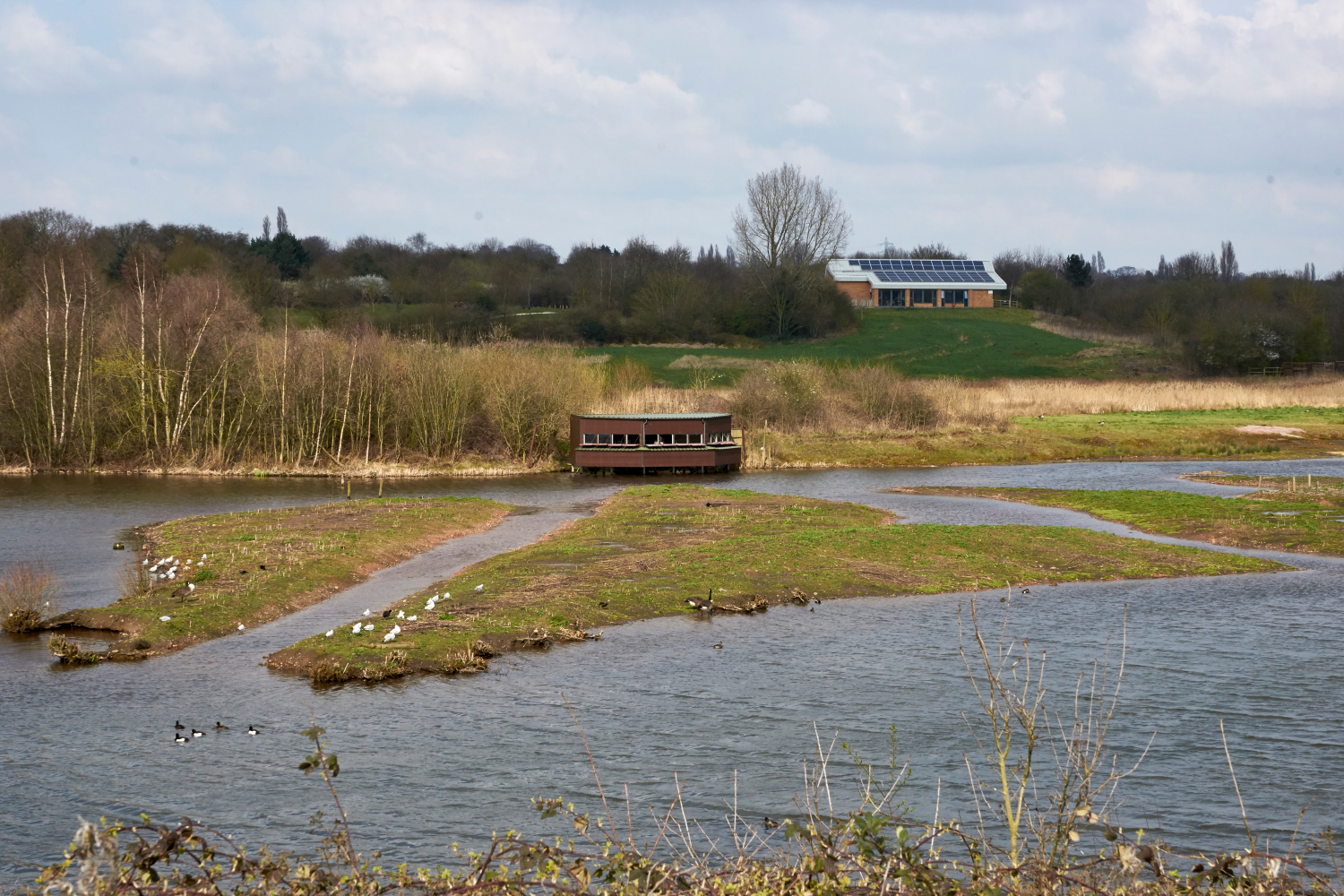 Sandwell Valley's hide is a good place to watch wintering wildfowl, including Goosander (Stephen Morgan/RSPB images).
Titchwell Marsh, Norfolk
A walk from the visitor centre down to the sandy beach takes you past reedbeds and shallow lagoons, which are usually full of birds. You can sit on benches or watch from the spacious, wheelchair-accessible hides. Winter is the time for wildfowl at Titchwell: the commonest species are Eurasian Teal, Eurasian Wigeon, Mallard, Gadwall and Northern Shoveler, with smaller numbers of Northern Pintail and Common Goldeneye. Offshore from the reserve, large 'rafts' of Common Scoter, Long-tailed Duck and Common Eider can be seen. In the evenings, thousands of Pink-footed Geese fly to their roost sites along the coast. Hen and Marsh Harriers and occasionally Barn Owls hunt over the reedbed at dusk. While the visitor centre is closed on Boxing Day, the reserve hides, toilets and car park will be open as usual. Find out more: Titchwell Marsh.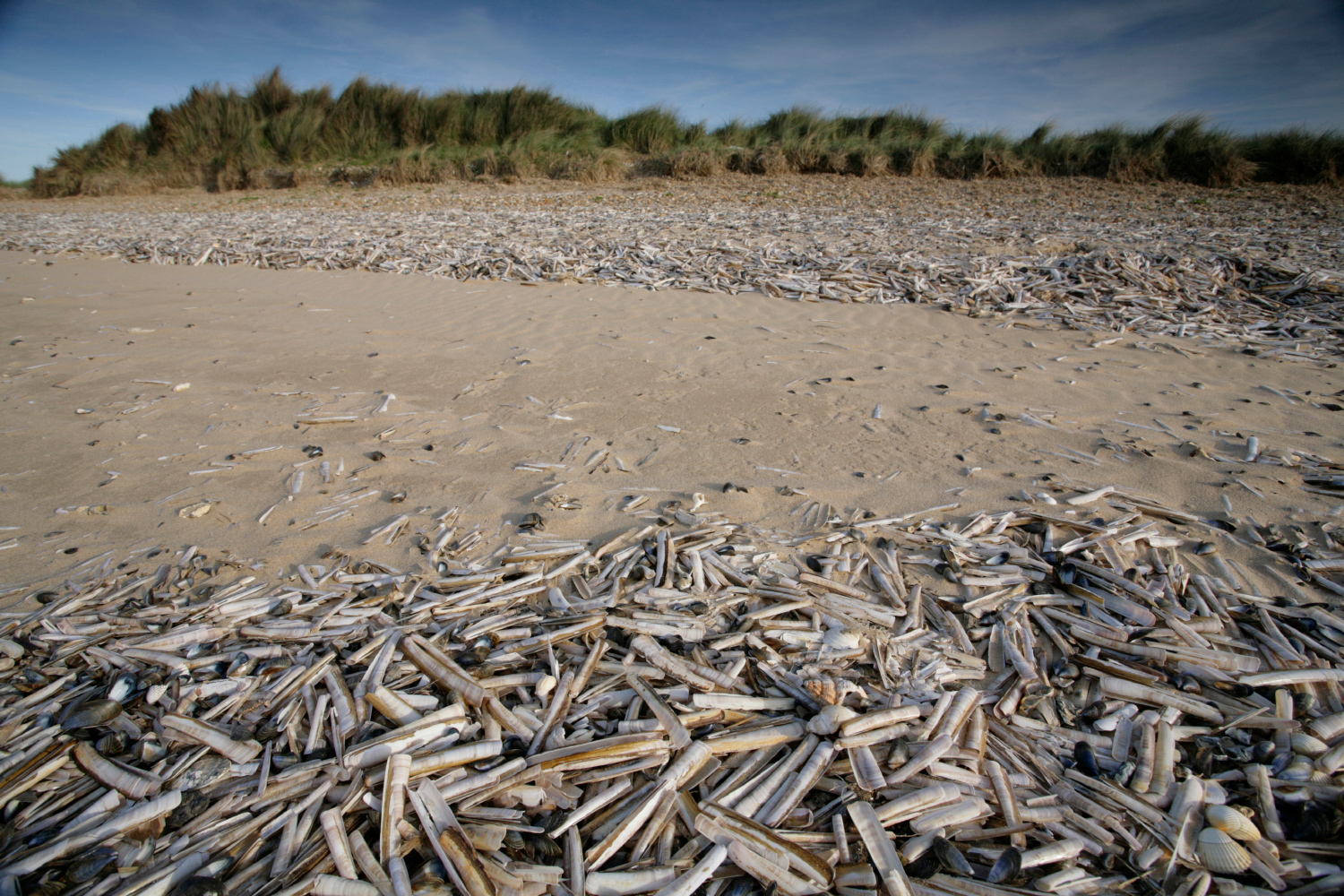 As well as supporting good numbers of seaduck offshore and attracting the odd Snow Bunting or Shore Lark, periodical razor shell 'wrecks' like this can attract huge numbers of feeding gulls to Titchwell beach (Andy Hay/RSPB images).
St Aidan's, West Yorkshire
If you're looking for a bracing walk with amazing views, this is the place to be. You're spoilt for choice when it comes to walking routes: there are 7.5 miles of trails, plus the Trans Pennine Trail passes by the nature park on its southern side. Large flocks of Eurasian Wigeon graze on the wet grassland. Flocks of wintering waders take to the skies when a Peregrine Falcon appears overhead, on the look out for a meal. The visitor centre will be open 9 am-4 pm on Boxing Day. Neighbouring Fairburn Ings will also be open, so you can fit in two nature reserves in one day if you wish. Find out more: St Aidan's.
The RSPB manages more than 200 nature reserves across Britain. Read more about them here: rspb.org.uk/reserves.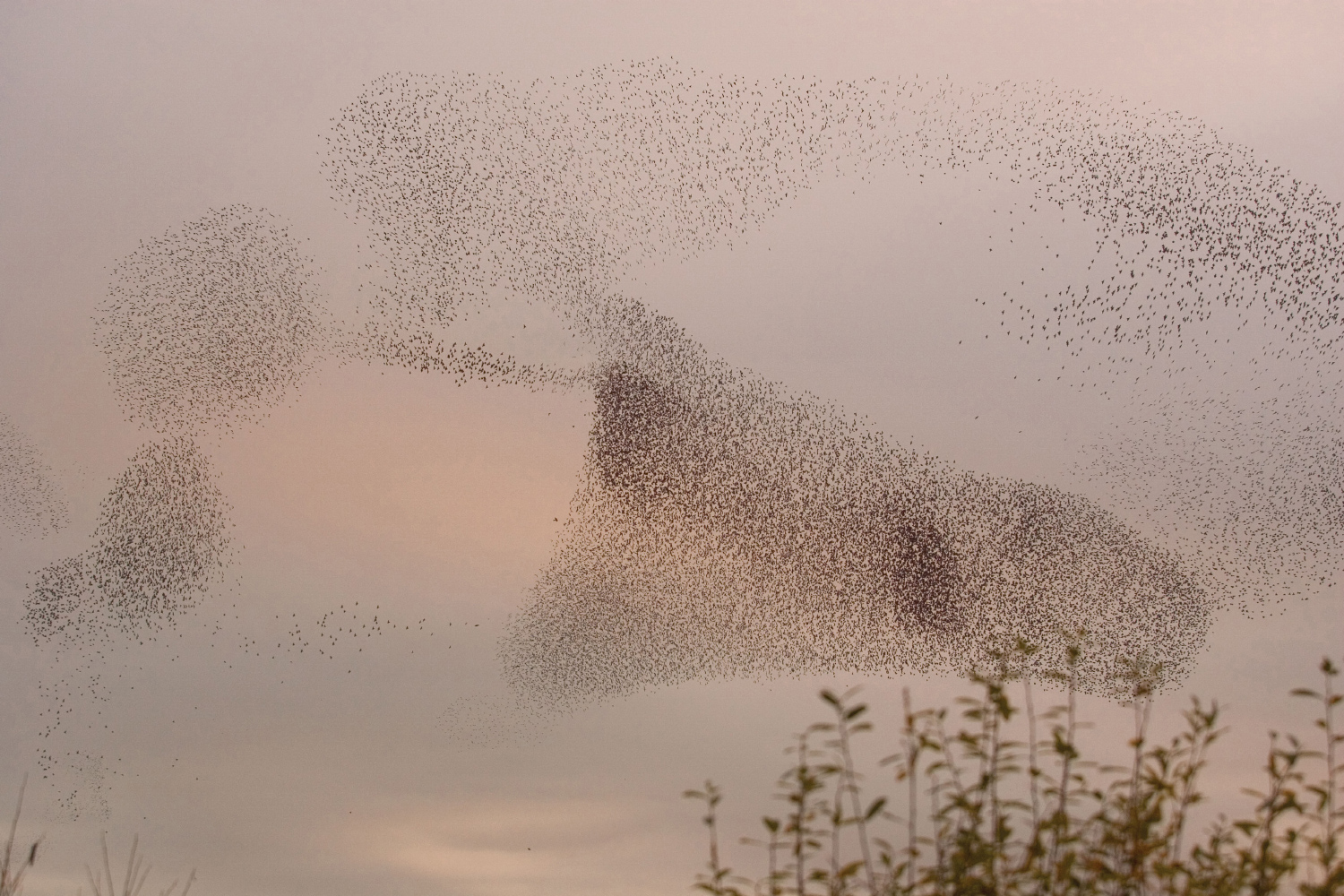 Several RSPB reserves offer the chance to see spectacular murmurations of Common Starlings. These were at Ham Wall, Somerset (David Kjaer/RSPB images).