It is fair to say that the British Ornithologists' Union Records Committee (BOURC) has applied an inconsistent approach to vagrant wildfowl and waterbird species occurring over the years. Some species have enjoyed a relatively stress-free ride onto Category A of its British list; take, for example, the admission of the 2016 Dalmatian Pelican, which few would have predicted to be accepted as wild when it first turned up.
Others, however, have struggled and ultimately been consigned to either Category D or E – they are considered or proven to be of suspect origin, Wood Duck being a classic example. Then there are those that have been reassessed and subsequently 'upgraded' to Category A following review – such as Chinese Pond Heron or Falcated Duck. In this second part of the 'time to reconsider' series, we look closer at species on which the door has previously been shut which, in reality, are probably occurring here as wild.
We begin with the aforementioned Wood Duck. A common bird across North America as far north as southern Canada, it is mostly resident – although importantly, northern populations winter further south, some as far as Mexico. Alongside Mandarin Duck, it is a species commonly kept in captivity due to its exotic looks, which itself is a problem when attempting to argue wild origins for any particular individual. The majority of likely candidates are written off for this very reason. However, there are plenty of accepted Western Palearctic (WP) records, including at least 15 from the Azores and five from Iceland.

For Wood Duck records are currently in Category D of the British list (Morten Scheller Jensen).
Four records currently reside on Category D of the British list, all from Scotland, comprising three drakes – one on mainland Shetland from 16 April-20 June 2009, one on South Uist from 27-30 March 2014 and one at Banton Loch, near Glasgow, from 2 November-29 December 2014 – plus an adult female at Loch Morlich, Highland, from 1 January-24 March 2008.
Each of these puts forward a solid case and should be assessed individually, focusing on behaviour – the species is typically flighty when approached and only 'accepts' human presence once a bond has been imprinted. It is likely that is will take either a stable isotope analysis or a ringing recovery from the native range to convince the BOURC, but evidently it's a species reaching the WP and hopefully an upgrade to Category A is not too far off.
The real teal?
Due to its shy nature and difficult care requirements, Cinnamon Teal is not often kept in captivity. The northern subspecies septentrionalium, breeding from British Columbia south to New Mexico and wintering south to north-western South America, is a candidate to make it to Britain.
It's secretive, spending the majority of its time on well-vegetated, small lakes, and female-types look very similar to Blue-winged Teal – is it possible that the species has been overlooked in the past? Given its similarity to – and association with – Blue-winged Teal, one might expect it to exhibit a similar vagrancy pattern to that species, and the adult drake Cinnamon at Loch Tuamister on Lewis, Outer Hebrides, between 13 May and 16 June 2004 is a stand-out candidate for being wild.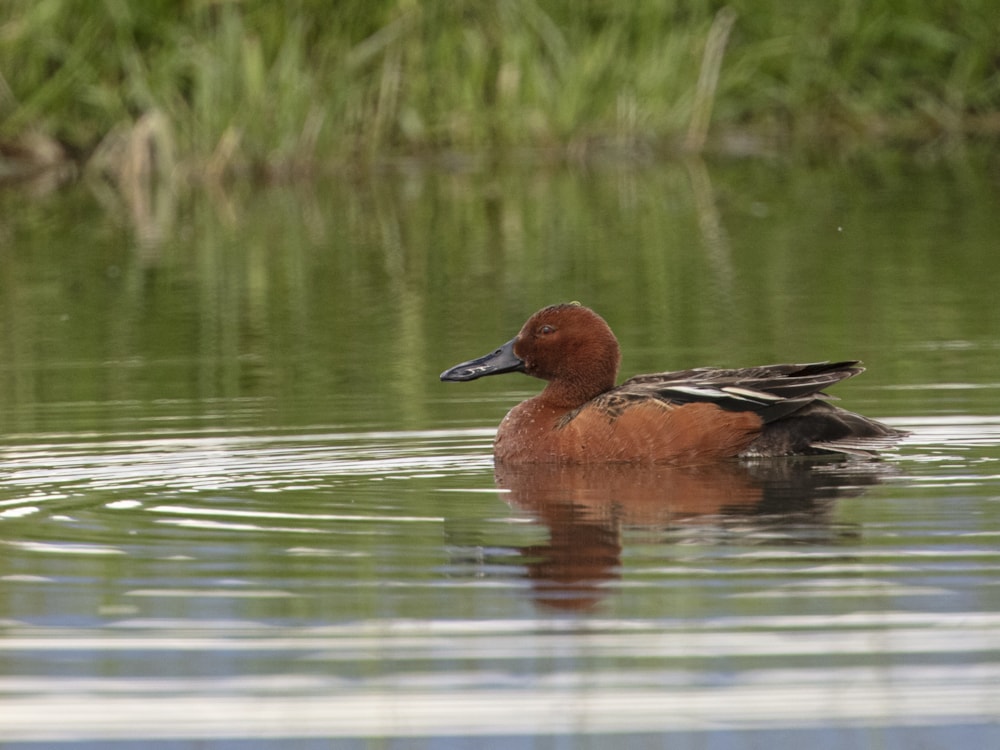 Due to its shy nature and difficult care requirements, Cinnamon Teal is not often kept in captivity (David Tattersley).
Both wary and elusive, it was found during a strong run of Nearctic waterfowl that spring, which included a Bufflehead flying past Aird an Runair, North Uist, on 10 May and at Loch Branahuie, Lewis, 10 days later. This (and other birds) were accepted as wild, but the Cinnamon failed to make the grade – surely it was as good as it gets for a genuine transatlantic visitor?
Europe's only native stifftail, White-headed Duck, is split into two European populations, one in the western Mediterranean, as well as North Africa, and the other in the Central Asian steppe. Eastern populations are migratory, moving south and west for the winter, making it a realistic vagrant to Europe. Prior to extermination in Britain, Ruddy Duck would migrate southwards and mix with Iberian White-headed Duck, making it a carrier species for its rarer cousin.
Records of White-headed Duck in the late 1990s and early 2000s, usually among sizeable Ruddy Duck gatherings, hinted that these were genuine migrants, moving up from Iberia with returning Ruddies – if the latter can do it, then surely the former can too? A significant number of these characterful birds popped up in 2002-03; at least two (and possibly four) in autumn 2002 saw up to three hang around into the following spring, with another apparent influx in the late summer and early autumn of 2003 seeing at least six, and possibly several more, appear. Of these, a first-summer male at Hardley Flood, Norfolk, for four months from 19 June 2002 was the first of this significant arrival.
Marbled Duck is another point of controversy, although its status as a vagrant across Europe is painstakingly complex – in France, for example, potential vagrants are generally viewed with scepticism as to their origins, even though there are accepted records. Overall, it would seem this is a less strong candidate for addition to Category A, but nonetheless some records do perhaps have merit.
Single youngsters at Stanpit Marsh, Dorset, in September-October 2006 and in Suffolk between August and October 2007 seem good at face value and, as far as spring records are concerned, a drake on the Severn Estuary at Saul Wharf from April-June 2007 is particularly striking. It was joined by a flock of Glossy Ibises on site for a time, making for a truly Iberian spectacle and adding to the authenticity somewhat. Despite this, escapes clearly still occur and make adjudicating on records difficult: stable isotope analysis of a first-winter shot in Essex in 2007 concluded that there was no evidence of origin from Spain or Africa, but rather that it was probably from northern Europe.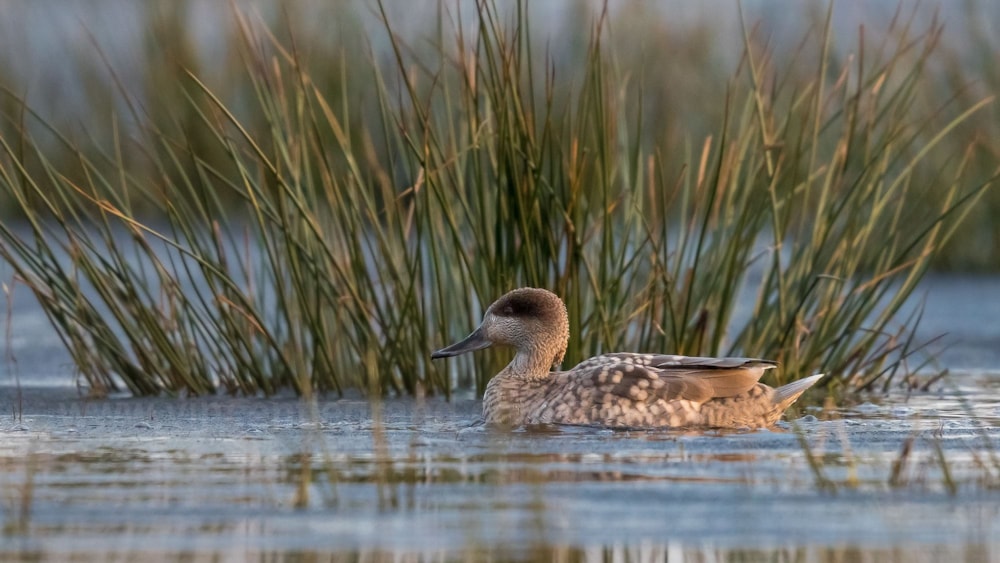 Marbled Duck would seem a less strong candidate for addition to Category A, but nonetheless some records do perhaps have merit (Vincent Legrand).
Goose down
Ross's Goose is a species which continues to evade the British list, despite several strong candidates having appeared over the years. Its population has exploded since the 1960s, with numbers rapidly rising from 100,000 to perhaps 3 million today, and its range largely overlaps with the closely related Snow Goose, which is routinely accepted as occurring here in a wild state.
Adult geese commonly pair bond so the likelihood of a 'new' adult arriving to Britain is relatively low. However, first-years and returning adults that have become accustomed to the journey within a flock of carrier species are more expected. A number of returning adults have been noted in Pink-footed and Barnacle Goose flocks in the past, but it is most likely a first-winter that will get Ross's Goose added to Category A. Other European countries have already added the bird to Category A of their own lists and a pattern of vagrancy does appear to be established.
The obvious British candidate is a youngster that wintered among Pink-feet in Norfolk between November 2001 and February 2002 which, as the years pass, seems an ever-more obvious genuine vagrant. If other vagrant geese can be accepted with similar caveats to this bird, it simply looks like a case of inconsistency from the committee – certainly not an isolated issue with wildfowl.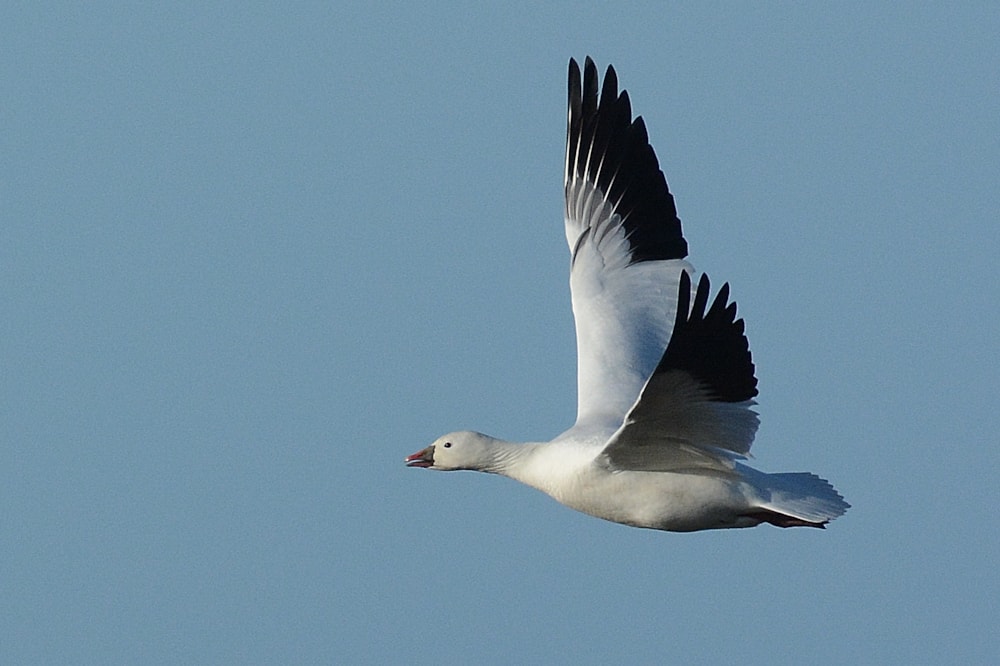 Ross's Goose is a species which continues to evade the British list, despite several strong candidates having appeared over the years (Derek Walsh).
Great White Pelican is widely recognised as a potential vagrant to Britain, with a number of records held in Category D. Studies have supported the vagrancy of the species within Europe, finding that annual out-of-range numbers could largely be predicted by colony size and breeding success in Greece. The northernmost breeders within Europe are migratory, wintering south to eastern Africa, and there have been a number of influxes into Western Europe. In spring 2019, birds were found in Germany, Austria and France, the latter including a group of three immatures.
In 2006, an adult seen in Germany during July and at various sites in The Netherlands between May and August, where it was accepted as the ninth national record, later showed up in Britain – first in Norfolk and then as far north as Moray and west to Anglesey. It ended its journey in Northumberland in early October, when it was then taken into care. There are a number of other intriguing British occurrences: one flew in off the sea at Breydon Water, Norfolk, during a warm spell in 1906 and another was in Essex, Kent and Humberside in 1975.
Although not currently on the British list, it's likely that Greater Flamingo occurs as a genuine vagrant, despite escape potential. What about the two past Portland Bill, Dorset, in July 1975 or the flock of 12 flying offshore at Weybourne, Norfolk, in July 1980? Of the more recent records, a first-summer in Greater Manchester from 24-26 May 2002 is striking. A period of high pressure and southerly winds preceded this find, and saw a number of other 'overshooters' across southern Britain, including White Storks, Purple Herons and Black-winged Stilts. A short hop across the Channel, five flamingos at Baie de Somme, France, from 28 June 2010 included one ringed as a nestling in the Camargue in 2005.
Considering cranes
Demoiselle Cranes migrate in large flocks from their Central Asian breeding grounds to sub-Saharan Africa and the Indian subcontinent. Its historic occurrence in Britain is confirmed by remains discovered in Derbyshire, yet the species' potential occurrence in the modern era is much more controversial.
The provenance of the Broadland flock of six birds at Horsey, Norfolk, on 23 April 1967 remains a complete mystery, as do the origins of birds seen elsewhere in the country in the same year, although it seems probable these all formed part of a natural irruption. In captivity, cranes are kept in pairs as they become territorial and aggressive when breeding, and a group of six escaping en masse seems inconceivable.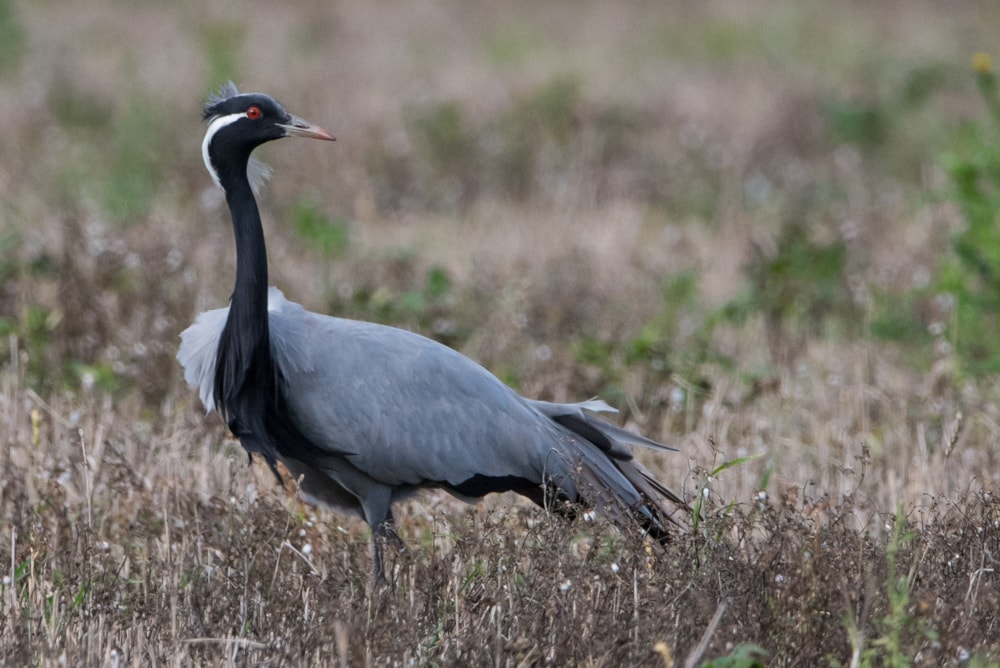 Demoiselle Crane's potential occurrence in the modern era is controversial (Jim Mountain).
An exhausted adult at Spurn, East Yorkshire, on 13 September 1993 turned up in classic drift conditions that also delivered Great Snipe and Red-throated Pipit. Seen by hundreds during its 11-day stay, the date coincided with the species' main migration period through the Mediterranean (late August to mid-September). However, it was subsequently seen in Essex until 5 December and became very approachable, taking maggots from local fishermen, and was widely derided as a potential escape. That said, other European records suggest this may one day make it to Category A in Britain – perhaps the 1967 influx shouldn't have been dismissed.
A freshly dead juvenile Yellow Bittern at Radipole Lake, Dorset, on 23 November 1962 was dismissed as being a likely escape at the time, but there is a lack of evidence to suggest the species is found in captivity. Recent improvements in our understanding of the long-distance vagrancy potential of small herons, including Chinese Pond Heron and a Von Schrenck's Bittern trapped in Italy in 1912, all point to a record worthy of further exploration. Reviewed in 2008 but kept off the British list due to atypical feather growth and the circumstances surrounding the collection of the specimen, this nonetheless must have some merits and another here – especially in the late autumn period – would raise serious questions.
Clearly, there are numerous wildfowl and waterbird species that have, in all likelihood, made it to Britain unaided as wild birds. The case is certainly stronger for some than others, but there can be little doubt that some species have been treated over-cautiously by the BOURC, especially in light of similar, accepted species.
While escape potential always has to be considered, it is important to keep an open mind with birds – would the Dalmatian Pelican, for example, have been accepted 20 or 30 years ago? Probably not. As our understanding of species previously written off improves, and our realisation that some are more prone to vast wanderings than we have traditionally given them credit for, there is always a case for re-visiting some of those that many believe to have been wrongly dismissed in the past.