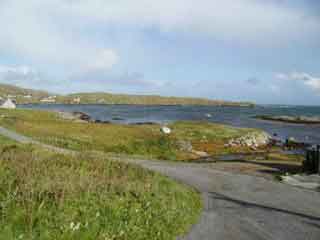 Breihbig Bay: Barra, Outer Hebrides (photo: Stuart R Green).
Islands can be magical places, especially if you're looking for birds. Especially so if it's a small, isolated island and you're looking for migrant birds. Equally, they can be exceptionally dull places. If the wind is blowing from an unhelpful direction, and is coupled with frequent rain, these islands can seem like hell on Earth. At least that's how it felt to us!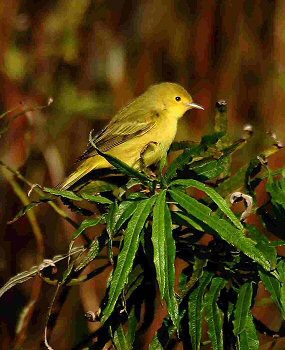 Yellow Warbler: Barra, Outer Hebrides The highlight of 2004 on the island (photo: Jim Duncan).
The unfortunate "us" comprised Ewan Forbes, Keith Gillon, Tony O'Connor, Mark Oksien, Stuart Rivers, Calum Scott, and me. This was our fourth consecutive autumn spent thrashing the remote Hebridean island that is Barra and Vatersay. Previous years had been kind to us. Rarities as varied as Arctic Warbler, Blyth's Reed Warbler, Paddyfield Warbler, Citrine Wagtail, Redhead, Red-eyed Vireo, Rustic Bunting, and Yellow Warbler had all been logged in the first three autumn trips. Scarce migrants such as Barred Warbler, Rose-coloured Starling, Yellow- browed Warbler, and Melodious Warbler had also given themselves up to us in that period, justifying our decision to give the island a thorough going-over during migration periods. Some had thought we'd be lucky to notch any migrants of note at all, but happily we had proved them wrong.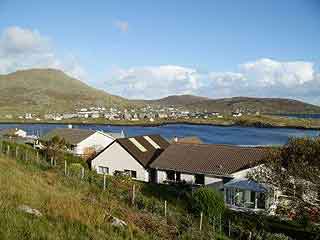 Castlebay: Barra, Outer Hebrides (photo: Stuart R Green).
Or so we thought. The 2005 "expedition" was becoming as dull as the proverbial dishwater (or ditchwater in this case). A constant stream of strong to gale force southwesterly winds and rain made day-to-day life in the field extremely difficult and wearisome. Not only that, these winds were closing the door to any European, Scandinavian or Siberian migrants that may have been trying to make it south down the west side of Britain after going "over the top" of Scotland. Previous years had at least always provided hope in the form of Lesser Whitethroats, Pied Flycatchers, Spotted Flycatchers, Garden Warblers, Blackcaps, and the like. Never anything like in the sort of numbers you would expect in a fall of migrants on the Northern Isles, but enough to make you think you had a chance. This year however, virtually nothing in terms of these species appeared. How much this was due to the fact there were actually no birds present, or were just not able to be found given the dreadful weather conditions, is unknown.
The omens were there on the first day. A nice, sunlit morning soon gave way to a constant stream of showers and cold, near gale force north westerlies. Every cloud, as the saying goes, has a silver lining, and so it proved here. Streams of Snipe were swarming in off the sea from the northwest; none of us had ever seen anything like it. Okay, there was nothing doing in the bushes, but the spectacle of this mass arrival of waders was visible migration in action, and we sat for hours counting them as they arrived and dispersed over the island. Fantastic!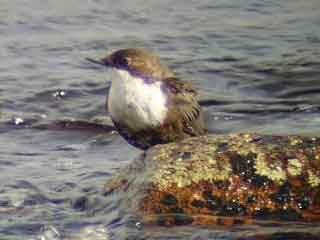 Dipper: Barra, Outer Hebrides Even 'common' birds can be rare in a different setting (photo: Stuart R Green).
Days later however and we had been reduced to running around the island after "good Barra ticks". Tree Sparrow, White-tailed Eagle, Siskin, and Dipper all provided much entertainment, as various members of the group struggled to catch up with them. The Sparrow was a huge surprise, found by two visiting English birders who'd given the island a try for a week. An even bigger surprise was the news from Andrew Stevenson, the county recorder, that the Dipper may be the first record for the island since the 1890s!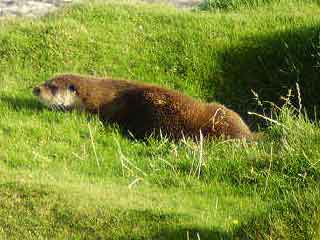 Otter: Barra, Outer Hebrides (photo: Stuart R Green).
Otters and Dolphins were all very nice too, as were the beautiful surroundings and at times fantastic light, but couldn't make up for the lack of the scarce migrants that we were hoping for.
We all knew the weather had to calm down to give us a chance to find anything, and after four days of tedium, it did so. First Reed Warbler, then Yellow-browed Warbler, and a Lesser Whitethroat, all hinted at an arrival. Or did it? Maybe these birds had been here since the weekend, and, like the local passerines, had simply decided to sit tight in the bottom of a tree-lined ditch and ride it out until the weather improved. But no sooner had it improved, than it worsened again.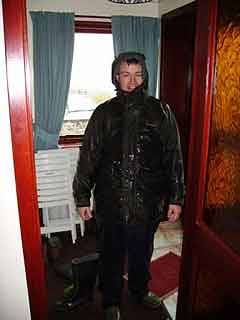 Tony O'Connor: Barra, Outer Hebrides Drenched again! (photo: Stuart R Green).
Seemingly relentless, the wind blew, and from the wrong direction for us. Even sea-watching in what appeared to be brilliant conditions yielded very little. A lone Balearic Shearwater, still a very scarce bird in Hebridean waters, was the only thing at sea to liven the tedium. A Yellow Wagtail on the football pitch at Castlebay was our first in four years here, but didn't even have the courtesy to be a cold-coloured Eastern type.
We discussed the fact that the weather was useless for us and thought at least nowhere else was getting anything. Then there was also the news we had dreaded. A Blackpoll Warbler on the Uists, a Bobolink on Foula, a Blackpoll Warbler on Skye (of all places!), and an Upland Sandpiper and a Red-eyed Vireo on Benbecula. Was someone pulling our leg? OK, the weather was no use for eastern stuff, but why was everywhere else getting the Yanks and we weren't? Not even a measly Buff-breasted Sandpiper or (Yankee) American Golden Plover!
On the Tuesday of our second week, some of the guys cracked, and needing it for their Scottish Lists, headed up to Benbecula for the Upland. Wednesday, Thursday, and Friday all came and went with only the "excitement" of the Yellow Wag to keep us going. Earlier in the week I had said to Keith that we needed to find the biggie now, "cos if we leave it to the Saturday (our last day), then it ain't gonna happen"! We had seen some great birds here in the previous three autumns with "BB" Rarities in each of the four years, and a Yankee passerine in each of the last two years. We had always admitted amongst ourselves however that the blank year would happen eventually.
I personally had been blamed for the lack of success, as I had brought two bottles of bubbly with me. The last day of the trip arrived, and I remembered they were still in the fridge. Oh well, donate them to one of the local charities for a raffle prize, a good PR gesture, etc.
A few days previously, I had bumped into one of the local priests whilst scouring the beaches on the west side of the island, in a bracing wind of course. Typically for a Barra islander, he was very friendly, and we passed the time exchanging snippets of our lives. After I had told him what I was doing out there, I jokingly asked him to have a word with his big boss "upstairs" and see if he could arrange a wee bird for us. He said he would, but then another three days had come and gone with no sign of the Holy Grail, and I assumed that he had forgotten to mention us, or that God really didn't exist.
Amazingly, on the last day of the trip, the sun shone, it was dry, and the wind had dropped to virtually a breeze. I stood watching a Willow Warbler in a garden that had been devoid of birds for two weeks. "Nice one, mate, why aren't you a Yankee warbler" I muttered to it. I happened to glance across the bay, and saw a car coming my way. I thought it was Tony's car, and raised my bins. I could see it WAS Tony, but quickly realised he was alone. I wondered where the others were (usually it was Tony, Ewan, Calum, and Keith in the car), and why is he alone?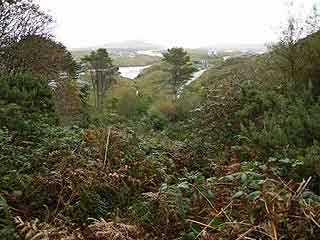 'Grosbeak Grove': Barra, Outer Hebrides (photo: Stuart R Green).
The penny dropped immediately. The others knew where I was, "HE'S COMING TO GET ME!!! Isn't he...?" I ran out of the driveway like a man possessed, muttering over and over in my head that he must be coming for me if he's on his own. What other reason could there be? I arrived, back at my car, breathless, just as Tony screeched to a halt. "Grosbeak, Ardmhor!!" He was breathless too, and could only just get the words out, and I tried to register exactly what he had just said. As I raced up the road to the other end of the island all I could think was "did he say Grosbeak? Grosbeak?" Surely he meant Rose-breasted Grosbeak, and not Pine Grosbeak or Evening Grosbeak? I realised the guys at the top end of the island probably didn't have mobile cover there, so coolly (stupidly???) stopped at a phone box and phoned the news on to Angus Murray at Birdline Scotland. "You mean Rose-breasted Grosbeak?" he asked. "Er, I think so, that's what I took it to mean, haven't seen it yet, call you back..."
....VROOM....
A mad dash up the road, and fifteen minutes later, HALLELUJAH! The priest must have said a prayer after all. How could I have doubted him, or our sacred island? Keith had found the bird, and minutes after my arrival, found himself being thrown to the ground, bemused, being hugged by me. I couldn't believe it. Okay, there have been more than thirty British and Irish records, but this was still only the 2nd record for Scotland, and one of the birds we had discussed previously and hoped for.
| | |
| --- | --- |
| | |
| Rose-breasted Grosbeak: Barra, Outer Hebrides (photo: Stuart R Green). | Rose-breasted Grosbeak: Barra, Outer Hebrides (photo: Andrew Foley). |
Salvation, in the form of a dumpy wee bird from across the pond.
And so a fantastic night was spent in the pub, and the previous two weeks of near misery became a dim and distant, drink-obscured memory! I knew deep down though that we would be back next year anyway, Grosbeak or not. Okay, it HAD been a real slog, but we've had birds there in the past and the island appears to be as well situated as any to receive migrants, rare or otherwise. And it is a lovely island, despite the sometimes dreadful weather, and the warmth of welcome from the islanders is second to none. Every day we would be stopped and asked if we had found anything rare yet (most of the islanders remember the commotion caused by the Yellow Warbler last year!). And virtually every garden was open to us in our quest. And there can't be many places you visit whilst birding where an outhouse (equipped with running water, microwave oven, kettle, fridge, and proper toilet!) is made available to you to use whenever you feel like it.
The trip was saved, and at least the bottles of bubbly were disposed of in the correct manner!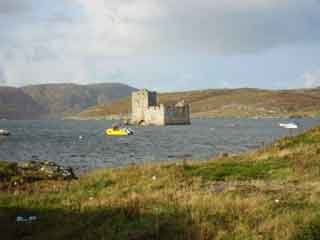 Kismul Castle: Barra, Outer Hebrides (photo: Stuart R Green).