In 2004 I was due to be on Fair Isle for a week during peak autumn migration season, but I took advantage of a special late-season offer and switched to the last two weeks of October. This proved to be a smart decision: after a quiet start to the month, late October was a different story. I was probably the second person to see a first for the Western Palearctic, a Chestnut-eared Bunting in the Skadan crop, and the island was alive with Northern Bullfinches, with their strange, kazoo-like calls.
The day after I left, Fair Isle produced a second new bird for the region in the form of a Rufous-tailed Robin. This silenced most of the doubters about the origin of the bunting, and indeed both species have since turned up again in Britain. The great potential of this time of year to produce really 'big' rarities was brought home to me in spectacular fashion.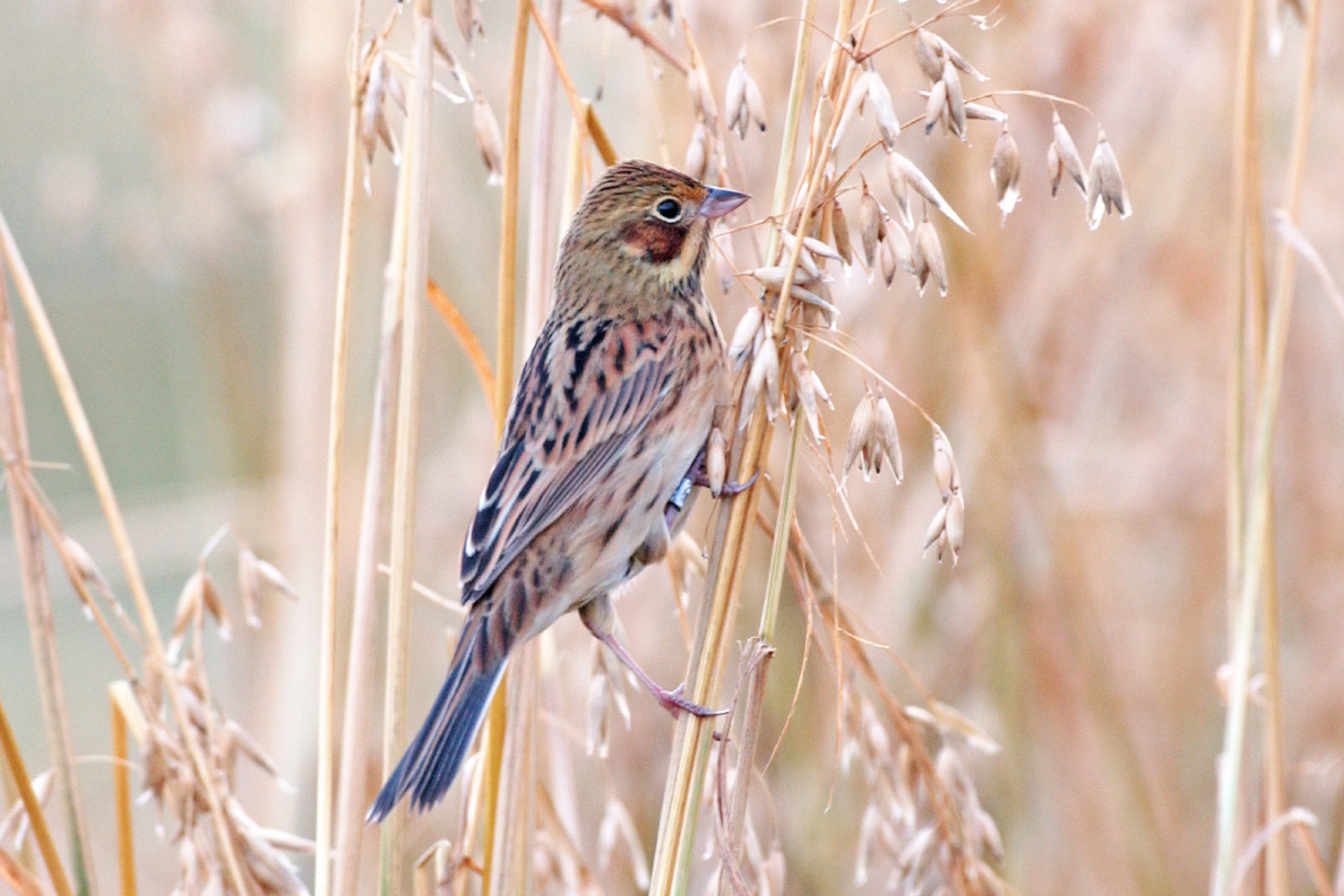 Stephen was fortunate enough to be on Fair Isle when the Western Palearctic's first Chestnut-eared Bunting was found in October 2004 (Rebecca Nason / www.rebeccanason.com).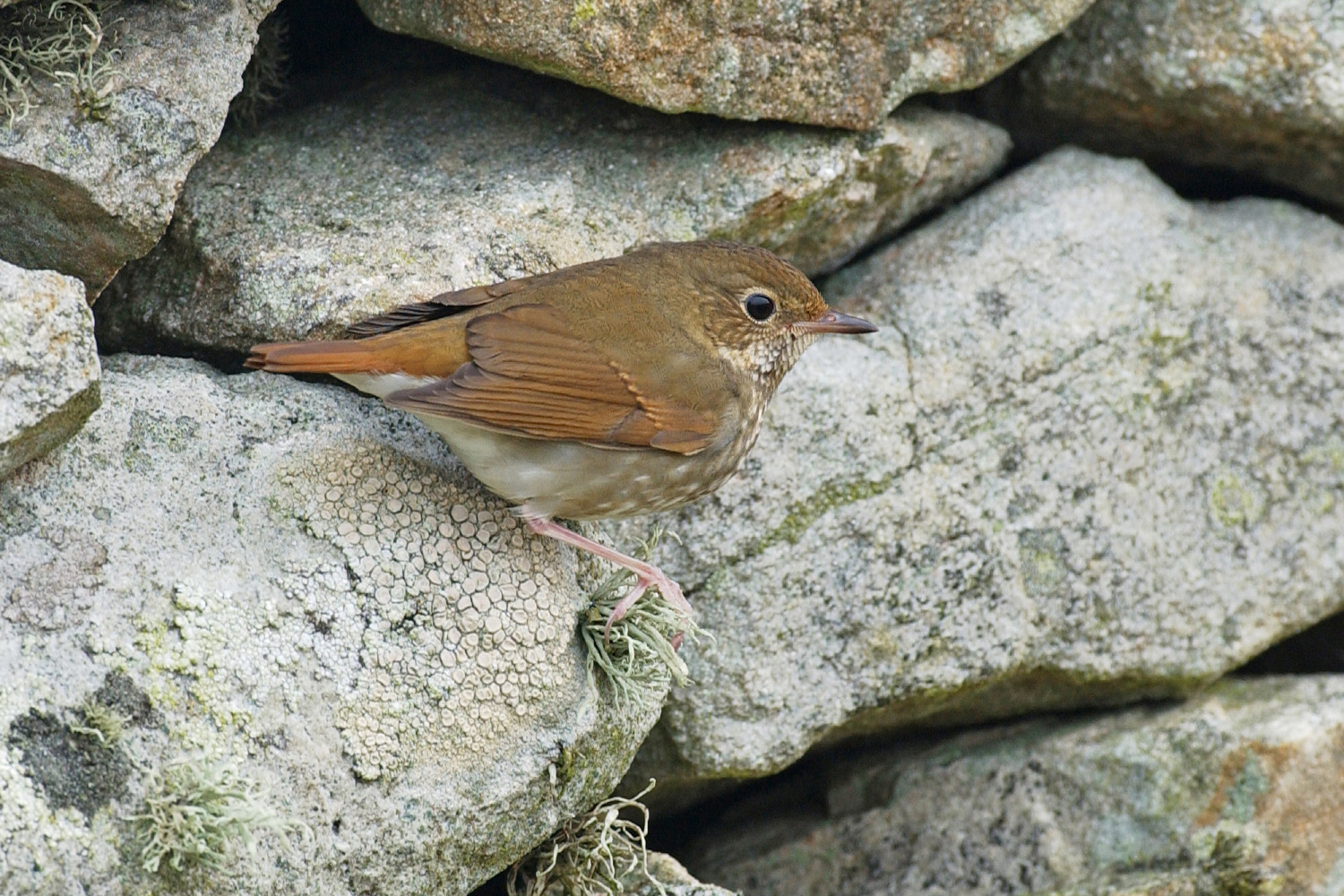 ... however another regional first, this Rufous-tailed Robin, turned up on Fair Isle the day after he left (Rebecca Nason / www.rebeccanason.com).
Of course, there are good reasons why most visiting birders head to Shetland between mid-September and mid-October. The greatest number of rarities usually turn up in that period and it is peak time for those 'classic' species such as Pallas's Grasshopper and Lanceolated Warblers, Pechora Pipit and Yellow-breasted Bunting.
I have visited Out Skerries at least once every year since 2007 in order to find my own birds. I've visited in spring (producing Savi's Warbler, Thrush Nightingale etc), early autumn and the classic late September-early October period (many BB rarities), but I have also gone late in search of a 'biggy', or one of the relatively regular late-autumn Shetland rarities such as Hume's Leaf Warbler or Pine Bunting, on more than one occasion.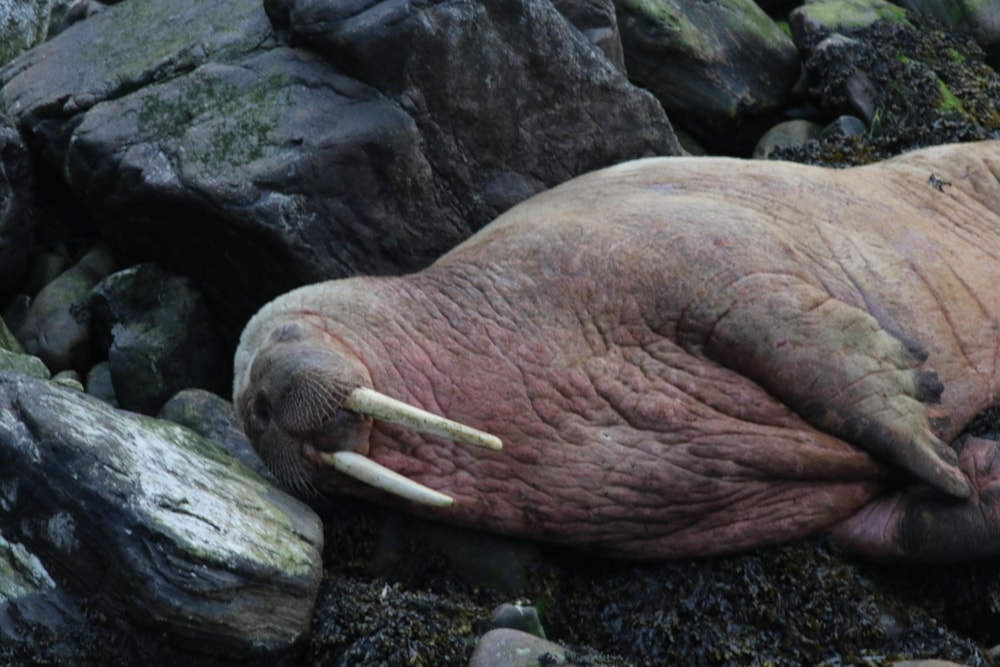 It's not just about birds! Stephen's spring 2018 trip to Out Skerries produced a memorable encounter with this well-travelled Walrus (Stephen Dunstan).
Prior to 2017, my two relatively late visits had produced some decent birds, but not ones characteristic of a late 'go big or go home' jaunt. In 2012, I spent 12-23 October on Out Skerries. On the second day I found a late Hoopoe and on the penultimate day an Olive-backed Pipit. In 2014 I did from 22 October-5 November: after a Little Bunting on arrival things were very quiet until a first-year Rosy Starling turned up on the unexpected date of 2 November. Neither of the two trips had produced anything other than very brief south-easterlies. What follows is an account of 2017's late autumn trip, which I hope gives a decent idea of what can be expected at this time of year if the right weather conditions prevail …
It had been a very mixed autumn on Skerries in 2017. The 'Scarborough crew', who arrived in mid-September, found a Yellow-breasted Bunting, which was unsurprisingly mega-alerted given the apparently realistic possibility of it never occurring again in Britain (though ironically one turned up the following year on Whalsay). Thereafter it was very quiet, with other visiting birders finding rather little in almost three weeks. It seemed like I was too late, but then some promising south-easterlies appeared in the long-range forecast.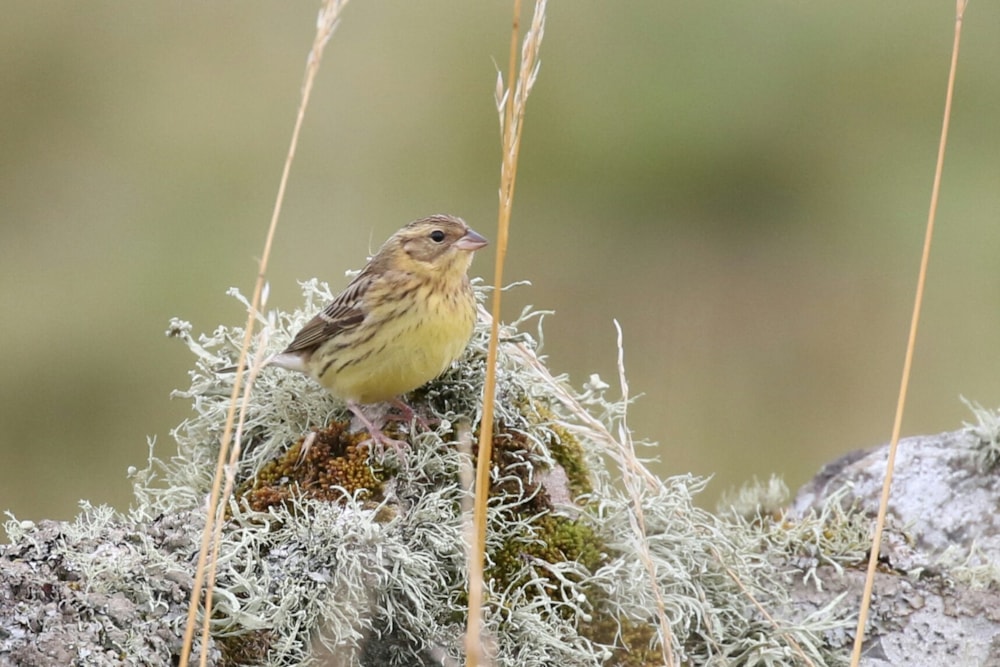 This mid-September Yellow-breasted Bunting was an early highlight of autumn 2017, but things remained quiet thereafter until Stephen arrived in mid-October (Dave Bywater).
On 16 October I got the bus up from a friend's house in Lerwick to Vidlin, where the Skerries boat usually sails from. With time on my hands before the ferry I nipped into Vidlin plantation, which has been known to produce a few birds in the past. I didn't see anything notable but was joined by Paul Harvey on his lunch break. We chewed the fat about the weather synopsis; he wondered whether the south-easterlies were looking on the strong side and I thought he might well have a point.
Content continues after advertisements
On docking on Out Skerries I had a quick mooch around Housay and Bruray, the two inhabited islands joined by a bridge. There were a few migrants – nothing exceptional with a Lesser Whitethroat the best. My first full day was also not without interest but not too remarkable either: a couple of hundred Redwings were grounded and a late Whinchat was seen. If anything there was a clear-out on the last day before the promising winds. Late in the day I saw a redpoll several frustratingly brief times which looked to be a Coues's Arctic, but ultimately it proved far too flighty to clinch.
So what would the strong south-easterlies bring, if anything? The answer was emphatic – hundreds of birds were around on the morning of the 19th, affording more of a spectacle than any other day I have birded on Shetland. The majority of birds were thrushes, Goldcrests and European Robins. One or two Ring Ouzels were evident and the challenge was to find what else was lurking among the throng. By lunchtime, I'd had a Red-breasted Flycatcher and, almost as notable from a Shetland perspective, a pair of Great Tits. In the afternoon I came across the lemon rump of a Pallas's Warbler among the Goldcrests in a sheltered geo – the first I had ever found.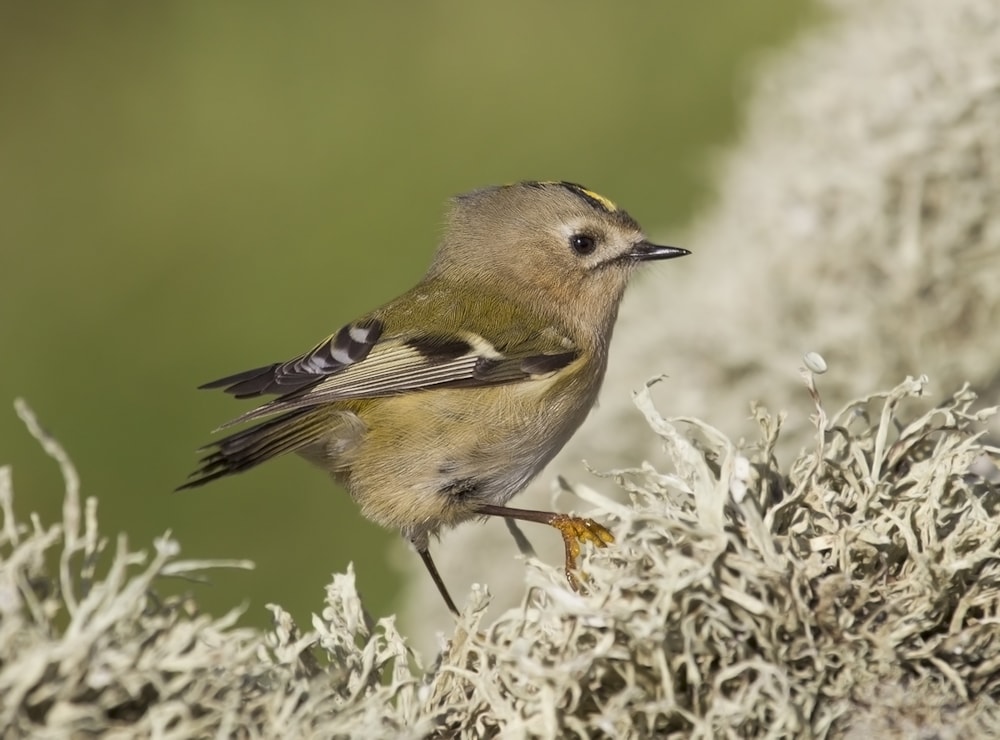 An October fall typically means hundreds of charming Goldcrests along fencelines, in geos or, like here, atop mossy stone walls (Chris Griffin).
The following day there were still plenty of birds across the islands, including on the cliffs. A Yellow-browed Warbler in one of the geos was scrutinised but was too bright for a Hume's. Then, towards the end of the day, I was astonished to see a Eurasian Treecreeper shuffling up the largest geo on Bruray. And this started something of a saga …
I tried to take a picture of the bird but it flew just as I pressed the shutter. That night I wrote a basic description for Rob Fray, the Shetland recorder, in line with guidance on the Shetland Bird Club website. Mike Pennington pointed out though that Northern Treecreeper was now classified as a BBRC rarity, but I had precious little for a more detailed description. I spent most of the least grim weather the following day trying to get photos and while I did of a fashion, they were essentially useless. Finally, on its third day and after several hours of waiting patiently above the geo, I finally got clinching shots and could relax.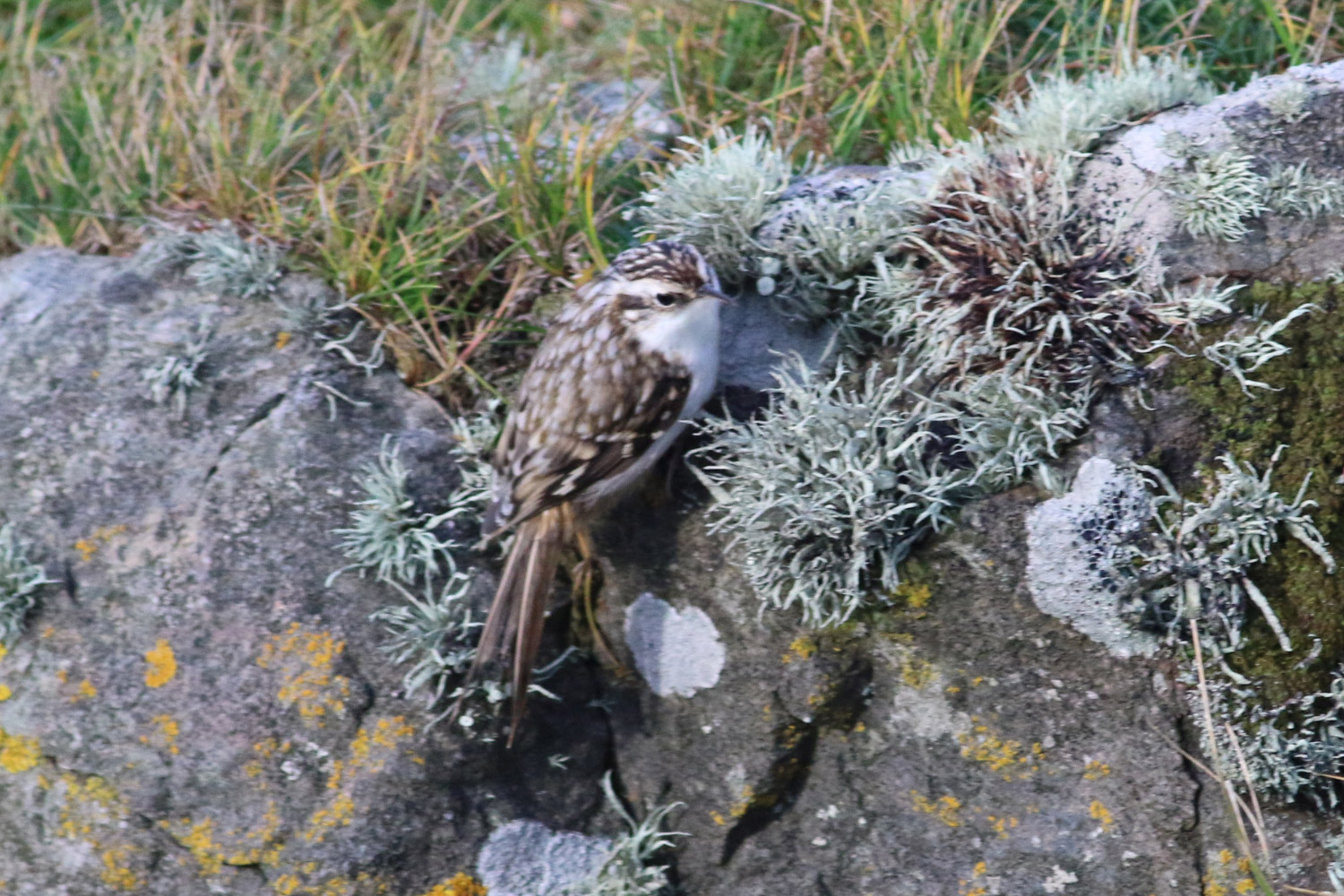 Stephen eventually managed acceptable images of the elusive Northern Treecreeper on its third day in October 2017.
The 22nd was a great migration day in its own right, as well as being good for treecreeper views. I picked up a brief Firecrest, part of the best annual total ever in Shetland, and the first for Skerries. While Edwin Tait, a local birder, was unsuccessfully trying to twitch that bird he found a cracking Great Grey Shrike late morning. To top off the day I came across a late Bluethroat among the scallop shells on the beach on Housay.
The weather deteriorated on 23rd, but birds continued to arrive on the last of the winds with an easterly component. These included a second Pallas's Warbler on Housay and my first Shetland Yellowhammer nearby. There were still plenty of other common migrants all over the isles as well, though when I went to Lerwick for supplies on 24th I did tweet that the "birding quality for rest of trip likely to nose-dive".
But little did I know that the best was yet to come! Back on the isles in north-westerlies on 26th, I was on the hill above the decommissioned Bruray airstrip when my attention was drawn to a wheatear species that quickly looked odd due to the amount of white in its tail. To my delight it was quickly clear it was a male Pied Wheatear. Having managed a record shot I dashed to get Edwin and put the news out. He also saw it distantly but then it flew to uninhabited Grunay isle, and that was that. Fortunately, I had the clinching images, and talking to Shetland birders occasions when the wind switches from south-easterly to north-westerly can often be good for very rare birds turning up.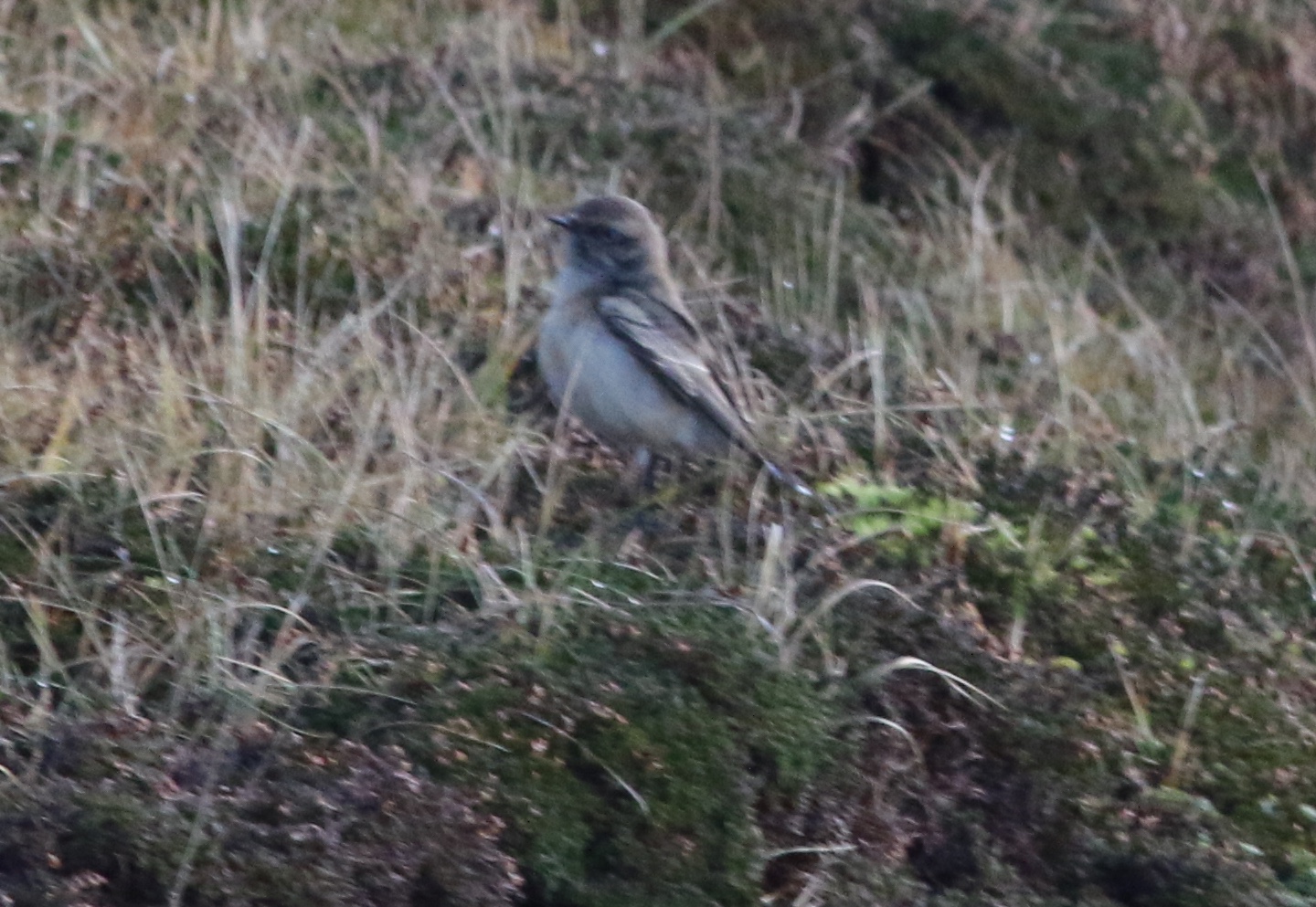 Stephen's Pied Wheatear on 26 October 2017 lingered just long enough for him to take a few record shots before it flew to an inaccessible offshore isle.
I was on the isles for another five days to 31 October and things did slow up a bit. One of the Great Tits apparently planned to winter, there were up to 23 Snow Buntings and still small numbers of migrants arriving, of which Water Rail and the locally scarce Goldfinch were the best. But I couldn't be greedy – despite half a century of detailed bird recording I had found two firsts, a second, a third and a fourth for Out Skerries during my trip.
In 2018 I plan to go late again, this time for the last week of October. I do so on the basis that it only takes one bird. I might not get that one bird, but if there's a fall of thrushes, 'crests and Robins half as big as in 2017, then I won't be complaining at all.