I'm not going to claim that Shetland isn't well watched in spring – of course it is. There are increasing numbers of resident and semi-resident birders, along with organised birding holidays run by various tour companies. It is, however, fair to say that in terms of visiting crews, Shetland trips remain an autumn 'thing'. There are exceptions of course: the Punkbirder account of their trip to Foula remains essential reading over a decade on. This article describes how I've fared covering Out Skerries in spring most years since 2008 (though mainly highlighting the two years where everything went right!).
Out Skerries lies just east of Whalsay and comprises of three main islands. The two inhabited ones are joined by a bridge. Whalsay is smaller than Fair Isle or Foula and nearer to the Shetland mainland, so for these reasons it's less productive than either. Generally, the islands aren't covered by birders, making it a good option for finding your own birds.
Spring birding on Shetland is, unsurprisingly, different to the autumn. For example, the presence of seabirds – including nesting Puffins – adds to a more diverse experience. However, the most noticeable difference is the length of the days. In autumn, you might only have seven or eight hours to play with and it feels like you need to be in the field every available minute. By contrast, a trip in late May or early June, which is generally considered the best part of the spring for migration, puts you not far away from Shetland's famous 'Simmer Dim', meaning the days are very long. It feels more relaxed, with plenty of time to uncover what's out there.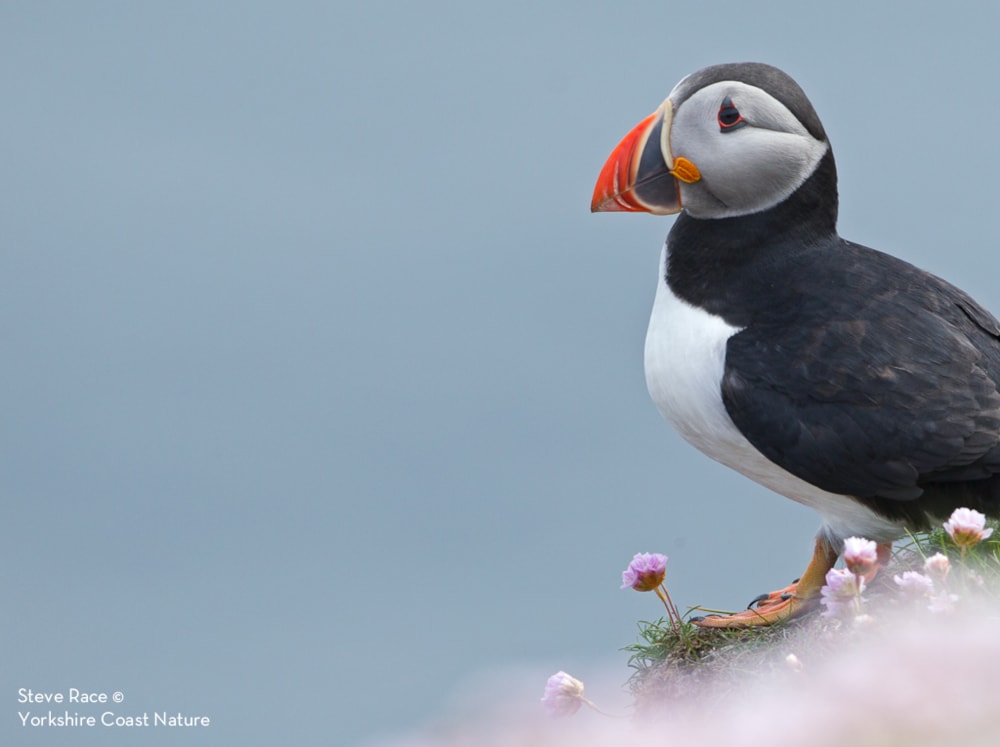 The long daylight hours provide a good time to appreciate Shetland's breeding seabirds, such as Puffin, while searching for unusual migrants (Steve Race).
In 2014 I was accompanied by my wife, Jane. We were staying in a flat within Ty Mara, the family home of the Anderson family, arriving on 24th. Before we headed out some Shetland birders had done the island, on the Friday and they had a decent haul including two Common Rosefinches, a male Red-backed Shrike and a Red-breasted Flycatcher. The forecast suggested there wouldn't be new arrivals the following day, but a quick scamper round in the evening did produce presumably the same two Common Rosefinches and a smattering of common migrants.
On our first full day a male Red-backed Shrike was the standout find – there had been a new arrival of birds and the shrike was presumably new in. A Wood Sandpiper lingered on the small pool near the ferry terminal. The 26th was calm and, as is often the case in such conditions in spring, birds drifted in during the day. A first-summer male Common Rosefinch was singing from the garden of Houll on East Isle. In the evening we enjoyed a Bluethroat that turned up not far from our accommodation. The best of the rest was a Mealy Redpoll.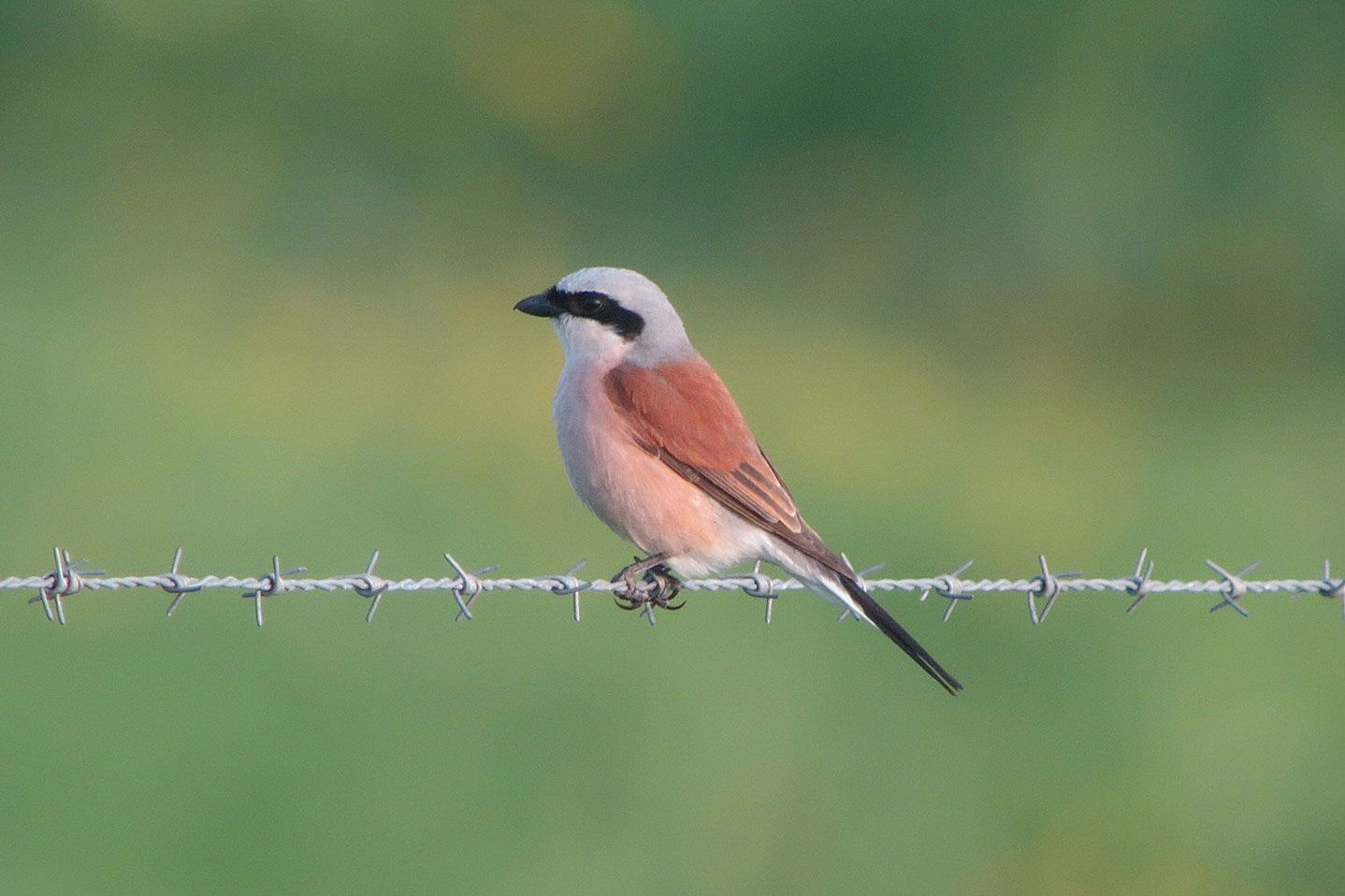 Red-backed Shrike is scarce but nonetheless regular species on Shetland in late spring and many are encountered sitting on fencelines; Stephen's trips have regularly produced this species in late May and early June (Gavin Thomas).
After a couple of full days in the field and some scarcities, hopes were beginning to rise that there might be a description bird or two to be found. This came to pass on Tuesday 27th, with a male Rustic Bunting in the iris bed where the Heligoland trap used to be. Unfortunately, this was bittersweet, as the bird was in view for seconds before flying off, seemingly never to be seen again, and before I managed any photos. The other new scarcity for the trip list was an Icterine Warbler, only the second I had ever seen on the isles.
On 28th the main interest came in the form of an unstreaked Acrocephalus. It was particularly fascinating because it was frequenting the overgrown garden in the croft next to Ty Mara. Every Reed Warbler I had seen on Skerries over the years had been in the iris beds barely 50 m away, so this habitat choice felt like it was potentially significant. So it proved, as when I managed a clinching picture of it on the fence outside our room it proved to be a Blyth's Reed Warbler – it was still a Rarities Committee description species at the time and it was great to find my own, given that they had been considered unidentifiable in the field until relatively recently.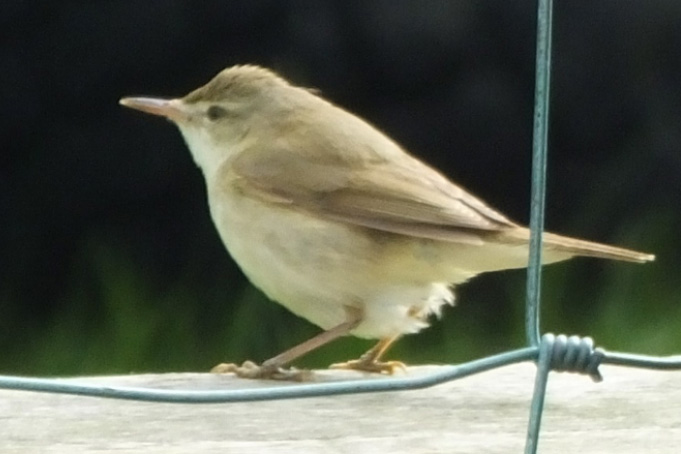 The Blyth's Reed Warbler on 28 May 2014 (Stephen Dunstan).
The 29th was generally uneventful, but a Tree Sparrow, a decent Shetland bird, was new and the Common Rosefinch remained. Friday 30th, our last full day, was one of several sunny days during the week. I had birded intensively in the morning but didn't see anything notable until we went for a walk early afternoon. Unfortunately, I managed to mess up taking a photo and didn't look at the bird long enough, but felt it was at least an Ortolan Bunting. There was some relief when it came to some seed we'd put down in the croft garden: we were able to confirm it as Ortolan, the only one seen on Shetland that year.
A couple of visiting birders had arrived on Skerries so we went to tell them about the bunting and another Red-backed Shrike we'd found. As we watched the former, I talked about the Rustic Bunting earlier in the week – they said they'd just seen it, but it was being elusive. Eventually, though, we pinned it down and I managed a record shot. Even though observations at both ends of the week were hard work I still wondered if two birds were involved, but it went down in the record books as the same individual.
We left on the morning of the 30th with a full set – eight days in a row where we'd enjoyed scarce migrants. This was the first time this had ever happened to me on Skerries; the next time this happened it was even more memorable …
My 2018 spring trip had a couple of distractions before I headed out. Arriving in Lerwick on Friday evening, I dropped my bags at the home of keen birders Phil Harris and Rebecca Nason and headed down to try and see the Bearded Seal that had been in residence for a few weeks. Unfortunately, there was no sign. On the morning of Sunday 27 May, my landlord on Skerries and I drove up to Vidlin to catch the ferry. The island had been day-tripped on the Friday, and while there had been a few interesting migrants (Yellowhammer, Short-eared Owl, Common Redstart, Redwing, Lesser Whitethroat and five Common Chiffchaffs), the weather over the weekend didn't feel conducive to significant new arrivals.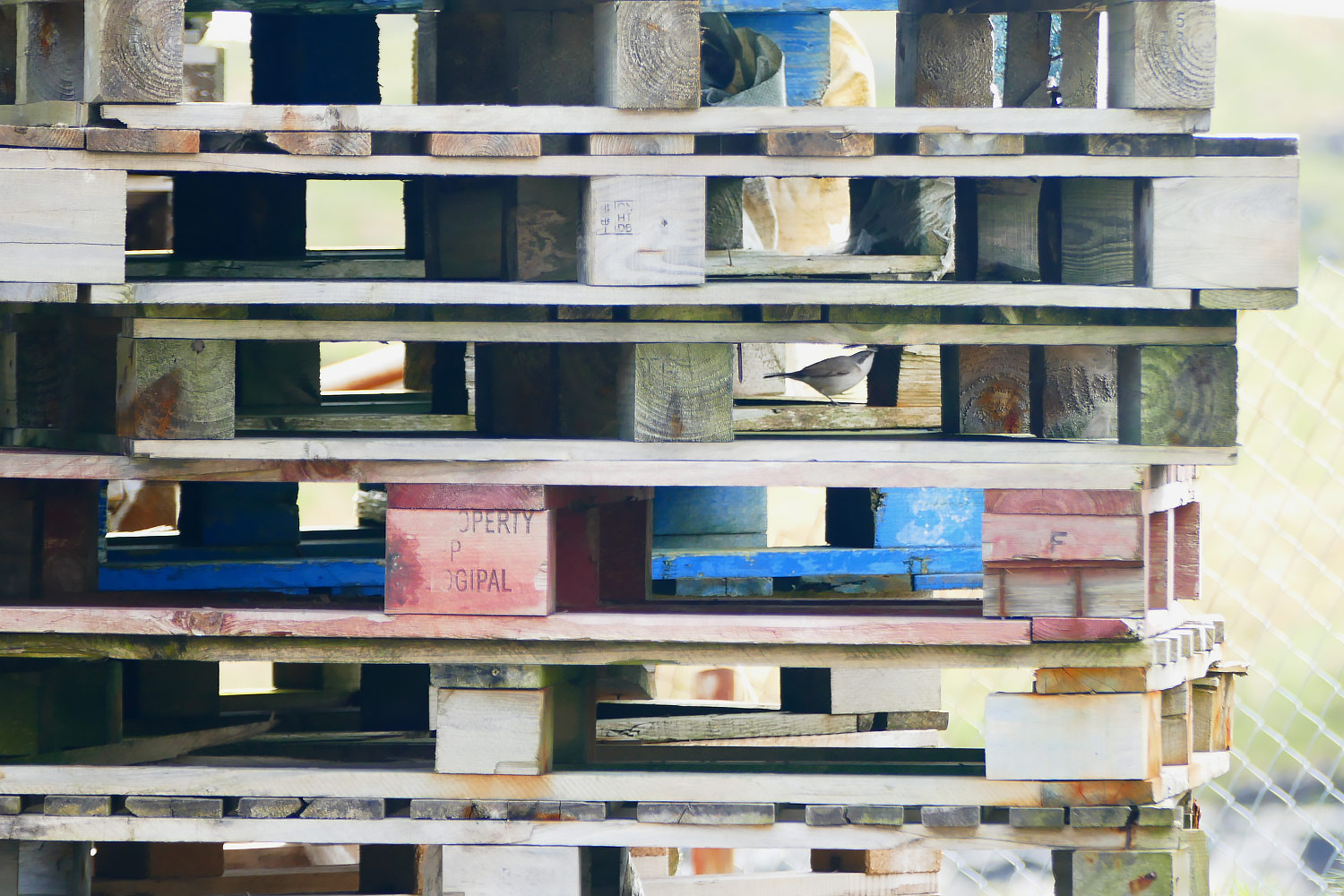 It's worth looking anywhere for migrants on Shetland. This Lesser Whitethroat liked to spend its time in a pallet stack (Stephen Dunstan).
Nevertheless, I was soon out birding near the digs and had to do a major double take as one of the warblers calling from small conifers in a garden sounded just like a Greenish Warbler! The ID was quickly confirmed but getting good pictures was another matter. Then it disappeared. I thought it might have moved on to Whalsay, but by late evening it was back in the same place.
It felt unlikely that day two (28th) would be able to live up to a start like that but, against the odds, it did. While watching seabirds off the south-eastern end of the isles I saw some Risso's Dolphins, and after a while the huge dorsal fin of a male Orca behind these as a pod of Killer Whales headed north. The birds weren't bad at all either. Although there was no sign of the Greenish Warbler, the same bushes and trees in the garden of Nampara held a singing Marsh Warbler, while away from the populated area a cracking male Red-backed Shrike was seen. The supporting cast included Spotted Flycatcher, Sedge Warbler, Lesser Whitethroat, Common Redstart and White Wagtail.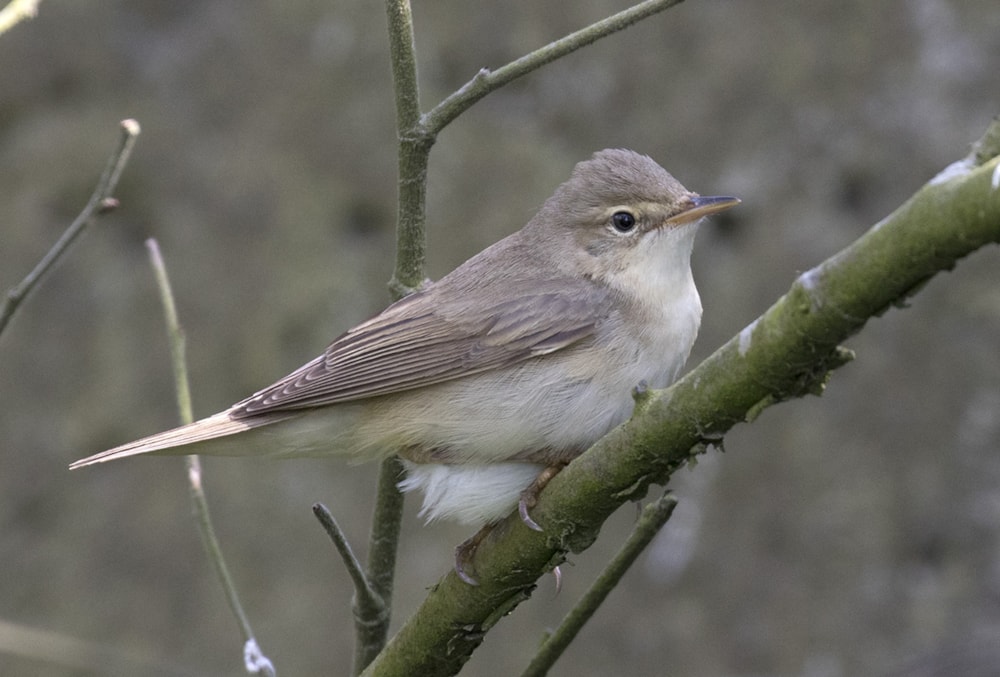 Marsh Warbler is regular in late spring, but it is most easily identified by song (Roger Riddington).
Day three was less hectic. The Red-backed Shrike remained, as did the Marsh Warbler. Apparent new arrivals consisted of a Whinchat and another presumed Marsh Warbler which was silent. Having said that, the following morning a Reed Wearbler was singing in the area where the second 'acro' had been seen the previous day – I noted that, elsewhere in Shetland, Marsh Warblers were being claimed on relatively poor views and this was a salutary reminder that it isn't always the scarce option on Shetland.
Day four was a slow burner which gradually developed into something of a drift migration classic. The Reed Warbler mentioned above was the only new bird for a while, but it was one of those great days where birds kept arriving in calm conditions. A second Red-backed Shrike and a Grey-headed Wagtail were the best by late afternoon. However, a final throw of the dice in the evening produced an obliging Icterine Warbler and then – best of all – a Thrush Nightingale. Although two Thrush Nightingales had appeared on Fair Isle during the day, that was Fair Isle, and I still couldn't have hoped to bump into one on Skerries. Unfortunately, it was a challenge to see well after the first view, flying before being seen on the ground and being lost to view repeatedly.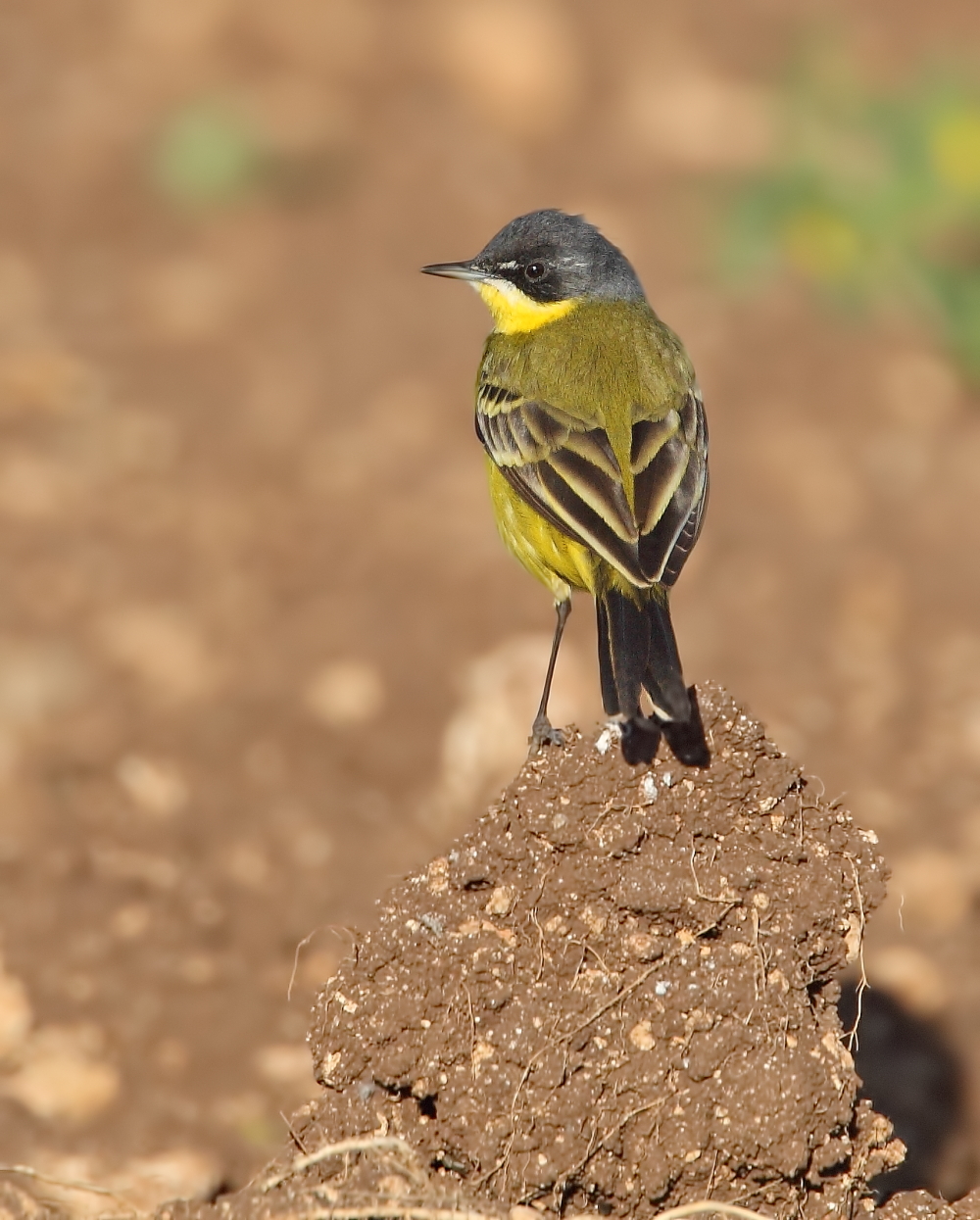 Grey-headed Wagtail passes through Shetland in small numbers en route to its northern Scandinavian breeding grounds (Darran Rickards).
On 31st it was obvious that there had been something of a clearout, but on the other hand there was also new birds coming in. While these were generally common migrants, Black Redstart, Water Rail and several Pied Flycatchers held out the promise of another scarcity turning up. And so it proved, first with a new (female) Red-backed Shrike, before a strange-looking bird on the other side of a field near Rocklea guest house – it turned out to be a stunning Rosy Starling. While there was an influx and at least one had reached Unst, it's always nice to find one of these and my only previous self-found had been a sickly looking juvenile on Skerries in November 2014.
The first day of June was quieter than the previous few days, but a singing Marsh Warbler in a completely new site appeared to be new in. Collared Dove and Tree Pipit were both new too. I suggested on Twitter that things would go downhill from there, but this was a trip that kept confounding my expectations – on 2nd two Icterine Warblers were in the same bush in a garden at Houll, there was a couple each of Common Linnet and Sand Martin and the Red-backed Shrike remained.
By the following day things were slacking off. The Red-backed Shrike and Reed Warbler hung on and a slog round in the morning did turn up a couple of Mealy Redpoll. However, it was relatively dead so I spent half an hour passing the time of day at Willie and Bertha Anderson's house mid-afternoon chewing the fat over tea and cake. Then I made my excuses, said I had better do some birding to justify not being at home, walked over the hill behind their house and bumped into 'Wally the Walrus' on the beach below.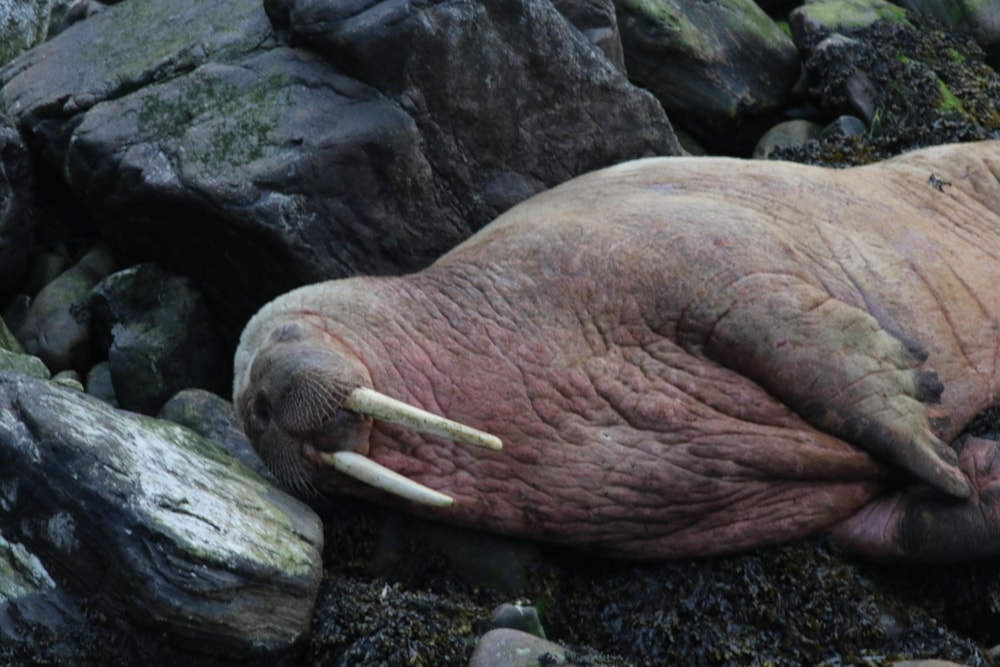 'Wally' the Walrus visited Out Skerries on 3 June 2018, giving Stephen a serious shock (Stephen Dunstan).
There is the thrill of finding an unexpected rarity, and there is the pleasure of seeing a celebrity: this was both rolled into one. This animal had been all over the news as he roamed Northern Scotland; I knew who he was and yet it was beyond comprehension that he had turned up in front of me. Look at a map of Shetland and ask yourself what the chances of a Walrus being found on Skerries – it's tiny, and even if one did haul up there are plenty of hidden beaches it could have chosen. It really felt like I had won the lottery.
I put news on the Shetland Rare Birds WhatsApp about his presence. The upshot was that Wally was successfully twitched from Mainland, Unst and Whalsay that evening. A handful of other people managed to see it over the next few days as it played hide and seek a bit, before it was gone, presumably with the next stop Norway. A great end to a fantastic week.