There are several iconic species on the British list with just one or two records to their names, usually doused in legend, mystique and folklore. And while there hasn't been a Northern Hawk Owl or Egyptian Nightjar in a few decades, they and other extreme megas have still occurred in many a birder's lifetime – thus the chance of a future record seems at least possible. Even Macqueen's Bustard – which hasn't reached Britain since 1962 – is remotely plausible, not least because of a Belgian record from 2003 and a Swiss bird in 2008. Tengmalm's Owl is fresh proof that the ultimate of unblockings can happen!
However, in this the year 2020, there is a small group of mystical birds that haven't been recorded in Britain for more than a century. All of them are stored in a dusty and long-unopened box, labelled Category B of the BOU's British list: for species that were recorded in an apparently natural state at least once between 1 January 1800 and 31 December 1949, but have not been recorded subsequently.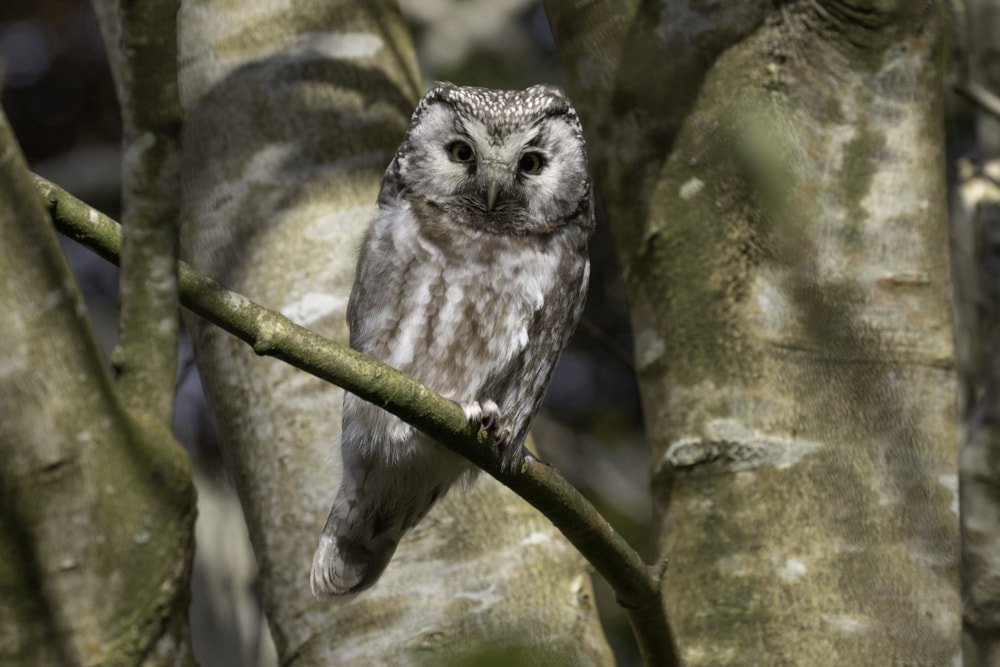 The recent Tengmalm's Owls on Shetland offer proof that birds can and do turn up again, even after long absences (Rory Tallack).
This group of seven species represents the true 'blockers' on the British list – avian vestiges from a murky time when shooting a bird was deemed the best form of ID. Of the seven species, some will never occur again and others are increasingly unlikely, yet one or two are possible – and it's perhaps even surprising that they haven't occurred again.
Two, for very obvious reasons, will never be seen again, in Britain or elsewhere: both Eskimo Curlew and Great Auk are extinct. There are four accepted records of the former (plus one from Ireland), all of which came between 1855 and 1887, when the final British record involved an adult shot on Tresco, Scilly, on 10 September. The last confirmed sightings of this Nearctic wader were in 1962 on Galveston Island, Texas, and on Barbados in 1963. Despite no sightings for nearly 60 years, Eskimo Curlew is still treated as Critically Endangered.
Great Auk is unequivocally extinct, with the final confirmed record on 3 June 1844 when two were killed on Eldey, off the south-west coast of Iceland, some four years after the last British record, which involved a bird killed on St Kilda, Outer Hebrides. St Kilda, along with Papa Westray, Orkney, were the two known British breeding sites. Bizarrely, though, in 2016 it was revealed that a group of scientists had plans to resurrect the species, using genetic information extracted from fossils and preserved organs and crossing it with Razorbills. Far-fetched and controversial stuff, but perhaps Great Auk will one day become available again as a bona fide British bird?!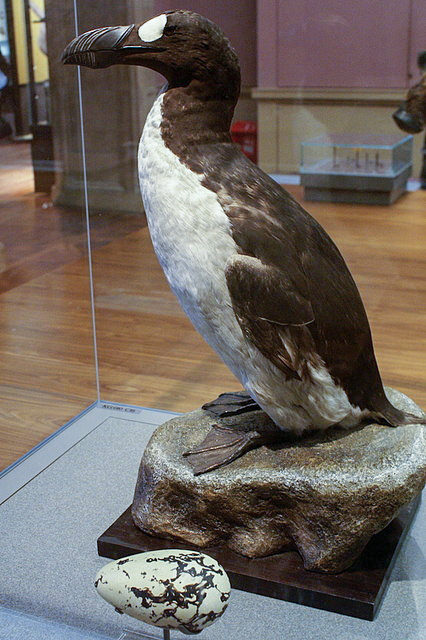 It seems improbable that anyone will be adding Great Auk to their British list anytime soon, though some geneticists may think differently (Mike Pennington / commons.wikimedia.org).
There are two migratory raptors on the British list that haven't been recorded for more than a century. Both can be deemed most unlikely to reappear, but certainly can't be ruled out. There are two accepted records of Egyptian Vulture, both shot: an immature at Bridgwater Bay, Somerset and Bristol, in October 1825 and an immature at Peldon, Essex, on 28 September 1868. The latter bird was killed by a farm worker who'd spotted a 'strange bird' feeding on a pile of recently shot geese.
Both these autumn records presumably involved post-breeding wanderers, probably from eastern European populations. Given the large retraction in range and decline in that part of their distribution since the mid-1800s, it seems unlikely a repeat scenario could occur in the modern-day. On top of that, all of the western European and southern Scandinavian vagrants to have occurred since 2000 have involved overshooting adults in spring and early summer – the most recent in Denmark on 4 June 2017 – perhaps from Iberian or south-eastern French populations.
Closer to home, there was a Belgian record on 22 April 2011 and Dutch birds on 25 April 2009 and 24-25 May 2001. These records place an element of intrigue over an adult at Scoulton, Norfolk, on 28 April 2007, though Egyptian Vulture is fairly commonly kept in captivity and the handful of other British records, since the last accepted bird in 1868, are on Category E, although an adult over Donna Nook, Lincolnshire, on 12 June 1970 stands out and was deemed non-proven due to lack of documentation.
So, perhaps it's not impossible that an adult Egyptian Vulture could be seen cruising over the British countryside or past a coastal watchpoint on a balmy spring or summer day in the future. A lack of large carcasses mean any bird would be unlikely to stick around for long, though. Furthermore, unless the decline of both the western and eastern European populations cease, it remains an unlikely visitor anytime soon.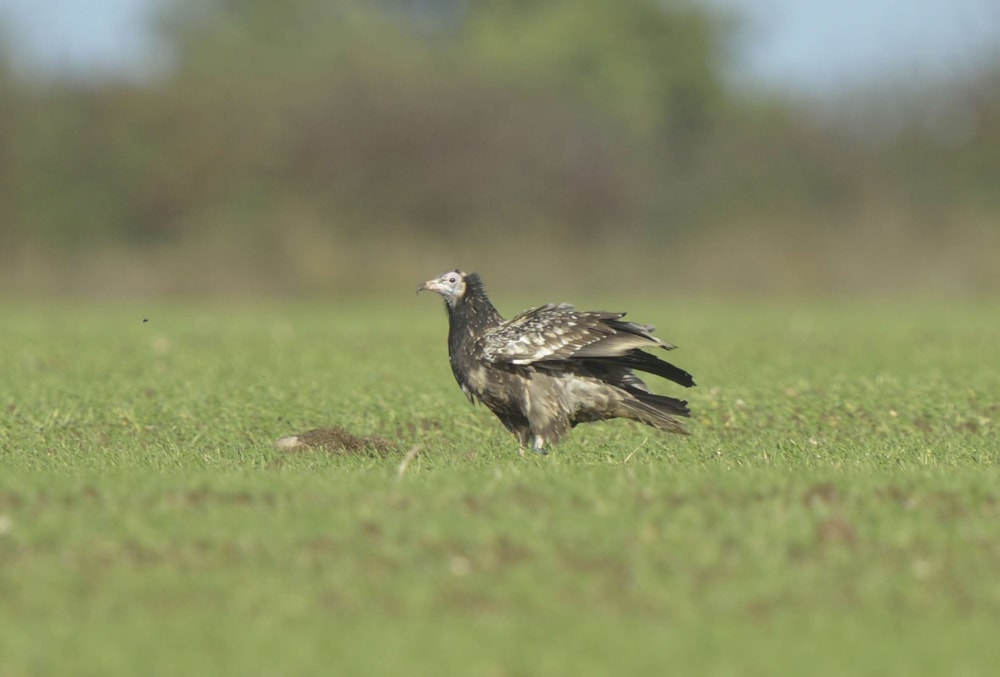 This juvenile Egyptian Vulture was seen in coastal Norfolk in October 2017, initially causing great panic among birders, until it was ascertained several hours later that it was an escapee wearing a bell. That said, a genuine vagrant in the future is by no means impossible, with a handful of Low Countries and south Scandinavian records during the past two decades (Baz Scampion).
The other raptor on the list is Greater Spotted Eagle. This rare and secretive eagle has a highly-specialised habitat preference – large, old-growth forest close to large areas of undrained marshland – which means numbers have declined significantly over the last century due to the extensive loss of such areas. When the species bred as far west as Germany, it was presumably a far more regular wintering species in western Europe than it is now, even if ones or twos do still winter in the Camargue (southern France), Coto Doñana (southern Spain) and the Po Delta (north-east Italy). More often, though, western European winterers involve hybrids with Lesser Spotted Eagle.
Nowadays, the most westerly breeding birds are found in eastern Poland, highlighting a marked eastward retraction. The decline-range retraction combination is reflected in the 12 accepted British records. Between the first documented bird (an immature male at Temple, Cornwall) on 4 December 1860 and one shot at Reydon, Suffolk, on 2 January 1892, there was the equivalent of a bird roughly every three years. And given that not quite every Victorian stomped around remote marshlands and hills with a gun, this figure is probably not reflective of the true number.
However, after the Reydon record, there was a 16-year wait before the next – an immature male at Battlesbridge and Downham, Essex, between 10-14 April 1908 (the only British spring record). Despite being an almost regular visitor in the mid-19th century, this proved the penultimate record, with the final involving an immature female shot at Brinsop Court, Herefordshire, on 15 November 1915. The specimen today resides at the British Museum.
A clear drop-off and then total halt of records is evident. So, surely, given the continued decline and range retraction since that final 1915 record, Greater Spotted Eagle is highly unlikely to reappear? In a word, yes, but again our European neighbours on the near-continent provide hope. Away from the aforementioned traditional wintering sites records are very rare, but two since 2000 stand out in a British context.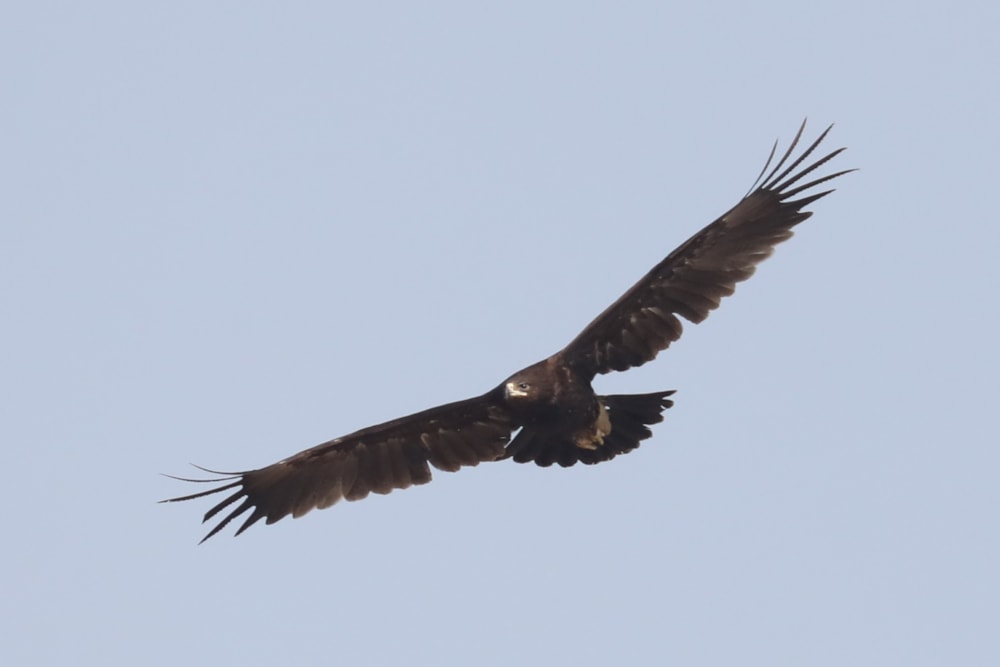 Greater Spotted Eagle is probably even less likely than Egyptian Vulture, and it would take a rather unlikely combination of circumstances for a bird to reach our isles (Matthew Mellor).
Content continues after advertisements
As recently as 16 November 2018, a second-year bird was in the extreme south-west of Norway, at Hå, Rogaland – some 270 miles and a North Sea crossing away from Shetland. A first-winter was at Nieuw-Bergen, in the east of The Netherlands, on 16 October 2016, too. Simply put, an off-course Greater Spotted Eagle could reach Britain once again. It'd almost certainly be an autumn bird, which would mean a number of improbable factors needing to combine, not least suitable conditions for crossing the North Sea at that time of year. Just imagine the scenes, though, if one did pitch up at Holkham Freshmarsh or on the Isle of Sheppey …
Since the turn of the millennium, records of rare tubenoses and other pelagic species have increased markedly, partly due to increased awareness as well as great advances in digital photography. Desertas or Fea's Petrels are now annually expected, while first British records of White-bellied and Band-rumped Storm Petrel, as well as both Yelkouan and Scopoli's Shearwater, have occurred. In a way, this makes it slightly surprising that there hasn't been a White-faced Storm Petrel since the first and only record 1897.
That record was of an immature female, caught alive on the island of Colonsay, Argyll, on 1 January of that year – quite a start to said catcher's year list. The skin is now with the National Museums of Scotland. The bird was unsurprisingly of the hypoleuca form, which breeds in the North Atlantic on Montaña Clara and Alegranza islands, north of Lanzarote, Canary Islands, and the remote Salvage Islands, south-east of Madeira.
Outside the breeding season, White-faced Storm Petrel's wanderings are poorly understood. It's thought they disperse in late summer, but where they go is unclear – they are rarely seen outside the breeding season (which commences in January), though there are odd records from Morocco and at sea west of Iberia. There is also one Dutch record – a female found dead on the tideline at Ter Heide on 23 November 1974.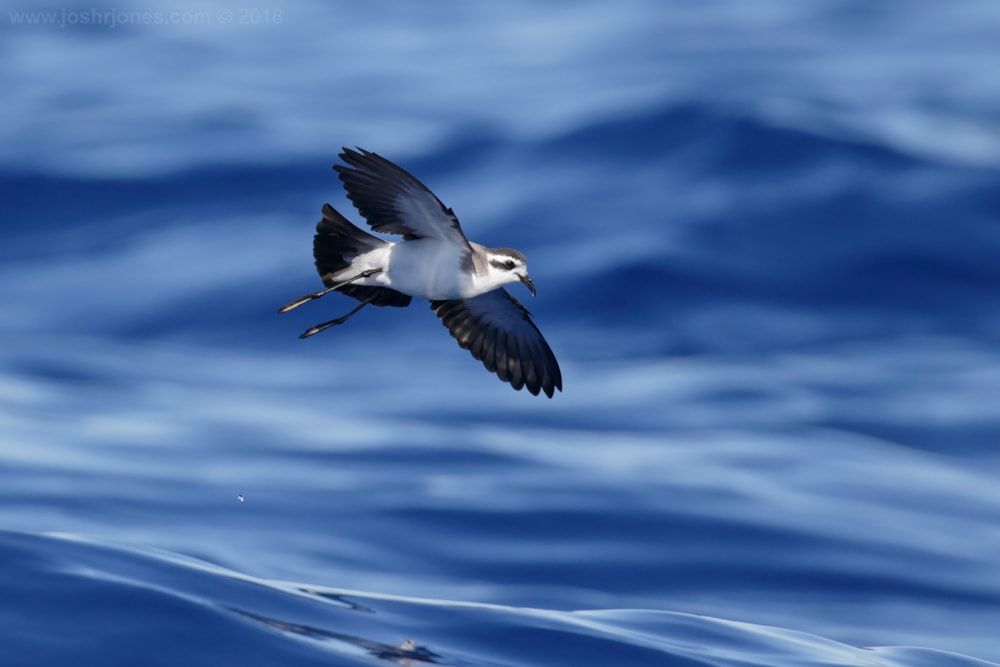 Although the distribution of White-faced Storm Petrel outside the breeding season is poorly known, it seems plausible that this species could be encountered on a future pelagic in British waters (Josh Jones).
Clearly, then, it's an extreme vagrant to north and west Europe. But with seabird megas and firsts for Britain appearing with abandon during the last two decades it certainly seems plausible that, one day, a Scilly pelagic will return to land triumphantly with news that White-faced Storm Petrel has finally fallen.
The sole British record of Red-necked Nightjar has attracted some doubt over the years. So much so that British Birds published a paper entitled Should Red-necked Nightjar be on the British List? in 2009. The record involves a first-winter bird shot near Killingworth, Northumberland, on 5 October 1856. The BOURC examined the circumstances around the record, for which a couple of red flags had been raised, though several factors result in the species remaining on Category B of the British list.
Firstly, the plumage – which still retained some juvenile feathers – was in keeping with a first-year bird in early October. Furthermore, fraud was unlikely as it would have been almost impossible to transport a bird from Iberia to Britain so swiftly and keep it in such condition. On top of this, John Hancock – who published the details of the record – was a reputable character and there is no reason to think he would partake in such deceit.
Slightly less assuring was the fact it remains unknown who actually shot the nightjar, though the previously outlined impossibility of a freshly killed first-year bird making it to Northumberland by early October in the 1850s mitigates any concerns over origin, even if Hancock's notes make reference to a different 'Hungarian' Red-necked Nightjar skin – a clearly erroneous location for the species to be shot, and again casting some uncertainty.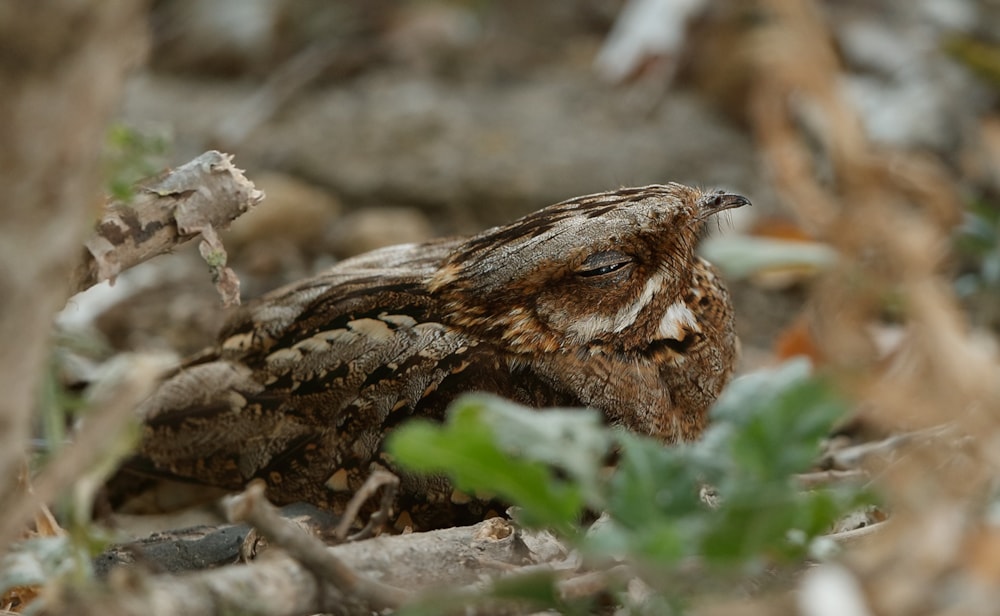 Red-necked Nightjar is one of the more unlikely species to reappear – it would surely take both monumental luck and skill for another to be found in Britain, let alone prove twitchable (Helge Sorensen).
One key factor in its favour, though, is a record of an adult killed by a car at Skagen, Denmark, on 4 October 1991 – 135 years and a day after the British record. The Danish bird also appears to be ruficollis, occurred at an extremely similar time of year and was found even further away from Red-necked Nightjar breeding grounds than the Northumberland bird – all revealing that autumn vagrancy of the species is possible. It would be quite something if such a record was to happen again.
The final member of the Centurion Club seems to be the most likely candidate for a reappearance. Indeed, it is somewhat eyebrow-raising that there is only one record of Pallas's Gull in Britain, and even more so that it occurred as long ago as 1859.
This imposing beauty of a gull is found from south-east Europe to Central Asia and during the last decade or two has, slowly, spread west – it now breeds as far west as the Danube Delta in Romania. A simultaneous increase in westerly wintering records has been noted too, with Pallas's Gull now semi-regular in Sicily/southern Italy and Libya at this time of year.
On top of this, vagrancy records in central and western Europe and Scandinavia have increased quite strikingly since the turn of the millennium. In fact, even in the last 10 years, The Netherlands (one), Norway (one), Spain (one), Germany (at least 10) and Denmark (one) have all enjoyed Pallas's Gulls. In 2012, Austria hosted its third-ever bird – there have been five since. Four of Sweden's five records have come since 2010. There have been two Belgian records since 1999 (the most recent in 2005) and, most tantalisingly, an unconfirmed report of an adult past Cap Gris Nez – the closest part of France to Britain – on 26 May 2007 (there is one accepted record from the Camargue in May 2002).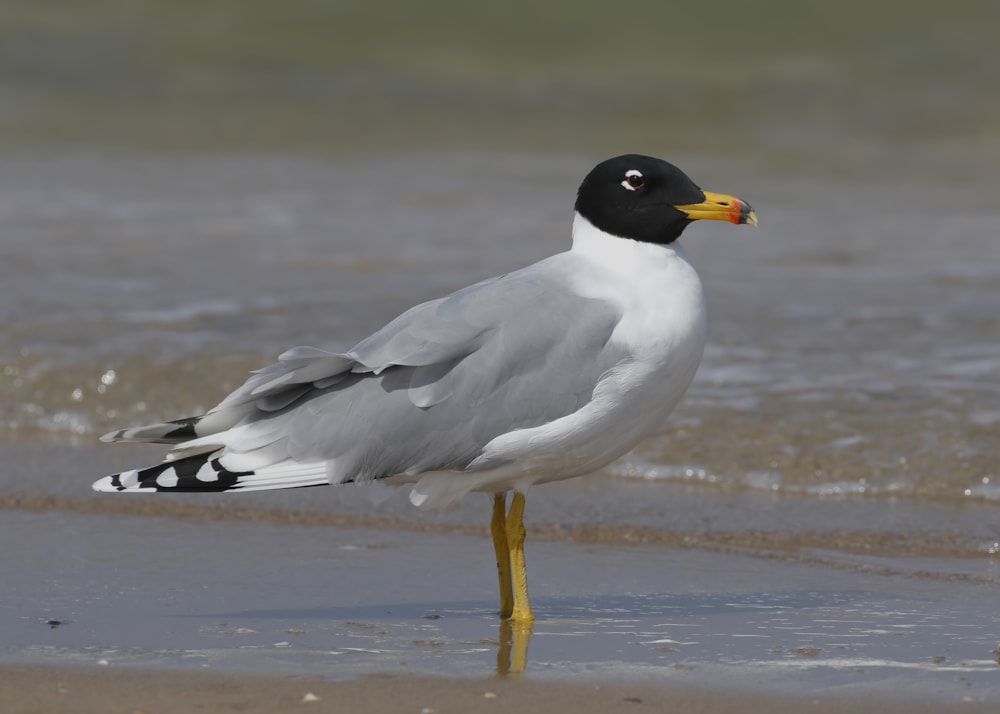 Pallas's Gull is surely going to appear in Britain again. And just imagine the state of a twitch for a dapper adult like this (Michael Southcott).
Many of these records have involved non-breeding birds during or just after the breeding season. The sole British record fits this pattern – it was an adult (somewhat against the vagrancy trend, to be fair) shot at Exmouth, Devon, in late May or early June 1859. The bird was in a flock of gulls and, because of its exceptional size and appearance, boatman William Pine thought best to shoot it. The skin is now in the Royal Albert Memorial Museum in Exeter. Two modern claims (Calf of Man, Isle of Man, on 21 May 1966 and Knaresborough, North Yorkshire, from 31 March-14 April 1967) were both rejected by the British Birds Rarities Committee (the latter was a second-year Great Black-backed Gull). Four other records from the 1800s were deemed lacking in proof.
Of all the species covered, Pallas's Gull is surely most likely to fall again, and maybe soon. As more birders take the time to sift through gull flocks, it seems likely someone will eventually dig one out, probably during midsummer or early autumn (though spring is possible). The fishing boats at Dungeness, Kent, scrapes at Minsmere, Suffolk, or even the landfill at Rainham Marshes, London, are all fit for what would inevitably generate a colossal twitch.
Indeed, should any of the discussed species make it to Britain once more, then it would certainly be headline news.