April 1st, a date synonomous with pranks, is not a good date to find an ultra-rare bird! Birding is not exempt from the occasional hoax and any such report is going to meet with more than a touch of scepticism. A mega-rarity at one of our hotspots might not prompt too many questions, even on this date, but inland Staffordshire is another proposition. Whilst undertaking a recce for a nature walk he was due to lead the following day, Staffordshire birder Roger Broadbent stumbled across a once-in-a-lifetime find in the shape of a Belted Kingfisher on his local patch.

| | |
| --- | --- |
| | |
| Belted Kingfisher, Milford, Staffs (Mark Thomas) | Belted Kingfisher, Milford, Staffs (Mark Stirland) |
News broke early afternoon, and speculation was rife regarding the authenticity of the sighting and many delayed their journeys to be on the safe side, believing it could only be a hoax. Roger's son, Aberdeen-based birder Ian Broadbent, put a picture of the bird on various websites to quell the cynics and add another pointer to the authenticity of such a rare sighting. However, for some the photo prompted further discussion: was the bird right, was the photo superimposed, did the background look right? Despite reassurances from the information services that this was the genuine article, many were still reluctant to travel. It was a tense afternoon, with negative news mid-afternoon further fuelling the hoax scenario, then at just after 5pm the bird was relocated. Relief for the finder and those who had travelled to the site, panic for those who had not! Many were able to travel to the site that evening, others had left it too late and suspected the bird would remain through the weekend. By dusk large numbers of birders had seen the bird thanks to the fact that it couldn't really have chosen a more convenient county for most birders to travel to.
As the bird had been present until dusk, many birders travelled overnight to arrive in Staffordshire and an expectant throng had assembled by dawn. However, there was no sign of the bird. As time drew on it became increasingly clear that the bird had departed. All who had waited until Saturday had 'dipped', the ultimate disaster for keen listers! It had been over 20 years since a Belted Kingfisher turned up, in Co. Clare in autumn 1984. That bird remained into 1985 when it relocated to Co. Tipperary, where it remained until the spring. It is even longer ago that birders in England were able to enjoy a bird in Cornwall from October 1979 into June 1980 (and again in August of that year). Would it be that a whole new generation (or two) of birders had missed a golden opportunity to see this stunning Nearctic kingfisher on only its sixth occurrence in Britain and Ireland?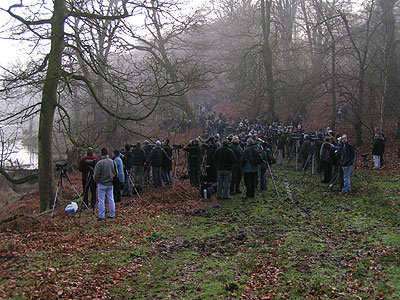 The gathered twitch (Dave Dunford).
At just after midday on Saturday 2nd news broke that a Belted Kingfisher had been seen just to the east of Howden in East Yorkshire. Never had a car parking area been emptied so fast as a convoy of birders headed from Staffordshire to Yorkshire. The Eastrington bird had been seen by Neil Smith, and had also been seen by fishermen and locals. The hunt was on; salvation was at hand for those who had delayed travelling to Staffordshire. Or was it? As huge numbers of observers descended upon the small village it became clear that there had been no further sign. A cruel hoax perhaps? As roads became congested with birders' cars, it became evident as the afternoon drew on that once again the kingfisher had departed, leaving many glum faces in its wake. Surely it couldn't be relocated again?
In Aberdeenshire, Katy and Joyce Landsman had other ideas. Joyce takes up the story:
"In the early evening of Monday 4th, my daughter, Katy, and her boyfriend were walking along the River Dee at Peterculter when they noticed a strange bird in the old beech trees some 50m or so away on the opposite bank. The bird proceeded to take flight and they watched it hover high above the river. Intrigued, they watched for quite some time as it hovered and returned to its perch high in the trees many times, although the bird did not catch any fish. I went out to the river with her at around 08:30 the following morning, to walk the dog and look for the mystery bird but with little hope of seeing anything because of the bright sunshine. However, we could hardly believe our eyes as we stood at the river's edge in a shaded, scrubby area close to a small island, when a very large chunky dark kingfisher with a very loud grating call flew upstream a few metres in front of us and at head height. Thanks to regular visits to the BirdGuides photo pages, I immediately thought of the Belted Kingfisher which had been in Staffordshire at the beginning of the month. We checked the call of the bird on a website and knew 100% that we had a MEGA!!"

| | |
| --- | --- |
| | |
| Belted Kingfisher, Peterculter, Aberdeenshire (Tom Tams) | Belted Kingfisher, Peterculter, Aberdeenshire (Chris Jones) |
Joyce informed local birders, of whom Ian Broadbent and Harry Scott went along to check out the sighting that evening. They were amazed to find themselves staring at a Belted Kingfisher. The bird first found by Ian's dad in Staffordshire several days earlier was right there in front of them - a truly astounding chain of events.
For those able to escape work and other commitments the Belted Kingfisher remained in Peterculter through the week and was still present on Friday evening. For those who missed it the previous weekend salvation was at hand and overnight many journeyed north hoping to gorge themselves on the bird's splendour on Saturday morning. Surely it was not in a hurry to go anywhere this time - some of the previous British and Irish birds have settled for months on end! However, the Belted Kingfisher was, once again, to have the last laugh, as it was last seen in the gloom of a Saturday morning at 05:45 and to the disappointment of late arrivers it was never seen again. Where will it surface next?