Golden Pheasant is a gamebird of the Phasianidae family, native to mountainous, subtropical and temperate forests in south and western China. Despite a declining population, the speed of the downward trend combined with a large range means the species is still listed as Least Concern. At present, it sits on category C1E of the British list, as a naturalised introduced species – the only country in the Western Palearctic where Golden Pheasant is 'countable'.
Attempts to introduce the species to Britain date back to the late 19th century. The success of these numerous and geographically spread releases varied significantly, but it was added to category C of the British list in 1971. Today, birds can readily be found on Tresco, Scilly, and Brownsea Island, Dorset, though both populations are thought to still be supplemented today and have thus never been treated as self-sustaining. Another population on the South Downs in Hampshire and West Sussex was also thought to be supplemented, and fizzled out in the 2000s.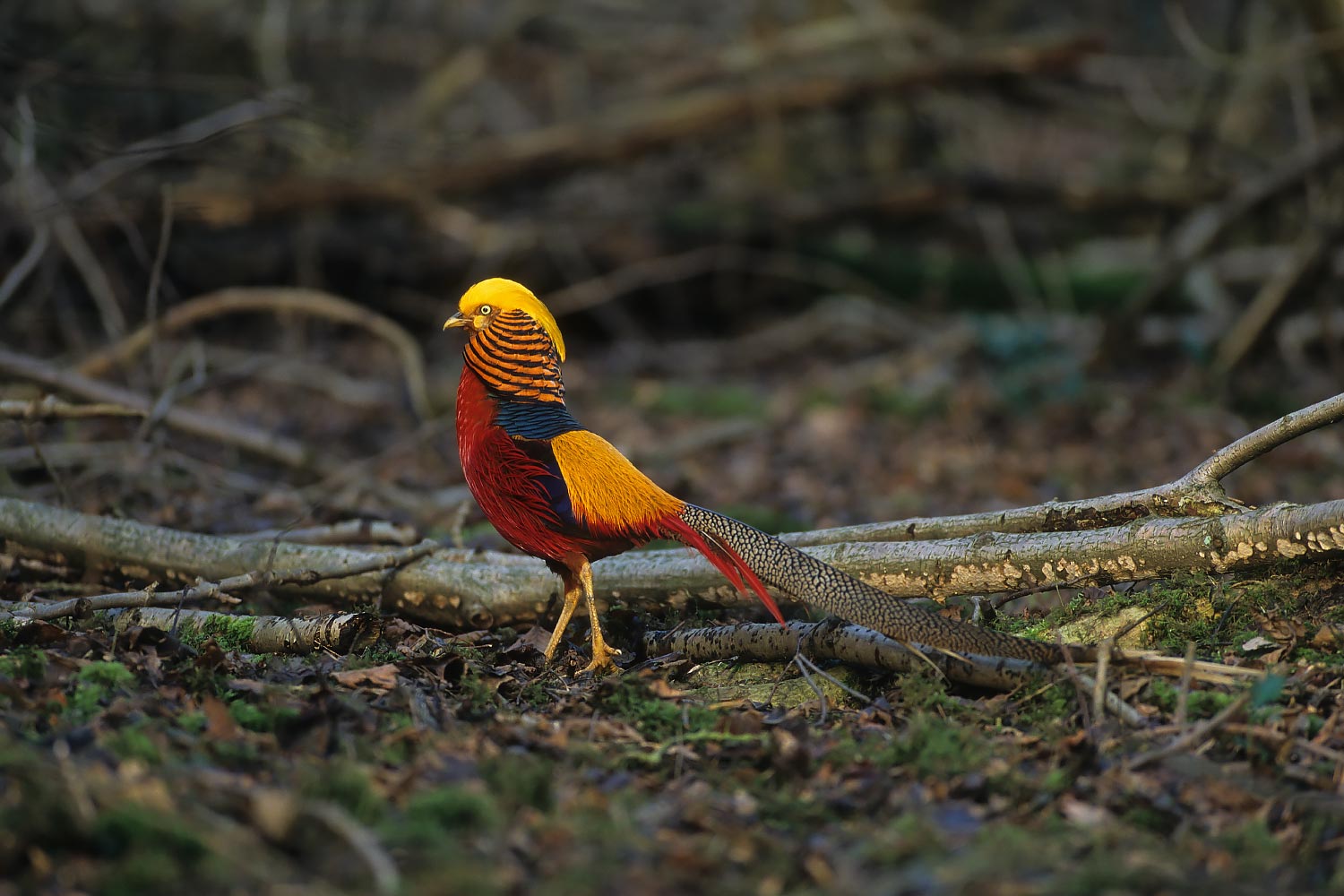 This male Golden Pheasant was photographed among the dark understory of Wayland Wood, formerly perhaps the premier hot-spot for the species in Britain, back in 1997 (Robin Chittenden / www.robinchittenden.co.uk).
The stronghold for British Golden Pheasant has always been the dry pinewoods of Norfolk and Suffolk, especially in the Brecklands. Even in the 2000s, there were several sites at which the species could be incorporated into a days birding in East Anglia without trouble – Wayland Wood, north of Thetford, was a particularly renowned site. A possible remnant population, deriving from the Wayland Wood birds, may have persisted at Thompson Water until recently – however, it is likely released birds were involved, and records from Thompson Water of males in pens perhaps confirms this.
Other Norfolk sites north of Thetford where Golden Pheasant was readily encountered just a couple of decades ago include East Wretham (where favoured habitat was cleared) and Grime's Graves. Not far to the south, in Suffolk, Brandon CP was also a reliable spot until the early 2000s. However, records from these sites have been few and far between since 2010.
This left one reliable Norfolk site where, until relatively recently, the species (or at least one individual) was still fairly straightforward – Wolferton Triangle, near Sandringham, west Norfolk. A male was regularly being seen as recently as early 2017 but, despite reports in both 2018 and 2019, it's unclear as to whether the species hangs on at this site. The Wolferton population, including said regularly seen male of the mid- to late-2010s, contains birds of the black-throated form obscurus. This variant is an outcome of mutation that can occur in feral or captive birds.
Clearly, any remnant population at Wolferton is very small and it's debateable as to whether or not it can still be treated as self-sustaining. Sightings of females, as birders slowly crawled around the famous, rhododendron-lined roads of the triangle, were very rare in the 2010s. It seems safe to say that this population is as good as consigned to history, at least in a self-sustaining sense.
There are still sporadic reports, mainly of individuals, in and around the Brecks at largely unconnected sites. Many of these presumably relate to released birds, probably in small numbers, on the many shooting estates in the area. A couple of Suffolk sites, south of Thetford, are perhaps the final places in Britain where self-sustaining (or formerly self-sustaining) populations of Golden Pheasant can be found. It of course remains possible that these birds are supplemented by releases. Females have been seen too, with reports as recently as 2019, but numbers of both sexes have tailed off, even though recent sightings have taken Golden Pheasant into the 2020s as a British bird.

Brief views of a male obscurus Golden Pheasant scuttling across the road at Wolferton Triangle at dawn or dusk, as pictured here, will be familiar to many birders (Carl Wilson).
Excluding isolated releases, any British self-sustaining population of Golden Pheasant could be as small as 20 or more individuals. This gradual decline to a functionally extinct population mirrors the decline of Lady Amherst's Pheasant, which too was added to category C in 1971 on the basis of a Bedfordshire and Buckinghamshire stronghold. The famous last male hasn't been reported since 2016. The writing was on the wall for 'Lady A' as long ago as 2005 – the paper The status of Lady Amherst's Pheasant in Britain, written by Barry Nightingale and published in British Birds in 2004, discussed the severe decline in the population in Britain, and outlined the causes, with habitat change identified as the most significant among a combination of other factors.
As of yet, no such study has been afforded to Golden Pheasant. It's likely similar habitat changes (not least forestry management and planting trends) have played a similar role. However, perhaps the common denominator for both species is the section 14 of the Wildlife and Countryside Act 1981. Prior to this act, both species could be released at will in the countryside – some 10 years previously both were admitted to the British list, and their populations were at a peak (as many as 400 Golden and 250 Lady Amherst's in the 1970s). The BOURC isn't known for its impulsiveness and, presumably, at the time both populations seemed perfectly viable.
However, perhaps these populations were always just being kept afloat. After all, Common Pheasants – which are still allowed to be released – remain common in many parts of lowland Britain, but often in the areas with the densest populations proof of breeding is minimal. Hypothetically, if it became illegal to release Common Pheasant, would they too dwindle and disappear?
In the 2016 Rare Breeding Birds Report, published in British Birds in November 2018, Golden Pheasants were reported from Dorset, Scilly, Norfolk, Suffolk and Perth & Kinross, but there was no indication of breeding. This has followed an estimated 45% reduction in range between 1971 and 2011, the latter year marking the most recent confirmed breeding record. It must be said that the species' favoured habitat in Britain – dense coniferous and mixed plantations – makes study of an already elusive and skulking bird difficult, especially when it comes to breeding confirmation. Realistically though, the lack of breeding proof is a close enough reflection of reality.
The continued decline, lack of breeding records and retraction of range and sites means that Golden Pheasant is destined to join Lady Amherst's Pheasant on category C6E – a former naturalised species, previously placed in C1 but whose populations are either no longer self‐sustaining are considered extinct. As a result, and like Lady Amherst's has already become, Golden Pheasant will thus represent a true blocker on the British and Western Palearctic lists in years to come.