Are you interested in seabirds and sea-watching? Would you like to the opportunity to sea-watch this autumn from the one of the premier headlands in Europe, with the possibility of free accommodation thrown in? And would you like to be part of a major project directed towards the study and conservation of seabirds and other marine life? If so, then read on!
SeaWatch SW is an exciting new initiative designed to collect important information about some of Europe's most threatened marine animals, including the critically endangered Balearic Shearwater, Basking Sharks, Ocean Sunfish, cetaceans and a variety of migratory seabirds.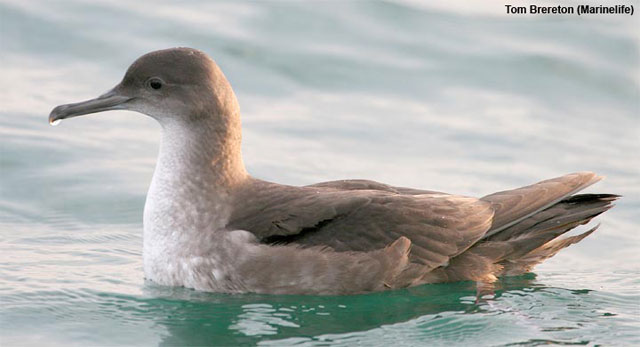 Balearic Shearwater (photo: Tom Brereton/Marinelife).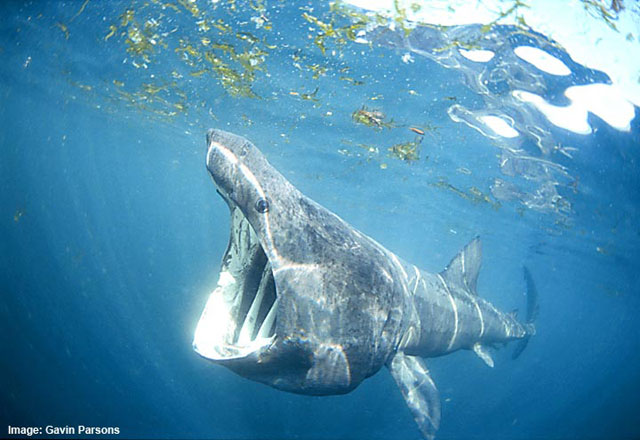 Basking Shark (photo: Gavin Parsons).
This conservation-based project is being co-ordinated by the National Oceanography Centre, Southampton (NOCS) and is supported by a number of major wildlife organisations, including the RSPB, Marine Conservation Society, SAHFOS, Royal Naval Bird-watching Society, Cornwall Wildlife Trust and BirdGuides. The project website has recently been launched at www.seawatch-sw.org.
SeaWatch SW will run for several years and has two main aims:
1) The survey phase will involve 'round-the-clock' observations from Gwennap Head, Porthgwarra (Cornwall) from July 15th to October 15th, in order to quantify the numbers and behaviour of Balearic Shearwaters, Basking Sharks and other target species passing the southwest tip of the UK mainland. As the project is entirely volunteer-based, we urgently need observers to get involved and help man the watchpoint during the survey period. Experienced sea-watchers who take on a core seabird observer role will be offered free B&B accommodation on a first-come-first-served basis, while observers of any ability can get involved as core shark observers or supporting observers, even if you can only spare a few hours while in the area on holiday.
Content continues after advertisements
2) The project will also act as a focal point for Balearic Shearwater recording and conservation in UK waters, so that data from each year can be passed immediately to RSPB and Birdlife International. We therefore urge anyone who sees a Balearic Shearwater in UK waters this year to submit details of their record via the project website and/or to BirdGuides (in addition to submitting to the relevant county recorder). Every record will be added to the database and included in monthly summaries with distribution maps. The January 2007 report is already available online and the distribution map below reveals the importance of southwest England for this species in winter.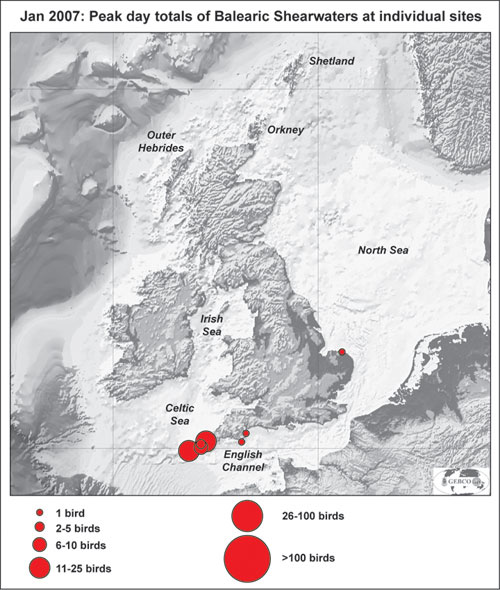 Balearic Shearwater sightings in January 2007
The project website provides further details of how to get involved, as well as an illustrated ID guide to Balearic Shearwaters and Basking Sharks, a photo gallery, and an extensive links page. There are also topical news items, e.g. 'Scopoli's' Shearwaters breeding along the French Biscay coast in 2006.
So in summary, we welcome assistance from anyone with an interest in marine wildlife, and will ensure that your observations are put to good use! Thanks to those already supporting the project, and we hope you can join us in Cornwall later this year!