The 2011 SeaWatch SW survey at Gwennap Head (near Land's End in Cornwall) started on 15th July. The first month of fieldwork has now been completed, with the project co-ordinator, Russell Wynn, on duty at the watchpoint between 15th and 31st July, followed by Doug Radford, Tom McKinney and John Swann from 1st to 16th August. A number of postgraduate students and volunteers also assisted as Marine Wildlife Observers during this period. We now have observers in place for the remainder of the survey period, but Supporting Observers are welcome at the watchpoint at any time so come and pay us a visit! See the project website for daily sightings, details of how to get involved and an updated observer schedule, and read on for a summary of sightings so far.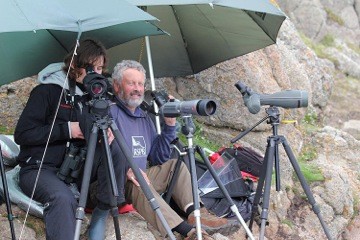 SeaWatch SW observers Doug Radford and Lavinia Suberg (photo: Russell Wynn).
Seabird and cetacean feeding frenzy makes headlines!
The main event of the first month was an amazing feeding aggregation of marine life at the Gwennap Head watchpoint from 19th–23th July. On the first date several thousand Manx Shearwaters were feeding close inshore, accompanied by hundreds of Gannets and a good early count of 32 Sooty Shearwaters. Accurate counting was made difficult by birds lingering in the area and moving randomly east and west offshore. However, the true number of Manx Shearwaters was revealed when 10,500 flew east in a single hour on 22nd July! This is easily the largest count of this species recorded during the five years of SeaWatch SW survey work at this site. Large numbers of Common Dolphins (mostly in small pods of 5–50 animals) and Harbour Porpoises were also recorded at this time. This impressive foraging aggregation featured in a news release by our colleagues at RSPB, which made it on to the BBC News website, BBC Radio Cornwall, and other regional media; see here for more.
Content continues after advertisements
Possible first for Britain is the seabird highlight!
On 6th August an unidentified seabird, initially thought to be a dark Atlantic Petrel, was seen about a mile offshore Gwennap Head in the late morning by Seabird Observer Doug Radford and Marine Wildlife Observer Lavinia Suberg. Later scouring of the literature indicated that the observed features possibly fitted better with Trindade Petrel, a species that has been recorded from the Azores in recent years and that has also previously been claimed from UK waters. Unfortunately this potential first for Britain was not seen again and the specific identity is still under debate, but it highlights the fact that almost anything can turn up on a seawatch!
Balearic Shearwaters and other scarce seabirds seen from Gwennap Head
Numbers of Balearic Shearwaters seen off Gwennap Head were about average compared to recent years, with a total of 495 seen from 15th July to 15th August and a peak of 45 on 13th August. Other seabird highlights in the first month included a Great Shearwater on 11th August, Roseate Terns on 8th and 10th August, and totals of over 70,000 Manx Shearwaters (continuing the trend of increasing numbers), 185 Sooty Shearwaters, 23 Pomarine Skuas, 116 Mediterranean Gulls (mostly juveniles dispersing west, with a peak of 48 from 31th July to 2th August) and 200 Puffins (including a peak of 37 on 15th July). Other notable peak day totals included 61 Cory's Shearwaters (7th August), 27 European Storm-petrels (11th August), 118 Common Scoters (20th July) and 11 Great Skuas (10th August). Several juvenile Yellow-legged Gulls were also recorded. Migrant land birds included a total of nine Little Egrets, two Water Rails in Porthgwarra Valley (12th August) and a dispersing Great Spotted Woodpecker on the cliff-top on 27th July.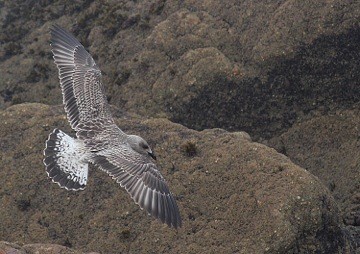 Juvenile Yellow-legged Gull ( Russell Wynn).
Basking Sharks remain elusive, but Minke Whales and Risso's Dolphins seen
The downward trend of Basking Shark sightings in recent summers continued. None were seen until 30th July when four suddenly appeared, including a huge 8–10 m long animal that remained at the surface for two hours. However, the only other sightings were singles on 3th and 11th August. In contrast, good numbers of Ocean Sunfish were seen, with at least 48 recorded (40 of which were in July). There were several sightings of sunfish breaching at the surface, including one just 30 m offshore! Up to three Minke Whales were offshore between 27th and 30th July, with another single on 3rd August. Risso's Dolphins were seen on two dates, with at least six on 17th July and one on 29th July. The only Bottlenose Dolphins were a pod of at least 12 on 2nd August. The peak count of Common Dolphins was 60+ on 26th July, with at least 11 (and possibly up to 35) Harbour Porpoises seen two days later. Grey Seal numbers at the nearby haul-out peaked at 13 on 29th July. On the land, a Weasel was seen on the cliff on 27th July, being mobbed by local Wheatears and Rock Pipits!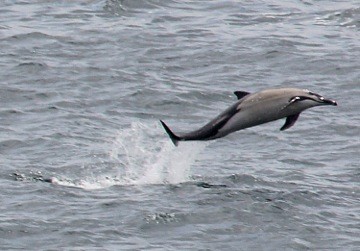 Leaping Common Dolphin (Russell Wynn).
Update on sightings from SeaWatch SW sister sites and partners
In addition to the intensive survey work at Gwennap Head, offshore surveys in the Western Channel are being undertaken by our partners at Marinelife; full details of their recent sightings can be found at www.marine-life.org.uk/sightings. Notable records in the period 15th July to 15th August included White-beaked Dolphins, Balearic Shearwaters, Ocean Sunfish and occasional Great and Cory's Shearwaters. In addition, up to 700 Balearic Shearwaters were seen off the coast of northern Brittany, although there was no repeat of the huge numbers seen there last summer. Land-based sightings from our sister sites in southwest UK were overshadowed by those from our North Sea outpost at Whitburn, which has already produced Humpback Whale, Bonaparte's Gull, Glaucous Gull and a couple of Long-tailed Skuas this summer!
Update on SeaWatch SW activities in 2011
As originally planned this will probably be the final year of effort-based monitoring at Gwennap Head in southwest Cornwall, and by the end of 2011 we will have collected almost 5,000 hours of observations from this strategic watchpoint! Regional context for the data are provided by several thousand hours of observations from our sister sites at Berry Head, Pendeen, Trevose Head, Strumble Head and Whitburn. The SeaWatch SW dataset is increasingly being recognised as a unique resource by the science and conservation community, and a team of postgraduate students at NOCS, Oxford and Plymouth are currently assisting with data analysis and interpretation. The aim is to rapidly generate a number of scientific publications and reports that can be used for conservation purposes in the region. SeaWatch SW will continue to undertake fieldwork in southwest UK in 2012 and beyond, but this will be in a more targeted fashion in order to tackle some of the scientific questions thrown up by the existing survey data.
Balearic Shearwater recording in 2011
One of the main aims of SeaWatch SW has been to provide a focal point for land-based recording of the Critically Endangered Balearic Shearwater in UK and Irish waters. Our partners at Marinelife are also leading intensive boat-based recording of this species in the English Channel. Data collected between 2007 and 2010 are feeding into ongoing conservation efforts; for example, SeaWatch SW have recently provided input to the updated Balearic Shearwater Species Action Plan. We are grateful to all observers who have provided us with records, and are now in a position to generate a research paper based on data collected in the last four years. We will therefore not be collating UK and Irish records from 1st January 2011 onwards, but urge all observers to submit their records to BirdGuides so they can be extracted and used in the future. A summary of all 2010 Balearic Shearwater sightings will be included in the 2010 SeaWatch SW Annual Report, and the key results of the research paper will be available here once published.
SeaWatch SW Annual Report 2009 available online
The SeaWatch SW Annual Report 2009 is available online from the project website. This 118-page report, illustrated throughout with colour images, includes a summary of all Balearic Shearwater records from the UK and Ireland during the year. The report also contains all the data from the SeaWatch SW survey that took place between 15th July and 15th October 2009, with intensive effort-based observations at Gwennap Head, Porthgwarra, supported by sister sites at Berry Head, Pendeen, Trevose Head, Strumble Head and Whitburn. Finally, a summary of boat-based observations in the western English Channel has again provided by our partners at Marinelife. A shorter version containing a summary of key results is also available. Note that the 2010 report is currently in production and will be available online later this year.