I finished off my round-up of the first three weeks of the Scilly Season in 2017 with me standing on the quay at St Agnes, waiting to move across to St Mary's for the remainder of the month.
I'm not sure if anybody reading this current article will remember that a number of years ago I wrote a piece for BirdGuides entitled 'Torn Between Two Lovers', talking about a birder's ambivalence in being trapped in his affections between two different locations or patches. As much as I've become associated with St Agnes over the past 10 years, I still have a lot of happy memories of St Mary's dating back to when I used to stay there in the mid-1980s, and almost every turn has a fond recollection attached to it.
For example, how can I forget the extraordinary day in October 1985 when Myrtle Warbler, Rose-breasted Grosbeak, Bobolink and both Yellow-billed and Black-billed Cuckoos were lifers for me, while Northern Parula and Red-eyed Vireo were still waiting to be seen the next day. St Agnes is remarkable for being able to get a feel for birds making immediate landfall, and on the best days, it's easy to lap the island a couple of times. Yet there can be days, weeks, even a month at a time with little new happening, and you can pretty much say effectively by 9 am that there's little point birding the rest of the day. The vastly greater size of the island a mile to the north-east, with its extensive nature trails and pine plantations, sometimes seems from afar to offer endless possibilities – though clearly the odds on you yourself stumbling across a far-flung migrant are considerably lower.
Throughout those happy days when Cedar Waxwing and Eastern Orphean Warbler were to be seen in the vicinity of my garden and the St Mary's birders were coming across to see them, I couldn't help wondering what they would be seeing if they spent more time covering their own island? I can't blame them, of course; I would do the same thing for megas like that myself, it's just unfortunate nowadays the numbers of birders coming to Scilly are barely a quarter of what they were in 1985, and St Mary's requires an army to go out there and look. It's unthinkable that with all the American passerines we had on St Agnes, and the American Cliff Swallow on Tresco, that there were none to be found on the biggest island, yet that was the way it was to remain until the end of the season.
But I was keen to try my best to make my own contribution. I am very lucky when I visit St Mary's that my good mate 'Spider' Webb has exclusive access to almost every blade of grass and copse on the island, and as long as I behave myself I'm allowed to trot alongside him like a little spaniel. He also has a van which makes life easier for getting around. He'd spent the previous night in our St Agnes cottage hoping to photograph the Orphean, but now we were heading up to the north-east corner of St Mary's in the hope of seeing some of the 80-odd Hawfinches that Will Scott had seen flying around there earlier in the day. I wrote mostly last time about the attention given and pleasure received from various individual rarities on St Agnes and Tresco, but if I had to pick a highlight of the autumn 2017 on Scilly I'd immediately say the Hawfinch invasion.
Why? Several reasons. For one thing, as much as I can delight in focusing attention on a single stray bird, I noticed some years back that what really excites me about birds most deeply is seeing them in what I call ornithological spectacles: multi-individual flocks of birds, particularly on migration. Seeing a large number of birds in one place can at least temporarily distract you from the knowledge that bird populations are in decline everywhere and offers some hope, no matter how temporarily, that all is not yet lost. Secondly, I've lived with Cedar Waxwings and Rose-breasted Grosbeaks for the best part of 10 years in North America, even handling (and in the latter case been bitten by) dozens of individuals, yet the total number of Hawfinches I've seen in a lifetime of birding prior to this current autumn could just about be counted on my fingers and toes. Certainly, in the 15 years since I returned from the States, I can recall no more than three or four individuals, usually either distant, brief or both.
Furthermore, this year's Hawfinches allowed me the chance to add a brand-new call to my mental library of bird sounds that made me wonder just how many years I might have been overlooking them. Being one of those birders who delights in using his ears as much as his eyes, it came as quite a shock to recognise that I may well have been 'zoned out' to this 'new', high-pitched flight call of Hawfinch that I was about to learn when I stepped out of Spider's wagon at Maypole Farm and first clapped eyes on six magnificent, almost cartoon-like Hawfinches sitting proudly atop some equally magnificent, lichen-encrusted, berry-laden hawthorn bushes.
As we walked into the farm along several rows of this dense hedgerow, ones and twos of Hawfinches kept flying out periodically, only to all get up at once when a Eurasian Sparrowhawk passed and we counted a total of 34 in the air together, more than I'd previously seen in my entire life. Artist Richard Thewlis described his interpretation of the flight note to me as the swi-ss call and that to me seems the best way to describe it phonetically. We saw the same group again next morning, as well as a different flock of 14 flying over and, though numbers were never as high as that again, I went on to pick up odd ones and twos every single day for the following two weeks.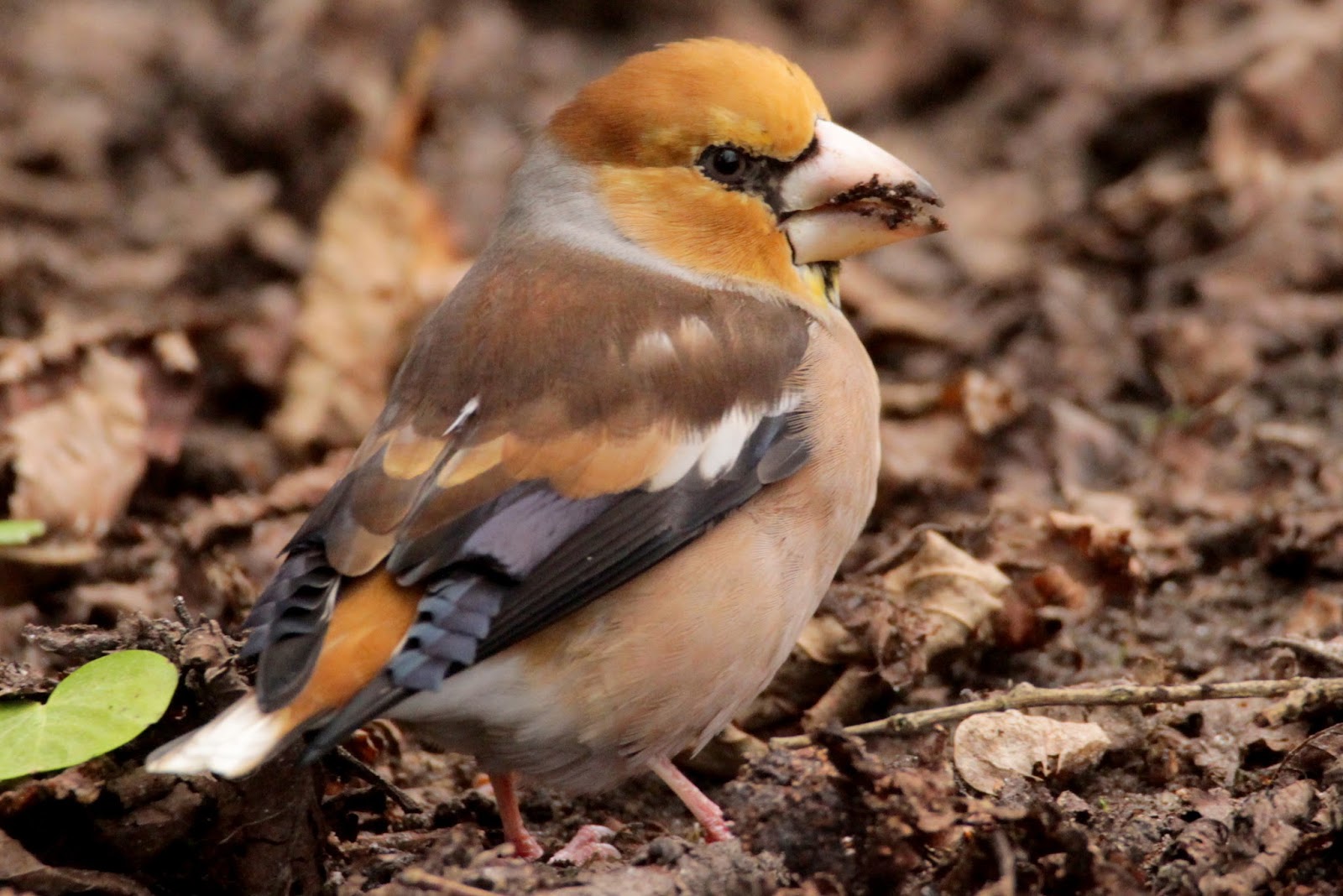 A delightful influx of Hawfinches reached Scilly in October, with this individual proving particularly confiding (Kris Webb).
However, on that first afternoon back on St Mary's there was an hour of light left for me to go up to the Airfield and get further views of the Isabelline Wheatear I'd seen 10 days earlier and which I rather mentioned in passing last time in order to fit in all the American megas around it. There's a paragraph or two in Mark Cocker's Birders: Tales of a Tribe in which he talks about standing in Extremadura watching displaying bustards and listening to a plethora of singing Calandra Larks, and he describes his feeling of being back on what he calls 'full bonus.' It is a feeling I recognise well myself: a sense of overwhelming satisfaction that rises up at unexpected moments from a combination of landscape and intimate contact with a bird (or birds), and I felt it right there watching the wheatear at point-blank range on one of the highest points on Scilly, in a place where it's possible to see all the other islands dotted about on the seas around you. There's nothing quite like watching a bird that knows you are there and yet doesn't seem to care, carrying on with its business as though you're invisible. I didn't know at the time that it would be gone the next day and that I would be the last person to see it after its fortnight-long stay. That thought in itself could not help but augment the moment, looking back with hindsight.
For the next seven days, Scilly was once again hit by some ferocious winds from the south-west, including the surprise of Hurricane Ophelia which originated in mid-Atlantic and swept up from due south, bashing us with sustained 50-60 mph winds. I saw my first Scilly Leach's Storm Petrel as a dot through Dick Filby's telescope at the Mermaid Car Park, but more memorable for me was the sight of both Raven and Peregrine Falcon high over the island, peeling back their wings and ever so effortlessly gliding headfirst directly into the storm, as though it was just a bit of fun. At the same time offshore, Northern Gannets were still plunging themselves into the relentless, foaming seas. Don't you just wish you could do those things sometimes!
When I talk to Shetland birders about autumn weather, one of the things they stress is how a change in wind direction, no matter where from, is a key feature in delivering new birds. This was very evident on Scilly this autumn. Rarely did the winds stay in the same vector for more than 48 hours, and there were rapid swings from south to north, to west and back to south again. When roaring south-westerlies hit Scilly from across the Atlantic, so long as there's no blocking high over the UK, we often get several hours of south-south-easterlies prior to the winds changing direction, largely on account of the shape and size of the low. On one such occasion, mid-month, a Radde's Warbler slipped onto St Mary's and I was able to enjoy my first really good views of this charismatic species for almost 20 years. I was obsessed by Radde's Warbler as a kid growing up in Tyneside: it and Pallas's Warbler were my gateway experiences to the wonders of long-distance bird vagrancy. Birds that came from so far away that they weren't even on the map of my original Hamlyn Guide to the Birds of Britain and Europe turning up in my local quarry, half a mile from my school. In the last decade on Scilly, I've seen three Radde's Warblers on St Agnes: two of which were millisecond-long views, but one of which, a bird I found myself, spent four days in a dense field showing for a few seconds at a time. So the one giving itself up out in the open for 20 minutes in a field at Longstones reminded me just what wonderful little creatures these birds really are and inspired me to text a number of friends stating: Radde's Warbler – still the best bird in the world.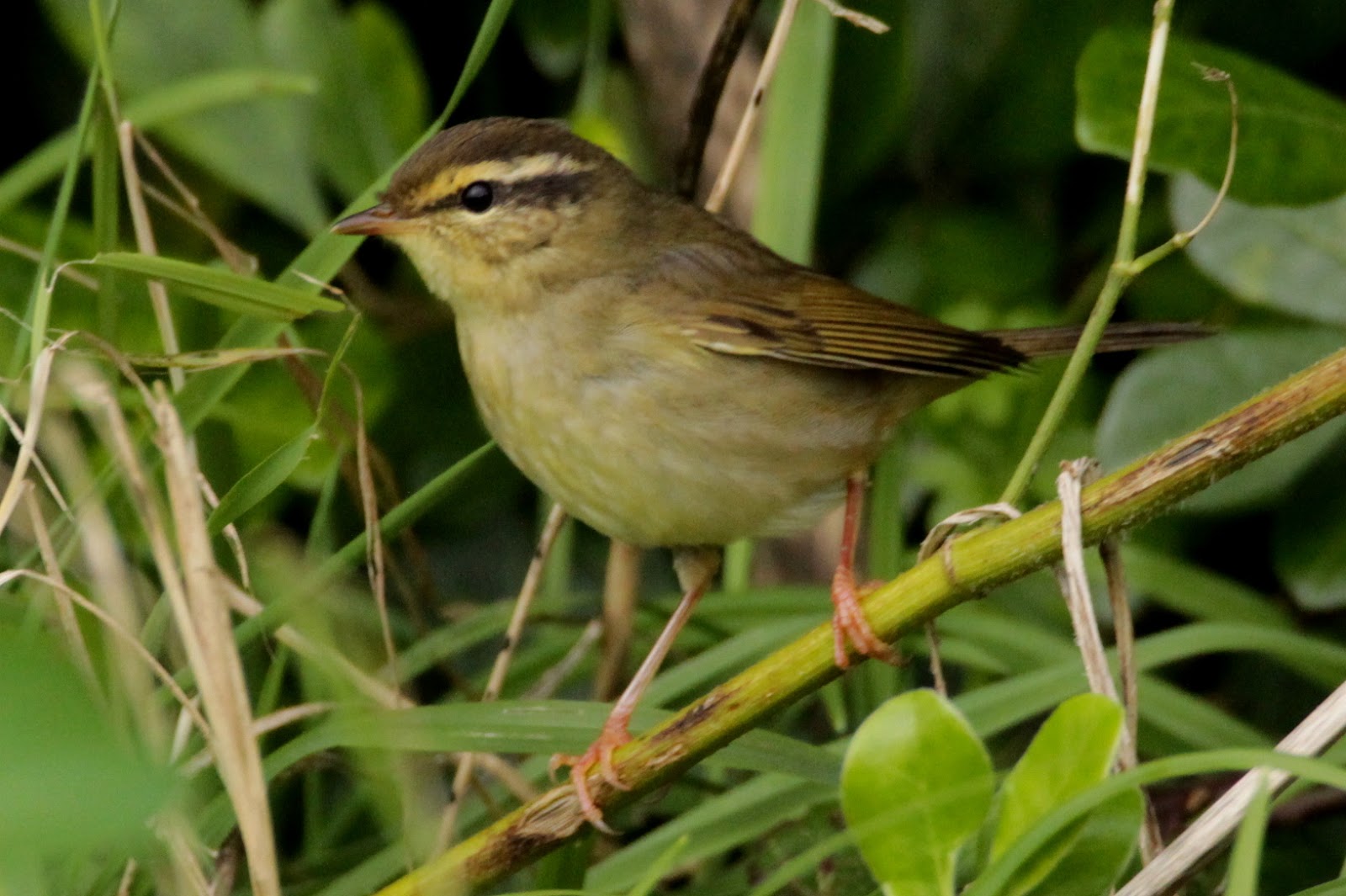 This showy Radde's Warbler gave Graham his first good views of the species for nearly two decades when it arrived on St Mary's in mid-October (Kris Webb).
As well as the unprecedented movement of Hawfinches, the south-west was undergoing what you might call an 'invasion' of Firecrests, though that hardly seems an appropriate word for these eternally endearing little birds. While Portland had 150 in one day and a friend of mine saw 34 in a very small area at Rame Head, I never quite saw that sort of concentration of numbers in the extensive hedgerows and woodlands of St Mary's, though I did see double figures most days. Usually about half-a-dozen winter on St Agnes, and every spring I listen closely for their sometimes barely audible high-pitched trill of a song. My favourite moment with one this autumn was the unexpected sight and sound of a male in full song in the shelter belt of the northern pines during one of those days of force 8-9 gales, dazzling crown flared out and all. Of course, a birder can enjoy moments such as this with regular scarce migrants almost any autumn – Wrynecks, Lapland Buntings and Yellow-browed Warblers spring to mind – but in this year of all years, still floating on that cloud of fulfilment brought about by events earlier in the month, the feeling was much more acute.
The same could be said for a fantastic show from a Corncrake next to Old Town Church late in the day – 100 of us watching this rarely-seen bird running around right out in the open, then hiding, stretching its neck right out, embarking on another 30-metre dash. It's one thing seeing a bird just sitting there doing very little, but when it starts doing something you've never seen one doing before, it's almost like seeing the species for the very first time. I don't mind too much that I've missed a couple of White's Thrushes while I've been absent from St Agnes, but the fact people actually saw one bouncing like a Jack Snipe in the leaf litter one time ... ouch, that hurts!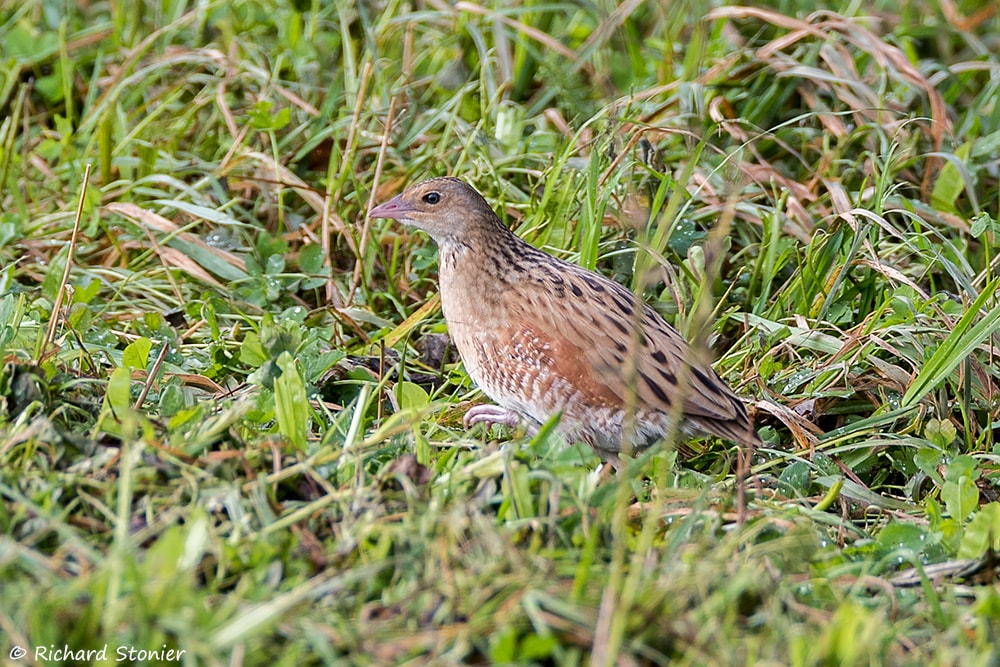 This migrant Corncrake gave uncharacteristically good views on St Mary's on 19th (Richard Stonier).
On the morning of 20 October, I did my now-habitual first hour round the Garrison, seeing the now-expected early morning Hawfinch fly in off the sea, but little else in the windy conditions. I never really have a plan for a day on St Mary's; I just wander at will as the mood takes me. I was still umming and ahhing somewhat when, at 9 am, the phone rang to tell me there was a Yellow-billed Cuckoo on St Agnes. At this time, there wasn't a lot else going on around the country as far as headline vagrants were concerned. In fact, there'd not been a lot of BirdGuides' famous red exclamation mark away from Scilly for much of the past fortnight. Some twitchers, remembering last autumn on the British mainland and the Northern Isles, had already written the autumn off. But, as I said in Part 1, this was a complete 360-degree reversal of fortunes for Scilly after the misery of 2016, and we were back on the front page of the news once again. Of course, those of us who were here in the old days can remember we would have seen six or seven boats taking off for St Agnes from St Mary's quay when a mega turned up, but today there was just the one – though at least it was a full one.
How did I feel having to twitch my own home island alongside all these other St Mary's birders? Absolutely blooming fantastic! It was 32 years since I'd seen my only Yellow-billed Cuckoo in the UK and, despite the fact that a few pairs bred at Cape May, New Jersey, where I lived for nine summers, I really didn't see all that many, certainly nowhere near as many as I did grosbeaks and waxwings. We already knew the poor bird was moribund, unfortunately. Martin Finch, the tallest birder on St Agnes, had the elevation to be able to see over the wall at Grinlinton Cottage and had already seen this latest transatlantic vagrant huddled up on the lawn looking not long for this world. Some commentators online thought we were heartless to be chasing after a dying bird, but as my friend John Higginson, a man who personifies the soul of Scilly birding more than any other, said sagely: "We are going to pay our last respects." So, yes, we had the decency to embrace the mixed emotions.
I ran for the bird straight off the boat on St Agnes. In the old days, this running might have been borne out of desperation or fear the bird would fly off, but nowadays I find it emanates mostly from joy and a token remembrance of past days. Plus, I thought it might give the St Agnes residents, who know me in other guises throughout the year, a bit of a laugh! Sadly, this current autumn excepted, there haven't been many occasions over the past decade when the excitement has permitted me to break into anything more than a fast walk. I led the way up the hill for the first quarter-mile, but then let the youngsters took over and beat me into sixth place by the time we arrived at the bird.
Content continues after advertisements
There was only viewing space for about half-a-dozen of us at once, another reason to be in a hurry. I gave myself two minutes to stare at the bird, then stepped back, not just to let others have their turn, but also to take the opportunity to dash around my home patch. Having access to areas of land that the majority are not allowed to wander, I almost felt it was my duty to eek out something else American for the crowd, but it wasn't to be the case. I returned several times to admire the cuckoo and dwell on its astonishing journey. Inevitably, by the end of the day, it had been taken into care and died. I'd like it known that, at least from the point of view of the hundred of us that got to admire the silky contours of its plumage, it's journey wasn't entirely in vain.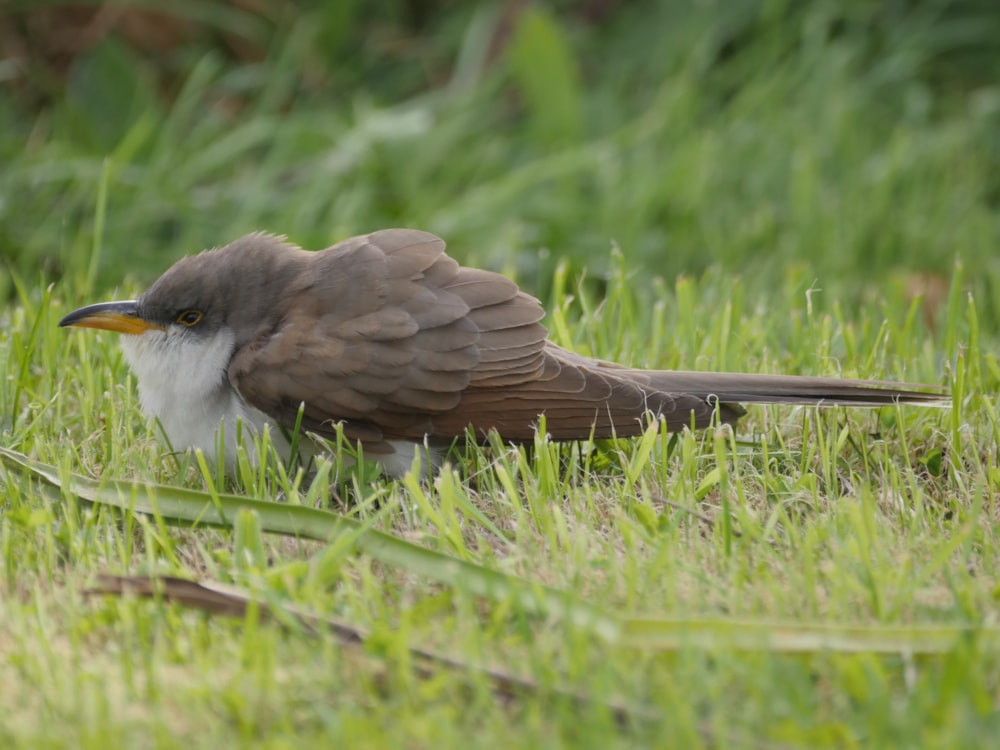 A sad scene to witness, but the Yellow-billed Cuckoo's moribund state only further emphasised its astonishing journey (Clive Ireland).
I mentioned Ben Hicks (the snowman builder) in my previous article. He told me when I first worked for him that he'd once almost trodden on a Yellow-billed Cuckoo on his way to school – the bird Richard Millington describes at The Parsonage in 1980 in his A Twitcher's Diary. Ben, a complete non-birder with an ironic detachment at our antics, drove past on his tractor while I was having my second look at the current bird and I jumped out into the road and told him with a smile that it might have taken me 37 years, but I'd finally got a St Agnes Yellow-billed Cuckoo back on him.
I had occasion to visit St Agnes for a couple of hours again later in the week, when the wind turned east-north-east and I felt some major diurnal passage might be in the offing. This turned out to be the case. As I said at the beginning, it's sometimes a lot easier to get the feel of immediate arrivals of birds on St Agnes than it is on St Mary's, and because of the size and location of the island, the last lump of rock before 3,000 miles of ocean, birds often circle and land, giving a better chance of pinning them down than they allow on St Mary's.
The big highlight of the day was the visible migration of Chaffinch, with perhaps 1,500 in total. There is potential for this sort of movement to occur every autumn around this time; but sometimes, despite aggregations of 4-5,000 building up in the Cornish valleys the night before, they can completely miss us if weather conditions allow them the opportunity to traverse Scilly without stopping. On this particular morning, a blanket of mid-altitude cloud cover meant that, from the moment of my arrival on St Agnes, I could detect the flight calls of Chaffinches high up in the sky, at the very limit of my hearing. Equally, when I did finally spot a small group, my vision was pushed to its very limits, too.
Then they started dropping. As one group of 200 dived into the cover of the treetops in Barnaby Lane, so another group of 500 passed over just beneath the clouds, almost certain to return as soon as they realised they'd run out of land. Sure enough, 15 minutes later they came down and joined the increasing gathering in the lane. There was chatter among them for a short while and then they started peeling off towards the south-west in 10s, 20s, 30s and so on, only to turn around again, land and then re-orientate towards the south-east, the direction in which they ultimately departed. To be a human observer in the midst of this process of avian decision-making as they tried to get their bearings is a truly remarkable thing to witness first hand, one I was lucky enough to encounter many times in the United States, but one which never ceases to thrill me these days in the UK. It is a truly humbling experience, and once again, like the Raven and Peregrine Falcon tumbling into the wind, it sometimes makes you wish: if only I could do that. How do they navigate without a map or a sat nav?
This movement – slightly less spectacular, but still amazing to behold – went on for several days on St Mary's, and included hundreds of Redwings, scores of Fieldfares, and dozens of grounded Eurasian Siskins and Bramblings that made birding such a magnificent experience, despite the rarities. Mind you, on that latter score, I came across two Dusky Warblers in the space of an hour with John and Spider on 22nd, although I acknowledge the changing status of that species means it's no longer classed as a bona fide 'rarity' anymore. It's hard to imagine that when I began birding there had only been 26 Dusky Warblers in the UK, and when I came across one as a teenager in 1984 I really thought it would be a once-in-a-lifetime experience. That hasn't proved to be the case, and I often find that knowledge learnt in your formative years sometimes stubbornly resists being replaced with newer information; I hope us middle-aged folk can be forgiven for having mixed emotions about the much-changed status of such species in Western Europe. Were they really all that rare, or were they were there all along? The same goes for Olive-backed Pipit. An absolute dream bird for me at one time, one I was desperate to find for myself for many years after seeing three or four in the 1980s. But again, it's one of the birds I've now stumbled across several times in the past decade on Scilly and Fair Isle.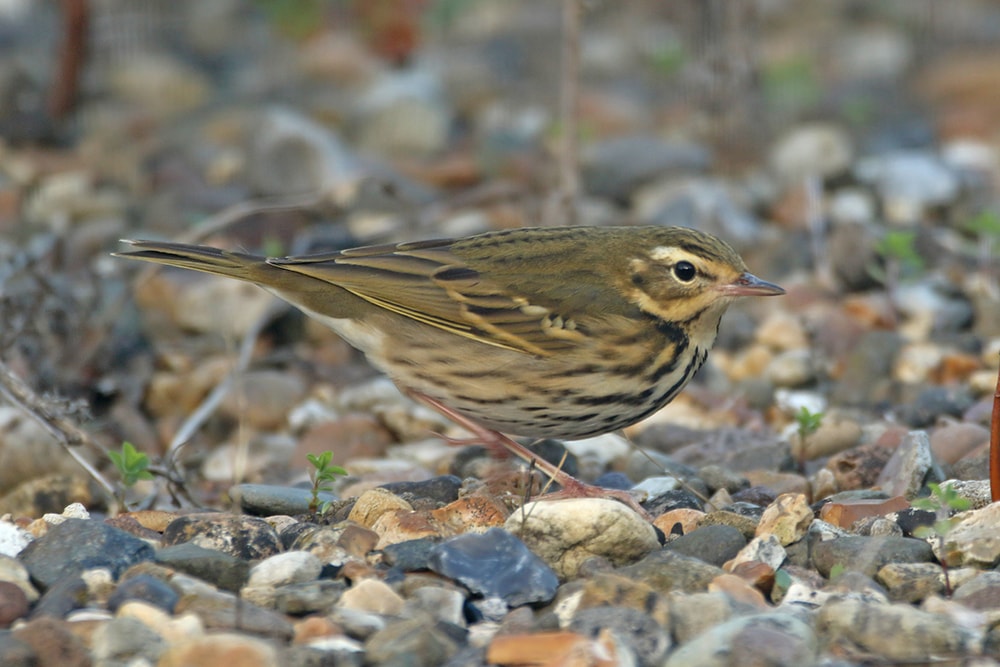 It's difficult to beat Olive-backed Pipits, even if they have become 'annual fodder' in recent times (Gary Thoburn).
Mind you, they are still such a crippling bird that I was pretty gutted that the two I picked up in the last days of October on St Mary's were only fly-overs identified by their calls, and that I somehow failed to connect with the bird (probably one of the same two birds) that Spider pinned down briefly next to Lower Moors later the same day. I rate 'OBP' as one of those inimitable birds, like Wryneck and Buff-breasted Sandpiper, that ideally I'd like to be seeing really well every autumn if I could. I like Red-throated Pipits too, though not quite with the same passionate intensity, so I wasn't too disappointed when one I flushed from the lawn in front of Star Castle flew off, never to be seen again.
As the month of October drew to a close, a Surf Scoter appeared off St Mary's before moving to offshore Tresco for a couple of days, though I never saw it. Vicky Turner and Andy Holden picked up a Grey-cheeked Thrush on St Martin's that I really would have liked to have seen, but you can't have 'em all, can you? This, too, disappeared without a trace soon after they saw it. One more favourite moment of this intense last 10-day period, which prefectly summed up for me this marriage between 'rare' and 'common' birding, was the sound, followed by the sight, of six Blue Tits high up in the ether; just below cloud level, in the centre of the island on St Mary's. In the midst of all the other visible migration during this period, it would be overly cautious of me, I think, not to include these as genuine on-the-move, migrants. A tail-less Grasshopper Warbler while out birding with Spider on the last day of the month sent my heart racing into overdrive for 10 minutes, as it disappeared into cover. We hadn't even worked out for certain what genus we were looking at! Luckily it emerged to walk along a branch and bathe in a shaded puddle in front of us, dispelling any doubts about its identity.
There was still time for me to spend a couple of nights camping on St Agnes in the first weekend of November, while the builders and decorators remained in my house. The minute I set foot on my home island, I was regaled with news of an incredibly showy Radde's Warbler having turned up on St Mary's. Despite having seen one earlier in the month, I was suitably disappointed. Likewise, no matter that I'd seen triple-digits of Hawfinch during the past few weeks, I was almost as gripped by the showiest one of them all turning up there later the same day.
It's amazing how greedy birders can be for experiences sometimes, no matter how much you've already enjoyed, but the payback for me having left St Mary's in the morning was that I bumped into a delightful, frosty Siberian Stonechat at knee-height on my home patch at Rosevear – where this whole story began five weeks earlier at the end of September. Though I don't normally carry a camera with me when I'm out birding, it was confiding enough for me to be able to pop off half-a-dozen record shots with a little pocket camera that I sometimes carry around with me just for landscapes and insects, and for things like the Portuguese Men o' Wars that were washed up on Scilly beaches in their hundreds.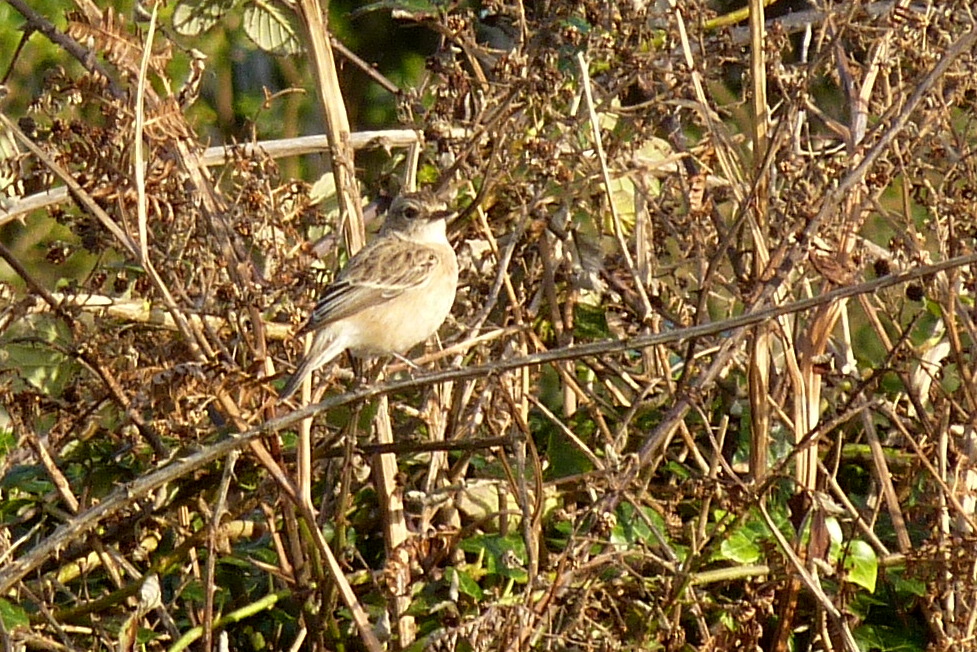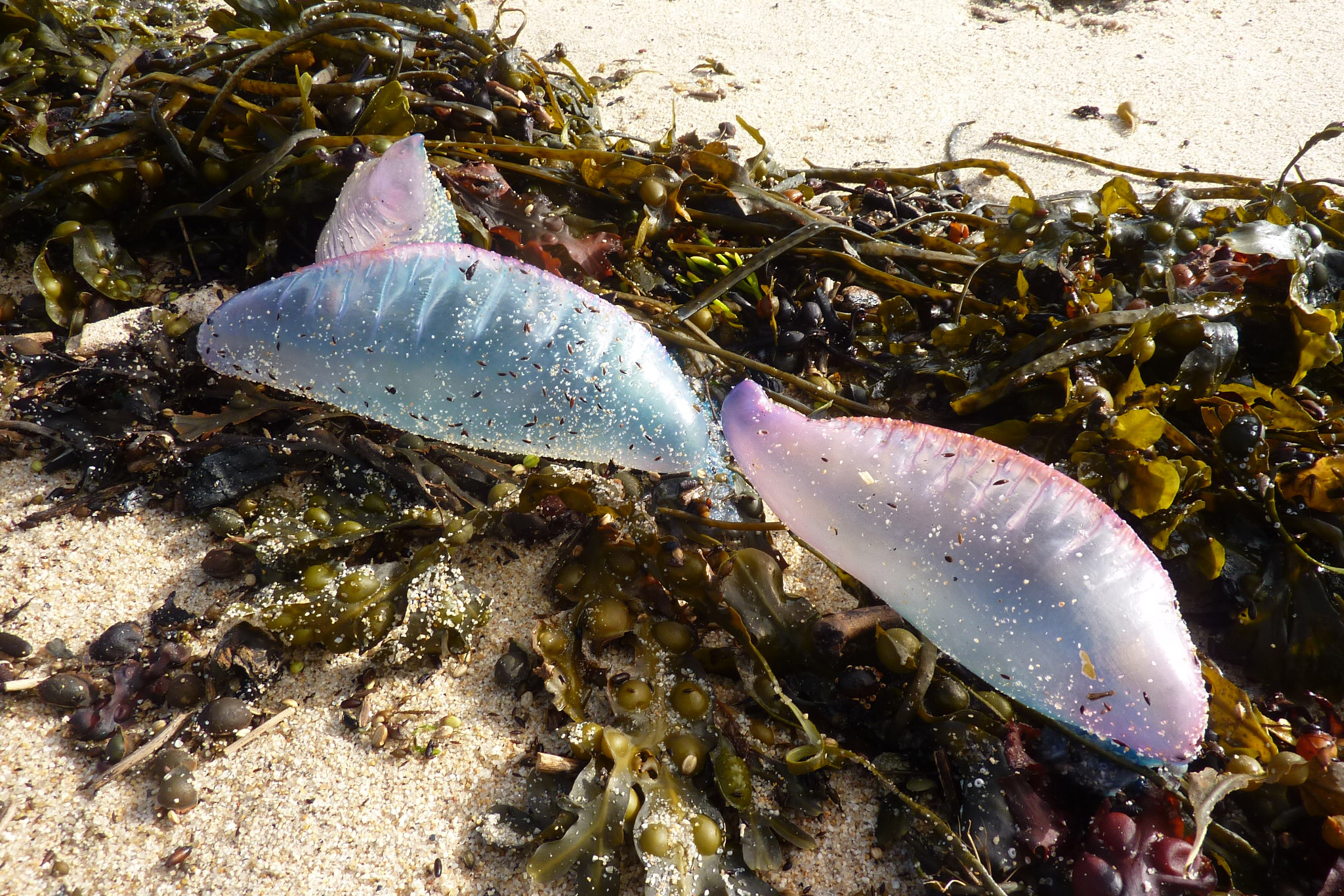 Siberian Stonechat on St Agnes and a couple of the many Portuguese Men O' War to wash up on Scilly this autumn (Graham Gordon).
A different Little Bunting to the confiding bird earlier in the autumn turned up on my last day on St Agnes, before a visit to the mainland finally drew the curtain on the Scilly Season 2017 and of the most enjoyable months of continuous, day-to-day birding I've ever had in the British Isles. On top of all that, harking back to those fabulous days at the start of my birding 'career' on Scilly in the mid-1980s, the sight of a flock of 125 Sanderling on Porthloo Beach just before I left the islands epitomised those formative years as much as anything rare. These days, friends of mine have visited Scilly in October for 10 years and not recorded a single Sanderling on any of its many beaches. Back then, a flock of 100 Sanderling commuting between Porthloo and Porthmellon was as iconic as the tame Ruddy Turnstones that still frequent the picture-postcard beaches beneath the Atlantic and the Mermaid drinking establishments. In 1986, the Sanderling flock contained a juvenile Semipalmated Sandpiper which, even now, remains one of my most-watched birds ever, in terms of the number of hours I spent staring at the anchor marks on its lower scapulars.
I appreciate that the majority of rarity-oriented birders in the UK will still flock to Shetland every autumn from now on, but I hope that some who've forgotten about Scilly will come back, stay on St Mary's and help us find some of the birds that must be lurking out there each October in the absence of sufficient eyes to uncover them. The beauty of Scilly apart from its beauty is its compactness, its mini-scale twitches from one island to another. Also, unlike much of treeless Shetland, on days when the wind is howling from one direction or another, it is almost always possible to find shelter on the opposite side of any island. As a friend of mine once said: "a bad day on Scilly is far, far better than a bad day on Shetland!"
Not that there was a single bad day to be had here this past October, I can tell you.