'Smug, sated and satisfied'. That's the state of mind I found myself in, just 10 days into October 2017 ... and yet there was still plenty more to come.
One might begin by calling October 2017 on Scilly a complete 180-degree U-turn on events the previous autumn (see here). Yet 180 degrees doesn't seem adequate to describe the complete turnaround in fortunes undergone by long-term Scilly (and especially St Agnes) devotees of the past dozen or so years. Instead I'll refer to it as a 360-degree change of luck; it was the right place at the right time.
I'd spent the summer away from Scilly, working on a friend's 100-acre sheep and cattle farm in south-east Cornwall, just across the Tamar Bridge from Plymouth. My summer was all about moths, dragonflies and butterflies, with just the occasional foray down the peninsula for some seabird action being my only significant contact with the avian world, other than the Tawny Owl family outside my bedroom window every evening. The obsessive weather forecast-watching began in earnest about a fortnight into September, and the early suggestions of what might happen 10 days ahead suggested there might be something interesting heading Scilly's way for a change, in the last week of the month. Of course the forecast had looked that way 12 months earlier, only to fail to live up to its promise quite spectacularly; caution was advised.
As my return to Scilly moved closer, little by little the Atlantic pressure charts began to reveal a pattern which suggested we might be about to see some weather reminiscent of some of the halcyon days of the 1980s, when Scilly was consistently at the forefront of the British birding scene. Crucially, I identified a vigorous fast-moving low crossing from Newfoundland, coinciding with my intended arrival on St Agnes on the third Saturday of the month, while the back-up behind that parlooked remarkably promising too. More than anything else, the most important feature of the forecast as far as I was concerned was that the dreaded Azores High that dashed so many Scilly dreams in the past 20 years was visibly diminished in the forecast by the last days of September, potentially allowing any subsequent Atlantic depressions to hit us directly – just like the good old days. After down-playing conditions earlier in the month that had brought American Yellow Warblers to Ireland and Dorset, I stuck my neck out once again, beating the drum for Scilly on the internet.
As they've done for the past dozen-plus years, my long term former Cape May companions Laurence Pitcher and Lee Amery had – along with relative newcomer Jamie Partridge – booked the delightful Rosevear holiday cottage near the Coastguards on St Agnes for two weeks, though they had elected to incorporate the last week of September instead of the usual middle two weeks of October for a change. Rather than returning to my working digs at Lowertown Farm, I chose to join them once again for the craic and the camaraderie. I headed over to St Mary's on the Scillonian III a day ahead of my colleagues – the better to try and quell the floor-pacing I had been doing since first seeing the current weather forecast take shape, but also to try and bag the American Golden Plover and Semipalmated Sandpiper that had been on St Mary's for over a week.
On the afternoon of Friday 22 September, I sat in the hide at Porthellick Pool for an hour, sheltering from a curtain of fine, misty drizzle coming across the bay from the south-west and reflected on how similar conditions felt to the time I picked up the American Cliff Swallow 12 months earlier, in almost exactly the same spot. This rain was the remnants of the warm front I'd detected on the pressure charts leaving Canada about 60 hours earlier and I strongly suspected it had potential to deliver. The increase in humidity and warmth was palpable, and I gave up on the 'Semi-p' that had clearly departed, taking advantage of a brief break in the rain to walk the short distance to the beach. One of my favourite iconic transatlantic vagrants, the American Golden Plover was still to be seen there, picking delicately around the rocks and sewage outfall at Porthellick Beach. It started raining again as I was stalking the bird among the rocks, but it was welcome: soaking wet and full of western promise.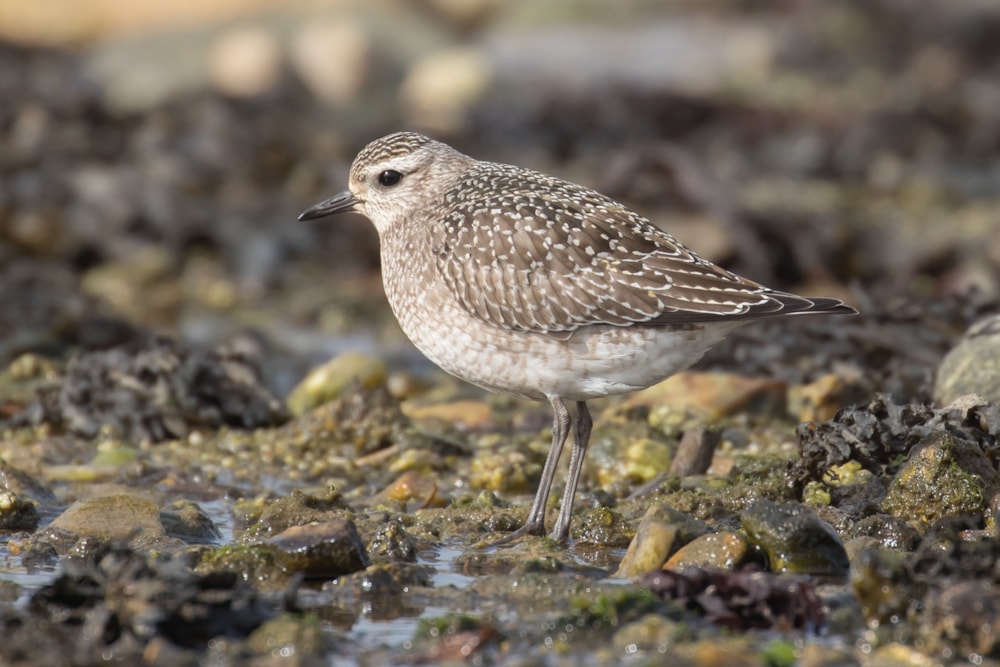 This confiding juvenile American Golden Plover was seen by just about everyone visiting Scilly in September-October 2017 (Simon Knight).
The lads arrived on a sunny Saturday morning and we made our way to St Agnes to begin the settling-in process. Rosevear Cottage belongs to my friends Ben and Tonya Hicks, for whom I worked when I first came to the island. Ben is a mechanical genius, embodying the skill sets of a dozen different men, and last Christmas Day he'd unveiled a 'snowman' constructed of two large boulders placed one of top of each other as a surprise for his wife Tonya. It was still standing there nine months later, as we made our way past it and into the cottage. By the time we re-emerged an hour later, it had been fitted up with a couple of minor additions and was to become our mascot for the following three weeks. Later, when a very rare bird flew over it, we tried to get it on the bird news as "the field with the snowman in it" but to no avail.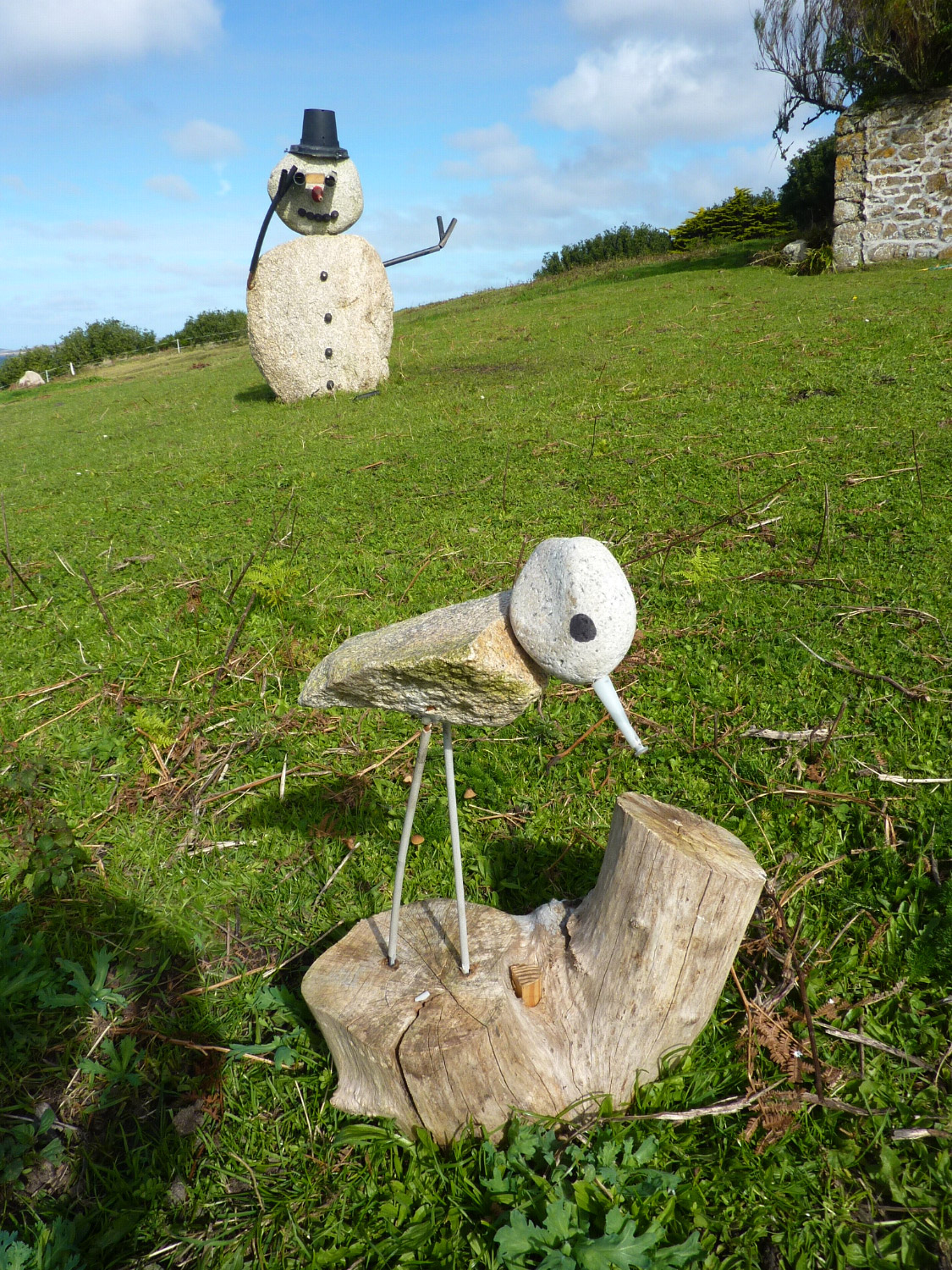 Graham and co's mascot for autumn 2017, standing proudly in a St Agnes field (Graham Gordon).
Saturday afternoon was a pleasant stroll in beautiful sunshine among scores of dazzling, freshly-emerged Peacock butterflies. In the back of my mind was the public prediction I'd made that any one of Red-eyed Vireo, Grey-cheeked Thrush or Blackpoll Warbler would almost certainly be found somewhere between Cape Clear Island and the Scillies that weekend, following the passage of that transatlantic warm front; it took until the following morning, however, before the call came through: "Red-eyed Vireo Wingletang!" and the hypothetical bet was won.
Later that afternoon, what may or may not have been the same bird was picked up at the opposite side of the island, while at the same time another was found at Porthgwarra. As always there are two ways of looking at Red-eyed Vireos turning up on Scilly: there's the "oh, it's just another Red-eyed Vireo" approach, or you can simply dive into the miracle every time it happens and be blown away by the fact that these outstanding birds turn up here so regularly from 3,000 miles away. To be able to successfully predict their arrival based on a close scrutiny of the weather forecast beforehand … well, it wasn't a bad start.
Not that I saw either vireo on the first day, and nor did I see the European Bee-eater my mate Lee picked up just minutes before the first vireo. In fact, it was only late the following day that I finally pinned down the latter myself for a few minutes, opposite the post office. A few people began to point out the omens of having a late September bee-eater on Scilly, since two monumental autumns of 1985 and 1999 had begun that way too. Annual in the spring, bee-eaters are very scarce in the autumn anywhere in Britain, and to be honest their multiple appearance at this time of year was far less predictable than the vireos that had arrived from a lot further away. The straight southerly winds also heralded a delightful influx of Hummingbird Hawkmoths, three of which were ever present around the fuschia outside our Rosevear kitchen window.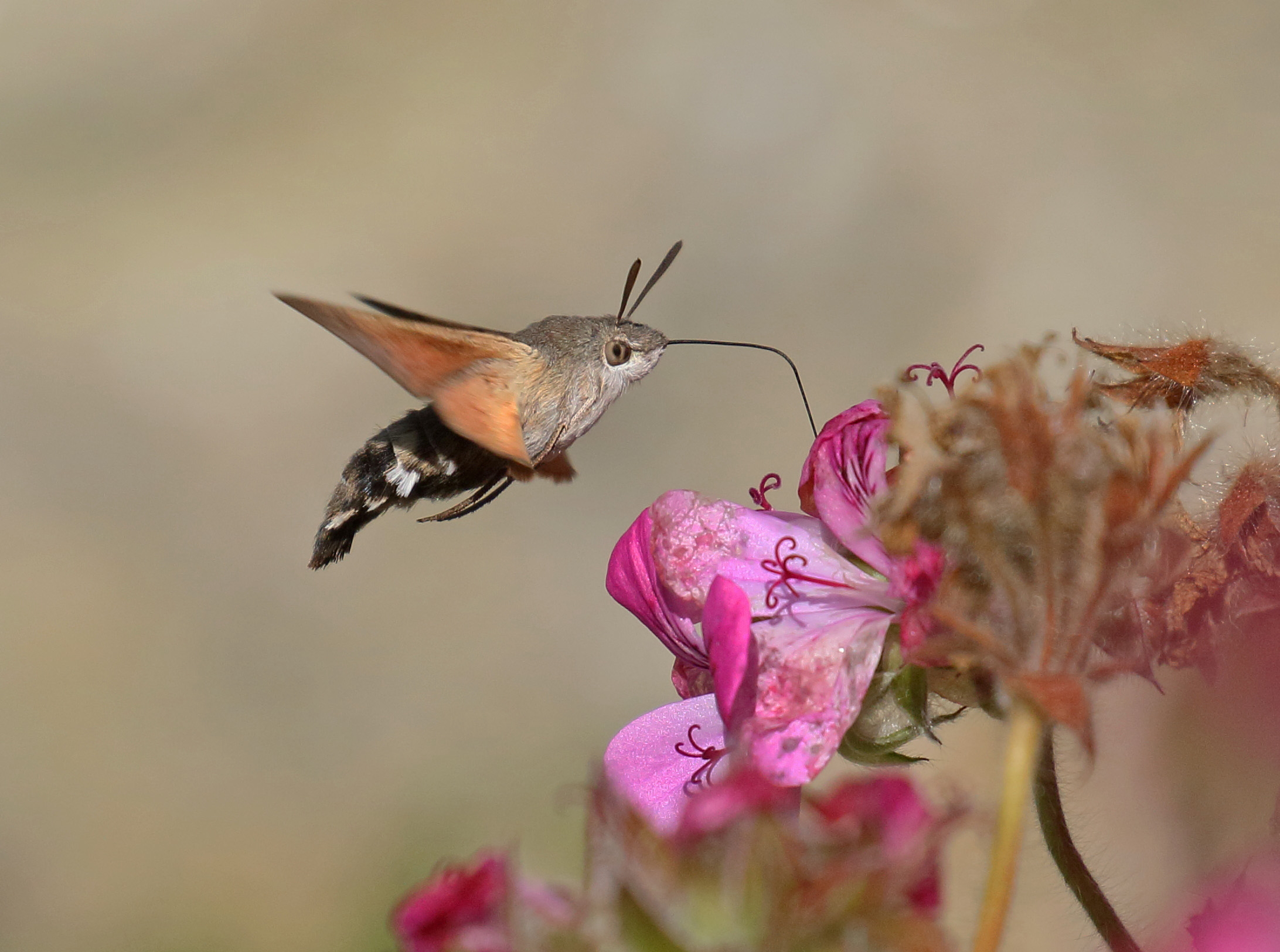 A southerly airflow brought an influx of Hummingbird Hawkmoths to Scilly in September 2017 (Lee Amery).
Although it was still only Monday, all attention was now focused on the forecast for the following weekend. All of us had much experience of forecasts dashing our hopes, and we resolved to stop looking ahead and take each day as it came. However, it was becoming more and more apparent that what we were looking at on the Atlantic chart was the ultimate, classic transatlantic vagrant weather pattern for south-west England and Ireland. The decline of the Azores High, beginning around the time of our arrival on Scilly, was set to continue to the point where it looked like it would have no direct influence on the UK's weather for the foreseeable future.
As Norman Elkins demonstrates quite conclusively in his seminal paper, the arrival of transatlantic vagrants in south-west Britain is synonymous with the absence of that blocking high. What its absence does is allow low pressure systems to cross the Atlantic more or less directly east from their point of inception, such that they end up swinging up towards Britain on a more southerly vector than they would if pushed north off the west coast of Ireland. The giddy mood palpable in Rosevear was based on a 100 per cent certainty that it the right weather was 'in the post'. I looked for doubt and caution but found them absent, and so did the team. There wasn't a huge amount of potential in the conditions for the current Monday to Friday – the last days of September – but we still went out and enjoyed birding, floating on a cloud of delicious anticipation.
Then suddenly, mid-morning on Wednesday, I got a call telling me that Jamie had found a Rose-breasted Grosbeak on Wingletang Down!
Retrospectively it's possible to see there was a tiny sliver of a front detached from a much bigger circulation of air out in the middle of the Atlantic that you can trace back to the north-eastern US/south-eastern Canada, yet we'd hardly dared attached any significance to it at the time. Six hours passed before I eventually saw the bird, as it sat quietly in a bramble by the roadside eating blackberries opposite the post office. Two hours later, the team watched it by ourselves in an enclosed area of private land where I pick flowers every day throughout the winter. There I got my closest views, briefly heard it call and saw the flash of yellow underwing that confirmed it as a female. The following morning it was back and visible from public areas, while just around the corner another Red-eyed Vireo showed briefly in the Parsonage (the eighth Red-eyed Vireo I've seen at that location and my 10th on Scilly in the past decade).

This confiding Rose-breasted Grosbeak kick-started an excellent autumn on St Agnes (Jamie Partridge).
By this point, the atmosphere in the house in the evenings had to be experienced to be believed – and bear in mind the atmosphere at the Pale-legged Leaf Warbler's funeral at the same place, same time in 2017. The past, present and future excitement spectrometer was off the scale. Saturday, Sunday and Monday were about to hit us with Atlantic systems, one after another; the last of them related to ex-Tropical Storm Maria, which had been idling about off the coast of the US for almost two weeks, but which was now about to send its remnants racing towards us. I said that we should try to picture the passerines caught up in the maelstrom in our mind's eye, and that if we employed our creative imaginations, we could maybe contact them and try to guide them in using the beams of the Bishop Rock Lighthouse to bring them to a safe landing. Mental fishing for transatlantic vagrants, still up in the clouds some 48-72 hours to the west – maybe it would help?
Content continues after advertisements
Just before the storms kicked in, there was an opportunity to nip over to St Mary's for my second British Isabelline Wheatear (a far nicer bird than the second for Thailand I'd found in the spring), and at the same time learn that a 'Red-rumped Swallow' reported on Tresco mid-morning was now said to have a square tail. The weather closed in as we boated back to St Agnes at 4.30 pm. That hadn't stopped a boatload of St Mary's birders dashing off to Tresco at the same time and confirming everybody's suspicions that it was another American Cliff Swallow on the islands, a little over 12 months since the last. Now, the fact that I'd been responsible for that previous record didn't make me any less excited to see this latest individual, and as the Spirit of St Agnes battled its way back across the sound, I arranged with Mark, the boatman, to take us across at 10 am the following morning.
That same evening Jamie popped outside for a look at the newly-emerged stars and came back in whistling a soft, unknown wader call to himself. The way he described it sounded very like Solitary Sandpiper to me, and after a few plays on his iPhone app he agreed it seemed likely. Although we looked in the most likely areas next morning, there was no sign, but I remained convinced of its identity and only wished I'd heard it for myself.
The purpose of going to Tresco the next morning was two-fold. As daft as it sounds, I hadn't really had the chance to relax and watch the previous American Cliff Swallow; I'd been needed at work soon after its discovery, and wanted to be able to take one in without time pressure. Secondly, Tresco is large and doesn't get as much coverage as it used to in the old days, so another 'Yank' find might have been on the cards. St Agnes gets saturation coverage several times over and as much as it's my patch, the opportunity to look around different areas with equal potential was one that kept the fever pitch running high.
Instead of heading directly to the Abbey Pool where the swallow had been watched late evening, I detached myself from the rest of the group and shot off around the Great Pool to pish myself hoarse in its sallows. From there I moved to Borough Farm, but it was only after seeing nothing but Goldcrests for two hours that I cast my eyes again to the skies and spotted a group of 30 or 40 distant hirundines high over Old Grimsby. I'd already vaguely suspected I'd had a glimpse of the cliff swallow a mile away through my telescope when a call came telling me it was indeed among that particular group. Not knowing the geography of Tresco well I managed to get myself lost for 45 minutes, but eventually got to the site to become the last St Agnes birder to properly get onto it. Earlier, Jamie and Laurence had enjoyed watching it with two European Bee-eaters in the same field of view!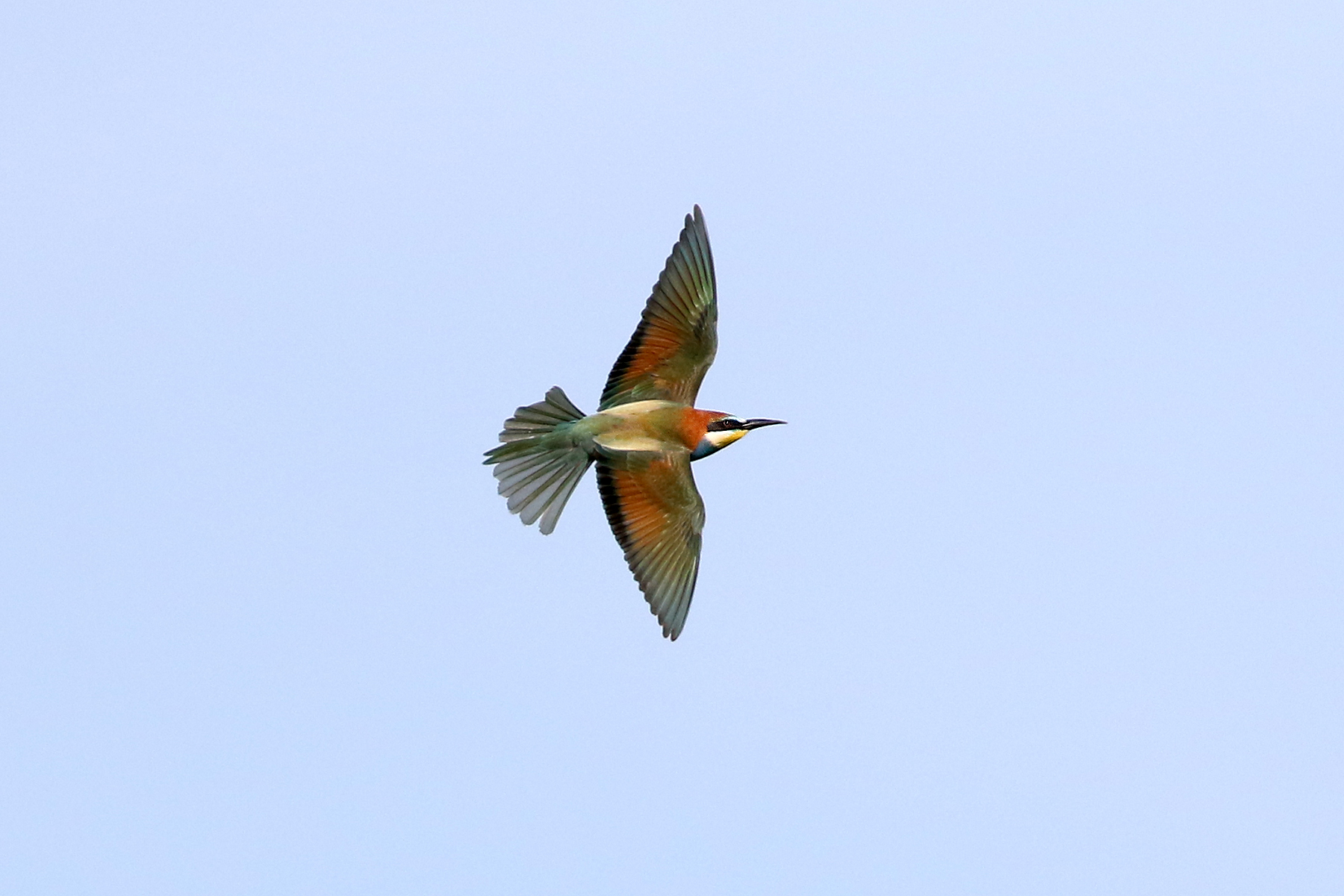 This European Bee-eater was one of three that showed well on Scilly for at least a week in September-October 2017 (Jamie Partridge).
After half an hour enjoying fine views of the swallow, we went for a cup of coffee. The four of us sat there enjoying the sunshine, sand between our toes, a cliff swallow under the belt, when one of the phones went off.
"Which one of you found the waxwing, then?"
As you know by now, I do like to set you up to try to imagine, based on the foregoing, how you might feel being in our shoes at that moment in time. On this occasion, it has absolutely nothing to do with feeling bad that we'd left our home patch on the same morning Will Wagstaff had taken one of his regular Tuesday morning tour groups on his Tuesday morning circuit of St Agnes, and spotted a Cedar Waxwing happily flycatching at the back of my employer's Island Fields. Far from it! All four of us were absolutely made up, grinning from ear to ear, ecstatic at the thought of catching the return boat and spending the afternoon presumably bagging my British first Cedar Waxwing somewhere on my home island. At the same time, we were all cool enough with the idea not to change plans and hasten back ahead of time, unlike the other 20 St Agnes birders who abandoned Tresco early and took a midday charter.
In fact, the birds was not seen again for four hours until we had literally just touched the quay on our return to St Agnes, and you could be forgiven for wondering just who was writing our script. We got back to the cottage to find 200 concerned-looking birders surrounding our garden, attention focused even more decisively on our space and time. I tried to keep my head down and get in the house unrecognised, but it seemed everyone I knew wanted to come in the garden and get a better vantage point to look for the bird, since it had immediately disappeared again in our general direction (directly over the snowman's head, as it happens).
Suddenly, it became apparent that it was being watched distantly in our neighbour's yard and the pressure on me to let visitors in was relieved. It wasn't a great view across the yard, so I grabbed Spider from St Mary's and did a big loop round the back of the house, only to find it dropping right there in a place where only us two could see it. I could have got away with it if my companion hadn't had a CB radio, but instead I was forced to communicate the fact we had it on view, but if we made the slightest move it would flush. Fifteen minutes passed with just me, Spider and the three immediate friends who have access to the fields watching it, but finally it moved and everyone else got to enjoy it. The St Mary's crowd left well satisfied an hour later, but there was a further tremendous show for the St Agnes birders in the evening when it sat up for a good 30 minutes the other side of Coastguards, preening and loafing with a group of Starlings.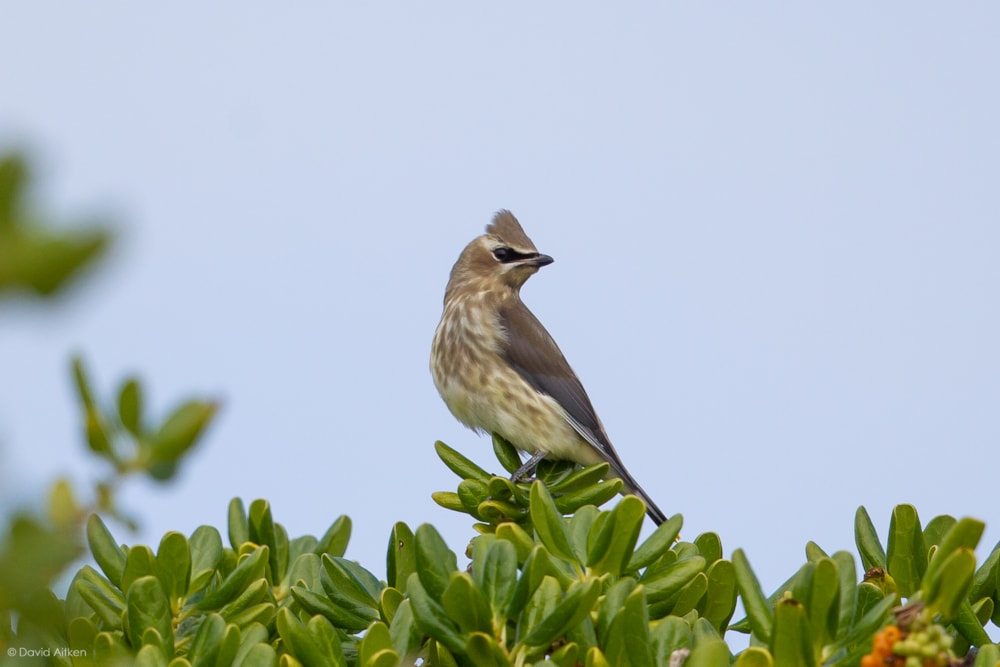 Although it could be elusive, patience eventually brought most birders excellent views of the Cedar Waxwing (David Aitken).
Next morning I sat down for a coffee around 9 am and there it was in our garden, feeding on the Coprosma berries with a Firecrest and a Hummingbird Hawkmoth beside it. It was just the four of us watching it once more, plus a specially-invited Mike and Kathy Young-Powell who had been elsewhere the evening before. It remained there the best part of an hour, as each of the lads went to watch it and take photographs from their respective bedroom windows. How's that for special?
There was still time for a little excitement, when a crake first seen flying in off the sea by Cliff Smith re-appeared on the St Agnes Big Pool mid-week and turned out to be a Spotted rather than the hoped-for Sora. The first Yellow-browed Warblers and more Firecrests were also turning up to compliment the Americans, and by the end of the week, a Hawfinch or two appeared in the first light northerly winds of the autumn.
Lee and Jamie had to leave St Agnes at the end of the first week of October, while Laurence and I stayed on. The birding became a little slack after the waxwing moved on, and I took my foot off the gas a bit for a few afternoons, lying back in the deck chair in the garden and trying to take it all in. I still had three weeks left if I hoped to contribute my own find to this already immense autumn, but at the moment I wasn't that fussed whether I did or not. This is the period it came to me how smug, sated and satisfied I really felt. At the same time, it was chastening to reflect just how fine the line is between success and failure in an Atlantic vagrant context.
No matter what anyone says, those Atlantic weather conditions were as perfect as could be imagined for delivering the goods to our door. However, consider that one single national park in Canada alone is said to hold a million pairs of Blackpoll Warbler, which presumably amounts to some 3-4 million individuals moving south-east out into the Atlantic in autumn. Add to that the Yellow-rumped Warblers, Bobolinks, Common Yellowthroats, Baltimore Orioles, Catharus thrushes and so on, and the question becomes: how is it that dozens, if not hundreds, of birds weren't found on our shores? Is there an equation, I wonder, that places an upper limit on the total number of passerines that can be seen in Western Europe in any given autumn, no matter what odds the prevailing winds stack up in our favour? Do the remainder simply follow the normal course of migration and avoid the Tropical depressions by going above or around them, or do thousands drop into the ocean within sight of safe landing? Do they simply not get found on this side of the Atlantic, even though they are present in their hundreds?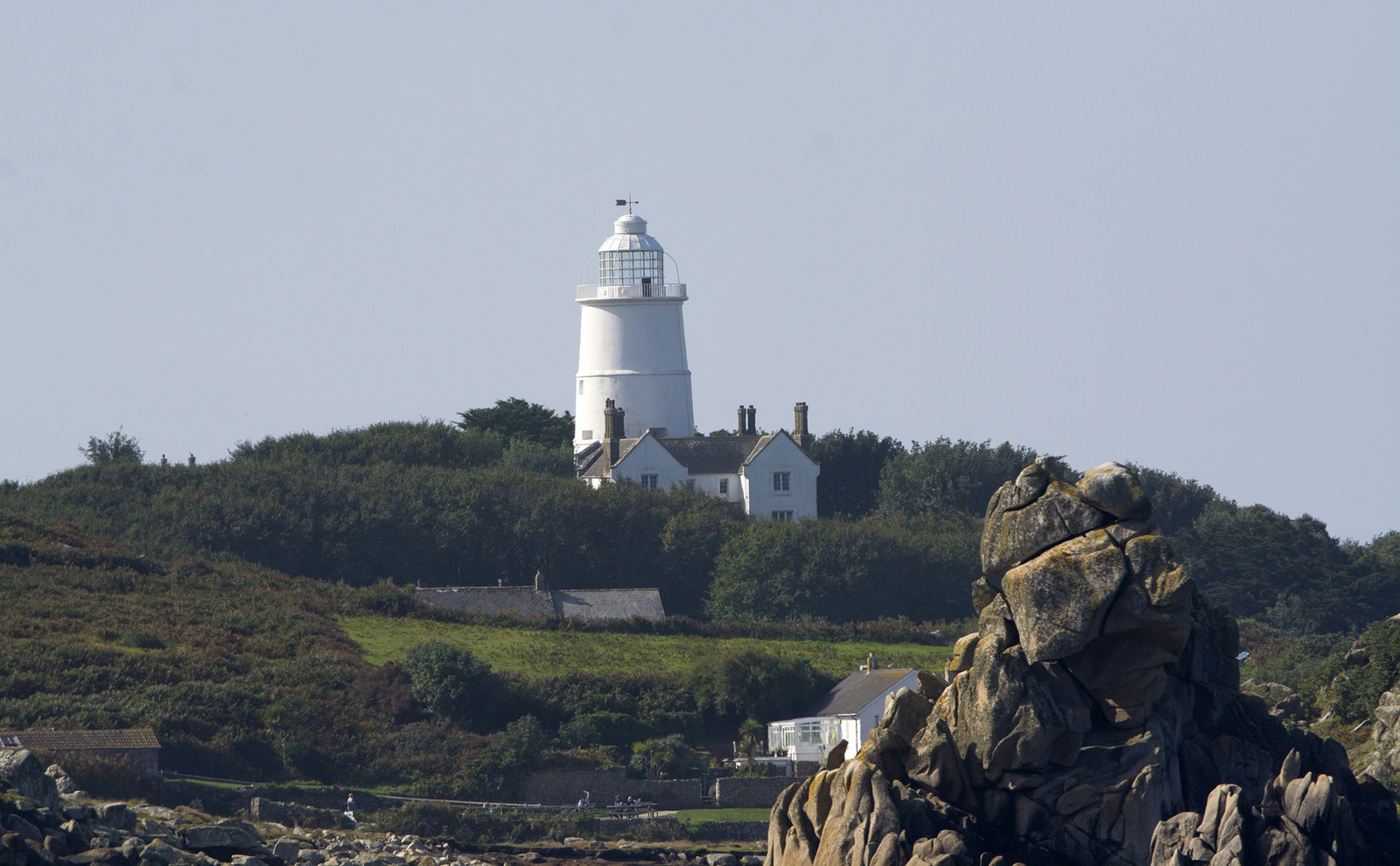 The Parsonage (just below the lighthouse) has attracted many American vagrants over the years, including multiple Red-eyed Vireos (Sergey Yeliseev).
Moving on to the next highlight, what are the odds of someone like me, who has seen roughly 450 species in Britain, having two ticks in his garden within a week of each other? I say 'garden'; this would include the field two down from our house where I finally clapped eyes on the incredibly elusive orphean warbler found by Martin Finch, Neil and Paul Wright 24 hours earlier (see their account here). It had been a slightly strange autumn in the sense that none of the goodies on St Agnes had turned up in places I check habitually: the vireo and grosbeak on Wingletang, for example, is not where I'd have expected them to be, and the waxwing spending most of its last days down in Saint Warna's Cove represents another bird I could easily have passed over in the course of my normal daily birding activities.
The dense, impenetrable Pittosporum hedgerows at Troytown where the guys found the orphean warbler are also a long way outside my zone of expertise since I actively despise birding in that shrub, despite its prevalence on the islands. Consequently, I have nothing but praise for the efforts of Martin and the twins who kept going, and then kept going some more, as the days dwindled and the likelihood of new arrivals became fewer and fewer.
Despite the fact there's usually a quiet build-up of Blackcaps on the island throughout the month of October, they are invariably hard to see since they seem to get 'sucked in' by the dense, impenetrable Pittosporum anytime they happen to break cover. Mostly one just hears them calling and sees intermittent shadows hiding deep within the foliage. After eight unsuccesful hours waiting at Troytown, I resolved I would tick the orphean on a two-second flight view if that's what it came down to. The fact I eventually managed to get three or four distant five-second views of it sidling out to pinch a blackberry was better than I could have expected, but I could easily have foregone the experience. I was more pleased for Scilly, for St Agnes and the finders themselves than I was bothered about my experience of the bird, so that's as much as I'm prepared to say about it.
Picking up a Little Bunting flying over on call is more my line of birding, and that's what happened the next morning, the final day of this first account of October 2017 on Scilly. An hour later I pinned it down briefly at Troytown Campsite to confirm it was this species and not a Rustic. When I returned to St Agnes on a day-trip the following week, it had settled into some very confiding habits as it fed on the track round the back of my other 'digs' down at Lowertown Farm, which were then being occupied by a team of builders, painters and decorators; I'd already decided I'd be moving temporarily to St Mary's for the second half of October. At this point in time, we were still debating whether there were two or possibly three Hawfinches on St Agnes, though separate flocks of 35 and 50 on St Mary's were about to render that discussion pretty redundant, as you will see in the next installment.