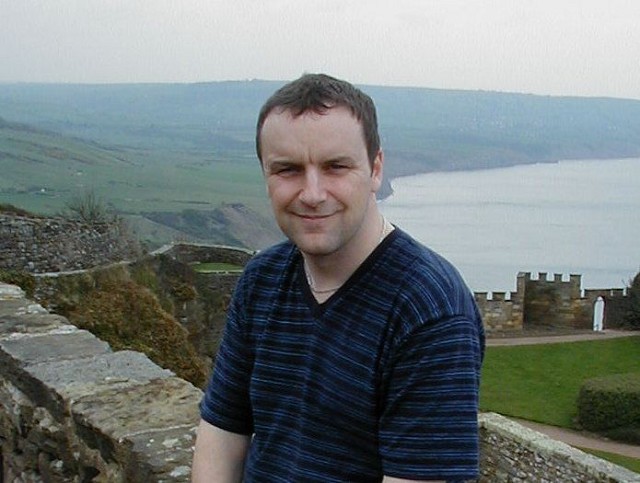 On the evening of Tuesday 26th February 2013, Russell Slack passed away at the age of 45. He had lost his short, yet fierce battle with liver cancer, and Yorkshire lost one of its finest sons. As I sit here at my desk, looking over the mountains of southwest China, the shockwave is still rocking my life. How can this happen, and why, are both futile questions for now, but questions that in time, we can live with, reflect upon and take strength from.
I had the great fortune to know Russ for over 20 years, from when we first met birding at Wheldrake Ings in the spring of 1992. Over those years, he and I shared more adventures and crazy times than I could write about in a series of books, and find it impossible to believe that a dozen years after writing the best man's speech for his wedding, I'm writing his obituary.
Russ was the only son of Sue and Ricky, and the boy they nurtured had a passion for two things: statistics and birding. The majority of his professional life was spent working in academia, at both York and Sheffield Universities, but he also spent a good chunk of the 2000s working for BirdGuides, where his passion, experience and unique, meticulous work helped launch many of their flagship products, notably the Bird News Extra service (which Russ initially ran almost single-handed, with Phil Palmer) and the monumental reference works BWPi and BBi (British Birds interactive).
When someone like Russ passes away, especially suddenly and at a terribly young age, it is up to those who knew him and loved him to remember him for who he was and the huge mark he left on this world. His two books — Rare and Scarce Birds of Yorkshire and Rare Birds: Where and When, Volume 1 — are monumental in their analysis, information, passion and readability. The birding world has lost an encyclopaedic knowledge — one of the good guys, whose motives and actions were always just, and had the birds' wellbeing at their core.
But of course, it is not just the birding world who has lost one of its best; Russell has left behind his wife Linda, and their two young daughters, India and Ruby. Surely it is the memory of his soft voice, wry wit and his kind, sincere eyes that will live on in their hearts.
And what of us who are left behind — how can we move on knowing that such things can happen to a young, healthy, non-smoking outdoor person?
Well, it's not how you die, it's how you live. That someone like me can sit here and write these words about the greatest of men, with tears flooding down my face — that is the measure of the man. His life is unblemished with selfish bitterness, regrets or failure; instead it is a book well written and a life well lived by a man who put justice and sincerity into everything he did. He loved his wife, daughters and family with a passion, and always did the right thing by them and others.
If we can take anything from such a tragedy, it's that all of us can be better people than we are. Our partners and families deserve our sincerity and attention; our colleagues and friends should receive honesty and integrity. We should embrace our opportunities and live life for what it is, a short and precious gift. By the time death takes us, it is too late to reflect and regret — time should be an open book in front of us, blank pages to be filled with fulfilment, love, passion and experience. There are no more pages in Russ's book, but what has been left for us is a fabulous read and an inspiration. Remember him and honour him by living lives that are worth reading — savour the breaths that he cannot. He deserves this in his memory.
Safe travels dude...
In lieu of a fee for this article and in memory of our former colleague, BirdGuides has made a donation to Macmillan Cancer Support, the choice of Russ's family. If any readers would like to add their own donations as a memorial to Russ, please see www.macmillan.org.uk/donate. Thank you.