Finally, a bit of action! In what has been one of the most peculiar springs in living memory, there was at last a good crop of rare and scarce arrivals – although our commoner migrants still seem very slow to arrive, with numbers down (and some species almost totally missing) in many areas.
For a long time, it looked as if the Isles of Scilly was going to bag the week's best bird, with a fine male Northern Harrier arriving on St Mary's on 12th, roosting overnight and spending the following day touring the island (with a brief trip to St Martin's late morning). Clearly a new arrival, one wonders if this bird spent the winter undetected somewhere further south in Europe – could it even be the individual that wintered in Portugal? It was again seen on St Martin's early on 14th.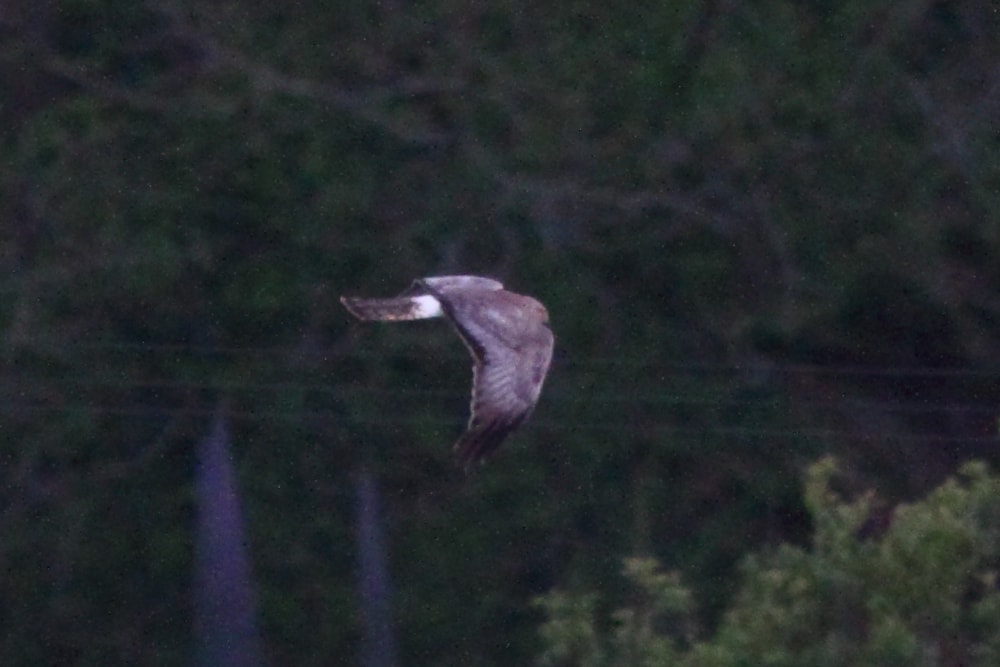 Northern Harrier, St. Mary's, Isles of Scilly (Scott Reid).
Then, on 14-15th, Shetland had one of those irresistible spells that only Shetland can produce. In the space of 15 hours, the archipelago produced four stunning vagrants, from all points of the compass. Even more impressively, two of these, found within a few hours of each other, were new additions to the already lengthy Shetland list – these islands just keep on giving!
First up was a Marmora's Warbler at Baliasta, Unst, late afternoon on 14th which, as well as being a new bird for Shetland, represented just the seventh of its kind ever to be seen in Britain. Four of the previous six Marmora's have turned up in May (and the other two in June), meaning this latest bird, a first-summer male, fitted perfectly into the established pattern of arrivals. Many Shetland listers rushed to the site and were able to enjoy views late into the evening.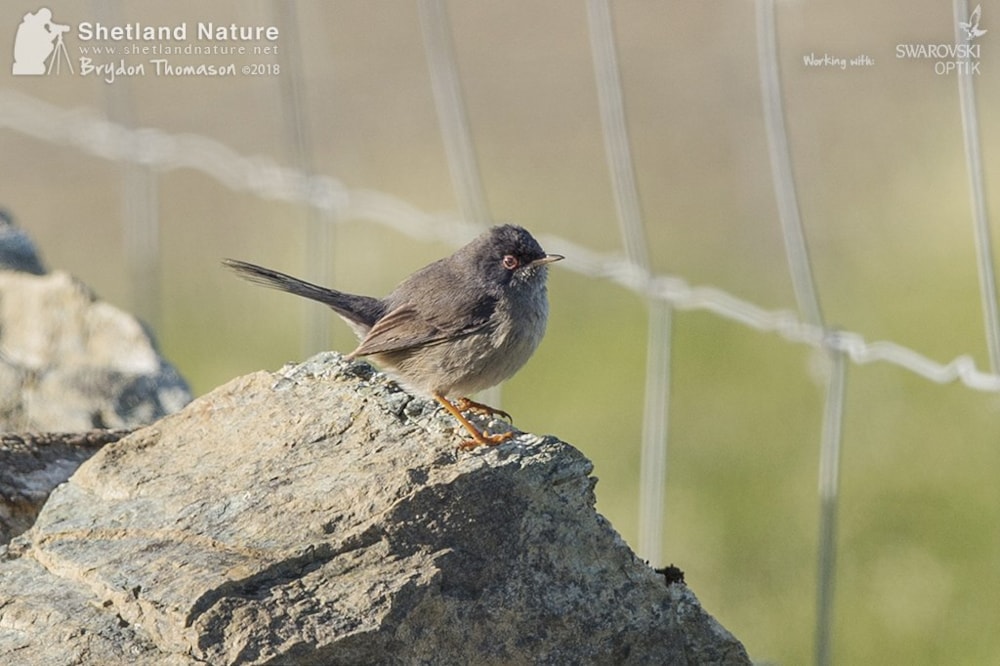 Marmora's Warbler, Baliasta, Unst, Shetland (Brydon Thomason).
It was a bit peculiar that a male Black-faced Bunting nearby at Valyie, of which news broke within an hour of the Marmora's being found, was therefore something of an 'also-ran' locally. With two previous Shetland records including one as recently as 2016, the bunting wasn't a tick for most Shetland birders and thus the warbler took precedence. However, with several twitchable Marmora's on the mainland over the years, birders away from the isles were no doubt eyeing up the bunting as the main event, and thus it was a shame to hear that it had moved on by the following morning – as had the Marmora's.
It's rare for Unst to completely blow Fair Isle out the water in terms of rarities and it was perhaps inevitable that the famous island would have something to say about the unfolding events 90 miles to the north. For the third time in the space of three hours, the mega alert sounded when a Eurasian Crag Martin was discovered at North Haven, not far from Fair Isle Bird Observatory, late in the evening, showing well before going to roost. A first for Fair Isle and Shetland, it ensured the 15th was going to be another nervous day for local listers …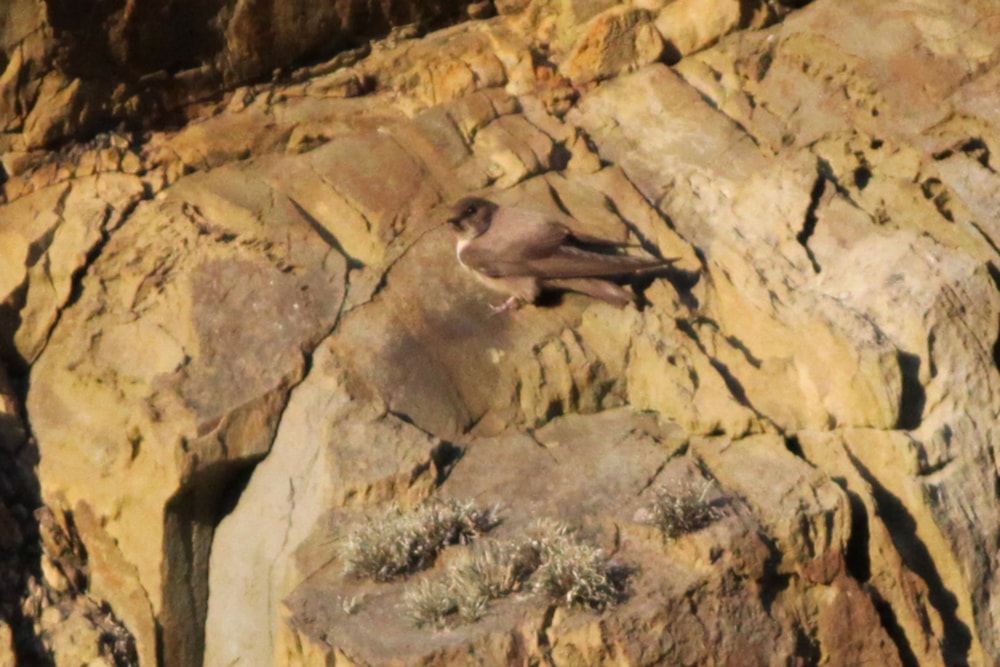 Eurasian Crag Martin, Fair Isle, Shetland (David Parnaby).
Happily, the martin was still present the following morning, but it was the discovery of a Song Sparrow in the trap at the island's plantation that really pricked birders' ears. While this is a fourth for Fair Isle, no less, and a ninth for Britain, it's the first to be seen on our shores since the two-day bird at Seaforth, Lancs, in October 1994. This 24-year gap between records is particularly surprising, given the number of previous records and also that the species continues to be found elsewhere in Europe on a relatively regular basis, most recently on the German island of Amrum in April 2016. Breaking so early in the day, the lengthy hours of daylight at this time of year allowed some twitchers to make it to the island that afternoon, after leaving various airfields on the British mainland.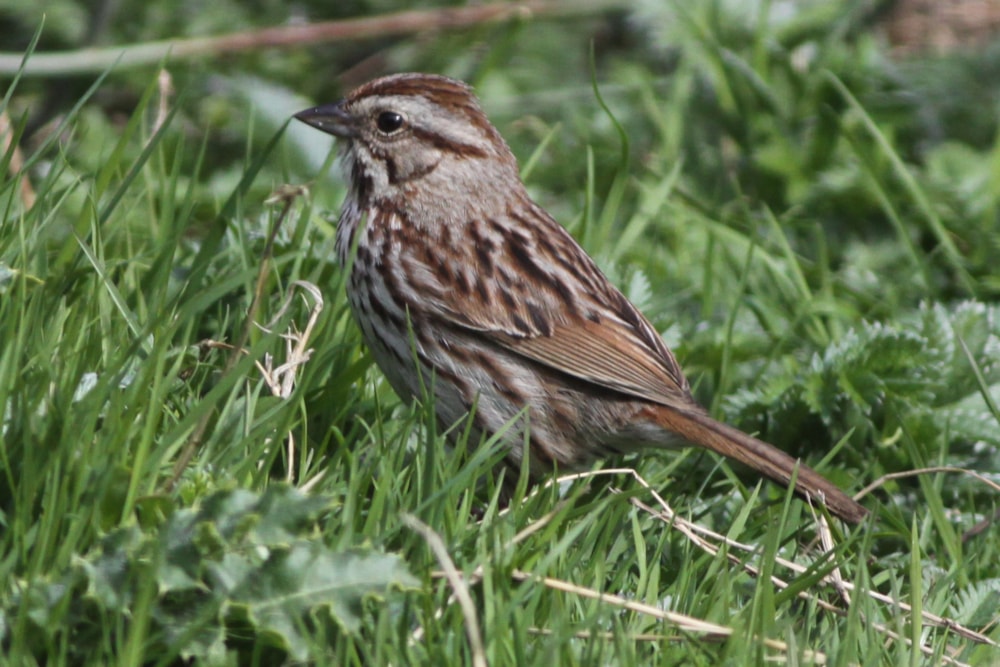 Song Sparrow, Fair Isle, Shetland (David Parnaby).
Earlier in the week, it had been so quiet nationally that some birders were actually getting excited – at least very briefly – over the bizarre arrival of two Azure Tits at Gibraltar Point, Lincs, on 11th. Unfortunately, albeit unsurprisingly, one was found to be wearing a pink plastic ring, and that was that.
Elsewhere, lingering megas included the American White-winged Scoter still off the sea wall at Musselburgh, Lothian, on 12th and the American Bittern still vocalising and showing occasionally at Carlton Marshes, Suffolk, on 14th.
Shetland enjoyed a decent influx of scarce migrants to go along with its headline acts, with Red-spotted Bluethroats particularly numerous. Fair Isle had birds throughout the week, with a peak of eight on 13th, and at least a dozen more across the archipelago. A couple were seen on North Ronaldsay, Orkney, with another on Sanday. Further south, birds were on offer at several places: a female was on the Farne Islands, Northumberland, with a male nearby at Coquet Island on 15th. Males were also at Lodmoor, Dorset, on 14th and Landguard, Suffolk, on 15th. An excellent record for the island was a male at Gyles Quay, Co Louth, on 12th.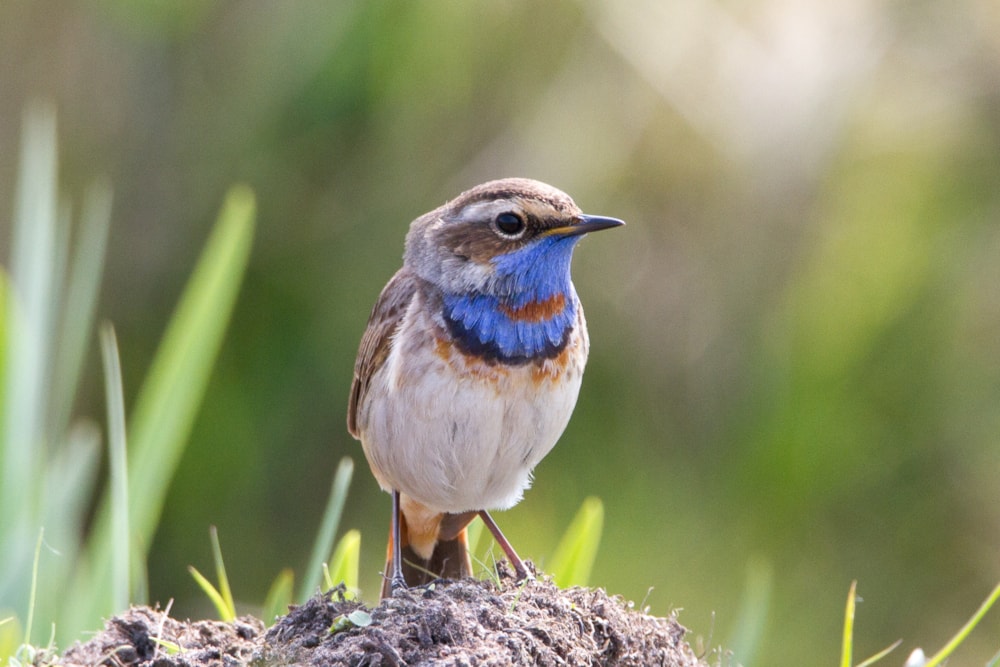 Red-spotted Bluethroat, Quendale, Mainland, Shetland (Mick Kemp).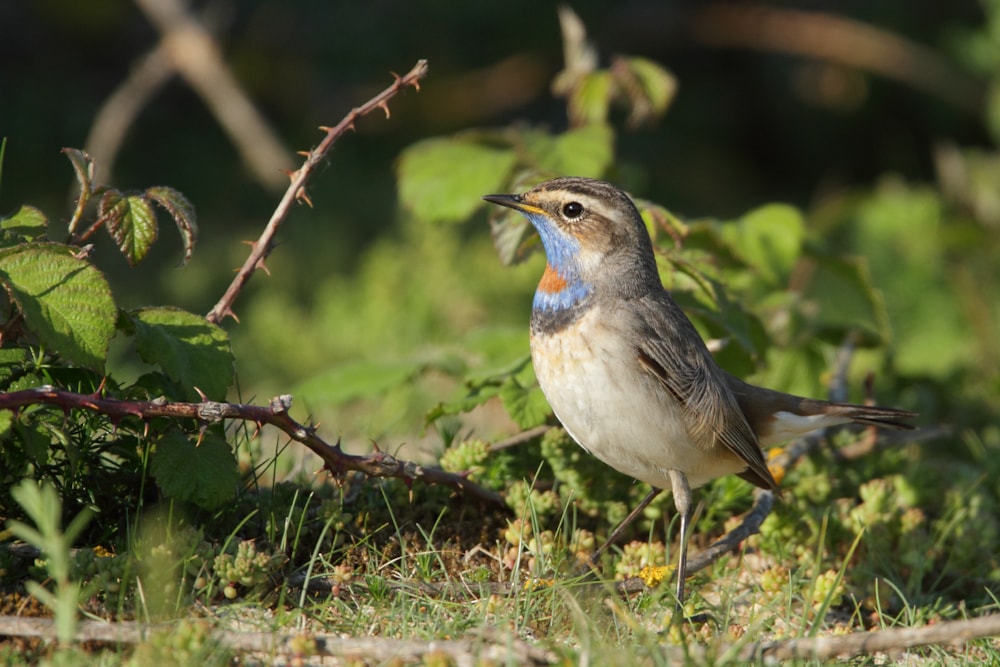 Red-spotted Bluethroat, Landguard NR, Suffolk (Chris Mayne).
An early Marsh Warbler reached Fife Ness, Fife, on 12th, with Shetland records from Whalsay on 13th and Unst on 14th. A minimum of 13 Red-backed Shrikes included two, possibly four, on Fair Isle, plus a couple in the Spurn area, East Yorkshire, and significant arrivals on Bardsey Island, Gwynedd, on 11-12th, at Brownstown Head, Co Waterford, on 12-13th and Dungeness, Kent, on 13th. Spring Rustic Buntings are always nice and a female graced the Farne Islands on 14th.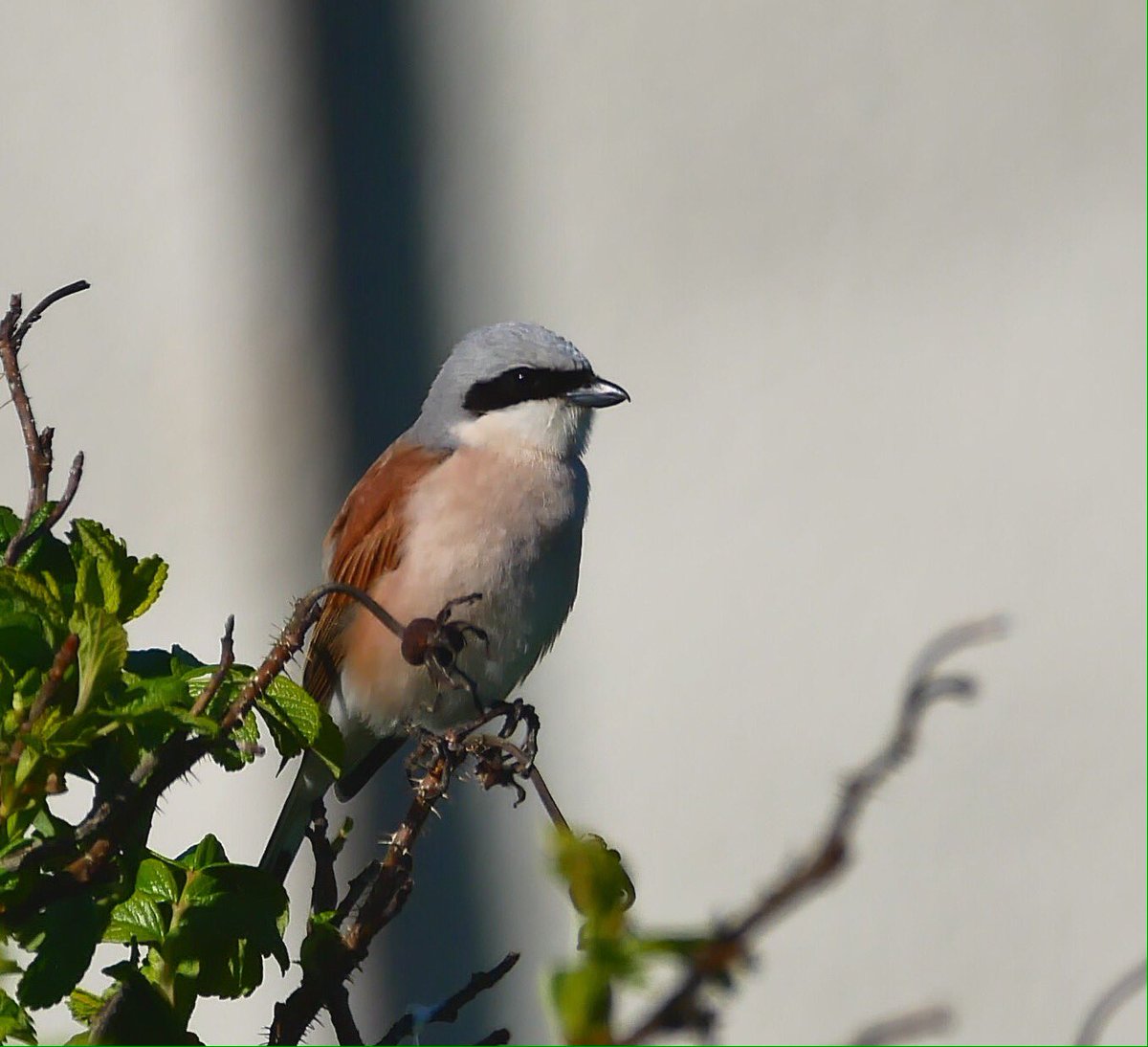 Red-backed Shrike, Haroldswick, Unst, Shetland (Allan Conlin).
A European Bee-eater reached as far north as Sandwick, Shetland, on 15th, while twos flew over Dungeness on 11th and Spurn on 14th and singles went over St Martin's, Scilly, and Aberfoyle, Forth. A male Golden Oriole sang at Leigh Woods, Essex, on 13th and a Wryneck showed at Beeston Bump, Norfolk, on 9-10th. Other scarce migrants included a Common Rosefinch that briefly touched down at Soldiers' Point, Anglesey, on 15th, while there were fly-over European Serins in Hampshire and Cornwall.
Boyton Marshes, Suffolk, was treated to a Red-throated Pipit on 11th, while Black-headed Wagtails were on Noss, Shetland, on 10th and at Happisburgh, Norfolk, on 12th, although the identification of the former has been a source of debate. The male Grey-headed Wagtail was last noted at Musselburgh, Lothian, on 10th. A Red-rumped Swallow was seen at Shingle Street, Suffolk, on a couple of occasions on 13th, with another flying through at Reculver, Kent, on 10th.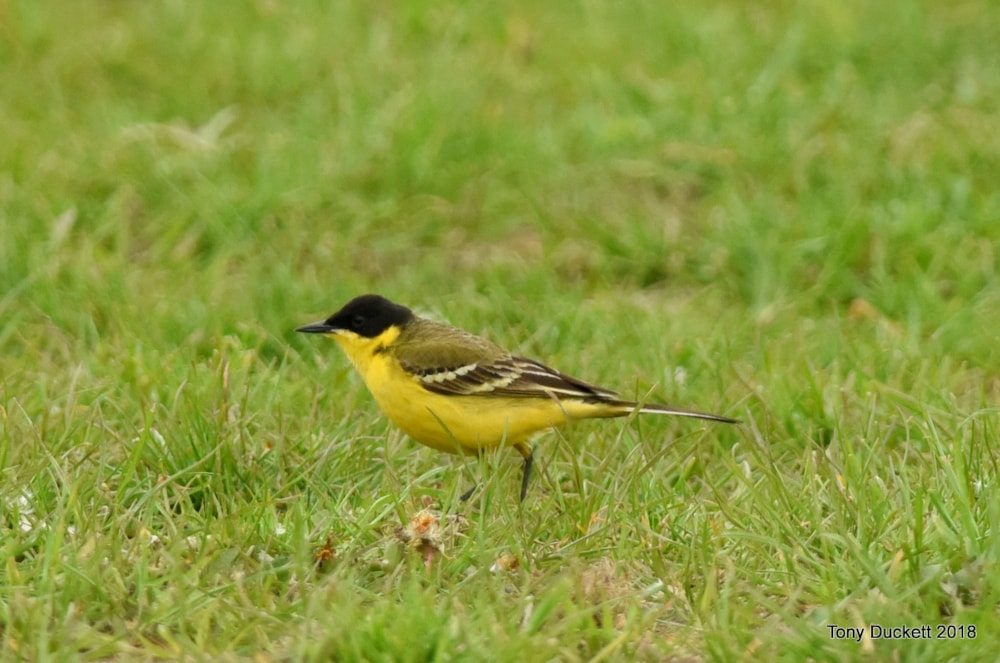 Black-headed Wagtail, Happisburgh, Norfolk (Tony Duckett).
The male Savi's Warbler again sang at Strumpshaw Fen, Norfolk, on a few dates, with the reliable Minsmere male also still advertising itself. The lingering Iberian Chiffchaff was in song at Thurstaston Common, Cheshire, all week, with the Cornish bird was also still at Polgigga on 15th.
Fly-over Purple Herons were at Silsden, West Yorks, on 9th, Hayling Bay, Hants, on 12th and Brinkworth, Wilts, on 15th, with a settled adult at Shapwick Heath, Somerset, on 15th. Four Glossy Ibises flew over near Cullohill, Co Laois, on 12th, and seven British sites logged the species. Once again there was a confusing array of White Stork records that included one north over Dalton-in-Furness, Cumbria, on 15th, the Dutch-ringed bird relocating to Arlington Reservoir, East Sussex, on 14th, the red-ringed bird at Manby Flashes, Lincs, on 12th and further reports from Surrey, Norfolk and both West and East Yorkshire.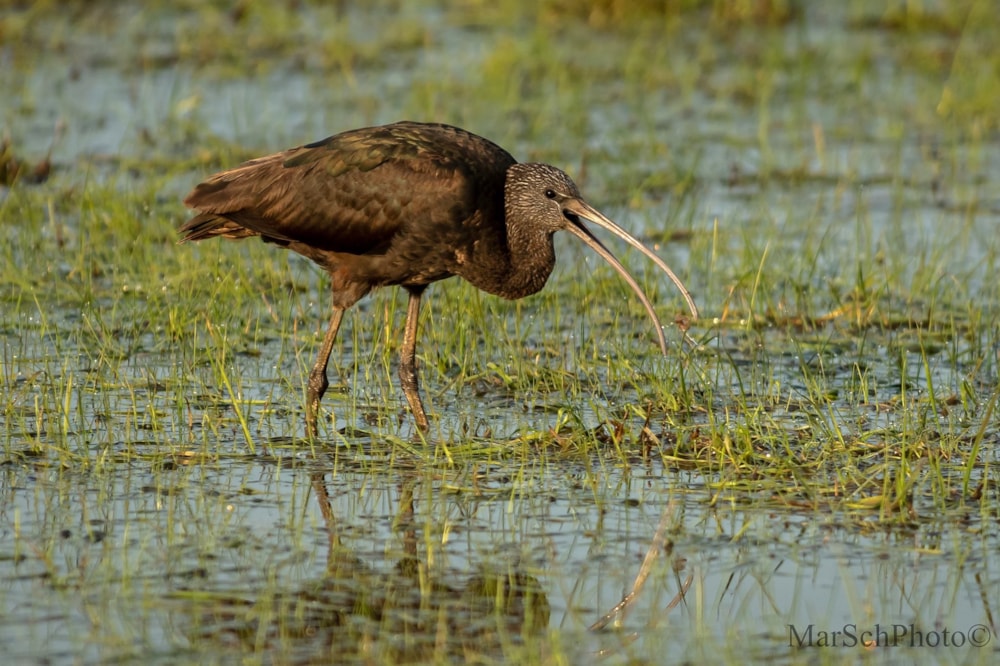 Glossy Ibis, Druridge Pools, Northumberland (Maria Schusler).
A Black Kite over Skomer, Pembs, on 14th could feasibly be the bird seen over Bardsey Island, Gwynedd, the previous day. There were also multiple records from Suffolk and Kent, with another reported over Bar Hill, Cambs, on 11th. There was a cluster of European Honey Buzzard records from south-east England, the exceptions being a couple of reports in north-west Norfolk on 9th and 11th and another on North Ronaldsay on 12th. A male Red-footed Falcon briefly visited Winterton, Norfolk, on 9th. The female Snowy Owl was again at Freiston Shore, Lincs, on 10th.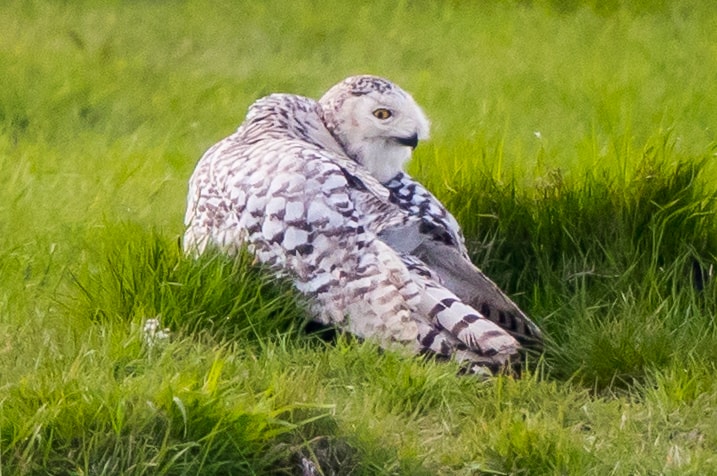 Snowy Owl, Freiston Shore RSPB, Lincolnshire (Peter Garrity).
Spotty Spotted Sandpipers are always popular and the year's first – at Portbury Wharf, Somerset – attracted plenty of attention from 11-13th. A couple of Red-necked Phalaropes were on Fair Isle and the female returned to Grindon Lough, Northumberland, on 9th. Temminck's Stints were a bit more numerous this week, with 10 sites logging the species, including one at Middleton Lakes, Staffs, another on Sanday, Orkney, and a couple together on Jersey. From Scilly to Shetland, migrant Eurasian Dotterel were picked up at 16 sites; new birds included a nice flock of four that briefly visited Davidstow Airfield, Cornwall, on 9th.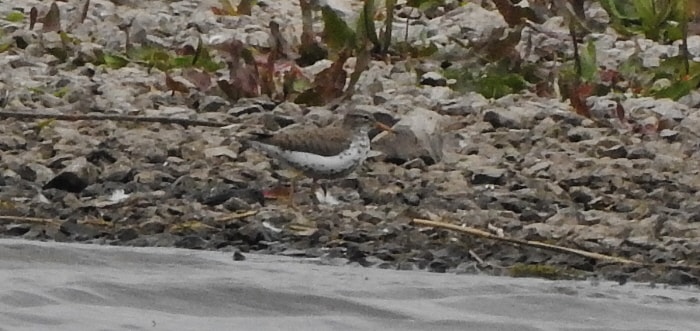 Spotted Sandpiper, Portbury Wharf, Somerset & Bristol (Paul Bowerman).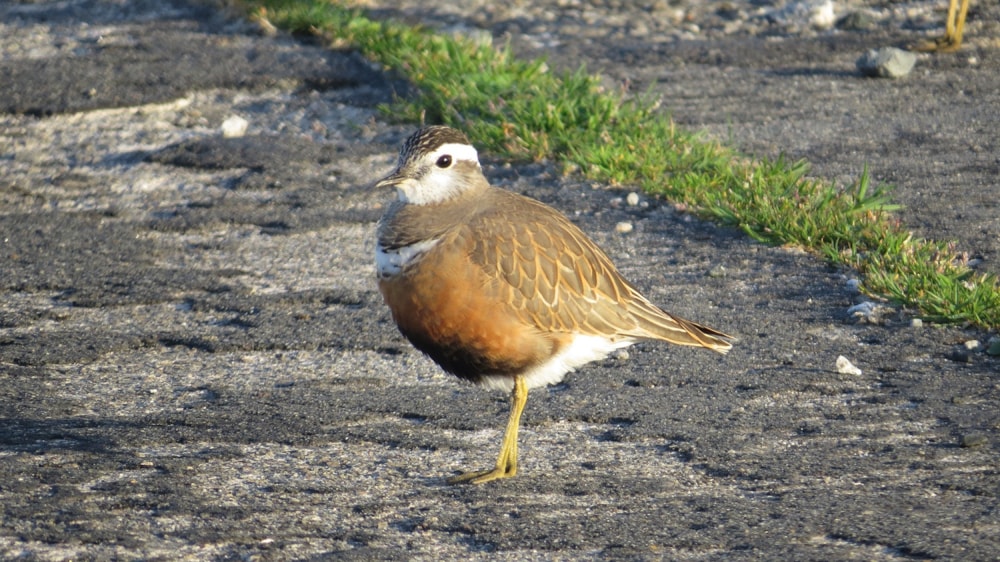 Eurasian Dotterel, Davidstow Airfield, Cornwall (Mark Worden).
Scilly's Laughing Gull moved from St Martin's to St Mary's on 11th, lingering at Porthloo for a couple of days before heading back to St Martin's on 14th. The immature Ring-billed Gull was again in the Newquay area of Cornwall, visiting Port Reservoir from 9-11th before returning to Trenance Pool on 13th. An adult Forster's Tern was back at Tacumshin, Co Wexford, on 11th. Black Terns, along with many of the commoner migrant waders, are yet to really push through in any numbers, and it was again little more than a light scattering of birds in the South and the Midlands on offer this week.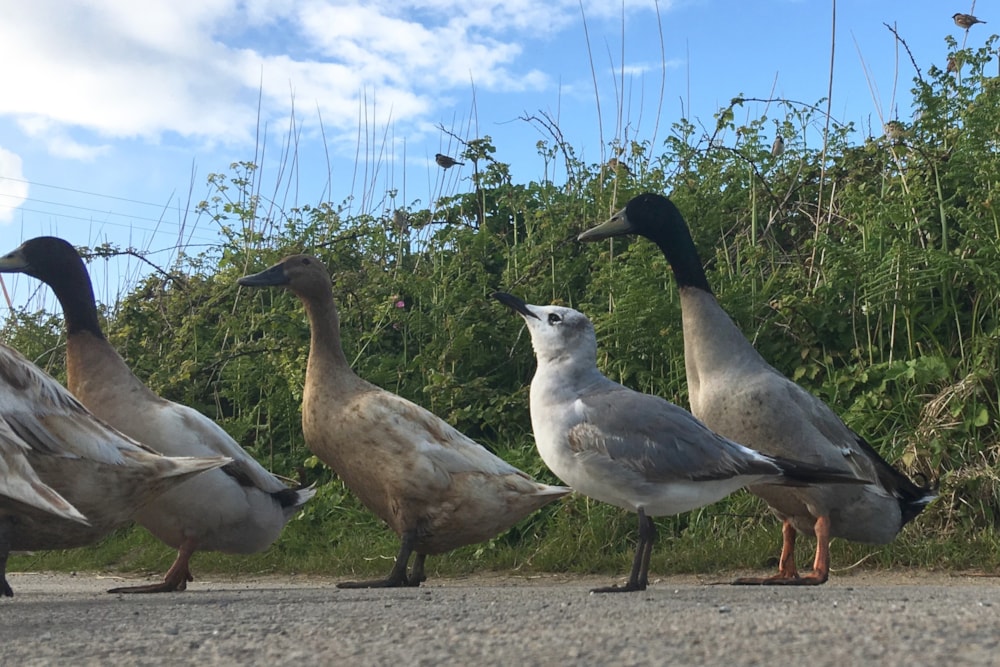 Laughing Gull, St. Mary's, Isles of Scilly (Scott Reid).
Small numbers of Pomarine Skuas were logged migrating along the English south coast this week, while 52 flew past the Outer Hebridean hot-spot of Aird an Runair on 10th. Eleven flew past Tawin, Co Galway, on 9th and there were also a few off south-western Irish localities. Fifty-five Long-tailed Skuas went past Aird an Runair on 9th, with 16 on 10th, while two were seen from a pelagic off south-west Co Cork.
Two White-billed Divers were off Tory Island, Co Donegal, on 13th, with one still off Barra, Outer Hebrides, and further singles off Lossiemouth and Cullen (both Moray). Five were seen from a boat trip off Portsoy, Aberdeenshire, on 12th.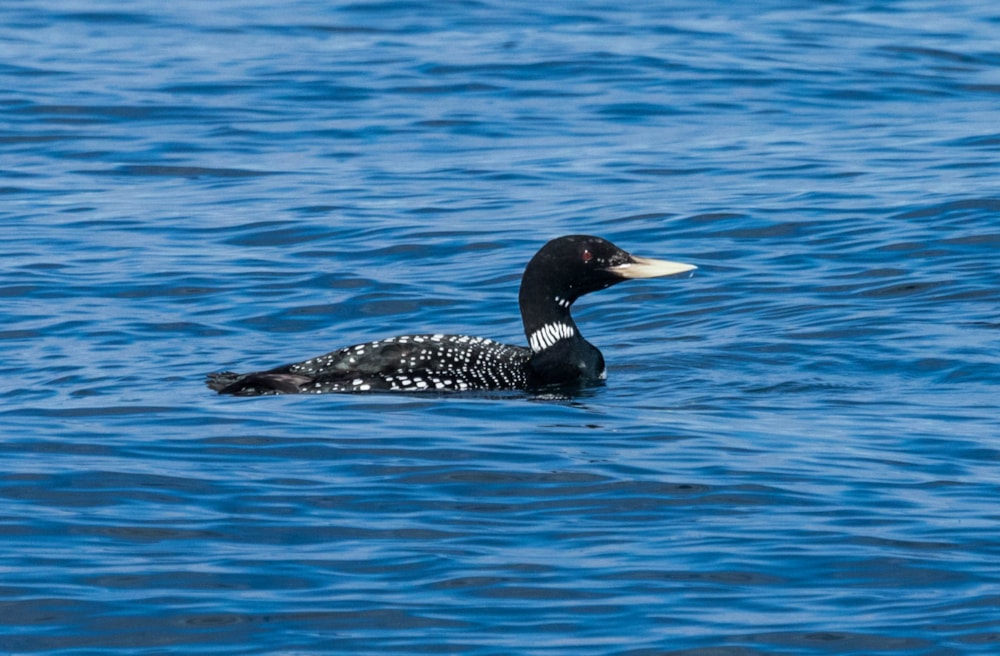 White-billed Diver, Portsoy, Aberdeenshire (Tim Marshall).
Four Ring-necked Duck included new drakes in Cheshire on 10th and on South Uist on 14th. A drake Lesser Scaup was at Inch Island Lake, Co Donegal, from 9-11th while a new bird for Titchwell RSPB, Norfolk, came in the form of an American Wigeon on 9th. The American Black Duck continued in Highland, three Green-winged Teal were seen in Scotland (including a drake commuting from Mainland Shetland to Foula) and Surf Scoter were in Lothian and Aberdeenshire, with this last county also holding onto its King Eider at Ythan Estuary.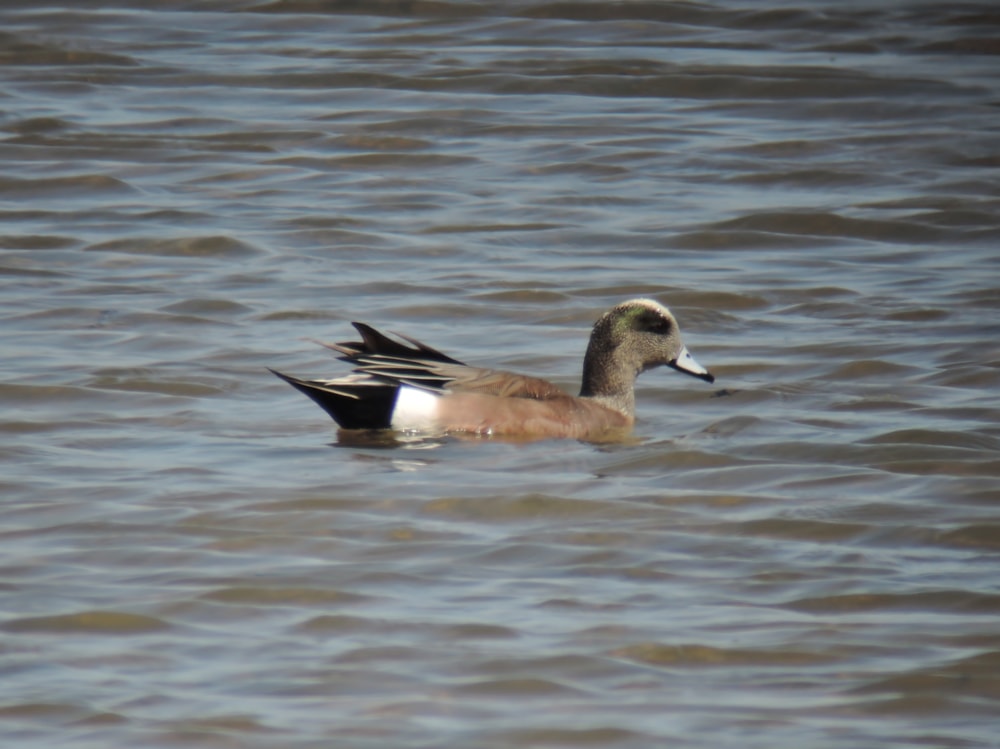 American Wigeon, Titchwell RSPB, Norfolk (Denise Rendall).
Western Palearctic
After the WP's first record last autumn, Iceland also claimed the second White-winged Crossbill in the region, this time a female at Selfoss from 11-13th. Though no sound recordings are available, the bill structure and overall daintiness of this bird is very distinctive … though whether it's enough for official acceptance remains to be seen.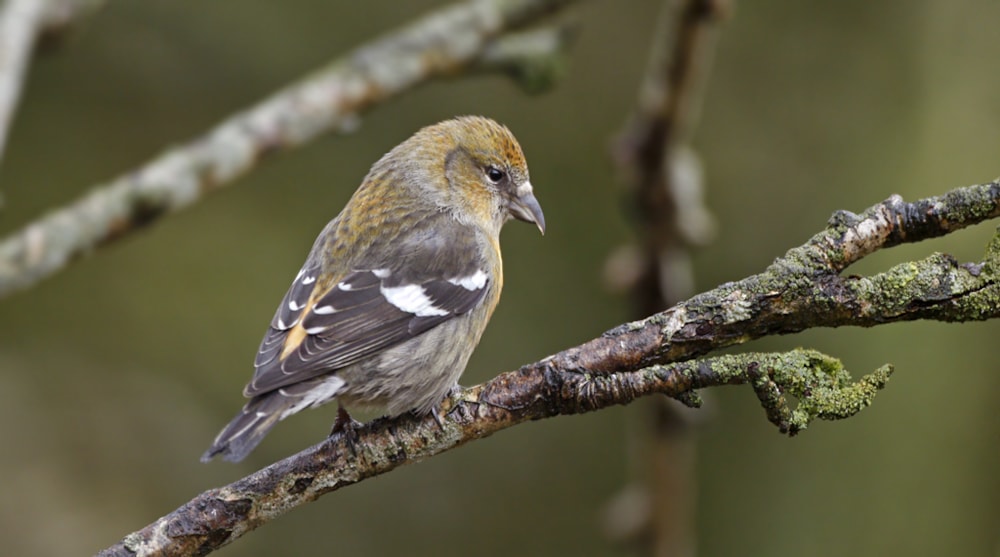 White-winged Crossbill, Selfoss, Suðurland (Alex Máni Guðríðarson).
A smart Franklin's Gull graced Ponta Delgada harbour, São Miguel, Azores, this week, with a Greater Yellowlegs seen on São Jorge. Meanwhile, a Semipalmated Plover was on Sal, Cape Verde, on 15th and the Dwarf Bittern continued on Fuerteventura, Canary Islands. Three Crab-plovers were a real surprise on the beach at Eilat, Israel, on 10th, while a Pied Bush Chat was at Jahra Farms, Kuwait, on 12th.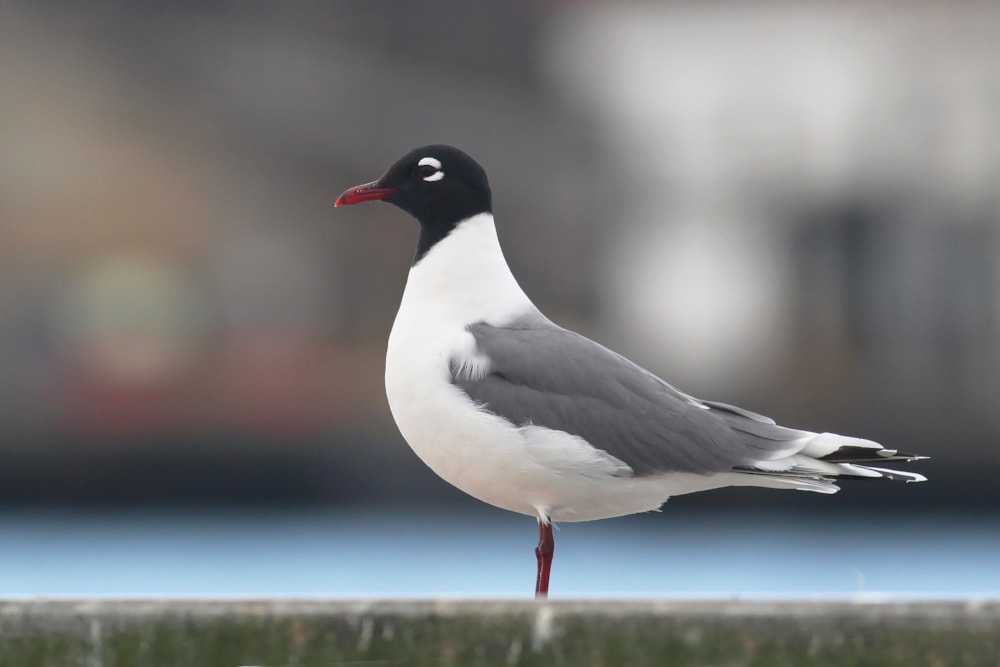 Franklin's Gull, Ponta Delgada, São Miguel (Gerbrand Michielsen).
Italy's fifth White-tailed Lapwing arrived in the Po Delta on 12th, while there were records of both Lesser Crested Tern and Trumpeter Finch in southern France – both species would be very popular if seen again on British shores.
Just the fifth Eastern Bonelli's Warbler for The Netherlands was near Heemskerk on 14th. Meanwhile, the Black-browed Albatross continued on Sylt, Germany, to at least 14th and Denmark's eighth Common Rock Thrush was at Gjerrild on 14th. A Black-eared Wheatear at Byrkjevågen on 12th was only the sixth for Norway, while the drake American White-winged Scoter returned to Svenska Högarna, Sweden, on 14th. The fourth White-winged Lark for Finland arrived at Hamnskär on 13th, while an immature Steppe Eagle over Cape Kolka on 14th represents the second for Latvia.