The build-up to Storm Ciara was full of social media speculation (some of it wilder than the actual conditions) of flocks of Franklin's Gulls and rare auks crashing into the British and Irish west coasts at speeds of up to 450 km/h. In the event, it appears the only records broken were for the most nature reserves closed, with no shelter from the health and safety tsunami that broke over the weekend. Indeed, the highlight of the week was a bird seen 10 days before Christmas ...
Perhaps the last thing Brydon Thomason expected, as he discussed the coastguard training exercises he had missed in December with local Derek Jamieson, was for Derek to comment: "Oh yeah and I saw a 'peerie owl' [peerie being Scots for small] that day", before whipping out his phone and displaying a picture of a Tengmalm's Owl taken at Kergord on the 14 December 2019.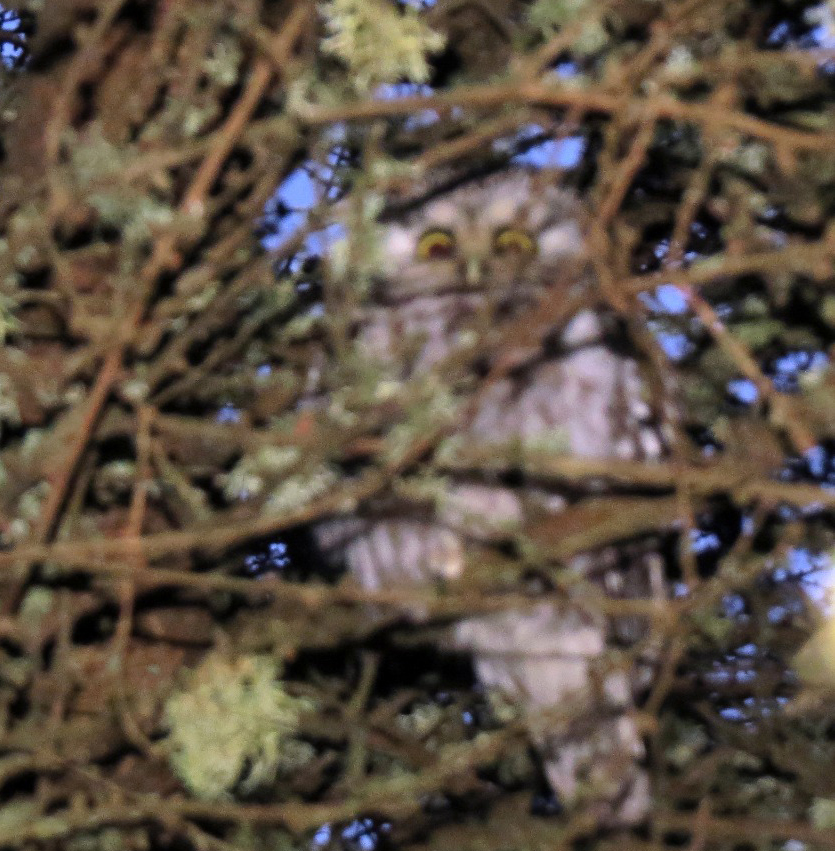 Tengmalm's Owl, Kergord, Shetland (Phil Harris).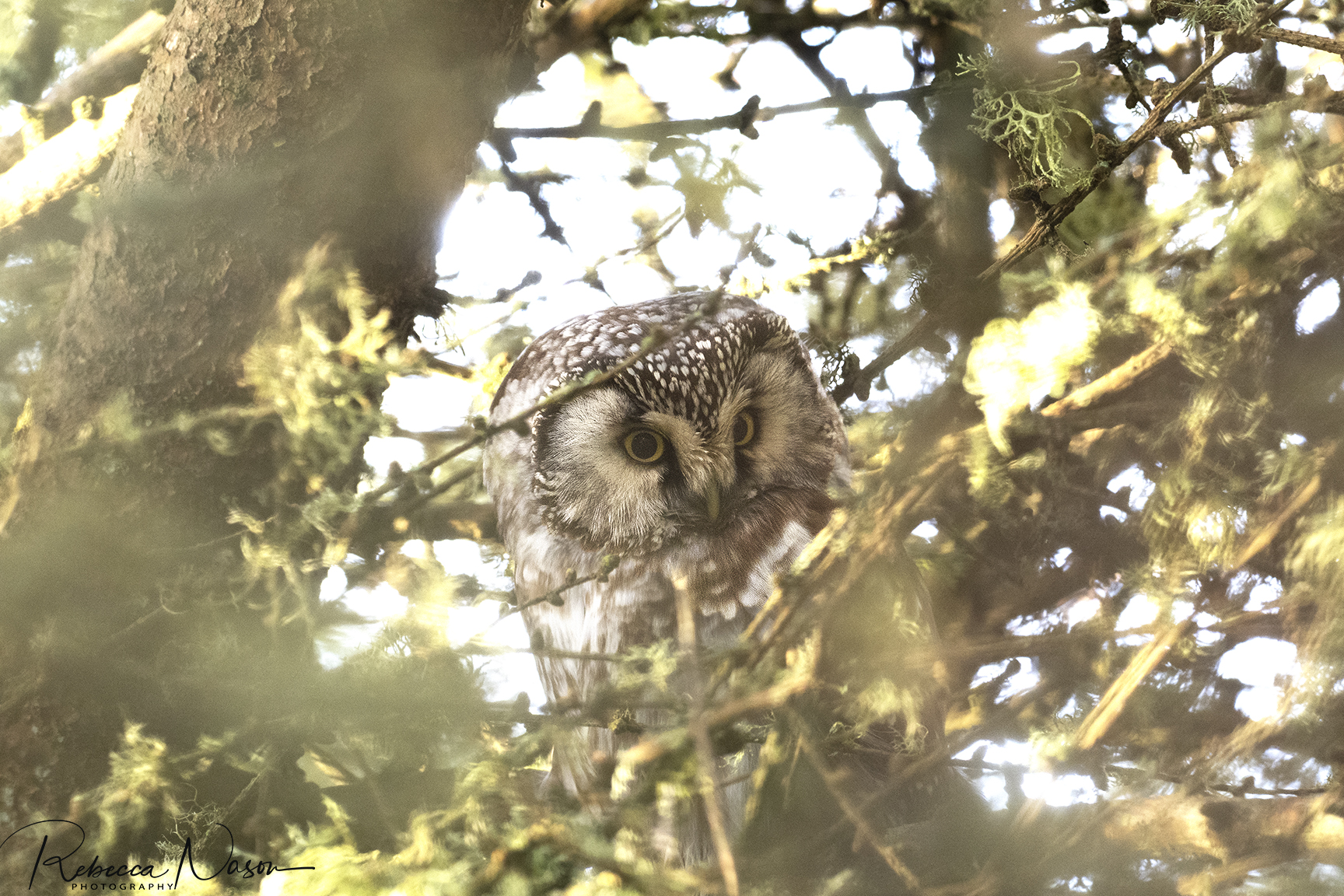 Tengmalm's Owl, Kergord, Shetland (Rebecca Nason).
Remarkably, despite almost two months having passed, within hours it was refound in the plantation at Kergord, providing another opportunity to catch up with this now fully unblocked and charismatic owl. With only seven previous records between 1960 and 2018, this individual will potentially be the fourth in two years. The well-twitched individual on Unst was last seen on 14 April – could this be the same, and is it set to become an annual refind for a lucky few as long as it survives? It seems possible, though, that this is in fae a new bird.
By comparison, the reappearance of the Orkney Steller's Eider after a short two-week absence was perhaps more predictable, though the weather appears to be making heavy work of the journey for anyone thinking of a February half-term twitch.
American Herring Gulls featured several times in the period, with a smart and showy first-winter found at Castletown Bearhaven, Co Cork, on 6th and another candidate first-winter in the evening roost at Mousehole, Cornwall, on 10th. Sandwiched between them was a further report of the possible second-winter on Portree, Skye. Suggested by some as a hybrid it's a difficult age to identify, but comments by some North American-based gullers this week have been favourable towards a pure individual. One can't help but think that, with Ciara having swept through and Dennis on the way, more of these must be on the cards …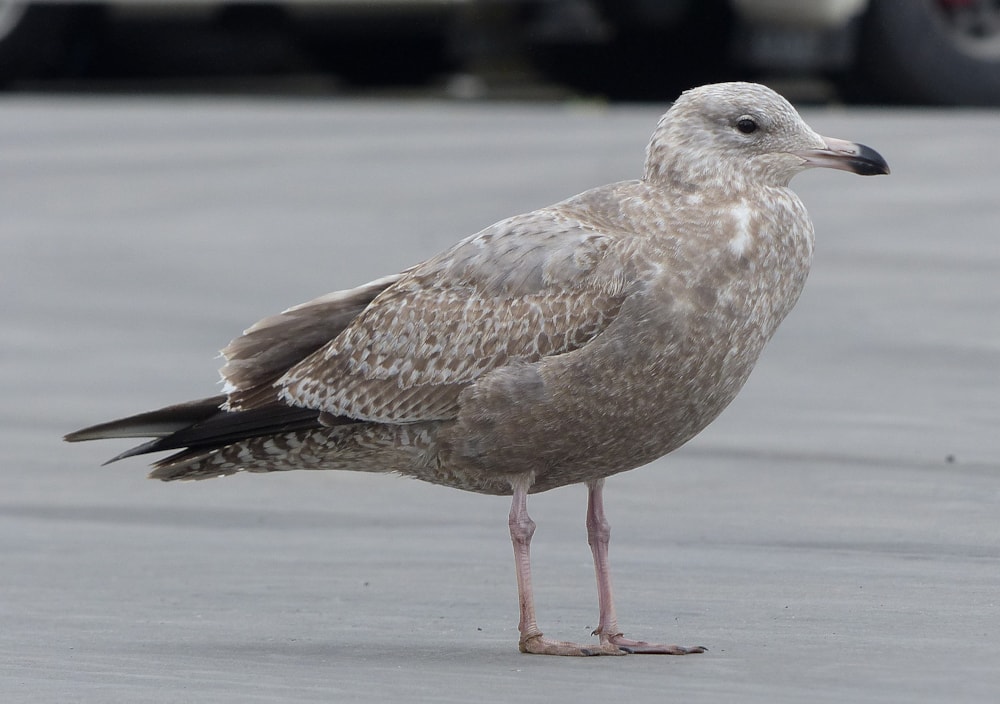 American Herring Gull, Castletown Bearhaven, Cork (Fionn Moore).
Sticking with gulls, a new first-winter Bonaparte's Gull at Padstow, Cornwall, was the other obvious Ciara find, by two birders braving the conditions on Sunday. Out in Co Wexford, the Kilmore Quay adult continued to perform admirably.
In a week when American rockers Rage Against the Machine announced a comeback tour it was fitting that several 'older' Yank rares, including both the Co Cork and Cornwall Pacific Divers, re-emerged, along with the long-staying Pied-billed Grebe at Loch Feorlin in Argyll. Not to be left out, the legend that is the American Black Duck made an appearance at Strontian to the delight of his travelling fans.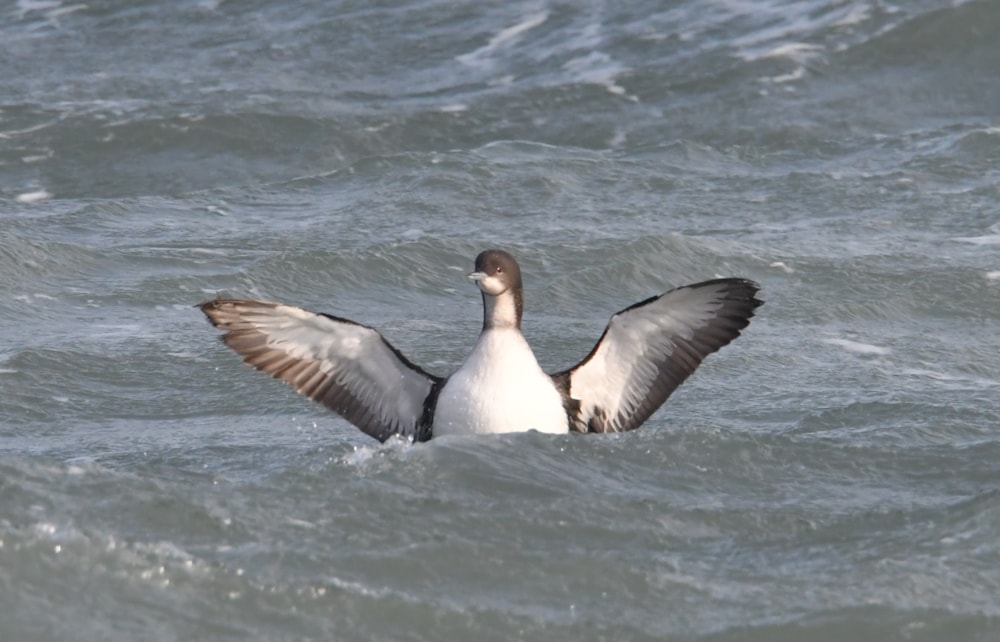 Pacific Diver, Crookhaven, Cork (Richard Mills).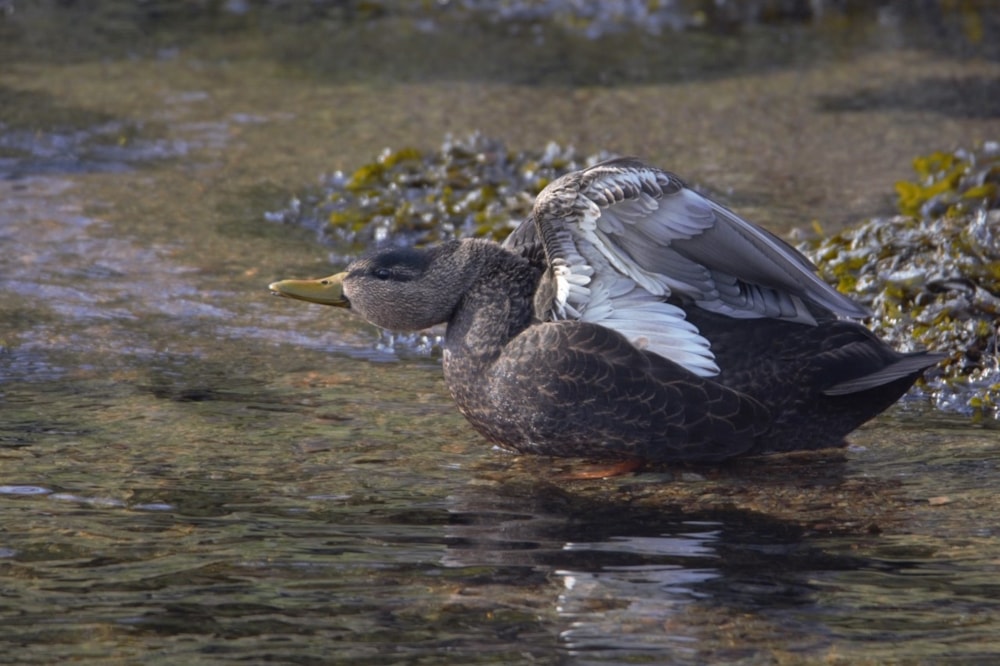 American Black Duck, Strontian, Highland (Daniel Owen).
Further wintering wildfowl that can claim some rarity also prominent this week were the young drake Blue-winged Teal in Devon, Black Scoter in Northumberland, King Eider at Unst, Shetland, and White-winged Scoter in Lothian. Three Ferruginous Ducks included the long-staying drake at Blashford Lakes, Hants, a new or returning drake at Abberton Res, Essex (possibly last seen there in 2018) and the drake again at Seeswood Pool, Warks. Aberdeenshire chipped in with another Richardson's Cackling Goose record from Cullerlie Pools, presumed to be the wandering individual in the area in recent months.
A nice round five Long-billed Dowitchers included a new individual at Seabank, Co Louth, along with the known birds in Cumbria, Devon, Lancashire and Wexford. In Co Galway, the adult Forster's Tern also got in on the American rare theme by appearing at Doorus.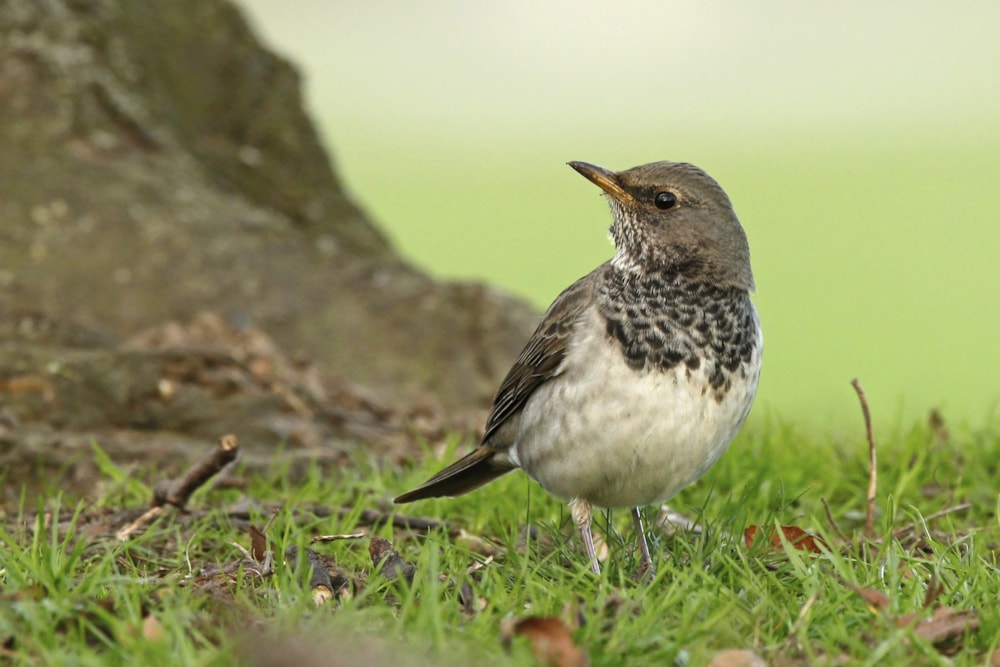 Black-throated Thrush, Grimsby, Lincolnshire (Paul Coombes).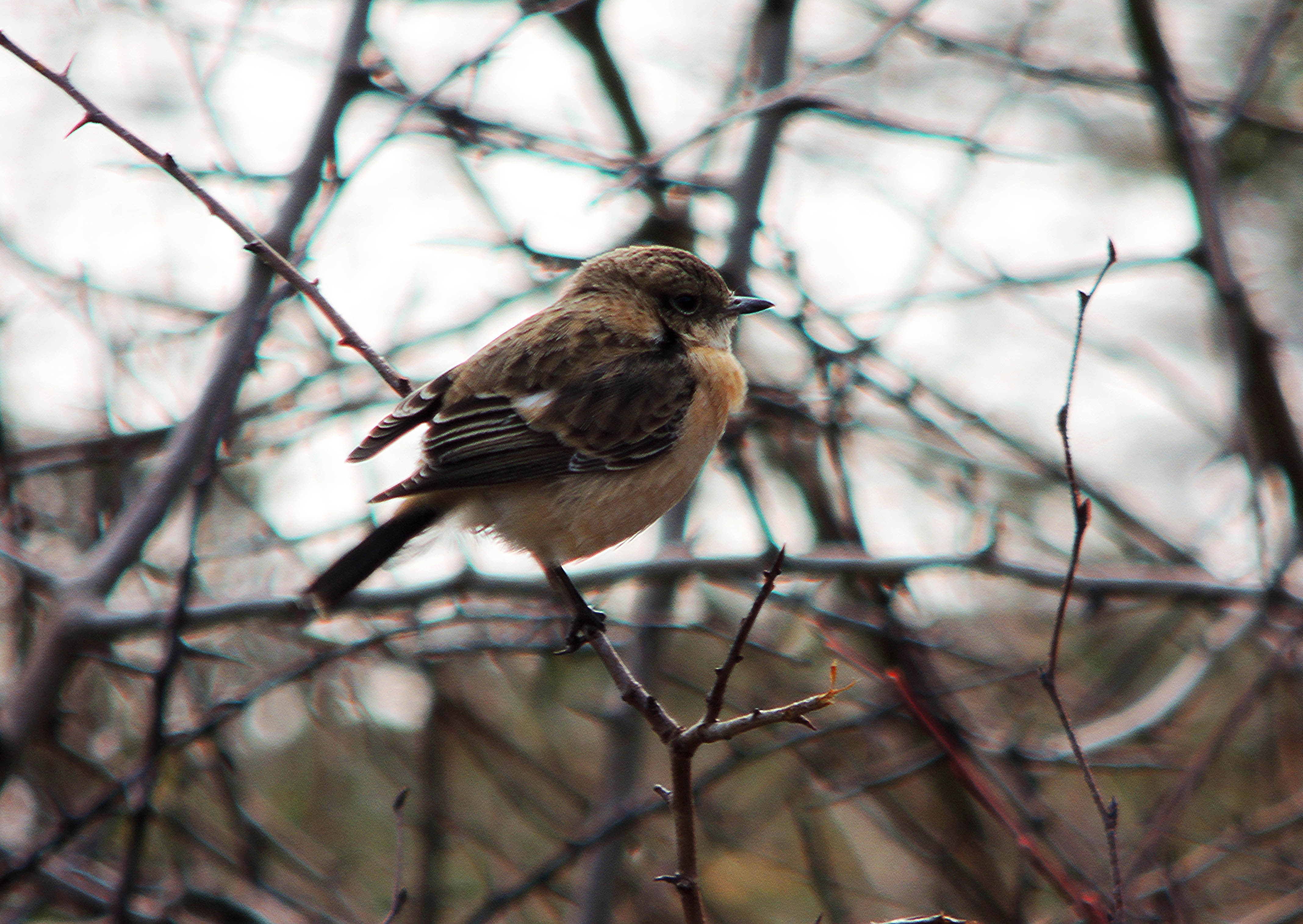 Siberian Stonechat, Ashton's Flash, Cheshire (Mike Alibone).
Both the recent Black-throated Thrushes – in Grimsby, Lincs, and Whipsnade, Beds – remained in situ; also holding firm was Cheshire's first-winter male Siberian Stonechat. The ever-popular Alaskan Yellow Wagtail remained faithful to its dung heaps in Norfolk and the Eastern Yellow Wagtail in Northumberland showed no signs of movement, though it was ranging around several paddocks. Another dung heap denizen – the wintering American Buff-bellied Pipit – stuck around Sennen, Cornwall, to add to the week's North American flavour.
Northern Isles and The Hebrides
Wildfowl highlights in the week included two adult Snow Geese on Shapinsay, the long-staying drake Green-winged Teal on North Ronaldsay and, further south, the pair of wintering Ring-necked Ducks which continued to enjoy the Tiree scenery at Loch Bhasapol.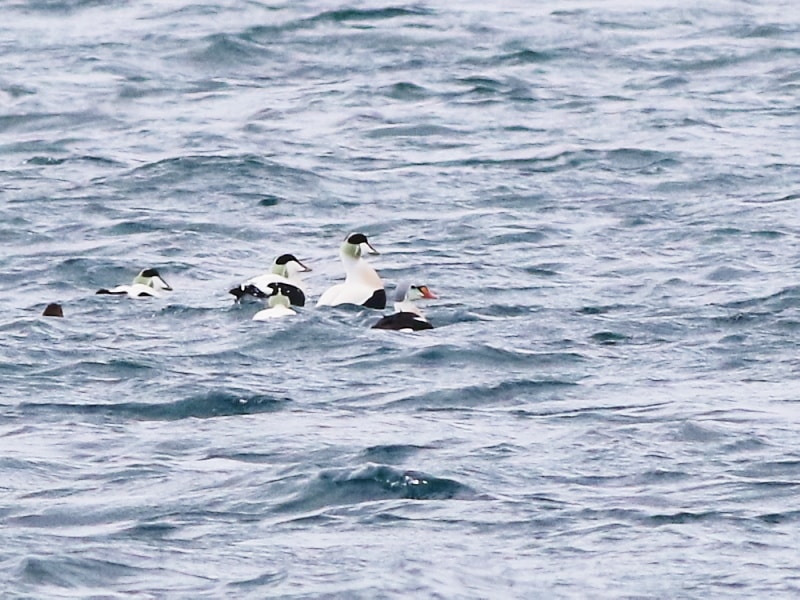 King Eider, Uyeasound, Unst, Shetland (David Cooper).
A miserly six Iceland Gulls were noted in Shetland in the week, with Glaucous Gulls returning just half that total. Orkney fared no better, with just three Iceland Gulls and a single Glaucous Gull in the period. Another Glaucous Gull found its way to Arran on 11th.
Scotland
With the weather inclement for much of the week, there was a settled feel to the Scottish mainland. A blue-morph Snow Goose was at Echt in Aberdeenshire and Ruddy Shelduck were at Kilchenzie, Argyll, and Cramond, Lothian.
The drake Green-winged Teal remained at Loch Gruinart RSPB, Islay, and two drake American Wigeon were kicking about, with the individual at Fedderate Res, Aberdeenshire, still present and another at Clachnaharry, Highland. The Clyde Ring-necked Duck north of Glasgow was settled in Mugdoch CP, as was the drake Surf Scoter off the Lothian coast.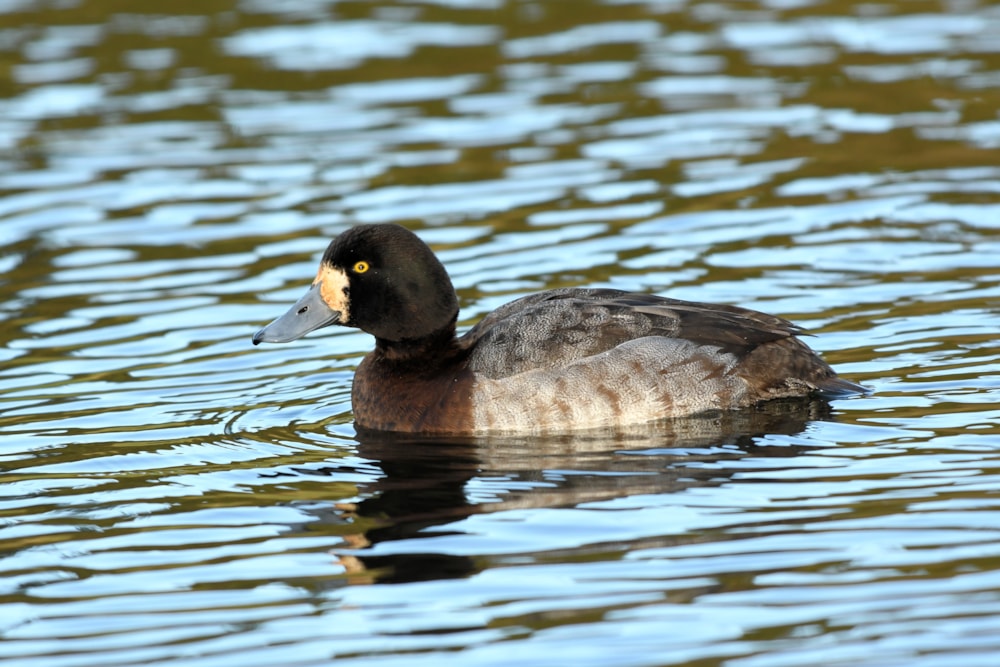 Greater Scaup, Arbroath, Angus & Dundee (Alex Shepherd).
Two Great Grey Shrikes were present at Backwater Res, Angus, and a new individual was at Clatteringshaws Loch, Dumfries and Galloway. A Hoopoe was a good winter garden record at Clynder, Clyde, for several days from 6th, while the only scarce passerine was a Siberian Chiffchaff at Girdle Ness, Aberdeenshire.
North-East England
New birds were in short supply this week, but standout finds included a Rough-legged Buzzard over Newbiggin Common, Co Durham, and an inland Shore Lark on the Otterburn Ranges in Northumberland. The adult Common Crane remained in the Wansbeck Valley, although, as observer numbers fell away, so did reports. Durham's wandering Ruddy Shelduck was again at Rainton Meadows DWT.
Iceland Gulls were again at Blyth, North Shields and Big Waters NR in the week. The wintering redhead Smew remained faithful to Widdrington Moor Lake, Northumberland. A Hooded Crow in the south-west of the same county, at Spartylea, was one of at least three in the county and a decent inland record in an under-watched area.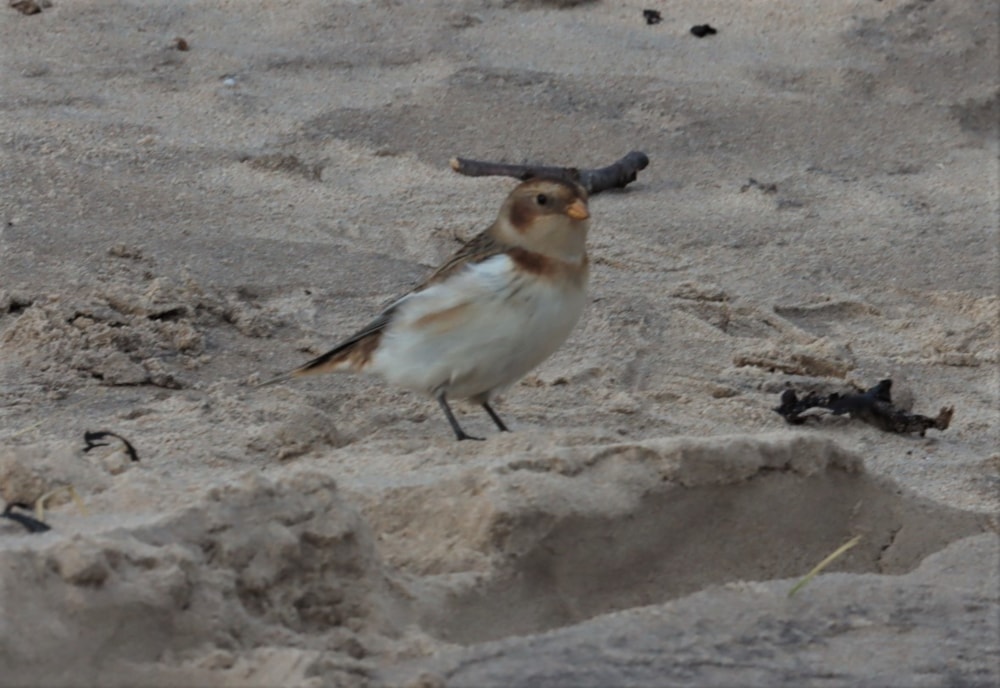 Snow Bunting, East Chevington NWT, Northumberland (Paul Lawrence).
In Co Durham, the Whitburn Observatory managed both Iceland and Glaucous Gull, while another Iceland Gull was a little inland at Washington WWT. Further south, a Water Pipit was again at Scaling Dam.
Yorkshire and Lincolnshire
With new birds at a premium, Yorkshire birders were left to enjoy some of wintering scarcities, including the drake Green-winged Teal at Blacktoft Sands and Ring-necked Duck in the Bolton-on-Swale GPs/Ellerton Lake area. Nosterfield Quarry and LNR continued to host the wintering Lesser Yellowlegs and the showy Grey Phalarope at Thornwick Pools was present throughout.
Further south, the Rough-legged Buzzard at Stainforth continued to frustrate the local Common Kestrels and the Great Grey Shrike at Hatfield Moors found reason to extend its stay. A Siberian Chiffchaff was again out west at Calder Wetlands.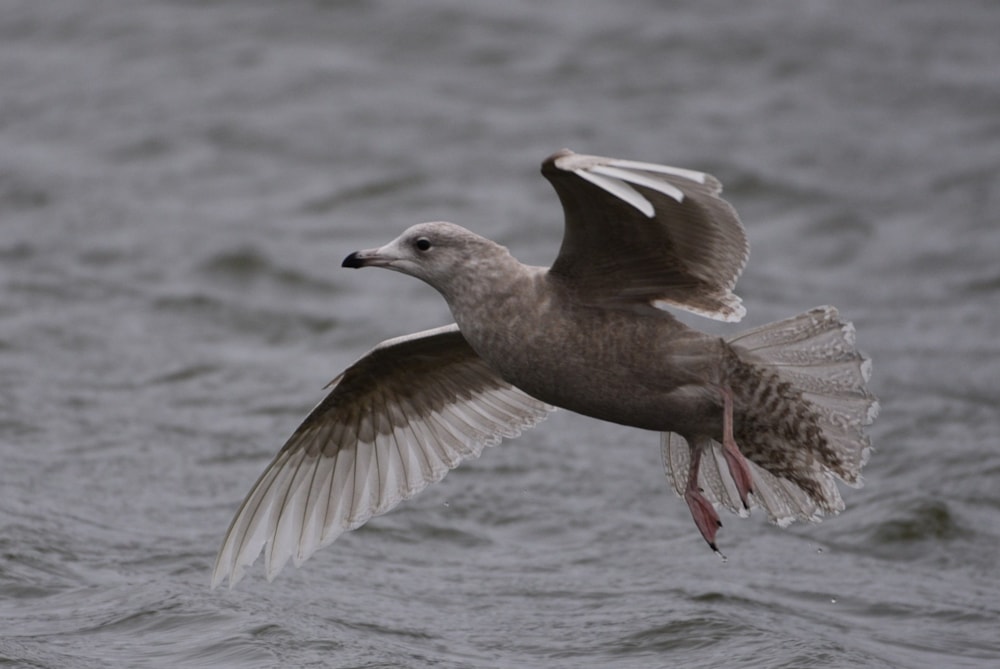 Iceland Gull, Redcar Tarn, West Yorkshire (Philip Robinson).
The Lincolnshire coastal hot-spot of Gibraltar Point NNR mixed it up a little with a fly-over Richard's Pipit and an adult Black Brant; it or another was also again at Donna Nook in the week. A Western Cattle Egret was a regular at Fiskerton Fen and the female Ring-necked Duck continued to relax at Woodhall Spa Airfield. A Little Stint was at Frampton Marsh RSPB for at least three days, one of a tiny number to be found wintering in Britain.
North-West England
A group of Waxwings in Carlisle was Cumbria's best offering; other sightings include the lingering Firecrest, Hooded Crow and Great Egrets.
In Lancashire, Storm Ciara failed to be the wind of change. However, Little Gulls made their presence known in the county, with 12 sites scoring. Most reports were of multiple birds, with a peak count of 28 off the stretch of beach between Anchorsholme and Rossall School. The only other product of the raging gales was a smart adult Glaucous Gull at Seaforth LWT on the 10th.
Both flavours of Greater White-fronted Goose were on offer, with a first-winter Russian reported at Banks on 8th and Greenlands at Little Singleton on 6th, two at Rufford and two at Crossens Outer Marsh on 8th. The Tundra Bean Goose was still being reported from Martin Mere WWT, and the Ring-necked Duck was still at Pine Lake with his Greater Scaup entourage. The Purple Heron remained at Eagland Hill throughout.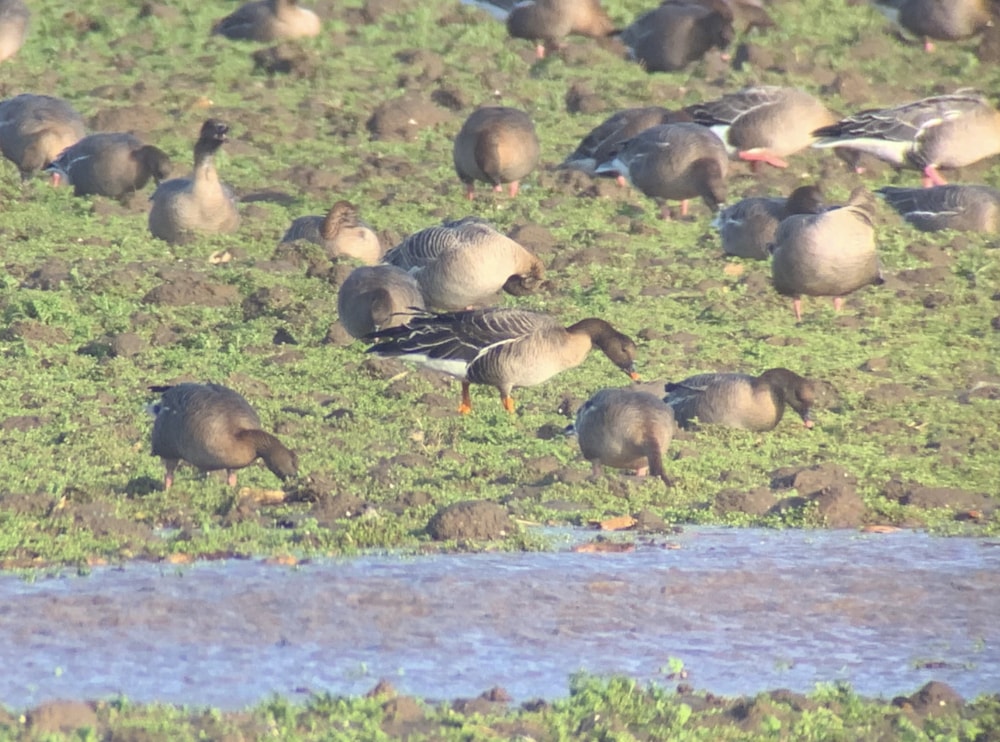 Tundra Bean Goose, Crossens Outer Marsh, Lancashire (Stuart Darbyshire).
Little Gulls also moved past Cheshire, albeit in smaller numbers. A single was at Thurstaston on 9th, with a further two at New Brighton and three at West Kirby Marine Lake on 11th. Remaining on the Wirral, the pair of Tundra Bean Geese were still in the fields around Burton Mere Wetlands RSPB.
Frodsham Marsh held onto its trio of Western Cattle Egrets. The three redhead Smew were still present and correct. An adult Iceland Gull showed well at Viridor Recycling Centre, Atherton, Gtr Manchester, providing a nice change to the roosting birds present in the county. Both Caspian and Yellow-legged Gulls were also still around.
West Midlands
In Shropshire, the Greater Scaup remained at Colemere CP. An adult Whooper Swan was again at Brockhall GPs, Herefs, on 9th. Blowy is one word for the latter part of the week, so it was almost inevitable that an adult Kittiwake would sweep south-east through Belvide Res, Staffs, on 11th. In the same county, the Great Grey Shrike was still at Cannock Chase, ;and we remind visitors to stay on the footpaths and to keep a sensible distance from the bird.
Neither the Great Northern Diver nor the Black-necked Grebe showed any signs of moving on from Draycote Water, Warks. Kumlien's, Iceland, Glaucous, Caspian and Yellow-legged Gulls all roosted there on various evenings in the week.
In Worcestershire, the Long-tailed Duck was still at Clifton Pits, Black-necked Grebe at Upper Bittell Res and drake Smew at Bredon's Hardwick. The juvenile Iceland Gull roosted again at Bartley Res and was potentially the same juvenile seen at Stubber's Green on the 8th. A male Black Redstart was at King's Heath.
East Midlands
A Great Grey Shrike was in Derbyshire's Peak District near Hathersage on 8th. In a quiet week elsewhere in the county, two Waxwings remained in North Wingfield, with an adult Glaucous × Herring Gull at Ogsterbo on 6th. It was much the same in Leicestershire and Rutland – a third-winter Kumlien's Gull remained at Shawell alongside Iceland and Glaucous Gulls, Market Harborough's Black Redstart was still intact, and Rutland Water's Smew and Podiceps assortment lived to fight another week.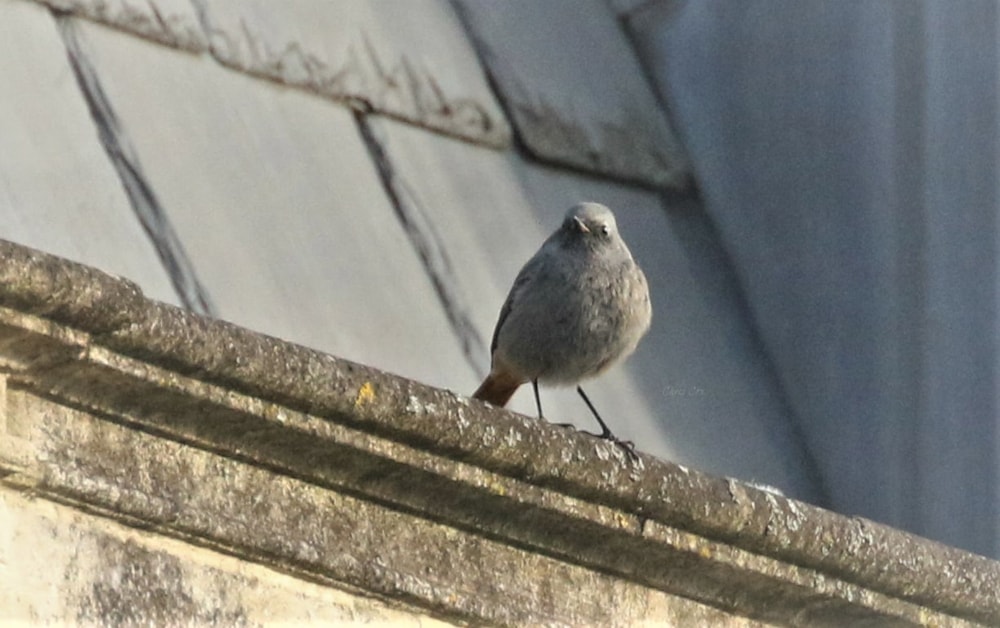 Black Redstart, Oundle, Northamptonshire (Christopher Cox).
Most intriguing in Northamptonshire was a possible White-tailed Eagle north over Roade on 8th. Siberian Chiffchaffs were present at Billing Pits, Ecton and Islip, with a number of Short-eared Owls still at Borough Hill, Harrington Airfield and Stanford Res – the last site also hosting a third-winter Glaucous Gull. A Black Redstart was new in at Oundle from 6th.
The Nottinghamshire Smew total included three individuals at Langford Lowfields RSPB and a single at Hoveringham GPs; the latter site also hosted two Black-necked Grebes. A Tundra Bean Goose at Stoke Bardolph from 8th proved especially popular. Best of the rest included Attenborough NR's Slavonian Grebe and Holme Pierrepont's second-winter Glaucous Gull and Long-tailed Duck duo, while five Russian White-fronted Geese took a fancy to Girton Pits from 5th.
East of England
The lingering Rough-legged Buzzard and Green-winged Teal provided Suffolk entertainment, though so to did a showy Black-throated Diver north-west of Ipswich at Suffolk Water Park. Norfolk's wintering suite was still on offer – Rough-legged Buzzard, Shore Larks and Tundra Bean Geese and co all registering, even if the former did go for a brief wander.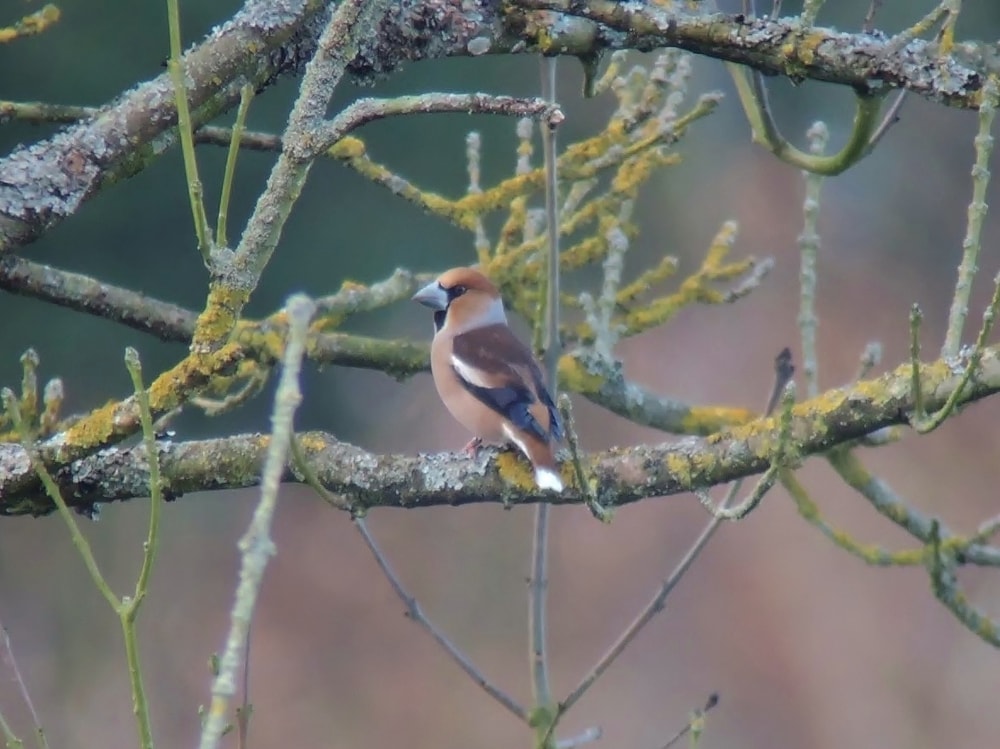 Hawfinch, Lynford Arboretum, Norfolk (Denise Rendall).
In the same county, a drake Green-winged Teal was a well-deserved find at Breydon Water on 5th, though it didn't linger. The Waxwing and Ring-necked Duck were still in Bedfordshire, while a few Caspian Gulls and Smew were among the Cambridgeshire highlights.
In general, though – and probably not surprising in a westerly-dominated February week – it was quiet in the east. Essex chipped in with a Lapland Bunting at Barling Marsh, while a Black-throated Diver was logged at Abberton Res.
South-East England
The inland counties had a quiet week, with Storm Ciara only really delivering a Kittiwake – at Lower Farm GP, Berks, from 10-11th. Elsewhere, a new Common Scoter was at Farmoor Res, Oxon, from 5th and the lingering Mitcham, London, Yellow-browed Warbler proved popular on nicer days.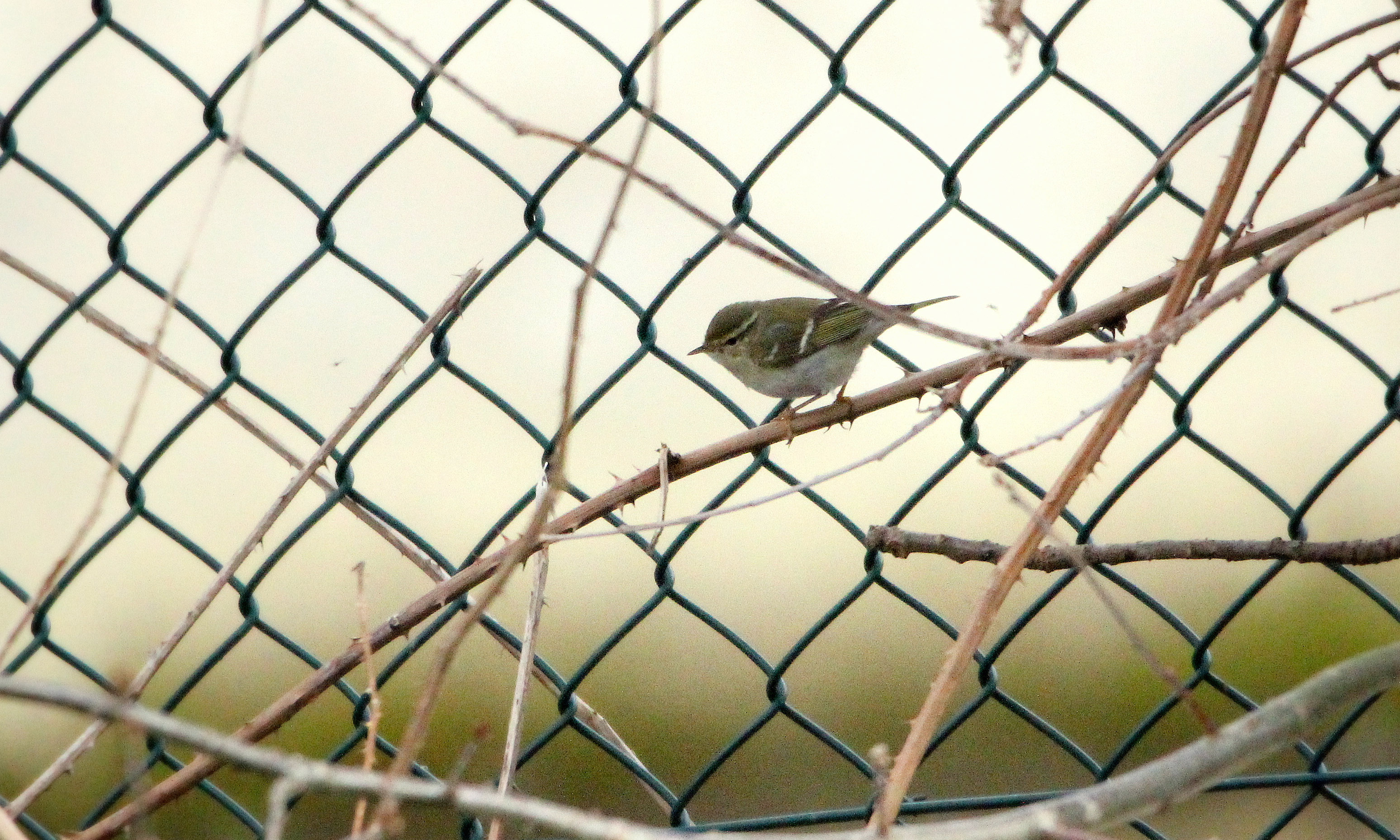 Yellow-browed Warbler, Mitcham, London (Arjun Dutta).
The two London Iceland Gulls remained – presumably the London Wetland Centre adult was the bird reported at Rainham Marshes on 11th. Impressively, the east end juvenile seemed to have made it down to the Dungeness fishing boats, Kent, on 10th. The European Turtle Dove was still at Valentine's Park, too.
Back in Kent, a new drake Smew was at Cliffe Pools and the Rough-legged Buzzard was still knocking about, though it seems the Hoo Richard's Pipit has moved on. Two Lapland Buntings were still at Reculver. Sussex had a quiet spell; a Dutch, yellow-flagged Eurasian Spoonbill at Pulborough Brooks was a decent find.
In Hampshire, the popular Hoopoe continued to draw crowds. The released Great Bustard, at Tidpit, was also visited during the week. At Fawley Res, a probable White-tailed Eagle flew over on 5th.
South-West England
It's likely that the calmer aftermath of Storm Ciara (and the approaching Storm Dennis) will see at least a few more scarce gulls in the South-West, but for now things remained largely as they were. The aforementioned Bonaparte's Gull was a lovely find in Cornwall, but otherwise in the county it was up to the long-staying Ring-billed Gull, Lesser Scaup, Ring-necked Duck and Green-winged Teal to head up proceedings in the county. A Great Shearwater off Pendeen on 10th was rather out of season.
The standout find in Devon was a female European Serin at Seaton, which was reported as present for a second day on 5th on the west side of the River Axe. Sadly, it vanished late afternoon and hasn't been seen since. Elsewhere, the Ring-necked Ducks and Glossy Ibis remained in situ.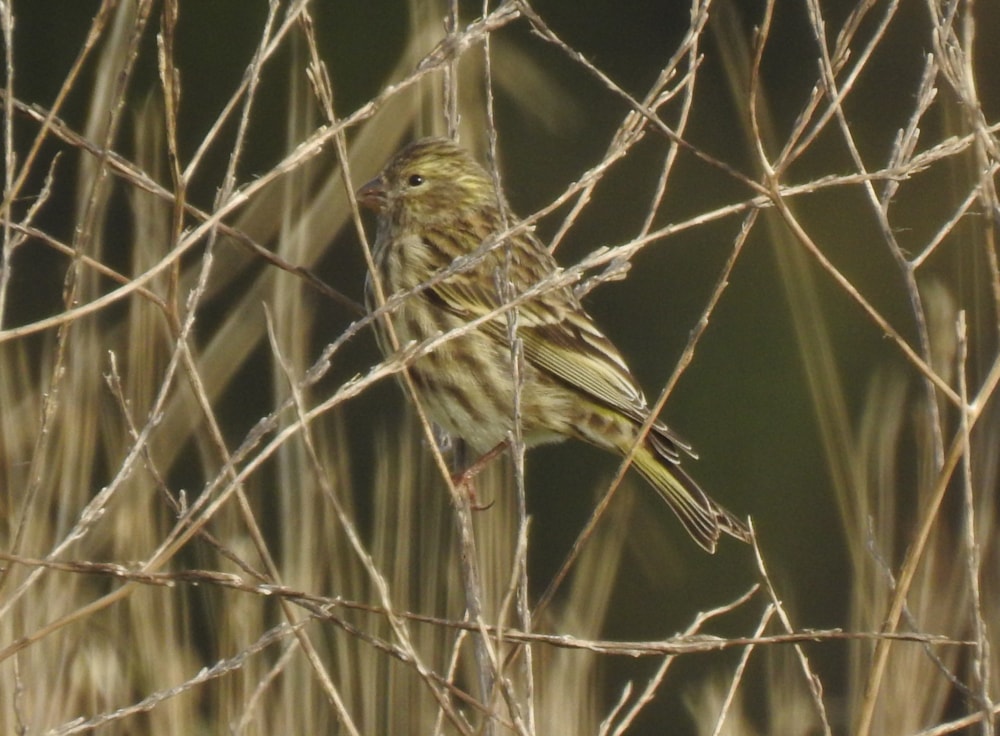 European Serin, Seaton, Devon (Dave Helliar).
Dorset's Eurasian Penduline Tit continued to play cat and reedmace with birders at Lodmoor, proving quite difficult to pin down. The Great Grey Shrike was still at Morden Bog, the Black Brant reappeared at Wkye Regis (as did the Great Bustard at Butterstreet Cove) and a White Stork of default modern-day unknown origin was at Cheslebourne on 7th.
Two notable records came from Gloucestershire: an immature White-tailed Eagle – confirmed as not from of Isle of Wight reintroduced stock – drifted over Duntisbourne Abbotts and later Shorncote on 7th, while an adult Ring-billed Gull was picked out on Pit 16 at Cotswold Water Park late afternoon on 8th.
Also in Gloucestershire, the Great Grey Shrike lingered at Stratton, while the Croydon Hill bird in Somerset highlighted a quiet week in that particular county. The Westbury sewage works Yellow-browed Warbler was still present in Wiltshire.
Wales
Little came in the way of storm-driven vagrants, but Criccieth produced a smattering of Little Gulls through the course of the 9th and 10th. A possible first-winter Caspian Gull on the Gann Estuary on 5th was the one that got away as the light faded. The juvenile Iceland Gull again roosted at Llangorse Lake, Powys, and an adult was seen at Penberry Res, Pembs, on 9th.
The drake Surf Scoter was seen again mingling with his ilk off Great Orme, Conwy, on the 6th. The showy female Greater Scaup could still be found at her regular haunt of Brickfields Pond, Rhyl, with others at Llyn Alaw and Inland Sea (both Anglesey) and two still at Cardiff Bay Wetlands NR, Glamorgan.
Ring-necked Ducks remained at Llyn Pendam, Ceredigion, Marloes Mere, Pembs, and Llyn Blaenmelindwr, Ceredigion, while a potentially new drake turned up at St Brides, Pembs, on 8th. Six Greenland White-fronted Geese were still at Llyn Alaw, Anglesey on the 5th.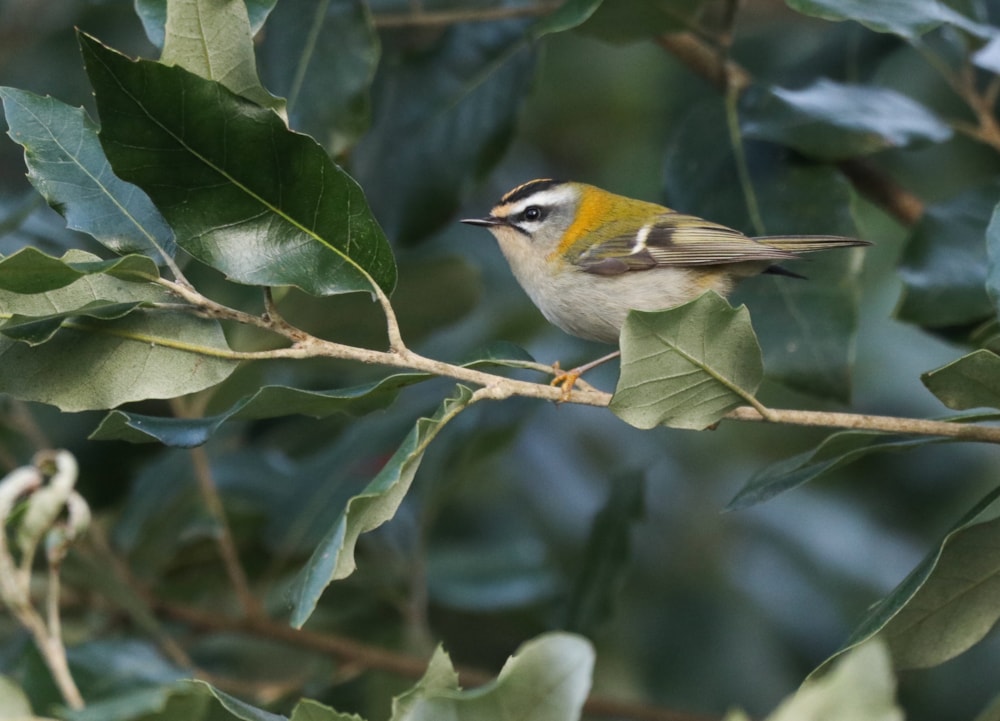 Firecrest, Cardiff, Glamorgan (Tate Lloyd).
The Glossy Ibis remained on show at Newport Wetlands, Gwent, as did the Black-necked Grebe. Great Grey Shrikes were at Cwm Cadlan, Glamorgan and Clywedog Res, Clwyd, and at least one Hawfinch remained at Tongwynlais, Glamorgan. Black Redstarts were at Cardiff Bay, Glamorgan, Little Orme, Conwy, and Machynys, Carmarthen.
Northern Ireland
A quiet week, no doubt recent weather has dampened any birding efforts. A flock of 20 or more Waxwings was at Cabin Hill Park, Belfast, on 9-10th at least. Glaucous Gulls were at Rathlin Island, Co Antrim, and Enniskillen, Co Fermanagh, along with the juvenile Iceland Gull still. Meanwhile an adult was at Carnlough, Co Antrim, on the 9th.
Republic of Ireland
Disappointingly, only two Ring-billed Gulls were reported through the week, with adults at Blackrock, Co Louth, and Tralee, Co Kerry. The adult Eurasian Spoonbill was still at Cromane Point, Co Kerry, and seven Bewick's Swans were at Wexford Wildfowl Reserve on 5th.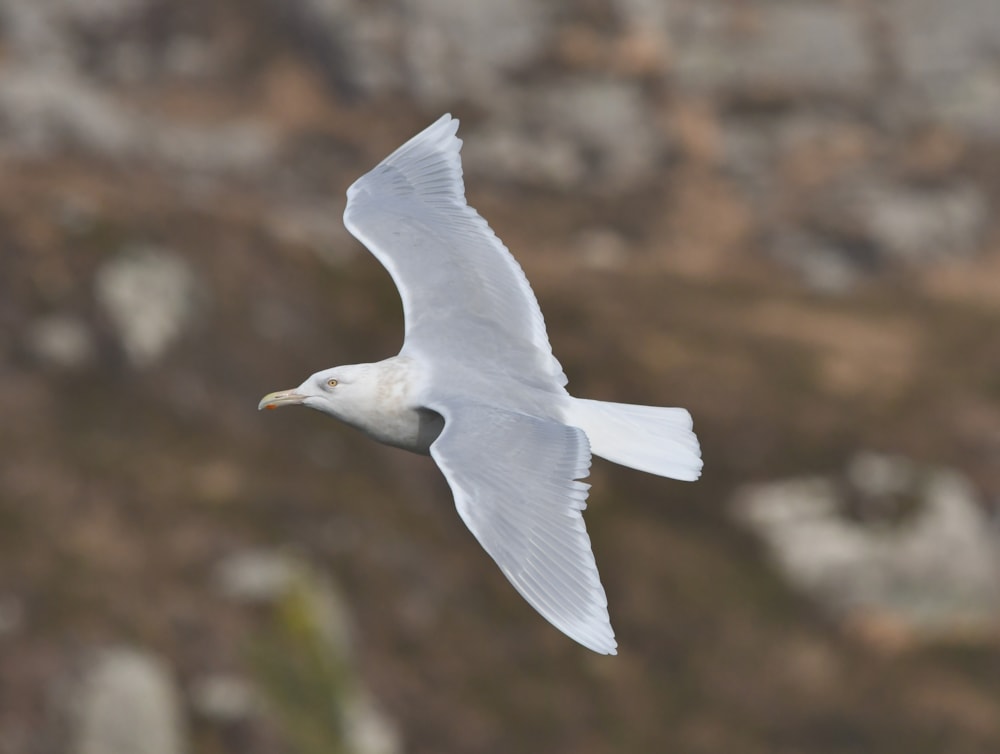 Glaucous Gull, Crookhaven, Cork (Richard Mills).
The drake Surf Scoter was seen again off Coolsiva Pier at Gleninagh Quay, Co Clare, on 10th. Other wildfowl included the pair of Ring-necked Ducks at Lough Gara, Co Sligo, and a female-type Long-tailed Duck at Carrickmacross, Co Monaghan. A Red-necked Grebe was off Rossbeigh, Co Kerry, on 6th.
A Lapland Bunting was at Galley Head, Co Cork, on the 8th and Siberian Chiffchaff still at Dungarvan, Co Waterford. The first-winter American Golden Plover continued at Ballylongford, Co Kerry.
Western Palearctic
The southern Western Palearctic extremity of Cape Verde scored big with a Black-capped Petrel off Raso on 6th. Only the 13th Western Palearctic record and just the fifth for Cape Verde, this is the third year on the trot the island chain has been blessed with a sighting – could the species have a small, undiscovered breeding population somewhere on the archipelago?
A Red-footed Booby was espied on the same boat trip; arguably even more significant than the Pterodroma was the potential rediscovery of Cape Verde Peregrine Falcon on Boa Vista the following day, with two examples thought to belong to this presumed extinct subspecies over the saltpans at Sal Rei.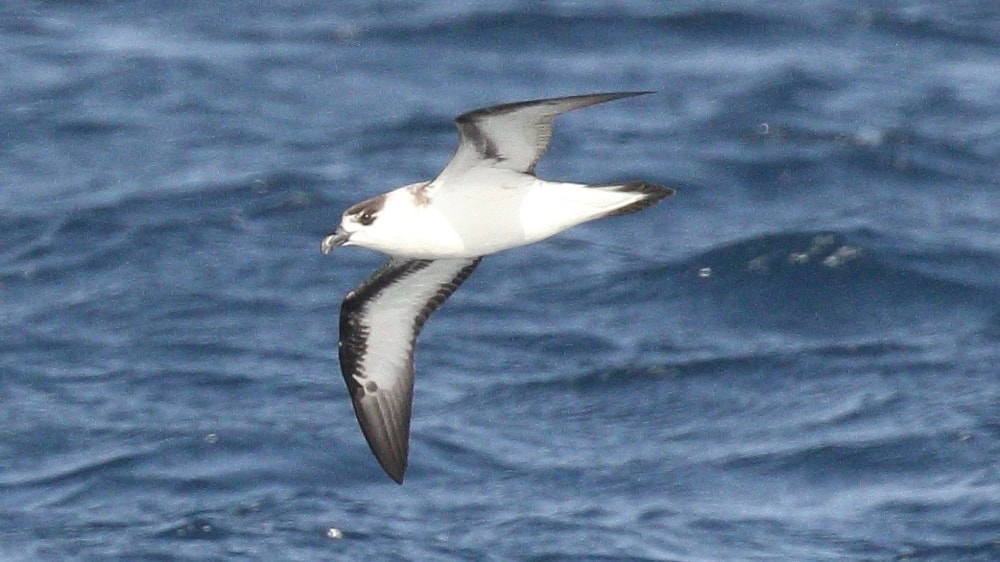 Black-capped Petrel, Raso, Ilhéu Raso (Peter Stronach).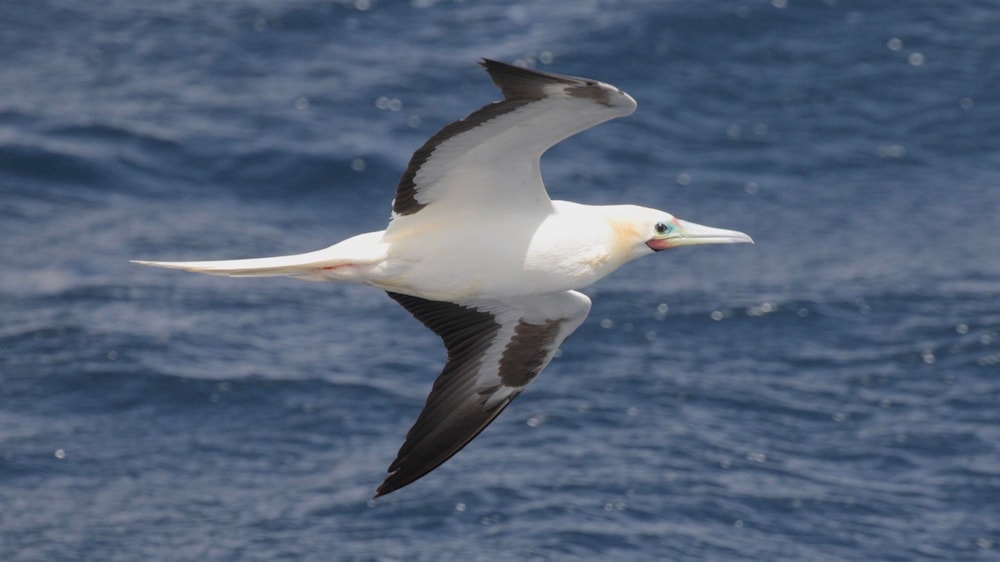 Red-footed Booby, Raso, Ilhéu Raso (Peter Stronach).
In Spain, Extremadura's Sociable Lapwing was still at La Aldea del Obispo until at least 5th, while the Lesser Flamingo was last reported on the Andalucian saltpans at Salinas de Bonanza on 6th. In the north-east of the country, the Brown Shrike remained in place on 10th, with the fulvescens Greater Spotted Eagle still at El Hondo, Valencia, on the same date. An adult Brown Booby was off Lekeito in the Basque region on 7th.
Gran Canaria's Abyssinian Roller was still living it large on its favourite rubble heap in Las Palmas throughout the review period, with the Fuerteventuran Eastern Yellow Wagtail reported again on 6th.
What looks now to be the only regular wintering site for the species in the WP – although the British Isles are doing a pretty good job at making up the numbers – at least eight Eastern Yellow Wagtails (including at least one adult) were at Vila Franca de Xira on the outskirts of Lisbon on 9th, with some 13 first-winters there the previous day.
Dinan, France, saw last winter's returning Wallcreeper on the cathedral ramparts on 4th; the Northern Bald Ibis and Pygmy Cormorant pair both remained in place in the south of the country. In Italy, a Lesser White-fronted Goose was with 3,000 of his larger congeners at Isola della Cona on 6th, while on Guernsey the American Royal Tern continued finding the island's coastline to its liking.
The Netherlands saw everything still present and correct – the Oriental Turtle Dove, Pied Crow, Crested Lark, Great White Pelican and Great Bustard were all still at their respective sites throughout the week.
Israel's adult male Black-throated Thrush was seen again on the outskirts of Jerusalem on 6th, while several Purple Sunbirds hung on in small numbers in Kuwait, with five present at two sites on 7th. A Hume's Leaf Warbler in Ukraine on 5th was just the country's fourth record, although is surely under recorded, likewise with Azerbaijan's first Black-winged Kite in Nakchivan on 6th.