All of a sudden, it feels like we've sunk into the very depths of winter – the wind, rain and general murk conjured up by Storm Atiyah on Tuesday made it one of those days where it barely seems to get properly light.
In fact, it was so dreary that even the Hermit Thrush – touted as recently as last week in the BirdGuides office as a good candidate to spend the winter on St Mary's – seemed to move on, or at least seek shelter away from its favoured fields. It was last seen on 7th. Even the Steller's Eider, built for altogether hardier conditions, couldn't muster an appearance beyond 4th – although it seems more likely that it's still around somewhere, for finding it in the boiling Orcadian seas of this week must have been a genuine challenge (and few must have been looking).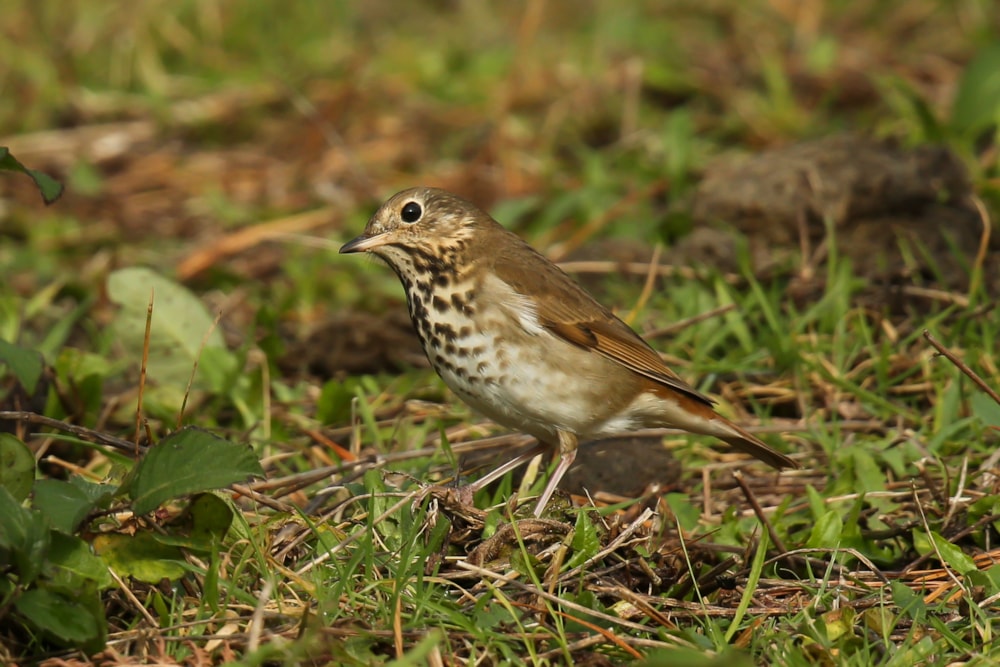 Hermit Thrush, St Mary's, Isles of Scilly (Lee Gregory).
A reasonable description of a male Siberian Thrush encountered near Duncormick, Co Wexford, on 8th made the airwaves the following day, but alas a search produced nothing and one suspects that'll be the end of that.
To continue the theme of elusive birds and disappearing acts, even the ever-reliable American White-winged Scoter could only manage a single report off the coast at Musselburgh on 7th – and the Pacific Diver couldn't be found in Mount's Bay, Cornwall.
Fittingly for the stormy conditions, one of the few new rarities found this week was a juvenile Ivory Gull – but, frustratingly, it flew past the Farne Islands on the morning of 4th and kept going, never to be seen again.
Another new arrival was a first-winter Bonaparte's Gull at the legendary hotspot of Killybegs on 8th. It almost defies logic that the first county record came as recently as February 2018 (a second-winter, also at Killybegs). This latest individual is the third for Co Donegal, following the second in March 2019 which – yes, you guessed it – was also at Killybegs.
Long-billed Dowitchers retained a monopoly on the rare shorebird news, with two birds lingering on and looking good bets to spend the winter at their current locations – both the birds at Cresswell Pond, Northumberland, and Bowling Green Marsh, Devon, were reported regularly.
Long-billed Dowitcher, Bowling Green Marsh RSPB, Devon (Exeter Birder).
The beautiful Siberian Stonechat was still on show at Hollesley Marshes, Suffolk, on 9th, although the lack of news on Tuesday wasn't really a surprise given the gale-force winds and persistent drizzle. Meanwhile, far to the north, the only Coues's Arctic Redpoll on show at the moment hung on at Mulla on the Shetland mainland.
It's always nice to hear that the Orkney Snowy Owl is still going strong, and the report from Eday on 5th is the first since late August.
The remainder of this week's rare bird news was made up by wildfowl, with the Northumberland Black Scoter off Goswick on 7th, the Blue-winged Teal hanging around at Man Sands, Devon, and the trio of Ferruginous Duck including a single wild bird lingering on at Blashford Lakes, Hants. A report of a King Eider offshore between Holkham and Burnham Overy Dunes on 4th might prove a well-visited vagrant should it be firmed up.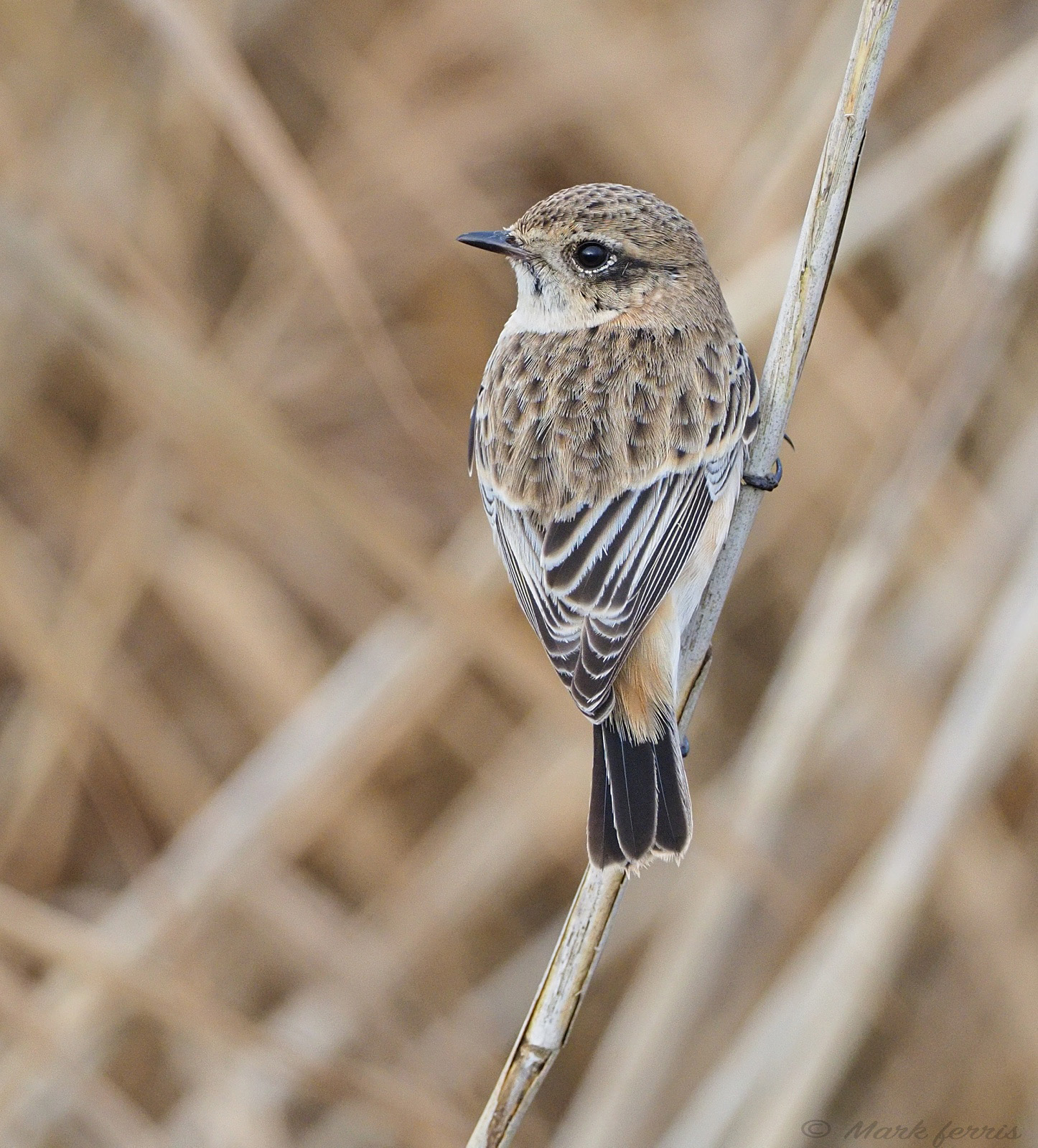 Siberian Stonechat, Hollesley Marshes RSPB, Suffolk (Mark Ferris).
Scarce and local
North-East England
A much quieter week brought belated news of an exhausted Pallas's Warbler photographed on the beach at Brier Dene, Whitley Bay, on 24 November and identified from an image circulated several days after the event.
A new drake Green-winged Teal appeared at Big Waters NR, Northumberland, the wintering American Wigeon at Grindon Lough was noted intermittently and a single Smew remained at Widdrington Moor Lake. A couple of Tundra Bean Geese were in the Cowpen Bewley area all week, often alongside a handful of Eurasian White-fronted Geese.
With so few around at present, both Glaucous and Iceland Gulls at North Shields Fish Quay attracted a steady stream of admirers.
A late Northern Wheatear was along the coast at Seaham, Durham, on 4th, but stubbornly refused to morph into anything rarer. Peak Waxwing numbers included 55 at North Shields and c 70 at Blyth, with smaller numbers noted elsewhere.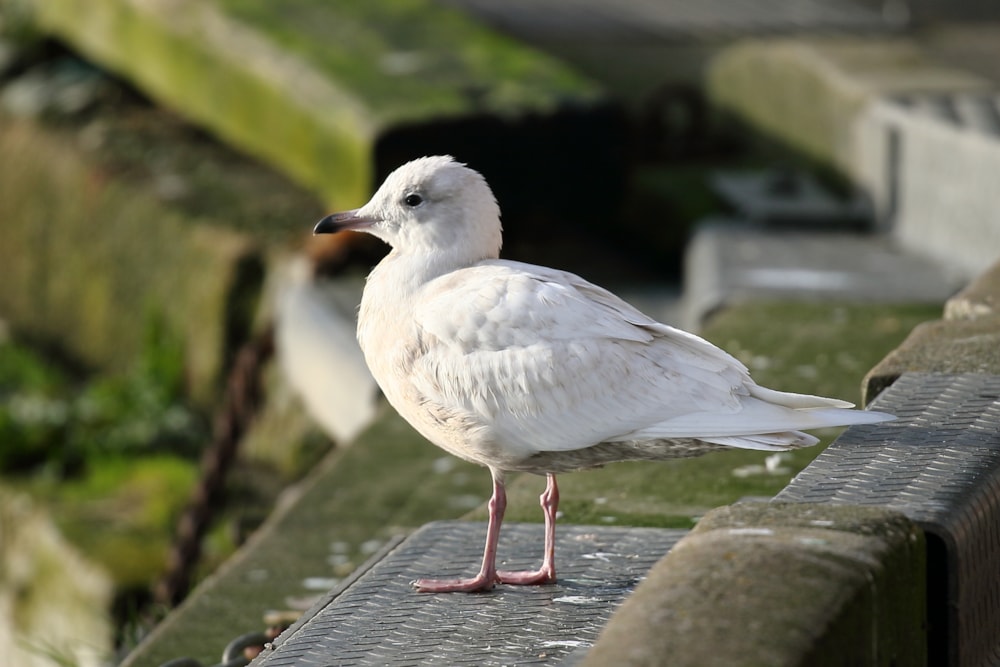 Iceland Gull, North Shields, Northumberland (Alan Jack).
North-West England
An unseasonal juvenile Purple Heron at Eagland Hill, Lancs, on 4th was the first Fylde record since 1970. Rather sportingly it hung on for the rest of the week and was still making the most of the local voles on 10th, much to the delight of local birders – though it could be very elusive. Also in the county, the young drake Ring-necked Duck remained at Pine Lake and a blue-morph Snow Goose was at Warton Bankon 5-6th, while a Long-tailed Duck was again at Lunt Meadows on 9th.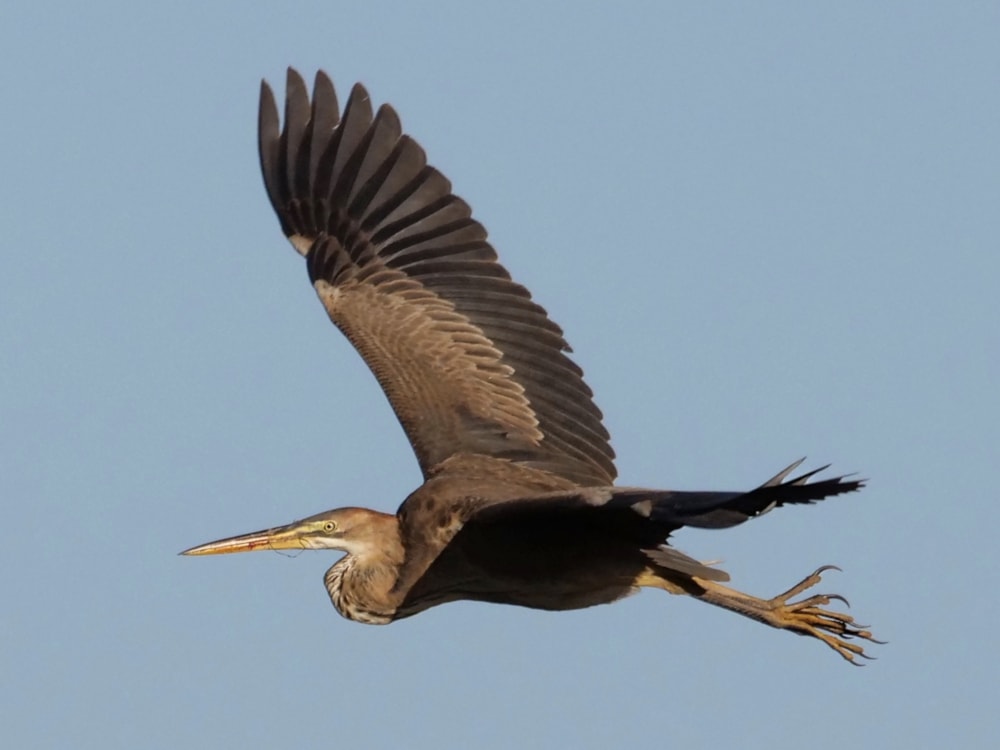 Purple Heron, Eagland Hill, Lancashire (Mark Nightingale).
Three Western Cattle Egrets were on offer at Frodsham Marsh, Cheshire, while a Siberian Chiffchaff was trapped and ringed in the same county at Woolston Eyes NR on 5th. Up to two Eurasian White-fronted Geese could be found at Redes Mere.
A couple of late Swallows were seen in Lancashire, while the regular Twite flock at Knott End-on-Sea peaked at 49. News was scant from Cumbria, save the continuing Water Pipit at Biggar, Walney Island.
Lincolnshire and Yorkshire
The constant birding effort in the Spurn area ensured that it was routinely on the news page, despite an overall lack of decent birds nationwide – notable sightings included the regular Black Brant and his hybrid family, a couple of Siberian Chiffchaffs at Kilnsea and a Lapland Bunting.
Another Siberian Chiffchaff was at Blacktoft Sands RSPB, while the throngs of wintering Pink-footed Geese at Goole Fields revealed a single Tundra Bean Goose on 4th. Another two Tundra Beans were at Flamborough Head on 7th, while Hornsea Mere held onto singles of Smew and Long-tailed Duck and Blacktoft Sands its Green-winged Teal.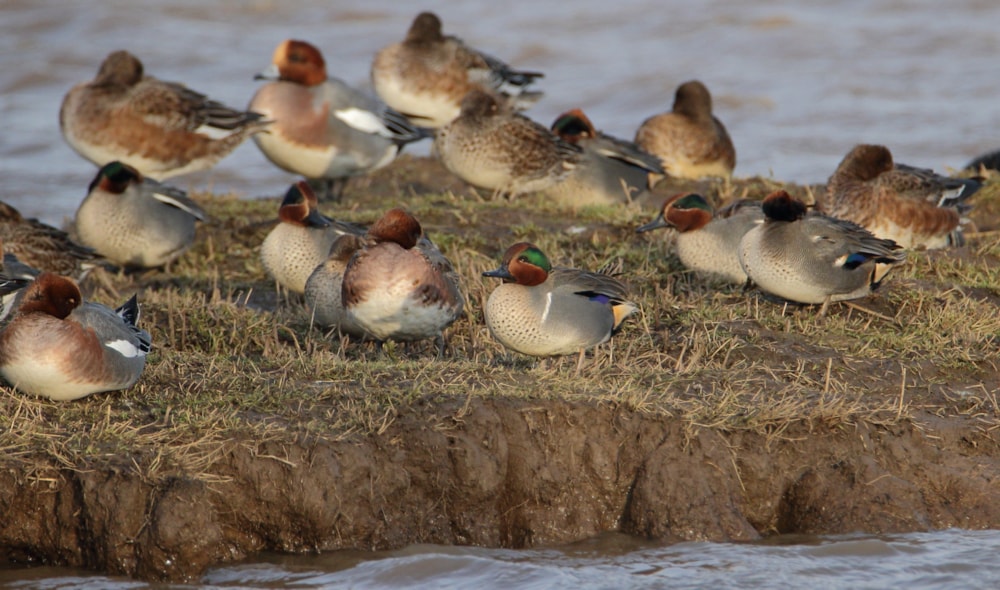 Green-winged Teal, Blacktoft Sands RSPB, East Yorkshire (Allen Holmes).
A Hooded Crow was notable at Kildale, North Yorkshire, on 6th, while the Yellow-browed Warbler remained at Filey throughout the week, although could be very elusive.
After a foray to Anglers Country Park on 4th, the Ring-necked Duck returned to Johnny Brown's Common on 9th. The Great Grey Shrike also remained at Hatfield Moors, while there was the lightest scattering of Caspian Gulls from familiar sites in both South and West Yorkshire.
It's a real sign of the times that the only Smew in the entirety of Lincolnshire was a single redhead at Kirkby-on-Bain Pits. In fact, it was a quiet week around the county, with just a Black Brant at Gibraltar Point on 7th and a brief bean goose sp at Donna Nook the same day – at the latter site, the Pomarine Skua wasn't seen beyond 4th.
West Midlands
An adult Iceland Gull at Stubber's Green on 6th presumably relate to the regularly returning bird in this part of the world. Meanwhile, a Black Redstart proved popular at Bilston all week. The Ring-billed × Lesser Black-backed Gull was seen again at Belvide Reservoir on a couple of dates, where an adult Great Northern Diver called in for a few hours on 10th – the 23rd site record.
Surprisingly, a Common Redstart was reported from Cannock Chase on 8th, while Caspian Gulls continued to roost at Chasewater and the Yellow-browed Warbler lingered at Alrewas to at least 9th.
The adult Glaucous Gull roosted intermittently at Draycote Water, while the only news of note from Worcestershire was the continuing Long-tailed Duck at Ripple GPs.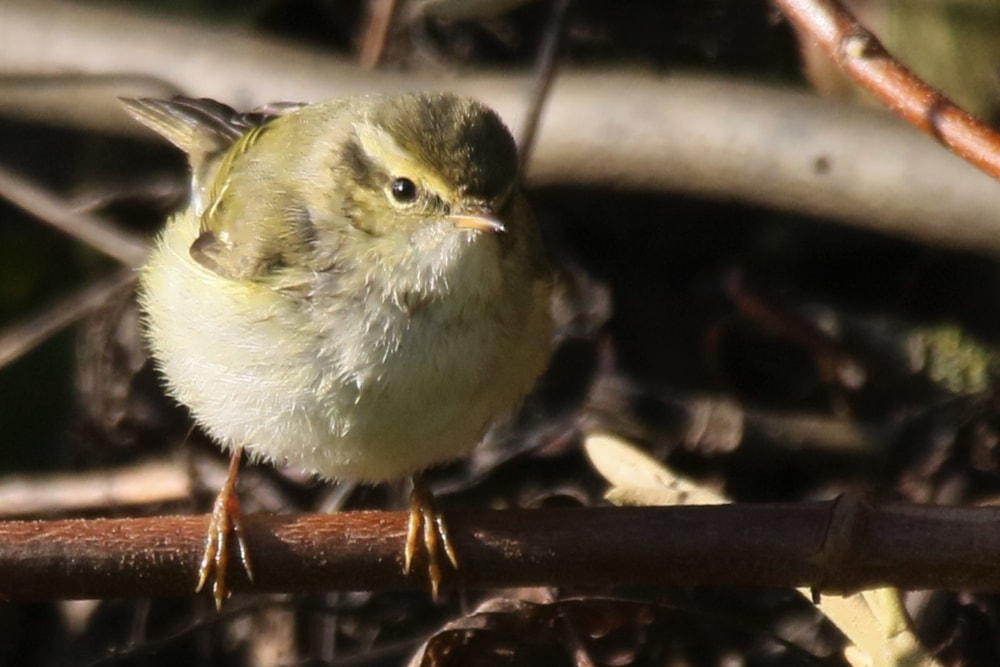 Yellow-browed Warbler, Alrewas, Staffordshire (Steve Nicklin).
East Midlands
A major Derbyshire rarity came in the form of a Purple Sandpiper, which spent the weekend performing brilliantly at Long Eaton GPs. Elsewhere, the Long-tailed Duck lingered at Drakelow NR, a Black-necked Grebe appeared at Willington GPs on 9th and the Great Northern Diver lingered on at Carsington Water.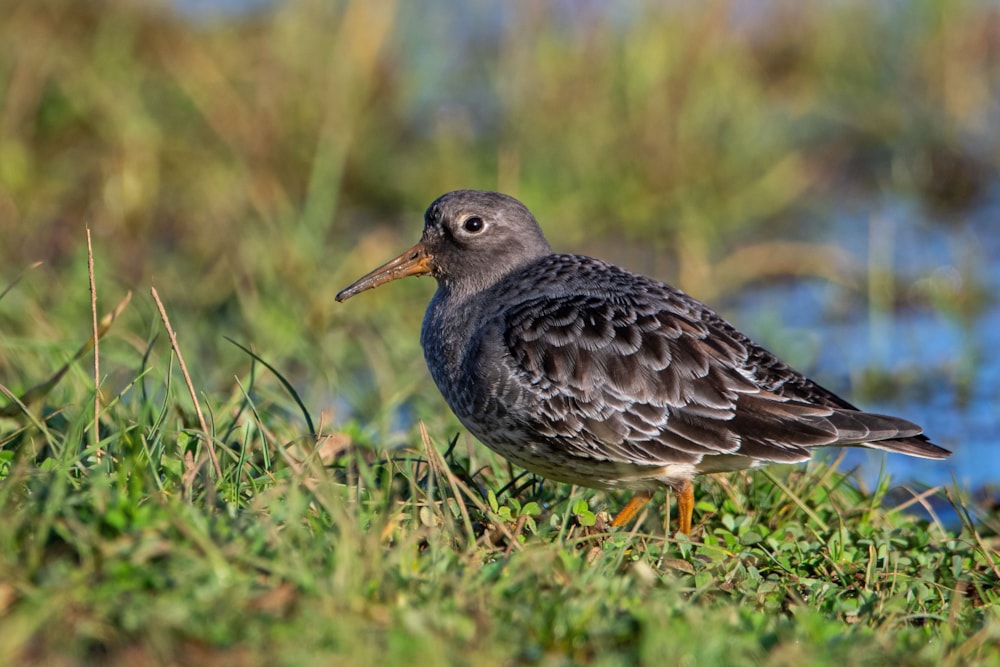 Purple Sandpiper, Long Eaton GPs, Derbyshire (Neil Loverock).
Singles of Smew and Long-tailed Duck were on offer at Holme Pierrepont, Notts, with another lone Smew at Idle Valley NR on 8th.
A Siberian Chiffchaff was at Wigston Sewage Works, Leicestershire, from 7th and a few Smew, all three scarcer grebes and a bunch of Great Egrets were up for grabs at Rutland Water – nearby Eyebrook Reservoir also retained its Red-throated Diver.
A Dark-bellied Brent Goose was on the Leicestershire-Northamptonshire border at Stanford Reservoir. The Great Grey Shrike was still at Crick, while Summer Leys NR's Smew count increased to two.
East Anglia
The Great Grey Shrike lingered at Brogborough, Bedfordshire, throughout, while a Siberian Chiffchaff was on the outskirts of Bedford at Meadow Lane sewage works. Further north, Cambridgeshire's Red-necked Grebe remained faithful to Maxey GPs.
The only Rough-legged Buzzard to prove reliable was the bird at Wells-next-the-Sea all week, while another was at Lakenheath Fen, Suffolk, on 4th and one between Bawdsey and Ramsholt from 10-11th. The Eurasian Eagle-Owl continues to prove perplexingly popular at Winterton, Norfolk – testament to how quiet the birding is in general, presumably.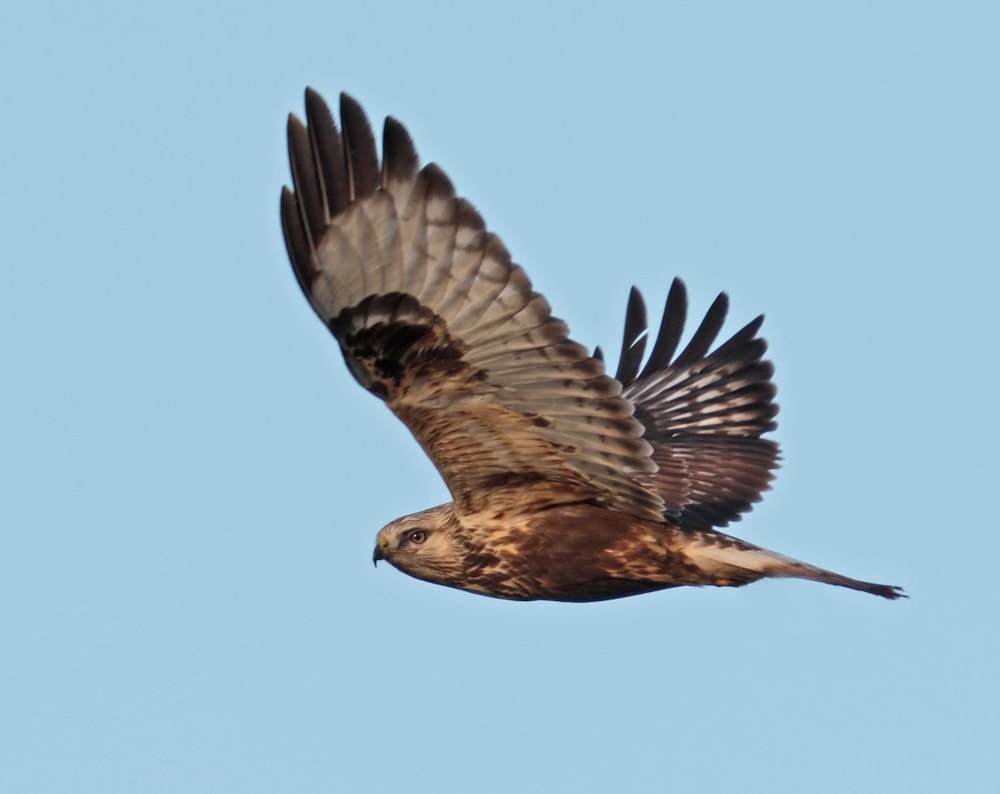 Rough-legged Buzzard, Wells-next-the-Sea, Norfolk (Stephen Burch).
So far it's been a pretty poor winter for Shore Larks and the five at Holkham, Norfolk, are the only flock currently on show in the entirety of England.
Two or three Black Brant were dotted along the Essex coastline, a presumed vagrant Canada Goose (perhaps a parvipes) was at Cley Marshes, Norfolk, on 9th. The lightest scattering of Tundra Bean Geese was unearthed amid Norfolk's many thousands of Pink-feet, although the once-reliable Taiga Bean Goose flock in the Yare Valley appears to have dwindled to a pitiful four birds this winter – at this rate, they'll be gone within a few years. There was a report of a Taiga at Kelling on Saturday, too.
South-East England and Greater London
Dungeness RSPB, Stodmarsh and Worth Marsh all produced Glossy Ibises this week. In the north of the county, a juvenile Rough-legged Buzzard pitched up at Funton Creek for the second winter in a row – this particular individual has seemingly settled into a routine of roosting here, much like last winter, when at least two were in the area.
On nearby Sheppey, a Waxwing proved elusive at Leysdown on 4th. Both Swallow and House Martin were logged in the county, with neighbouring East Sussex scoring two of the latter at Battle. Also in East Sussex was a redhead Smew at Rye Harbour – impressively for a county that doesn't get many, this is the third Sussex sighting of the winter. A reported Eurasian Eagle-Owl of unknown origin was at St Leonards on Sea, East Sussex, on 5th.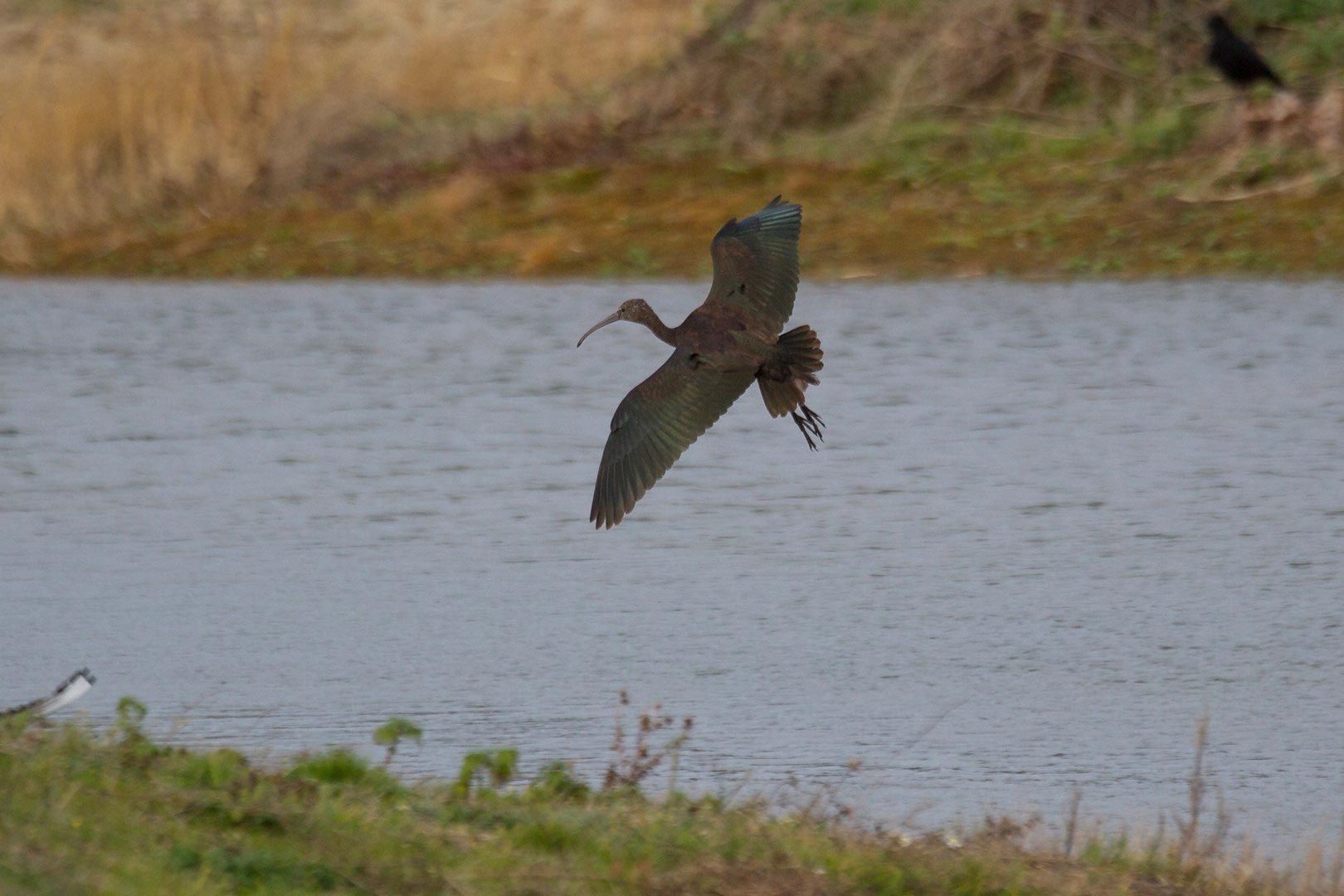 Glossy Ibis, Sandwich, Kent (Steve Reynaert).
In West Sussex, a Dutch-ringed first-winter Caspian Gull was a nice find at Goring-on-Sea. There were reports of Great Grey Shrikes at Cissbury Ring, West Sussex, and Ashdown Forest, East Sussex, along with the lingering individual in Hampshire at the New Forest. On the Isle of Wight, the released Great Bustard continued to lurk at Merstone.
A nice showing of Siberian Chiffchaffs included two in West Sussex (at both Burpham and Coldwaltham sewage works), one at Creekmouth, Greater London, and another at Unstead Sewage Farm, Surrey. Also putting in a decent innings was Caspian Gull, with Greater London enjoying no fewer than 15 birds, including double figures at Rainham landfill site.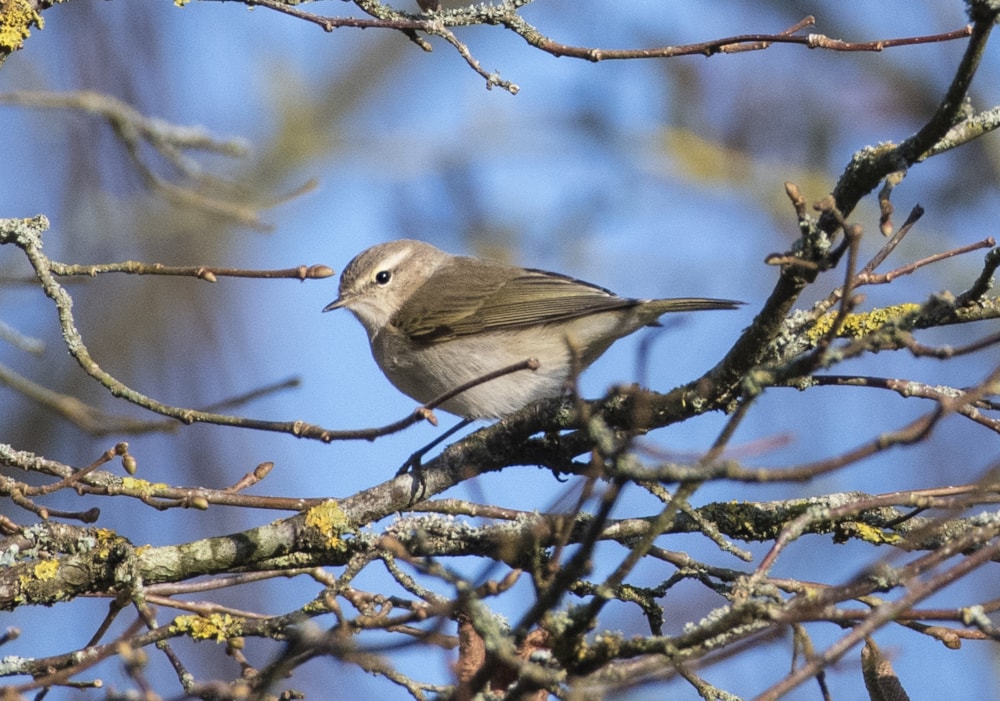 Siberian Chiffchaff, Unstead SF, Surrey (Ed Stubbs).
Three Caspian Gulls were tallied up across Buckinghamshire, too. In Oxfordshire, three Eurasian White-fronted Geese at the picturesque village of Little Wittenham were available from 7th.
South-West England
A first-winter Ring-billed Gull at Hayle Estuary, Cornwall, on 8th was significant for the fact that this species is simply so scarce these days. Equally as good for Cornwall, though, was the build-up of Caspian Gulls at this site – no fewer than three were seen – and there were reports of both Iceland and Glaucous Gulls.
A Pallas's Warbler was still at Cot Valley on 4th and, just down the road, a Hooded Crow appeared at Sennen on 7th. At Stithians Reservoir, the young female Lesser Scaup remained, as did the quartet of Ring-necked Duck at Tamar Lakes and the adult drake at Slapton Ley.
The Glossy Ibis at Fremington Pill, Devon, present since July, was still there this week, while the best spot in that county for Western Cattle Egrets continued to be Starcross, where 24 were seen on 5th.
Chew Valley Lake's Green-winged Teal was still at Herriott's Pool on 6th, while up to seven Greater Scaup frequented the main reservoir. Barrow Gurney Reservoirs' memorable hat-trick of Black-throated Diver, Great Northern Diver and Long-tailed Duck was on offer to 9th, when the former bird flew off and was lost as a speck in the grey December skies.
At Slimbridge WWT, the pair of young Greenland White-fronted Geese remained on offer, while in the Forest of Dean the Great Grey Shrike was still at Crabtree Hill.
The released Great Bustard was still at West Bexington, Dorset, on 5th, the late Garganey lingered at Lodmoor RSPB and The Fleet and Portland Harbour offered its usual array of wildfowl, grebes and divers. An adult Black Brant was around Poole Harbour, at least one Great Grey Shrike hung on in Wareham Forest and the Ring-necked Duck was still at Sturminster Marshall GPs on 5th. Yellow-browed Warblers were in the county at Gillingham and Lytchett Bay.
Wales
A single drake Surf Scoter loitered off the Conwy coastline at Old Colwyn, while the young drake Ring-necked Duck was back in Ceredigion at Llyn Pendam on 9th. A Great Northern Diver was a brief visitor to Lake Vyrnwy in rotten weather on 10th.
The Ring-billed Gull roosted again at Llys-y-Fran Reservoir on 4th. A pair of Smew were at Llandegfedd Reservoir, Gwent, where it appears Jack Snipe are showing nicely at the moment due to low water levels. The Glossy Ibis hung on at Newport Wetlands.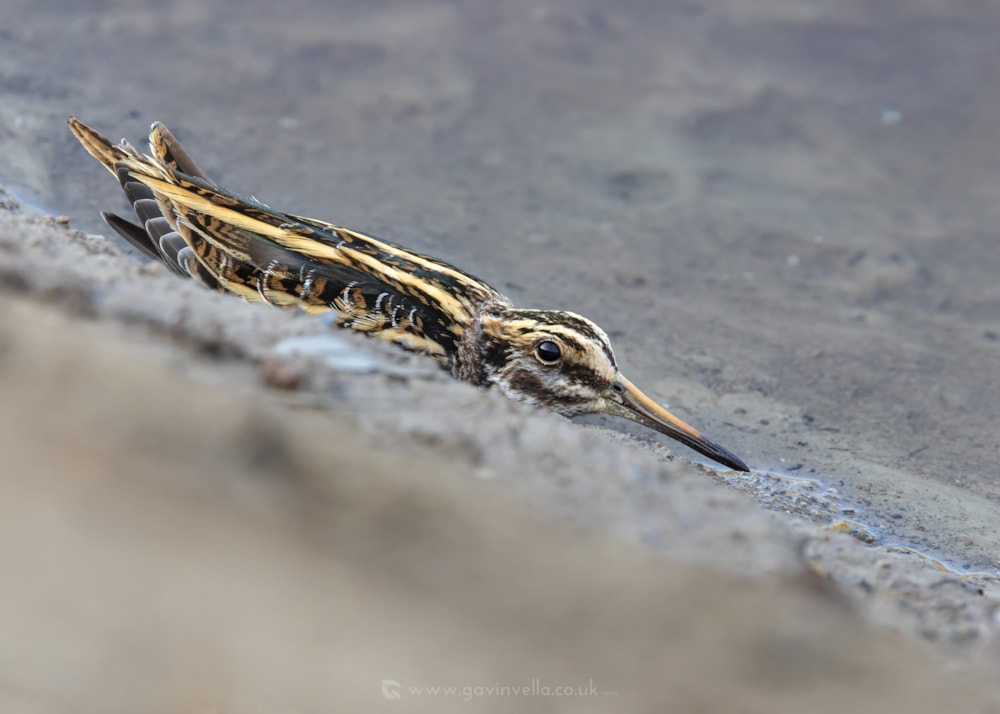 Jack Snipe, Llandegfedd Reservoir, Gwent (Gavin Vella).
North Walian birders were pleased to hear that Hawfinches were back and available at Llanrwst on 10th. A Yellow-browed Warbler at Breakwater CP, Anglesey, on 9th might be popular with 2020 listers, should it linger.
Scottish mainland
The blue-morph Snow Goose at Loch of Skene, Aberdeenshire, appeared again after two weeks without being reported, while last week's candidate Ross's Goose at Brims Ness was confirmed as a white-morph Snow. Nearby, a couple of candidate Todd's Canada Geese were at Scrabster on 10th, while, to the south, two potential Grey-bellied Brant were at Nairn on 6-7th.
The drake Green-winged Teal was at Wick, Highland, on 9th, while the drake last seen in mid-November at Doonfoot, Ayrshire, was re-found on 10th. A redhead Smew was at Lochwinnoch RSPB on 9-10th.

Waxwings were widely spread, with groups of up to 40 touring Edinburgh, 110 at Inverbrurie, 80+ in Elgin and thirty-somethings in Dundee and Kirkcaldy.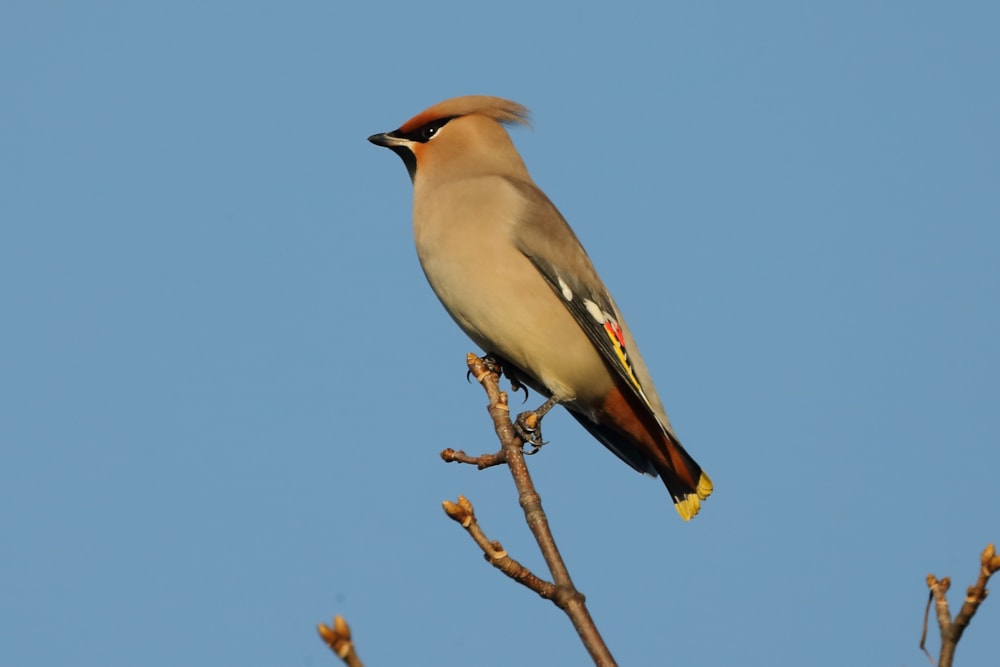 Waxwing, Kirkcaldy, Fife (Douglas Dickson).
With so few around, it's worth giving a shout to the regular third-winter Glaucous Gull, which was still in the Dunbar area throughout the week. One of precious few Iceland Gulls was at the river mouth in Thurso, Highland, on 6th.
The Siberian Chiffchaff was a regular fixture at Auchenharvie Golf Course during the week, while Water Pipits – always a decent Scottish bird – were at Seamill, Ayrshire, and on Great Cumbrae. Another Siberian Chiffchaff was still at Kilconquhar, Fife. Surprisingly, two Swallows were at Tain on 4th.
Northern Isles and Western Isles
The drake Green-winged Teal again put in an appearance on Islay on 9th and both the lingering Ring-necked Duck on Tiree were noted again. White-winged gulls continued to be a fairly rare commodity even in western Scotland, so the Glaucous Gull on Tiree was rather more notable than it might otherwise have been.
In the Outer Hebrides, the long-staying white-morph Snow Goose was still in the Balranald area of North Uist. A drake Green-winged Teal was still around Loch Bee, South Uist, and Loch Tangasdail on Barra retained its Ring-necked Duck.
A second-winter Kumlien's Gull at Birsay, Orkney, on 5th was notable, given the overall paucity of 'wingers'. A drake Surf Scoter was off Quanterness in Wide Firth on 7th. Single Glaucous and Iceland Gulls were also noted in Orkney in the period.
In Shetland, single Tundra Bean Geese were at Fleck and on Whalsay. The juvenile Northern Goshawk, presumably from Scandinavia, remained on Unst, where there were a small number of white-winged gulls – three Glaucous Gulls passed Norwick on 5th and five did the same on 8th. A couple of Siberian Chiffchaffs also remained on the Shetland mainland.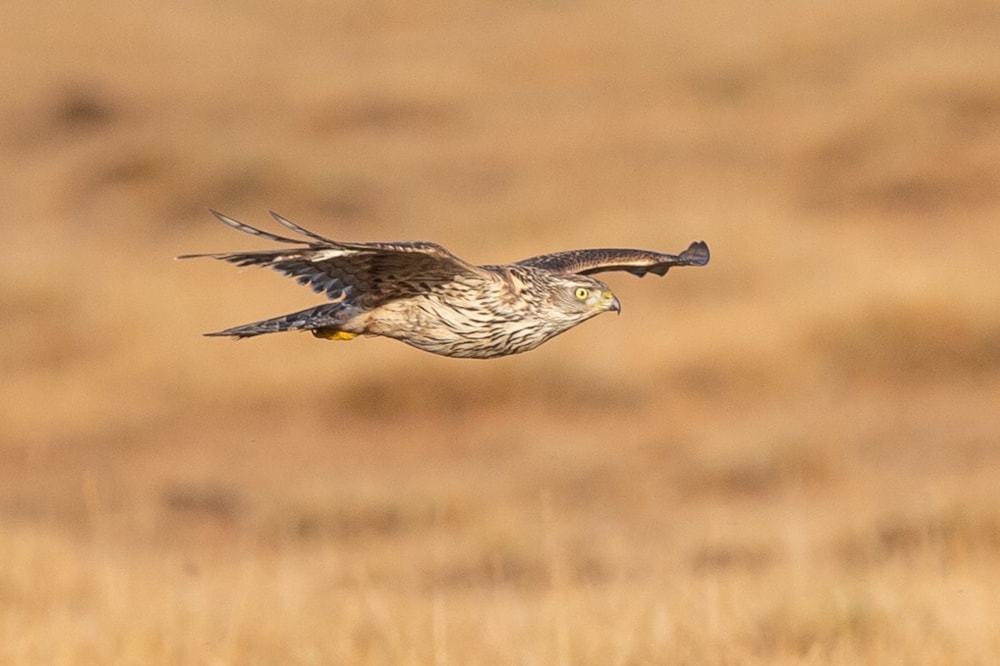 Northern Goshawk, Baltasound, Unst, Shetland (Brydon Thomason).
Northern Ireland
A particularly quiet seven days produced a new drake Ring-necked Duck at Castle Espie WWT, Co Down, an increase to three Smew at Portmore Lough, Co Antrim, a Water Pipit at Portavogie, Co Down, and just a single Iceland Gull (on Rathlin Island). The 14 Waxwings were still in Ballymoney.
Republic of Ireland
Much of a muchness this week, with six and four Ring-necked Duck still in Cos Kerry and Sligo respectively, with an eleventh at Carrowmore Lake, Co Mayo. The Green-winged Teal remained at Blennerville, Co Kerry, with nearby Tralee Bay Wetlands hosting one of four Ring-billed Gulls seen across the country. Killybegs, Co Donegal, was to thank for the only multiple counts of Glaucous and Iceland Gulls, with two apiece. One of the few new finds this week was a late American Golden Plover at Moveen, Co Clare.
A Siberian Chiffchaff was well inland at Lough Ennell, Co Westmeath. A flock of 15 Waxwings was at Letterkenny, Co Donegal, on 6th was the only report of the species.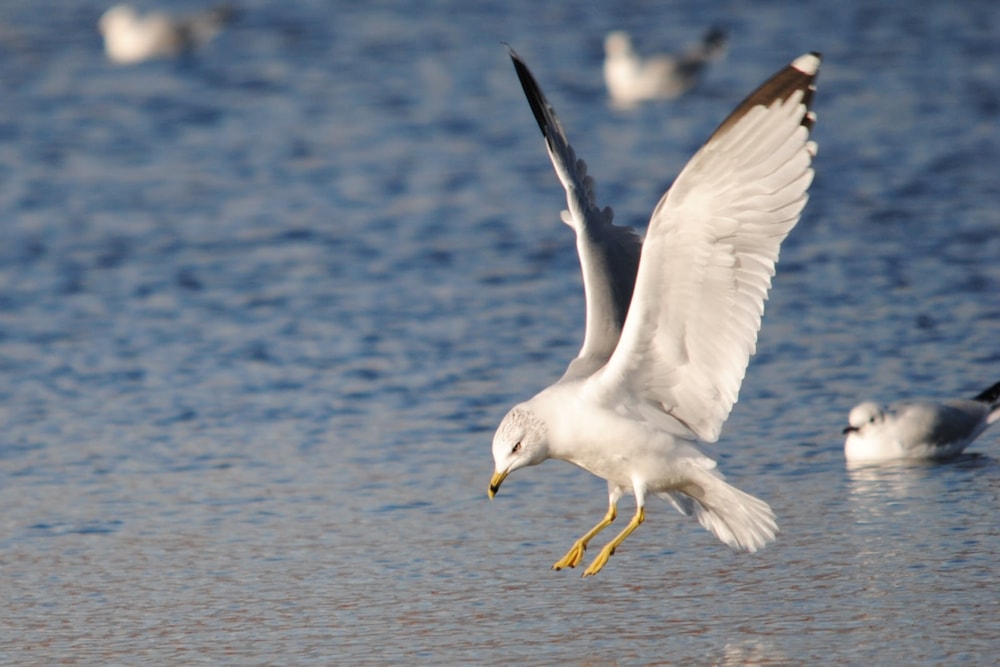 Ring-billed Gull, Tralee, Kerry (Ed Carty).
Western Palearctic
When talking in pure rarity terms, it's hard to look past the male Purple Sunbird at Al-Adan, Kuwait, from 6-9th – this is just the fourth record for the WP, with each of the three previous records (concerning at least five birds) also recorded in the small Arabian nation.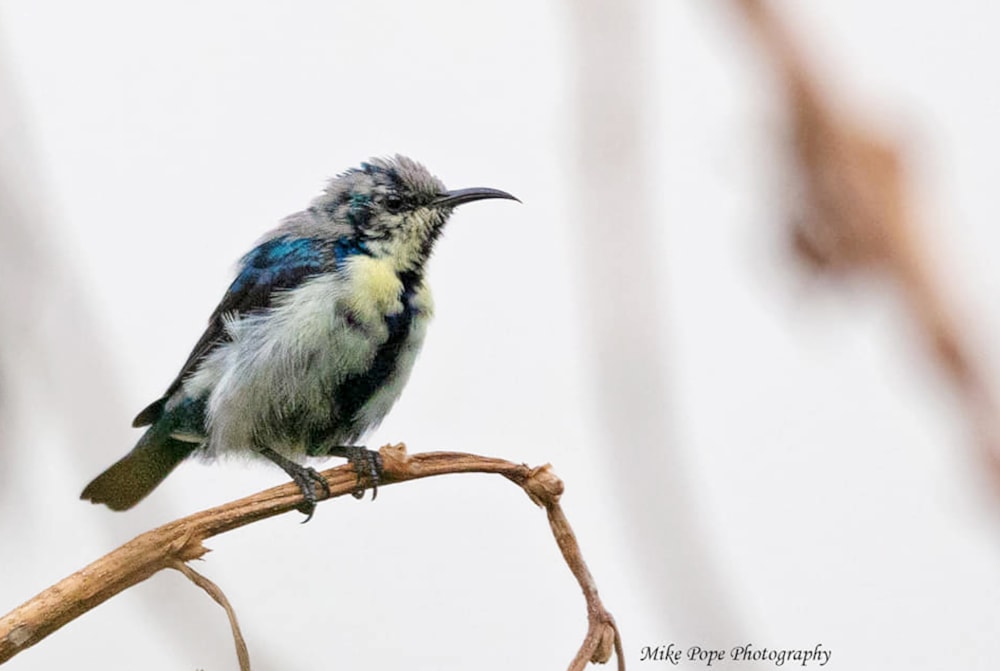 Purple Sunbird, Al-Adan, Kuwait (Mike Pope).
However, it's fair to say that the beautiful images that emerged this week of an adult Verreaux's Eagle west of Shalatein, Egypt, will have been just as gripping for regional listers. Could this near-mythical species be about to offer itself up in the WP for the first time in many years? Time will tell.
In Israel, a smart Basalt Wheatear was on show in the Uvda Valley for much of the week and a Lesser White-fronted Goose was still at Mash'en Reservoir.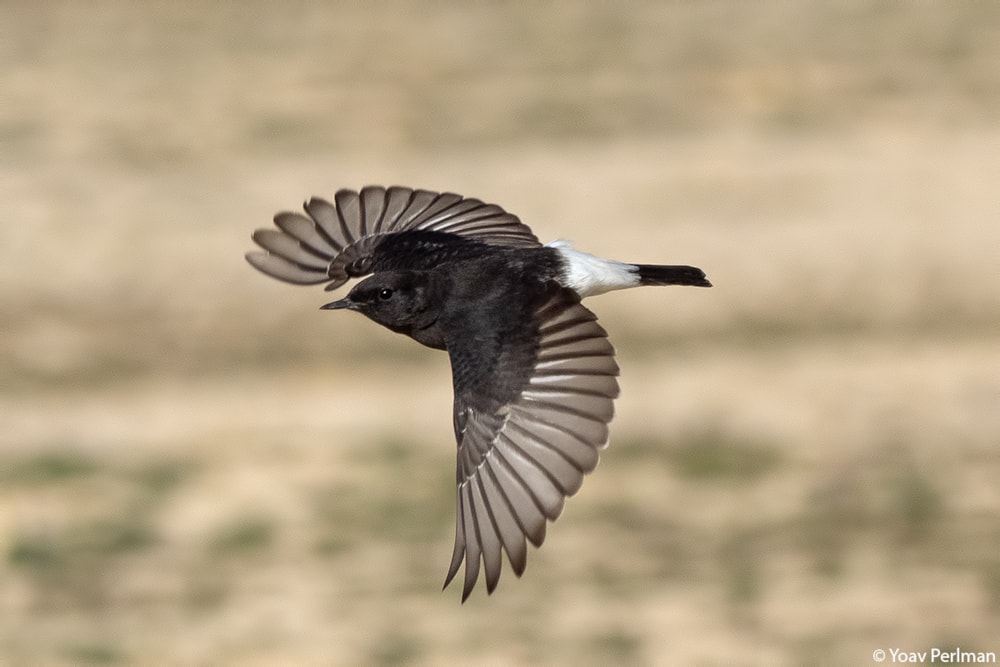 Basalt Wheatear, Uvda Valley, Southern District (Yoav Perlman).
Moving a few thousand miles to the west, the Dwarf Bittern and Eastern Yellow Wagtail continued on Fuerteventura, where there were also major local records of Red Kite and Common Scoter, the Laughing Gull lingered on Gran Canaria and the Hudsonian Whimbrel hung around on Sal, Cape Verde.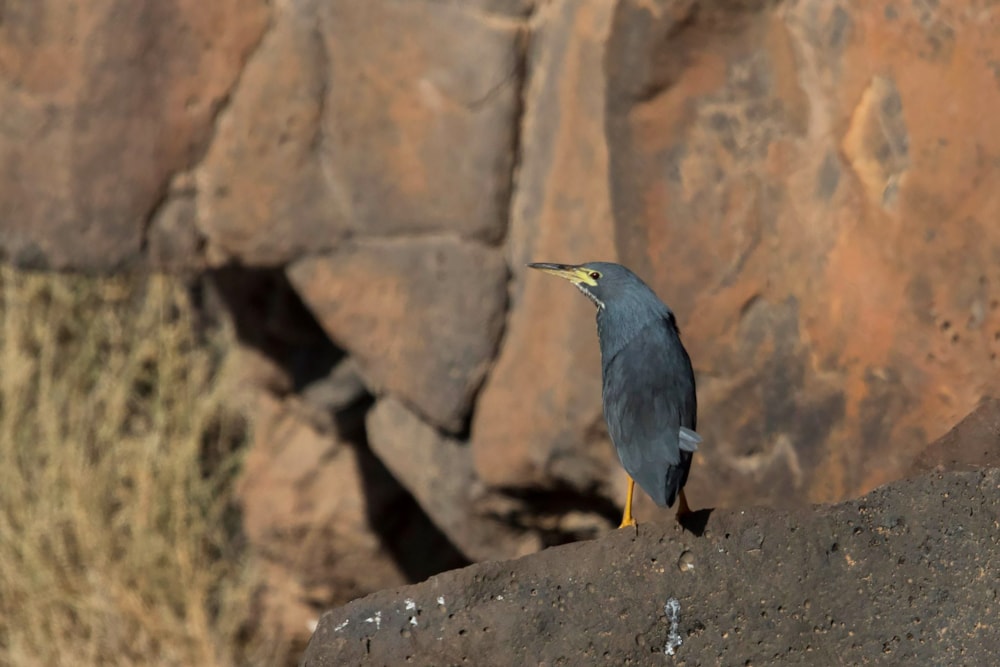 Dwarf Bittern, Llanos Pelados, Fuerteventura (George Gay).
Spain's Brown Shrike was reported regularly not far to the south of A Coruña, while a Sociable Lapwing remained on the Spanish-Portuguese border in Extremadura and, in Portugal itself, an Eastern Yellow Wagtail was identified at Vila Franca de Xira – the site which held multiple birds last winter.
The trio of Great White Pelicans were still in the Camargue, France, this week, as was the single bird in The Netherlands. Sadly, a male Siberian Rubythroat was found dead in Namur, Belgium.
Italy's sixth Brown Booby was photographed on the coast at Voltri, to the west of Genova. Austria's second Oriental Turtle Dove, of the meena subspecies, was at Gramastetten from 6th. In Germany, a Black-winged Kite was well watched at Bröckel, Lower Saxony, all week and the Black Scoter remained off the Baltic coast at Nieby. Further east, the Stejneger's Scoter was back for its third winter in Gdansk Bay, Poland.
Finally, yet another Eastern Yellow Wagtail was discovered in Sweden, along the coast south-east of Trelleborg.

Black-winged Kite, Bröckel, Lower Saxony (Arne Torkler).