Most twitchers were preoccupied this week by a fusty-looking pipit in the south-westernmost reaches of Cornwall. What is potentially – and potentially is probably the key word here – Britain and the Western Palearctic's first Paddyfield Pipit continued its stay in fields near the shop at Sennen.
This bird has been present since at least 24th and has looked somewhat moth eaten ever since it was found. However, it was only on 31st that its apparent identification was resolved, when analysis of sonograms revealed the call to be bang on for Paddyfield. Unfortunately, though, the bird's pitiful plumage state allows for very few visible clues on its identification.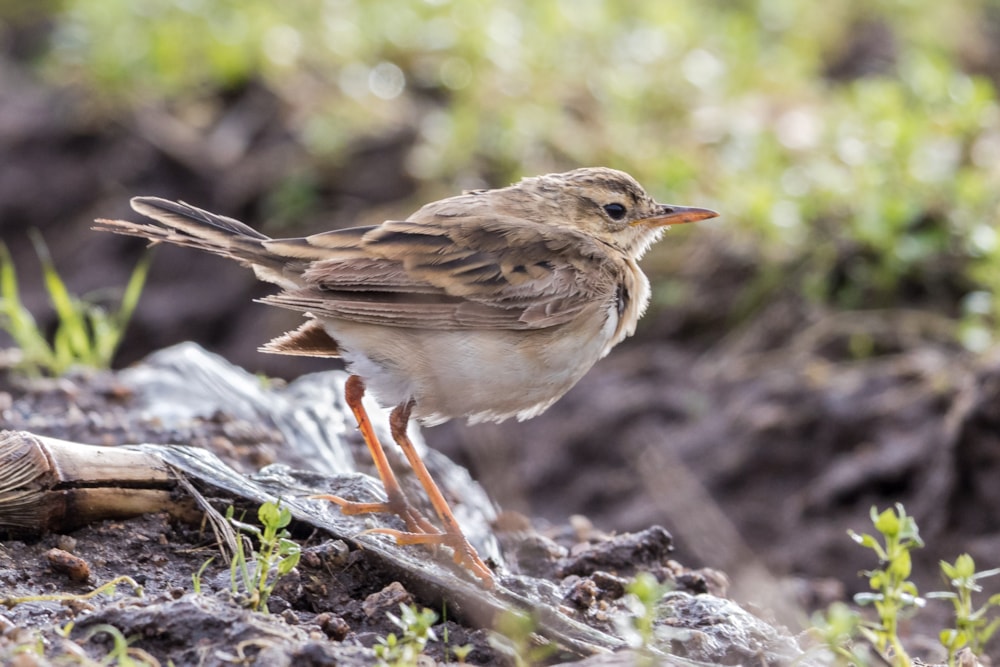 Paddyfield Pipit, Sennen, Cornwall (Ian Bollen).
With the identification established, the next issue to tackle is provenance. At face value, Paddyfield Pipit seems the most unlikely of vagrants, being a largely resident species that only moves short distances. Vagrants have reached the UAE, but this is a mere 700 miles from its breeding range – not 4,000 miles, like Cornwall is. As such, all kinds of conspiracy theories have started to break out: was it caught, illegally imported and deliberately released once not wanted? Did it hitch a ride in the hold of an aircraft? The jury is out but, looking at the state of the poor thing, one suspects there's no major rush to get to Cornwall to see it – and, presumably, it'll still be there (and be looking much nicer!) in a few weeks' time.
Paddyfield Pipit, Sennen, Cornwall (Peter Hines).
Much less controversial (and somewhat slicker looking) was the American Buff-bellied Pipit in the same field as the Paddyfield, although its appearances were somewhat less nailed on – in fact, it was last seen there during the morning of 4th.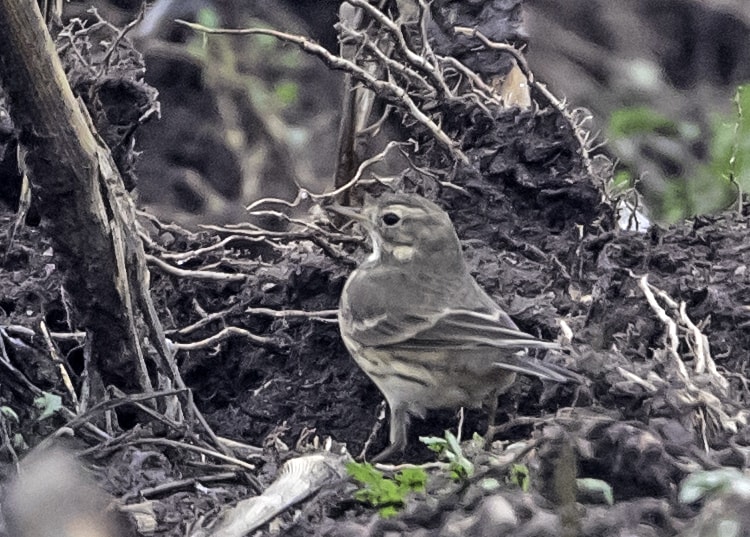 American Buff-bellied Pipit, Sennen, Cornwall (Phil Carter).
Cornwall also scored another of the week's best birds, when a brief Black-faced Bunting was observed near Lizard on 31st. How another mainland example would be celebrated – of course, plenty saw the bird on Bressay in 2016, but a more accessible individual would be vastly popular. Another Siberian bunting – a first-winter male Pine Bunting, or hybrid with Yellowhammer – was trapped at Chamber's Wall, Kent, on 4th. The bird looked good for the former species but, as with some individuals that have been seen (and accepted!) in the past, it showed a faint yellow wash to the fringing of the outer primaries. Isn't it strange how we seem to get so many of these Pine Bunting-like 'hybrids', yet very few more 'obvious' examples that exhibit clear-cut traits of both parent species?
Last week's Steller's Eider made a couple of brief reappearances in Orkney on 30th, firstly at sea north of Kirkwall mid-morning and then back at Loch of Swartmill, Westray, late afternoon – although it was flushed by playing children and was lost heading for Papa Westray among a horde of Eurasian Wigeon. It is yet to be seen again, but there is surely a good chance it's still around [update 6/11: eider relocated on Westray late morning].
Meanwhile, off the Lothian coastline, the American White-winged Scoter made appearances off Musselburgh on 31st and 2nd, with a Surf Scoter also still there. Another Surf Scoter was in the Sound of Taransay, while a drake King Eider was reported at Aberlady Bay, Lothian, on 30th. The Black Scoter was still off the Northumberland coast on 2nd.
Two more Blue-winged Teal were found in Clyde – a pair near Milnagavie on 27th, with one still there on 2nd. Has someone been releasing the species in the area? Both American Wigeon and Green-winged Teal numbered five. Just the four Ring-necked Duck were logged, while three drake Lesser Scaup included a new bird at Helston Boating Lake, Cornwall, on 4th, which was joined by convincing hybrid on 5th – perhaps its offspring? In addition, drakes were still at Chew Valley Lake and in Co Mayo. The released Ferruginous Duck was again at Llangorse Lake, Powys, on 30th.

Lesser Scaup, Helston, Cornwall (Martin Webb).
The blue-morph Snow Goose was again at Loch of Skene, Aberdeenshire, and a white morph lingered in Ayrshire. Black Brant were in Dorset, Norfolk and East Yorkshire. A Todd's Canada Goose was found at Whitrigg, Cumbria, on 31st, with others still on Tiree and Islay.
Lingering birds from the recent flush of Little Auks were still around in the early part of the week, but then another push arrived on the back of the brisk north-easterlies on 5th. Counts didn't quite make three figures, but 89 passed Whitburn, Durham, as well as 40 past Howick, Northumberland, and 26 past Flamborough Head, East Yorks. Good numbers of Pomarine Skuas were also associated with the conditions – 39 passed Sheringham, Norfolk, on 5th, with numerous other counts of up to 25 made between Durham and Norfolk.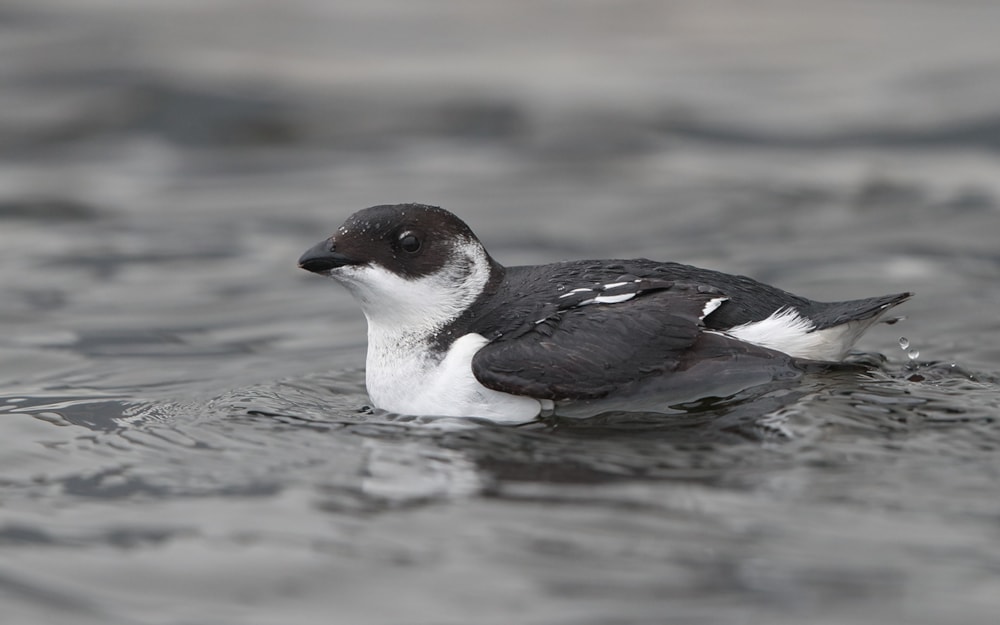 Little Auk, Båstad, Skåne län (Helge Sorensen).
Late autumn often produces a push of Glossy Ibises, and there were hints that birds were on the move this week: one was at Sker Point, Glamorgan, on 30-31st, singles were found at Exminster Marshes, Devon, and Berkeley, Glos, on 2nd, with another at Pilmore, Co Cork, on 3rd. A Purple Heron was reported flying from the river bank at Snape, Suffolk, on 4th. More eye-opening was a Little Bittern at Titchwell RSPB, Norfolk, on 30th.
The lingering Short-billed Dowitcher at Dundalk, Co Louth, was the headline shorebird – it was still there on 5th. Three continuing Long-billed Dowitchers were in Devon, Northumberland and on Tiree.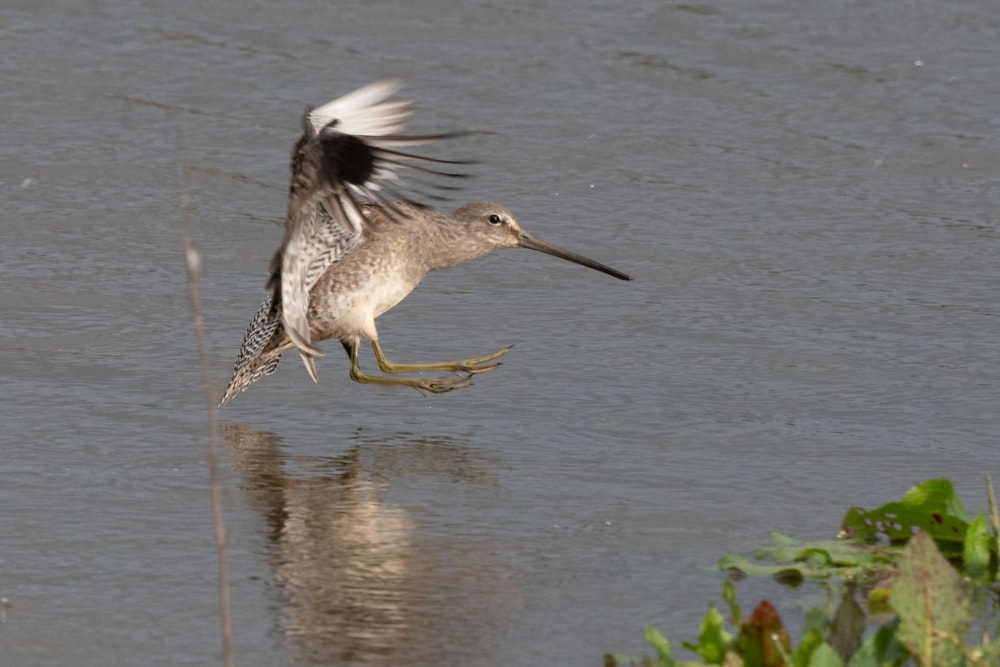 Long-billed Dowitcher, Bowling Green Marsh RSPB, Devon (Rob Williams).
The only Lesser Yellowlegs was the lingering youngster on South Uist. At least seven American Golden Plovers were notched up, including a new juvenile at Littleport, Cambs, on 3rd. One of the week's more popular birds was the showy Kentish Plover on the beach at Redcar, Cleveland, from 1st.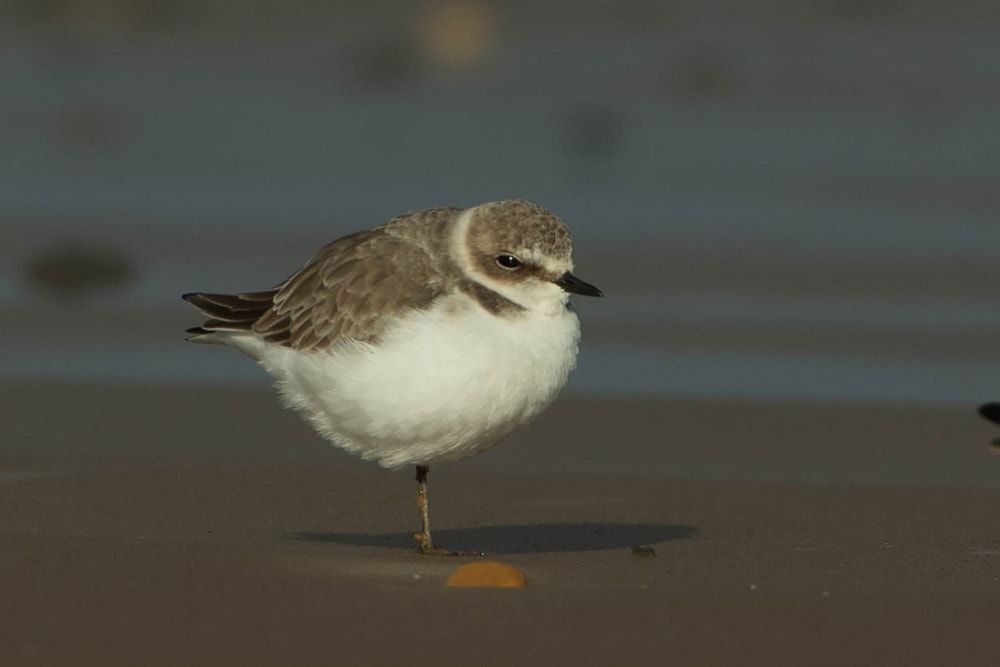 Kentish Plover, Redcar, Cleveland (Martyn Sidwell).
Seventeen White-rumped Sandpipers remained at large, with totals of six at Myroe Levels and three at Lough Beg (both Co Derry) being the largest concentrations. Others were in Cos Mayo, Kerry and Antrim, on South Uist (three) and in both Lancashire and Cheshire – the latter involving a bird at Pickerings Pasture on 1st. The notable exception was the late Baird's Sandpiper on the beach at Ballinskelligs, Co Kerry, from 3rd. A Pectoral Sandpiper was on The Range, South Uist, on 30th.

White-rumped Sandpipers, Myroe Levels, Londonderry (Ian Dickey).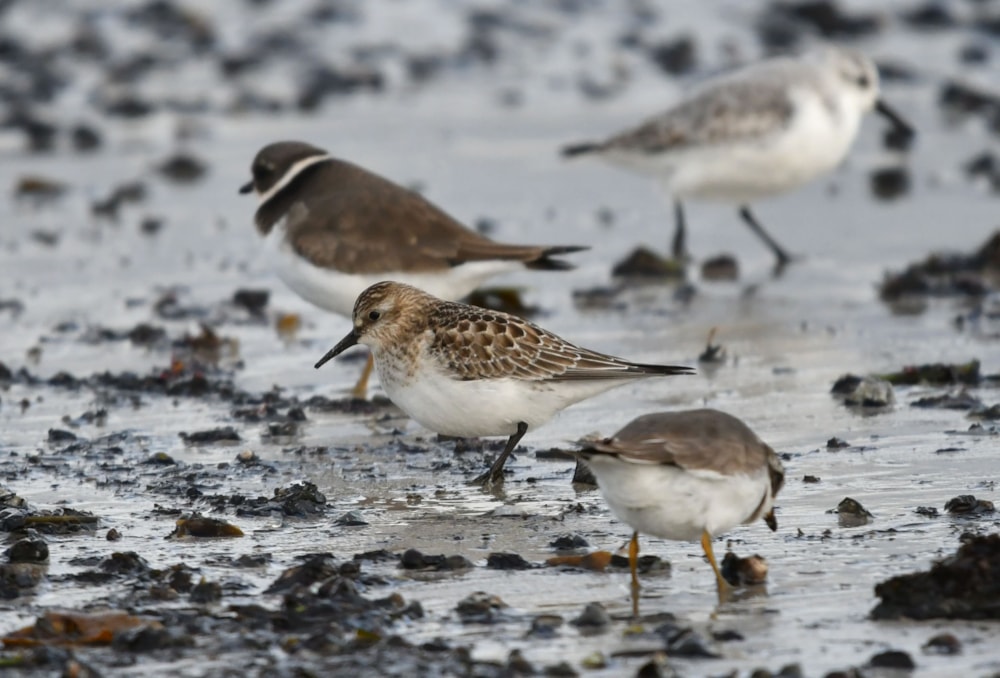 Baird's Sandpiper, Ballinskelligs, Kerry (Richard Mills).
The early push of white-winged gulls included around 25 Glaucous and 20 Iceland Gulls – not ground-breaking numbers, but welcome after a couple of lean winters. Juvenile Icelands had, for example, reached Cos Cork and Waterford by the end of the week. The only Ring-billed Gulls were adults at Cork Lough on 3rd and Blackrock, Co Louth, on 5th. Nearly 30 sites registered Caspian Gull, with the stand-out record a first-winter at Hayle Estuary, Cornwall, on 2nd.
The Greater Short-toed Lark was still on Tory Island, Co Donegal, on 30th. No fewer than five Hoopoes were seen, including a bird as far north as Ullapool, Highland, on 4th and another lingering between Shireoaks, Notts, and Woodsetts, South Yorkshire, on 31-1st, as well as birds in Devon, Dorset and Norfolk. A Wryneck remained at Portland, Dorset, to 3rd, with another at Slapton Ley, Devon, on 5th.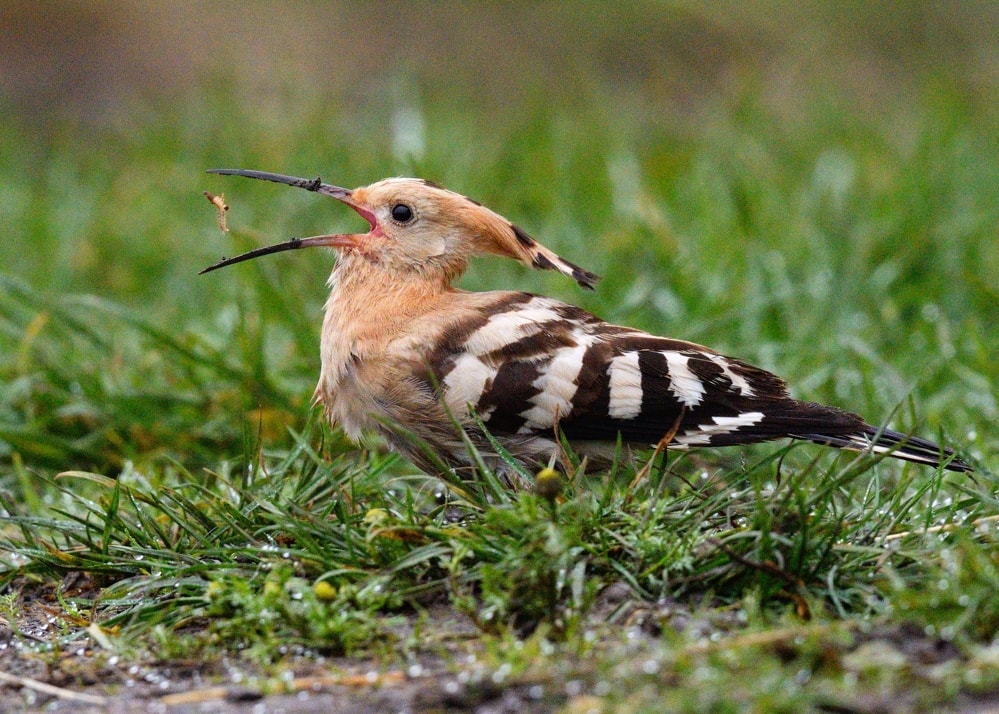 Hoopoe, Woodsetts, South Yorkshire (Tom Hines).
A Red-throated Pipit was again on St Mary's, Scilly, on 1st, with an Olive-backed Pipit on the Isle of May, Fife, on 5th. Some 15 Richard's Pipits were all south of the Scottish border, with most northerly records involving singles on the Isle of Man and in Northumberland. Two were at Slimbridge WWT, Glos, on 3rd, with notable records from Wilstone Reservoir, Herts, and Rainham Marshes, London, that day.
Content continues after advertisements
After being found on 30th, a Bluethroat went on to spend all week at Spurn. A total of seven Red-breasted Flycatchers were noted, including a pristine male on Bardsey Island, Gwynedd, on 2nd. Meanwhile, the Rosy Starling in Bedlington, Northumberland, was last witnessed on 30th.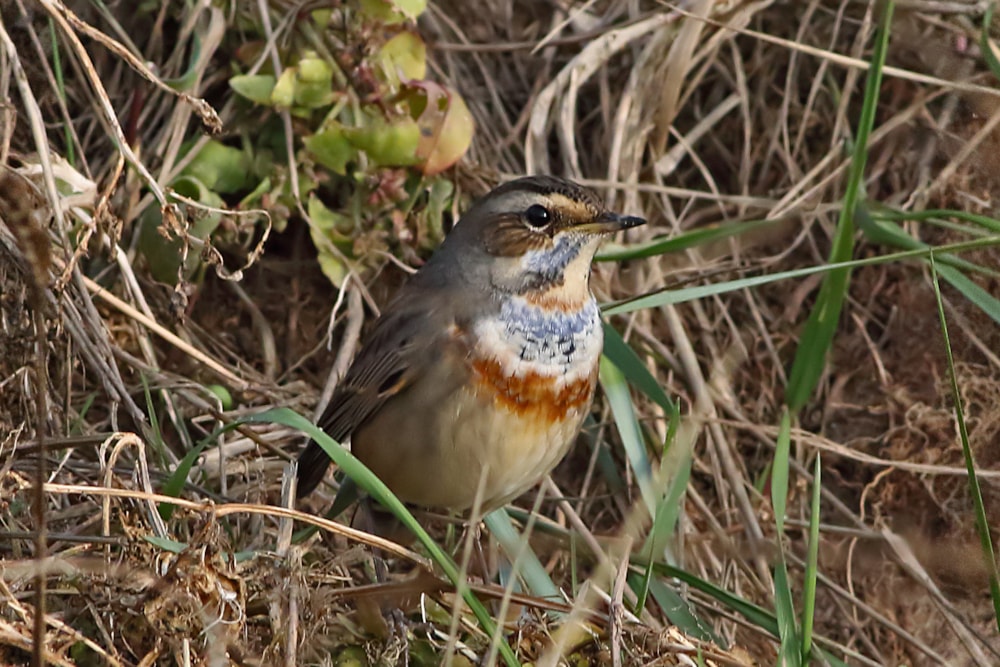 Bluethroat, Spurn YWT, East Yorkshire (John Hewitt).
Late October and November is a great time for rare wheatears, and so it proved this week. Yet another Isabelline Wheatear – the eighth of the autumn – was found at Kilnsea, East Yorkshire, on 30th. A female Pied Wheatear was a terrific inland find at Clifton, Worcs, on 3rd – although it had moved on by the following morning, much to the chagrin of local birders. Some say that the first Desert Wheatear signals the end of the autumn, and if that's the case then 30th marked the start of winter 2019-20 for a beautiful male was found on the shore at South Swale, Kent. Alas it proved a one-day wonder.

Isabelline Wheatear, Kilnsea, East Yorkshire (John Hewitt).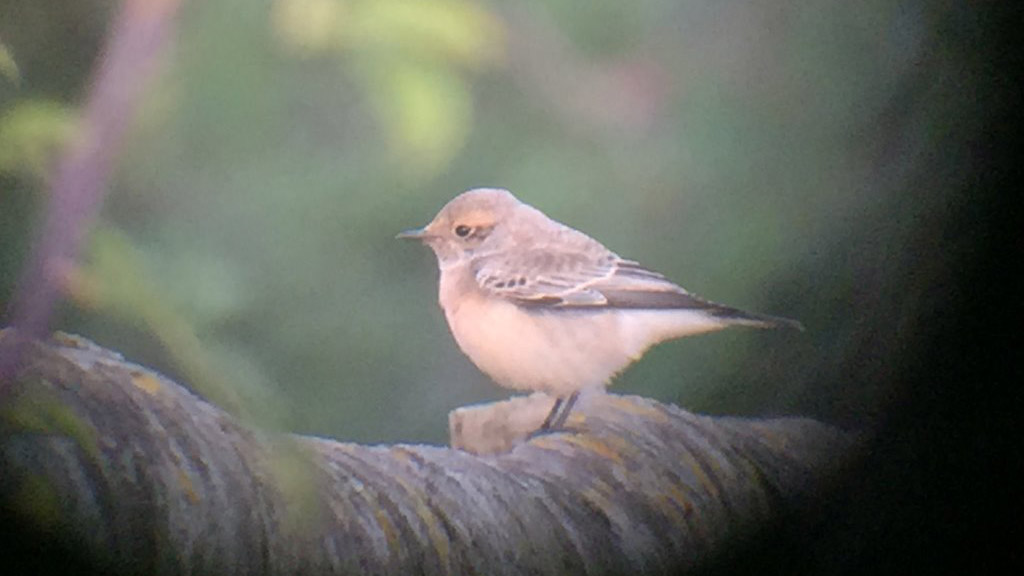 Pied Wheatear, Clifton, Worcestershire (John Overfield).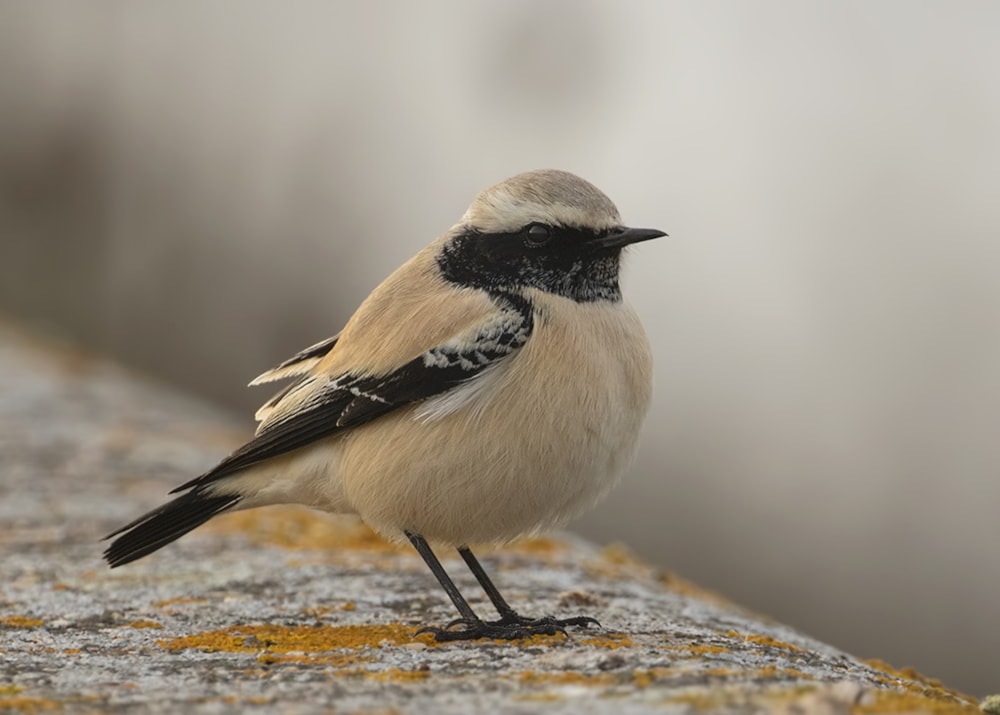 Desert Wheatear, Seasalter, Kent (Steven Ashton).
Despite the Desert Wheatear and its end-of-season connotations, there were plenty of good late-autumn finds in the days after its appearance. The first Hume's Leaf Warbler was extracted from a mistnet on Cape Clear, Co Cork, on 4th and was re-trapped there the following day, with a second appearing at Tarbat Ness, Highland, on 5th – where there was also an Olive-backed Pipit, making it two firsts for Highland in a day. A third Hume's Leaf followed at Scarborough on 5th.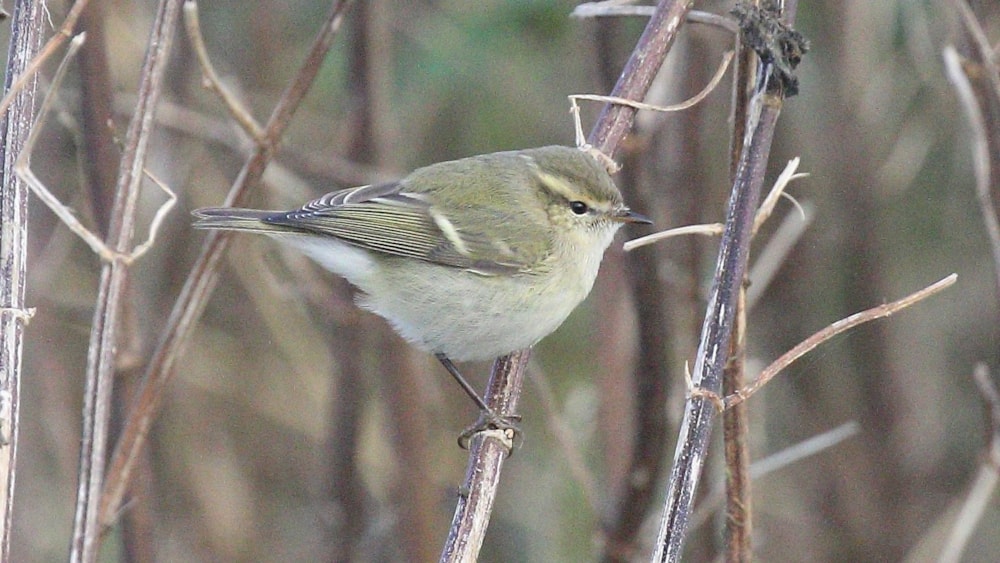 Hume's Leaf Warbler, Tarbat Ness, Highland (Peter Stronach).
A very respectable total of 14 Pallas's Warblers was amassed, with birds well scattered between Shetland and Cornwall, with the likes of Norfolk and East Yorkshire prospering. Strangely, though, there were no Dusky Warblers – and just a single Radde's Warbler at Flamborough Head, East Yorkshire, on 3-4th. The only Barred Warbler was at Gibraltar Point, Lincs, on 4th.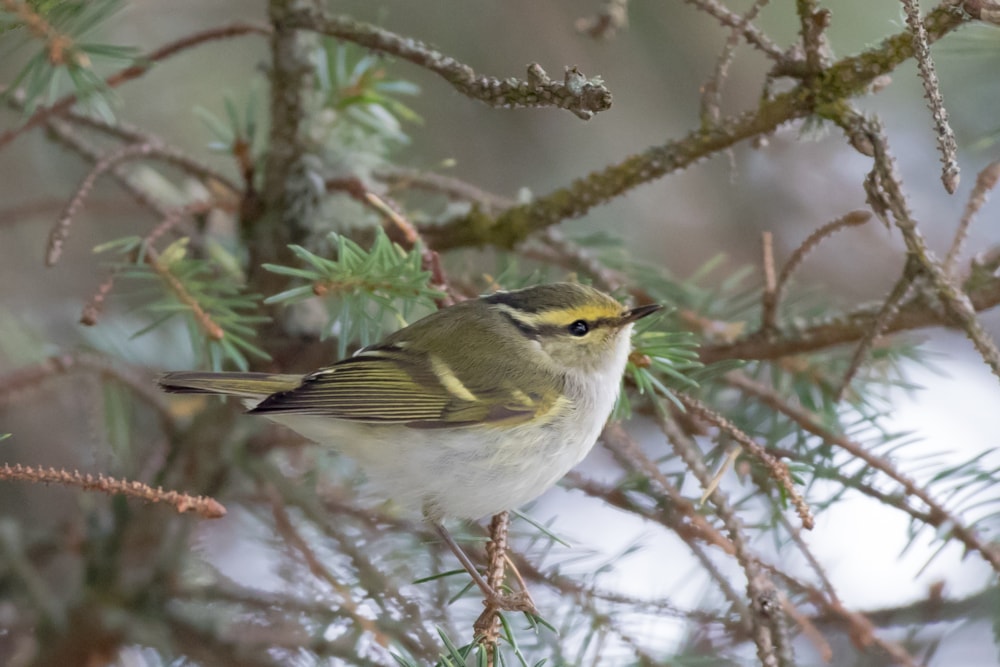 Pallas's Warbler, Hoswick, Mainland, Shetland (Mick Kemp).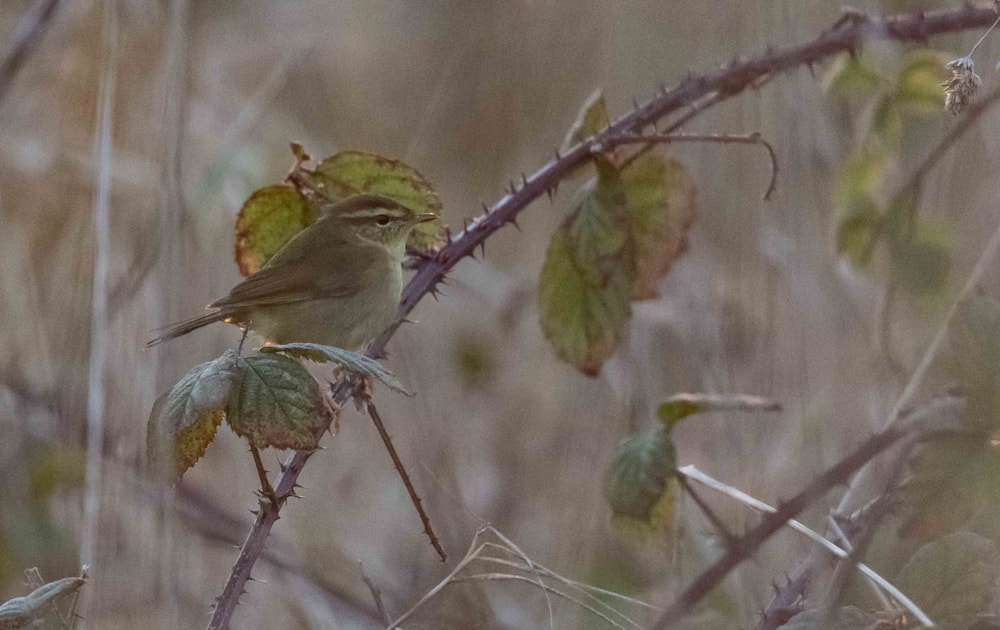 Radde's Warbler, Flamborough Head, East Yorkshire (Paul Reed).
The autumn's fourth Brown Shrike – a first-winter – was on Barra on 3-4th, although only identified conclusively on its second day. In Lincolnshire, the Red-backed Shrike was last noted at Saltfleetby NNR on 30th. A minimum of 13 Great Grey Shrikes were spread between Angus and Kent, the latter involving last week's bird from Fan Bay moving along the coast to Bockhill Farm. A late Woodchat Shrike was on private land near Seaton Pits, Kent, to 30th.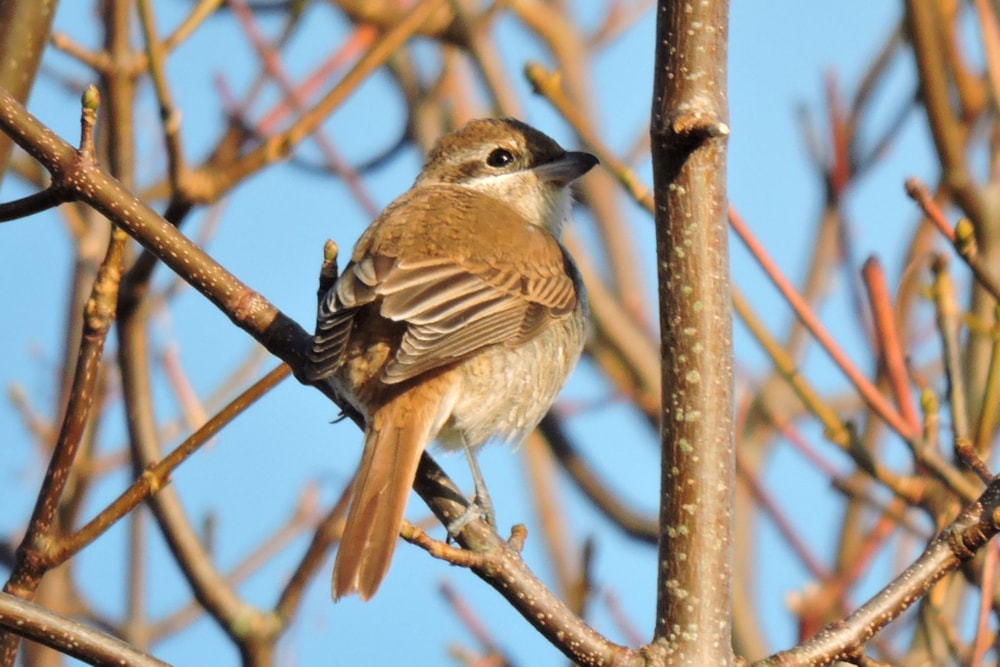 Brown Shrike, North Bay, Barra, Outer Hebrides (Bruce Taylor).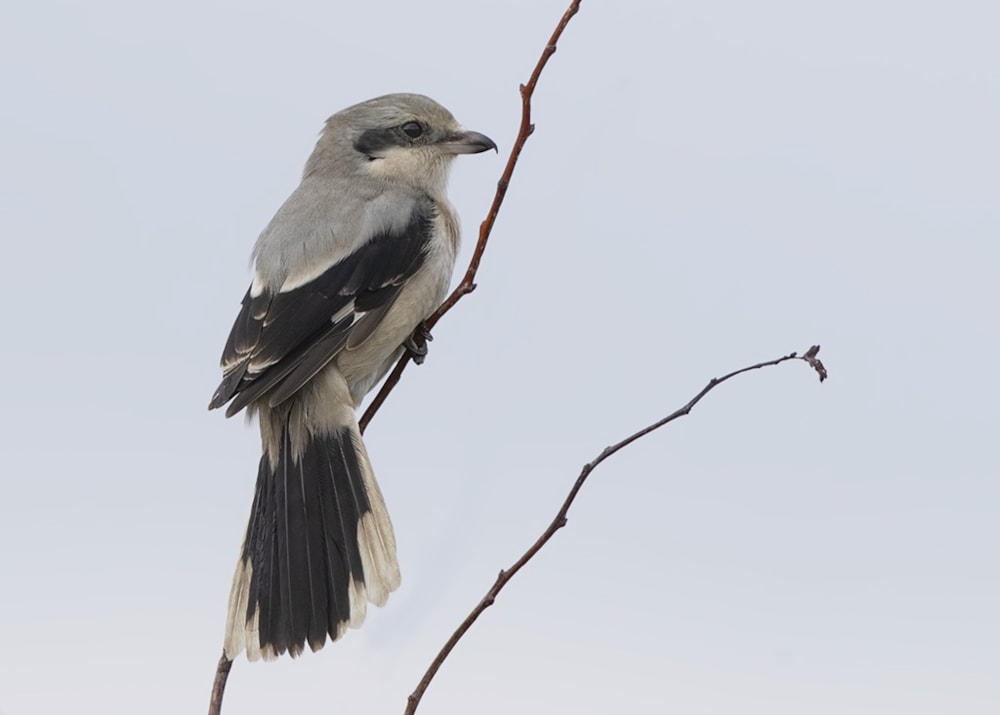 Great Grey Shrike, St Margaret's at Cliffe, Kent (Steven Ashton).
Northern Long-tailed Tits are always guaranteed to put a smile on birders' faces, and an outstanding flock of nine certainly did that at Bawdsey, Suffolk, on 31st. Meanwhile, the singleton was again at Upton Marshes, Norfolk, on 3rd. Surely more are out there to be found.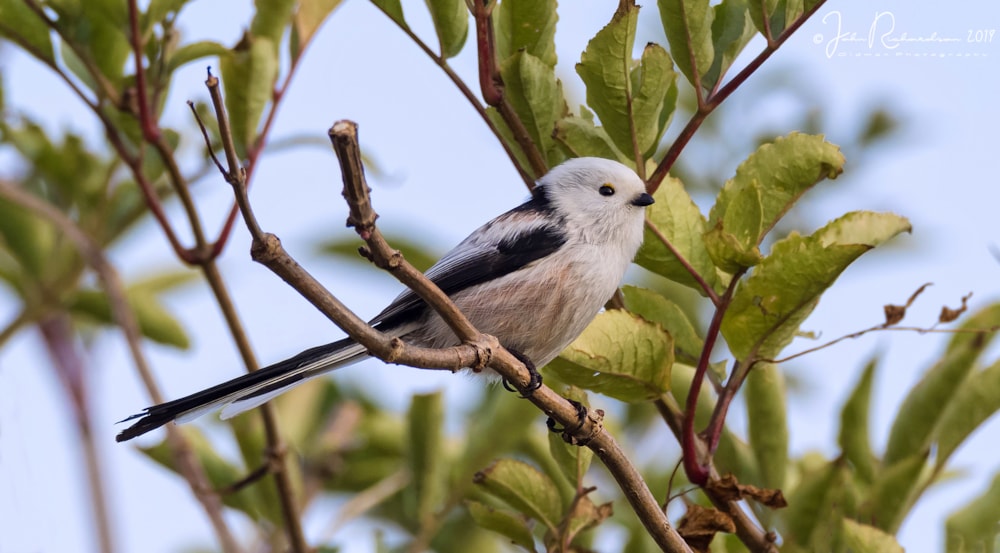 Northern Long-tailed Tit, Bawdsey, Suffolk (John Richardson).
Up to seven Two-barred Crossbills at Langais, North Uist, were a reminder that local birders should be checking their local pinewoods for the species in the coming weeks – surely there are plenty to be found after the summer's monumental influx?
A European Serin was at Spurn Point, East Yorkshire, on 1st and was followed by flyovers at Bockhill Farm, Kent, on 3rd and Portland Bill, Dorset, on 5th. A lingering Little Bunting was on St Mary's, Scilly, from 31-2nd, with another at Pendeen, Cornwall, on 1st. A late Ortolan Bunting was a bit of a surprise at Soar, Devon, on 3rd.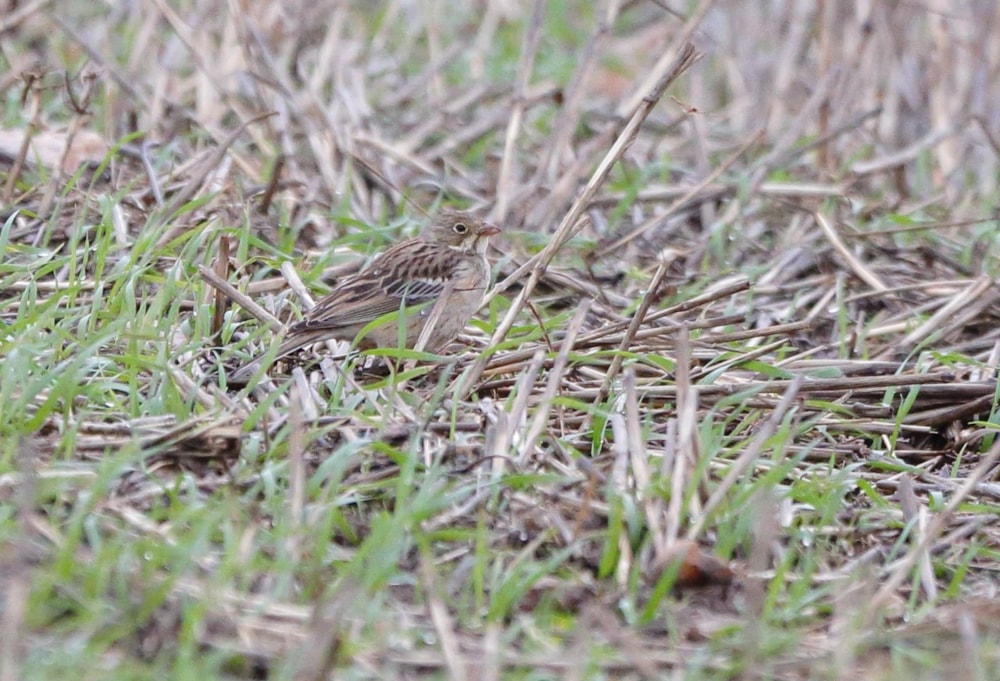 Ortolan Bunting, Soar, Devon (Alan Doidge).
Western Palearctic
A Wallcreeper migrating north over De Panne, on the Belgian coast, on 31st gives renewed hope that another British bird isn't too remote a prospect. It's worth a shout-out to its charismatic Dutch name, Rotskruiper, while we're at it. On the subject of curious names, a Long-legged Buzzard flew over the Belgian town of Nazareth on 31st. The White-throated Sparrow was still at Maasvlakte, The Netherlands, on 31st, while a Crested Lark in the centre of Apeldoorn is very much a major bird in the country these days, following the extirpation of its breeding population. Elsewhere in the nation, a Black-winged Kite proved twitchable at Overlangel.
The major influx of Pine Grosbeaks continues across Scandinavia, with a new record day count for Denmark of 85 made at Nordmanshage on 30th, only to be broken the following day with 105. In a similar vein, the 152 north-east over Jomfruland, Norway, on 5th was a new day record for the county of Telemark (on the southern Norwegian coast). Big numbers are evidently still on the move.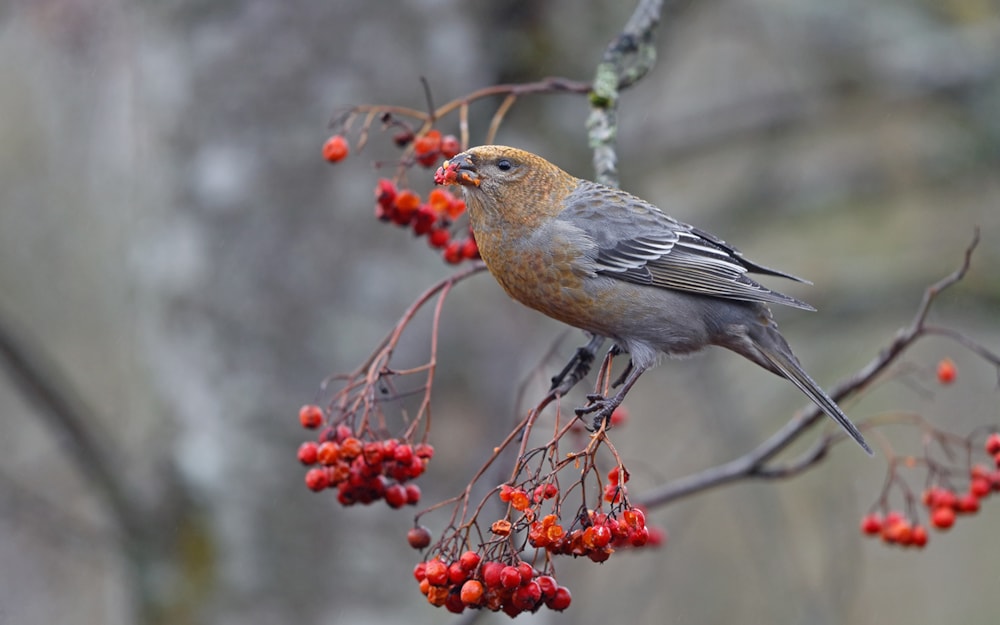 Pine Grosbeak, Båstad, Skåne län (Helge Sorensen).
An Azure Tit in northern Sweden at Kuttainen from 4th is perhaps a little out the way to tempt WP birders northwards. The municipality of Hå in Rogaland, Norway, scored with both Blyth's Pipit and Eastern Yellow Wagtail on 5th, while another of the latter species lingered near Haverdal, Sweden.
In north-west Spain, the American Herring Gull returned to Muxia, Galicia, while at least one Brown Booby was still touring the nearby coastline. A Sociable Lapwing was in Extremadura on 1st, with another of that species at Estavayer, Switzerland, on 5th.
A Mediterranean Gull as far west as Corvo, Azores, on 30th highlights how it may not be long now before the species reaches North America. A White-winged Tern made it to São Miguel, where at least one resident Pied-billed Grebe remained on offer. In the Canary Islands, the Dwarf Bittern was still on Fuerteventura and the Laughing Gull still on Gran Canaria.
Kuwaiti news included a Taiga Flycatcher at Al-Abraq on 31st and the returning Lesser Flamingo at Sulaibikhat Bay, plus an Indian Roller back at Sulabiya Pivot Fields.