In the period of flux as September rolls into October and the autumn's potential to deliver just about anything intensifies, British and Irish birding comes into its own and this week has certainly been high-octane.
Opening this week was a rarity with a massive wow factor, despite being the 14th individual to turn up in these islands this century; a dedicated patch-watcher's rounds at Ryhope, Co Durham, became a little surreal when his binoculars fortuitously landed on a roosting Eurasian Scops Owl (more here). Despite his own incredulity, news was released and the owl was enjoyed by an orderly crowd to the week's end, although this particular needle did get completely lost in the haystack on three days. As unexpected as the bird was, we were perhaps due a twitchable individual, considering the mismatch between the strong run of recent records and the fact that very few birders have Scops ticked off later than 2007, when the famous bird at Thrupp, Oxon, returned for a second summer.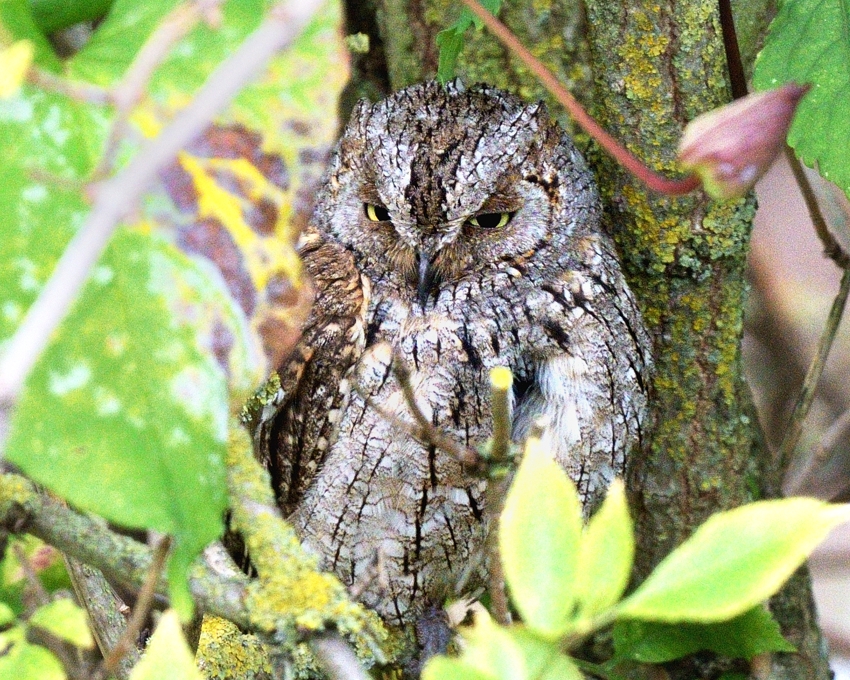 Eurasian Scops Owl, Ryhope, Co Durham (Tom Hines)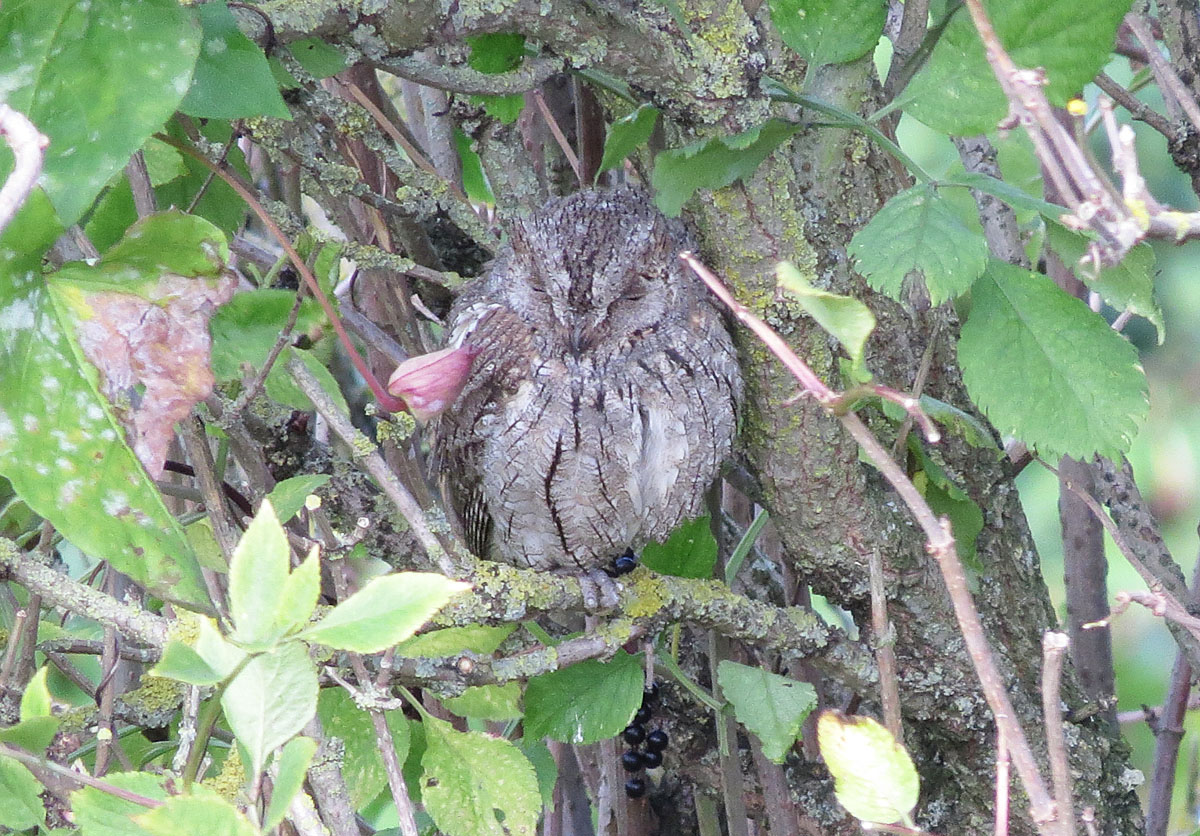 Eurasian Scops Owl, Ryhope, Co Durham (Gary Smith)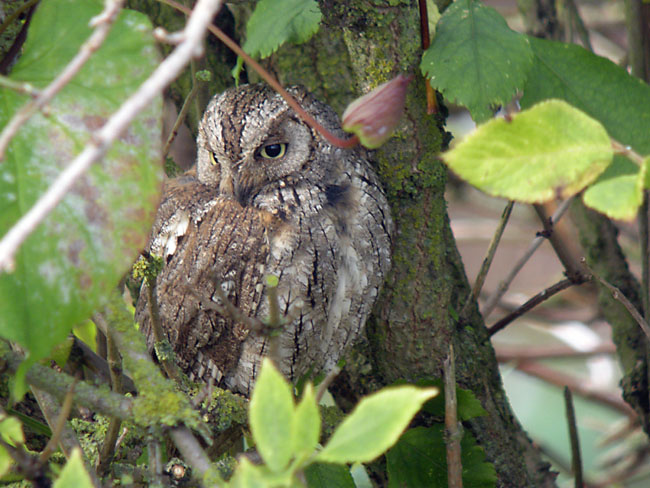 Eurasian Scops Owl, Ryhope, Co Durham (Dave Hunton)
With teams of birders now firmly stationed on both the Isles of Scilly and Shetland, this week has seen the revival of the cordial contest between the two archipelagos to rack up the most impressive suite of rarities. It has been great to see the Scilly beast reanimate, first with a Rose-breasted Grosbeak on St Agnes from 29-1st which was enough to tempt a few extra birders from the mainland, then an American Cliff Swallow on Tresco from 2-3rd, moving to St Mary's mid-afternoon on its second day. Just a year after Scilly's previous record, this is outstanding in equal measure to the arrival of a juvenile Cedar Waxwing on St Agnes on 3rd, the other Scilly record, among eight previous British and Irish occurrences, being on the books for just 2015! The Red-eyed Vireo which graced The Parsonage on 'Aggy' from 30-1st might have started to feel outdone. Palearctic influence reached Scilly in the form of an Isabelline Wheatear on the airfield on St Mary's from 29-3rd and three lingering European Bee-eaters on Tresco all week.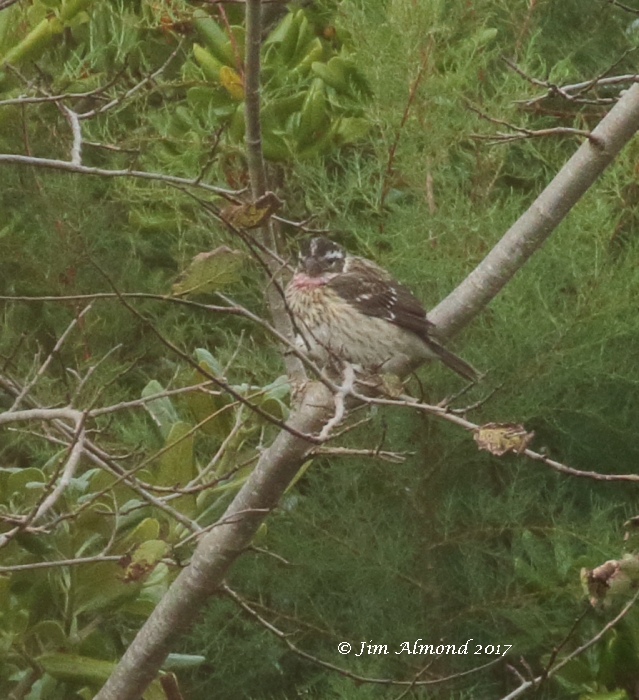 Rose-breasted Grosbeak, St Agnes, Scilly (Jim Almond)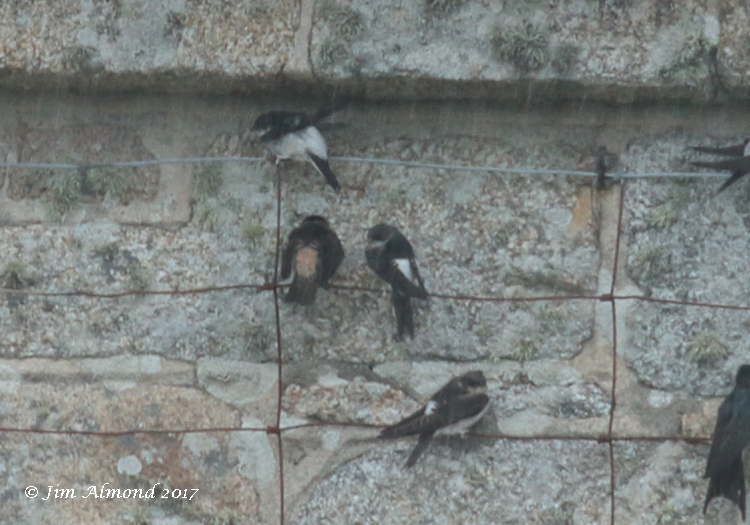 American Cliff Swallow, St Mary's, Scilly (Jim Almond)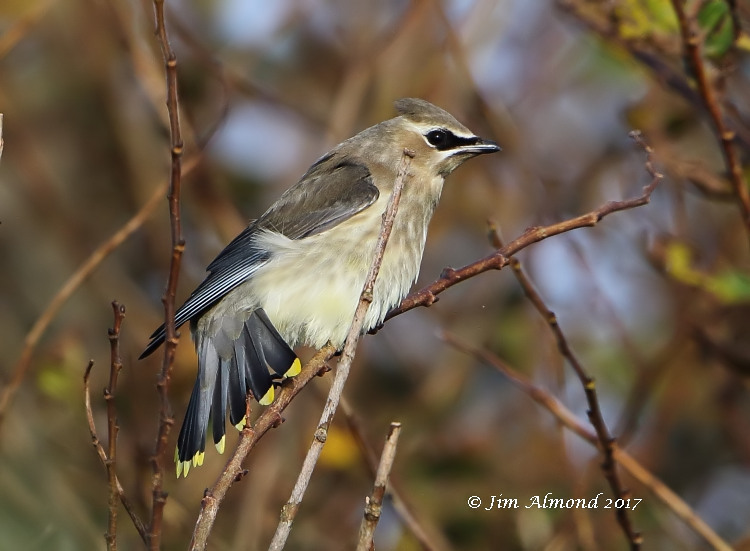 Cedar Waxwing, St Agnes, Scilly (Jim Almond)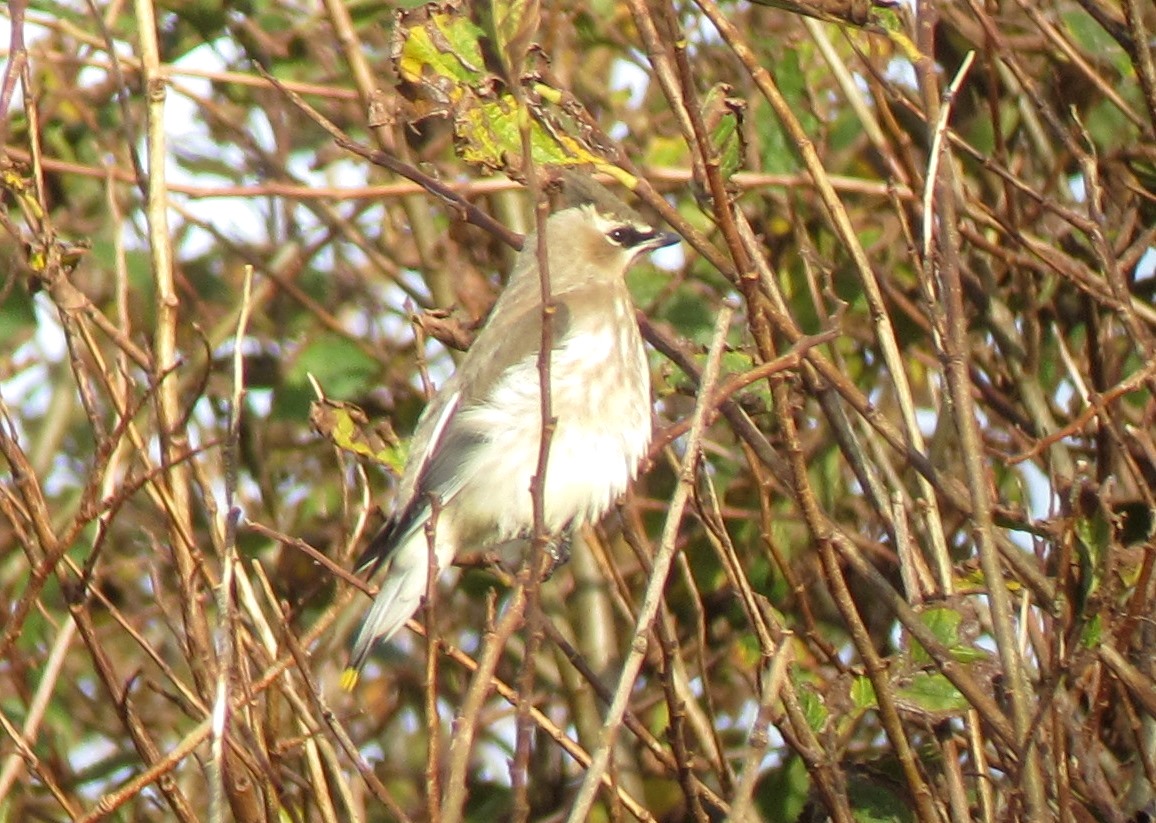 Cedar Waxwing, St Agnes, Scilly (Robin Mawer)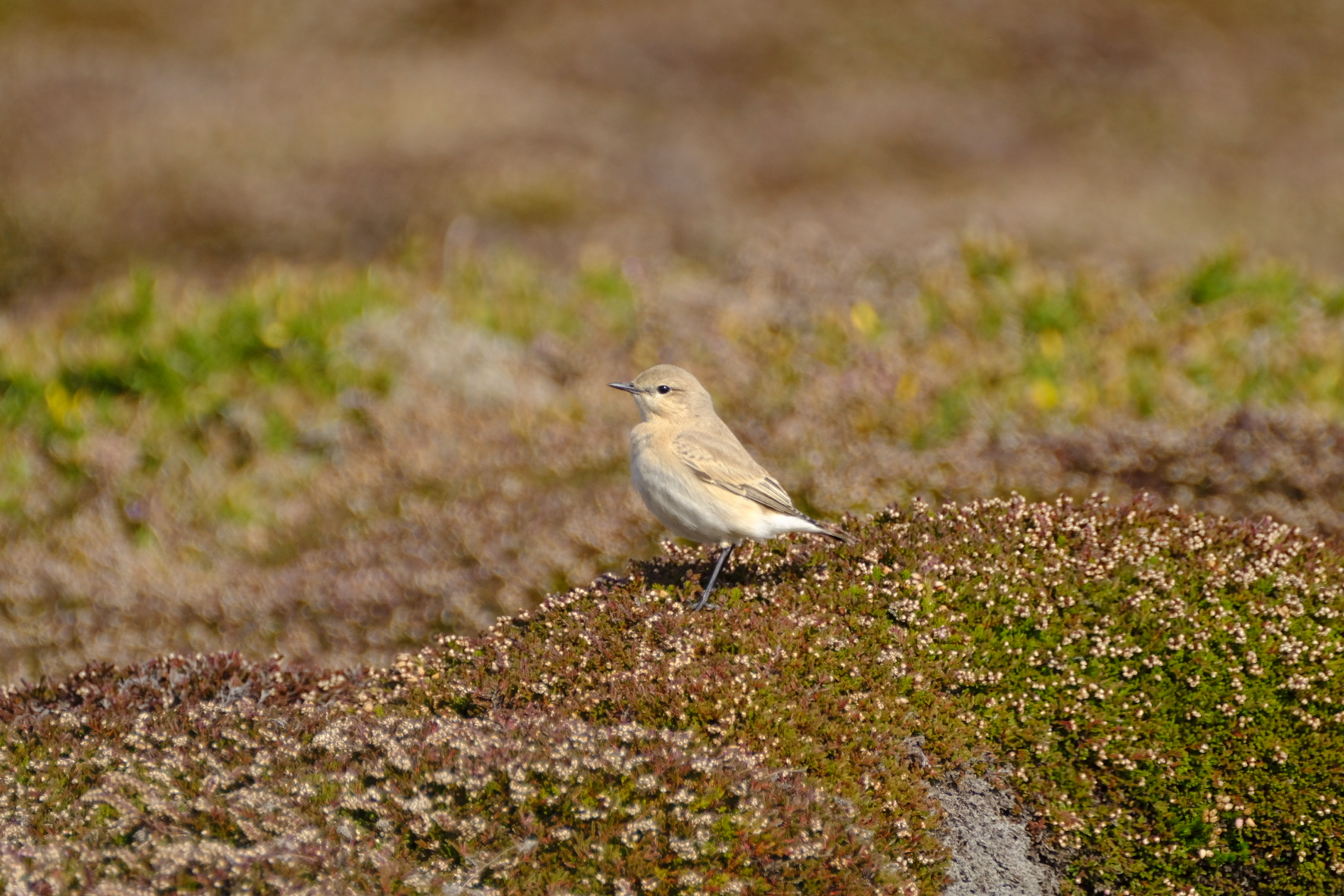 Isabelline Wheatear, St Mary's, Scilly (Phillip Sharp)
Mizen Head, Co Cork, started 3rd off in enough style with a Red-eyed Vireo in the morning. The bird going to ground in the afternoon was a disappointment for visiting birders until nothing short of a Scarlet Tanager popped up late in the day! The bird will represent the fifth Irish record, with three of the previous birds also turning up in Co Cork.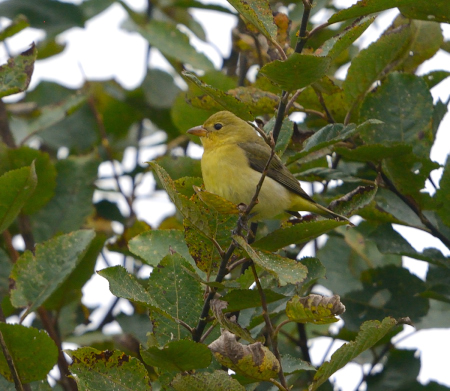 Scarlet Tanager, Mizen Head, Co Cork (Gerard Murray)
Shetland will forever be stiff competition and answered back with some mouth-watering rarities over this review period. Fetlar's best result was an Upland Sandpiper on 30th. Birds on Mainland Shetland included a Pallas's Grasshopper Warbler skulking by the Burn of Collafirth on 1st. Foula turned up a fairly early Pechora Pipit on 27th and up to three Isabelline Shrikes, starting with one on 29th, doubling the next day and looking like a trio by 1St; two remained on 3rd. An Eastern Black Redstart was reported at Dale of Walls, Shetland, on 30th.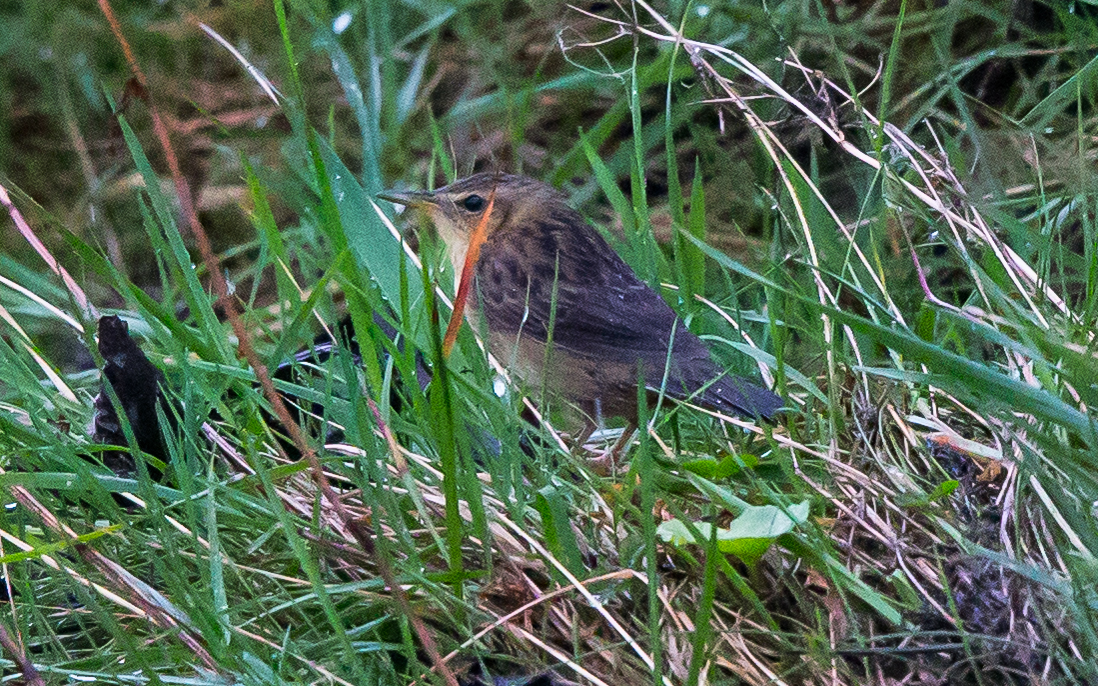 Pallas's Grasshopper Warbler, Collafirth, Northmavine, Mainland, Shetland (Peter Garrity)
On 28th, news was released late in the day that a Sykes's Warbler had been discovered just east of Midtown in Skirza, Highland, on 26th and was still present. Sadly, this potentially popular bird had cleared out by the next morning. However, anyone wishing to see its sister species, Booted Warbler, had their best chance at Rhossili, Glamorgan, where a relatively accommodating individual resided from 29-30th. Another turned up on Foula on 1st. In Borders, the first mainland Paddyfield Warbler of the year roamed the lighthouse garden at St Abb's Head on 28th.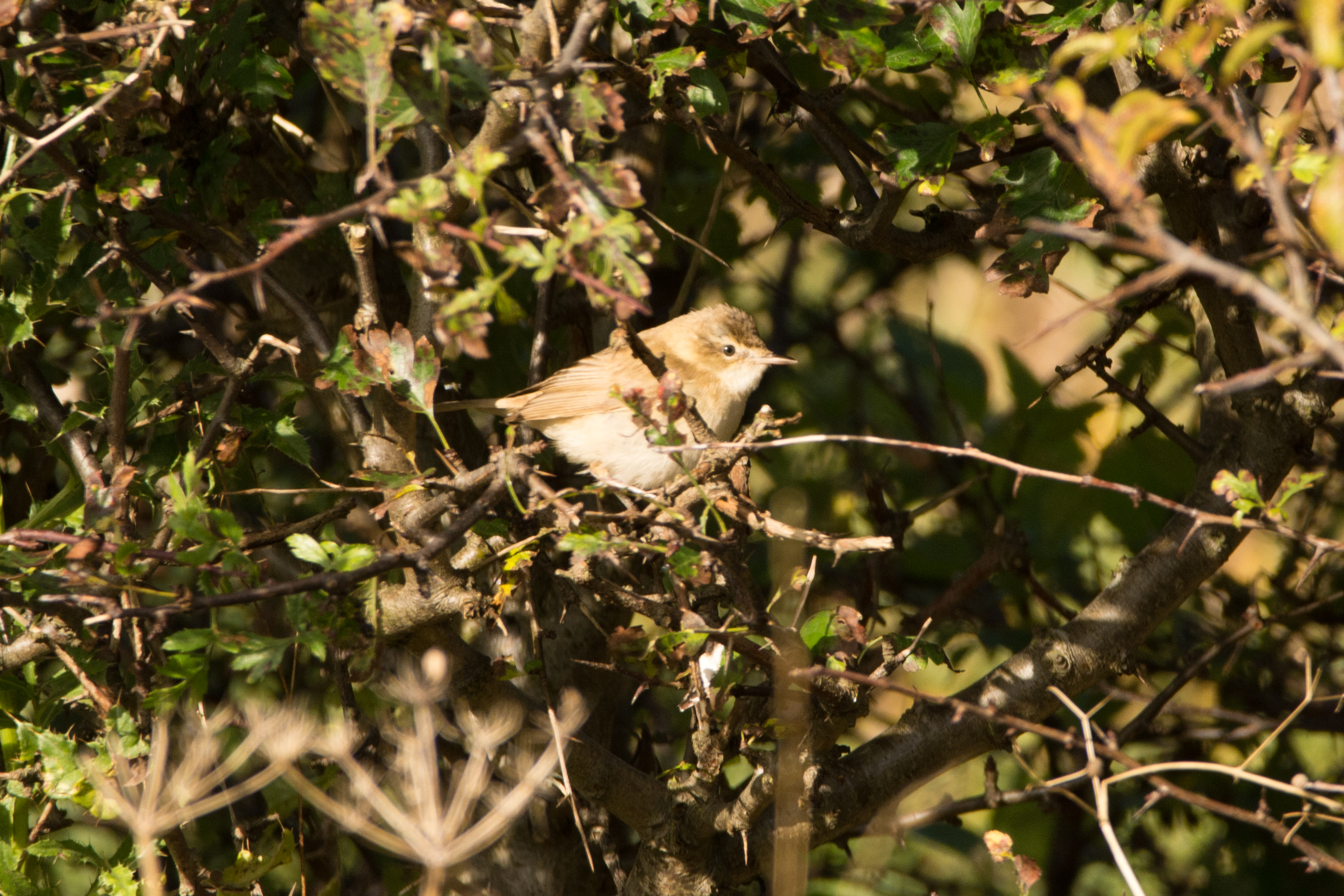 Paddyfield Warbler, St Abbs Head NNR, Borders (Aidan Maccormick)
Suffolk provided two of the week's three Radde's Warblers, which was probably a good thing considering the third one managed to collide with a school window at Sandwick, Mainland Shetland, on 29th with fatal consequences. The first was an individual trapped and ringed at Orford Ness on 27th, followed by a showy individual at Bawdsey from 29-30th. The second Dusky Warbler of the autumn was another mist-net job at a private site near Withernsea, East Yorks, on 27th. The Isle of May, Fife, kept the previous week's Arctic Warbler to 27th, when a new bird was found at Kilnsea, East Yorks; it stayed till the next day, when another unearthed at nearby Spurn Point. The fourth and final confirmed Arctic Warbler of the week pitched up at Whitburn, Co Durham, on 3rd. Greenish Warblers were at Hoylake, Cheshire, on 30th, Esha Ness, Shetland, on 1st and Fetlar on 2nd. The only Blyth's Reed Warbler was a hand-me-down from last week, on North Ronaldsay, Orkney, to 29th.
Marsh Warblers were on Fair Isle from 27-1st and North Ronaldsay from 28-30th, with one on St Agnes, Scilly, on 30th. Of the week's 18 Barred Warblers, seven were on Shetland and two on Orkney but mainland birds were on offer at Girdle Ness, Aberdeens, to 27th; Great Orme, Conwy, and Skateraw, Lothian, on 28th; Saltfleetby, Lincs, on 30th; in, Northumberland, from 30-1st; Kilminning, Fife, to 3rd; Hornsea Mere, East Yorks, on 3rd; and as a bonus to owl watchers at Ryhope on 30th.
Melodious Warblers turned up on Skokholm, Pembs, on 28th (seen again on 3rd) and Porthgwarra, Cornwall, from 29-30th but were narrowly trumped by Icterines, these gracing Sumburgh Head, Shetland, on 26th, Hook Head, Co Wexford, on 28th and Nanjizal Valley, Cornwall, on 29th.
There remained a decent enough smattering of Yellow-browed Warblers in Britain, mostly concentrated on the Northern Isles, the east coast and in the South-West, although it can hardly be called an inundation and rather few have reached Ireland.
A Citrine Wagtail on a football pitch in Swalecliffe was a very welcome but also rather brief Kent record on 2nd. A lingering Red-throated Pipit is always a tempting diversion and so Landguard, Suffolk, saw a boost in visitor numbers this week, following news of one showing on the deck there on 27th. It ended up putting itself available, and rather photogenic for a full four days, resulting in many happy birders. Others were on Fair Isle on 27-3rd and at Skaw, Unst, from 30-3rd; one on Fair Isle on 2nd may have been fresh-in.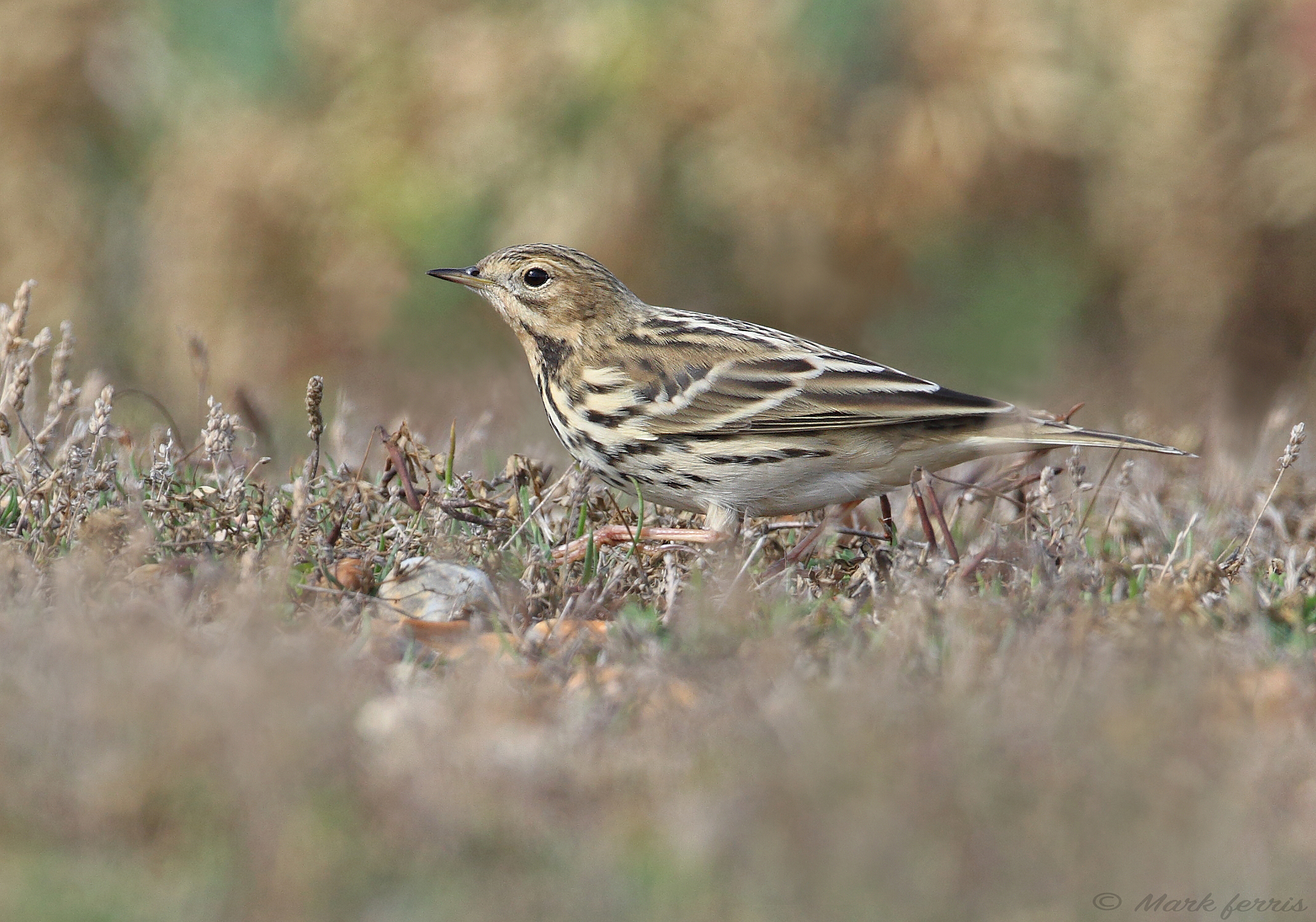 Red-throated Pipit, Landguard NR, Suffolk (Mark Ferris)
Olive-backed Pipits reached a respectable total this week. Singletons turned up on Blakeney Point, Norfolk, and Isle of May, Fife, on 27th, the latter staying for a second day. On 30th, others were found at Spurn and on Sanday, Orkney. Braces were on North Ronaldsay from 28-29th (with one lingering to 1st) and Fair Isle on 30th. Mainland Shetland racked up five additional birds. Richard's Pipits, showing a clear southern bias, turned up at Orford Ness, Suffolk, on 28th, Belton Marshes, Norfolk, on 1st and Orcombe Point, Devon, on 2-3rd.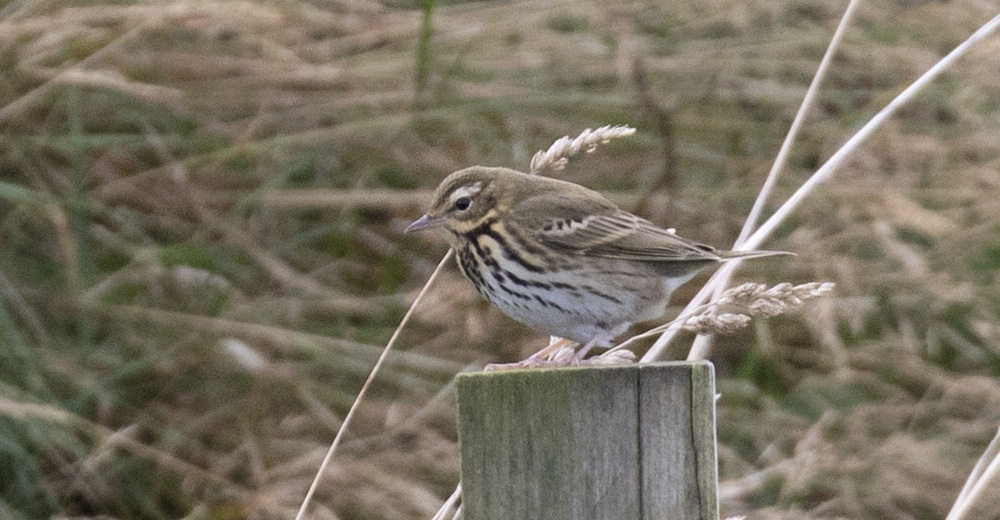 Olive-backed Pipit, Bousta, Mainland, Shetland (Roger Riddington)
Having somehow been left cold during the Parrot Crossbill irruption of 2013/14, resident Shetland birders were deeply appreciative of a series of these chunky-billed invaders this week. Starting with a flock of five at Baltasound, Unst, on 2nd, at least eight more were seen at Sand on Mainland the next day, when three were at Helendale, two visited Kergord and the Baltasound count reached six. Perhaps this northern influx foreshadows another widespread arrival to come.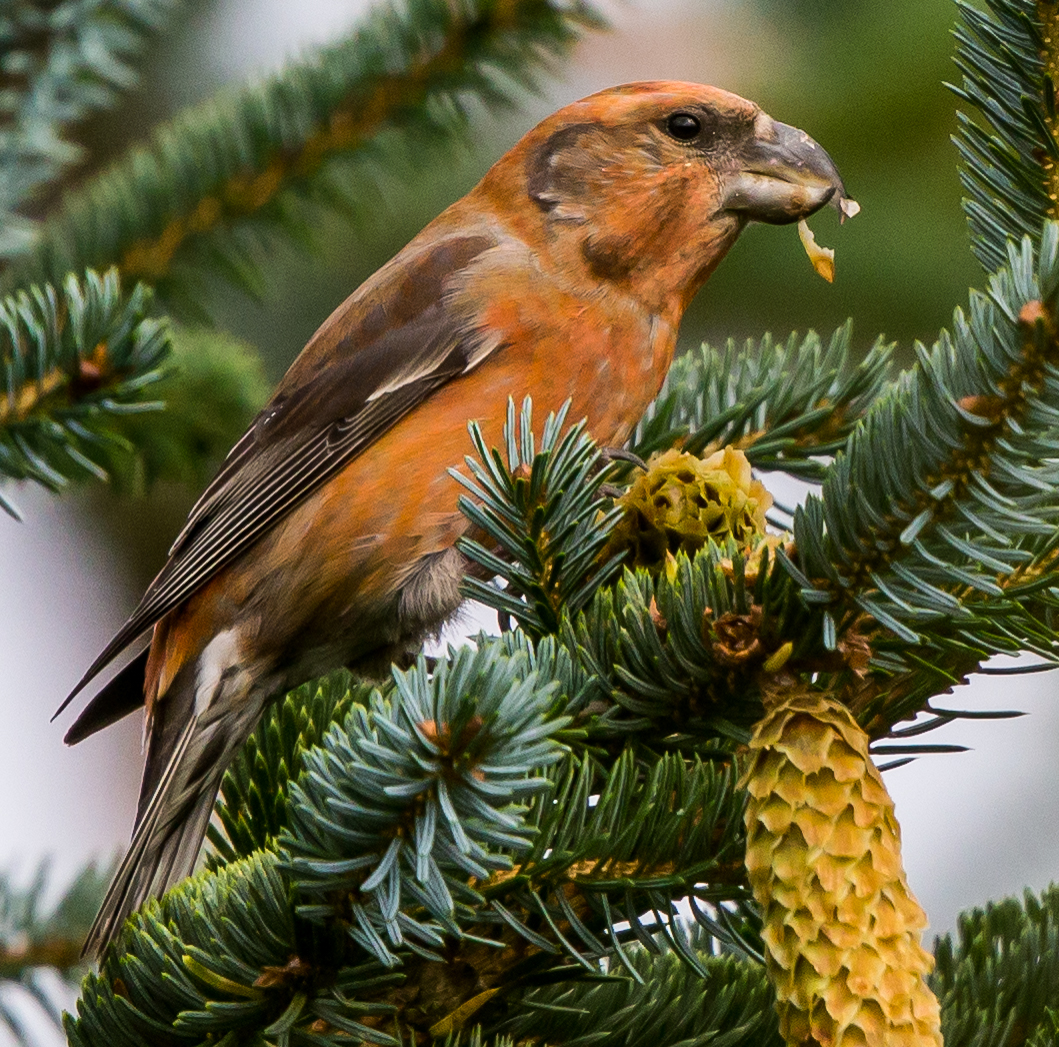 Parrot Crossbill, Sand, Mainland, Shetland (Peter Garrity)
Rustic Buntings started to turn up this week, with one on Fair Isle on 17th, one on North Ronaldsay from 29-1st and others on Foula on 29th and 1st, as well as three on Shetland's Mainland. Around 35 Little Buntings were dotted around Shetland this week, while on 29th three were on North Ronaldsay, where the sole Ortolan Bunting of the week was seen on 29th. Lincolnshire produced Little Buntings at both Gibraltar Point and Donna Nook on 27th; a bird with a re-growing tail was trapped at Portland, Dorset, on 28th; one was found near Durness, Highland, on 29th; and another was fitted with a ring in Nanjizal Valley, Cornwall, on 3rd. Common Rosefinches came in at seven birds, mainland sightings involving individuals at Murcar, Aberdeens, on 27th, Crook Ness, North Yorks, on 28th, Reculver, Kent, on 28th and Newbiggin, Northumberland, on 29th. Singles were on Unst from 29-2nd and at Rona Voe, Mainland Shetland, on 1st. An 'eastern' Stonechat, most probably a Siberian, stopped off in the Nanjizal Valley on 28th.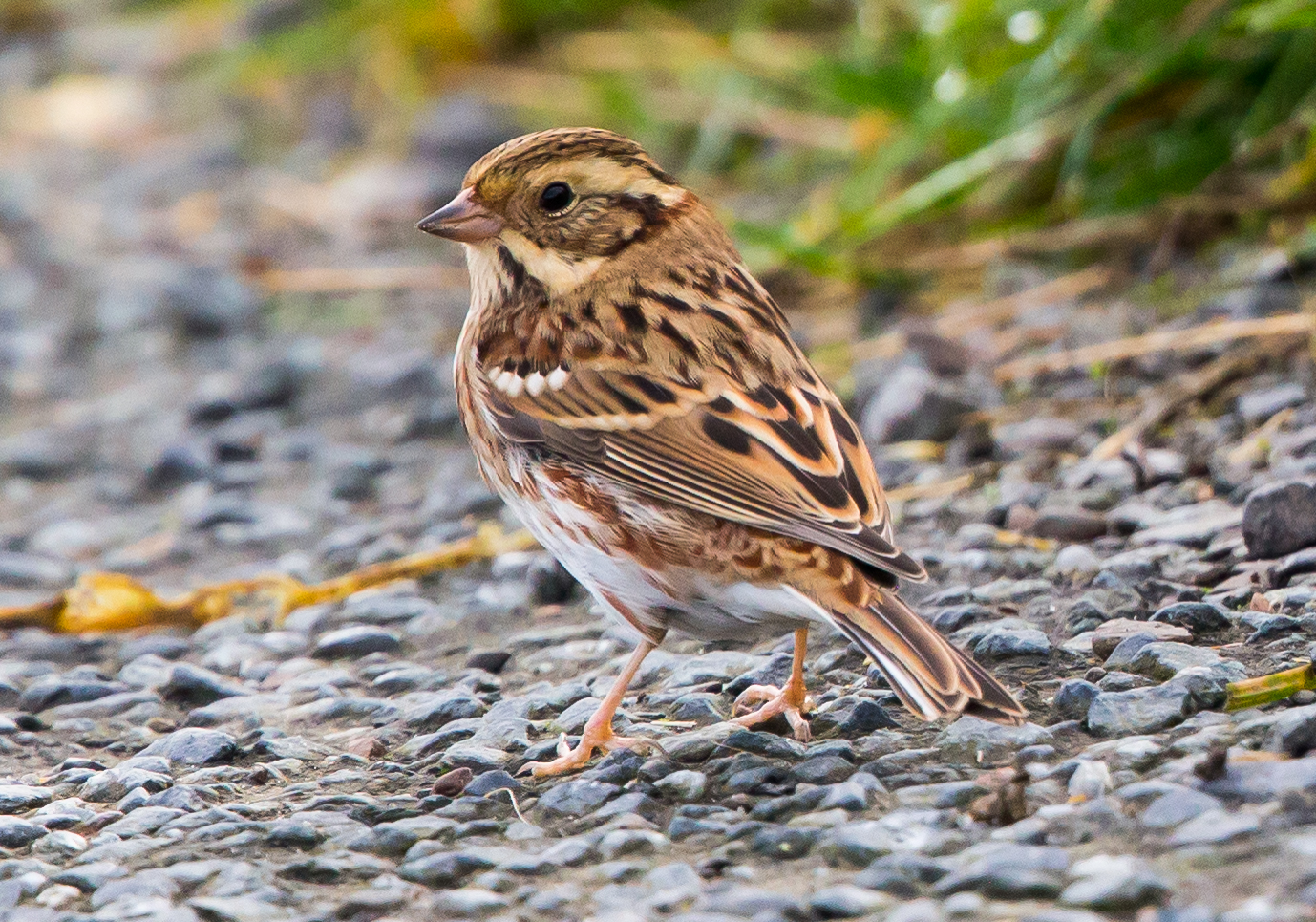 Rustic Bunting, Melby, Mainland, Shetland (Peter Garrity)
Content continues after advertisements
Aside from widespread sightings on the Northern Isles, mainland Red-breasted Flycatchers remained hard to come by but were available in Essex, courtesy of a showy bird at Holland Haven from 30-2nd, and in East Yorkshire, where the adult male remained at The Warren, Spurn, to 27th and another was to be found in the Crown and Anchor car park in Kilnsea to 2nd. A limited arrival of Great Grey Shrikes took place on Shetland, where three were found on the Mainland and singles were logged on Fair Isle and Whalsay. Shetland also monopolised Bluethroats, with two on both Unst and Yell, three on Mainland and another on Fair Isle. Greater Short-toed Larks were in short supply, turning up on Out Skerries on 27th and near Aith, Mainland Shetland, on 1-2nd. The first two Shore Larks of the autumn headed south through Spurn on 30th.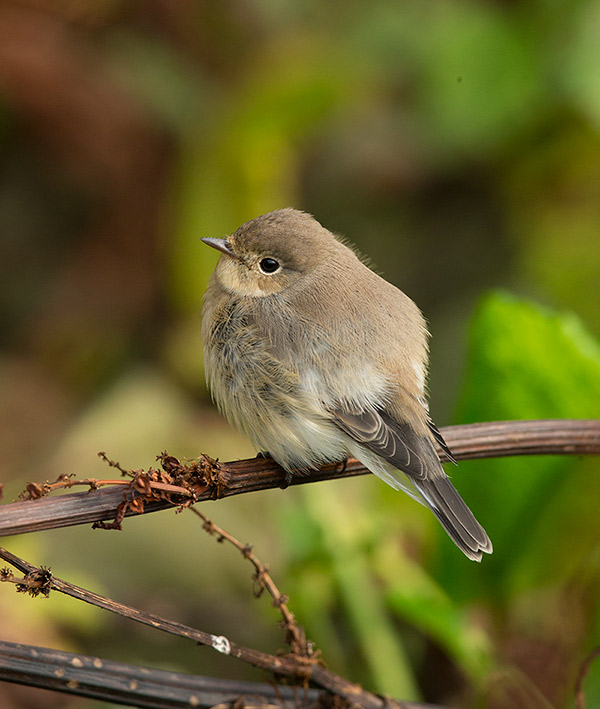 Red-breasted Flycatcher, Sumburgh, Mainland, Shetland (Will Bowell)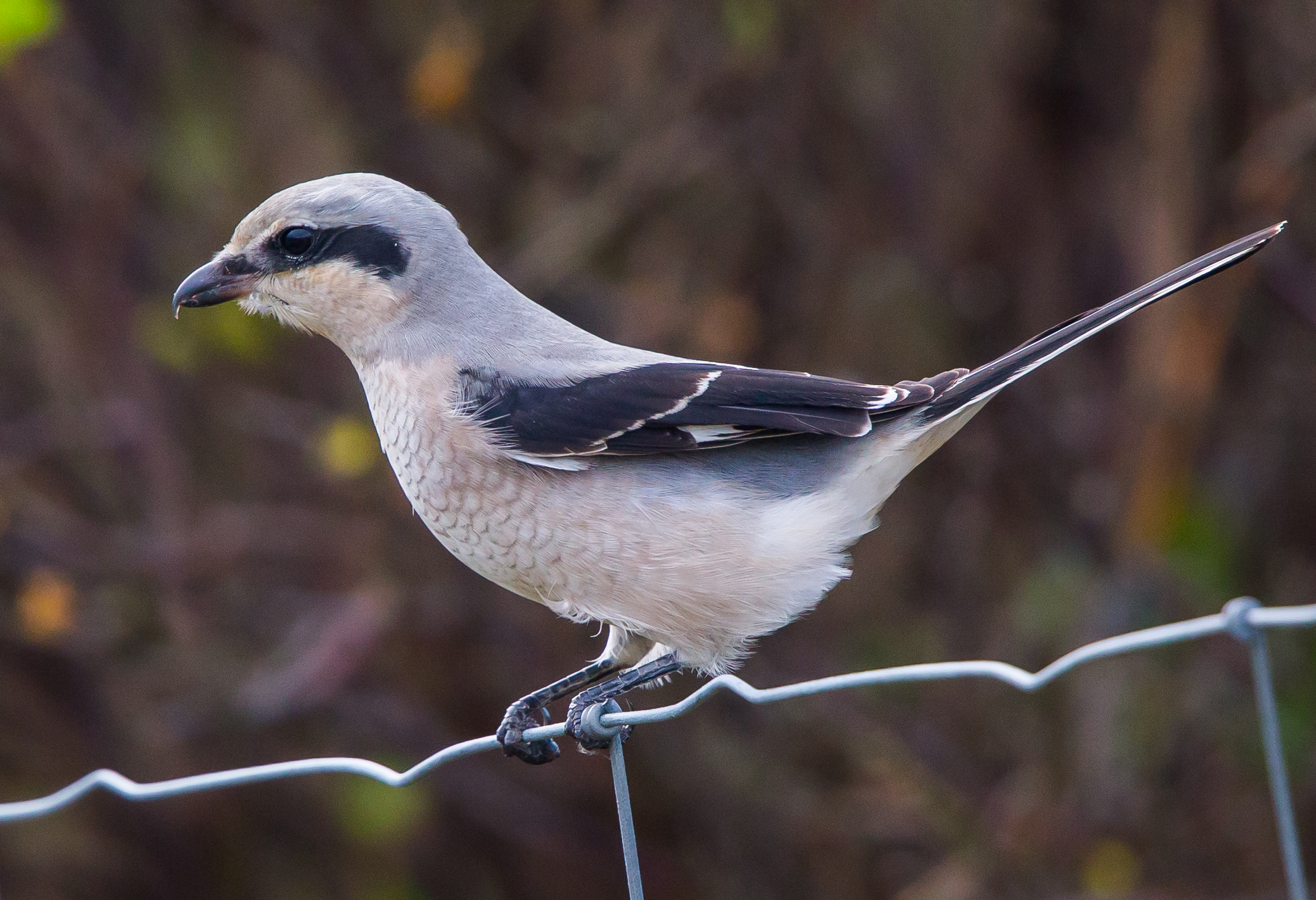 Great Grey Shrike, Dale of Walls, Mainland, Shetland (Peter Garrity)
Around 27 Wrynecks were distributed mainly on the Northern Isles and in the South-West but just one made it to Ireland, on Co Kerry's Valentia Island. Red-backed Shrikes included long-stayers at Easington, East Yorks, to 3rd and at Girdle Ness, Aberdeens, to 1st. Others arrived on 27th at Blakeney Point, Norfolk, Felixstowe Ferry, Suffolk and both Filey and Robin Hood's Bay, North Yorks. Shetland boasted birds on Yell and at Fladdabister on 30th, followed by an Irish bird at Youghal, Co Cork, from 1-2nd and one at Wembury, Devon, on 3rd.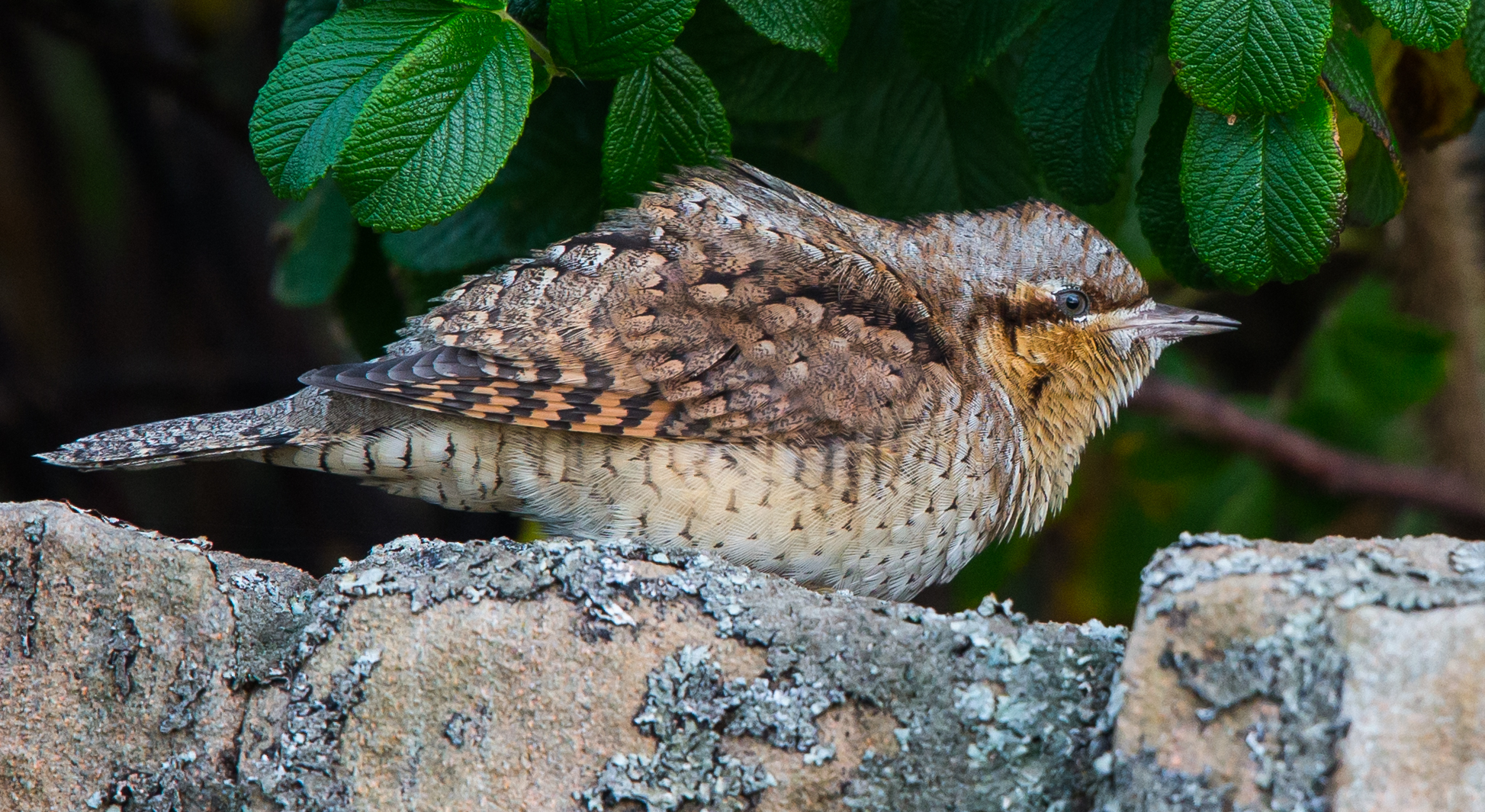 Wryneck, Dale of Walls, Mainland, Shetland (Peter Garrity)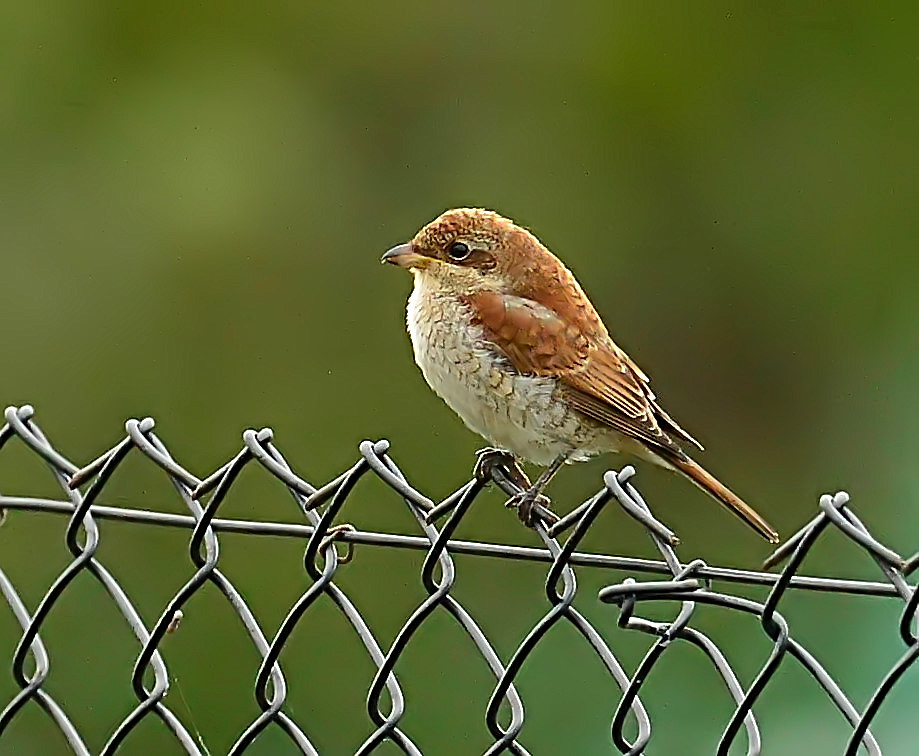 Red-backed Shrike, Girdle Ness, Aberdeenshire (Stewart Woolley)
Enhancing the European flavour provided by the scops, Balnakeil Craft Village hosted a quite unexpected European Roller from 29-3rd, the 15th for Highland but the first there since 1995. Adding further variety was an Alpine Swift seen arriving off the sea at Kingsdown, Kent, on 1st. Two Rosy Starlings roamed the Spurn area all week. Eurasian Hoopoes were at Shapinsay, Orkney, and on Portland on 28th. What was perhaps the Portland bird was encountered at nearby Radipole Lake the next day, but the most popular individual of the week was a somewhat slippery bird around Marloes/Martin's Haven, Pembs, from 28-3rd. Others were seen at Ferryside, Carmarthen, on 29th and at Spring Vale, Isle of Wight, and Watergrasshill, Co Cork, on 1st.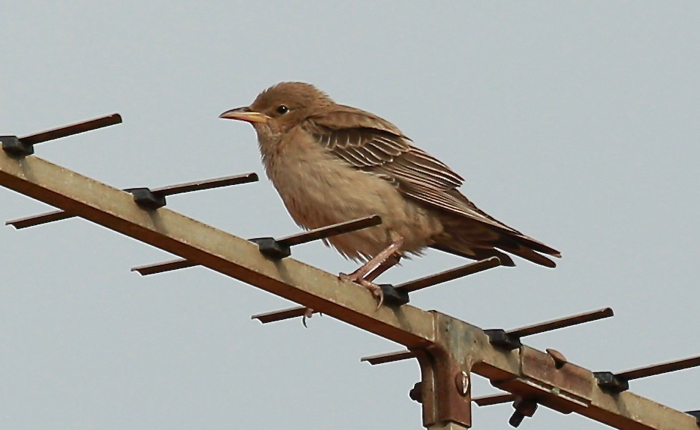 Rosy Starling, Easington, East Yorkshire (Christopher Bond)
Corncrakes were encountered on Fair Isle on 27th; at South Walney, Cumbria, and on Sanday, Orkney, on 28th; and at Fladdabister, Shetland, on 30th. Long-staying Spotted Crakes at Doonfoot, Ayrshire, and in the Ingrebourne Valley, London, lingered to 29th and 2nd respectively. New individuals were at Rutland Water on 29th and Beddington Farmlands on 30th.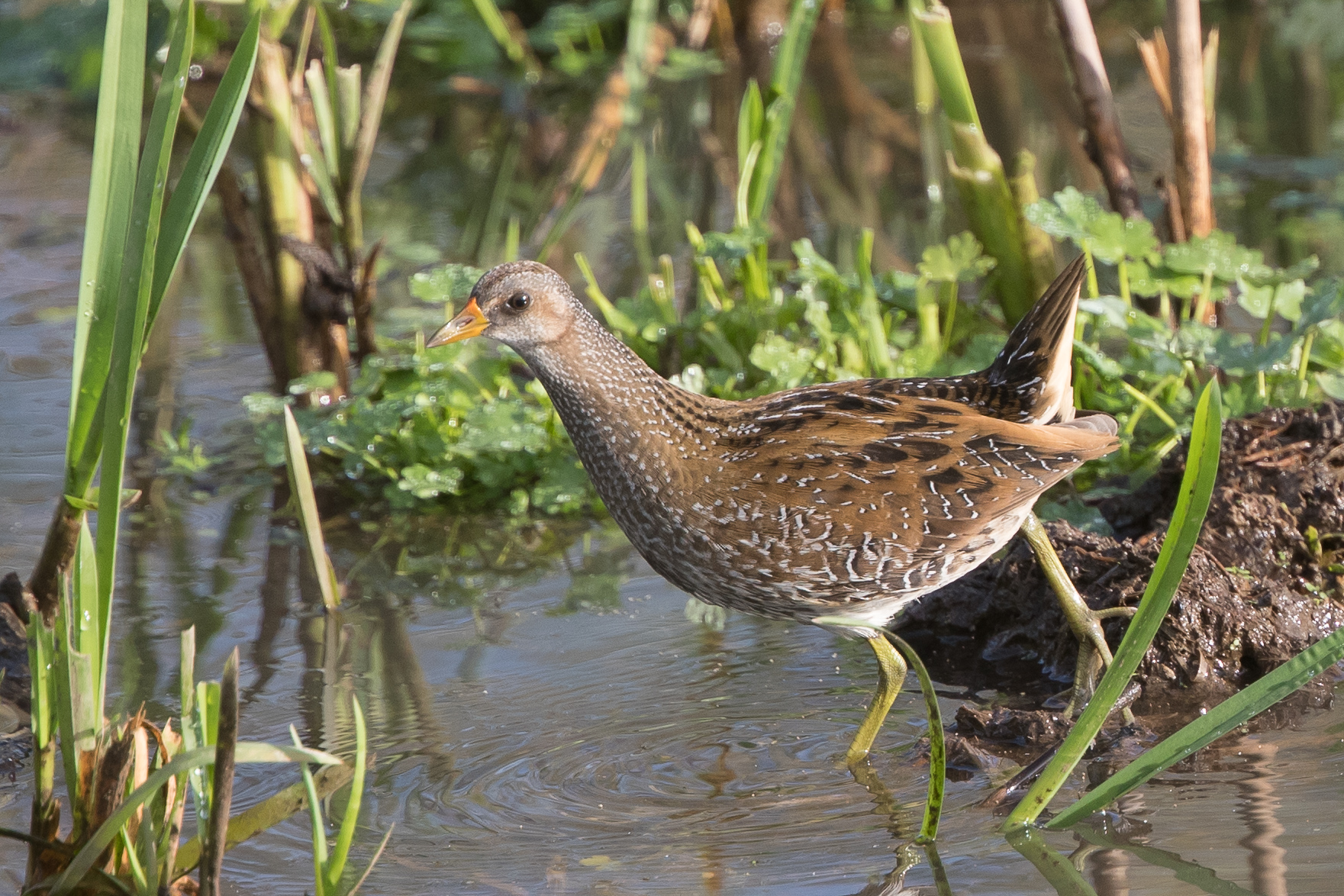 Spotted Crake, Ingrebourne Valley, Greater London (Simon Colenutt)
Solitary Sandpiper is a species which has definitely been on the radar for a while this autumn so it was nice to hear a report from Walmsley Sanctuary, Cornwall, on 27th, although it unfortunately didn't return after flying off mid-morning. The scene at Oare Marshes, Kent, livened up with the appearance of a first-winter Wilson's Phalarope sharing the East Flood with the long-staying Long-billed Dowitcher on 3rd. The Lincolnshire dowitcher was logged at Saltfleet Haven on 2nd, when the adult at Bannow Bay, Co Wexford, resurfaced. Other Irish Long-billed Dowitchers involved new juveniles at Termoncarragh Lough, Co Mayo, on 27th and at Tacumshin, Co Wexford, on 1st.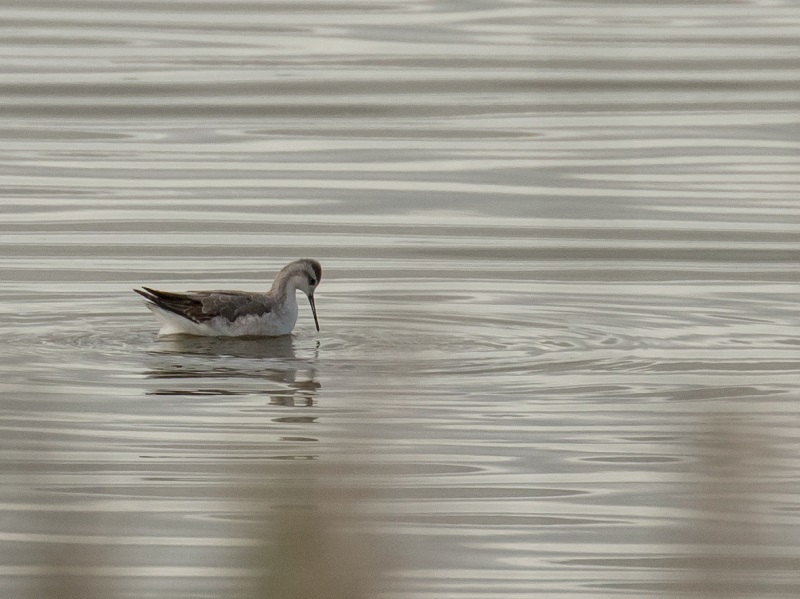 Wilson's Phalarope, Oare Marshes NR, Kent (Alex Perry)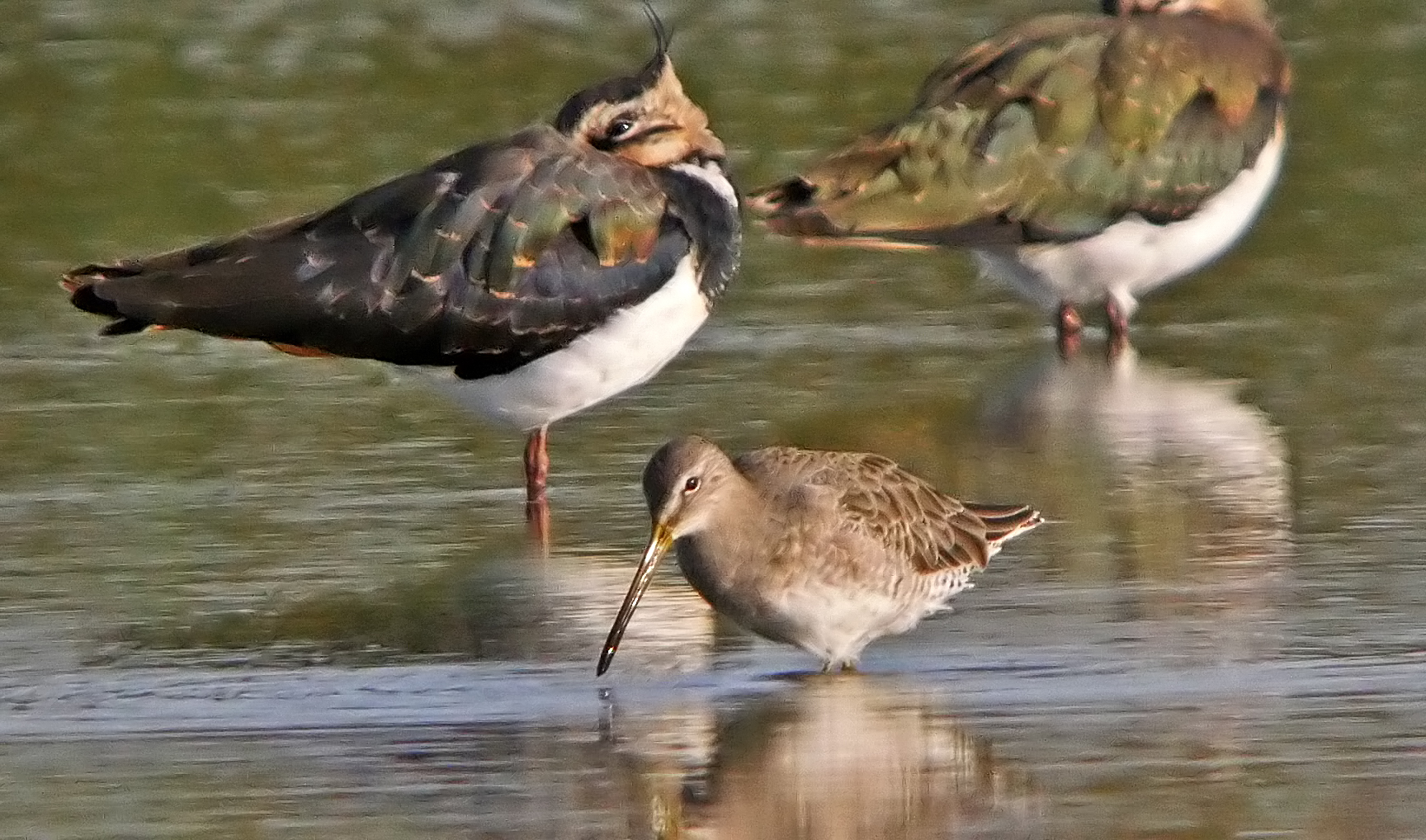 Long-billed Dowitcher, Oare Marshes NR, Kent (Richard Jones)
Co Cork weighed in on the wader front with a juvenile Lesser Yellowlegs on Cape Clear on 1-2nd, when it was trapped and ringed at night, as well as a new juvenile Semipalmated Sandpiper picked out among Little Stints at Clogheen Marsh, Co Cork, on 28th which remained to 1st. The Lesser Yellowlegs stayed put at Montrose Basin, Angus, at the weekend and last week's Co Mayo birds were still at Termoncarragh and Cross Loughs on 27th. Co Sligo's Hudsonian Whimbrel was seen again west of Easkey on 2nd and, in Co Kerry, Black Rock's adult White-rumped Sandpiper was in situ till 27th; what may have been the same bird was then spotted at Carrahane Strand on 29th.
The Semipalmated Plover at Keel Golf Course on Achill Island, Co Mayo, unsurprisingly appeared on the news page on 30th. The Dorset Stilt Sandpiper was seen at Middlebere all week, apart from a brief return to Lytchett Fields on 2nd. The Spotted Sandpipers at Crowdy Reservoir, Cornwall, and Abbotsbury Swannery, Dorset, were present and correct to 30th and 3rd respectively. At Sandwick on Mainland Shetland, the Eurasian Oystercatcher flaunting potential features of the Siberian form longipes spent the entire week on the beach.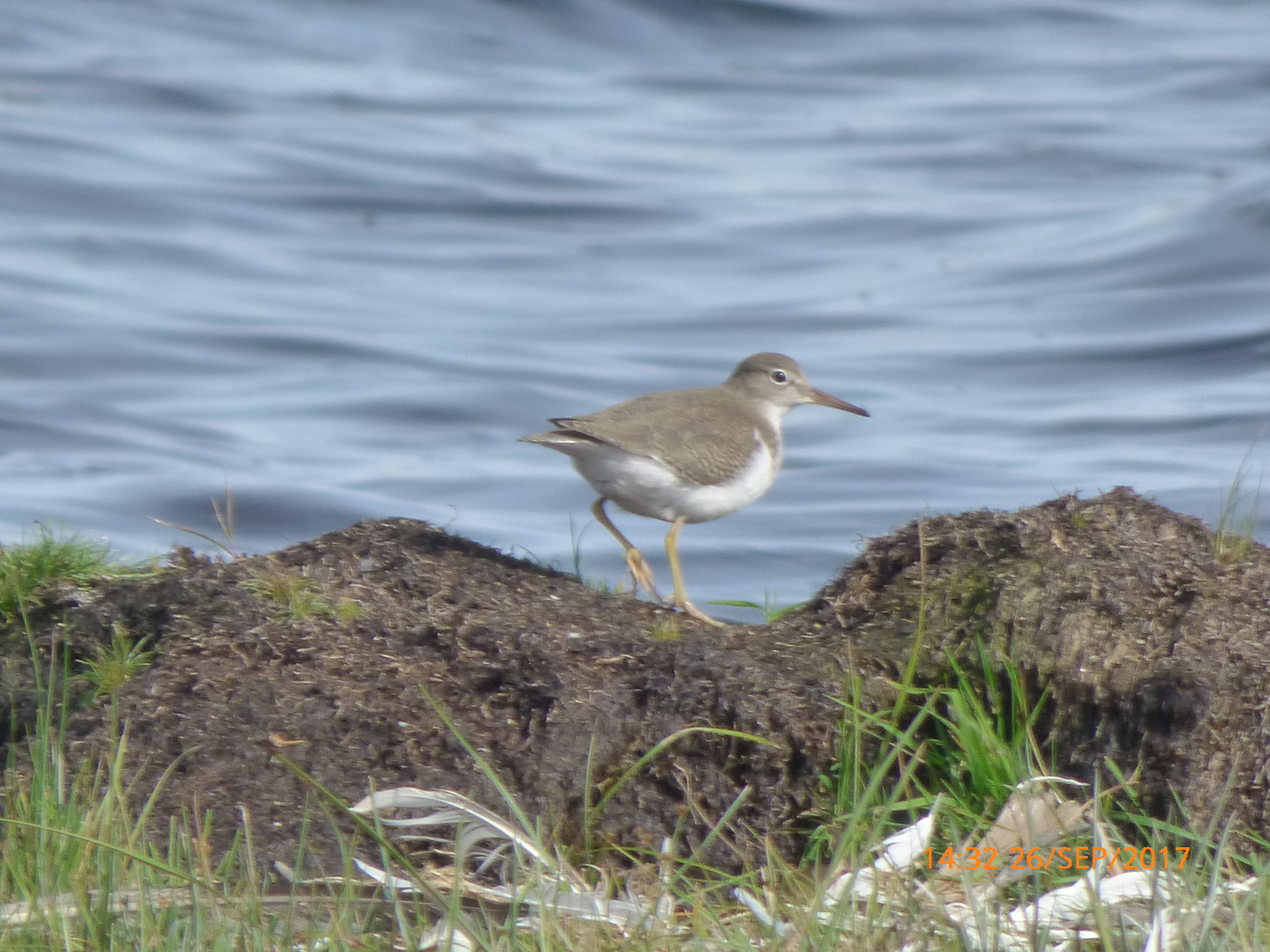 Spotted Sandpiper, Crowdy Reservoir, Cornwall (Rob Creek)
A total of 13 Pectoral Sandpipers were shared between Berks, Co Cork, Essex, Lincs, Norfolk, Outer Hebrides, South Yorks, Suffolk, West Sussex and Co Wexford. Three Buff-breasted Sandpipers trotted around Davidstow Airfield, Cornwall, from 27-2nd, leaving a straggler on 3rd. Other Buff-breasts were found at Lower Rosses, Co Sligo, on 1st and Portland on 3rd, and two remained on North Uist on 29th. Dungeness RSPB, Kent, provided a report of a Temminck's Stint on Burrowes Pit on the morning of 1st, though it had vanished by late afternoon.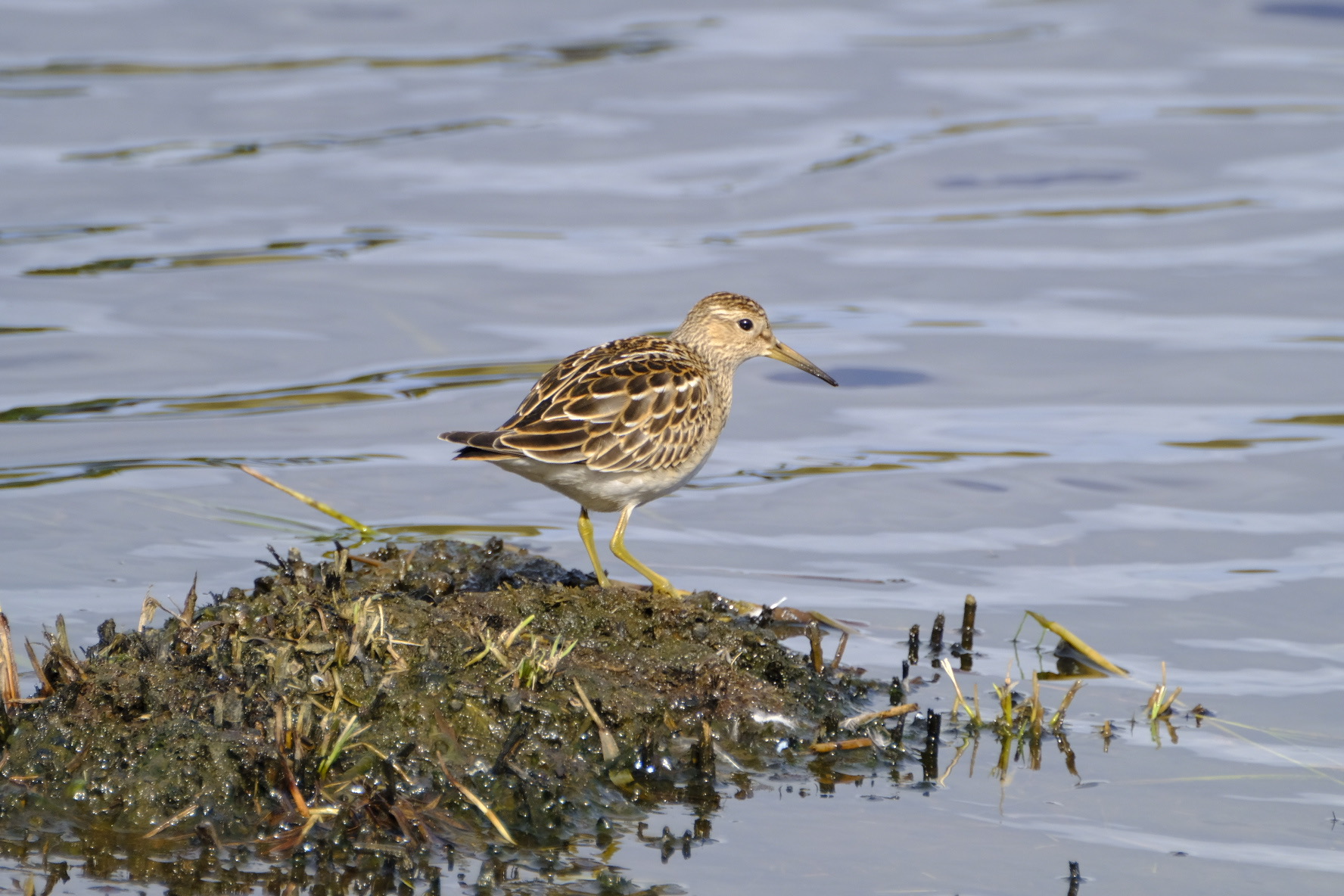 Pectoral Sandpiper, St Mary's, Scilly (Phillip Sharp)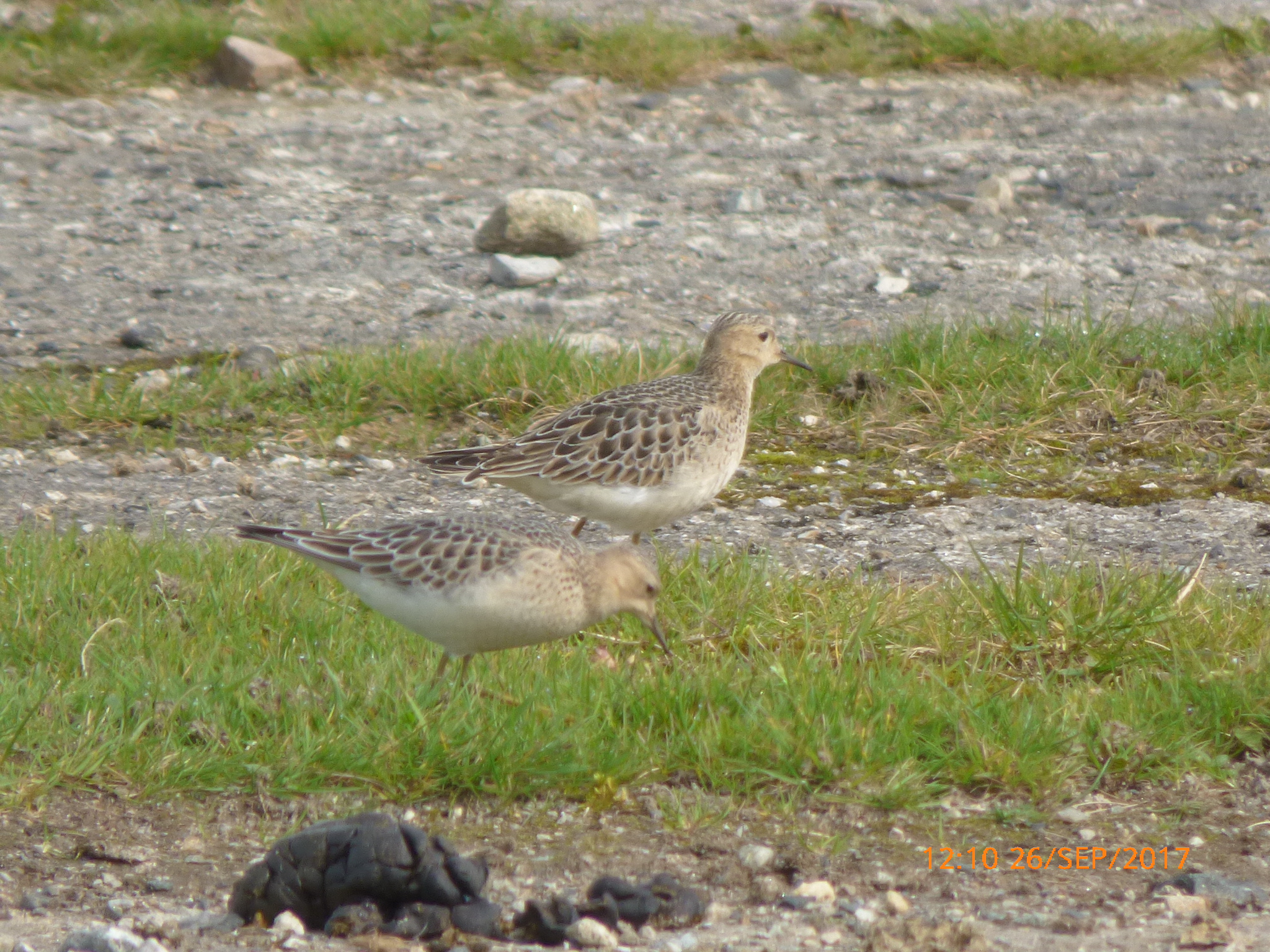 Buff-breasted Sandpiper, Davidstow Airfield, Cornwall (Rob Creek)
The juvenile American Golden Plover on St Mary's, Scilly, lingered at Porth Hellick to 2nd, while new birds were on South Uist from 27-30th; over Shanagarry (Ballycotton), Co Cork, and on Tiree, Argyll, on 28th; at Morfa Dinlee, Gwynedd, on 30-3rd; at Carrahane Strand, Co Kerry, on 2nd-3rd; Esha Ness, Shetland, on 3rd; and in a ploughed field northeast of Sennen Cove, Cornwall, from 29-3rd, in the company of last week's juvenile Eurasian Dotterel to 1st. Two Eurasian Dotterel remained from last week at South Stack, Anglesey, to 1st and another paid Filey, North Yorks, a brief visit on 28th. The adult at Ballykelly Marsh, Co Derry, was last reported on 1st. Red-necked Phalaropes included birds at Fail, Ayrs, on 27-29th; Grafham Water, Cambs, on 27th; Pennington Marshes, Hants; and Skomer, Pembs, on 28th.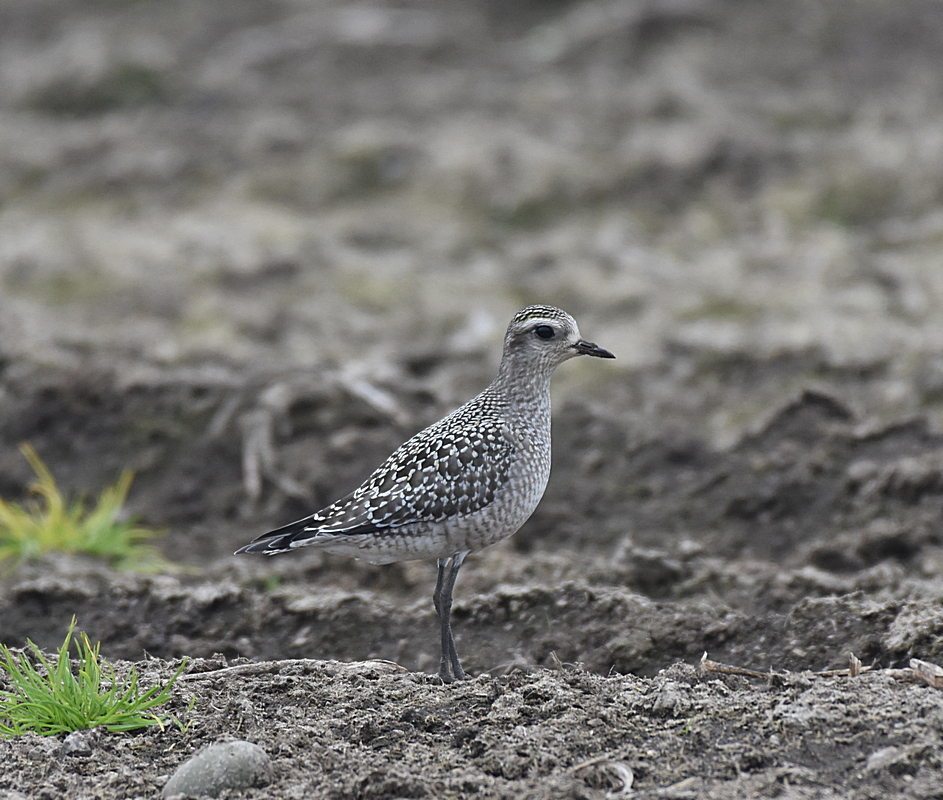 American Golden Plover, Sennen, Cornwall (John Rowe)
There was still some life in the seawatching scene, a rather late Fea's-type Petrel passing Carnsore Point on 29th and a few Leach's Storm Petrels, Grey Phalaropes and Sabine's Gulls showing up in western quarters in the latter half of the week. Long-tailed Skuas were a feature of some seawatches but a juvenile on the golf course at Goswick, Northumberland, provided a rare opportunity to study the species up close and personal. Significant Grey Phalarope news included a count of 30 between Inishbofin and Inishturk, Co Galway, on 30th and just one inland bird, at Lower Farm GP, Berks, from 30-2nd. A late Cory's Shearwater passed Pendeen, Cornwall, on 3rd.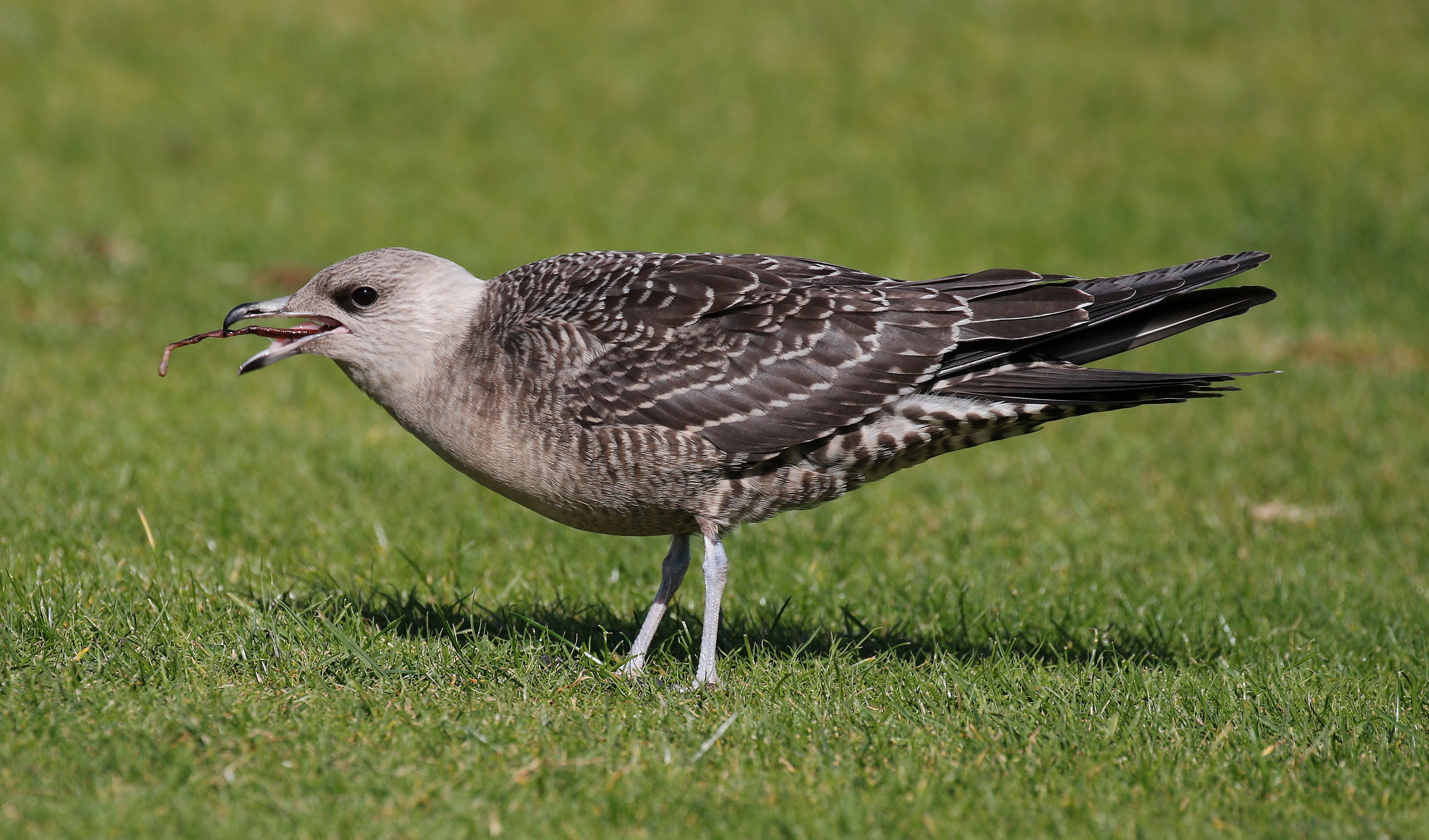 Long-tailed Skua, Goswick, Northumberland (Steven Lawton)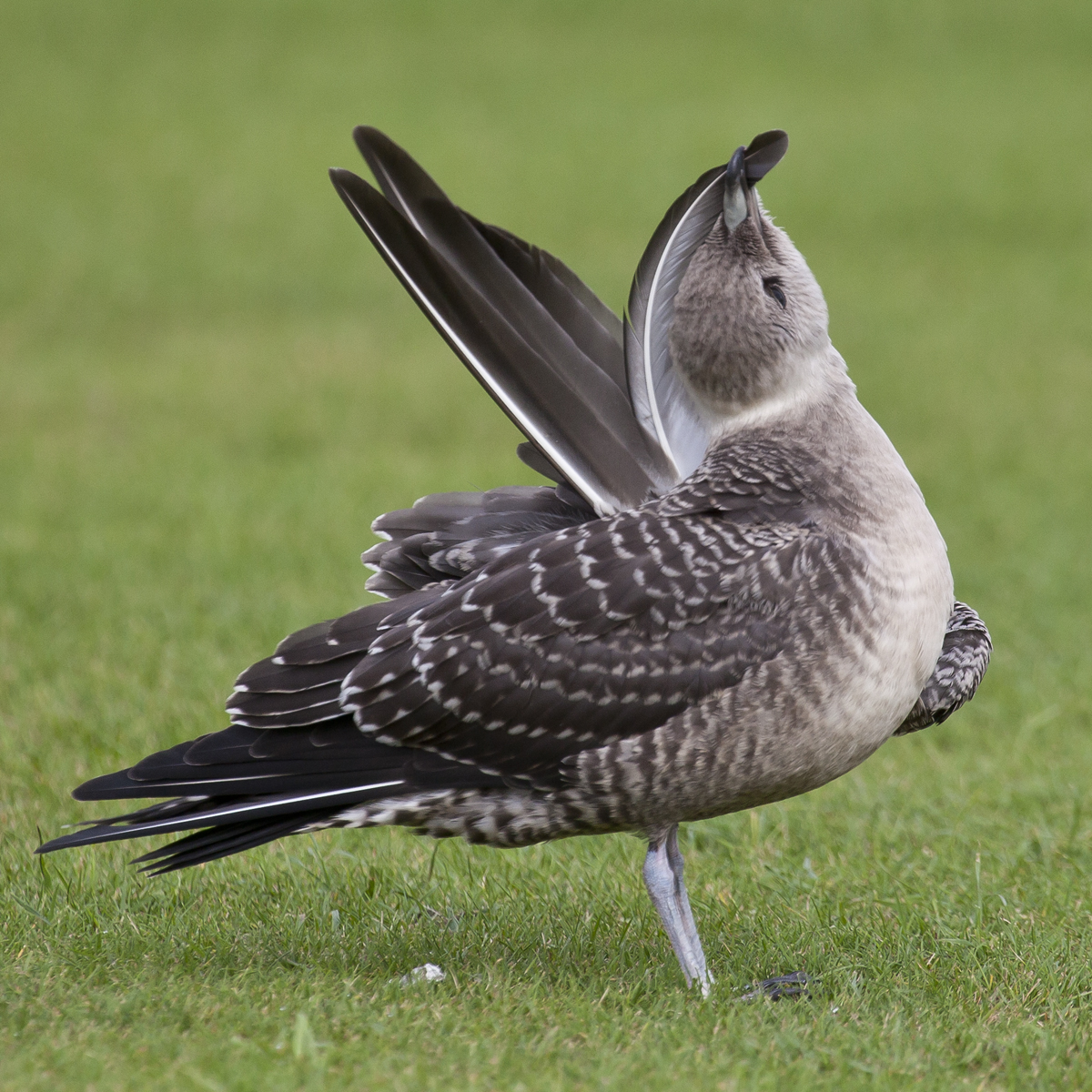 Long-tailed Skua, Goswick, Northumberland (Jill Wilson)
By our admittedly rather spoiled recent standards, it has been a frankly pathetic year for Pallid Harriers so an adult female gracing Neston/Burton Marsh, Cheshire, from 26-2nd (with news released on 29th) went down a treat, making a brief foray into Conwy at Connah's Quay on 30th. Our old favourite in Co Mayo, Tarmon Hill's resident adult female Snowy Owl, was checked on 28th and still appeared most at home. Five migrant European Honey Buzzards were seen in the South-East this week, with another over Holy Island on 27th, and an early Rough-legged Buzzard was reported over Hemingby, Lincs, on 1st.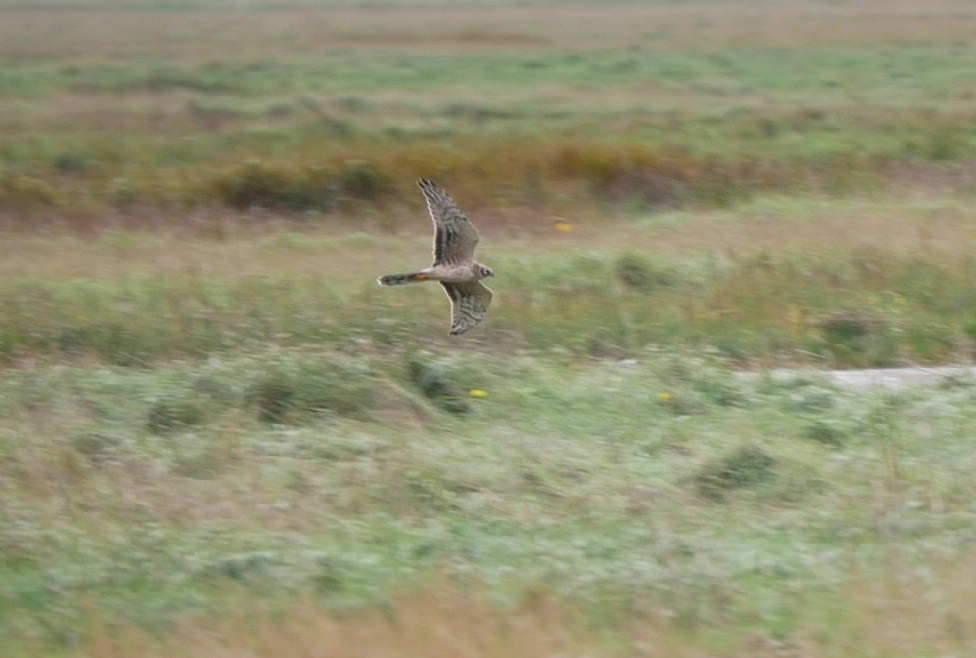 Pallid Harrier, Neston Marsh, Cheshire (Gaving Thomas)
Juvenile Purple Herons continued to show at Ruan Lanihorne, Cornwall, and Leighton Moss, Lancs, to 2nd. Updates on lone Glossy Ibises came from Fremington Pill, Devon, on 2nd and Ham Wall, Somerset, on 3rd; a new individual was reported near Bridgend on 2nd.
Orkney provided a couple of interesting geese, with an adult Lesser White-fronted Goose bearing a metal ring on Mainland at Finstown on 29th and an adult Red-breasted Goose near Kirkwall from 29-30th. Ceredigion's Dovey Estuary continued to host the resident female King Eider to 1st. Two drake American Wigeon remained on North Uist to 3rd, Rutland Water's drake was joined by a second bird on 29th (one remaining to the week's end) and a new drake was at Loch Gilp, Argyll, on 29th. A drake Surf Scoter was off Musselburgh, Lothian, from 30-2nd and fly-bys were clocked at Bridges of Ross, Co Clare, on 1st and Pendeen, Cornwall, on 3rd. The drake was still in Lunan Bay, Angus, at the weekend and another was seen off Harris, Outer Hebrides, on 3rd. A first-winter drake Ring-necked Duck floated around Tiree's Loch a' Phuill from 28-3rd and a subtle, moulting drake Green-winged Teal was a nice find at Carsington Water, Derbys, on 1st, staying to the week's end.
Devon's secretive Exe Estuary Bonaparte's Gull called in at Dawlish Warren again on 1st. In Northumberland, the adult White-winged Tern found it hard to tear away from Bamburgh's Stag Rocks, being seen there to 2nd. Glaucous Gulls were seen on Unst and South Uist on 27th and 1st respectively, as well as the long-stayer in Dunnet Bay, Highland, to 3rd. Ceredigion's second-winter Ring-billed Gull rematerialised at Ynys-Hir on 28th and an adult was identified at Great Cressingham, Norfolk, the following afternoon; the adult was still at Black Rock, Co Louth, on 30th. Iceland Gulls were seen at Ryhope and Whitburn on 28th and 29th respectively, while two on Sanday, Orkney, on 3rd were accompanied by a juvenile Kumlien's.
Western Palearctic news
The Azores began to roar this week with Black-throated Blue Warbler, Ovenbird, Philadelphia Vireo, Common Yellowthroat and Canada Warbler all on Corvo on 27th, with the last species staying to 28th. On 29th, two Rough-legged Hawks were on the island, along with a Rose-breasted Grosbeak, and two days later a Black-throated Blue Warbler was added to the haul. Two Northern Waterthrushes were seen together on Corvo's Cape Verde Farm on 2nd, and then a Belted Kingfisher arrived on the island on 3rd. The drake Redhead was still on Terceria all week. In Spain, an Elegant Tern was at Playa de Montijo, Chipiona, Cadiz, on 3rd.