December is here, the temperature is falling and the days are dwindling towards their shortest ebb. This is traditionally a quiet time of year as birders become more preoccupied with the forthcoming festive season and the lack of daylight denies most the opportunity of a pre- or post-work patch visit, at least during the week. Nonetheless, one or two good birds were still unearthed this week and, alongside several lingering highlights, there was still plenty about to be enjoyed.
Dusky Thrush doesn't quite possess the same aura it had even just five years ago, but that's not to say that the bird belatedly reported from a North Ferriby garden wouldn't have attracted a crowd. Present on 25-26 November, it had gone by the time news made the public airwaves – alas it (and the other thrushes it accompanied) had mercilessly gobbled the garden's supply of berries and moved on.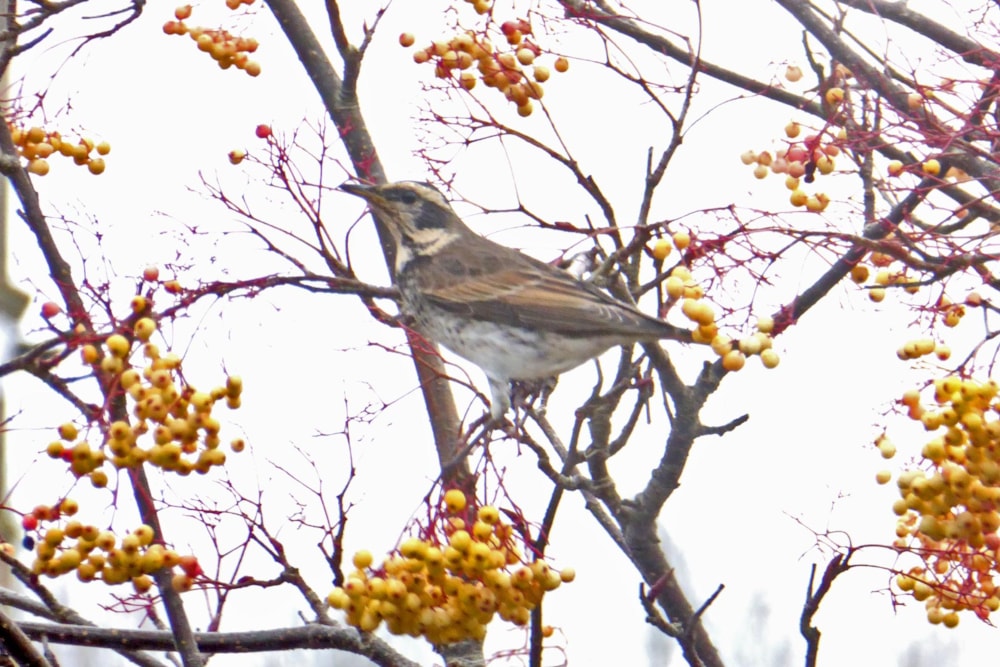 Dusky Thrush, North Ferriby, East Yorkshire (Shena McGrath).
That other mega thrush – the St Mary's Hermit Thrush – lingered all week and was evidently putting on a very respectable show, given the quality of images that have been appearing.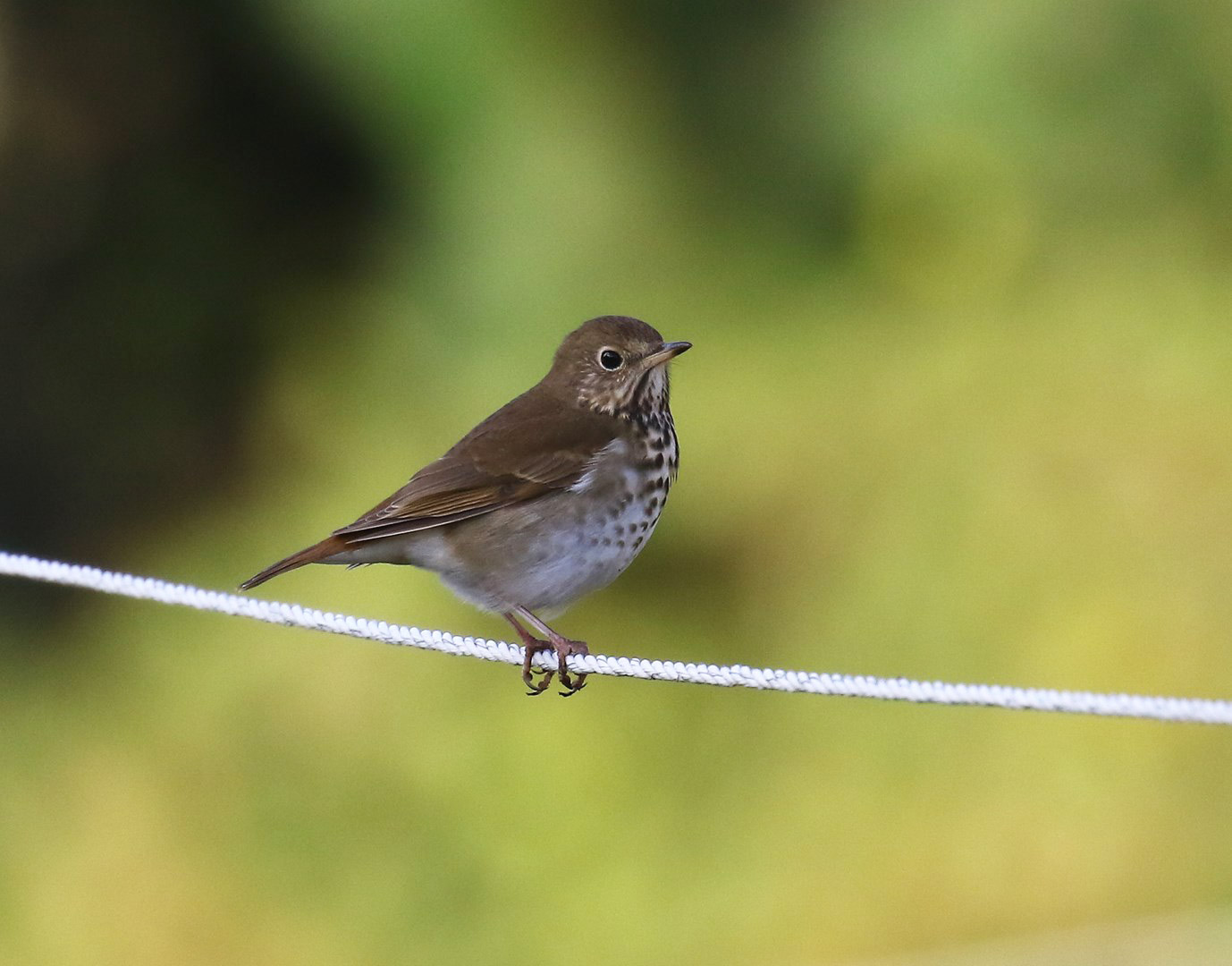 Hermit Thrush, St Mary's, Isles of Scilly (Ian Wells).
Seaduck continue to dominate the rarity headlines, with the young drake Steller's Eider still floating around off Papa Westray's west coast to Saturday at least and the American White-winged Scoter settled off Musselburgh, Lothian, to 29th. Two drake Black Scoter remained at large, with the Angus bird still off Lunan Bay on 30th and the Northumberland drake, with its distinctive dark scarring on the bill, again off Cheswick Sands on 30-1st.
Two Richardson's Cackling Geese continued to tour North Uist among the wintering Barnacle Goose flock, with another still on Islay. A probable Ross's Goose was at Brims Ness, Highland, on 29-30th, but there have been no further sightings of last week's Lesser White-fronted Goose in Norfolk. The returning Grey-bellied Brant was still in fields at Castle Stuart, Highland, on 2nd.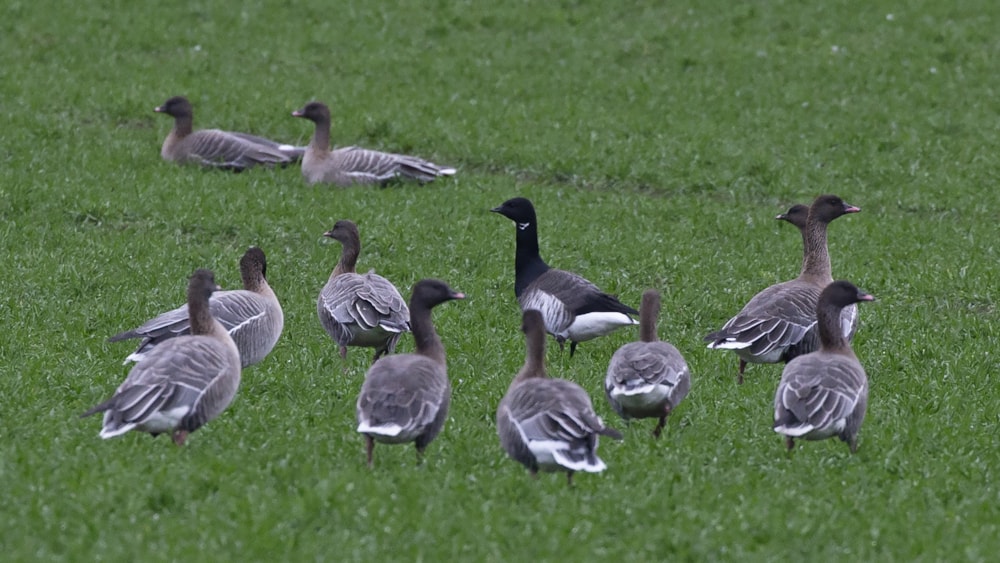 Grey-bellied Brant, Castle Stuart, Highland (Sam Viles).
The Blue-winged Teal lingered at Man Sands, Devon, and the Ferruginous Duck was again in Hampshire – along with ringed birds in Powys and Berkshire. The drake Hooded Merganser at Whitemoor Haye, Staffs, will likely to transpire to be the ringed bird seen elsewhere in the Midlands this autumn.
Meanwhile, the Mount's Bay Pacific Diver moved as far east as Cudden Point – the most easterly locality we've ever reported it – and the Forster's Tern reappeared in Galway Bay at Oranmore on 1-2nd.
Rare waders constituted no fewer than four Long-billed Dowitchers – continuing birds in Northumberland, Cumbria and Devon, with a new bird at Kilcoole, Co Wicklow, from 30th.
The highlight of the scant offering of rare passerines was a crisp Siberian Stonechat at Hollesley Marshes, Suffolk, from 1st, while a Coues's Arctic Redpoll was trapped and ringed at Mulla, Shetland, on 2nd. The American Buff-bellied Pipit was also reported again from the usual field near Sennen, Cornwall, on 28th.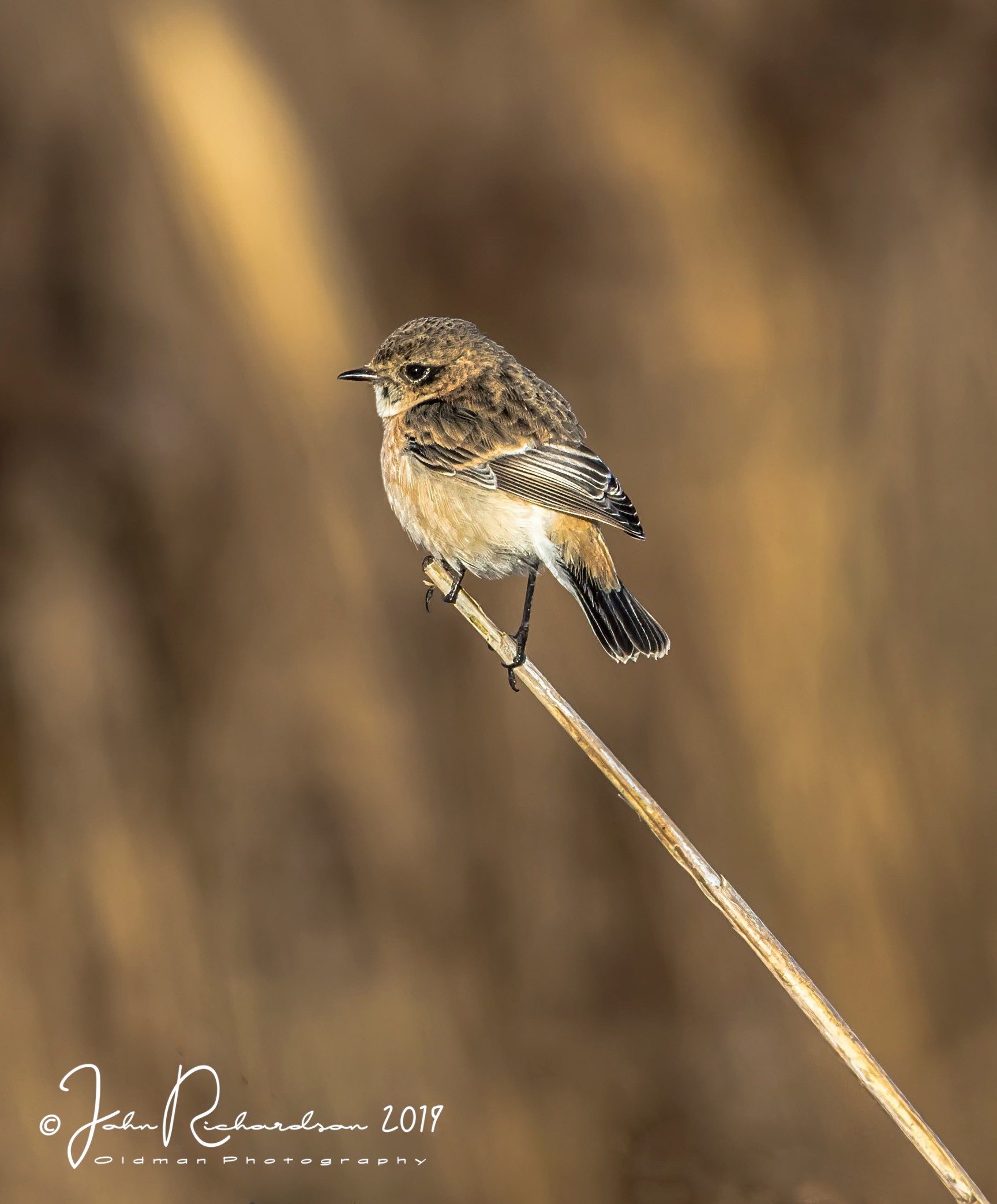 Siberian Stonechat, Hollesley Marshes RSPB, Suffolk (John Richardson).
Scarce and local
North-East England
The standout record of the week was that of a juvenile Golden Eagle, reported at Longhoughton, Northumberland, on Friday morning before being seen flying west at Thropton, in the same county, the following afternoon.
Its origin sparks intrigue – perhaps from a successful pair in south or mid Scotland, or even linked to the reintroduction project in Ireland? Whatever the case, it's a welcome sighting of a species that hasn't successfully bred in England since 2001.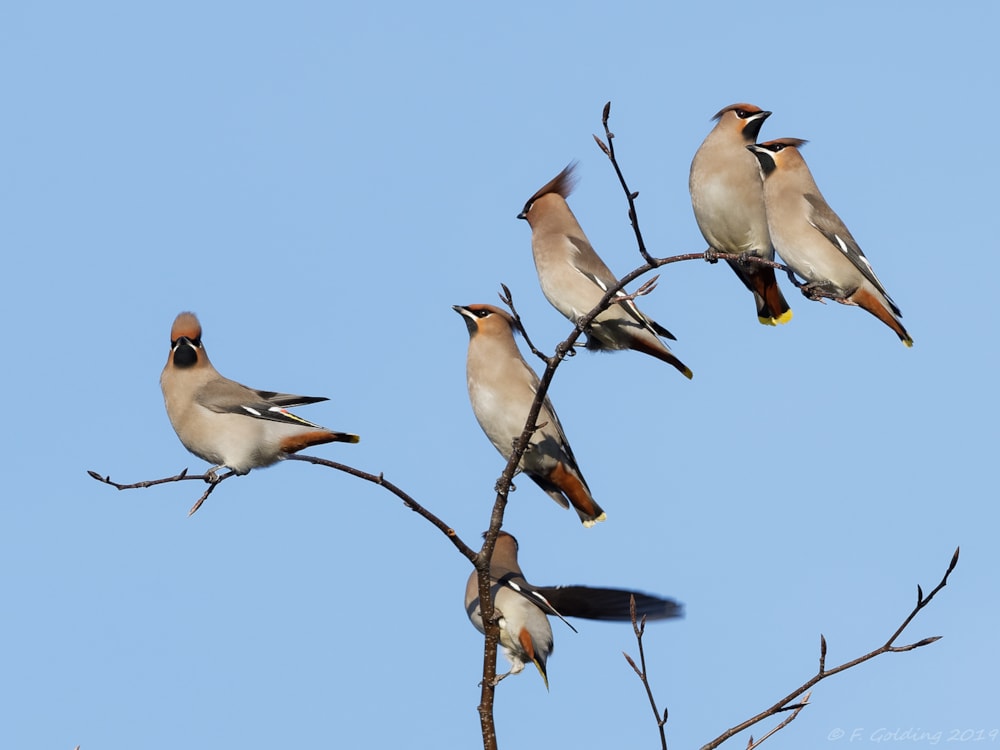 Waxwing, Blyth, Northumberland (Frank Golding).
Of the 10 sites that hosted Waxwing, seven were in Northumberland. A particularly large flock in that county, at Blyth, peaked at 126 on 2nd and included two colour-ringed birds. Also in Northumberland, the drake American Wigeon was still present at Grindon Lough and a late Swallow lingered at Cresswell until 1st.
Siberian Chiffchaffs were at Seaburn, Co Durham, and Saltholme RSPB, Cleveland. At the latter site, the Long-eared Owl roost peaked at three birds. Hardwick Hall CP, Co Durham, hosted a Great Egret for two days from 2nd, a Hooded Crow was at Burden Moor, Co Durham, on 3rd and two Tundra Bean Geese were at Cowpen Bewley, Cleveland, on 3rd.
North-West England
It was a relatively quiet week, with the first-winter drake Ring-necked Duck continuing to draw a steady line of admirers to Pine Lake, Lancs. A probable Richard's Pipit at Mythop, Lancs, on 1st would likely have proved similarly popular had it been pinned down.
All five sites that recorded Waxwings were in Cumbria. Smew, always decent in the north-west, were at Lapwing Hall Pool, Cheshire, and Brockholes LWT, Lancs, while Freckleton and Leighton Moss RSPB – both in Lancashire – held Great Egrets.
In the same county, the Redwing roost was still going strong at Longridge Fell – an impressive 17,010 were tallied up on 1st.

Ring-necked Duck, Pine Lake, Lancashire (Colin Davies).
Other notable bits included two Greater Manchester Caspian Gulls, at Audenshaw Reservoirs and Pilsworth fisheries, and a European Shag on West Kirby Marine Lake, Cheshire, on 3rd.
Lincolnshire and Yorkshire
While far from the rarest bird of the week, arguably the star attraction in this part of the world was the continuing adult Pomarine Skua at Donna Nook, Lincs, which gives incredible views on the beach behind the warden's hut – well worth visiting if one hasn't already.
Late news of a Hoopoe at Cloughton Wyke, North Yorks, from 26th wasn't followed up by any successful sightings during this review period. A juvenile Rough-legged Buzzard in the same county at Malton, on 3rd, also proved fleeting.
In East Yorkshire, the drake Green-winged Teal continued at Blacktoft Sands RSPB and the Pallas's Warbler remained at Kilnsea.
An adult Kumlien's Gull put in two showings past Flamborough Head, East Yorks, on 30th and 1st. The drake Ring-necked Duck was still touring waterbodies in West Yorkshire, racking up four different sites during the week, while both North and South Yorkshire held Great Grey Shrikes.
Three Siberian Chiffchaffs were in East Yorkshire and a Yellow-browed Warbler was at Filey Dams, North Yorks, on 3rd.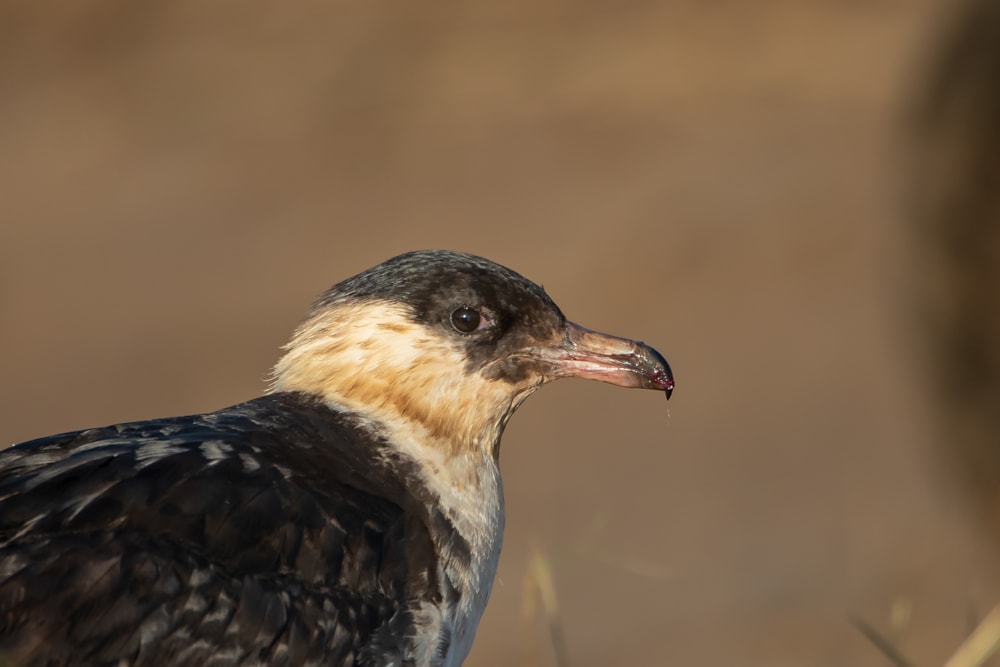 Pomarine Skua, Donna Nook, Lincolnshire (Mark Johnson).
Waxwings made it as far as Sowerby Bridge, West Yorks, but most were in North Yorkshire, including some 65 at Burniston on 1st. A Greater Scaup at Rodley NR, West Yorks and a Red-throated Diver at Far Ings NR, Lincs, were notable inland records. Wine may not be something one associates with West Yorkshire or indeed Snow Buntings, but impressively two flew over a vineyard at Holmfirth, West Yorks, on 28th.
West Midlands
In Staffordshire, a Yellow-browed Warbler was at Alrewas GPs from 2nd and a Red-breasted Merganser was flushed off the River Sow at Doxey Marshes on 1st.
In Worcestershire, a curious record involved a particularly showy Great Northern Diver on the canal by Sainsbury's in Kidderminster, from 30-1st. Sticking with the confiding waterbird theme, the popular Red-necked Grebe was still at Venus Pool, Shrops, until 27th.
Also in Shropshire, a Yellow-browed Warbler by the River Severn at Coalport was a good find on 27th, at the Caspian Gull continued at Priorslee Lake.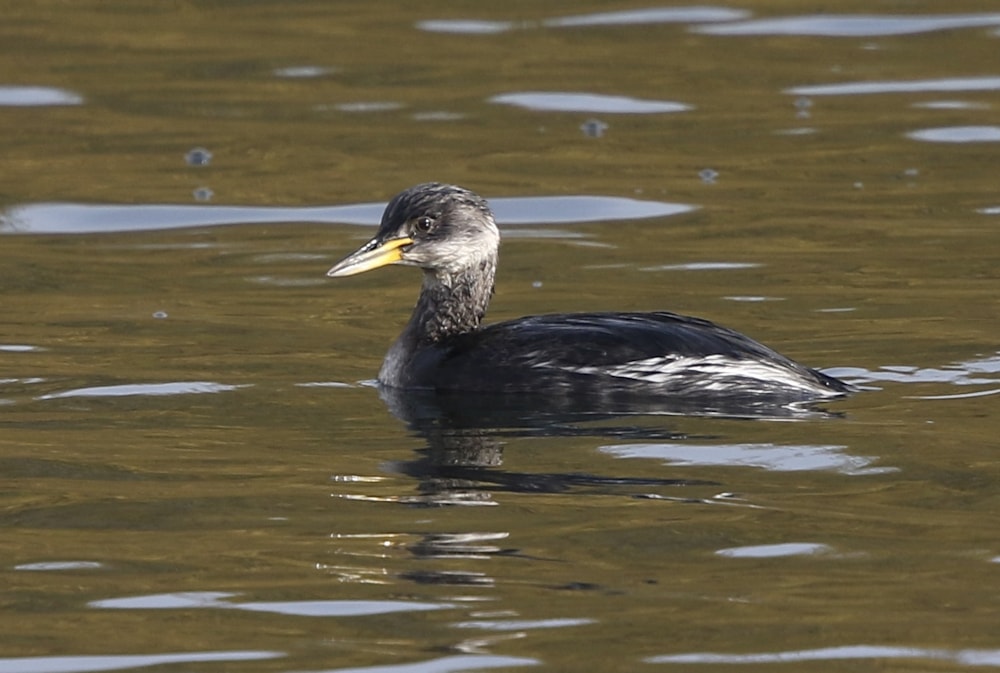 Red-necked Grebe, Venus Pool NR, Shropshire (Mark Ian Jarrett).
In Warwickshire, the adult Glaucous Gull continued to roost at Draycote Water, where two Red-breasted Mergansers lingered until 29th. A Brent Goose was a notable record at Lugg Meadows, Herefordshire, on 27th.
East Midlands
The Great Grey Shrike continued in Northamptonshire, at Crick, throughout the week. It was a quiet seven days in Derbyshire, though the female Common Scoter at Ogston Reservoir and two Western Cattle Egrets at Long Eaton GPs on 3rd were of note, the latter duo joining the long stayer of their kind also in situ in the county, at Eggington Hall.
Two Smew were at Langford Lowfields RSPB, Notts, with three lingering at Rutland Water. All five regularly occurring British grebes were also up for grabs at the latter site.
In the same county, Eyebrook Reservoir continued to host the Red-throated Diver, while a Dark-bellied Brent Goose flew over Stanford Reservoir on 1st.
East Anglia
A showy Red-breasted Flycatcher at Waxham, Norfolk, was not in most birder's scripts for the first day of December, though to be fair it swiftly moved on and there was no sign the following day. A little to the south at Horsey, a Richard's Pipit put in an appearance on 3rd. In Suffolk, the Pallas's Warbler continued at Minsmere RSPB until 27th, while the popular Cambridgeshire bird – at Paradise Nature Reserve – was seen until 2nd.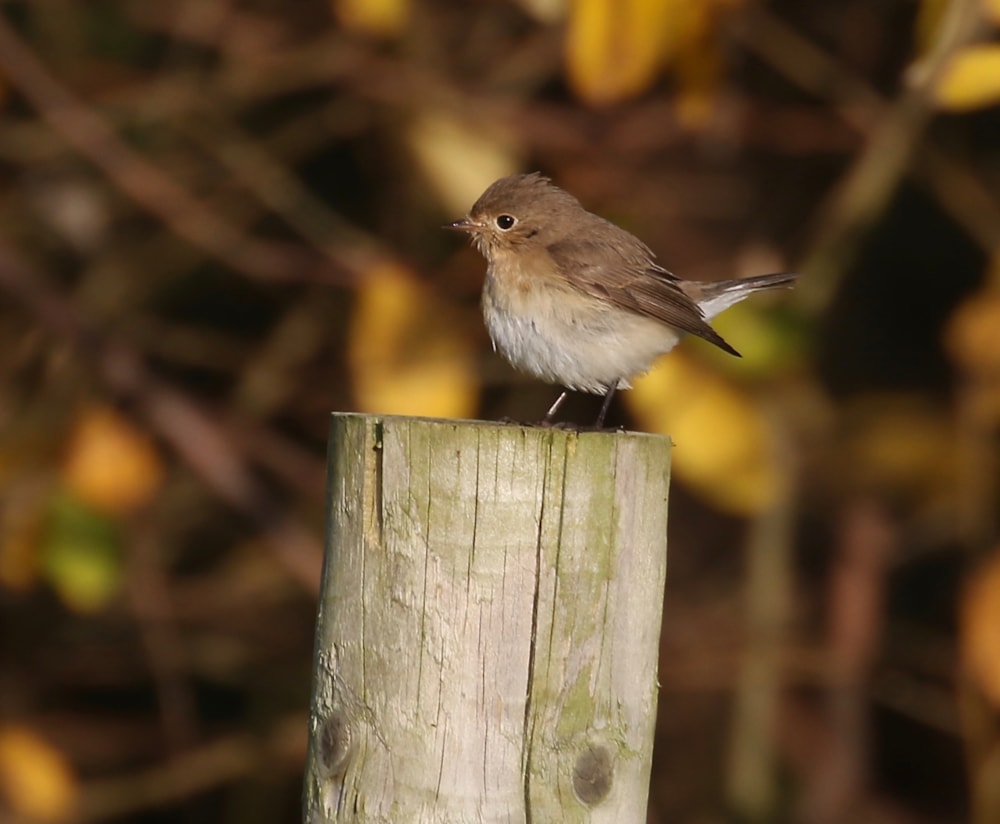 Red-breasted Flycatcher, Waxham, Norfolk (Rachel Warren).
Quite a few birders travelled to Winterton-on-Sea to see the Eurasian Eagle-Owl there, but realistically this bird must be an escape. The only Great Grey Shrike for the area was the continuing bird at Brogborough Lake, Bedfordshire. There were five Rough-legged Buzzards (four in Norfolk and one in Suffolk), with the two counties sharing all seven of the Waxwing records. December Swallows were in Cambridgeshire and Essex.
There were a few notable wildfowl records, not least the return of England's only wintering flock of Taiga Bean Geese to Buckenham Marshes, Norfolk, from 1st, although the group totalled just six. Continuing Black Brant were in Essex and Suffolk. The adult drake Ring-necked Duck hung on at Abberton Reservoir, Essex, and in the same county a Long-tailed Duck was at Hanningfield Reservoir.
Another Essex report involved an impressive record of a female Velvet Scoter, on the River Thames at East Tilbury, on 30th. In Hertfordshire, two Red-breasted Merganser were at Tyttenhanger GPs on 1st.
The Glossy Ibis continued at Thornham, Norfolk, Glaucous Gulls were in Essex and Norfolk and a Red-necked Grebe was at Maxey GPs, Cambs, from 1st.
South-East England and Greater London
One or more Penduline Tits reappeared at Grove Ferry and Stodmarsh, Kent, but remained frustratingly hard to pin down. In the same county, the Glossy Ibis continued in the Sandwich Bay area, an impressive 3,000 or more Mediterranean Gulls were off Copt Point on 2nd and a Rough-legged Buzzard was on the Isle of Sheppey on 1st.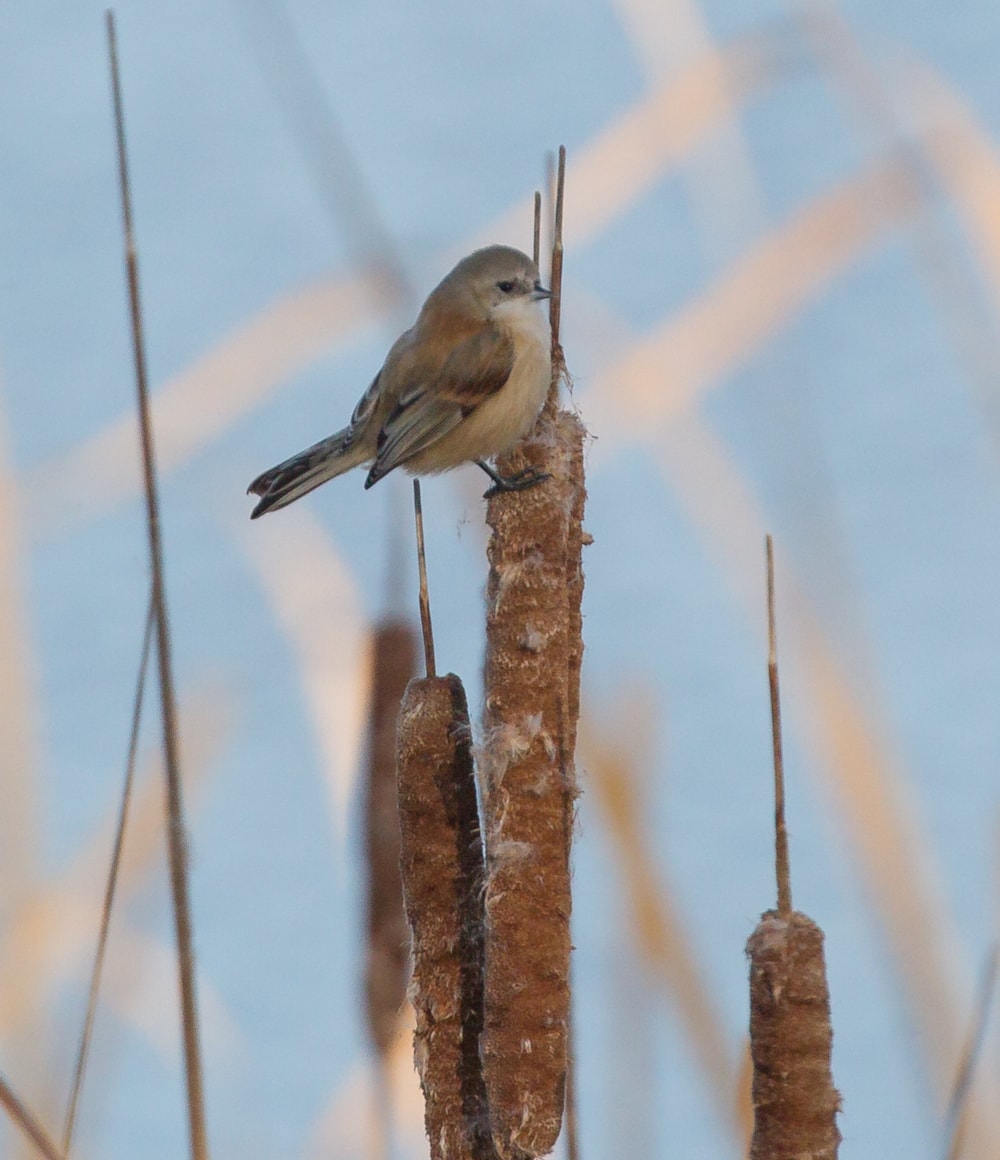 Eurasian Penduline Tit, Stodmarsh NNR, Kent (Steve Reynaert).
A slightly less expected location for a Rough-legged Buzzard was Buckinghamshire, but one was reported at High Wycombe on 30th. In neighbouring Berkshire, and adult Greater White-fronted Goose was at Padworth Lane GP on 30th and the European Shag continued at Theale GPs.
Great Grey Shrikes were at Ashdown Forest, East Sussex, and in the New Forest. In Hampshire, the lingering (and seemingly wintering) European Turtle Dove continued to be reported, and very late Whinchat was at Hook-with-Warsash LNR on 3rd. The released Great Bustard continued on the Isle of Wight.
Some 10 Caspian Gulls at Cuckmere Haven, four House Martins at Battle and a Twite at Rye Harbour were notable East Sussex records, while in West Sussex there was a Siberian Chiffchaff at Steyning sewage works, a showy Long-tailed Duck continuing at Dell Quay and as many as 41 Hawfinches roosting at Westdean Woods.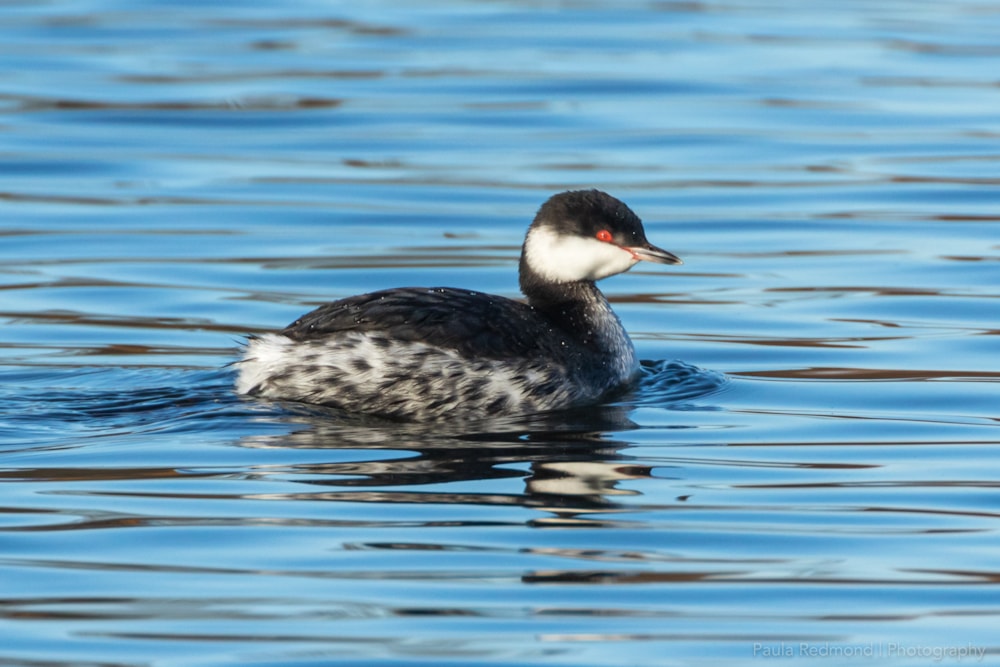 Slavonian Grebe, Richmond Park, London (Paula Redmond).
It was a good week for rarer grebes. In Greater London, a Red-necked Grebe at Staines Reservoirs on 3rd and a showy Slavonian Grebe at Richmond Park (the first for the park since December 1939) on 29th were good value. In Surrey, four Black-necked Grebes were at Island Barn Reservoir, where the female Greater Scaup continued, with the drake of the latter species returning to Walthamstow Reservoirs, Greater London, from 27th.
South-West England
Ring-necked Duck were in Cornwall, Devon (an impressive five at Tamar Lakes) and Dorset, with the only two Green-winged Teal involving the continuing drakes at Chew Valley Lake, Somerset, and Wacker Quay, Cornwall. The female Surf Scoter remained at Porthloo on St Mary's, Scilly, while the first-winter female Lesser Scaup was still in situ at Stithians Reservoir. A redhead Smew in Somerset, at Chard Reservoir, was of note.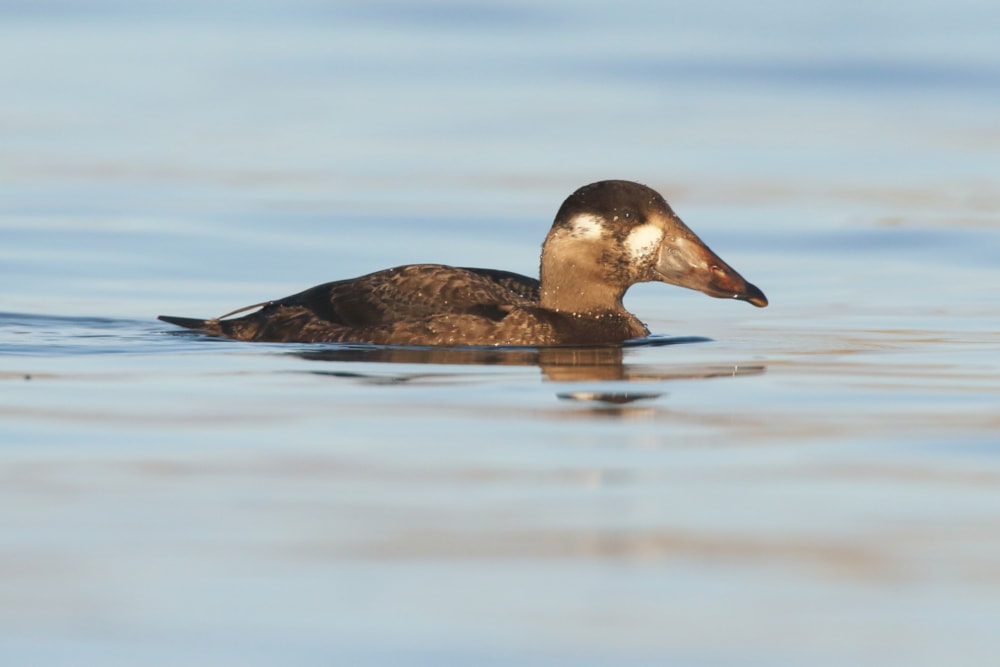 Surf Scoter, St Mary's, Isles of Scilly (Andrew Jordan).
Also in Somerset & Bristol, a fine trio of Black-throated Diver, Great Northern Diver and Long-tailed Duck were up for grabs at Barrow Gurney Reservoirs. Dorset held a Black Brant, while records in the same county linked to releases included a Great Bustard at West Bexington on 3rd and three Common Quail at Milborne St Andrew. The Devon Glossy Ibis was still at Fremington Quay. The only Ring-billed Gull of the review period was a second-winter at Chew Valley Lake.
An impressive three sites hosted Great Grey Shrikes in Gloucestershire (perhaps involving two birds), with a further individual in Dorset and another reported in Devon. There was a decent smattering of Siberian Chiffchaffs and Yellow-browed Warblers, as one would expect from south-west England during winter these days.
There were two Pallas's Warblers in Cornwall and a late Common Whitethroat and Garden Warbler were Somerset & Bristol and Cornwall until 29th respectively. The Bluethroat continued in Devon, as did the Richard's Pipit in Somerset & Bristol. Both Cornwall and Dorset held Little Buntings, at Goonhilly Downs and East Fleet respectively.
The two Chough continued on St Mary's, Scilly, while the Hooded Crow reappeared at Padstow, Cornwall, on 30th.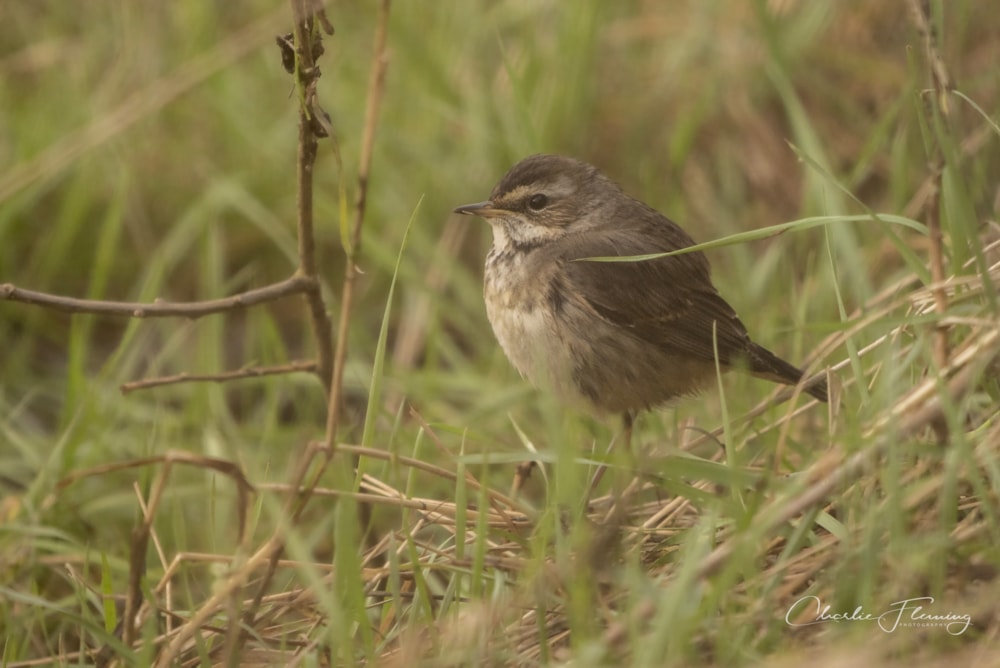 Bluethroat, Turf, Devon (Charlie Fleming).
Wales
Impressively, the young Red-backed Shrike was still to be found at Porthcrawl, Glamorgan, until 29th. There were two Great Grey Shrikes – one again at Llyn Brenig, Clwyd, and another reported once more at Bwlch y Sarnau, Powys.
On 28th, the returning adult Ring-billed Gull roosted at Llys-y-Fran Reservoir, Pembs, for the first time since February. A first-winter drake Ring-necked Duck was at Llyn Pendam, Ceredigion, from 27-30th, a drake Surf Scoter was off Old Colwyn, Conwy, from 1st and the Glossy Ibis remained at Newport Wetlands, Gwent.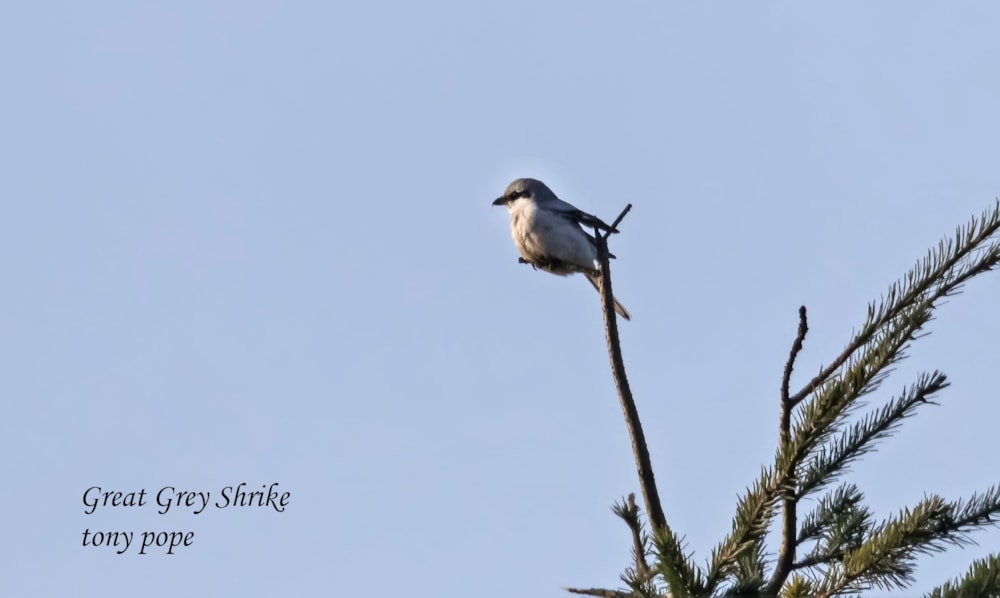 Great Grey Shrike, Clocaenog Forest, Clwyd (Tony Pope).
Wales was the place to be for showy Long-tailed Duck – Sker Point, Glamorgan, Cemlyn Bay, Anglesey, and Shotwick Boating Lake, Clwyd all held particularly confiding birds. An adult drake Smew was unsurprisingly popular when it appeared at Llandegfedd Reservoir, Gwent, on 2nd.
In Powys, the Hooded Crow remained at Pant-y-Dwr. No fewer than six sites scored Firecrest, the same number that held Great Egrets. Other notable records included the lingering Black-necked Grebe at Penberry Reservoir, Pembs, and the Greater Scaup still at Cosmeston Lakes, Glamorgan.
Scottish mainland
The drake Ring-necked Duck returned to Acharacle, Highland, for its fourth winter running on 2nd. Meanwhile, it almost goes without saying that a Surf Scoter was still off Musselburgh, Lothian, this week – as was the Ruddy Shelduck at Udale Bay, Highland. A redhead Smew on the river in Thurso on 29th was also significant.
Sixteen Tundra Bean Geese at St John's Loch was a good count for Caithness, while another was among Greenland White-fronts at West Freugh Airfield, Dumfries, on 29th. The white-morph Snow Goose also lingered in the environs of New Cummock, Ayrshire.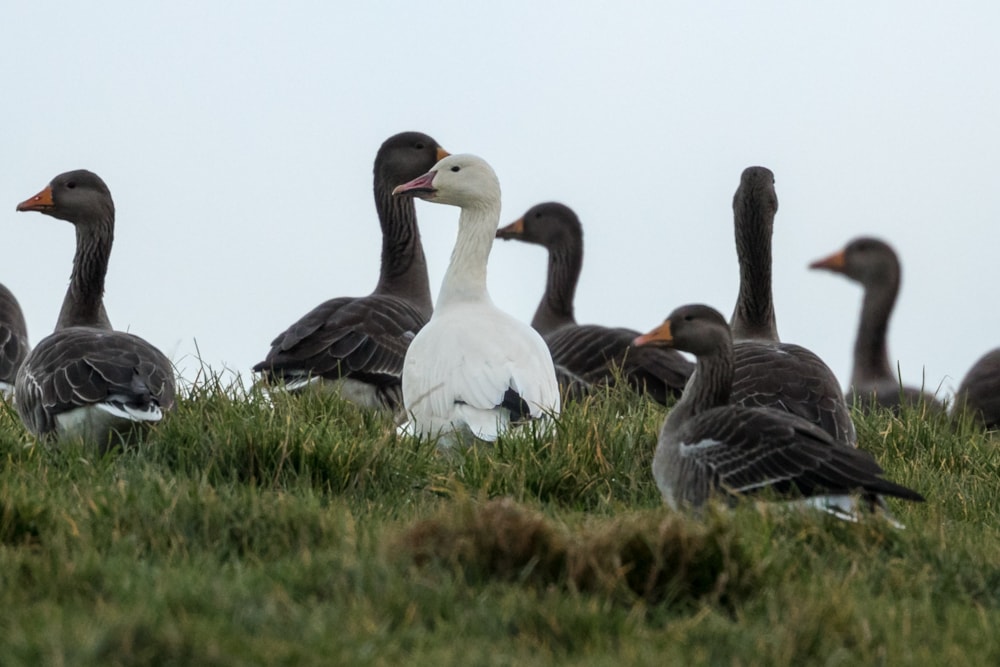 Snow Goose, New Cumnock, Ayrshire (Ian Bollen).
Shore Lark isn't a common bird in Highland and the lingering bird at Dornoch was enjoyed to at least 3rd. A Red-necked Grebe was also off nearby Embo on 1st.
Aberdeenshire produced a couple of Siberian Chiffchaffs during the week, with one at Inverbervie on 30th and another at Girdle Ness on 2nd. A third was at Ardmair campsite, Highland, on 28th and Fife also scored, with one at the churchyard in Kilconquhar on 3rd.
A Great Egret stuck around at Ythan Estuary, Aberdeenshire, and there were other reports from Montrose Basin, Angus, and Loch Leven, Perth, as well as in Borders and Dumfries & Galloway.
Waxwings remained prominent in eastern areas, with a peak count of 110 at Forres, Moray/Nairn, and other flocks in excess of 50 in both Aberdeen and Perth, with smaller numbers in other towns and cities.
Northern Isles and Western Isles
Much of this week's news from the Outer Hebrides concerned wildfowl, with the Ring-necked Duck still on Barra, American Wigeon still on South Uist and Snow Goose still on North Uist, the latter island also hosting a Todd's Canada Goose at Knockintorran on 27th. Precious few white-winged gulls were reported this week, so the second-winter Glaucous Gull at Tiumpan Head, Lewis, gets a mention.
The pair of Ring-necked Duck lingered on Tiree, where a Siberian Chiffchaff was at Balephuil on 29th. A Todd's Canada Goose was on Islay at Loch Gruinart on 27th.
Orkney news included an oiled adult White-billed Diver in Scapa Bay from 29th and a drake Surf Scoter in Kirkwall Bay on 1st. An extraordinary 12 White-billed Divers (and three Glaucous Gulls) were off Papa Westray on 29th, with eight seen there the following day.
In Shetland, Siberian Chiffchaffs were on Whalsay and at Hoswick, Mainland, but the only other bits of interest were a light scattering of Glaucous Gulls around the archipelago.
Northern Ireland
A Great Egret was at the south end of Lough Beg on 30th, while the redhead Smew returned to Portmore Lough, Co Antrim, on 3rd.
In Co Derry, a Siberian Chiffchaff was in a Castlerock garden on 2nd. A late Swallow was at Kinnego Marina, Co Armagh, on 1st and a flock of 14 Waxwings put on a show in Ballymoney throughout the week.

Republic of Ireland
A Water Pipit at Glassagh Bay from 30th was an excellent record for Co Donegal. Woodlark is a major Irish rarity, and one flying over Slane, Co Meath, on 27th would have been widely twitched had it landed. Three Siberian Chiffchaffs were trapped at Owenahincha, Co Cork, on 28th and one lingered at South Slob, Co Wexford, to 1st, while a late Common Redstart was at nearby Rosslare.
Eleven Ring-necked Duck were spread between just three sites, with a half-dozen at Lough Yganavan, Co Kerry, on 29th and four still at Lough Gara, Co Sligo, plus a single drake at Rahasane Turlough, Co Galway. The Lesser Scaup at Keel Lough, Achill Island, Co Mayo, on 2nd is presumably the bird seen earlier in the autumn at Carrowmore Lake and on the Mullet peninsula.
A drake Surf Scoter was back off Gleninagh Quay, Co Clare, and the American Wigeon lingered at Kilcolgan, Co Galway. Drake Green-winged Teal were at Timoleague, Co Cork, on 30th and at Blennerville, Co Kerry. Among Co Sligo's wintering Barnacle Geese, the Todd's Canada Goose was seen again at Ballyconnell on 2nd. Glossy Ibises were in Cos Kerry, Cork and Wexford.
An adult Ring-billed Gull was back at Tralee Bay Wetlands, Co Kerry, on 3rd, with other adults still at Nimmo's Pier, Co Galway, and Blackrock, Co Louth. Just a single white-winged gull was reported in the entire country – a juvenile Iceland still at Tramore, Co Waterford. A second-winter Caspian Gull was at the hotspot of Kildavin Quarry, Co Carlow, on 29th.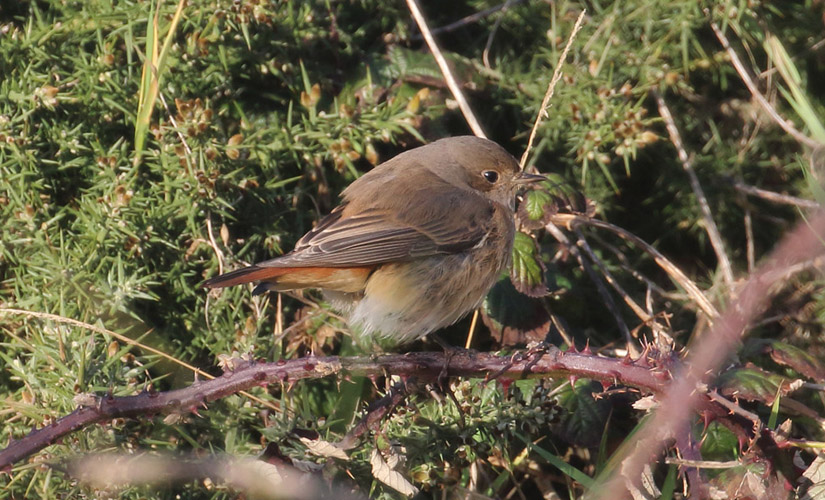 Common Redstart, Rosslare, Co Wexford (Paul Kelly).
Western Palearctic
Star find this week was Italy's second Black-throated Accentor, which could be found along the banks of the River Entella at Lavagna from 30th. In France, the Wallcreeper returned to the town of Dinan for another winter from 2nd.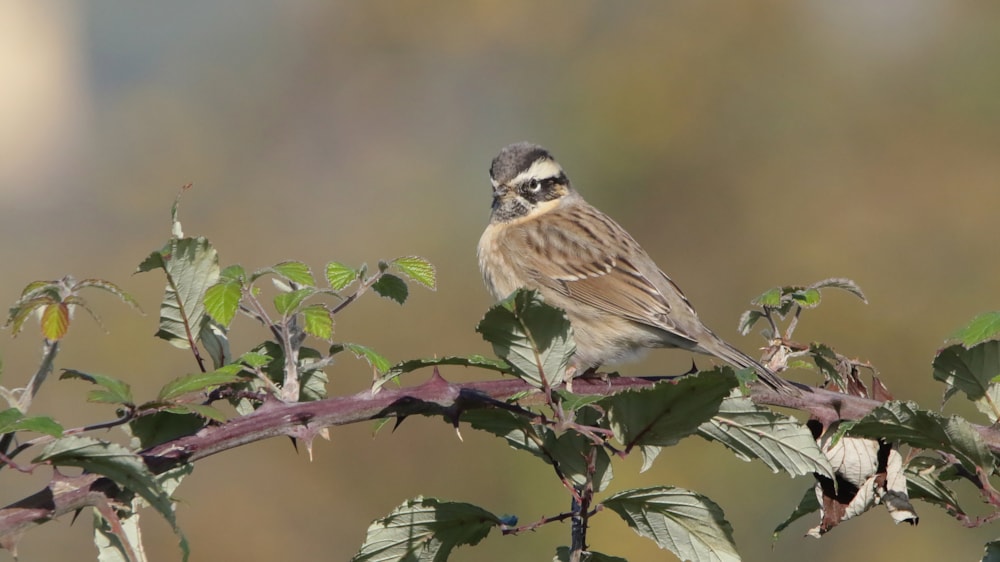 Black-throated Accentor, Chiavari, Liguria (Tony Solinas).
Spain's second Brown Shrike was identified from images taken at Porta do Nó, Galicia, earlier in November. Fortunately, the bird was still around on 30th and into December – it seems set to go on to winter here, just like the country's first did at the Ebro Delta from December 2014 to April 2015.
It's likely that 2019 will long be remembered as the year of the Brown Booby, and another was seen this week off the coast of Mallorca at Canyamel. Spain's second and the Canary Islands' first Eastern Yellow Wagtail was still on the golf course at Morro Jable, Fuerteventura, on 30th, having first been seen on 26th. A Little Bunting was on the same island at Costa Calma and the Pied Crow was again seen on Gran Canaria.
A surprising record was a Red-eyed Vireo at Serreta, Terceira, Azores, on 30th – could it be set to winter? Other sightings from the archipelago included an American Buff-bellied Pipit on Pico and a Northern Harrier on Flores.
Northern Shrike remains an extremely rare bird in the WP, and so Lithuania's first – trapped at Ventės Ragas Ornithological Station on 3rd – was a very significant find. Estonia's third Calandra Lark was at Riguldi on 1st.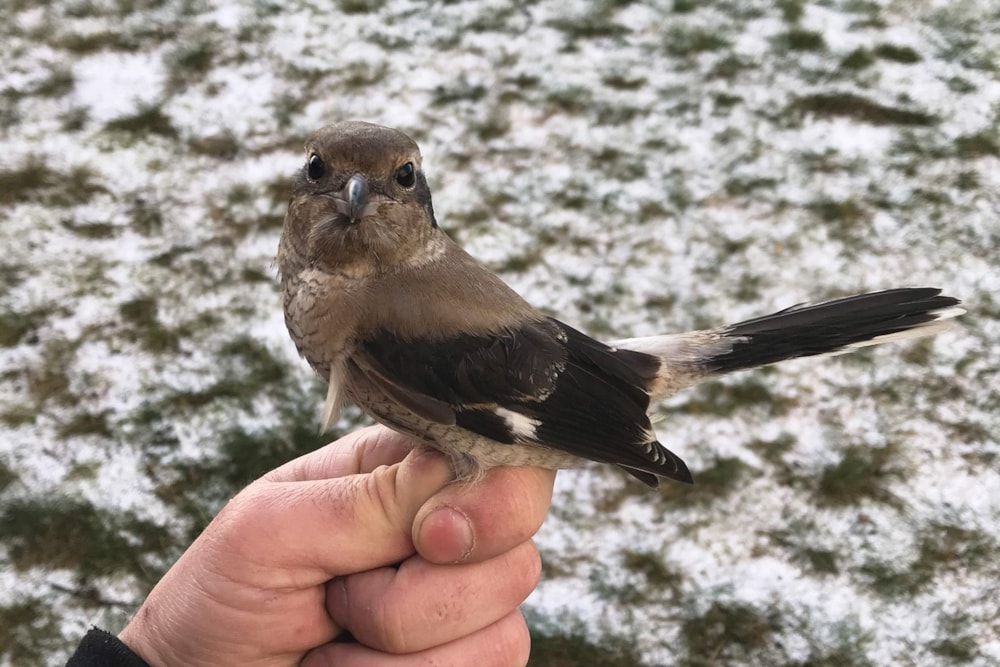 Siberian Northern Shrike, Ventė Cape, Klaipėda (Vytautas Eigirdas).
There appears to have been a bit of an influx of Black-throated Thrushes into the south-east of the region in recent weeks, with an amazing flock of 30+ near Van, Turkey, on 23rd and several also belatedly reported from Azerbaijan. There was also a bird in north-east Sweden on 29th.
The Dutch rarity line-up involved the continuing Great White Pelican, Crested Lark and Pied Crow, all at their favoured chosen localities.