All in all, the review period proved a considerably less frenetic seven days across Britain and Ireland compared to the previous week – although there were still some excellent birds seen, despite the familiar 'end of spring' feeling that had started to spread across our isles.
After last week's reappearance at March Farmers, which must surely have struck worry into the hearts of those hoping for a smooth ride to acceptance by the Rarities Committee, it was a relief to see the handsome Baikal Teal up sticks and begin a gradual northbound movement up the English east coast. Last seen at the Cambridgeshire site on the evening of 21st, it spent a day missing in action (presumably frequenting a coastal Lincolnshire wetland) before appearing in front of one lucky observer at Kilnsea Wetlands, East Yorks, early on 23rd. Any question about it being the same bird was rapidly extinguished for it was exhibiting the same, distinctive behaviour – trailing a particular drake Eurasian Wigeon just about everywhere it went (which the latter doesn't seem hugely thrilled about).
Baikal Teal, Kilnsea, East Yorkshire (Peter Hines).
A day was a long enough stay in the Spurn area for this dishy drake, which became the 400th species to be seen at the famous migration hot-spot, before it moved north once more, to Hornsea Mere. Again, it was almost always alongside its favourite Eurasian Wigeon, lingering there to 28th. Assuming it continues north, the jury is now out on where it will appear next. The Saltholme area, perhaps, or one of the many attractive wetlands on the Northumberland coast …
An exceptional occurrence concerned Norfolk's first Upland Sandpiper, which pitched down briefly in coastal fields at Sheringham on 26th but quickly continued westwards before a twitch could even be contemplated let alone attempted. Curiously, a subsequent report came out the woodwork of a 'possible' Upland Sand on the golf course at Brancaster, with the time of this observation preceding the Sheringham sighting. Might this major county blocker yet give itself up?
The Eurasian Crag Martin seen over Beachy Head on 22nd will, if accepted, mean a hat-trick of records of this mega-rare species for the East Sussex site, following birds there in 1988 and 1995. Given that just a dozen or so have been seen in Britain over the years, this is a pretty impressive stat to hold. However, it proved extremely fleeting, not being seen again that day (although it was reported again for a short period the following lunchtime).
No fewer than three Squacco Herons were seen during the week, with the continuing bird still at Tacumshin, Co Wexford, bolstered by arrivals on Lundy, Devon, on 23rd (found thanks to panic spreading among the local Eurasian Oystercatchers!) and Titchfield Haven, Hants, from 24-26th. Five Purple Herons included the lingering Barra bird and a new adult at Titchwell RSPB, Norfolk, from 25th. The Black-crowned Night Heron made a few customary appearances at Fairburn Ings RSPB, West Yorks, between 23rd and 26th, while the elusive Nottinghamshire bird was again reported at Attenborough on 22nd. Meanwhile, late news concerned a Little Bittern frequenting a small pond by the Harvester pub at Gowerton, Glamorgan, on 13th; it hasn't been seen since. In other news, no fewer than three scarce waterbirds are nesting at the RSPB's Burton Mere Wetlands reserve, Cheshire; read more about that here.

Squacco Heron, Tacumshin, Wexford (Victor Caschera).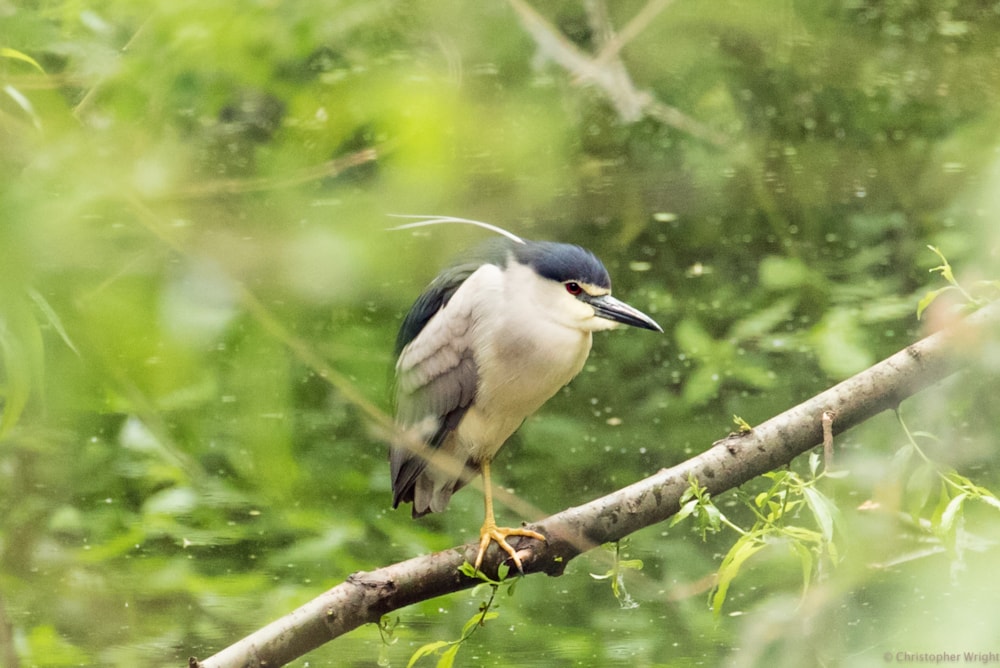 Black-crowned Night Heron, Fairburn Ings RSPB, West Yorkshire (Christopher Wright).
A fine White-winged Tern visited Burton Mere Wetlands on 24-25th, commuting between the English and Welsh parts of the reserve. Turning into something of a long-stayer was the Gull-billed Tern on Tiree, Argyll, which was still frequenting Loch Riaghain on 27th. The Co Galway Forster's Tern was back in the tern colony at Inishroo on 22nd, but there were precisely zero gulls of any real note at large.
Shorebirds fared better, with a slight surprise coming in the reappearance of the Broad-billed Sandpiper at Holy Island, Northumberland, intermittently from 23-25th. The Lesser Yellowlegs at Scatness, Shetland, from 23rd is presumably last week's individual from Fair Isle relocating. A fine adult American Golden Plover at Skokholm, Pembs, from 25th is remarkably the first island record since 1981.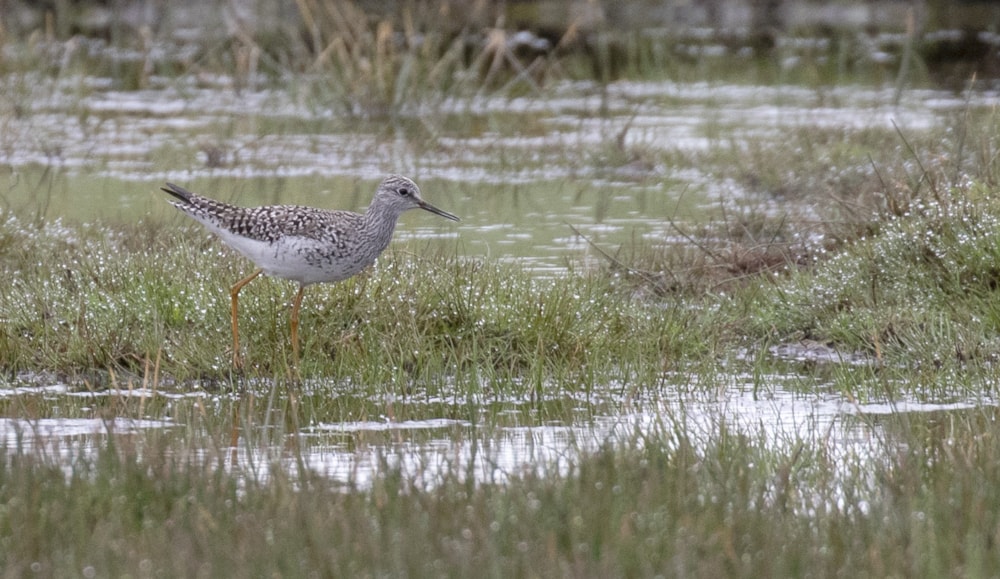 Lesser Yellowlegs, Scatness, Mainland, Shetland (Roger Riddington).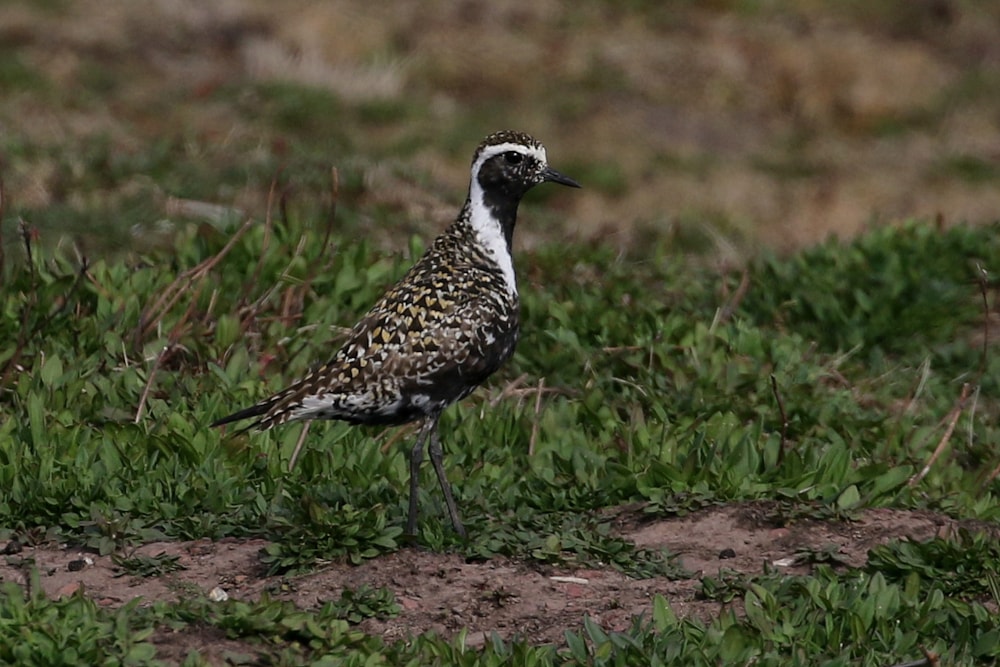 American Golden Plover, Skokholm, Pembrokeshire (Richard Brown).
Unfortunately, the week's only migrant Red-necked Phalarope – at Uttoxeter Quarry, Staffs, on 27th – quickly fell foul of the attentions of a local Peregrine Falcon. A brief Grey Phalarope off Uisaed Point, Argyll, on 26th didn't hang around to risk the same fate. The lightest scattering of migrant Eurasian Dotterel included three at two sites in Norfolk, one in Suffolk and one on Fair Isle. Two Black-winged Stilts at Wells-next-the-Sea, Norfolk, on 22nd were back there again on 27th, while another pair took up residence at Catcott Lows, Somerset, from 26th.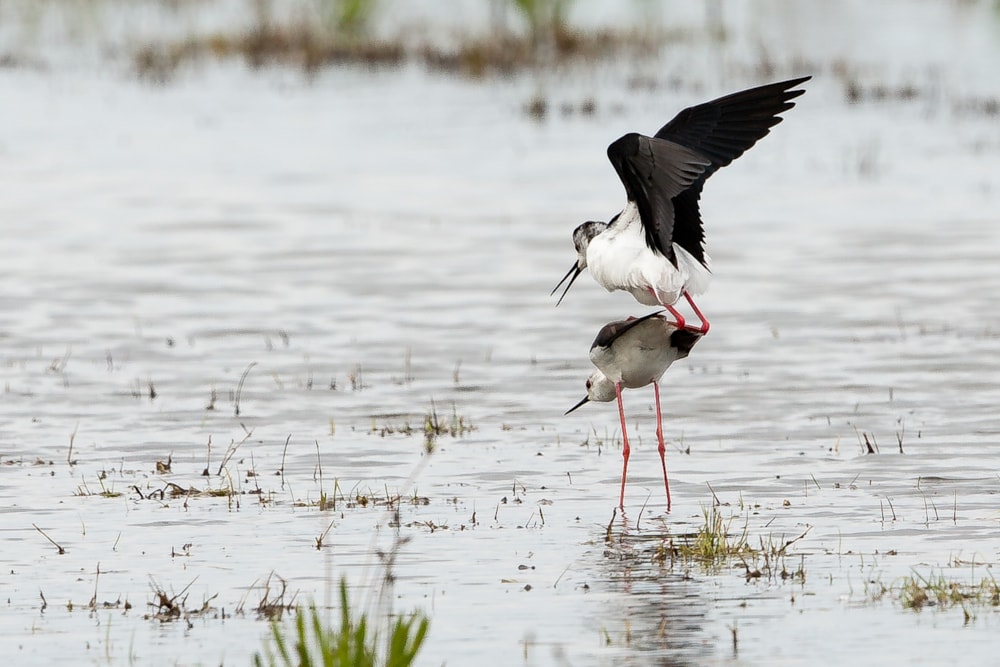 Black-winged Stilt, Wells-next-the-Sea, Norfolk (Paul Ward).
Skua passage picked up in the Outer Hebrides on 26th, with a strong movement of Long-tailed Skuas totalling in excess of 250 birds passing the classic site of Aird an Runair, North Uist. Numbers were much smaller elsewhere, with ones and twos including a couple up the Solway at Bowness, Cumbria, on 26th. However, it's getting a bit late for big numbers of Pomarine Skuas – as little more than a handful seen around Britain testified.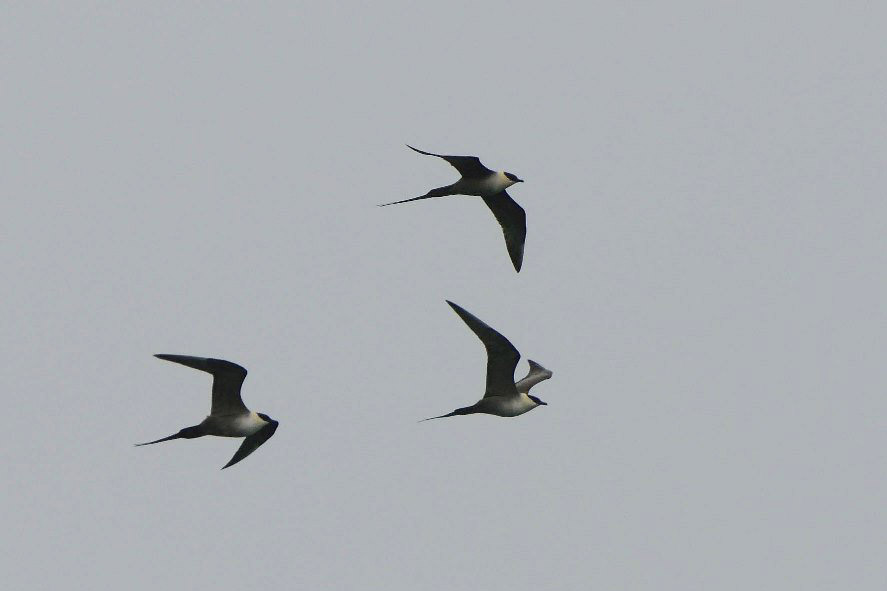 Long-tailed Skuas, Aird an Runair, North Uist (Steve Duffield / www.western-isles-wildlife.com).
The only Ring-necked Duck this week was the metal-ringed drake at Livermere Lake, Suffolk, while the Lesser Scaup lingered at Mire Loch, Borders, to 23rd at least. New drake Green-winged Teal arrived at Haroldswick, Unst, on 24th and Erewash Meadows, Notts, on 25-26th. The American Wigeon was seen again at Shannon Airport Lagoon, Co Clare, on 28th. Despite his limp, the drake American Black Duck seems to have won the hearts of one or two of the local females at Strontian, Highland; the Blue-winged Teal was also still at Mellon Charles, Highland, on 26th, as was the King Eider at Nairn. A White-billed Diver flew north past Longhaven, Aberdeens, on 27th, with another still off Papa Westray, Orkney, on 25th.
It was no great surprise to hear that the Snowy Owl was still on St Kilda, Outer Hebrides, on 25th. A little more unexpected was a male Pallid Harrier east of Helperby, North Yorks, on 24th. Montagu's Harriers were seen in Suffolk and East Yorkshire. The confiding Red-footed Falcon lingered on St Mary's, Scilly, to 27th, while another male cruised around the Spurn recording area on 22nd. A female showed well at South Slob, Co Wexford, on 25th, while one female at Cahore Marsh became two on 27th.

Eurasian Hobby (left) and Red-footed Falcon, Tacumshin, Wexford (Cian Cardiff).
After last week's bounty of rare birds, the Northern Isles continued to produce some quality arrivals. One of the stand-out discoveries was a Paddyfield Warbler on Out Skerries on 22nd, where there were also two Eastern Subalpine Warblers, Blyth's Reed Warbler and Thrush Nightingale. Another 'Sprosser' lingered at Quendale to 22nd, while a Rustic Bunting spent the day at Norwick, Unst, on 23rd. Both Rustic Bunting and Thrush Nightingale also made appearances on Fair Isle, where there was a Tawny Pipit on 27th, too. In Orkney, the male Rustic Bunting stuck around on Papa Westray to 24th.
Content continues after advertisements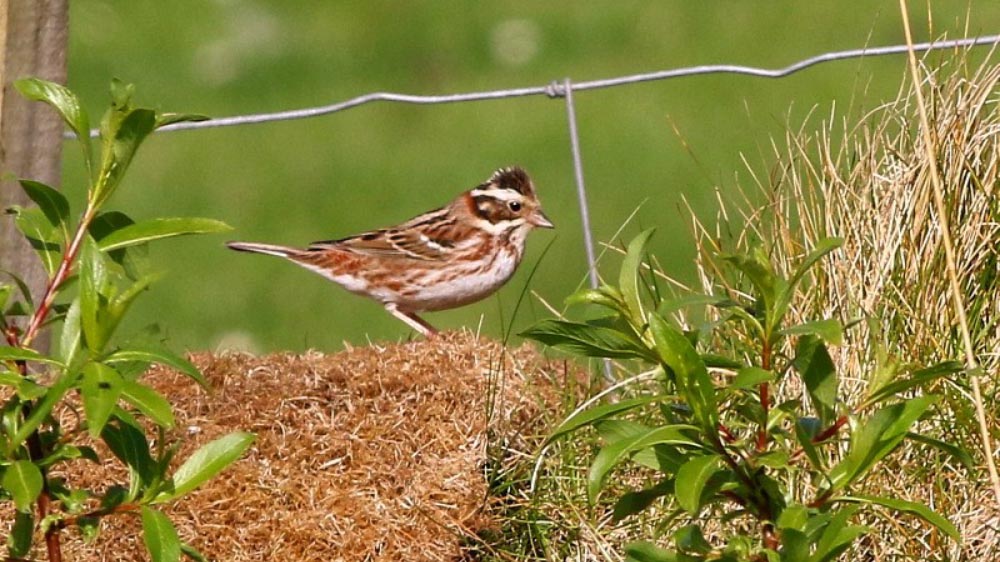 Rustic Bunting, Norwick, Unst, Shetland (David Cooper).
Whalsay, Shetland, netted one of four Great Reed Warblers this week, with a bird at Isbister on 23rd. A male set up shop at Saltholme RSPB, Cleveland, from 22nd, while two were seen in West Yorkshire: the lingering songster at Wintersett Reservoir all week and another not too far away at Dewsbury Sewage Works on 23rd. Two new Savi's Warblers continued the strong spring for the species, with singing birds found at Uskmouth, Gwent, and Buckroney, Co Wicklow, on 25th; both were still there on subsequent dates. One also continued to 'buzz' at Minsmere RSPB, Suffolk.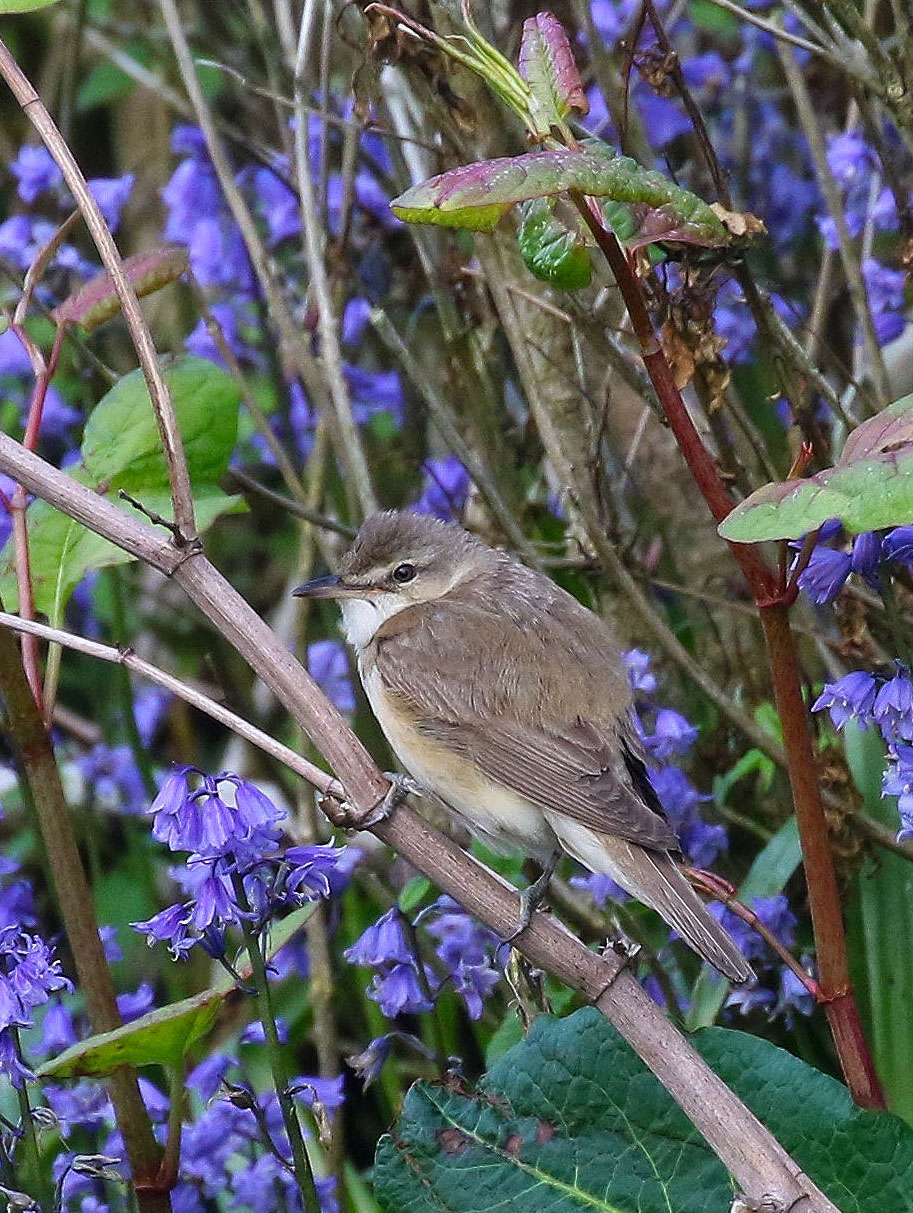 Great Reed Warbler, Isbister, Whalsay, Shetland (John Irvine).
The weekend produced another small influx of Iberian Chiffchaff candidates, with new birds discovered singing in Pembrokeshire, Warwickshire and Suffolk (though the Welsh bird also occasionally gave bursts of Common Chiffchaff, despite looking the part). Others remained on territory in Aberdeenshire and Lancashire. Arguably a more significant record at this time of year, a Siberian Chiffchaff sang at Royden Park, Cheshire, from 27th.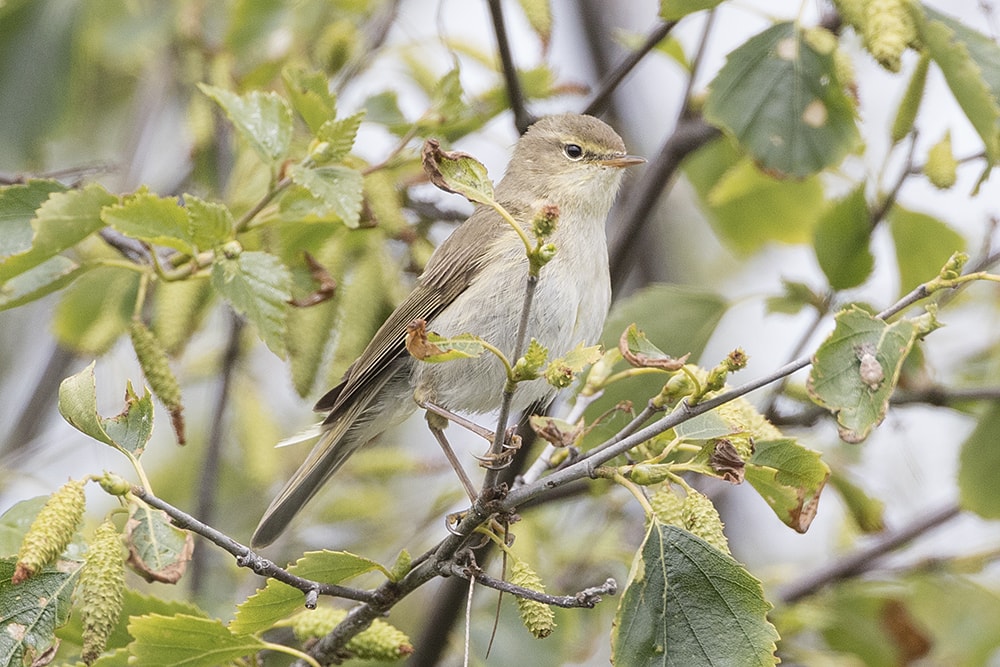 Iberian Chiffchaff, Dunwich Heath NT, Suffolk (Andrew Moon).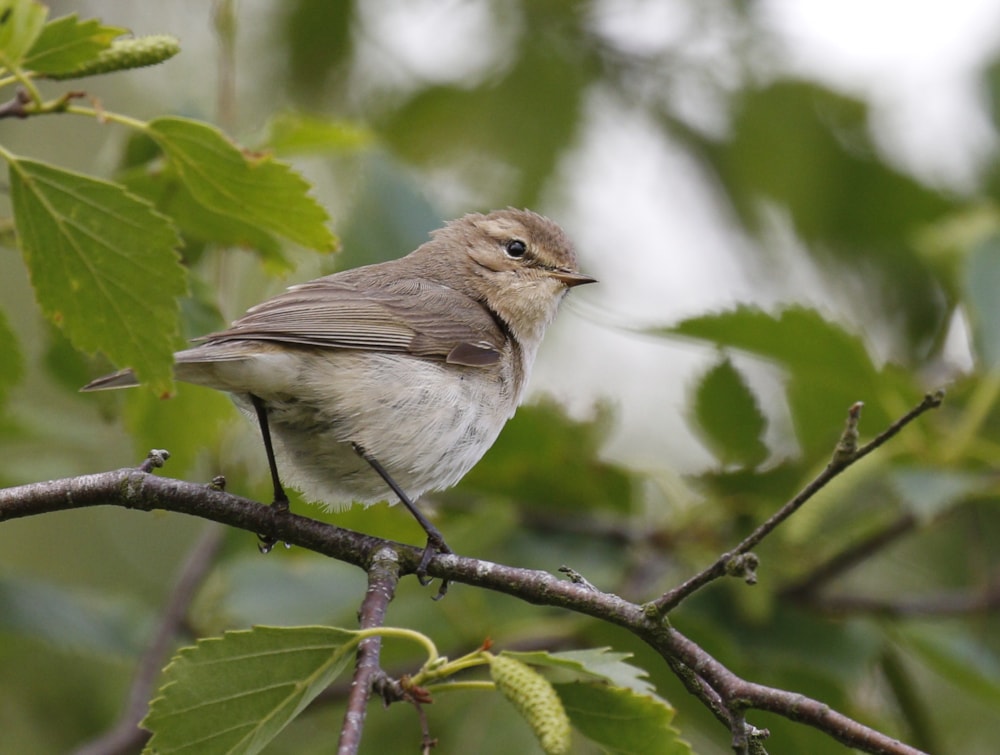 Siberian Chiffchaff, Thurstaston Common/Royden Park, Cheshire (David Bradshaw).
A smart Eastern Subalpine Warbler spent the day singing at The Naze, Essex, on 24th, while a Western Subalpine Warbler was trapped at Calf of Man Observatory on 23rd and again on 25th. A likely Western was also at Hook Head, Co Wexford, on 26th. The week's only Melodious Warbler was at Nanjizal, Cornwall, on 23rd, while just three Icterine Warblers were encountered, all on Shetland. A male Marsh Warbler sang at Mire Loch, Borders, for a short time on 23rd, with another on Unst that day.
It's feasible that just a single European Bee-eater accounted for sightings at five Norfolk sites between 25th and 27th. Fly-overs were also seen in Cornwall, West Sussex, East Sussex and Kent, while another lingered at Deerness, Orkney, on 25th. A dozen Golden Orioles were mainly in the south, though one did reach Shetland; the week's only Hoopoe was on the golf course at Caister-on-Sea, Norfolk, on 27th.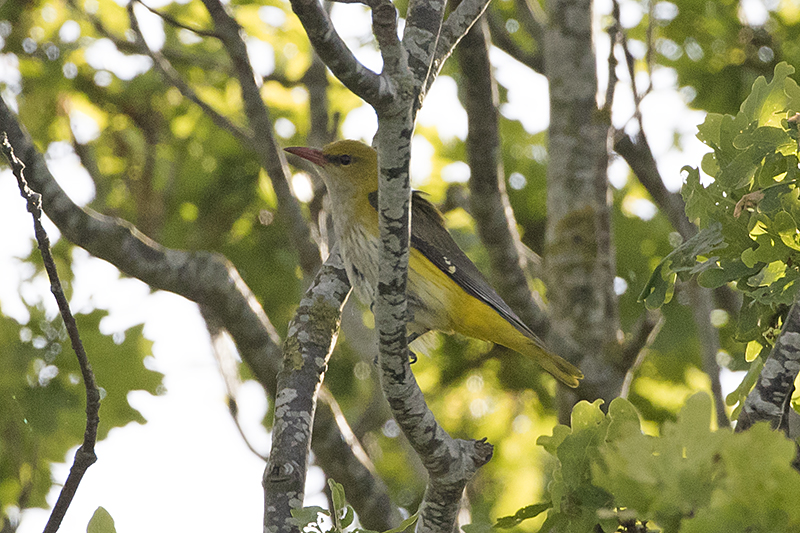 Golden Oriole, Minsmere RSPB, Suffolk (Andrew Moon).
A single Woodchat Shrike was recorded, with a male visiting Cemlyn Bay, Anglesey, on 26th. Just half a dozen Red-backed Shrikes were noted, with birds widely spread between Kent and Shetland. The Great Grey Shrike remained in Cambridgeshire all week; presumably the bizarrely late date, confiding nature and sorry plumage state are due to a close shave with a predator in recent weeks.
North Ronaldsay, Orkney, continued its good run with a smart female Red-flanked Bluetail trapped and ringed on 25th. Just a handful of Bluethroats were left over on Shetland from last week's big influx, with a new female at Filey, North Yorks, being the only new bird seen on the British mainland. It's not inconceivable that the Red-rumped Swallow sightings at Gibraltar Point, Lincs, on 24th and 27th referred to the same bird as that seen at Spurn, East Yorks, on 26th. A Tawny Pipit was at Rinvyle Point, Co Galway, on 25th. Grey-headed Wagtails were in Kent, East Yorkshire and Shetland, while an adult Rosy Starling called in at Hunstanton, Norfolk, on 24th.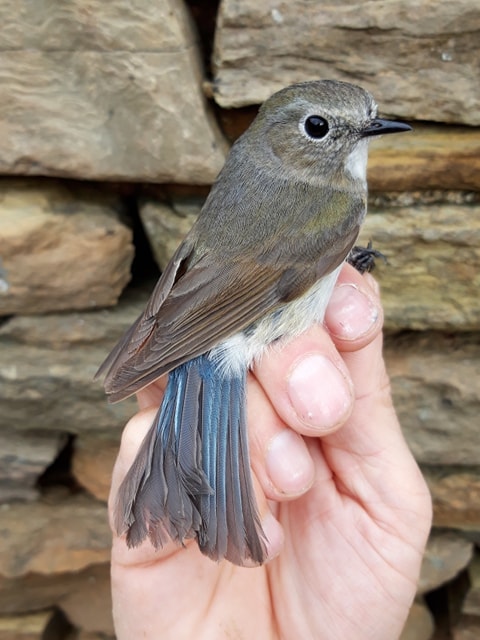 Red-flanked Bluetail, North Ronaldsay, Orkney (Simon Davies).
A dozen European Serins were seen between Cornwall and East Yorkshire, with the continuing songster still holding territory in pines at Littlestone-on-Sea, Kent, and another male taking up residence at Easington, East Yorks, from 25th. Most of the 15 Common Rosefinches were on Shetland, though there were records from Bardsey Island, Gwynedd, Portland Bill, Dorset, and Alderney.
Western Palearctic
Perhaps the most significant news, at least for British birders, concerned the Pied Crow hopping across the English Channel to The Netherlands. First seen flying along the coast at Den Oever on 22nd and readily identified by the diagnostic missing inner primary on its left wing, it later settled north-west of Groningen at Leens on 25th, lingering to 28th. Where next for this extraordinary traveller? Germany or Denmark, perhaps? Meanwhile, the resident Pied Crow was also still at M'Hamid, Morocco, on 25th.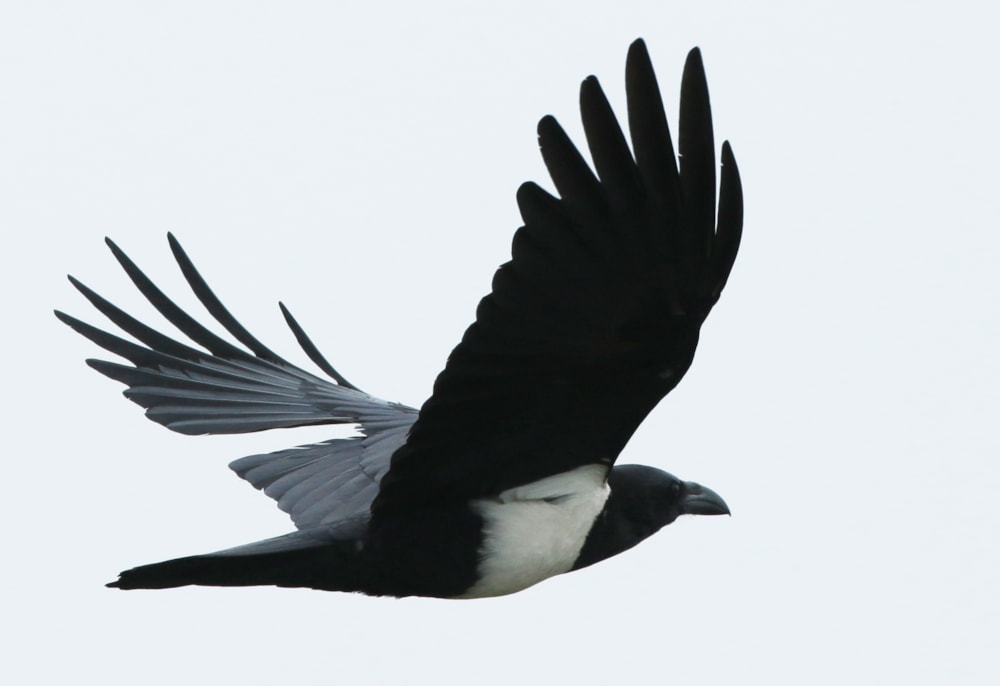 Pied Crow, Den Oever, North Holland (Fred Visscher).
Sweden's terrific run continued with an adult Pallas's Gull photographed at Umeå on 25th. Meanwhile, the Mourning Dove was relocated on Öland when it was seen at Hammarby on 23rd – it was still there on 28th. The Stejneger's Scoter was also still at Hörnefors on 22nd. In Norway, an Oriental Pratincole was noted at Skudeneshavn, Rogaland, on 27th, while a Griffon Vulture was again seen at Skagen, Denmark, and both Eastern Black-eared Wheatear and Pallas's Gull were reported from Christiansø.
An Eastern Olivaceous Warbler was at Henstedt-Ulzburg, Schleswig-Holstein, Germany, for three days to 27th. At least two Cinereous Vultures were doing the rounds in the Low Countries, with Nutcracker and Greater Sand Plover also still at large in The Netherlands.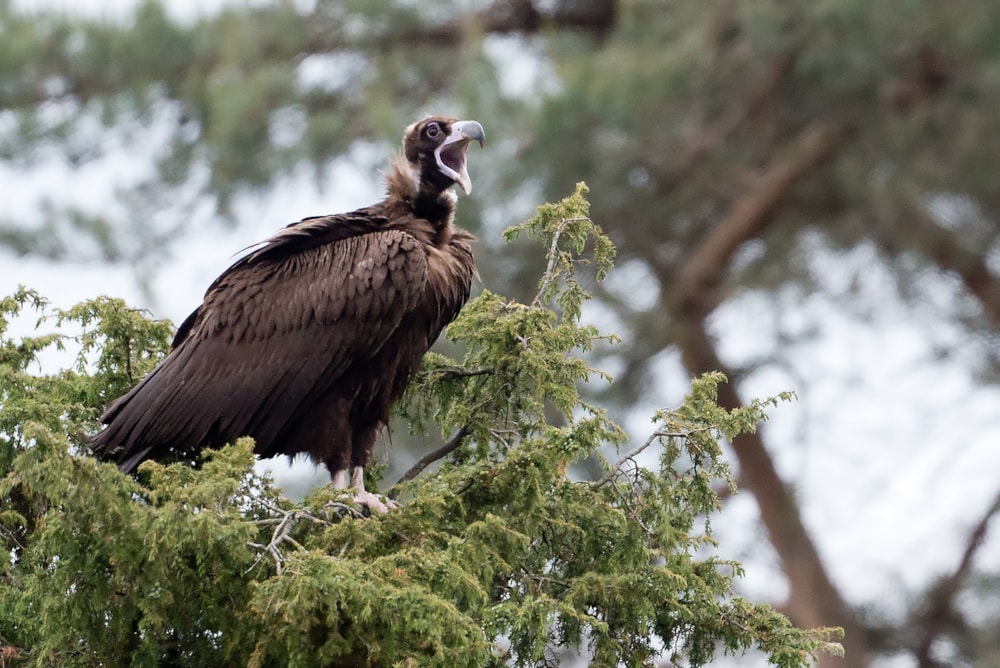 Cinereous Vulture, Hellendoorn, Overijssel (Arnoud B van den Berg).
What looks likely to be a genuine influx of Great White Pelicans to France included eight at Voreppe, Isère, on 23rd and three immatures near Lussat, Nouvelle-Aquitaine, on 27th. An Elegant Tern was at Arcachon Bay, Gironde, on 25th, although there was no news on whether it was ringed. Meanwhile, in Spain, at least three adult Elegant Terns were at Marjal dels Moros, Valencia. The Dwarf Bittern was also still on Fuerteventura on 27th.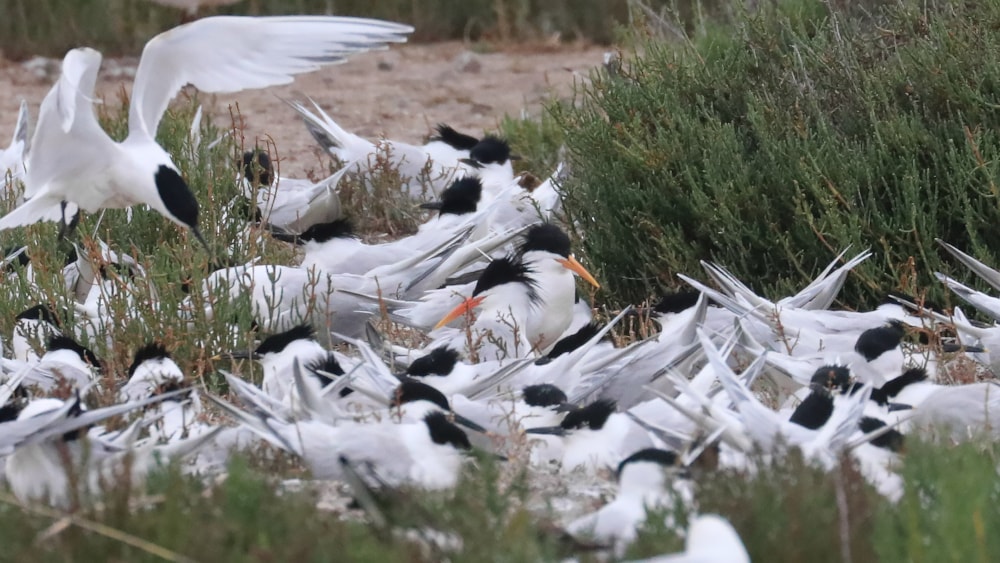 Elegant Terns, Marjal dels Moros, Valencia (Massimiliano Dettori).
Finally, a first for Azerbaijan came in the form of a Crested Honey Buzzard over Masally on 26th.