In a week filled by three new English megas, the Rosy Starling influx also hit new heights and provided Britain and Ireland with a truly fantastic start to June.
It's been a long, 20-year wait for another twitchable Red-necked Stint in Britain, with a brief bird at Ferrybridge, Dorset, in 2010 gone before it was identified and two tantalising in Ireland in 2007 and 2011. So when one materialised among a small Ringed Plover flock at Blyth Estuary, Northumberland, the British birding scene went into overdrive. Typically a bird of late July and early August, it is the first June record, looking resplendent in its breeding regalia and showing at close quarters to plenty.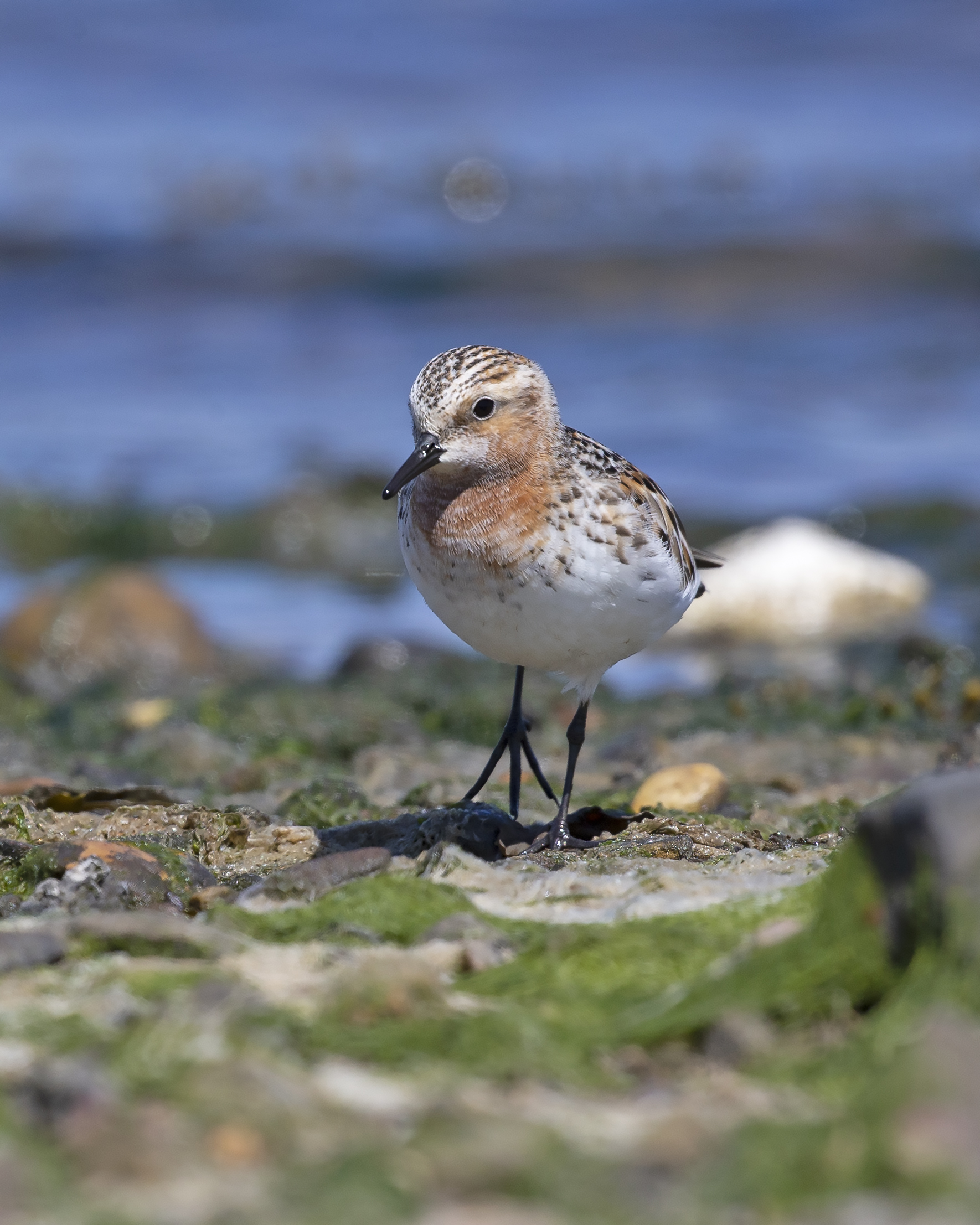 Red-necked Stint, Blyth, Northumberland (Sam Viles).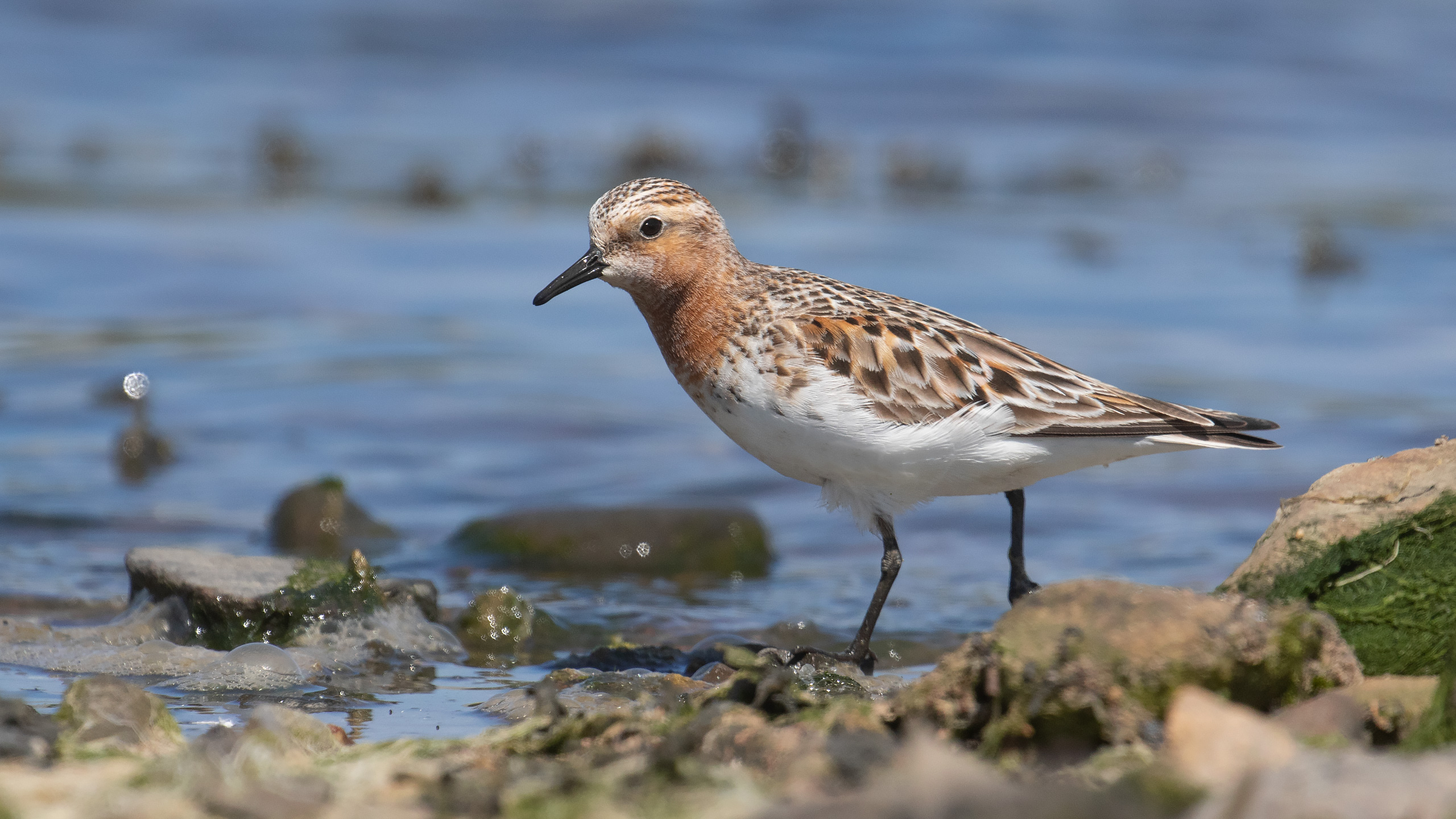 Red-necked Stint, Blyth, Northumberland (Josh Jones).
A White-tailed Lapwing at Stodmarsh NNR, Kent, started the week off with a bang on 2nd. Britain's sixth, it spent just an hour there before heading off south. Although it made a quick exit, both records since 2000 – in 2007 and 2010 – toured several sites between May and July went on to be widely twitched. Many will be hoping for a repeat performance somewhere this summer …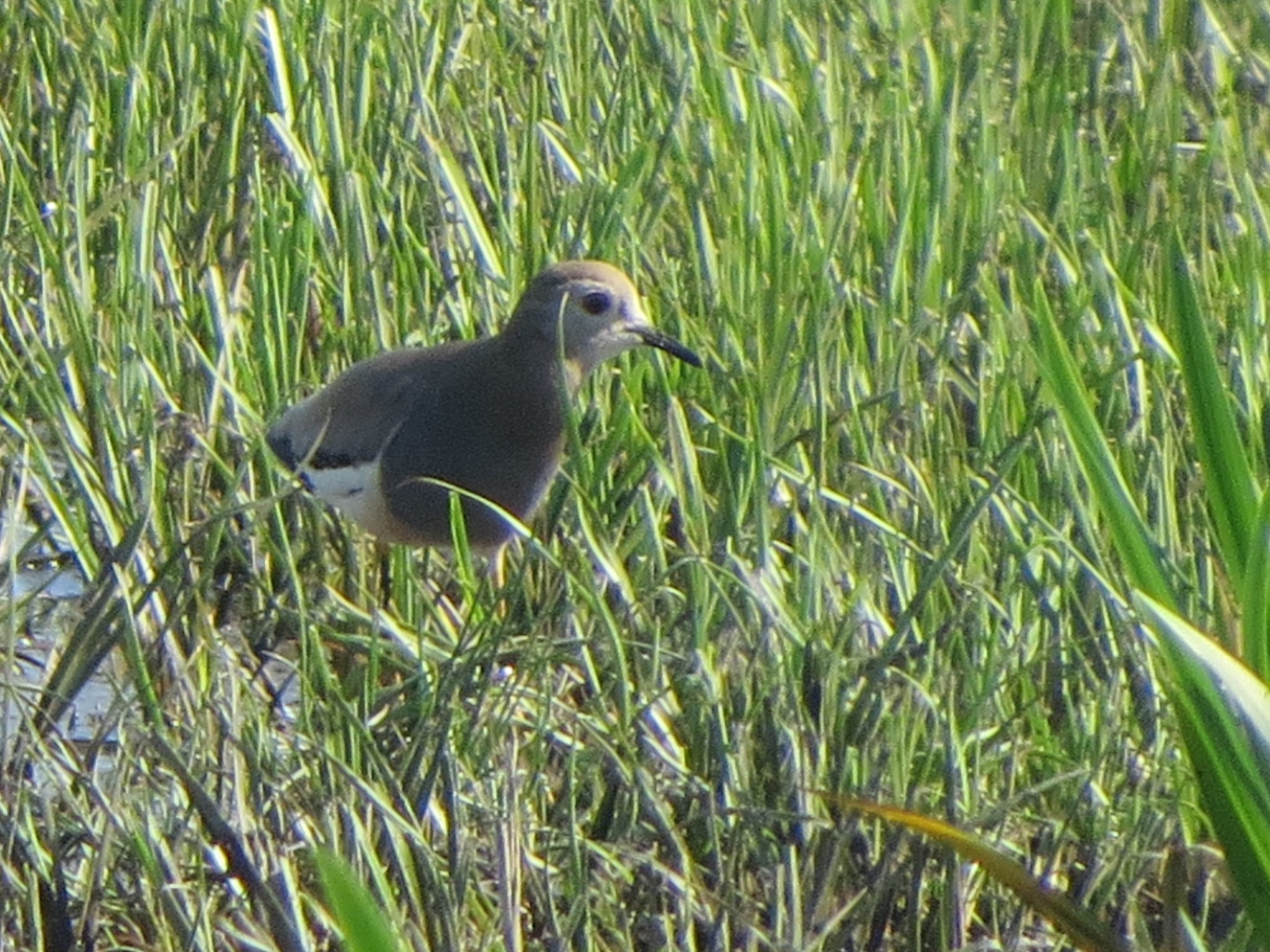 White-tailed Lapwing, Stodmarsh NNR, Kent (Bryan East).
Somerset's first River Warbler at Ham Wall RSPB had looked set to become the week's most popular bird, found singing at the county's premier birding site from 4th. Favouring a small clump of willows on the edge of the reedbed, it went on to provide delightful views at regular intervals until the week's end. We need to look as far back as July 2010 for the last widely twitched mainland record, a singing male that spent two weeks at Thorpe-next-Haddiscoe, Norfolk.
River Warbler, Ham Wall RSPB, Somerset & Bristol (Paul Marshall).
In Shetland, a rare spring Paddyfield Warbler was singing from willows at Cunningsburgh, Mainland, on 3rd, with a Thrush Nightingale at Grutness on the same date. Mainland Shetland also saw two new Great Reed Warblers, with singles at Sumburgh and Quendale. A new Great Reed was at East Chevington, Northumberland, too, with Nottinghamshire's songster still belting it out from the reedbed at Besthorpe.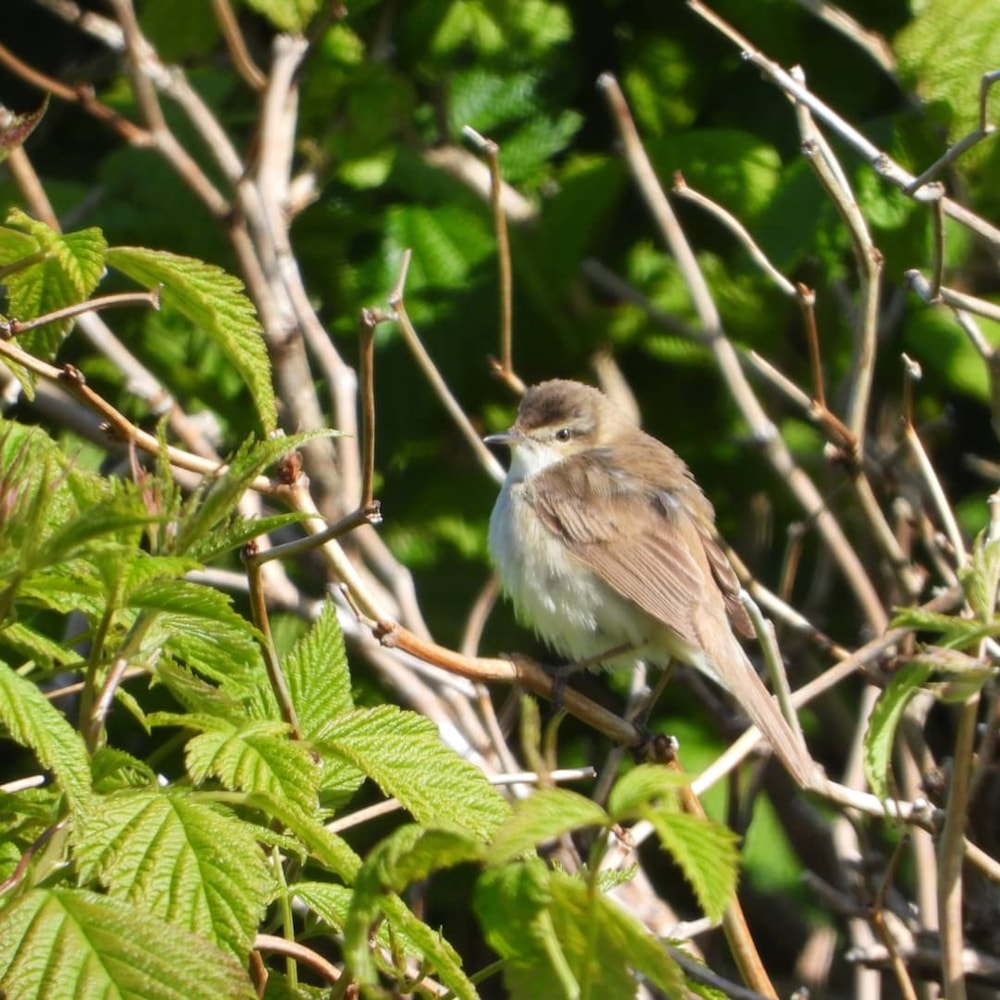 Paddyfield Warbler, Cunningsburgh, Mainland, Shetland (Matthew Bruce).
Great Reed Warbler, Besthorpe NWT, Nottinghamshire (Peter Garrity).
Scilly's third Little Swift was a brief visitor to Porth Hellick, St Mary's, late on 2nd; one with House Martins over St Agnes, Cornwall, the next day was presumably the same bird relocating.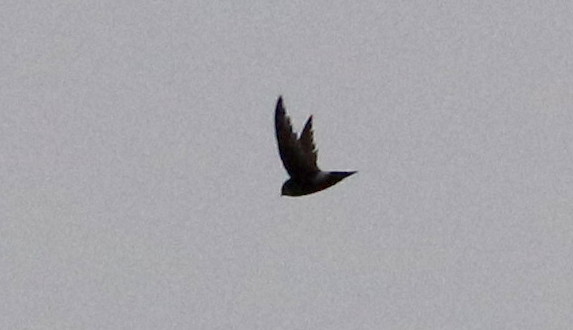 Little Swift, St Mary's, Isles of Scilly (Kris Webb).
A couple of Collared Pratincoles at Rye Harbour NR, East Sussex, on 5th reappeared at Dungeness RSPB, Kent, the following day. It's just the third occasion that two Collared Pratincoles have appeared together, with duos at Breydon Water, Norfolk, in 1827 and at Exmouth, Devon, in 1851. Other interesting historical records include two pratincole species together at Portland Bill, Dorset, in 1971 and a Black-winged-Oriental Pratincole double on the Isle of Sheppey in 1988.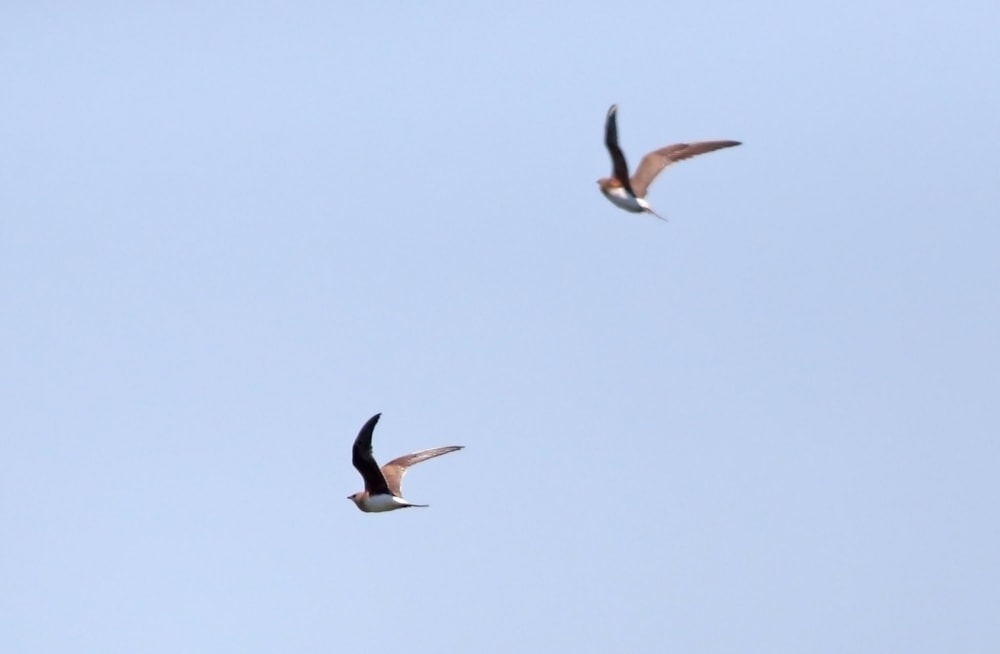 Collared Pratincole, Dungeness RSPB, Kent (Martin Casemore).
A first-summer Pallid Harrier was at an undisclosed moorland site in Aberdeenshire on 2nd, with a Snowy Owl reported at Dundalk, Co Louth, the same day.
The Naze, Essex, held a one-day male Black-headed Bunting on 6th; one was reported for two days from a Lelant, Cornwall, garden, too. The highlight on Skokholm, Pembrokeshire, was a Western Bonelli's Warbler on 2nd. Another bonelli's warbler sp was in Co Cork at Mizen Head on 3rd, while Suffolk's Iberian Chiffchaff continued singing at Foxhall. A new subalpine warbler sp was in Shetland at Norwick, Unst, on 3rd; the Western Subalpine Warbler at Calf of Man, Isle of Man, was re-trapped on 4th.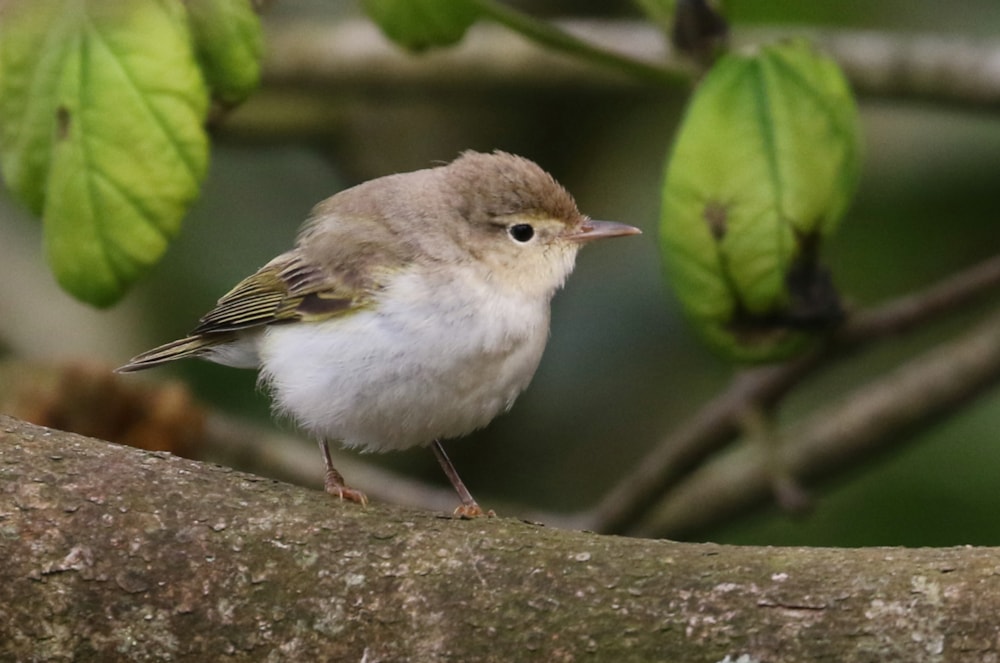 Western Bonelli's Warbler, Skokholm, Pembrokeshire (Skokholm Warden/Richard Brown).
A Lesser Grey Shrike spent less than a minute at Shetland's Skaw, Whalsay, on 3rd, before a passing car flushed it from view. The adult at Saltwick Nab, North Yorkshire, just made it into the review period, last present on 2nd. A female Rustic Bunting spent two days at Swinister Burn, Mainland, Shetland, from 5th. Fair Isle's Calandra Lark made it into another week, last noted on 4th.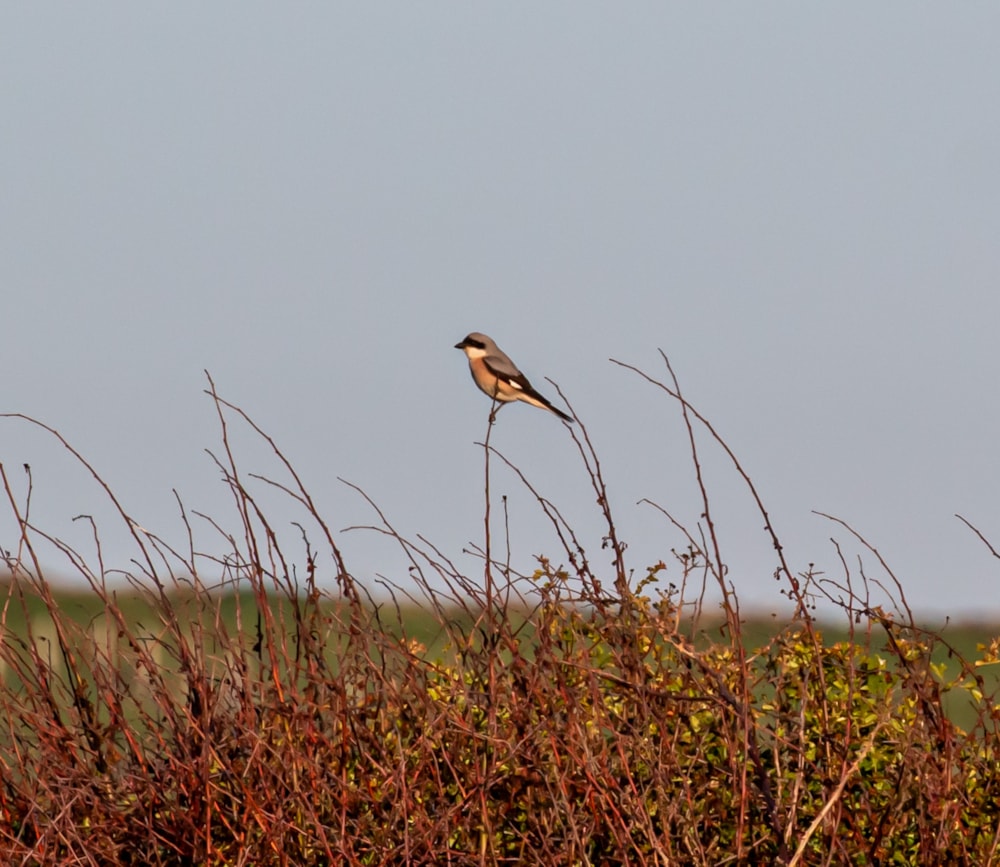 Lesser Grey Shrike, Whitby, North Yorkshire (Chris Armitage).
Cornwall's first-summer American Herring Gull was reportedly still at Newlyn until 5th at least.
Two King Eider were at opposite ends of Shetland: a first-summer drake off Baltasound, Unst, from 4th and last week's bird back off Rerwick, Mainland. Meanwhile, the regular drake was still at Ythan Estuary, Aberdeenshire.
At least two Black Storks graced the airwaves: Cornwall's bird again between Truro and Redruth on 3-4th, one over South Foreland, Kent, on 3rd, and it or another high north-east over Sellindge, Kent, on 6th. A possible Squacco Heron flew over Kirkby on Bain GPs, Lincolnshire, on 1st.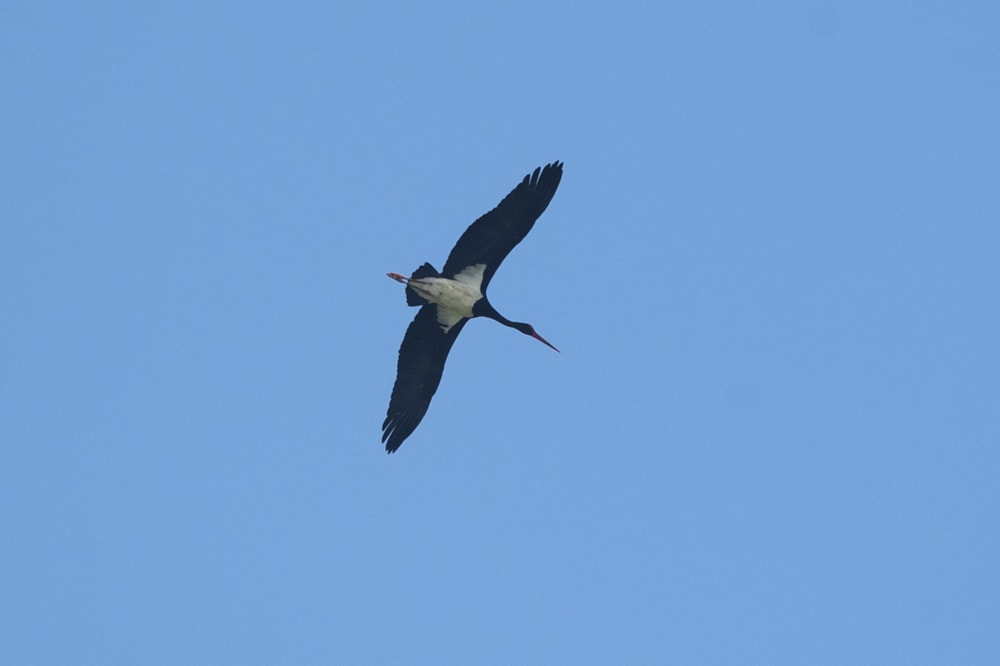 Black Stork, St Margaret's at Cliffe, Kent (Tony Flashman).
Scottish mainland
In Aberdeenshire, no fewer than 10 European Bee-eaters at Peterhead on 5th must have been quite a sight, likewise the Golden Oriole at Garlogie the following day. Meanwhile, a young Glaucous Gull was at New Deer, with both Temminck's Stint and Wood Sandpiper at Loch of Strathbeg RSPB.
Fife's Isle of May scored a smart Woodchat Shrike, with Red-backed Shrike at Portmahomack and Craigellachie NNR, Highland. Just three Rosy Starlings were recorded – at Aberlady Bay, Lothian, and Pennyghael, Mull, and Seil Island, Argyll – while a Marsh Warbler sang from a West Dunnet, Highland, garden from 3-5th. On Tiree, Argyll, a singing male Common Rosefinch was at Balephuil.
A possible American Wigeon was reported from Garnock Floods SWT, Ayrshire, on 4th, alongside a Wood Sandpiper, while a Blue-headed Wagtail was at Fail Loch. Garganey were at three sites, with Curlew Sandpipers at Findhorn Bay, Moray & Nairn, and Ythan Estuary, Aberdeenshire. Moray & Nairn's Ring-necked Duck held out at Loch Oire, a Red-necked Grebe continued at Gosford Bay, Lothian, and a Common Crane flew north over Inverlael, Highland, on 3rd. Two Iceland Gulls were at Durness, Highland, on 6th, while a Long-tailed Skua flew along the cliffs at Puffin Cove, Caithness.
Thirty-seven Snow Geese of presumably feral origin were at Dirleton, Lothian, on 3rd, seen along the North-East English coast the following day.
Northern Isles and the Hebrides
Shetland enjoyed another decent week, with a showy Lesser Yellowlegs at Grutness on 6th headlining the scarce waders. Single Temminck's Stints were at Graven, Mainalnd, on 3-4th, and Out Skerries and Foula both on 5th. A Eurasian Dotterel was over Collafirth Hill, Mainland, on 2nd. A first-summer Ring-billed Gull was on Foula on 3rd only, while a Corncrake was singing at Rerwick, Mainland, from 4-6th at least. Two Little Terns were at Ollaberry, Mainland, on 5th before relocating to Gluss Voe. They came hot on the heels of last week's bird, although with only 10 previous records of 11 individuals they're a rare visitor up here.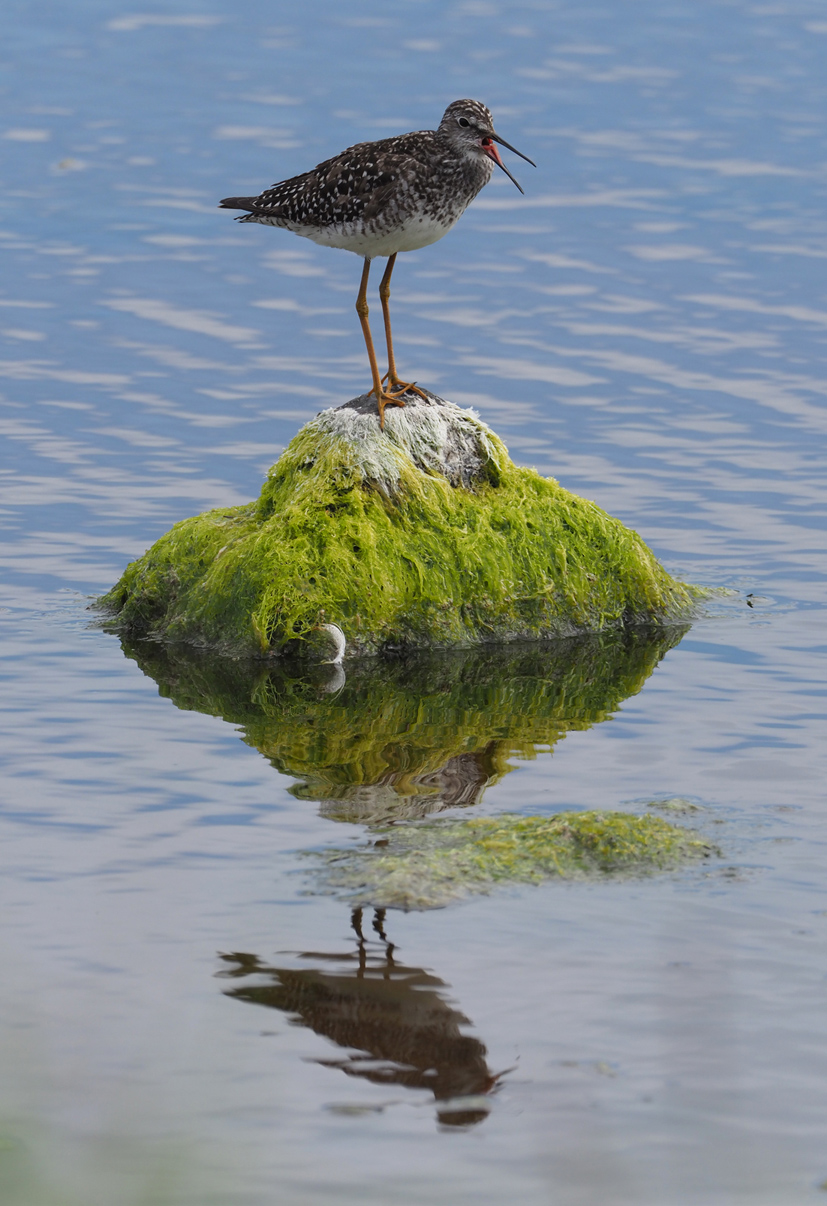 Lesser Yellowlegs, Grutness, Mainland, Shetland (Paul Sclater).
Five Golden Orioles was a healthy showing, with birds on Tronda and Bressay, as well as three across Mainland: Swinister, Ocraquoy and Swining. Marsh Warbler were typically the most numerous Acrocephalus, while Icterine Warblers and Red-backed Shrikes were widespread. Common Rosefinches were at four localities. Rosy Starlings began to make their presence known with three reports on Unst. A first-summer female Red-flanked Bluetail was trapped and ringed on Bressay on 3rd, a great spring record for this ever-increasing vagrant. Blyth's Reed Warblers were at Foula, Out Skerries, East Burra and Ollaberry, Mainland. A Woodchat Shrike was a brief evening visitor to Funzie, Fetlar, on 4th.
Fair Isle had a steady week, with typical scarcities including multiple Icterine and Marsh Warblers and Red-backed Shrikes, Common Rosefinch, Black Redstart, Grey-headed Wagtail, European Nightjar and Common Quail served a decent supporting cast. Rosy Starlings started to filter their way north, with three on the island by 6th, when a Red-breasted Flycatcher was present. A European Turtle Dove closed the week off nicely.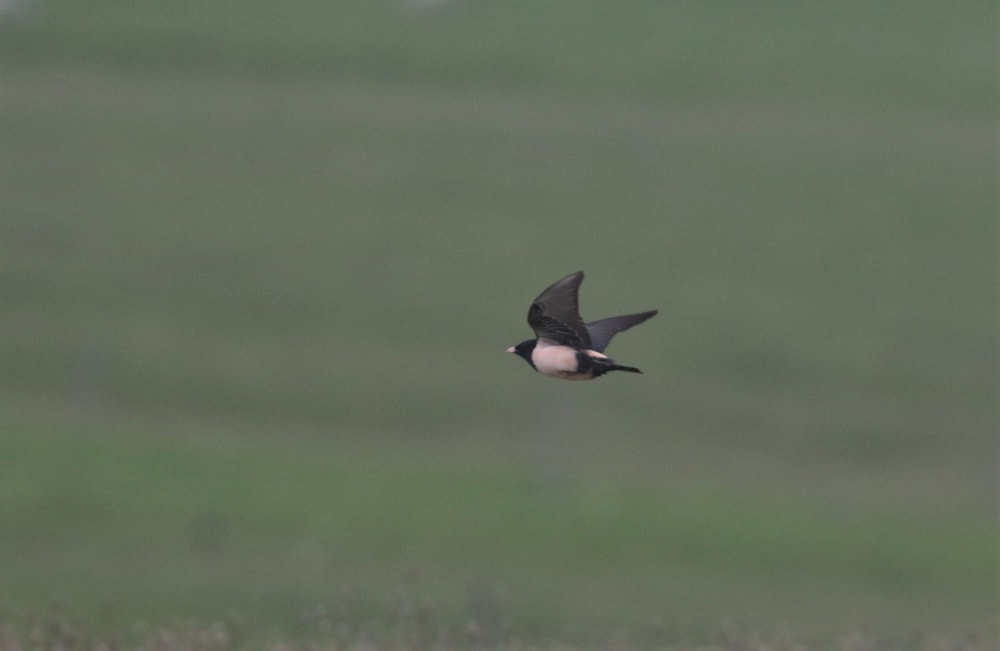 Rosy Starling, Fair Isle, Shetland (Daniel Gornall).
On Sanday, Orkney, a Pectoral Sandpiper infiltrated the Dunlin flock at Newbiggings on 2nd and was still present the following day. Papa Westray hosted Hawfinch, Red-backed Shrike and Grey-headed Wagtail, while a Woodchat Shrike on 5-6th was pick of the bunch. Further Red-backed Shrikes were at Hoxa, South Ronaldsay, and Sandside Bay, Mainland.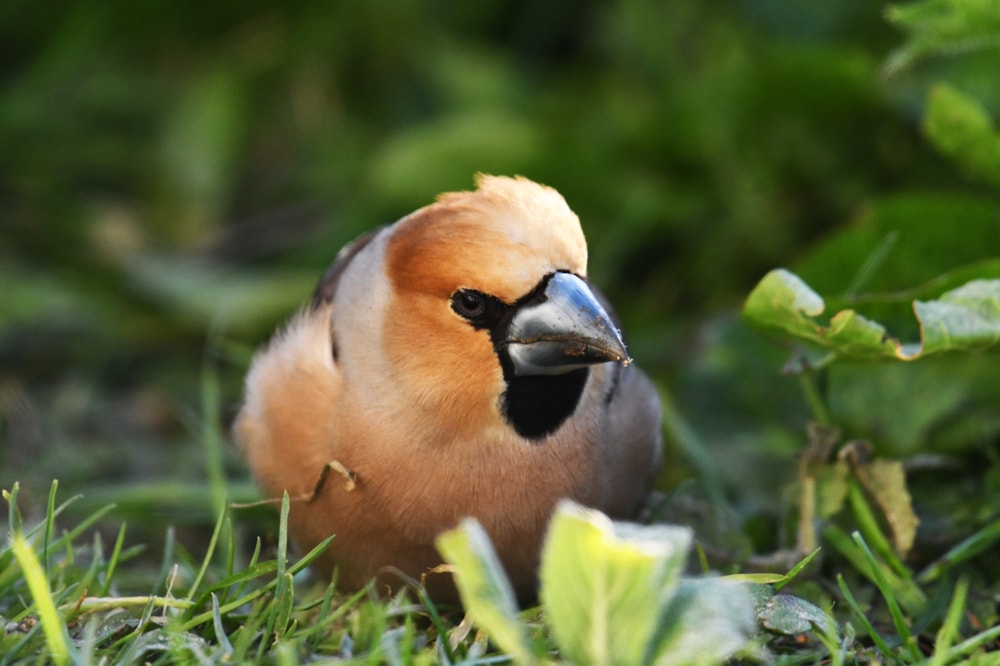 Hawfinch, Papa Westray, Orkney (Jonathan Ford).
North Ronaldsay had a mixed bag, a touch of winter came in the form of a Russian White-fronted Goose on 1st. The second Blyth's Reed Warbler of the spring arrived on the 3rd, with more typical affair came in the form of Red-backed Shrike, Icterine Warbler and two Grey-headed Wagtails and a scattering of Marsh Warblers.
The Outer Hebrides took an easier week. On Lewis, a male Golden Oriole brightened up South Dell and three Curlew Sandpipers were at Steinis. Rosy Starlings were scattered across Barra with three localities reporting birds. A Great Egret is still a decent sighting this far north and west, so one at Loch Tormasad Beag, North Uist isn't to be sniffed at. A lingering first-summer Glaucous Gull was again on the beach at Boisdale, South Uist. The male Grey-headed Wagtail was still at St Kilda.
Dan Owen
North-East England
A smart Woodchat Shrike at Druridge Bay CP on 5th was Northumberland's scarcity highlight, with a brief male Red-backed Shrike at Bamburgh. Rosy Starlings were at three sites – Budle Bay, Newbiggin-by-the-Sea and Blyth. Meanwhile, Long Nanny's Black Tern continued (alongside a brief visit to the Farne Islands), a European Turtle Dove was at Seaton Delaval and a probable European Serin flew north over Boulmer. A European Bee-eater flew over Howick and Long Nanny. At Blyth, a Little Stint kept its mega eastern cousin company, while Grindon Lough's Red-necked Phalarope and the two Ruddy Shelduck at Druridge Pools also remained.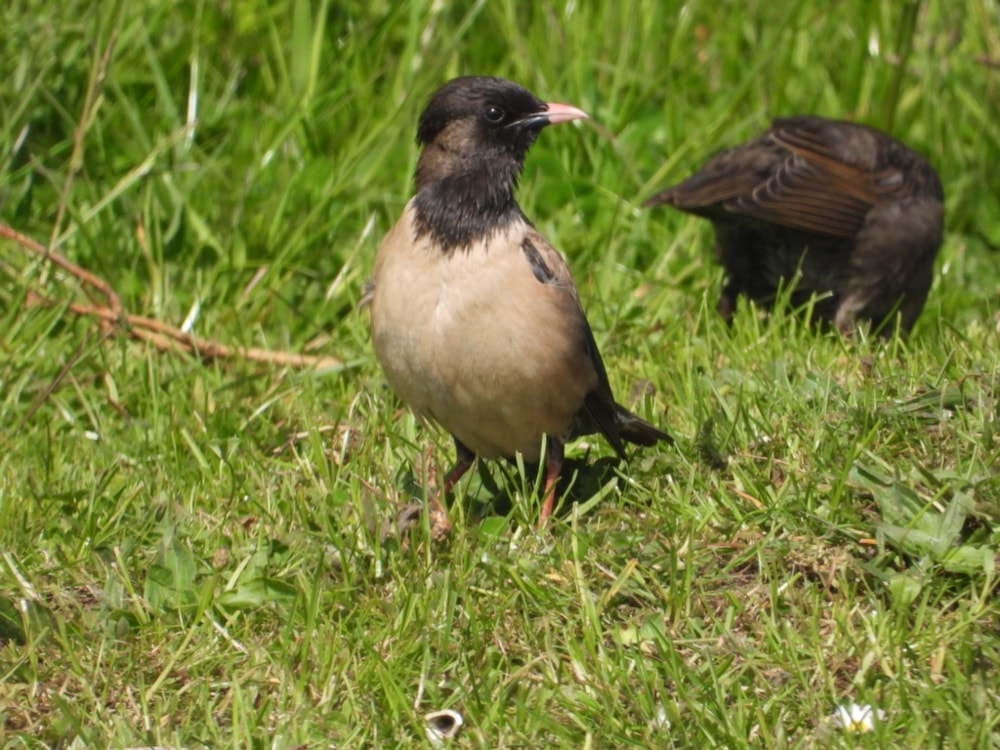 Rosy Starling, Newbiggin-by-the-Sea, Northumberland (Alan Tilmouth).
A flock of 37 Snow Geese headed south along the Northumberland and Durham coasts on 4th. First picked up over Budle Bay late morning, they were last sighted over Hartlepool before diverting inland – a line due south would take them towards Oxfordshire's feral population.
Durham's first Red-footed Falcon since 2012 – a first-summer male – was photographed at Hawthorn Dene on 1st, although would unfortunately evade relocation. Elsewhere, a singing Blyth's Reed Warbler was in Whitburn scrub on 3rd, a Grey-headed Wagtail was at Boldon Flats NR a day later, and a Black Redstart was at Cleadon.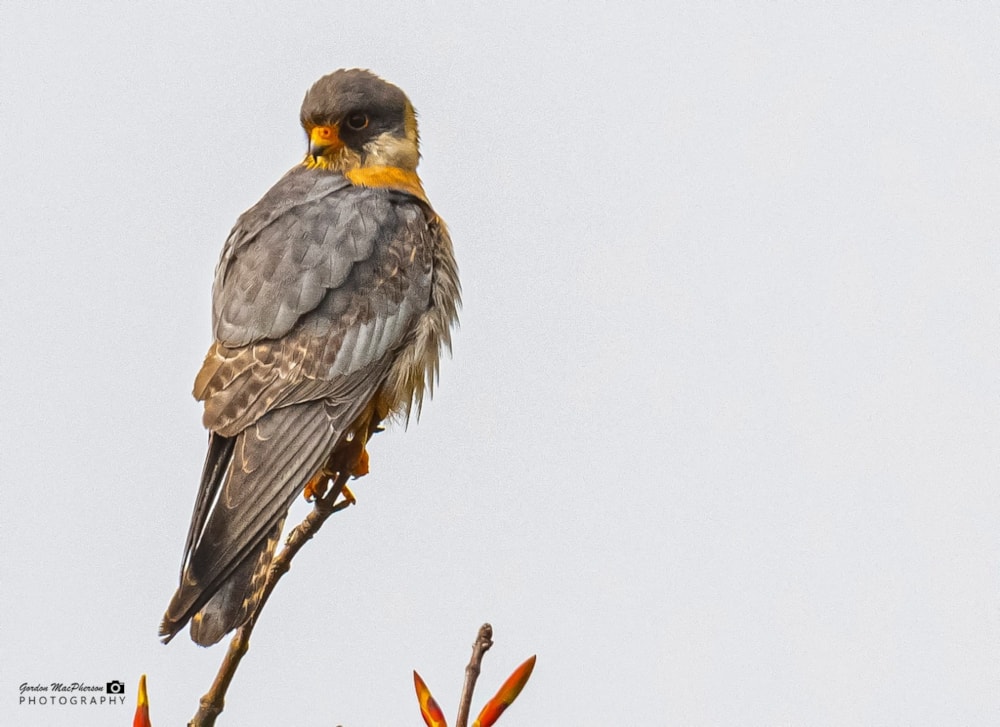 Red-footed Falcon, Hawthorn Dene, Durham (Gordon MacPherson).
A one-day Woodchat Shrike was Cleveland's star bird at Saltholme RSPB on 2nd, with the Saltholme area also scoring a possible Citrine Wagtail over Seaton Carew on 3rd, two Ruddy Shelduck, and a Purple Heron at Dorman's Pool at the end of the week. A Rosy Starling was at South Gare on 2nd.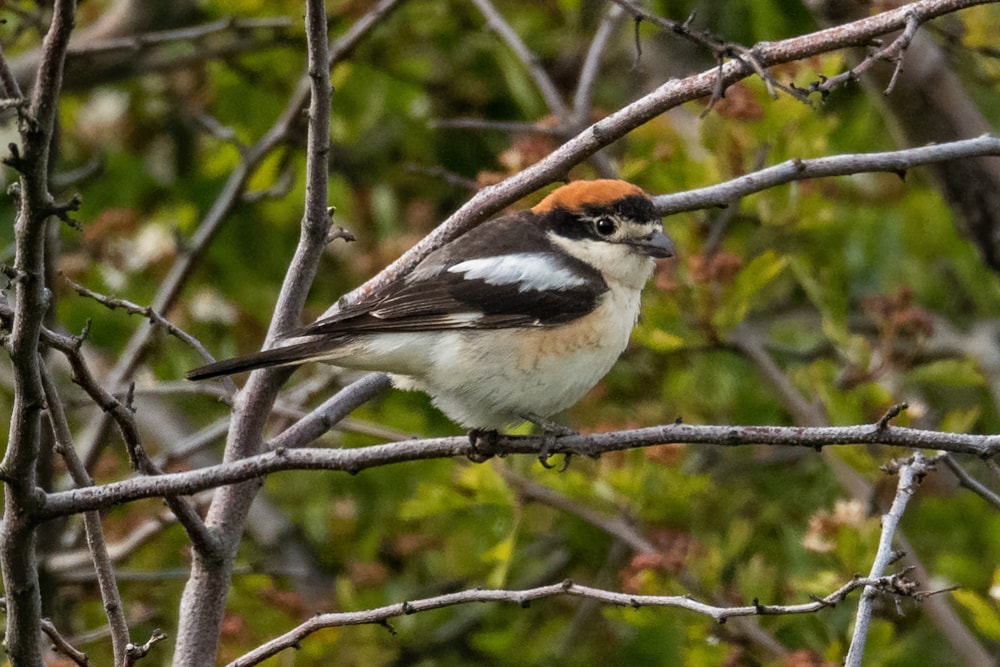 Woodchat Shrike, Saltholme RSPB, Cleveland (Brian Martin).
North-West England
Eurasian Spoonbills were at two sites in Cumbria: with two at Hodbarrow RSPB on 1st, while three flew west over Carlisle on 6th. Four Pomarine Skuas flew past South Walney NR on 6th, while the lingering female Long-tailed Duck was joined by a pair of Greater Scaup also on 6th.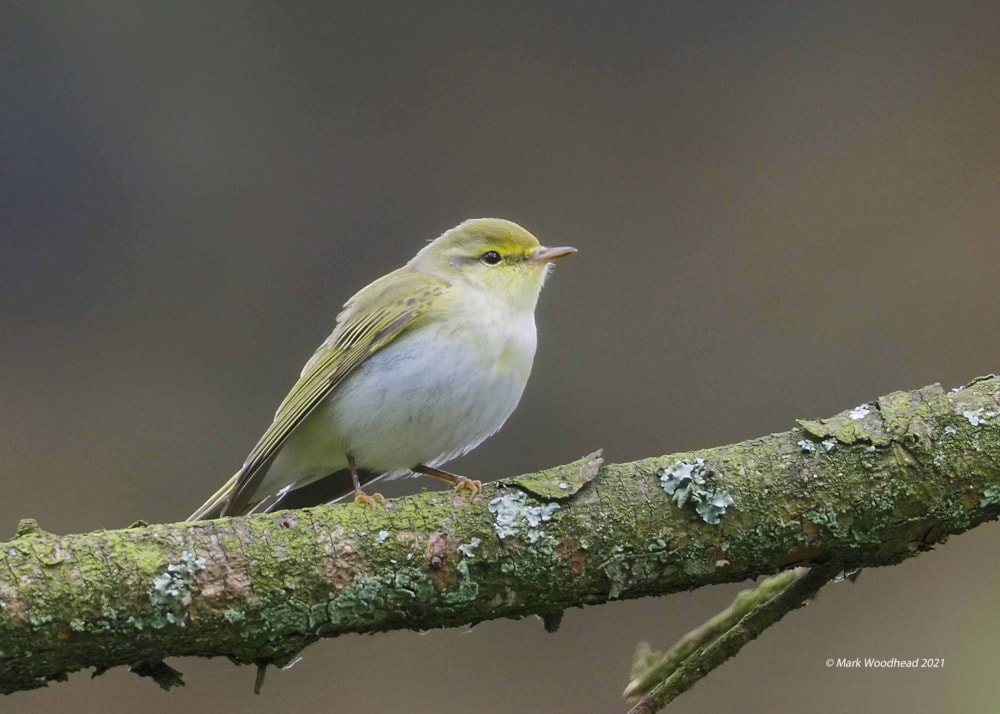 Wood Warbler, Dove Stone RSPB, Greater Manchester (Mark Woodhead).
Merseyside was treated to up to three Rosy Starlings, with birds at Seaforth LWT, Everton and Speke. As always caution should be applied, with the potential for a roaming individual but with so many turning up there's a fair shout for three birds being involved. Colourful birds didn't end there, with a possible European Bee-eater over Heysham, Lancashire, on 5th, and a confirmed flyover at Ainsdale later that day. Leighton Moss hosted a Purple Heron on 6th, potentially the bird seen earlier in the spring.
Cheshire was quiet this week. Glossy Ibis featured again, with one overflying Hale village on 6th. The adjacent Carr Lane Pools hosted a Wood Sandpiper on 5th while up to three Eurasian Spoonbills were still hanging around. No fewer than seven Eurasian Spoonbills were at Burton Mere Wetlands RSPB.
Dan Owen
Lincolnshire and Yorkshire
Two Rosy Starlings reached Lincolnshire, with birds at Huttoft Bank on 3rd and Gibraltar Point on 3-4th. The latter site also held Marsh Warbler and European Bee-eater on 2nd. A European Honey Buzzard flew in off the sea at Skegness on 6th, while a couple of Common Quail were singing near Scopwick.
It was another exciting period in the Spurn area, with a flyover Red-footed Falcon at Easington on 5th, two European Bee-eaters back again on 3rd, a brief European Serin at Kilnsea then Easington on 5th, Purple Heron at Sammy's Point on 6th, Rosy Starling, three Common Rosefinches, Icterine and Marsh Warblers, plus a flyover Long-tailed Skua. Phew!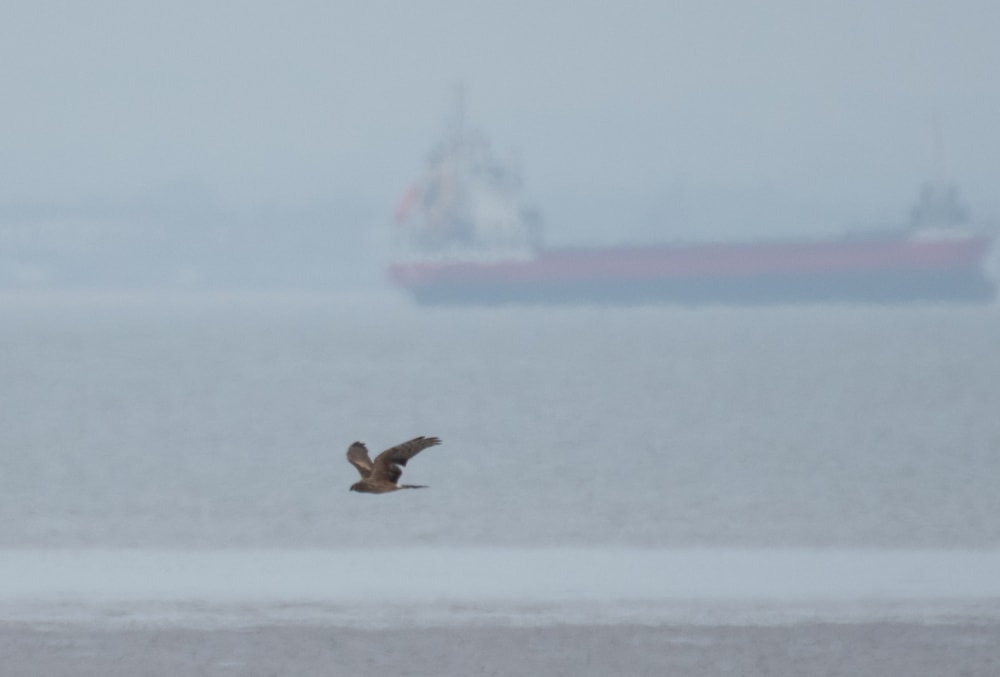 Montagu's Harrier, Spurn YWT, East Yorkshire (Rob Knapp).
A flyover European Bee-eater was a great record inland at Swinefleet on 6th, with other further records from Ulrome, East Newton, Flamborough Head and Buckton. The two latter sites also had Rosy Starlings, with a Marsh Warbler at Flamborough on 2nd.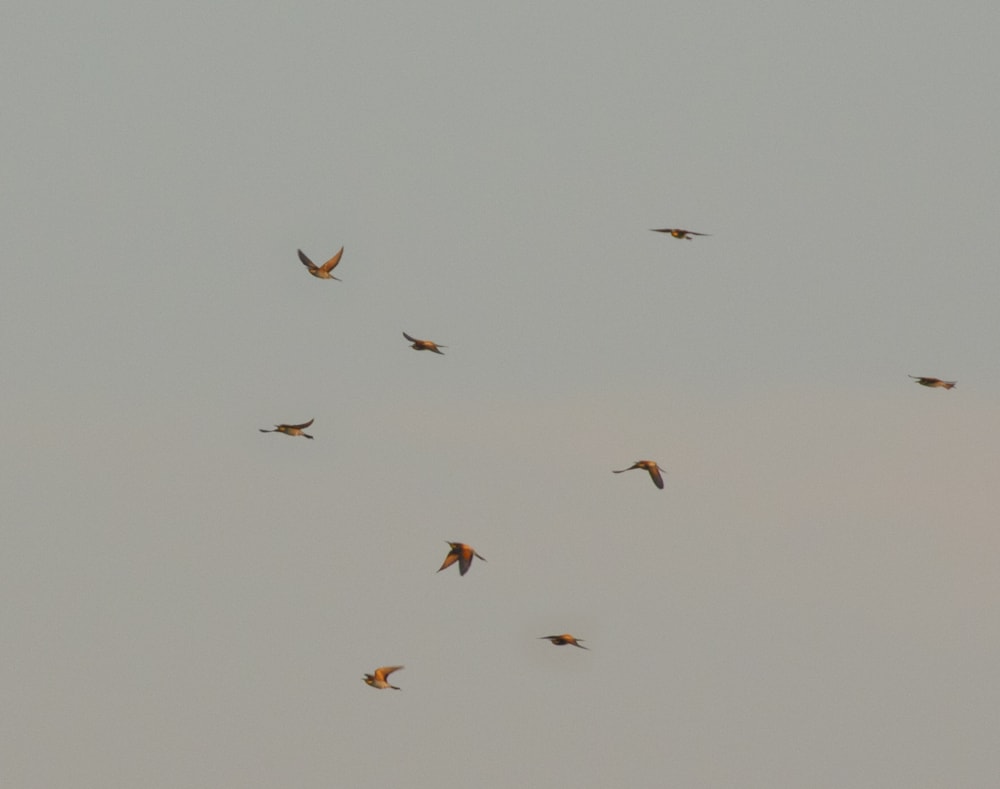 European Bee-eater, Saltwick Nab, North Yorkshire (Nathaniel Dargue).
The nine European Bee-eaters were still in the Whitby area to 3rd, while Filey produced a male Common Rosefinch on 6th. A European Honey Buzzard flew over Scarborough on 4th, with another over St Aidan's and Fairburn Ings RSPB reserves on 3rd. A male Red-footed Falcon was at Staveley YWT on 3rd, while the Lesser Yellowlegs returned to Nosterfield LNR on 5th. Lightning struck twice at White Holme Reservoir, with a Little Stint there on 5th – exactly the same date as one in 2020.
Josh Jones
West Midlands
Staffordshire enjoyed a late flurry of Arctic Terns, with one at Belvide Reservoir on 4th and three there on 6th, including a first-summer. Garganey were scattered across three sites, with a drake at Belvide, and two at both Middleton Lakes RSPB and Blithfield Reservoir.
Over in West Midlands, an unseasonal Firecrest visited an Edgbaston garden on 6th. In Worcestershire, a Rosy Starling was keeping one Pershore homeowner entertained on 6th, also one of the most inland records so far this summer. A smart male Red-backed Shrike was just west of Nuneaton on 6th, a cracking record for Warwickshire.
Another video of the smart male Red-necked Shrike at Nuneaton, Warwicks this evening. pic.twitter.com/0aP1QfLIcM

— Simon King (@UKTwitcher) June 6, 2021
Dan Owen
East Midlands
Derbyshire was largely quiet, although a week involving a European Bee-eater can never be described as dull. One flew east over Clowne on 4th, but sadly wasn't seen again.
There was a bit of a tern-fest in Nottinghamshire, a Little Tern was a brief visitor to Idle Washlands on 2nd while Black Terns were at Idle Valley NR and Idle Washlands on 2nd and one at the Welbeck watchpoint the following day. A Curlew Sandpiper was at Netherfield Lagoons on 3rd. A male Golden Oriole was reported at Fotheringhay, Northants, on the afternoon of 2nd. Perhaps a little less easy to miss, a White-tailed Eagle was near Pistford Reservoir on 6th.
Two scarce raptors headlined neighbouring Leicestershire and Rutland, firstly a European Honey Buzzard flew over Market Harborough on 2nd and a Black Kite was reported over Oakham on 6th. A Little Stint was at Rutland Water from 2-3rd.
Dan Owen
East of England
As many as seven Norfolk sites produced Rosy Starling sightings during the period. Other scarce migrants included Red-backed Shrike and Marsh Warbler at Winterton Dunes, another of the former at Aylmerton, and a Common Rosefinch at Sidestrand on 4th. Hickling Broad has long been one of Britain's best sites for Red-footed Falcons, and two were seen this week – a male on 4th and a female on 6th. Another, a first-summer male, overflew Sheringham on 6th. A Purple Heron was seen in flight at Strumpshaw Fen RSPB on 6th. European Honey Buzzards were seen over three inland localities.
A male Red-footed Falcon lingered at Walberswick NNR, Suffolk, from 5th, with a Purple Heron also seen in flight there. Another Purple Heron was seen again at Carlton Marshes SWT; a Glossy Ibis was reliable at Lackford Lakes SWT, while three White Storks flew over Reydon on 6th. A Rosy Starling was at Landguard on 6th, with a flyover European Serin there on 2nd. A male Red-backed Shrike visited Dunwich Forest on 5th and a male Golden Oriole was at Minsmere RSPB.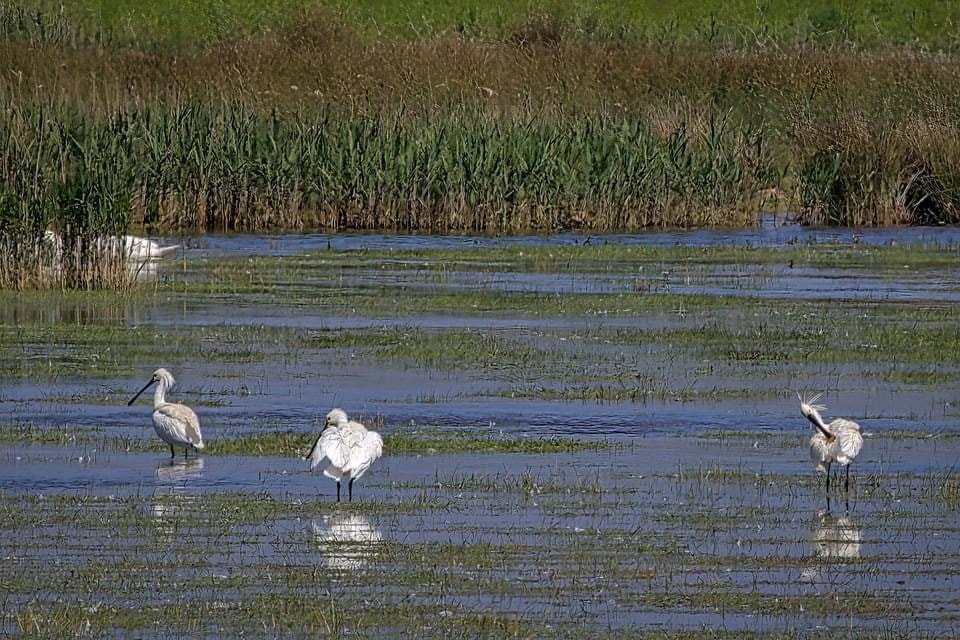 Eurasian Spoonbill, Carlton Marshes SWT, Suffolk (Michael Brooks).
Essex's highlight was a Rosy Starling at Foulness Island on 5th, though a Eurasian Stone-curlew at St Osyth that day was well appreciated. A female Smew continued in the Lee Valley. In Hertfordshire, a Common Crane flew over Croxley Green on 2nd, with a couple of Common Quail singing in the Wallington area.
Cambridgeshire was treated to its first Woodchat Shrike since 1840 when a male spent a day at Wilbraham Common on 2nd. The Marsh Warbler was still singing at Roswell Pits CWT to 4th. An unseasonal Russian White-fronted Goose was at Godmanchester on 5th, while a few singing Common Quail were dotted around. In neighbouring Bedfordshire, a Wryneck was reported at Carlton on 4th.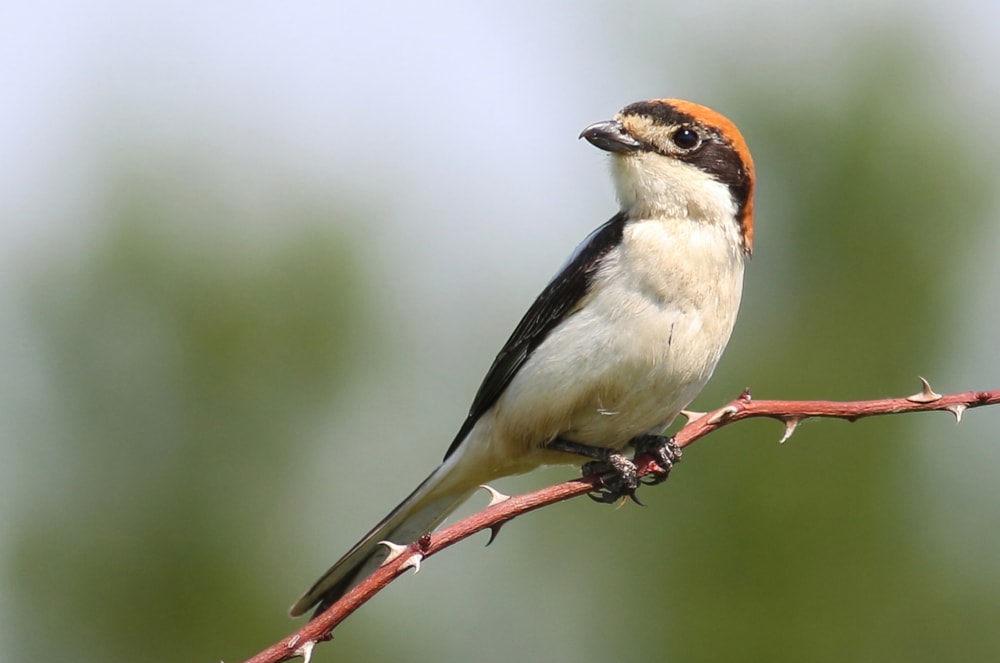 Woodchat Shrike, Great Wilbraham, Cambridgeshire (Jon Heath).
Josh Jones
South-East England
Kent got in on the Rosy Starling influx, with birds recorded at 10 sites. This included a wonderful record of five in-off the English Channel at South Foreland on 2nd, which were shortly followed by a flyover European Bee-eater. Four Rosy Starlings at Sandwich Bay on 3rd was also significant, while other European Bee-eaters were at Dungeness and Lydd on 2nd and 5th. There was some decent raptor action in the county, not least a Black Kite over Postling on 5th, as well as a ringtail Montagu's Harrier on Sheppey from 5-6th, a female Red-footed Falcon at Worth Marsh on 6th and European Honey Buzzards over Sandwich Bay and Sholden. Both Park Gate Down and Stodmarsh recorded Golden Orioles and a Purple Heron was at Graveney Marshes on 5th. A Wood Warbler was at Hamstreet on 4th and the lingering 'Dunge' Iceland Gull and Glossy Ibis were present and correct throughout.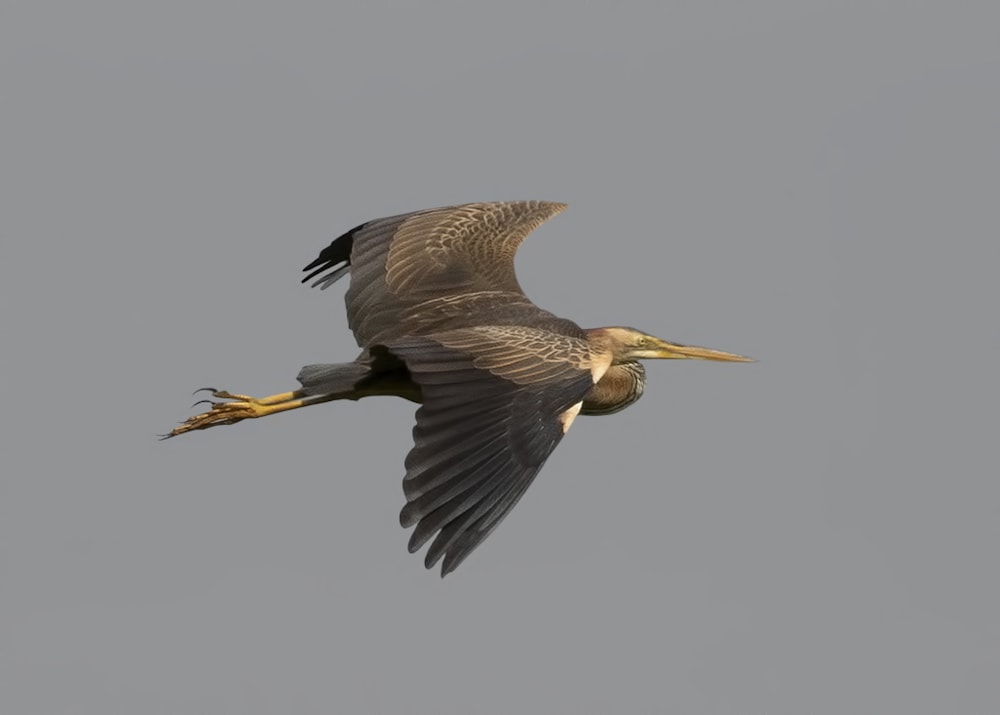 Purple Heron, Grove Ferry NNR, Kent (Steven Ashton).
Beachy Head and an undisclosed garden hosted the only Rosy Starlings in Sussex, which had a far quieter period than Kent. An unringed White Stork at Rye Harbour on 5th was of note, as was a brief male Red-backed Shrike at Steyning on 3rd. Up to three Roseate Terns were among the tern colony at Church Norton from 4th – the second summer in a row the species has congregated at this site. A European Honey Buzzard flew over Firle on 3rd.
In Hampshire, the elusive Fishlake Meadows Purple Heron reappeared briefly on 6th. A Montagu's Harrier flew over Pennington Marshes on 2nd, the same day a European Honey Buzzard graced Hill Head skies. Two unseasonal Long-tailed Duck were knocking about the Solent throughout. On the Isle of Wight, Rosy Starlings were at Sandown and Ventnor and a Hoopoe frequented Brading Marshes on 4th, where the Purple Heron popped up again on 2nd.
Some notable counts caught the eye in Oxfordshire – up to seven Western Cattle Egrets at Enslow and four Common Quail at Crowhole Bottom. The Otmoor Glossy Ibis remained in situ as well. It was quiet in Berks and Bucks, but an impressive three Roseate Terns flew through Chelsea and Lambeth Reservoirs, Surrey, on 6th – only the ninth county record. A Wood Warbler was singing at Churt on 3rd. In London, late news came through on Wednesday of a Golden Oriole at Stoke Newington the previous day, Kittiwakes were at Rotherhithe and London Wetland Centre and a Common Quail was a great record at Wanstead on 6th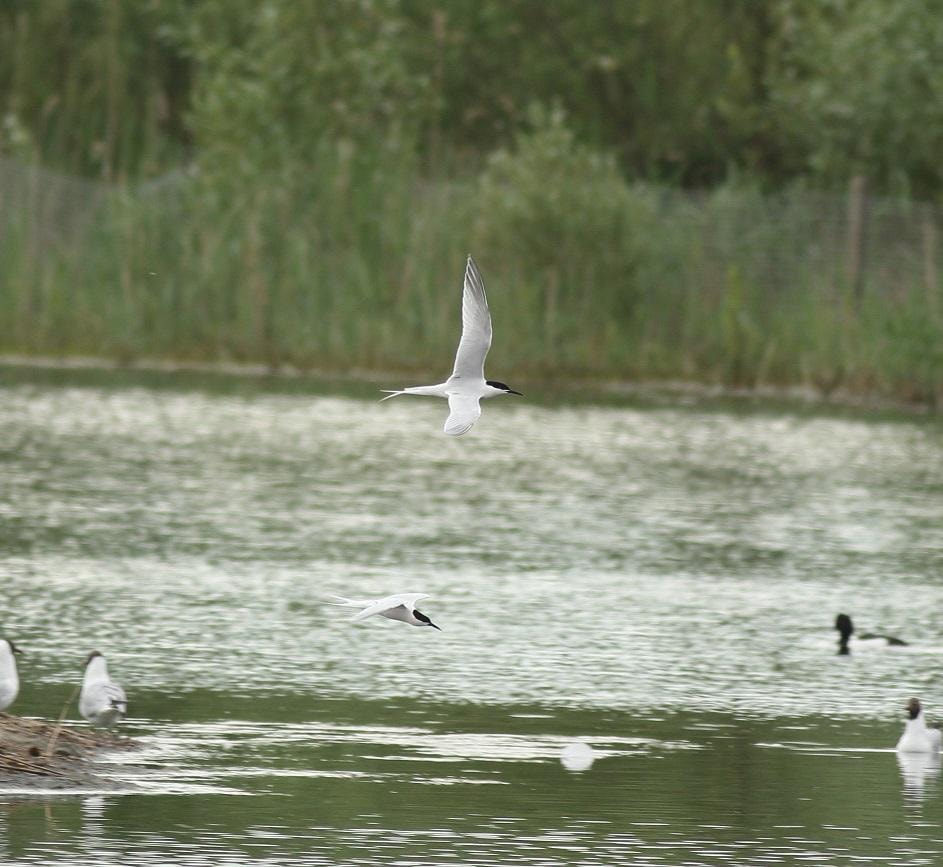 Roseate Tern, Walton Reservoir (Permit Only), Surrey (David Harris).
Ed Stubbs
South-West England
On Scilly, a first-summer Black-crowned Night Heron was on St Mary's on 3rd. At least one each of Rosy Starling and Golden Oriole were on the same island, while St Martin's hosted a European Bee-eater on 6th. Up to two Iceland Gulls, Common Quail and European Turtle Dove were also on the archipelago during the review period.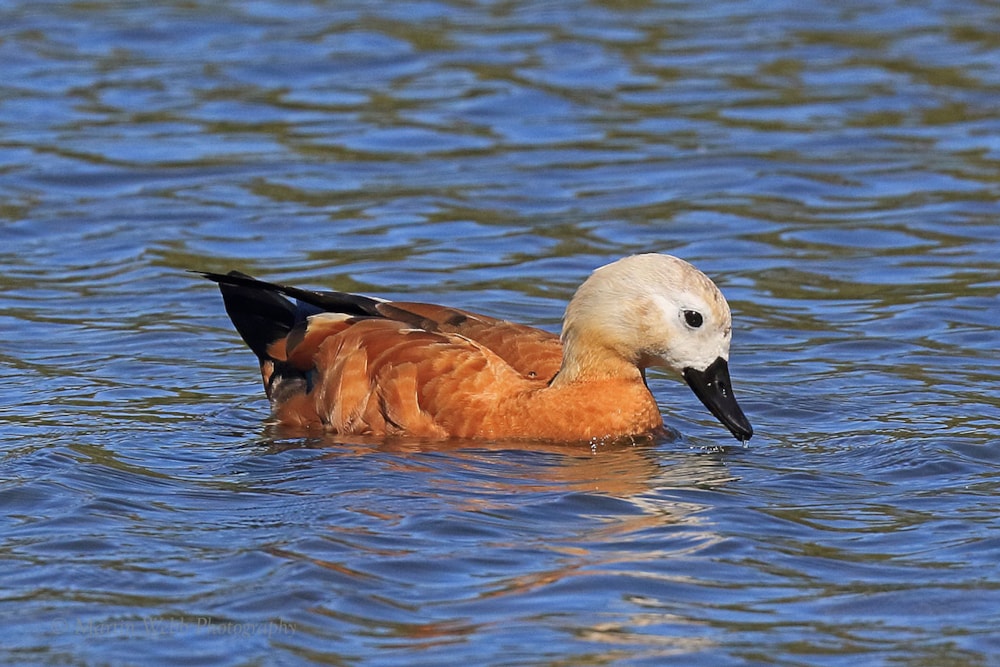 Ruddy Shelduck, Helston, Cornwall (Martin Webb).
Rosy Starling action was spread across 10 sites in Cornwall, including two at Nanjizal on 2nd. Hoopoes were at Lizard village on 2nd and Housel Bay from 4-5th and a European Bee-eater flew over Mawnan Smith on 4th. On Wednesday late news came through of a male Red-backed Shrike at Bodmin Moor the previous day.
Only three Devon sites – Bideford, East Prawle and Hartland Point – hosted Rosy Starlings, though the former notched an impressive four in a private garden on 3rd. The American Golden Plover remained on Exminister Marshes until 4th and a Hooded Crow was at Clovelly on 3rd.
At least five Rosy Starlings were in Dorset, including a minimum of two on Portland. An impressive five Common Quail were singing at Tarrant Rushton on 4th, the same day a female Red-backed Shrike briefly visited Cogden Beach and an Iceland Gull flew over Portland.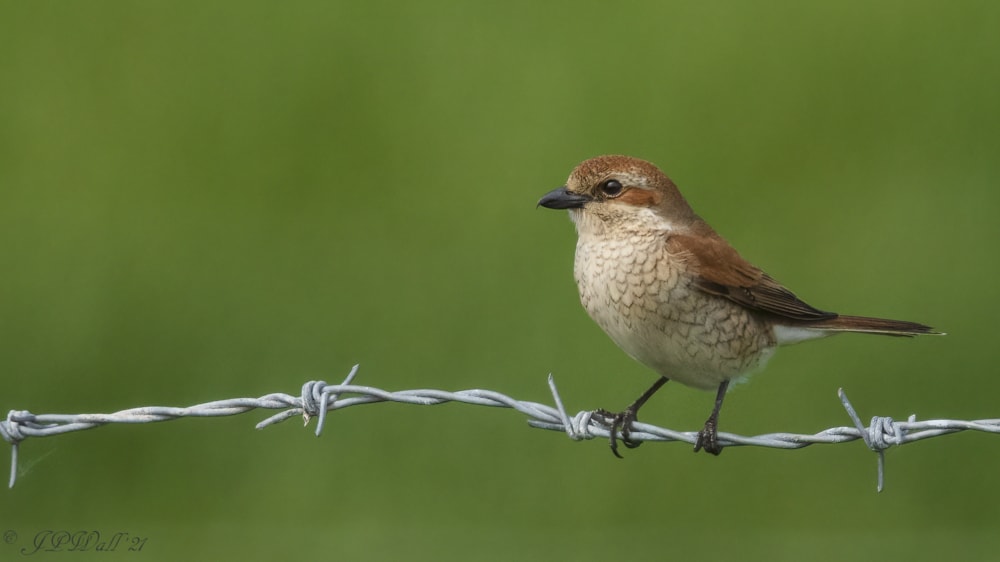 Red-backed Shrike, Portland, Dorset (John Wall).
A Rosy Staring visited a Bristol garden on 4th. This was eclipsed, however, by a singing Blyth's Reed Warbler at Langport, heard and seen on 2nd – the county's first.
An impressive three Rosy Starlings were in Gloucestershire: at Aylburton, Oldbury Power Station and Tewkesbury. A female Red-backed Shrike visited Chipping Sodbury Common briefly on 6th. Winchcombe recorded a flyover European Honey Buzzard on 4th and a Glossy Ibis was at Coombe Hill Meadows from 5th.
In Wiltshire, a Rosy Starling was photographed on Salisbury Plain and a Golden Oriole was singing at Bentley Wood on 3rd.
Ed Stubbs
Wales
In a warm week across the country, inland Woodchat Shrikes were impressive finds at Tregaron Bog, Ceredigion, on 3rd and at Peniel, Carmarthen, a day later. A European Bee-eater Porth Clais, Pembrokeshire, late on 6th added a smattering of tropical colours to the south-west, while a Golden Oriole sang at Llanfairynghornwy, Anglesey, on 3rd.
Other European overshoots included a Black Kite following the Ceredigion coast between Llangranog and Aberaeron on 3rd, while the Ramsey Island, Pembrokeshire, warden was woken up by the tuneful musings of a Common Rosefinch on 5th; others were at Holyhead and Cemlyn Bay, Anglesey. Five Anglesey sites jammed in on the Rosy Starling influx, including three at Llaingoch on 2nd. Another was at Lavernock Point, Glamorgan, from 2nd, with a Curlew Sandpiper still at nearby Goldcliff Pools NR.
Ireland
It was a week for Rosy Starlings across Ireland, with at least 13 seen. Up to three were seen together at Kilcoole, Co Wicklow, although four birds are suspected to have been there. Most were in western areas, with three apiece for Cos Cork and Kerry, two in Co Donegal and one in Co Clare.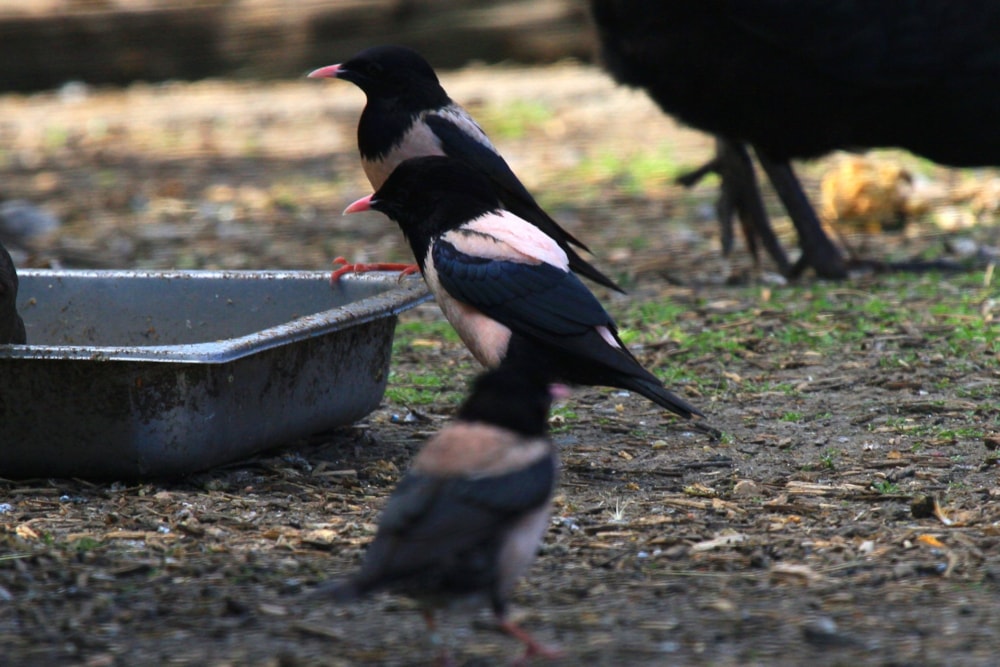 Rosy Starling, Kilcoole, Wicklow (Cian Cardiff).
Two Red-rumped Swallows were at Mizen Head, Co Cork, on 2nd, with one still on 5th. Also in Co Cork, a Common Rosefinch was at Barley Cove on 2nd, flyover European Bee-eaters were noted at Youghal and Owenahincha, and the Purple Heron lingered at Dunworly.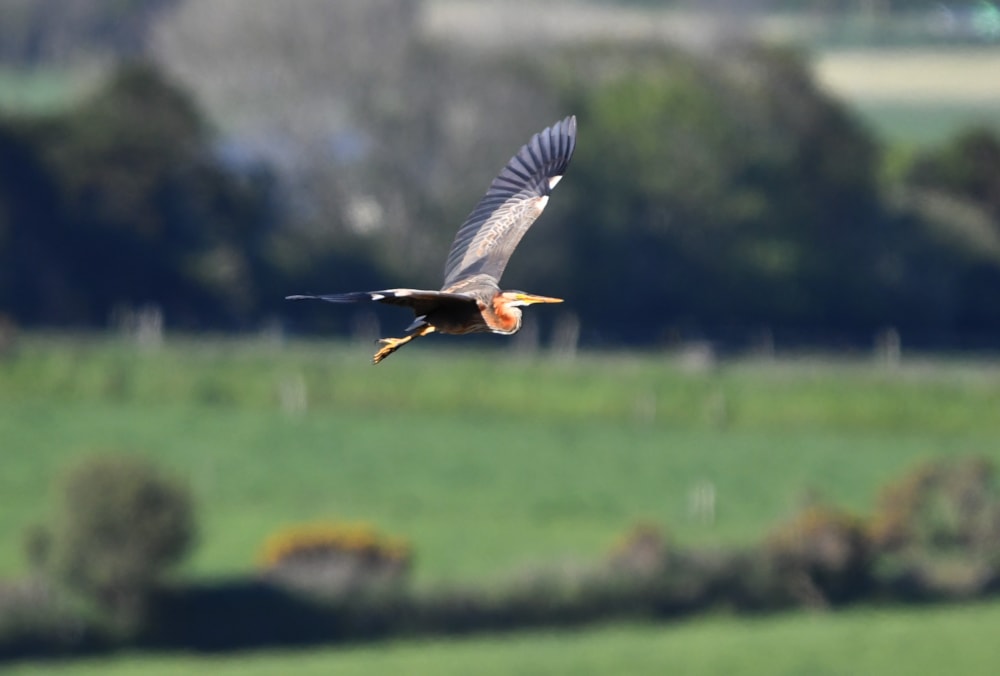 Purple Heron, Dunworly, Cork (Richard Mills).
A drake Green-winged Teal at Tacumshin, Co Wexford, on 4th was somewhat upstaged by two pristine American Golden Plovers the following day. A female Red-backed Shrike was also there on 2nd. A Surf Scoter flew past Kilcoole, Co Wicklow, on 5th, while a Wood Sandpiper was at Lough Beg, Co Derry, and Co Monaghan's first-ever Reed Warbler was at Monalty Lough on 4th.
Josh Jones
Western Palearctic
Fennoscandia's magic spring continues, although I'm not even the most optimistic birders would have predicted this week's main event, an incredible flock of no fewer than seven Blue-cheeked Bee-eaters on Værøy on 4th – an island off the north-west coast of Norway inside the Arctic Circle. Just a third for Norway, unfortunately the only birder on the island departed that night … where they are now is anybody's guess. A chance for a Shetland appearance this summer, perhaps?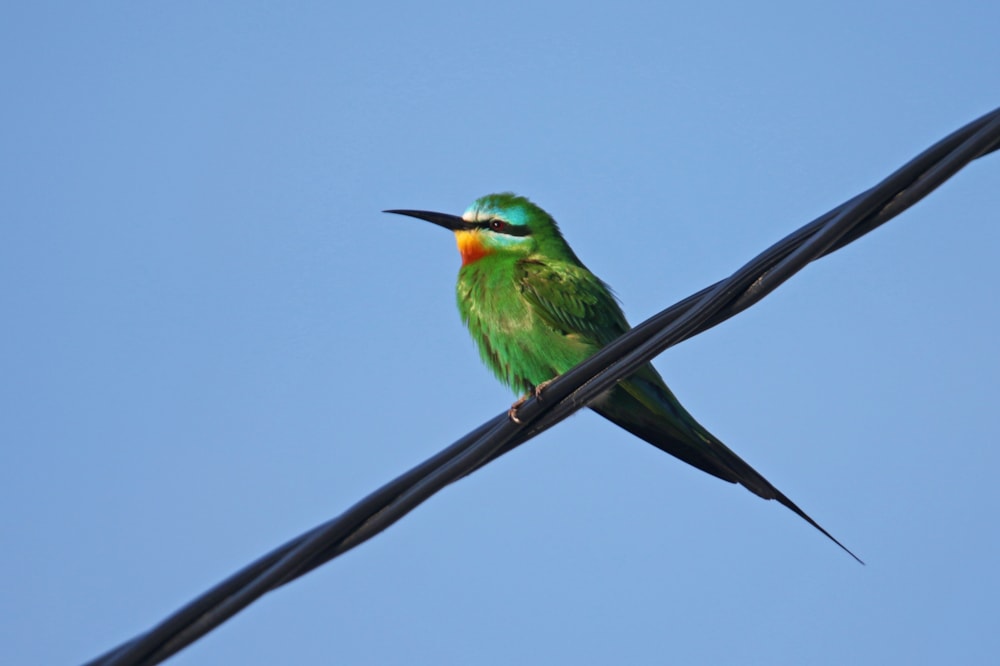 Blue-cheeked Bee-eater, Værøy, Nordland (John Alsvik).
Last reported from Sweden on 14th, the Sandhill Crane made Norway the target for its next visit, however appearing as far north as Geatnjajávri inside the Arctic Circle near the Russian border must have come as some surprise. Norway's first Great Knot was belatedly reported from Frosta after being photographed on 29th and the country's second Little Crake spent the week singing from a Fredrikstad reedbed.
Denmark's first Asian Red-rumped Swallow unfortunately didn't linger for the masses – present at Skagen for just 10 minutes on 2nd. The site jammed in on a Western Bonelli's Warbler too. Two white morph adult Ross's Geese at Vatnsoyrar, Faroe Islands, seem decent candidates for the nation's first acceptable record; the Eurasian Stone-curlew at Svínoy should be a shoe-in.
Finland hosted a White-tailed Lapwing at Friskalanlahti, with a smart Trumpeter Finch at Jurmo bird observatory on 2nd. A Booted Warbler was at Jastarnia, Poland – the country's eighth – and a Paddyfield Warbler was at Hel – the country's ninth.
An absolutely stunning male Baltimore Oriole was photographed at Embalse de Talaván, Extremadura, on 4th – an unsurprising first for Spain. Amazingly, the well-travelled Walrus rocked up at Bilbao harbour on 4-5th. Ilhéu De Praia, Azores, scored an adult Bridled Tern on 5th.
A migrating Blue Rock Thrush headed along The Netherlands coast near Den Haag on 2nd, while a Lesser Spotted Eagle flew over the south-east portion of the country on 1-2nd. The Eurasian Scops Owl continued at Delft, with Belgium's ninth spending five nights singing at Eprave until 1st.
Hot on the heels of two Short-tailed Shearwaters last week, a Sooty Shearwater off Kuwait on 30th is just the Arab nation's eighth.
Several Rosy Starlings were in the Channel Islands, including an incredible flock of 13 at St Anne, Alderney, on 2nd.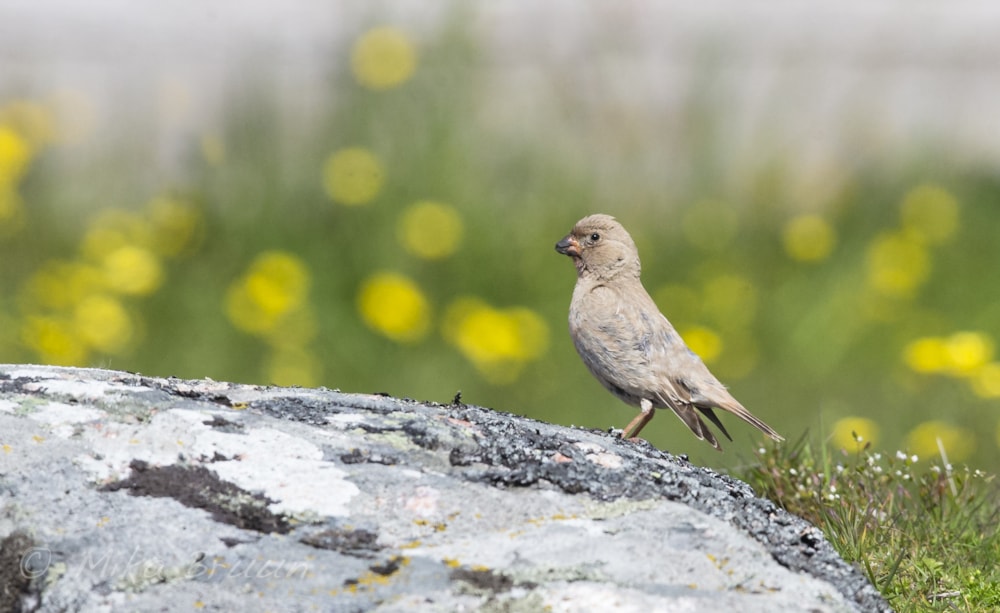 Trumpeter Finch, Jurmo, Åland (Mika Bruun).