It was yet another distinctly average May week, though a short blast of easterlies in the northern part of Britain produced some expected goods with a splashing of Red-spotted Bluethroats, Icterine Warblers and Red-backed Shrikes alongside a bit of rarer fare.
Two mobile Collared Pratincoles brightened up the period: one at Cliffe Pools RSPB, Kent, on 19th, 22nd and 25th, with another along the North Norfolk coast from 20-22nd. This is always a hotly anticipated spring visitor to Britain and Ireland, with 123 accepted records by 2019.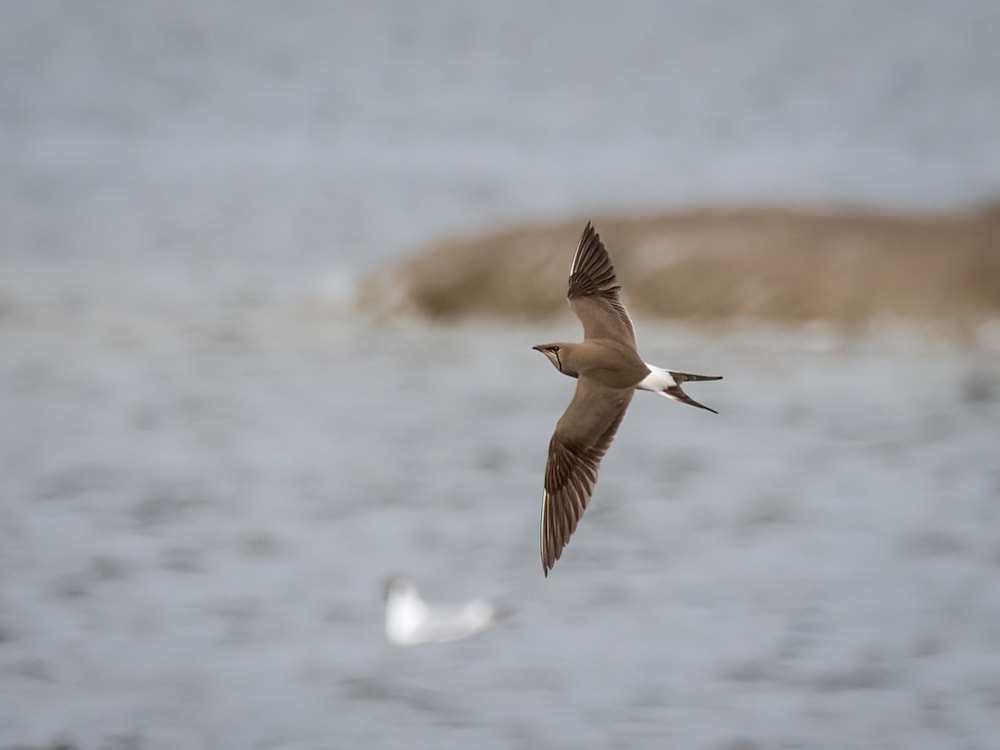 Collared Pratincole, Cliffe, Kent (Terry Laws).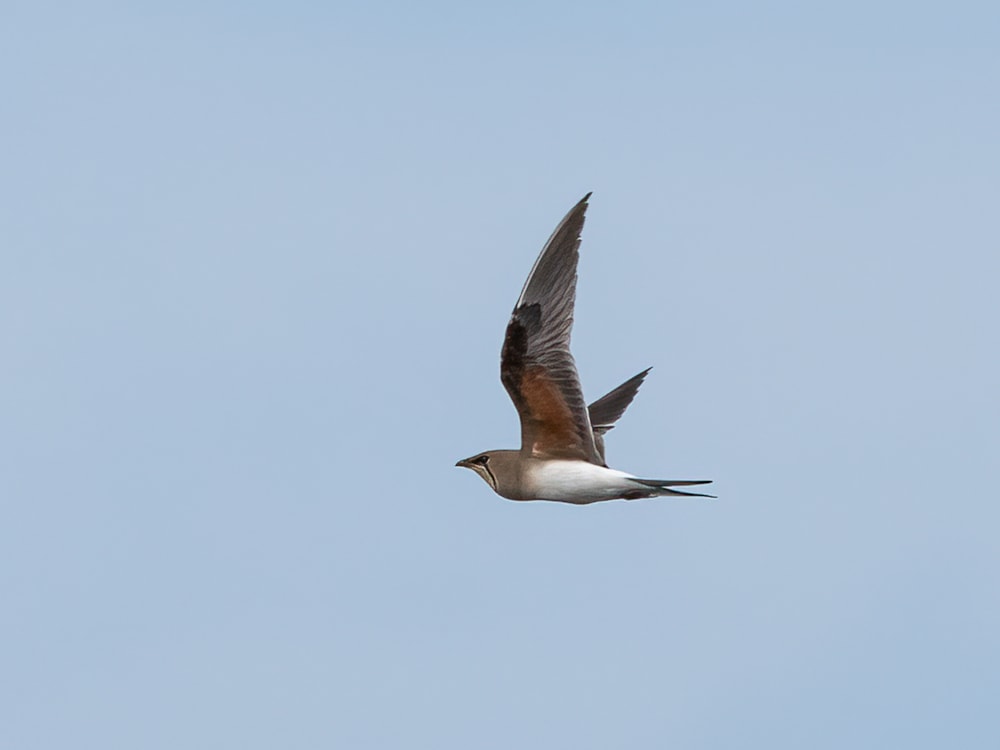 Collared Pratincole, Cliffe, Kent (Terry Laws).
First found on 18th, the Franklin's Gull at St Aidan's RSPB, West Yorkshire, proved rather hot under the collar, keenly displaying to the local Black-headed Gulls and even watched attempting to mate with a small rock! A rare opportunity to see in full breeding regalia in Britain, it seems its advances were rejected; there was no sign on 22-23rd – a Friday night bunk, classically – before a brief reappearance on 24th.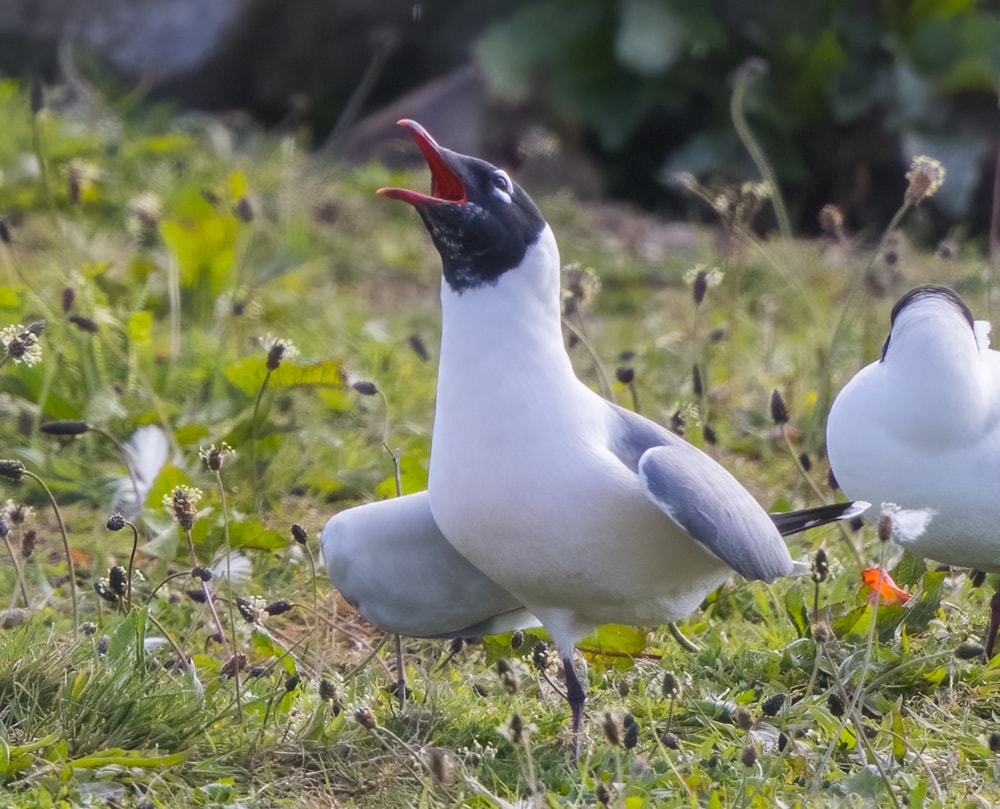 Franklin's Gull, St Aidan's RSPB (Swillington Ings), West Yorkshire (Peter Garrity).
Franklin's Gull, St Aidan's RSPB (Swillington Ings), West Yorkshire (Peter Garrity).
A smattering of easterlies in Scotland and northern England produced no fewer than four Rustic Buntings: at least two were on Fair Isle, with singletons on Fife's Isle of May and in Shetland at Geosetter, Mainland. Elsewhere, a Thrush Nightingale was a one-day visitor to Flamborough Head, North Yorkshire, on 24th.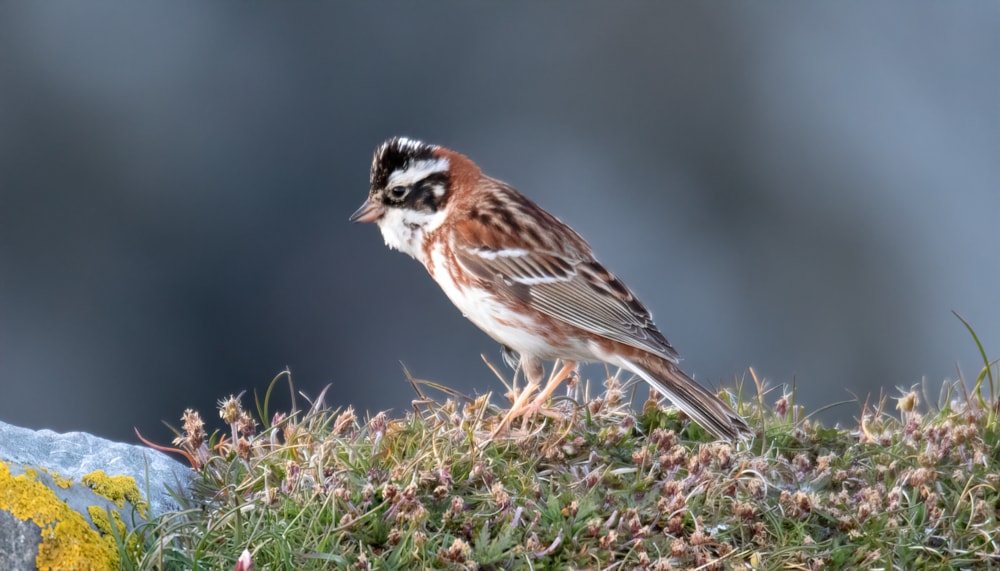 Rustic Bunting, Fair Isle, Shetland (Alex Penn).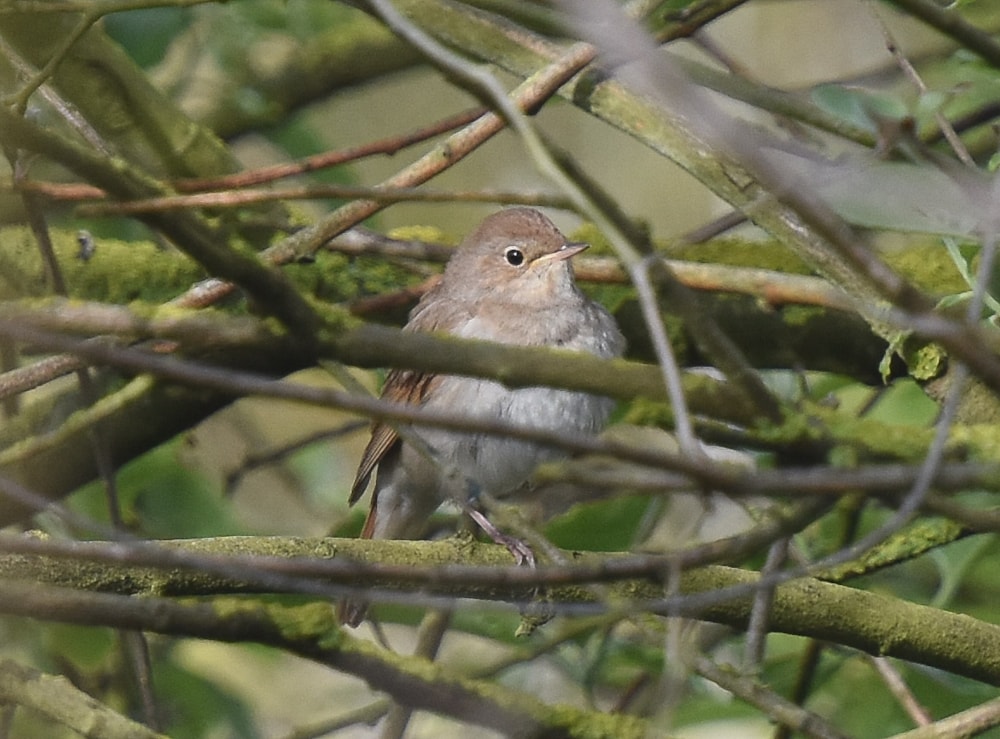 Thrush Nightingale, Flamborough Head, East Yorkshire (Andy Hood).
Last week's White-throated Sparrow was last noted at Baltasound, Unst, on 19th, resurfacing at Skaw briefly on 22nd.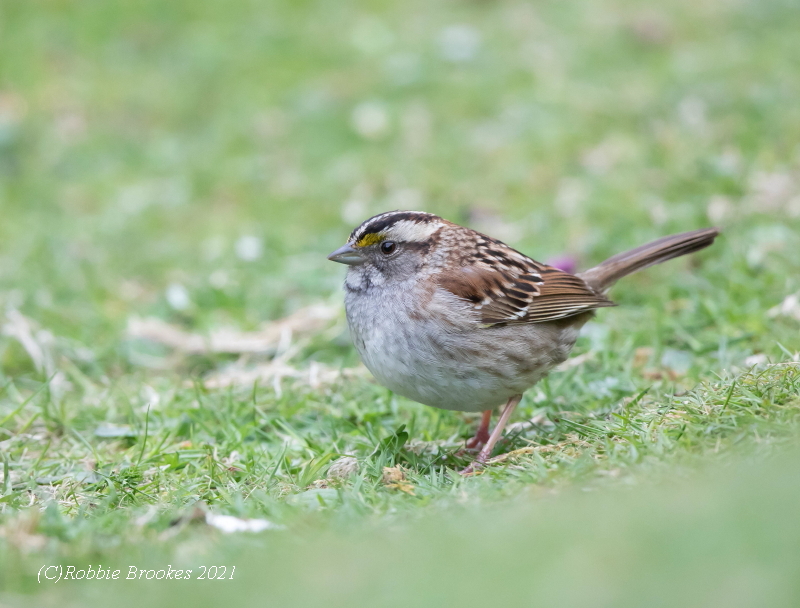 White-throated Sparrow, Skaw, Unst, Shetland (Robbie Brookes).
Two one-day Great Reed Warblers were reported – one singing by the railway line at Breydon Water RSPB, Norfolk, on 19th, with another at Itchen Valley CP, Hampshire, on 23rd. In Shetland, one was on Fair Isle on 20-21st. In North Yorkshire, the Heslington Savi's Warbler continued to perform to all-comers.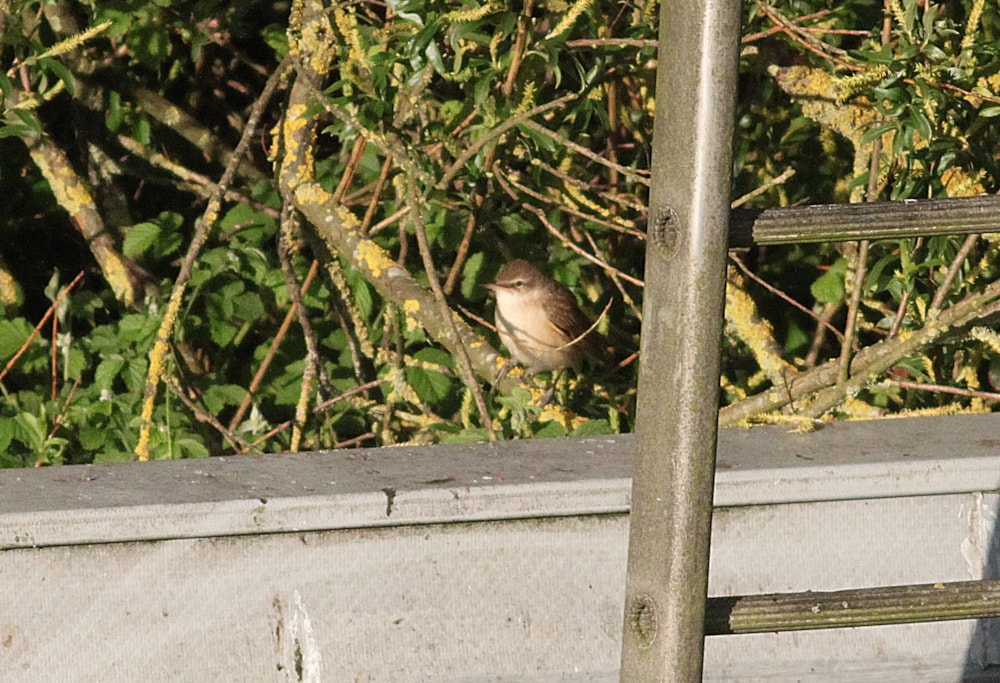 Great Reed Warbler, Breydon Water RSPB, Norfolk (Drew Lyness).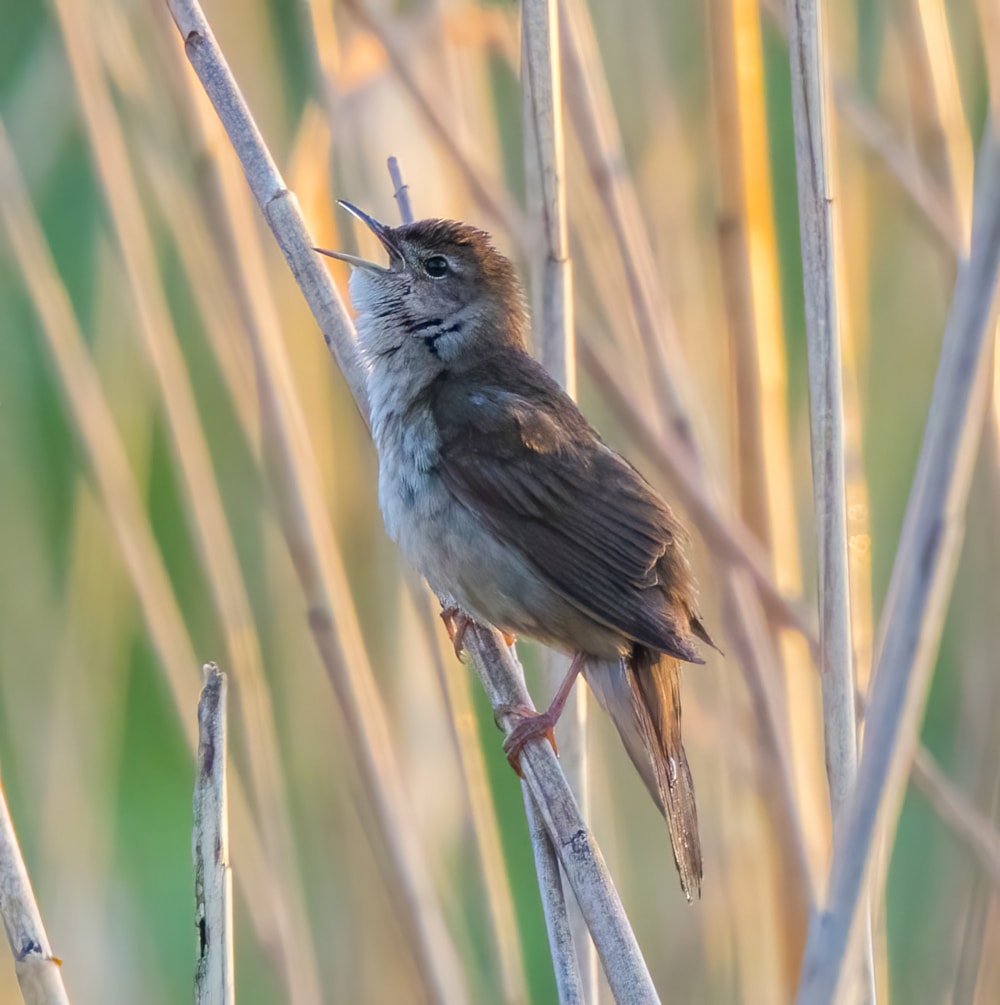 Savi's Warbler, Heslington, North Yorkshire (Peter Garrity).
In Scilly, a Western Subalpine Warbler was an interesting find at Higher Moors, St Mary's on 24th, while a Dark-breasted Barn Owl reported from St Martin's on 19th was also of interest.
A week of unconfirmed rarities – a probable White-rumped Swift at Holme Dunes NWT on 23rd was unfortunately brief; a possible male Iberian Wagtail at Skewjack, Cornwall, on 19th and a possible Iberian Chiffchaff reported singing near Harrogate, North Yorkshire, were of note too.
A new adult Bonaparte's Gull was in Co Wexford at Rosslare on 21-22nd, while a fresh first-summer was at Lodmoor RSPB, Dorset, from 19th. Last reported in Nottinghamshire on 13th, the Cardiff Bay first-summer popped up again at Cheshire's Burton Mere Wetlands RSPB on 23rd; the one at Dunnet Bay, Caithness, remained in situ too.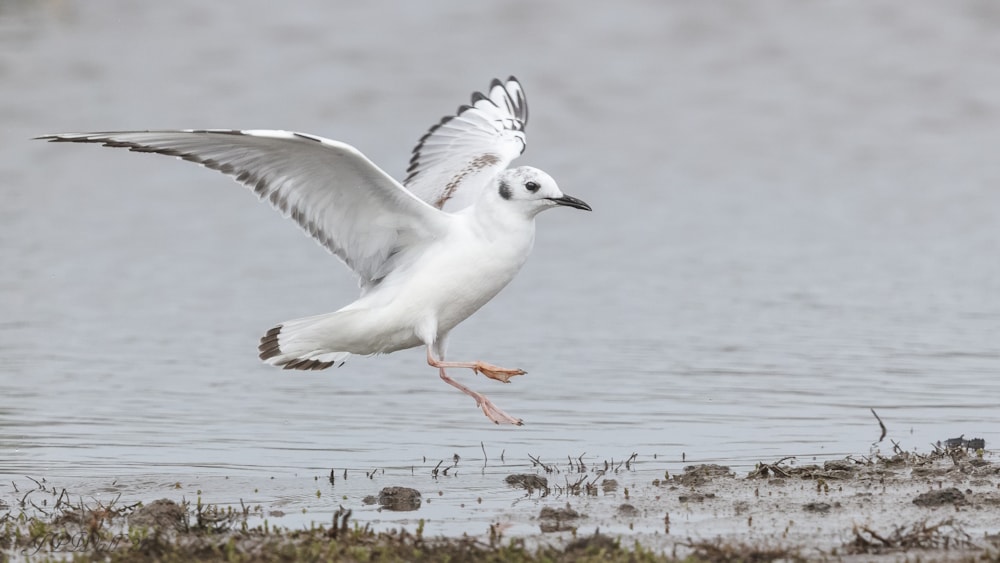 Bonaparte's Gull, Lodmoor RSPB, Dorset (John Wall).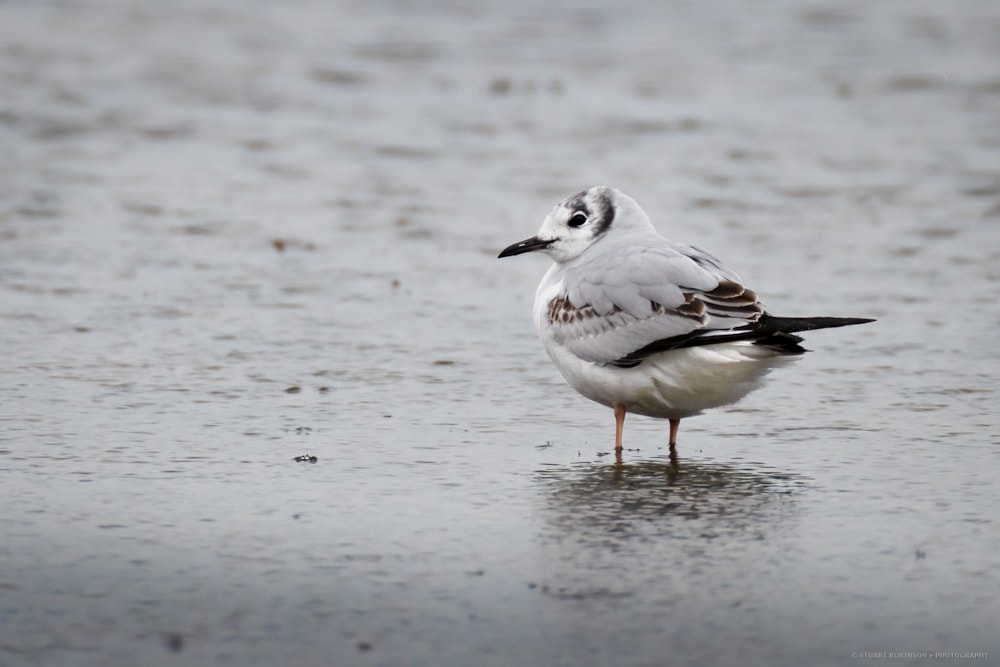 Bonaparte's Gull, Burton Mere Wetlands RSPB, Cheshire (Stuart Robinson).
The Potter Heigham, Norfolk, Caspian Tern just made the week's review on 19th; a Whiskered Tern was off Mudeford Quay, Dorset, on the same date. The long-staying Forster's Tern was back at Inishroo, Co Galway, on 21st, now into its eighteenth year.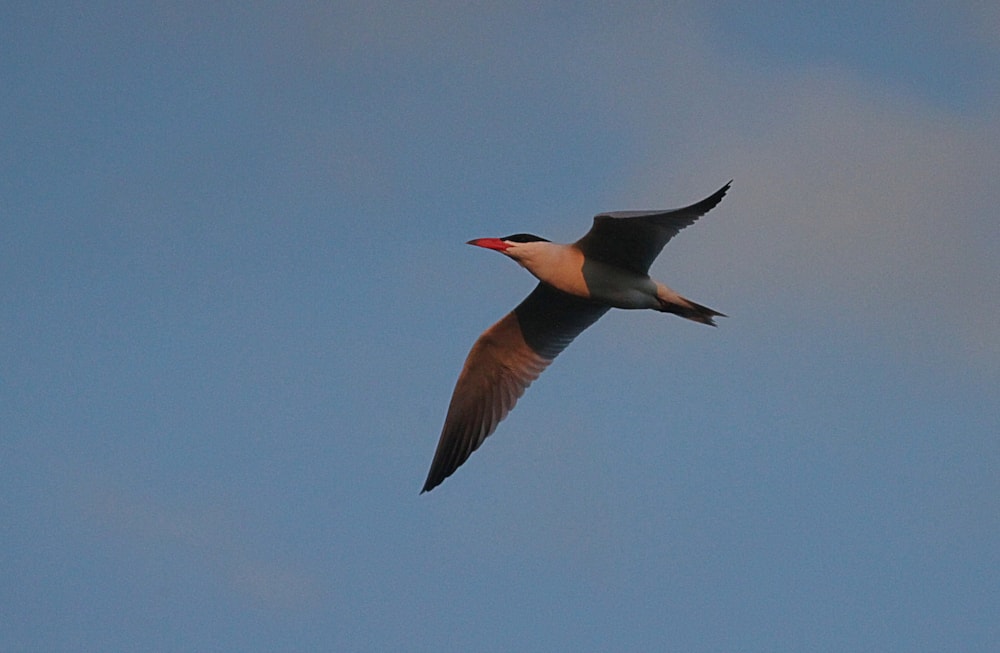 Caspian Tern, Potter Heigham Marshes, Norfolk (Drew Lyness).
Ireland's first-summer Double-crested Cormorant still at Carrig Island, Co Kerry, throughout, with the young American Herring Gull was again at Newlyn, Cornwall, on 19th. A possible Barolo-type shearwater south past Dawlish Warren, Devon, on 23rd was an interesting report.
Double crested Cormorant pic.twitter.com/5SxWIjfzra

— Knockaballybirder (@dennisballyc) May 22, 2021
The drake King Eider at Ythan Estuary, Aberdeenshire, was last reported on 21st, while a new first-summer drake was off St Ninian's Isle, Mainland, from 22-24th; another flew east past Highland's Chanonry Point on 20th. Lincolnshire's Lesser Scaup resurfaced at Manby Flashes on 24th, although would prove a short stayer – a Norfolk visit would be more than appreciated!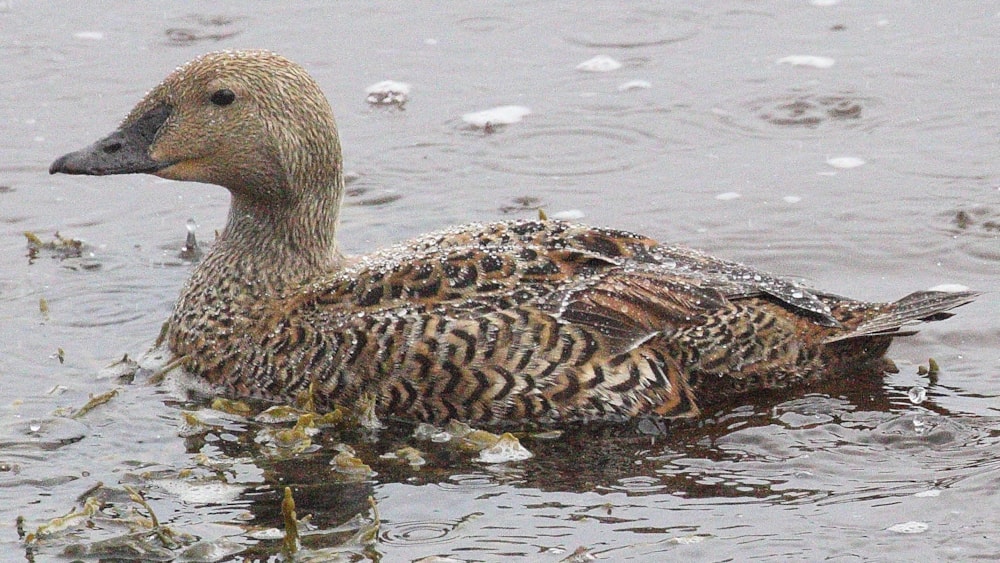 King Eider, Loch Fleet, Highland (Peter Stronach).
Looking set for another breeding attempt with the local Little Grebes, the Highland Pied-billed Grebe held steadfast at Loch Feorlin. A Richardson's Cackling Goose among a late group of Barnacle Geese at Aberdeenshire's Loch of Strathbeg RSPB on 21st. One of the Barnacles was satellite-tagged – a Svalbard individual – and was shown crossing the North Sea to Norway the following day. The Cackler would prove a potential national first if located ...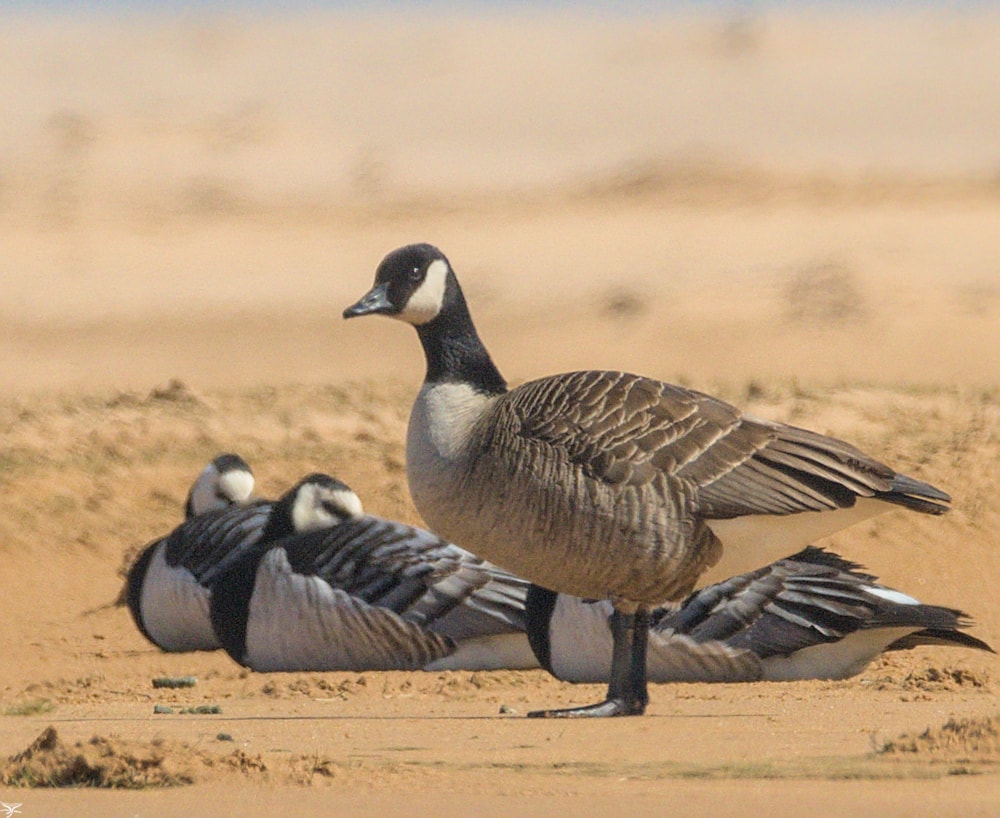 Richardson's Cackling Goose, Loch of Strathbeg RSPB, Aberdeenshire (Ron Macdonald).
After departing Tenby, Pembrokeshire, after 17th, the young male Walrus was amazingly relocated off Padstow, Cornwall, from a Padstow Sealife Safaris trip on 19th, although has yet to be relocated again since. In the Firth of Forth, the Sei Whale continued sporadically off Kinghorn, Fife.
Scottish mainland
Fife enjoyed an OK period, with a Greenish Warbler trapped and ringed on the Isle of May on 23rd, two days after a male Red-backed Shrike had pitched up at Kilminning. The latter site also enjoyed an Icterine Warbler from 22-24th.
Inverbervie, Aberdeenshire, also enjoyed an Icky, with one briefly at Craig David Croft on 21st; a White-billed Diver flew north past the same locale on 19th. A short way north along the coast, a male Red-backed Shrike was at Crawton on 22nd. Mire Loch, Borders, also hosted a Red-backed Shrike – a female – on 22nd.
Red-spotted Bluethroats were at Barns Ness, Lothian, on 22nd – a nice male – and at Collieston, Aberdeenshire, on 25th. Two Temminck's Stints were Aberdeenshire, at Rigifa Pool and Loch of Strathbeg RSPB, with the latter hosting a Roseate Tern on 19th (probably the same that was at Ythan Estuary on 21st).
A late Waxwing was photographed in a Caithness garden at Latheronwheel on 23rd and the European Turtle Dove lingered in a Scourie backyard in Highland, until 19th. Another Turtle Dove was seen at Polmont, Forth, on 22nd. On 25th, a Great Egret graced Munlochy Bay, Highland.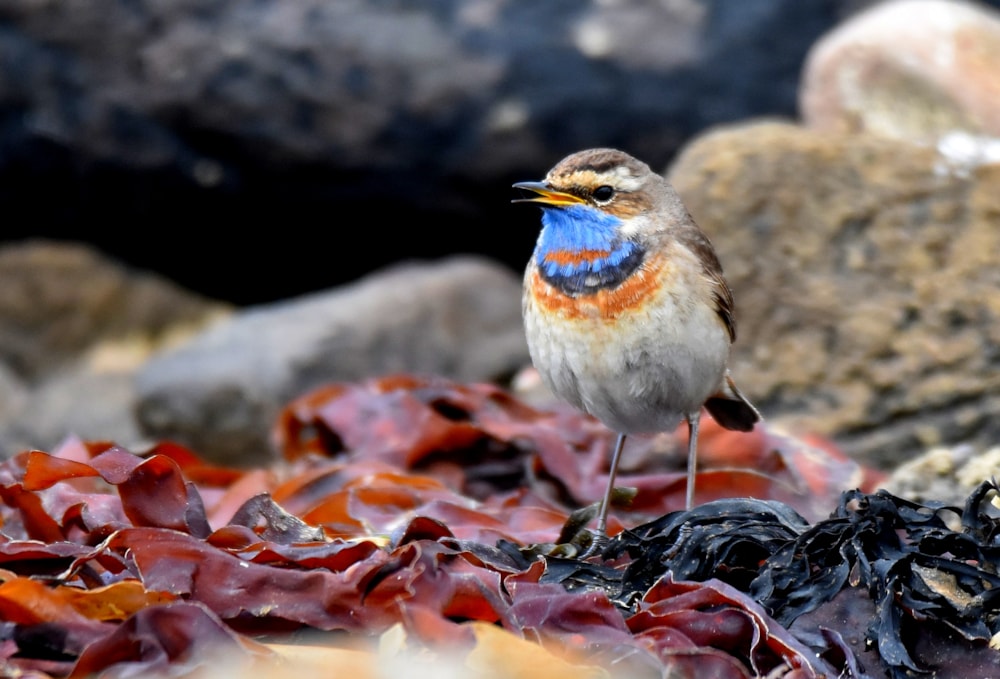 Red-spotted Bluethroat, Barns Ness, Lothian (Lukasz Pulawski).
Northern Isles and the Hebrides
A healthy run of easterlies made this a May week to remember up on Shetland, with an impressive showing of continental drift migrants. A European Bee-eater starred at Norwick, Unst, from 22nd – alongside a Shore Lark – alongside one at Foula on 20th. A smattering of Red-spotted Bluethroats included no fewer than four on Out Skerries and one at Skaw, Unst. On the Mainland, Common Rosefinches were at Loch of Spiggie and Quendale, with Icterine Warblers at Culsetter and Geosetter; others were at Baltasound, Unst, and Out Skerries. A Red-backed Shrike was on Out Skerries too, while Marsh Warblers were at Swinister, Mainland, and Skaw, Whalsay. A Eurasian Dotterel was noted at Clibberswick, Unst, with Wood Sandpipers at three sites.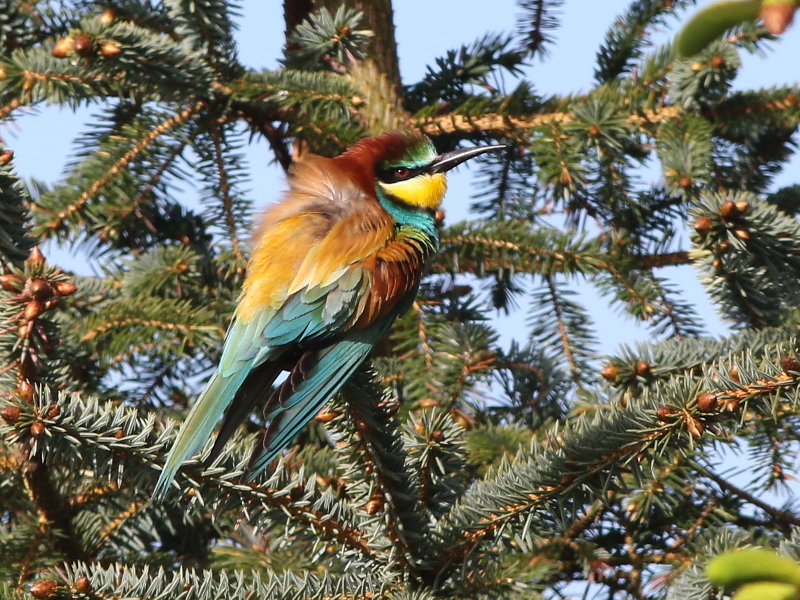 European Bee-eater, Norwick, Unst, Shetland (David Cooper).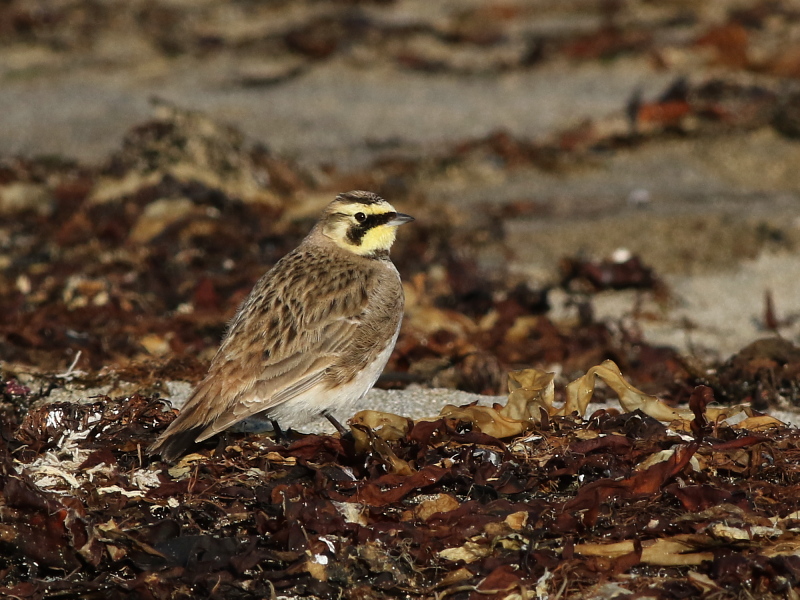 Shore Lark, Norwick, Unst, Shetland (David Cooper).
The returning Long-tailed Skua was back patrolling the moorland at Dalsetter, Mainland; another flew past Skaw, Unst. The Ring-necked Duck lingered at Loch of Brow, Mainland, as did the Wryneck-Lapland Bunting pair at Ireland. A least three White-billed Divers made it into another week – two off Norwick, Unst, and one off Lamba Ness.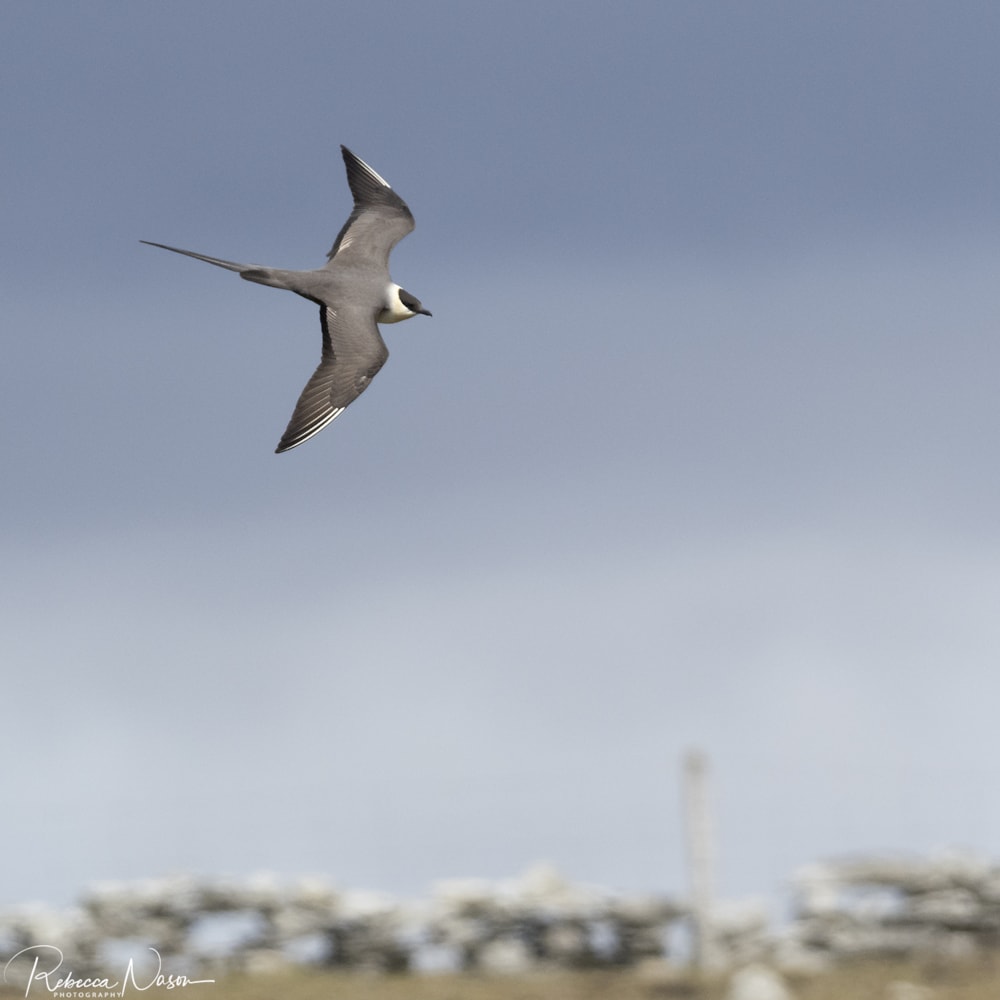 Long-tailed Skua, Boddam, Mainland, Shetland (Rebecca Nason).
Fair Isle scored a number of Red-spotted Bluethroats of its own, with an impressive island role call including a Golden Oriole, Wryneck, Icterine Warbler, White-tailed Eagle, Blue-headed Wagtail and Wood Warbler, alongside a Wood Sandpiper and Little Ringed Plover.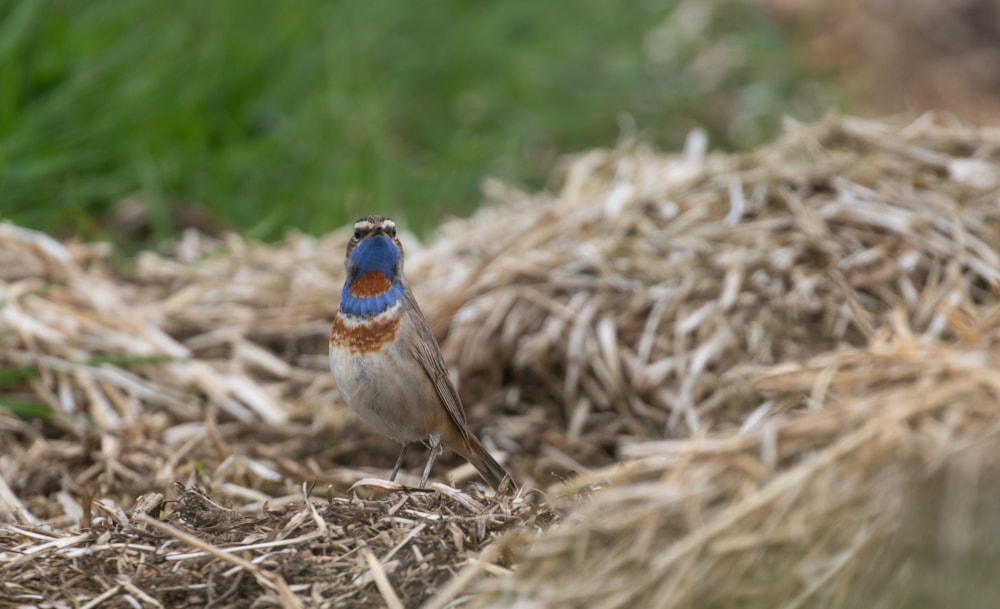 Bluethroat, Fair Isle, Shetland (Daniel Gornall).
The week's end saw a short flutter of Orcadian action; a female Bluethroat at Sandside Bay, Mainland, on 24th was upstaged by a Golden Oriole at Hestily, South Ronaldsay. Three Eurasian Spoonbills were a surprise appearance at Liddel Loch, South Ronaldsay, on 25th, with Icterine Warblers at both Mull Head and Deerness, Mainland. Away from the mainland, an Icterine Warbler and Common Quail were on Sanday and another Icterine Warbler and Wood Sandpiper were on Shapinsay, with a White-tailed Eagle on Papa Westray and Iceland Gull on Westray.
A rare summer-plumaged Little Auk flew past North Ronaldsay on 20th. A male Red-backed Shrike was at Scottigar on 24th, with Great Grey Shrike, Wryneck, European Turtle Dove, Icterine Warbler, Wood Warbler and Curlew Sandpiper all recorded too.
In the Outer Hebrides, the Eurasian Dotterel was last noted at Balranald RSPB, North Uist, on 19th; elsewhere a Curlew Sandpiper was at Loch na Reivil, North Uist, with Little Stints at Rubha Ardvule, South Uist, and Loch na Reivil, North Uist. Iceland Gulls held on at four sites, while Glaucous Gulls were widespread.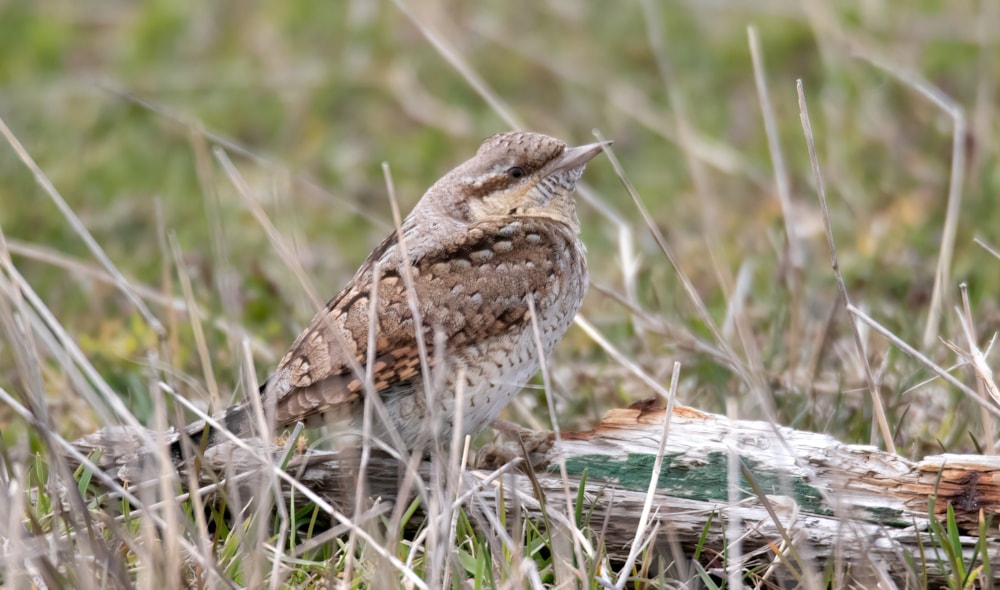 Wryneck, Fair Isle, Shetland (Alex Penn).
North-East England
A young male Golden Oriole spent two days in willows at East Chevington NWT, Northumberland, on 19-20th, with a Black Tern still performing admirably at Long Nanny and the regular female Red-necked Phalarope still at Grindon Lough. A female Bluethroat on Holy Island on 21st was notable, while a Common Quail was flushed from dunes at Hauxley NR and two Ruddy Shelduck remained at Widdrington Moor Lake. Druridge Pools had a strong week – Grey-headed Wagtail, Blue-headed Wagtail and two Wood Sandpipers. Iceland Gulls were reported from St Mary's Island and Beadnell.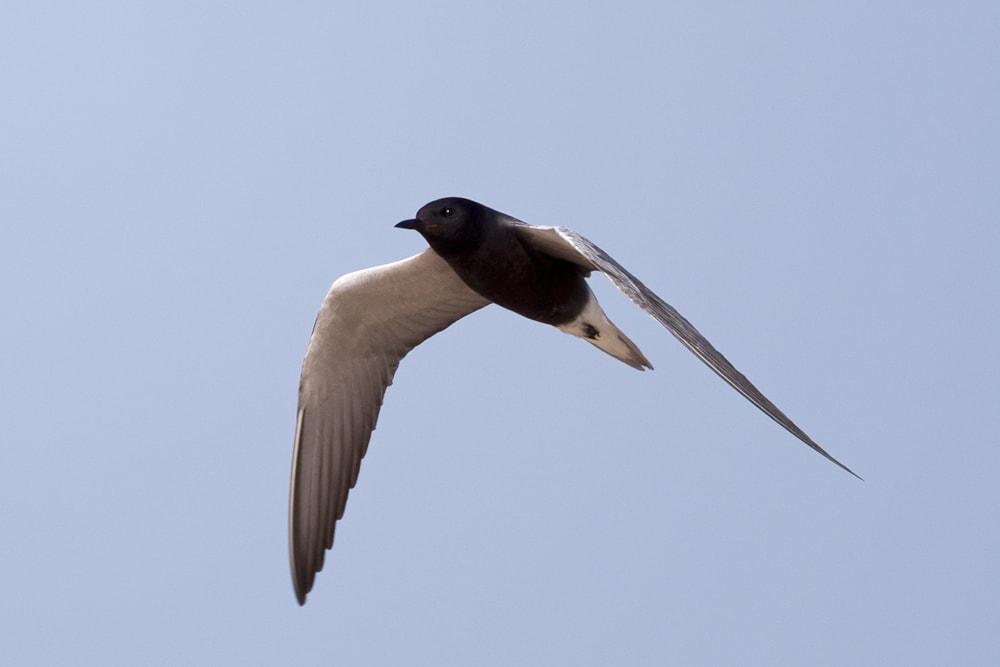 Black Tern, Long Nanny, Northumberland (Gary Woodburn).
A singing Golden Oriole sound-recorded in Durham at Rainton Meadows early on 23rd was the county highlight, although would agonisingly go to ground. Elsewhere, a Black Redstart was in a Sunderland garden and Ruddy Shelduck were at Washington WWT and Bishop Middleham, with a Eurasian Spoonbill at the latter site on 23rd.
A Wood Sandpiper was at Seaton Common, Cleveland, while a Ruddy Shelduck moved between Cowpen Marsh and Saltholme RSPB and a Eurasian Spoonbill remained at Cowpen Marsh.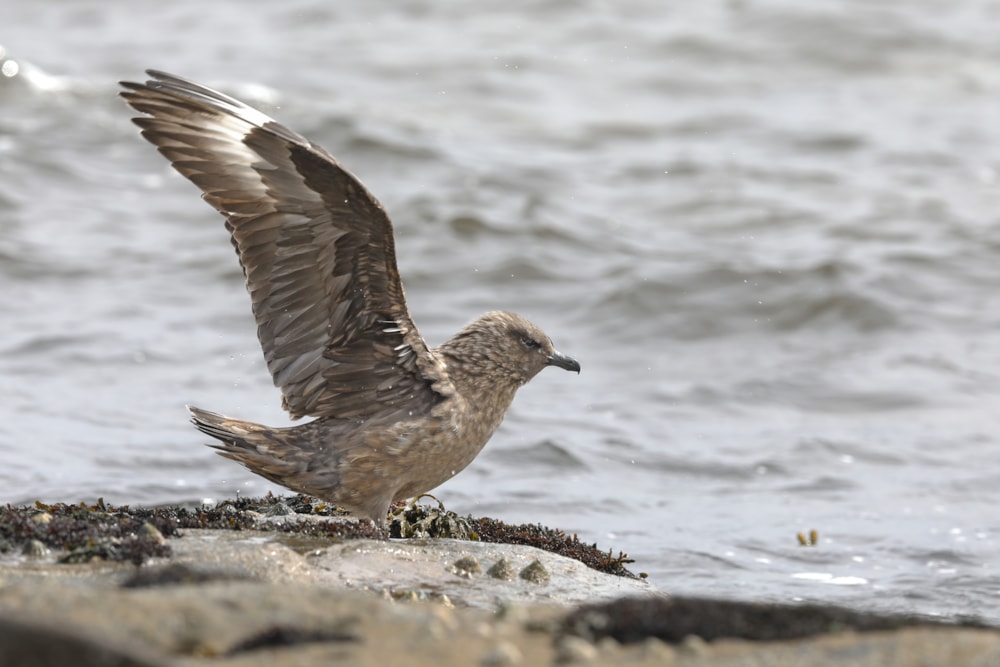 Great Skua, Tynemouth, Northumberland (Colin Bradshaw).
North-West England
Winds largely hampered birding efforts in Cumbria, although Long-tailed Skuas winged their way past Workington on 22nd and Bowness-on-Solway on 23rd. Pomarine Skuas also moved past two sites.
In a quiet week for birding, it was frustrating for local birders when an adult White-winged Tern floated through Lunt Meadows, Lancashire, on 21st never to be seen again. Eurasian Spoonbills had a great showing with up to eight frequenting the saline pools at Leighton Moss RSPB while two flew over Marshside RSPB on 20th. An oiled adult Long-tailed Skua was a sorry sight on North Shore Golf Course, Blackpool, on the evening of 25th – after a bit of detective work it looks a match to the oiled adult from Llanelli, Carmarthen, earlier this month.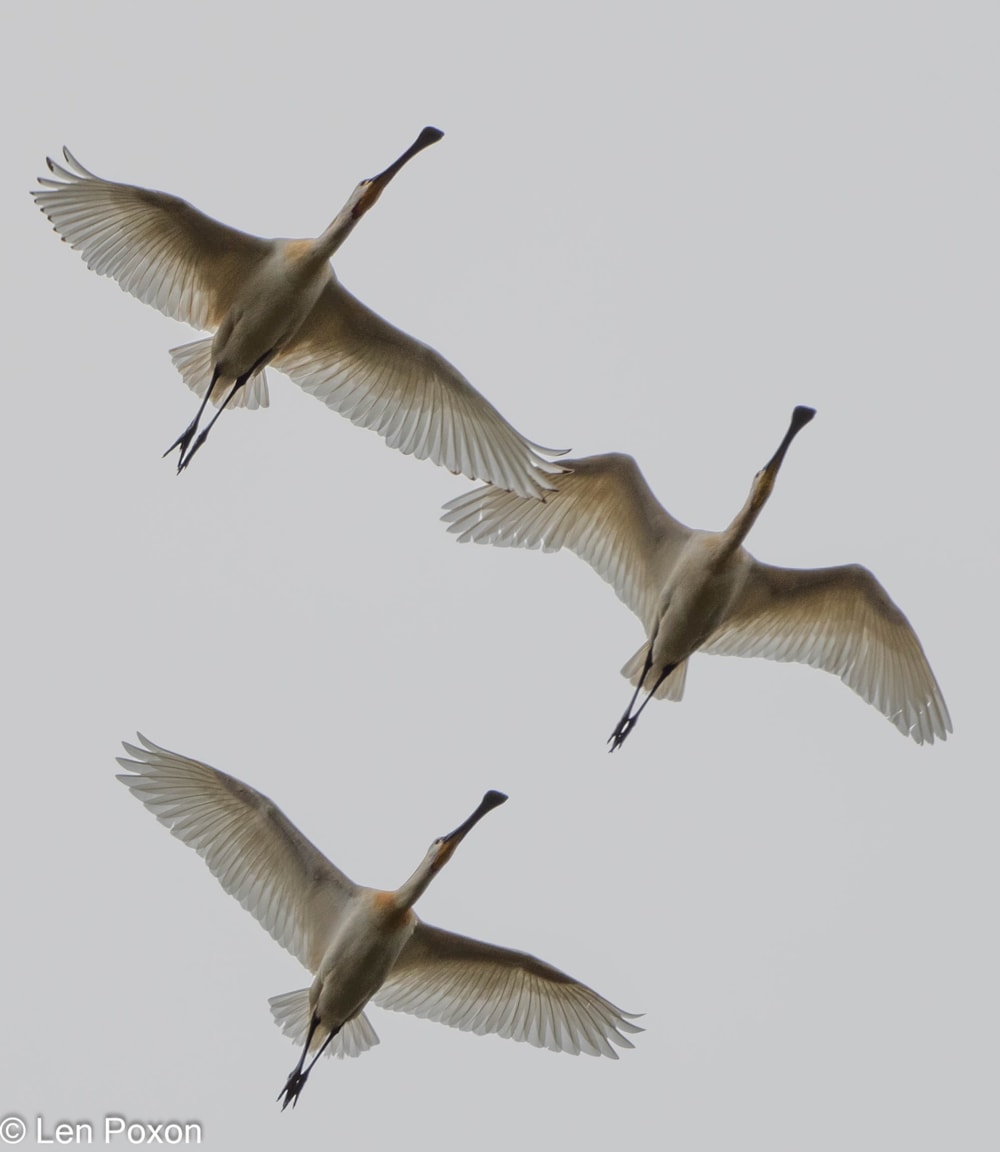 Eurasian Spoonbill, Leighton Moss RSPB, Lancashire (Leonard Poxon).
A Great Northern Diver started Greater Manchester's week off to a great start, with one at Pennington Flash CP on the evening of 21st only. The following day a Red-rumped Swallow was at Audenshaw Reservoirs, either the bird from earlier this month or a new individual; a great record regardless. A smart female Grey-headed Wagtail was at High Rid Reservoir on 25th.
Burton Mere Wetlands RSPB, Cheshire, provided another dose of great county birds this week. A shiny adult Glossy Ibis played cat and mouse with observers from 23rd, although eventually gave itself up. It was also seen in flight towards the heronry, no doubt providing a glimpse into the future. A probable Iceland Gull was on Hoylake beach on 23rd while a Wood Sandpiper was at Leasowe on 24th.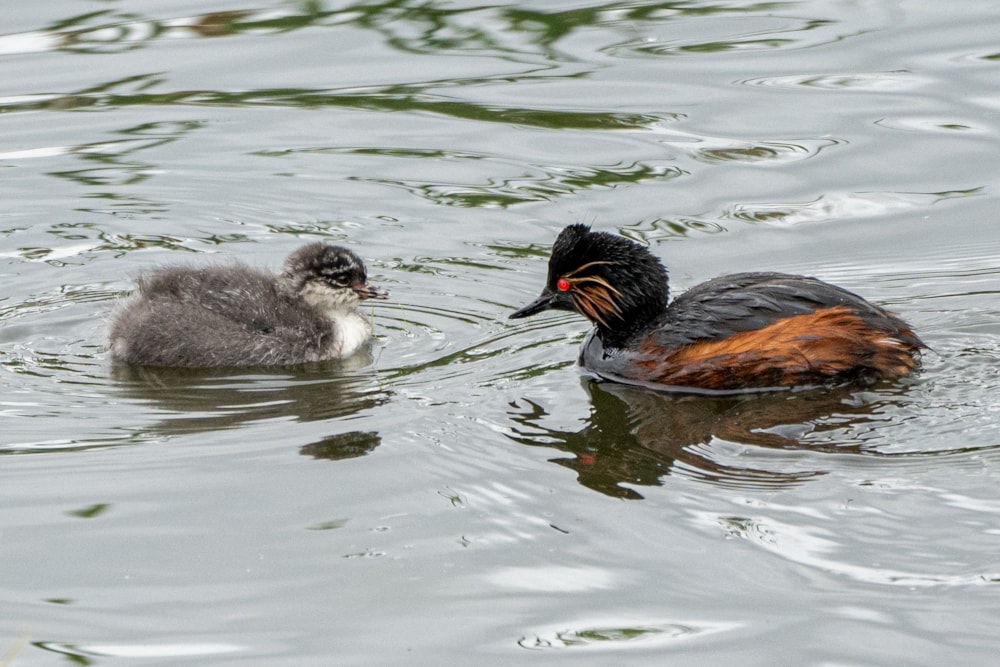 Black-necked Grebe, Woolston Eyes NR (PERMIT ONLY), Cheshire (David Spencer).
Lincolnshire and Yorkshire
Arguable highlight of Lincolnshire's week was a Red-rumped Swallow at Marston STW on 25th, while a Purple Heron over Rimac on 20th and a Glossy Ibis at Alkborough Flats (previously seen in East Yorkshire at Blacktoft Sands) were also of note. A new Temminck's Stint was at Frampton Marsh RSPB on 23rd, with the reserve also producing a Marsh Warbler that day, as well as 'G461', one of the Isle of Wight White-tailed Eagles that spent some time around The Wash.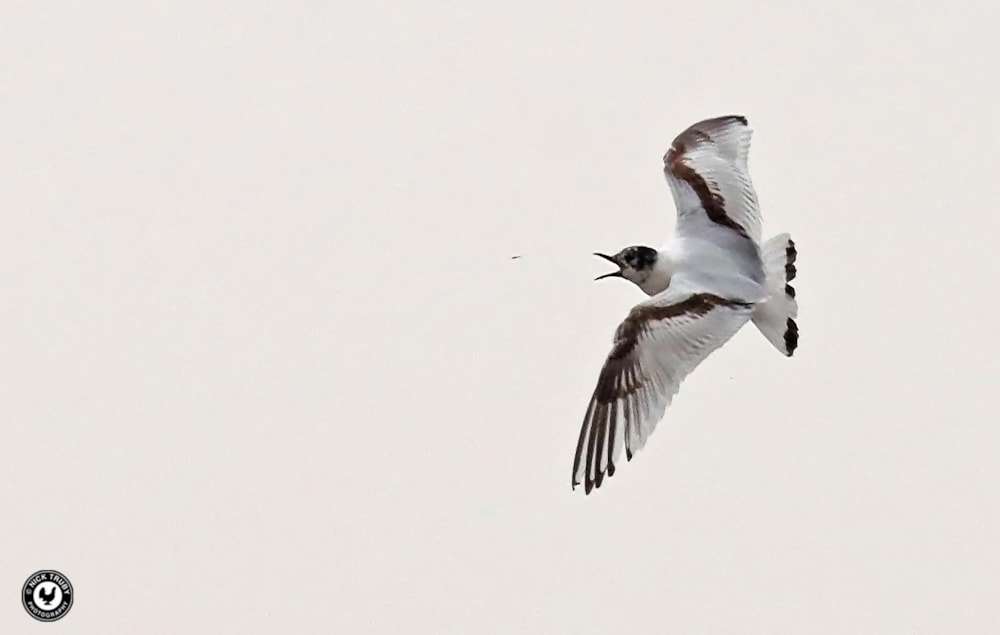 Little Gull, Frampton Marsh RSPB, Lincolnshire (Nick Truby).
Highlights from the Spurn area were a Red-rumped Swallow on 19th and an Alpine Swift late on 21st; Flamborough Head, meanwhile, claimed a Golden Oriole on 18-19th. Moving inland, a Little Stint was at Swine Moor on 23rd.
In the Dearne Valley, a Common Quail sang at Wombwell Ings on 19th, where a Curlew Sandpiper visited on 20-21st (presumably the same of the latter was also at Old Moor RSPB). Several sites in South and West Yorkshire produced Sanderlings, while the St Aidans RSPB area held an array of quality birds, including Iceland Gull and Garganey, while nearby Fairburn Ings had a female Common Scoter.
European Honey Buzzards were back at Wykeham Raptor Watchpoint, North Yorkshire, from 18th, with a Temminck's Stint on private land near Scorton on 22nd and a Wryneck at Great Habton on 23rd. A male Common Quail sang at Bolton Percy on 20th.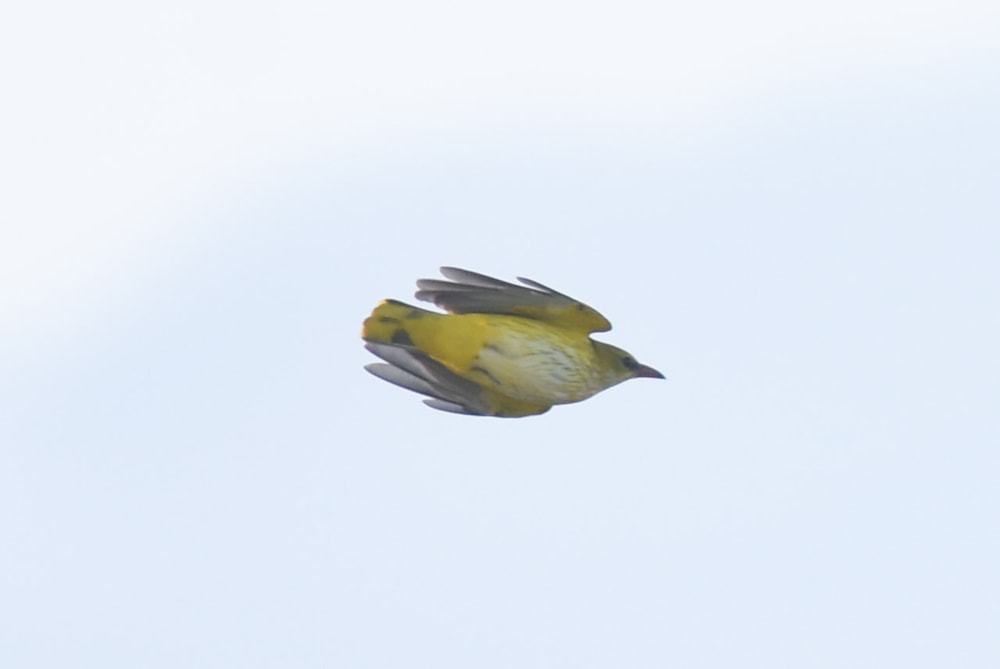 Golden Oriole, Flamborough Head, East Yorkshire (Andy Hood).
West Midlands
It was a quiet week for the region, although common wader passage continued apace with Ruddy Turnstone and Sanderling through multiple sites. Joining in with the waders, an Arctic Tern was at Belvide Reservoir, Staffordshire, on 21st, while Marsh Lane NR, West Midlands, hosted a Eurasian Spoonbill on 19th.
Warwickshire was also quiet, although a Northern Gannet flew west at Draycote Water on 25th was a great local record and an indicator of recent weather conditions. The same site hosted a Black Tern on 24th while two Arctic Terns were at Earlswood Lakes on 21st. Over in Worcestershire, Upper Bittell Reservoir also had an Arctic Tern on 21st with another through the following day. A Spotted Redshank was a brief visitor to Clifton Pits on 21st.
East Midlands
The immature Glossy Ibis continued to make sporadic appearances at Carr Vale NR, Derbyshire, throughout. The Nottinghamshire bird remained at Besthorpe NWT until at least 19th. Of similar origin, a Golden Oriole was heard briefly in woodland at Old London Road, Babworth, on 22nd although there was no further sign. European Honey Buzzards continue to put on a show from the dedicated Welbeck watchpoint for another season, with up to two birds being reported from 22nd.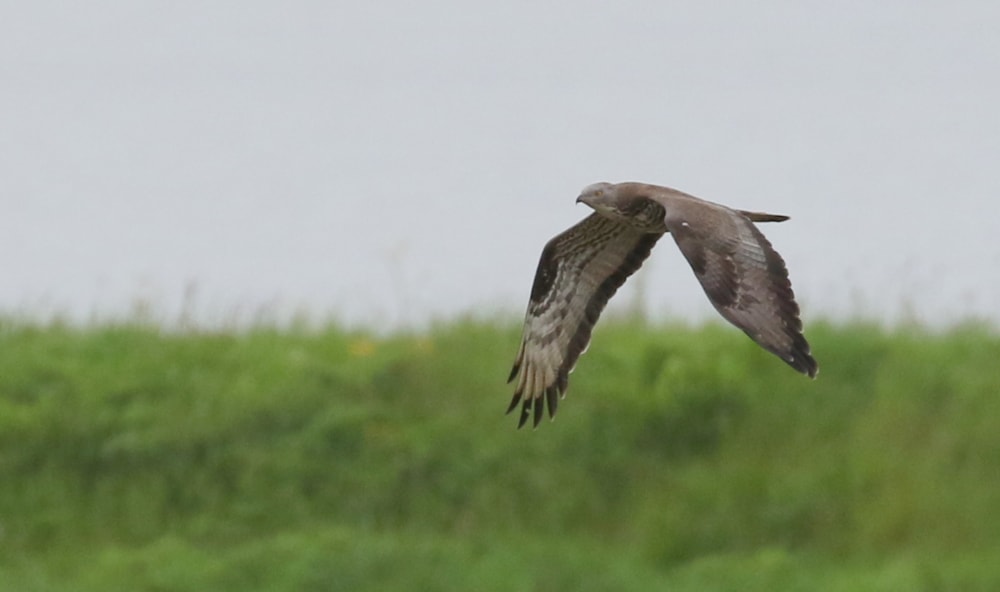 European Honey Buzzard, Welbeck watchpoint, Nottinghamshire (Robert Mellor).
Two Black Terns were a fair showing over in Northamptonshire, with one at Pitsford Reservoir on 23rd and one at Earls Barton GPs on 25th. A first-summer Caspian Gull was there to keep the former bird company, and another was at the DIRFT 3 development at Lilbourne on 20th.
In Leicestershire, the second-winter Kumlien's Gull put another appearance in at Shawell sandpit on 22nd. A late Ring Ouzel was at Burbage Common on 22nd and a singing Common Quail proved reliable at Exton from 24th. An Arctic Tern was lurking among the Common Terns at Rutland Water on 21st.
East of England
A rare commodity so far this spring, a Rosy Starling was at Blofield Heath on 21-22nd. A flyover Alpine Swift at West Runton on 20th was seen at several other sites west to Holme; West Runton also produced at least two migrant Golden Orioles. A Siberian Chiffchaff was at East Hills, Wells, on 24th and Titchwell RSPB produced at Red-rumped Swallow on the evening of 20th. A European Serin flew over Holt on 20th, with four Glossy Ibises seen at Welney WWT the same day. A Temminck's Stint was at Bank Farm, near Downham Market, on 23rd, with singles also seen at Titchwell RSPB, Cley Marshes NWT and North Point Pools.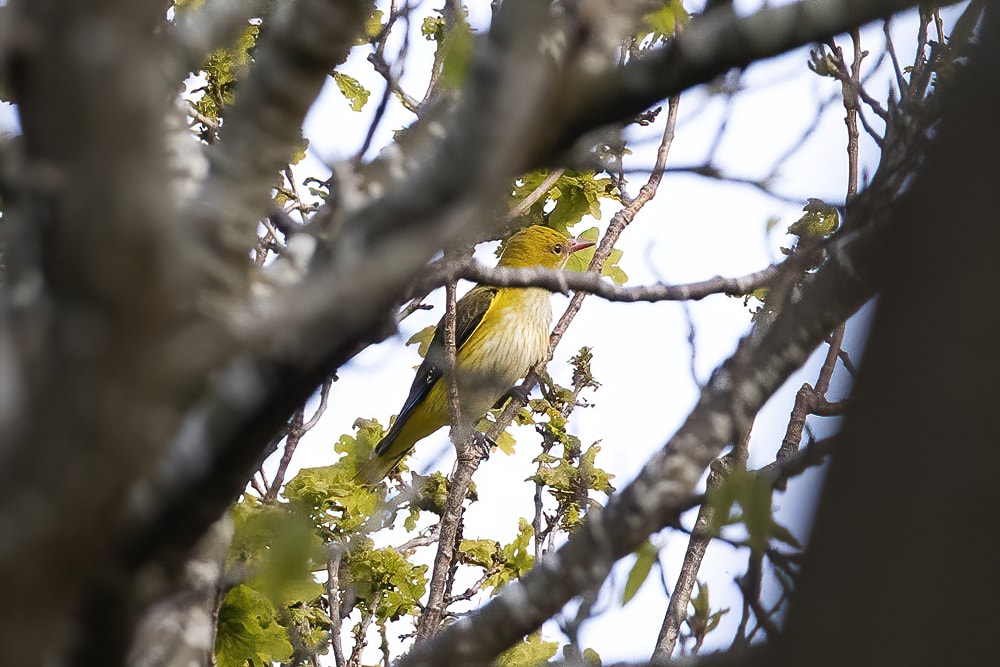 Golden Oriole, Minsmere RSPB, Suffolk (Andrew Moon).
Something of a blast from the past, a male Golden Oriole sang at Lakenheath Fen RSPB, Suffolk, with others at Bawdsey and Minsmere RSPB on 25th. A Siberian Chiffchaff was vocal at Aldeburgh on 20th; a male Woodchat Shrike at Bawdsey on 23rd looks very similar to the recent bird in Essex and may well be the same individual moving north.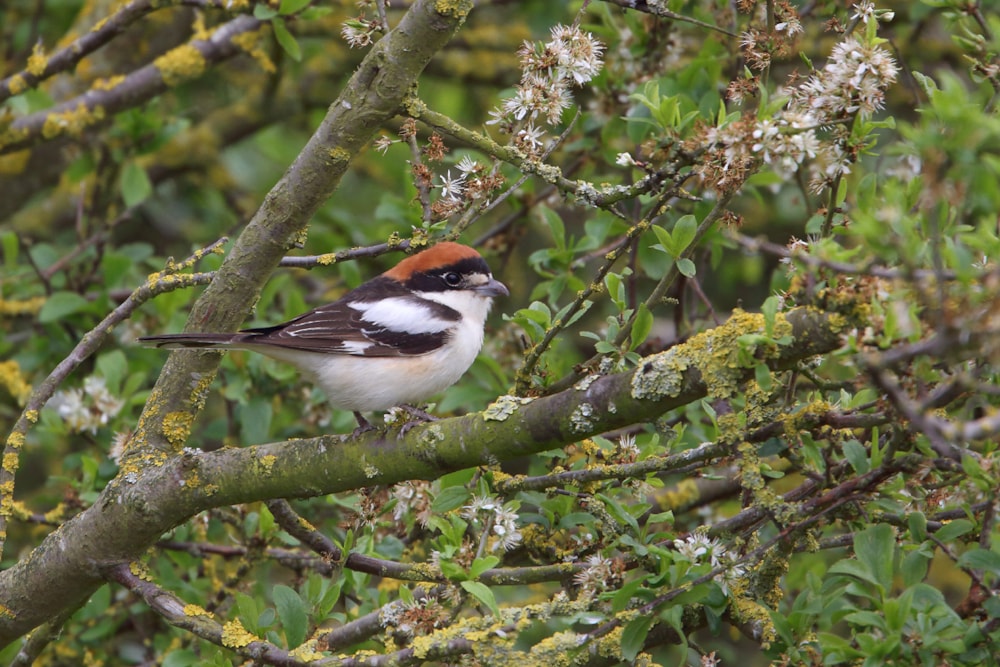 Woodchat Shrike, Bawdsey, Suffolk (Chris Mayne).
Smithy Fen near Cottenham, Cambs, was productive, with Temminck's Stint, Little Stint and Curlew Sandpiper all noted. Both Sandwich and Arctic Terns were at Grafham Water, while a Common Quail sang at Knarr Fen.
Essex had a quiet week, but a Black Kite flew north-west near Wrabness on 24th and a singing Corncrake was reported near Hullbridge. Two Black-necked Grebes were at Amwell NR, Herts, on 21st, with a Golden Oriole belatedly reported after being seen at Puttenham on 18th.
Golden Orioles were top of the menu in Bedfordshire, with a female-type briefly at Knotting Green on 19th followed by a twitchable male at Willington GPs on 22nd. Grovebury Sand Pit continued to produce birds, with a Kittiwake on 23rd in addition to Sanderlings and Ruddy Turnstone.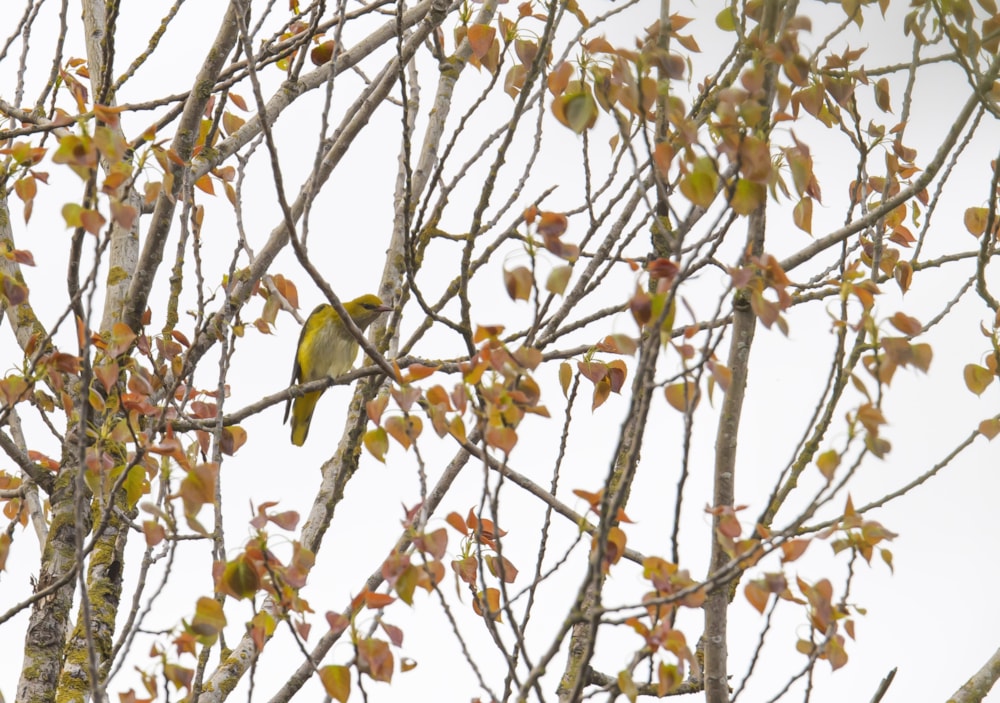 Golden Oriole, Willington, Bedfordshire (John DArcy).
South-East England
It was another rather mundane spring week in the region. In Hampshire, a European Bee-eater over Hannington on 25th highlighted; a late Greater White-fronted Goose at Farlington Marshes until 23rd was a rather contrasting record. On the Isle of Wight, a first-summer female Montagu's Harrier was photographed at Whale Chine on 19th – a decent record indeed – and the Purple Heron was still at Brading Marshes until the same date.
In Sussex, a Golden Oriole proved to be an elusive visitor to Beachy Head on 19th and the adult Roseate Tern was still being seen around Church Norton until 20th. The Isle of Wight White-tailed Eagle was still knocking about in the upper Arun Valley, too.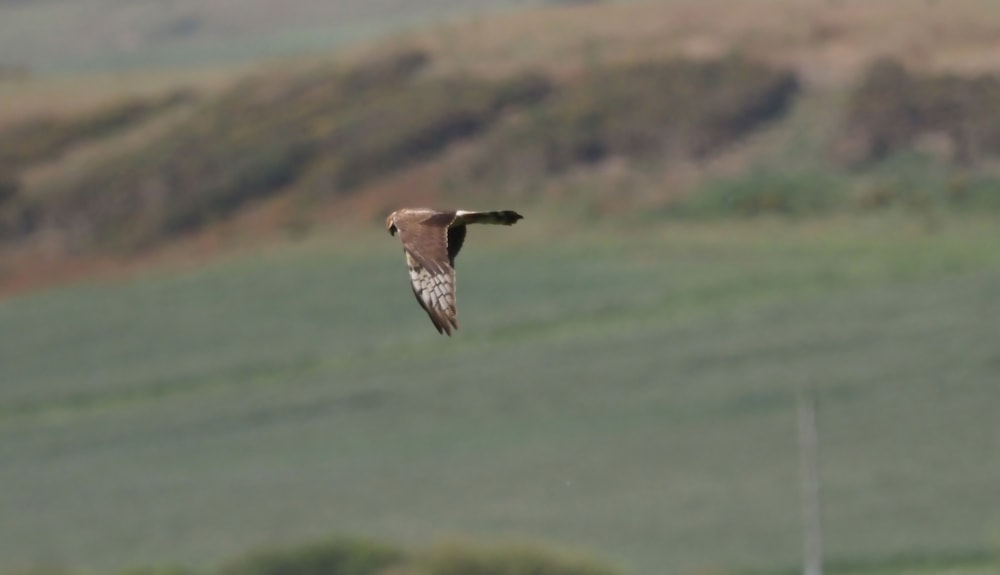 Montagu's Harrier, Whale Chine, Isle of Wight (Mike Gibbons).
Things were a little livelier in Kent, especially on 25th which produced European Bee-eater at Walmer and a Black Kite in-off at Swalecliffe. The previous day a male Red-footed Falcon was briefly at Collard's Lake. Stodmarsh hosted a Purple Heron on 20th and, the previous day, a European Honey Buzzard flew over Cliffs End. At Dungeness, a European Serin dropped in on 23rd, while the Iceland Gull and Glossy Ibis were still in situ.
A handful of Sanderlings and Ruddy Turnstones passed through wetlands sites in the capital, where a Marsh Warbler was reported from South Norwood CP on the morning of 23rd. Headley Heath, Surrey, was graced by a fly-through Golden Oriole on 22nd, while a Wood Warbler was a one-day bird at Wishmoor Bottom, Berkshire, on the same day.
In Buckinghamshire, a Sanderling was at Little Marlow GPs on 21st. Oxfordshire too enjoyed passage Sanderling and Ruddy Turnstones, and the Otmoor Glossy Ibis was ever-present throughout the week as well.
South-West England
Cornwall's first Alpine Swift since 2019 was over Rame Head on 22nd, with a European Serin at Bude and European Bee-eater at Skewjack – both on 19th – added further European flavour. Foxhole's drake Ring-necked Duck continued throughout, with a Hooded Crow at St Just and Blue-headed and Channel Wagtails at Skewjack and Walmsley respectively. Offshore, Sabine's Gulls flew past three sites, with Roseate Terns reported from two.
In a slow Scilly week, two European Turtle Doves were recorded – on Tresco and St Mary's – Iceland Gulls lingered on St Mary's and St Martin's, and at least one Western Cattle Egret remained on Tresco.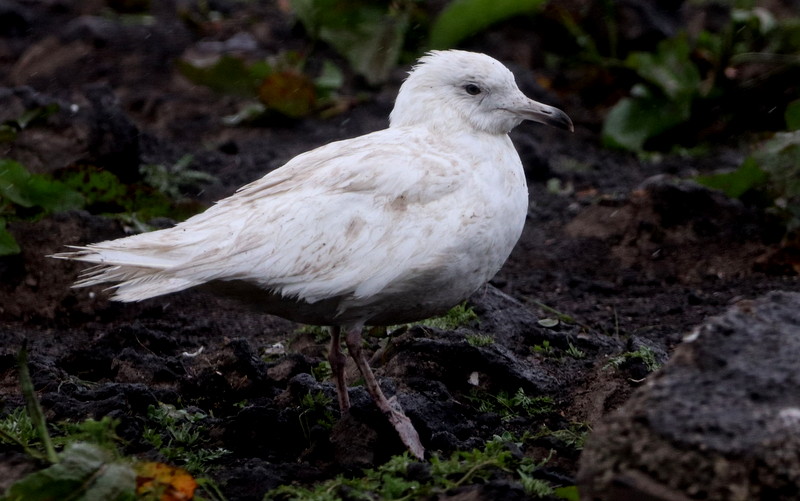 Iceland Gull, St Mary's, Isles of Scilly (Kris Webb).
Exminster Marshes RSPB, Devon, scored a Red-rumped Swallow on 22-23rd – possibly roosting at Topsham recreation ground on 24th – where the Russian White-fronted Goose remained. Pomarine Skuas were recorded past five sites, including six past Dawlish Warren on 23rd, while the drake Ring-necked Duck reappeared at Beesands Ley at the week's end.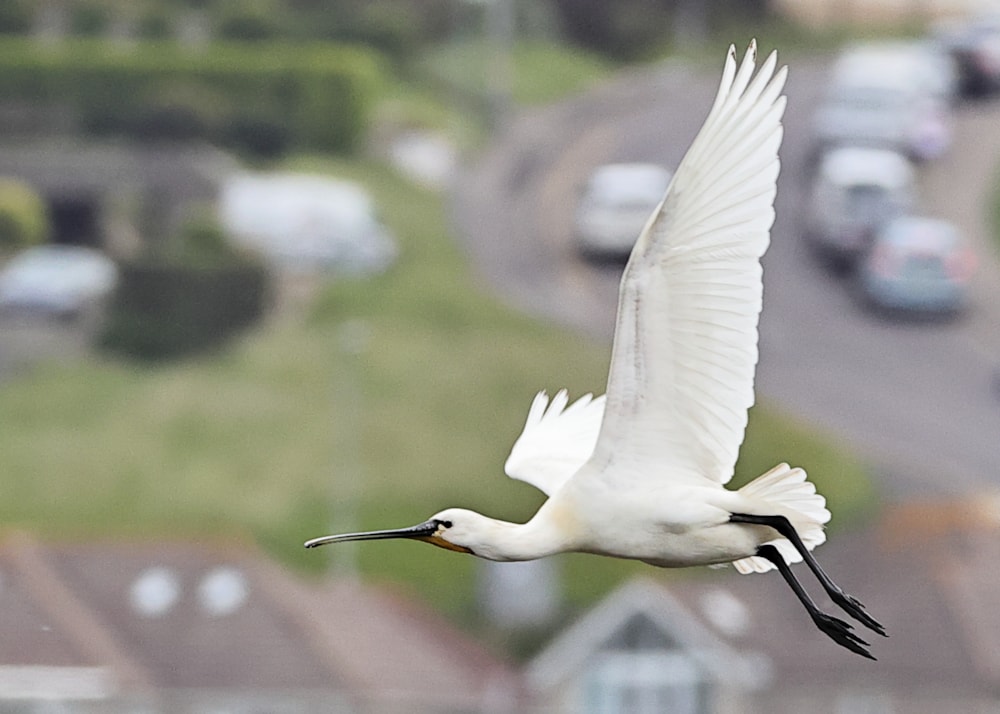 Eurasian Spoonbill, Lodmoor RSPB, Dorset (Mike Trew).
In Dorset, Bournemouth's Woodchat Shrike lasted at Iford Golf Course until 19th. In the Weymouth area, an Iceland Gull was off Greenhill and Lodmoor RSPB hosted a Wood Sandpiper, Eurasian Spoonbill and Iceland Gull, while a Long-tailed Skua and Blue-headed Wagtail were at Portland, with Pomarine Skuas at four locations.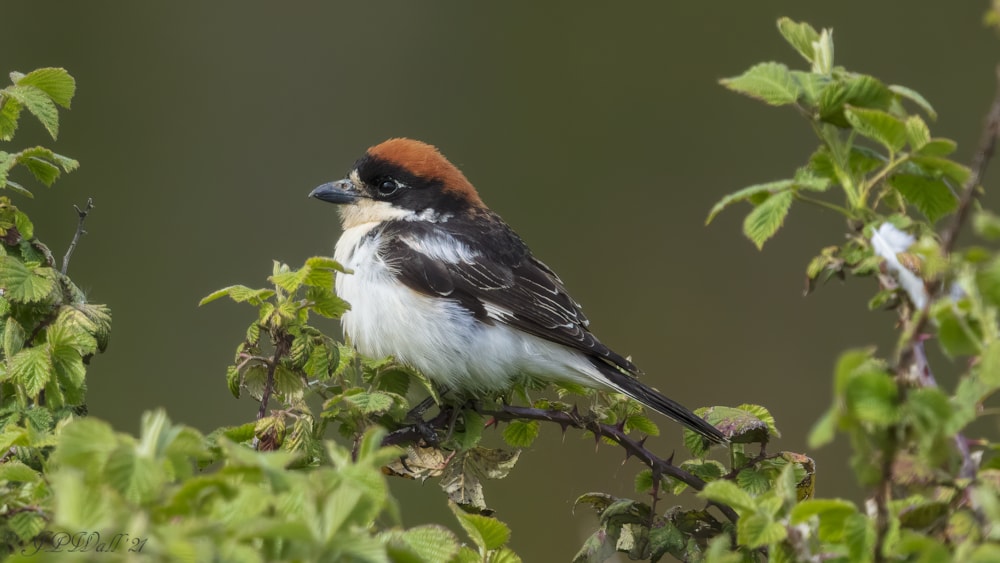 Woodchat Shrike, Bournemouth, Dorset (John Wall).
A Black Tern at Cotswold Water Park was Wiltshire's standout bird. In Somerset, two Pomarine Skuas flew past Anchor Head, Weston-super-Mare, while Garganey were at Catcott Lows and Ham Wall RSPB (two).
A strong Gloucestershire showing of Pomarine Skuas on 20-21st included no fewer than eight off Severn Beach, with one continuing north-east past Sharpness on 21st; the same date brought Sabine's Gulls to both Severn Beach and Frampton-on-Severn. Elsewhere, Coombe Hill Meadows hosted a smart duo of Red-necked Phalarope and Wood Sandpiper on 22nd, two Common Quails were at Beverston from 24th, and a Glossy Ibis, Little Stint and Garganey were at Slimbridge WWT.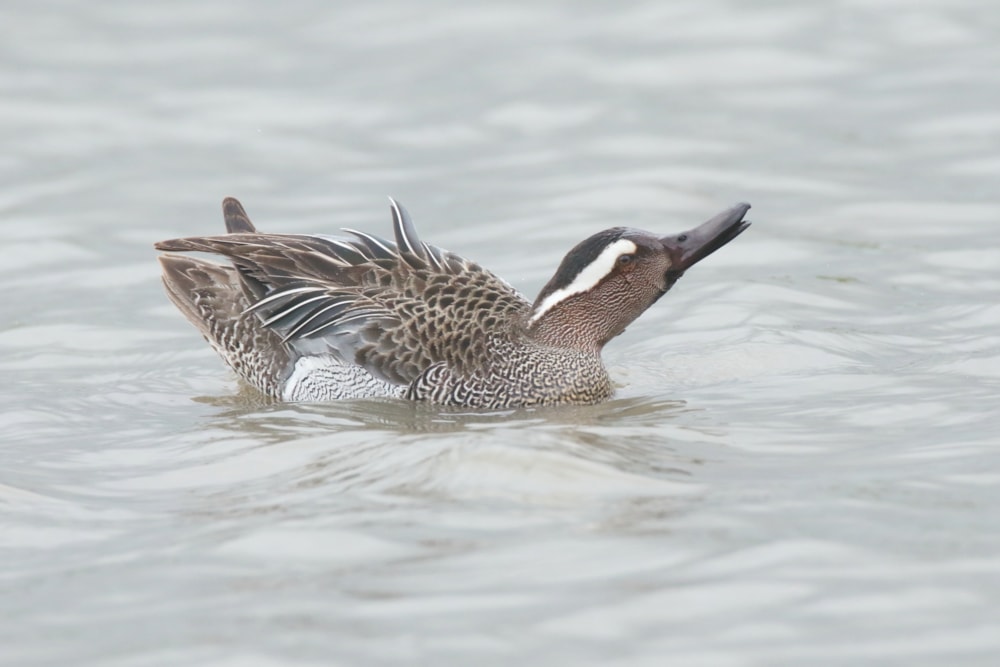 Garganey, Slimbridge WWT, Gloucestershire (Andrew Jordan).
Wales
Sabine's Gulls had a great May showing with five localities reporting birds. Notably, one pitched up at Aberystwyth's South Beach on 22nd and showed well all afternoon. An immature Glaucous Gull was at the harbour the same afternoon. Long-tailed Skuas were also logged past two sites: Llanrhystud, Ceredigion, on 22nd and Aberdovey, Gwynedd, on 24th. Cemlyn Bay, Anglesey received visits from both Roseate Tern and Black Tern through the week. European Storm Petrels were feeling a bit battered by the end of the week with eight coastal sites reporting birds. Sadly, one was also found dead in the Crafnant valley, Conwy, on 24th.
A Red-rumped Swallow paid a brief visit to Goldcliff Pools NR, Gwent, on 23rd while Skomer, Pembs, hosted a smart male Grey-headed Wagtail on 21st. European Nightjars gave themselves up in a couple of unlikely locations this week. Firstly on 22nd, when one was discovered roosting on the back of a model Grey Heron at Conwy RSPB on 22nd. The bird remained steadfast to the statue all day giving visitors a chance to catch up with this cryptic visitor. Another was discovered in Glamorgan on a garden fence at Splott, Cardiff, on 24-25th.
Ireland
A Purple Heron at Dunworley Marsh, Co Cork, from 22-24th was a standout record, as was a Eurasian Stone-curlew at Carrowkeelanahglass on 21st – the first in Co Galway for nearly a decade. Tacumshin, Co Wexford, hosted a Long-tailed Skua on 21st.
A handful of Glaucous and Iceland Gulls hung on around the country, Co Wicklow enjoyed both Great Egret (Blessington on 22nd) and Eurasian Hobby (Five Mile Point on 19th). A pair of Smew for a third day at an undisclosed site in Co Clare was an intriguing report on 21st.
A Wood Warbler put in a two-day shift at Rossmore Forest Park, Co Monaghan, on 21st and a Garganey was at Lady's Island Lake, Co Wexford, on 23rd.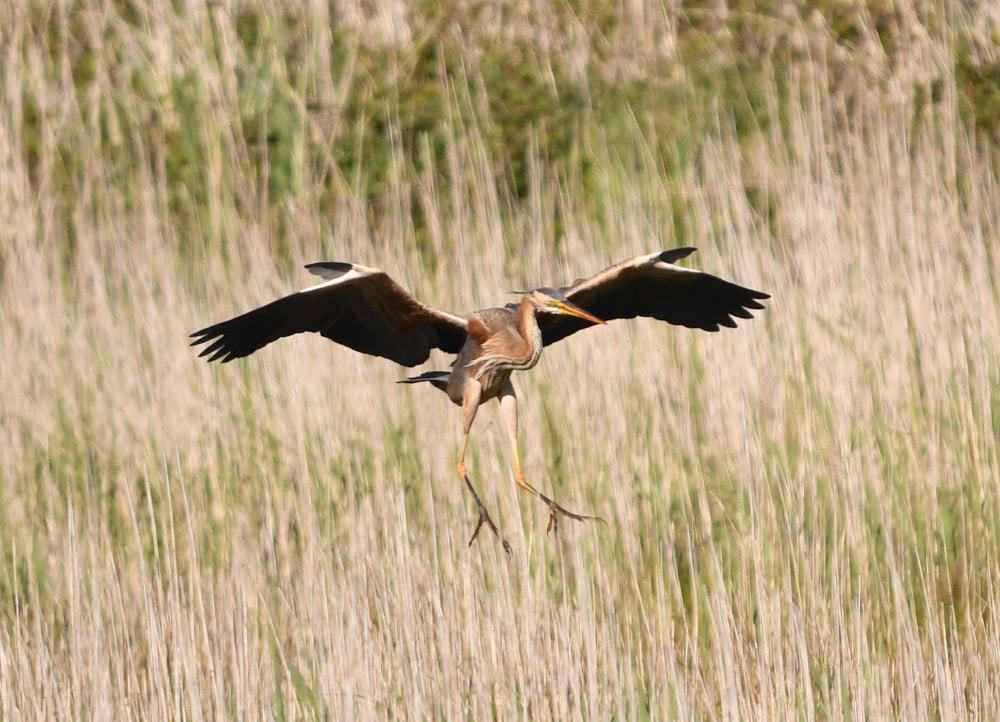 Purple Heron, Dunworly, Cork (Richard Mills).
Western Palearctic
Two Short-tailed Shearwaters off Kuwait on 21st – a species unknown from the region until last year (see here) – was the undoubted regional highlight. One from a boat off Quaruh Island was quickly followed by one off Al-Zour, national firsts and just the fourth and fifth records for the Western Palearctic. Amazingly, a look back through previous records of Sooty Shearwater over the following few days brought an earlier record to light – at Kuwait Bay on 24 May 2014 – becoming the earliest Western Palearctic record in the process.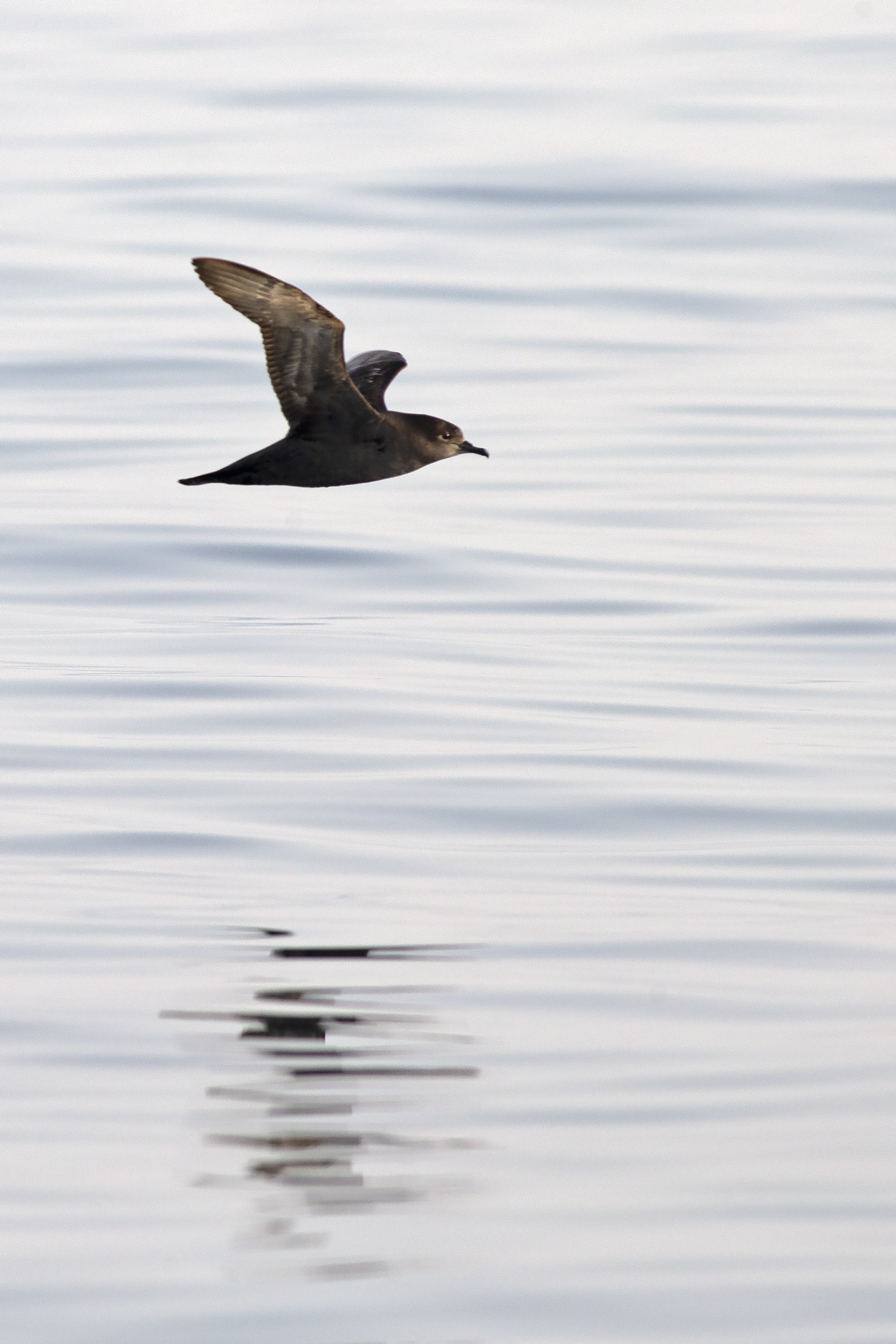 Short-tailed Shearwater, Quaruh Island, Kuwait (Omar Alshaheen).
In another strong showing for Fennoscandia, two Caspian Plovers were recorded this week. A female – Finland's fourth – was at Alavus on 22nd, with it or another joining a Eurasian Dotterel flock at Bälinge, Sweden, from 23-25th. Finland's fifth White-tailed Lapwing was at Hirvijärven Tekojärvi on 20th, with the country's fourth Gull-billed Tern at Vanhankaupunginlahti, Helsinki; a Greater Sand Plover was at Muhos.
Norway's highlight was an Asian Red-rumped Swallow at Larvik on 23rd; a drake Harlequin Duck was at Yttergård on the same date. A Calandra Lark was at Björkö, Sweden, with the Stejneger's Scoter continuing off Påarp.
On 25th, Black-headed Buntings were at Skagen, Denmark, and Horssten, Sweden. The Faroes's sixth American Black Duck – a drake – was at Søltuvík, Sandoy, on 25th, paired with a female American Black Duck × Mallard hybrid.
In The Netherlands a male Western Black-eared Wheatear was at Schiermonnikoog on 23rd, while the satellite-tagged young Bearded Vulture lasted at Lemele until 20th. An American Golden Plover at Het Zwin was just Belgium's third, while Poland recorded its fourth Cinereous Vulture since 2000.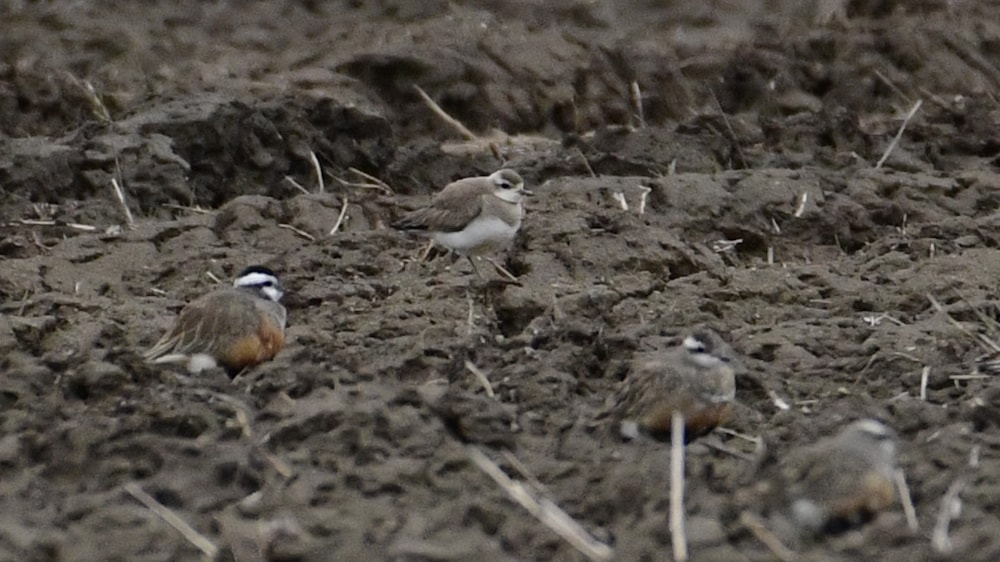 Caspian Plover (rear), Bälinge, Norrbottens län (David Apelqvist).