In a week short on any new megas to truly get our teeth into, it is a male Little Crake – heard singing late on Tuesday evening in Norfolk – that takes the carrot. Detected from a moored boat on the River Ant on the outskirts of Irstead, this smashing, diminutive vagrant is Norfolk's first in more 50 years. With numerous records of singing Little and Baillon's Crakes in recent years, it seems a reasonable possibility that they are recolonising the UK's thriving wetland environs by stealth. Sight records, however, remain a subject of desire.
During this true Brown Booby summer on the west side of the Irish Sea, it was Co Cork's turn to score this time, with belated news of one on a fishing vessel some 135 km south-west of Cape Clear on 12-13th. Unfortunately, the popular adult taken into care at Greystones, Co Wicklow, at the end of last week died at Kildare Animal Foundation on the evening of 16th.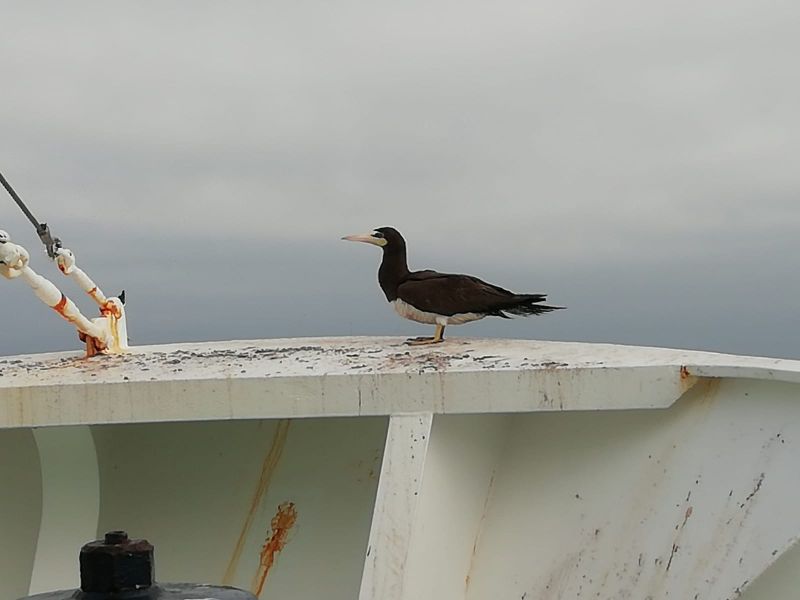 Brown Booby, at sea, Co Cork (B Estévez, J C Fernández & C Pereira).
A rare treat anywhere away from Scilly pelagics or offshore research vessels, the Northern Isles were treated to a wonderful array of immature Long-tailed Skuas. A single on North Ronaldsay, Orkney, on 16th, was supplanted by five birds on 18th, six birds on 19th and four still on 20th – an impressive eight different birds in total. Likewise, neighbouring Papa Westray was treated to a couple on 17th and 18th. In Shetland, the adult remained on the hill at Dalsetter, joined by a second bird on 16th and 17th. Away from the far north of Scotland, one was noted on Lewis, Outer Hebrides, on 14th, with another logged from a Scilly pelagic on 16th.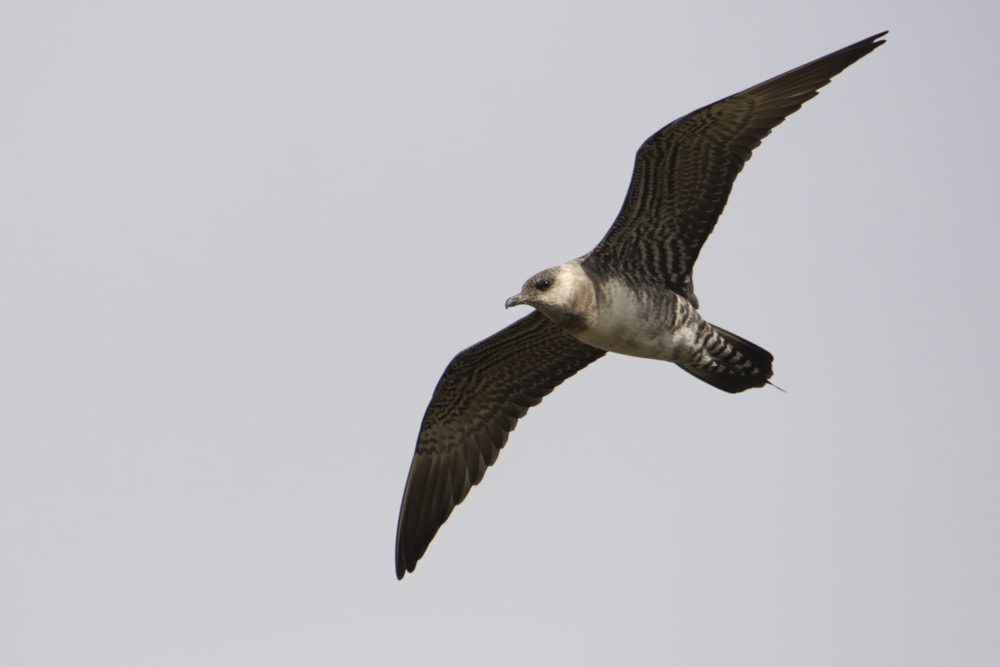 Long-tailed Skua, North Ronaldsay, Orkney (George Gay).
Derbyshire's Bearded Vulture continued making waves in the national press – and shining a light on the area's shocking track record of raptor persecution. Cutthroat Bridge became as good a place as any to catch a glimpse, with the added bonus of the spot being accessible by car.
A handsome bird whatever the occasion, the brief juvenile Great Spotted Cuckoo at Thornham, Norfolk, on 17th would have been undoubtedly popular if it had hung around for more than five minutes. The Lesser Grey Shrike was still at Bigton, Shetland, on 18th, with the Iberian Chiffchaff at Minsmere Heath, Suffolk, last reported on 17th. Cornwall didn't have a great deal to shout about this week, although a Blyth's Reed Warbler trapped in the infamous Cornish valley Nanjizal on 21st was another to chalk up onto this year's astounding totaliser.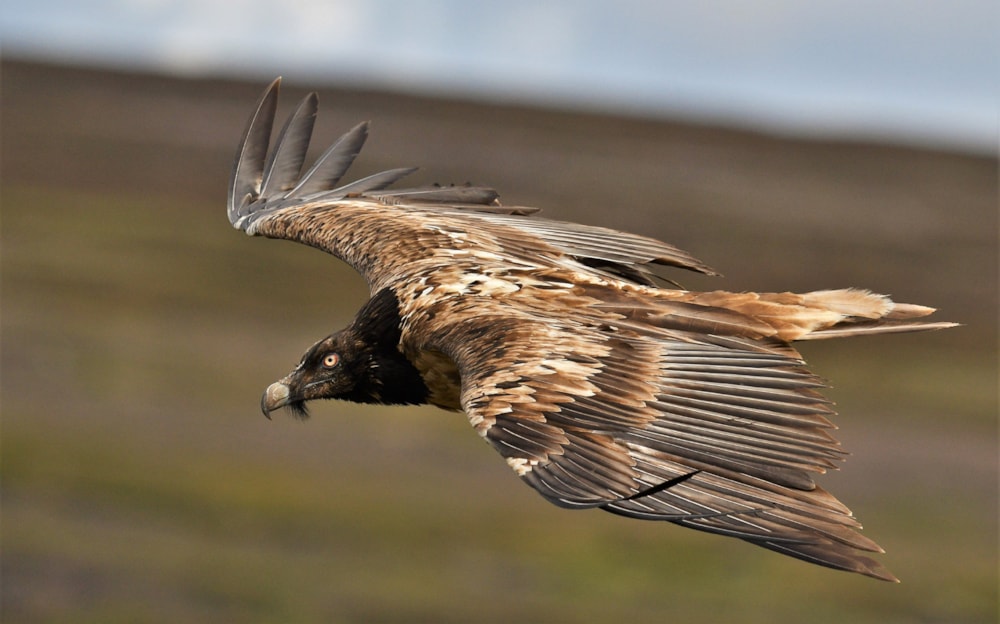 Bearded Vulture, Cutthroat Bridge, Derbyshire (Derek Burr).
Bearded Vulture, Howden Moors, South Yorkshire (Peter Garrity).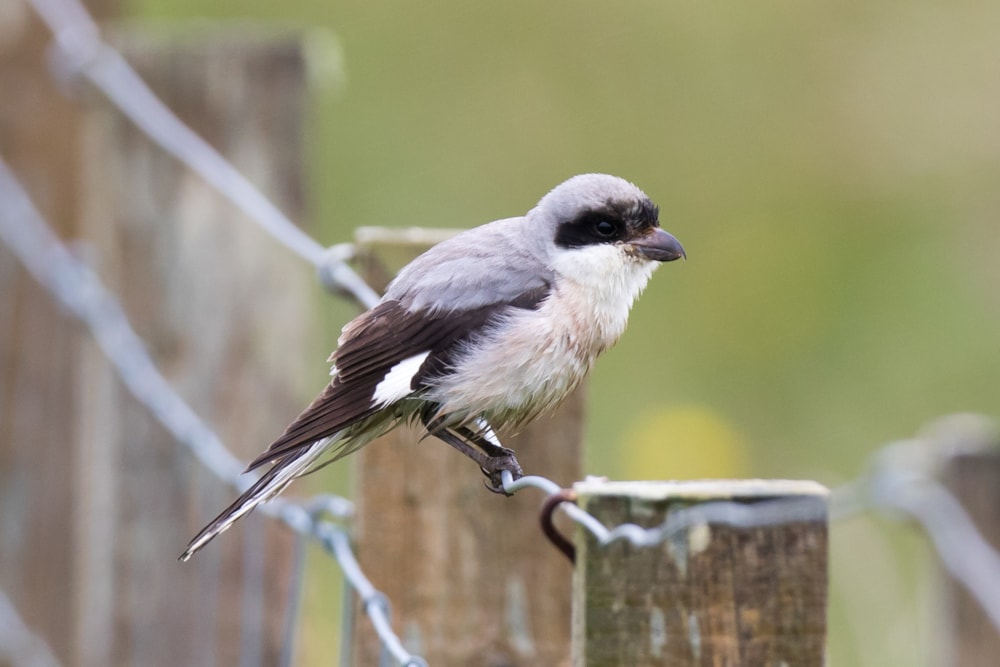 Lesser Grey Shrike, Bigton, Mainland, Shetland (Mick Kemp).
Spurn, East Yorkshire, saw a brief visit from what seemed a strong shout for a Hudsonian Whimbrel on 21st, as it headed north over the sea mid-morning. In Co Clare, the Pacific Golden Plover at Doonbeg wasn't reported past 15th.
A sprightly, brick-red Long-billed Dowitcher was spied among throngs of returning islandica Black-tailed Godwits at Lancashire's Marshside RSPB on 18th, delightfully remaining until the end of the week. Subsequent analysis revealed it could be traced back to the Icelandic coast, being the bird reported at Njarðvík on 29 June. On the Scottish border, another remained at Port Carlisle, Cumbria, until the week's end.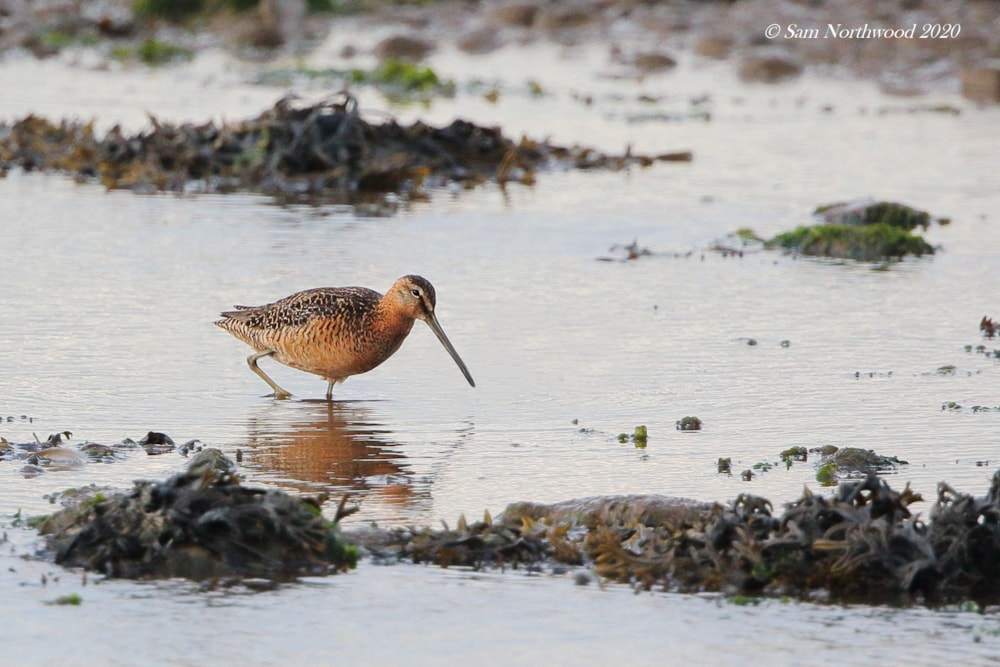 Long-billed Dowitcher, Port Carlisle, Cumbria (Sam Northwood).
Making his annual summer reappearance, the Highland American Black Duck was again on the River Strontian from 15th, along with a multitude of hybrid offspring. Moray's drake King Eider took a leave of absence from Burghead Bay after 17th, while Argyll's Pied-billed Grebe was reported again at Loch Feorlin on 20th.
A new first-summer Bonaparte's Gull rocked up at Kilchattan Bay, Bute, on the Clyde Islands on 18th and 19th. Lingerers bobbed around at Annagassan, Co Louth, until 19th, and at Add Estuary, Argyll, and Oare Marshes, Kent, throughout. In Co Dublin, Bull Island's Laughing Gull – discovered to be the same as that in Somerset way back in March – lingered all week.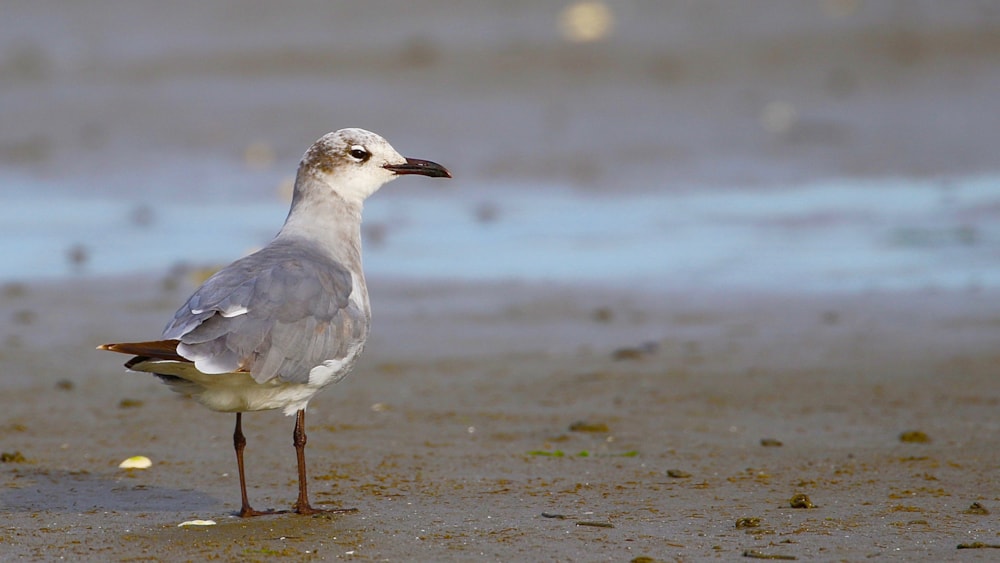 Laughing Gull, Bull Island, Dublin (Victor Caschera).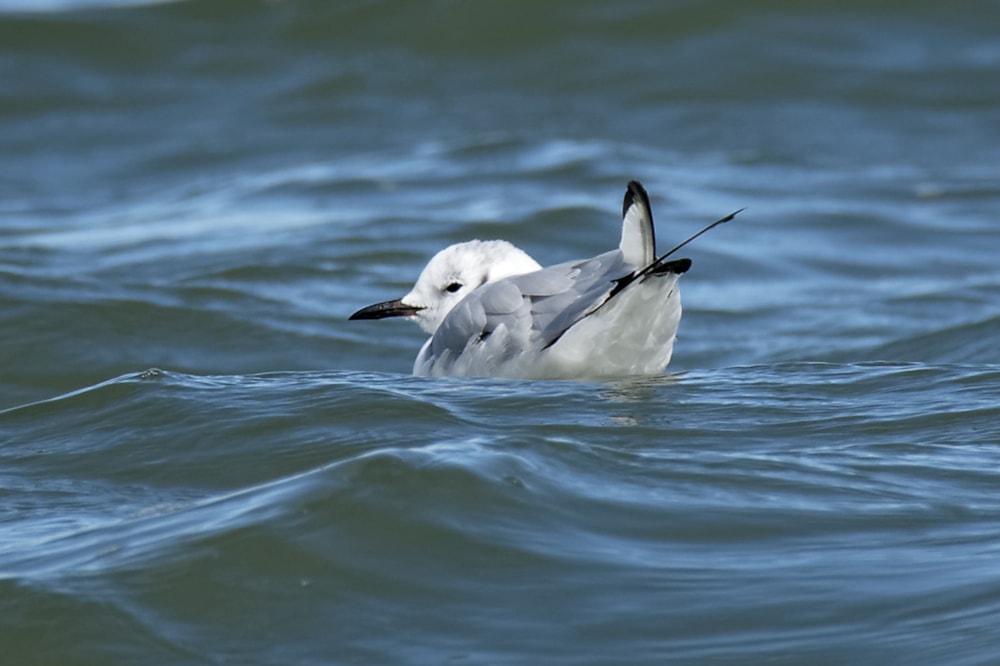 Bonaparte's Gull, Annagassan, Louth (Fergal Stanley).
A new Gull-billed Tern at Tacumshin, Co Wexford, arrived on 21st and Lincolnshire's Caspian Tern continued to find Frampton Marsh RSPB to its liking.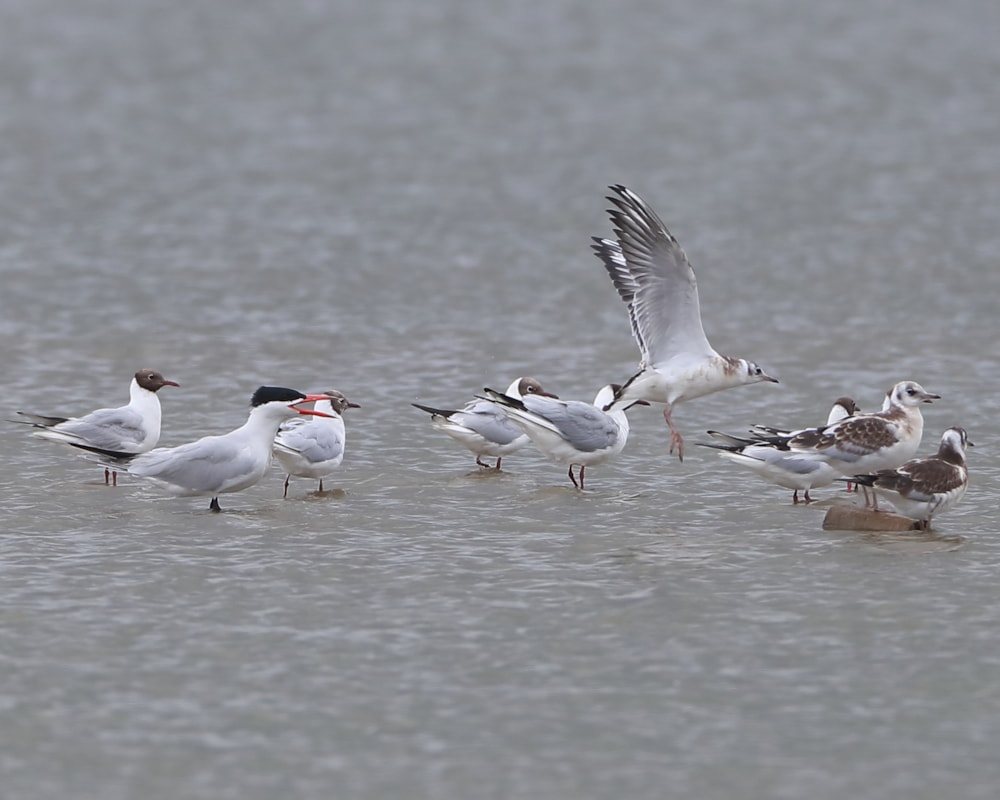 Caspian Tern, Frampton Marsh RSPB, Lincolnshire (Mark Rayment).
Scottish mainland
The rosy summer continued in Scotland, with five Rosy Starlings logged this week – in Highland at Erbusaig, in the Clyde Islands at Kilcharran Bay, Bute, at Shiskine, Arran, and in Argyll at Ardfern and Carradale. Common Quail is another species having a good year in Scotland, with reports coming from seven sites this week – Angus and Dundee, Fife and Lothian all held singing males at two different sites, while an individual was in Borders.
Offshore, a small number of Sooty Shearwaters began to appear with one in The Minch, Highland, on 18th and two off Strathy Point, Highland, on 19th. Longer-staying birds of note included the Great Egret and Eurasian Spoonbill on Aberdeenshire's Ythan Estuary, the smart adult Red-necked Grebe at Hogganfield Loch, Clyde, and the redhead Smew at New Cumnock, Ayrshire.
A first-summer Glaucous Gull was in the Lossie Estuary area. Out on Islay, the week ended with a Wood Warbler at Loch Kinnabus, hinting at the season's change.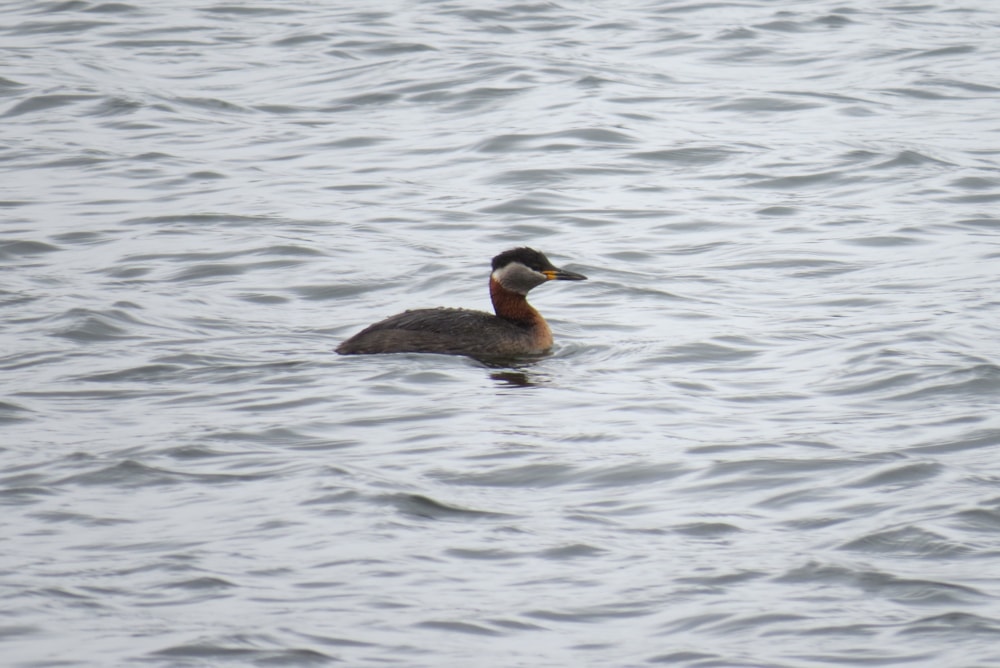 Red-necked Grebe, Hogganfield Loch, Clyde (Jim Coyle).
Northern Isles and the Hebrides
An impressive eight immature Long-tailed Skuas were in the Tor Ness area of North Ronaldsay, Orkney in the week, as discussed in the main section above. Immatures at these ages usually summer further south in the North Atlantic, so these individuals afforded a rare opportunity for regular observation – one was even noted catching butterflies!
Also on North Ron, last week's Pectoral Sandpiper was still present on 15th and a Leach's Storm Petrel was trapped and ringed on 21st.
Two adult Long-tailed Skuas in the Dalsetter Hill area at Boddam proved popular on Shetland this week and were well reported. Rosy Starlings were noted on Fair Isle and Foula. Post-breeding Red-necked Phalaropes appeared on Fair Isle on 14th and on Out Skerries (two) on 21st. Small numbers of Leach's Storm Petrel were trapped and ringed at Sumburgh (three on 20th) and on Fair Isle (singles on two dates), with one noted at Dalsetter, Yell on 20th.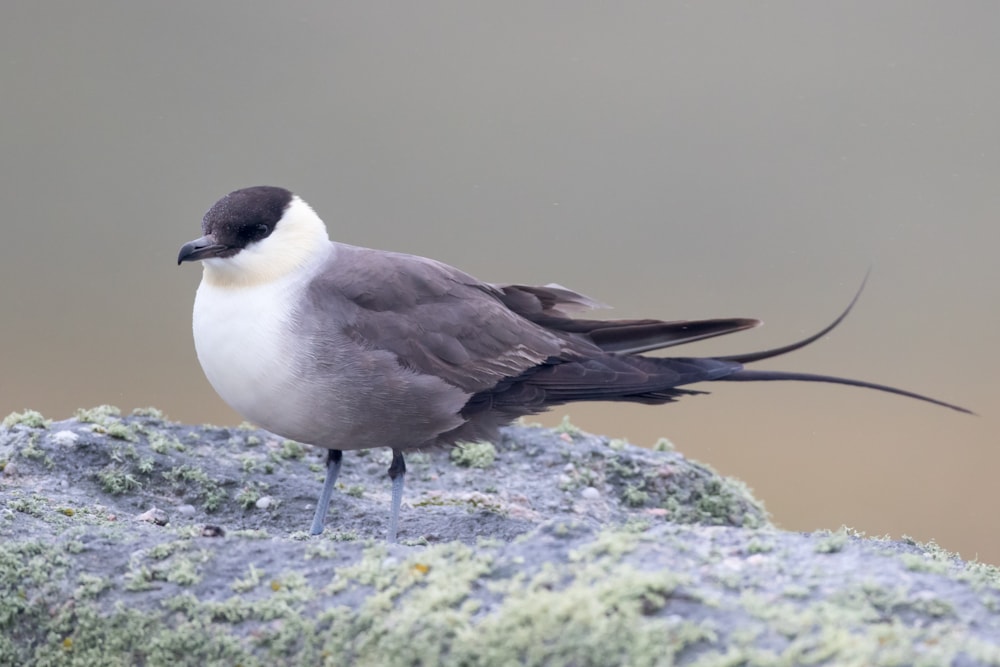 Long-tailed Skua, Boddam, Mainland, Shetland (Mick Kemp).
Aside from the Rosy Starling that remained at Swainbost, Lewis, the main action around the Hebrides this week was offshore. A Cory's Shearwater flew past Cleat, Barra, on 18th and a Balearic Shearwater was noted off Rubha Ardvule the same day. Sooty Shearwaters were recorded in small numbers at Vatersay and Griminish Point, North Uist.
Two Glaucous Gulls were seen – a second-summer at Loch Sandary, North Uist, and more unusually an adult at Kildonan, South Uist. The Eurasian Spoonbill remained in the Loch Bee area as well.
North-East England
The Rosy Starling in Seahouses, Northumberland, was noted again as the week started. Western Cattle Egrets may have become familiar in much of England but records in Northumberland are still very infrequent, so one at Acomb on 19th was of interest. Also of note was an eagle species in the Chillingham area on 20th – this same area hosted a juvenile White-tailed Eagle from Ireland last year, so perhaps it has summered again.
A Black Guillemot off Ross Back Sands was a good summer record and a Black Tern was at East Chevington NWT. The Coquet Island Roseate Tern colony began to disperse, with many sightings at traditional sites including 25 at Newbiggin and 10 at St Mary's Island. Two male Common Quail sang throughout the week near Mitford.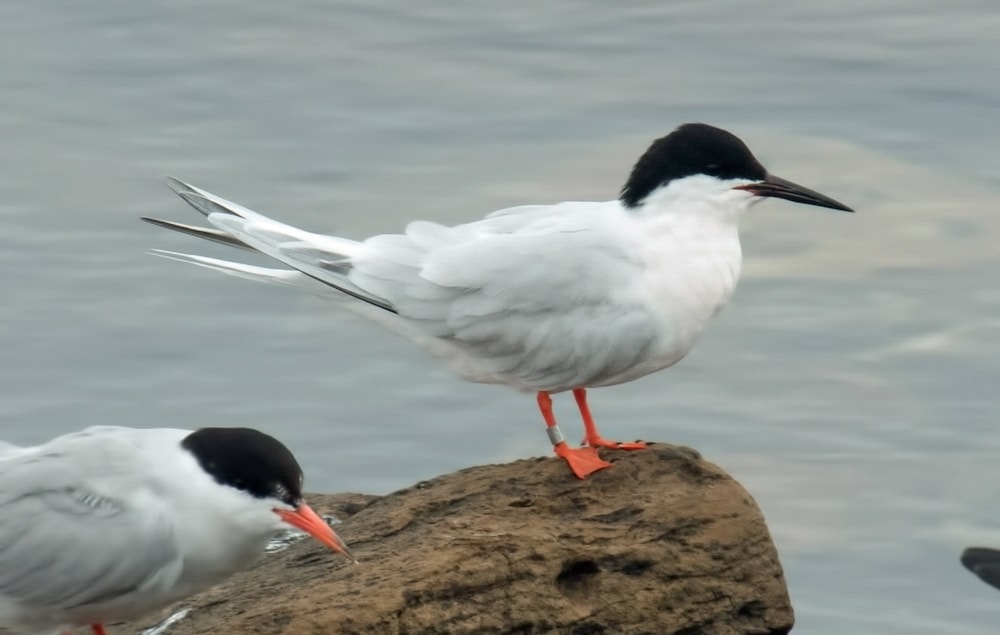 Roseate Tern, St Mary's Island, Northumberland (Jack Bucknall).
The observatory at Whitburn Coastal Park again proved its worth with a distant Cory's Shearwater on the sea on 21st. A probable Pectoral Sandpiper at Bishop Middleham on the same day eluded confirmation. At the coast, small numbers of dispersing Roseate Terns appeared at South Shields and Whitburn Coastal Park and up to 13 Velvet Scoter were also noted moving past on several days.
A Western Cattle Egret joined the regular Great Egret at Saltholme RSPB, Cleveland, on 16th. Two Roseate Terns dropped in at Seaton Snook on 18th and Hartlepool Headland had passing Velvet Scoter and Little Gulls in an otherwise quiet period.
North-West England
Cumbria bagged another Rosy Starling in the week, with one seen in flight at Heversham on 16th. Elsewhere in the county, two European Storm Petrels were seen following a fishing vessel off Workington on the same day, a Velvet Scoter was off South Walney NR on 17th and a Eurasian Spoonbill was at Hodbarrow RSPB on 18-19th.
In Lancashire, belated news of a Black-crowned Night Heron in late June came from Balderstone. More recently, a Eurasian Spoonbill was at Banks Marsh on 16th and Spotted Redshanks continued to hang around Rivers Ribble and Wyre. The Western Cattle Egret lingered around Marshside RPSB for another week and a Little Stint was reported at Hesketh Out Marsh RSPB on 21st.
The Dee Estuary continued to provide a suitable home for the Eurasian Spoonbill flock, with up to four now showing at Parkgate Marsh, Cheshire. Just to the south, two Spotted Redshanks were at Burton Mere Wetlands RSPB on 21st and the usual scattering of Great Egrets and Black-necked Grebes remained.
Greater Manchester managed to jump in on the Black-necked Grebe action, with one at Audenshaw Reservoirs from 16-20th, and the juvenile remaining at Elton Reservoir until 15th. Three Sandwich Terns were present at the latter site on 20th, as were two Common Scoter. Two Arctic Terns paid a brief visit to Pennington Flash CP on the morning of 18th.
Lincolnshire and Yorkshire
A typically steady July week in Lincolnshire saw the Rosy Starling last reported at Mablethorpe on 16th, while the usual array of Eurasian Spoonbills and waders was on offer at Frampton Marsh RSPB. Nearby Freiston Shore RSPB produced a Roseate Tern on 21st. Inland highlights included a Great Egret at Toft Newton Reservoir and a Red Knot at Baston & Langtoft Pits.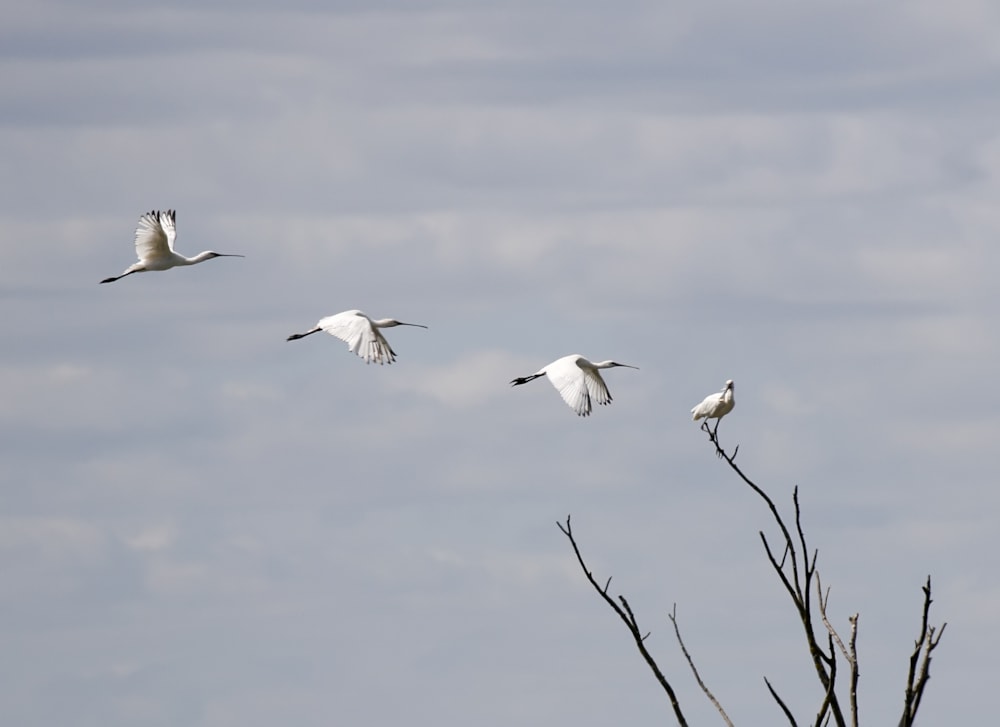 Eurasian Spoonbill, Frampton Marsh RSPB, Lincolnshire (Russell Hayes).
In East Yorkshire, Hornsea Mere's Little Gulls peaked at 860 on 19th. Best bird from the Spurn area was a Western Cattle Egret on 19-20th, although the county's second Norfolk Hawker dragonfly on 17th was a great record. A Sabine's Gull was off Flamborough Head on 15th.
A Purple Heron visited Wykeham Lakes, North Yorkshire, on 20th. European Honey Buzzards remained on show at the nearby raptor viewpoint, a Cory's Shearwater was off Staithes on 15th and at least one White-tailed Eagle remained on the moors. Best from West Yorkshire was the usual array of scarce breeding waterbirds at Fairburn Ings RSPB, while a Little Stint at Doncaster's iPort Lakes comprised South Yorkshire's most significant news (Bearded Vulture aside).
West Midlands
Staffordshire had an intriguing report of a Golden Eagle over Rugeley on 14th, while a Western Cattle Egret flew over Rudyard Reservoir on 15th and Great Egrets remained at their usual localities. In Herefordshire, two Western Cattle Egrets were at Bodenham on 18th.
West Midlands county scored a Rosy Starling, with one seen in flight over Boscobel on 20th, but there was no further sign. Worcestershire had a familiar feel this week, with the Glossy Ibis remaining at Lower Moor and the Western Cattle Egret still at Gwen Finch NR.
Meanwhile in Warwickshire, a Little Gull graced Draycote Water on 21st, where a first-summer Caspian Gull was also present the same evening.
East Midlands
It was the usual cast that kept Northamptonshire birders entertained this week: one of the juvenile Black-necked Grebes remained at Summer Leys LNR, up to four Western Cattle Egrets remained at Stanwick GPs and a Eurasian Spoonbill was at Earls Barton GPs on 17th. A European Honey Buzzard made its way over Islip in a leisurely fashion on 19th – an interesting local record.
In Nottinghamshire, Langford Lowfields RSPB produced a pair of Little Terns on 16th and a German-ringed Caspian Gull on 18th. The European Honey Buzzards continue to be available from the Welbeck watchpoint.
Rutland Water, as ever, produced decent birds, with the Garganey still on 15th and 21st, a Little Stint on 16th and a brief Wood Sandpiper on 19th. The juvenile Black-necked Grebe remained at Carsington Water, Derbyshire, too.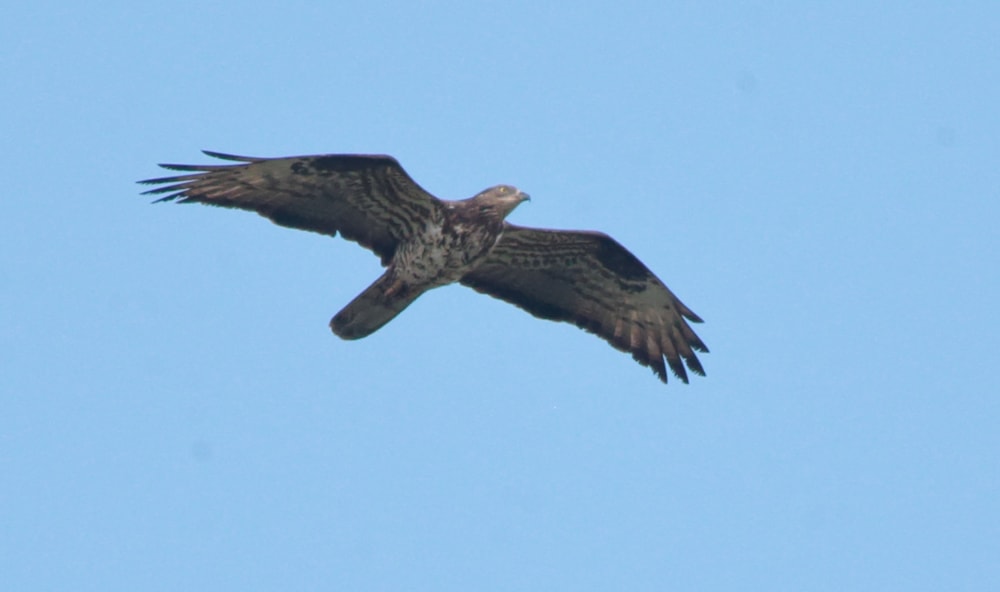 European Honey Buzzard, Welbeck watchpoint, Nottinghamshire (Rob Smith).
East of England
There were a couple of European Honey Buzzard reports from the Cley area of Norfolk, where a Roseate Tern was also seen briefly on 21st. Otherwise it was the usual waders and waterbirds, a couple of singing Common Quail and a pair of Common Scoter at Wroxham Broad on 18th that made up the highlights of a quiet week in the county.
An adult Marsh Warbler provided a surprise when it was extracted from a mistnet at Hollesley, Suffolk, on 20th. A Roseate Tern again visited Minsmere RSPB on 15th, but the county's highlights were otherwise restricted to the usual waterbirds and a couple of flyover European Honey Buzzards. There was little to report from Essex, other than that Southern Migrant Hawker dragonfly appears better established than ever in the county.
A singing Common Quail near Royston was all Hertfordshire had to offer, while Bedfordshire produced both adult Caspian Gull and Ruddy Turnstone at Grovebury Sand Pit. Those two species were also seen at Grafham Water, Cambridgeshire, where five Common Scoter dropped in on 19th. Also in the county, a Black Tern was seen on a new reservoir by the A14 at Swavesey on 15th.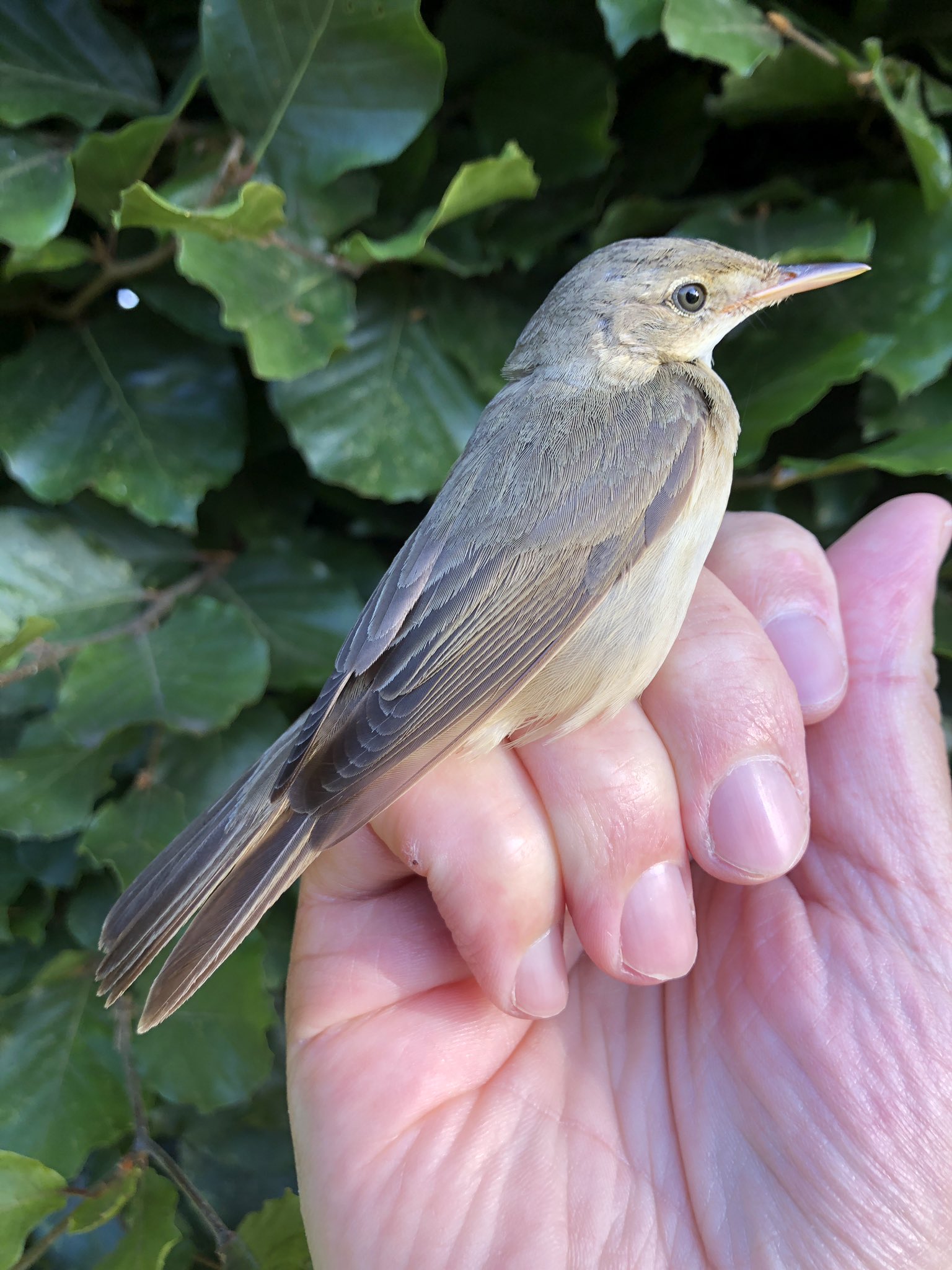 Marsh Warbler, Hollesley, Suffolk (Justin Zantboer).
South-East England
In Buckinghamshire, two summer-plumaged Western Cattle Egrets proved popular at Little Marlow GPs on 21st, five days after a Great Egret visited Floodplain Forest NR in the same county. In Oxfordshire, three Common Quail were still at Kingston Warren Down on 19th, the same day three Ruddy Turnstones alighted at Farmoor Reservoir – just one lingered until the following morning, though. The male Ruddy Shelduck at Theale GPs was Berkshire's highlight.
Surrey was similarly quiet although Tice's Meadow enjoyed a good week, with the reappearing Great Egret on 21st and other inland niceties such as Ruddy Turnstone, Arctic Tern and Wood Sandpiper. The adult Caspian Gull showed itself again in West Molesey on 19th. London still awaits its first juvenile Caspian Gull of the season, though there were a few bits on offer in the capital, including Eurasian Spoonbill and Garganey at Rainham Marshes and up to six Common Scoter at Staines Reservoirs from 20-21st, plus a clear arrival of Yellow-legged Gulls (at least 25 were seen on the Thames on Sunday).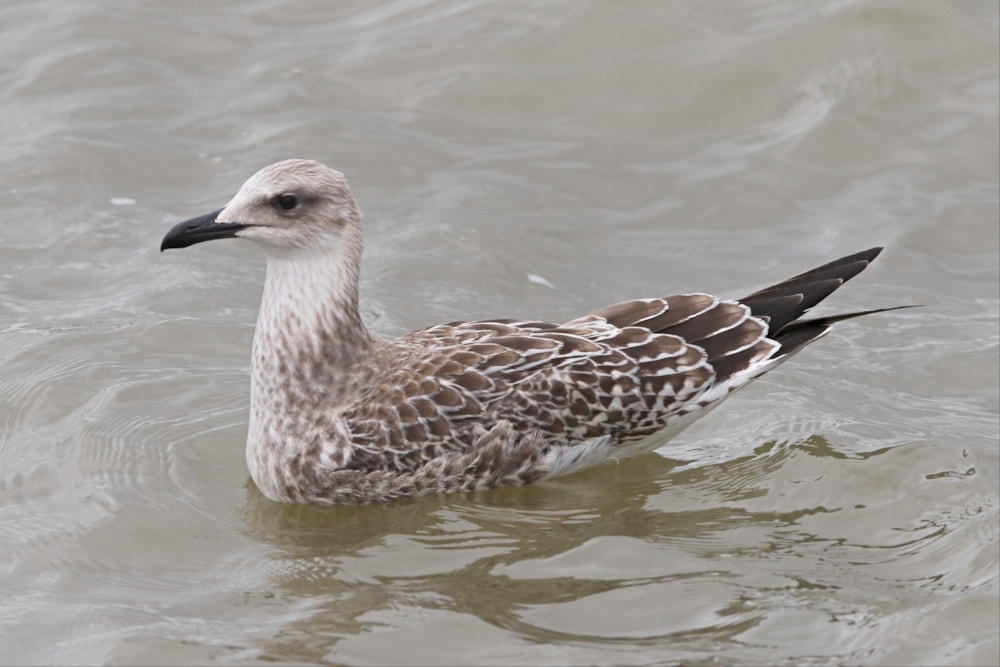 Yellow-legged Gull, Erith, London (Richard Bonser).
Waders stole the headlines in Kent, with the Dungeness Black-winged Stilt and Oare Marshes Lesser Yellowlegs still on offer. The latter site also enjoyed two Little Stints, as well as Wood and Curlew Sandpiper and a few Spotted Redshanks; two Little Stints were at Cliffe Pools as well, where a Eurasian Spoonbill was lingered from 16-19th. The showy Great Egret continued at nearby at Dartford Marshes and a Curlew Sandpiper flew over Reculver on 19th.
At Walmer, a European Honey Buzzard was still knocking about on 18th. Sandwich Bay enjoyed some early passerine action, with Wood Warbler and Common Redstart logged on 20th. Western Cattle Egrets were present at four different sites on the North Kent Marshes – the Friston Forest, East Sussex, bird stuck around too. A Garganey at Rye Harbour was the only other bird of note in East Sussex.
In West Sussex, however, there was some decent birds about, especially on the Selsey Peninsula – at least one of the Roseate Terns lingered at Church Norton until 16th, a Little Stint visited Sidlesham Ferry the following day, at least three Western Cattle Egrets were about and a Balearic Shearwater flew past Selsey Bill on 15th.
On 19th, an impressive three Great Egrets dropped in briefly at Pulborough Brooks – another was at Warnham on the same day. In the Worthing area, a Wood Sandpiper was at Widewater Lagoon and a Pied Flycatcher was spotted on the South Downs at Cissbury Ring, both on 20th. Up to 10 Western Cattle Egrets were to be found on Thorney Island.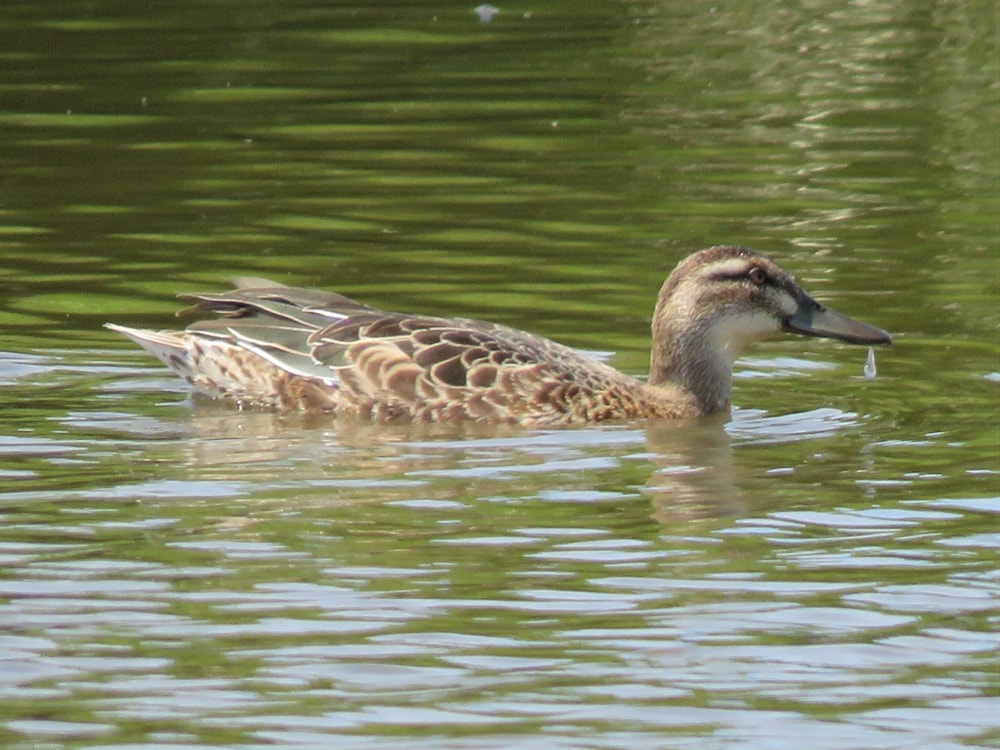 Garganey, Rainham Marshes RSPB, London (Chris Barnes).
Hampshire enjoyed a Mediterranean vibe, with a Hoopoe well inland in a Winchester garden on 15th – with so many birds in the spring and unsuitable recent weather for late arrivals, one wonders how many may have summered or even attempted to breed undetected in the English countryside this year … better still was a European Bee-eater at Fishlake Meadows on 18th, though sadly it was brief.
A handful of Roseate Terns (probably some or all of those at Church Norton) were picked up on the coast – up to two at Sandy Point, Hayling Island, and at Titchfield Haven. A Little Stint was at Pennington Marshes on 19th, while a Pied Flycatcher graced Testwood Lakes on 21st. A few Western Cattle Egrets were available not far from breeding colonies (plus two on Brading Marshes, Isle of Wight) and the Great Egret continued in the north-east of the county.
South-West England
It was rather quiet in Cornwall, although a Pomarine Skua was off Porthgwarra on 17th, followed by a possible Wilson's Storm Petrel and three Great Shearwaters the next day. A Wood Sandpiper was at Drift Reservoir from 19th.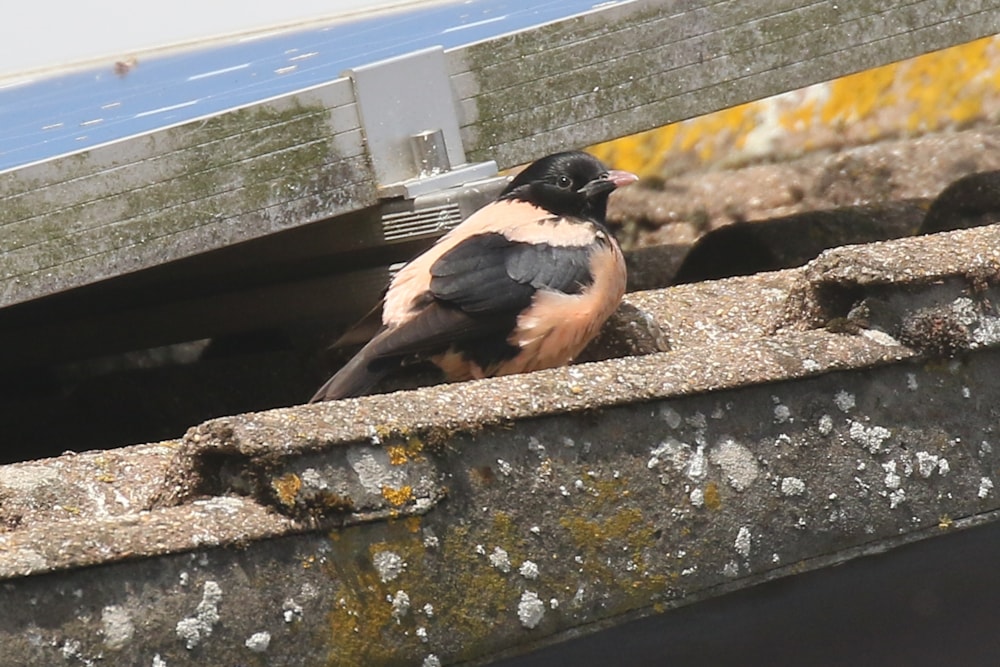 Rosy Starling, Stone, Gloucestershire (Chris Teague).
In the south of the county, a European Honey Buzzard soared over Devoran on 17th, with a male over Hugh Town on St Mary's, Scilly, on 20th. In Devon, another flew north over Berry Head on 16th. Wood Sandpipers were at Powderham and Seaton Marshes, and at least one Roseate Tern remained at Dawlish Warren NNR throughout the week.
A corking adult White-rumped Sandpiper at Ferrybridge on 18th was Dorset's standout bird, replaced by a Roseate Tern on 19th. Another hung around at Stanpit Marsh throughout, joined by a brief Little Stint on 21st. A Black Kite flew over Tincleton on 21st.
In Gloucestershire, an adult Rosy Starling in the village of Stone on 18th and 19th was rather popular. The Wood Sandpiper was still at Northwick Warth, with a Glossy Ibis at Coombe Hill Meadows on 20th. The Black-winged Stilt pair were still at Steart WWT, Somerset, along with their three adorable little bundles of fluff. A Wood Sandpiper was at Barrow Gurney Reservoirs from 21st. In Wiltshire, a Western Cattle Egret was at Cotswold Water Park on 16th.
White-rumped Sandpiper, Ferrybridge, Dorset (Brett Spencer).
Wales
The midsummer doldrums continue, although there were a few nice sightings to tide the country over. An adult Rosy Starling was at Burry Port, Carmarthen, on 15th only; another was in a private garden at Cwymystradllyn, Gwynedd, on 20th. Cardiff Bay Wetlands NR, Glamorgan, produced a notable count of Western Cattle Egrets, with 10 by the barrage sails on 18th only.
The long-staying Glossy Ibis was still finding Goldcliff Pools NR to its liking. Meanwhile, the drake Greater Scaup continued at Conwy RSPB, where two Great Egrets remained. Hopping across the Menai Straits, one of the Roseate Terns was still among the colony at Cemlyn Bay, Anglesey. Also here, a male Red-necked Phalarope was present on the morning of 21st.
Up to two Wood Sandpipers have been frequenting the pond on Skomer, Pembrokeshire, in recent days, and another was at Skokholm on 20th. Sticking with the island theme, a nice count of 74 Chough were seen coming into roost at Ramsey Island on the evening of 21st.
Ireland
A European Serin flew over Galley Head, Co Cork, on 15th, while other good county records comprised Little Ringed Plover at Rosscarbery and Wood Sandpiper at Clogheen Marsh, plus the continuing Glossy Ibis at Pilmore.
Up to two Pectoral Sandpipers were at Tacumshin, Co Wexford, a Wood Sandpiper spent a couple of days at Kilcoole, Co Wicklow, and a male Common Quail sang in fields at Salterstown, Co Louth, on 16th. A Little Ringed Plover was nearby the latter at Seabank on 19th.
Last week's Woodchat Shrike was last seen at Dunfanaghy, Co Donegal, on 15th. Three Garganey at Lough Beg, Co Derry, were the best Northern Ireland had to offer.
Western Palearctic
The prospecting White-rumped Swift first seen on 14th was still present at Minerve, France, until the end of the week; just the fourth national record. In Spain, two Lesser Crested Terns remained at Playa de Montijo, Andalucia, on 18th, with five Pied Crows at Las Palmas de Gran Canaria on 20th.
The flock of Spanish Greater Flamingos at Durgerdam, The Netherlands, flew east on 20th, heading over Lepelaarplassen a short while later. On the Rotterdam outskirts, the Amur Wagtail was last reported on 18th.
Israel's second Senegal Thick-knee was in the north of the country at Kfar Ruppin fishponds on 18th, while a Yellow-billed Stork was at the Golan Heights on 15th. The fifth Buff-breasted Sandpiper for Romania was at Balta Alba on 15th and a new first-summer Pallas's Gull was in Poland at Mikoszewo on 17th. Switzerland's singing Western Swamphen was still in situ on 18th; likewise the German Sociable Lapwing until 16th.
In the far south of Sweden, a Lesser Spotted Eagle flew over Skurup on 16th. Elsewhere in the country, Black-winged Kites remained at Tanunshede on 16th and at Gerum on 21st. A Long-legged Buzzard flew south through Skagen, Denmark, on 17th – the third in the last 21 days.