As is often the case at this time of year, the absence of any particularly extreme weather ensured that the vast majority of this week's significant bird news was broadly very similar to that summarised last time out.
A return to calmer, crisper and altogether sunnier conditions was welcome, and evidently helped Cornish seawatchers to locate the 'second' Pacific Diver in the county. After a report of a probable off its favoured Pendower Beach on 15th, sightings then came from Maenporth on 16th and Rosemullion Head on 19th.
One of the few new rarities this week was a young female Ferruginous Duck at Anglers CP, West Yorks, from 19th – itself one of four of the species seen this week, with the drake back at Seeswood Pool, Warks, from 18th, the drake still at Blashford Lakes, Hants, and the female Ferruginous or hybrid at Ranworth Broad, Norfolk.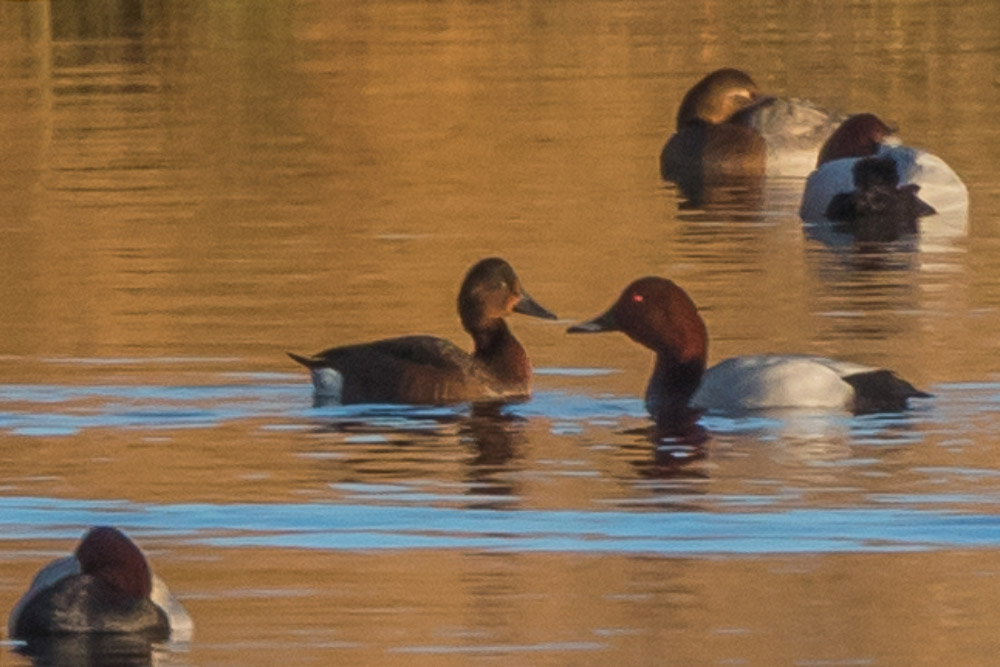 Ferruginous Duck, Anglers CP, West Yorkshire (Peter Garrity)..
The drake Black Scoter was again off the Angus coast at Lunan Bay on 18th, with the Northumberland bird also still there and the White-winged Scoter still off Musselburgh, Lothian. Further south, the Blue-winged Teal at Man Sands, Devon, remained faithful to its chosen pool.
What is presumably the same Richardson's Cackling Goose seen in Highland was relocated in Aberdeenshire on 16th, when it roosted at Loch of Skene. It was there again early on 19th, before being located in fields south-east of Alford that day. Elsewhere, late news emerged of one on Oronsay, Argyll, on 12th. Elsewhere, the Grey-bellied Brant reappeared near Walpole St Peter, Norfolk, on 16-17th.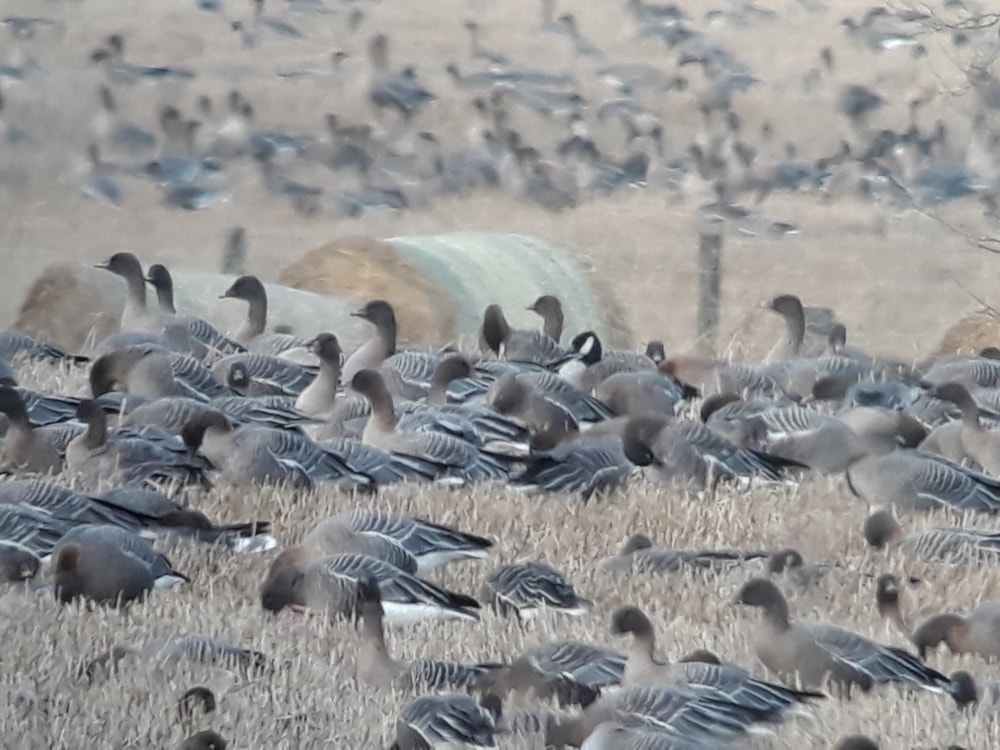 Richardson's Cackling Goose, Alford, Aberdeenshire (Hugh Addlesee).
Cumbria's Long-billed Dowitcher was again at Campfield Marsh on 18th, with others still at Marshside RSPB, Lancs, Topsham, Devon, and Kilcoole, Co Wicklow. What was presumably the Semipalmated Sandpiper also lingered in Hampshire, with a likely candidate at Keyhaven Marshes on 17th.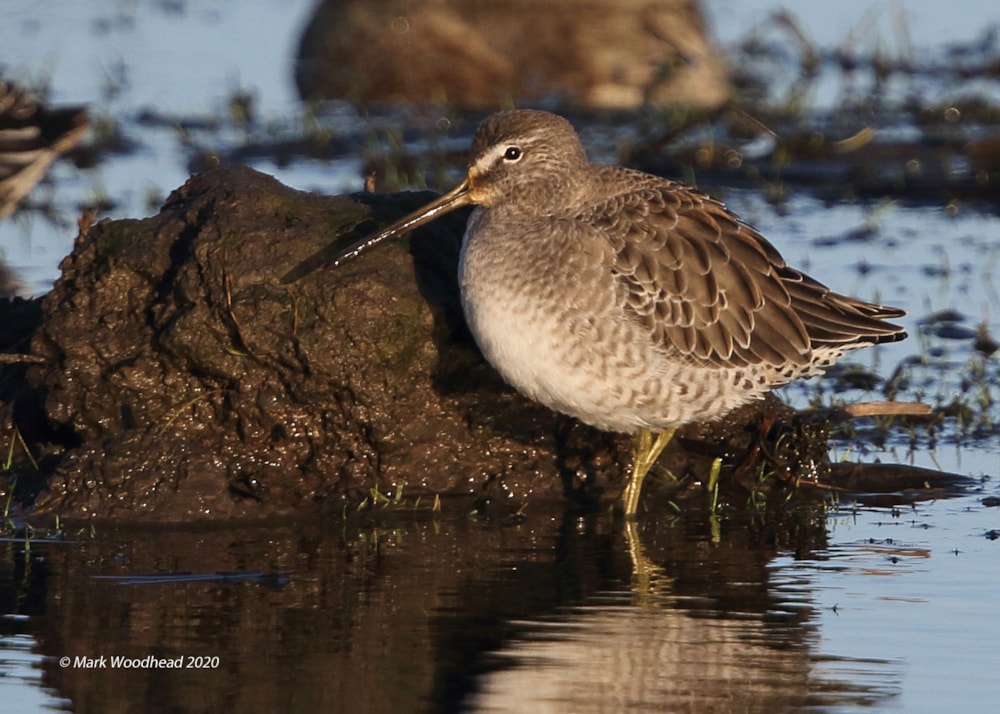 Long-billed Dowitcher, Marshside RSPB, Lancashire (Mark Woodhead).
It seems that Northumberland's Eastern Yellow Wagtail has either moved on or perished – it was last seen on 15th, that date followed by two days of negative news. At least the Norfolk bird remained reliable, being seen daily throughout at Sedgeford – and it was clocked coming in to roost at Titchwell RSPB late on 20th, so perhaps it's been popping in there for the night all along.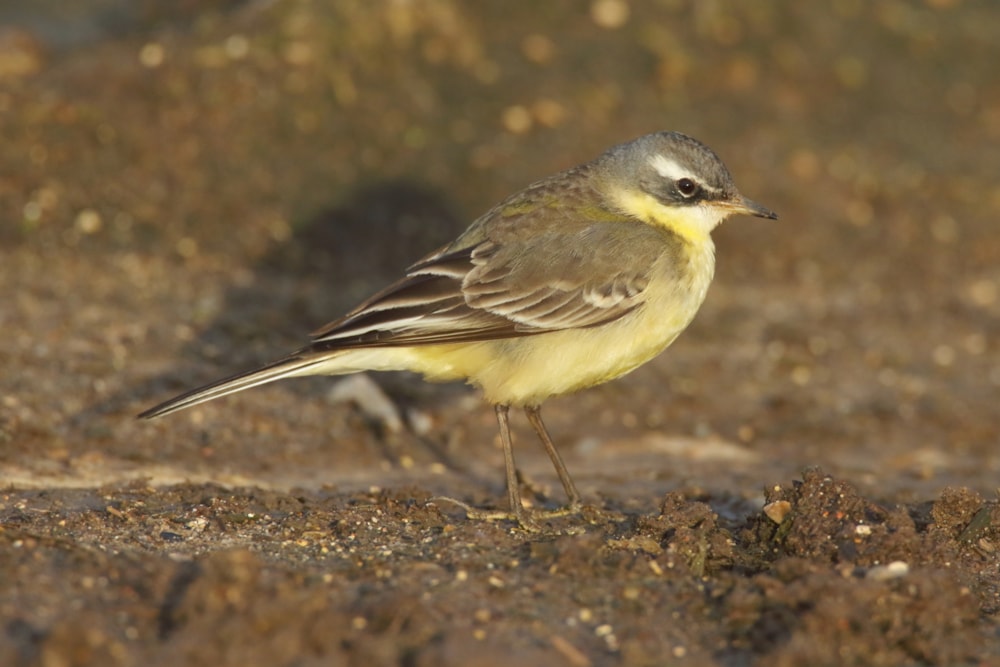 Alaskan Yellow Wagtail, Sedgeford, Norfolk (Andrew Jordan).
Other lingering passerines included the American Buff-bellied Pipit at Sennen, Cornwall, the Black-throated Thrush at Whipsnade Zoo, Beds, and the Siberian Stonechat at Ashton's Flash, Cheshire. The latter was confirmed this week as being nominate maurus by DNA testing, something its appearance of course suggests – reassuring for those who believe that this taxon and Stejneger's Stonechat generally readily identifiable in the field. News also came that the recent bird at Hollesley Marshes, Suffolk, was also a maurus.
Four Two-barred Crossbills at Langass Woods, North Uist, was the first sighting here since 24 November – no doubt they've been around all winter, though. In Fife, the presumed Black-bellied Dipper remained at St Andrews and is apparently holding territory with a 'British' Dipper.
Finally, a Snowy Owl was reported flying over the road north-west of Dunmanway, Co Cork, on 19th – perhaps the bird seen last week at Adrigole.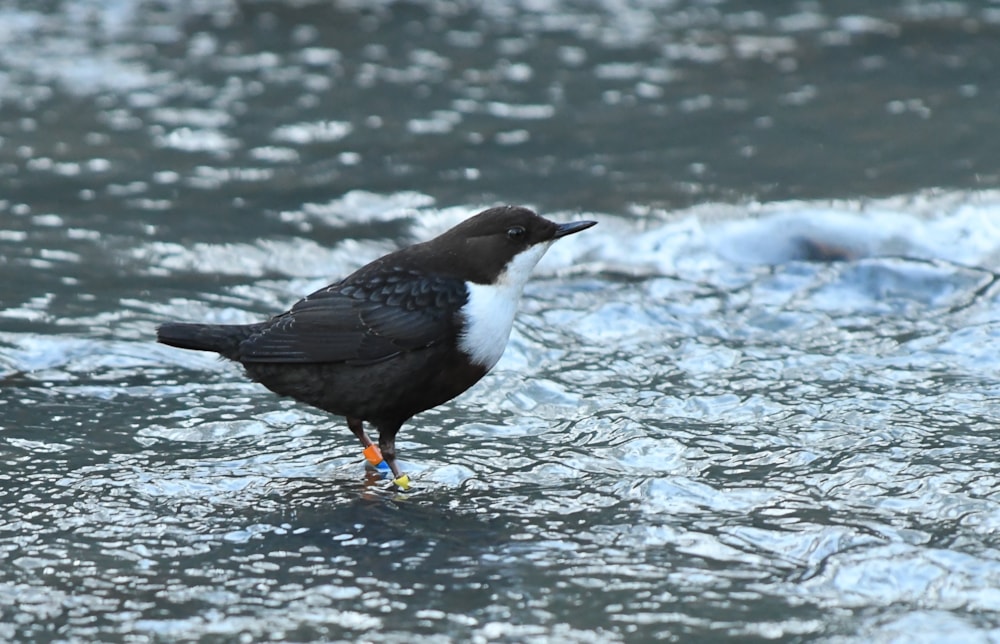 Black-bellied Dipper, St Andrews, Fife (Alex Shepherd).
Scottish mainland
A decent spread of wildfowl included the lingering Ayrshire Snow Goose, drake American Wigeon in Aberdeenshire and Highland, Green-winged Teal in Angus & Dundee, Surf Scoter in Lothian and Ring-necked Duck in Clyde. Also in Clyde, the adult Ring-billed Gull was still at Strathclyde Loch. A second-winter Yellow-legged Gull at Troon, Ayrshire, on 21st was notable.
The Great Grey Shrike was still at Backwater Reservoir, Angus & Dundee. Some 12 sites hosted Waxwings, including up to 80 in Glasgow, Clyde, while the cold north-westerly winds produced a few white-winged gulls – at least 20 locations hosted a Glaucous or Iceland Gull during the week.
Northern Isles and the Hebrides
A Todd's or Atlantic Canada Goose was on Tiree, Argyll, on 17th. Snow Geese lingered on Westray, Orkney, and at Balranald, North Uist. Other wildfowl included Green-winged Teal on Benbecula and South Uist, as well as Ring-necked Duck on Barra and Tiree.
On 17th, a Grey Phalarope visited Unst, Shetland, and no fewer than 28 sites hosted Glaucous Gull in the region.
North-East England
One of this week's star attractions in Northumberland was the lingering adult Common Crane in the Wansbeck valley. It was otherwise much of a muchness in the county, with some of the lingering highlights including a Siberian Chiffchaff at Low Newton-by-the-Sea, Hooded Crow north of Boulmer, Smew at Widdrington Moor Lake and Iceland Gulls at North Shields and Big Waters NR. A juvenile Glaucous Gull at Budle Bay on 21st was worthy of a shout.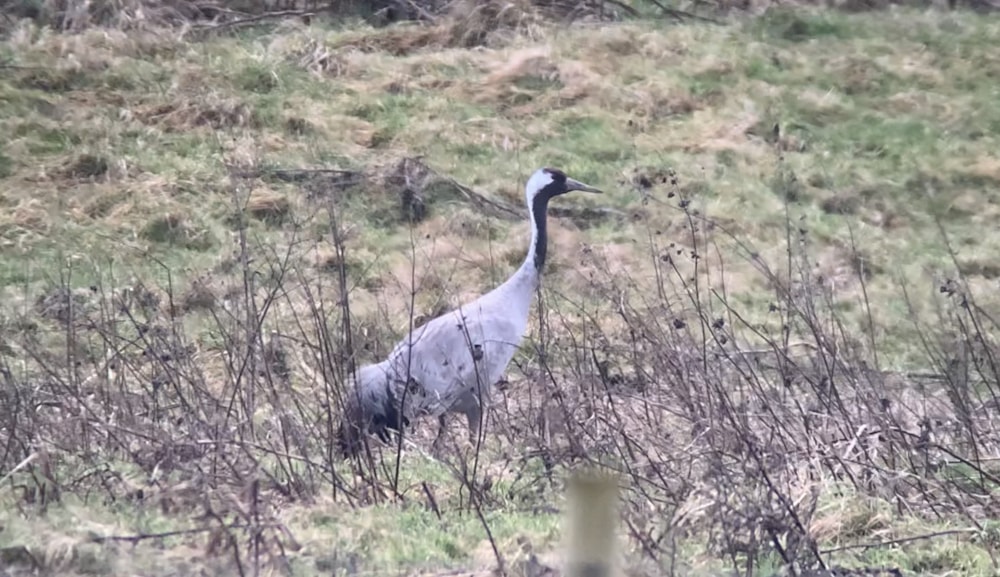 Common Crane, Middleton, Northumberland (Peter Gill).
Bird of the week in Durham was the Great Grey Shrike found in Hamsterley Forest on 19th. But, aside the Ruddy Shelduck at Rainton Meadows, it was a sleepy seven days in the county.
Things weren't much more dynamic in Cleveland, with an adult Iceland Gull at Saltholme RSPB on 19th the bird of the week, in addition to the usual array of wintering Snow Buntings, Black Redstarts and seaduck.
North-West England
A run-of-the-mill seven days in Cumbria produced the lingering Firecrest at Longtown, plus Waxwings in Penrith (three) and Keswick (two).
Things were a bit livelier in Lancashire, with the Ring-necked Duck still on show at Pine Lake, the Purple Heron still demolishing rodents in the recently cut field at Eagland Hill and the Siberian Chiffchaff performing nicely at Pilling sewage works, plus a Yellow-browed Warbler found in Morecambe on 20th.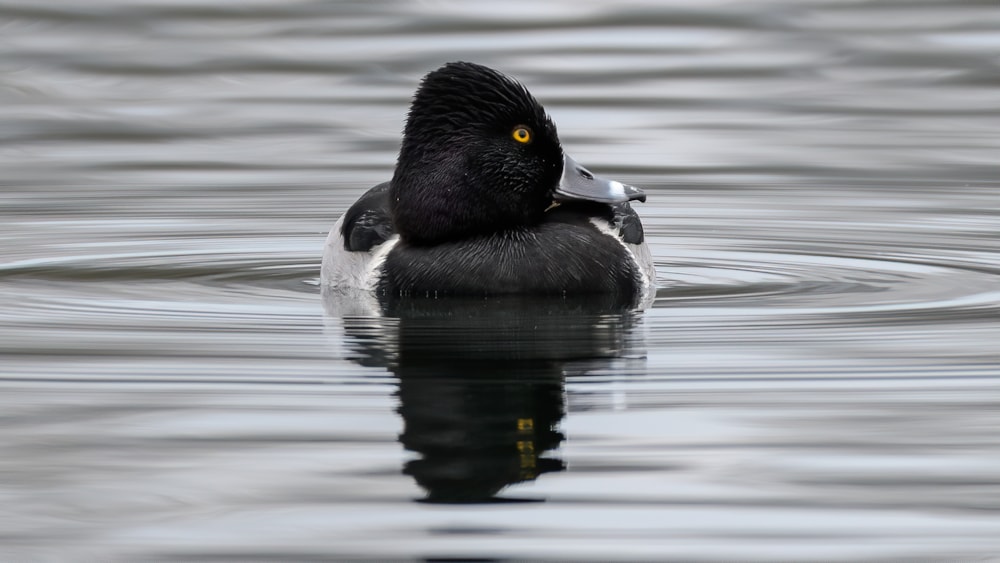 Ring-necked Duck, Pine Lake, Lancashire (J Martin Jones).
The presumed Atlantic Canada Goose again appeared among Pink-footed Geese at Banks Marsh on 21st, some 17 days after it was last seen. Crosby Marine Park's Long-tailed Duck continues to put on a point-blank performance and the Redwing roost is also still going strong at Longridge Fell, with 25,000+ again on 15th.
An adult Glaucous Gull near Stoak, Cheshire, on 20th had evidently been scoffing its face on the adjacent Gowy Landfill Site. A Great Northern Diver was a brief visitor to Budworth Mere on 17th and Smew hung on at Newchurch Common and Lapwing Hall Pool. Western Cattle Egrets were at two sites.
In Greater Manchester, Pennington Flash hosted roosting Iceland and Caspian Gulls, while a Snow Bunting was seen south of White Holme Reservoir on 19th.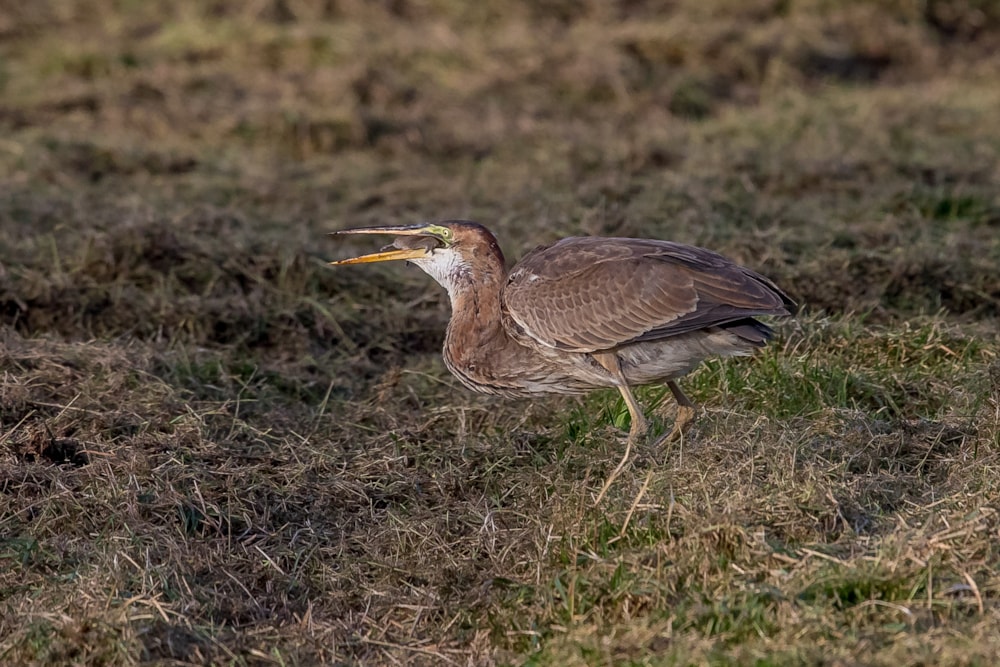 Purple Heron, Eagland Hill, Lancashire (Steve Laycock).
Lincolnshire and Yorkshire
Find of the week in Lincolnshire was a female Ring-necked Duck at Woodhall Spa Airfield Pits on 18th, although two Common Cranes over Frampton Marsh RSPB on 20th represented a notable January record. Lapland Bunting and two Tundra Bean Geese were the best from Gibraltar Point, while the Ring Ouzel continued at Rimac – where a further three Lapland Buntings were seen.
Thirteen Tundra Bean Geese in fields at Skeffling represented the biggest flock seen across Yorkshire week, with four other sites also hosting up to four birds. The Black Brant was also back at Kilnsea on a couple of dates.
Nosterfield NR retained its Lesser Yellowlegs – the only individual wintering in Britain and Ireland this year – as well as a Smew. Bolton-upon-Swale Lake held the Ring-necked Duck and roosting Western Cattle Egret. Redcar Tarn, north-west of Keighley, offered crippling views of up to two Caspian Gulls – an unusual opportunity to study this species up close locally.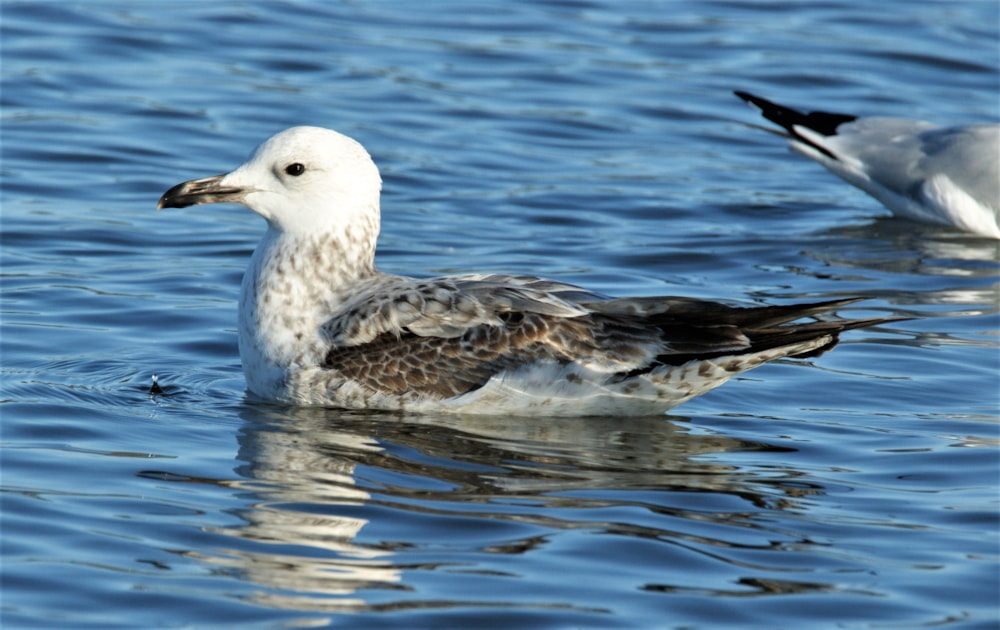 Caspian Gull, Redcar Tarn, West Yorkshire (David Williamson).
On the coast, Firecrests remained at Holmpton and Filey, with the latter also hosting the Yellow-browed Warbler. The Hooded Crow was also still at Scalby and a Smew hung on at Hornsea Mere.
West Yorkshire's offerings included the Ring-necked Duck at Johnny Brown's Common, which moved back to Anglers CP on 21st and a newly arrived Long-tailed Duck at Wintersett Reservoir from 18th. A Firecrest was found at Meadowhall, Sheffield, on 20th, while the moors north-east of Doncaster continued to play host to the wintering Rough-legged Buzzard and Great Grey Shrike.
West Midlands
In Shropshire, a Great Grey Shrike was seen on the northern outskirts of Shrewsbury on 16th. Bewick's Swan is a notable county bird these days and an adult roosting at Venus Pool from 18th was welcome – presumably the same was in fields near Melverley for a time on 18th. The Yellow-browed Warbler was also still at Shifnal on 18th.
An unremarkable week of Staffordshire birding produced highlights in the form of the adult Iceland Gull at Cannock (this bird also visiting Stubber's Green on 16th), three Whooper Swans at Blithbury and the Firecrest at Whitemoor Haye.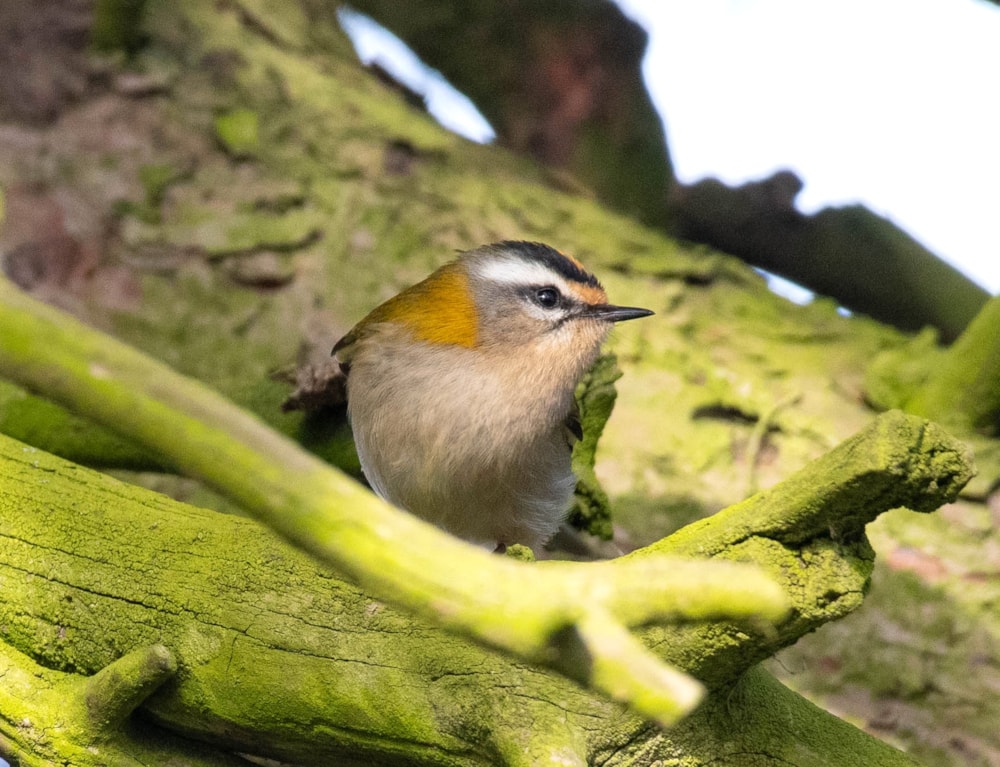 Firecrest, Whitemoor Haye, Staffordshire (Alex Barclay).
Copying and pasting last week's Worcestershire news would have sufficed, with the Black-necked Grebe at Upper Bittell Reservoir and Long-tailed Duck at Clifton Pits still in situ. The Draycote Water gull roost continued to save Warwickshire's blushes, with Glaucous and Caspian Gulls regularly featuring, although a drake Greater Scaup near Bubbenhall on 15th was decent.
East Midlands
Shawell, Leics, held two different Kumlien's and two Glaucous Gulls this week – an amazing result given the paucity of white-wingers around. A total of 18 Caspian Gulls there on 18th was one of the highest-ever day counts registered in Britain. Eyebrook Reservoir held two Smew, with Rutland Water hosting six Russian White-fronted Geese as well as the three scarcer grebes, Common Scoter, a flotilla of Greater Scaup and a handful of Smew.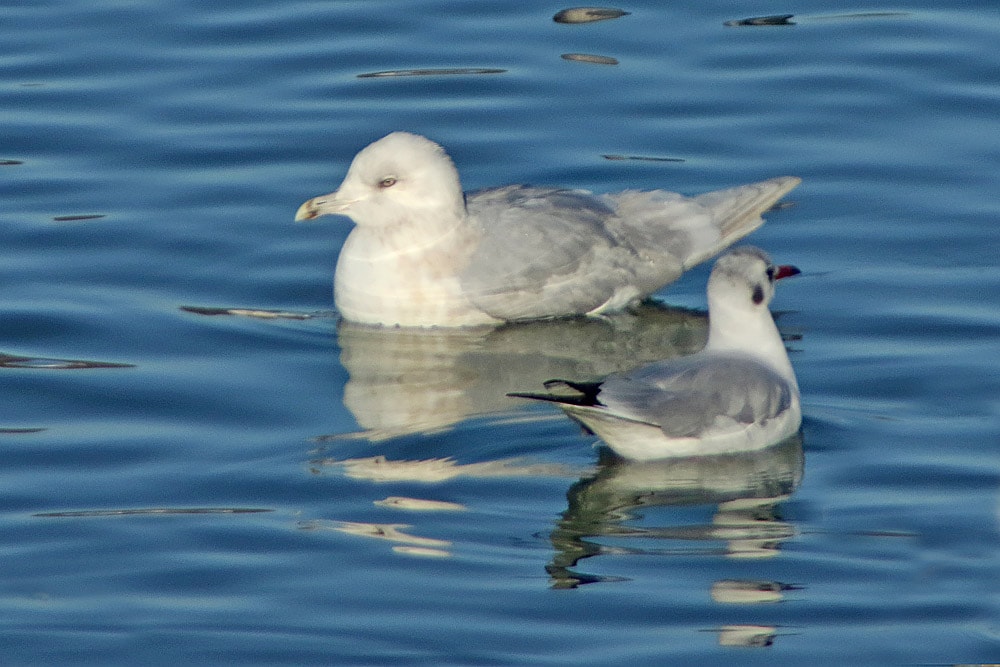 Kumlien's Gull, Shawell, Leicestershire and Rutland (Carl Baggott).
Nottinghamshire's heavy hitters included the Western Cattle Egrets on the Derbyshire border near Attenborough NR, where the Slavonian Grebe also remained, a pair of Smew and two Ruddy Shelduck at Netherfield Lagoons, Black-necked Grebe at Hoveringham Pits and, further north, Russian White-fronted Geese at three sites.
A Snow Bunting was atop Mam Tor, Derbyshire, on 17th, but the Iceland Gull didn't roost at Ogston Reservoir beyond 15th. A Black-necked Grebe joined the two Great Northern Divers at Carsington Water on 20th, while the Long-tailed Duck remained at Drakelow NR.
In Northamptonshire, a familiar highlights reel consisted of the Great Grey Shrike at Crick and Siberian Chiffchaff at Billing Pits.
East Anglia
A familiar feel to birding in Norfolk produced a volume of continuing winterers, not least including Wells-next-the-sea's popular Rough-legged Buzzard and the handful of Shore Larks at Holkham Gap. Another Shore Lark was at Waxham from 18-20th and a Western Cattle Egret passed over Cley Marshes on 18th.
Modest numbers of grey geese remain dotted about the region, with a peak of 27 Tundra Bean Geese at East Somerton, Norfolk, and a well-received group of 10 dropping in with the wild swans near Thorney, Cambs, from 19th. Six sites also held the species in Suffolk.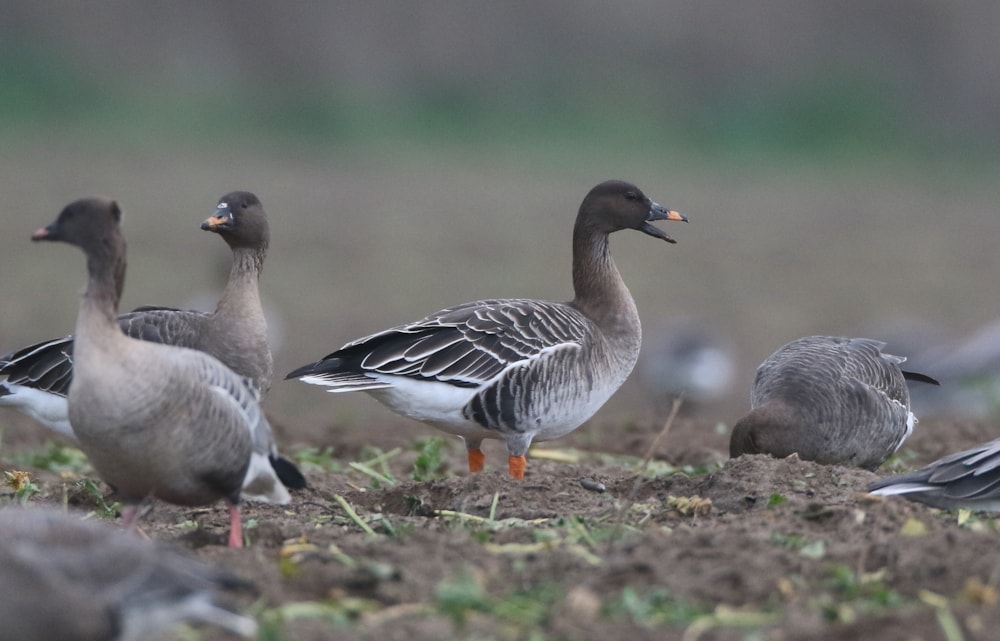 Tundra Bean Goose, Weybourne, Norfolk (Julian Thomas).
Other Suffolk sightings included Smew and Green-winged Teal at Minsmere, two Great Northern Divers still at Weybread Pits, the Shore Lark at Kessingland and Rough-legged Buzzard at Bawdsey, while a showy European Shag appeared in central Ipswich on 21st.
A Black Guillemot on the Stour Estuary on 15th could be seen from both the Suffolk and Essex shores, while a Black Brant was at Old Hall Marshes on 17th and Abberton Reservoir held on to all the species that have been delighting visitors in recent weeks, including the wintering Swallow. A couple each of Smew and Western Cattle Egret remained collectable in the Lee Valley.
Hertfordshire news included a Waxwing at Heartwood Forest on 17th – a rare sight so far in the south this winter. The fourth-winter Caspian × Herring Gull remains a hit at Fairlands Valley Park, although its overall structure and – crucially – primary pattern let it down with regards to being a pure Casp.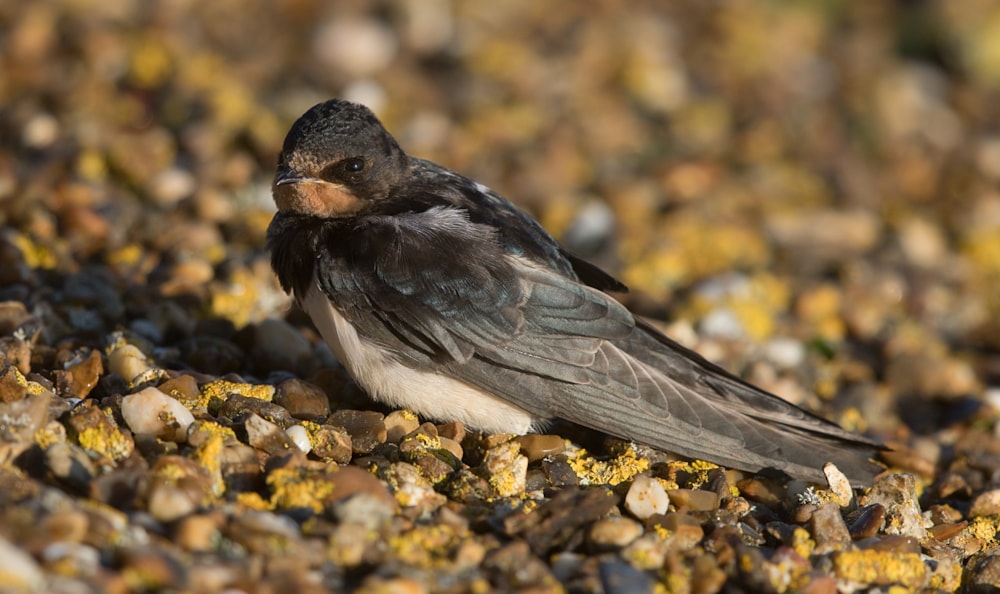 Swallow, Abberton Reservoir, Essex (Nick Brown).
In Bedfordshire, the Ring-necked Duck appeared at Priory CP, where a redhead Smew was also seen on 17th. The Great Grey Shrike hung on just south of Brogborough Lake and two Waxwings were again in Sandy.
Two Smew were back at Bainton GPs, Cambs, this week, with five at Paxton Pits and three at Needingworth Lakes. Other bits from around the county included the Red-necked Grebe again at March Farmers, a few groups of Russian White-fronted Geese dotted about and the Siberian Chiffchaff at Dernford Farm Reservoir.
South-East England
Kent continued to host a few nice wintering species – the Rough-legged Buzzard, Richard's Pipit and Lapland Buntings were all still there, and a Shore Lark was a notable record at Reculver on 15th.
In East Sussex, the redhead Smew continued at Rye Harbour, while four Greater Scaup at Combe Valley marked a noteworthy county record. Perhaps unsurprisingly given the weather, no Swallows or House Martins were reported … in West Sussex, a Glossy Ibis (presumably the one previously at Henfield Levels) was at Woods Mill on 16th, and a redhead Smew was at Pulborough Brooks on 21st.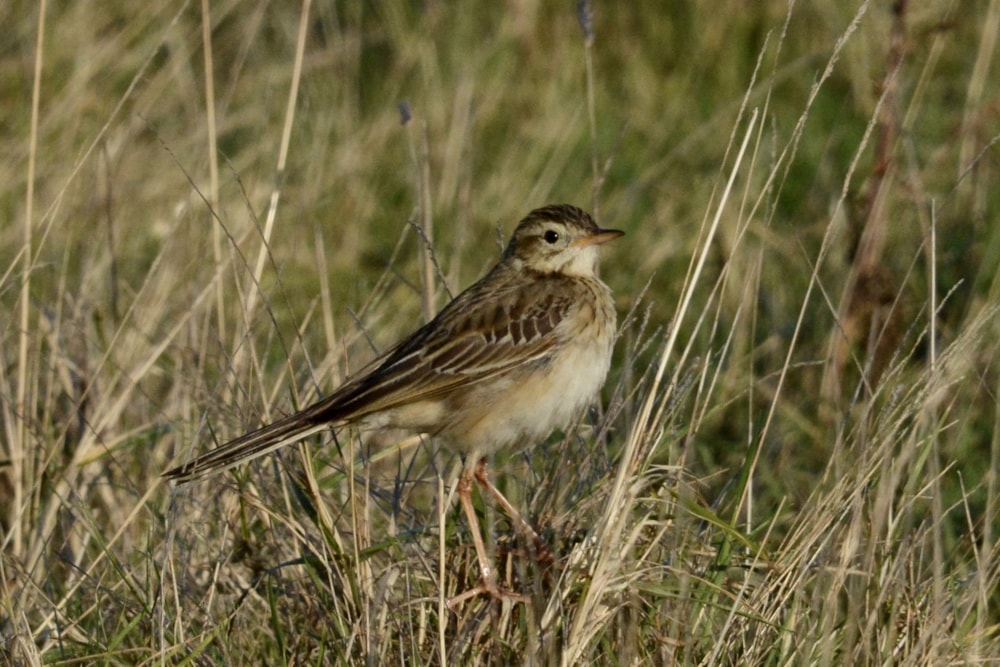 Richard's Pipit, Egypt Bay, Kent (Gary Stewart).
A Garganey was at Brading Marshes on the Isle of Wight on 16th, while the Great Grey Shrike continued at Holm Hill, Hampshire. The released Great Bustard reappeared at Tidpit and the Harbridge Bewick's Swan was still present on 16th.
Buckinghamshire's Ring Ouzel remained defiant upon the chilly tops of Pitstone Hill and the Great Northern Divers were still at Island Barn Reservoir, Surrey. A Brent Goose was in the same county at Dormansland, close to the Kent border, on 20th. In Oxfordshire, Garganey and Smew offered wildfowl entertainment.
The wintering Yellow-browed Warbler remained at Rotherhithe, London, though it couldn't be found on 20th. The cold weather forced a few more Caspian Gulls into the Thames, with an increased prevalence noted among the regular species. Finally, of local note at least, some of the tiny remnant Tree Sparrow population at Beddington Farmlands became viewable on feeders from one of the new public hides – welcome news for London and Surrey vice-county listers.
South-West England
A strong Western Cattle Egret showing in the region saw a bumper count of 140 into the Long Drove roost at Ham Wall RSPB on 20th. A further 21 sites across the region hosted this now regular winter species, including 36 at Starcross, Devon (the second-highest county flock), 48 at Portesham, Dorset, and 58 at Chaple Amble, Cornwall.
Also in Cornwall, a decent duck selection continued: single Lesser Scaup and Green-winged Teal, as well as a Ring-necked Duck at Siblyback Lake. The adult Ring-billed Gull was still to be found on the Hayle Estuary (where a first-winter Caspian Gull showed), and the released White Stork was back at Polgigga. A Willow Warbler at Carnon Downs sewage works was unexpected.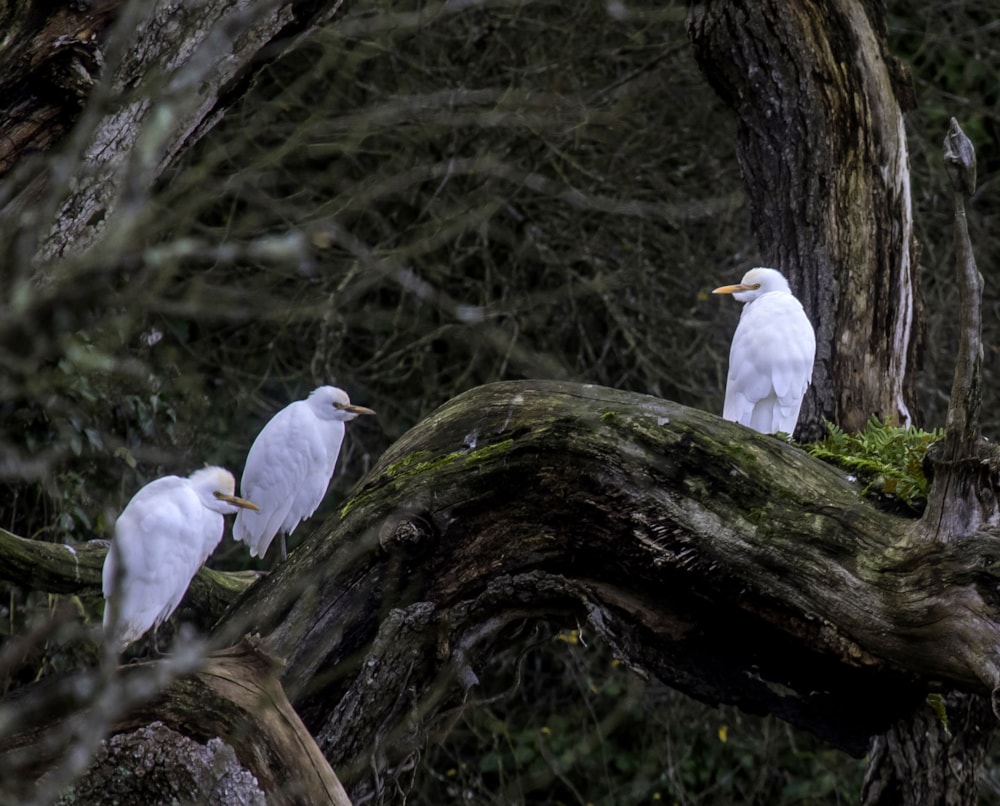 Western Cattle Egret, Truro, Cornwall (Phil Carter).
Scilly had a quiet time, with the two Chough highlighting. The Tamar Lakes Ring-necked Duck quartet largely stuck to the Devon side, while the Fremington Quay Glossy Ibis remained in the same county. A Yellow-browed Warbler was a nice find at Holyford Woods on 20th.
At least two Black Brant were logged in Dorset, along with the continuing Great Grey Shrike at Morden Bog and Great Bustard at Butterstreet Cove. The female Ring-necked Duck loitered at Sturminster Marshall GPs, while eight sites hosted Siberian Chiffchaffs.
A drake American Wigeon at Shapwick Heath, Somerset, on 19th was a welcome addition to the continuing Richard's Pipit at Steart WWT. The Dartmoor Great Grey Shrike proved mobile, and was seen at both Croydon Hill and Exford. Back at Ham Wall RSPB, the Yellow-browed Warbler was still showing.
Gloucestershire held onto its two Great Grey Shrikes in an otherwise quiet week. In Wiltshire, a Common Whitethroat was a real surprise at Westbury sewage works from 19th.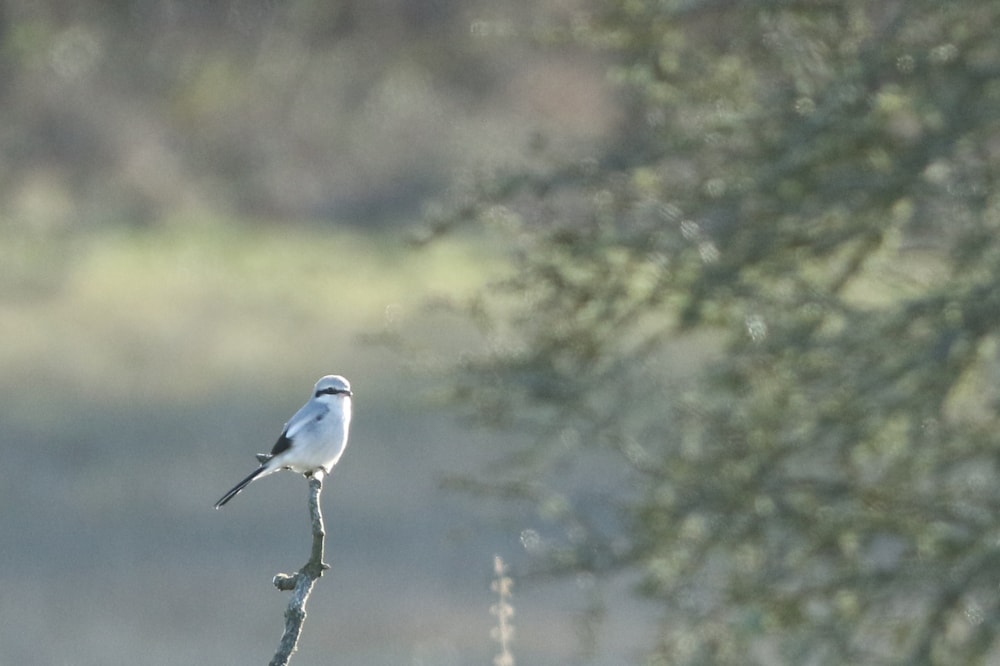 Great Grey Shrike, Sapperton, Gloucestershire (Jon Mercer).
Wales
Best find this week was a drake American Wigeon at Peterstone Wentlooge, Gwent – although it only spent two days on site from 15th. Not far away, the Glossy Ibis and Black-necked Grebe hung on at Newport Wetlands and the Long-tailed Duck lingered at Ynys-y-Fro Reservoirs.
In Glamorgan, the Garganey hung on at Gnoll CP, as did the Great Northern Diver at Llantrisant. Red-necked Grebe is always a good Welsh bird, and one off Salthouse Point, Gower, on 15th was noteworthy.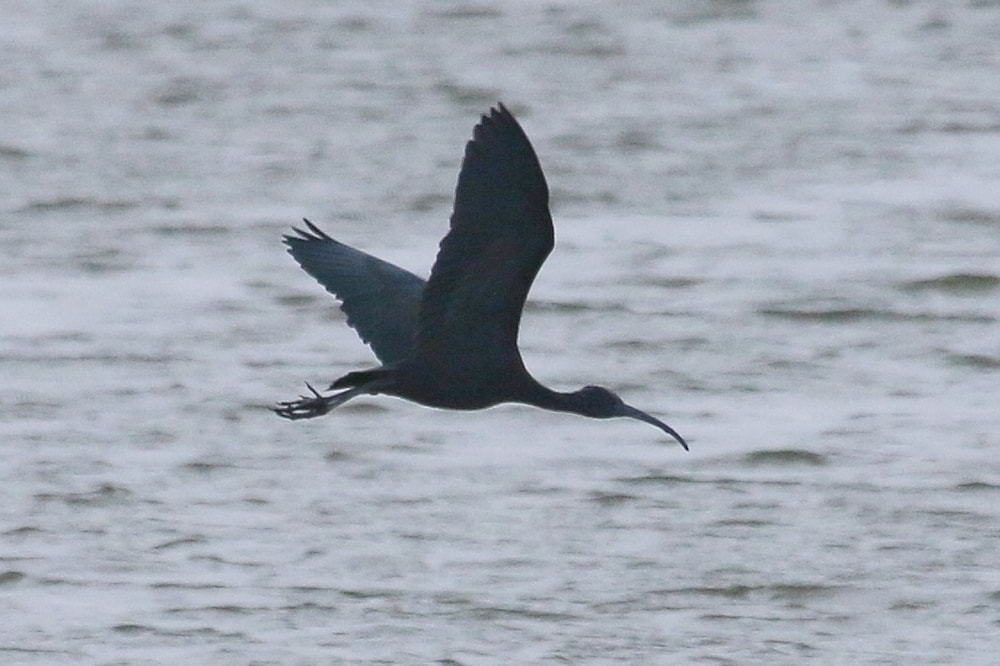 Glossy Ibis, Newport Wetlands, Gwent (Paul Masters).
White-winged gulls remain scant, so a juvenile Glaucous at Newgale, Pembs, was significant on 15th and, well inland, a juvenile Iceland was a regular rooster at Llangorse Lake – two Great Egrets and a Great Grey Shrike were also on offer there.
In the north, the Great Grey Shrike continued to show at Llyn Brenig, while the usual array of wintering seaduck, grebes, divers and waders entertained visitors to Anglesey and the north coast.
Republic of Ireland
Drake Ring-necked Duck were on Omey Island, Co Galway, and at Carrowmore Lake, Co Mayo. The latter county also produced single Kumlien's and two each of Iceland and Glaucous Gulls on the Mullet peninsula – a respectable return in this dreadful winter for the taxa.
Co Clare's Surf Scoter was still off Gleninagh Quay. Three Green-winged Teal included a new bird at Inch Island Lake, Co Donegal. Inch also held one of this week's five Ring-billed Gulls, itself the only new individual of the seven days. Two adult Caspian Gulls roosted at Kildavin, Co Carlow, on 15th, while the adult Bonaparte's Gull was again at Kilmore Quay, Co Wexford on a few dates.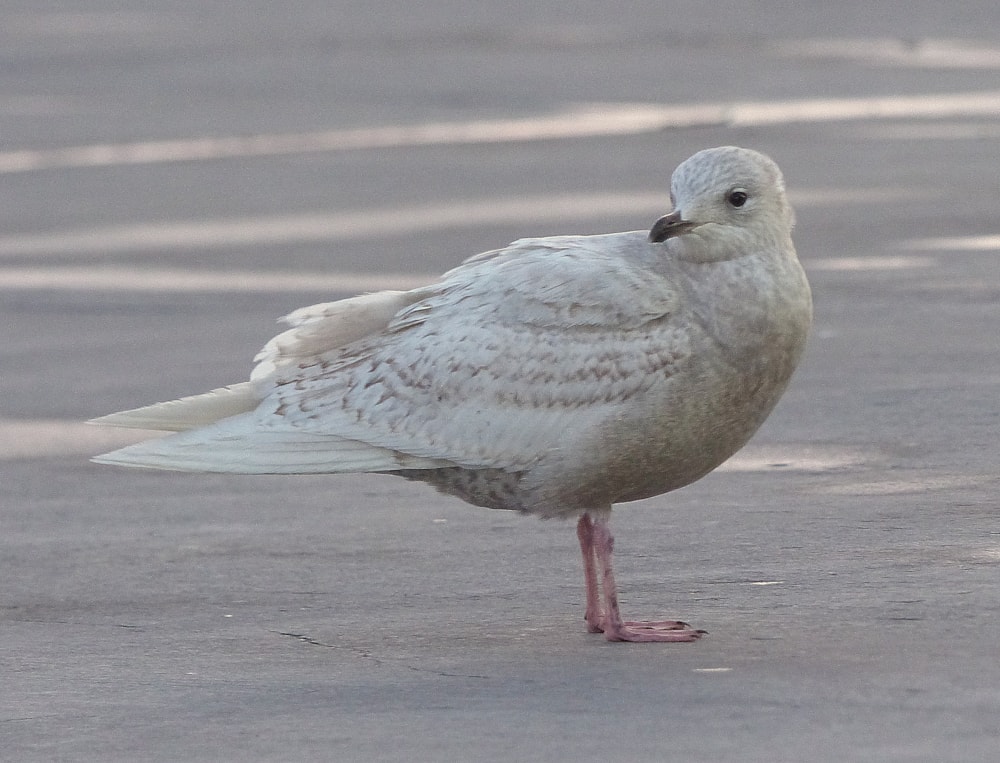 Iceland Gull, Castletown Bearhaven, Cork (Fionn Moore).
Disturbingly, there was a report of a female Northern Wheatear at Mizen Head, Co Cork, on 19th – a wintering bird, perhaps, rather than an exceptionally early migrant. Cetti's Warbler remains a rare bird in Ireland, and a vocal individual at Cahore Marsh, Co Wexford, on 19th was notable. Up to three Siberian Chiffchaffs remained up for grabs in Dungarvan, Co Waterford, and a Great Egret was seen in flight near Skibbereen, Co Cork, on 20th.
Northern Ireland
A drake Green-winged Teal was a new find on the vast shores of Lough Foyle, Co Derry, on 17th, while an adult drake Smew was a welcome arrival in Enniskillen, Co Fermanagh, on 18th (an Iceland Gull also there on 19th).
The Ring-billed Gull hung on at Carrickfergus, Co Antrim, but highlights were otherwise limited to Waxwing flocks in Belfast and Ballymena, plus the Water Pipit at Portavogie, Co Down.
Western Palearctic
Sub-saharan rallids were again among the headliners this week. News of the seventh Lesser Moorhen for the region was confirmed Lanzarote, where a first-winter flew into a building and was taken into care on 15th. Belatedly, another was reported from Cape Verde – it had been photographed on Boa Vista on 24 July 2019. Not much hope of twitching the latter at least, then, but it was a different story in Israel, where the rehabilitated African Crake was released successfully in Eilat on 18th in front of a crowd of onlookers. It hasn't been seen since, though.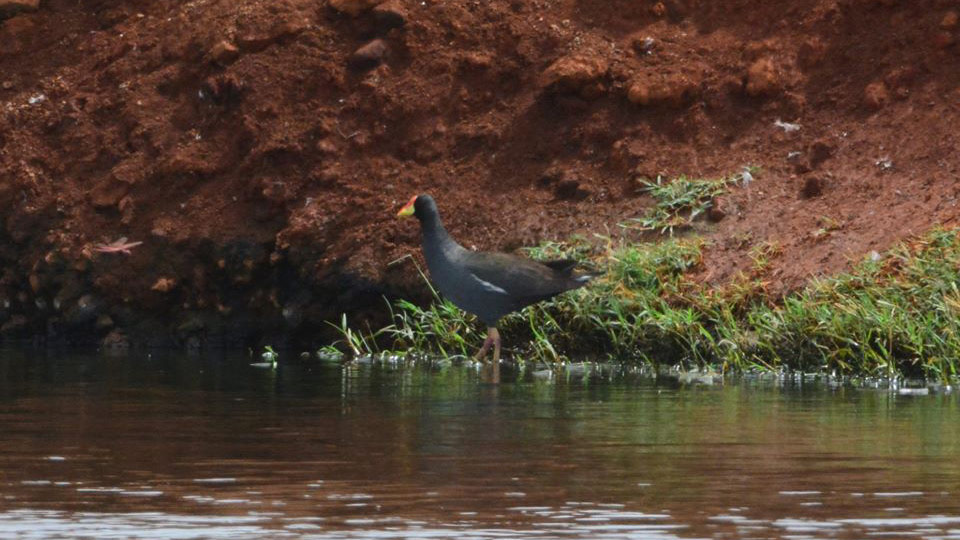 Lesser Moorhen, Boa Vista, Cape Verde, July 2019 (Strava Delgado Rodrigues via Facebook).
At the same site as the crake, at least one of the wintering Crested Honey Buzzards was still present while, a little to the north, the Kurdish Wheatear and one of the Basalt Wheatear were still in Uvda Valley. Elsewhere in Israel, an Oriental Turtle Dove was at Alon Shvut on 19th and there was news of a Black-throated Thrush at Tsur Hadassa on 14th.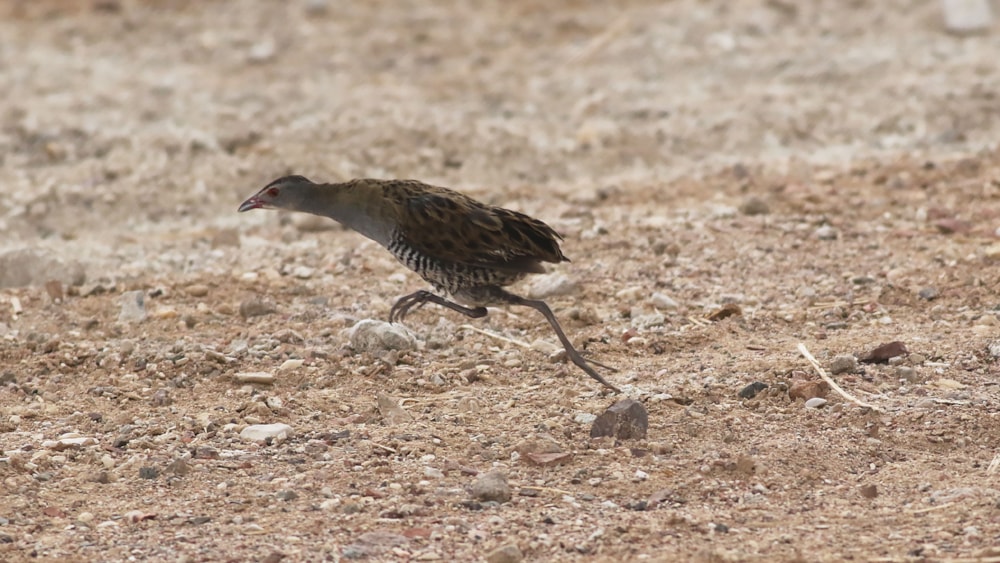 African Crake, Eilat, Southern District (Jesper Segergren).
The Dutch Little Curlew was performing routinely until Saturday but hasn't been seen since. Will it return or pop up elsewhere, or has it moved on? However, Low Countries birders (and several carloads from Britain) still had plenty to see, with freedom of movement allowing twitchers to bag the Belgian Dusky Thrush and Pygmy Cormorant and Dutch Crested Lark, Pied Crow and Great Bustard without any hassle.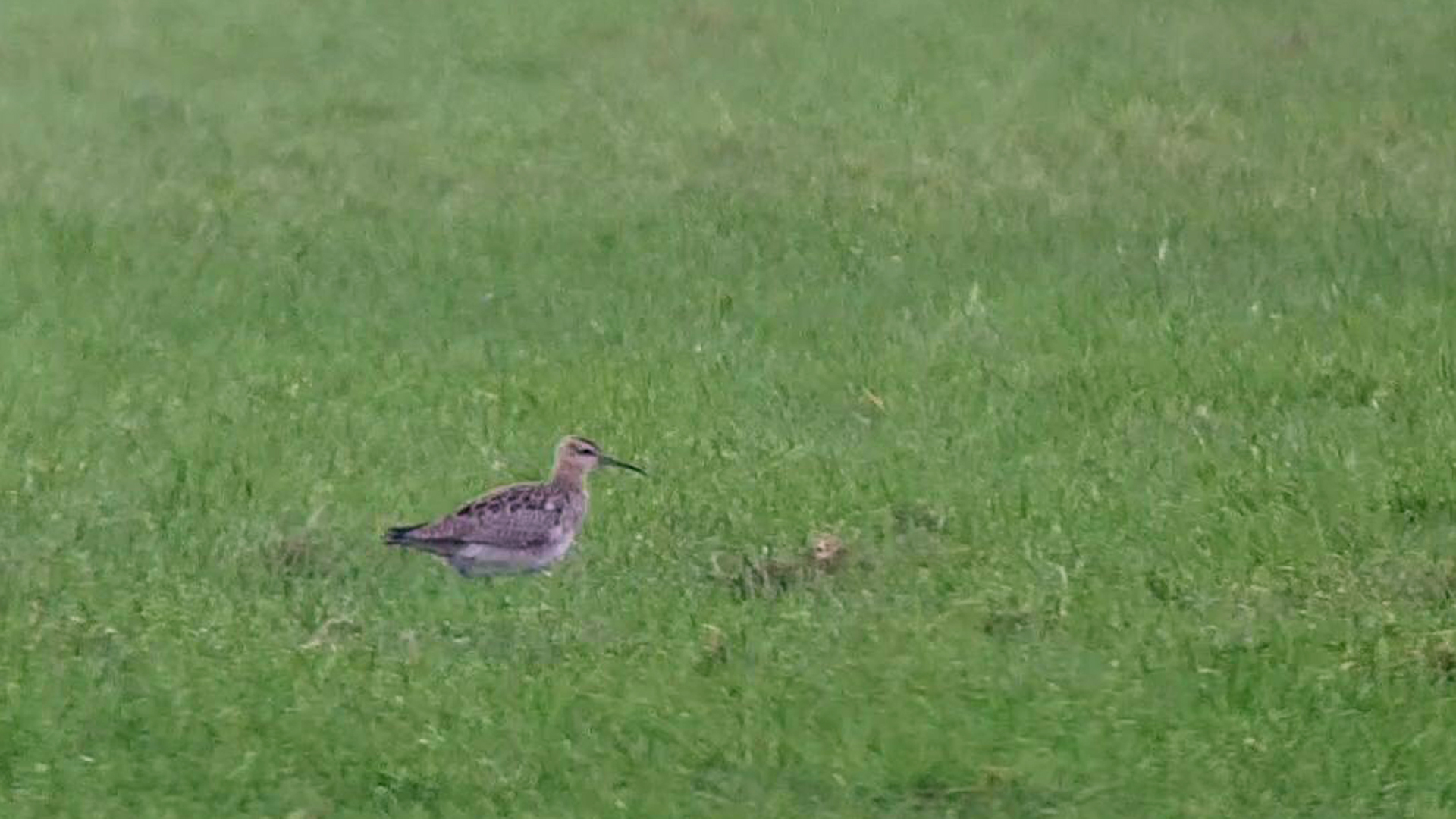 Little Curlew, Schagen, North Holland (Paul French).
In Sweden, the Masked Wagtail was still at Falkenburg. No fewer than three countries held Lesser Flamingo – two in Sulaibikhat Bay, Kuwait, the returning bird to Gediz Delta, Turkey and the adult in Coto Doñana, Spain.
Also in Spain, Galicia held onto its American Herring Gull, American Buff-bellied Pipit and Brown Shrike trio, a second Sociable Lapwing was found in Extremadura, an adult Rüppell's Vulture was at El Chorro on 16th, the first-winter Laughing Gull lingered in Cantabria throughout and a fulvescens-form Greater Spotted Eagle, genuinely very rare this far west, was at El Hondo (having been seen migrating through France last autumn).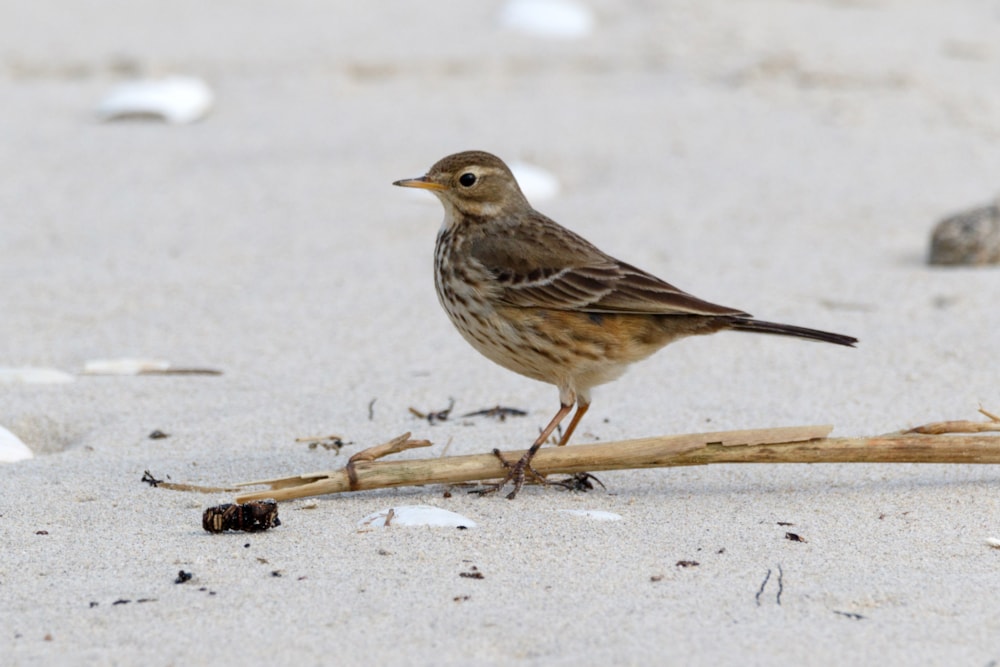 American Buff-bellied Pipit, Fisterra, Galicia (Delfin Gonzalez).
The adult and juvenile Greater Spotted Eagles lingered at Saint-Martin-de-Seignanx in France, not a million miles away from the continuing Pygmy Cormorant at Carbonne. In Portugal, two new first-winter Eastern Yellow Wagtails at Vila Franca de Xira were number three and four for the country this winter.
The Killdeer remained on Faial, Azores, as did the drake and female Wood Duck. On Sal, Cape Verde, the Hudsonian Whimbrel was still about. Closer to home, the American Royal Tern was still at L'Eree, Guernsey, on 16th.