News of sizeable flocks in eastern Turkey and Azerbaijan in recent weeks has suggested that a westward invasion of Black-throated Thrushes is playing out this winter. That said, an influx across the Caucasus doesn't necessarily equate to records in north-west Europe – and so it was a welcome surprise when news broke on 11th that a male had been photographed at Whipsnade Zoo, Bedfordshire.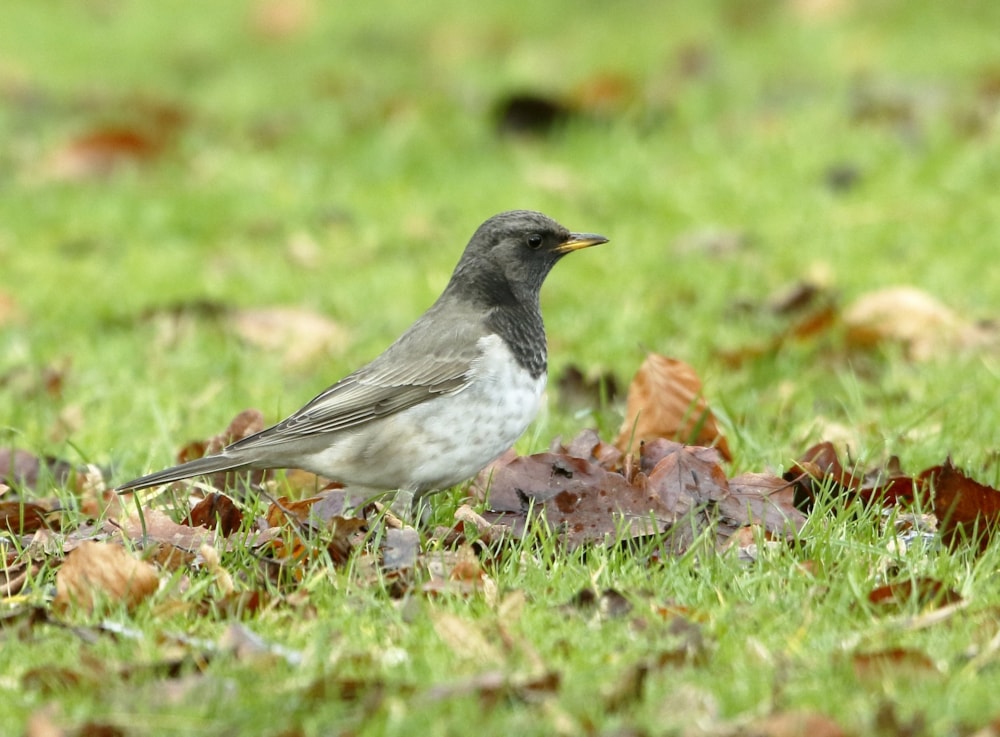 Black-throated Thrush, Whipsnade, Bedfordshire (Ben Rumsby).
Initially seen by an amateur birder who didn't know what it was other than it being something unusual, this county first could gallingly not be found the following day, despite a good search in appalling weather conditions by numerous dedicated locals. Happily, though, better weather on Friday 13th found the bird present again, and since then it's shown daily – often at close range. In terms of looks, it is surely the best Black-throated Thrush to show up in Britain since the wintering bird in Swansea in 2006?
Impressively, a second bird then followed in Hamilton, Clyde, late in the afternoon of 16th – this time a first-winter female. Hopefully it will be relocated, for it too will be a local first.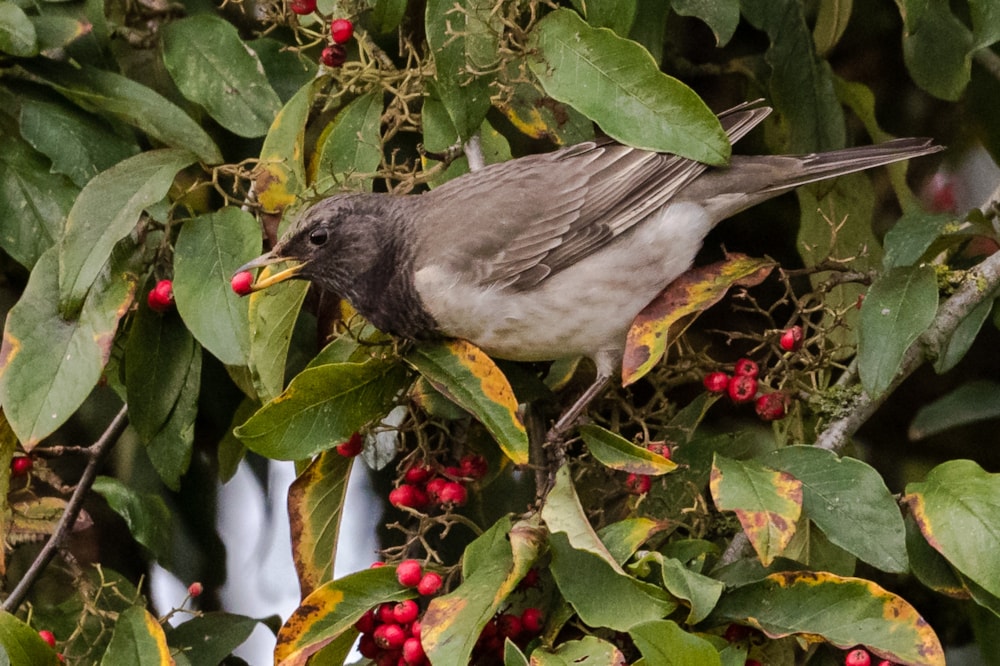 Black-throated Thrush, Whipsnade, Bedfordshire (Ian Bollen).
After three weeks without a sighting, the Lesser White-fronted Goose reappeared in north Norfolk on 14th, this time in fields near Burnham Market. It was, however, just as tantalising as it had been back on 22 November, flying off no sooner had news made the national airwaves. Surely at some point soon it will give itself up, but Norfolk birders must understandably be a little frustrated by its current behaviour.
As well as the pair of apparent Grey-bellied Brant, Highland's second-ever Cackling Goose was in fields at Balloch on 14-15th. A report of a possible Cackling Goose at Meikle Loch, Aberdeenshire, on 16th makes one wonder if it might have moved east overnight … elsewhere, the two Richardson's Cackling Geese continued on North Uist.
Those who've not yet made the journey northwards were no doubt relieved to hear that the Steller's Eider was still on Papa Westray, Orkney, on 14th – the first report of it for 10 days. Meanwhile, to the south, the Black Scoter was still off Goswick, Northumberland, on 15th.
Northumberland also produced an Eastern Yellow Wagtail at Prestwick Carr on 14th, which lingered thereafter and often showed at just a few metres' range. Recordings of the call sound spot on for tschutschensis and, as such, this becomes the fifth individual of the 'autumn' – an amazing return given that this was a barely recorded mega-rarity just a few years ago. While identification awareness has no doubt played a part, it does seem that this taxon is genuinely on the increase in Europe, in a similar vein to Brown Shrike and Stejneger's Stonechat.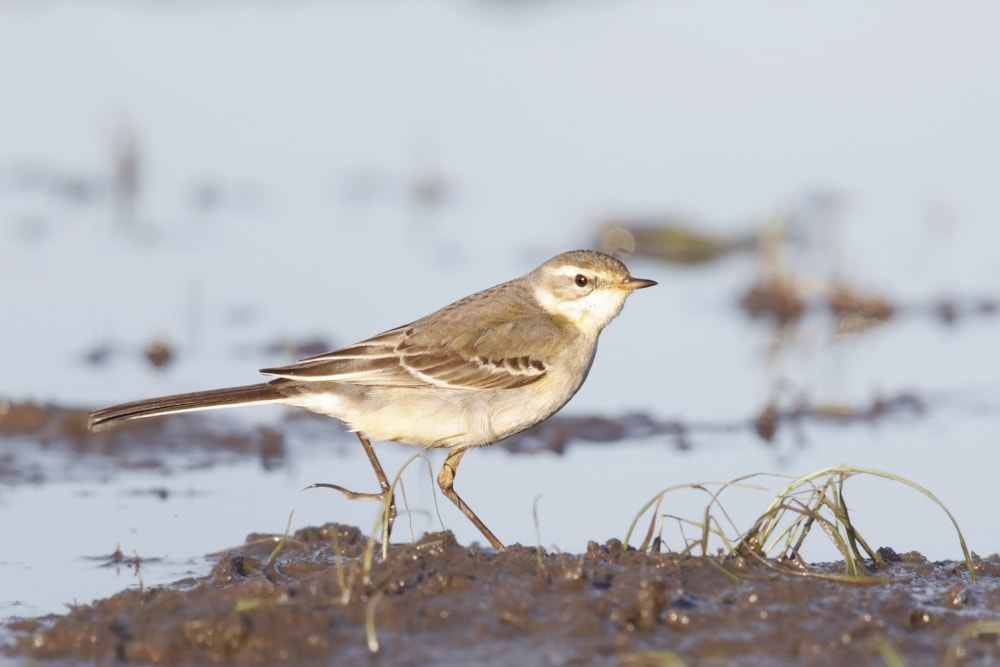 Eastern Yellow Wagtail, Prestwick Carr, Northumberland (Colin Bradshaw).
Lingering rarities also included Long-billed Dowitchers in Northumberland, Cumbria and Devon, the Blue-winged Teal still at Man Sands, Devon, the Forster's Tern in Co Galway and the Siberian Stonechat at Hollesley Marshes, Suffolk.
Scarce and local
North-East England
Aside from the bonus of the Eastern Yellow Wagtail, Northumberland had an as-you-were winter feel this week, the drake Green-winged Teal at Big Waters NR and the redhead Smew at Widdrington Moor Lake both remained site-faithful. The fish quay at North Shields continued to host a juvenile Iceland Gull and nearby Tynemouth had a brief visit from a Lapland Bunting on 16th.
Further north the wintering Hooded Crow was noted again near Linton Lane NR on 11th and Boulmer continued to offer both Black Redstart and Water Pipit. Numbers of Waxwings declined, with a peak of 50 at Blyth Civic Centre on 16th, around 20 at Gosforth and single figure counts at North Shields and Berwick-upon-Tweed.
A Great Egret was at Hardwick Hall CP, Co Durham, in the early part of the week. A Common Crane reported landing near West Boldon on 12th wasn't seen subsequently, nor was a Hoopoe seen briefly by the roadside at West Rainton on 14th. A Water Pipit was again at Whitburn Steel, and Little Auk and Red-necked Grebe provided some interest from the nearby observatory. 33 Waxwings were in Boldon Colliery on 15th with smaller numbers noted there, Jarrow and Stanley in the second half of the week.
Cleveland too had a settled feel: two Tundra Bean Geese at Cowpen Bewley sat tight, as did both the Spotted Redshank at nearby Cowpen Marsh and the two Long-eared Owls in the regular winter roost at Saltholme RSPB, where a Water Pipit was also present. The only Waxwings were nine at Marton on 11th.
North-West England
In a very quiet week for Cumbria, the long-staying Water Pipit remained at Biggar, Walney Island, and a Great Egret was in roadside fields near Burton-in Kendal between 14th and 16th. A Black Redstart found its way to Foulney Island on 17th.
Lancashire continued to provide perhaps the most unique avian spectacle of this winter, with some 37,400 Redwings counted into the roost on Longridge Fell on 14th. The first-winter drake Ring-necked Duck was the pick of Lancashire's wildfowl this week with a supporting cast of redhead Smew at Brockholes LWT, four Bewick's Swans at Upper Thurnham and two adult Greenland White-fronted Geese at Banks Marsh.
Perhaps the most northerly Black-necked Grebe currently in Britain remained on the Lune Estuary at Cockersand Abbey. Another long-stayer was the adult Little Gull, enjoying the warm waters of Heysham Power Station. Black Redstarts were at Hest Bank and Red Nab and Great Egrets at five sites including two at both Leighton Moss RSPB and Banks Marsh in the period.
Cheshire too had a settled feel to its birding this week. Two wintering Little Stints were again noted in the high tide roost at Pickerings Pasture on 14th. On the same day, a second-winter Caspian Gull was at Birkenhead. As many as 14 Great Egrets were spread around the county. The female Smew at Newchurch Common looks set to head into its sixth year on the site and was the only notable wildlfowl aside from two Russian White-fronted Geese at Redes Mere. Two Water Pipits were at Burton Mere Wetlands and a single at Hale.
In Greater Manchester, a Yellow-browed Warbler was at Tottington on 14th, a Firecrest was at Pennington Flash CP on 16th and up to two Caspian Gulls were at the usual site in Gorton.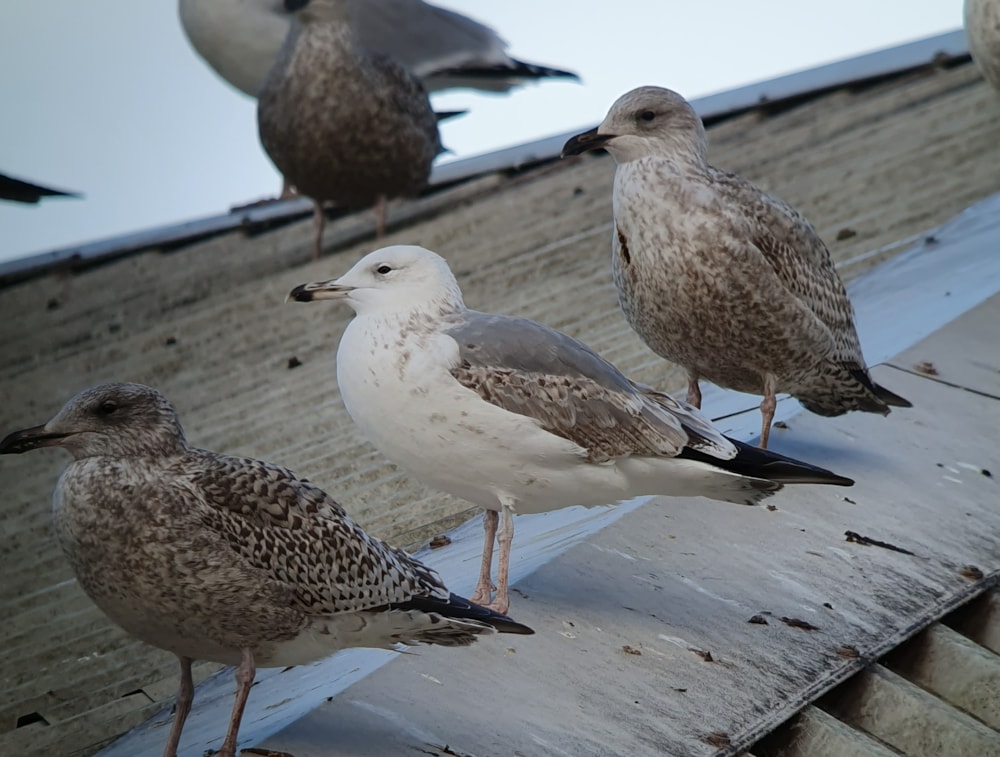 Caspian Gull, Gorton, Greater Manchester (Daniel Gornall).
Lincolnshire and Yorkshire
A Black Brant and two Tundra Bean Geese were at Donna Nook, Lincs, this week, with a further Tundra Bean at Swinefleet, East Yorkshire. The continuing Long-tailed Duck was at Apex Pit, Lincs, on 15th, while singles of Long-tailed Duck and Smew lingered at Hornsea Mere.
A lovely Rough-legged Buzzard was new at Stainforth, South Yorks, from 14th onwards, while nearby the Great Grey Shrike hung on at Hatfield Moors. A couple of first-winter Caspian Gulls showed well on waste ground in central Sheffield.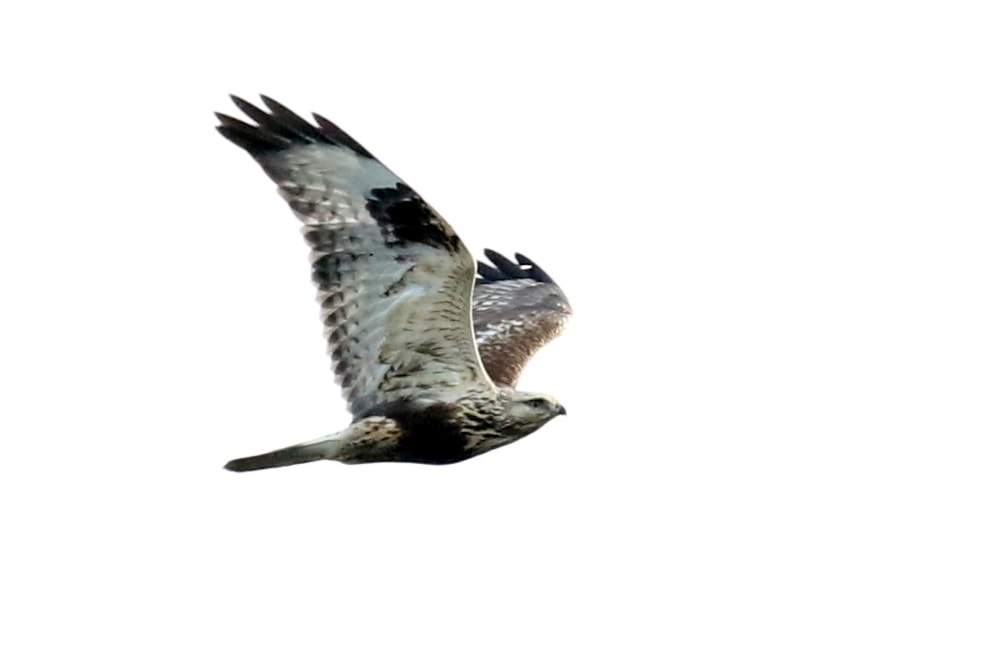 Rough-legged Buzzard, Stainforth, South Yorkshire (Robert Mellor).
In West Yorkshire, the drake Ring-necked Duck moved between Johnny Brown's Common and Anglers CP, while some of the precious few Waxwings in the region involved three at Morley on 16th – other groups were seen in the York and Scarborough environs. A Hoopoe at Long Preston Deeps on 13th was a surprise, eight Russian White-fronted Geese were at Wheldrake Ings YWT and a Siberian Chiffchaff remained at Kilnsea.
West Midlands
A Dartford Warbler at Bury Ditches, Shropshire, on 15th proved a notable find. A Ruddy Shelduck found Belvide Reservoir, Staffordshire, to its liking, with the Ring-billed × Lesser Black-backed Gull noted on 13th. An adult Iceland Gull was at Chasewater, Staffordshire, on 12th.
In Warwickshire, the adult Glaucous Gull was still roosting at Draycote Water, while a Great Northern Diver spent a few hours there on 15th. There was belated news of a Red-breasted Merganser at Shustoke Reservoir, Warwickshire, on 11th, while in Worcestershire the Long-tailed Duck showed no signs of moving on from Ripple GPs.
East Midlands
In Derbyshire, at Carsington Water, the returning adult Great Northern Diver joined the juvenile from 16th, while an adult Iceland Gull roosted the same day. A new Western Cattle Egret was at Milton on 16th, with three still at Long Eaton GPs on the Notts/Derbys border.
Two fresh Velvet Scoter at Hollowell Reservoir from 14th proved a popular hit with Northamptonshire listers – always a mighty bird inland. The Great Grey Shrike was still at Crick, with a lone Smew still in place at Summer Leys NR and Ruddy Shelducks at Ravensthorpe and Hollowell Reservoirs.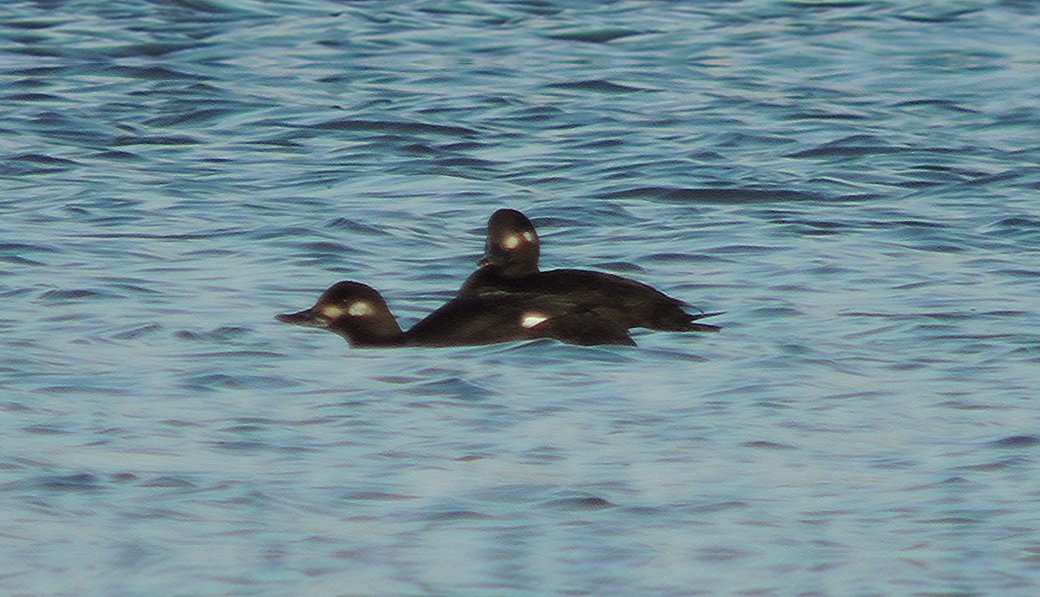 Velvet Scoter, Hollowell Reservoir, Northamptonshire (Mike Alibone).
A Slavonian Grebe at Attenborough NR on 17th was the Nottinghamshire highlight. A solitary Smew remained at Idle Valley and the young Long-tailed Duck steadfastly stuck around at Holme Pierrepont. Two Tundra Bean Geese were at Idle Valley on 13th.
In the UK's smallest county, Rutland Water's Smew count peaked at six, with the lingering Red-necked Grebe the best of the rest at this premier site. Stanford Reservoir's Dark-bellied Brent Goose remained until the start of the review period, while at Eyebrook Reservoir the Red-throated Diver was still drifting around.
East Anglia
Norfolk warrants a weekly review of its own during winter, with a host of classic wintering species on offer throughout the county. Among the currently popular regulars on offer, the juvenile Rough-legged Buzzard continued to perform just west of Wells-next-the-Sea, the five Shore Larks remained among larger numbers of Snow Buntings at Holkham Gap and Titchwell RSPB broke its record Western Marsh Harrier roost count, with a staggering 95 logged on 12th. A Little Auk was offshore at the latter site on 14th.
A White-billed Diver past Hemsby on 15th was probably the best 'non-rarity' in the county this week. Two Hooded Crows were on offer, while both Waxwing and Lapland Bunting flew over Holkham Gap. Other notable bits included a Great Grey Shrike over the A148 near Hillington on 14th and a first-winter Caspian Gull at Earlham, on the outskirts of Norwich, on the same day (another commuted between Sheringham and Cromer).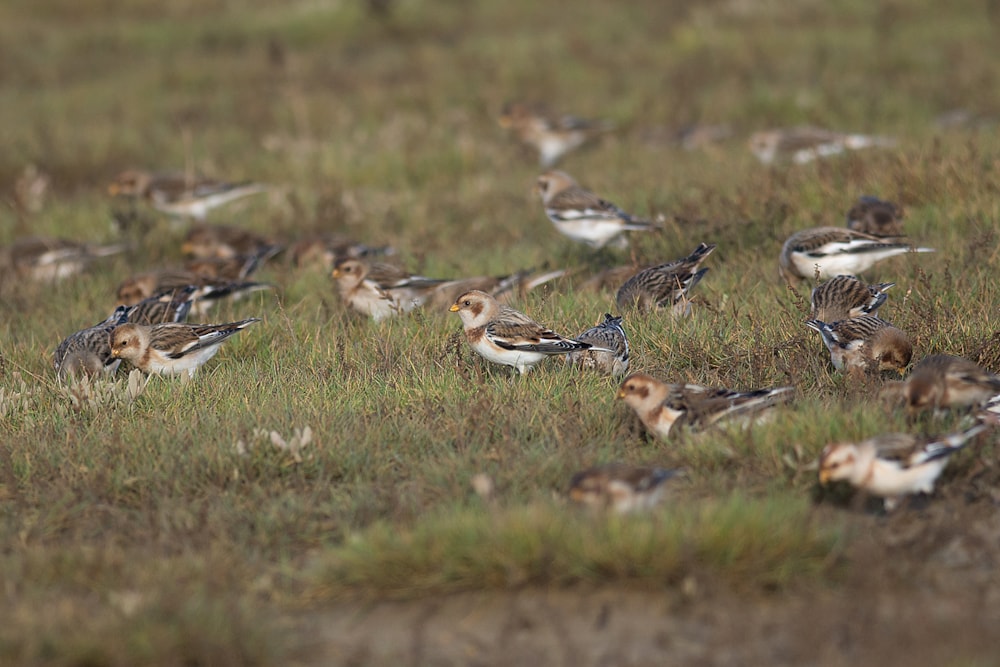 Snow Bunting, Holkham Gap, Norfolk (Keith Bilverstone).
Neighbouring Suffolk had a quieter week, but could raise Norfolk two Rough-legged Buzzards, albeit one at Minsmere remaining in the probable category. The Bawdsey juvenile was present throughout. Glossy Ibises were at Southwold and Carlton Marshes, while a Waxwing was at Carlton Colville on 16th.
One particularly popular Suffolk bird was the continuing Black-necked Grebe at Felixstowe Ferry – a good bird in the county. Other bits included a seriously impressive 4,157 Red-throated Divers south past Thorpeness on 16th and a Swallow at Wherstead on the same day.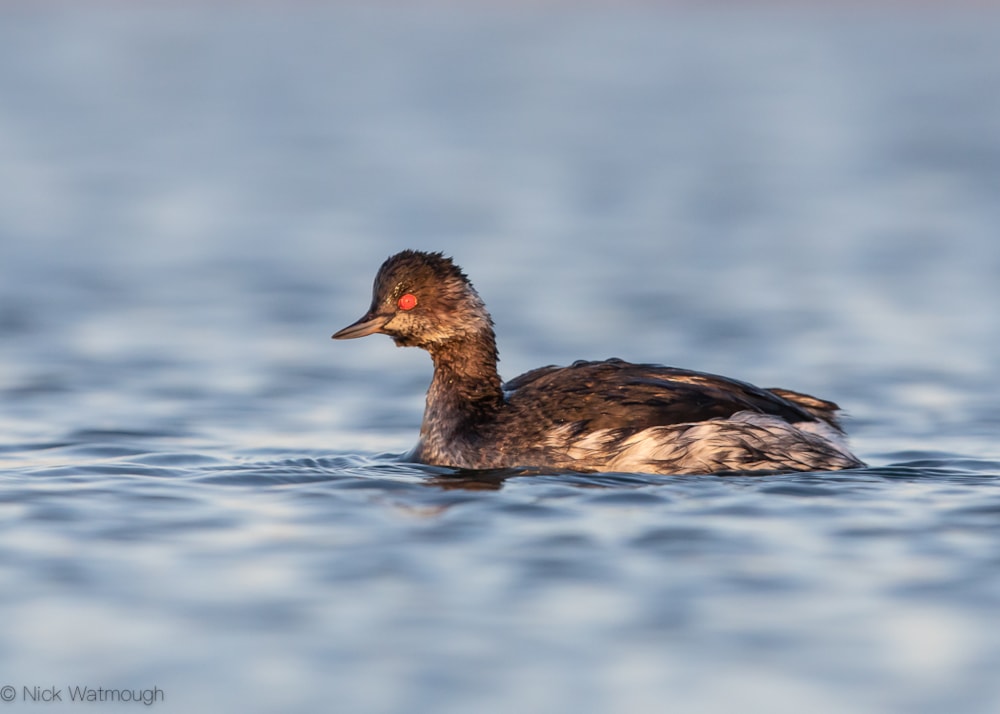 Black-necked Grebe, Felixstowe Ferry, Suffolk (Nick Watmough).
In Cambridgeshire, there were two Siberian Chiffchaffs (at Buckden and Cambridge), while the Red-necked Grebe continued at Maxey GPs throughout. A Russian White-fronted Goose made it to the Cam Washes, two Smew were at St Ives GPs and a Kittiwake was at Grafham Water on 14th.
Three Twite as far up the River Thames as Coalhouse Fort, Essex, marks a good record these days. This site has attracted this dainty little finch for two winters running now. In the same county, Abberton Reservoir held on to its impressive wildfowl, including the drake Ring-necked Duck, two Smew and two Long-tailed Duck among the offerings.
A Waxwing reached Hertfordshire, with one at St Albans on 15th. Also in Herts, a German-ringed Caspian Gull was at Fairlands Valley Park and an Iceland Gull was at Hilfield Park Reservoir on 17th. Bedfordshire birders can be forgiven for being a little distracted this week, though the Brogborough Great Grey Shrike was regularly reported until 17th, when there was no sign.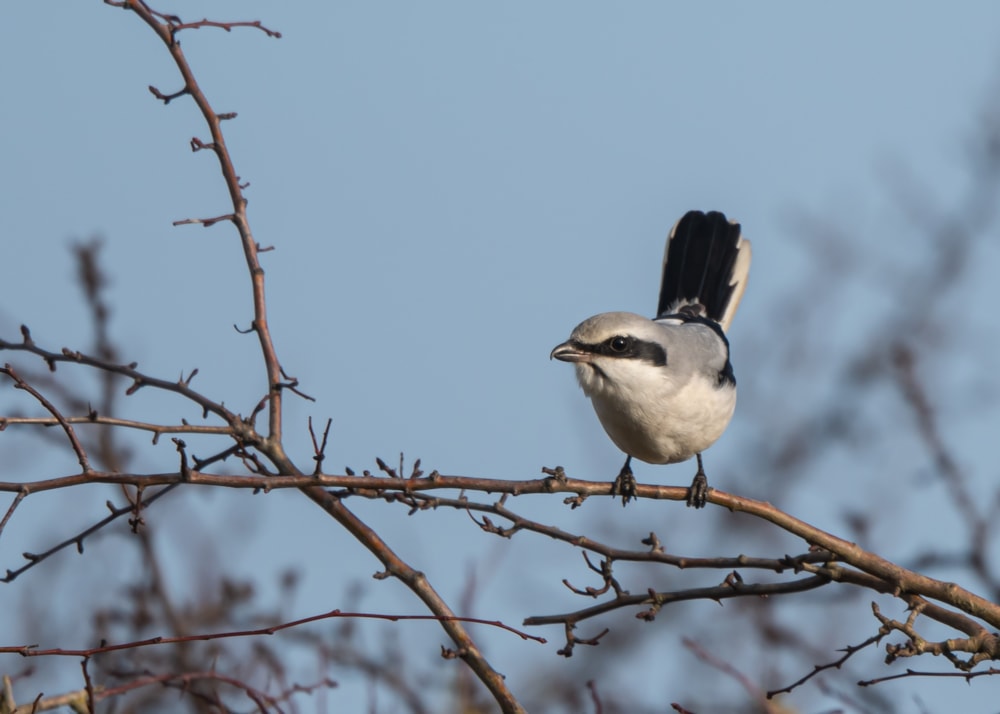 Great Grey Shrike, Brogborough Hill, Bedfordshire (John D'Arcy).
South-East England and Greater London
Crossness, Greater London, was in the limelight again last Wednesday when last winter's male Eurasian Penduline Tit reappeared. It was seen again on Sunday, but proved elusive in the interim – it's no doubt still lurking there. This unassuming East London site has built up an inspiring reputation for urban and inland patchers in recent years – a Great Reed Warbler, multiple Bonaparte's Gulls and Red-backed Shrike have all been unearthed here.
Also in London, a Little Stint was at Rainham Marshes on 15th, the female-type Long-tailed Duck continued to be elusive at Staines Reservoirs and a nice suite of Caspian Gulls included two particularly showy individuals at Eagle Pond in Snaresbrook.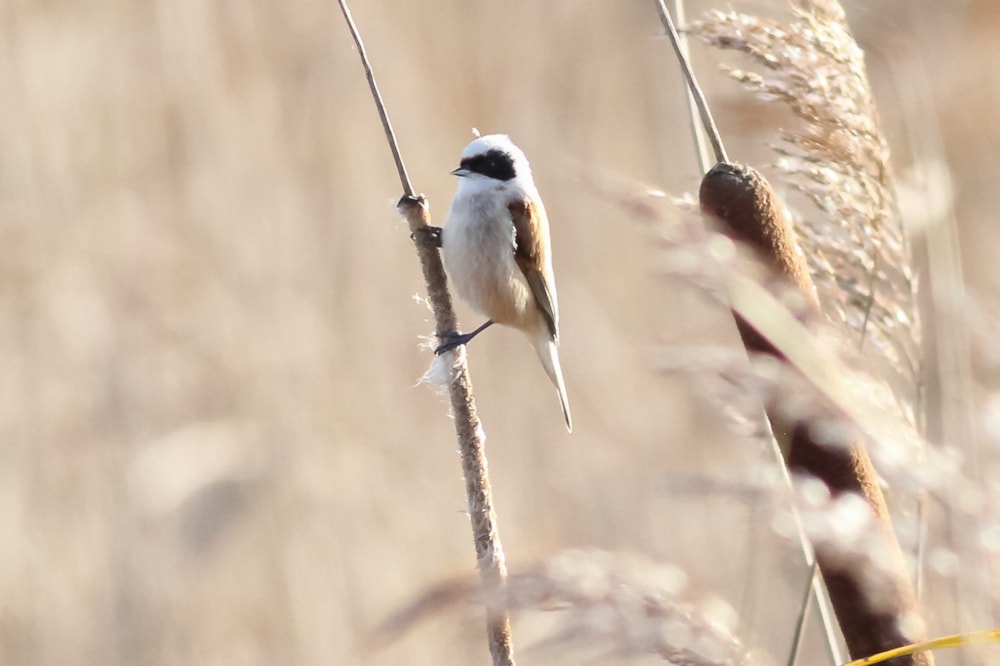 Eurasian Penduline Tit, Crossness, London (Dante Shepherd).
At Queen Mother Reservoir, Berkshire, three Black-necked Grebes dropped in on 17th, perhaps having come from nearby Staines. No fewer than seven Caspian Gulls were recorded at three sites in Buckinghamshire during the week. In Oxfordshire, the three Russian White-fronted Goose continued at Little Wittenham until 13th.
In Surrey, two Waxwings reported in a Banstead garden on 13th were unfortunately not seen again. A juvenile Great Northern Diver at Island Barn Reservoir was a very good record; a second joining it on 16th being quite extraordinary. However, recent long stayers in the county rendered interest somewhat limited. Easily the bird of the week was the eventual return of a Great Grey Shrike to Thursley Common, on 16th. This site has held wintering individuals for decades so there was much disappointment when last winter drew a blank.
Inland Yellow-browed Warblers are never to be sniffed at, and one with tit flock at Mill Field LNR, Hampshire, on 17th was a good find. In the same county, a Siberian Chiffchaff was at Eastleigh Sewage Farm from 15-16th. The Long-tailed Duck continued at Blashford Lakes and, at Oakhangar, near Bordon, the curious European Turtle Dove reports continued. Across the Solent from Hampshire, the released Great Bustard was still on the Isle of Wight at Merstone.
Things were quiet in West Sussex, though first- and second-winter Caspian Gulls were at Goring-by-Sea, confirming this site as a somewhat surprising hot-spot for the species in this half of Sussex. Two Siberian Chiffchaffs continued at Coldwaltham sewage works and the Long-tailed Duck continued to perform off Dell Quay.
Casps are easier to come by in East Sussex, and Cuckmere Haven held up to three birds, with two at Arlington Reservoir. Two each of Swallow and House Martin were reported in the county during the week – a sign of the mild conditions. Arguably one of the biggest birds of the week in the South-East would have been a first-winter drake Ring-necked Duck at Rye Harbour on 14th, though it remained only a possible. The redhead Smew continued at the same site.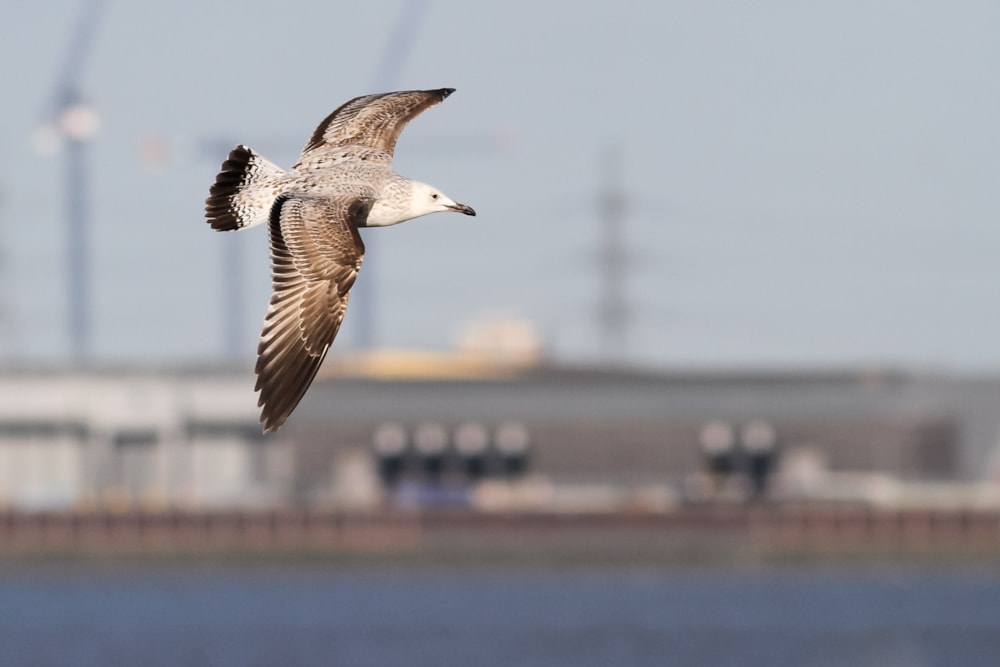 Caspian Gull, Erith, London (Dante Shepherd).
In Kent, the Tundra Bean Goose was still to be found among White-fronts at Swale NR on Sheppey. Not far away, at Funton Creek, the Rough-legged Buzzard was still about and regularly seen flying to roost. Dungeness RSPB held a Siberian Chiffchaff on 16th, while a late Ring Ouzel was at Samphire Hoe CP on 17th. Up to two Waxwings were at East Malling for two days from 11th.
South-West England
Scarce wildfowl included the continuing Lesser Scaup at Stithians Reservoir, Cornwall, and, on the Cornwall-Devon border, the gaggle of four Ring-necked Duck at Tamar Lakes. A Smew remained at Chard Reservoir, Somerset, while a drake Garganey appeared in Yeovil on 16th; a first-winter female of the latter lingered at Lodmoor RSPB, Dorset. Dorset also claimed both the week's Black Brant, which were on The Fleet and in Poole Harbour respectively.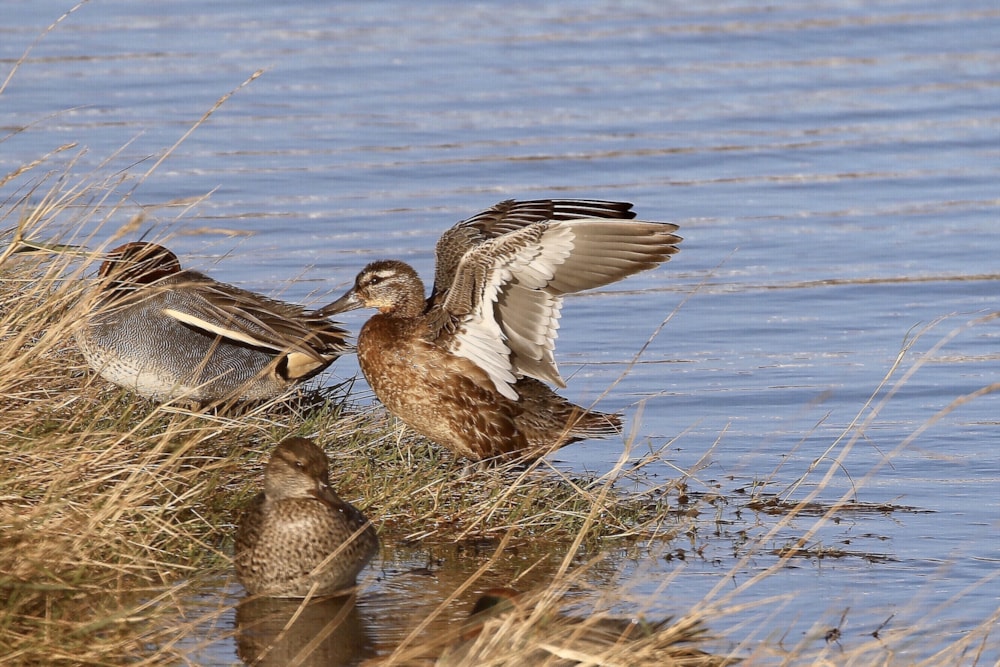 Garganey, Lodmoor RSPB, Dorset (Edmund Mackrill).
Surprisingly, the Black-throated Diver returned to Barrow Gurney Reservoirs, Somerset, on 13th and 16th, with the Great Northern Diver and Long-tailed Duck there both a bit more predictable.
It may be simply that no one bothers to report them in Cornwall these days, but just a single site in that county produced Western Cattle Egret – a hefty count of 52 was made at Walmsley Sanctuary on 12th. Other significant counts included 73 roosting at Ham Wall RSPB, Somerset, and 20+ still roosting at Abbotsbury Swannery, Dorset. Going nowhere was the Glossy Ibis at Fremington Pill, Devon, which spent another week on site.
Two or three juvenile Iceland Gulls were in westernmost Cornwall, while an adult Caspian Gull was seen again at Hayle Estuary.
At least six Siberian Chiffchaffs at Brew sewage works, Cornwall, was an impressive congregation, while at least 10 further sites in the the region produced, including multiple birds in the Weymouth and Portland area. Three Cornish sites held Yellow-browed Warblers, with another at Ham Wall, while Portland held onto its presumed Siberian Lesser Whitethroat. The Great Grey Shrike was still on show at Morden Bog, Dorset, to 15th at least.
Wales
A drake Ring-necked Duck was at the south-west end of Bala Lake, Gwynedd, on 17th; could this be the bird that has previously been seen at sites in Clwyd and Conwy? Elsewhere, the young male was again at Llyn Pendam, Ceredigion, on 15th. To the north, the Surf Scoter lingered off the Conwy coastline at Old Colwyn. A redhead Smew was a notable arrival at Ynys-Hir RSPB on 14th, while the drake remained at Llandegfedd Reservoir, Gwynedd (where there was also a brief Great Northern Diver on 15th). Two Slavonian Grebes were at Llangorse Lake, Powys, on 11th.
The Glossy Ibis was still on show at Newport Wetlands, Gwent, this week. Other locally interesting bits of news in the southern counties included a Great Northern Diver at Kenfig Pool, the Long-tailed Duck still at Lisvane Reservoir, a quartet of Eurasian Spoonbills still at Llanelli WWT and, in Gwent, four Whooper Swans at Magor Marsh.
In the north, a male Ring Ouzel was a surprise find at Connah's Quay NR on 16th and the Long-tailed Duck continued at nearby Shotwick Boating Lake. Both Water Pipit and Firecrest were at Conwy RSPB and the Hawfinches were still gettable at Llanrwst. Anglesey news included Swallows at a couple of sites, up to three Hooded Crows at KFC in Holyhead and confiding Short-eared Owls at Aberffraw.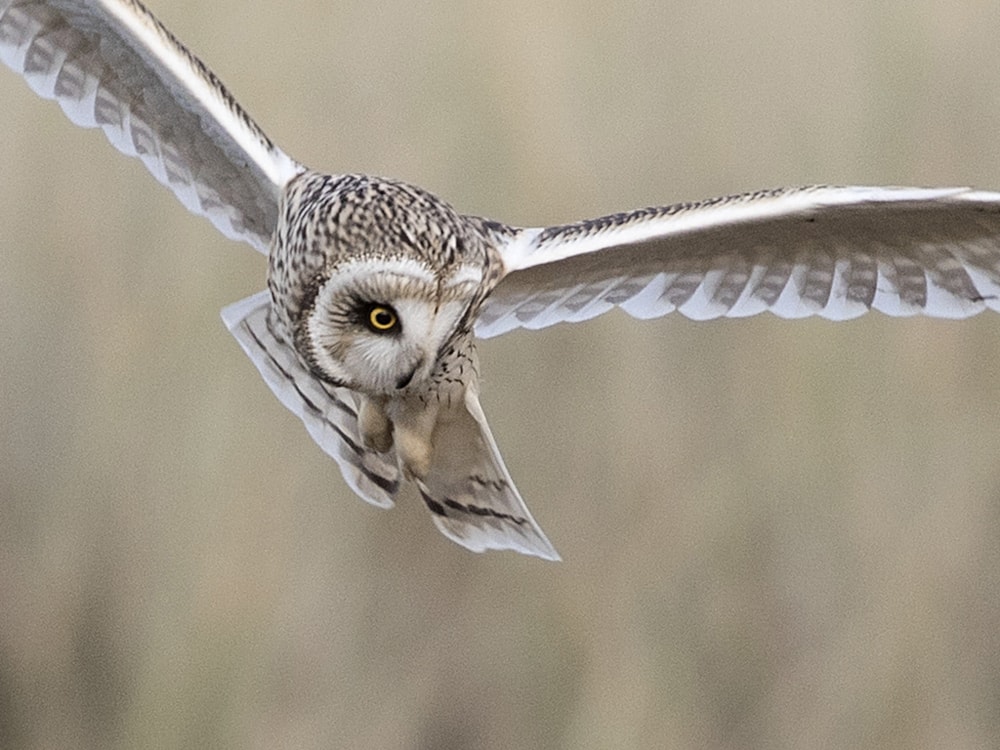 Short-eared Owl, Aberffraw, Anglesey (Dave Williams).
Scottish mainland
Highland continued to host a solid collection of wintering wildfowl, with scarce geese well represented by Snow Geese at Castle Stuart and Brims Ness. Drake Green-winged Teal were at Wick and Loch of Wester until 14th at least, and the drake American Wigeon remained at Loch Eye. The adult drake Ring-necked Duck at Acharacle was noted again on 15th. A Smew was at the favoured site of Loch Watten.
White-winged gulls remained fairly scarce with juvenile Iceland Gulls at Thurso on 11th, Portree, Skye on 14th and Broadford Bay, Skye on 17th. A single adult Glaucous Gull was at Ullapool on 13th. Other notable reports from Highland included the continued presence of the Shore Lark at Dornoch Point and small numbers of Waxwings at Balloch, Dornoch and Ullapool.
A Grey Phalarope at Rosehearty between 14th and 16th offered Aberdeenshire birders an alternative to the to the long-staying Loch of Skene Snow Goose and, with a Black Redstart also there, the site had something of a monopoly this week. Elsewhere, a Great Egret continued to defy the Scottish winter on the Ythan Estuary.
Another Great Egret was the highlight of the week at Dollar, Forth. Further west in Clyde, a redhead Smew was still at Lochwinnoch RSPB and Waxwings were featured prominently, with 55 in Glasgow, 25 in Motherwell and 10 at Govanhill. Out west in Dumfries and Galloway, a first-winter drake Smew was on Auchenreoch Loch on 11th.
Across in Fife, two Smew were on Cameron Loch and an Iceland Gull flew past Kirkcaldy on 14th. Small numbers of Waxwings entertained in Dairsie, St Andrews and Kirkcaldy. To the south in Lothian the wintering drake Surf Scoter offered Lothian birders more of the same off Musselburgh.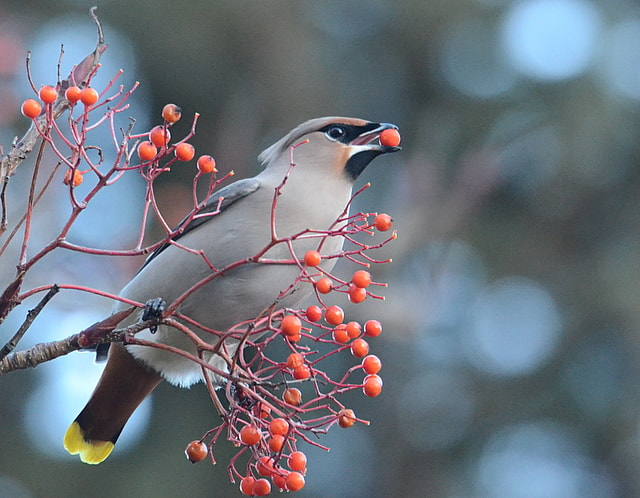 Waxwing, Motherwell, Clyde (Joe Graham).
An adult Glaucous Gull was at Dunbar while, to the north, in Edinburgh, Waxwings were at several sites around the city, including 80 at Gorgie on 16th, 40 at Balgreen and 30 at Bruntsfield Links. A single Water Pipit was on the coast in the Torness area on 16th.
Northern Isles and Western Isles
On North Uist a Todd's Canada Goose was at Aird an Runair on 16th. A Ring-necked Duck extended its stay by another week on Loch Tangasdale, Barra, and three Surf Scoters were in the Sound of Taransay on 17th.
Three Glaucous Gulls were noted at Frobost, South Uist, Berneray and Rubh Arnal, North Uist. A Lapland Bunting at Aird an Runair was outnumbered by a rather impressive blizzard of 890 Snow Buntings there.
Last week's Coues's Arctic Redpoll at Mulla, Shetland was noted again on 16th and the Fleck Tundra Bean Goose stuck it out until the 15th at least. Aside from that, there was a small increase in white-winged gull numbers – three Glaucous Gulls arrived at Norwick, Unst on 12th and one or more were at Skaw, Lamba Ness, Norwick and Burrafirth, Unst, on 15th, with another at Scalloway on the mainland. Burrafirth held six Glaucous on the 16th and a single Iceland Gull. Other Iceland Gulls were on Fair Isle and Lamba Ness. The only Waxwings in the week were seven at Kalliness.
Two Ruddy Shelduck with Barnacle Geese at Cornabus, Islay, were unexpected in a quiet week for the island. Elsewhere in Argyll, two Ring-necked Ducks lingered on Tiree, as did the Todd's Canada Goose. A single Glaucous Gull was seen on Tiree on 17th.
Northern Ireland
A particularly quiet week across Northern Irish counties returned just a couple of notable records: a juvenile Iceland Gull at Enniskillen dump, Co Fermanagh, on 14th and a Black Redstart in Belfast on 12th.
Republic of Ireland
The female Ring-necked Duck returned to Cloonee Lakes, Co Kerry, for its fourth consecutive winter on 14th, with another at Carigillihy Lake, Co Cork, that day. The Green-winged Teal also remained at Kilcoole, Co Wicklow.
Familiar adult Ring-billed Gulls were on offer in Limerick, Tralee and Blackrock – these were in fact the only three birds reported anywhere in either Ireland or Britain this week. After the early promise, it looks like being another pitiful winter for white-winged gulls, with a single Iceland at Carrahane Strand, Co Kerry, the only one seen. A Grey Phalarope was a good mid-winter record at the base of the Great South Wall in Dublin Bay from 16th.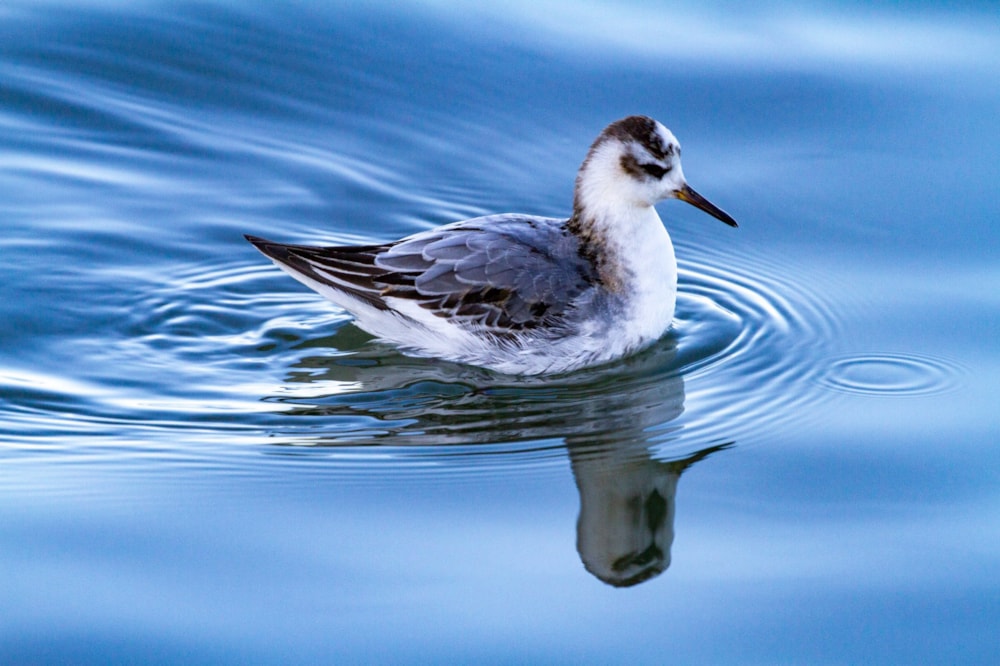 Grey Phalarope, Poolbeg, Dublin (Tom Doyle).
In western counties, Great Egrets were seen in Cos Cork, Clare, Galway and Mayo. News of 20 Bewick's Swans at South Slob, Co Wexford, on 17th was welcome, for this is a genuinely rare bird in the country nowadays. Also there on 15th was a pair of another notable Irish taxon – Russian White-fronted Goose.
Western Palearctic
It was interesting to hear that the American Royal Tern was seen again on Guernsey on 15th, having not been seen anywhere since its brief Cornish appearance back on 3 June. Where has it been in the interim?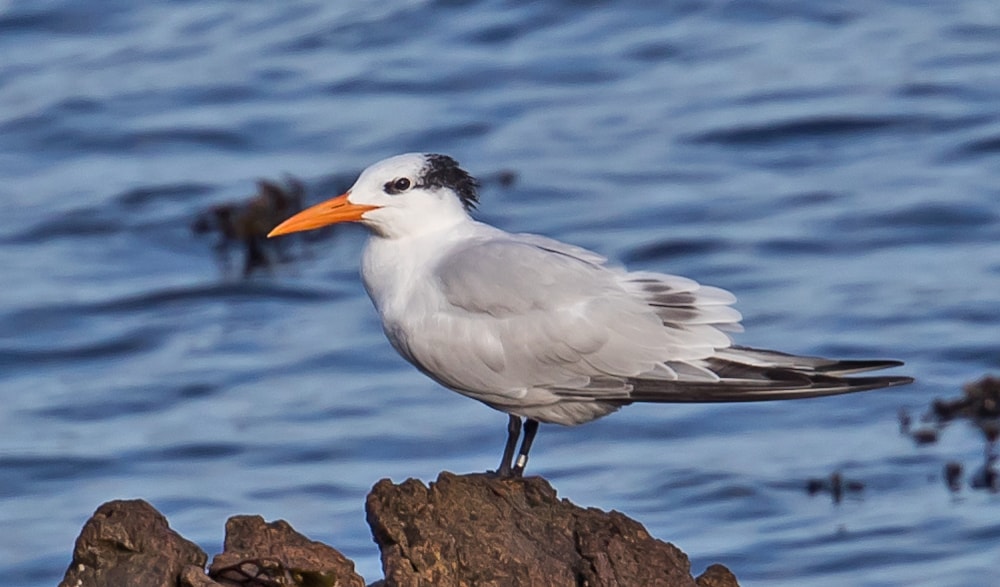 American Royal Tern, Rocquaine Bay, Guernsey (Rockdweller).
Kuwait continued its strong run by producing a regional first in the form of a White-breasted Waterhen at Jahra Pools on 14th. This familiar Asian rallid was arguably a predictable addition to the WP list, but its discovery on an otherwise quiet December day came as a bit of a surprise.
Also in Kuwait, it was confirmed that there are in fact two Purple Sunbirds – a male and a female – at Al-Adan, while a Crested Honey Buzzard was at Shuwaikh Park, in Kuwait City, on 12th.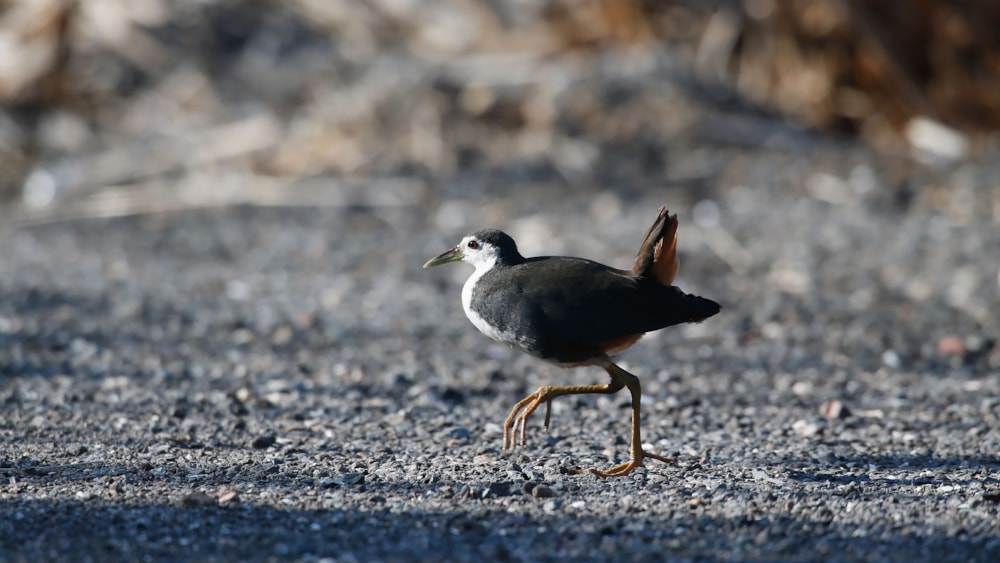 White-breasted Waterhen, Jahra Pools, Kuwait (Mike Pope).
French news concerned the continuing trio of Great White Pelicans in the Camargue, while the Brown Shrike lingered in Galicia, Spain. Also in northern Spain, a smart Franklin's Gull was at Zeluan, Asturias, from 11th. In the Canary Islands, both the Eastern Yellow Wagtail and Dwarf Bittern remained on Fuerteventura.
In the Azores, a young Double-crested Cormorant was photographed at Lagoa Rasa, Flores, on 11th, while a pair of Wood Duck was on Faial on 13-14th and a drake Lesser Scaup on Terceira on 12th.
A Wallcreeper between Dinant and Anseremme, Belgium, is favouring the same stretch of river valley as a bird that wintered here in 2014-15 and has been reported daily since 14th.
Two different drake Black Scoter were observed off Germany's Baltic coast this week, while Swedish birders welcomed back the Stejneger's Scoter to the Scania coastline north of Båstad. South of the latter, the Eastern Yellow Wagtail lingered on at Trelleborg. Coinciding with the arrivals in Britain, a male Black-throated Thrush was photographed in Vigrestad, Norway, on 14th, while in Finland an Azure Tit was at Vaala on 16th. The Ross's Goose also remained in south-west Iceland.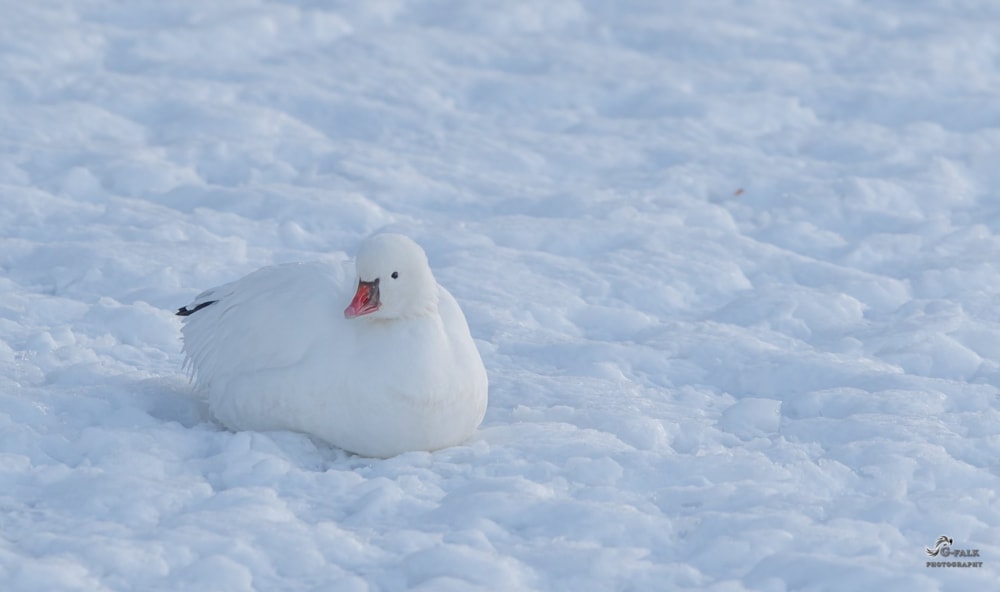 Ross's Goose, Mosfellsdalur, Höfuðborgarsvæði (Gudmundur Johannesson).
Another Black-throated Thrush flew over Mount Herzl on the outskirts of Jerusalem, Israel, on 11th, while of interest to birders visiting Turkey, White-eared Bulbul has been discovered in the south-eastern town of Silopi – its spread into the country seemingly continues at a slow pace.