The week at a glance:
And so it goes on...the greatest October ever (discuss amongst yourselves) rumbled on and on and on like a colossal Crazy Horse riff, as mega after mega topped up a rarity cup already spilling over with "firsts" and species not seen for decades. It's a tough one to know where to start, but the nod has to go to (only just) a bird that hasn't made it to these shores for 21 years or so.

Philadelphia Vireo, Loop Head, Clare (Photo: Sean Cronin)
Ireland's second Philadelphia Vireo was found at Loop Head, near Kilbaha (Co. Clare) on 13th, just two years after the same site hosted the dazzling Canada Warbler. Fortunately for those new to the game since the end of the 80s, the bird remained to 14th and added yet more high quality to an October that seems utterly mind-boggling on occasion. The first Philadelphia Vireo for the Western Palearctic was found at Galley Head in County Cork in the sensational October of 1985 (the bird was present from 12th–17th and birders arriving there the day after its discovery found an American Redstart for good measure) and Britain's first record followed just three days shy of two years later, in October 1987, when the famous Borough Farm bird on Tresco performed for hundreds of birders between 10th and 13th October. And then almost exactly 21 blank years until now. What a find!

Alder Flycatcher, Nanjizal Valley, Cornwall (Photo: Marcus Conway)

Alder Flycatcher, Nanjizal Valley, Cornwall (Photo: Kester Wilson)
The Empidonax flycatcher that was found at Nanjizal (Cornwall) last week was always going to be the cause of much debate. With the bird seemingly silent, the only way in which the identification could be resolved was if the bird was trapped; an in-hand examination would hopefully find something to achieve the notoriously difficult (almost impossible) task. As mentioned briefly in last week's round-up, the bird was caught, trapped and ringed on 9th and the identification was confirmed as Britain and Ireland's first Alder Flycatcher, thought to be a first-winter male. The decision to trap the bird opened a whole new debate of course (as the reader comments that accompany Marcus Conway's photo of the bird being extracted from nets confirm), and some claimed little surprise when there was no sign of the bird on 10th. (Perhaps they could take up the "can you tick a bird you can't identify in the field?" debate instead...).

White-throated Sparrow, Cape Clear, Cork (Photo: Tom Shevlin)

Swainson's Thrush, Galley Head, Cork (Photo: Ronan McLaughlin)

Sociable Lapwing, St. Mary's, Isles of Scilly (Photo: Gavin Haig)

White's Thrush, Kergord, Mainland, Shetland (Photo: Peter Stronach)

Little Blue Heron, Letterfrack, Galway (Photo: Tom Cuffe)

Buff-bellied Pipit, North Ronaldsay, Orkney (Photo: Ian Fulton)
The autumn's second Bobolink (after two blank years) made landfall at Port Joke (Cornwall) on 11th and provided the Duchy with a county first (compared with 13 records from Scilly). The bird failed to show after the initial discovery, sadly, but in an autumn like this, maybe there are more to come. Irish birders must be run ragged after a blistering start to October, and the chase continued with the discovery of the third White-throated Sparrow for the country on Cape Clear Island (Co. Cork) on 12th–15th. This was the second record for the Cape, the first coming in April 1967, which was followed by the popular bird at Duncrue Marsh in Belfast in the winter of 1984 and into 1985. Cork also grabbed another high-quality Nearctic vagrant in the shape of a Swainson's Thrush at Galley Head on 11th. This was the fourth record for the county and the fifth record for the country as a whole. The second Grey-cheeked Thrush of the autumn was seen briefly on St. Agnes (Scilly) early on 14th, the sixth record for the island. Scilly grabbed a "first" this week, but not in the (perhaps expected) guise of a gleaming, shiny new Dendroica but the surprise form of an adult Sociable Lapwing found on St. Mary's on 12th and still present to 15th. The species is desperately rare in the far southwest of England (Devon boasts one record, Cornwall just two). Curiously it is perhaps debatable if this exquisite species is worthy of "mega" status (just under 50 have been recorded here) but in world terms this bird is certainly worthy of such a term—it remains a critically endangered species, though recent work suggests the population has begun to increase once more. The autumn's sixth (yes, sixth!) White's Thrush was discovered at Kergord Plantation (Shetland) on 13th (and was still present on 14th) and was the fourth for the islands in just 13 days (following three birds on Fair Isle inside a week). Swinging back down to Ireland, the Little Blue Heron was still to be found in Barnaderg Bay, Letterfrack (Co. Galway) until 15th and the first-winter male Scarlet Tanager remained at Garinish Point (Co. Cork) until 11th, while further American stars (with stripes) lingered at opposite ends of the country: the American Buff-bellied Pipit remained on North Ronaldsay (Orkney) to 13th and the Blackpoll Warbler was on St. Agnes (Scilly) to 15th. Another Blackpoll Warbler was belatedly reported from Marloes Mere (Pembrokeshire) on 7th—with photographs to go with it. Rounding off the headline-makers this week is the probable Wilson's Snipe seen on St. Agnes (Scilly) on 11th. Now officially accepted on to the British List, this is one of the species recently split by the BOURC Taxonomic subcommittee. Here's hoping that a Green Warbler or a Dusky Thrush heads this way some time soon.

Grey Phalarope, Lowestoft, Suffolk (Photo: Chris Mayne)
The adult White-billed Diver on South Ronaldsay (Orkney) made it to yet another week and was still present to 15th. Balearic Shearwaters were seen daily from 9th–14th off Porthgwarra (Cornwall), with over 60 birds recorded, including a dozen on 11th. Grey Phalaropes were also seen off Porthgwarra on several dates over the course of the week, including at least 25 on 10th and 12 on 11th. Birders wanting to console themselves with the post-ringing, clear-night departure of the Alder Flycatcher at Nanjizal could enjoy at least 32 Grey Phalaropes at the end of the valley on 10th, though it was probably little consolation to those with the sickening "dipping" sensation in their gut. A further 25 or so were noted around the country, included popular singles at Cheddar Reservoir (Somerset) on 9th–12th and Lowestoft (Suffolk) from 11th–15th. A couple of Leach's Storm-petrels were seen off Labost, Lewis (Outer Hebrides) on 11th with another there on 15th, while just a couple of Long-tailed Skuas were noted this week, both in Lincolnshire: one was seen at Trusthorpe on 9th, and another off Gibraltar Point the following day. Pomarine Skuas failed to reach double figures and a similar scenario was to be had for Sooty Shearwaters. A couple of Sabine's Gulls were seen around Scilly: a juvenile was in Porthcressa Bay, St. Mary's on 11th and an adult was seen from an island pelagic on 13th. All in all, it was a rather calm week out at sea.

Great White Egret, Minsmere RSPB, Suffolk (Photo: Matt Wilding)
Four Cattle Egrets were seen at Pagham Harbour (West Sussex) on 9th and were followed by singles at Seaton (Devon) on 9th and over Polgigga (Cornwall) on 12th and two birds on the Plym Estuary (Devon) on 15th. Five Great White Egrets were noted over the past seven days: one was seen in Leicestershire, near Twycross, on 9th and was followed by singles in Suffolk (at Minsmere on 10th, 12th and 14th), in Hampshire (the colour-ringed adult at Blashford Lakes) on 11th and another in Cornwall (at Maer Lake, near Bude). The racial identity of the Great White Egret at Lough Corrib (Co. Galway) on 14th appears not to have been mentioned. At least 28 Spoonbills made the grade this week, with 18 birds on Brownsea Island (Dorset) on 11th. Three birds were at Islay Marsh (Devon) on 10th, two were at Titchwell (Norfolk) on 13th and one was seen around Scilly from 9th–13th; a juvenile was at Abberton Reservoir (Essex) from 11th–13th. The adult Glossy Ibis at Sutton Gault (Cambridgeshire) continued to be seen until 12th (popping in to Fen Drayton GPs to roost on 10th at least) while in West Yorkshire, the adult Glossy Ibis remained at Swillington Ings to 15th. Two Common Cranes were again at Welney (Norfolk) throughout the week and, at the other end of the county, 28 birds were seen out on Heigham Holmes on 15th. In Devon, a Night Heron was seen at Bow Creek on 13th.
A returning Ross's Goose in Lancashire leads the wildfowl way this week. Typically arriving alongside Pink-footed Geese, the bird made landfall at Rainford on 11th and was still present in the county to 15th. In Aberdeenshire, a white Snow Goose dropped in at Loch of Strathbeg on 12th, but moved on quickly, heading north. The same bird was then seen elsewhere in the county, near St. Fergus on 14th. Another white Snow Goose was at Balvicar, Seil Island (Argyll) on 14th. Staying in Scotland, at least 64 Taiga Bean Geese were back at their traditional wintering spot of Fannyside Loch (Clyde) on 12th.

Ring-necked Duck, Carrowmore Lake, Mayo (Photo: Derek Charles)

Green-winged Teal, Farlington Marshes HWT, Hampshire (Photo: Steve Copsey)

King Eider, Appledore, Devon (Photo: Ads Bowley)
The drake Lesser Scaup was still at Queen Mother Reservoir (Berkshire) to 15th, while in Devon a female and first-winter male were seen at Appledore on 11th, representing the third and fourth county records. A drake Ferruginous Duck was again on Calvert Lake (Buckinghamshire) on 9th and 11th–12th, while at Amwell Gravel Pits (Hertfordshire) a drake Ferruginous Duck was present on 11th–15th. Another drake was at Weston-super-Mare (Somerset) on 15th. Off the coast of County Galway, a Blue-winged Teal was found on Inish Mor on 10th, while the remarkable group of 15 Ring-necked Ducks remained on the same island to 9th, with a dozen still present on 11th. Two singles were also seen in Ireland: a female at Kilcoole (Co. Wicklow) on 11th and an eclipse drake at Carrowmore Lake (Co. Mayo) on 12th. The drake Ring-necked Duck remained on Loch of Tingwall (Shetland) to 14th and a second mainland Shetland drake was seen at Loch of Clickimin on 14th. A juvenile American Wigeon was found on the Hayle Estuary (Cornwall) on 10th (and was still present on 15th), a drake was at Fenham Flats (Northumberland) on 15th and in County Cork an eclipse drake was seen at Dooniskey on 13th. Also on 13th, a drake Green-winged Teal was found at Farlington Marshes (Hampshire) and was still present on 15th. In Devon, the drake King Eider made a surprise return to the Taw/Torridge Estuary late on 9th, remaining to 15th. The bird first appeared (as a county first) in February this year, and stayed until early May, before reappearing in County Wexford later that same month, for just a day, before reappearing there in the middle of July, remaining to the middle of August. The only Surf Scoter of the week was seen in Lunan Bay (Angus) on 12th while the now-immaculate drake Hooded Merganser was still at Radipole Lake RSPB (Dorset) to 15th.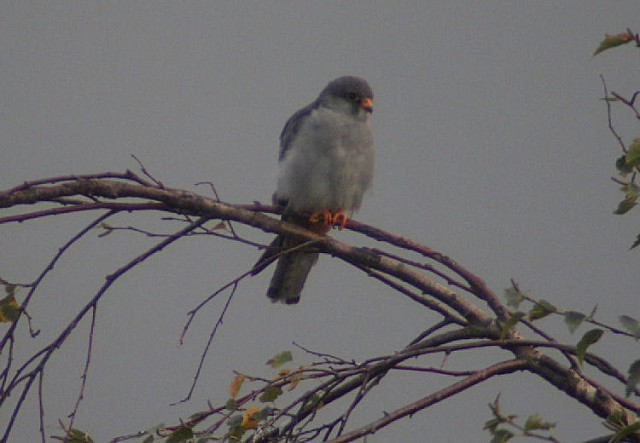 Red-footed Falcon, Tophill Low NR, East Yorkshire (Photo: Darren Ward)
Five Honey Buzzards were seen this week (in London and Worcestershire on 10th, Essex on 12th, Hampshire on 13th and Cornwall on 15th) while the long-staying young male Red-footed Falcon was still at Tophill Low Reservoir (East Yorkshire) to 15th. A female Snowy Owl remained on Termon Hill, Blacksod (Co. Mayo) from 11th–13th.

American Golden Plover, Tiree, Argyll (Photo: Jim Dickson)

Wilson's Phalarope, Cley Marshes NWT, Norfolk (Photo: Robert Wilson)

Red-necked Phalarope, Ogmore Estuary, Glamorgan (Photo: Paul Roberts)
Up to eight American Golden Plovers were noted this week: a juvenile was on St. Mary's (Scilly) on 9th–12th, with a juvenile at Nanquidno, near St. Just (Cornwall) on 13th–15th. In Ireland, juveniles were seen at Loop Head (Co. Clare) on 11th and at Annagh Head (Co. Mayo) on 12th–14th, and on the Outer Hebrides, the juvenile was still on Barra until 14th at least. Anglesey got in on the act with one present at Carmel Head on 14th and another juvenile was a great find on Port Meadow (Oxfordshire) on 15th, with a new arrival also appearing at Doonbeg (Co. Clare) on the same date. Two new Lesser Yellowlegs arrived during the week, at Stanpit Marsh (Dorset) on 11th and at Port Clarence and Saltholme Pools (Cleveland) on 13th–14th. The Wilson's Phalarope continued to move between Cley and Salthouse (Norfolk) from 9th–15th, often spending some time on the NWT Reserve. It has been a long time since Cley hosted this delightful shorebird—the last was the stunning adult female seen in May 1987 (just before the famous pair of Slender-billed Gulls arrived). The Long-billed Dowitcher remained on Inish Mor (Co. Galway) to 9th, while a juvenile Semipalmated Sandpiper was a new arrival there on 13th. Three White-rumped Sandpipers were reported this week: at Lough Foyle (Co. Derry) on 11th, on Hirta, St. Kilda (Outer Hebrides) on 12th and on St. Martin's (Scilly) on 13th–15th. Two single Buff-breasted Sandpipers were on Orkney this week, both on the mainland, and one was seen at Quoys of Reiss (Highland) on 12th. In Ireland, single Buff-breasted Sandpipers were at Aughrusbeg Lough (Co. Galway) on 9th and at Myroe Levels (Co. Derry) on 12th–13th. At least 20 Pectoral Sandpipers were noted this week, from Scilly to Shetland, East Yorkshire to County Galway, with three at Loch Bee, South Uist (Outer Hebrides) on 11th rising to four on 14th and five on 15th. A Red-necked Phalarope was on the Ogmore Estuary (Glamorgan) on 15th.
The second-winter Azorean-type Yellow-legged Gull remained around the tip of west Cornwall between 9th and 11th. Nine Caspian Gulls were seen this week, with up to three birds in Northamptonshire and three in the West Midlands (all at Stubber's Green, Walsall: a first-winter on 10th and two third-winters on 11th). Singles were also seen in London, Bedfordshire and, most notable of all, on the Rhymney Estuary (Glamorgan) on 14th. An Iceland Gull was at Troon (Ayrshire) on 10th and two birds were at Corbally Road Reservoir (Co. Antrim) on 11th, while a single Glaucous Gull was on Shetland, at Mid Yell, on 12th, after three were seen on Fetlar on 9th. A Glaucous Gull remained at Portrush (Co. Antrim) to 13th. Four Ring-billed Gulls this week included the returning adult at Gosport (Hampshire) and three birds in Ireland: at Portrush on 11th–13th and on the Bann Estuary (Co. Derry) and at Nimmo's Pier (Co. Galway) on 12th. Also in Ireland, the adult Forster's Tern remained at Cruisetown Strand (Co. Louth) to 11th at least.

Desert Wheatear, Crosby, Lancashire (Photo: Stephen Tomlinson)

Wryneck, Farlington Marshes HWT, Hampshire (Photo: George Spraggs)

Richard's Pipit, Annesley, Nottinghamshire (Photo: anon)

Lesser Grey Shrike, Rettendon, Essex (Photo: Tim Corke)

Great Grey Shrike, Great Orme, Conwy (Photo: Adrian Foster)

Red-backed Shrike, Therfield Heath, Hertfordshire (Photo: Mike Lawrence)
A cracking first-winter male Desert Wheatear was a great find on the beach at Crosby (Lancashire) on 12th, and represented the third record for the county. The relatively early date is also of note—you have to head back to Portland Bill on 11th October 1994 to find an earlier October arrival. In Shetland, single Bluethroats were on Unst on 12th with one still on Fair Isle to 14th, while on Scilly, one was seen on Bryher on 11th. Siberian Stonechats were seen at Bere Regis (Dorset) on 9th and on Out Skerries (Shetland) on 10th–12th. The only definite Hoopoe of the week was seen at Canon's Town (Cornwall) on 11th, while around half a dozen Wrynecks were noted, including at least two on Scilly, two in Cornwall and one in Hampshire. A Short-toed Lark was on Wingletang, St. Agnes (Scilly) on 9th, while another lingered on Foula (Shetland) to 15th. The week's only Red-throated Pipit was seen over Cape Clear Island (Co. Cork) on 12th. An Olive-backed Pipit was seen on St. Mary's (Scilly) on 12th, with further singles reported flying over Durlston County Park (Dorset) on 13th and another at Spurn (East Yorkshire) on 15th. Two Tawny Pipits were seen in southwest England this week—at Kingston Seymour (Somerset) on 10th and at Land's End (Cornwall) on 11th. At least a dozen Richard's Pipits were seen, including four birds on Bardsey (Gwynedd) on 12th (part of a remarkable little fall on the island, with Common Rosefinch, Barred Warbler, Yellow-browed Warbler and a host of common migrants also present). A Richard's Pipit was a good inland find at Annesley (Nottinghamshire) on 11th, remaining to 15th. All these pipits were topped by the appearance of a Pechora Pipit at North Roe, Mainland (Shetland) on 14th (the third record of the autumn so far). A handsome adult Lesser Grey Shrike was found at Rettendon (Essex) on 10th and stayed to the following day. Some 20 or more Great Grey Shrikes were seen this week, including two birds on the Great Orme (Conwy) on 12th and three or four birds seen in Norfolk over the past seven days, with three more on Shetland. Another made it back to Black Gutter Bottom in the New Forest (Hampshire) on 12th. Red-backed Shrikes were very thin on the ground, with only around half a dozen seen, but they did include a first-winter bird at Therfield Heath (Hertfordshire) from 9th–13th and a male on the Isle of Wight on 15th.

Blyth's Reed Warbler, Norwick, Unst, Shetland (Photo: Brydon Thomason)
A Paddyfield Warbler on Bardsey (Gwynedd) on 11th was the first record for the county and only the second record for Wales in an exciting couple of days for birders there. A Lanceolated Warbler was found on Foula (Shetland) on 15th and, over on Unst, a Blyth's Reed Warbler on 12th was the fifth record of the species on the island group this autumn; a Marsh Warbler was present on the same island on the same day for good measure. The impressive autumn showing of Radde's Warblers continued this week with a further half-dozen to add to the tally. Two birds were seen on Scilly (on St. Martin's on 9th and St. Mary's on 11th), two birds were seen in Devon on 12th (at Bolt Head and near Prawle Point), and there were singles in Kent (at Bishopstone Glen on 12th) and on Copeland Island (Co. Down) on 12th–13th. Aside from the Barred Warbler on Bardsey, the only other records of the species this week were from mainland Shetland: one was at Kergord on 14th and another was at Gord, near Levenwick, on 15th. Masses of Yellow-browed Warblers continued to be seen this week, with around 135 birds noted in Britain, including at least 35 in Cornwall (including four at Porth Joke on 11th), 25+ on Scilly (with four in Holy Vale, St. Mary's on 11th) and at least 25 birds on Shetland. Notable singles were seen at Wren's Nest NNR (West Midlands) on 10th, at Wellington (Shropshire) on 12th, and at Ringinglow, Sheffield (South Yorkshire) on the same date. Just under 40 Yellow-browed Warblers were seen in Ireland; Cork bagged a remarkable 33 birds or more, with 11 at Mizen Head on 12th and eight at Crookhaven on 13th. Up to 16 Red-breasted Flycatchers were seen during the week, with as many as six on Shetland (including three birds noted on 12th) and an adult male at Levenwick, Mainland at the end of the week. Three birds were seen on Scilly, while singles were seen in Ireland, on Cape Clear Island (Co. Cork) on 11th and on Inish Mor (Co. Galway) on 12th.

Red-eyed Vireo, Sennen, Cornwall (Photo: Dave Perrett)

Rose-coloured Starling, Pendeen, Cornwall (Photo: John Spraggett)
A Penduline Tit was seen at Sandwich Bay (Kent) on 13th, only the second record of the species this autumn. A lone Waxwing was on Unst (Shetland) on 13th with five at Dundreenan (Dumfries & Galloway) on 15th. Single Little Buntings were seen on St. Mary's (Scilly) on 9th, and at Sumburgh, Mainland (Shetland) on 10th, with perhaps the same bird relocating to nearby Toab on 10th–12th. The elusive Red-headed or Black-headed Bunting was reported again at Nanquidno valley on 12th, but was no closer to being resolved. A flyover Serin was seen at Durlston (Dorset) on 13th, while rather easier to connect with (if you were there!) were the two (at least) Common Rosefinches on Fair Isle (Shetland) off and on during the week. Another Rosefinch was seen at Toab, Mainland (Shetland) on 15th. A Hornemann's Arctic Redpoll was on North Uist (Outer Hebrides) on 12th–13th, while a single Rose-coloured Starling was seen this week, at Pendeen (Cornwall) on 9th–15th. Three Red-eyed Vireos were on Scilly this week: one was on St. Mary's from 9th–13th, another was on St. Agnes from 9th–12th, and what was assumed to be another bird was seen frequently in the plantation on nearby Gugh on 9th and 12th–15th. A Red-eyed Vireo was discovered at Sennen (Cornwall) on 11th and remained to 15th (with another reported at Nanquidno on 15th) and another was found at Wembury (Devon) on 13th. This was the 11th county record but only the fourth on the mainland; seven have been seen on Lundy, an island we've heard very little from this autumn. On 11th another "REV" was found at Fallmore (Co. Mayo) but the pick of the bunch this week was the (rather damp) bird found at Caolas, Tiree (Argyll) on 9th, only the third Scottish record this decade.
Content continues after advertisements
Photo of the Week

Starling, New Brighton, Cheshire (Photo: Dave Winnard)
Although not the most popular of species, Starlings can be quite impressive birds when their iridescent plumage is seen in direct sunlight. As one of the UK's commonest and tamest birds, though, they've been photographed so extensively that it's a challenge to come up with an original image of them. This week, Dave Winnard has uploaded a beautiful series of images of Starlings bathing and drinking in a shallow pool. Taken from a low angle in soft, warm light and with diffuse reflections, these images have a lot in common with the best examples of wader photography. Our pick of the series, as well as having the cleanest composition, also has the 'head-splash' seen in action shots of feeding herons and egrets. All in all, this image is a great illustration of how even the most familiar of species can be revisited with creativity and originality.
Other notable photos

Purple Heron, Turkey (European) (Photo: Rudi Debruyne)

Common Kingfisher, Low Barns NR, Durham (Photo: Renton Charman)

Grey Heron, Bushy Park, London, Greater (Photo: Richard Steel)

Grey Phalarope, Sandy Point, Hampshire (Photo: Richard Ford)

Water Rail, Upton Warren NR, Worcestershire (Photo: Peter Walkden)

Little Stint, Covenham Reservoir, Lincolnshire (Photo: Dean Eades)

Lapland Bunting, Pulias Headland, Guernsey (Photo: Paul Hillion)

European Stonechat, Forest of Dean, Gloucestershire (Photo: Lewis Thomson)

Mute Swan, Kensington Gardens, London, Greater (Photo: Fraser Simpson)

Sparrowhawk, Leighton Moss RSPB, Lancashire (Photo: Robert Askew)

Green Woodpecker, London Wetland Centre WWT, London, Greater (Photo: Richard Steel)

Northern Wheatear, Draycote Water, Warwickshire (Photo: Dave Hutton)

Bar-tailed Godwit, Titchwell RSPB, Norfolk (Photo: Robert Askew)

Garden Warbler, Draycote Water, Warwickshire (Photo: Barry Boswell)

Red-throated Diver, Wigan Flashes LNR, Greater Manchester (Photo: Mike Atkinson)