The news channels were in overdrive right at the close of the review period, with confirmation that an Empidonax species, more specifically a Yellow-bellied Flycatcher – a new species for Britain and the Western Palearctic – had been found on Tiree, Argyll, on the morning of 15th, following a day of increasing rumours and idle speculation across social media. What a way to mark the first Nearctic passerine of the autumn season! Coincidentally, this species was touted in Josh Jones's deep-dive into potential additions to the British list from across the Atlantic, which was published online last Friday (see here).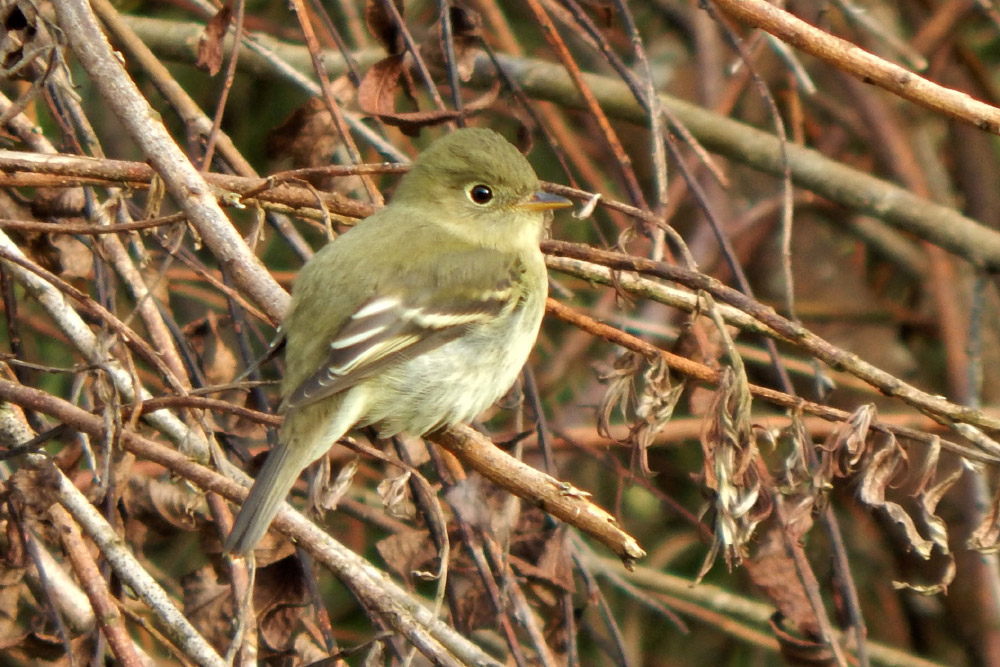 Yellow-bellied Flycatcher, Balephuil, Tiree, Argyll (John Bowler).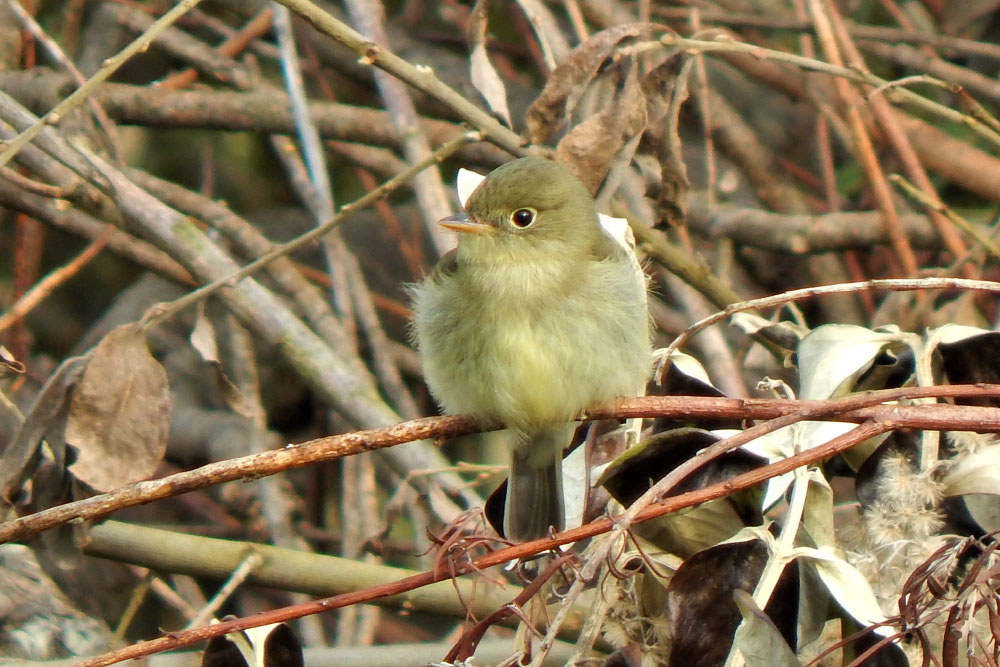 Yellow-bellied Flycatcher, Balephuil, Tiree, Argyll (John Bowler).
Elsewhere, it was Lundy which profited the spoils from the weekend's weather, with a juvenile Sora found on 12th. Just the second Devon record, the island has an enviable track record with transatlantic vagrants. Reported briefly again the following day, it was unfortunately nowhere to be found thereafter.

Sora, Lundy, Devon (Dean Jones).
It seems not a week goes by without a rare seabird report. It was Shetland's turn this week, with a possible White-chinned Petrel among Northern Fulmars from the Unst-Fetlar ferry mid-morning of 14th, which unfortunately wasn't to be relocated despite the best efforts of those nearby.
The Irish coast was treated to two different Black-browed Albatross reports on 9th, with one south-west past Bloody Foreland, Co Donegal, in the far north-west of the country complimented by one south past Copeland Island, Co Down, later that same day. The 9th also saw a Fea's-type petrel head south past Corsewall Point, Dumfries & Galloway, too.
A Lanceolated Warbler on 15th continued North Ronaldsay's – and, in particular, a certain young birder's – strong start to the autumn. A briefly twitchable (if you lived no more than a few hours away) Aquatic Warbler was in Hampshire at Hook-with-Warsash LNR on the afternoon of 11th. No fewer than two Western Bonelli's Warblers were to be had during the week: on Bryher, Scilly on 9-10th and at Portland, Dorset, the following day. On 10th, an early Red-throated Pipit was heard calling over St David's Head, Pembrokeshire.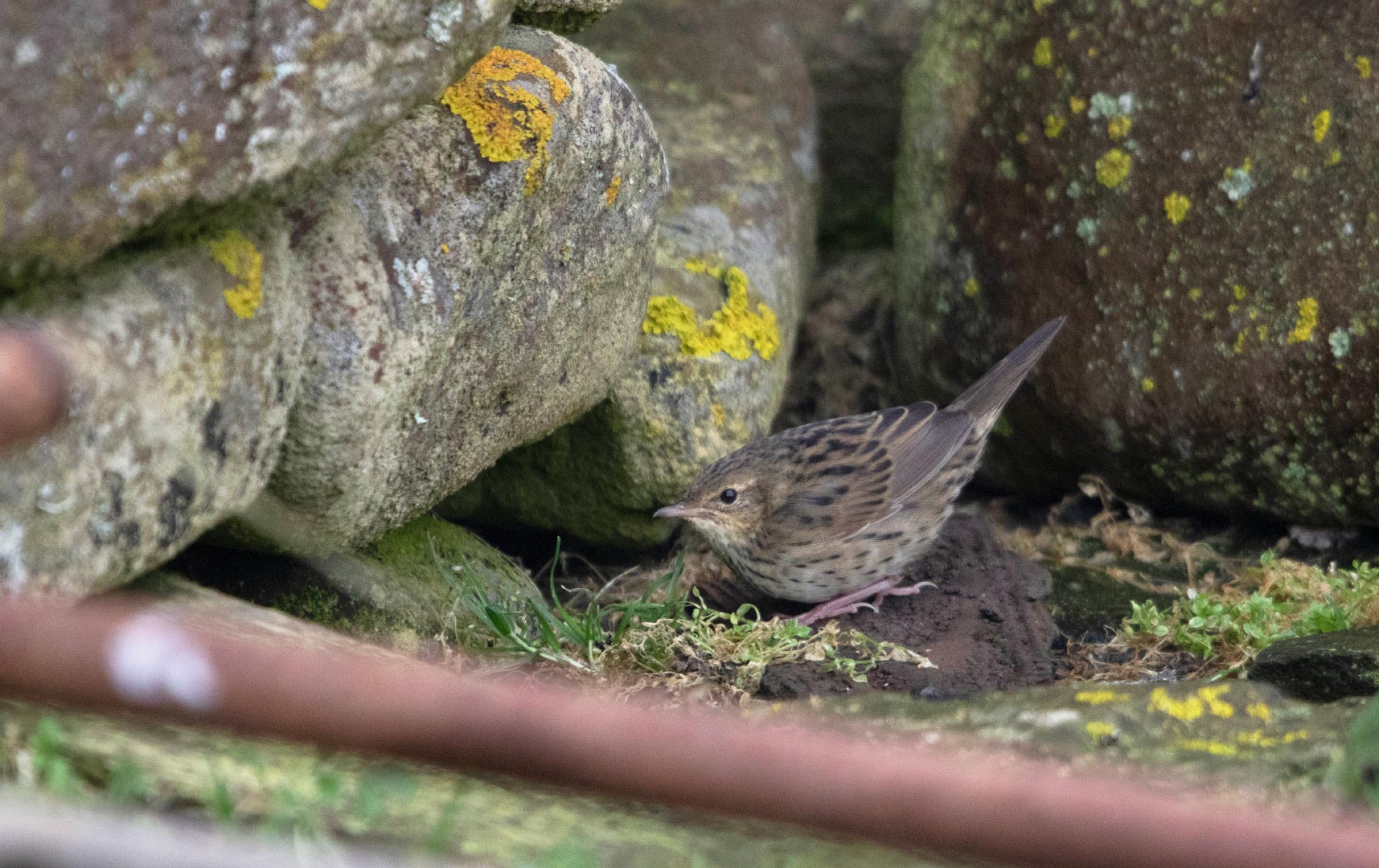 Lanceolated Warbler, North Ronaldsay, Orkney (George Gay).
Derbyshire's Bearded Vulture was still going strong in the Crowden area all week, looking ever-better with its fast-growing tail. In West Sussex, the juvenile Pallid Harrier reappeared at Thorney Island from 10th, while St Kilda's Snowy Owl was last noted on 10th.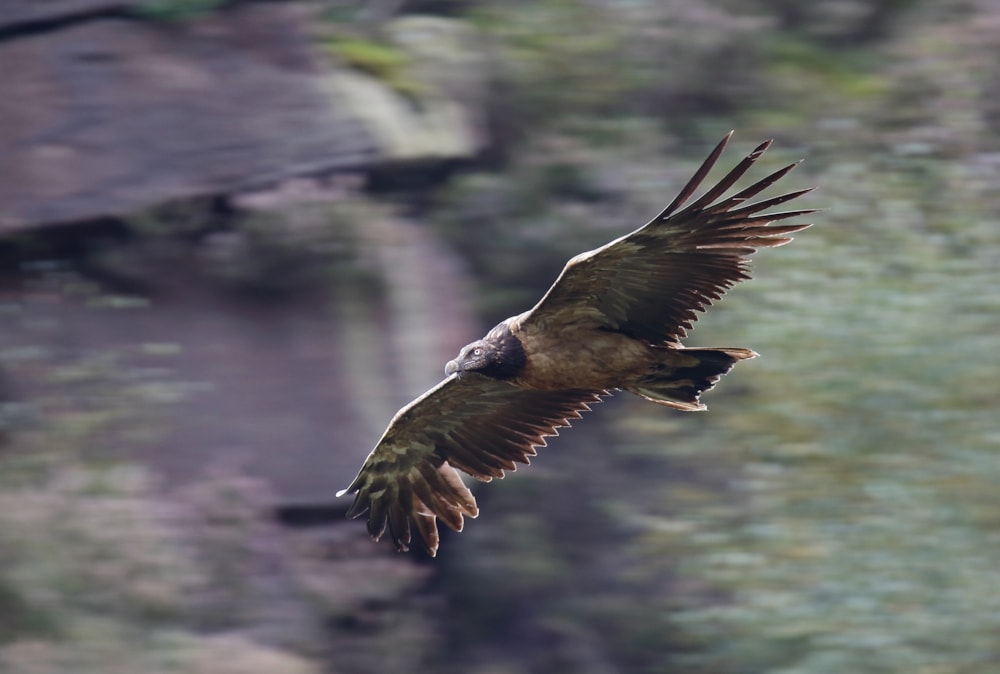 Bearded Vulture, Crowden, Derbyshire (Chris Barlow).
On North Ronaldsay the first-summer Semipalmated Plover didn't feature past 10th. New Baird's Sandpipers were at Ballyhoorisky Point, Co Donegal, on 9th, in the Outer Hebrides at Baleshare, North Uist, from 13th, and at Dornoch, Highland, from 14th, while another joined the Semipalmated Sandpiper at Hayle Estuary from 11th. Last week's individual ringed on a Co Cork beach was still present at Harbour View until 15th, with the bird on North Ronaldsay last reported on 12th.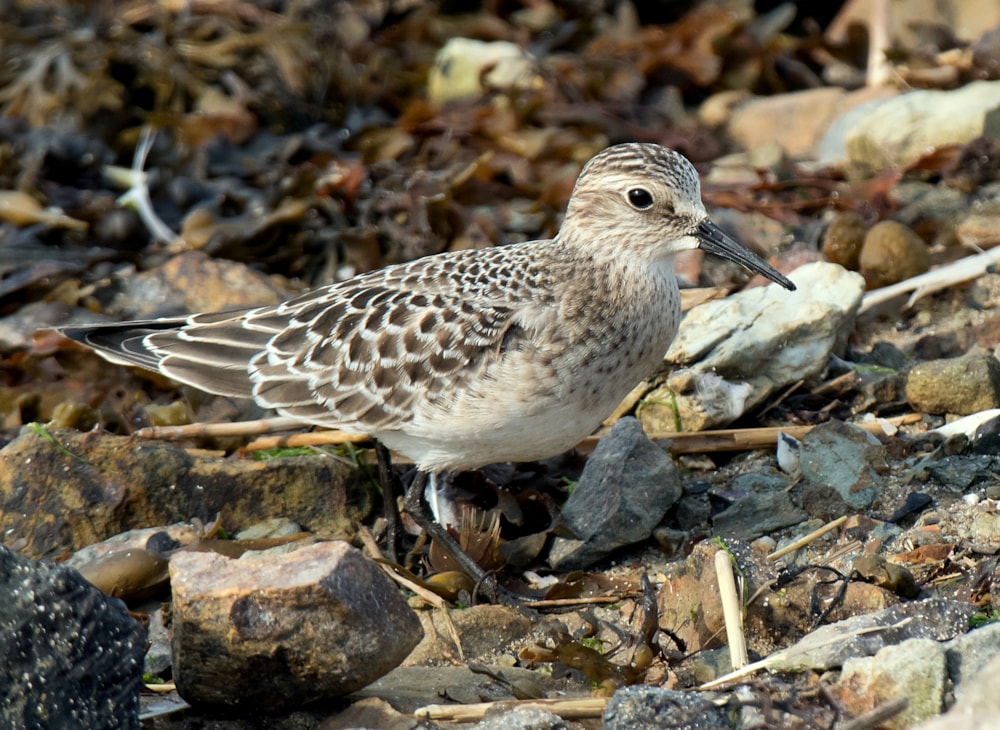 Baird's Sandpiper, Carnsew Basin, Cornwall (Alex Mckechnie).
Semipalmated Sandpipers were plentiful, with new individuals at Colonsay, Argyll (two on 8th), The Gearagh, Co Cork (9th), Blennerville, Co Kerry (9th), Rosscarbery, Co Cork (13th) and Godrevy Point, Cornwall (15th). Others remained in situ at Loch na Cille, Argyll and Loch Ordais, Lewis. Scilly's Spotted Sandpiper remained at Porth Hellick, St Mary's, as did the Long-billed Dowitcher at Old Anthorn, Cumbria.
A new Franklin's Gull proved a popular draw to West Yorkshire during the week, found in Bradford on 11th before moving to the more picturesque environs of Redcar Tarn the following day. In Co Cork, Long Strand saw a new Bonaparte's Gull on 11th, as did Co Limerick's Loughill the following day. Kent's Oare Marshes held onto its adult, as did Garretstown, Co Cork, and Loch Gruinart RSPB, Islay.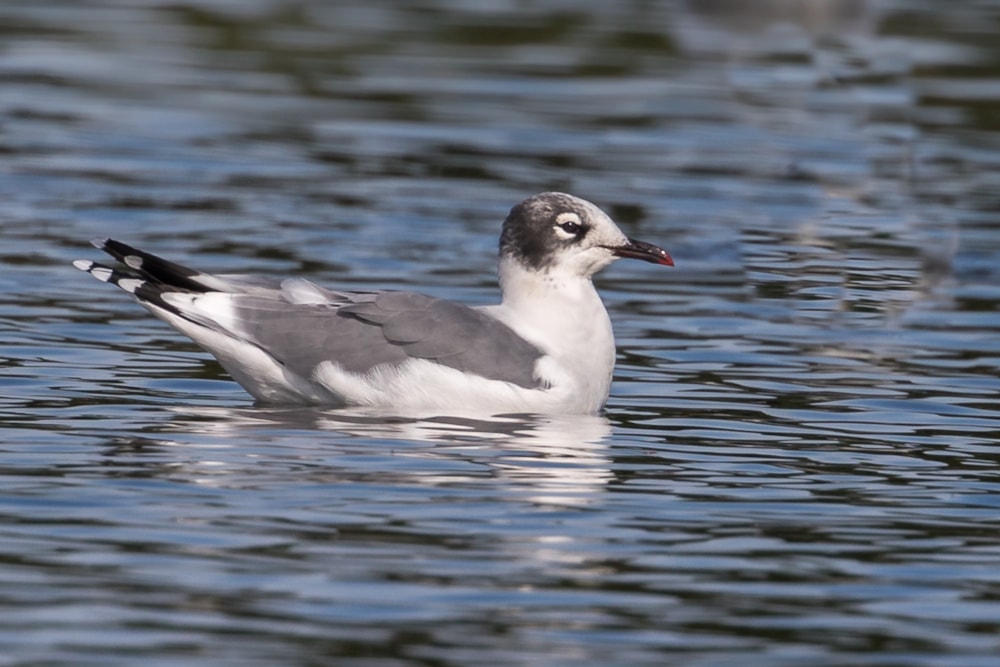 Franklin's Gull, Redcar Tarn, West Yorkshire (Ian Bollen).
Two Blue-winged Teal – lingerers from last week's record-breaking flock – were again in the Outer Hebrides at Eoligarry, Barra, from 10-13th. At Strontian, Highland, the ever-present American Black Duck was again reported on 13th.
Scottish mainland
Several of the species that have featured heavily in recent reviews again made for an interesting week on the Scottish mainland and coastal waters. Three Sabine's Gulls were noted, with the Ullapool adult seen again and juveniles off Rascarrel, Dumfries and Galloway, on 13th and Arisaig, Highland, on 15th. A Cory's Shearwater was again off the Lothian coast at Aberlady Bay on 13th.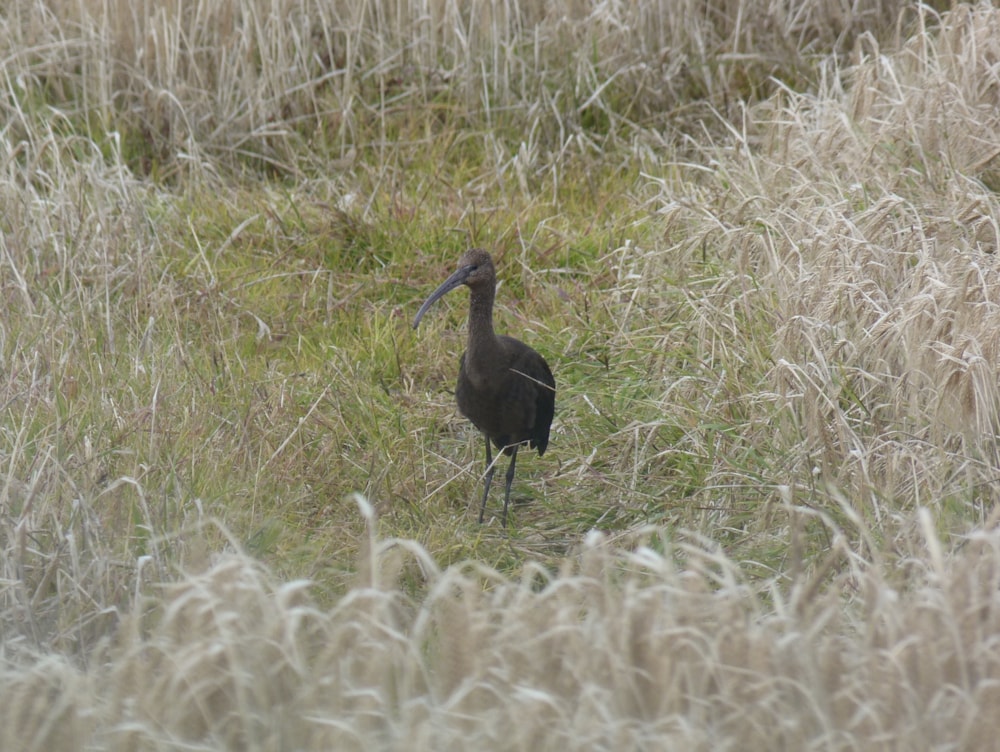 Glossy Ibis, Loch Gruinart RSPB, Islay, Argyll (Alex Radcliffe).
Lothian also chipped in with two of the four Long-tailed Skuas seen this week, with individuals off Tyninghame Bay on 12th and an adult at Barnes Ness on 14th; others were recorded at Dalgety Bay, Fife, and from the Ullapool-Stornoway Ferry, Highland. Four Leach's Storm Petrels were seen: two from the aforementioned Ullapool-Stornoway Ferry on 13th and 15th respectively, a single from the Kennacraig-Port Askaig Ferry on 12th and one off Chanonry Point, Highland, on 13th.
On land, the long-staying Spotted Crake at Doonfoot, Ayrshire, was still hanging around until 13th at least. Three Pectoral Sandpipers were found at mainland sites: Loch of Strathbeg RSPB, Aberdeenshire, on 13-14th, Longhaugh Point, Clyde, on 12th-13th and Fail, Ayrshire, on 13th.
Northern Isles and the Hebrides
An arrival of Buff-breasted Sandpipers in the Outer Hebrides this week brought individuals to the Butt of Lewis and Labost, Lewis, on 9th, Rubha Ardvule, South Uist, on 11th and Baleshare, North Uist, (two birds) from 12-15th. Baleshare also hosted one of two Pectoral Sandpipers in the week; the other was at Eoligarry, Barra.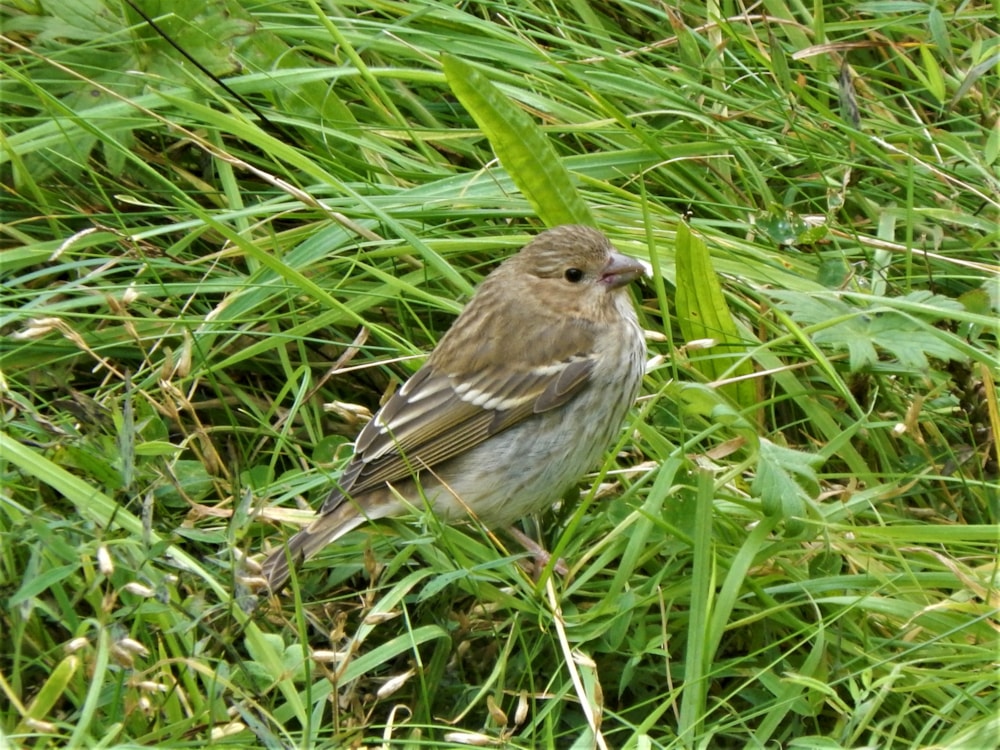 Common Rosefinch, Balephuil, Tiree, Argyll (John Bowler).
Rubha Ardvule, South Uist, held a monopoly on Sabine's Gulls with individuals moving past on three dates. Three of four reports of Leach's Storm Petrel also came from Ardvule Point, though none got close to the 17 that moved past Griminish Point on 9th. A single Long-tailed Skua was off Airg Uig, Lewis, on 11th. Passerines were few and far between, with a Common Rosefinch at Ardmore, South Uist, on 9th and, as the week ended, a Wryneck – a good bird in the Hebs – was on Barra.
Orkney too had a couple of visiting Buff-breasts with individuals on Papa Westray and at St Margaret's Hope, South Ronaldsay, on 13th, the latter remaining until 14th. A lone Pectoral Sandpiper was on North Ronaldsay on 12th. Two new drake Ring-necked Duck turned up – the first on Burray on 12th was still present on 14th, while another at St Mary's, Mainland, was noted between 13th and 15th.
Offshore a Great Shearwater passedNorth Ronaldsay on 10th and single Leach's Storm Petrels were off Papa Westray on 9th and Birsay on 12th. Aside from a Barred Warbler on Papa Westray on 13th, Lapland Bunting was the main passerine of note ,with up to 24 on Papay and at least two on North Ronaldsay.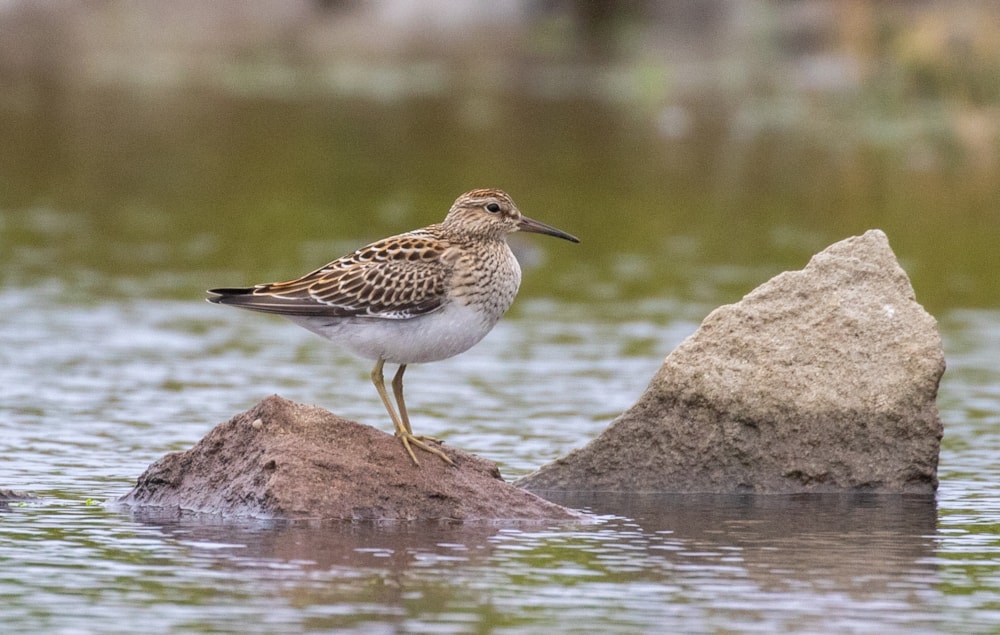 Pectoral Sandpiper, Fair Isle, Shetland (Daniel Gornall).
In contrast, Shetland was mostly about passerines, if you put to one side the American Golden Plover still on Yell and two Pectoral Sandpipers on Fair Isle. A new Red-backed Shrike was at Westing, Unst, on 12th and last week's Woodchat Shrike remained on Yell. Other long stayers included the Rosy Starling on Fair Isle and Citrine Wagtails on Fair Isle and in the Hoswick / Swinister area.
Valyie, Unst, held Greenish Warbler and Barred Warbler on 9th, with the only other Barred Warbler found at Pool of Virkie on 13th. Up to six Common Rosefinches were scattered around the islands, with two at Sumburgh and singles on Out Skerries, Grutness and at Valyie and Skaw, Unst. Fair Isle held a decent flock of 37 Lapland Buntings in the period.
North-East England
In a settled week with few birds, a juvenile Pectoral Sandpiper at Durham's Boldon Flats between 9th and 13th was one of the few scarce birds recorded in the region. On 12th, a small passage of Long-tailed Skuas passed Whitburn Coastal Park. Black Guillemot and Sooty Shearwater were also noted during the week at Whitburn.
Two Lapland Buntings found at Blackhall Rocks on 13th did the decent thing and hung about until the week ended, affording many the opportunity to catch up with an often-elusive species. Wandering Great Egrets were noted at Muggleswick on 10th and Bradbury on 11th.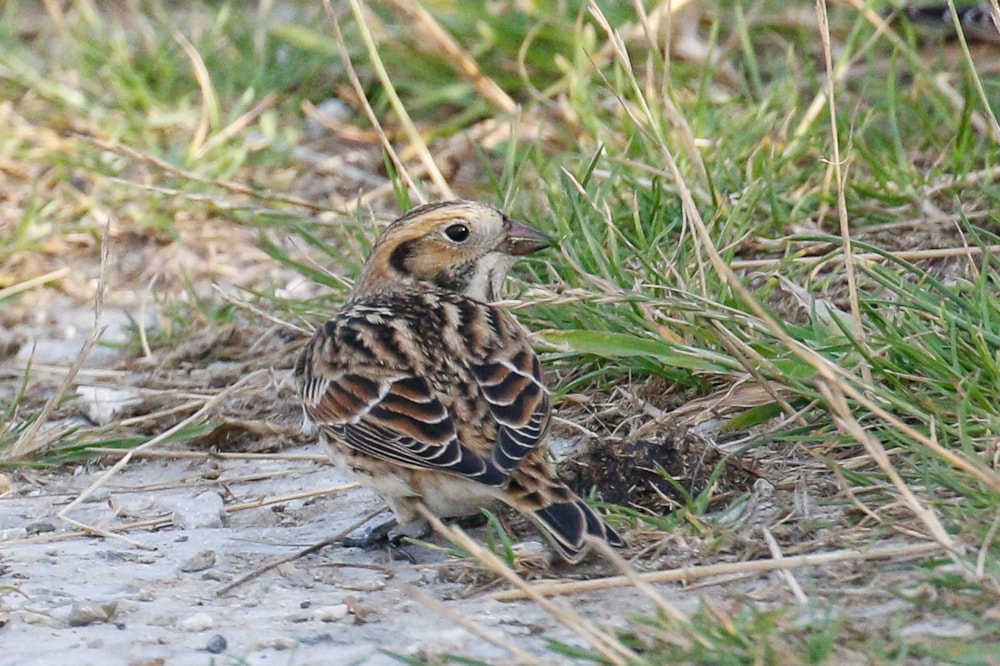 Lapland Bunting, Blackhall Rocks, Durham (Arto Maatta).
Northumberland too had a settled week. Up to three Little Stints were around Lindisfarne NNR and as many as 10 Curlew Sandpipers were regularly noted at Budle Bay. A Little Stint made a brief appearance at Castle Island and other Curlew Sandpipers were noted at Amble, Castle Island and St Mary's Island. Three juvenile Black Terns in the ever-productive roost at Beacon Point, Newbiggin, were around for several days.
Nearby, the Whitburn Black Guillemot also moved past Church Point on 11th. Up to three Great Egrets were observed, with an inland record at Haughton Strother GPs being notable – possibly the individual that flew over Muggleswick. With the warm and sunny days, a single Lapland Bunting over Budle Point was the only passerine of note.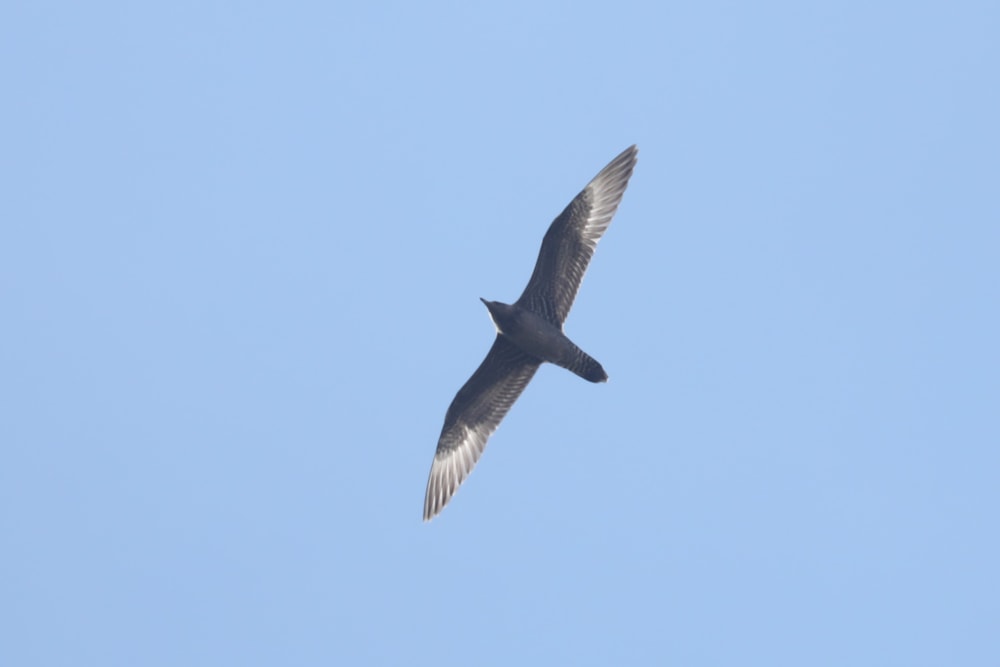 Long-tailed Skua, Boulmer, Northumberland (Matthew Mellor).
An adult Long-tailed Skua moving up the Tees at Seaton Snook on 14th was the highlight of a week with only a smattering of passage waders and terns making the news in Cleveland. Three juvenile Black Terns roosted at Seaton Snook on 12th with 11 Roseate Terns present the same evening. Up to three Curlew Sandpipers visited Greatham Creek and one of two Great Egrets in the area were also recorded there. A single Little Stint was the highlight at nearby Saltholme RSPB.
North-West England
Cumbria endured a lapse in sightings this week, although feather-perfect juvenile Curlew Sandpipers continued to grace five localities, with a high count of 14 at Port Carlisle on 9th. Little Stints remained at Port Carlisle and Bowness-on-Solway.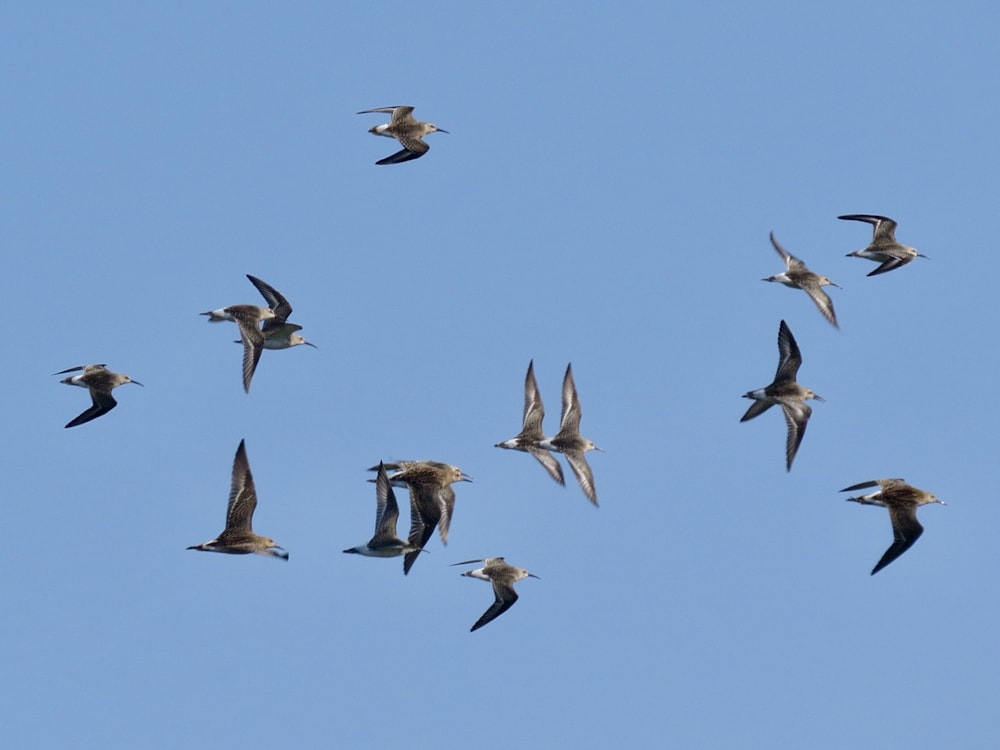 Curlew Sandpiper, Crossens Outer Marsh, Lancashire (Pete Kinsella).
There was plenty to get Lancashire birders champing at the bit, with all eyes cast to the north of the county. A Hoopoe was photographed on a Lancaster pavement on the morning of 9th; it was then relocated before flying north-east and wasn't seen again. Both Buff-breasted and Pectoral Sandpipers were found on the flood to the south of Whitter's Lane, Winmarleigh, on 13th – a real turn up for the books. Sadly, the Buff-breasted didn't hang around the following day but the 'Pec' was still being reported until 15th. Up to seven Curlew Sandpipers and three Little Stints were also present.
Western Cattle Egrets continue to go from strength to strength and are almost commonplace in some parts of the county, but a high count of 22 at Marshside RSPB on 12th is certainly worth a mention. The adult Tundra Bean Goose remained at Banks Marsh. Seawatching produced Pomarine Skuas and Leach's Storm Petrels.
Cheshire's shining star, the juvenile Sabine's Gull, remained at Hale until 14th, affording some stunning views as it hawked over stubble fields west of the lighthouse. A Pied Flycatcher was also here on 9th and a Lapland Bunting on 10-11th. An adult Long-tailed Skua flew west along the M56 at Frodsham Marsh the same day. A probable Glossy Ibis south over Lapwing Hall Pool on 13th would make for a nice county twitch if it resurfaces.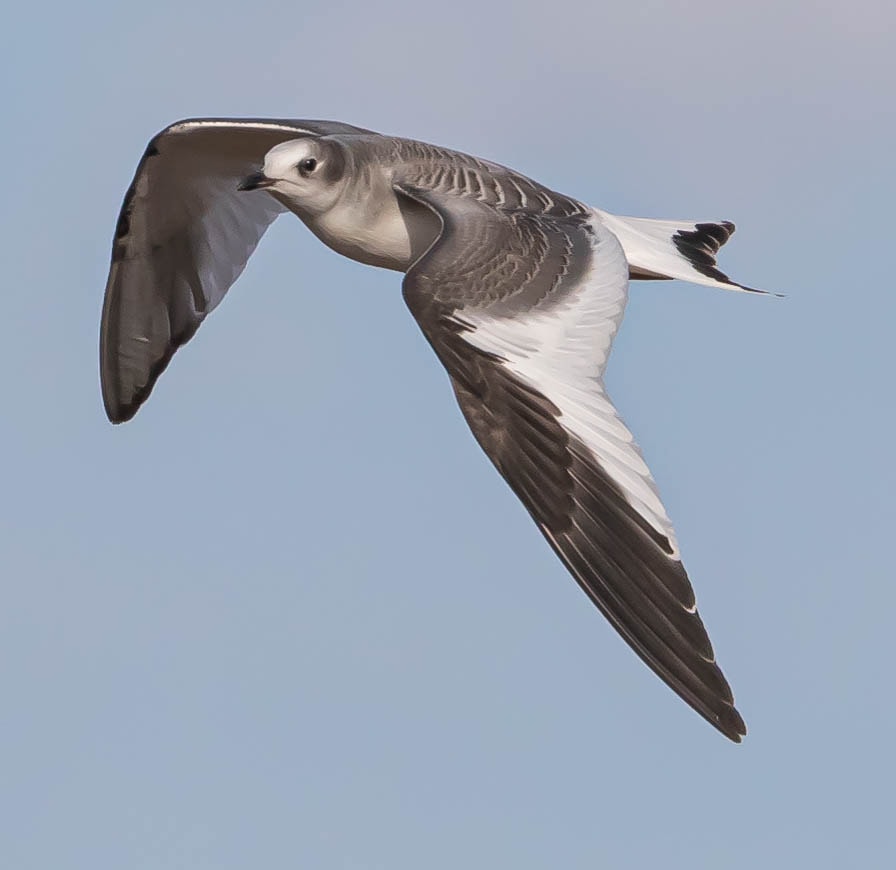 Sabine's Gull, Hale, Cheshire (Gill Griffiths).
The first-winter Spotted Crake was still frequenting the scrape at Burton Mere Wetlands RSPB, accompanied by up to eight Western Cattle Egrets. The juvenile European Shag was still at Astbury Mere CP on 11th, as was the semi-resident female Smew at Newchurch Common. Over the sea, a couple more Leach's Storm Petrels were notched up, as was a Black-throated Diver off Hilbre Island on 13th.
In a more subdued week for Greater Manchester, the second-winter Caspian Gull continued to spend its nights at Pennington Flash CP, as did a Short-eared Owl on 9th.
Lincolnshire and Yorkshire
A Glossy Ibis at Middlemarsh Wetlands, near Skegness, on 14th was presumably the same bird relocated further north in Lincolnshire at Killingholme Haven on the evening of 15th. A Wryneck visited Donna Nook on 11th and a Pectoral Sandpiper lingered at Frampton Marsh RSPB all week, with a second briefly touching down at Gibraltar Point on 13th. A European Honey Buzzard flew over Far Ings on 9th.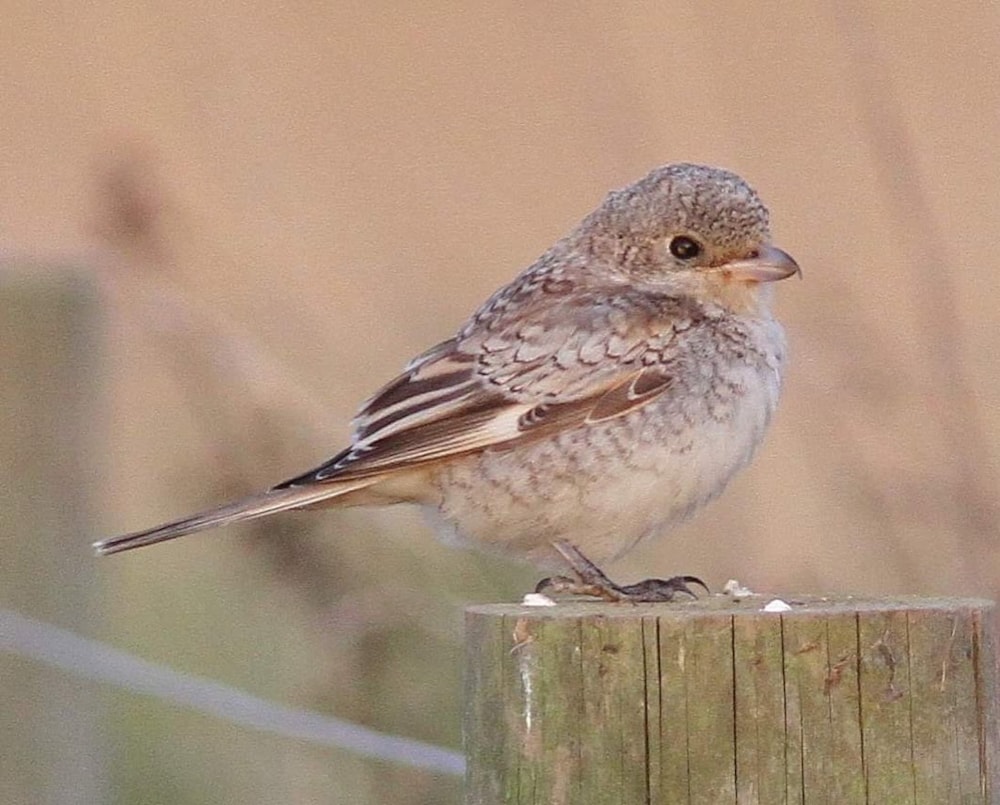 Woodchat Shrike, Grimston, East Yorkshire (Richard Willison).
In the Spurn area of East Yorkshire, a European Serin flew over Beacon Ponds on 14th and a juvenile Rosy Starling arrived at Kilnsea on 15th, the latter date also producing an early Little Bunting at Sammy's Point. Further records of Barred Warbler and Pectoral Sandpiper also featured. Moving north, a Woodchat Shrike was at Grimston on 14th. The Flamborough Head area produced a Red-breasted Flycatcher on 15th, plus Red-backed Shrike and Barred Warbler. Offshore, Sabine's Gull and yet another Cory's Shearwater (on 9th) were the highlights.
North Yorkshire was a tad quieter, but a few Lapland Buntings were seen on the coast and, inland, a Western Cattle Egret at Wheldrake Ings was notable. A Wryneck was at Warley Moor Reservoir on 15th, while a Glossy Ibis visited St Aidan's RSPB on 13th. Black-necked Grebe and Black Tern were seen at Wintersett Reservoir. The Temminck's Stint was last seen at Old Moor RSPB on 13th.
West Midlands
The juvenile Purple Sandpiper continued its stellar performance at Belvide Reservoir, Staffordshire, until 10th. Three Eurasian Spoonbills here on 14th were welcome and represent the first record of multiple birds at this productive site. Black Terns were at three localities. Blithfield Reservoir had juvenile Curlew Sandpipers from 11-13th and two Little Stints on 14-15th. Another Little Stint was on a flood at Outwoods from 13th.
Content continues after advertisements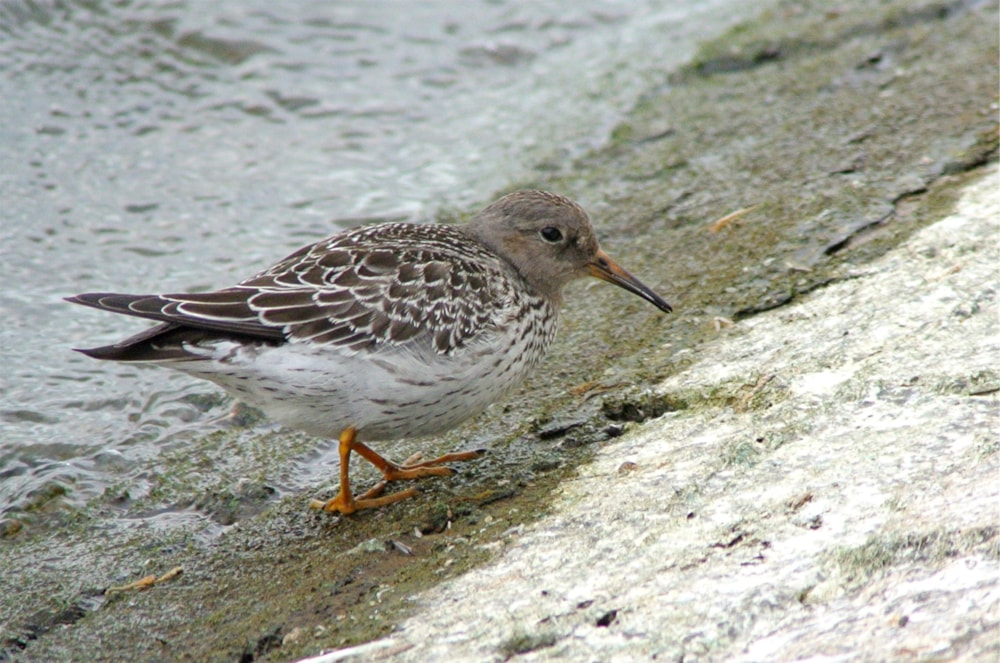 Purple Sandpiper, Belvide Reservoir (PERMIT ONLY), Staffordshire (Steve Nuttall).
Shropshire's species of note this week came from (two) Manx Shearwaters: one was sadly found dead at Titterstone Clee Hill on 11th, with another taken into care at Newport on 14th. The male Red-backed Shrike remained present and correct at Sutton Park NNR throughout.
Worcestershire was kept ticking over by a juvenile Black Tern at Camp Lane Pools, Grimley and a juvenile Little Stint at Ryall Pits on the afternoon of 13th. Meanwhile, over in Warwickshire, up to five juvenile European Shags continued at Draycote Water, accompanied by a Caspian Gull on 10th.
East Midlands
A Western Cattle Egret at Long Eaton GPs was Derbyshire's sighting of note. A Northern Gannet flew low west over Clifton, Notts, on 14th. Other county highlights included a Eurasian Spoonbill at Langford Lowfields RSPB on 9th, where a Caspian Gull was present on 11th and Little Gull on 15th. Misson's Slaynes Lane still proves fruitful with juvenile Little Stint and four Curlew Sandpipers being the pick of the bunch.
Hot on the heels of the August bird, a Wryneck was trapped and ringed at Stanford Reservoir on 14th: who said lightening doesn't strike twice?! Also at Stanford, a Marsh Warbler was trapped and ringed on 10th. A Eurasian Spoonbill paid a brief visit to Irthlinborough Lakes on 15th, where an adult Caspian Gull was present on 13th with another at Stanwick GPs on 9th.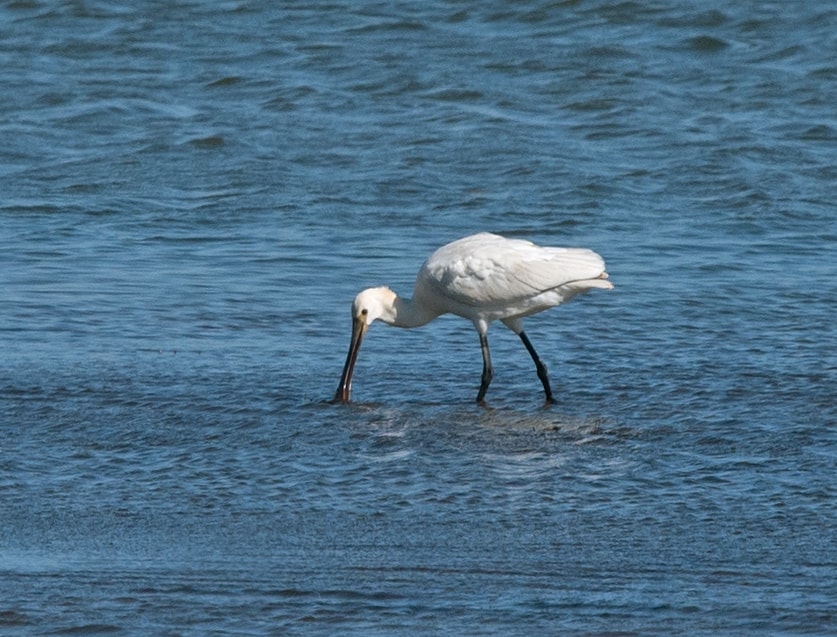 Eurasian Spoonbill, Langford Lowfields RSPB, Nottinghamshire (Robin Brace).
Rutland Water hosted a similar, but excellent, line-up again this week with Red-necked and Black-necked Grebes, Eurasian Spoonbill, Little Stint and numerous Curlew Sandpipers making up some of the highlights. European Shags remained at Stoney Cove and Stanford Reservoir this week.
East of England
Norfolk's star bird this week was a juvenile Lesser Yellowlegs at Runham from 15th, although it was quite nervous and consequently mobile. The Purple Heron was still at Ormesby Little Broad on 9th, but the Red-backed Shrike moved on from Waxham that day. A few migrants arrived in the county on 15th, with a Little Bunting at Thornham Point and Wryneck at Holme, while a Glossy Ibis roamed between there and Stiffkey.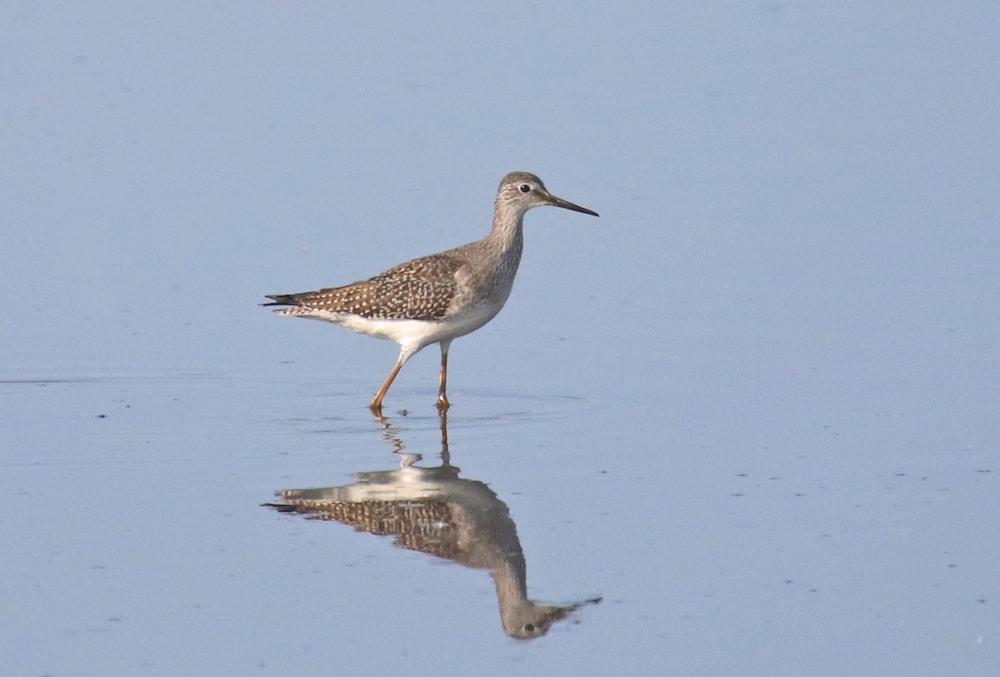 Lesser Yellowlegs, Runham, Norfolk (Steve Grimwade).
In Suffolk, the showy Red-backed Shrike was last seen at Bawdsey on 9th. A Barred Warbler was at Boyton on 11th and a European Honey Buzzard flew over Hollesley on 10th. A confiding Little Stint was popular at Easton Broad, while the Hazlewood Marshes Eurasian Spoonbill flock built up into the 40s.
Essex's top bird was a Leach's Storm Petrel seen in the Thames Estuary from Wakering Stairs on 10th, though this would have been eclipsed by the possible Booted Warbler at The Naze on 14th, had it been confirmed.

Little Stint, Easton Broad, Suffolk (Andrew Moon).
Western Cattle Egret at Wilstone Reservoir was the best Hertfordshire had to offer, although Amwell produced Caspian Gull and Nomansland Common a Hen Harrier. Garganey remained at a couple of Bedfordshire sites, while Cambridgeshire endured a quiet week – two Sandwich Terns and a continuing European Shag at Grafham Water being the most notable sightings.
South-East England
A dream species anywhere inland, the Farmoor Reservoir Lesser Yellowlegs was only the sixth for Oxfordshire and the first in a decade. Sadly, though, it was an all-too-fleeting visitor on 15th. In a fine week for the county, Farmoor also hosted a well-twitched Manx Shearwater on 11th, as well as Sandwich Tern and Red Knot. A Wryneck at Otmoor was another most noteworthy record.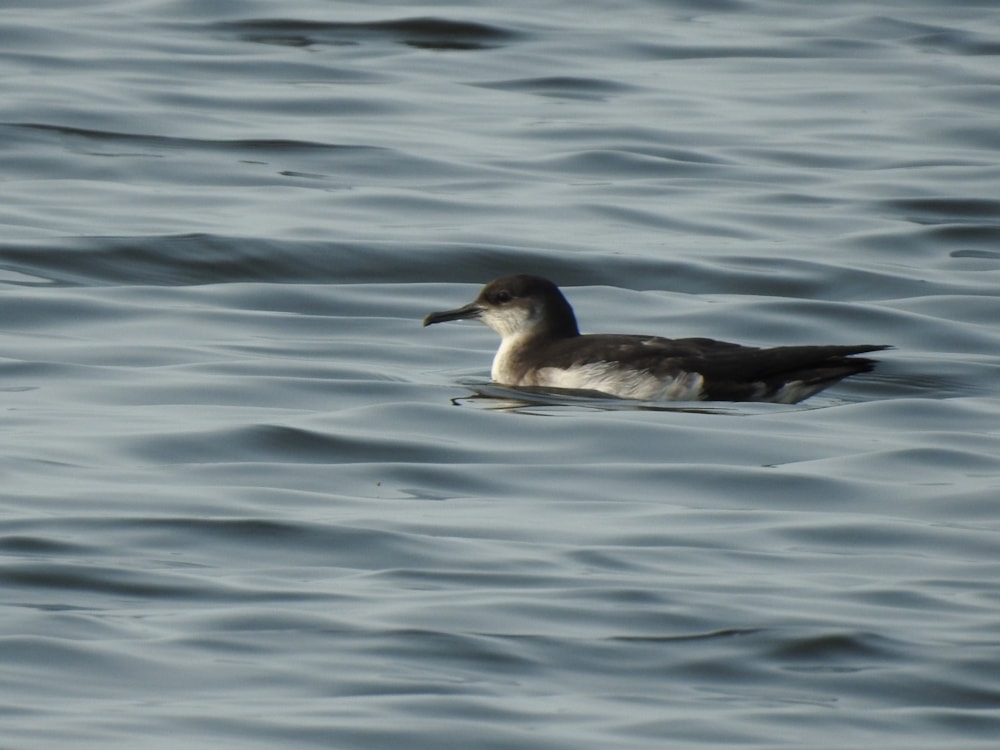 Manx Shearwater, Farmoor Reservoir, Oxfordshire (Mark Pidgeon).
Neighbouring Berkshire also scored Wryneck, with a twitchable bird at Greenham Common on 15th. Great and Western Cattle Egrets headed up proceedings in Buckinghamshire, while a Manx Shearwater incongruously found in a Woking garden, a Red Knot at Island Barn Reservoir and a noc-mig flock of Sanderling over Ewell highlighted in Surrey.
Noc-mig adventures in London included an Ortolan Bunting clocked over Wallington on 10th. An impressive 24 Sandwich Terns were at Thames Barrier Park on 15th and the Richmond Park Wryneck was present until 10th.
In Kent, Worth Marsh scored a Barred Warbler on 9th, the day a fine haul at the site also included the two Pectoral Sandpipers (present all week) and a European Honey Buzzard. Four other Kent sites scored HBs, including Dungeness, where the Glossy Ibis remained. An Ortolan was sound recorded over Sandwich Bay on 15th. In north Kent, the American Golden Plover continued to show on and off at Oare Marshes and the Swalecliffe Wryneck hung on.
Possibly the same Red-footed Falcon put in appearances at Ditchling Beacon on 11th and then Pett Level on 14th in East Sussex. A Wryneck was at Beachy Head and a European Honey Buzzard flew over Pevensey Levels. In West Sussex, a Red-backed Shrike was a bonus for Pallid Harrier twitchers on Thorney Island from 14th, a European Honey Buzzard flew over Chichester on 13th and a Wryneck was at Ferring on 9th.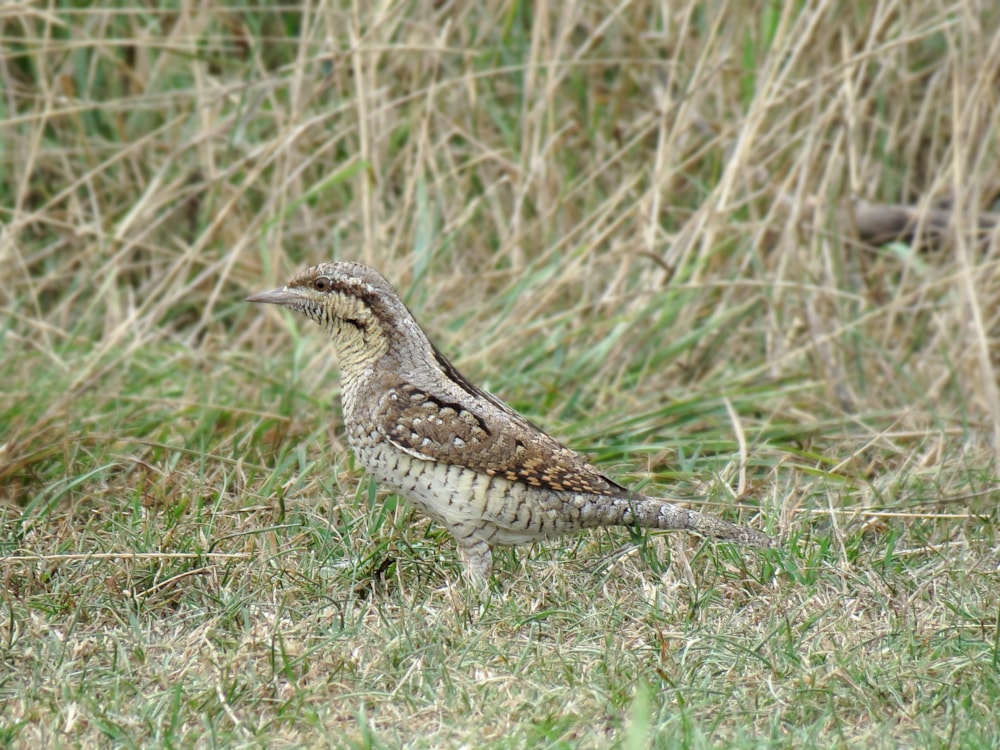 Wryneck, Swalecliffe, Kent (Nick Smith).
An unconfirmed feel to Hampshire's week saw a Barred Warbler reported at Portsdown Hill on 15th, the same day a probable Icterine Warbler was at Farlington Marshes. Farlington did score a Pectoral Sandpiper from 10-11th. On 9th, a White-tailed Eagle flew over Horndean and Corhampton and, on 13th, North Baddesley skies were graced by a European Honey Buzzard.
South-West England
On St Mary's, Scilly: a Melodious Warbler was present on 10th, Pectoral Sandpiper on 10-11th, Eurasian Dotterel from 11-14th, Wryneck from 13-15th and an Ortolan Bunting on 14th. On Bryher, up to three Buff-breasted Sandpipers were on Shipman Head Down and a juvenile Rosy Starling was also present. Two Lapland Buntings were on St Agnes and a first-winter Red-backed Shrike was on Gugh. A rather late Wilson's Storm Petrel was noted off a pelagic on 14th, with a light smattering of Great Shearwaters, two Grey Phalaropes and Sooty Shearwaters.
Waders continued to arrive from across the pond, with an American Golden Plover north over Caerthillean, Cornwall, on 15th, as well as a Pectoral Sandpiper at Siblyback Reservoir from 9th and another over Windmill Farm NR on 13th. Wrynecks were at a steady five sites, an Icterine Warbler was at Porth Joke on 13th with the Porthgwarra individual remaining there until 12th, while a Melodious Warbler was trapped and ringed at Nanjizal Valley on 15th. A Snow Bunting was at Porthgwarra. Four localities at the extreme tip of the county logged Black Kite this week – presumably one mobile individual. Taking a glance to the sea, Great Shearwater, Sabine's Gull and Velvet Scoter were noted this week.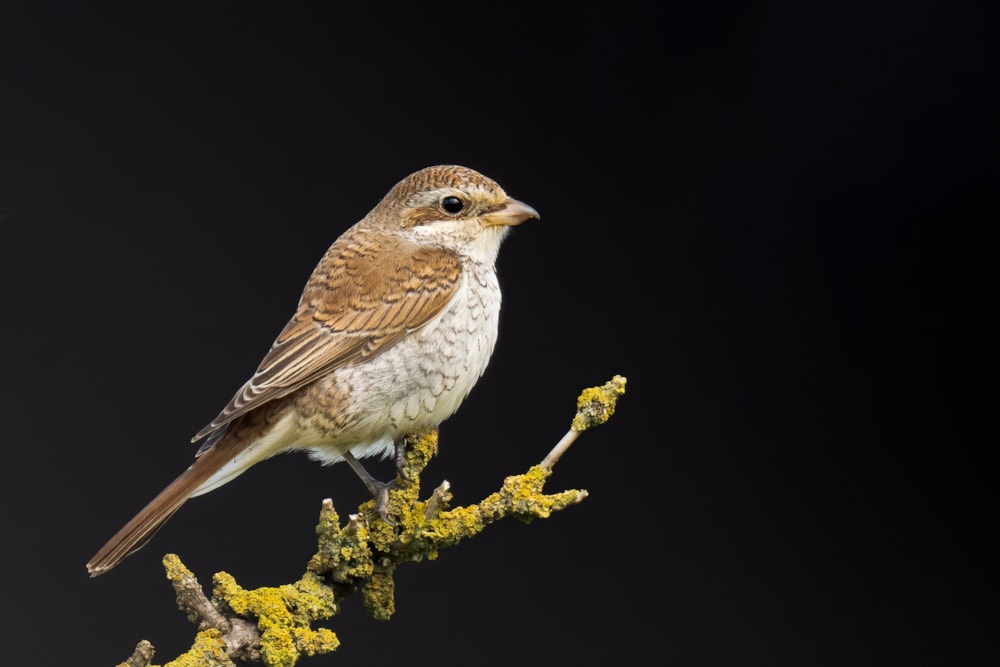 Red-backed Shrike, Marshfield, Gloucestershire (Phil Gower).
Over in Devon, a Wryneck was at Broadsands on 11th and an Ortolan Bunting flew up Starehole Valley, Soar on 15th. Lundy had a decent record in the form of a Dartford Warbler on 10th, followed by a Red-backed Shrike on 12th. The Fremington Pill Glossy Ibis remained in situ, as did the Slavonian Grebe on the Exe Estuary. Balearic Shearwaters were logged past three typical locations. Three Black Terns flew past Thurlestone on 10th. A juvenile Caspian Gull was at Powderham Marsh briefly on 14th.
Pectoral Sandpipers again remained centre stage in Dorset this week, with Arne Moors, Swineham GPs and Ridge Wharf supporting birds. A juvenile Rosy Starling was at Portland on 13th, while Wrynecks were at Cogden Beach on 11th and Arne RSPB on 14th. Ortolan Buntings were on the move with one over Portland on 9th and at least one at King Barrow Quarries on 10th; another flew over West Morden on 12th. St Aldhelm's Head had a Lapland Bunting on 13th. A Glossy Ibis paid a fleeting visit to Lytchett Fields RSPB on 14th. A Eurasian Dotterel was at White Nothe from 9-11th. A sad sign of the times, Portland recorded its first autumn European Turtle Dove of the year on 15th.
Two juvenile Black-winged Stilts continued to perform at Steart WWT, Somerset and Bristol, a Glossy Ibis was here on 15th and another was playing cat and mouse with twitchers at Chard Reservoir. The juvenile Purple Heron was still at Durleigh Reservoir, a brief Lapland Bunting was on the sea wall at Huntspill on 12th and Ring Ouzels were at Cothelstone Hill on 9th and Triscombe Stone on 15th.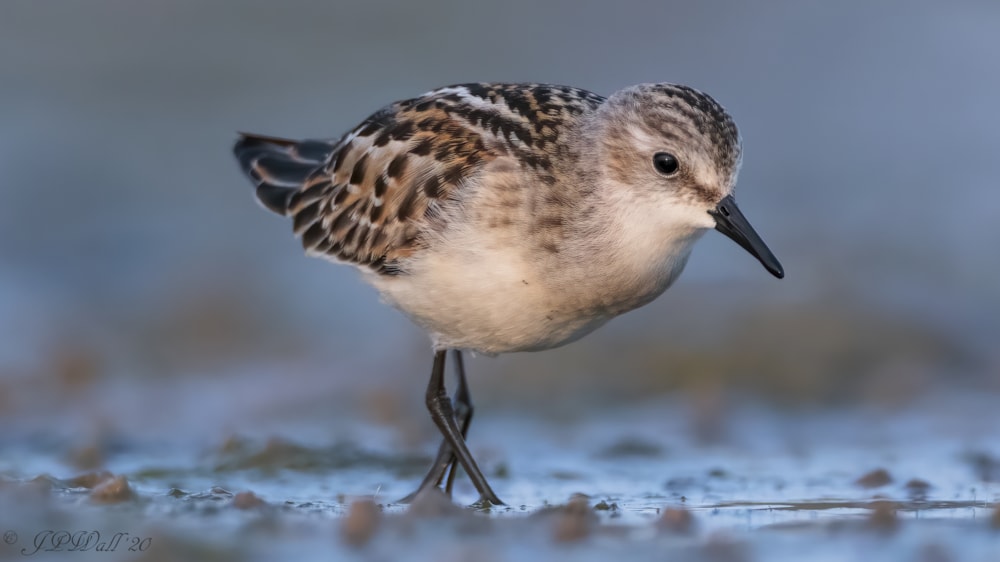 Little Stint, Ferrybridge, Dorset (John Wall).
Gloucestershire joined in on the Nearctic wader action this week, with a juvenile Pectoral Sandpiper at Pilning Wetlands from 13th. The Red-backed Shrike was still being reported at Marshfield until 9th. An adult Long-tailed Skua flew south along the River Severn at Sharpness on 11th, while on a more macabre note, a Wryneck was found dead at Paxford the same day.
Wiltshire scored a healthy three Wrynecks this week, with birds at Windmill Hill and Middle Woodford on 9th and another at Whitbourne Springs on 10th.
Wales
Bardsey Island had another respectable week, with four Wrynecks, two Lapland Buntings, Long-eared Owl, Curlew Sandpiper and two Little Stints. Over the sea, more Long-tailed and Pomarine Skuas were on the move.
A drake Surf Scoter flying south past Uwchmynydd, Gwynedd, on 15th was a great local find. Another Pomarine Skua was off Ynyslas on 15th and a Sooty Shearwtaer flew past Cemlyn Bay on 11th. A Manx Shearwater was picked up at Llandovery, Carmarthen, on 14th and successfully released the same night.
It's shaping up to be a decent autumn for Buff-breasted Sandpiper records, so two in a ploughed field by Marloes Mere, Pembrokeshire, from 12th was in keeping with the trend. Also here, a first-winter Red-backed Shrike was found on 10th. Melodious Warblers remained on Skokholm and Skomer, the latter also recording a Wryneck.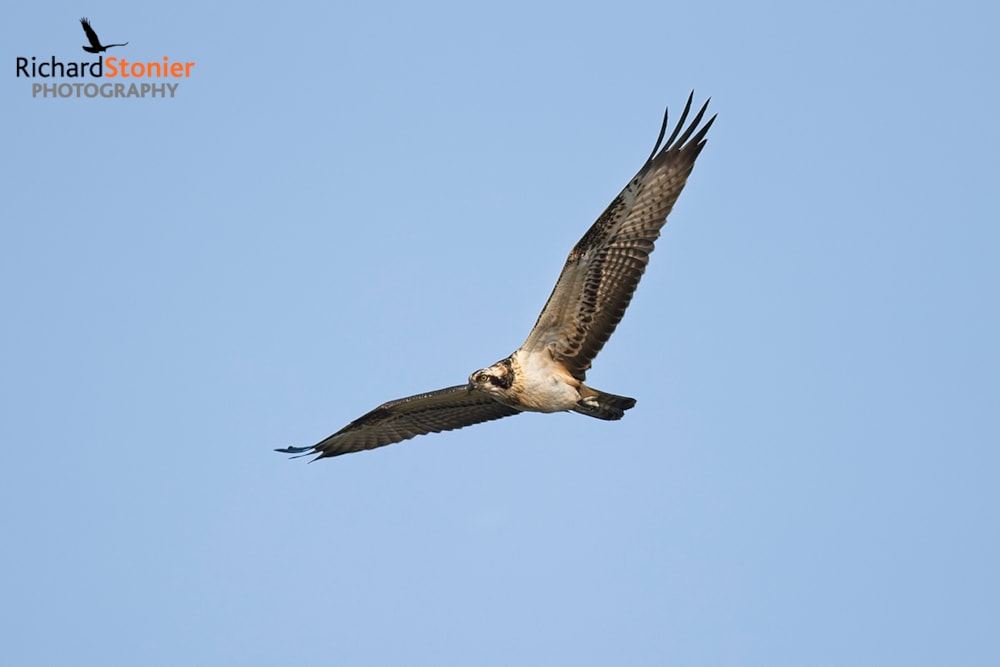 Western Osprey, Dale, Pembrokeshire (Richard Stonier).
Jumping up to Anglesey, the adult Rosy Starling remained at Bull Bay throughout, a European Turtle Dove was at Hen Borth on 12th and another Red-backed Shrike was just east of Cemlyn Bay on 14th. Lapland Buntings were at four sites this week (including the aforementioned Bardsey Island birds).
Glossy Ibis had another good week, with continuing birds at Goldcliff Pools, Gwent and Kidwelly Quay, Carmarthen. Seven paid a brief visit to the Gann Estuary, Pembrokeshire, on 10th, with 10 returning at dusk. Another was in the Porthmadog, Gwynedd, area on 14-15th. Western Cattle Egrets were at Pen-clawdd, Gower, and Kidwelly, with two Eurasian Spoonbills frequenting the Llanelli area through the week. The returning female Greater Scaup was welcomed back to Brickfields Pond, Rhyl, on 11th.
Ireland
Eastern migrants included a Greenish Warbler at Mizen Head, Co Cork, on 12-13th, a Wryneck on nearby Cape Clear on 15th and another at Helvick Head, Co Waterford, on 10th, plus a Red-backed Shrike on the Saltee Islands, Co Wexford, on 14th – though the Kilmichael Point bird of last week wasn't seen past 9th.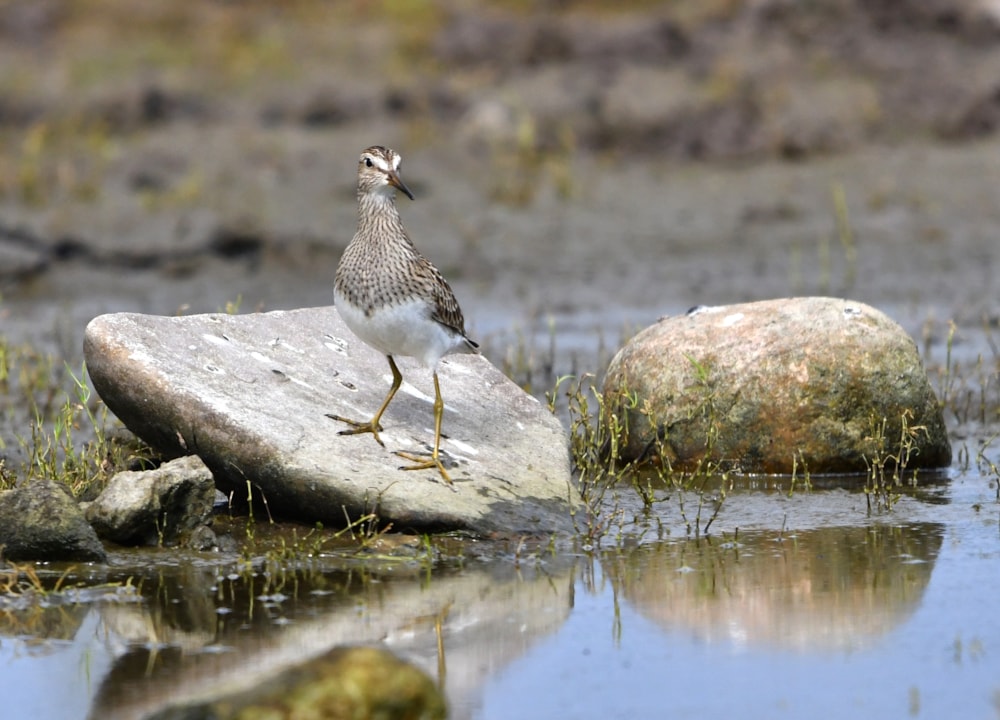 Pectoral Sandpiper, Kilshannig, Kerry (Richard Mills).
American waders put in a good showing – notably Buff-breasted Sandpipers, with 20 birds at 15 sites including threes at Bloody Foreland, Co Donegal, and on The Mullet, Co Mayo, plus two at Loop Head, Co Clare. Three sites held Pectoral Sandpipers, including two at Kilshannig, Co Kerry, and an impressive seven at Tacumshin, Co Wexford, the latter site also producing a Temminck's Stint (always a rare bird in Ireland). A Lesser Yellowlegs was at Bann Estuary, Co Derry, from 13th.
A Glossy Ibis was near Cashel, Co Tipperary, from 11-13th, with another at Harper's Island, Co Cork, on the latter date. A handful of Lapland Buntings were seen, although seawatching mustered little more than the odd Leach's Storm Petrel and Long-tailed Skua in northern areas. Finally, the Ring-billed Gull continued at Nimmo's Pier, Co Galway.
Western Palearctic
It was a really impressive week for the region, with a further two regional firsts at opposite corners of the recording area. Kuwait was first up, with a first-winter Bay-backed Shrike at Jahra Pools on 10th. It is an infrequent visitor to the 'Greater' Western Palearctic region, with recent records from Oman and Bahrain.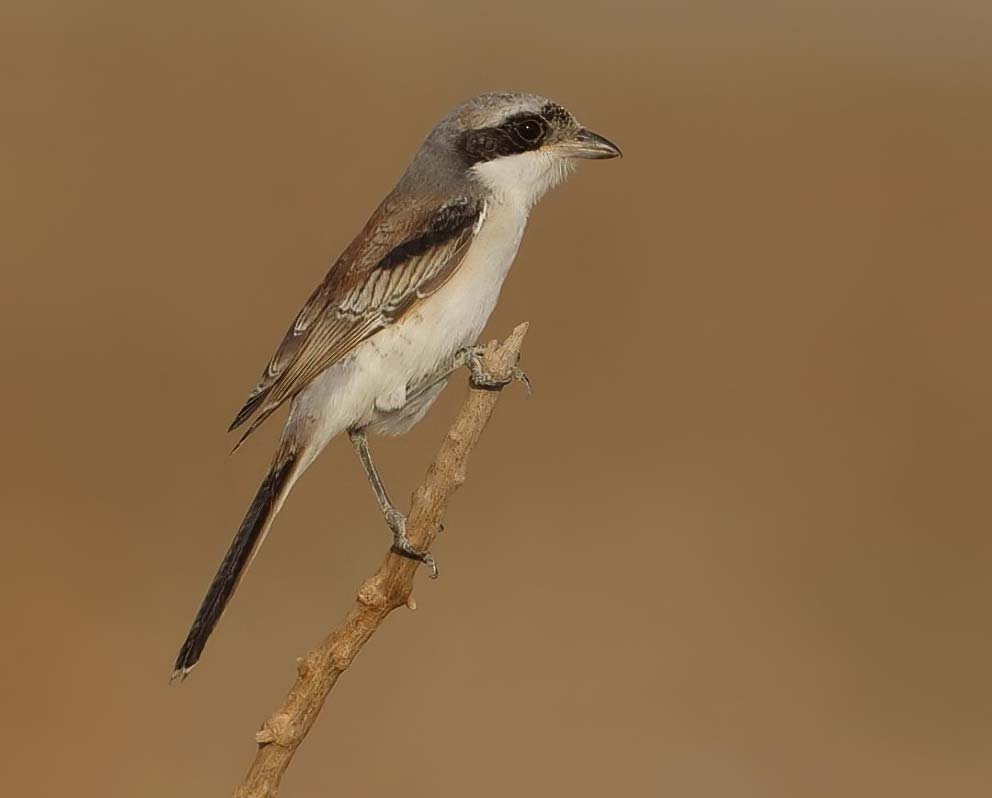 Bay-backed Shrike, Jahra East Outfall, Kuwait (Rashid Al-Hajj / www.birdsofkuwait.com).
It was the turn of Cape Verde next, with island of Sal scoring an immature Preuss's Cliff Swallow at Santa Maria on 13th. Resident to West Africa south of the Sahara, it reaches as close as Guinea-Bissau and Mali, although was very much off the radar.
In The Netherlands, a Rufous-tailed Scrub Robin of the western subspecies galactotes, trapped and ringed at Oostvaardersdijk on 13th, got British tongues wagging. The third for the country, it is an impressive turnaround considering the country's first record came just seven years ago, and it must be well overdue for an occurrence here – the last British record as far back as 1980, at Prawle Point in Devon. Elsewhere, the Black-winged Pratincole and Black-winged Kite remained at Camperduin and Margraten respectively, and the Great White Pelican lingered at Halfweg.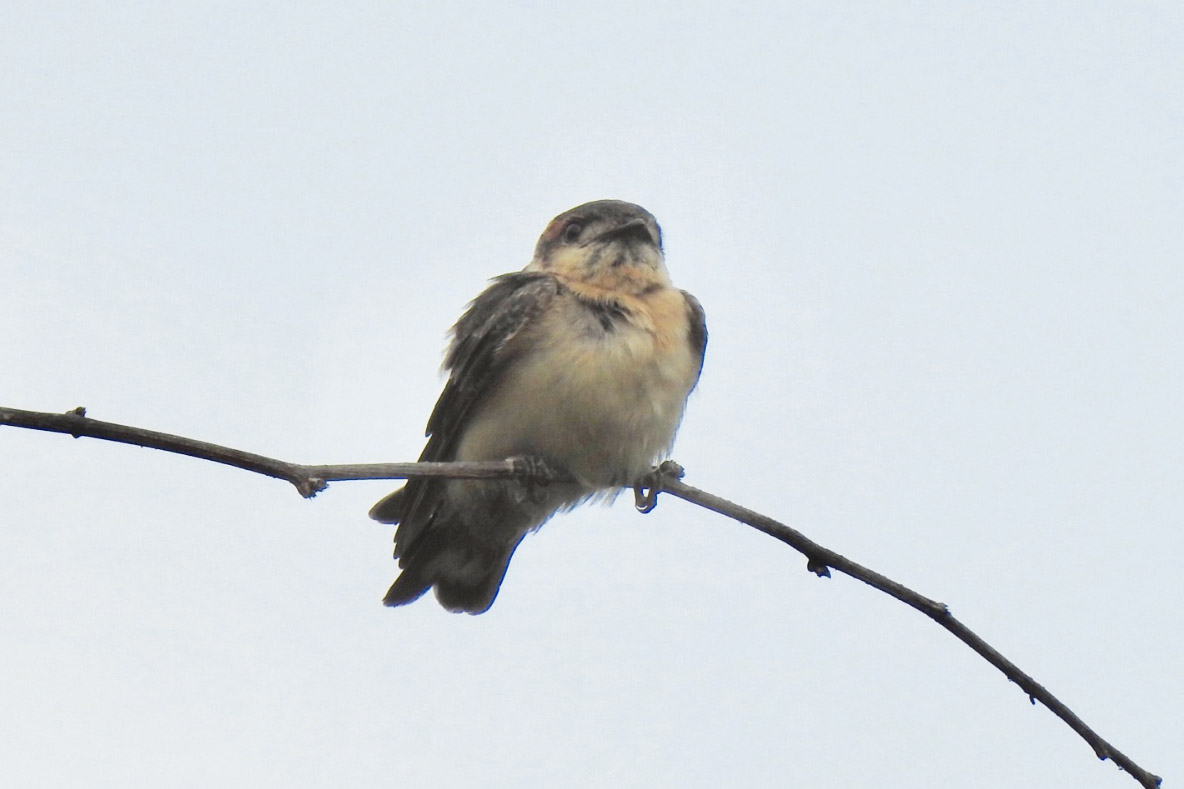 Preuss's Cliff Swallow, Santa Maria, Sal (Uwe Thom).
In Germany, a new Pygmy Cormorant was at Wallendorfer See from 14th, with two others still in situ at Kettershausen. Denmark's first Brown Booby was a fleeting visitor to Dueodde on the isle of Bornholm, while a Lesser Flamingo was in the French Camargue from 11th. Corvo, Azores, was graced by a Semipalmated Plover on 14th; a Mallorcan Arctic Warbler was at Port de Pollença on 12th.
The first White-rumped Sandpiper for the Channel Islands was on Alderney at Longis Beach on 14th, while a popular juvenile Pallid Harrier was at Mont Herault, Guernsey, from 13th.