It's been another hectic week, with further arrivals from both east and west causing delight among birders right across the length and breadth of Britain and Ireland.
We'll start with American vagrants, as it was another memorable seven days for landbirds. The surprise reappearance of the Yellow-billed Cuckoo on St Mary's, Scilly, on 12th was welcome for those who missed it first time out, with this bird – seemingly in rude health – hanging around until 15th. Another individual was then found south of Crackington Haven, Cornwall, on the afternoon of 12th. It was still there the following morning, but didn't make the airwaves until that evening.

Yellow-billed Cuckoo, Crackington Haven, Cornwall (Bev Teague).
After last week's Black-and-white Warbler, St Martin's struck again on 13th when it produced a very smart first-winter male Rose-breasted Grosbeak. Though often proving restlessly mobile, it lingered to 15th and allowed a good proportion of those birders holidaying on Scilly to score.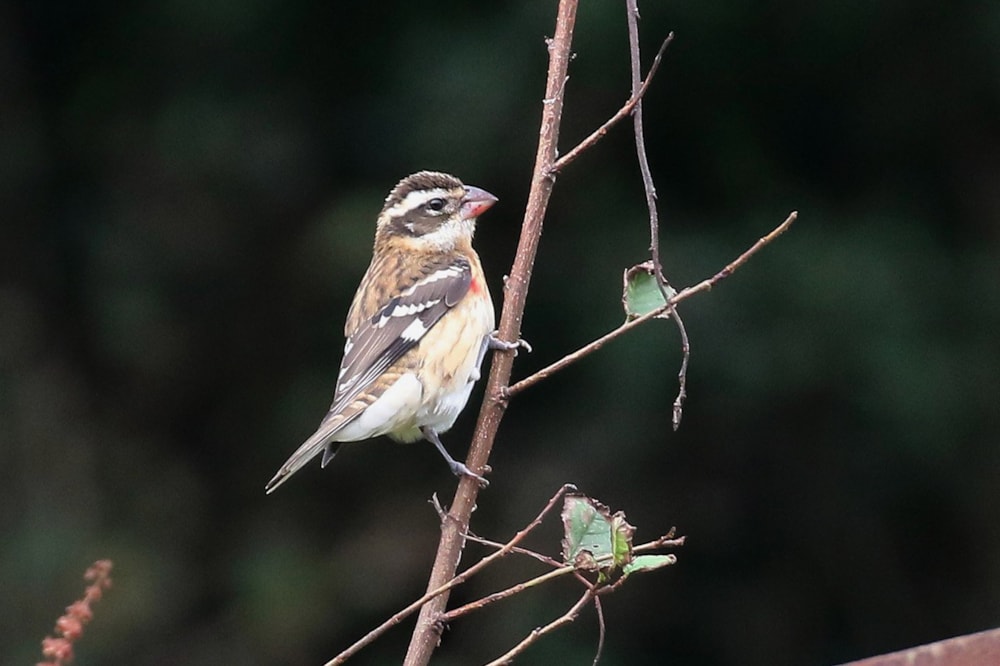 Rose-breasted Grosbeak, St Martin's, Isles of Scilly (Beachy Birder).
St Mary's also got in on the action with a Swainson's Thrush briefly in the centre of the island on the morning of 10th, but it disappeared before a twitch could materialise. Another Swainson's was at Mizen Head, Co Cork, on 9th, but it too proved little more than a snapshot in time, being seen by the finders only. The Baltimore Oriole at Lehanmore, Co Cork, on 11th was almost as elusive, but at least lingered long enough for a few people to see it – one wonders if it's the bird from Co Mayo, which was last seen on 9th and couldn't be found there all day on 10th.
No fewer than three Myrtle Warblers were seen, including two different birds on Inishmore, Co Galway, on 12th and 13th respectively, the latter lingering a few days. A third was at Callernish, North Uist, on 15th. Of interest was a White-throated Sparrow aboard a cruise ship that docked in Southampton on 10th.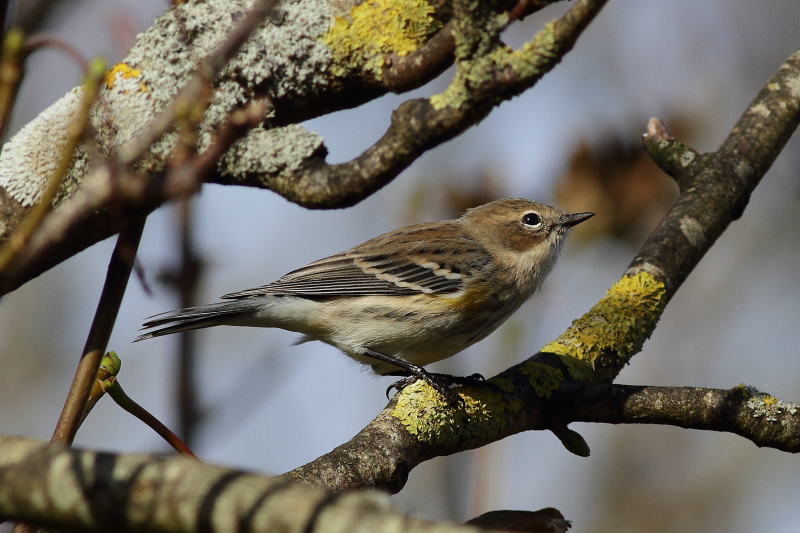 Myrtle Warbler, Inishmore, Galway (Dermot Breen).
The Common Nighthawk also stayed on the outskirts of Galgorm, Co Antrim, throughout the week, and proved surprisingly loyal to the same log on which it was initially found roosting last Tuesday – despite being flushed from it on an almost daily basis by the inquisitive horses present in the field, which were no doubt baffled by the large numbers of anorak-clad birders suddenly showing up on the banks of River Maine. It also came out its roost at increasingly early points in the evening, putting on a fantastic show for anyone who paid it a visit.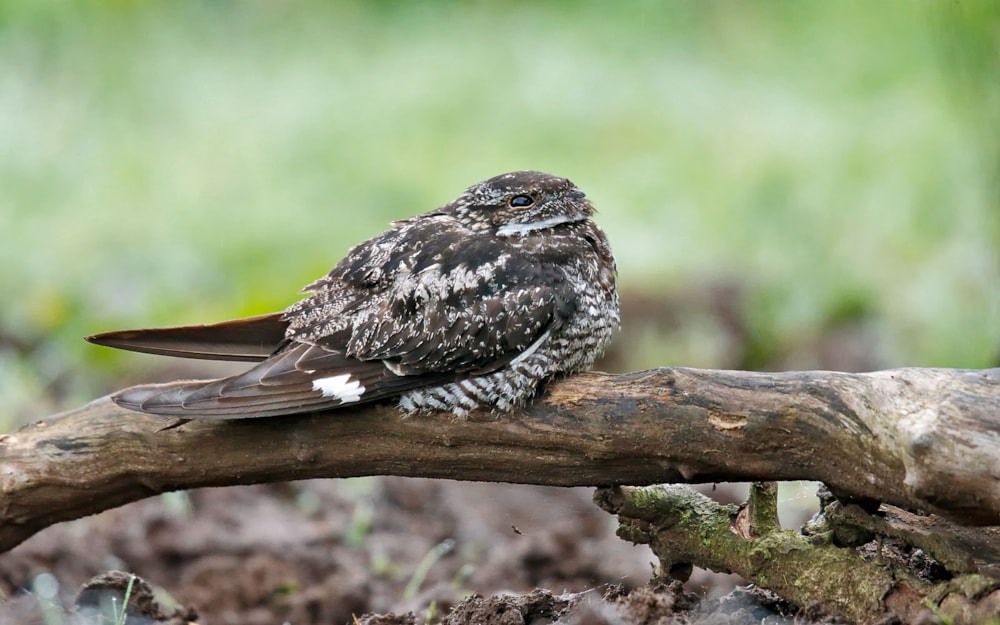 Common Nighthawk, Galgorm, Antrim (Tony Davison).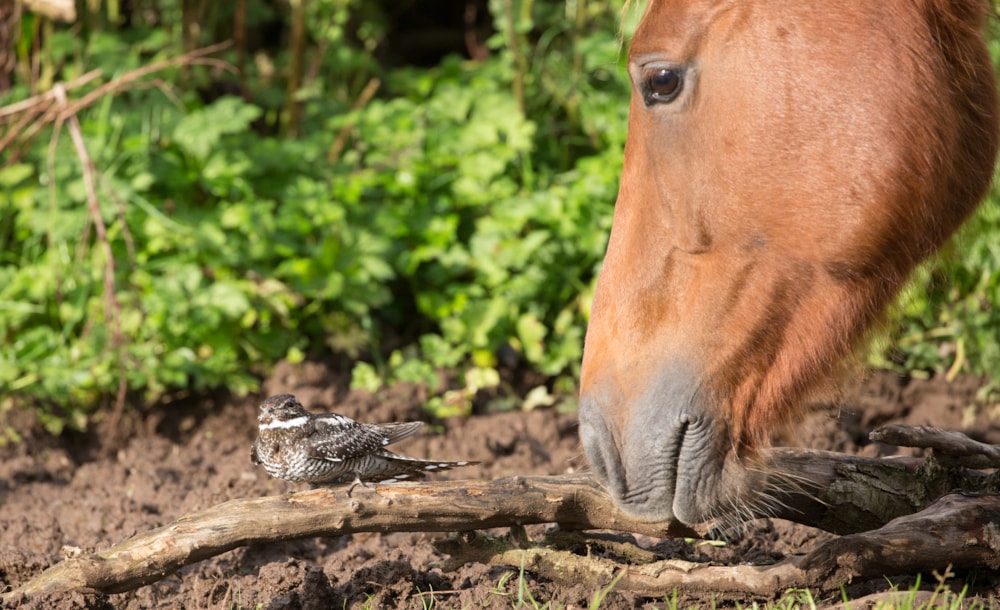 Common Nighthawk, Ballymena, Antrim (Austin Morley).
The phenomenal autumn for Red-eyed Vireos continued, with a hugely impressive figure of 13 tallied this week. These included three on St Mary's, Scilly, with a fourth on Tresco, while the first for Skokholm since October 1967 was trapped there on 12th. Another visited Lundy, Devon, and there were Irish records from Cos Waterford, Cork, Clare and Mayo. Geographically speaking, the stand-out occurrence was a showy bird at Easington, East Yorks, from 12th, which was enjoyed by hundreds of visitors to Spurn.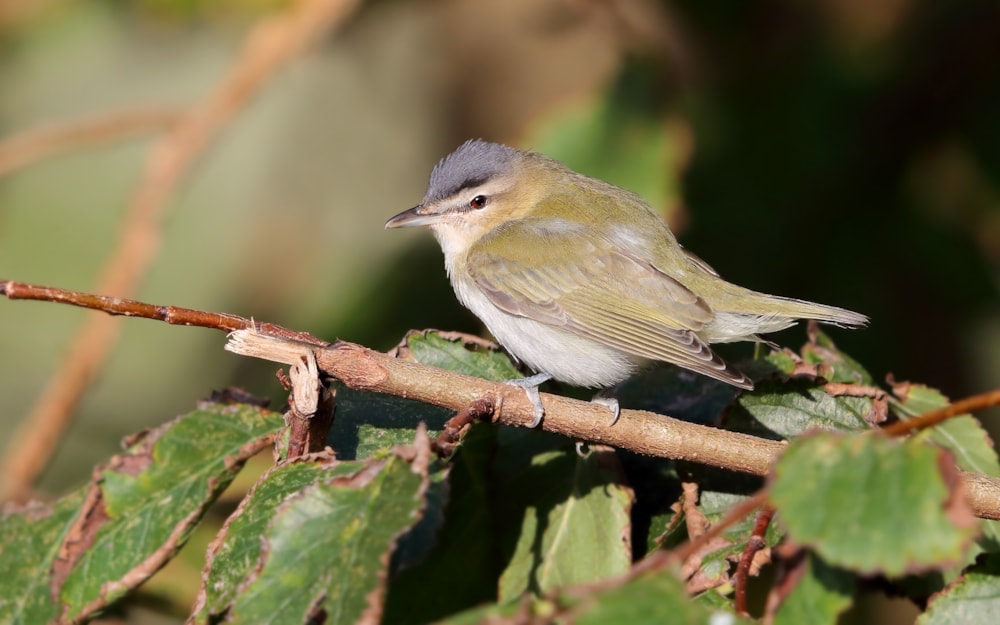 Red-eyed Vireo, St Mary's, Isles of Scilly (Kit Day).
Among all these American goodies, classy Sibes also began to appear. A Two-barred Warbler at Orford, Suffolk, was seen only for a few-hour period from mid-morning into the early afternoon of 13th, but melted into the myriad gardens in the village during filthy weather conditions.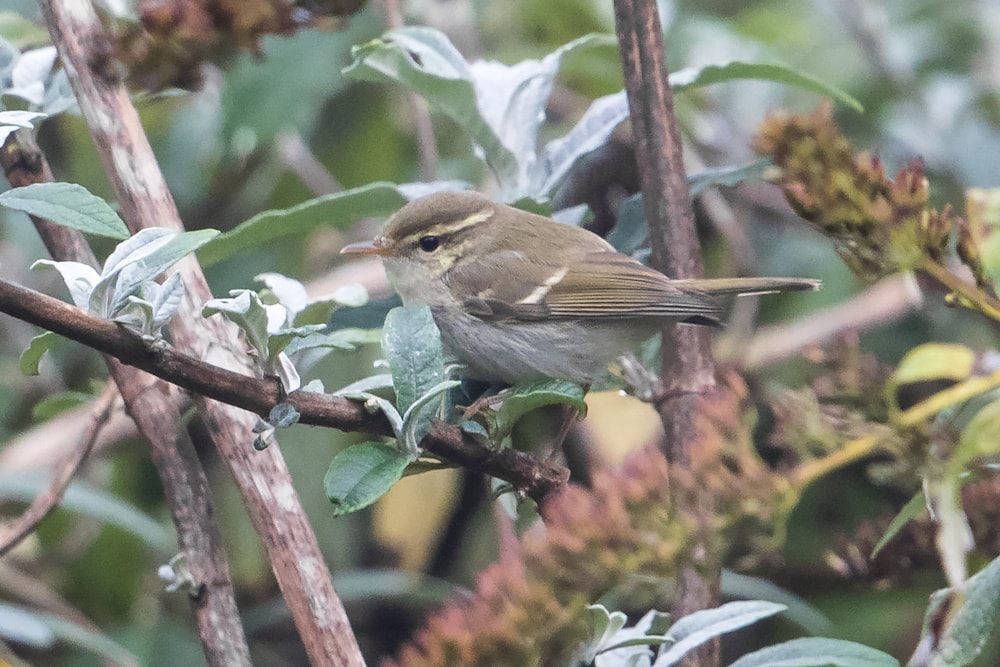 Two-barred Warbler, Orford, Suffolk (Sean Nixon).
Then, on 15th, that archetypal eastern mega – a male Siberian Rubythroat – was found on Fetlar, Shetland. Typically elusive, it did occasionally show quite well during the afternoon. Shetland also hosted a series of interesting stonechats, with an apparent Stejneger's Stonechat on Fair Isle on 13th as well as the Unst bird still at Westing. Less clear-cut birds, either maurus or stejnegeri, were at Hillwell, Shetland, and Burray, Orkney.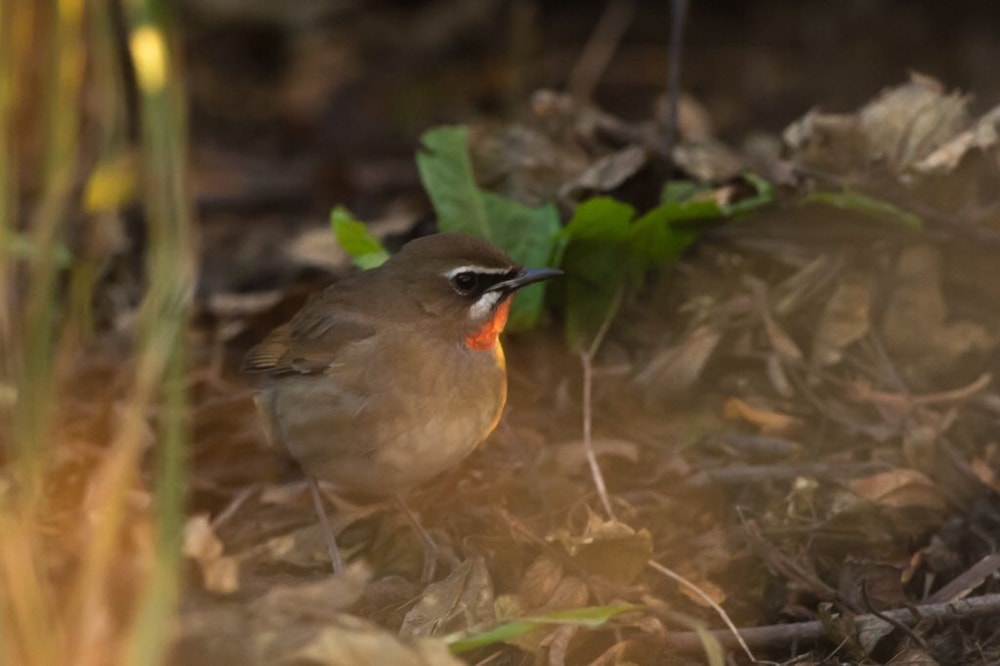 Siberian Rubythroat, Tresta, Fetlar, Shetland (Brydon Thomason).
Brown Shrike has asserted itself as an expected autumn visitor in Britain in recent years and no fewer than three were seen this week. A couple of real beauties were on Fair Isle on 13th and at Sumburgh and Grutness on 14th, with a third sadly found dead on North Ronaldsay on the morning of 16th, having been hit by a car. In fact, Lesser Grey Shrike is probably a rarer bird these days, arguably making the adult at Baltasound, Unst, on 11-12th a more significant find.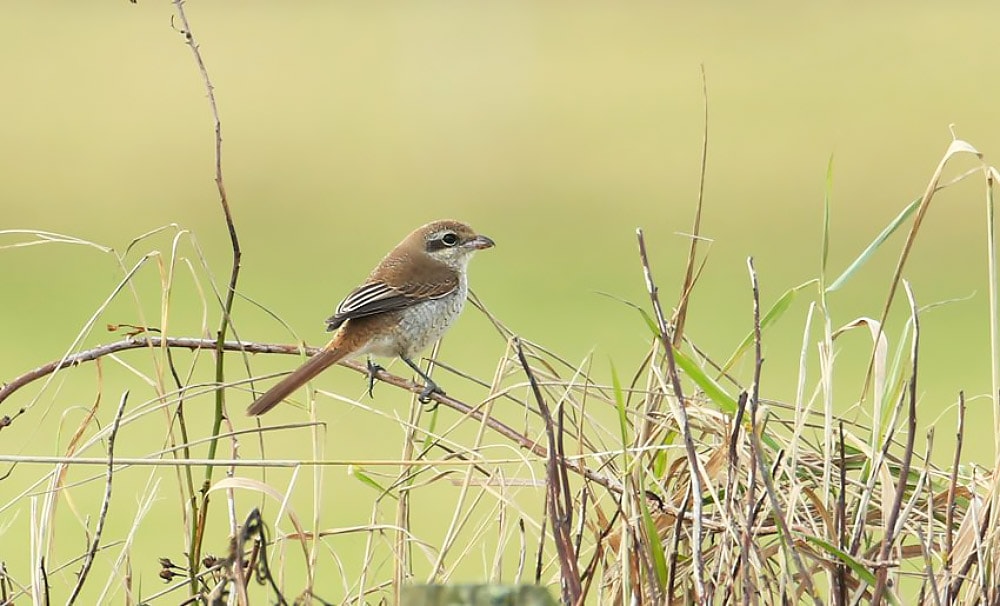 Brown Shrike, Fair Isle, Shetland (Steve Arlow).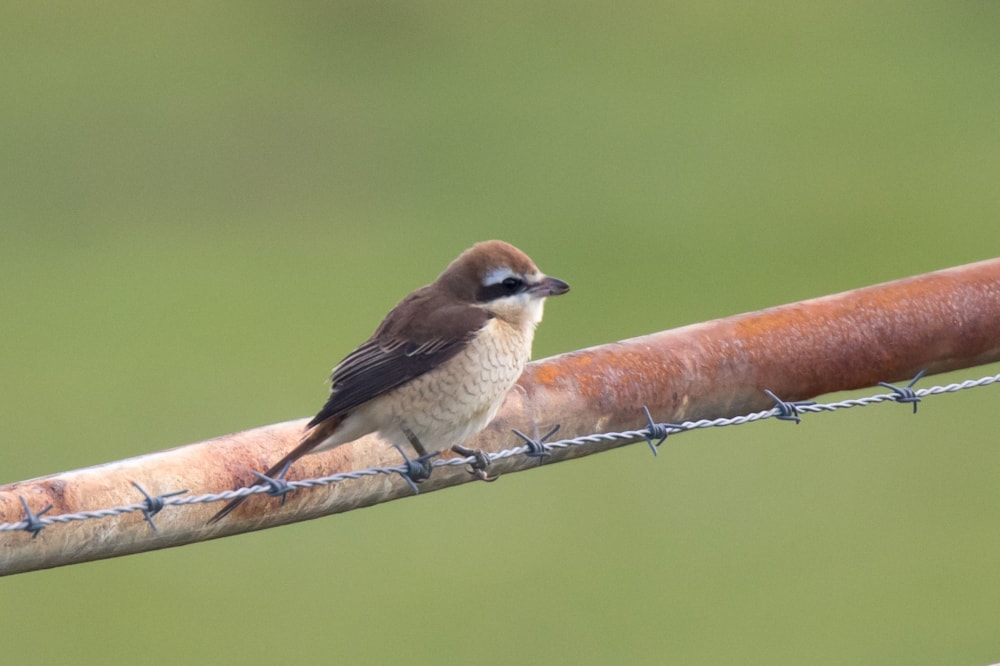 Brown Shrike, Grutness, Mainland, Shetland (Mick Kemp).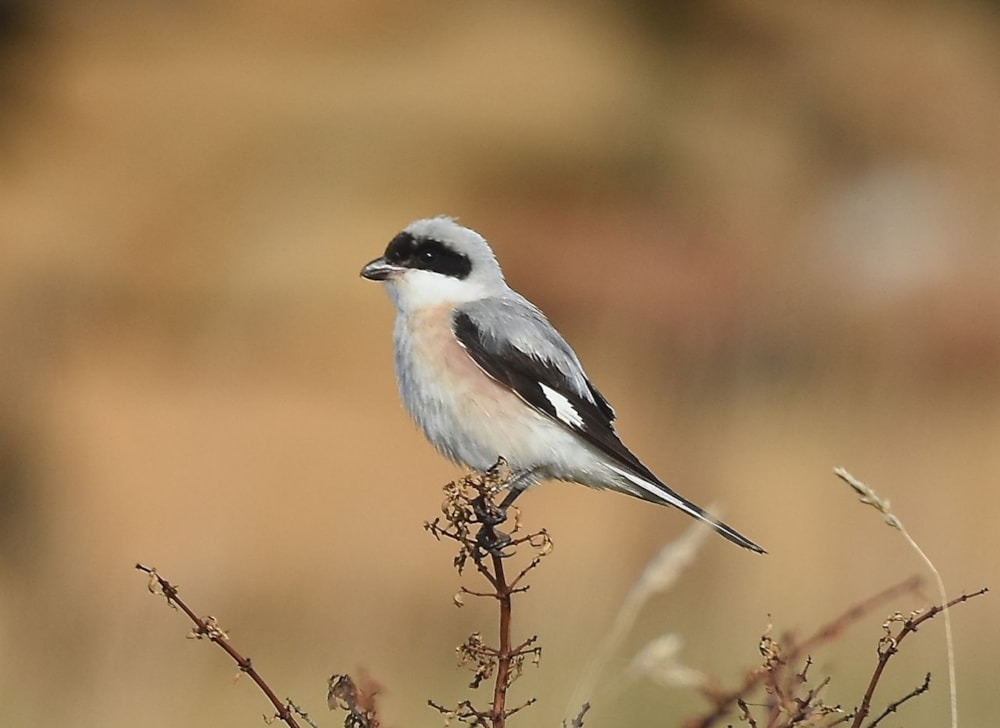 Lesser Grey Shrike, Baltasound, Unst, Shetland (Roger Ridley).
Orkney and Shetand hosted Red-flanked Bluetails, the latter involving two different birds on Fair Isle, while an individual trapped and ringed at Filey, East Yorks, on 15th was a site first and a fantastic treat for those in the area for the Migweek event. There was the same number of Bluethroats, all on the Northern Isles. The Isabelline Wheatear was last seen on Out Skerries, Shetland, on 13th. On St Mary's, the Greater Short-toed Lark lingered, with the two on Shetland also remaining in situ.
It was a good week for pipits. The American Buff-bellied Pipit found on St Martin's, Scilly, on 9th didn't stay long and may have accounted for a brief sighting on St Mary's later that day. As part of a memorable couple of days on Fair Isle, a Pechora Pipit was seen on 15th. As many as six Olive-backed Pipits were logged, though all bar a bird at Mizen Head, Co Cork, were on Shetland. Richard's Pipits did far better and, after a steady week, there was a notable arrival on 15th with no fewer than 12 birds recorded. Red-throated Pipits were in Shetland, Cornwall and Surrey, the latter involving a migrating individual over the Surrey Hills at Hascombe, which was sound recorded to boot.
A Black-throated Thrush was at Scousburgh, Shetland, on 14th. While it's probably still premature to flirt with the idea of the Scilly Blue Rock Thrush spending the winter on St Mary's, it nonetheless lingered another week there.
The first two Lanceolated Warblers of the autumn were found this week, both on Shetland – one was on Whalsay on 9th, followed by another on Fair Isle on 15th. The latter is, quite amazingly, the 98th of its kind to be seen on the famous island. Two Booted Warblers were found on 14th: at Langdon Cliffs NT, Kent, and Lizard Point, Cornwall. Arctic Warblers were at Kilnsea and St Agnes, with a late Melodious Warbler on Cape Clear, Co Cork. Amid a busy Tuesday on the east coast on 15th, the first Radde's Warbler of the autumn was found at Flamborough Head, East Yorks. Dusky Warblers were in Cornwall, Norfolk and Shetland.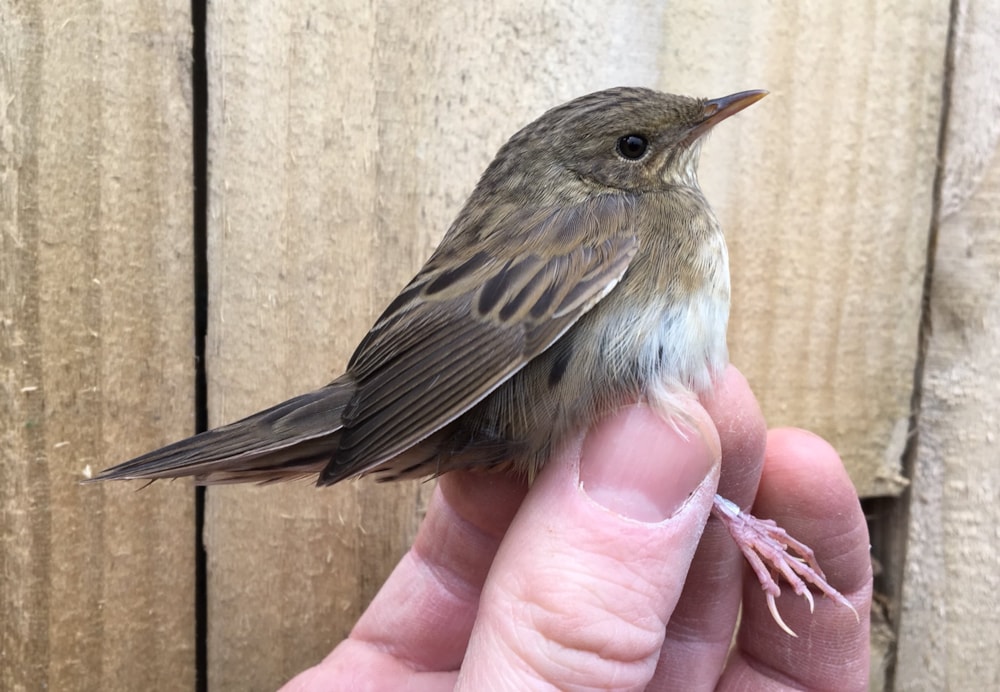 Lanceolated Warbler, Fair Isle, Shetland (Steve Arlow).
There were three Blyth's Reed Warblers, 15 Barred Warblers and two Marsh Warblers. All five Pallas's Warblers were unsurprisingly in the north and east, though the hundreds of Yellow-browed Warblers reports were far more spread out. Some 23 Siberian Chiffchaffs were recorded throughout the week.
Five Red-backed Shrikes were logged, mainly in the south and west, while five Great Grey Shrikes – though far from a vintage figure – offers belief it'll be a better winter for the species than last year.
There were two Hoopoes, 11 sites hosted Wrynecks, and Rosy Starlings were in Devon and Outer Hebrides. Red-breasted Flycatchers were recorded at an impressive 22 locations. There were three Little Buntings on Shetland, two on Scilly and singles at Spurn and Hoy, Orkney; a Rustic Bunting was on Tresco on 11-12th. There were a couple of Coues's Arctic Redpoll sightings on Shetland, while the Hornemann's Arctic Redpoll stayed on North Ronaldsay to 13th and others were at Port Nis, Lewis, on 9th and Foula, Shetland, on 12th.
Content continues after advertisements

Little Bunting, Kilnsea, East Yorkshire (John Hewitt).
Ring Ouzels continued to be dotted around Britain and Ireland in good numbers. After relenting rain ceased on Monday night, Dutch radars picked up a large westward movement of birds which was backed up by noc-mig stations in southern England that recorded hundreds of Redwings and Song Thrushes.
Consequently, on Tuesday morning, many sites scored big counts of thrushes and finches. Unsurprisingly, Spurn was at the centre, with an impressive 16,869 Redwings tallied up, along with 1,067 Song Thrushes. Sheringham and Mundesley, both in Norfolk, did well for thrushes with 6,942 Redwings between them. Impressive Chaffinch counts of 1,000 or more came from Leith Hill, Surrey, and Heacham South Beach, Norfolk, while South Foreland, Kent, logged 1,740 Goldfinches. However, the most eye-catching vis-mig totals of the week came from Sheringham on 13th – what's thought to be a British record 5,740 Eurasian Siskins flew west, along with 3,866 Chaffinches.
Easily the most impressive wader record was the first-winter Black-winged Stilt that surprised just about everybody by pitching down on North Haven beach on Fair Isle on 9th. A first for Shetland, it's thought to be the same bird that has toured England and Scotland during preceding weeks.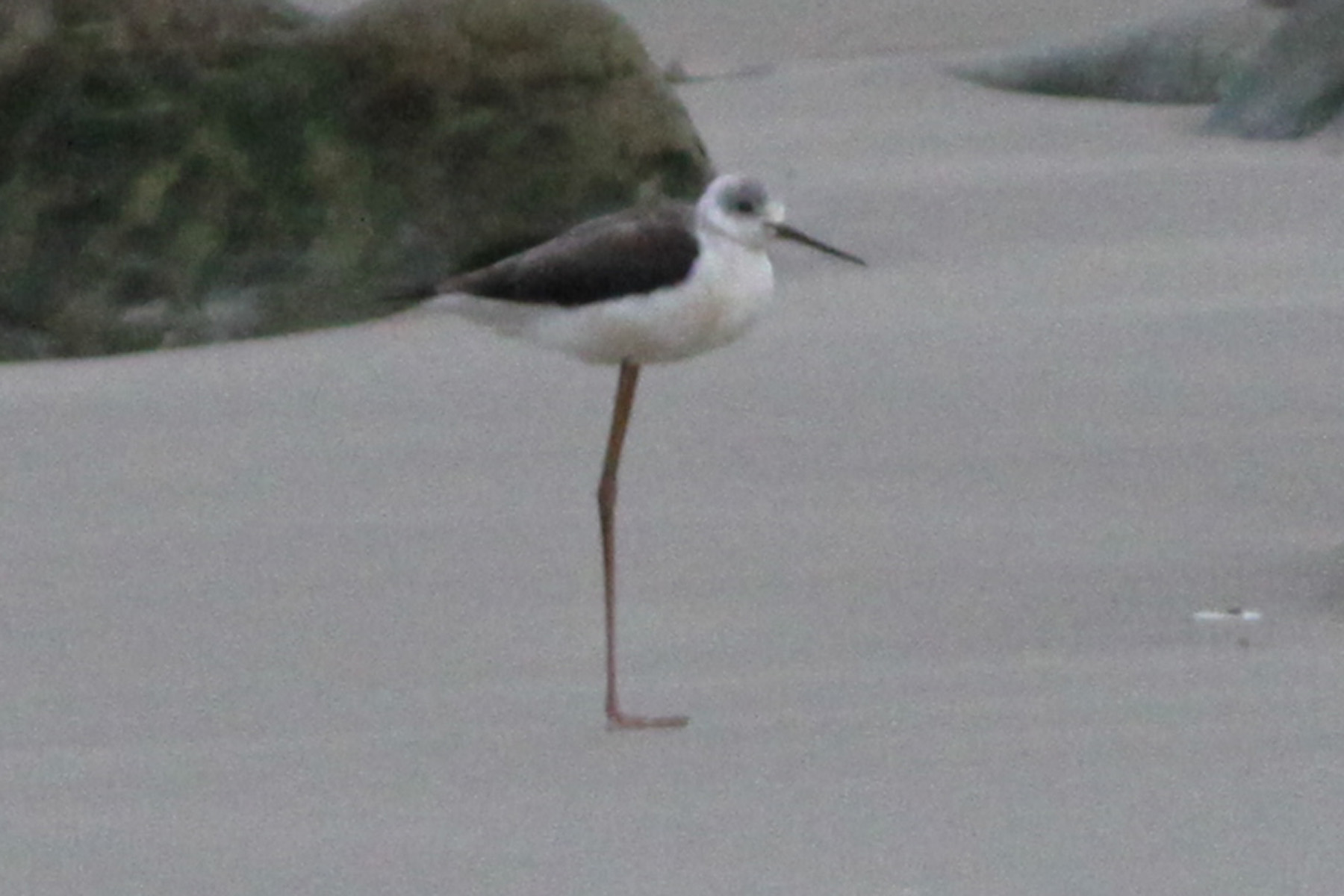 Black-winged Stilt, Fair Isle, Shetland (David Parnaby).
Nonetheless, the confiding Great Snipe at Kilnsea, East Yorkshire, on 13th must've been a highlight for those that saw it. Trotting up and down the path on Beacon Lane, it generated plenty of reminiscing around the previous bird there in September 2013, which has become legendary for its tameness.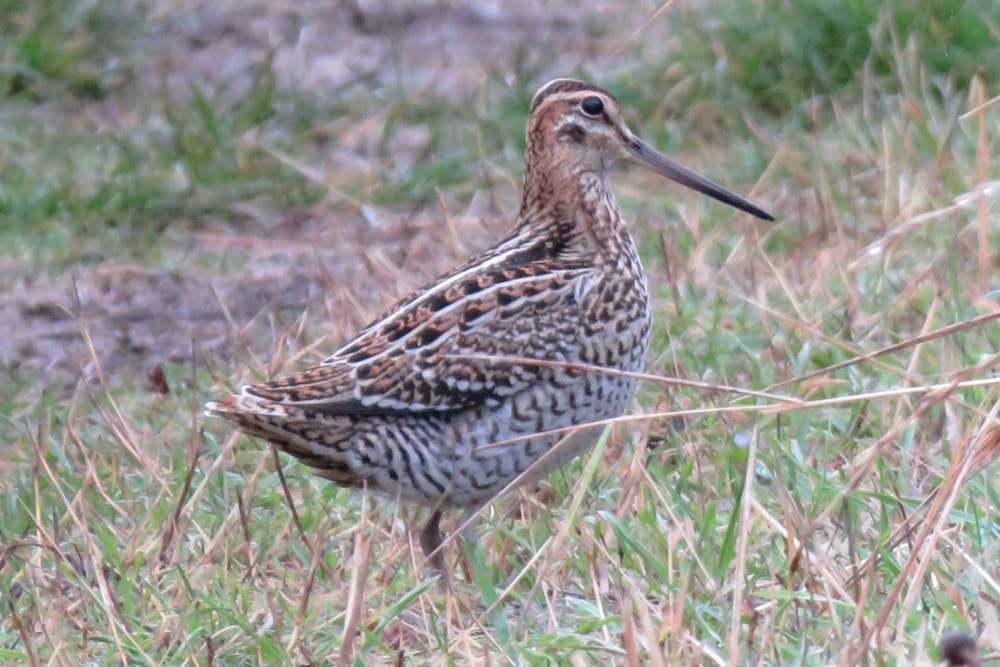 Great Snipe, Kilnsea, East Yorkshire (Frank Cackett).
It's been an excellent season for White-rumped Sandpipers, reflected by some 16 sites hosting the species this week as new birds arrived. A notable mention must go to the outstanding seven on South Uist on 15th, while three were at Carrahane Strand, Co Kerry, on 11th and one all the way inland at Rutland Water on 15th. The poor September showing of Baird's Sandpipers was somewhat alleviated this week, with four Irish records from Cos Wexford, Kerry and Mayo (two).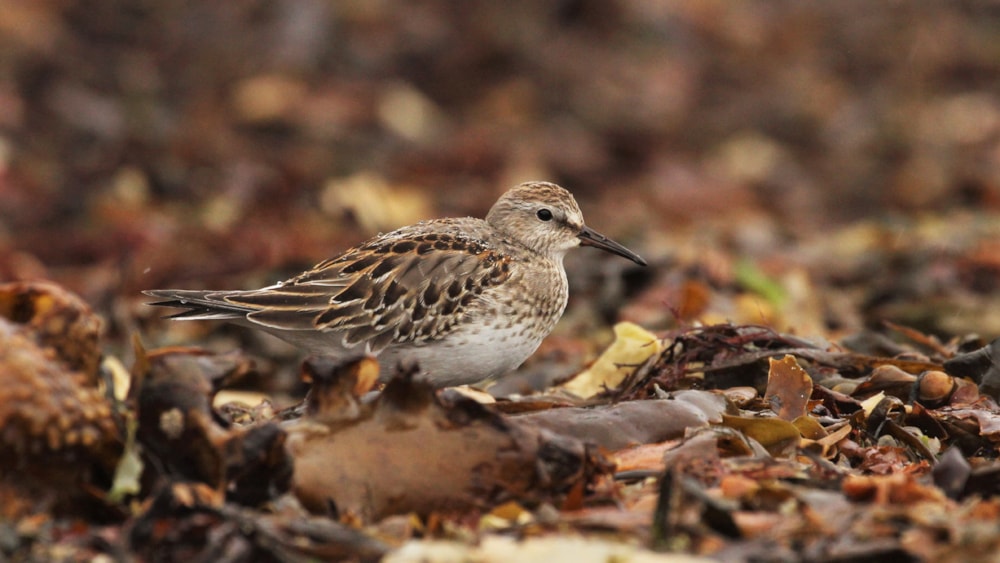 White-rumped Sandpiper, St Mary's, Isles of Scilly (Sam Jones).
A Hudsonian Whimbrel flew past Mousehole, Cornwall, on 11th. American Golden Plover has had a good autumn and 15 sites held birds this week, while five Long-billed Dowitchers were tallied. In Lancashire, the Kentish Plover continued in Southport, the three Lesser Yellowlegs were restricted to west Ireland and Pectoral Sandpipers were on South Uist (two) and in Co Antrim. A decent smattering of Grey Phalaropes was logged along the south coast following strong south-westerly winds over the weekend.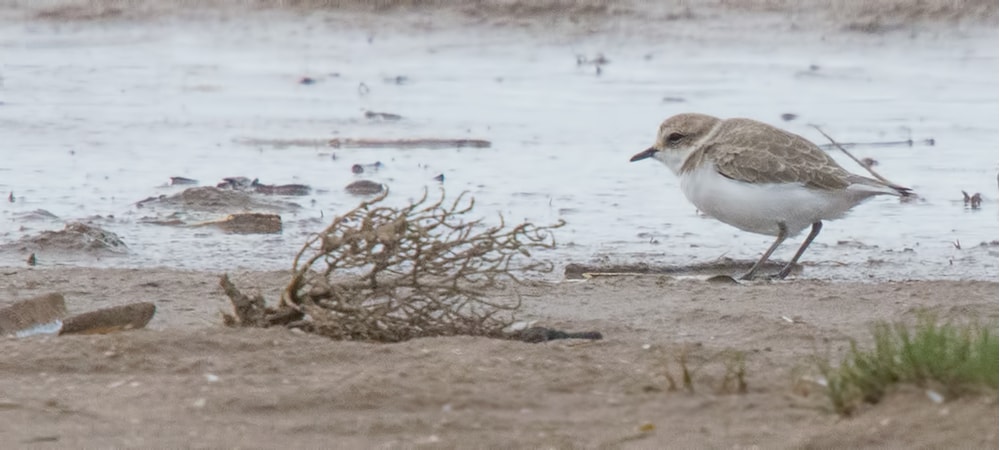 Kentish Plover, Southport, Lancashire (John Tymon).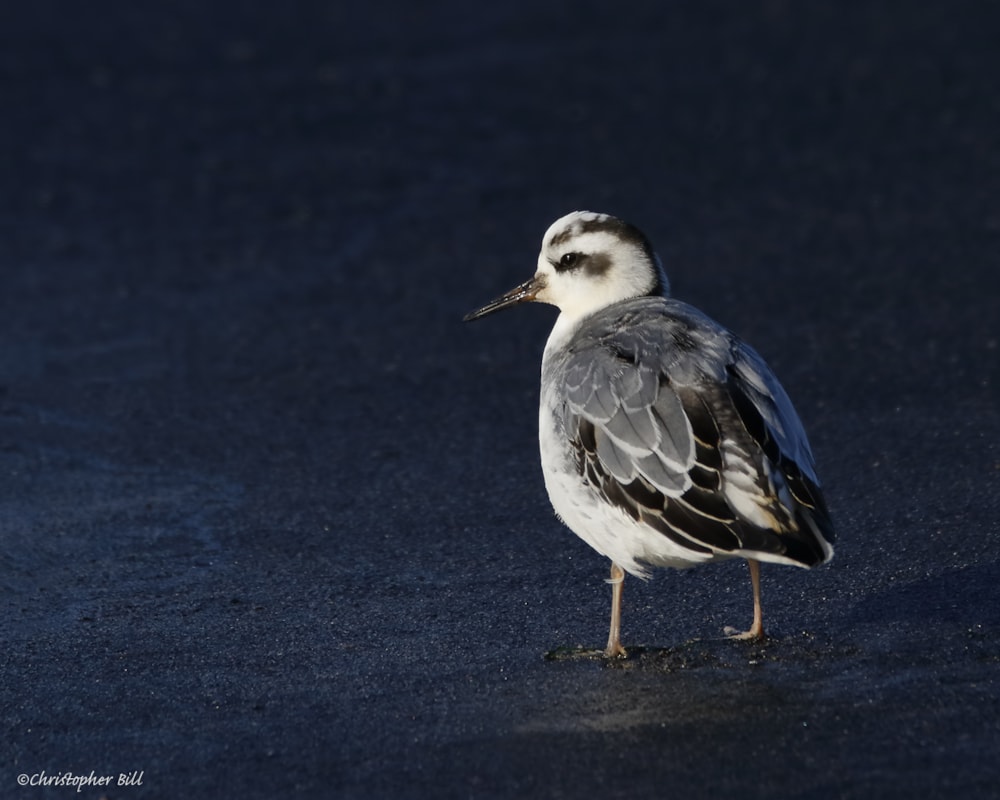 Grey Phalarope, Hartlepool, Cleveland (Christopher Bill).
The Spotted Crake continued to flaunt for all and sundry on St Mary's throughout.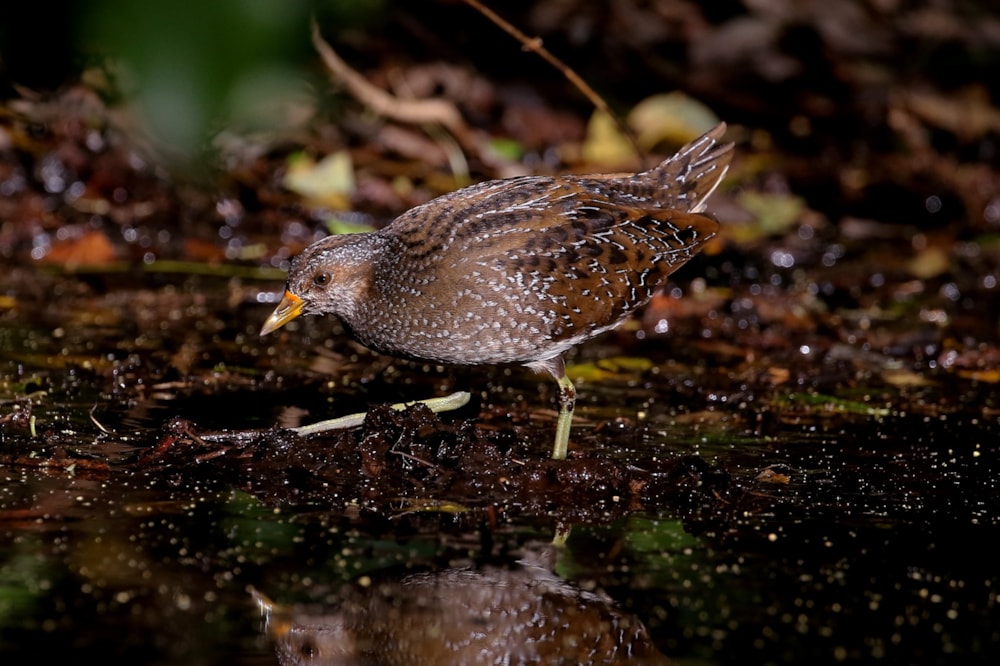 Spotted Crake, St Mary's, Isles of Scilly (Jamie Partridge).
The adult Ring-billed Gull continued at Nimmo's Pier, Co Galway, 10 sites scored Sabine's Gull and a juvenile White-winged Tern, found on 12th at Lurgan Green, Co Louth, lingered until the end of this review period. The American Black Tern hung on at Longham Lakes, Dorset, throughout. A Laughing Gull was found at Ahmore, North Uist, on 15th.
There were three American Wigeon, with a new drake at Hurworth Burn Reservoir, Co Durham, and lingering or returning birds in Co Galway and Highland. On North Ronaldsay, the drake Green-winged Teal moulted enough to reach identifiable status, though the possible first-winter drake on St Mary's remains up for debate. One or two Blue-winged Teal were on the Isles of Scilly, with others remaining in Clyde and Co Wexford.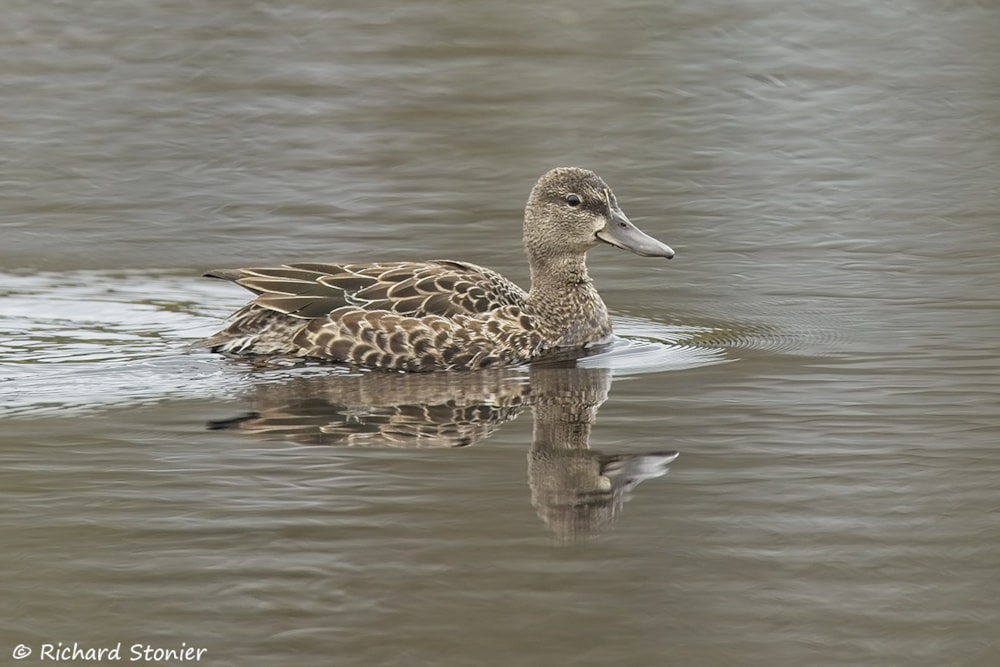 Blue-winged Teal, St Mary's, Isles of Scilly (Richard Stonier).
A drake Lesser Scaup was another smart bird for Rutland Water, found on 10th and lingering throughout. The Co Mayo bird was still on Carrowmore Lake. All three Surf Scoters were on the west coast of Scotland, while Dorset, East Yorkshire and Outer Hebrides hosted Ring-necked Duck. Drake Hooded Merganser were seen in Norfolk and Staffordshire, with the female again in North London on 15th. North Uist and Islay, Argyll, both held Snow Geese (too on the latter isle), with another in Forth; two Richardson's Cackling Geese were on North Uist.
Scarce raptors were, given it was an often wet and windy October week, thin on the ground. A late juvenile Montagu's Harrier was at Weybourne Camp, Norfolk, on 15th. while a juvenile Pallid Harrier toured Langford Lowfields RSPB, Notts, on 12th. Leith Hill and Toft, Shetland, scored what may be the last European Honey Buzzards of 2019. Norfolk, Cornwall and Kent hosted a Rough-legged Buzzard apiece, with the former found exhausted at Mevagissey, Cornwall, on 9th, where it was taken into care – presumably, given location and the bird's condition, this may well be of the North American subspecies sanctijohannis. Finally, the Snowy Owl was again entertaining visitors to Ronas Hill, Shetland.
Western Palearctic
The Azores did it yet again on 12th, when the WP's first Connecticut Warbler was extracted from a mistnet at Fajã Grande, Flores. After last year's Western Kingbird, this is another brilliant bird that ably underlines the huge potential of Flores, which is barely visited by birders when compared to neighbouring Corvo.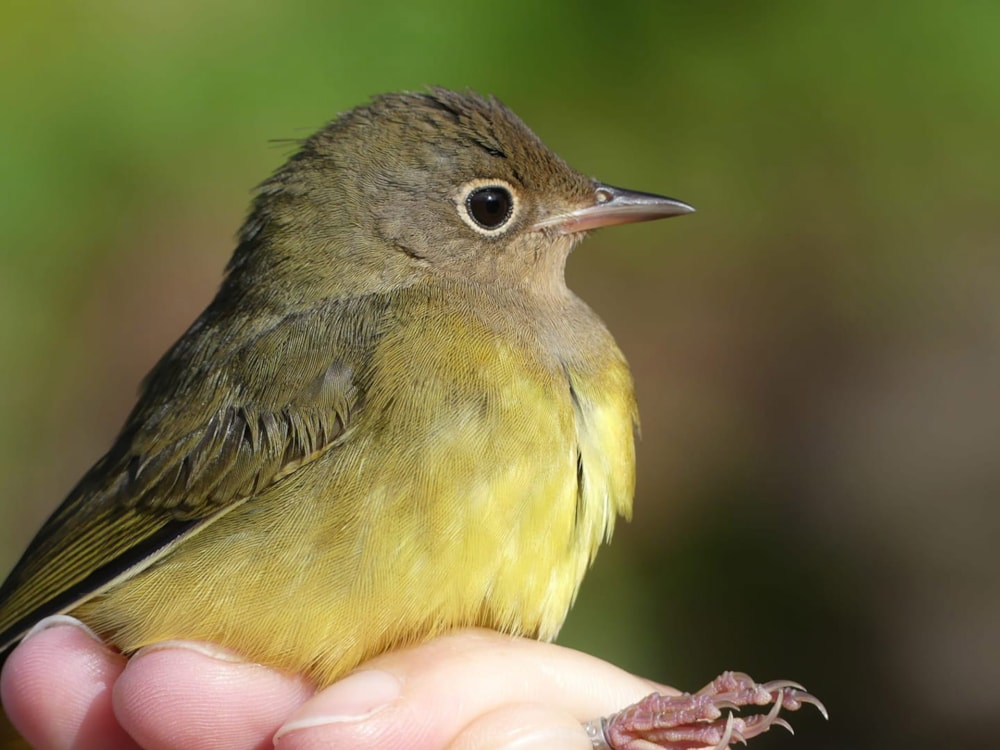 Connecticut Warbler, Fajã Grande, Flores (Thijs Valkenburg).
Corvo itself scored a White-eyed Vireo from 9-12th and a male Hooded Warbler on 10-11th, with other birds including juvenile Northern Harrier, Northern Parula, American Buff-bellied Pipit and multiple Red-eyed Vireos.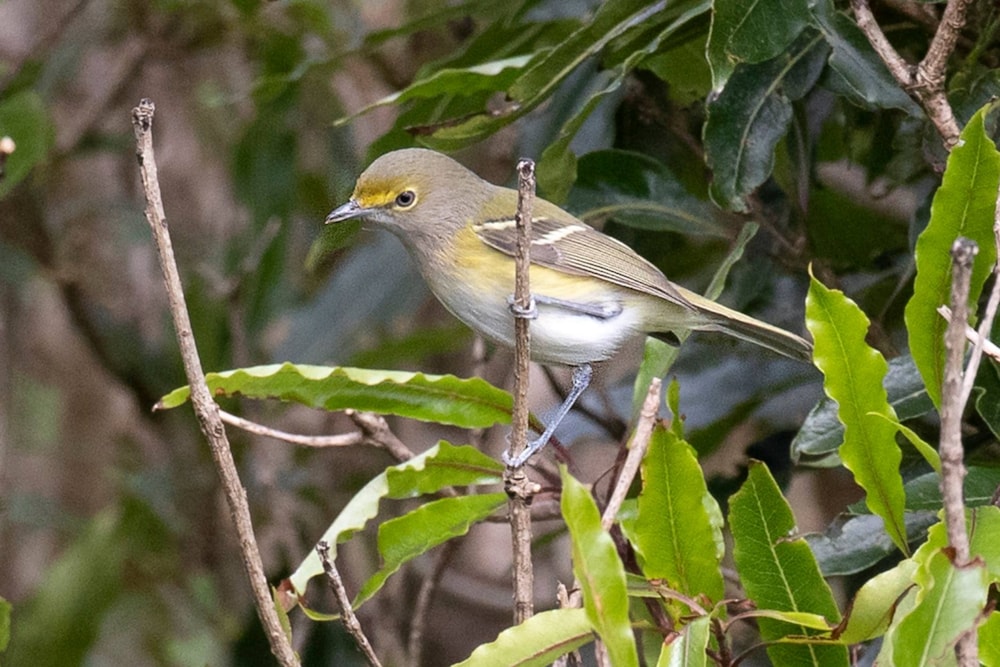 White-eyed Vireo, Corvo, Azores (Daniel Mauras).
France's excellent autumn continued with Upland Sandpiper and Swainson's Thrush on Ouessant, plus an Eastern Yellow Wagtail on neighbouring Sein Island on 12th. Iceland produced records of Rose-breasted Grosbeak, Ross's Goose, Isabelline Shrike and a likely Stejneger's Stonechat. Utsira boasted Norway's third Red-eyed Vireo and fifth Swainson's Thrush on 9th and 10th respectively.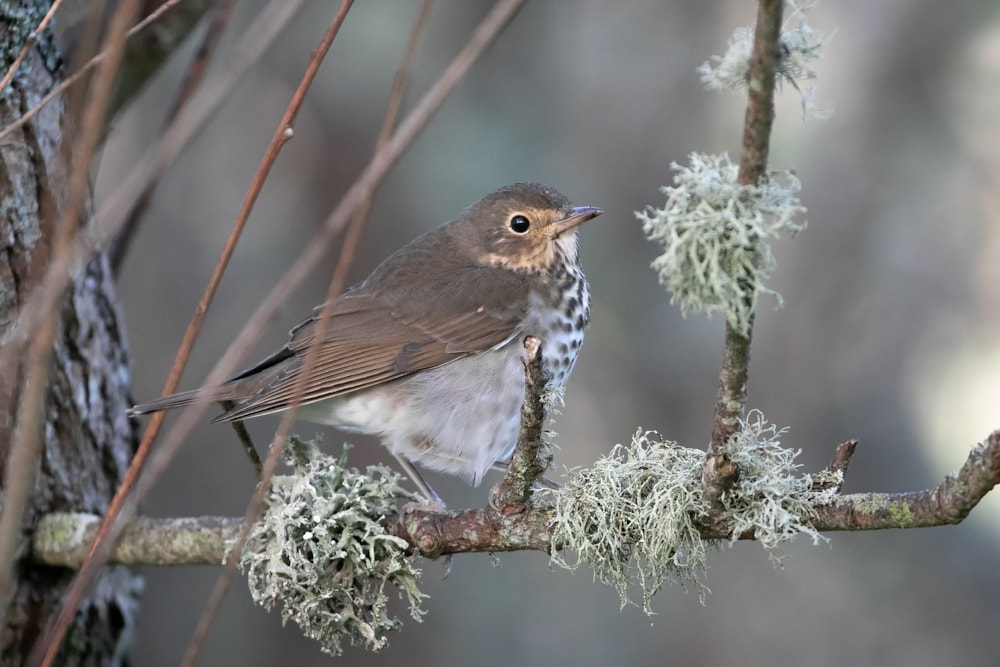 Swainson's Thrush, Ouessant Island, Finistère (Adrian Jordi).
The Netherlands was treated to its second-ever Myrtle Warbler on Schiermonnikoog on 12-13th, but far more significant was the nation's first Upcher's Warbler north of Amsterdam at Kalf from 13th. This is also the first European record away from its breeding range and Cyprus. Belgium, meanwhile, enjoyed twitchable occurrences of Red-eyed Vireo and Pallas's Grasshopper Warbler at Knokke-Heist.
Upcher's Warbler, Kalf, The Netherlands (Leo J R Boon).