In a similar vein to the previous week, news has gone out thick and fast at BirdGuides these past seven days, but there remains a notable lack of stardust atop the plentiful reports of regular midwinter fare. Indeed, with the preliminary excitement that a new year engenders drifting away and a continued period of uninspiring weather, it wouldn't be rude to suggest we're amid the January blues period …
Action at the top of the rarity table was in short supply, the week kicking off with a Lesser White-fronted Goose no-show in Cumbria, despite the bird in question only being found the previous evening. If you like Pacific Divers, however, then it was a good few days: the Co Cork individual and Cornish duo continued to show, the former last reported at Crookhaven on 14th, with the Pendower Beach and Penzance birds noted until 9th and 15th respectively.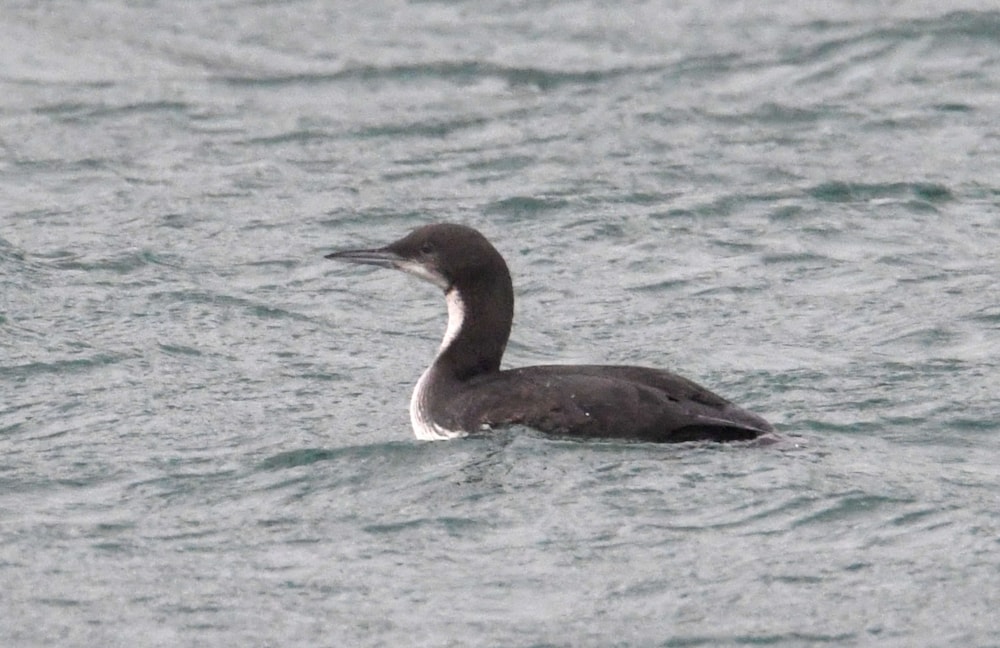 Pacific Diver, Crookhaven, Cork (Richard Mills).
The reliable Pied-billed Grebe remained in situ, reported on 11th at Loch Spiggie, Shetland, while on the same day at the other end of Britain the elusive Eastern Yellow Wagtail was seen again on St Mary's, Scilly.
There was a bit of action in the rarities department, most notably involving gulls in Ireland. In Co Cork a decent American Herring Gull contender couldn't resist the loaves at Black Ball Harbour, West Beara, on 13th, allowing for a series of close-range photographs. Consequently, the latter-stage Smithsonianus identification minefield could be trodden on for those who wished, this individual perhaps an advanced third-winter.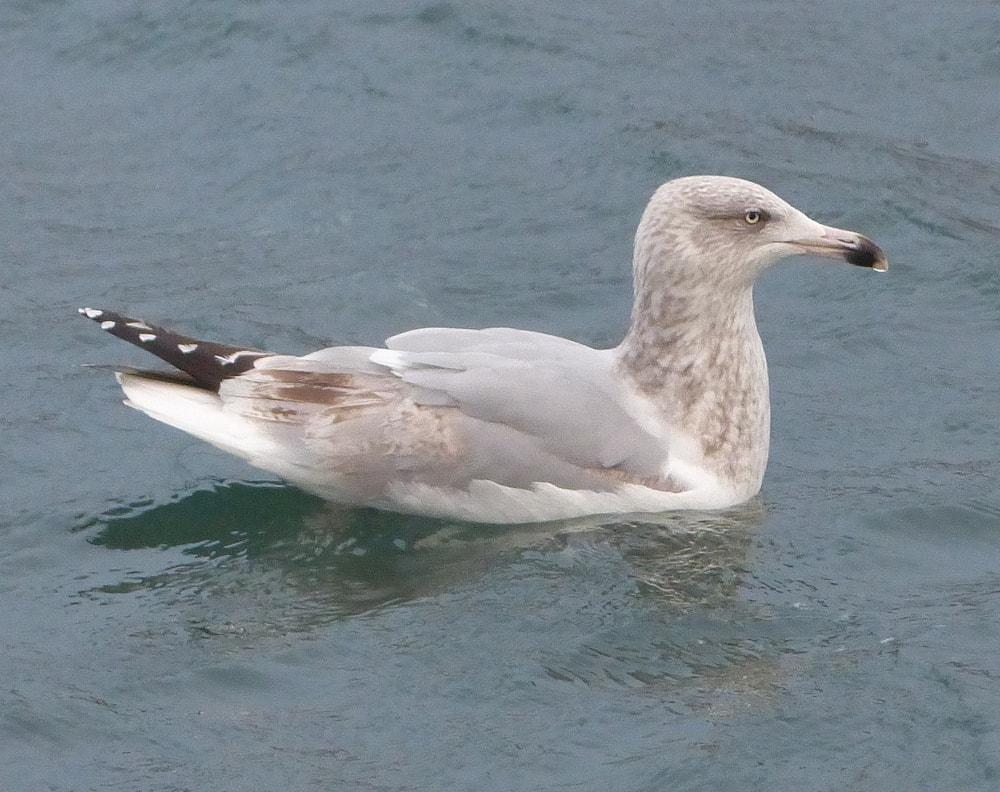 American Herring Gull, Beara Peninsula, Cork (Fionn Moore).
An interesting record from Co Galway involved a first-winter Bonaparte's Gull with Black-headed congeners 1.5 miles off Furbogh on 9th. On the other side of Galway Bay, the Forster's Tern was reported at Kinvarra on 9th. Back down in Co Cork, a report of a putative adult Azore's Gull at Lisagriffin, on 8th, didn't emerge until the following day.
Both Lesser Yellowlegs, at Devoran Creek, Cornwall, and Lodmoor, Dorset, were reported with regularity, as was the confiding Spotted Sandpiper at Ferrybank, Co Wexford, which continues to woo visitors, often showing at close range. In Lincs, the Long-billed Dowitcher, extended its lengthy stay at Frampton Marsh.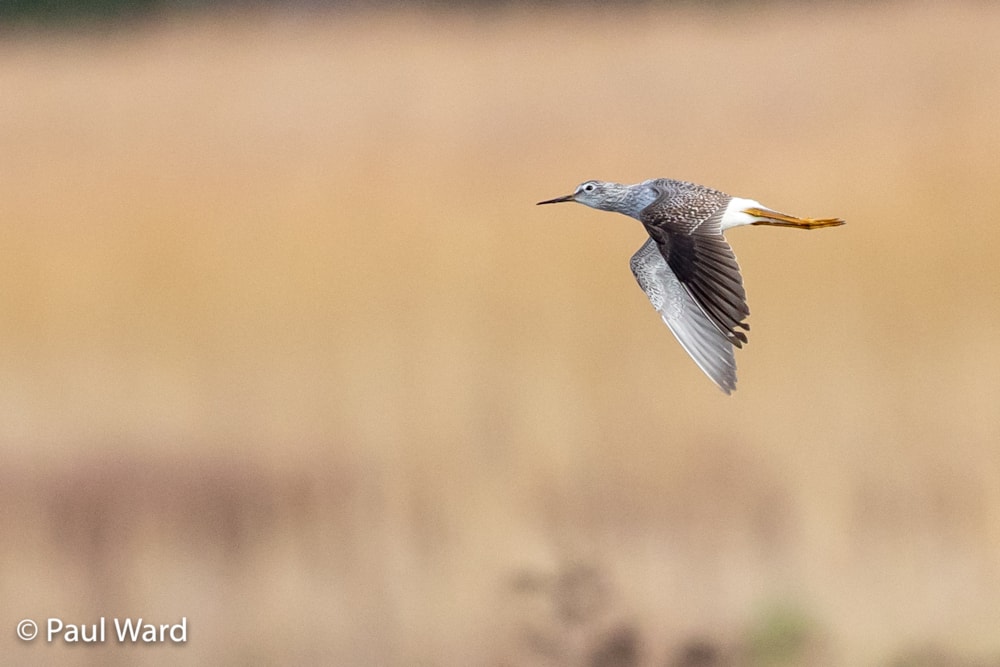 Lesser Yellowlegs, Lodmoor RSPB, Dorset (Paul Ward).
After an absence of more than two months, the drake Ferruginous Duck reappeared at Blashford Lakes, Hants, from 9th. The two dodgy individuals remained at Llan Bwch-llyn Lake, Powys, and Tilgate Forest CP, West Sussex, respectively. The female King Eider was still at Ynyslas, Ceredigion, on 11th, though it couldn't be found on 12th.
The standout passerine rarity was a Hume's Leaf Warbler at Newhaven, East Sussex. It transpired the bird had been present since 27 December, but for some reason news wasn't made public until 12th. With the revelation allowing Sussex listers a first stab at the species since 2012, a steady stream of admirers visited during the following days, with the mobile warbler giving visitors a bit of a run-around, though generally good views could be obtained. It was still present on 15th.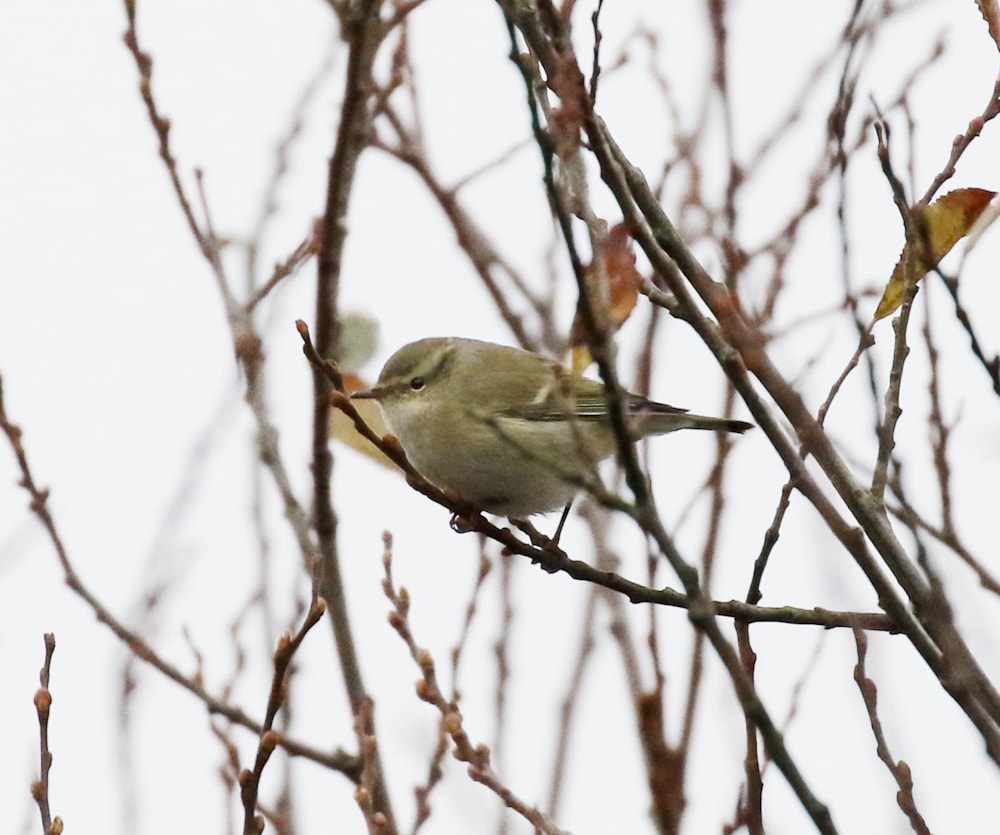 Hume's Leaf Warbler, Newhaven, East Sussex (Beachy Birder).
On St Agnes, Scilly, the smart Desert Wheatear was reported as still present on 14th. With unusual crossbill species thin on the ground this winter, news of a possible first-winter female Two-barred at Barley Green, Lancs, on 15th, was of note.
Three Snow Geese were recorded, all north of Aberdeen. The popular extralimital Taiga Bean Geese continued to be frequently reported from Seaton Common, Cleveland, and there were three Todd's Canada Geese – long-stayers in Argyll and Cumbria, with another mingling with Pink-footed Geese at Slammanan, Forth, on 12th. On the Outer Hebrides the putative Lesser Canada Goose (or other similar small subspecies) remained at Borgh, Barra, until 15th at least. Black Brants were reported from seven locations and a possible Grey-bellied Brant was at Kilbarrack, Co Dublin, on 12th.
Only 10 American Wigeon were on offer, with a drake at Denhall Quay, Cheshire, the sole new bird. There were fewer Green-winged Teal – five in total, continuing the poor winter for this species. Three Garganey records included new discoveries at Blackpool, Lancs, and Cahore Marsh, Co Wexford.
Ring-necked Ducks were far more widespread, with 13 reports during the week including new birds at Old Hall Marshes, Essex, and Caranavoodaun Turlough, Co Galway. By contrast, just two Lesser Scaup were about, both long-stayers in Somerset and Staffordshire. Three Surf Scoters from two sites – both in Scotland – was a measly haul. Smew remain low in numbers, with none anywhere south of the Thames. Perhaps the anticipated cold snap next week will shift a few more over from the Continent?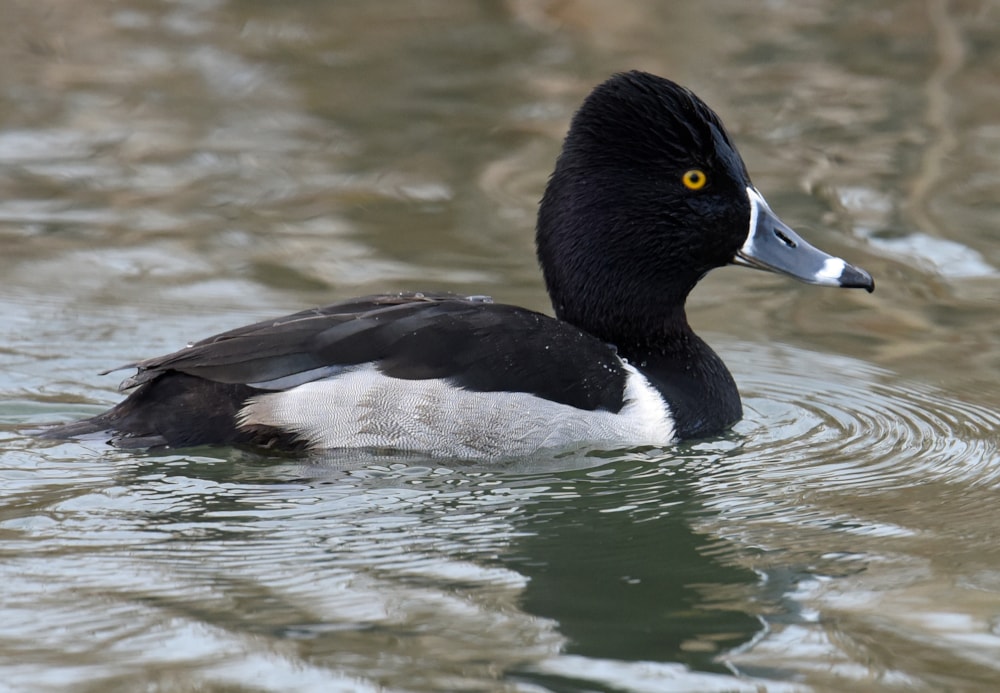 Ring-necked Duck, Radipole Lake RSPB, Dorset (Tony Hovell).
White-billed Divers were logged from four sites, with new birds off Ardessie, Highland, and in the Bluemull Sound, Shetland, complimenting lingerers off Eoligarry, Barra, and Kirkabister, Shetland. The west hogged Glossy Ibis records, with Co Cork, Cornwall, Devon, Scilly and Somerset claiming almost all the reported birds; Angus and Dundee was the only county to buck the trend with an individual at Forfar on 10th. A curious record involved one briefly aboard the RV Celtic Explorer at Cobh on 9th.
Western Cattle Egrets continued their winter abundance – none north of Lancs, mind – with perhaps the most memorable record involving two birds making themselves at home in an urban playing field at Cheshunt, Herts. The only White Stork is thought to have been a zoo escapee. Whatever its status, like most these days it was ringed, and toured various sites in Herts and Surrey. The first-winter Common Crane continued to flit between Borders and Northumberland.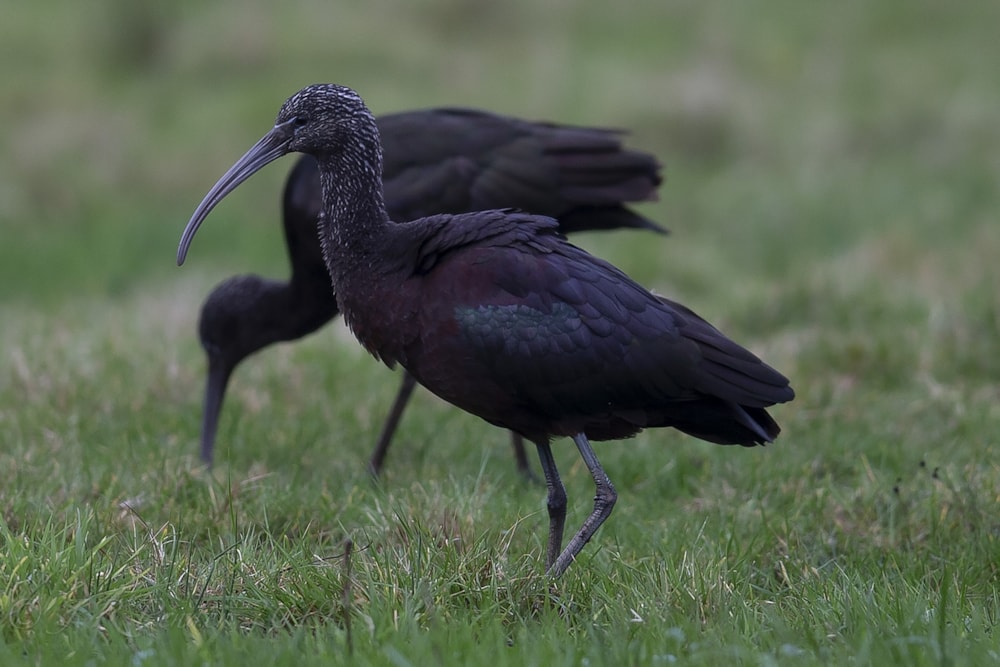 Glossy Ibis, St Mary's Isles Of Scilly, Britain (Joe Pender).
In Hampshire, the juvenile White-tailed Eagle was still about at Roe Inclosure on 9th, but then proved hard to pin down for the remainder of the week. Some 12 sites enjoyed Rough-legged Buzzards, all bar two of which were in the east. In Cornwall, the wintering Temminck's Stint continued at Chaple Amble.
There were 17 sightings of Ring-billed Gull, though only one involved a new bird, a second-winter at Blennerville, Co Kerry, on 13th. In the same county, two were together at Tralee Bay Wetlands Centre on 15th. Glaucous Gulls were altogether more numerous, with an impressive 30 sites logging the species. They even hit the far south, with different birds at Beddington Farmlands and Crayford Marshes, both in London, and another at Newhaven and West Rise Marsh in East Sussex. Iceland Gulls were also well represented, and Killybegs, Co Donegal, finally flexed its muscles this winter with three on 13th. From now on, over the next few weeks, both Iceland and Glaucous Gull numbers will surely increase at this iconic site. The only Kumlien's Gull recorded was a very dapper adult at Rubh' Arnal on North Uist, Outer Hebrides, on 13th. There were 68 reports of Caspian Gull.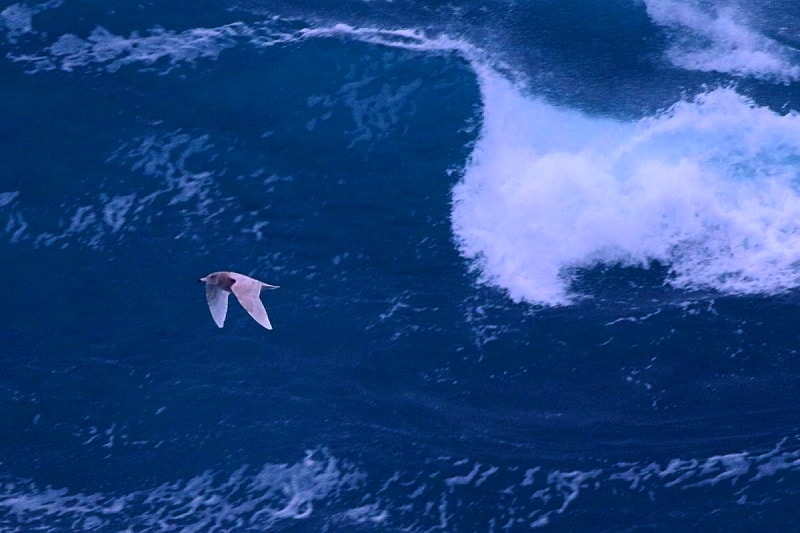 Glaucous Gull, Lamba Ness, Unst, Shetland (David Cooper).
In Co Armagh, at Drummannon, a Eurasian Hoopoe appeared out of the blue on 14th, though there were no subsequent reports. Just the one Richard's Pipit remained, the Durham individual continuing to eek out a living at South Shields. Yet again, one of the most frequently reported species of the week was Waxwing, with 170 alerts during the seven days. Birds remain largely in the north, though they did reach as far south as Devon and Kent.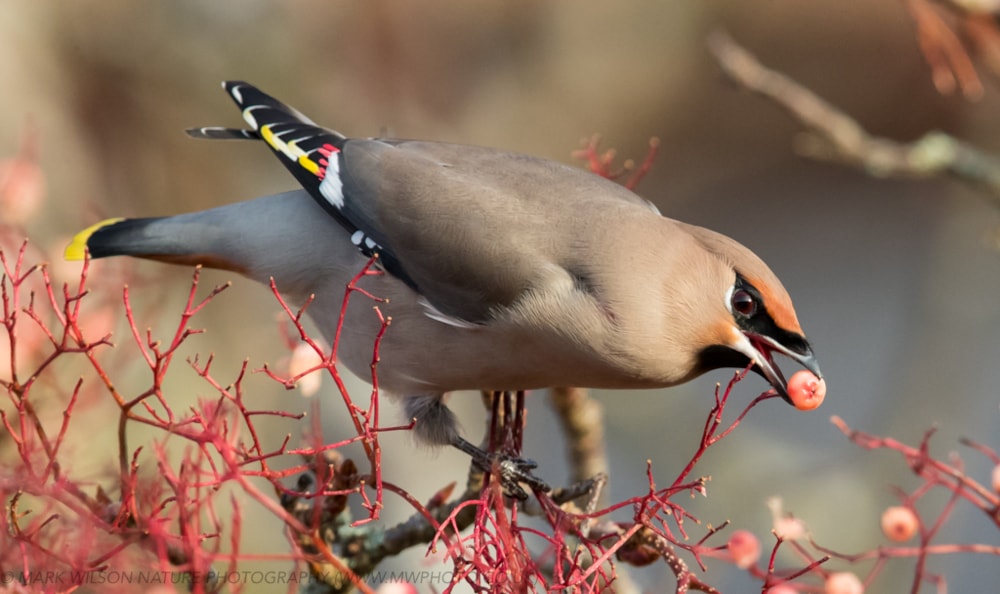 Waxwing, Newtown, Powys (Mark Wilson).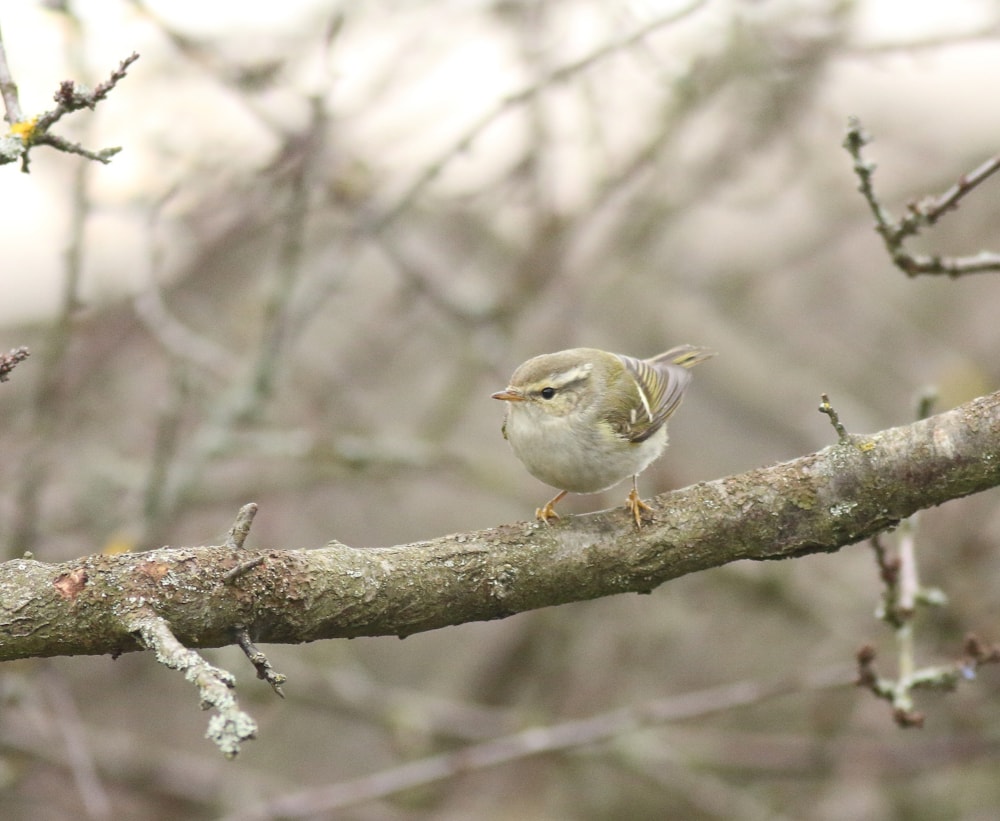 Yellow-browed Warbler, Molesey Heath, Surrey (Dave Harris).
The three Dusky Warblers all remained, at East Fleet, Dorset, Huttoft Bank, Lincs and Kingsbury Water Park, Warwickshire, respectively. Yellow-browed Warbler numbers seemed to pick up, albeit with a heavy south-westerly bias: of 25 locations to record birds, 17 were in this part of our isles, with an impressive five reported at Helston, Cornwall – more people looking in the New Year or wintering individuals spreading west? A decent haul of 16 Siberian Chiffchaffs was recorded.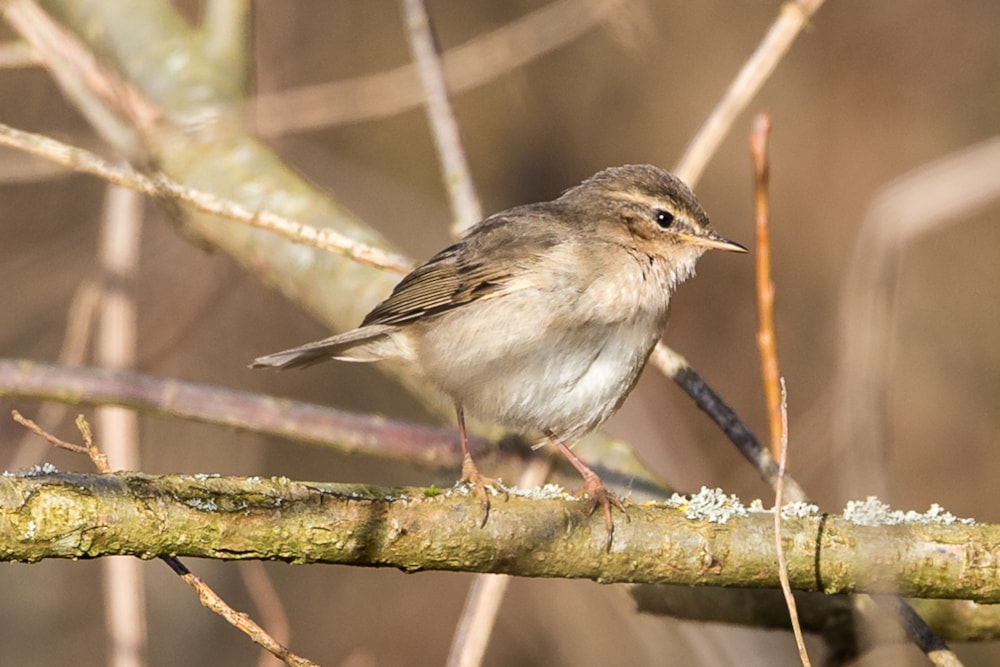 Dusky Warbler, Kingsbury Water Park, Warwickshire (Ian Bollen).
Only seven Great Grey Shrikes were tallied, and six of those were long-stayers. It's been a poor winter for this species, with many traditional haunts not being frequented. The three Rosy Starlings all continued their stays – the adult at Botley, Oxon, and first-winters at Craig y Don, Conwy, and Kesgrave, Suffolk.
The Common Rosefinch continued to gorge on seed at Cunnisburgh, Shetland, throughout. In Cornwall, up to two European Serins were knocking about at Gulval, near Penzance. Six sites logged Coues's Arctic Redpolls, with a marked north and east distribution.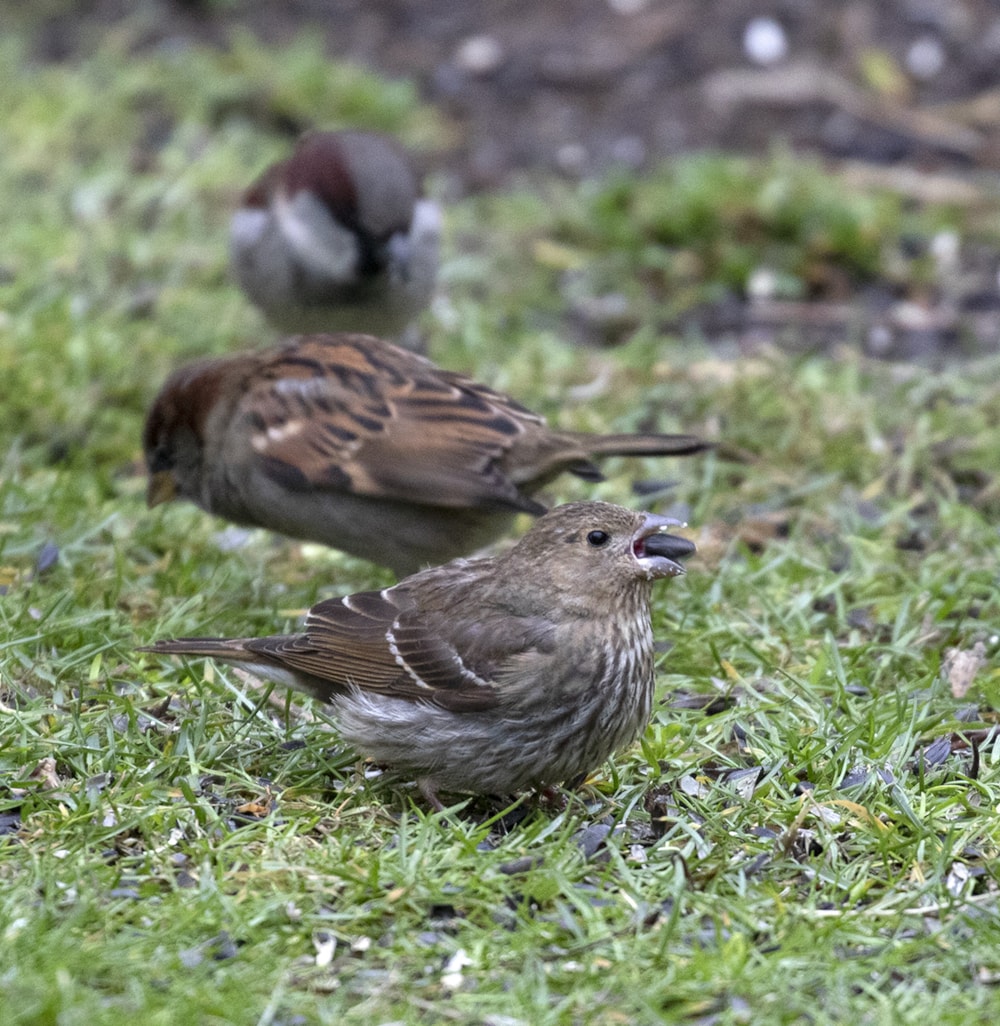 Common Rosefinch, Cunningsburgh, Mainland, Shetland (Roger Riddington).
Finally, a shoutout to the Javan Myna that – incredibly – made it to London Heathrow aboard a long-haul flight from Singapore. The bird was taken in by quarantine staff on 7th, though news of its unlikely journey only broke during the last few days.
Western Palearctic
Given their regional status, it was quite remarkable that two Dwarf Bitterns were on the Canary Islands on 14th. The long-staying bird, seemingly most content at Barranco de Rio Cabra on Fuerteventura, had its limelight stolen by an immature on Gran Canaria, which sadly was taken into care. This latter bird is just the ninth Western Palearctic record.
Sticking with the Atlantic islands, two remaining sub-Saharan rallids continued, with the African Crake at Sal, Cape Verde, and the Allen's Gallinule at Costa Calma, Fuerteventura, both remaining throughout the week. Egypt and Israel enjoyed Black Scrub Robins, with individuals at Wadi Lahami and Samar respectively.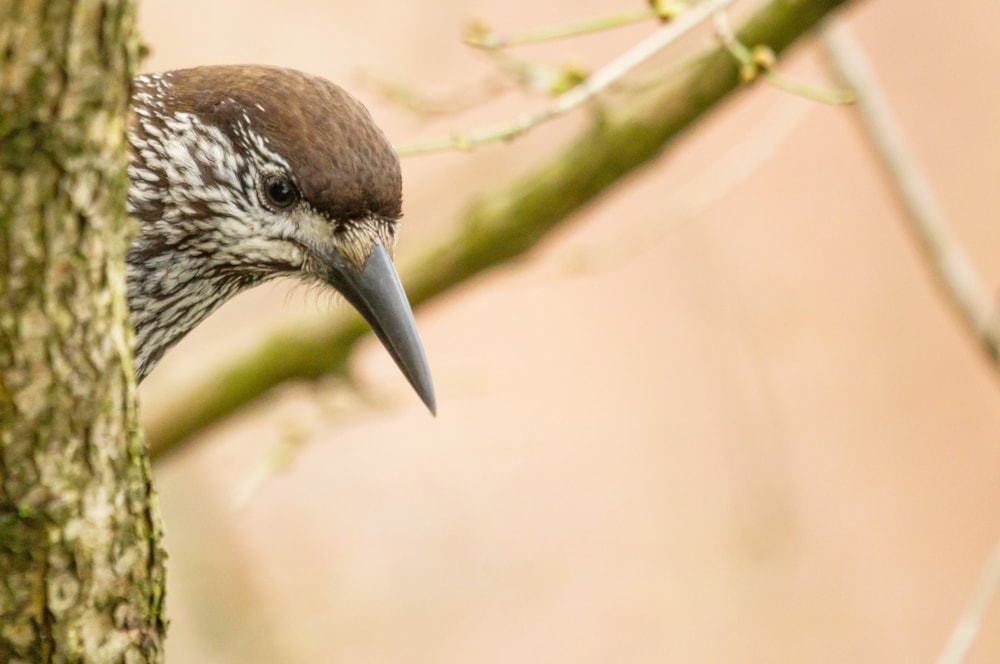 Nutcracker, Wageningen, Gelderland (Chris Griffin).
The ever-popular Dutch Nutcracker continued to thrill its adoring public at Wageningen. Perhaps, with the scheduled hard weather on the Continent at the back end of next week, this specimen will finally make it to our shores? Just imagine the scenes if it did indeed rock up on this side of the North Sea … I'm sure most of us would be equally happy with one of two other species recorded in the Low Countries last week moving west: the long-staying Pygmy Cormorant, in Brussels, Belgium, and the same country's fourth Long-legged Buzzard – at Wirtzfeld – would both go down pretty well.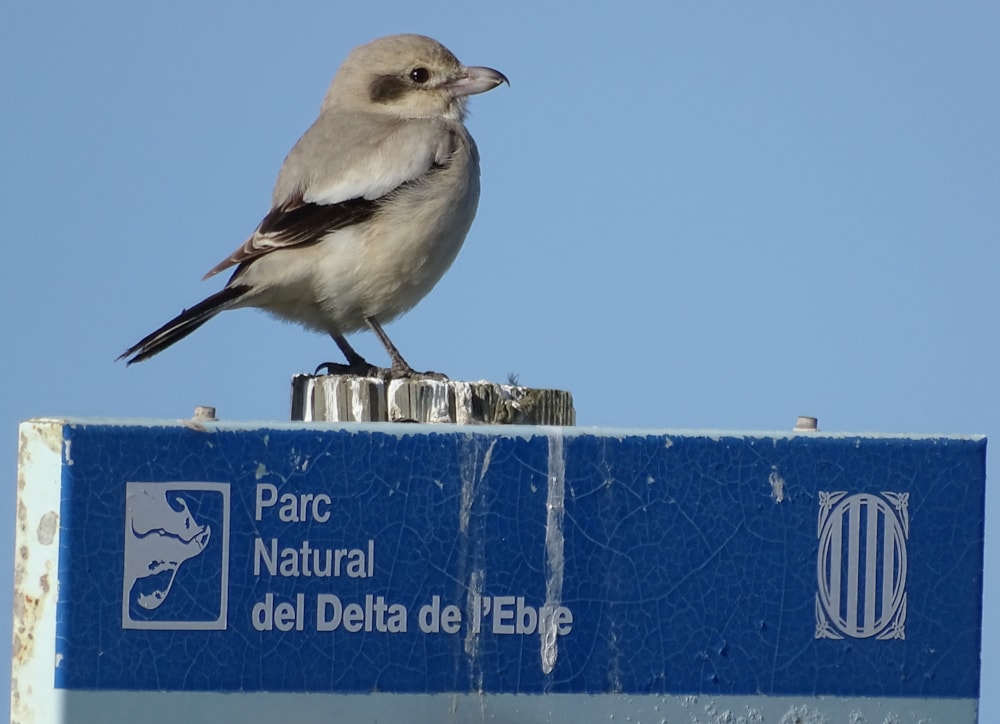 Steppe Grey Shrike, Ebro Delta NP, Spain (Iain Hartley).
Back in The Netherlands, an unringed Ross's Goose among thousands of wintering geese at Nationaal Park De Biesbosch, drew many admirers. In Spain, the long-staying Sociable Lapwing at La Janda and Steppe Grey Shrike at the Ebro Delta both remained. The Oriental Turtle Dove at Hallands län in Sweden was reported again on 10th, two days after one was recorded at Bekes, Hungary. Returning to Sweden, the Cretzschmar's Bunting continued to feed on seed in an Uppsala län garden. The Siberian Buff-bellied Pipit was reported again in France at Bouches-du-Rhône on 12th.