The week at a glance
A significant proportion of the country basked in unseasonably warm sunshine at times, with the weather conditions of Saturday and Monday in particular more suited to mid–late April than the second week of March.
Taking advantage of southerly winds stemming from Iberia, an impressive rush of summer migrants arrived in conjunction with the rising temperatures from Friday onwards. At the head of this movement were good numbers of Northern Wheatears and Sand Martins, although Barn Swallows also appeared en masse for this time of year, 25 sites logging the species including Huntspill, Somerset, with three on 13th.
Little Ringed Plovers were noted from 10 sites as far north as Derbyshire and South Yorkshire, but it was another of the early-spring arrivals that stole the show this week — Garganey. This handsome duck invaded over a broad front from Friday onwards, with birds noted at as many as 40 sites nationwide. Furthermore some impressive counts were made: 10 at Grove Ferry, Kent, on 11th and six at Par Beach Pool, Cornwall, on 10th as well as up to seven at Caerlaverock, Dumfries & Galloway.
Content continues after advertisements


Garganey, Potter Heigham, Norfolk (Photo: Jake Gearty)
There were also some impressively early Willow Warbler reports after the first at Bennerley Marsh, Derbyshire, on 8th, with birds in East Sussex and Co Londonderry on 12th and Gwent on 13th. A handful of Ring Ouzel reports came from as far north as Cheshire and North Yorkshire, while House Martins reached as far north as the Isle of Arran on 12th and Barra, Outer Hebrides, on 13th.
With these came an early flush of exciting spring overshoots. Top billing must go to the Baillon's Crake seen, quite extraordinarily, to fly in and land on Porthchapel Beach at St Levan, Cornwall, on the morning of 10th. As the series of photographs appears to show, the bird spent some time walking around on the rocks and sand before flying off in the direction of Porthgwarra, never to be seen again! A quite fantastic record, and exactly the sort of occurrence that might have been dismissed had photos not been taken...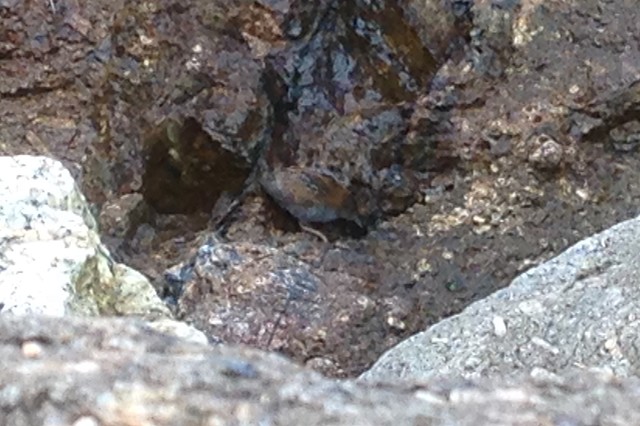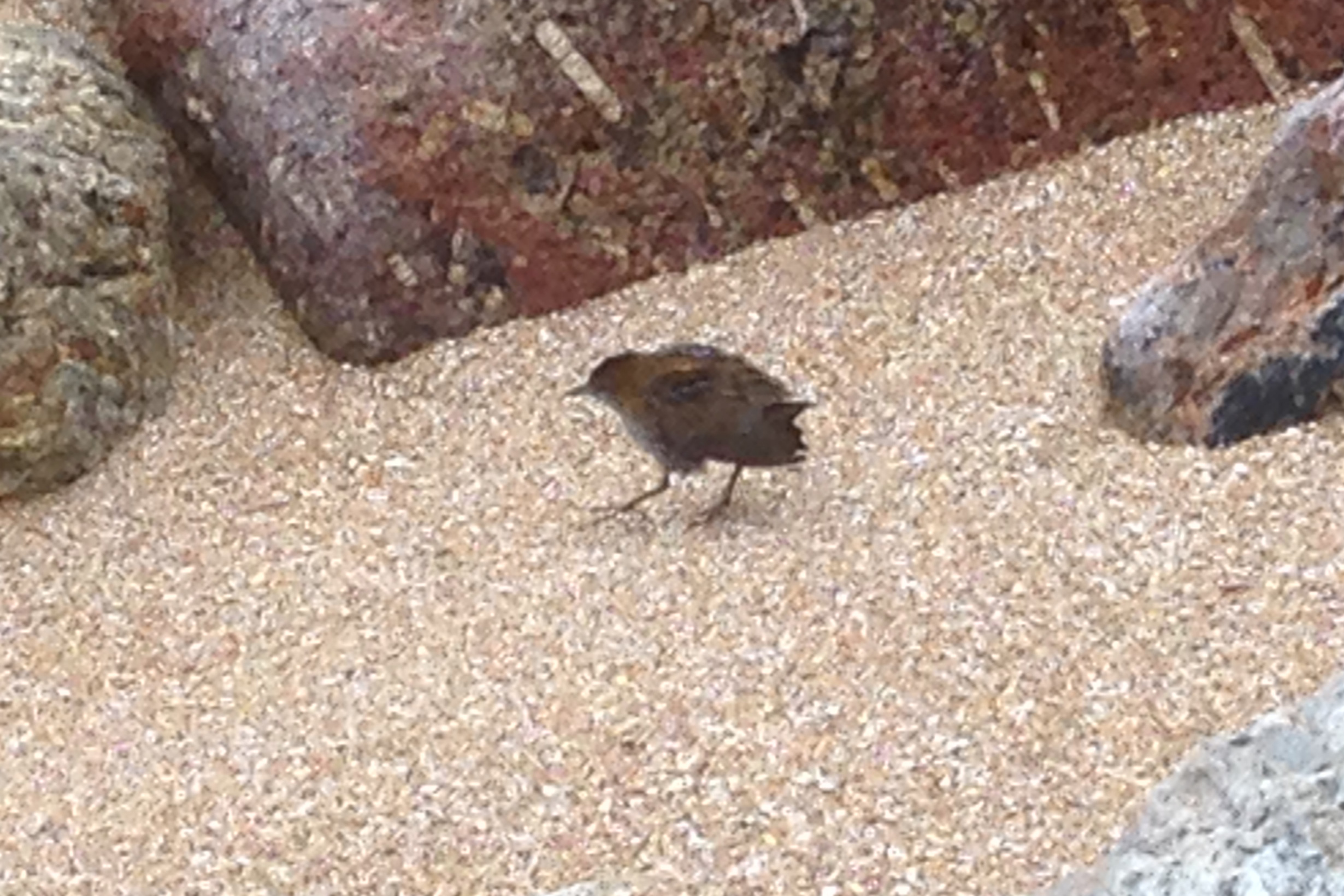 Baillon's Crake, St. Levan, Cornwall (Photos: Alice Davey)
A little more predictable but no less welcome, the first Alpine Swifts of 2017 were noted in Co Cork (over Midleton on 10th) and Kent (Dungeness on 11th). As readers may remember, spring 2016 was a poor one for the species and an influx in the coming days/weeks would go down well. Dungeness also laid claim to the first migrant European Serin of the season, which flew over early on 14th. The first Hoopoe of 2017 was at Ventry, Co Kerry, on 10th and was followed by one on private land at Studland, Dorset, the next day.
Lingering highlights included the American Royal Tern still at Vazon Bay, Guernsey, on 13th and the Pine Bunting still at Dunnington, North Yorks, to 11th (though there was no sign in a long search on 12th). News also came to light surrounding a female Pine Bunting that was present briefly at Felmingham, Norfolk, in mid-January. Both the Eastern Black Redstart in Cleveland and the Blue Rock Thrush in Gloucestershire persisted all week — no doubt many will be hoping the latter in particular moves on at some point soon, so as to avoid controversy resurfacing over its origins.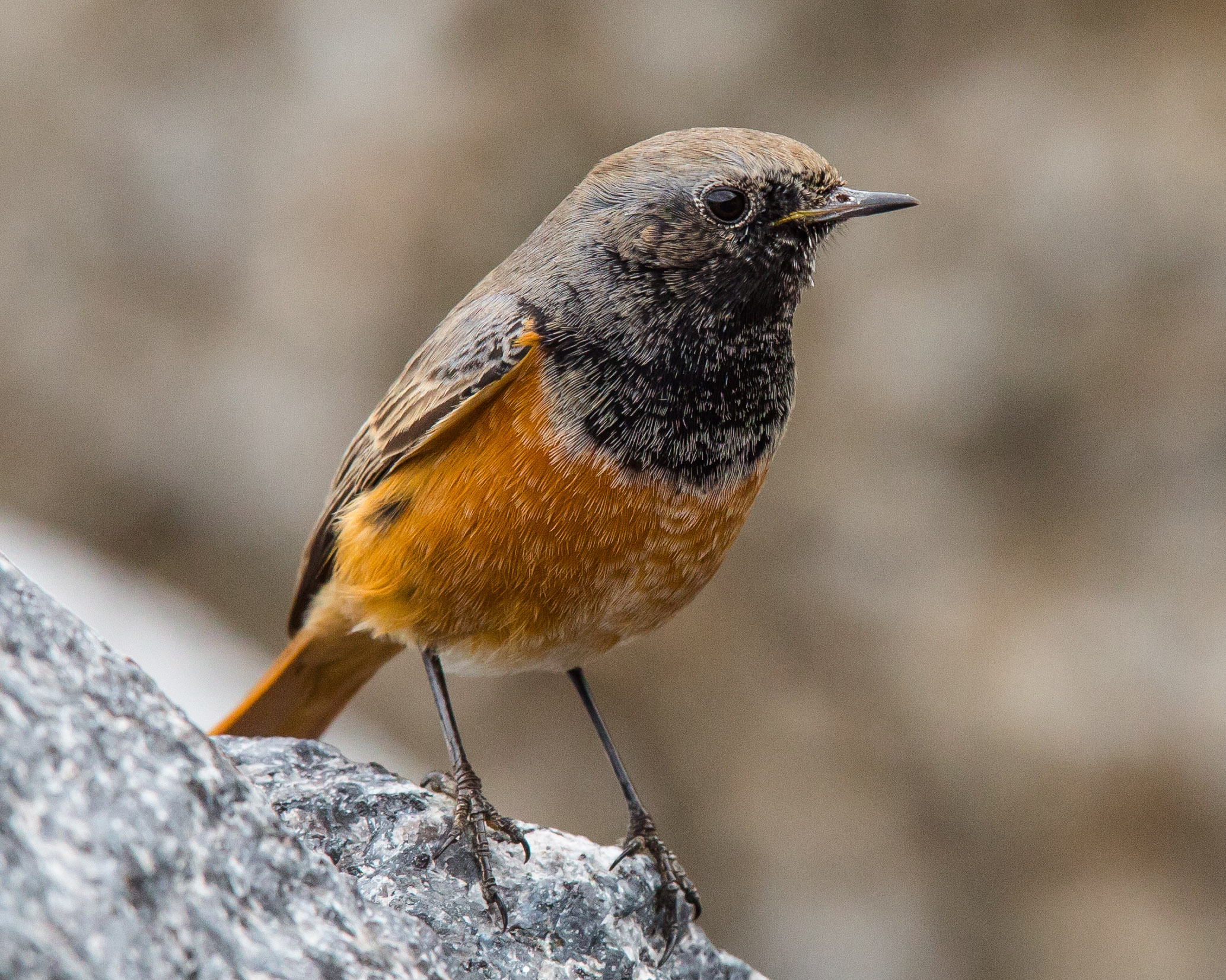 Eastern Black Redstart, Skinningrove, Cleveland (Photo: Richard Laverack)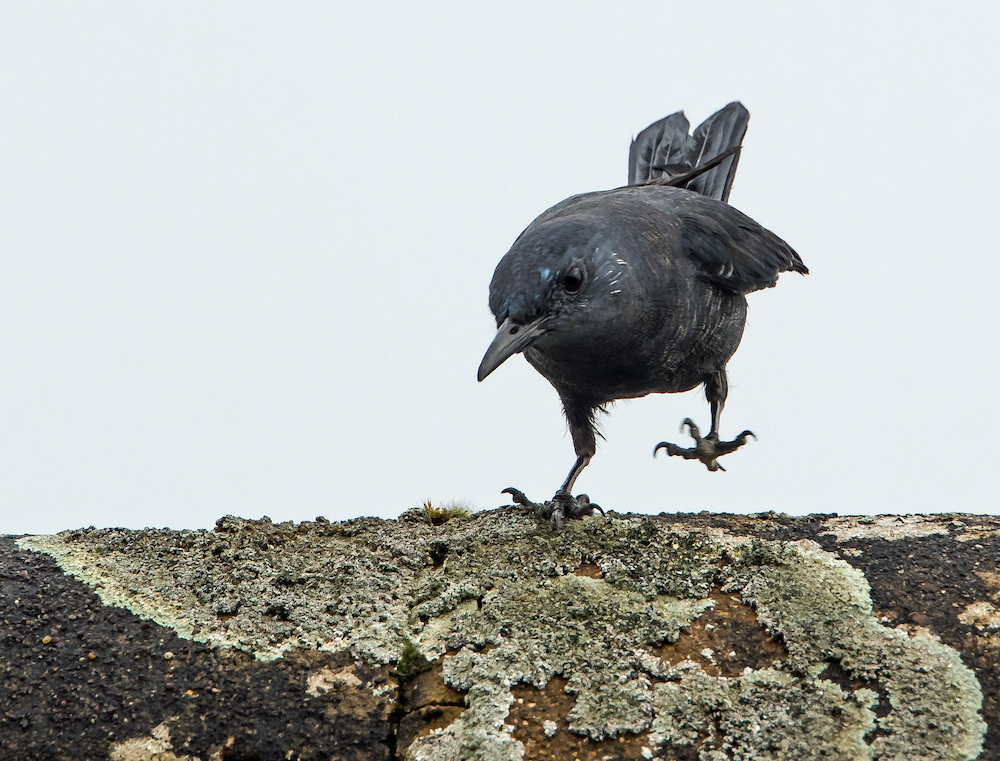 Blue Rock Thrush, Stow-on-the-Wold, Gloucestershire (Photo: Martyn Jones)
There were no reports of the American Coot on North Uist this week, but the Northumberland Pacific Diver continued to frequent either East Chevington or Druridge Bay Country Park. The only White-billed Diver was again the usual adult off South Ronaldsay, Orkney.
The Black Scoter was still off Goswick, Northumberland, on 8th, while Surf Scoter were reported in seven counties, including three in Brandon Bay, Co Kerry, a new drake in northern Co Clare and two males noted at Bay of Kirkwall, Orkney, for the first time since mid-December. The female King Eider was also reported off Castlegregory, Co Kerry, for the first time in a fortnight on 11th.
A drake Hooded Merganser caused initial excitement at Dungeness, Kent, on 10th before it was found to be wearing a green ring. Lesser Scaup remained on Orkney and in Cornwall, the Ferruginous Duck hung on in Hampshire and a dozen Ring-necked Ducks were seen. Of the latter, a new male was at Brent Reservoir, London, from 11th, North Yorkshire's elusive drake returned to Nosterfield on 10–11th and three continued at Lough Morne, Co Monaghan.
Seven American Wigeon remained dotted around the country, with the young female still at Grimley, Worcs, and last week's new male at Dundrum Bay, Co Down, still performing well. A drake Green-winged Teal found at Boultham Mere, Lincs, on 12–13th was one of a dozen recorded this week; other 'new' birds were in Dorset and Orkney. It goes without saying that the drake American Black Duck was still on show at Strontian, Highland, this week.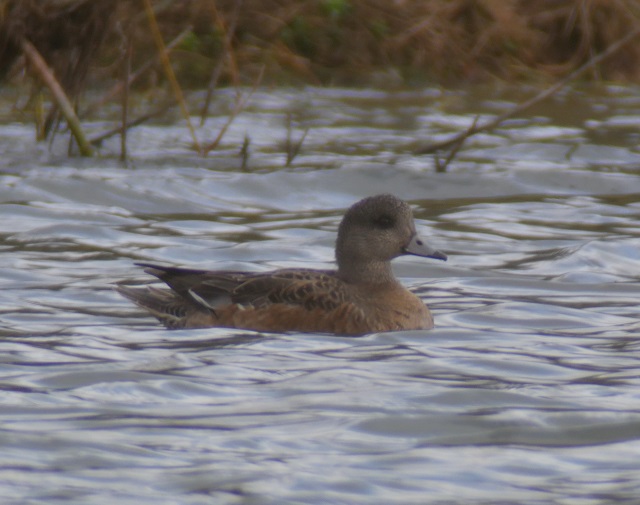 American Wigeon, Grimley, Worcestershire (Photo: Brian Stretch)
The only Snow Goose reports this week (feral flock of 60 in Oxon aside) were the white morph at Alness, Highland, on 9th and the Lancashire blue morph, relocated at Burholme Bridge on 14th. Five Black Brants were logged: two in Essex and singles in Norfolk, Lincolnshire and East Yorkshire.
Cattle Egrets remain very numerous and you have to think that the odd breeding attempt might be on the cards this year. Birds were reported from over 40 sites across Britain and Ireland including numerous flocks up to five, six or seven in number. Most notably, nine were at Tacumshin, Co Wexford, on 12th and a dozen remained near Tamerton Foliot, Devon. The five Glossy Ibises were all long-staying birds, present in Devon, Somerset, the Isle of Wight, Essex and Cambridgeshire.

Cattle Egret, Iken, Suffolk (Photo: Jim Mountain)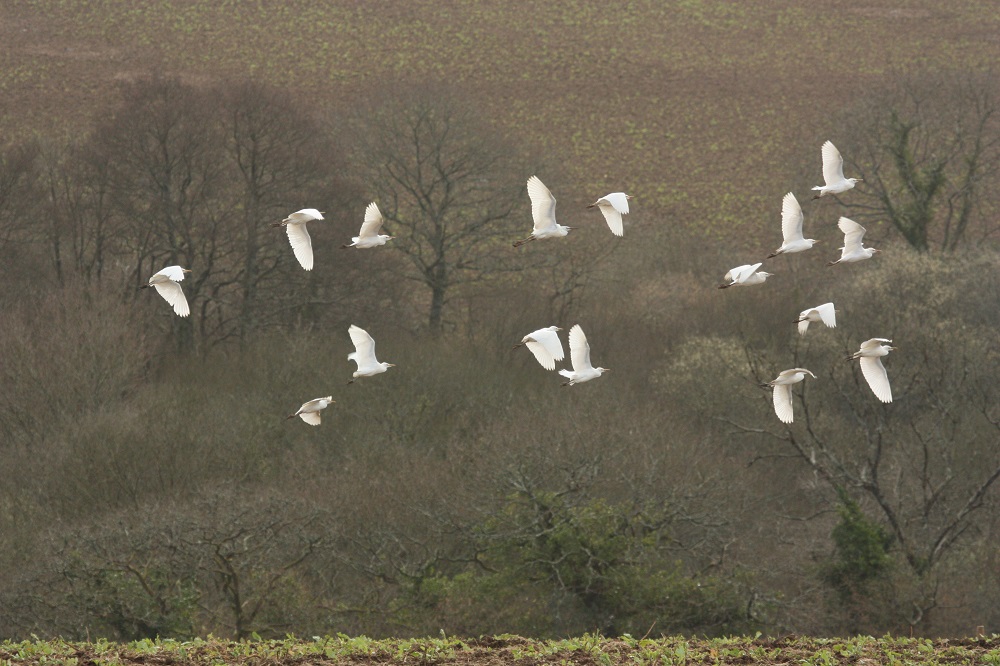 Cattle Egret, Tamerton Foliot, Devon (Photo: Shane Willson)
Seen most often at New Holkham, the juvenile Pallid Harrier remained mobile around north Norfolk to at least 13th but there was again no news on the Yorkshire bird. The Northern Harrier remained on North Ronaldsay but will presumably be off on its travels again soon; unfortunately last week's Gyr in Northumberland was confirmed as an escape bearing a transmitter. A rather smart Snowy Owl was at the classic location of Tarmon Hill near Blacksod, Co Mayo, on 8th.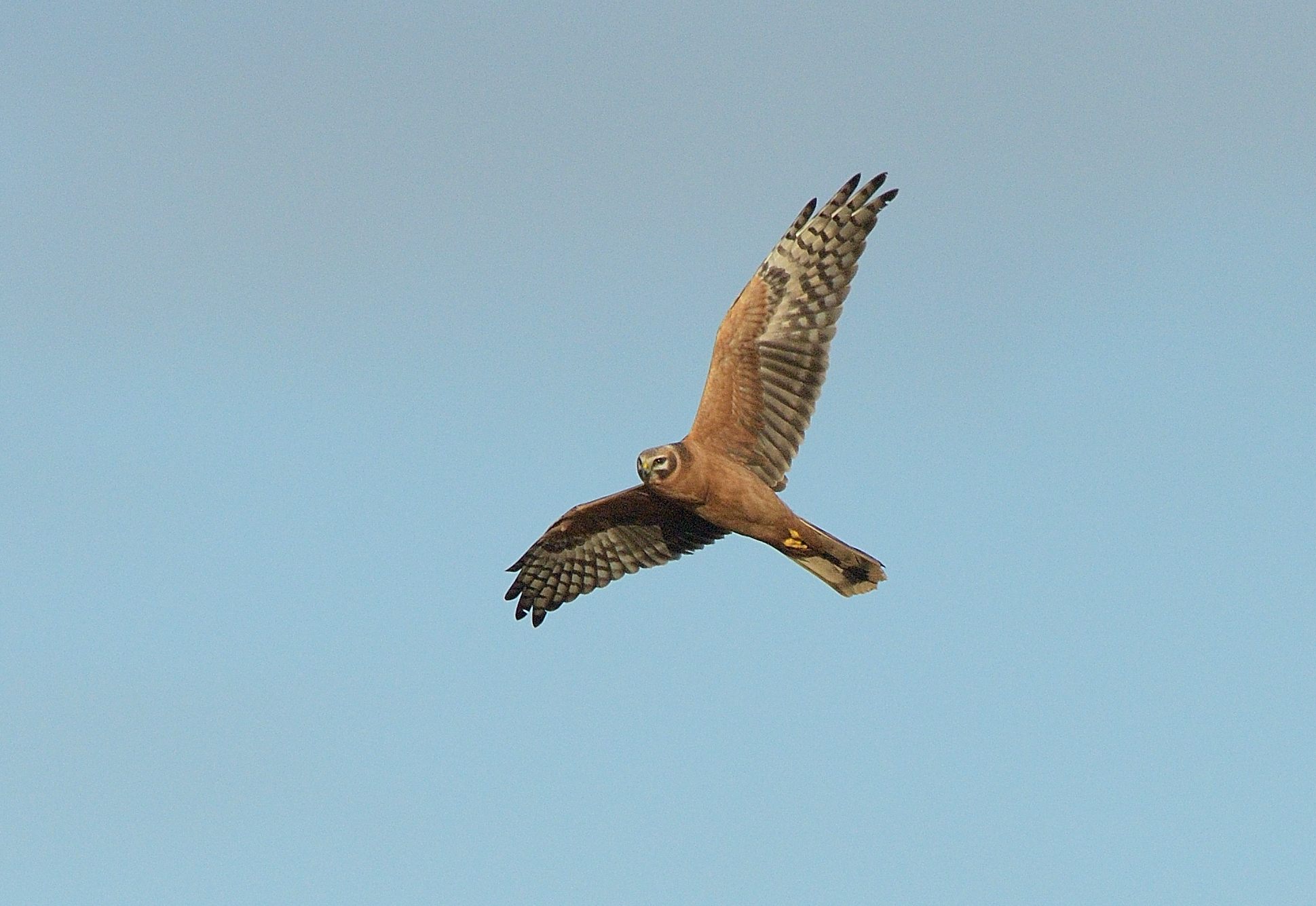 Pallid Harrier, New Holkham, Norfolk (Photo: Baz Scampion)
The Long-billed Dowitcher was still at Tacumshin, Co Wexford, on 12th and the Lesser Yellowlegs remained at Lytchett Bay, Dorset. However, neither the Killdeer or Hudsonian Whimbrel were reported. Staffordshire's wintering Temminck's Stint was relocated at Tucklesholme Quarry on 11th.
Gulls of various sorts were very much on the move this week, many areas noting heavy migration of the common varieties. Perhaps the stand-out species this week was Bonaparte's Gull, with two new birds found this week. A second-winter at Swithland Reservoir for the day on 12th represented the first record for Leicestershire — and arguably overdue when you think of the multitude of reservoirs, including the mighty Rutland Water, which must host so many Black-headed Gulls throughout the year. A first-winter at Kenmare, Co Kerry, from 11th was considerably more confiding, while the youngster also continued to show well at Helston Boating Lake, Cornwall. Elsewhere adults remained at Cardwell Bay, Clyde, to 9th and Coolcower, Co Cork, to 11th.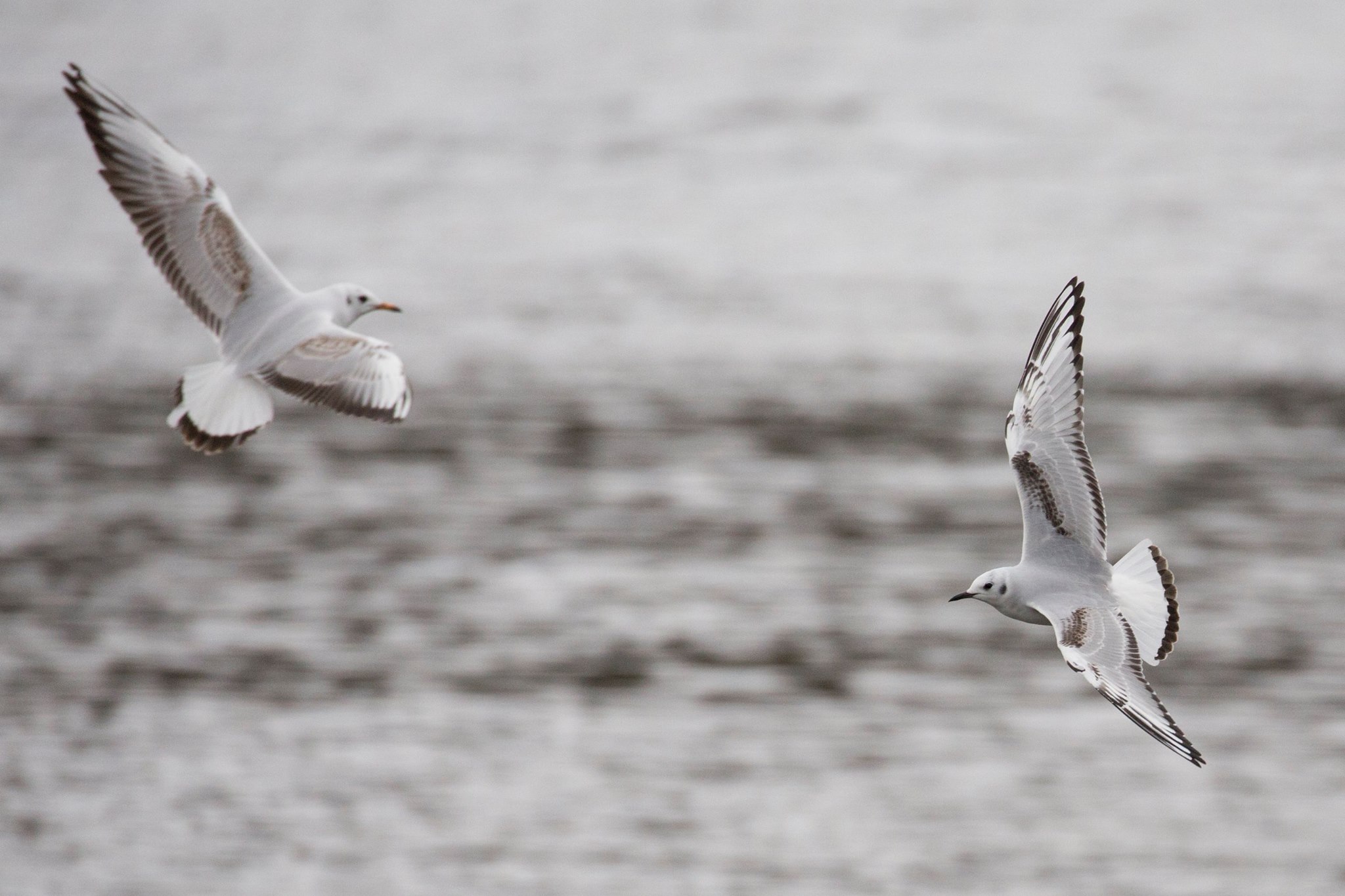 Bonaparte's Gull, Kenmare, Kerry (Photo: Caleb Knight)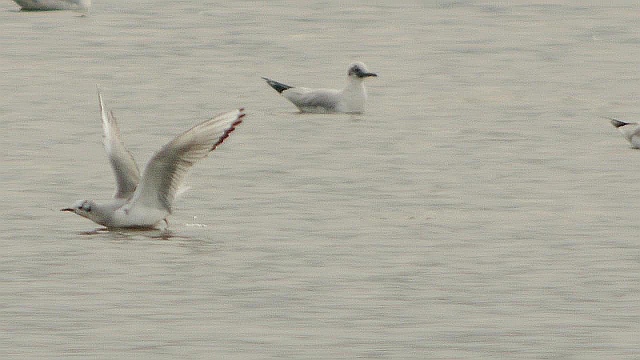 Bonaparte's Gull, Swithland Reservoir, Leicestershire and Rutland (Photo: Alan Shaw)
The Forster's Tern was still in Co Galway on 12th. Fifteen widely spread sites produced Ring-billed Gulls, including a new first-winter at Gosport, Hants, on 12th and an adult and first-winter together at Seafield, Co Clare, on 11th, as well as another new first-winter at Old Head of Kinsale, Co Cork. Meanwhile Iceland and Glaucous Gulls continued to slip away northwards, while Caspian Gulls were heading off east.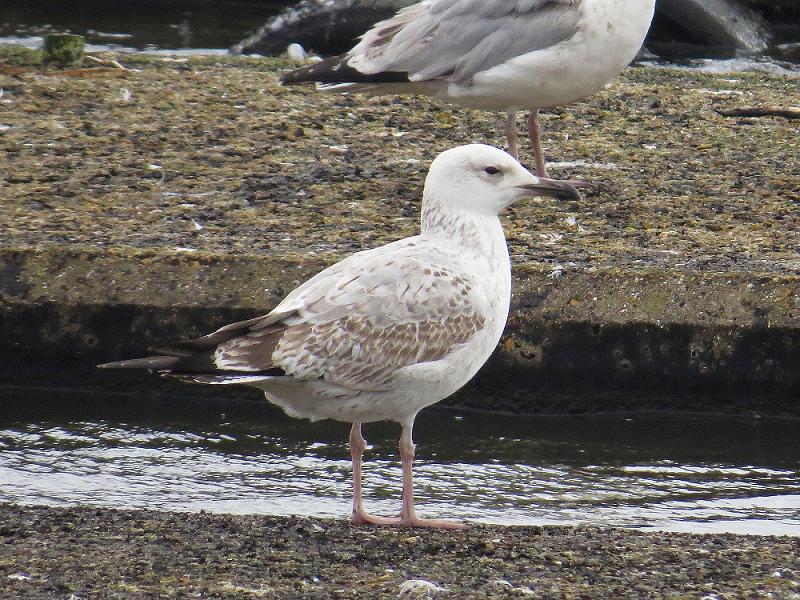 Caspian Gull, Preston, Lancashire (Photo: Pete kinsella)
One of the best finds this week was Lancashire's first Black-throated Thrush, a female present for just one evening and early the next morning at Fulwood, just north of Preston. The bird was filmed at point-blank range and posted on Facebook for ID confirmation on the evening of 12th. Fortunately it remained for birders early the following morning, but quickly disappeared.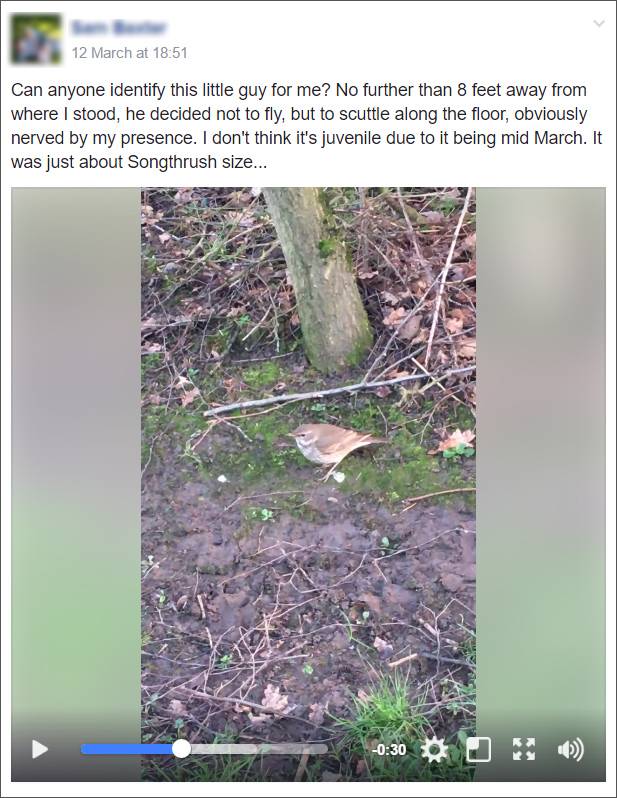 After a stay of four months, Devon's Desert Wheatear finally disappeared this week — negative news came from Thurlestone on 9th. However, the Hume's Leaf Warbler remained on show at Portland, Dorset, to at least 12th and the Bluethroat at Willow Tree Fen, Lincs, also hung around throughout. A dozen sites logged Yellow-browed Warblers, including twos at Staverton, Devon, and Swanpool, Cornwall.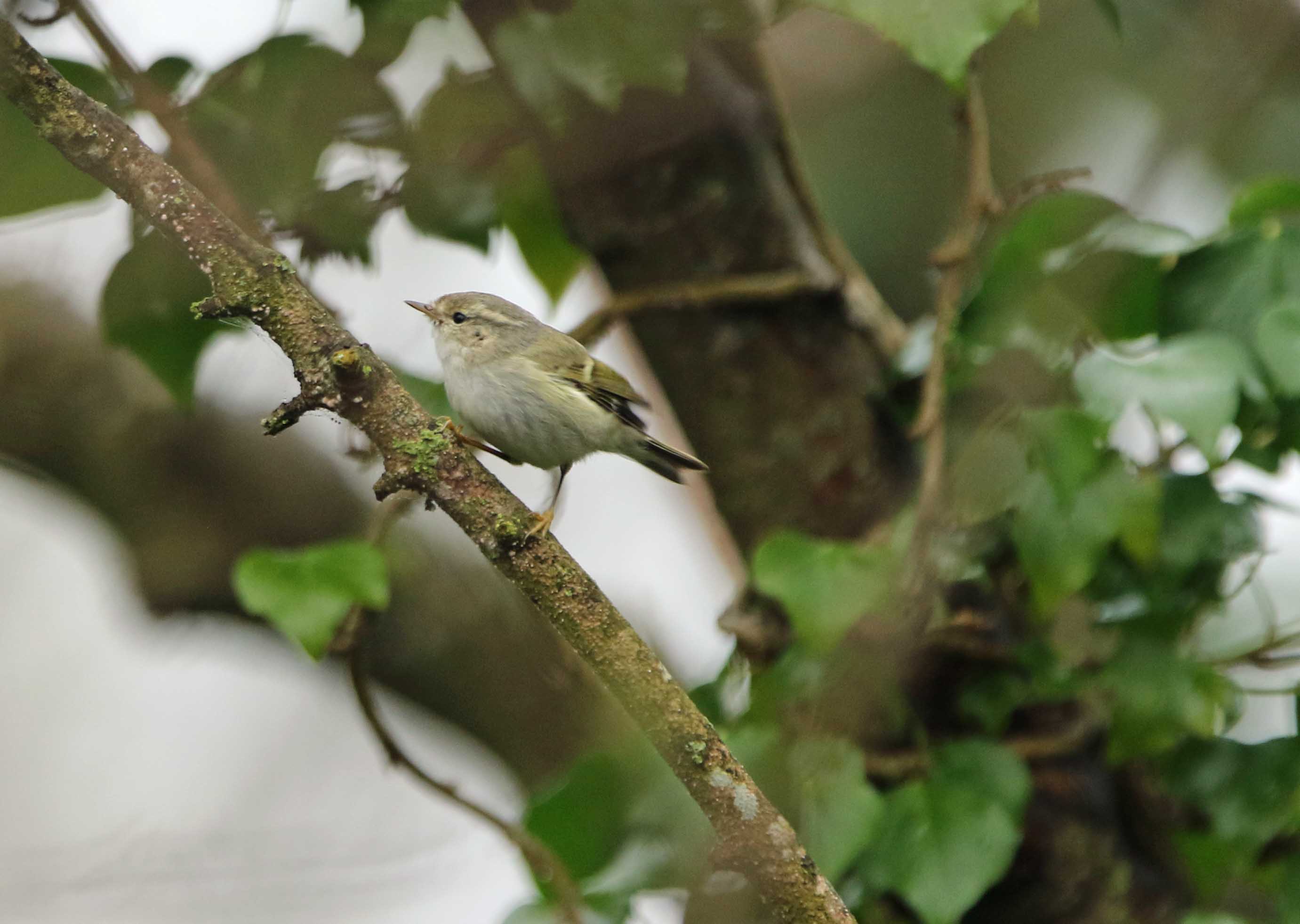 Hume's Leaf Warbler, Portland, Dorset (Photo: Mark Leitch)
The warm conditions accelerated the exodus of wintering migrants this week, many birders reporting large movements of Redwings in an easterly direction and out to sea. Waxwing numbers seem to be on the wane and Great Grey Shrikes were apparently on the move, with several new birds found in eastern localities this week.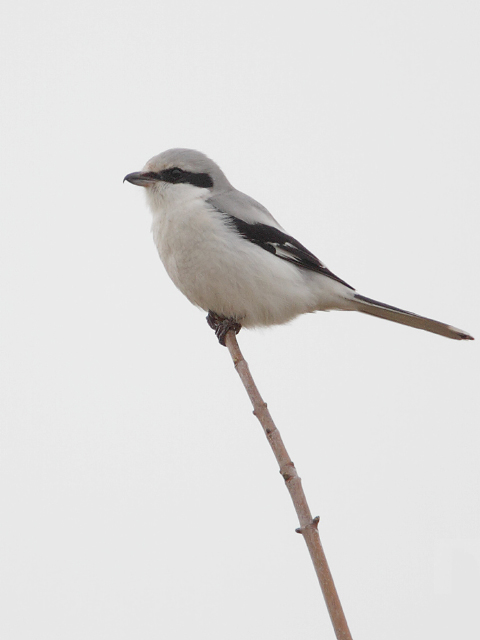 Great Grey Shrike, Upper Hollesley Common, Suffolk (Photo: Chris Mayne)
The Crawley Rose-coloured Starling was the only individual of its kind seen this week, as was the Richard's Pipit at Arlingham, Glos. Two Little Buntings remained at Nanjizal, Cornwall, on 12th and the Bedfordshire bird continued to perform at Great Barford throughout.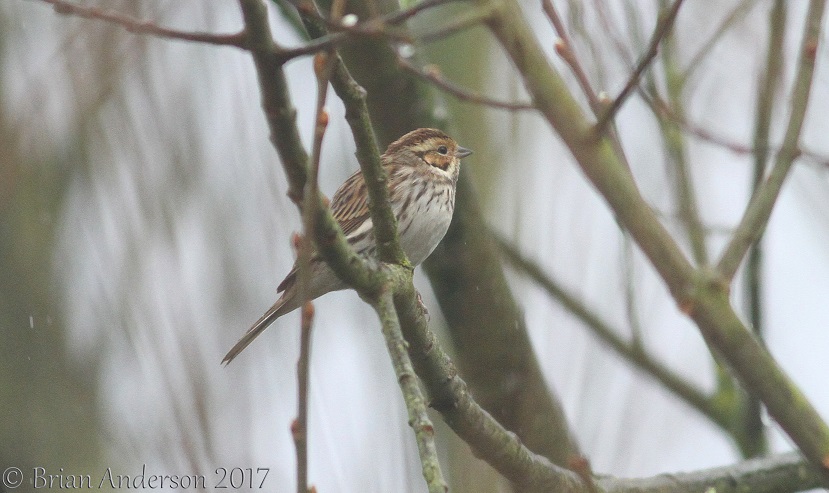 Little Bunting, Great Barford GPs, Bedfordshire (Photo: Brian Anderson)
Western Palearctic news
Cape Verde produced an exciting string of records this week, with the islands' first Black-capped Petrel seen on a seawatch off Punta do Barril, São Nicolau, on 11th and a fine Black Heron at nearby Tarrafal on 10th. The archipelago's first Sooty Tern was also seen off Raso on 8–9th.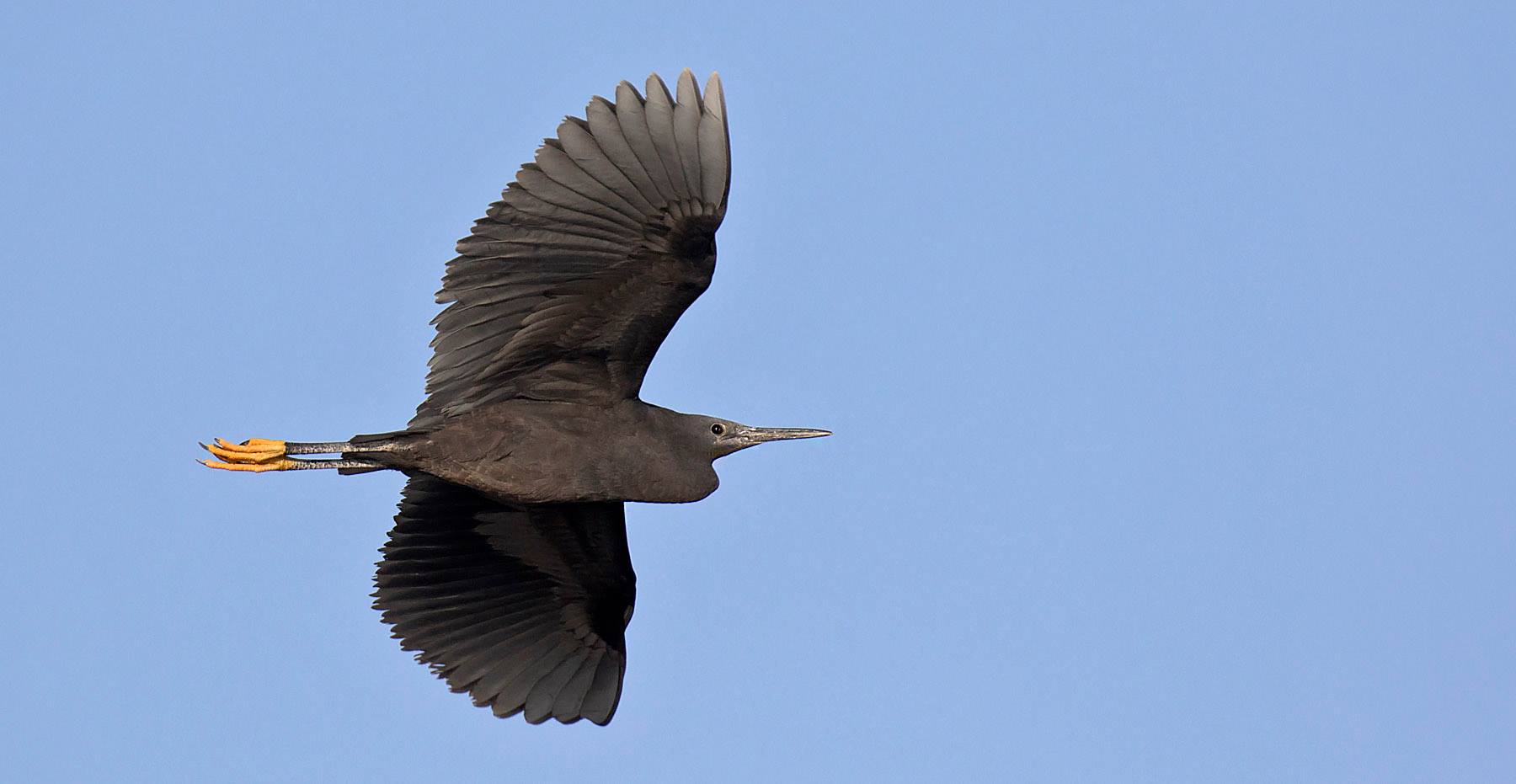 Black Heron, Cape Verde (Photo: Daniel López Velasco)

Sooty Tern, Cape Verde (Photo: Ernst Allbegger)
The steady procession of WP listers heading to Western Sahara this week produced regular reports of the continuing White-throated Bee-eater near Dakhla, a Cape Gull there and good numbers of Sudan Golden Sparrows along the Aoussard Road.
Exciting news from the Netherlands concerned a wandering immature Lammergeier that had initially been seen in Germany. First noted along the coast at Katwijk on 12th, it was last seen over Rotterdam that evening. The following day produced several more sightings, and the bird ended up in the country's interior, near Rosmalen. On 14th it was noted flying north over Geleen, in Limburg, so perhaps it'll head back to the coast again. Such records are becoming increasingly regular and perhaps the arrival of an immature on British shores last May may eventually prove not to be the exceptional occurrence we thought at the time.
The Dutch Baikal Teal and Galician Thayer's Gull were still present early in the week, while Israel's sixth Red-necked Grebe continued just north of Eilat. A lingering Oriental Turtle Dove hung on in Rogaland, Norway, and Siberian Accentors were in Norway and Sweden.