July is commonly heralded as the true 'quiet month' in the British and Irish birding scene, although this week continued to bat well above the average. The wandering Bearded Vulture finally settled down, with a handful of sightings on the Derbyshire and South Yorkshire border at the start of the week suggesting somewhere in the Upper Derwent Valley would be the best place to start the search. An enterprising foray on the evening of 10th yielded the pot of gold at the end of the rainbow, with its chosen roost cliff discovered near Back Tor on Howden Moors, just on the right side of the line for Yorkshire listers.

Bearded Vulture, Howden Moors, South Yorkshire (Will Bowell).

Bearded Vulture, Howden Moors, South Yorkshire (Richard Bonser).
It proved a magnetic draw for birders over the coming days, as well as several news reporters, with large numbers undertaking the necessary mountain hike to see this charismatic, lumbering and historic beauty and its famous bone-crunching capabilities. The views across the moor until 14th proved at times ethereal and will undoubtedly remain high in the regards of birders for months, if not years, to come. It's worth saving the debate about provenance for another time, although we wouldn't yet bet on this individual being confined to the Category E 'dustbin' in the same manner that the 2016 bird was so harshly reprimanded.
In what is becoming another amazing seabird summer, Ireland's third Brown Booby – and the first to be even remotely twitchable – was espied on the beach at Greystones, Co Wicklow, mid-afternoon of 13th. The two previous records both date from 2016: a tideline corpse at Owenahincha, Co Cork, and a bird that spent a couple of days on a fishing boat a few kilometres offshore from Dingle, Co Kerry. Remarkably confiding, startling Twitter videos showed it surrounded by beachgoers while happily fishing just offshore.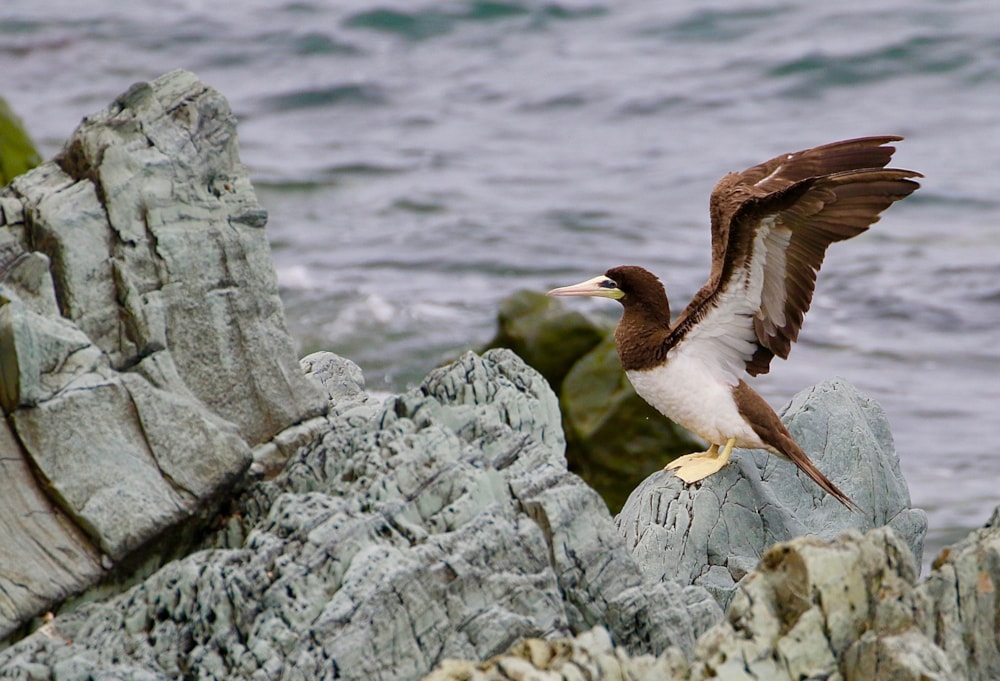 Brown Booby, Greystones, Wicklow (Victor Caschera).
Although seeming in rude health, its condition deteriorated throughout the afternoon of 14th and it was taken into care for a check-up early evening. It was found to be exhausted, but was at least able to consume some fish given to it. Occurrences of Brown Booby are rapidly increasing in European waters, which appears to be a response to warming seas as a result of climate change, making further sightings across Britain and Ireland in the future appear a likelihood.
A twitchable rare shearwater is almost unheard of in a British context, so news that the Yelkouan Shearwater off Portland Bill, Dorset, that broke late last week was still present on 8th and 9th was not one to shake a stick at. The Balearic Shearwater flock – peaking at around 90 – was thankfully contentedly feeding among the gulls just off the Bill, although picking out the subtle Yelkouan from the Balearics and Manx proved no easy feat. Photos emerging over the internet throughout the next couple of days suggested a two-bird theory may well have some merit.

Yelkouan Shearwater, Portland, Dorset (Mark Rayment).
The original bird, with a darker underwing, duskier undertail coverts and a different moult pattern, proved the more elusive of the pair over their three-day stay, although expert opinion is currently very much of the opinion that both photographed birds are Yelkouan Shearwaters. With just one previously accepted record, off Berry Head, Devon, on 28 July 2008, to have two off the same British headland at the same time, let alone for three days, is nothing short of astonishing. If it wasn't for other outlandish seabird records over the last few weeks, you'd be hard pressed to think of many other options for bird – or birds – of the year.
First seen heading south over the scrapes at Minsmere RSPB, Suffolk's fourth Sooty Tern – and the first in over four decades – delightfully nestled on the offshore rigs at Sizewell for an hour or so, allowing more than 100 birders within striking distance to obtain views of it on and around the Kittiwake-infested metal hulks.

Sooty Tern, Sizewell, Suffolk (Andrew Moon).
Happy news from the Somerset area concerned the hatching of no fewer than three Black-winged Stilt chicks at Steart WWT. Although not strictly a rarity these days, it is thought to be the furthest west that the species has ever nested in Britain. Thankfully, the reserve staff have set up a viewing area on site, which can be accessed daily from the main car park from 8 am until 6 pm.
A promising report of a Black-browed Albatross off Howick, Northumberland, came on the evening of 13th, but unfortunately the trail quickly ran cold. Likewise a possible Barolo Shearwater past Pendeen, Cornwall, the following day remained unconfirmed.
A new first-summer Laughing Gull at Bull Island, Co Dublin, on 14th was just a short hop from the Brown Booby. Elsewhere, Bonaparte's Gulls remained loyal their adopted sites at Annagassan, Louth; Add Estuary, Argyll; and Oare Marshes, Kent, throughout. A Caspian Tern found Lincolnshire's Frampton Marsh RSPB to its liking from 11th, with a brief foray north to Huttoft Bank Pit on 14th. Meanwhile, in North Yorkshire, a possible Forster's Tern flew north past Old Nab on 10th.

Caspian Tern, Frampton Marsh RSPB, Lincolnshire (Ian Bollen).

Bonaparte's Gull, Oare Marshes NR, Kent (Shaun Ferguson).
Shetland's Lesser Grey Shrike reappeared at Bigton on 12th, while a Great Reed Warbler was trapped and ringed at Scousburgh the previous day. Minsmere's Iberian Chiffchaff was still singing his forlorn tune on 12th.
An adult summer Long-billed Dowitcher was a smart find at Port Carlisle, Cumbria, from 10th, while in Co Clare, Doonbeg's Pacific Golden Plover was still to be found on the beach throughout the week. The drake King Eider was still with Common Eider off Burghead, Moray, on 9th, although was not to be found subsequently.

Long-billed Dowitcher, Port Carlisle, Cumbria (Roger Ridley).

Pacific Golden Plover, Doonbeg, Clare (Richard Mills).
Worth an honourable mention is the Bath White that was photographed at the lighthouse at Paull Holme Strays on 12th – an very rare vagrant butterfly to Britain.
Scottish mainland
There was an autumnal feel to the week in Scotland, with a first-summer Sabine's Gull noted off St Abb's Head, Borders, on 14th and what would be the earliest recorded Rough-legged Buzzard in the country this century at Rattray Head, Aberdeenshire, on 10th. An unusually early redhead Smew was photographed in Ayrshire at New Cumnock on 14th.
A trickle of passage waders included Spotted Redshank at Douglas Water, Clyde, and Wood Sandpipers in Spey Bay, Moray, and at Dornoch, Highland. An eclipse drake Ring-necked Duck was at Loch of Skene, Aberdeenshire, from 13th; also in Aberdeenshire, the Great Egret remained on the Ythan Estuary until 10th at least. Clyde's adult Red-necked Grebe enjoyed another week at Hogganfield Loch, while two had returned to the regular wintering site off Seton Sands, Lothian, by 9th.
A first-summer Glaucous Gull was noted on the Lossie Estuary, Moray on 8th. Common Quail were again prominent, with nine individuals recorded. Three sang at one site at Dairsie, Fife, on 13th, another was at Wormit, Fife, and other singles came from Pitcox, Lothian, Reston and Whiterig in Borders and Furybridge and Findochty, Moray.

Red-necked Grebe, Hogganfield Loch, Clyde (Jim Coyle).
Northern Isles and the Hebrides
Orkney enoyed a decent week, with North Ronaldsay taking centre stage. Waders highlighted there, with a displaying Pectoral Sandpiper and wonderfully showy Red-necked Phalarope in the north of the island. The lingering Great Egret remained and an adult Little Gull performed nicely.

Pectoral Sandpiper, North Ronaldsay, Orkney (George Gay).

Red-necked Phalarope, North Ronaldsay, Orkney (Dante Shepherd).
There was little of note in Shetland this week, though a Rosy Starling and Common Rosefinch remained on Fair Isle. Perhaps the week's highlight on the same island was the first confirmed breeding record of a pair of Mealy Redpoll. Summer ringing of European Storm Petrels produced two Leach's Storm Petrels in the Fair Isle nets on 8th, while Common Quail were noted from Loch of Brow and Bakkasetter.
'Only' two Rosy Starlings were recorded in the Outer Hebrides this week, with individuals remaining at Rubha Ardvule on 8th and Swainbost all week. The Eurasian Spoonbill continued to hang out at Loch Bee, South Uist, and a Glaucous Gull was at Loch Paible, North Uist. A Long-tailed Skua was at The Braigh, Lewis, on 14th.
North-East England
An adult Temminck's Stint on a small inland flash near Warden, Northumberland, was reward for one observer's persistence this week. Sadly, though, it moved on the next morning. A small passage of Pomarine Skuas occurred, with two individuals apiece at St Mary's Island, Boulmer and Budle Bay and one at Needles Eye. A Black Tern visited Coquet Island on 11th, with presumably the same individual at East Chevington until 12th.
In the same county, Ruddy Shelduck were at Derwent Reservoir and Hauxley NR. Small numbers of Common Quail continued to be found – at Longhoughton (11th), Mitford (12th) and Ross (14th). A Black Redstart was seen briefly at Stag Rocks on 13th.
One of the Cory's Shearwaters tracked up the east coast on 9th was seen off coastal sites in Cleveland (Cowbar) and Durham (Seaham) and provided the highlight of the week for those present. An adult Pectoral Sandpiper was a one-day affair at Boldon Flats, Durham, on 10th and Wood Sandpipers were at Scaling Dam Reservoir, Cleveland, and Washington WWT, Durham, on 12th.
Three Pomarine Skuas were off Hartlepool Headland, Cleveland, on 9th and regular at Whitburn Coastal Park in the week, with two moving past on 8th and singles on 10th, 12th and 14th. One was also noted at Seaham on 9th. A Black Redstart moved south at Whitburn on 13th, with possibly the same individual at Cowbar, Cleveland on 14th.
The only report of Common Quail in Cleveland came from Stillington on 13th. Two Ruddy Shelduck remained in the Seal Sands area and a Lesser Emperor dragonfly at nearby at Cowpen Bewley was notable.
North-West England
An adult Black-crowned Night Heron was Cumbria's best offering, and a fine one too, albeit a brief affair. It was seen fishing the River Kent at Natland on the morning of 12th, but by the evening there was no further sign.
In Lancashire, a Glossy Ibis was seen flying north from Delph Reservoir on 14th, before pitching down at Belmont Reservoir and melting into the juncus island. There was no further sign by early afternoon. The Western Cattle Egret was still frequenting Rimmer's Marsh, Marshside RSPB, and an adult Little Gull briefly touched down at Alston Reservoir on 12th before continuing west. The same day, a probable Chough was heard calling over Fleetwood but wasn't refound.

Spotted Redshank, Port Carlisle, Cumbria (Roger Ridley).
Cheshire's regular Eurasian Spoonbills remained on the Dee Estuary, with one at Burton Mere Wetlands RSPB on 13th and up to two still at Parkgate Marsh. There was a brief Wood Sandpiper at the former site on 8th and a drake Greater Scaup was associating with the Tufted Duck flock at Frodsham Marsh on 9th. The annual dispersal of Black-necked Grebes was underway, with two at Lapwing Hall Pool and a single at Marbury CP on 14th.
A Western Cattle Egret was seen over Doffcocker Lodge LNR on 8th; still a good Greater Manchester bird. The two drake Greater Scaup were still at Pennington Flash CP on the same date, and a single was there on 9th.
Lincolnshire and Yorkshire
A Rosy Starling fed in a Mablethorpe garden from 9-13th, but Lincolnshire otherwise endured a pretty quiet week – the continuing Glaucous Gull at Pyewipe and a Wood Sandpiper at Manby Flashes the best on offer.

Rosy Starling, Mablethorpe, Lincolnshire (Colin Seabrook).
Two different Cory's Shearwaters were tracked up the Yorkshire coast on 9th, being initially picked up off Barmston and Filey respectively. A Rosy Starling was in a Flamborough garden on 13th, and a Temminck's Stint visited Welwick Saltmarsh on 14th. The Lesser Yellowlegs remained at Nosterfield NR on 8th.
Several waterbodies in interior North and West Yorkshire harboured Common Scoter this week, while a Rosy Starling called in at Horsforth on 11th. Two Dearne Valley sites produced Western Cattle Egrets, with sightings also from Fairburn Ings. A Little Stint was at Hatfield Moors from 11th.
Content continues after advertisements
West Midlands
In Staffordshire, a Eurasian Spoonbill was at Blithfield Reservoir on 12th, a site which a Ruddy Shelduck also continues to call home. An Arctic Tern was at Westport Lake on 14th and a Little Tern was at Ryton-on-Dunsmore, Warwickshire, on 9th.

Great Egret, Tenbury Wells, Worcestershire (Ken Willetts).
There was a report of a Rosy Starling in Tipton, West Midlands, on 11th but no further news followed. A Western Cattle Egret popped up at Gwen Finch NR, Worcestershire, on 14th and was present for the day. In the same county, the adult Glossy Ibis continues to thrive at Lower Moor and, impressively, a Great Egret visited a garden pond at Tenbury Wells, much to the angst of the resident Koi Carp. A Lesser Emperor was at Ripple GPs on 11th, before being joined by a second (seemingly a pair) the following day.
East Midlands
Nottinghamshire continues to provide most of the flair in the region, with a Red-necked Phalarope off Slaynes Lane, Misson on 10-11th an impressive record and the site's second this summer. At the same locality, two Black-necked Grebes remained. The Wood Sandpiper continued at Langford Lowfields RSPB during the earlier part of the week and a Eurasian Spoonbill was at Idle Valley NR on the morning of 13th. The Welbeck raptor watchpoint continues to provide European Honey Buzzard sightings. Another flew south over Barrow Hills on 13th.
The waters will remain muddied for some time in the case of British White Storks, but three west over Long Buckby, Northamptonshire, generated some interest. Four Western Cattle Egrets were still at Stanwick GPs through the week and the two juvenile Black-necked Grebes continued at Summer Leys LNR. For more of a coastal flavour, a Little Tern was at Stanwick GPs on 14th only and a Little Gull flew through Clifford Hill GPs on 11th.
In Derbyshire, the adult Northern Gannet was still showing well at Pools Brook CP on the morning of 8th before being taken into care. A first-summer Arctic Tern was at Rutland Water on 13-14th, with the same site hosting up to nine Yellow-legged Gulls on 14th.
East of England
In Norfolk, an adult Lesser Yellowlegs at North Point Pools, near Wells-next-the-sea, on 11th later relocated to Kent and is presumed to be a returning bird, seen in 2019 at both Titchwell RSPB and Cley Marshes NWT.
A Pectoral Sandpiper also arrived at Cley Marshes on 13th, while a brief Hoopoe visited Stiffkey on 9th. Two Roseate Terns were noted offshore at West Runton on 14th. However, it was a lingering Large Tortoiseshell butterfly at Strumsphaw Fen RSPB from 13th that proved the county's biggest hit this week.

Lesser Yellowlegs, Wells-next-the-Sea, Norfolk (Sean Gray).
Two Roseate Terns visited Minsmere RSPB, Suffolk, on 14th and the European Serin was seen again at Landguard on 9th, but it was otherwise a sleepy seven days in the county. Odonata formed the bulk of notable news from Essex, with Southern Migrant Hawkers at numerous sites and a Lesser Emperor at Ardleigh Reservoir.
The only report from Hertfordshire concerned a flyover Great Egret at Amwell NR, Herts, on 13th. An adult Black-crowned Night Heron was on the Bedfordshire-Cambridgeshire border between Potton and Gamlingay on 11th, while the former county also produced a Wood Sandpiper at Broom GPs.
Things were pretty routine in Cambridgeshire, with the Cinnamon Teal still at Isleham and a scattering of Wood Sandpipers, Garganey and Western Osprey.

Large Tortoiseshell, Strumpshaw Fen RSPB, Norfolk (Keith Bilverstone).
South-East England
On the Isle of Wight, a Hoopoe put in a one-day showing in a field next to the cemetery at Ashley on 10th, the same day some 86 Crossbills flew over Shanklin. Two Great Egrets were at Brading Marshes. In Hampshire, Titchfield Haven enjoyed a productive week, with Roseate Tern, Western Cattle Egrets (up to 18 of them, no less) and Eurasian Spoonbill all logged.
Elsewhere in the county, probably the same Roseate Tern and the lingering Black Tern were still at Hayling Island, a probably White Stork flew over Blashford Lakes on 10th and European Honey Buzzards were gettable from the Acres Down viewpoint. Probably the same Great Egret toured three sites in north-east Hants (Edenbrook CP, Tweseldown Hill and Woolmer Pond).

European Honey Buzzard, New Forest, Hampshire (Chris Minvalla).
In Surrey, a drake Common Scoter dropped in at Island Barn Reservoir on 12th and a Great Egret was at Bletchingley on 8th. The Great Egret at Tice's Meadow, Surrey, on 11th was probably the aforementioned north-east Hants individual – this bird also likely accounting for the record of one at Moor Green Lakes, Berkshire, on 8th. Berkshire finally got in on the Common Quail year, with a bird singing at Lambourn Downs on 12th. Elsewhere in the county, a Ruddy Shelduck was at Theale GPs.
At least four Common Quail continued at Kingston Warren Down, Oxfordshire, throughout, while a Great Egret was at Cassington GPs on 12th and the Garganey continued at Sutton Courtenay GPs. Another Garganey was at Foxcote Reservoir, Buckinghamshire, on 13th. Greater London was graced by four Western Cattle Egrets, which visited Walthamstow Reservoirs on 12th, along with a Garganey at Brent Reservoir.
Highlight of the week in West Sussex was no fewer than three Roseate Terns at Church Norton – a fine number for the south coast, which is enjoying a decent spate of records. The birds, or at least some of them, proved twitchable from 13th. As many as seven Spotted Redshanks were in the wider harbour, and two flew west past Climping on 13th. A Balearic Shearwater flew past Selsey Bill on 12th and two Western Cattle Egrets were at Arundel the previous day.
A European Serin was belatedly reported from a garden at Beachy Head, East Sussex, on 8th. The Western Cattle Egret was at Cuckmere Haven and Friston Forest; Common Quail were at Woodingdean and Firle Beacon.
As seems to be annual in July, Oare Marshes, Kent, began assembling a fine cast of species to join the ever-popular Bonaparte's Gull. On 12th, presumably the same Lesser Yellowlegs as last year appeared – just a couple of days later than 2019 and having again come via Norfolk. Spotted Redshank, Curlew Sandpiper and Ruff were some of the other waders on offer at a site that will doubtless get plenty of visitors in the coming week.
Elsewhere in Kent, European Honey Buzzards were logged at South Foreland and Folkestone – curious for mid-July – and the Black-winged Stilt continued at Dungeness. Western Cattle Egrets were at three sites, a Great Egret visited Dartford Marshes on 13th and a Eurasian Spoonbill was at Clifee Pools the following day.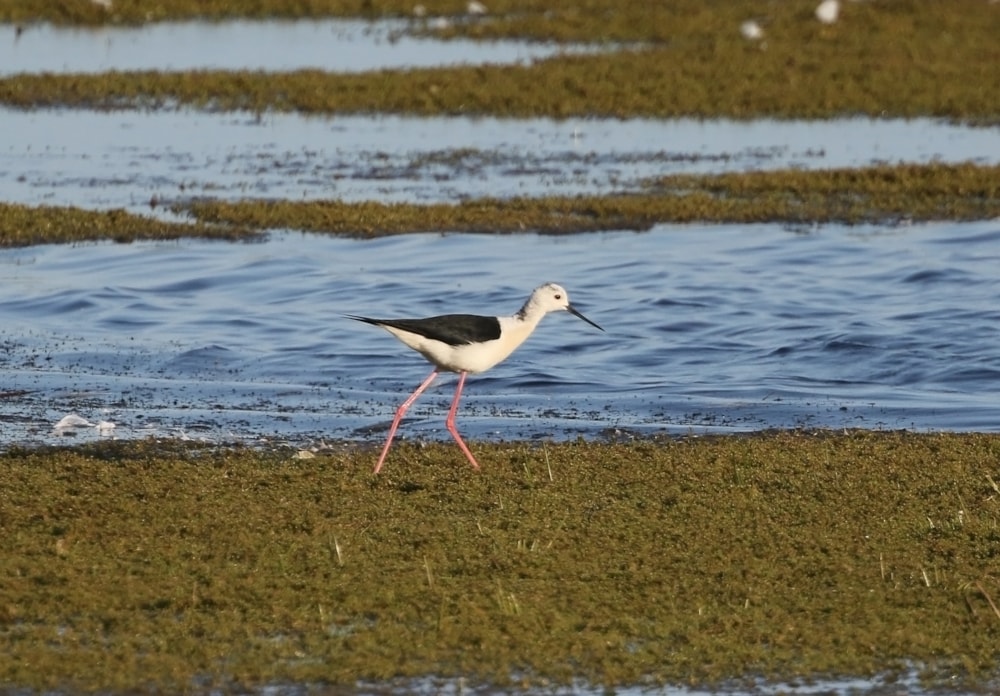 Black-winged Stilt, Dungeness RSPB, Kent (Martin Casemore).
South-West England
Alongside the stars of the show at Steart WWT, Somerset, were an adult Curlew Sandpiper and Great Egret. The returning Spotted Redshank popped up on the Brue Estuary. A White Stork flew west of the M4 near Swindon, Wiltshire, on 12th, with best-of-the-rest in the county concerning Common Quail near Upavon and Pewsey.
The male Spotted Crake was still singing enthusiastically at Gloucestershire's Splatt Bridge until 10th. A Wood Sandpiper was at Pilning Wetland, with adult and juvenile Western Cattle Egrets at Slimbridge WWT on 8th. A White Stork flew south over Cirencester on 10th.
In Dorset, many of those twitching shearwaters at Portland Bill were treated to extensive numbers of Large Tortoiseshells across the Portland and Weymouth area, as well as the startling sight of seven Ruddy Shelducks heading west in rough seas on 9th. A Blyth's Reed Warbler was trapped at the bird observatory on 14th, while a Pomarine Skua flew past Cogden Beach on 9th and a Roseate Tern was at Stanpit Marsh on 12th. A presumably suspect Laughing Dove was at Poole on 11th, while a male Lesser Emperor at Sturminster Marshall GPs on 14th was a nice find.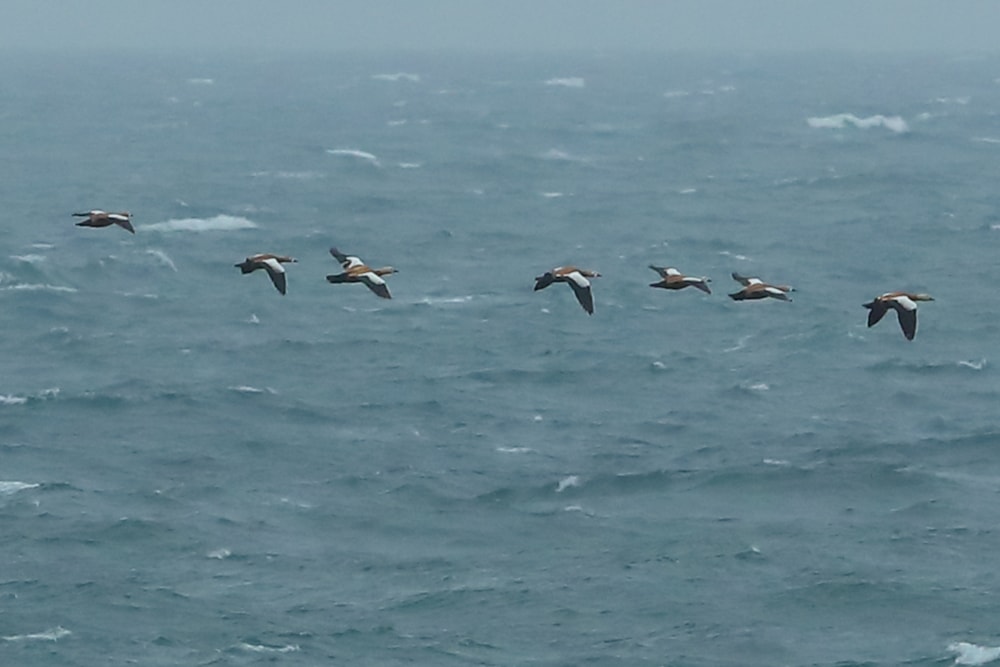 Ruddy Shelduck, Portland, Dorset (Mike Trew).
Two Great Shearwaters flew past Start Point, Devon, on 8th, while 79 Balearic Shearwaters off the headland the following day was a decent count. An adult Pomarine Skua was off Berry Head on 9th. At least two Roseate Terns flirted with the colony at Dawlish Warren NNR throughout the week, while the Slavonian Grebe remained on the Exe Estuary.
An adult Rosy Starling was at Lizard Point, Cornwall, on 8th, with another at East Taphouse on 12th. Porthgwarra hosted Pomarine and Long-tailed Skuas on 9th, with good numbers of Sooty and Balearic Shearwaters past all the regular spots. Goss Moor saw a southbound European Bee-eater on 11th, with a Hawfinch in a garden at Troon and a Curlew Sandpiper at Carnsew Basin on the same date.
Scilly pelagics scored three Wilson's Storm Petrels on 9th and another on 13th, alongside Balearic and Sooty Shearwaters. Three Black Swans were on the sea off Tresco – Dutch wanderers, perhaps?

Blyth's Reed Warbler, Portland, Dorset (Martin Cade).
Wales
There were a few sightings of interest to keep the country ticking over for another week. A Red-backed Shrike was reported at St Ann's Head, Pembrokeshire, on 11th, and a European Bee-eater reportedly flew south over Dolgarrog, Conwy, on 12th. There was also an unconfirmed report of a White-tailed Eagle over Abergavenny, Gwent, on 11th.
A Eurasian Spoonbill was at Goldcliff Pools NR, Gwent, throughout and Great Egrets were at three localities nationwide. Two Roseate Terns were still visiting the tern colony at Cemlyn Bay, Anglesey, on 8th and a pair of Little Gulls flew past Great Orme, Conwy, the same day. Moving inland just a touch, a drake Greater Scaup was at Conwy RSPB on the evening of 14th.
Ireland
A Woodchat Shrike at Dunfanaghy, Co Donegal, from 13th was a nice record from the northernmost reaches of Ireland. To the south-west, Rosy Starlings lingered in Cos Kerry and Cork, while another in Arklow, Co Wicklow, from 9-11th was popular.
Wader-wise, an adult White-rumped Sandpiper at Kilcoole, Co Wicklow, on 11th and a restless Pectoral Sandpiper in the Tacumshin area were the best new arrivals, although a Spotted Redshank well inland at Shannonbridge, Co Offaly, on 8th was worthy of a shout. Seawatching took a back seat in what was a settled seven days, although a couple of Great Shearwaters were off Lurga Point, Co Clare, on 14th.
The Ring-necked Duck was still at Lough Beg, Co Derry, this week, and seven Ruddy Shelduck were at Dundrum Inner Bay, Co Down, on 11th.

Rosy Starling, Arklow, Wicklow (Eric Dempsey).
Western Palearctic
In a country used to regularly hosting wanderers from a feral population in Germany, a flock of seven Greater Flamingos at Durgerdam, The Netherlands, were more notable thanks to the presence of two ringed individuals – an adult and a first-summer – that could be traced back to Laguna de Fuente de Piedra, a large breeding site near Málaga in southern Spain. A near-unprecedented ringing recovery involving a flight of over 2,000 km, one wonders where they will head to once they grow tired of the Dutch summer.

Greater Flamingo, Durgerdam, North Holland (Enno B Ebels).
Elsewhere in the country, the Amur Wagtail remained and a Black-winged Kite was on the German border near Meinweg. A flyover Lesser Spotted Eagle headed south-west over Balloërveld on 13th, while the Great White Pelican was reported again at Halfweg on 11th.
A singing male Western Swamphen, present since late June at Vaud, Switzerland, has proved popular as the country's third record and first since 1983. With whispers of other irrupting individuals in mid-France recently, could Britain be on course for its second record in the coming weeks?

Western Swamphen, Chavornay, Vaud (Mathieu Bally).
Spain's Seebohm's Wheatear was still high in the Sierra de Gredos mountains at the start of the week. More surprising was the belated news of a Great Snipe a kilometre off the coast of Tarragona on 28 June, found exhausted on a petrol facility. Off the coast of Lanzarote, Canary Islands, the female Cape Verde Shearwater first trapped and satellite tagged on Montaña Clara in 2019 was retrapped at the start of the week.
A 'zitting' Zitting Cisticola at Skagen on 9th was just Denmark's fourth, while the sprightly male Red-headed Bunting remained on the island of Røst, Norway, on 12th. The male Pied Bush Chat was still to be found in Finland at Eurajoki until 12th, while the Black-winged Kite was still at Gerum, Sweden.
In Germany, the adult Sociable Lapwing remained at Utphe until the end of the week, with the summering Eastern Imperial Eagle still at Randowbruch Zehnebeck, Germany, on 14th. Israel's fourth Wilson's Storm Petrel was off Eilat on 8th; the Three-banded Plover was still at HaMa'apil fishponds on 8th.