The ever-elusive Lesser White-fronted Goose resurfaced again in Norfolk this week – albeit only just in that county, being a few hundred metres from the Lincolnshire border north-west of Walpole St Peter, when it was found among Pink-footed Geese on 9th. True to form, it only put in a day's worth of time at this site and couldn't be found there again the following morning.

Lesser White-fronted Goose, Walpole St Peter, Norfolk (Justin Carr).
Interestingly, the Grey-bellied Brant was also there the same day, with that bird back at Fring and Sedgeford on 11th – but no Lesser White-front. Will the latter give itself up before the winter is out? Further north, the two Grey-bellied Brant prolonged their stay on the beach at Nairn.
Long-staying ducks included the White-winged Scoter off Musselburgh, Lothian, the Black Scoter off Cheswick, Northumberland, and the Blue-winged Teal at Man Sands, Devon. The drake Ferruginous Duck was again on show at Blashford Lakes, Hants, while a putative female at Ranworth Broad, Norfolk, from 7th is in the area for the fifth consecutive winter – though the slightly odd appearance, including faintly barred flanks, perhaps look better for a Baer's Pochard and it may be a hybrid. The drake King Eider reappeared off Nairn again on 9th, while another drake was found around salmon cages off Loch of Heogland, Unst, Shetland, the same day.
In Hampshire, the Semipalmated Sandpiper was pinned down at Keyhaven Marshes on 10th and still there on 12th. Yet another Long-billed Dowitcher was discovered, this time at Marshside RSPB, Lancs, on 10th. Elsewhere, the Cumbria bird was reported for the first time in a month at Campfield Marsh RSPB on 10th and those at Kilcoole, Co Wicklow, and Topsham, Devon, stuck around.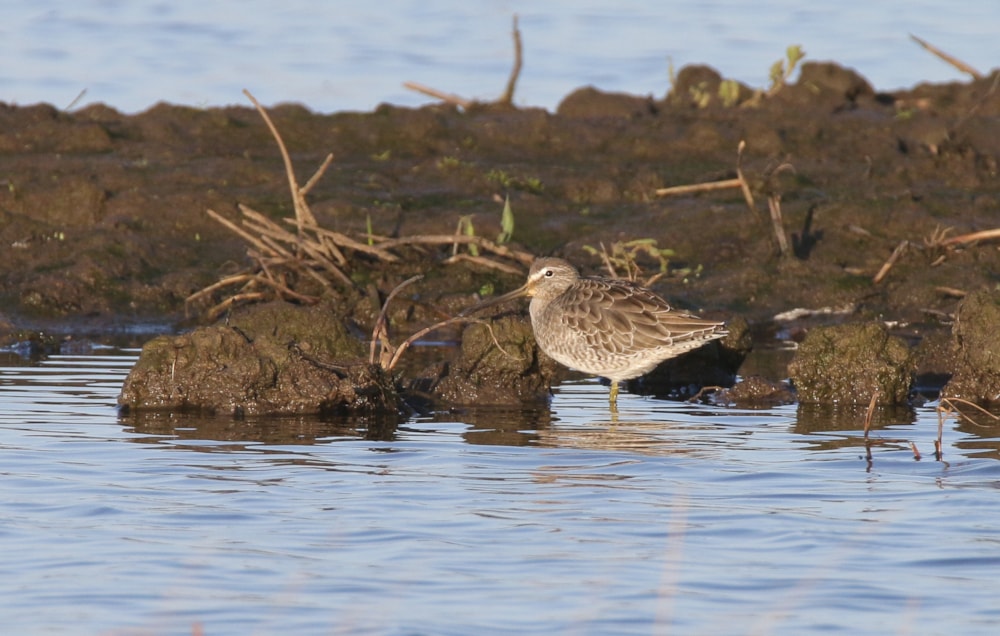 Long-billed Dowitcher, Marshside RSPB, Lancashire (R Thew).
Ireland's second Brown Shrike once again showed briefly a couple of times during 8th, but wasn't seen again since then – even despite its elusive nature, surely it can't have evaded those looking for it over the weekend and has therefore presumably moved to pastures new (however odd that might seem for a mid-winter bird). You can read an account of this terrific record, by finder Michael John O' Mahony, by clicking here.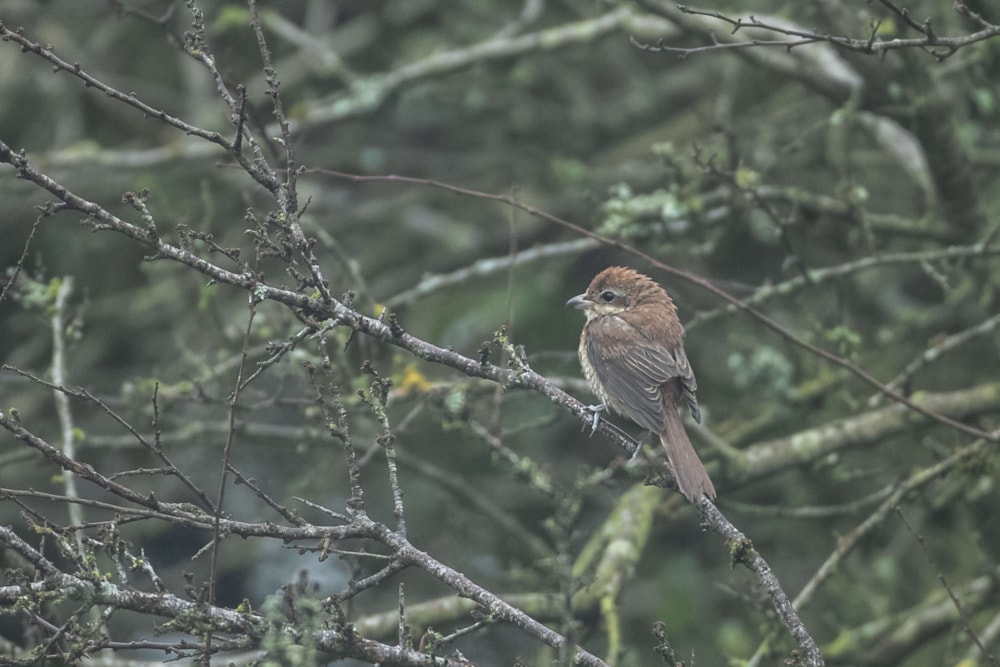 Brown Shrike, Rathduff, Cork (Michael John O' Mahony).
With no sightings of the Irish bird this week, Eastern Yellow Wagtails were represented 'only' by the wintering birds at Sedgeford, Norfolk, and Prestwick Carr, Northumberland. Cornwall's American Buff-bellied Pipit was again seen at Sennen on 10th and 12th and, in Fife, the Black-bellied Dipper was again in St Andrews. Further north, a male Two-barred Crossbill was found at Rumster Forest, Highland, on 10th – you have to wonder how many more might be hidden away in Scotland's pine forests after last summer's huge influx.
The Siberian Stonechat was reported daily from Ashton's Flash, Cheshire, as was the Black-throated Thrush at Whipsnade Zoo, Beds.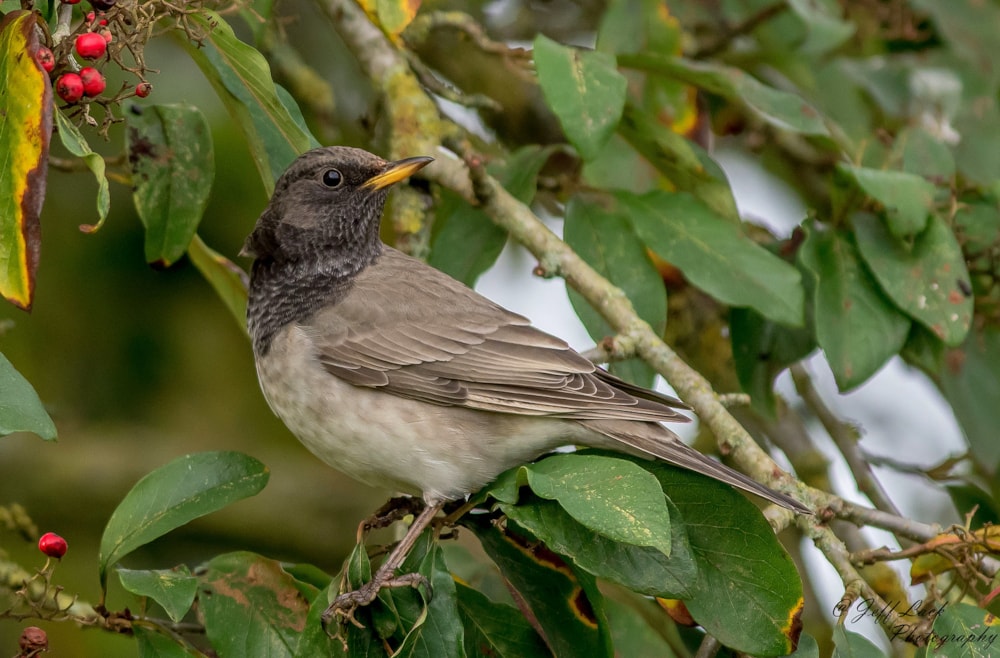 Black-throated Thrush, Whipsnade, Bedfordshire (Jeff Lack).
Scarce and local
Scottish mainland
A drake Ring-necked Duck at Loch Ospisdale and a Great Grey Shrike at Broubster were both new finds in Highland in the week. The Snow Goose at Gollanfield and Ruddy Shelduck at Udale Bay extended their respective stays. Four Glaucous and two Iceland Gulls and a good mid-winter count of 13 Little Gulls at Brora kept larid lovers content.
The Dornoch Shore Lark was seen until 11th but not subsequently, though up to 90 Snow Buntings were still there in the week. Inverness had some Waxwing interest, with up to 28 seen.
A very quiet week in Moray & Nairn saw only single Glaucous and Iceland Gulls in the Lossiemouth area of note. In Aberdeenshire, a drake American Wigeon was at Fedderate Reservoir and an Egyptian Goose touched down at Loch of Strathbeg RSPB, where a Great Egret was also still lingering. A redhead Smew at Strathbeg was more typical winter fare. Rosehearty had both Glaucous Gull and Black Redstart in the week, while up to 30 Waxwings were noted in Aberdeen and Kincorth. Angus news included the Great Grey Shrike at Backwater Reservoir and Green-winged Teal at Muirton GPs.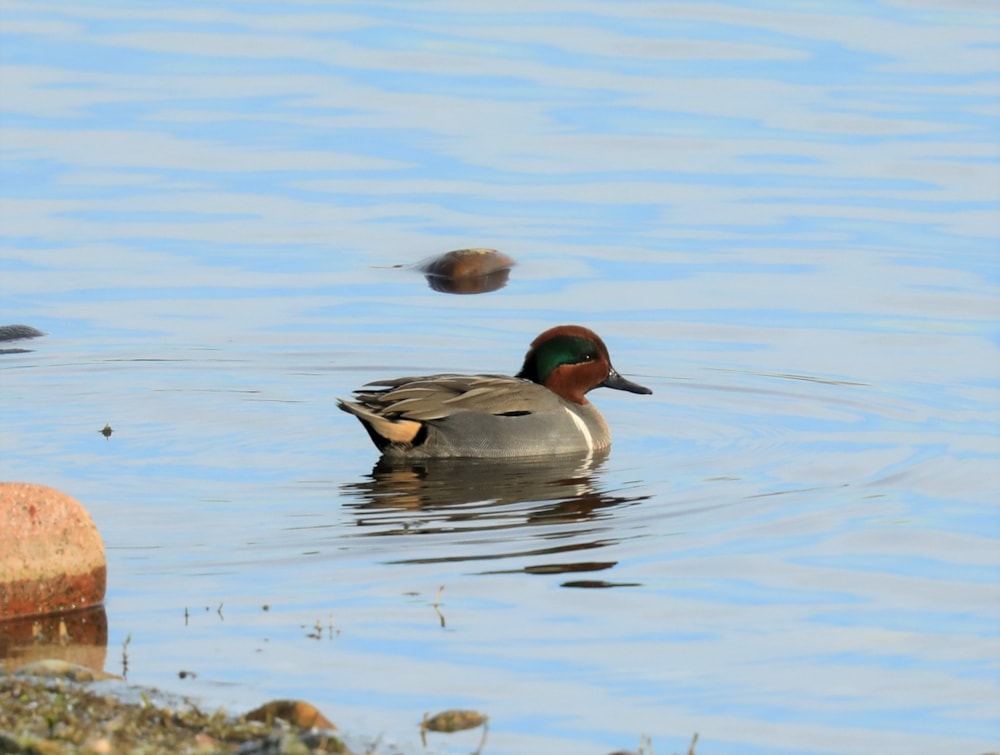 Green-winged Teal, Murton GPs, Angus & Dundee (Terrence Logan).
In Argyll, Iceland Gulls were still at Ardtaraig and a new individual at Fiunary and a Glaucous Gull was noted at Loch Gilp. A lone Waxwing made it to Oban. Further south, Strathclyde Loch's adult Ring-billed Gull remained, as did the drake Ring-necked Duck at Mugdock Loch. In Glasgow up to 180 Waxwings refuelled at the Arnold Clark Vauxhall Garage mid-week and smaller numbers were at several different sites, while a Hoopoe was photographed in a Clynder garden on 14th.
Further west in Forth, 100 Waxwings lingered in Dunblane. In Fife, two drake Smew were at Cameron Reservoir and the Black Redstart continued to enjoy the sea air at Crail.
In Lothian, the drake Ring-necked Duck at Torpichen was noted until 11th. Glaucous Gull and Black Redstart were again in the Dunbar area and a handful of Waxwings remained mobile in the capital. Two Hawfinches at Etterick, Borders, comprised the only notable report in the county this week; the white-morph Snow Goose also hung on in Ayrshire.
Northern Isles and the Hebrides
On Unst, Shetland, the juvenile Northern Goshawk was again prowling Setters Hill Estate, Baltasound, and a semi-decent smattering of white-winged gulls saw a peak of seven Glaucous at Norwick and three Icelands at Uyeasound, with at least 10 other sites getting in on the action.
Orkney's Snow Goose was still on Westray and drake Green-winged Teal continued to hang out at Gretchen Loch, North Ronaldsay. A half-dozen Glaucous and just two Iceland Gulls made up Orkney's white-winged gull contributions.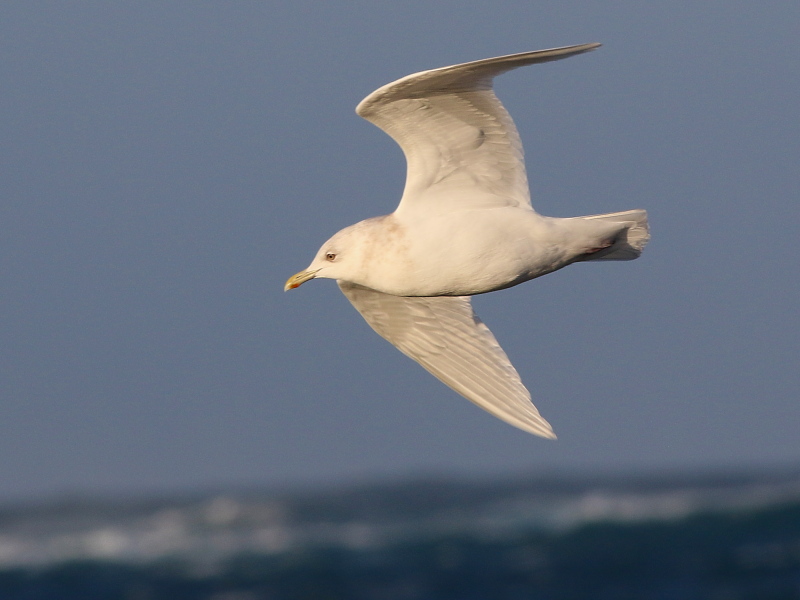 Iceland Gull, Westing, Unst, Shetland (David Cooper).
A first-winter Ring-billed Gull on South Uist was the highlight of the week in the Outer Hebrides. Long-staying wildfowl included the adult Snow Goose on North Uist, drake Green-winged Teal at Loch Bee, South Uist, and Ring-necked Duck on Barra. Glaucous Gulls were noted at five sites around the islands and Iceland Gulls at two.
On Tiree, the pair of Ring-necked Duck continued and the drake Green-winged Teal remained at Loch Gruinart RSPB, Islay. At least one adult Glaucous Gull was also on Islay, with an adult Iceland Gull to the south on Mull.
North-East England
An adult Common Crane photographed in the Wansbeck Valley, Northumberland, on 9th was not too many miles from the Otterburn area, where one summered in 2019, and could easily be the same individual.
Up to three Iceland Gulls, including an adult, visited the fish quay at North Shields intermittently and a returning third-winter was again at Big Waters NR. An Avocet on the Blyth Estuary as the week ended was possibly only the third-ever January record for the county. Both the wintering Hooded Crows and the showy Water Pipit and Black Redstart all remained throughout the period. The redhead Smew was still at Widdrington Moor Lake and 40-strong Waxwing flocks were in Blyth and Holywell.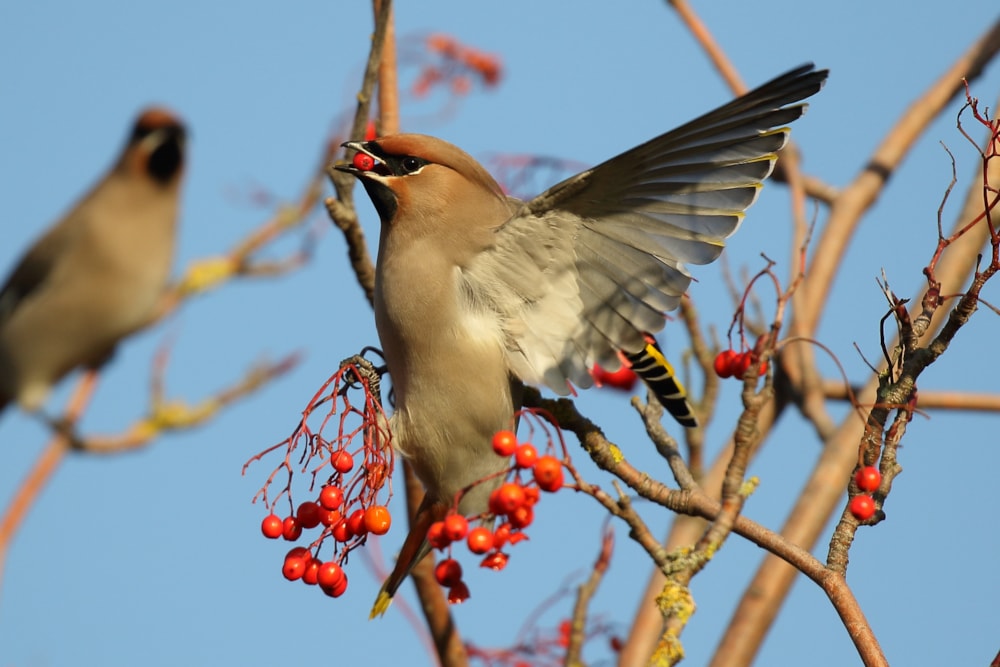 Waxwing, Blyth, Northumberland (Alan Jack).
In Durham, the Siberian Chiffchaff was noted again at Seaburn and the wintering Water Pipit was steadfast at Whitburn Steel. Waxwings were noted at Thinford and in South Shields, with seven Snow Buntings also at the latter site.
The Siberian Chiffchaff at Saltholme RSPB, Cleveland, was also noted again on 10th. An Iceland Gull was at Cowbar briefly and a Glaucous Gull at Dorman's Pool as the week ended. A juvenile Pomarine Skua harassing gulls at South Gare was unseasonal, but one of a handful seen nationwide.
North-West England
All was still in Cumbria, with the Longtown Firecrest being joined by a Siberian Chiffchaff on 10th. Elsewhere in the county, a handful of Waxwings remained in Carlisle.
Wildfowl again reigned supreme in Lancashire. Pine Lake continued to host the first-winter drake Ring-necked Duck and Brockholes LWT held onto its redhead Smew. Although not too rare locally, a showy Long-tailed Duck is always a treat, and Crosby Boating Lake's youngster showed exceptionally to visitors. Small groups of Bewick's Swans remained at a handful of locations.
The juvenile Purple Heron continued to deplete vole populations at Eagland Hill. A flock of up to 14 Western Cattle Egrets fed happily in fields near Banks and at nearby Pilling Sewage Works the Siberian Chiffchaff remained. Iceland Gulls concerned a juvenile at Knott End-on-Sea on 9th, another (or the same) roosting at Fishmoor Reservoir on 10th and an adult at Lower Rivington Reservoir.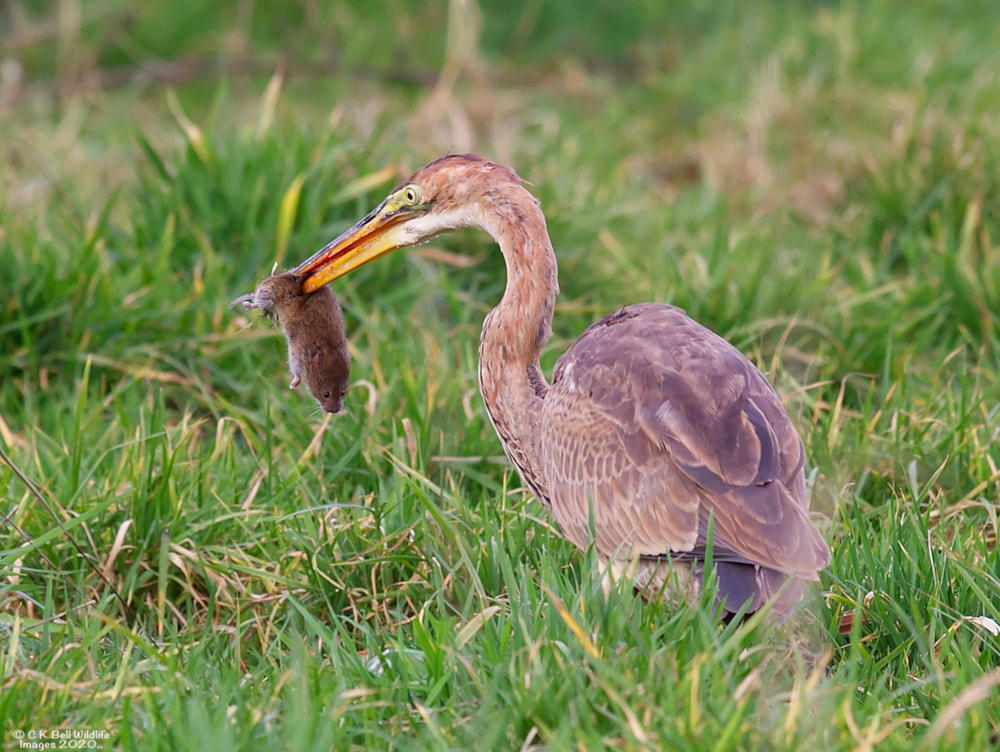 Purple Heron, Eagland Hill, Lancashire (Craig Bell).
A Tundra Bean Goose picked out among 600+ Pink-feet at Bar Mere, Cheshire, was a great county find on 11th. However, it only put a short stint and couldn't be re-found the following day. On the subject of stints, Pickerings Pasture's wintering Little Stint was reported again on 10th. An adult Iceland Gull on 8-9th at Sandbach Flashes was the first of this winter period in the county.
Look away now larophobes, for Greater Manchester's news was again dominated by gulls – Iceland, Glaucous, Caspian and Yellow-legged were all found in the usual roosts. What is presumably Pennington Flash's redhead Smew was picked up on Turner's Flash, Wigan, from 11-13th.
Lincolnshire and Yorkshire
The Black Brant at Donna Nook, Lincs, on 13th may or may not be the bird from Kilnsea, which wasn't seen beyond 11th. A Ring Ouzel lingered at Rimac and is presumably the bird last seen in mid-December, while three Lapland Buntings were at nearby Saltleet on 12th and the adult Iceland Gull was still at Manby Flashes.
A Dipper on the river at Belton, near Grantham, on 8th was an excellent Lincolnshire record, but sadly it could not be found again. Remarkably, the only Smew in the county was the redhead at Kirkby on Bain Pits, while the Long-tailed Duck lingered on the outskirts of Lincoln and a couple of Common Cranes hung around on the border with South Yorkshire at Sandtoft.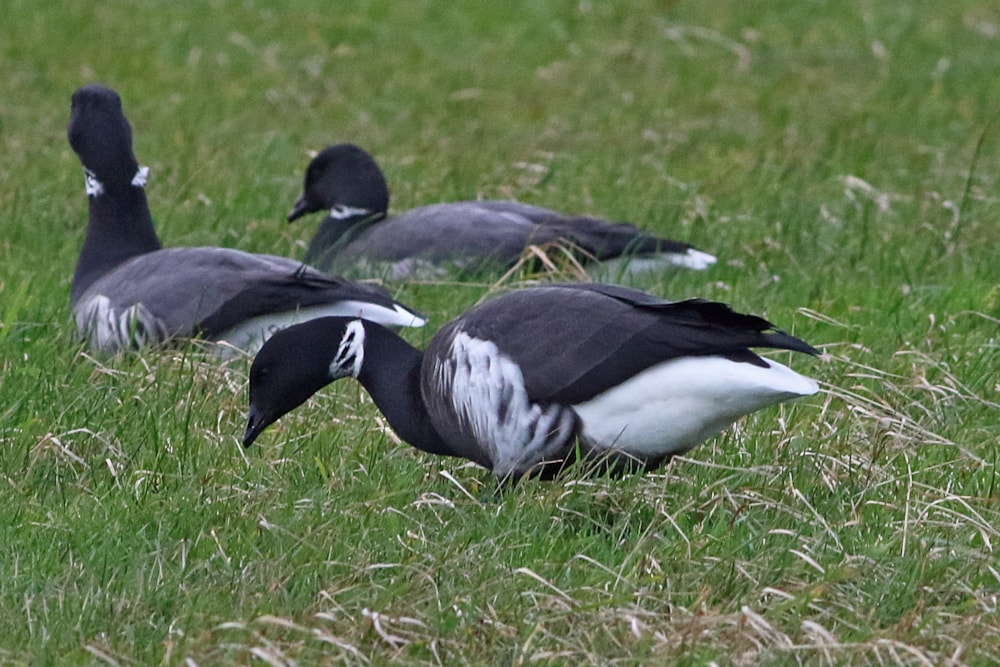 Black Brant, Kilnsea, East Yorkshire (John Hewitt).
Four Tundra Bean Geese were in the Derwent Valley on 12th, with another at Kilnsea on 13th, plus a scattering of Russian White-fronted Geese available around Yorkshire. Filey retained its Yellow-browed Warbler and Firecrest, with another of the latter at Holmpton from 10th.
The Great Grey Shrike and Rough-legged Buzzard lingered at Hatfield Moors and Stainforth respectively, the latter seemingly taking a trip into Lincolnshire on 12th. A redhead Smew was welcome back at Rother Valley CP, on the south side of Sheffield, from 8th.
After a trip to Anglers CP on 12th, the Ring-necked Duck was back at Johnny Brown's Common on 14th. Water Pipits increased to five at Lemonroyd sewage works, although just two Waxwings remained at the ITV centre in Leeds.
Further north, the Lesser Yellowlegs proved quite reliable at Nosterfield LNR, being seen daily from 9th, and the drake Ring-necked Duck near Catterick commuted between Ellerton and Bolton-on-Swale Lakes (with the Western Cattle Egret still roosting at the latter). A Smew was also at Nosterfield throughout, while Yorkshire's only gettable Iceland Gull at the moment hung around in fields at Riccall. Another one for the county year listers, the Hooded Crow was again at Scalby Lodge Pond on 11th.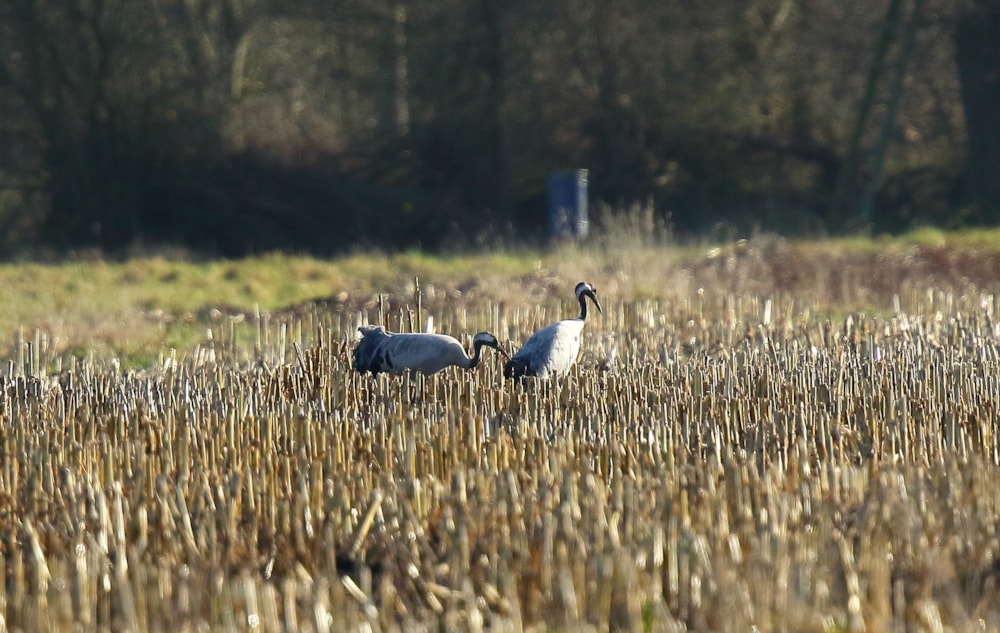 Common Crane, Sandtoft, Lincolnshire (Chris Downes).
West Midlands
In Shropshire, the Yellow-browed Warbler remained at Shifnal. A second-winter Caspian Gull visited the Ellesmere roost on 10th, also here a first-winter Little Gull dropped in for a late-afternoon visit on 14th.
Whitemoor Haye, Staffordshire, played host to a Firecrest and Cannock Chase held onto its Great Grey Shrike.
The first-winter Long-tailed Duck continued at Clifton Pits, Worcestershire. Upper Bittell Reservoir supported the Black-necked Grebe for another week and the Siberian Chiffchaff was again at Kempsey sewage works.
Draycote Water got Warwickshire through a quiet seven days, with the continuing juvenile Great Northern Diver and usual gulls, namely the third-winter Kumlien's, adult and juvenile Glaucous and multiple Caspian and Yellow-legged Gulls.
East Midlands
Nottinghamshire's waterbodies sustained multiple Smew, as well as Greater Scaup, Long-tailed Duck and both Slavonian and Black-necked Grebes. Up to 22 Russian White-fronted Geese remained at Mission and three Bewick's Swans were at Newington.
In Derbyshire, Ogston Reservoir continued to provide suitable overnight accommodation for the juvenile Iceland Gull; both Great Northern Divers remained at Carsington Water, the two Western Cattle Egrets were at Trent Meadows and a pair of Russian White-fronted Geese accompanied the Mute Swan herd on the River Derwent at Draycott.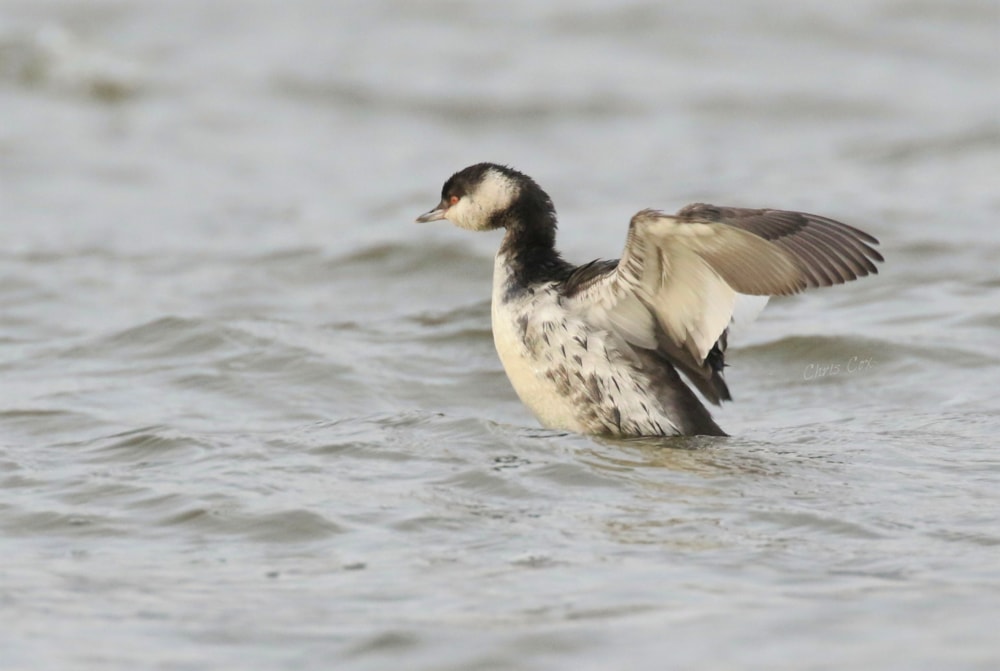 Slavonian Grebe, Attenborough NR, Nottinghamshire (Christopher Cox).
Content continues after advertisements
The Great Grey Shrike was still at Crick, Northants, and the Siberian Chiffchaff continued to put in further appearances at Billing GPs. A third-winter Caspian Gull was at Daventry Reservoir on the morning of 14th.
Rutland Water dominated the regional news, with all three scarcer grebes, female Common Scoter, up to 12 Smew (perhaps equating to a fifth of the entire British wintering population) and a minimum of five Greater Scaup. A roost of 15 Great Egrets was also on Lagoon 2.
Eyebrook Reservoir provided an alternative for birders after a Smew fix, with two drakes and a redhead still being seen throughout the week. Shawell was on-hand for local gull-lovers, with the third-winter Kumlien's, juvenile Glaucous and up to two Caspian Gulls.
East Anglia
Plenty of grey geese remained at large, with both Tundra Bean and Russian White-fronted Geese eagerly sought across the region. In Norfolk, Tundras were at nearly 15 sites with a peak count of 27 at East Somerton, although five in the Nar Valley near Wormegay was a notable record for the west of the county. A hefty count of 315 Russian White-fronts came from Runham on 14th.
Five further sites in Suffolk produced Tundra Beans, including a few with the Bewick's Swans near Westleton and 19 on Havergate Island on 12th.
Norfolk highlights otherwise included the wintering Rough-legged Buzzard at Wells and a Siberian Chiffchaff south of Bawdeswell on 9th. Both Costessey and Cley Marshes proved reliable outposts for Caspian Gull, with Holkham Freshmarsh acting as the same for Western Cattle Egrets (another was noted regularly at Halvergate Marshes). A Pomarine Skua off Titchwell on 13th was decent for the time of year.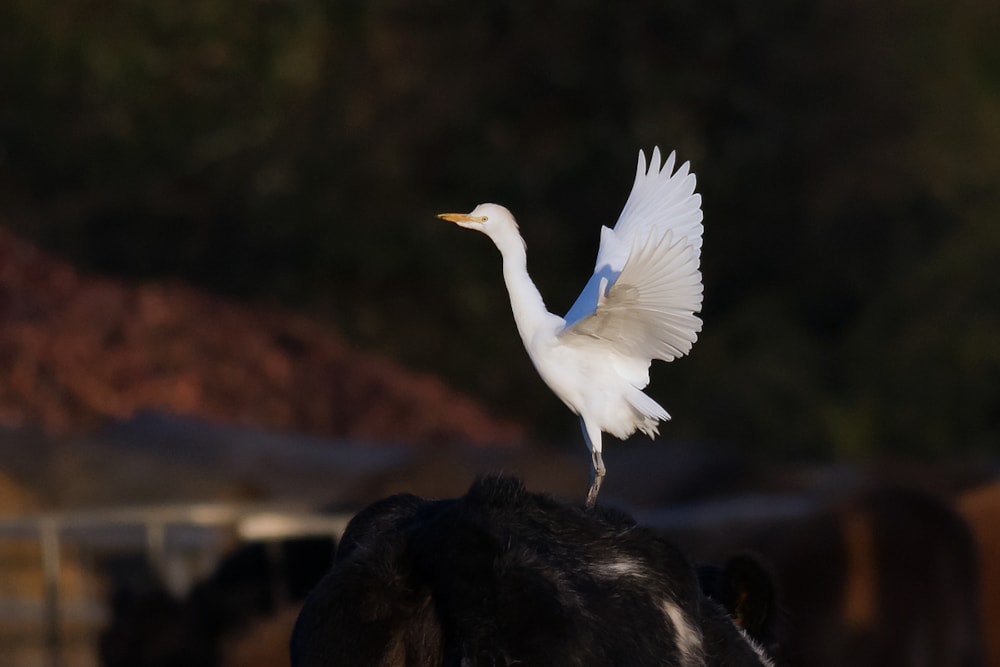 Western Cattle Egret, Halvergate Marshes, Norfolk (Keith Bilverstone).
It's not been a vintage Great Northern Diver winter and so two showing well at Weybread Pits, Suffolk, was not to be sniffed at. On the Suffolk coast, Kessingland retained its Shore Lark, Minsmere RSPB its Green-winged Teal and Bawdsey its Rough-legged Buzzard. An Iceland Gull was notable at Aldeburgh on 8th, while the Orwell Estuary at Freston was the place to be for Red-necked Grebe in the county.
Two Western Cattle Egrets and up to two Smew remained at Lee Valley CP, Essex, with five of the former overflying Benfleet on 12th. Stow Marsh held two Black Brant, while a huge county bird concerned the Black Guillemot at Tollesbury Fleet on 8-9th. Abberton Reservoir, meanwhile, held onto its menagerie of quality birds, not least including Ring-necked Duck and Green-winged Teal (and the wintering Swallow).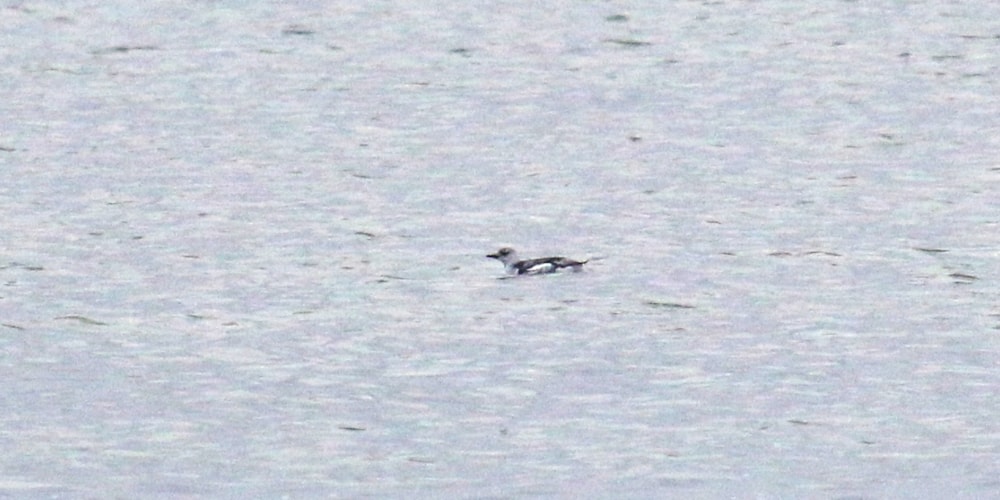 Black Guillemot, Tollesbury, Essex (Steve Grimwade / Swallow Birding).
Bedfordshire's annual Big Duck Hunt failed to produce any major new surprises, although the drake Ring-necked Duck at least hung around at Great Barford till 12th. Also in the county, a Waxwing was in Sandy on 9th and 11th, while the Siberian Chiffchaff was again noted on the outskirts of Bedford and, further south, the wintering Great Grey Shrike plodded on near Brogborough Lake.
A first-winter Rosy Starling was again in a St Ives, Cambridgeshire, garden on 10th and the Siberian Chiffchaff lingered at Dernford Farm Reservoir. Western Cattle Egrets were at two sites in the county, but the Red-necked Grebe at March Farmers couldn't be found past 10th. Smew peaked at eight at Needingworth Quarry Lakes.
South-East England
North Kent held onto its wintering juvenile Rough-legged Buzzard at Funton Creek and Richard's Pipit at Halstow Marshes. The Reculver Lapland Buntings continued, increasing to a modern-day impressive count of five on 8th and 13th, sometimes showing superbly, though there was no sign of any on 14th. Another was at West Hythe on 10th. Elsewhere in Kent, 14 Tundra Bean Geese lingered, including 12 at Worth Marsh.
East Sussex continued to hold the redhead Smew at Rye Harbour, Black-throated Diver at Bewl Water and up to four Long-tailed Duck at Scotney GPs. West Sussex was similarly quiet – the lingering Henfield Levels Glossy Ibis highlighted, five Siberian Chiffchaffs were logged and up to 20 Western Cattle Egrets remained near Sidlesham.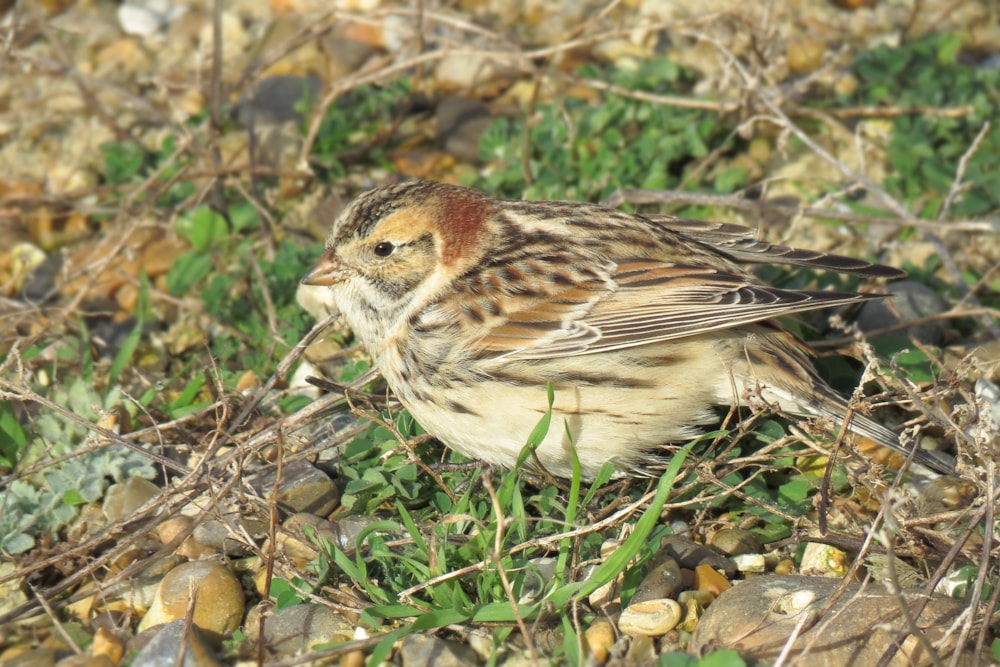 Lapland Bunting, Reculver, Kent (Nick Smith).
The two Great Northern Divers continued at Island Barn Reservoir in north Surrey, while the Yellow-browed Warbler was still available at Rotherhithe in Russia Dock Woodland. Elsewhere in the capital, the juvenile Iceland Gull was relocated at Beckton on 8th and then Rainham Marshes on 10-11th. At the latter site, the young Russian White-fronted Goose was seen on and off. A Siberian Chiffchaff was at Bexleyheath on 13th, while a solid nine sites in the capital, mainly in the east, hosted Caspian Gulls.
In Berkshire, a Water Pipit was a brief visitor to Queen Mother Reservoir on the morning of 14th. The male Ring Ouzel continued to brave winter life atop Pitstone Hill in Buckinghamshire, the same county hosting a notable five Caspian Gulls at Calvert Lakes on 9th.
A Garganey was a surprise record at Standlake, Oxfordshire, on 12th. The Farmoor Slavonian Grebe continued, as did the three Little Wittenham Russian White-fronted Geese. The Warblington Western Cattle Egrets were still available in Hants, along with the released Great Bustard at Tidpit.
Hampshire's now relict Bewick's Swan population hangs on by the skin of its teeth, with an adult returning on 8th, once again on its own. Over on the Isle of Wight, a Water Pipit was at Brading Marshes on 12th.
South-West England
In Cornwall, a selection of Caspian Gulls was on offer at the Hayle Estuary, and a second-winter at St Clement's Isle. The juvenile Iceland Gull remained a familiar face at Newlyn and a juvenile Glaucous Gull called in at Swanpool on 11th. A Pomarine Skua was off Lizard Point on 13th.
Cornish wildfowl included the female Lesser Scaup at Stithians Reservoir, drake Green-winged Teal at Wilcove and the drake Ring-necked Duck at Siblyback Lake. A Whooper Swan was still at Dinham Flats.
Ring-necked Duck continued to decorate three Devon waterbodies, with all six birds present and correct during the past seven days. The Glossy Ibis was still at Fremington Pill and a Grey Phalarope was found at Colyford Common LNR on 12th.
Somerset's showy Richard's Pipit lingered at Steart WWT until 14th, when coincidently one was showing on the sea wall at Huntspill … the wintering Yellow-browed Warbler was also still at Ham Wall RSPB. Barrow Gurney Reservoirs' famous trio remained, with the Black-throated and Great Northern Divers and the drake Long-tailed Duck performing wonderfully.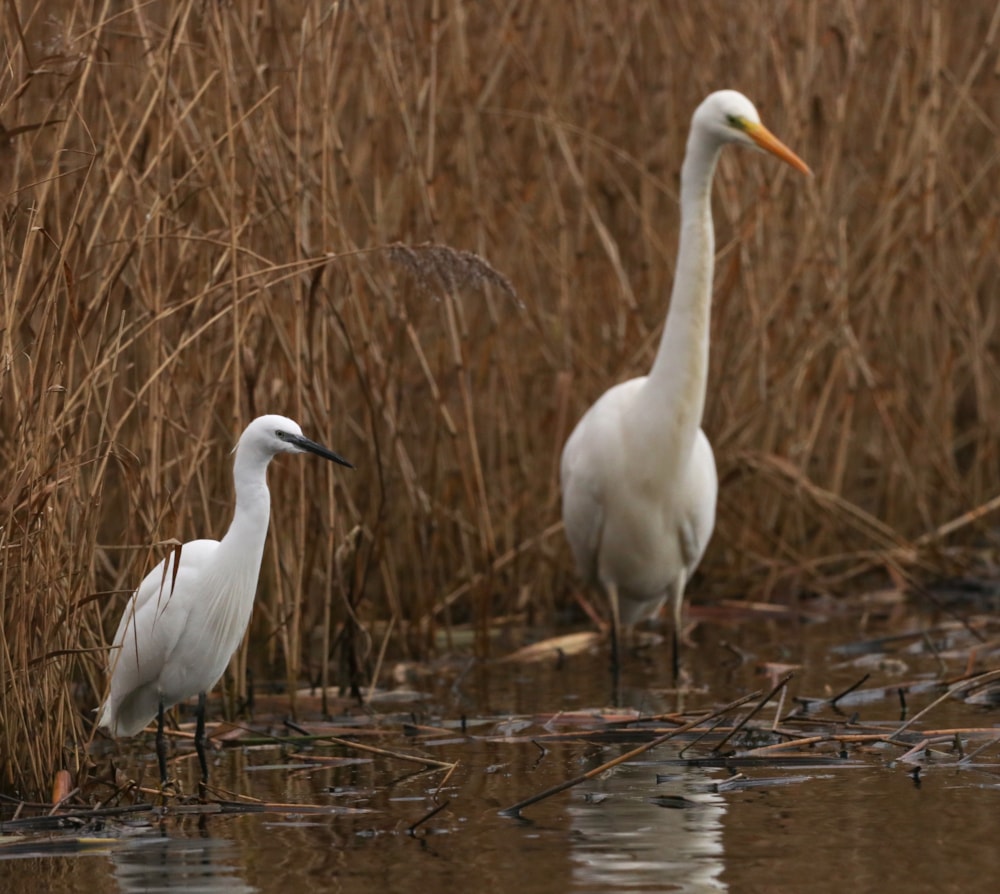 Little and Great Egrets, Ham Wall RSPB, Somerset & Bristol (Tate Lloyd).
The Great Grey Shrike was still at Exford, and the Dorset bird still at Morden Bog. Perhaps the most surprising report this week was a Wryneck at Portland on 10th – this presumably the same as that last seen in mid-November and taking advantage of this winter's mild theme. Elsewhere, females of Ring-necked Duck and Garganey were still at Sturminster Marshall GPs and Lodmoor RSPB respectively.
Gloucestershire is now hosting Great Grey Shrikes at three localities, with a new bird picked up north-east of Sapperton on 10th. A Lesser Whitethroat, presumably an eastern bird, was at Cotswold Water Park from 11th, with the Black-necked Grebe still on nearby Pit 16.
Wales
Caspian Gull remains a rare Welsh bird: a first-winter paid a brief visit to Cosmeston Lakes CP, Glamorgan, on 12th and was documented by excellent photos. A second-winter Glaucous Gull was at Llandudno on 10th.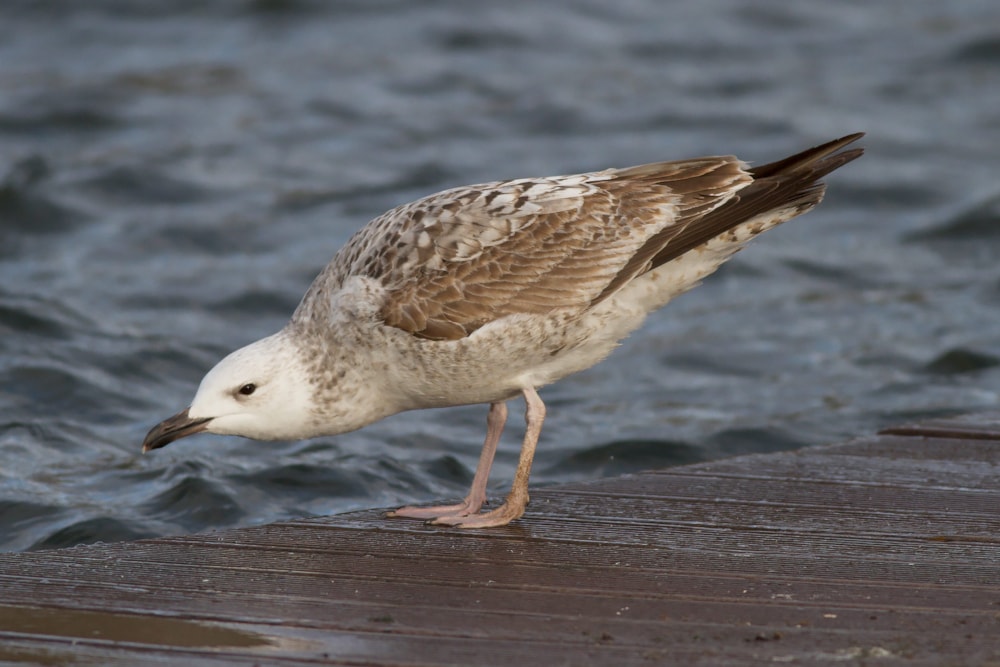 Caspian Gull, Cosmeston Lakes CP, Glamorgan (Graham Smith).
In Gwent, the Glossy Ibis was still at Newport Wetlands and the drake Smew continued to frequent the River Usk, with a redhead also still at Ynys-Hir RSPB, Ceredigion. The drake Ring-necked Duck stayed put at Llyn Blaenmelindwr. Speaking of long-staying drakes, the Garganey remained at Gnoll CP, Glamorgan.
The continuing adult Great Northern Diver seemed a little oversized for the small lake near Llantrisant, while the Eurasian Spoonbill flock spent much of the week asleep at Llanelli WWT. Two Great Grey Shrikes were still on offer nationwide.
Republic of Ireland
A single adult Bewick's Swan at Brideswell, Co Roscommon, found on 12th as part of the International Swan Census, was a poignant record – the last of its kind to winter here, at a site which held a small flock not too long ago. With the ongoing decline of the species in Ireland, how long before regular wintering birds become a thing of the past?
The Lesser Scaup continued to find Achill Island, Co Mayo, to its taste, but the only Ring-necked Duck was that at Lough Nalareagh, Co Galway. The American Wigeon was seen again at Culdaff Estuary, Co Donegal, on 12th.
Five Ring-billed Gulls this week included a first-winter at Ballyferriter, Co Kerry, on 11th and an adult at Kinsale, Co Cork, on 8th, with lingering birds still in Cos Kerry, Sligo and Louth. The Bonaparte's Gull, last reported in Co Clare back in September, was again at Clahane on 11th. Another pitiful week for white-wingers returned only a handful each of Glaucous and Iceland Gulls.
Other bits included four Swallows lingering around Galway City, up to three Siberian Chiffchaffs at Dungarvan, Co Waterford, with two also at Tacumshin, Co Wexford. A Waxwing was taken into care at Westbury, Co Clare, on 10th, with four still in Blackrock, Co Dublin.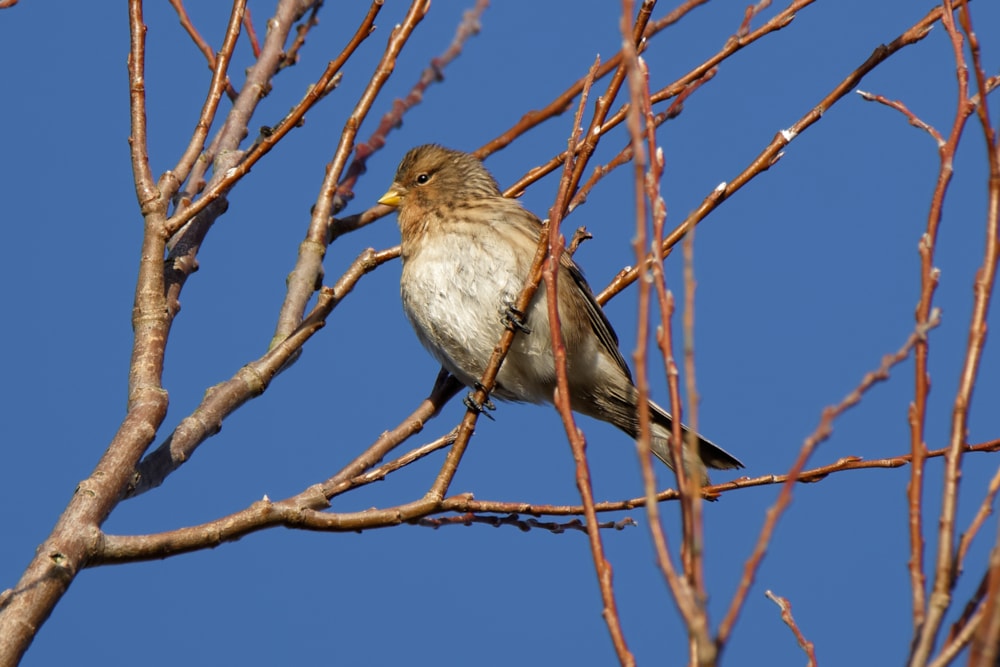 Twite, Dundalk, Louth (Fergal Stanley).
Northern Ireland
A presumed Atlantic Canada Goose was among Whooper Swans at Mountnorris, Co Armagh. A probable Lesser Scaup at Portmore Lough RSPB, Co Antrim, on 9th may be the bird from nearby Oxford Island; the drake Ring-necked Duck and two redhead Smew also continued there.
Further north, a Great Egret was again at Lough Beg, Co Antrim, on 12th. The dump at Enniskillen, Co Fermanagh, held singles of Iceland and Glaucous Gull, with an adult Iceland also on a roof at Dungannon, Co Tyrone, on 11th. At least 34 Waxwings were still on the loose in Belfast, while five were in Scarva, Co Down, on 11th.
Western Palearctic
Belated news concerned a new species for the WP found breeding at Tamanrasset, Algeria, on Christmas Day – White-rumped Seedeater. Two separate flocks were found, suggesting that the species has probably been established here for some time (however it may have arrived). Without any strong evidence to suggest escaped origin, there seems no reason not to admit this species to the national (and regional) list.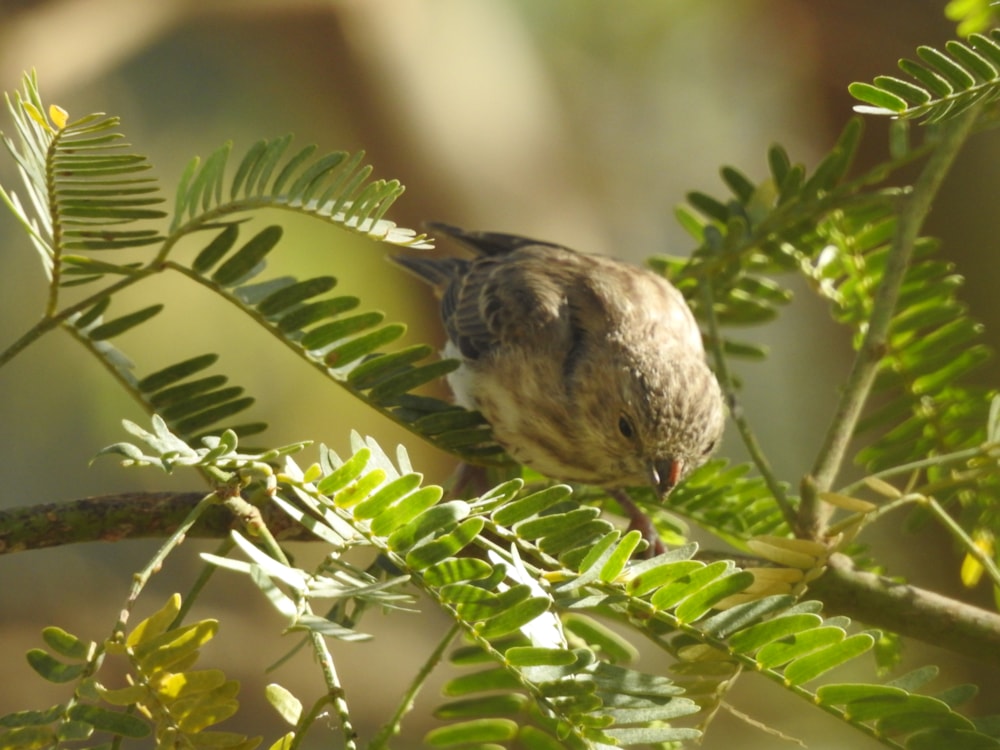 White-rumped Seedeater, Tamanrasset, Algeria (Boulaouad Belkacem Aimene).
The good run of Dusky Thrushes continues with a bird picked up at the north Norwegian island of Flakstadøya on 11th and lingering thereafter – it represents the ninth national record. Just as rare in a Norwegian sense was a first-winter Spotted Sandpiper on the southern island of Kirkeøy. In Sweden, the Masked Wagtail at Falkenburg and the Oriental Turtle Dove at Kristinehamn remained, and a female Black-throated Thrush was found on the outskirts of Stockholm.
Germany's White-billed Diver lingered at Müggelsee, just outside Berlin, while the Black Scoter was again off Nieby. The wintering Little Curlew continued near Schagen, The Netherlands, with Belgium's Dusky Thrush lingering east of Antwerp all week.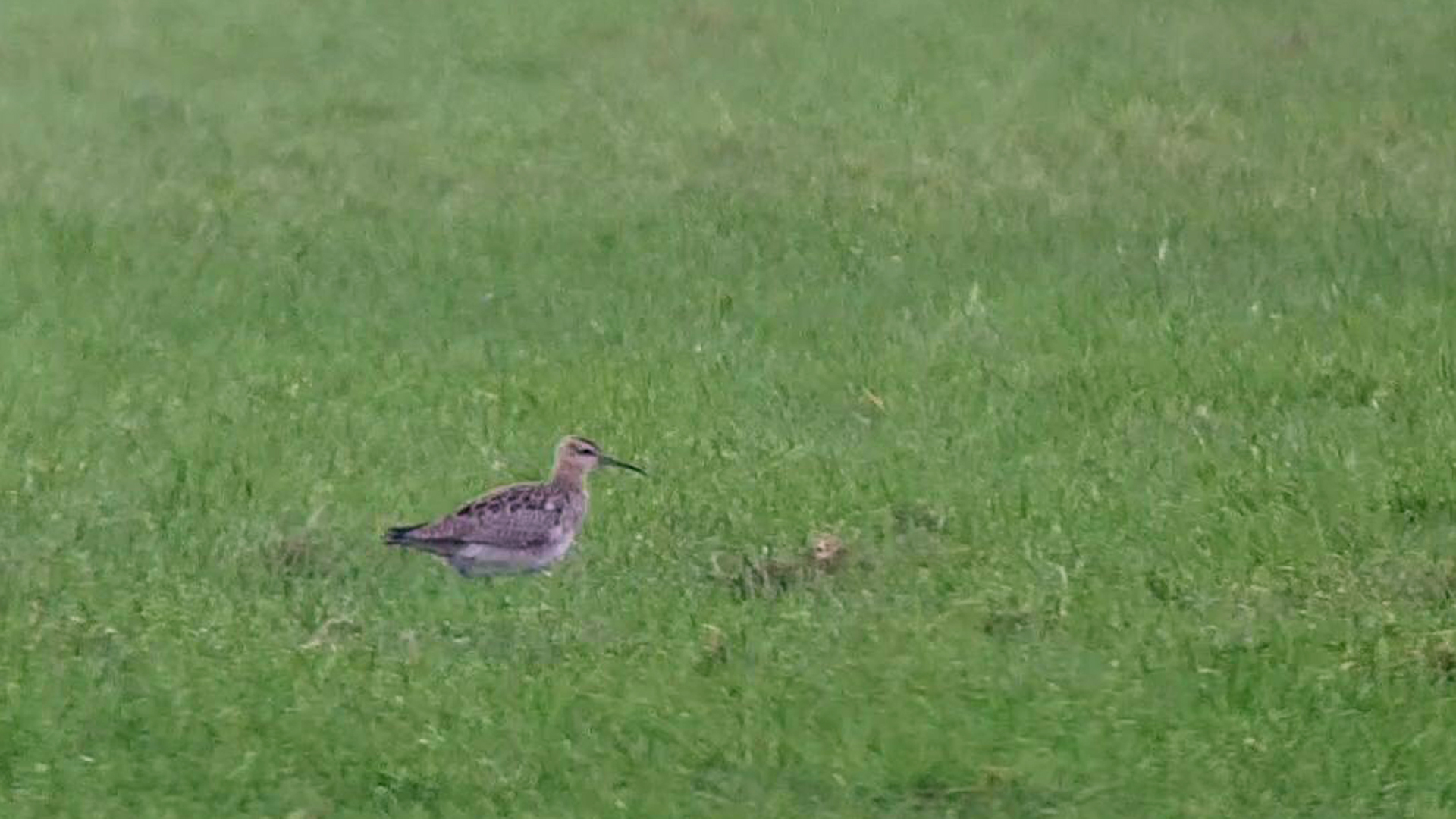 Little Curlew, Schagen, The Netherlands (Paul French).
A pristine first-winter Franklin's Gull was a great discovery in central Bordeaux, France, on 11-12th, while the three Great White Pelicans lingered in the Camargue. In Galicia, Spain, both the American Buff-bellied Pipit and Brown Shrike hung on, with a Sociable Lapwing still in Extremadura and a Rüppell's Vulture in Andalucia.

Franklin's Gull, Bordeaux, Gironde (Loup Noally).
A Killdeer was on Faial, Azores, on 11th and is presumably the same as that found in November; news from Fuerteventura concerned the continuing Eastern Yellow Wagtail and Red Kite, but these were upstaged by an Abyssinian Roller on Gran Canaria on 14th.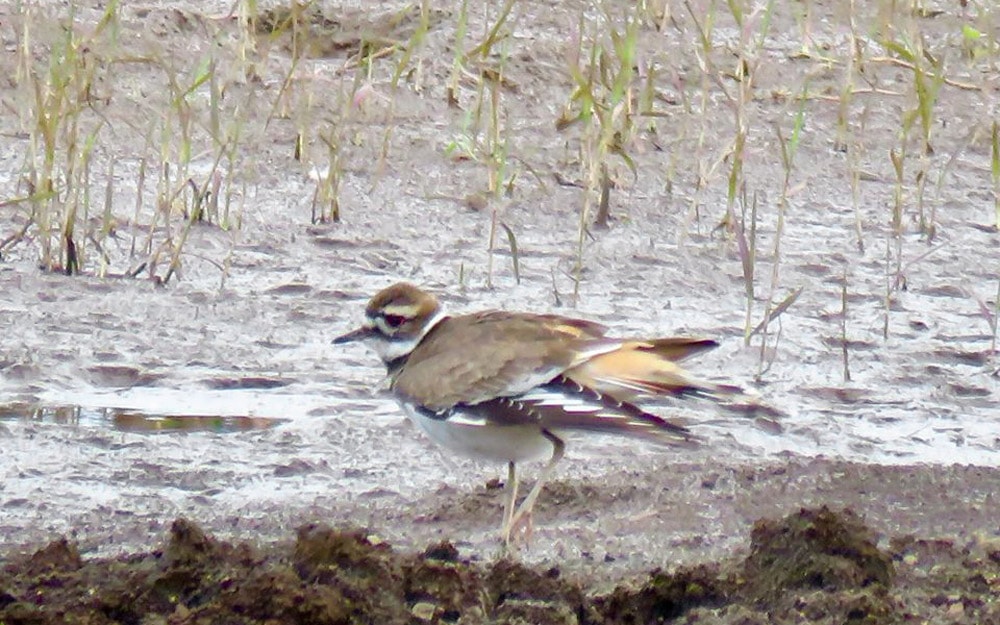 Killdeer, Faial, Azores (Nuno Gonçalves).
Finally, in Kuwait, the country's first Eastern Yellow Wagtail was confirmed from Jahra Pools. A Purple Sunbird hung on at Al-Adan and the Lesser Flamingo was loving life at Sulaibikhat Bay.