The week at a glance
After the largely southern influence on the "big birds" of late April and the first few days of May, a couple of late arrivals on the final day of the last review period hinted at what was around the corner. A strong westerly airflow surging across the Atlantic deposited a Solitary Sandpiper and a Laughing Gull on Shetland, and it was the Northern Isles that welcomed one of the rarest birds of the year so far as those winds continued to blow. However, it wasn't solely westerly winds and American stars: by the end of the week, strong easterlies were having a significant effect.
Hot on the heels of their first Green-winged Teal a couple of weeks ago, Fair Isle's birding residents rattled in another new bird for the island this week and this was one that was to make people sit up and take rather a lot of notice. The bird in question was a male Brown-headed Cowbird, which appeared on 8th and remained until 10th. Once accepted, this will be the second confirmed record for Britain, following one seen on Islay in April 1988. This year's bird was first noticed around the croft at Stoneybrek before settling for a time further down the island around The Haa, the croft which laid claim to Britain's first Citril Finch last year. A few intrepid souls headed north (and some south!) to collect another new bird over the weekend, some enduring a nerve-jangling flight where an emergency landing was almost required on the island. Luckily the wheels came down though and the bird was duly added to a few more lists. Intriguingly and remarkably, the day before the Fair Isle individual appeared a possible Brown-headed Cowbird was seen briefly in a garden in Weybourne (Norfolk). The observer has experience of the species from trips to the US and, despite the brevity of his views, was pretty sure as to the species involved. Subsequent searches on the day, and also on 8th, produced nothing, but did at least get people thinking about one of those incredible rarities that has been completely forgotten about, barely registering on the birder's radar. For a confirmed bird to appear within 24 hours, several hundred miles to the north, is nothing short of astonishing. So, with at least one and probably two birds here, could there be more?

Brown-headed Cowbird, Fair Isle, Shetland (Photo: Steve Minton)
Scotland claimed another cracking Nearctic vagrant on 11th when a Hudsonian Whimbrel was found at Uisead Point (Argyll). This is the second record for the country this decade; the other was, almost inevitably, on Fair Isle in August 2007. Another potential armchair tick in waiting, a Balearic Woodchat Shrike (the distinctive form badius) was at Duncormick (Co. Wexford) on 12th–13th and may have been present since 10th. This represents the second record for the Republic; the first was on Mizen Head (Co. Cork) in June 2002.
In Devon, along the Exe Estuary, the potential Western Sandpiper was still present to 9th and was the cause of much fascinating web-based debate. Input from several experienced birders on both the eastern and western seaboards of the USA saw the consensus stay with Western (just) at the time of writing, though one or two still erred on the side of Semipalmated Sandpiper (albeit with great caution).
Birders travelling to Fair Isle for the Brown-headed Cowbird may have been grateful to collect the drake Wood Duck on Loch of Brow, which was still present to 12th at least. This potential British first has clocked up nearly a month on the island and quite how long he'll stay is anyone's guess. Staying on Shetland, out on Foula, the Solitary Sandpiper found at the end of the last review period was still present on 9th. On Guernsey, the two Zitting Cisticolas were still at Port Soif to 11th. Finally, in terms of star quality, belated news came from Gloucestershire of a juvenile Pallid Harrier seen at Slimbridge on 20th April. Initially thought to have been a Montagu's Harrier, the finders, becoming anxious, studied their brief video footage and it does indeed seem to show the county's first Pallid.
There were four White-billed Divers to report this week: one was seen on Mull (Argyll) on 8th, another was in Gruinard Bay (Highland) on 11th and one flew north past Girdle Ness (Aberdeenshire) on 12th. An adult in summer plumage was seen from the ferry near Inishbofin (Co. Galway) on 13th, a county first. Well over 550 Pomarine Skuas were noted through the week from Cornwall to Shetland, the majority being shared by Cumbria and North Uist, with 65 past Aird an Runair on 8th the highest total of the week. The previous day saw 13 Long-tailed Skuas fly by the same site, with three singles in Dumfries & Galloway in the week and two in Cumbria. Five Long-tailed Skuas were seen off Wats Ness (Shetland) on 10th. Balearic Shearwaters made it into double figures this week, including 15 or more off Portland Bill (Dorset). In North Yorkshire, a Grey Phalarope was seen off Filey Brigg on 7th–8th while, back on the Outer Hebrides, seawatchers at Aird an Runair logged seven Leach's Storm-petrels on 8th–9th.
In Cambridgeshire, last week's double hit of Cattle Egrets around Dog-in-a-Doublet became a trio on 7th where they remained until 10th at least. The single bird at Rutland Water (Leicestershire) was still present to the middle of the week with more lone Cattle Egrets seen in Cornwall and Lancashire. The Great White Egret lingered at Dolydd Hafren (Powys) until 10th, with others this week at Herringfleet (Suffolk), Saltholme Pools (Cleveland), Chichester (West Sussex) and Lydney (Gloucestershire). There was a slight rise in numbers of Spoonbills this week; up to 35 were noted with birds spread far and wide, including notable singles at Catterick (North Yorkshire) on 8th and Light Hazzles Reservoir (Greater Manchester) on 10th, while three birds were at Inner Marsh Farm (Cheshire) on 11th.

Cattle Egret, Rutland Water, Leicestershire and Rutland (Photo: Antony Taylor)

Great White Egret, Saltholme Pools RSPB, Cleveland (Photo: Toby Collett)
Away from the handful of breeding sites in East Anglia and further afield, Common Cranes were pretty thin on the ground this week. In Lincolnshire, one was at Tetney Marshes on 7th with two at Saltfleetby the following day. Two birds were then reported in Staffordshire on 9th. Five birds were seen at Buckenham Marshes (Norfolk) on 10th, with four birds (a three and a single) in Suffolk on the same day. On 11th, singles were in Kent and East Sussex and two were on Lewis (Outer Hebrides).
On the Isles of Scilly, a male Little Bittern was found at Porth Hellick, St. Mary's on 10th, the first on the islands in nearly six years. In Suffolk, the first-summer Purple Heron was still at Lakenheath Fen until 9th and another was found at Chew Valley Lake (Somerset) on 10th. The only White Storks of the week were in Northumberland on 7th–8th and Lothian on 10th.

Purple Heron, Chew Valley Lake, Somerset & Bristol (Photo: Gary Thoburn)
Staying in Scotland, seven Snow Geese were seen on Orkney on 13th, the two Snow Geese were still at Loch of Strathbeg (Aberdeenshire) until 10th and the single Snow Goose at Craobh Haven (Argyll) was still around this week too. On Skye, a Snow Goose was reported flying north past Isleornsay on 10th (in the company of Pink-footed Geese). Also in Scotland, and also in the company of Pink-footed Geese, was a Ross's Goose at Alloa (Forth) on 9th, still present the following day. Being with a decent carrier species, this Ross's Goose has good credentials but, given that it is at least two months since the last (presumed) wild Ross's Goose was seen, where did this bird pop up from? In Norfolk, a Black Brant was seen in Blakeney Harbour on 9th while last week a Canada Goose of one of the larger forms was seen at Loch Bhasapol, Tiree (Argyll) on 6th.
With Shetland already boasting a Brown-headed Cowbird, a Solitary Sandpiper and a Laughing Gull within just a few days of each other, and with the weather as it was, the two Black Ducks found at Loch of Hillwell (mainland) on 9th would have felt quite at home with their fellow Nearctic vagrants (and the Wood Duck too of course!). On 11th they had moved to Gards Loch, Scatness. The fifth and sixth Black Ducks for Shetland, these birds represented the first multiple arrival of the species since two made landfall on the Isles of Scilly in October 1976.
As if a couple of Black Ducks weren't enough, a Shetland drake Lesser Scaup was found at Loch of Benston on 12th–13th. A drake Ring-necked Duck was seen on Loch Ruthven (Highland) on 7th and one of Somerset's two recent drake Ferruginous Ducks remained for another week, the bird at Chew Valley Lake still present to 8th. A drake Blue-winged Teal was found at Ashton's Callows NR (Co. Tipperary) on 9th; this is the second record in the county within three weeks, so perhaps the same bird is involved. Single drake Green-winged Teal lingered in Somerset and Dumfries & Galloway; another was seen again on Loch Stiapavat, Lewis (Outer Hebrides) on 9th (one was last seen here in late April) and one was at Loch Nell (Argyll) on 11th. In Northern Ireland, the drake American Wigeon was still on Larne Lough (Co. Antrim) until 12th at least.

American Wigeon, Ballycarry, Antrim (Photo: Craig Nash)
A drake Surf Scoter was off Blackdog (Aberdeenshire) on 9th with two birds (one a drake) off Gullane Point (Lothian) on 10th and a lone drake off Musselburgh Lagoons (Lothian) on 11th–12th. A possible King Eider was seen distantly in flight off Sennen Cove (Cornwall) on 7th.
A White-tailed Eagle was seen over Mossy Hill and Fitful Head (Shetland) on 11th with perhaps the same bird over Foula on 13th. Single Rough-legged Buzzards were noted along the east coast on 7th, at Gibraltar Point (Lincolnshire) and Flamborough Head (East Yorkshire). Another was seen at Old Hall Marshes (Essex) on 11th, with one (the same?) at St. Osyth on 13th. At least five Black Kites were reported in southern England between 7th and 13th, and another was reported in the northeast, at Crimdon Beach (Cleveland) on 7th. In Norfolk, two different male Red-footed Falcons were reported at Stiffkey during the week, a first-summer on 7th and an adult male on 9th. On 8th, another was seen at Margate (Kent). Two Snowy Owls were seen this week, both on 8th: one was at Settiscarth (Orkney) with the other at Mangurstadh, Lewis (Outer Hebrides).
Two species of raptor rarely mentioned in the Review of the Week are Hobby and Red Kite. However, this week a handful of records for the two species have to be included. Hobby first: the gathering in Somerset, at Shapwick Heath on 9th, is most certainly worth noting with at least 70 birds counted. What a sight that must have been and prompts the question, what is the British record for a single gathering of Hobbies? And what collective noun could be used — a "hawking" maybe? Elsewhere in the southwest, a group of seven Red Kites over Rippon Tor (Devon) on 10th would have been pretty interesting but was knocked into a cocked hat by west Cornwall's efforts on 11th. Four were seen over Nanjizal valley at 09:30 and by late morning 10 had been seen at nearby St. Levan and an amazing 14 flew east over Polgigga. In the afternoon, eight Red Kites were seen at Treen. A remarkable influx.
There was no doubting what the star shorebird of the week was: the Black-winged Pratincole that pitched up at Chamber's Wall and Reculver (Kent) on 10th. This followed on from news of a Collared Pratincole reported from Grove Ferry on 8th. Thoughts that it was actually the same bird seemed to confirmed when the Black-winged Pratincole reappeared at Grove Ferry on the morning of 12th, taking in a visit to Collard's Lake later in the day, with a repeat performance to close out the week. It has been nearly eight years since the last record of the species here — one seen on Anglesey for a couple of weeks in July 2001 — and county listers would have been grateful too, with nearly 21 years since the last Kent bird. With 33 records on the books, Black-winged Pratincole is no "mega", but there's no doubting the genuine rarity (and popularity) of this classy eastern visitor. A more regular (and, again, always welcome) vagrant is Marsh Sandpiper and the first of 2009 was seen at Vange Marshes RSPB (Essex) on 11th.

Black-winged Pratincole, Grove Ferry NNR, Kent (Photo: Steve Ashton)
The Pectoral Sandpiper found last week at Hope Carr NR, Leigh (Greater Manchester) was present to 7th and new birds appeared on Foula (Shetland) on 8th; at Pennington Marshes (Hampshire) on 9th; at Dungeness (Kent) and Saltholme (Cleveland) on 10th; and at The Loons RSPB (Orkney), Earsdon (Northumberland) and Moikie CP (Angus) on 11th. Temminck's Stints were seen in at least 13 counties from Cornwall to Aberdeenshire, with five together at Willington GPs (Bedfordshire) on 13th comfortably the gathering of the week. Just over 100 Dotterel included 18 at Plex Moss (Lancashire) on 10th, 10 birds near Whittlesey (Cambridgeshire) from 9th and 10 more at Gringley Carr (Nottinghamshire) on the same date. A dozen Dotterel were at Port Nis, Lewis (Outer Hebrides) on 13th. Also on 13th, four Kentish Plovers arrived: single females were found at Dawlish Warren (Devon) and Cley Marshes (Norfolk) and a pair were seen on Thorney Island (West Sussex).
Content continues after advertisements

Pectoral Sandpiper, Foula, Shetland (Photo: Russell Wynn)

Dotterel, Blackmoorfoot Reservoir, West Yorkshire (Photo: Jason Kenny)

Kentish Plover, Black Point, Hampshire (Photo: Lee Fuller)
After a Laughing Gull on Foula last week, this week mainland Shetland popped in an adult summer Franklin's Gull on 11th to keep the remarkable spell of American vagrants on the islands going. The bird was first seen at Garths Voe near Sullom and represents the sixth record for the islands. There were still some 55 Iceland Gulls recorded this week, including three still at Ullapool (Highland) on 8th and Loch of Clickimin (Shetland) on 9th, while five were seen at Nimmo's Pier (Co. Galway) on 11th. Glaucous Gulls, on the other hand, could muster fewer than ten birds all week. The adult Forster's Tern was again at Tacumshin (Co. Wexford) on 7th, and in Dumfries & Galloway a Whiskered Tern was found at Seafield on 10th, the first county record since 29th May 1894! In Surrey, a second-summer White-winged Black Tern was a popular visitor to Staines Reservoir on 11th–13th, with an adult at Draycote Water (Warwickshire) on 13th.

Franklin's Gull, Voe of Scatsta, Mainland, Shetland (Photo: Jason Atkinson)

White-winged Black Tern, Staines Reservoirs, Surrey (Photo: Andrew Moon)

Black Tern, Barton-upon-Humber Pits, Lincolnshire (Photo: Graham Catley)
The popular Pallid Swift present around Seaforth and Crosby (Merseyside) was last seen early on the morning of 10th, completing an 11-day stay. Three Alpine Swifts were found on 8th: the first was seen over Hessle (East Yorkshire), followed by one over Meare Heath (Somerset), and the final bird of the day was seen at Kilcoole (Co. Wicklow). The fourth of the week was seen over Lodmoor (Dorset) on 13th. A swift with a white rump, thought possibly to have been a Pacific Swift, was seen at Wheldrake Ings (North Yorkshire) on 7th, but its identity remained unproven.

Pallid Swift, Seaforth LWT (Permit only), Lancashire (Photo: Steve Round)
The first Bee-eater of the year was seen at Butley (Suffok) on 6th, although the bird wasn't seen the following morning. Another Suffolk single was seen briefly at Lound on 10th and three were seen in Great Yarmouth (Norfolk) on 11th, at least two of them remaining to 12th. Also in Norfolk, two Red-rumped Swallows moved up and down the north coast between 7th and 10th, appearing first along the cliffs at Cromer and then spending time around Blakeney and Cley before heading back east to Weybourne. Elsewhere this week, single Red-rumped Swallows were seen at Daventry Reservoir (Northamptonshire) and Stoke Newington Reservoirs (London), both on 9th, with another on St. Mary's (Scilly) on 12th. The 13th saw two birds on St. Mary's and two on Portland (Dorset).

Red-rumped Swallow, Cley next the Sea, Norfolk (Photo: Stephen)
Six Hoopoes were seen this week: the first couple were seen on 7th, at Crowlas (Cornwall) and Silsden (West Yorkshire), and were followed by singles at Lanark (Clyde) on 8th–9th, at Rowley Regis (West Midlands) on 9th, at Loompit Lake (Suffolk) on 11th and near Cley (Norfolk) on 13th. The only Wryneck of the week was at Paxton Pits (Cambridgeshire) on 11th, while a male Bluethroat at Spurn (East Yorkshire) on 12th was the first of four found at the end of the week: two singles were in Northumberland on 13th (on the Farnes and Holy Island) with another on Stronsay (Orkney).

Bluethroat, Holy Island, Northumberland (Photo: Colin Pears)
A female Woodchat Shrike was found on Portland Bill on 8th and was followed by single records on the Isles of Scilly from St. Martin's on 9th and Bryher on 10th–13th. In Somerset, another Woodchat Shrike was found at Tealham Moor on 12th. A couple of late-departing Great Grey Shrikes were seen this week: one was at Weybourne on 8th–11th (moving into the neighbouring Cley square on the latter date) and another was at Cannock Chase (Staffordshire) on 10th.
Four migrant Golden Orioles were seen on Scilly on 13th, with other singles noted during the week in Cornwall, Dorset, Hampshire, London and Norfolk, while at least five were at the traditional breeding site on the Suffolk/Norfolk border. Just seven Waxwings were seen this week: singles in Lothian and the Outer Hebrides and five in Dublin on 13th.
A Richard's Pipit was present on Fair Isle on 10th–11th and another was on St. Martin's (Scilly) on 11th. Staying on Scilly, a summer-plumaged Red-throated Pipit was on St. Agnes on 12th–13th. The same date also yielded a (rather furtive) first-summer female Citrine Wagtail on the Cley Marshes reserve (Norfolk) which became rather more obliging the following day. Six of Norfolk's nine Citrine Wagtails have been found within the Cley 10-kilometre square. A Short-toed Lark was found at Landguard (Suffolk) on 13th.
In East Yorkshire, a bird initially identified as a Greenish Warbler was found along Beacon Lane, Kilnsea on 12th. The following morning doubts voiced the previous night were borne out: the bird was in fact Britain's first-ever spring Hume's Yellow-browed Warbler. Four Icterine Warblers were found on 13th: one was at Sandy Point (Hampshire), two were at Sandwich Bay (Kent) and the fourth was also found in Kent, at Dungeness. The same day and the same site also hosted a Melodious Warbler — rare indeed to have both "regular" Hippolais warblers at the same site in spring. How many times has that happened? Other impressive warbler finds on 13th were a male Subalpine Warbler, also at Dungeness, a singing male Great Reed Warbler at Porth Hellick Pool, St. Mary's (Scilly) and, better still, a Blyth's Reed Warbler in the bushes at the west end of Gun Hill dunes (Norfolk). The excellent recent spell on Portland showed no signs of easing up this week: as well as the female Woodchat, a stunning male Eastern Subalpine Warbler was found near the coastguard cottages on 9th and showed well from time to time — certainly long enough for some deliciously crisp images to be taken. In Essex, the singing male Savi's Warbler remained in the Lee Valley CP until 10th at least, though it sometimes proved hard to see, while in Hampshire a probable Iberian Chiffchaff was singing near Brockehurst from 10th.

Hume's Leaf Warbler, Kilnsea, East Yorkshire (Photo: rezMole)

Subalpine Warbler, Portland, Dorset (Photo: Lee Fuller)
A Serin spent a few morning hours at Spurn (East Yorkshire) on 7th before heading north. The following day, a singing male Serin was found in Great Yarmouth (Norfolk). (News of another Norfolk Serin emerged this week, one seen on Scolt Head Island on 1st.) Three Serins were on Portland (Dorset) on 11th: two flew east while another was seen in the Observatory garden. The final bird of the week is a big and beefy Hornemann's Arctic Redpoll seen and photographed on Foula (Shetland) on 12th.

Arctic Redpoll, Foula, Shetland (Photo: Russell Wynn)
Photo of the Week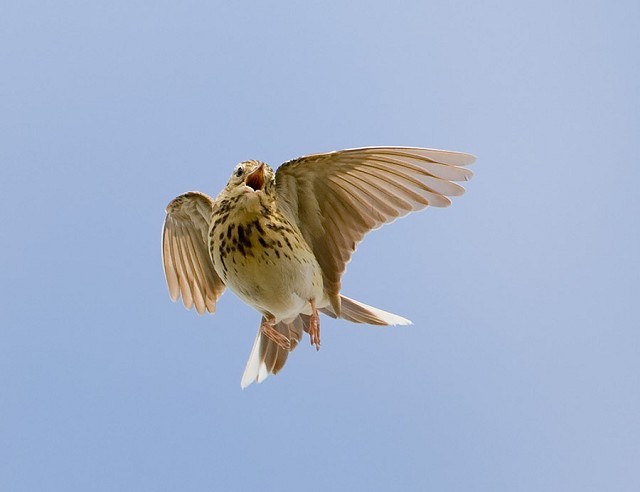 Tree Pipit, Laughton, Lincolnshire (Photo: Graham Catley)
In general, getting flight shots of small passerines is extremely difficult. Firstly, these birds tend to fly in rapid undulating/erratic paths close to the ground or through vegetation, making them almost impossible to focus on. Only a few species (e.g. Skylarks) offer extended views in slow flight in open skies. Even if you can find such birds, you then hit the problem that their small size means you need to be very close to the birds to get shots that show any detail (a frame-filling shot of a swan can be taken from around ten times further away than one of a sparrow). That's before you start tackling the difficulties of catching a well-lit, well-posed shot. This week, prolific bird photographer Graham Catley gives a great example of how to tackle the challenge. Targeting Tree Pipits is a good choice because these are under-photographed birds that have parachuting display flights. However, success depends on excellent field skills as well as photographic technique. In his blog, Graham explains that "it helps to find a male without a mate and with another male nearby challenging for passing females; paired birds are too busy to display", clearly the words of a man who has worked long and hard to get great results!

Black-necked Grebe, undisclosed site, Cheshire (Photo: David Cookson)

European Stonechat, East Tilbury, Essex (Photo: Lea Roberts)

Sandwich Tern, Ramsey, Isle of Man (Photo: Sean Gray)

Black-winged Pratincole, Grove Ferry NNR, Kent (Photo: Steve Ashton)

Black-tailed Godwit, Minsmere RSPB, Suffolk (Photo: Richard Bedford)

Little Owl, Nocton Fen, Lincolnshire (Photo: Matt Latham)

Razorbill, Bempton Cliffs RSPB, East Yorkshire (Photo: Steve Race)

Wood Warbler, undisclosed site, Gwynedd (Photo: Steve Round)

Jay, Spital, Cheshire (Photo: Steve Round)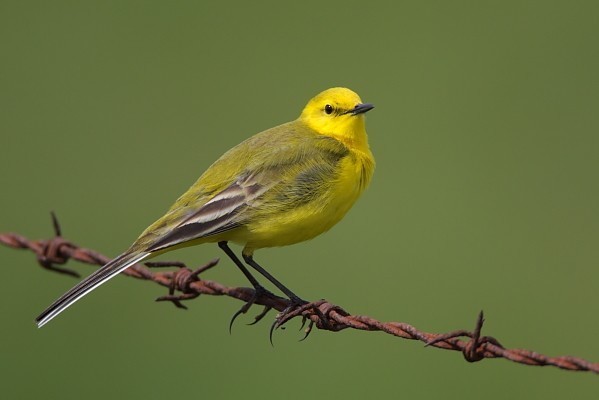 Yellow Wagtail, Lydney, Gloucestershire (Photo: Lewis Thomson)

Sand Martin, undisclosed site, Devon (Photo: Charlie Fleming)

Common Kingfisher, undisclosed site, West Sussex (Photo: Dorian Mason)

Turnstone, New Brighton, Cheshire (Photo: Richard Steel)

Sanderling, Toft Newton Reservoir, Lincolnshire (Photo: Dean Eades)

Cuckoo, Campbeltown Loch, Argyll (Photo: James Mcdonald)

Hobby, Summer Leys LNR, Northamptonshire (Photo: Ben The Plumber)

Common Swift, Earls Barton GPs, Northamptonshire (Photo: John Betts)

Green Bee-eater, India (Photo: Jaysukh Parekh Suman)