Starting the week with a bang, the 7th saw an unprecedented double arrival of Eyebrowed Thrushes to Shetland, with a first-winter male trapped and ringed at Brae, Mainland, early morning followed by another at Velzie, Fetlar, that afternoon. Unfortunately, both proved short-lived affairs, with neither lingering after the initial sightings. This is just the third occasion where three individuals of this attractive Scandinavian thrush have been recorded in the same calendar year, following trios in 1964 and 1987. In Orkney, North Ronaldsay's popular individual – also a first-winter male – remained until 8th.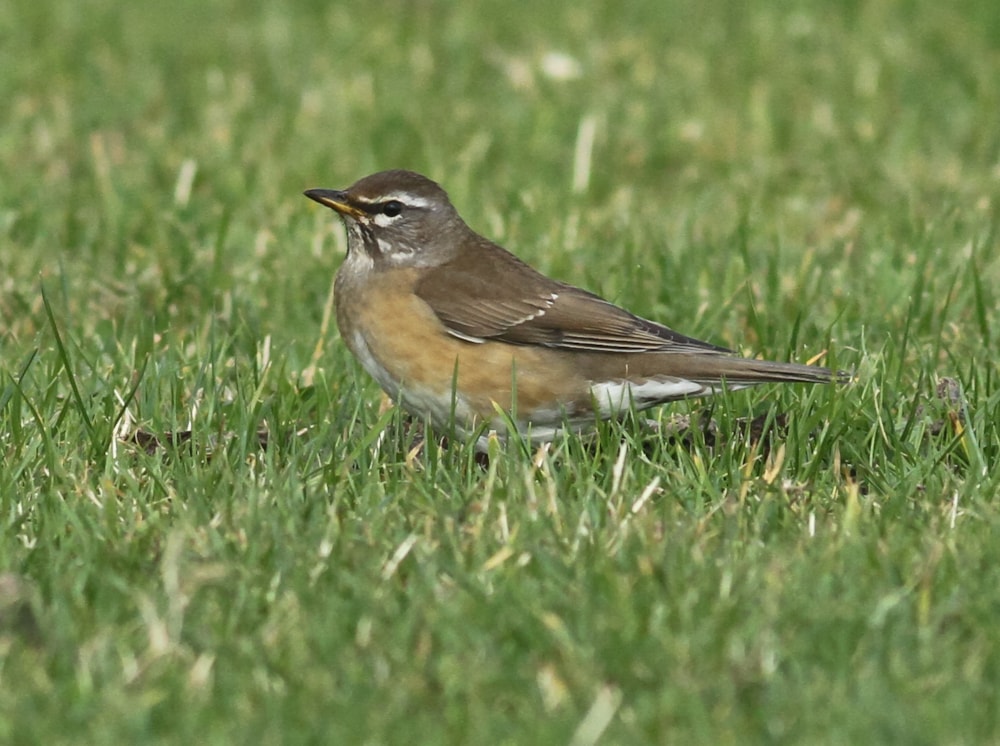 Eyebrowed Thrush, North Ronaldsay, Orkney (Dante Shepherd).
A promising transatlantic warm front early in the week delivered the hoped-for goods to southern Ireland and south-west England, starting with a Black-and-white Warbler on Tresco, Scilly. It crept its way through the willows by Great Pool on 8th, to the delight of resident and visiting birders alike. The last four British and Irish records of this enigmatic Nearctic warbler all hail from famous the island chain, with records from St Mary's (1996 and 2011), Tresco (1996) and St Martin's (2019).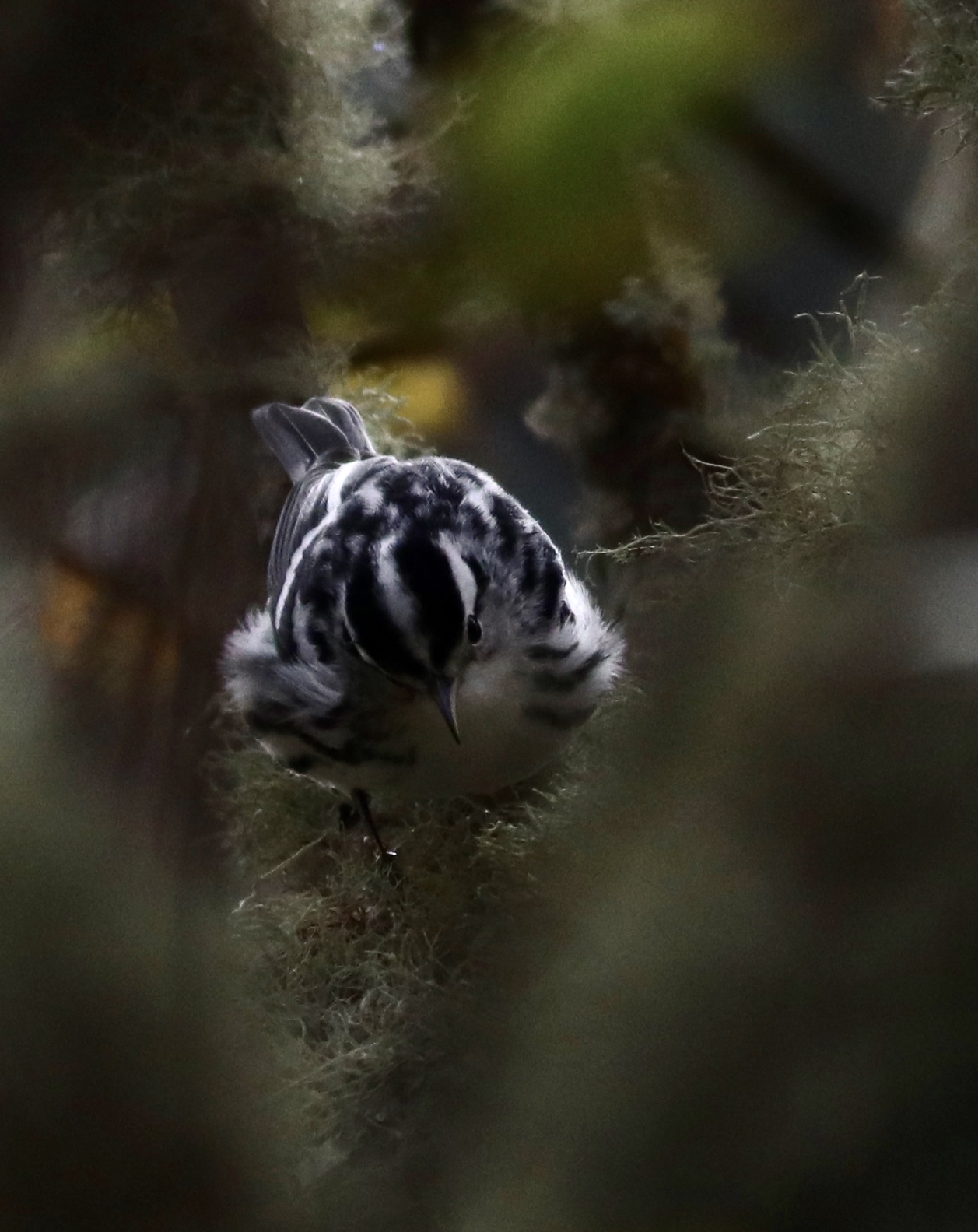 Black-and-white Warbler, Tresco, Isles of Scilly (Paul Hawkins).
Meanwhile, West Sussex's first-ever Common Nighthawk at Church Norton on the evening of 8th was an impressive find for the local Reverend. Initially thought to be a wayward European Nightjar, he soon realised he had a much rarer visitor on his hands. Thankfully, the bird lingered briefly over the nearby Severals to allow a few fast-moving local birders the chance of a peek. Read more about the find here.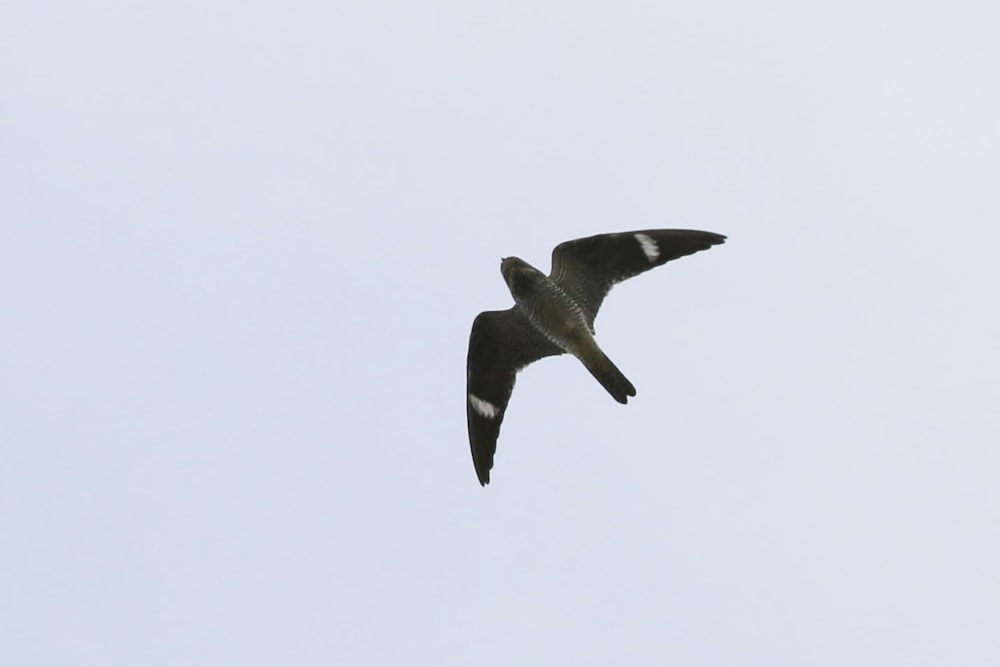 Common Nighthawk, Church Norton, West Sussex (Andy Wilkes).
It was Co Galway that scored the biggest prize of the week, with the country's third Philadelphia Vireo on Inishmore. Present on the island from 9-12th, it follows records from Galley Head, Co Cork, in October 1985, and Kilbaha, Co Clare, in October 2008, complementing a single British record from Tresco, Scilly, in October 1987.
Mizen Head, Co Cork, played host to a Blackpoll Warbler on 10-11th, delighting among the bracken. Meanwhile, three sites played host to Red-eyed Vireo – Kenidjack Valley, Cornwall, St Martin's, Scilly, and Feohanagh, Co Kerry.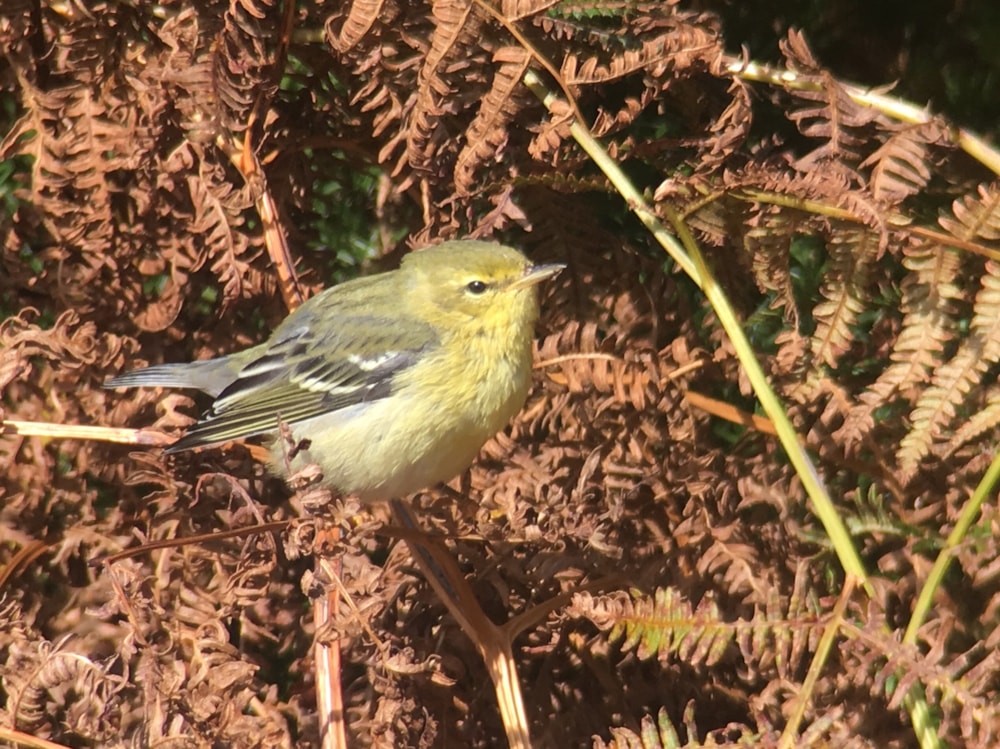 Blackpoll Warbler, Three Castles Head, Cork (Brian McCloskey).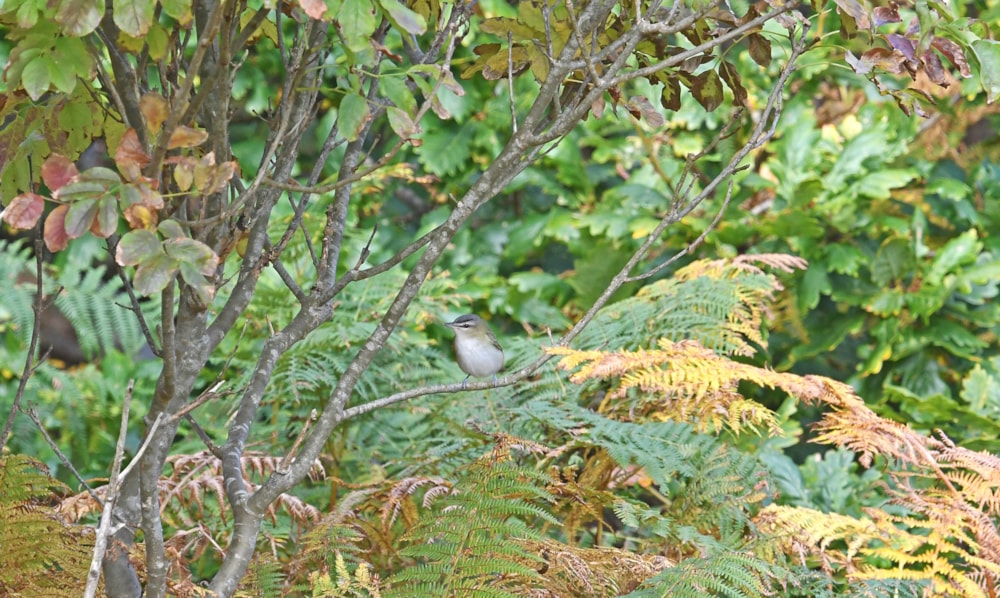 Red-eyed Vireo, St Martin's, Isles of Scilly (Chris Townend).
Scilly scored two new Swainson's Thrushes – at Lower Moors, St Mary's, on 7-8th and at Popplestone Fields, Bryher, from 10-13th, the latter joined by a showy American Buff-bellied Pipit from 13th. Other Buff-bellieds were on North Uist at Rubh' Arnal on 7th and on North Ronaldsay on 10-11th.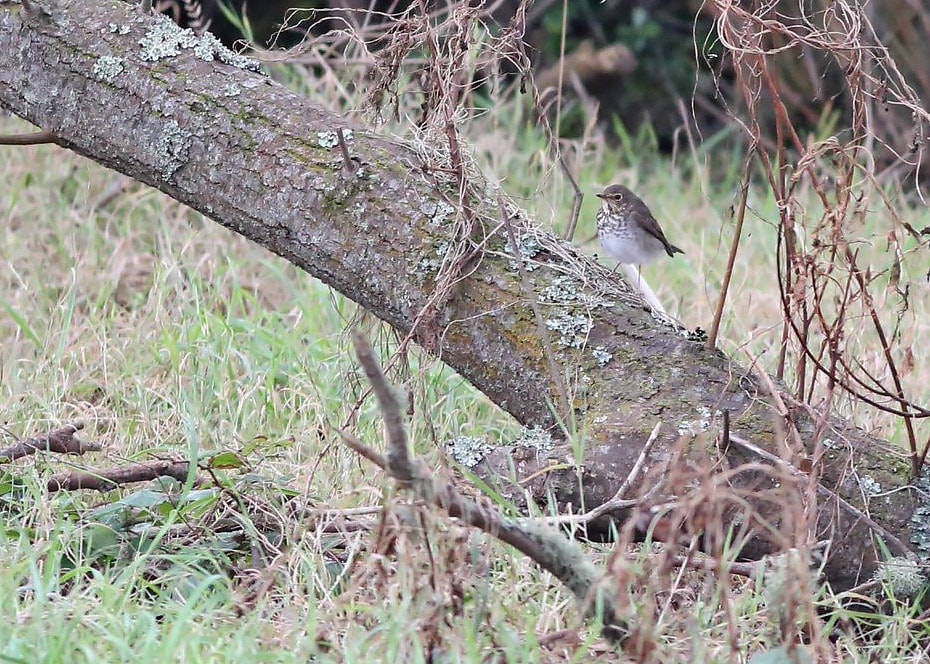 Swainson's Thrush, St Mary's, Isles of Scilly (Mark Lucas).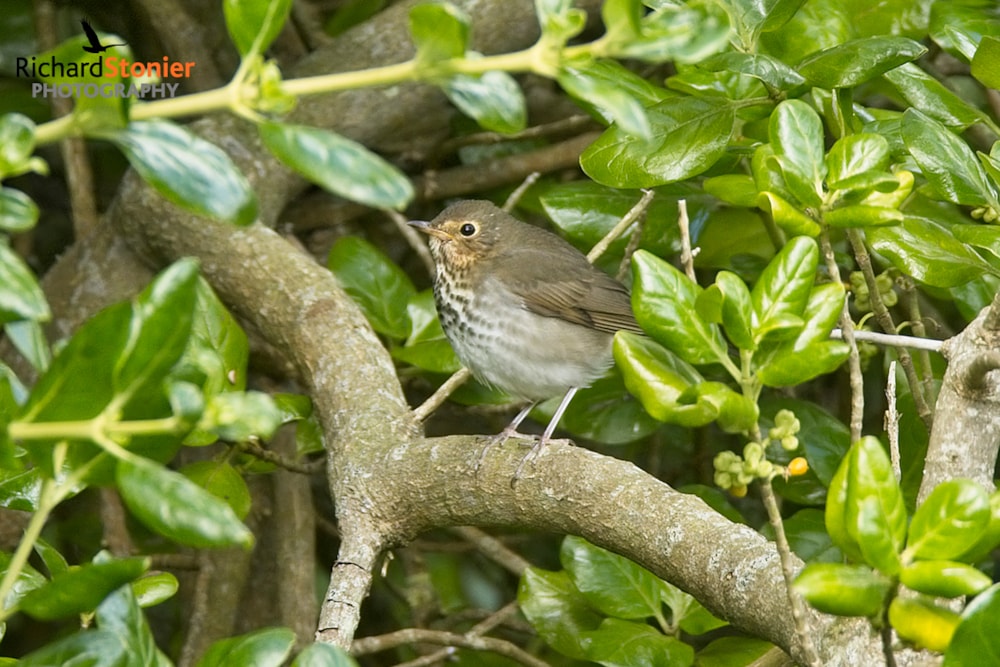 Swainson's Thrush, Bryher, Isles of Scilly (Richard Stonier).
In Shetland, the Tennessee Warbler was present briefly at Cullivoe, Yell, early morning on 7th, although did a disappearing act for the final time, not being noted thereafter. The Irish Tennessee on Inishbofin, Co Galway, was last noted on 7th, with the 10th the last sighting of the island's Upland Sandpiper. At least one Eastern Yellow Wagtail remained until the end of the week.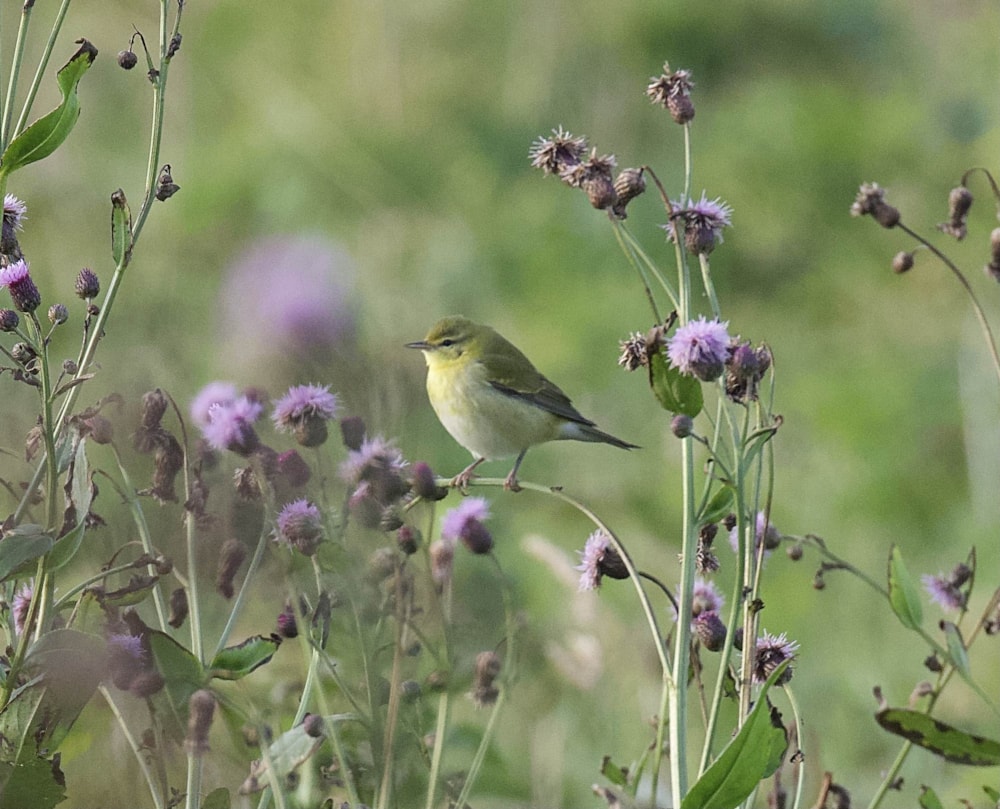 Tennessee Warbler, Breckon, Yell, Shetland (Bill Aspin).
A male Western Orphean Warbler was a remarkable find on the Scottish mainland at Lothbeg Point, Highland. Found in what can only be described as horrendous conditions on 10th, it thankfully lingered in significantly better weather the following day. Just the seventh confirmed Western recorded, it looks set to join a single Eastern Orphean Warbler and four historic, unassigned records of orphean warbler sp in the British archives.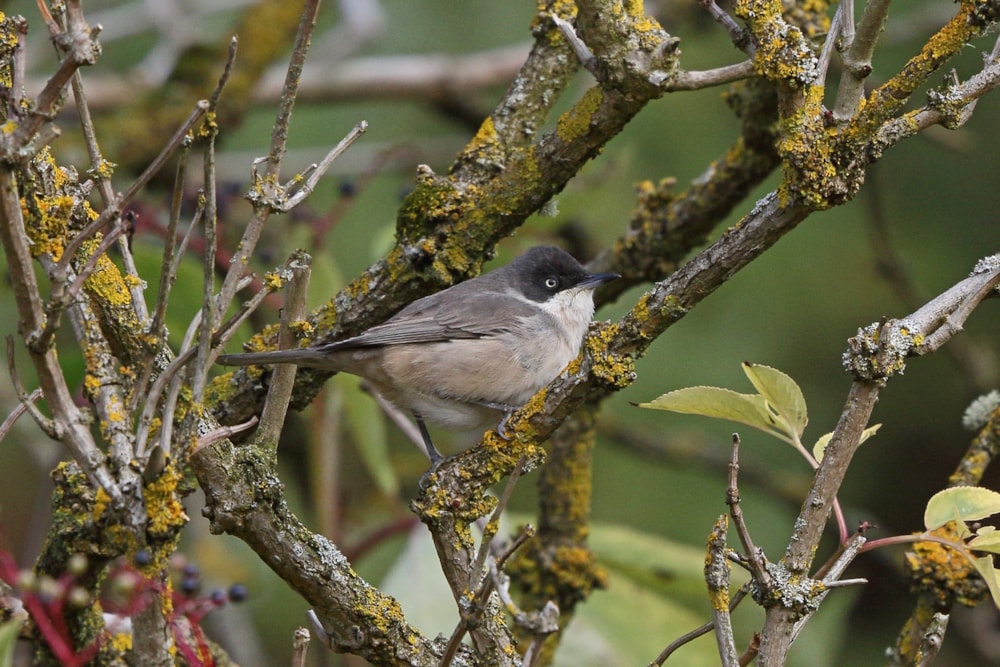 Western Orphean Warbler, Lothbeg Point, Highland (Nigel Voaden).
Since the last report from Norfolk, over Snettisham on 30th, things stayed quiet on the Bearded Vulture front until 7th, when it was photographed over Moulton Chapel, Lincolnshire. Impressive detective work found that it had roosted in roadside trees, to the delight of county listers the next morning. It lingered around the Lincolnshire-Cambridgeshire border near Thorney until 11th, when it departed high to the south. Less than 90 minutes later it was reported over the RSPB headquarters at The Lodge, Bedfordshire, being seen again by a small collection of lucky Beds birders over Sandy for an hour the next day. It then made its way south once more, photographed over Fordcombe, Kent, that afternoon.
Notably, impressive work by the Vulture Conservation Foundation has tracked the bird back to a nest in the French Alps in 2019, through genetic analysis of feathers dropped in the Derbyshire Peaks (read more here).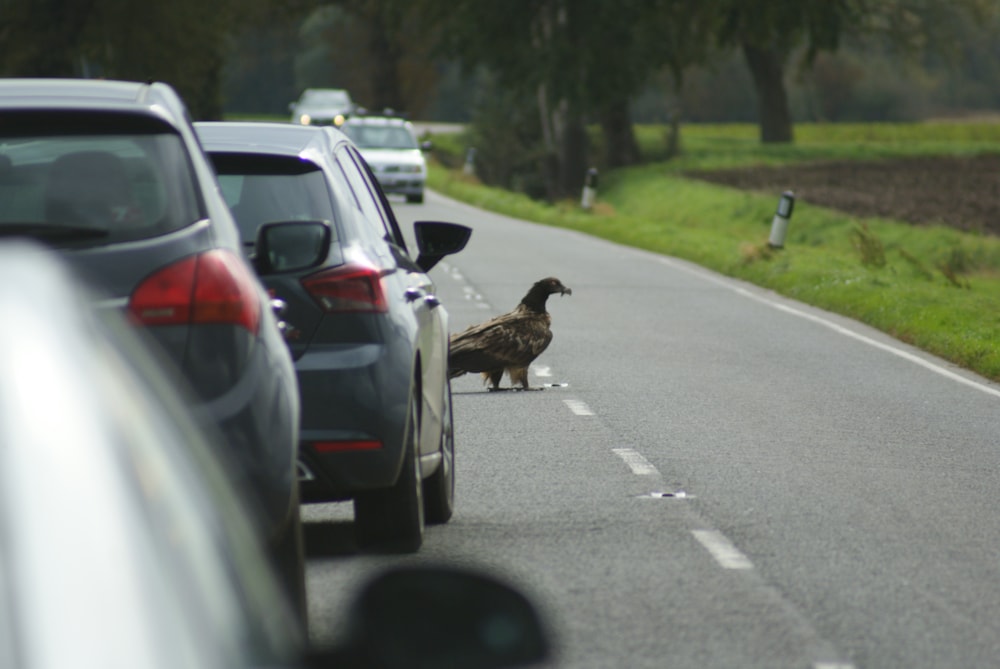 Bearded Vulture, Thorney, Cambridgeshire (Philip Todd).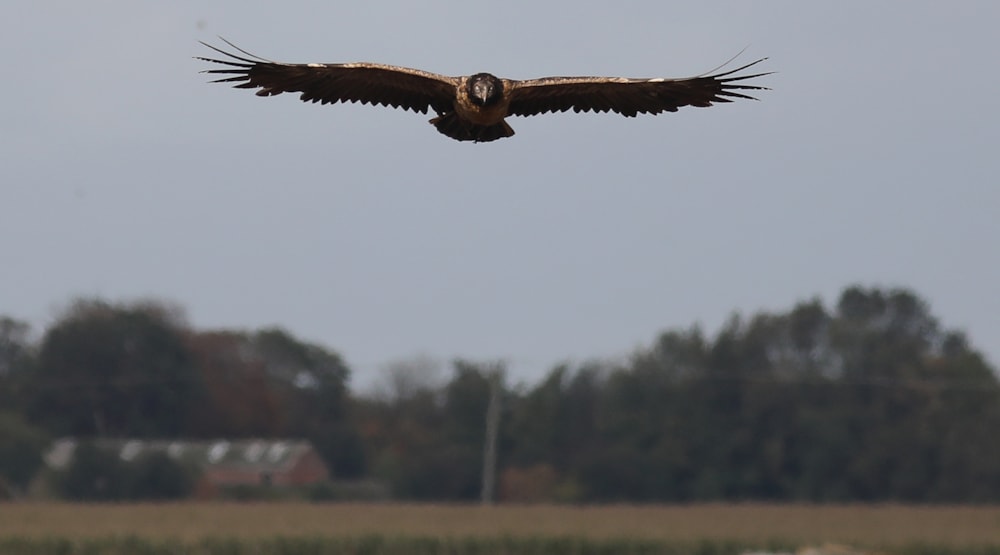 Bearded Vulture, Crowland, Lincolnshire (Brian Anderson).
The only mega seabird report of the week concerns a Black-browed Albatross reported north past Craster, Northumberland, on 7th.
Following on from last week's record-breaking occurrence, a White's Thrush was a brief visitor to the Outer Hebrides at Castlebay, Barra, on 8th. On Lundy, Devon, one proved far more obliging in Millcombe Valley from 7-13th. The island's second record following on in the autumn of 1952, it was trapped and ringed on 9th, going on to delight numerous island visitors throughout the remainder of the week.
A Common Rock Thrush – Shetland's first – was photographed by a dog walker on Fetlar on 10th, but unfortunately wasn't relocated. Elsewhere in the islands, a Great Reed Warbler was at Burrafirth, Unst, on 9th and a first-winter Brown Shrike was on Yell on 11th.
A Hornemann's Arctic Redpoll remained on Fair Isle, while a subtle Coues's Arctic Redpoll was on Shetland at Valyie, Unst, from 7-11th. A Lanceolated Warbler was trapped and ringed at Baltasound, Unst, on 9th, with a second on Foula the following day. The only Pallas's Grasshopper Warbler of the week concerned one on North Ronaldsay on 7-8th.
A probable Stejneger's Stonechat was on Fair Isle on 10th only. Another remained at Happisburgh, Norfolk, until 7th. Unassigned Siberian/Stejneger's Stonechats were at Deerness, Orkney, and Easter Quarff, Shetland, on 7th, and Channerwick, Shetland, on 8th, while Siberian Stonechats were on Foula, Shetland, until 8th, and Fetlar until 9th.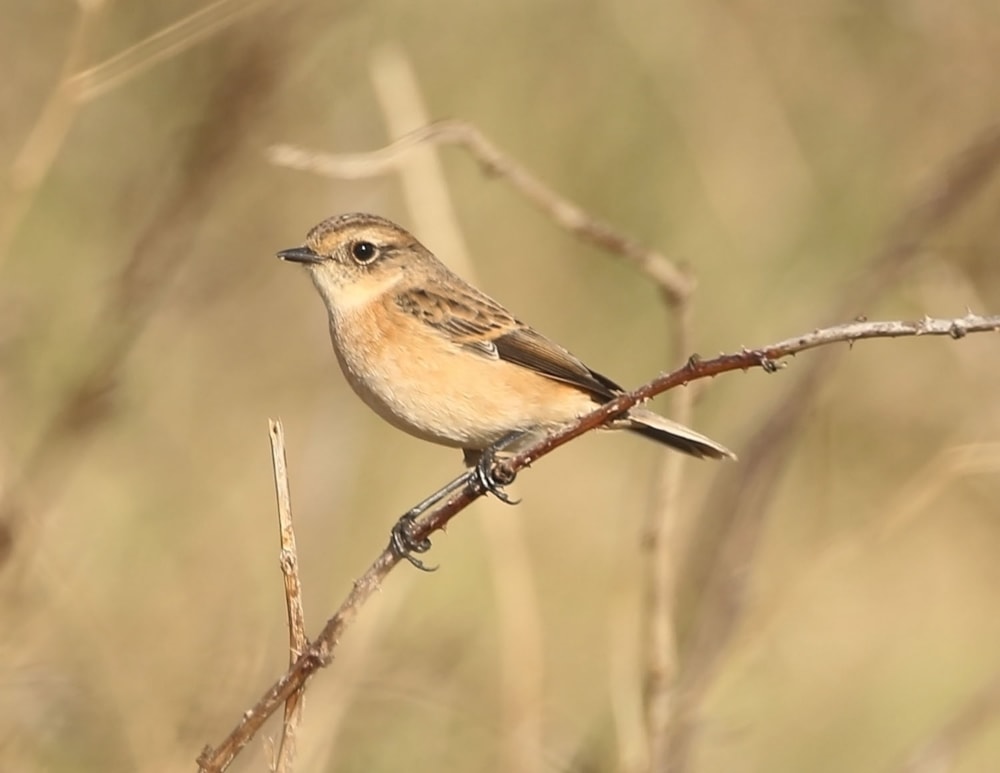 Stejneger's Stonechat, Happisburgh, Norfolk (Trevor Ellery).
Two Red-throated Pipits were in Shetland at Muness, Unst, from 9-12th and on Fair Isle on 10-11th. Another remained on North Ronaldsay, Orkney. Away from the Northern Isles, individuals were at Rame Head (7th) and St Levan, Cornwall (13th), Out Head, Fife (8th), and Tresco, Scilly (13th).
Lundy also produced an Isabelline Wheatear on 12th; a Booted Warbler was at Men-an-Tol, Cornwall, on 10th. Lynford Arboretum, Norfolk, held a probable Parrot Crossbill on 11th, while a Pallid Swift was at Walberswick and Southwold, Suffolk, on 8th. A lone Rustic Bunting was at Sandness, Shetland, on 7th, while one flew north over Portland, Dorset, on 12th. Meanwhile, two Hume's Leaf Warblers were reported – one at Walls, Shetland, on 12th, while a probable was in East Yorkshire at Sammy's Point on 7th.
In Suffolk, the Steppe Grey Shrike was last reported at Benacre on 7th, while a possible Black-throated Thrush was watched flying in off the sea at Gorleston-on-Sea, Norfolk, on 12th. A bright Eastern Yellow Wagtail at Sandy, Bedfordshire, was a surprising county first on 7th, although unfortunately wasn't identified until the following day, when the bird was nowhere to be found.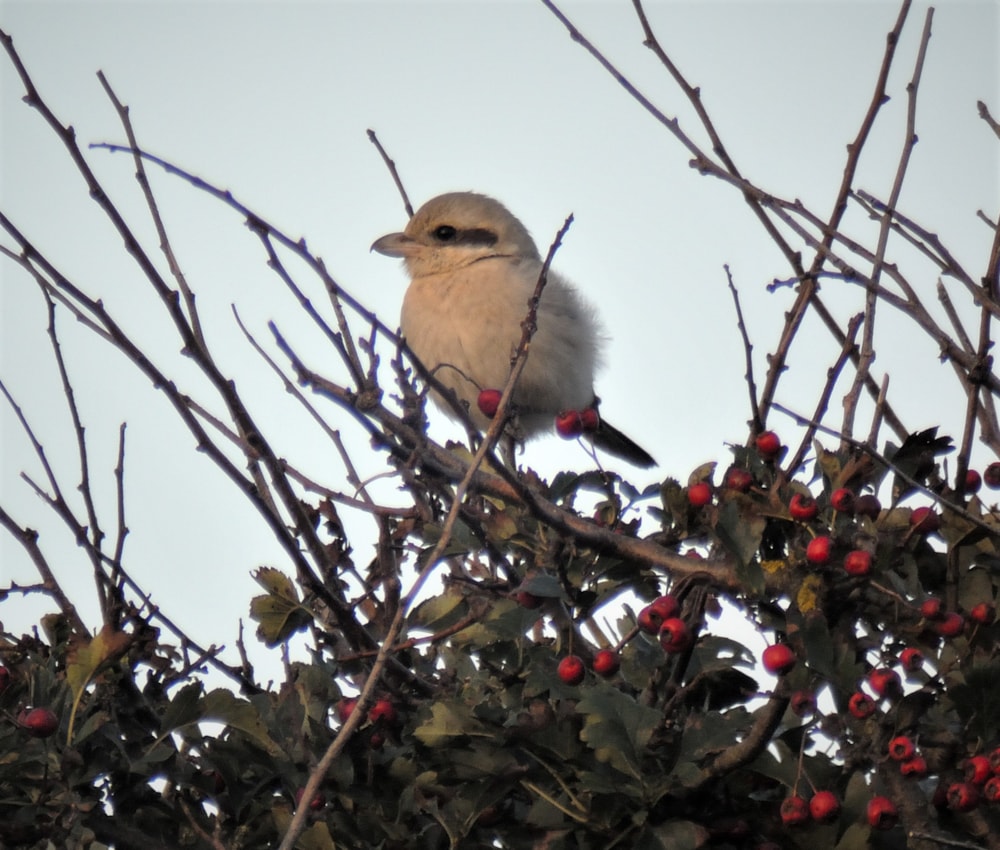 Steppe Grey Shrike, Benacre, Suffolk (Jonathan Theobald).
One of the most popular birds of the week, a first-winter Wilson's Phalarope found at Keyhaven Marshes, Hampshire, on 9th. The seventh Hampshire record, it was to be found at close range alongside a couple of Grey Phalaropes, delighting photographers and birders alike as one of the tamest individuals of the species ever seen on this side of the Atlantic. In Co Cork, night-time ringing sessions at Harbour View again made it to the big time, with a juvenile Least Sandpiper trapped and ringed on 8th.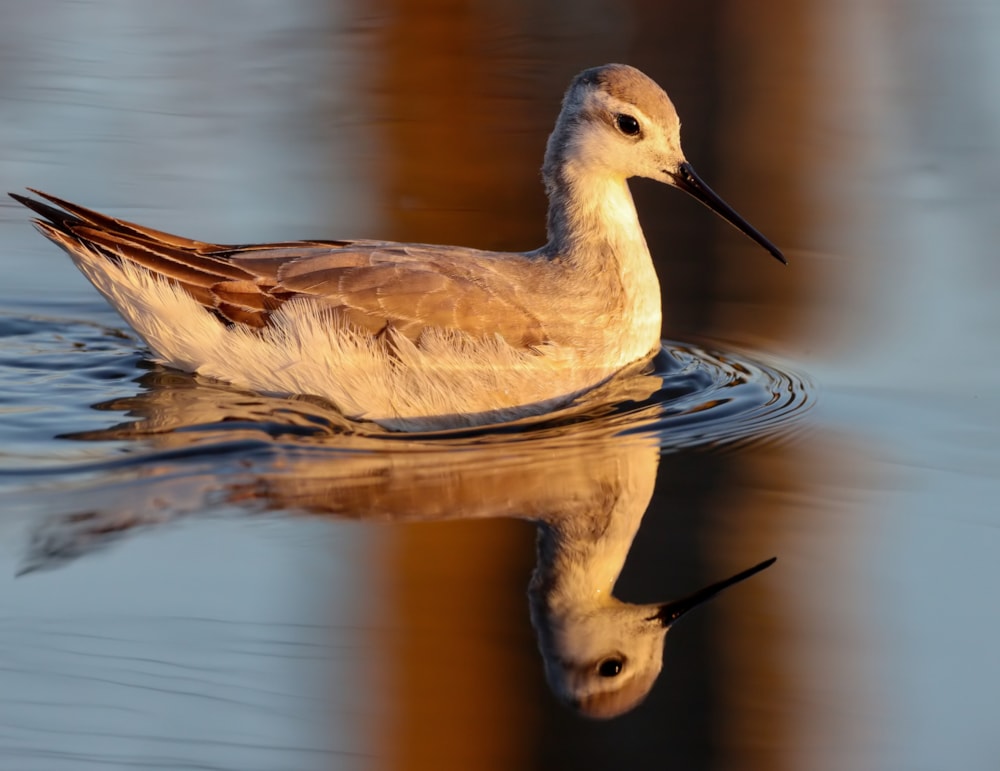 Wilson's Phalarope, Keyhaven Marshes, Hampshire (Lee Fuller).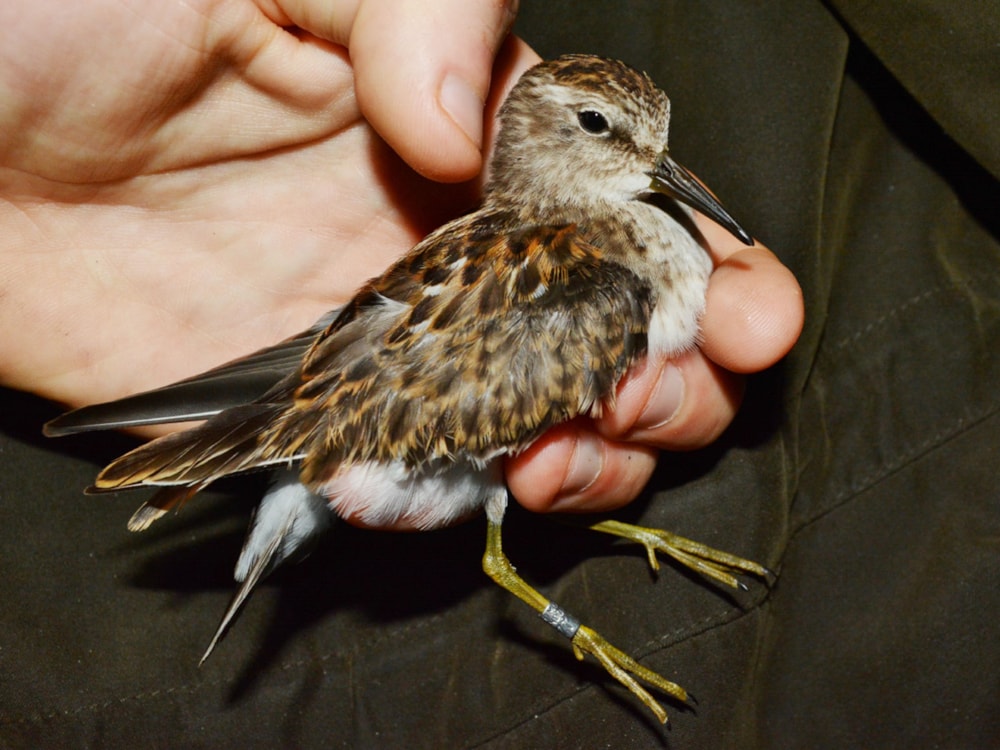 Least Sandpiper, Harbour View, Cork (James O'Neill).
Cumbria's Long-billed Dowitcher remained at Old Anthorn, while the singleton at Lytchett Fields RSPB, Dorset, was last reported on 7th. A possible was briefly at Bolton-on-Swale Lake YWT, North Yorkshire, on 10th. Two Kentish Plovers were noted in southern England – at Thorney Island, West Sussex, until 7th, and at Berrow, Somerset, from 7-9th.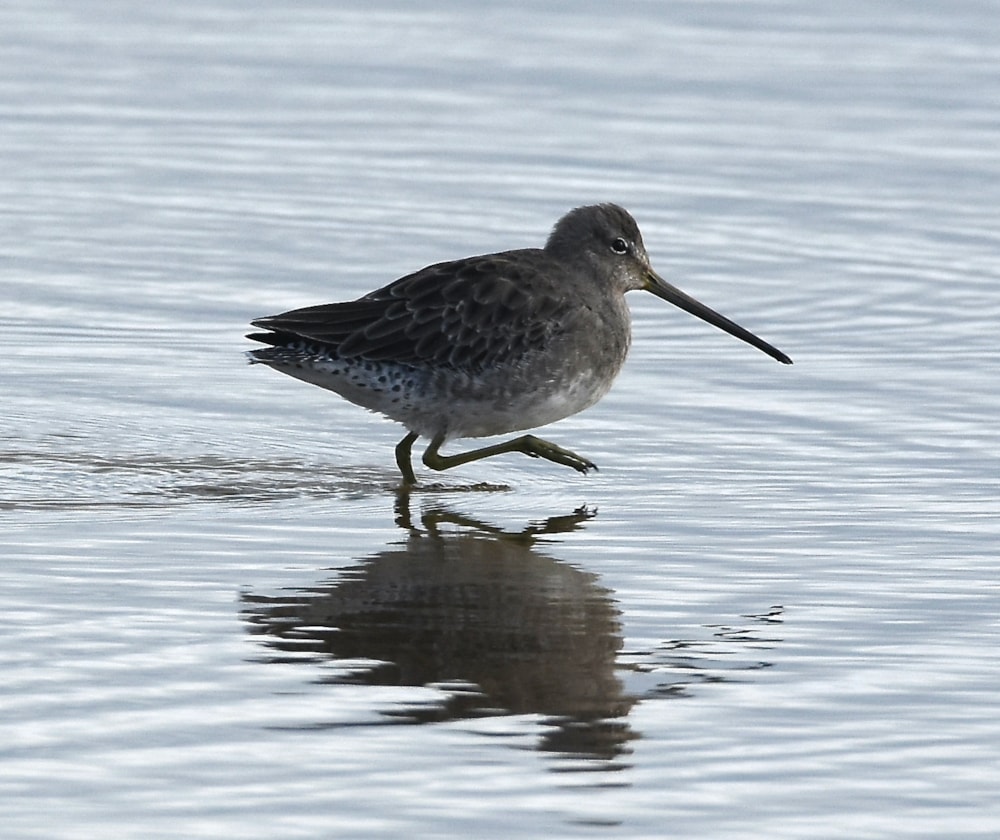 Long-billed Dowitcher, Anthorn, Cumbria (Roger Ridley).
A juvenile Pacific Golden Plover was at Findhorn Bay, Moray & Nairn, from 10th, while the eclipse drake King Eider hung about offshore. In Argyll, Loch Feorlin's resident Pied-billed Grebe was reported again on 13th, while the returning Grey-bellied Brant was again among Pink-feet at Castle Stuart, Highland, on 11th.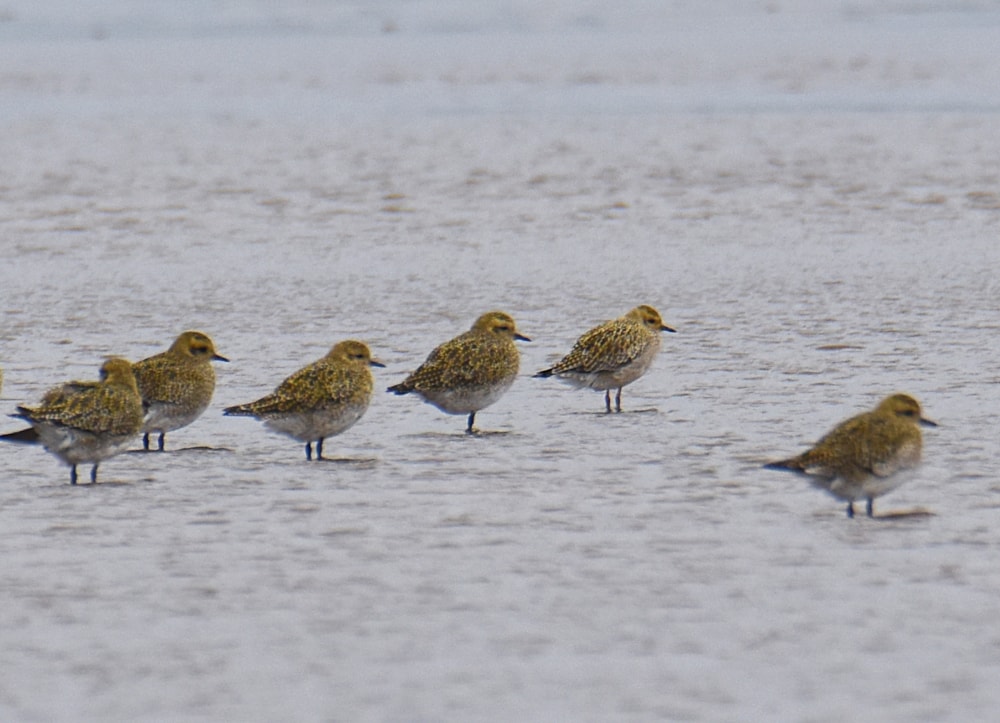 Pacific Golden Plover (second from right), Findhorn Bay, Moray & Nairn (Kris Gibb).
Four Blue-winged Teal hung on in the Outer Hebrides at Baleshare, North Uist, while two were also still at Annagh Marsh, Co Mayo. A Richardson's Cackling Goose was a nice find at Caerlaverock Castle, Dumfries & Galloway, roosting with freshly arrived Barnacle Geese on 8th. Two more Cackling Geese were at Loch Paible, North Uist, from 10th.
A belated Little Bittern was a surprise at Lincolnshire's at Huttoft Bank Pit LWT on 7th.
On the Staffordshire-Warwickshire border, an adult female Pallid Harrier – an uncommon plumage in Britain – lingered around Middleton Lakes RSPB from 7-10th, providing both counties with their first occurrence of the species. Another was at Ollaberry, Shetland, on 11th, with a probable at Brow Head, Co Cork, on 12th. Shetland's lingering Snowy Owl at Ronas Hill proved a popular figure.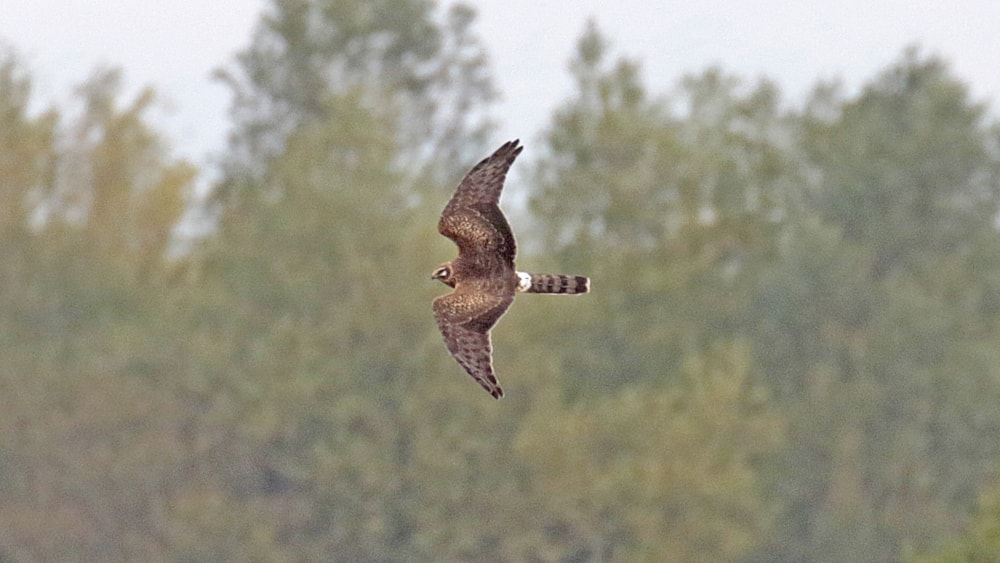 Pallid Harrier, Middleton Lakes RSPB, Staffordshire (Steve Nikols).
Scottish mainland
Aberdeen FC's start to the season was improved somewhat by a smart Hoopoe in the stadium car park from 9-13th. Another was a brief visitor to Grange Crossroads, Moray & Nairn, on 12th, while Argyll's individual lingered at Bridgend, Islay, until 8th.
In Aberdeenshire, a Pallas's Warbler was at Girdle Ness and a Little Bunting was at Troop Head. A new Blyth's Reed Warbler was alongside the Arctic Warbler at Fife Ness, Fife, on 8th. Caithness's single Radde's Warbler at Duncansby Head became two on 7th, one remaining until 8th. A Rough-legged Buzzard was near Crovie, Aberdeenshire, on 13th and a probable flew north over Gills Bay, Caithness, towards Orkney on 11th.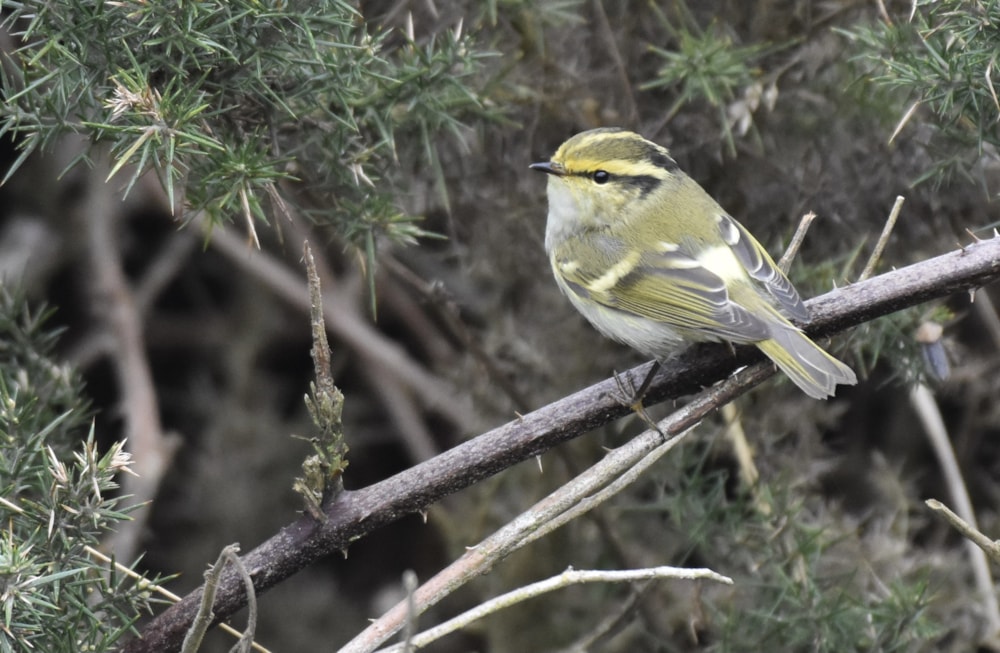 Pallas's Warbler, Girdle Ness, Aberdeenshire (Mark Lewis).
The Dumfries & Galloway highlight concerned a smart White-winged Tern at The Wig on 7th. Two Sabine's Gulls were noted – the lingering adult at Ullapool until 7th and a juvenile at Caliach Point, Mull, on 8th.
An intermediate-morph Snow Goose remained at Findhorn Bay, Moray & Nairn, with it or another relocating to Nigg Bay, Highland, from 12th. Surf Scoters were off Lunan Bay, Angus, and Musselburgh Lagoons, Lothian, throughout, while a new drake was found at Blackdog, Aberdeenshire, on 13th. Two Northern Bottlenose Whales made a reappearance at Arrochar, Clyde, from 11th.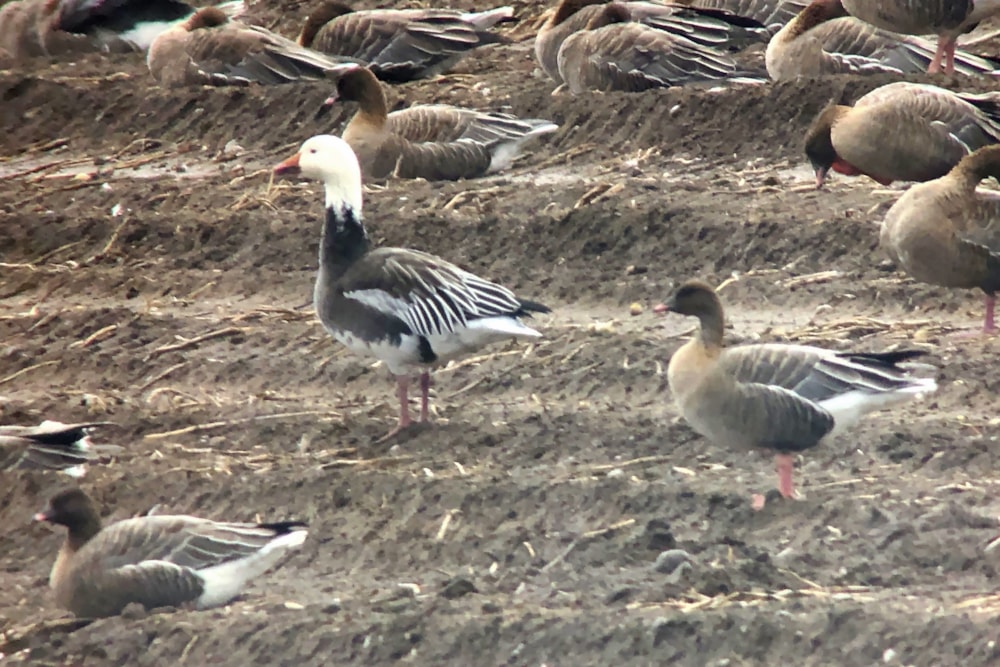 Snow Goose, Nigg Bay, Highland (Peter Stronach).
Northern Isles and the Hebrides
The mass arrival of Blue and Great Tits into Shetland continued unabated, while the Lesser Spotted Woodpecker was noted at Upper Kergord, Mainland, on 9th. A Coal Tit was at Busta, Mainland, on 11th and a Wryneck was at Spiggie, Mainland, on 9th.
On Mainland, Radde's Warblers were at both Tresta and Isbister on 9th, alongside a Blyth's Reed Warbler at Scousburgh until 8th. Three Dusky Warblers were recorded – at Bigton (9th), Quendale (10th) and Swinister (13th), while Richard's Pipits were at Hillswick (7th) and Grutness (9th).
On Fetlar, a Greater Short-toed Lark hung around by the road at Funzie from 8th. A Red-flanked Bluetail was at Sandwick, Mainland, on 12-13th, with another on Unst at Valyie on 10th. Ortolan Buntings were at Skaw, Whalsay, on 7th and Sumburgh, Mainland, on 10th. No fewer than seven Olive-backed Pipits were complimented by Pallas's Warblers at Burrafirth, Unst, on 10th, and at Grutness, Mainland, the following day.
The drake Surf Scoter at Belmont, Unst, was last spied round the salmon cages on 7th, although a female Ring-necked Duck at Loch of Houlland, Mainland, was a nice find on 12-13th.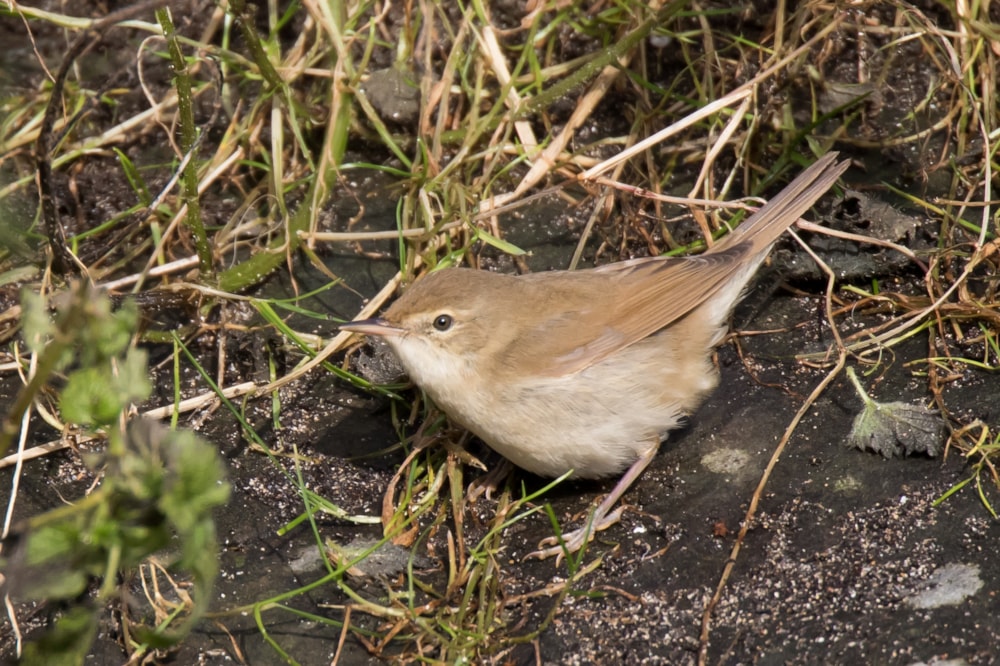 Blyth's Reed Warbler, Loch of Spiggie, Mainland, Shetland (Mick Kemp).
On Fair Isle, the Citrine Wagtail continued, alongside a female Northern Bullfinch, four Little Buntings and a Bluethroat. Meanwhile, a White-tailed Eagle tracked along the Shetland coast past Bressay, Channerwick and Sumburgh later flew over the island on 9th.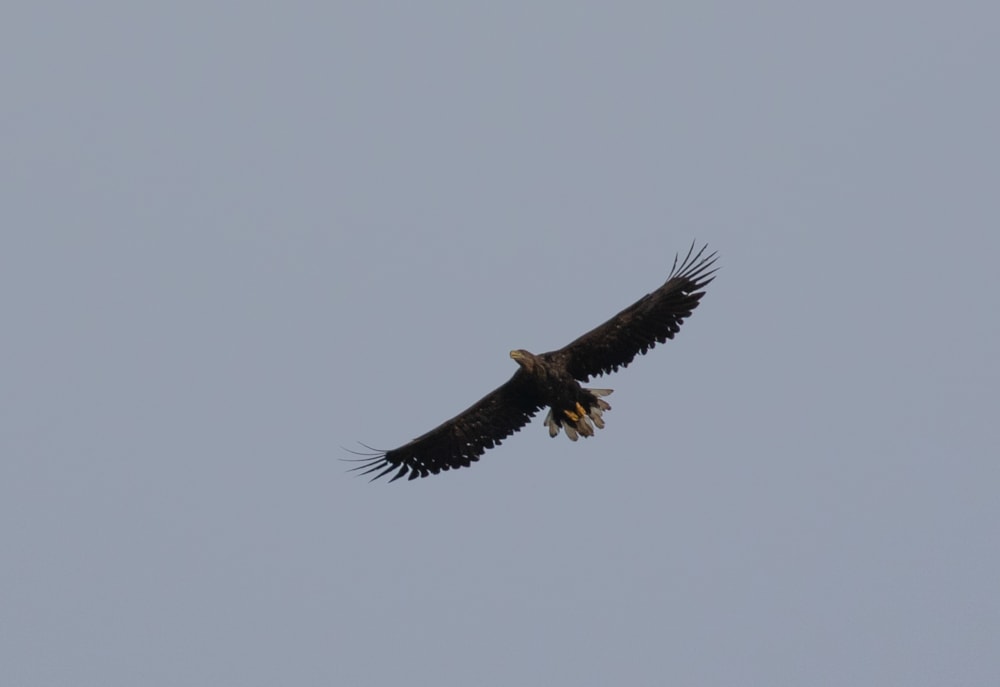 White-tailed Eagle, Fair Isle, Shetland (Daniel Gornall).
A juvenile American Golden Plover joined a Pectoral Sandpiper on The Range at West Gerinish, South Uist, on 9th, lingering until 12th. Otherwise, a Red-breasted Flycatcher was the Outer Hebrides's highlight, found at North Locheynort, South Uist, on 9th.
Two Red-flanked Bluetails paid Orkney a visit, with one at Marwick, Mainland, on 7th and another trapped and ringed at Birsay, Mainland, on 7-8th. Papa Westray saw a dapper Pallas's Warbler from 7-9th, while the two white morph Snow Geese were relocated at Yesnaby, Mainland, on 13th. A Death's-head Hawkmoth was on the wall of the Westray chip shop on 7th. A Greater Short-toed Lark was one of the highlights on North Ronaldsay, and a Red-backed Shrike was on Stronsay on 11-12th.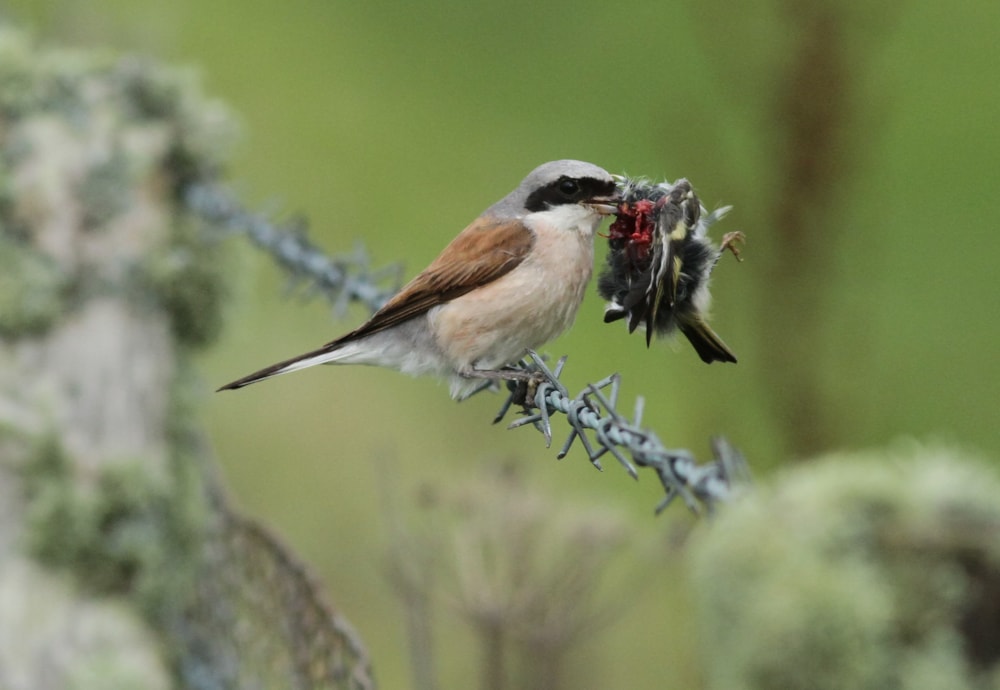 Red-backed Shrike, North Ronaldsay, Orkney (Dante Shepherd).
North-East England
In Durham, a juvenile Pectoral Sandpiper was a brief visitor to Washington WWT on 10th, alongside 14 westward-bound Greater White-fronted Geese. A White-billed Diver flew north past Seaham on 11th, before being tracked into Northumberland. Two Sowerby's Beaked Whales past Whitburn Coastal Park on 11th are more than worth a mention.

Ring Ouzel, Hartlepool Headland, Cleveland (Frank Golding).
A Red-flanked Bluetail was the highlight on Holy Island, Northumberland, showing well on 13th. Elsewhere on the island, the Red-breasted Flycatcher was last reported on 8th, while the Arctic Warbler remained until 9th. The Seaham White-billed Diver was tracked past Boulmer and Annstead. A brief American Golden Plover was at Longhoughton Steel on 8th, while a Northern Treecreeper was at St Mary's Island, and the Great Grey Shrike remained at Seaton Point, Boulmer.
A presumed Siberian Lesser Whitethroat was trapped and ringed at Hartlepool Headland, Cleveland, on 10th, while the popular Radde's Warbler was still present until the previous day, and an early Little Auk flew past on 13th. Four Snow Buntings were present at Redcar on 10th, where an impressive Little Gull showing offshore peaked at a staggering 1,500 individuals. Two Tundra Bean Geese were at Scaling Dam Reservoir on 11th, while a Shore Lark was at South Gare on 11th.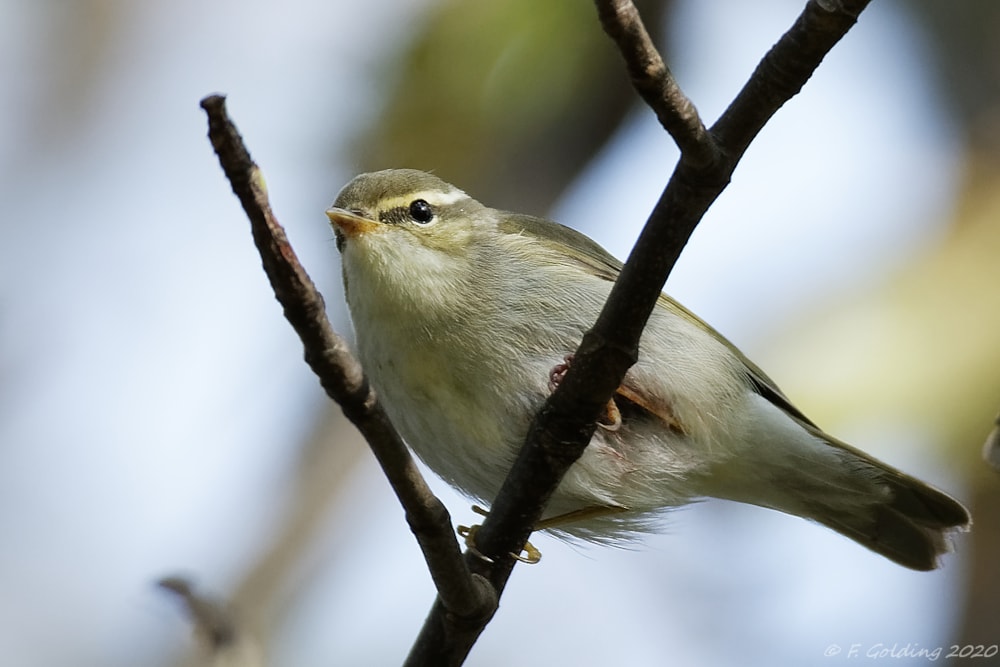 Arctic Warbler, Holy Island, Northumberland (Frank Golding).
North-West England
Birding was kept modest in Cumbria, with the Pectoral Sandpiper reappearing at Anthorn from 7th, while Yellow-browed Warblers were at Kents Bank and South Walney NR on 8th.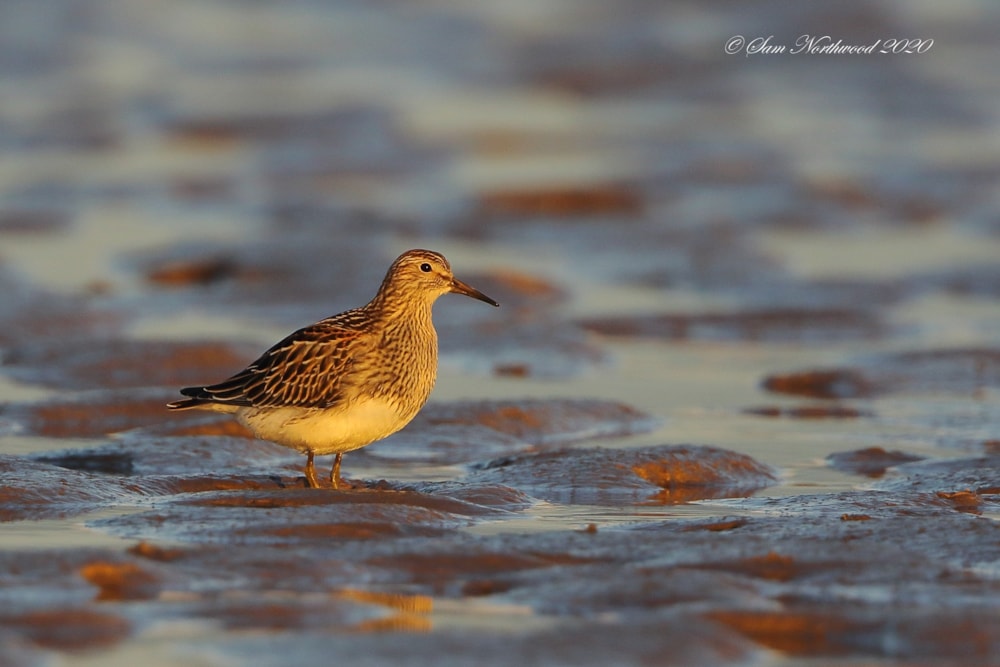 Pectoral Sandpiper, Anthorn, Cumbria (Sam Northwood).
In Lancashire, a report of a Little Bunting at Middleton NR was all-too-brief as it was seen heading west and identification couldn't be confirmed. The Ring-necked Duck continued his commute between Pine Lake and Leighton Moss RSPB throughout the week and the injured Tundra Bean Goose was still showing at Marshside RSPB on 11th, where an overflying Glossy Ibis was recorded on the 8th. While seawatching records included Pomarine Skua and Leach's Storm Petrel, a Grey Phalarope pitched down at Marshside RSPB from 9-11th although proved elusive among the reeds. Three Greater Scaup were showing well among the Tufted Duck flock at Hesketh Park, Southport. A Lapland Bunting was on the golf course at Fleetwood on 7th and Yellow-browed Warblers were recorded at four locations.
In Cheshire, a non-birder described a Hoopoe in their garden at Nevis Drive, Crewe on 12th. Both juvenile Black-necked Grebes lingered at Neumann's Flash and Tatton Mere for another week. Two Yellow-browed Warblers were along the Mersey, where a Hawfinch flew over Hale on 13th. Sea passage was limited to three Pomarine Skuas past Leasowe on 10th. A Yellow-browed Warbler among a tit flock at Astley Green kept Greater Manchester ticking over for the week.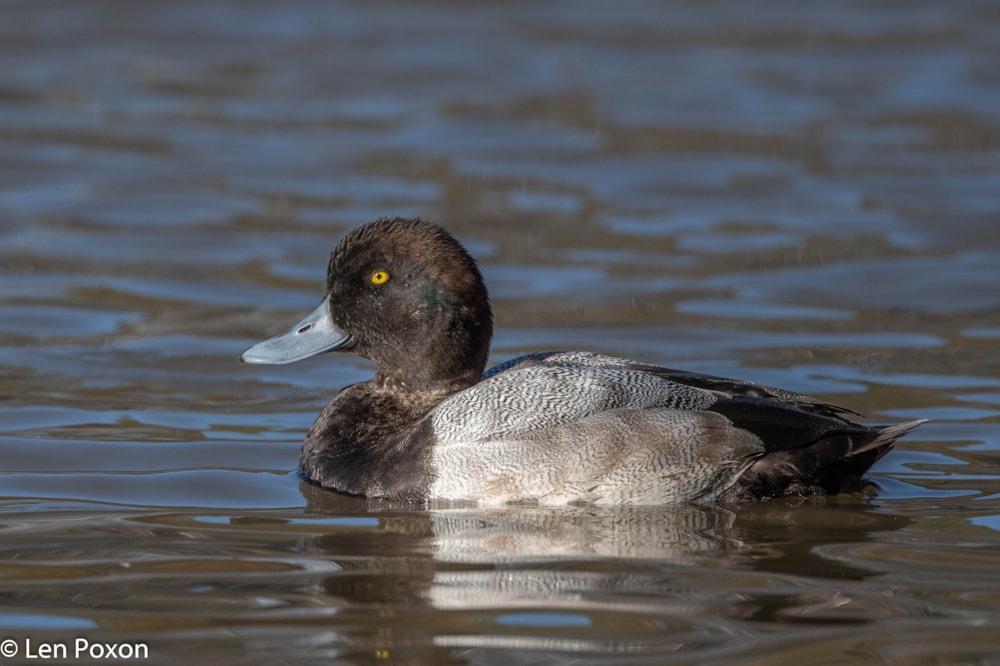 Greater Scaup, Southport, Lancashire (Leonard Poxon).
Lincolnshire and Yorkshire
Aside the vulture in the far south of the county, Lincolnshire's best bird was a Lesser Yellowlegs at Alkborough Flats on 8-9th. Highlight of the week's sightings from Gibraltar Point NNR was a Red-breasted Flycatcher on 11th, while a Richard's Pipit was mobile in the Huttoft Bank and Sandilands area on 13th. Inland, Denton Reservoir attracted a young male Greater Scaup for the second winter running on 12th.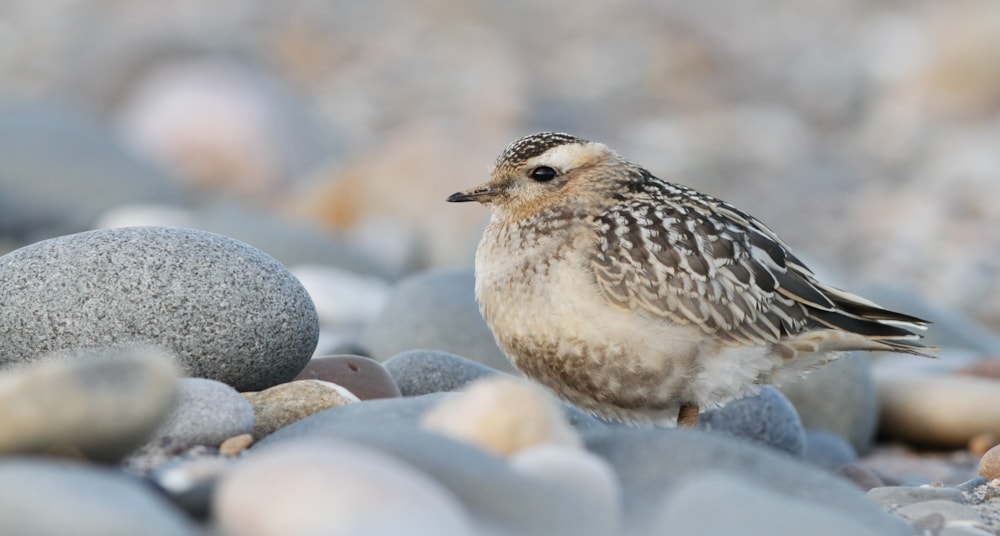 Eurasian Dotterel, Easington, East Yorkshire (Jacob Spinks).
East Yorkshire was, as always, a busier place to be, with Spurn attracting Olive-backed Pipit on 7th and Common Rosefinch on 11th, plus a lingering Barred Warbler at Kilnsea and a Red-breasted Flycatcher still at Easington. A monumental arrival of thrushes took place on 13th as the wing swung back to the north-east, with Redwings and Blackbirds arriving in their thousands – almost 31,000 of the former were noted at Flamborough Head on 13th.
Among the masses came the scarcer treats, with a Dusky Warbler trapped at Buckton on 13th, good numbers of Ring Ouzels appearing, a Barred Warbler at Flamborough on 7th and 19 Tundra Bean Geese in off the sea there on 10th. Both Filey and Long Nab also scored Barred Warblers.
Possibly the week's most popular bird, the confiding Hoopoe at Collingham, West Yorkshire, lingered to 11th. The Green-winged Teal was still at North Cave Wetlands, while the Lesser Yellowlegs was back at Nosterfield Quarry this week.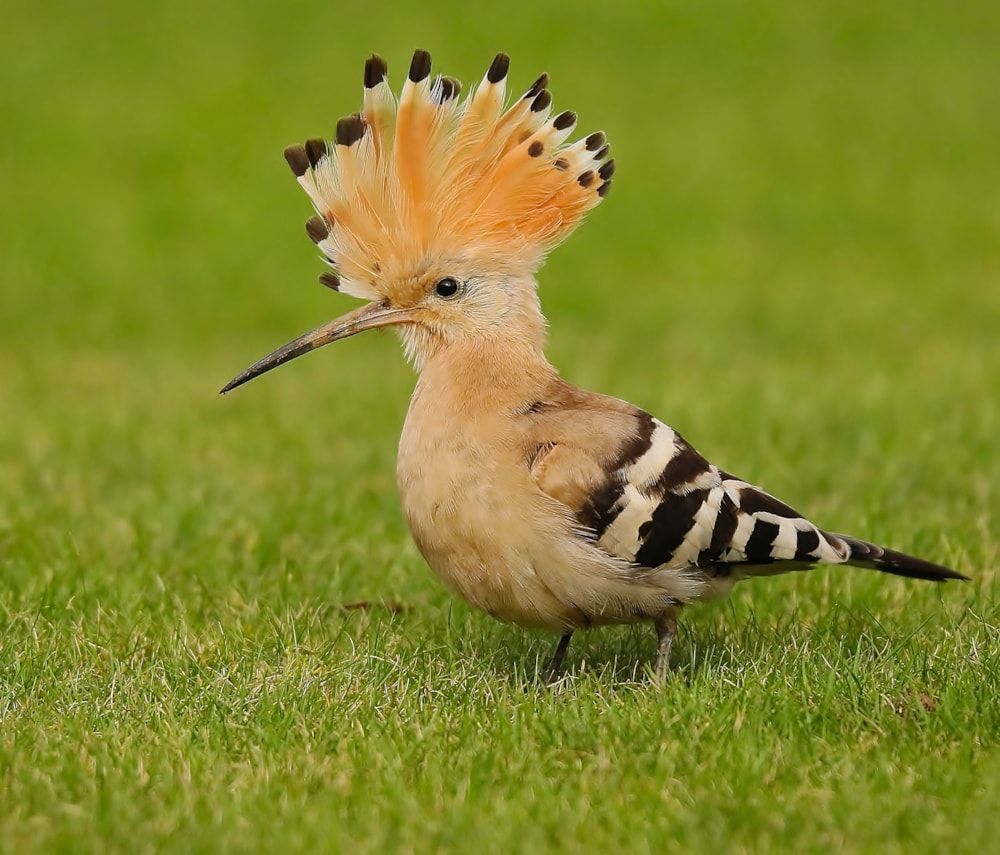 Hoopoe, Collingham, West Yorkshire (Clive Daelman).
West Midlands
The juvenile Purple Heron was still at Tittesworth Reservoir, Staffordshire on 7th, while the juvenile Little Stint was still scurrying around Belvide Reservoir until 12th, alongside two Grey Plovers on 10th. Two Red-breasted Mergansers were also there on 12th. Over in Shropshire, a Yellow-browed Warbler was among a tit flock at Argoed Kinnerley on 12th.
Best in Warwickshire was the juvenile European Shag which remained in situ at Draycote Water until 9th at least, while the Wood Sandpiper was also where we left it last week, at Bodymoor Heath also until 9th. An adult Common Crane provided some interest in Worcestershire, frequenting the point at Upper Bittell Reservoir on 12-13th before flying high south-west. A Mealy Redpoll was mingling with the Common Linnet flock at Ryall Pits on 11th.
East Midlands
Up to two Western Cattle Egrets remained at Long Eaton GPs, Derbyshire. Moving over to Nottinghamshire, the juvenile Pectoral Sandpiper remained at Idle Valley NR until 12th. Two juvenile Arctic Terns moved west through Holme Pierrepont on 12th and the German-ringed Caspian Gull was still at Langford Lowfields RSPB on 13th. Yellow-browed Warblers were at two locations, with singles at a private garden in Mapperley on 9th and the aforementioned Langford Lowfields RSPB on 10th. The continuing second-winter Caspian Gull at Hollowell Reservoir was the only bird of note for Northants.
A belated report of a probable Radde's Warbler at Burrough Hill CP, Leics, got local birders hot under the collar although there was no further sign the following day. Yellow-browed Warblers were scattered across three sites, while Rutland Water supported the Red-necked Grebe for another week. Other birds of note there included Black Tern, Eurasian Spoonbill, Common Scoter and Grey Plover.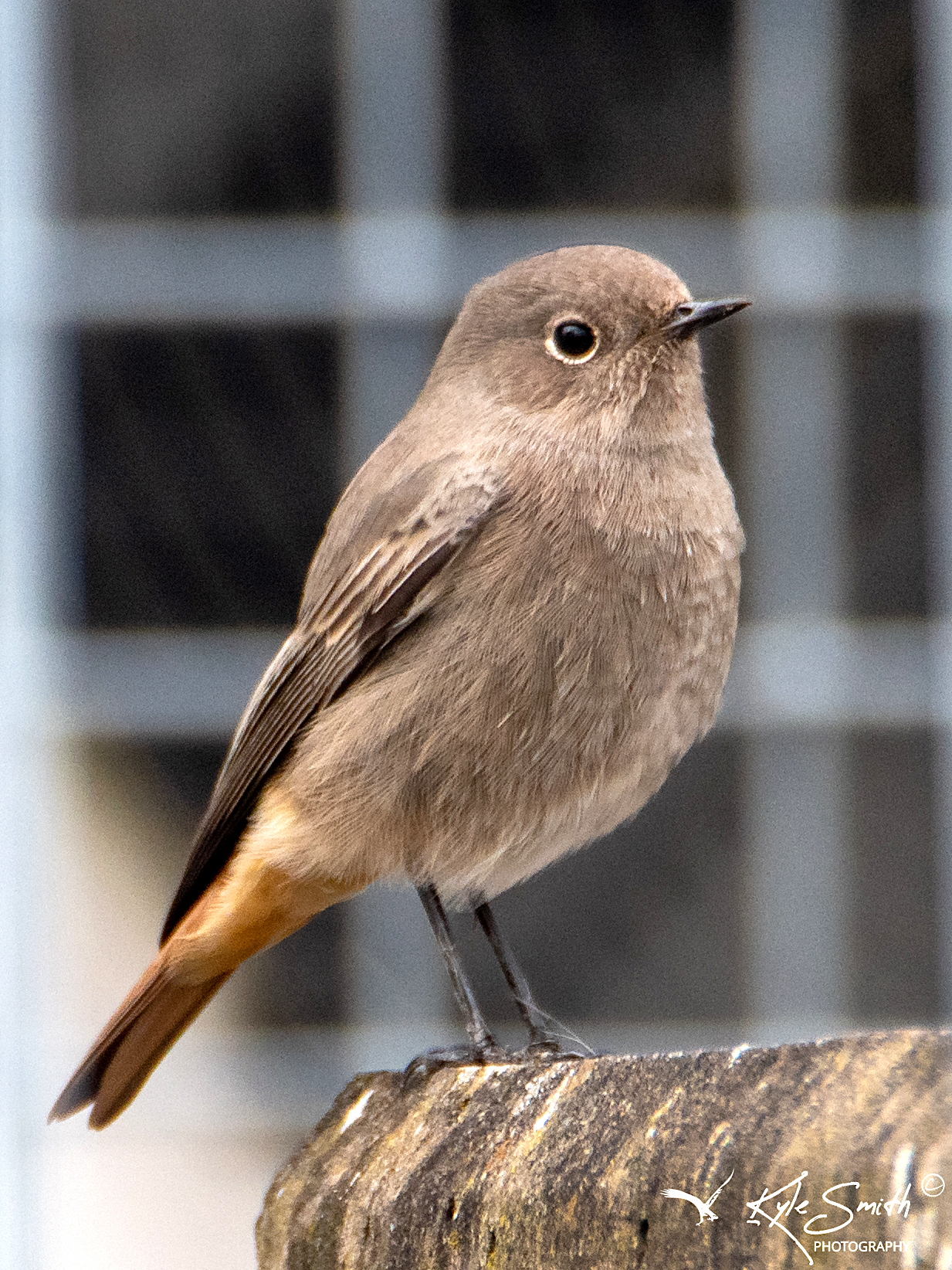 Black Redstart, Borough Hill, Northamptonshire (Kyle Smith).
East of England
Three Barred Warblers were found on the north Norfolk coast, while the number of sites hosting Yellow-browed hit double figures. The Blyth's Reed Warbler was seen again at Holme Dunes NWT on 8th and the Red-backed Shrike was at Wells Woods throughout. Other lingerers included the Wighton Hoopoe, Martham Ferry Glossy Ibis and Happisburgh Wryneck. A Little Bunting was at Heacham on 7th and a Richard's Pipit flew over Scolt Head Island on 13th.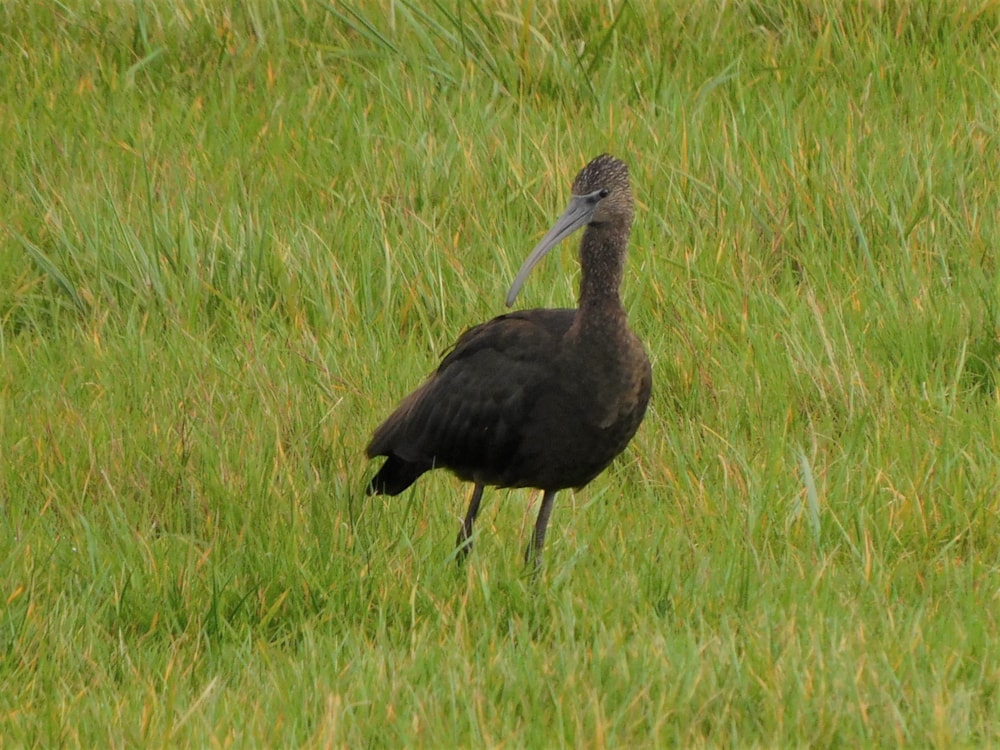 Glossy Ibis, Martham Ferry, Norfolk (Michael Lawrence).
In Suffolk, the Southwold Radde's Warbler and Benacre Great Grey Shrike remained. A Little Bunting was at the Alde Estuary from 9th. Six sites hosted Yellow-browed Warbler, compared to three in Essex, where a Pectoral Sandpiper was at Abberton Reservoir on 11th. In Cambridgeshire, the Peakirk Radde's Warbler was present until 9th, and a trio of inland Yellow-broweds were logged.
Six Northern Gannets flew over two different sites in Bedfordshire on 12th, the day before a Kittiwake flew over King's Mead, Hertfordshire. The latter county hosted two Yellow-browed Warblers on 7th.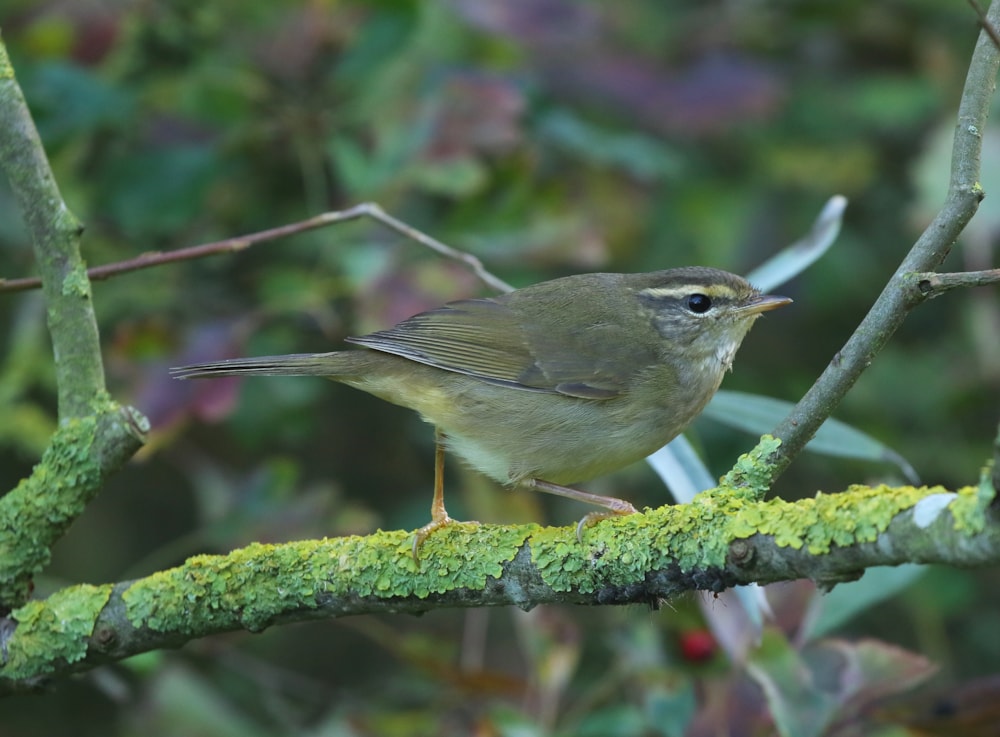 Radde's Warbler, Southwold, Suffolk (Richard Walden).
South-East England
Seaford, East Sussex, hosted a one-day Radde's Warbler on 11th – a very good bird for the county and the first Sussex record for exactly seven years and a day. A European Honey Buzzard flew over Beachy Head on 11th, where the super-tame Lapland Bunting performed until Monday. In West Sussex, the Burton Mill Pond Purple Heron did a bunk on 11th and, nearby, a Hooded Crow was a smart find at Bury. Five sites in the county held Yellow-browed Warbler. An immature White-tailed Eagle flew over Ninfield, East Sussex, on 9th.
Kent also scored Radde's Warbler – which is never too regular in the South-East – with one at Worth Marsh on 7th. Richard's Pipit at Swalecliffe (7th), Red-rumped Swallow at St Margaret's at Cliffe (7th) and the American Golden Plover back at Dungeness (12th) represented a trio of scarcities from various points of the compass. At the latter site, the two Glossy Ibis remained. Among the commoner scarcities, a Wryneck was at Oare Marshes from 5th, a Red-backed Shrike at St Mary's Bay from 10th and a Great Grey Shrike at Bough Beech Reservoir on 7th. Yellow-browed Warblers were reported from seven sites.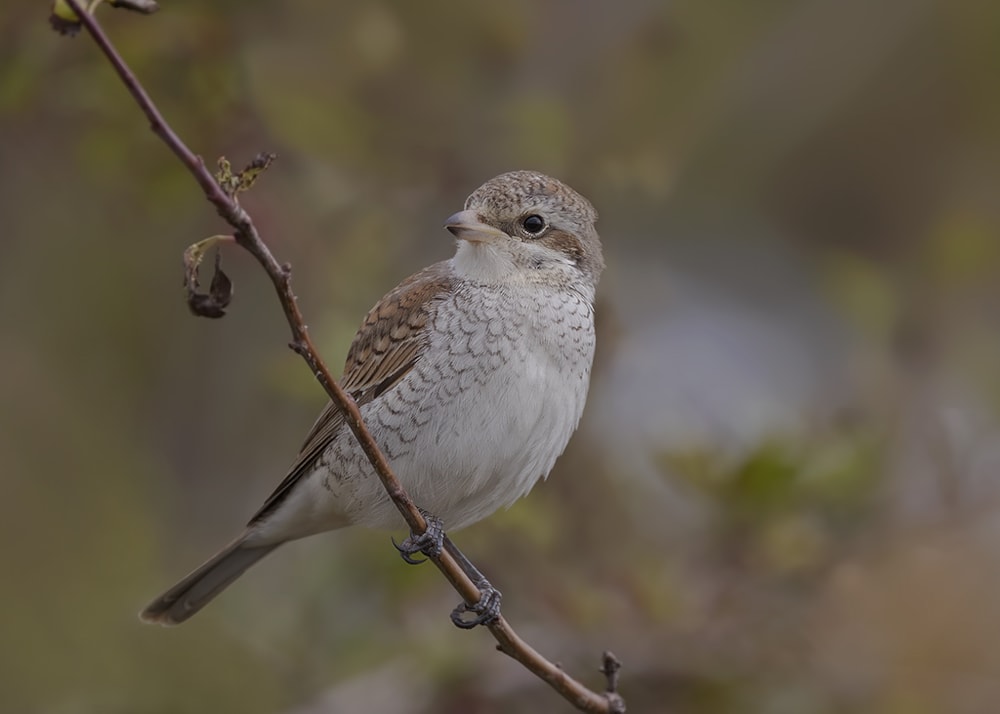 Red-backed Shrike, Littlestone-on-Sea, Kent (Steve Ashton).
A Richard's Pipit flying over Richmond Park at lunchtime on 13th was an unlikely record for the capital, where three Yellow-browed Warblers were present during the week: at Dagenham, Finsbury Park and Rotherhithe. Buckinghamshire also enjoyed Yellow-browed Warbler, with one at Milton Keyes from 12th, while a Northern Gannet flew over Aylesbury on 13th. Berkshire and Oxfordshire also hosted Yellow-browed Warblers, at Ardington (9th) and Hermitage (13th) respectively. A Lapland Bunting flew over Clandon Wood, Surrey, on 12th.
Hampshire's star attractions were of course the Keyhaven phalaropes, where two Greys were to be found not far from the popular Wilson's. At the opposite end of the county, at Tweseldown Hill, some 17,000 Redwings were logged on 13th, part of a huge, broad movement over southern England that day. Only one Yellow-browed Warbler was found – on Hayling Island. A Richard's Pipit was reported over Barton on Sea on 12th. Ventnor, Isle of Wight, enjoyed a Radde's Warbler on 9th, with the same site one of two to host Yellow-browed Warblers.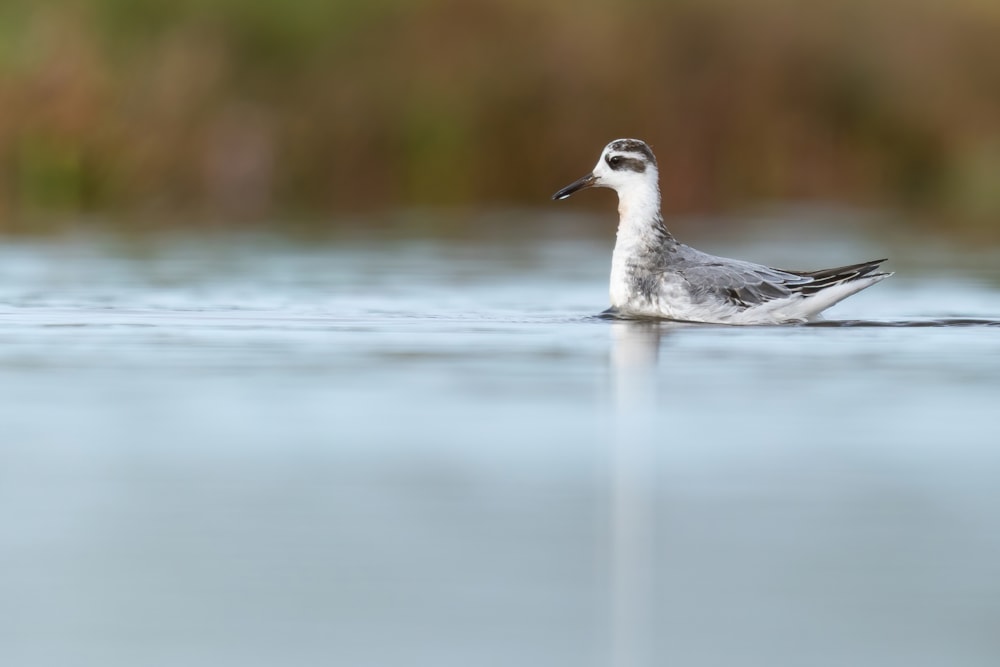 Grey Phalarope, Pennington Marshes, Hampshire (Matthew Barfield).
South-West England
It was a classic 'east meets west' scenario on Scilly this week. The juvenile American Golden Plover was still pleasing admirers on Tresco and Pectoral Sandpipers were recorded on St Mary's, Tresco and Bryher. Radde's Warblers were on both Bryher and Tresco, with Dusky Warblers on St Mary's and Tresco. Little Buntings peaked at three on Tresco with another on St Mary's. The best of the rest included multiple Wrynecks, Common Rosefinches and Red-breasted Flycatchers and a Red-backed Shrike still on St Mary's, while Yellow-browed Warblers topped out at a minimum of 75 across the islands on 11th. A wandering adult Iceland Gull was reported throughout.
In Cornwall, Polgigga and Nanjizal Valley hosted Radde's Warblers. Also at Nanjizal, a Barred Warbler and Bluethroat were both trapped and ringed on the morning of 9th. A Corncrake put in a dawn appearance at Porthgwarra on 10th and European Turtle Doves were at Lizard village and Polgigga. While Balearic Shearwaters moved past four sites, and Grey Phalaropes at three, including one on the Hayle Estuary on 13th. A minimum of 23 sites logged Yellow-browed Warblers.
It was Lundy that once again took Devon's centre stage. Large eastern thrushes aside, there was a decent supporting cast of Red-breasted Flycatcher, Yellow-browed Warbler, Eurasian Dotterel and two Lapland Buntings. More familiar sightings came in the form of the ever-present Glossy Ibis at Fremington Pill and Balearic Shearwaters past two sites. Nine localities along the south coast connected with Yellow-browed Warblers.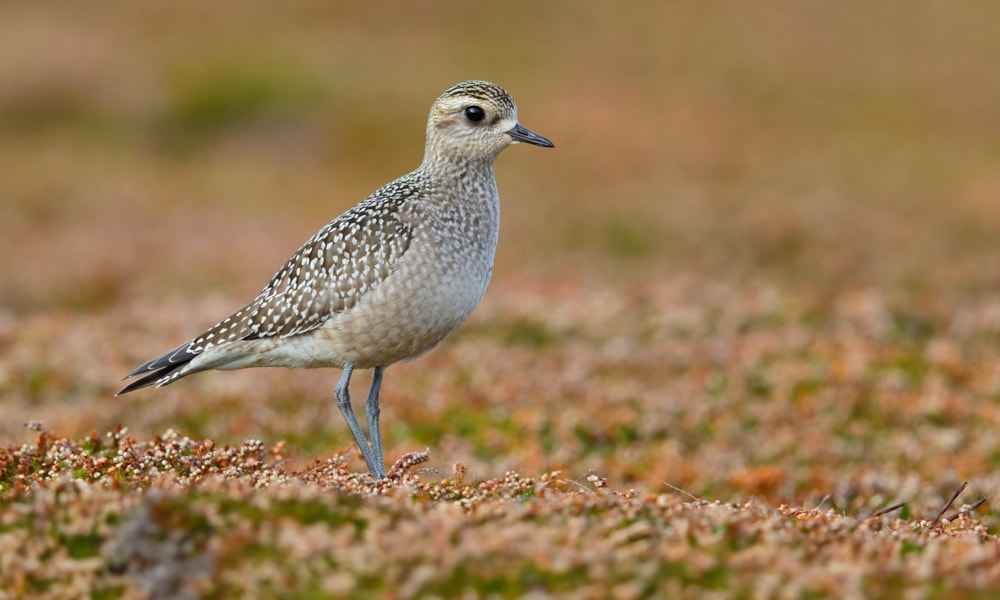 American Golden Plover, Tresco, Isles of Scilly (Kit Day).
Not to miss out on the current influx, a Radde's Warbler was trapped and ringed at Portland, Dorset on 12th. Portland wasn't done there, with a supporting cast of continuing juvenile Rosy Starling, Red-breasted Flycatcher, Grey Phalarope and multiple Yellow-browed Warblers. Grey Phalaropes were logged at a further four sites. Durlston CP had a Wryneck from 9-11th and the female-type Bluethroat was re-trapped at Wyke Regis on 9th. There was a scattering of Yellow-browed Warblers along the south coast.
Chew Valley Lake, Somerset, continues to offer a fine selection of waders with the Lesser Yellowlegs demanding particular attention. Elsewhere, a showy juvenile Red-necked Phalarope was on a flooded field by Luccombe on 8-12th. Cheddar Reservoir continued its pelagic experience, with both the Great Northern Diver and Red-necked Grebe remaining. Glossy Ibises were again at Shapwick Heath NNR and Chard Reservoir, while Yellow-browed Warblers were at Sand Point, Weston-super-Mare, Clevedon and Steart.
Yellow-browed Warblers again headlined Gloucestershire's week; with birds at Littleton-upon-Severn, Stow-on-the-Wold, Ashleworth Ham NR, Westbury-on-Severn and Frampton-on-Severn. Although non proved particularly twitchable. Up to three Little Stints were still at Slimbridge WWT, where a Curlew Sandpiper remained. A further two Curlew Sandpipers were also still at New Passage and Severn Beach. The juvenile Black Tern lingered at Cotswold Water Park, Wiltshire until 7th. Elsewhere in the county, a Siberian Chiffchaff was at SPTA East, Everleigh, on 11th.
Wales
Bardsey Island had a steady week. Multiple Yellow-browed Warblers gave an eastern flavour to a week otherwise dominated by offshore passage, with two Black-throated Divers, Grey Phalarope, Sooty Shearwater, Arctic Tern and Little Gull past.
A juvenile American Golden Plover was a welcome find in a stubble field at Abercastle, Pembrokeshire, on 11th only. A probable male Red-footed Falcon flew over Wyesham on 8th but no follow-up news leaves it as 'the one that got away'. The country enjoyed a healthy spread of Yellow-browed Warblers through the week, with 19 sites reporting birds – how many more could be lurking inland? Lapland Buntings were at two locations.
Seabirds had a good turn-out this week, a showy Grey Phalarope was in Aberystwyth harbour on 7th, while Leach's Storm Petrel, Pomarine Skua, Sooty Shearwater were logged past coastal spots. The Red-throated Diver was still at the north end of Llandegfedd Reservoir on 8th and a Long-tailed Duck was on Llyn Fanod from 11th.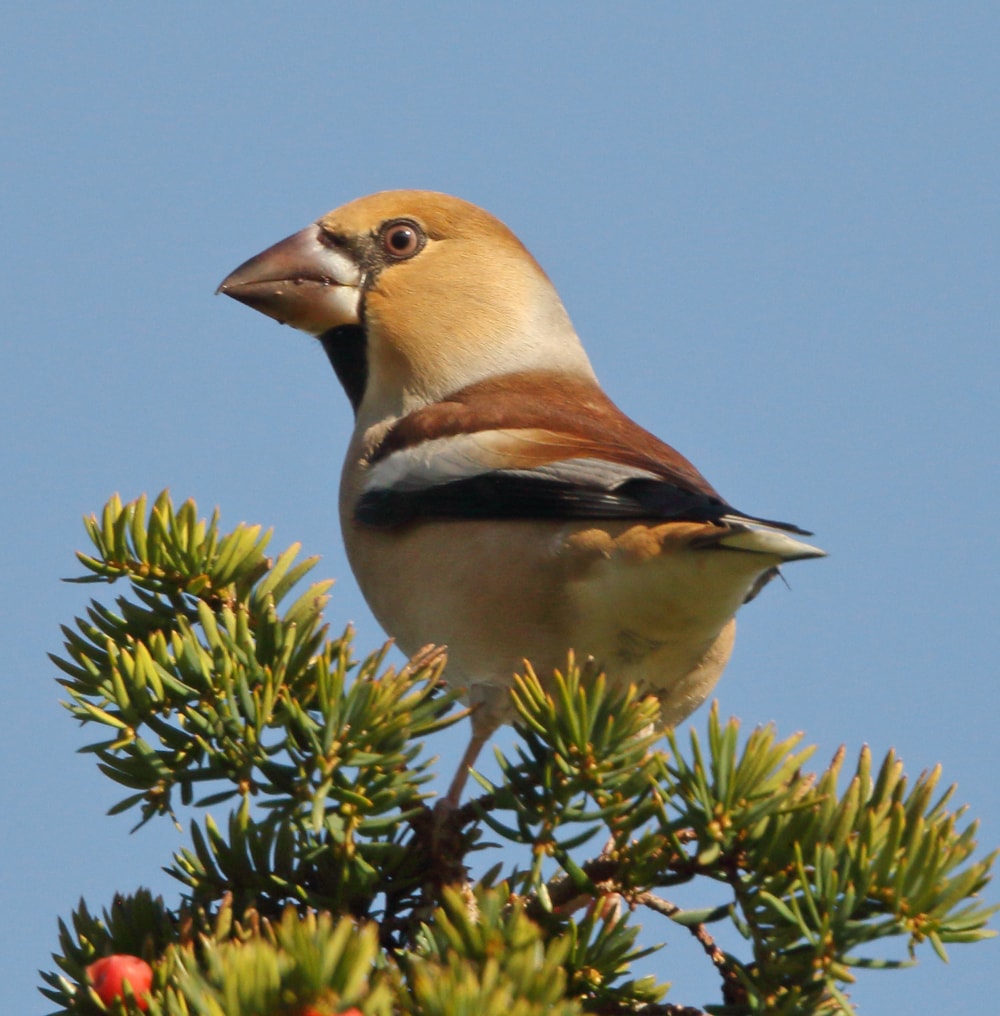 Hawfinch, Caerhun, Conwy (Bob Garrett).
Ireland
Up to three American Golden Plovers were at Myroe Levels, Co Derry, during the week, while the Lesser Yellowlegs and Pectoral Sandpiper combo was still on offer at Rahasane Turlough, Co Galway. Another Lesser Yellowlegs remained at Tacumshin, Co Wexford, and two Pectoral Sandpipers were at Whiting Bay, Co Waterford. A Temminck's Stint at Blackstaff River, Co Down, from 7-9th was a more surprising record.
A first-winter Citrine Wagtail performed brilliantly at Tacumshin, Co Wexford, from 9th. Singles of Little Bunting and Barred Warbler were on Tory Island, Co Donegal, with another Barred at Inishbofin, Co Donegal, and a Dusky Warbler was reported at Malinbeg on 9th. The Western Cattle Egret hung on at Strabane, Co Tyrone.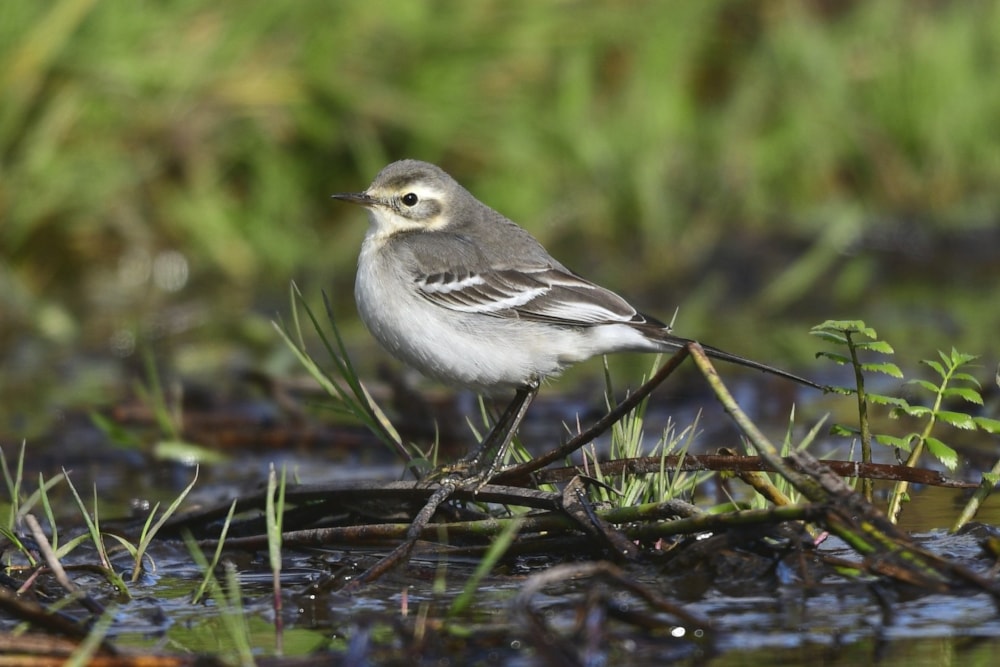 Citrine Wagtail, Tacumshin, Wexford (Ste King).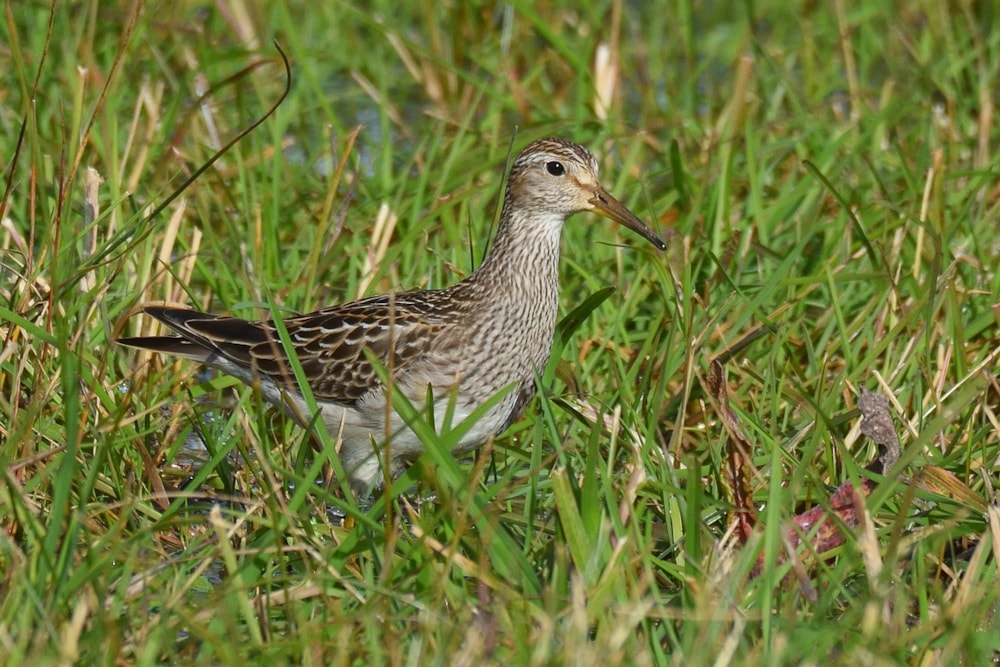 Pectoral Sandpiper, Whiting Bay, Waterford (Andrew Malcolm).
Western Palearctic
Iceland continued its enviable run of Nearctic passerines by scoring a first-winter female Northern Parula at Grindavík on 12th, while a Red-eyed Vireo was at Hallskot from 11th. Elsewhere in the country, a returning drake White-winged Scoter was off Keflavík, while a drake Black Scoter was at Þvottárskriður.
The Belgian coastal ringing site of Het Zwin had a real purple patch on the morning of 12th, where a first-winter female Siberian Rubythroat in the nets was followed by a White-throated Sparrow less than an hour later. Both seconds for Belgium, the rubythroat did an instant bunk, but the sparrow – the first twitchable in the country – remained into the following day at least.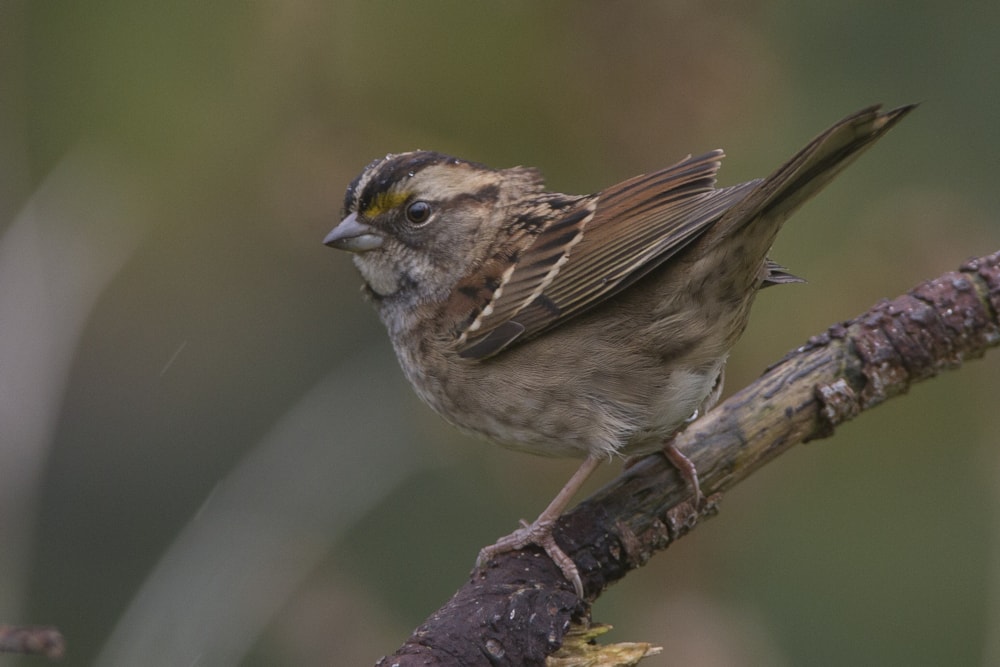 White-throated Sparrow, Knokke-Heist, West Flanders (Christian Vandeputte).
In the Azores, Corvo was treated to an arrival of Nearctic passerines, including Ovenbird, Blackpoll Warbler, Common Nighthawk, Bobolink, Rose-breasted Grosbeak, Scarlet Tanager, two Swainson's Thrushes and Red-eyed Vireo. A Double-crested Cormorant also remained on the island. Away from Corvo, another Common Nighthawk was on Flores, with a Hudsonian Whimbrel at Ponta Delgada, São Miguel, and a Green Heron found moribund at Cabrito Reservoir, Terceira.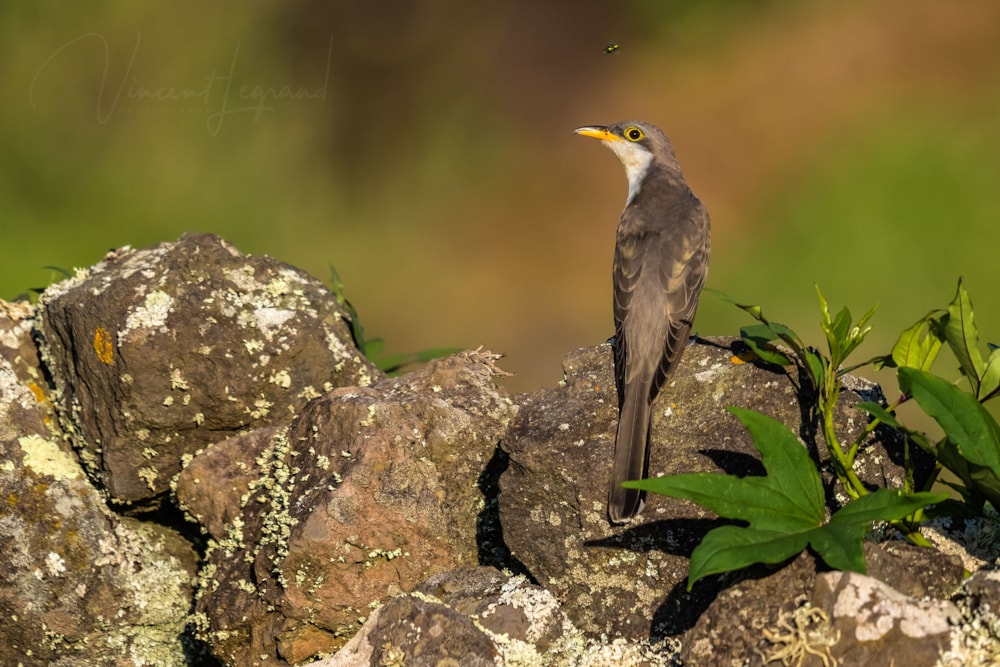 Yellow-billed Cuckoo, Corvo, Corvo (Vincent Legrand).
A Meadow Bunting at Malung, Sweden, would be highlight-reel news if its origins didn't seem so fishy, with a number of plumage abnormalities consistent with a captive origin. Neighbouring Finland saw a Siberian Accentor trapped and ringed at Säppi on 10th.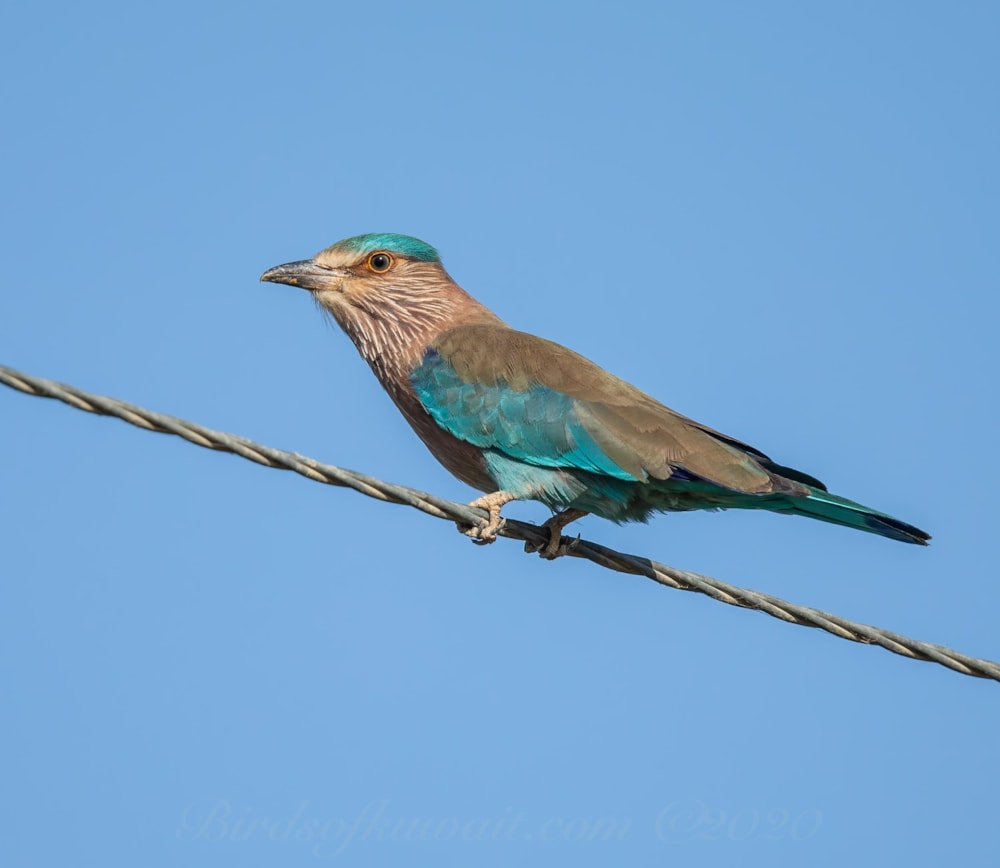 Indian Roller, Sulaibiya Pivot Fields, Kuwait (Abdulrahman Alsirhan).
The first Isabelline Shrike and Little Ringed Plover for the Faroes were both at Sumba on 11th, while Germany's second Two-barred Warbler was trapped and ringed on Heligoland on 13th. A returning Indian Roller was at Kuwait's Sulaibiya Pivot Fields from 8th; a Greater Painted-snipe was at HaMa'apil fishponds, Israel.
A Red-eyed Vireo was trapped and ringed in western France at Reserve Naturelle de Moëze-Oléron, Nouvelle-Aquitaine, on 7th, while two Eastern Yellow Wagtails were on Ouessant Island on 11th. In Spain, a Least Sandpiper was at Xunqueira de Lagares, Spain, from 8th.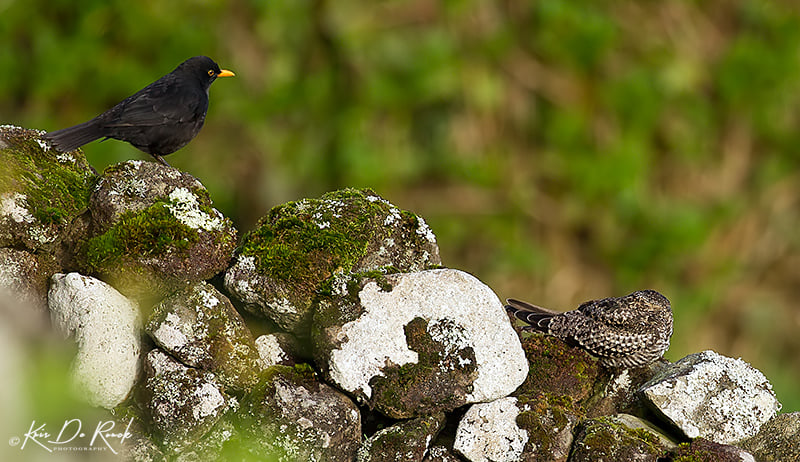 Common Nighthawk, Corvo, Corvo (Kris De Rouck).