A largely mild week, characterised by changeable weather and an often-brisk southerly breeze, brought with it a spectacular influx of swifts to Britain, the vast majority of which were identified confidently as Pallid Swifts. At least 30 sites noted the species, most of which were scattered along the English east coast between Kent and Durham, with multiple records from the Yorkshire and Norfolk coasts and one as far north as Mainland Shetland.
Notable exceptions included birds over Newport Wetlands, Gwent, on 10th and Wexford Wildfowl Reservoir on 10th – the latter being the only Irish record of the week. Along with the confirmed Pallids came many more 'Common/Pallid Swifts' (at some 20 sites), of which the identification remained unconfirmed for a variety of reasons, such as brevity of sighting, lack of good views and poor light conditions. 'Confirmed' Common Swifts were reported from Wiltshire, Worcestershire (2) and Dorset, although these were very much outnumbered and it was perhaps telling that all the birds that have been photographed well enough during the current influx have proven to be Pallid – could almost all of the dozens of swifts seen in recent weeks have related to the rarer alternative? It certainly seems possible.

Pallid Swift, Hartlepool Headland, Cleveland (Brian Martin).
Among the scores of Pallids came an altogether rarer beast. The first twitchable Little Swift in Britain for over six years suddenly appeared alongside a Pallid Swift at Hartlepool Headland, Cleveland, mid-afternoon on 11th, with both birds showing extraordinarily well as they hawked insects along the seafront up to dusk. The Little was then watched to go to roost under an unsuspecting Hartlepool resident's windowsill, where it was observed throughout the night as it clung tightly to the brickworks, its white rump glowing through the darkness.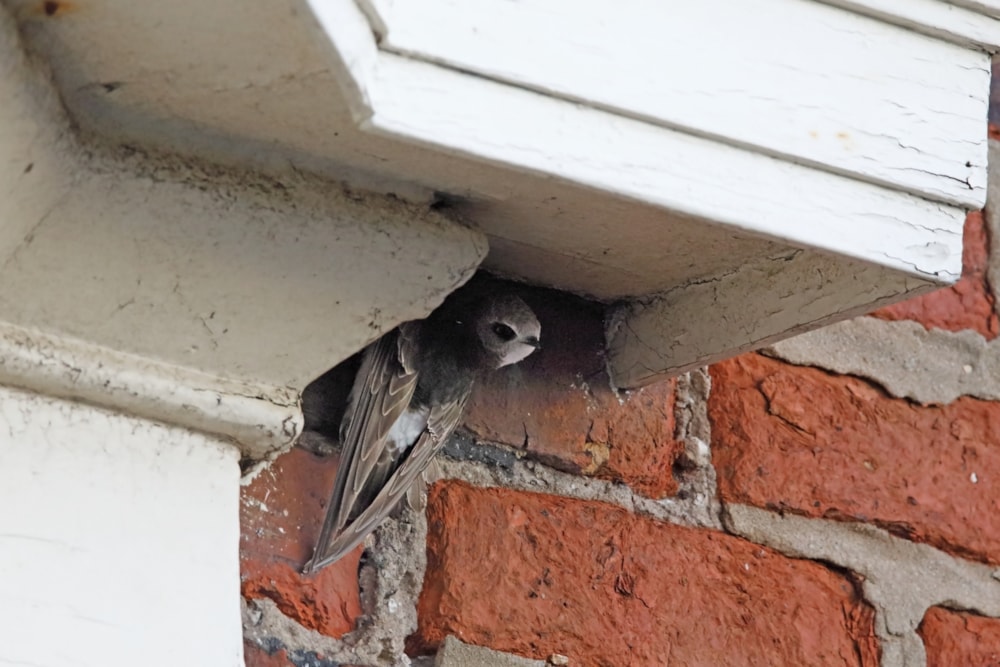 Little Swift, Hartlepool Headland, Cleveland (Colin Bradshaw).
Not long after dawn it was awake and on the wing again but, unlike the Cromer bird of 2005, which had departed south within five minutes of leaving its clifftop roost, hung around for a further few hours, delighting observers as it again performed to within a few metres, giving those gathered a typically unforgettable and intimate experience, like vagrant swifts often do. As mentioned, this is first of its kind to linger any significant period of time since 2012 (the well-watched bird at New Brighton, Cheshire, in late June of that year) although there was, bizarrely, a bird in Lothian for a day on New Year's Eve 2015.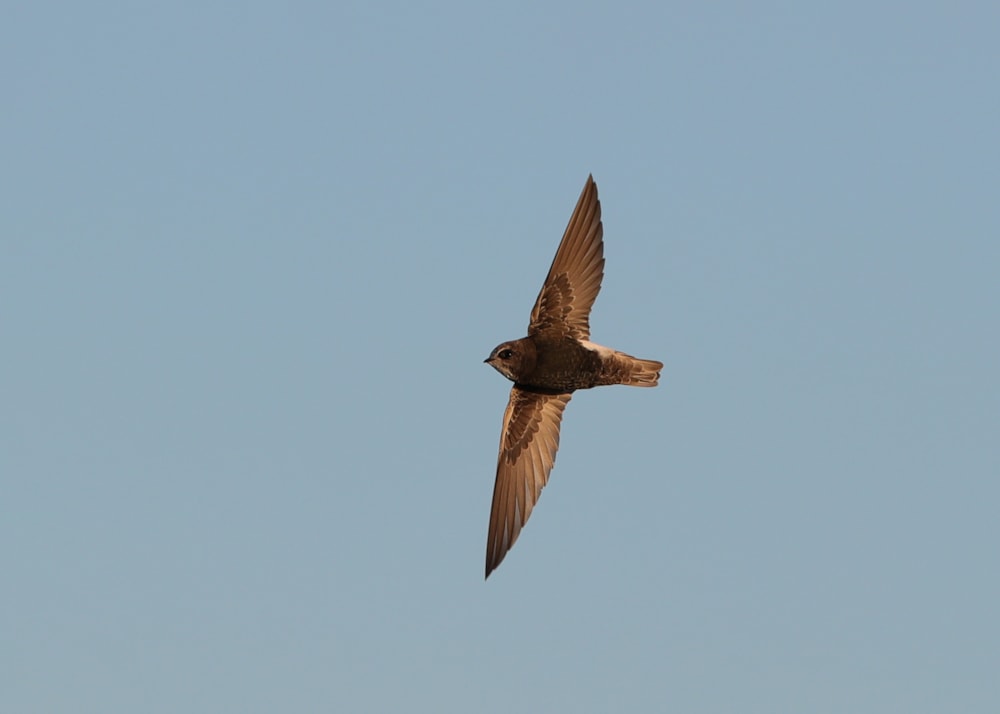 Little Swift, Hartlepool, Cleveland (Graham Jepson).
Both Ireland and Scotland largely missed out on the swift influx, but nonetheless both produced impressive highlights of their own. In Co Galway, a Mourning Dove was photographed in a private garden at Ballyconneely on 12th, although there was no sign the following day. This is the second county record, following a well-watched bird on Inishbofin for two weeks in November 2007. The Scottish highlight was the first-winter Eastern Yellow Wagtail on the beach at Sumburgh, Shetland, which was found on 8th and lingered throughout the week, although could be elusive at times. Interestingly, another probable was present briefly at Garth, Shetland, on 8th.

Eastern Yellow Wagtail, Sumburgh, Mainland, Shetland (Roger Riddington).
Cornwall welcomed back an old favourite this week, namely the adult Pacific Diver, which reappeared in Mount's Bay on 12th for its thirteenth consecutive winter. Along with the American Black Duck at Strontian, which was also first found in 2007 and seen again this week, it is by far and away the longest-serving source of pleasure for British birders – as well as proving a (relatively) reliable year tick for well over a decade now.
Though years away from breaking the diver's longevity records, Lothian's American White-winged Scoter is at least dependable and looks well set to spend a second winter off the coast of Musselburgh – it was still there on 9th. Meanwhile, Black Scoter lingered off Rossbeigh, Co Kerry, and Cheswick, Northumberland – themselves both veterans of multiple winters off their favoured stretches of coastline. Bracers of drake Surf Scoter remained off St Andrews, Fife, and Luskentyre, Harris. The King Eider remained distant off Sheringham, Norfolk, all week.
Ring-necked Duck totalled 10, including a group of three new in on Tiree, Argyll, from 12th and two drakes at Loch Watten, Highland. In contrast, Lesser Scaup numbered just one (the continuing female on Anglesey). A new American Wigeon was at Leighton Moss, Lancs, from 13th, with the Northumberland bird again at Grindon Lough on 9th. Others were in Highland and Lancashire, the latter concerning the drake still at Hesketh Out Marsh – though beware two hybrid Eurasian × American Wigeon also on site here.

Ring-necked Duck, Loch Bhasapol, Tiree, Argyll (John Bowler).
A blue-morph Snow Goose again roosted overnight at Loch of Skene, Aberdeenshire, on 7th, while the blue/intermediate morph continued to tours fields around Munlochy Bay and Avoch, Highland. Three presumed Todd's Canada Geese were on Barra, Outer Hebrides, on 13th. Cumbria's Black Brant was back again off Walney Island on 13th, with another adult at Stiffkey, Norfolk.
Kent's White-billed Diver became more intermittent from 7th, being seen only briefly that day and next, then the sight of it powering south off North Foreland on 9th was the last anyone heard of it. Elsewhere, one flew south off Ross, Northumberland, on 10th.

White-billed Diver, Margate, Kent (Paul Chamberlain).
In Dorset, a smart adult Franklin's Gull appeared in Radipole Lake car park on 12th and 13th, sat unwittingly among a carpet of Mediterranean Gulls. The hallowed concrete here has harboured many a rare and scarce gull over the years, including no fewer than three previous Franklin's among the long and decorated list of past occurrences – the last of which was back in 2004. Just two Ring-billed Gulls were seen: an adult was on Tiree, Argyll, on 11th and a possible adult in the roost at Blashford Lakes, Hants, on 13th presumably signifies the return of the regular wintering bird here. A good influx of Caspian Gulls saw impressive counts from Dungeness, Kent, including at least 17 on 11th, while Shawell, Leics, also bagged 13. Birds were well spread in eastern areas and across the Midlands, with records from as far west as Devon, Cornwall and Cheshire. Meanwhile, the Forster's Tern returned to Galway Bay for its sixteenth winter.

Franklin's Gull, Radipole Lake RSPB, Dorset (Martin Cade).
Durham's Spotted Sandpiper continued to entertain itself along the River Don in Jarrow throughout the week, as did the Long-billed Dowitcher at Frampton Marsh, Lincs. Another Spotted Sandpiper was on the coast at Easkey, Co Sligo, on 10-11th. A new Lesser Yellowlegs was found at Clonakilty, Co Cork, on 11th; others continued on Skye, Highland, and in Weymouth, Dorset, all week. Three juvenile White-rumped Sandpipers were also still at Roe Estuary, Co Derry, on 11th and a late Baird's Sandpiper visited Tacumshin, Co Wexford, on 10-11th.

Spotted Sandpiper, Jarrow, Durham (Carl Hewitt).
Cheshire's confiding Pied Wheatear delighted large numbers of visitors to Meols, although pulled a Friday night disappearing act, leaving many disappointed on Saturday morning. Elsewhere, the female was still on Foula, Shetland, on 8th and a third was suppressed on private land near Trevose Head, Cornwall.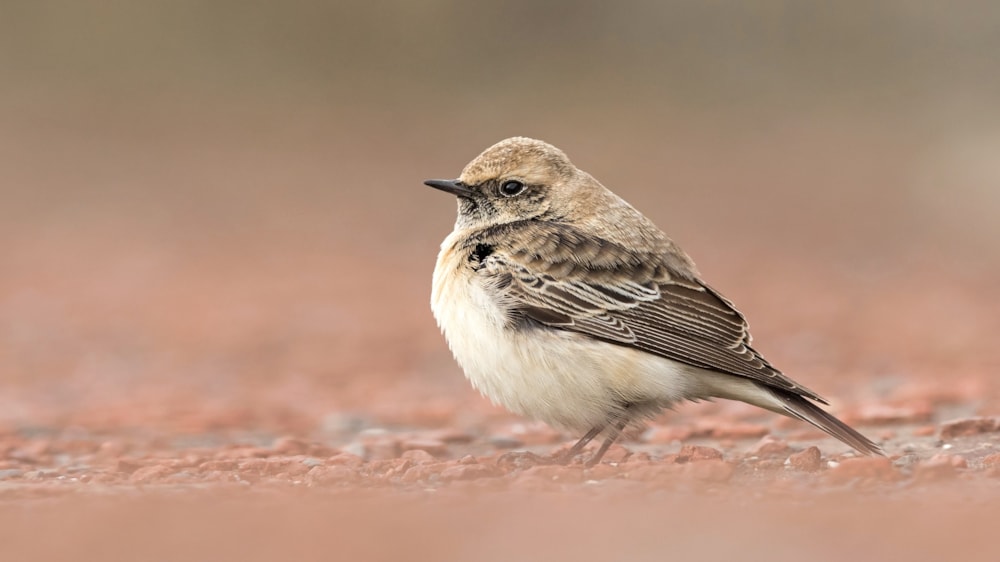 Pied Wheatear, Meols, Cheshire (Paul Coombes).
After a stay of some three weeks, the Stejneger's Stonechat finally moved on from Salthouse, Norfolk – it was last seen on 8th. Also of interest, there was another Nutcracker report from nearby Cromer on 13th, just a few hundred metres from where a probable was seen in flight on 23 October. This certainly suggests that there might be something in it and hopefully local birders will have the chance to search the area thoroughly in coming days – Britain's first truly twitchable Nutcracker since 1991 would certainly end a mixed year of British birding on a high.
The group of Parrot Crossbills at Horsford, Norfolk, proved elusive, but often numbered up to eight. A late Common Rosefinch was on Unst, Shetland, on 8th, although the Coues's Arctic Redpoll influx appears to have hit the rocks – just a single possible was reported this week, from Orgreave Lagoons, South Yorks, on 10-11th.
Last week's Hume's Leaf Warbler lingered at Durlston Country Park, Dorset, to 9th, the day another bird was seen briefly at Flamborough Head, East Yorks. Seven Pallas's Warblers were seen, six of which were on the English south coast and a seventh was at Grouville Marsh, Jersey, the latter being an overdue first for the island. A new Dusky Warbler was at Garth, Shetland, on 8th, while the Durham bird lingered at Marsden Quarry to 10th. Two or three remained on St Mary's, Scilly, and a new bird was at Kenidjack, Cornwall, on 13th. Barred Warblers were on Whalsay, Shetland, and at Warham Greens, Norfolk, while a late Blyth's Reed Warbler was at Knockadoon Head, Co Cork, on 7-8th.

Pallas's Warbler, Grouville Marsh, Jersey (Romano da Costa).
Presumably associated with the big arrival of swifts was a modest influx of Hoopoes. Five were on show around Britain, the most northerly of which showed well at Montrose, Angus, from 12th. Others were in Durham, Wiltshire, Essex and Kent, the latter concerning a colour-ringed bird in Margate, Kent, which appears to have been present in the area since late October. It'll be interesting to see where it was ringed, although a quick search of the fantastic Colour-ring Birding database suggests that north-east France is one likely option.

Hoopoe, Montrose, Angus & Dundee (Gus Guthrie).
Rosy Starlings continued to be found, with new birds at Kesgrave, Suffolk, Annan, Dumfries & Galloway, and Douglas, Isle of Man, joining the three still on show in Wales. A late Red-backed Shrike was on show at Crossness, London, this week, where there was also a Eurasian Penduline Tit on 10th. Great Grey Shrikes were down to nine, but included a couple of Scottish records, while Richard's Pipits totalled five. The only Little Bunting was the continuing bird at Housel Bay, Cornwall.

Rosy Starling, Annan, Dumfries & Galloway (Caroline Legg).
The Snowy Owl was still on Eday, Orkney, on 7th, with late news that the female was also still on St Kilda on 6th. The mighty juvenile White-tailed Eagle was seen intermittently in the Kildale and Baysdale area of North Yorkshire, while around 30 Rough-legged Buzzards remained between Lothian and Kent.

White-tailed Eagle, Kildale, North Yorkshire (Martyn Sidwell).

Rough-legged Buzzard, Holme Fen NNR, Holme, Cambridgeshire (Josh Jones).
Western Palearctic
Sweden proved the envy of the region as it scored two national firsts in the space of the week. A Naumann's Thrush showed well at Patamalm on 13th and then, that evening, news came to light of a Pied Bush Chat photographed near Ulricehamn on 8th.
In the Azores, the Tricolored Heron moved back to Ribeira Quente, São Miguel, on 12th, having been seen the previous week at Povoacão. Elsewhere in the island, the brace of drake Wood Duck continued at Lagoa Azul. Meanwhile, on Fuerteventura, the Dwarf Bittern lingered on near Llanos Pelados to at least 11th.

Tricolored Heron, Ribeira Quente, São Miguel (Massimiliano Dettori).
A Greater Yellowlegs was at Aveiro, Portugal, while the Bufflehead continued near Xuño, Galicia, and up to two Sociable Lapwings were at La Janda, Andalucia. The Eastern Imperial Eagle was again seen in southern France, while the Pygmy Cormorant hung on in Brussels, Belgium, and a Black-winged Kite was noted in the very north of The Netherlands.
In Norway, the Brown Shrike was again seen near Holmestrand on 12th, while a Stejneger's Scoter in Gdansk Bay, Poland, is presumably last winter's male returning. Finally, there was a curious report of nine Marabou Storks flying south over El Quseir, Egypt, on 29 October – a potentially unprecedented regional record.