Despite June 2021 already producing such goodies as a Red-necked Stint and River Warbler, it nevertheless felt that there was something truly ground-breaking left in the tank. So it proved this week, when Devon's rarity hot-spot, Lundy, stunned just about everyone with news of a singing male Sulphur-bellied Warbler there on 8th.

Sulphur-bellied Warbler, Lundy, Devon (Ashley Howe).
Initially reported as a Dusky Warbler, this first for Britain was swiftly reidentified with help of photographs and sound recordings, allowing a small number of enterprising twitchers the chance to reach the island before nightfall, the bird remaining in Millcombe Valley into the late evening. An unexpected vagrant on these shores, the species is a medium-distance migrant, breeding on stony, bushy, semi-arid slopes from north-west Afghanistan and south-east Kazakhstan eastwards to central China, moving south to winter in northern and central India.
There is just one previous record in the Western Palearctic: a male on the Danish island of Christiansø for six days from 30 May 2016. Unfortunately, Lundy's bird wouldn't prove so accommodating, departing overnight in clear and calm conditions. An elusive subalpine warbler sp in the valley the following day provided scant consolation for some of those who made the trip across to the island.

Sulphur-bellied Warbler, Lundy, Devon (Ashley Howe).
A species with just nine accepted records, Pacific Swift nevertheless now feels like a semi-reliable midsummer feature, with four of those occurring since 2010. The species has been twitchable on just two previous occasions – at Cley Marshes, Norfolk, on 30 May 1993 and Trimley Marshes, Suffolk, on 15-16 June 2013 – making the bird that spent eight hours at East Chevington and High Hauxley, Northumberland, on 12th very welcome indeed.

Pacific Swift, East Chevington NWT, Northumberland (Jonathan Farooqi).

Pacific Swift, East Chevington NWT, Northumberland (Jonathan Farooqi).
Northumberland's star attraction of last week – Blyth's Red-necked Stint – was last noted on 7th, when it again gave stellar views over high tide.

Red-necked Stint, Blyth, Northumberland (Alan Curry).
Moving south-west and the singing River Warbler became even more accommodating at Ham Wall RSPB, favouring a patch of reed just a short distance from the adoring crowds.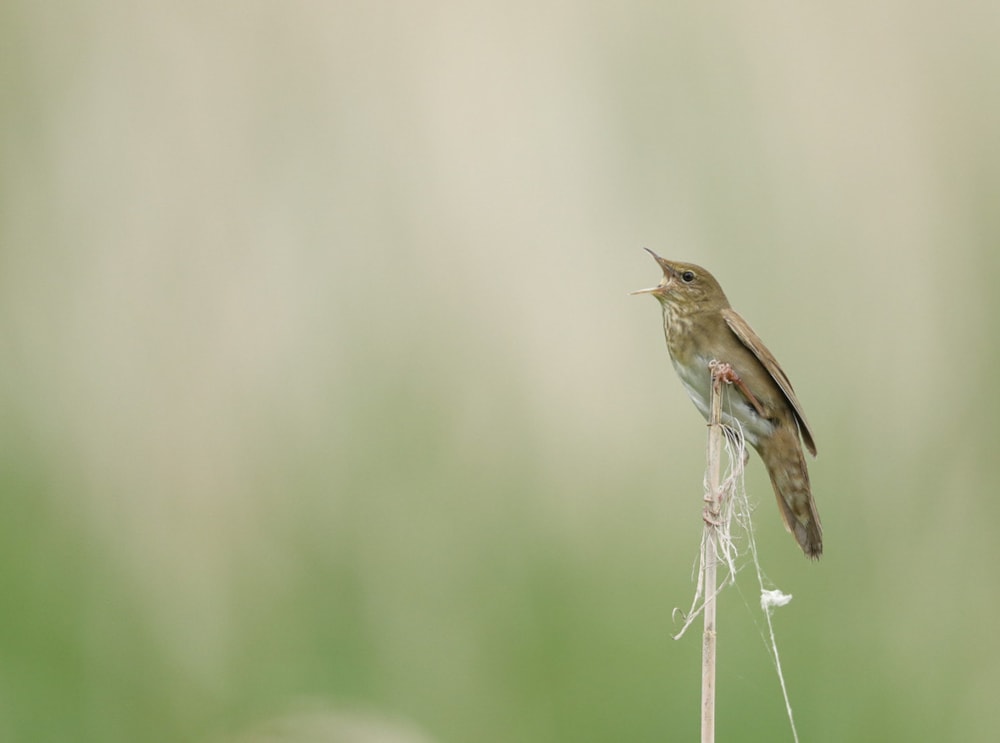 River Warbler, Ham Wall RSPB, Somerset & Bristol (Matt Scott).
Belated news was received of a White-throated Sparrow on a vessel approximately 200 km east of Peterhead on 28 May.
Amazingly, Fair Isle's second Calandra Lark of the year reappeared on 10-11th, becoming Britain's longest-staying record in the process at 14 days. On Fetlar, a smart male Caspian Stonechat visited Tresta on 7th.

Caspian Stonechat, Tresta, Fetlar, Shetland (David Wege).
A male Iberian Wagtail on the beach at Baile an Reannaigh, Co Kerry, from 8th has the potential to become Ireland's first record. Derbyshire's second Lesser Grey Shrike caused an evening rush to fields near Sandiacre on 10th, with no sign the following day. A Little Swift over Buttermilk Hill, Cornwall, for five minutes on 13th is perhaps the bird seen over St Agnes on 3rd.

Lesser Grey Shrike, Sandiacre, Derbyshire (Ian Bollen).
In Highland, Ardnamurchan boasted a male Black-headed Bunting under garden feeders on 7th; a male Rustic Bunting for three minutes at Ham Wall RSPB, Somerset, the following day was somewhat more surprising. A new Rustic was on Fair Isle on 7th too, a day when Foula's female held on at Ham.

Rustic Bunting, Fair Isle, Shetland (Daniel Gornall).
A Great Reed Warbler was along the burn at Quendale, Shetland, on 7-8th, with a brief male visiting Cambrideshire's Teversham Fen on 7th. Continuing songsters were at Besthorpe, Nottinghamshire, and East Chevington, Northumberland. The Calf of Man's Western Subalpine Warbler was again re-trapped on 11th.
Last week's Collared Pratincole pair at Dungeness RSPB, Kent, became a three on 7th, with at least one remaining until 11th. One at Wheldrake Ings YWT on 13th was a notable North Yorkshire record, with a further example at Suffolk's Carlton Marshes on 12th, having earlier flown over Minsmere RSPB and Southwold with Common Swifts.

Collared Pratincole, Dungeness RSPB, Kent (Stephen Ray).
The sole observer of a probable Laughing Gull at Paignton, Devon, on 30 May was vindicated when an adult or second-summer flew south-west over nearby Berry Head on 9th, in the company of European Herring Gulls. In the Outer Hebrides, a new first-summer Bonaparte's Gull finished the week at Cleat, Barra. Cornwall's young American Herring Gull was again at Newlyn on 12th.
Shetland's immature drake King Eider at Baltasound, Unst, was last noted on 7th; the Pied-billed Grebe remained at Loch Feorlin, Argyll. A Caspian Tern flew north past Worth Marsh, Kent, on 8th.
In the Firth of Forth, the Sei Whale was back off Dalgety Bay, Fife, on 9-10th.
Scottish mainland
Scotland felt the full force of the Rosy Starling invasion, with birds recorded at 18 sites on the mainland. These were all singletons, bar two at Sandhaven, Aberdeenshire, on 11th and Skye, Highland, on 12th. Three Woodchat Shrikes throughout the country was a fine haul and included one at Mire Loch, Borders, on 13th, a male at Ardmore Point, Clyde, on 12th and one at Corrimony RSPB, Highland, on 10-11th.
Spey Bay, Moray & Nairn, hosted a female Red-backed Shrike on 10th. In the extreme north of the country, a Blyth's Reed Warbler was singing at Brough, Caithness, from 13th, while Big Sand, Highland, scored a flyover European Bee-eater on 9th. Long-tailed Skuas were at Lossie Estuary, Moray & Nairn, and at Melvaig, Highland.
A female Red-necked Phalarope was a brief visitor to South Medwin Pools, Clyde, on 12th, and late news of a 'recent' White-winged Tern at Loch Spynie, Moray & Nairn, emerged on Monday. A Spotted Crake was at Gartnatra, Islay, in Argyll, on 13th, the same day a Eurasian Spoonbill was in Aberdeenshire at Loch of Strathbeg. An Iceland Gull was on the beach at Thurso on 11th.
Ed Stubbs
Northern Isles and the Hebrides
A smart White-billed Diver was still at South Nesting Bay, mainland Shetland, throughout. Meanwhile, an 'albino' Great Northern Diver was busy loafing off Skaw, Unst, from 7-9th before relocating to Norwick – presumably the bird that wintered in Devon. 'Yanks' came in the form of the lingering drake Ring-necked Duck at Loch of Brow, Mainland, until at least 7th, while the Lesser Yellowlegs was still at Grutness pool the same day. A flurry of Long-tailed Skuas came from four sites, including three at Valyie, Unst, on 10th.

Great Northern Diver, Skaw, Unst, Shetland (David Cooper).
Southern promise came in the form of two Red-rumped Swallows: originally at Vidlin from 9th, they later moved to Brae from 11th. The male Woodchat Shrike put in another appearance at Funzie, Fetlar, on 8th. Rosy Starlings were around in small numbers, notably two together at Brae, while two further Mainland sites caught up with them, and at least one was on Unst. Brae also hosted a Golden Oriole on 8th, while singles were at Out Skerries the same day and Hillswick, Mainland, on 7th. Classic eastern 'fillers' remained in decent number with Red-backed Shrikes, Icterine and Marsh Warblers all up for grabs still. Common Rosefinches were at Hillend, Yell, on 7th, Norwick, Unst, on 8th and Out Skerries on 10th. A Red-breasted Flycatcher was at Quendale on 7th when a Wryneck was up at Gutcher, Yell.
Up to two Rosy Starlings were still on Fair Isle through the week. Other expected scarcities included Common Rosefinch, Red-backed Shrike, Marsh Warblers and European Turtle Dove.

Rosy Starling, Challister, Whalsay, Shetland (John Irvine).
In Orkney, Nearctic visitors involved a Pectoral Sandpiper at Loch of Swartmill, Westray, from 9th and a drake Ring-necked Duck on Peerie Sea, Kirkwall from 7th. An adult Rosy Starling infiltrated Yesnaby's resident starling flock on 11th. A European Nightjar was at Berriedale, Hoy, on 10th. North Ronaldsay had a modest showing of Marsh Warbler, Grey-headed Wagtail, Little Stint and European Turtle Dove.
A male Red-spotted Bluethroat was in the lighthouse compound at Butt of Lewis on 7th, where two Rosy Starlings were on the cliffs on 8th. A White-billed Diver loitered off Port Stoth, Lewis, from 6-9th. Glaucous Gulls had a fair June showing across the Uists, with birds at Boisdale, Orosay and Kilaulay, South Uist, and another at Paiblesgarry, North Uist. The local Great Egret moved between waterbodies on North Uist. St Kilda hosted its second (and first since 1993!) Blyth's Reed Warbler on 11th, but there was no sign the following day.
Dan Owen
North-East England
A number of scarcities were discovered in a productive week in Northumberland. A first-summer American Golden Plover was at Cresswell Pond NWT from 12th, a drake Ring-necked Duck at Bothal Pond from 10th, a Woodchat Shrike at Goswick on 7th and a Red-rumped Swallow briefly at Budle Point on 13th. A Rosy Starling was found in Chatton on 11th, while one at Newbiggin-by-the-Sea on 13th was thought to be different to the one there nine days previously.

American Golden Plover, Cresswell Pond NWT, Northumberland (Frank Golding).
Lingering birds included the female Red-necked Phalarope at Grindon Lough, two Ruddy Shelduck at Druridge Pools and the Black Tern at Long Nanny. Wader passage was still in evidence with the Little Stint still at Blyth on 7th, Wood Sandpipers at Druridge Pools and Hedgeley GPs and a Curlew Sandpiper on the Coquet Estuary at Amble. Two Eurasian Spoonbills were seen at Budle Bay on 11th, with another at Cresswell Pond NWT from 8th.

Ring-necked Duck, Bothal Pond, Northumberland (Frank Golding).
In Durham, a Black-throated Diver and a Short-eared Owl were seen passing Whitburn Coastal Park on 7th and 12th respectively. A Western Osprey flew over Houghton-le-Spring on 11th and a Common Quail sang at Penshaw from 10th.
A Woodchat Shrike was found at South Gare, Cleveland, on 10th although, unfortunately, didn't linger. A Rosy Starling frequented Easington on 10th, with another reported from Saltholme RSPB the following day. The Purple Heron remained at Dorman's Pool until 8th, with Eurasian Spoonbills there and at Cowpen Marsh. Two drake Ruddy Shelduck arrived at Saltholme RSPB on 13th.

Rosy Starling, Easington, Cleveland (Andrew Kinghorn).
Jonathan Farooqi
North-West England
Two Rosy Starlings reached Cumbria this week: one at Ravenglass on 8th and another at Baycliff on 10th. Single Eurasian Spoonbills were at Siddick Ponds NR on 10th, at Hodbarrow RSPB on 11th and Haverigg on 13th. The drake Garganey remained on the River Esk at Longtown.
It was quiet in Lancashire, although the Purple Heron was again reported at Leighton Moss RSPB on 12th. An adult Roseate Tern was at Seaforth LWT on 12th, where the Roseate × Common Tern hybrid has been returned for another year.

Rosy Starling, Horwich, Greater Manchester (Mark Woodhead).
In Cheshire, a Hoopoe was reported on a grass verge by M62 Burtonwood Services, although there were no follow-up reports. A first-summer Little Gull was off Hale Lighthouse on 10th.
A Common Crane winged its way north-east over the M62 Birch Services at Heywood, Greater Manchester, on 7th. A Rosy Starling frequenting gardens at Horwich from 10th proved easier for locals to catch up with.
Dan Owen
Lincolnshire and Yorkshire
Two European Bee-eaters were just to the west of Lincoln on 8th, with another at Wolla Bank on 9th. A Rosy Starling was in a Blyton garden on 7th and the Glossy Ibis was again at Alkborough Flats. Two sites hosted Common Quail.
A brief Red-necked Phalarope was at Blacktoft Sands RSPB, East Yorkshire, on 8th, with an Icterine Warbler similarly fleeting at Skerne on 11th. Red-backed Shrikes were at Welwick Saltmarsh and Spurn, with the latter hosting a European Bee-eater on 8th. At least three Rosy Starlings were in the Spurn recording area this week, often spending time in Easington gardens, while others were at Aldbrough, Flamborough Head and Bempton Cliffs RSPB.
Half a dozen North Yorkshire localities hosted singing Common Quail, including 16 in the Lower Derwent Valley. A Black Kite was reported from Wykeham raptor watchpoint on 11-12th, alongside the semi-reliable European Honey Buzzards. Moving inland and just about the only record of note was three Common Scoter at Thrybergh CP, South Yorkshire, on 8th.
Content continues after advertisements
Josh Jones
West Midlands
A Grey Phalarope paused at Westport Lake, Staffordshire, for a quick dip on 8th before continuing north – a quite amazing June record. Three Garganey continued to find the banks of Belvide Reservoir to their liking.
Herefordshire and Worcestershire were quiet, although both supported singing Common Quail, with one reported at the former and two at the latter. Also of interest, a Lesser Emperor was at Ripple GPs, Worcs, on 9th.
As if one Warwickshire Red-backed Shrike wasn't enough, a new bird, a female, was located at Morton Bagot on 9th. Sadly, this bird also proved to be a one-day visitor. A pair of Garganey was at Ladywalk NR on 11th.
Dan Owen
East Midlands
The Welbeck European Honey Buzzards remain a steadfast feature of Nottinghamshire bird news. An adult Glossy Ibis dropped in at Besthorpe NWT on 11th before flying off, not to be reported again. A Kittiwake was at Attenborough NR on 8th, while a Curlew Sandpiper graced Idle Washlands on 8-9th.
The Rosy Starling invasion continued apace this week, with more birds filtering inland. A smart bird at Clifford Hill GPs, Northants, from 12th was one such example. An adult male Golden Oriole added a splash of colour at Glapthorn Cow Pasture on 13th.

Rosy Starling, Clifford Hill GPs, Northamptonshire (Neil Mckillop).
Two Little Terns were at Rutland Water on 10th, with another there on 12th. A male Channel Wagtail was at Stanford Reservoir.
Dan Owen
East of England
A cool nine Norfolk sites scored Rosy Starlings this week – even accounting for duplicates, that's an impressive haul. The only inland bird, though, was one at Watton in the days leading up to 8th; all others were strictly coastal. Other news included a singing Marsh Warbler at Kelling from 9th, the bizarre occurrence of a singing Siberian Chiffchaff at East Hills, Wells, a European Bee-eater over Potter Heigham Marshes on 8th and the female Red-footed Falcon still at nearby Hickling Broad.
In Suffolk, a Marsh Warbler was at Landguard NR on 10th, with a lingering Rosy Starling also there. Another Rosy was in Lowestoft on 10th, while nine European Bee-eaters overflew Carlton Marshes SWT on 13th after three had been seen over Aldeburgh the previous day. The Purple Heron was still at Walberswick on 9th, while the Glossy Ibis was last reported from Lackford Lakes SWT on 8th.
A Common Rosefinch sang at The Naze, Essex, on 13th, with a Hoopoe reported at Frinton-on-Sea on 10th and a Eurasian Stone-curlew over Wivenhoe on 10th. The female Smew was still in the Lee Valley.
Two Common Scoter were at Grafham Water, Cambs, on 13th, with a brief European Bee-eater near Soham on the morning of 12th. At least five Glossy Ibises were still kicking about in the county.
Josh Jones
South-East England
A largely hot and sunny week allowed for a scattering of more overshoot records, with an impressive flock of at least eight – and perhaps as many as 12 – European Bee-eaters at Fishlake Meadows, Hampshire, briefly on 9th. This added to the already continental feel of the site, with the lingering Purple Heron present throughout. Elsewhere in Hants, a Hoopoe was at Chandlers Ford and a European Honey Buzzard flew over Titchfield on 7th. Rosy Starlings were recorded at Ashurst and Martin Down, the latter bird lingering near the car park and proving popular. Less seasonal were the continuing Pale-bellied Brent Geese and Russian White-fronted Goose at Keyhaven Marshes. On the Isle of Wight, the Brading Marshes Purple Heron was still about and a Rosy Starling was at Culver on 7th.

Rosy Starling, Martin Down NNR, Hampshire (Jeremy Mcclements).
The inland counties had a quiet week. The Oxfordshire Glossy Ibis was still at Otmoor and a Ruddy Turnstone was at Sutton Courtenay/Appleford GPs on 9th. In London, two Common Quail were singing at Wanstead on 7th and two Eurasian Spoonbills flew over Dagenham Chase on 13th.
Kent had a decent week and also boasted bumper European Bee-eater flocks: 10 at Dover on 8th and nine in-off at Folkestone on 9th. Presumably all or some of the latter group were seen later that day at South Foreland, with others on 9th at Worth Marsh (four) and Kingsgate (one). Black Kites were recorded at Allhallows-on-Sea on 9th and Dungeness on 7th and the female Red-footed Falcon was back at Worth Marsh on 13th. Other bits at Dunge included Rosy Starlings on 10th and 13th, Golden Oriole on 11th, European Serin on 7th, the lingering Glossy Ibis and a European Honey Buzzard on 12th. Other spots that scored HBs were South Foreland, St Margaret's at Cliffe and Kingsdown. A Marsh Warbler was singing at Reculver on 9th, the female Montagu's Harrier reappeared at Conyer on 11th, a Rosy Starling flew over Oare Marshes on 12th and a Hooded Crow was at Greatstone-on-Sea from 8th.
In Sussex, Rosy Starlings were in private gardens at Rustington and another undisclosed locality (lingering from the previous week). Up to two Roseate Terns were still at Church Norton and Common Quail were at Devil's Dyke and Steep Down.
Ed Stubbs
South-West England
At least four Rosy Starlings were seen on Scilly during the week, with two on St Martin's and at least one apiece for St Mary's and Bryher. Further scarcities came in the form of a Black Kite on St Martin's on 9th and a Sabine's Gull from a pelagic on 10th. A possible Black-crowned Night Heron was seen in flight late on Sunday. The first-summer Iceland Gull remained on St Mary's throughout.
In Cornwall, Rosy Starlings were seen at eight localities, including twos at St Just on 7th, St Buryan on 9th and Lizard on 13th. A Hoopoe remained on the Lizard peninsula and a Golden Oriole was briefly at Lanhydrock on 10th.
Just one Rosy Starling was seen in Devon – in a garden in Chudleigh on 8th. A Black Kite was at Shute on 7th with a Red-backed Shrike at Bolt Head and European Honey Buzzard over Exmouth the following day. Lundy's productive week included a Common Rosefinch trapped and ringed on 10th.

Rosy Starling, Portland, Dorset (John Wall).
In Somerset, a Black Redstart was in Bedminster on 8th and a Western Osprey flew over Ham Wall RSPB the next day.
Highlights on Portland, Dorset, included the Woodchat Shrike lingering until 12th and at least one Rosy Starling, as well as a singing male Common Rosefinch and a Red-breasted Flycatcher, both on 13th. Further Rosy Starlings were seen at five other sites in the county. An adult Roseate Tern put in an appearance on Brownsea Island NT on 9th and a European Honey Buzzard flew over Lytchett Bay on 11th.

Woodchat Shrike, Portland, Dorset (John Wall).
A male Golden Oriole briefly singing in Lower Woods GWT on 12th was the highlight of Gloucestershire's week. Two Eurasian Spoonbills flew over Slimbridge WWT on 7th, with a drake Garganey also there. Singing male Common Quail were heard at Coombe Hill Meadows and Tresham.
A Rosy Starling in Swindon, Wiltshire, on 7th remained the following day. Other notable sightings in the county included a Little Tern at Cotswold Water Park on 10th, with a Ruddy Shelduck still at Langford Lakes the day before. Singing Common Quail were at Everleigh and Horton.

Rosy Starling, Swindon, Wiltshire (Neil Cowley).
Jonathan Farooqi
Wales
Three Roseate Terns were back at Cemlyn Bay, Anglesey, this week, with one displaying to a Common Tern. Meanwhile, two Hooded Crows were at The Range RSPB on 12th. Goldcliff Pools NR, Gwent, hosted a Curlew Sandpiper, drake Garganey and no fewer than three Ruddy Shelduck.
As the latest Rosy Starling influx shifts into top gear, no fewer than nine Welsh sites scored sightings. Three of these were on Anglesey – at Tregele, Cemaes Bay and Valley – while two were on Bardsey Island, Gwynedd. Others were at: Rhyl, Clwyd; Aberystwyth, Ceredigion; Milford Haven, Pembrokeshire; Morfa Nefyn, Gwynedd; and Llanelli, Carmarthen.
In Ceredigion, a singing male Golden Oriole was a smart find at Lledrod on 11th, while White-tailed Eagle sightings remain rare in the country – one over Nantglyn, Clwyd, on 8th was notable. European Bee-eaters were at both Porth Clais and Tenby, Pembrokeshire, at the start of the week.
Ireland
No fewer than 15 sites across Ireland hosted Rosy Starlings this week, amassing two 18 birds and including three in the Carrickfinn area of Co Donegal and two at Castletownbere, Co Cork – the number being seen must be the tip of the iceberg with regard to the true total in Ireland at the moment.
Western Osprey isn't the easiest bird to catch up with in Ireland, so a lingering bird at Broad Lough, Co Wicklow, was understandably popular. Four further counties hosted the species.
Meanwhile, an Avocet at Coornagillagh from 12th was an excellent record for Co Kerry and the wider west coast.
Josh Jones
Western Palearctic
Iceland's fourth Black-and-white Warbler – a delightful male – was singing on the Snæfellsnes peninsula from 10th. The country's second spring record, it closely follows a one-day bird in May 2020. The first Eastern Bonelli's Warbler for the Faroe Islands was at Eiði on 8-9th; the drake American Black Duck continued at Søltuvík.

Black-and-white Warbler, Lágafell, Snæfellsness (Alex Máni Guðríðarson).
In the Channel Islands, a Knepp-released White Stork was mobile around Guernsey from 10th.
Incredibly, the first Brünnich's Guillemot for Italy – and the wider Mediterranean Sea – was photographed from a whale-watching boat 19 km off Genoa on 9th. An albatross species, seemingly an Atlantic Yellow-nosed Albatross, was photographed from a boat off Varazze on 12th – another Italian first if confirmed. A White-rumped Swift was at Orbetello on 9th.
A Caspian Plover was photographed near Gdansk airport, Poland, on 7th. A small boat, named Edda Flora, hosted a tan-morph White-throated Sparrow while off the coast of Norway from 7-9th at least. Meanwhile, the Oriental Pratincole held out at Orrevatnet throughout.

Oriental Pratincole, Orrevatnet, Rogaland (Bjørn Mo).
Two Finnish White's Thrushes – just the seventh and eighth records – were singing at Jakobstad and Suomussalmi on 12th. Pioneers of an impending westward range expansion, perhaps? A Baird's Sandpiper was at Mietoistenlahti, Aarlahti, on 7th. A singing Lanceolated Warbler at Pulsujärvi on 13th was equally surprising, while a Booted Warbler was trapped and ringed at Ottenby.
A Eurasian Crag Martin was a smart find in sea mist over Dishoek, The Netherlands, on 10th, the same date a released immature Bearded Vulture flew south-east over Deleen.
No fewer than 20 Pale Rockfinches, including 10 singing males, were recorded at Teleti, Georgia. Just the third national record, one wonders if that is a rather large underestimate. The young male Walrus relocated to Santander, Spain, on 7th, with a Western Reef Heron at Oliva de Plasencia, Extremadura, from 12th. Israel's seventh Tawny Eagle was at Beit El sewage works from 10th, while Portugal's first Shore Lark was at Gafanha da Boa Hora on 13th.

Booted Warbler, Ottenby, Öland, Sweden (Liam Hammarberg).