The week at a glance
It feels like we're winding down towards Christmas at last, as a steadier week produced little in the way of new birds and a fairly normal volume of news for mid-December. That said, the village of Beeley, Derbyshire, welcomed an impressive number of twitchers to its sleepy environs throughout the week as December's star bird — the Dusky Thrush — continued to show well there throughout.

Dusky Thrush, Beeley, Derbyshire (Photo: Steve Young)
This has been one of those pin-up twitches, exemplary in its execution. A confiding bird, well-mannered crowd, fantastic logistics (the shuttle bus and seemingly endless supply of hot drinks and bacon butties has gone down brilliantly among birders) and curious residents makes this one of those stand-out events that will linger long in the memories of birders and non-birding locals alike. Special thanks must go to the team at Dukes Barn, who have been so accommodating, and finder Rachel Jones — for without her none of all this would have been possible!
One new discovery was a smart male Dark-eyed Junco in a garden at West Mersea, Essex, on 8th. Unfortunately there was no sign of the bird by the time access and viewing arrangements had been released the following day.
With no sign of the Eastern Black Redstart found at Ripple Gravel Pits late last Tuesday, it was perhaps no great surprise when what must be the same bird was reported at Tewkesbury Abbey, Glos, on 11th. Apparently it had been there for four days, so it was no doubt galling for local birders to find it gone early on 12th. Elsewhere the long-stayer remained at Skinningrove, Cleveland, and the Lothian male also lingered at Torness Power Station for another week.

Eastern Black Redstart, Tewkesbury, Gloucestershire (Photo: Chris Teague)

Eastern Black Redstart, Skinningrove, Cleveland (Photo: Keith Dover)
The Masked Wagtail seems well settled at Camrose, Pembrokeshire, and continued to show very well around the village throughout the week. The Isabelline Wheatear was still at Gun Hill, Norfolk, to at least 10th but could not be found on 12th.

Masked Wagtail, Camrose, Pembrokeshire (Photo: Jaz)

Isabelline Wheatear, Burnham Overy, Norfolk (Photo: Max Hellicar)
Surprise news concerned the Red-footed Booby, which is still in care near Hastings. Rumour has it that the bird might be flown to the Cayman Islands, but we should perhaps take this news with a pinch of salt, considering we were hearing back in September that it was to be flown to Florida.
Shorebird highlights included the continuing Killdeer at Sandwick, Shetland, to at least 11th and the Hudsonian Whimbrel at Perranuthnoe, Cornwall, on 10th. The Long-billed Dowitcher was still at Tacumshin, Co Wexford, on 10th, while Dorset's Lesser Yellowlegs prolonged its stay at Lytchett Fields by another week.
The American Coot lingered on at Balranald, North Uist — the chances that it'll still be there come March must be high. Similarly settled is the Hooded Merganser at Kilbirnie Loch, Ayrshire. All but one of the week's six American Wigeon were in Scotland, the exception being the continuing first-winter drake at Exminster Marshes, Devon. Twelve Green-winged Teal included two drakes at Lurgan Green, Co Louth, on 11th and one again at Belvide Reservoir, Staffs, the same day, as well as the long-staying ringed drake on the Hayle Estuary, Cornwall.
An equal ratio of male:female Ring-necked Ducks is unusual in Britain and Ireland, yet four of this week's nine were of the fairer sex. Females were at two sites in Co Kerry as well as again in Staffordshire (at Tittesworth Reservoir on 12th) and still in Cambridgeshire. A drake Lesser Scaup at Lough Gara, Co Sligo, on 11th could feasibly be a bird from past winters, while the Orkney male was again at Loch of Boardhouse this week. Also in Orkney, three drake Surf Scoters were in Bay of Kirkwall, while two were off Castlegregory, Co Kerry, on 8th and singles were in Fife, Lothian, Conwy and Devon. Drake King Eiders were off two sites in Co Sligo on 11th.

Ring-necked Duck, Tuosist, Kerry (Photo: Fionn Moore)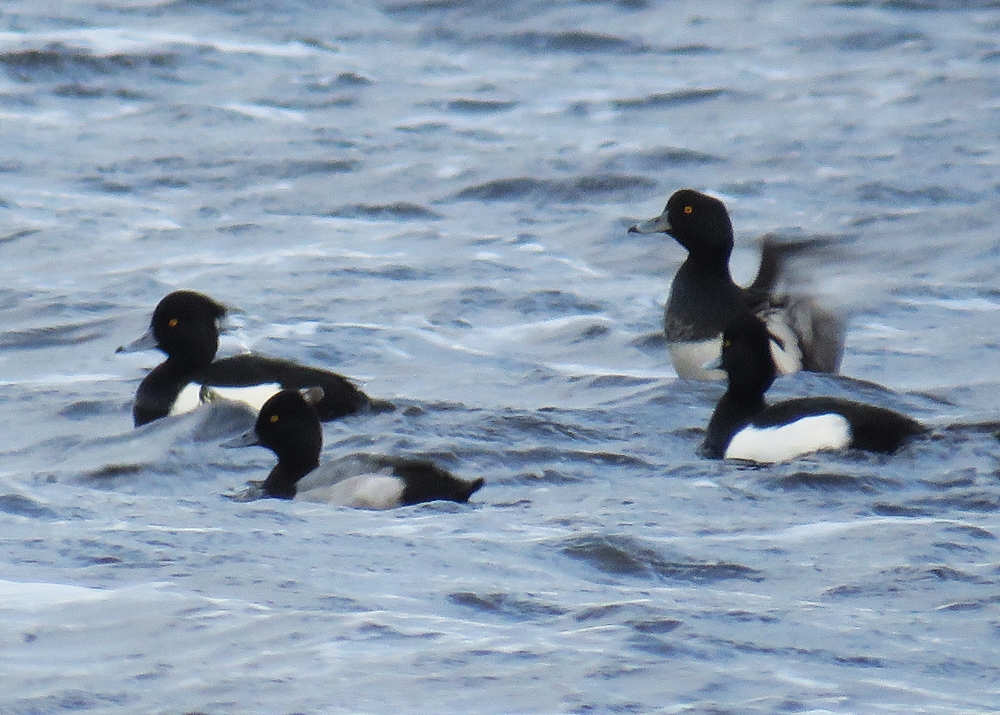 Lesser Scaup, Loch of Boardhouse, Mainland, Orkney (Photo: Alastair Forsyth)
Two Todd's Canada Geese and the Richardson's Cackling Goose were still at Lissadell, Co Sligo. The three Snow Geese continued to roost at Loch of Skene, Aberdeenshire, to 9th. Black Brants were in Essex, Norfolk and Dorset (2).

Snow Goose, Loch of Skene, Aberdeenshire (Photo: Hugh Addlesee)
The juvenile Pallid Harrier continued at Welwick Saltmarsh, E Yorks, all week, while there was an intriguing report of a possible juvenile Northern Harrier at Point of Ayre, Orkney, on 11th. A female Snowy Owl was near Spiddal, Co Galway, for its second day on 11th; this area has previously hosted this species and one wonders how many go unseen across the sparsely watched moors of western Ireland. Rough-legged Buzzards were reported from three sites in Norfolk.

Pallid Harrier, Welwick Saltmarsh YWT, East Yorkshire (Photo: Martin Standley)
A slight increase in Cattle Egrets saw birds recorded at 22 sites. One at Teigngrace, Devon, quickly increased to seven by 9th, while other significant counts included up to six at Tacumshin, Co Wexford, and numerous twos and threes. Just the four Glossy Ibises were noted, with birds in Devon, Essex, Cambridgeshire and Leicestershire.

Cattle Egret, Wheatfen Broad, Norfolk (Photo: Jake Gearty)
A new Forster's Tern was discovered at Courtmacsherry, Co Cork, on 8th but quickly flew off. Elsewhere the Galway Bay bird was logged at Aughinish Island, Co Clare, on 11th. Ring-billed Gulls have been scarce so far this winter so the continued presence of up to two adults at Blashford Lakes, Hants, was significant; long-stayers included the second-winters at Enniskillen, Co Fermanagh, and Ennis, Co Clare, plus an adult at Nimmo's Pier, Co Galway. A new adult was at Timoleague, Co Cork, on 12th. Almost all of the 20 Glaucous Gulls seen this week were juveniles; Iceland Gulls barely made it into double figures.
A Hume's Leaf Warbler was at Scratby, Norfolk, from 7–10th, while up to two Dusky Warblers continued at Ripple Gravel Pits, Worcs. Yellow-browed Warblers were at 16 sites.
The Desert Wheatear was last seen at Norman's Bay, E Sussex, on 9th, while the Devon bird continued at Thurlestone all week and was trapped and ringed on 12th. Crawley's Rose-coloured Starling continued to show well to at least 11th, and the only Richard's Pipit on show was the usual bird on Sheppey, Kent. Great Grey Shrike numbers were low, with just a dozen reported. A Little Bunting was trapped at Guist Common, Norfolk, on 8th.

Desert Wheatear, Norman's Bay, East Sussex (Photo: Jamie Partridge)

Rose-coloured Starling, Crawley, West Sussex (Photo: Sandra Palme)
The number of Waxwing sightings continued to decrease, with fewer than 200 reports this week. An impressive 550 were at Inverness, Highland, on 7th and 250 were counted in Perth and Nethy Bridge. Further south, c.220 were at Penrith, Cumbria, on 11th. A reduction in Shore Lark numbers at John Muir Country Park, Lothian, saw just 17 reported there, though the Holkham Gap flock increased again to 45 on 10th.
Western Palearctic news
The Stejneger's Scoter continued off Alicante early in the week, while an Allen's Gallinule was bizarrely discovered at Palma Airport, Mallorca, on 6th and released there, seemingly in decent condition, shortly afterwards. Meanwhile, news from Cape Verde concerned up to 11 Red-footed Boobies seen on Raso in November. A juvenile Magnificent Frigatebird was also seen there — presumably a wanderer from the West Atlantic rather than a locally bred bird.

Stejneger's Scoter, Spain (Photo: Rafael Armada)
The long-staying Siberian Accentor continued at Hirtshals, Denmark, and another was discovered in Skåne, Sweden, on 7th. Also in Skåne, the Red-necked Stint spent another week at Vejbystrand. A Black-throated Thrush was in Helsinki, Finland, on 11th. Pine Buntings were seen in the Netherlands and Northern Italy (2). Finally, the long-staying Bateleur was again seen on Israel's Judean Plains at Timorim on 12th, and the country's fifth Taiga Bean Goose was at Agamon Hula on 8th.
Content continues after advertisements