Autumn appears to have arrived early this year, if the week's weather is anything to go by. In stormy conditions more akin to mid-September than the first half of August, a major transatlantic weather system delivered a respectable flush of Nearctic shorebirds to the western half of Britain and Ireland.
But, in a strange twist of fate (and a fat slice of déjà vu), it was an ultra-rare swift at Hornsea Mere which proved the stand-out bird of the week. Less than 10 months on from hosting Britain's first White-rumped Swift – itself a one-afternoon wonder – the famous East Yorkshire waterbody got in on the act again with a white-rumped apodid overhead for a few hours on the morning of Saturday 10th.
Lightning didn't strike twice, although few could complain at the outcome: after 30 or so minutes, the bird was confirmed as a Pacific Swift, but disappeared from the skies there during the early afternoon. This was not before a large crowd had seen it, with many of those among the ranks enjoying a special 'bonus bird', having twitched the Little Bustard near Methley that morning and fortunately therefore being within striking range to make it to Hornsea and see it, despite the relatively brief show.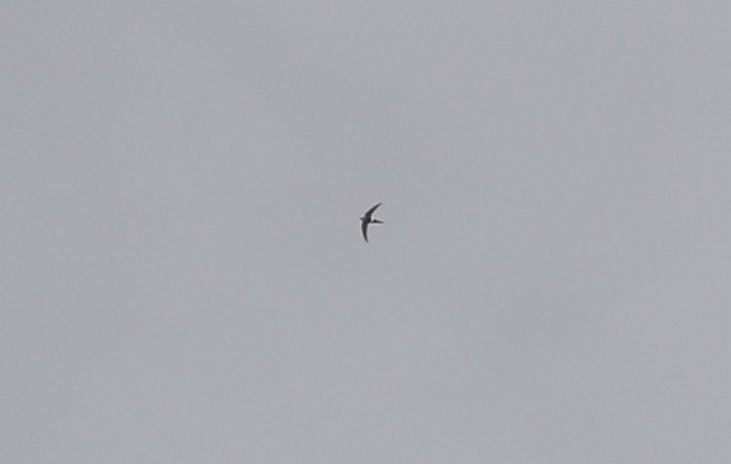 Pacific Swift, Hornsea Mere, East Yorkshire (Will Scott).
Of course, as soon as the Pacific pushed off from Hornsea, all eyes turned to Spurn, much like they did last October when the White-rumped left. And, duly, the bird was seen over Easington village late that evening, although unfortunately didn't linger. Nonetheless, that's now five Pacific Swifts in the Spurn area, all of which have been since 2005 …
It's worth mentioning that the Little Bustard appears to have 'done one'. A near-permanent fixture in its favoured field at Mickletown, West Yorkshire, until late on Sunday evening, it had seemingly moved on by Monday morning. One wonders if it ultimately became fodder for the same Peregrine Falcon that unsuccessfully attacked it on Thursday morning … but, equally, it'd be no great surprise if it's relocated in a nearby field in the coming days.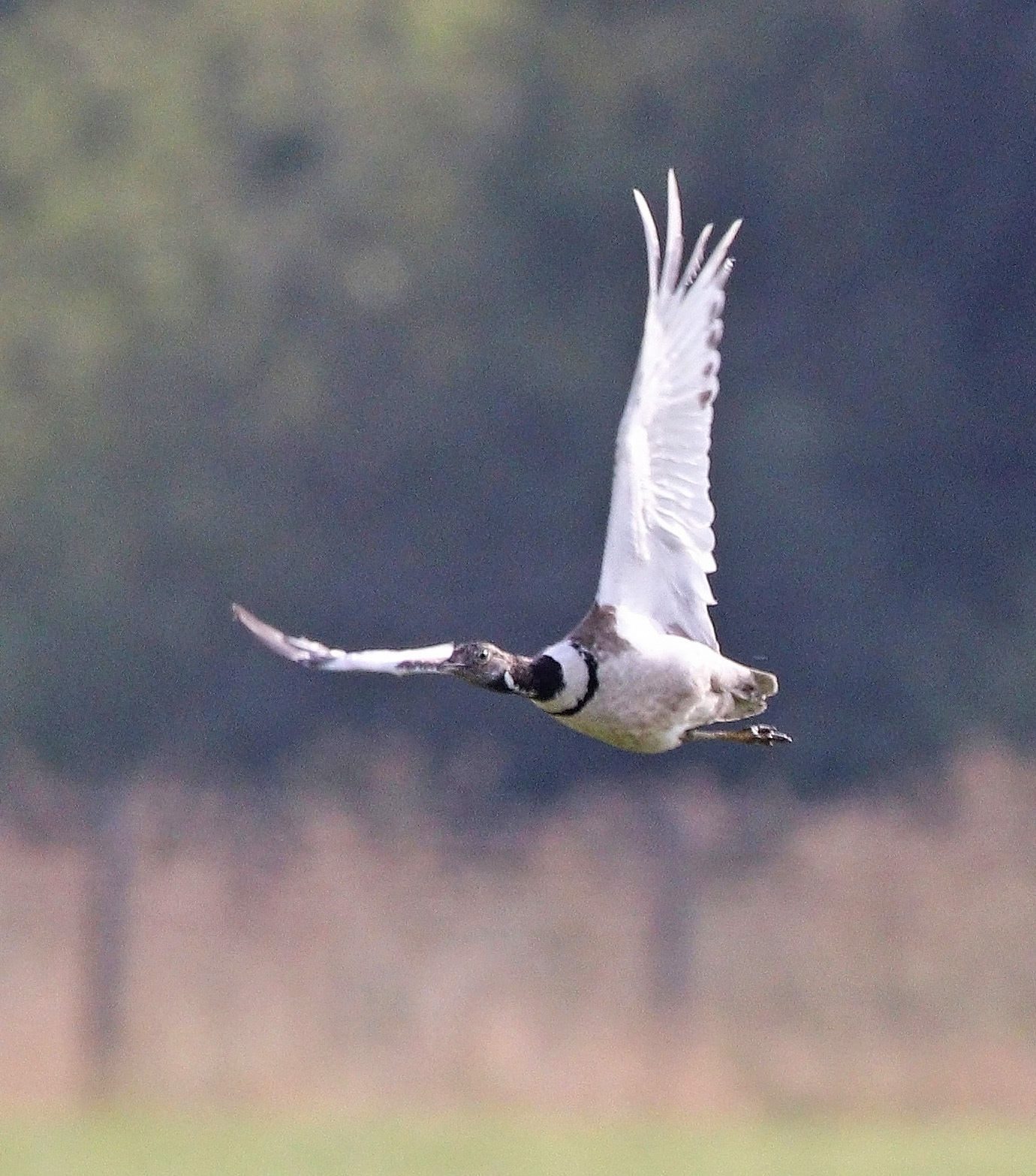 Little Bustard, Mickletown, West Yorkshire (John Derick Elvidge).
Moving to the aforementioned shorebirds and the clear highlight was a Stilt Sandpiper on Rathlin Island, Co Antrim, on the evening of 11th. This was a true storm-blown vagrant, arriving in the wake of the weekend's foul conditions and feeding along an unsuspecting patch of rocky shoreline – of which there must be hundreds of miles of similar habitat across Ireland. Needless to say, it had gone by the following morning.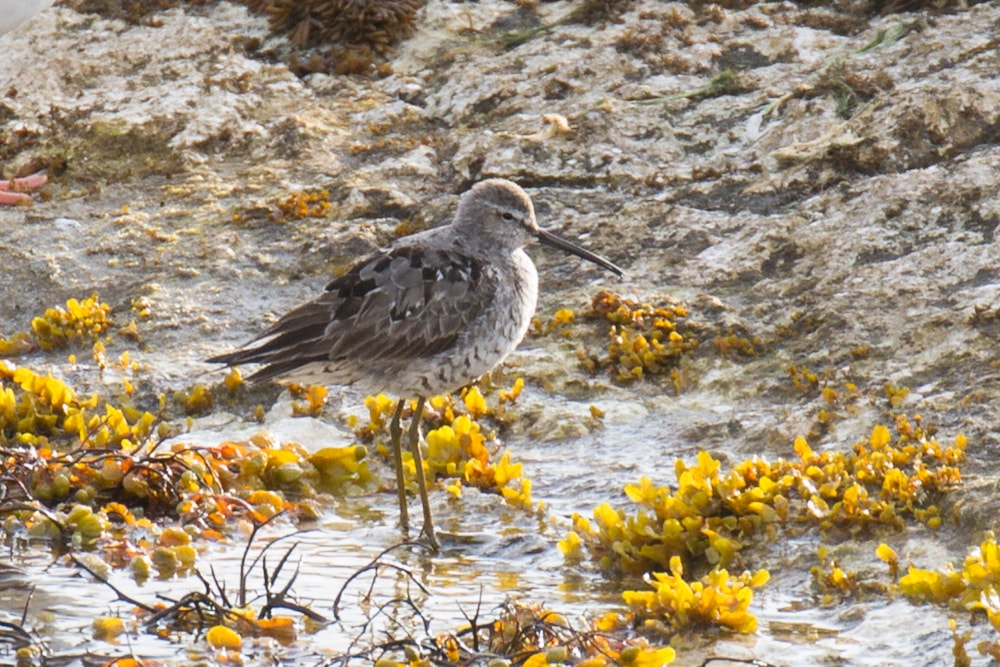 Stilt Sandpiper, Rathlin Island, Antrim (Ric Else).
Other new arrivals included a Long-billed Dowitcher at Tacumshin, Co Wexford, on 8th moved to nearby Lady's Island Lake on 11th, while others remained in Lincolnshire and Co Antrim. Singles of Buff-breasted and White-rumped Sandpiper followed at Tacumshin on 9th, with another Buff-breast at Low Newton-by-the-Sea, Northumberland, on 10th. An American Golden Plover dropped in at Derrybeg, Co Donegal, on 11th, with another adult doing the same briefly at Keyhaven Marshes, Hants, on 13th.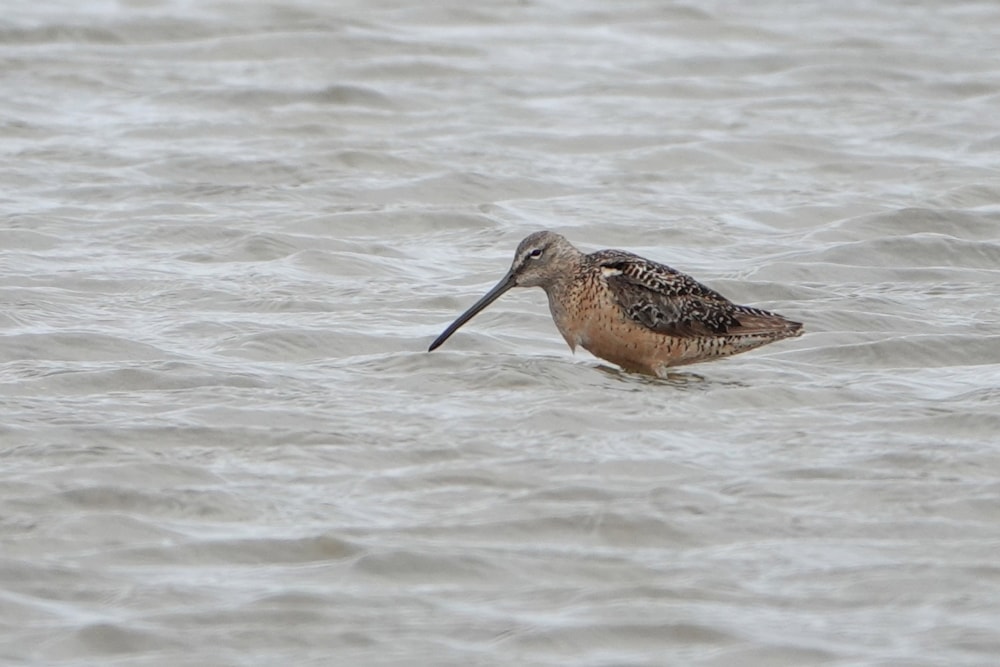 Long-billed Dowitcher, Tacumshin, Wexford (Tom Shevlin).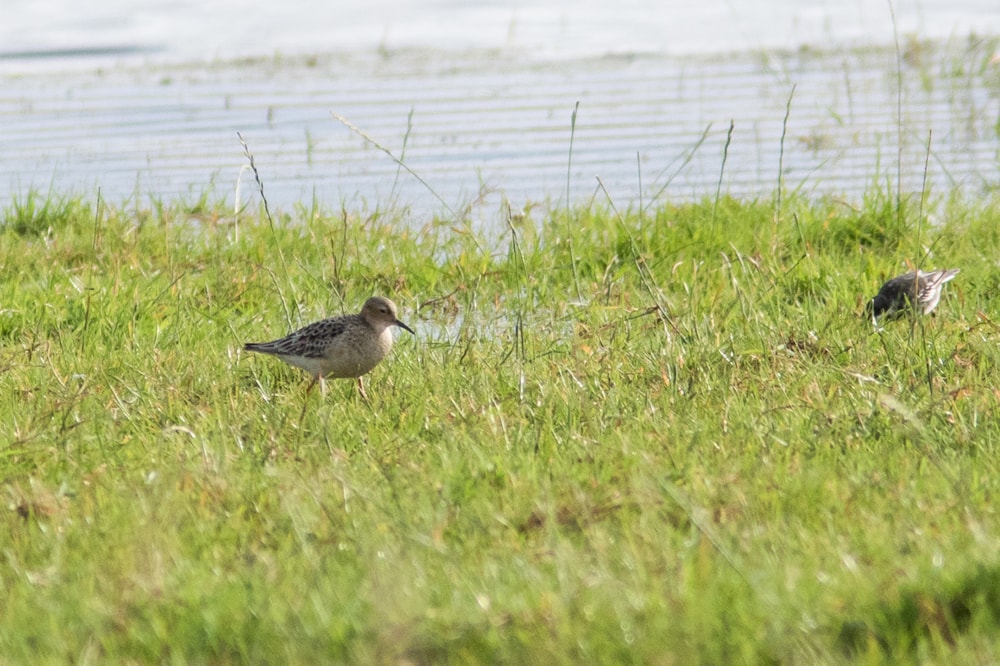 Buff-breasted Sandpiper, Low Newton-by-the-Sea, Northumberland (Gary Woodburn).
A Lesser Yellowlegs remained in residence at Kinsale Marsh, Co Cork. At least nine White-rumped Sandpipers were seen across Britain and Ireland, yet – curiously – not a single Pectoral Sandpiper was noted. An adult Red-necked Phalarope made a stopover at the unusual location of Coquet Island, Northumberland, on 11th, while an adult Grey Phalarope – still retaining a few rusty remnants of its summer finery – was at Ferrybridge, Dorset, from 11th, but was seemingly taken by a Common Kestrel on 13th.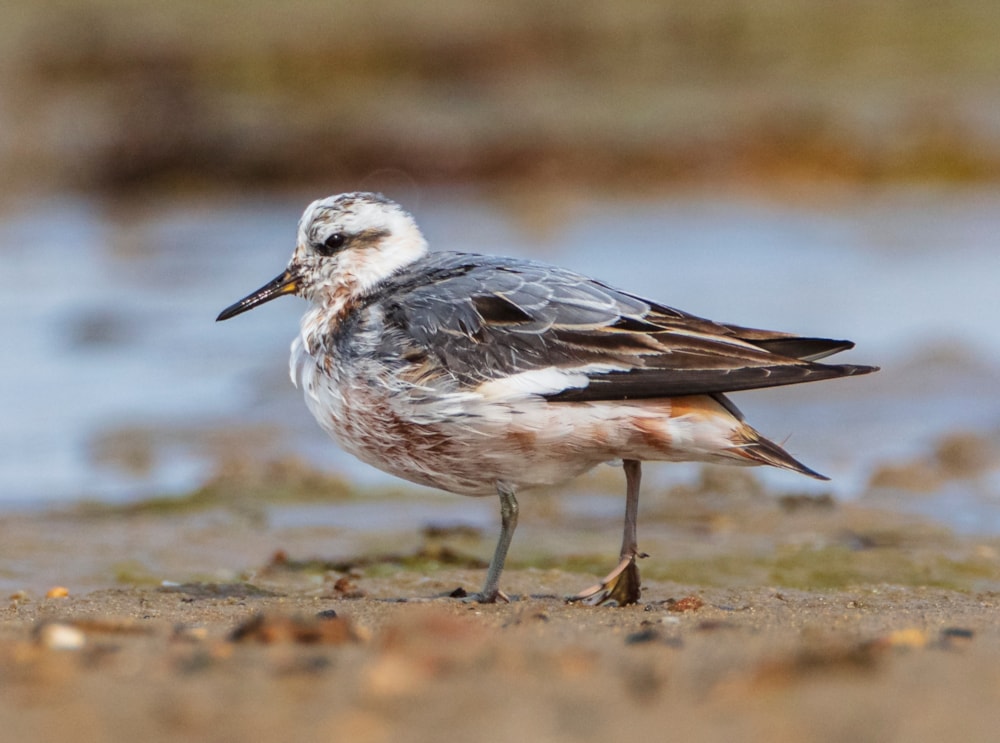 Grey Phalarope, Ferrybridge, Dorset (John Wall).
With the easterly airflow re-establishing itself out of Scandinavia and birds still moving in their numbers right along the west coast of Norway, it was no great surprise to see the Two-barred Crossbill irruption recommence with renewed vigour this week. It goes without saying, though, that all but one were in Shetland – the exception being a brief female on Tiree, Argyll, on 10th. At least six different individuals were on Fair Isle during the week, but the biggest flock was actually on the outskirts of Lerwick, where up to nine were seen. Other sightings included seven at Stromfirth and six at Catfirth on 12th, a male at Hoswick on 8th, two juveniles at Scatness on 11th and single juveniles at Sand and Houbie, Fetlar, also on 11th.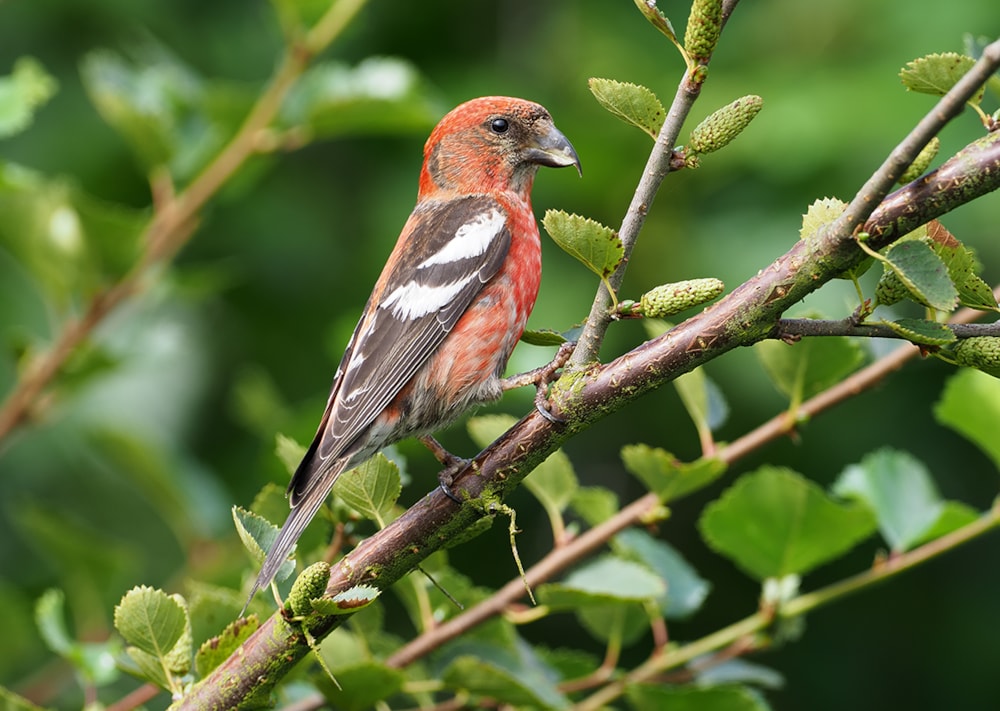 Two-barred Crossbill, Lerwick, Mainland, Shetland (Paul Sclater).
Despite a promising forecast and lofty predictions, seawatching generally proved a bit underwhelming throughout the weekend, although the reported albatross sp past Cape Cornwall on 10th was not to be sniffed at. Otherwise, land-based observations of Wilson's Storm Petrels were the highlight, with one past Bridges of Ross, Co Clare, and two past Kerry Head, Co Kerry, on 10th. Twos were also seen from Scilly pelagics on 11th and 13th, with one from a Co Cork pelagic on the latter date. Unfortunately, though, it seems to be a very poor year for both large shearwater species, with just the lightest smattering of birds seen both from land and at sea. European Storm Petrels were nonetheless seen right up the Severn Estuary and there was an early juvenile Sabine's Gull past Severn Beach on 10th; others passed Pendeen, Cornwall, and, more unusually, Canvey Point, Essex.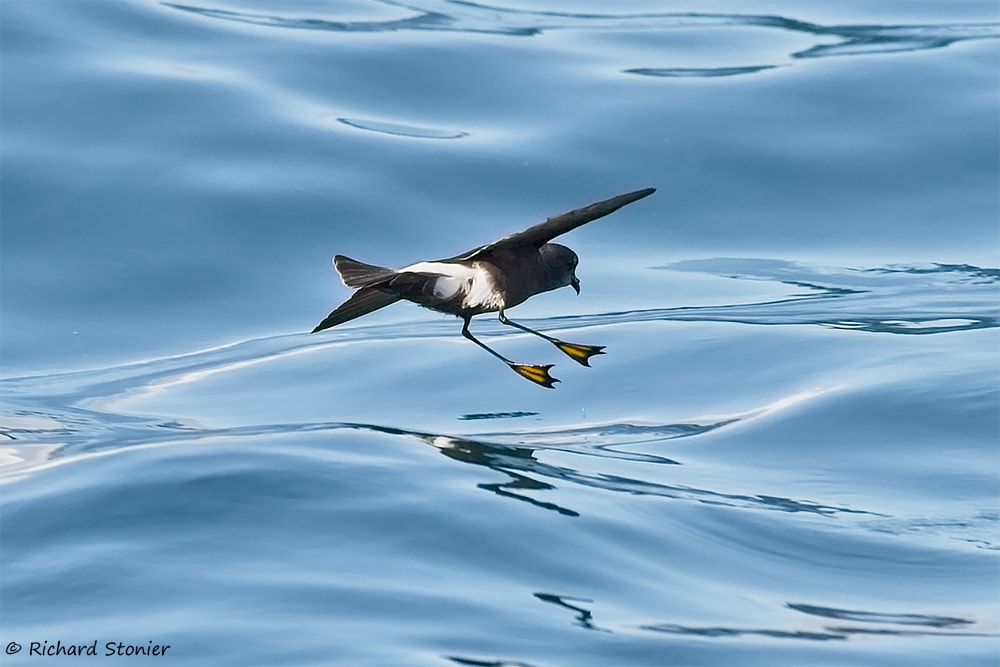 Wilson's Storm Petrel, Scilly pelagic, Isles of Scilly (Richard Stonier).
Last week's Gull-billed Tern was still at Sandbach Flashes, Cheshire, on 7th, but proved mobile. What looks a convincing Baltic Gull candidate was at a recycling centre in Barnsley, South Yorkshire, on 10-11th, with candidate adults reported from Cambridgeshire and Nottinghamshire. The adult Bonaparte's Gull remained at Oare Marshes, Kent, throughout the week, while another was found at Clahane Strand, Co Clare, on 10th. A Ring-billed Gull was seen at Blennerville, Co Kerry, on 11th.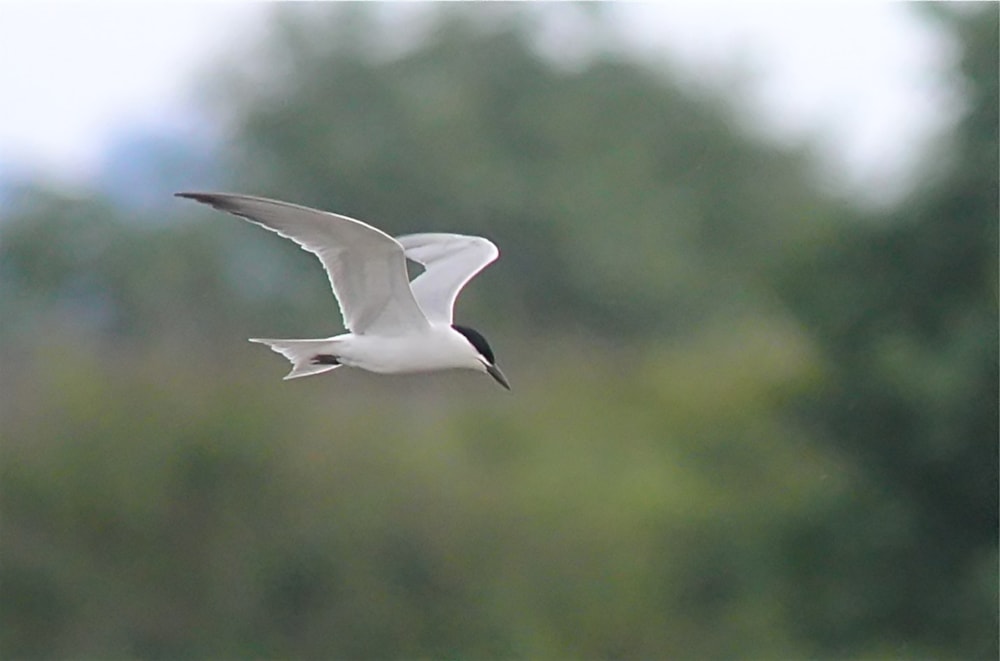 Gull-billed Tern, Sandbach, Cheshire (Steve Nuttall).
Caspian Gull numbers continued to rise as a good crop of juveniles was uncovered at typical sites in south-eastern and eastern areas – significant counts included six at Shawell, Leics, and eight at Livermere Lake, Suffolk, on 10th.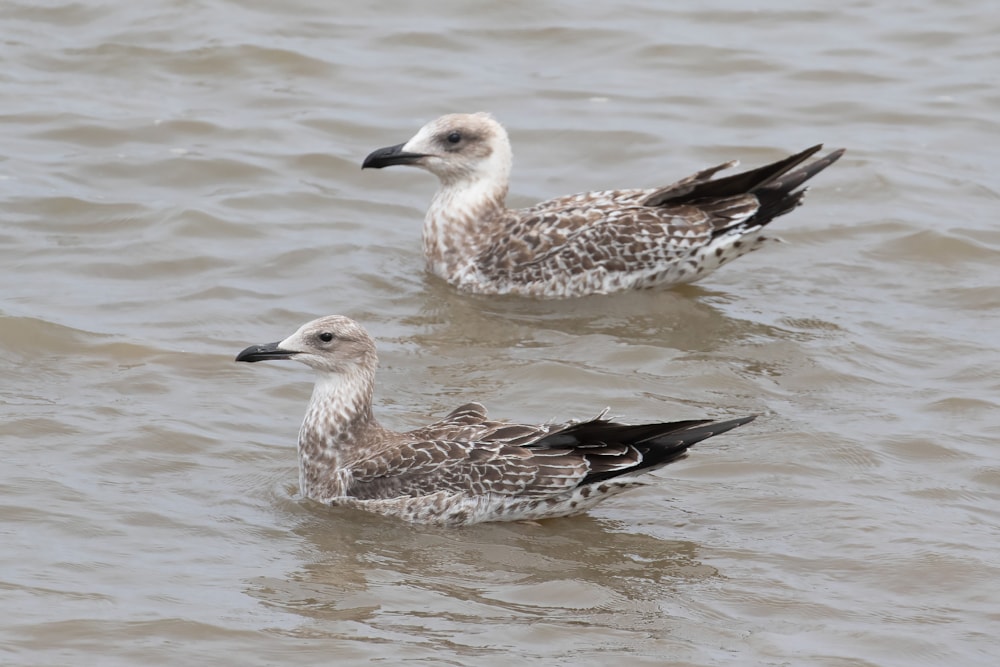 Caspian Gull (front) and Yellow-legged Gulls, Erith, London (Josh Jones).
Both the Blue-winged Teal in Clyde and the American Black Duck in Highland lingered on, as did the Ring-necked Duck at Abberton Reservoir, Essex. Two drake Surf Scoter were off Lunan Bay, Angus, on 12th, with one still off Musselburgh, Lothian, on 10th. The escaped female Bufflehead surfaced again for the first time in a few weeks, this time at St Aidan's RSPB, West Yorkshire, having last been seen at Rutland Water in July.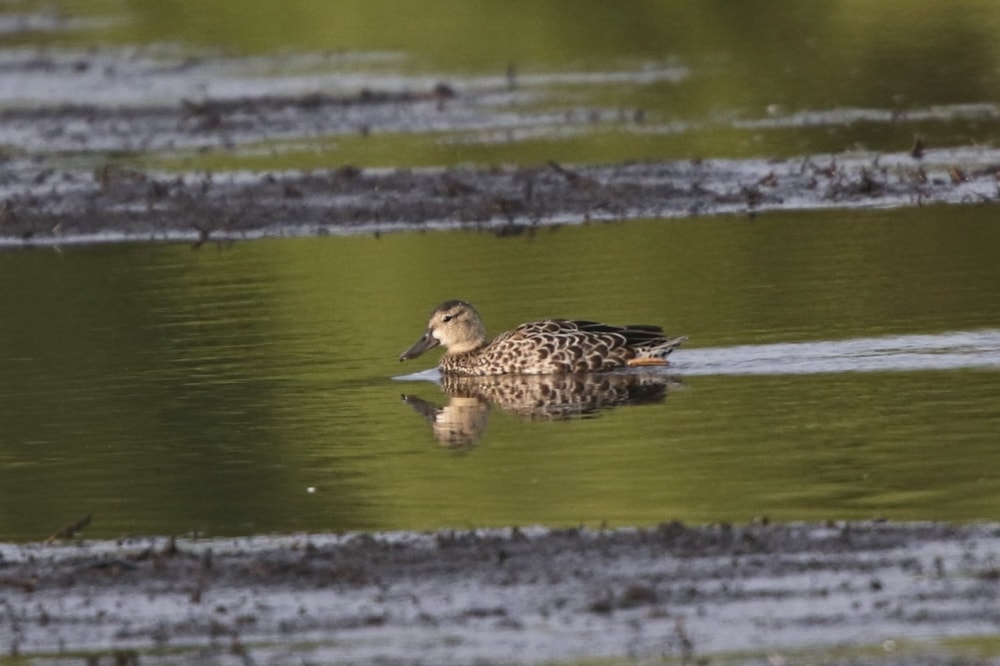 Blue-winged Teal, Frankfield Loch, Clyde (Richard Bonser).
The showy Squacco Heron lingered near Pagham Harbour, West Sussex, throughout. The week's only Purple Heron was a juvenile at Upton Marshes, Norfolk, on the morning of 8th. Devon and Gwent held on to long-staying Glossy Ibises, while one flew over Buckden, Cambs, on 8th and five passed south over Ness Point, Suffolk, on 12th.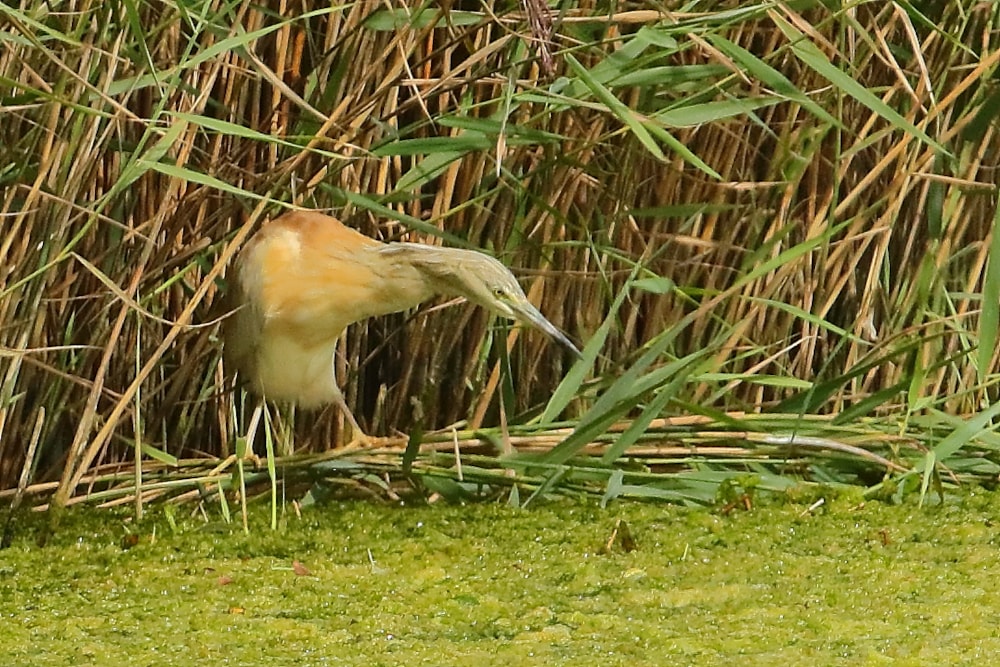 Squacco Heron, Pagham Harbour LNR, West Sussex (Mike Trew).
A Great Reed Warbler was trapped and ringed at Rerwick, Shetland, on 10th, but passerine migration was otherwise a little sluggish. Kilnsea, East Yorkshire, hosted an Icterine Warbler on 7th to go alongside its continuing family of Marsh Warblers. Another Marsh was trapped and ringed at Woolston Eyes, Cheshire, on 8th, with a candidate also in Northamptonshire at Clifford Hill GPs on 11th.
A Grey-headed Wagtail visited North Ronaldsay, Orkney, on 12th, where the Shore Lark also remained. A flyover European Serin was noted at the typical location of Landguard, Suffolk, on 13th, while a brief European Bee-eater visited Brading Marshes, IOW, on 8th.
Finally, the Snowy Owl continued at Ronas Hill, Shetland, but could be elusive, while Nottinghamshire's Welbeck raptor watchpoint continued to be a reliable bastion for European Honey Buzzard sightings.
Western Palearctic
Aside the ongoing Two-barred Crossbill invasion, it was actually a fairly quiet week around the region, but a potential first for Israel (and third for the WP) concerned a White-throated Bee-eater at Eilat on 13th. Meanwhile, the Red-footed Booby was still in Andalucia, Spain, on 12th, with the Cadiz area also producing one or two records of Elegant Tern as birds from the breeding 'colony' near Valencia disperse.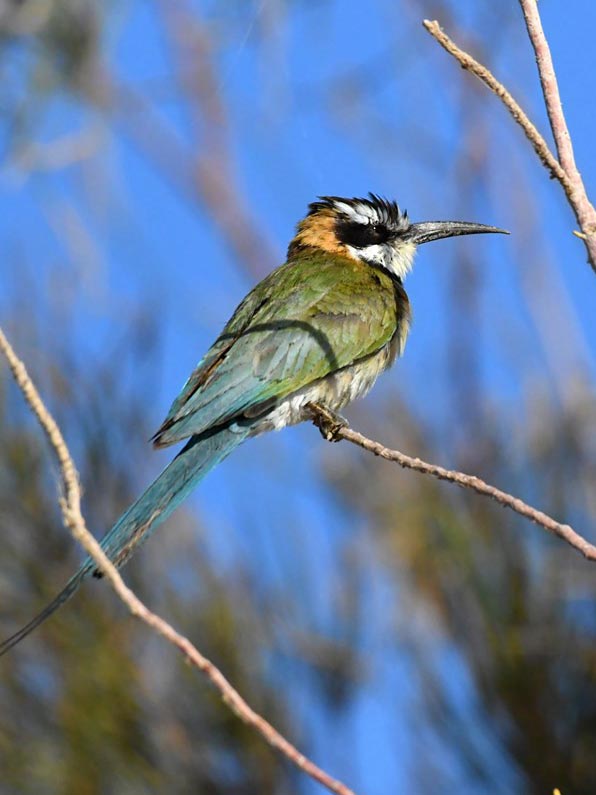 White-throated Bee-eater, Eilat, Israel (Sara Deutch).
It was no great surprise to see a few more waders turning up in the Azores, with both Hudsonian Whimbrel and Semipalmated Sandpiper visiting the quarry at Cabo da Praia, Terceira, and the first juvenile Nearctic wader of the autumn at Lagoa Azul, São Miguel, on 9th – unsurprisingly, a Spotted Sandpiper.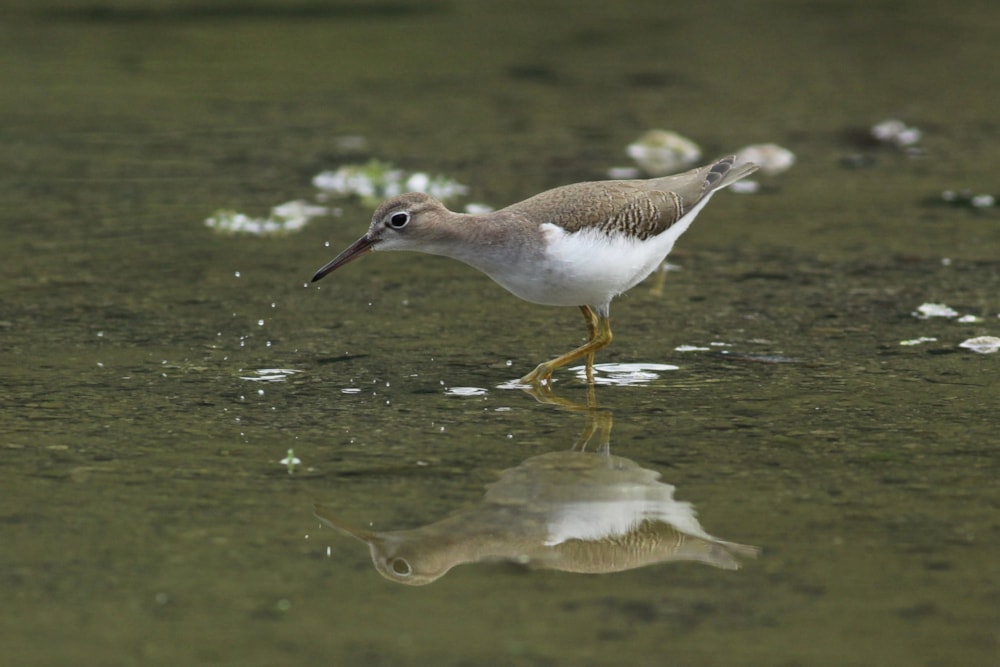 Spotted Sandpiper, Lagoa Azul, São Miguel (Gerbrand Michielsen).
To Two-barred Crossbills, then, and there were clearly plenty still moving right along the west Norwegian coast – mainly small groups of up to a handful, but occasionally some larger, like the 25 at Hopen, Møre og Romsdal. Birds now appear to be widespread across Iceland, with a record from the north coast at Husavík and a flock of up to seven reaching Reykjavík, in the south-west of the country – next stop North America? Also in Iceland, both the continuing Pacific Golden and a new American Golden Plover were seen side by side at Garður.