This week's most popular attraction, East Sussex's adult White-throated Sparrow, was reported again at Barcombe Cross from 8th, after its initial discovery nearby on 3 February. A common breeder of northern forests of eastern and central North America, the species typically winters in woodlots across the southern half of eastern North America, with smaller numbers on the Pacific coast. The second record of the year, another spent a few short days near Orlestone, Kent, in January.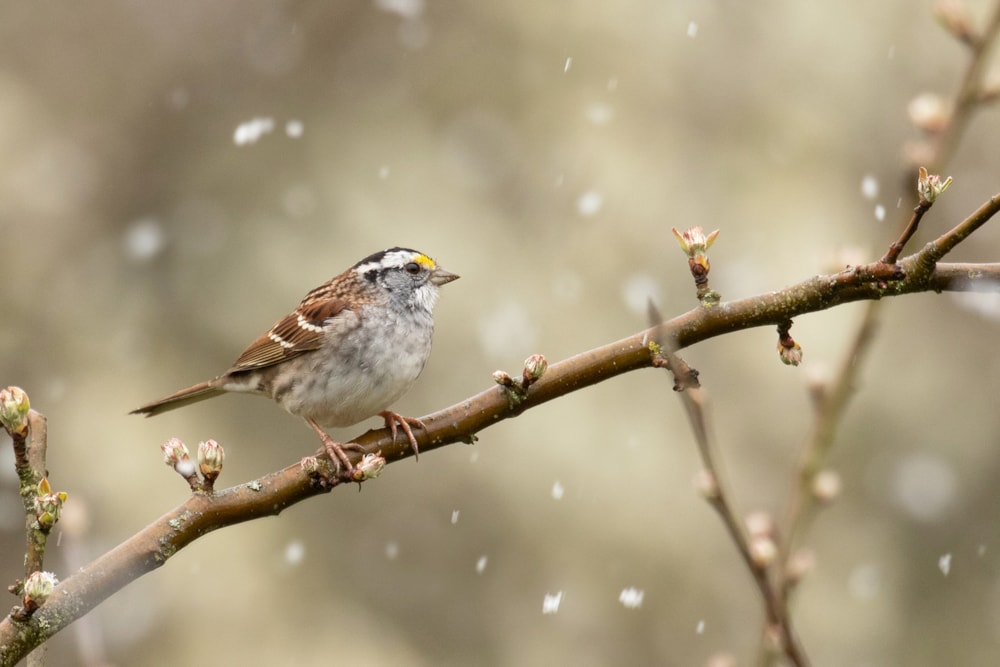 White-throated Sparrow, Barcombe, East Sussex (Alex Perry).
In what will do down as one as the most outrageous refinds ever, Devon's Northern Mockingbird relocated to Pulborough, West Sussex, overnight on 8th, after last being reported at Exmouth at 12.30 pm the previous day – an easterly movement of some 207 km. Amazingly, it spent some time in birthday boy, Matt Phelps's, garden, before another overnight bunk.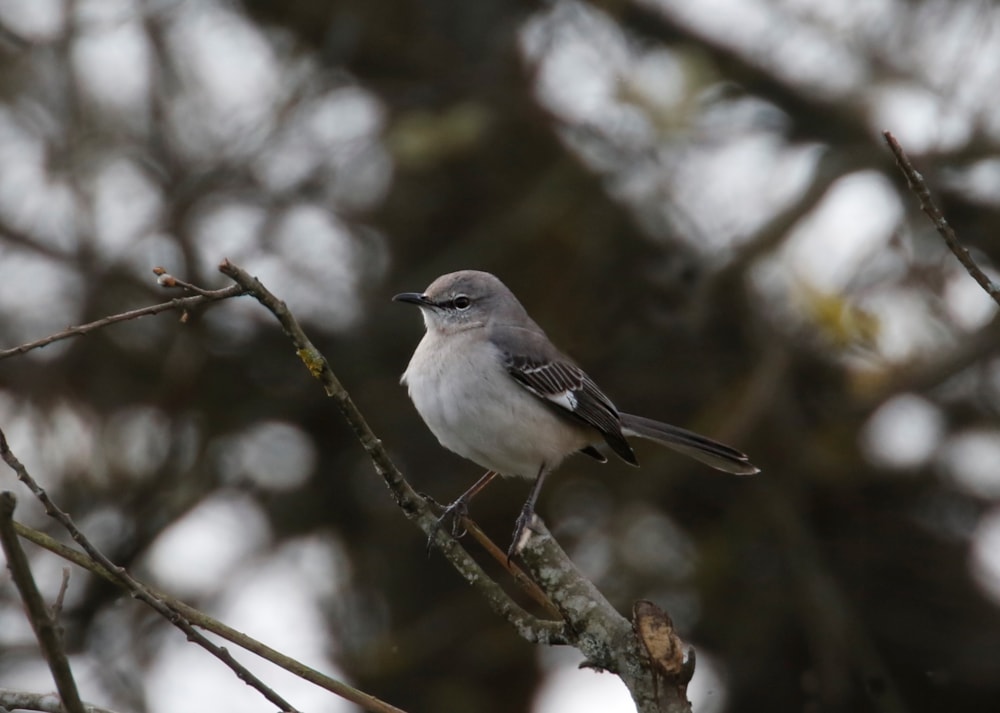 Northern Mockingbird, Pulborough, West Sussex (Matt Eade).
While noc-mig in Britain continues to grow ever more popular, belated news of a Great Spotted Cuckoo sound recorded over Stroud, Gloucestershire, on 31 March was a great surprise nevertheless. Although the strong southerly winds that night made such an arrival a distinct possibility, a Gloucestershire garden wasn't the location you'd have expected for such an occurrence, and it is the first time this species has been nocturnally sound recorded in Britain.

Bufflehead, Nohoval Pond, Cork (Norma Gleeson).
South-West Ireland's tantalising trio remained in situ: Co Kerry's Double-crested Cormorant lingered at Carrig Island and the Bufflehead continued at Nohoval Pond, Co Cork, while the Belted Kingfisher remained on the outskirts of Castletown Bearhaven, Co Cork.
I like Cork! pic.twitter.com/zTprgN5cn5

— BirderPaul (@PaulBirder) April 12, 2021
A Brünnich's Guillemot was an excellent seawatch find off North Ronaldsay, Orkney, on 9th, having first possibly been seen two days earlier. Bonaparte's Gulls were at both Radipole Lake RSPB, Dorset, and Frampton-on-Severn, Gloucestershire.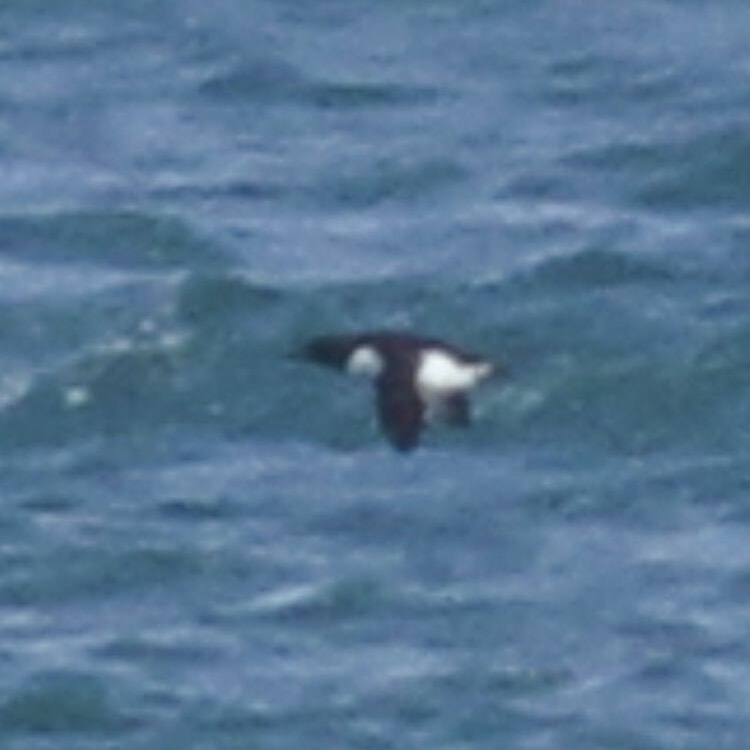 Brünnich's Guillemot, North Ronaldsay, Orkney (Dante Shepherd).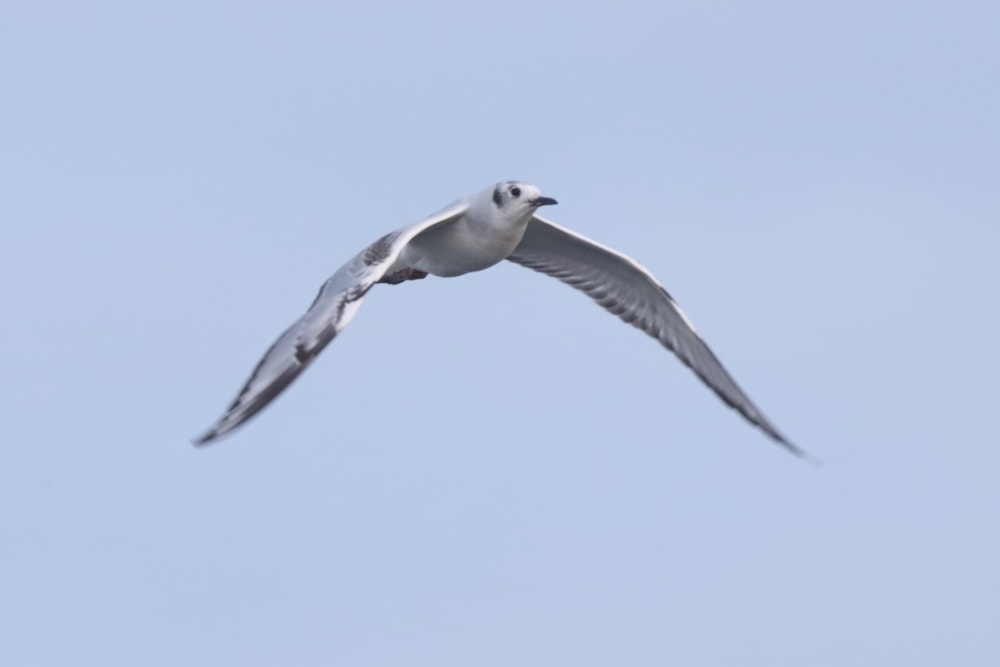 Bonaparte's Gull, Frampton-on-Severn, Gloucestershire (Andrew Jordan).
Nottinghamshire's second-ever Two-barred Crossbill and the first since the 19th century was a sterling find at Thoresby pit top, Edwinstowe, from 8th. A late first-winter Hornemann's Arctic Redpoll was in Shetland at Mulla, Mainland, on 11-12th.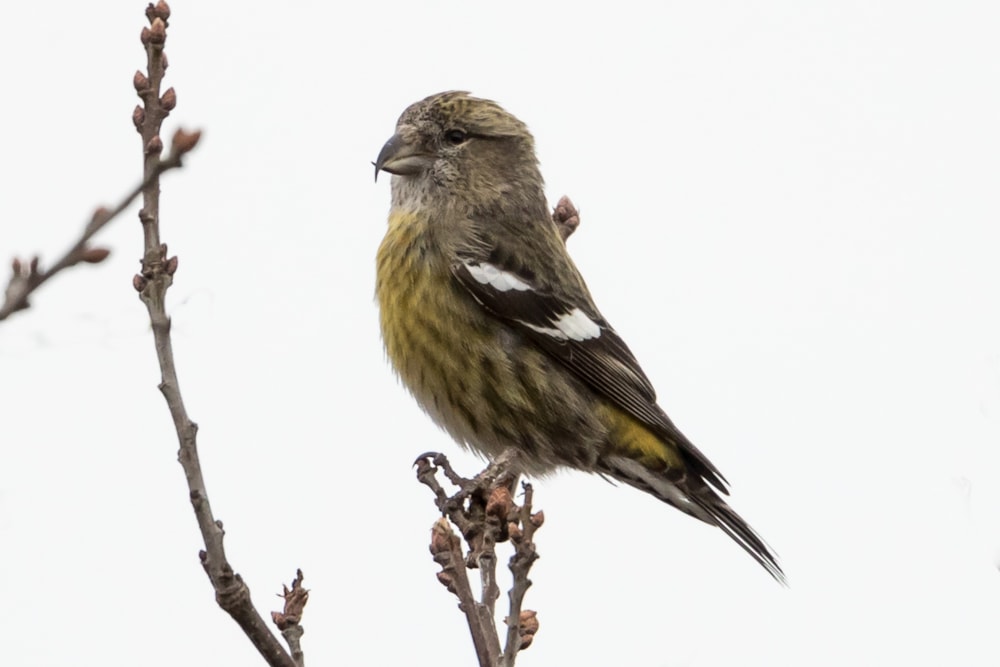 Two-barred Crossbill, Edwinstowe, Nottinghamshire (Ian Bollen).
In Cornwall, Kynance Cove's Western Subalpine Warbler was last reported on 8th, while the young American Herring Gull remained at Newlyn throughout.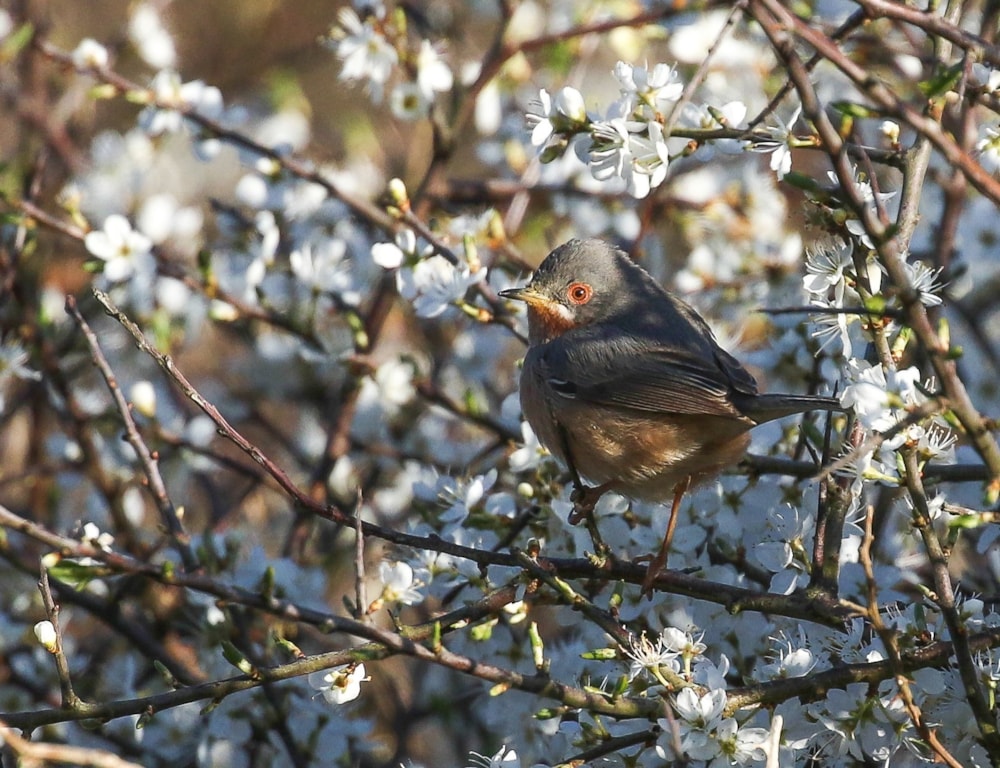 Western Subalpine Warbler, Kynance Cove, Cornwall (Alan Lewis).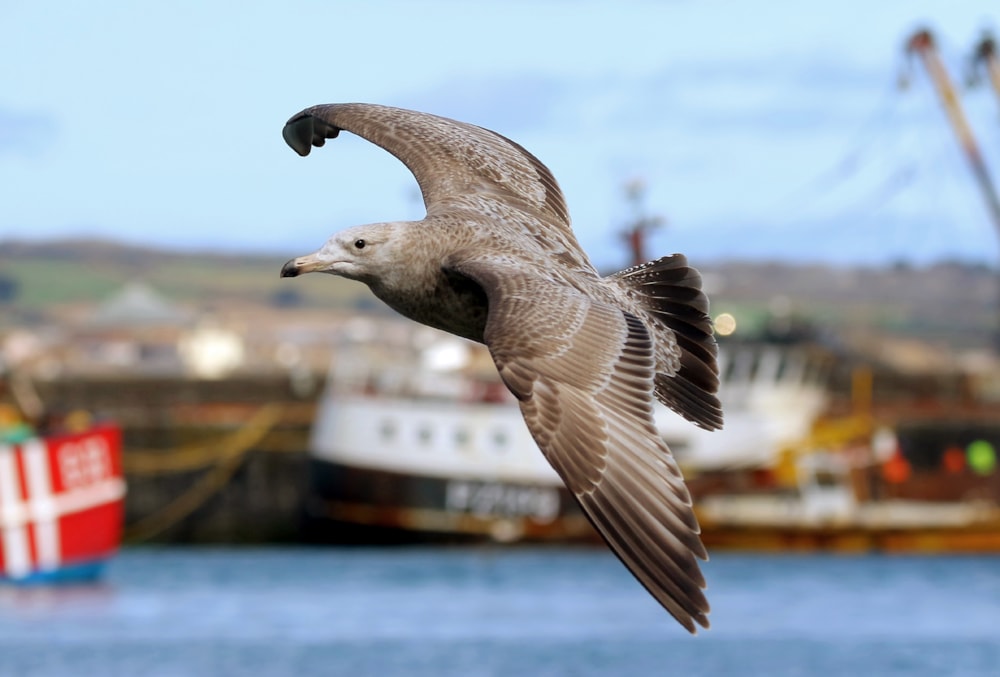 American Herring Gull, Newlyn, Cornwall (Jaz Hughes).
In Kent, a wide-ranging sub-adult male Pallid Harrier was reported from Reculver, Graveney and Seasalter from 8-12th; a possible male flew south-west near Warnham, West Sussex, on 8th
North Yorkshire's Long-billed Dowitcher made an appearance at Bolton-on-Swale Lake YWT on 7th; another was still at Tacumshin, Co Wexford. A Kentish Plover was on The Lizard, Cornwall, on 11th, while the moulting Spotted Sandpiper at Croy, Ayrshire, remained all week.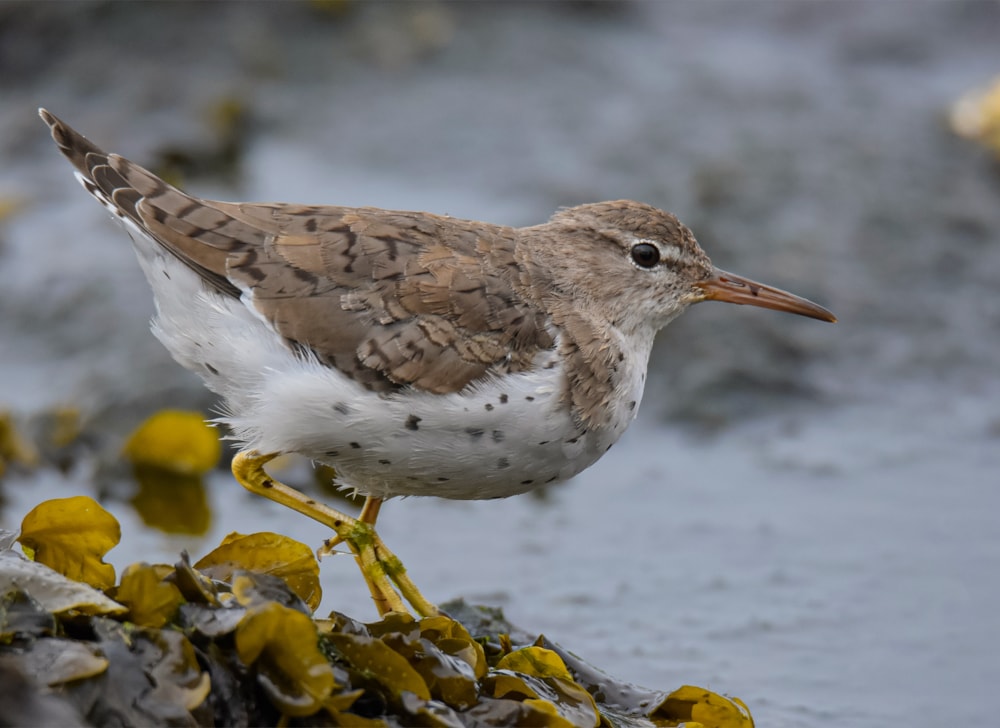 Spotted Sandpiper, Croy, Ayrshire (Patrick Brückner).
Two 'queen' King Eiders continued off St John's Point, Co Donegal, as did the two Hebridean Richardson's Cackling Geese at Balranald, North Uist. In Argyll, the Pied-billed Grebe was still at Loch Feorlin on 11th, while Lothian's White-winged Scoter remained off the Musselburgh sea wall. East Yorkshire's suspect Hooded Merganser was last reported from Hornsea Mere on 11th.
In Wales, Tenby's Walrus reappeared on the lifeboat slip on 9th where he remained to the week's end, to the delight of any would-be twitchers from England once the border reopened on 12th.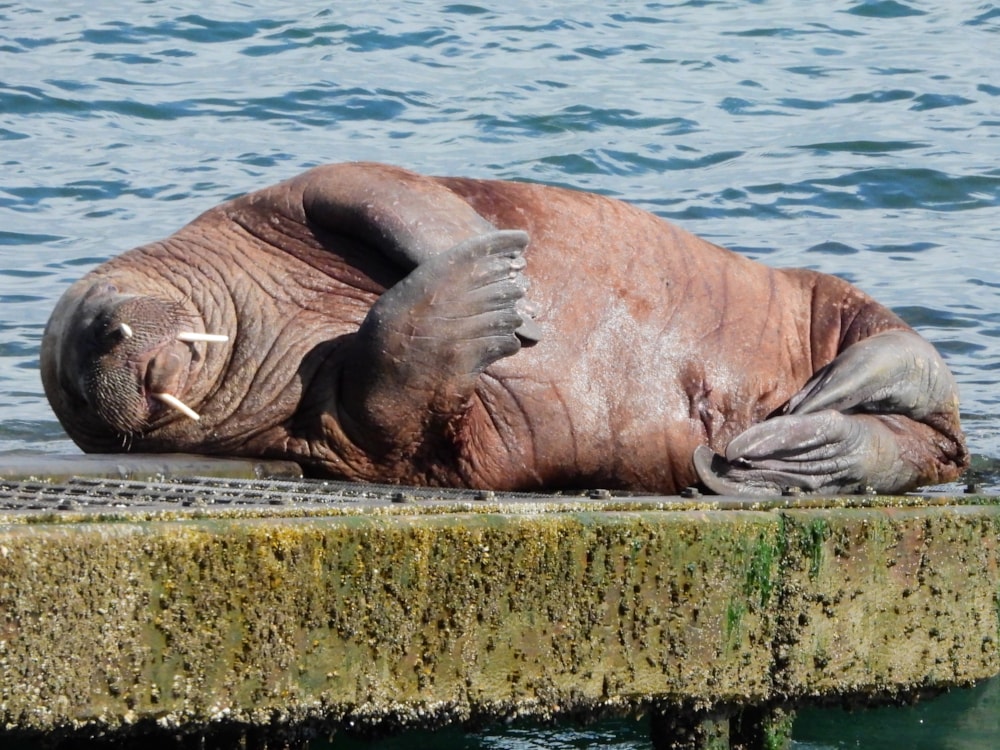 Walrus, Tenby, Pembrokeshire (Roger Hammond).
Scottish mainland
With northerlies and snow in the week, it will be unsurprising to learn that wintering species were the main cast. Single White-billed Divers were noted off Portsoy, Aberdeenshire, and moving past Lossiemouth, Moray & Nairn, on 11th. A drake Green-winged Teal was new at Blairbowie, Ayrshire, from 7th and a generous smattering of at least five Ring-necked Duck remained, including a new drake at Rhynd Lochs, Perthshire. A further three continued at Loch Bhasapol, Tiree.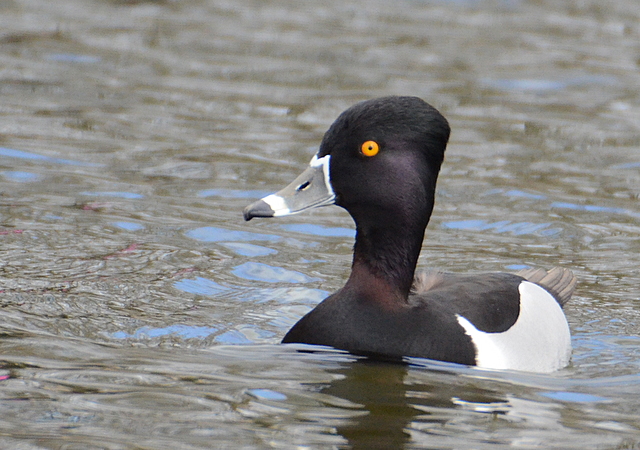 Ring-necked Duck, Glasgow, Clyde (Joe Graham).
Surf Scoter also numbered five: four in the favoured Musselburgh, Lothian, area, and another off Rattray Head, Aberdeenshire. Four redhead Smew included a new individual at Loch of Skene, Aberdeenshire.
Both of Lothian's recent Ring-billed Gulls were noted again, with the adult in the Seton Sands roost on 8th and the second-winter noted at both Cockmuir Bridge and Penicuik. A spring Sabine's Gull was a smart departure from the winter theme at Lossiemouth on 7th. Up to 12 mainland Iceland Gulls and six Glaucous Gulls were also reported and the first-winter Caspian Gull remained in Lothian.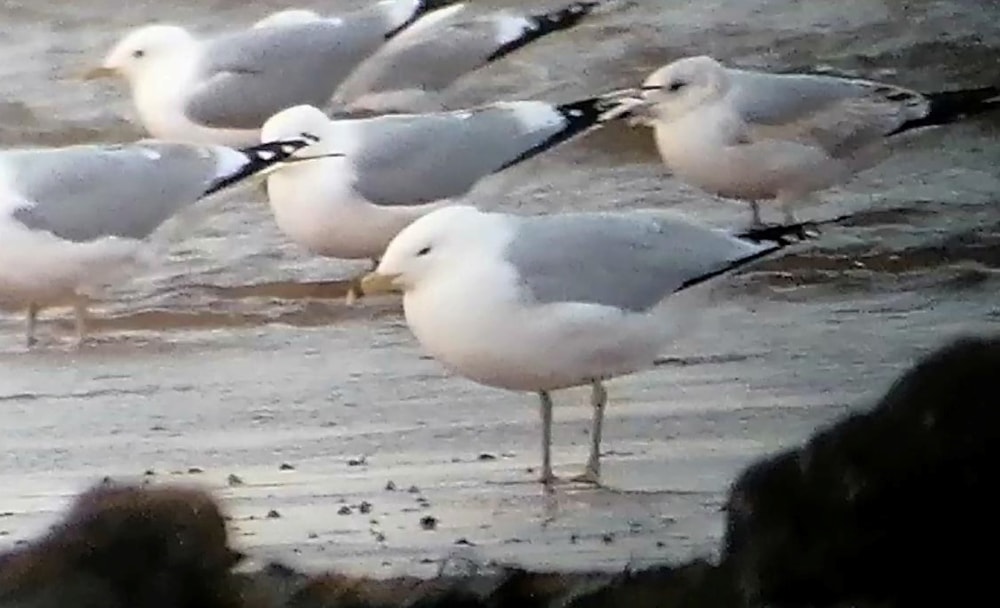 Ring-billed Gull, Seton Sands, Lothian (Stephen Welch).
Rough-legged Buzzards have been few and far between anywhere this winter, so an individual at Kincraig, Highland, on 9th was of interest. Great Grey Shrikes too have been thin on the ground; one at Hill of Fare, Aberdeenshire, on 13th is only the third in Scotland since the turn of the year.
Tarbat Ness provided a temporary refuelling point for a respectable 14 Lapland Buntings in the week, a decent count on the east side of the mainland. A male Ring Ouzel at Mull of Oa was the best Islay action.
Northern Isles and the Hebrides
An Orcadian Taiga Bean Goose was a smart find at Evie, Mainland, at the week's end, while an immature White-tailed Eagle flew over Birsay Moors on 12th. Another carolinensis was at Inganess Bay, Mainland, on 7th. North Ronaldsay hosted three White-billed Divers, three Greenland White-fronted Geese and the reliable Green-winged Teal, with an early Sooty Shearwater past on 9th.
Wildfowl dominated the action on Shetland: a Northern Eider was at Tresta, Mainland, and the drake American Wigeon was still at Loch of Spiggie, while White-billed Divers were off South Nesting Bay, Mainland, and Mousa. Fair Isle's Tundra Bean Goose continued.
In the Outer Hebrides, the year's first Corncrake was at Frobost, South Uist, on 7th, while an adult white morph Snow Goose was new to Point, Lewis. A Todd's Canada Goose was at Balranald, North Uist, on 12th, alongside no fewer than 27 Lapland Buntings. One drake Green-winged Teal held out at Aird Mhor, Barra, and four sites held Glaucous Gulls, with Icelands at three.
North-East England
Cold conditions continued to block any significant arrivals across the North-East, making for a relatively quiet spell. In Northumberland, the Todd's Canada Goose was still in the Cresswell area on 7th but may have departed as the week ended when a probable was seen moving north at Budle Bay. Big Waters NR has had a good run this winter and that continued with a probable second-winter Kumlien's Gull on 13th. At least three Iceland Gulls lingered, with an adult and juvenile at Big Waters NR and the second-winter commuting between Gosforth Park NR and North Shields. Belated news emerged of a singing Siberian Chiffchaff at Colt Crag Reservoir on 9th. The Hemscott Hill Shore Lark remained – though well camouflaged – and was joined briefly by a single Lapland Bunting.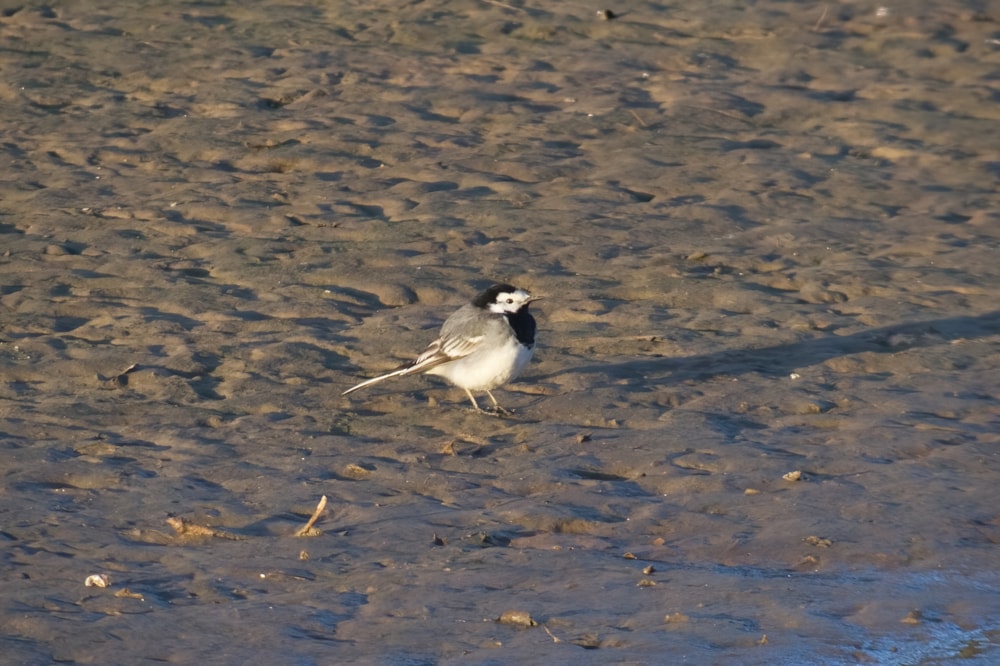 White Wagtail, Castle Island, Northumberland (Jonathan Farooqi).
Durham's Hamsterley Forest hosted a Rough-legged Buzzard on 8th and an immature White-tailed Eagle the following day. An adult Iceland Gull was a regular visitor to Lamesley Water Meadows and a juvenile was noted around Whitburn on 7-8th. A Glaucous Gull was also in the Whitburn area on 10th.
Little change was a feature of the week in Cleveland too. Both American ducks – American Wigeon and Green-winged Teal – extended their stay in the Saltholme/Port Clarence area. The female Garganey continued to hang out at Holme Fleet, as did Greatham Creek's Spotted Redshank. Three Ring Ouzels at South Gare on 10th reminded everyone spring was just a change in the wind direction away.
North-West England
A Green-winged Teal paid a brief visit to Cumbria this week, with a drake at Ulpha Meadows CWT on 7th. Meanwhile, the first Little Tern was welcomed back to Hodbarrow RSPB on 9th. Moving to Lancashire and despite the often-grim weather, Ainsdale's Dusky Warbler was busy serenading observers. A Pied Flycatcher was back near Wray from 12th, while the coast was enjoying a glut of White Wagtails, with 20 on Crossen's Inner Marsh, Marshside RSPB, and 37 on Birkdale Beach on 11th.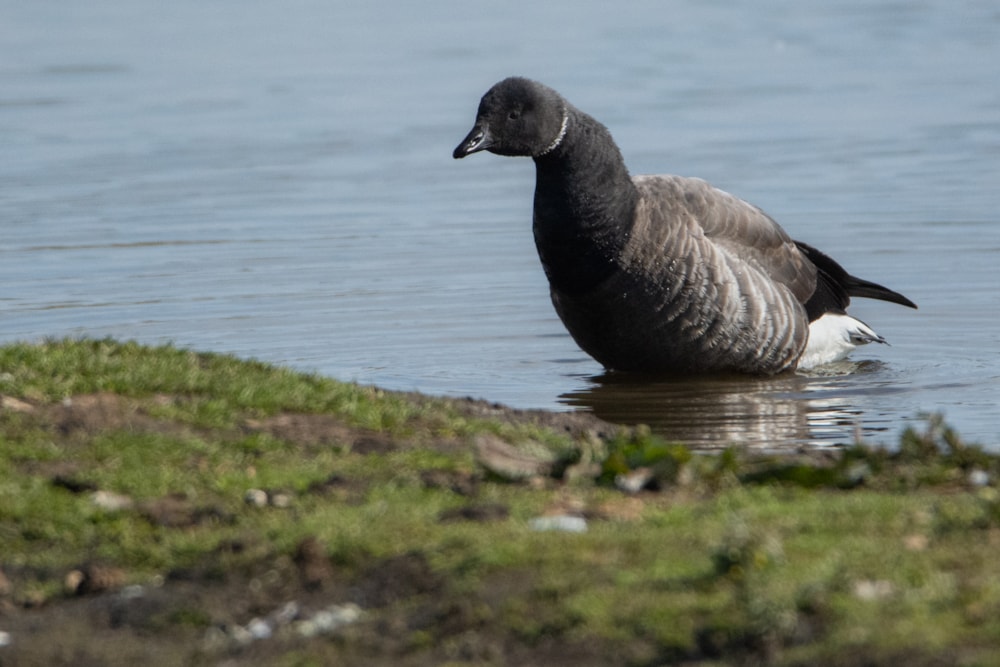 Dark-bellied Brent Goose, Woolston Eyes NR (PERMIT ONLY), Cheshire (Dan Owen).
A Richard's Pipit was photographed at Wardle Industrial Estate near Haughton, Cheshire, on 7th but sadly proved all too brief. A drake Ring-necked Duck kept a similar pace at Newchurch Common and was only present on the 12th. A Little Tern leaving the Mersey Estuary past Hale on 9th was a decent early sighting. Woolston Eyes NR struck gold with a Kittiwake on 9th and a Dark-bellied Brent Goose on 13th, the reserve's first for 28 years.
The snow showers at Audenshaw Reservoirs, Greater Manchester, saw an estimated 300 Meadow Pipits drop onto its banks, bringing with them a smart Lapland Bunting. However, once the weather cleared so did the bird and it wasn't seen into the afternoon. A first-winter Kittiwake was showing well at Broad Ees Dole NR on 12th.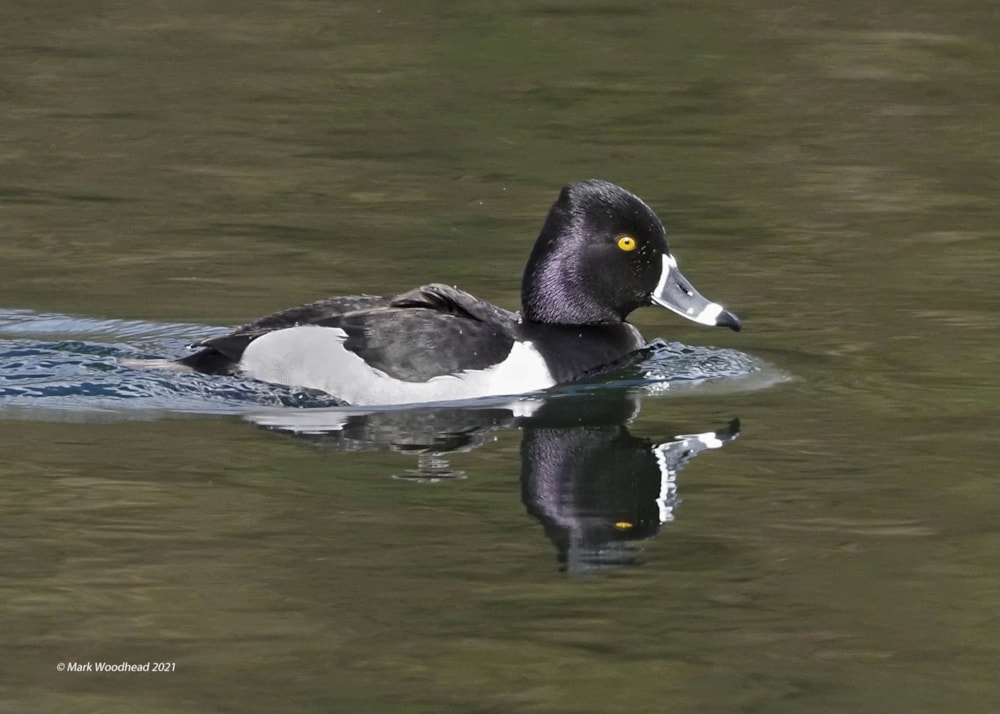 Ring-necked Duck, Newchurch Common, Cheshire (Mark Woodhead).
Lincolnshire and Yorkshire
A quiet seven days in Lincolnshire produced a singing male Siberian Chiffchaff at Saltfleetby St Peter on 9th, the same day that a Red-necked Grebe visited Covenham Reservoir. The Ring-necked Duck was also still near Langtoft. A handful of sites produced Ring Ouzels, but migrants were otherwise very limited.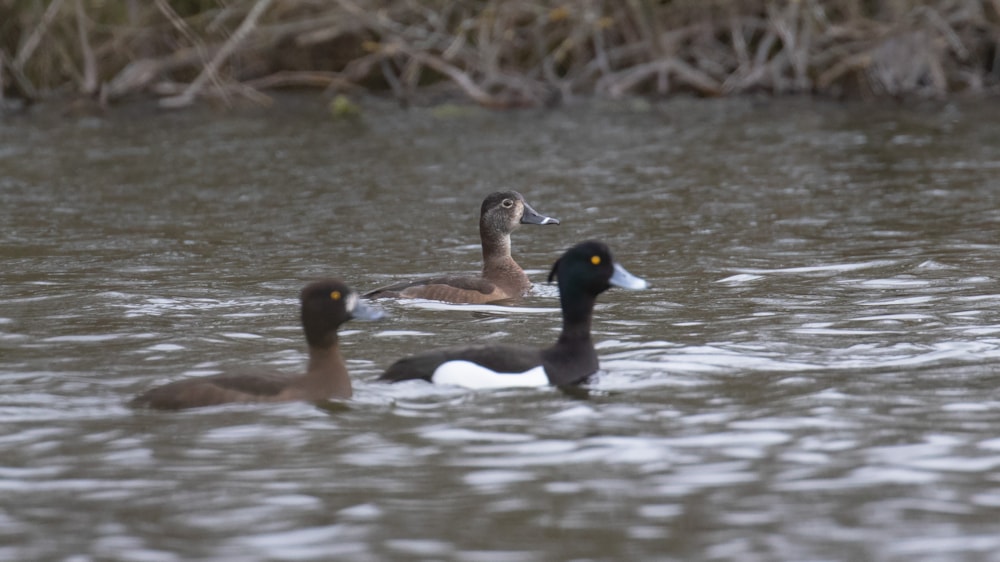 Ring-necked Duck, Langtoft, Lincolnshire (Josh Jones).
A group of five White Storks, seen in several counties this week, made it as far north as Aston, South Yorkshire, on 11th. The Green-winged Teal hung on at North Cave Wetlands, East Yorkshire, and a Slavonian Grebe visited Southfield Reservoir on 13th.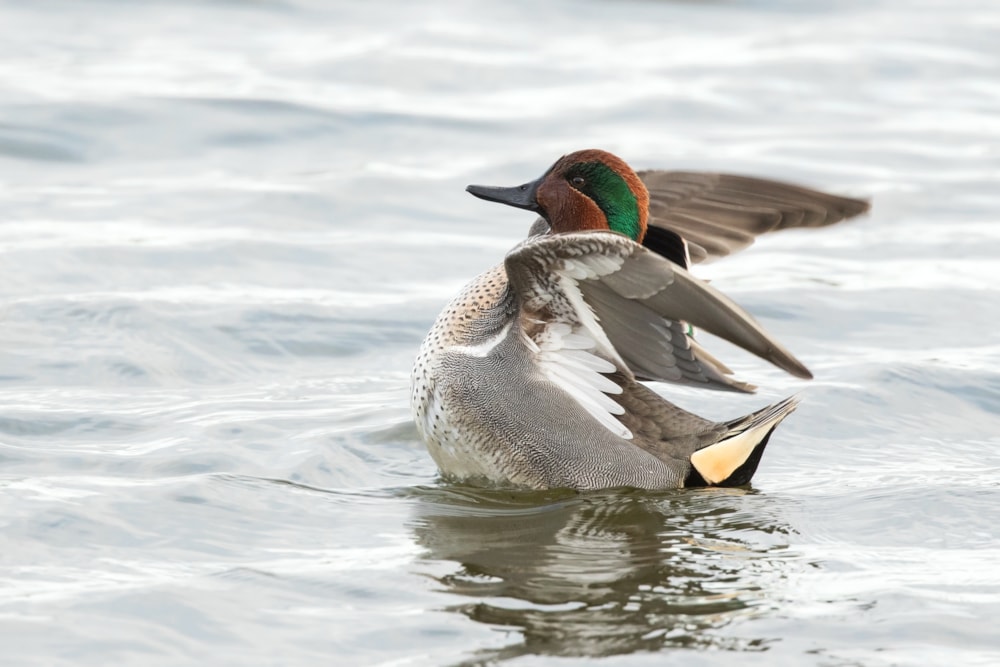 Green-winged Teal, North Cave Wetlands YWT, East Yorkshire (Paul Coombes).
It says a lot about the recent weather that Black Brant and Iceland Gull were lingering highlights in the Spurn area, although Wood Warbler and Blue-headed Wagtail provided sharp seasonal contrast. An astonishing 133,000 Razorbills past Flamborough Head on 8th were presumably reorienting after the recent northerlies.
The drake Ring-necked Duck continued at Malham Tarn (after a brief trip back to Hellifield Flash on 8th), where two male Eurasian Dotterel were also seen on 11th. Regular migrants were again fairly thin on the ground across Yorkshire, with Western Osprey being the most conspicuous species and Water Pipits lingering on at a couple of sites.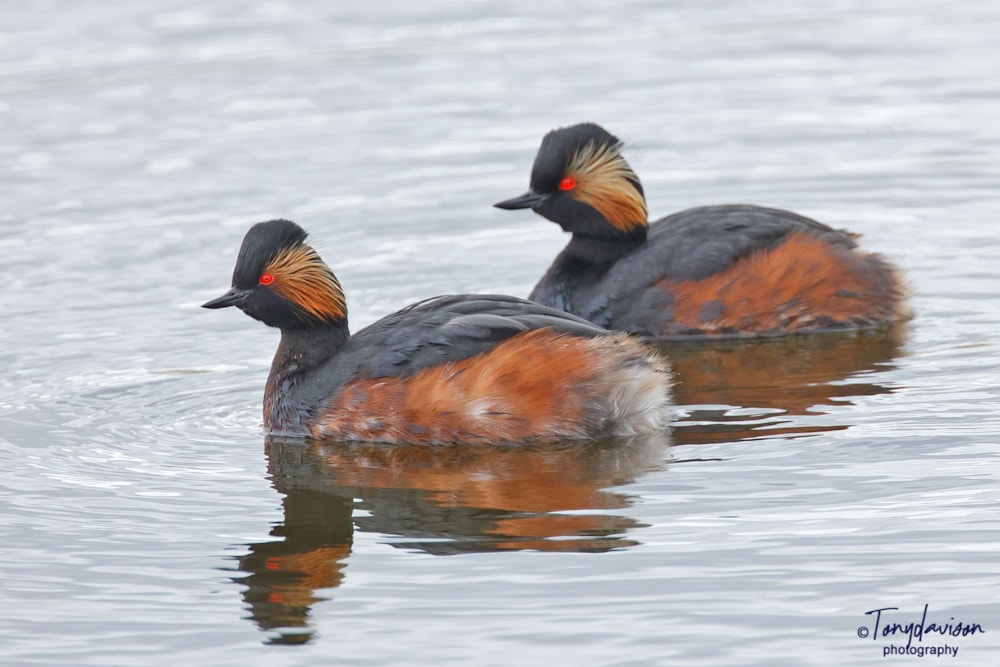 Black-necked Grebe, St Aidan's RSPB (Swillington Ings), West Yorkshire (Tony Davison).
West Midlands
Windswept waifs and strays through Staffordshire included a Little Gull at Chasewater on 8th and a Sandwich Tern through Blithfield Reservoir on 9th, where a Channel Wagtail added a splash of colour on 11th. Shropshire remained much the same; the Great Grey Shrike was still to be seen at Brown Clee Hill until 11th at least and a male Pied Flycatcher was along the causeway at Venus Pool NR on 10th. The Black-necked Grebe was still decorating Rattlechain Lagoon, West Midlands.
A Black Kite was reported over Snitterfield, Warwickshire, on 8th but sadly wasn't seen elsewhere. A female Pied Flycatcher put in a three-day stint at Earlswood Lakes from 10-12th. Continuing goodies included the juvenile Glaucous Gull again into roost at Draycote Water on 11th, where the 1st-winter European Shag continued to call home. Worcestershire was quiet although a first-winter Kittiwake at Clifton Pits isn't to be grumbled at.
More phonescope footage of the smart male Channel Wagtail at #RipplePits north lake this morning @WorcsBirding pic.twitter.com/GBjOzksprI

— Andy Warr (@AndyWarr3) April 11, 2021
East Midlands
A Bluethroat surfaced briefly at Carr Vale NR, Derbyshire, on the morning of 12th but, unfortunately, there was no further sign. Five White Storks, almost certainly of dubious origin, flew high south over Pentrich on 11th. Carsington Water was a repeat of recent weeks with the dazzling Red-necked Grebe and Great Northern Diver still in situ. An adult Kittiwake flew through Carr Vale NR on 7th as did a Sandwich Tern through Trent Lock on 8th.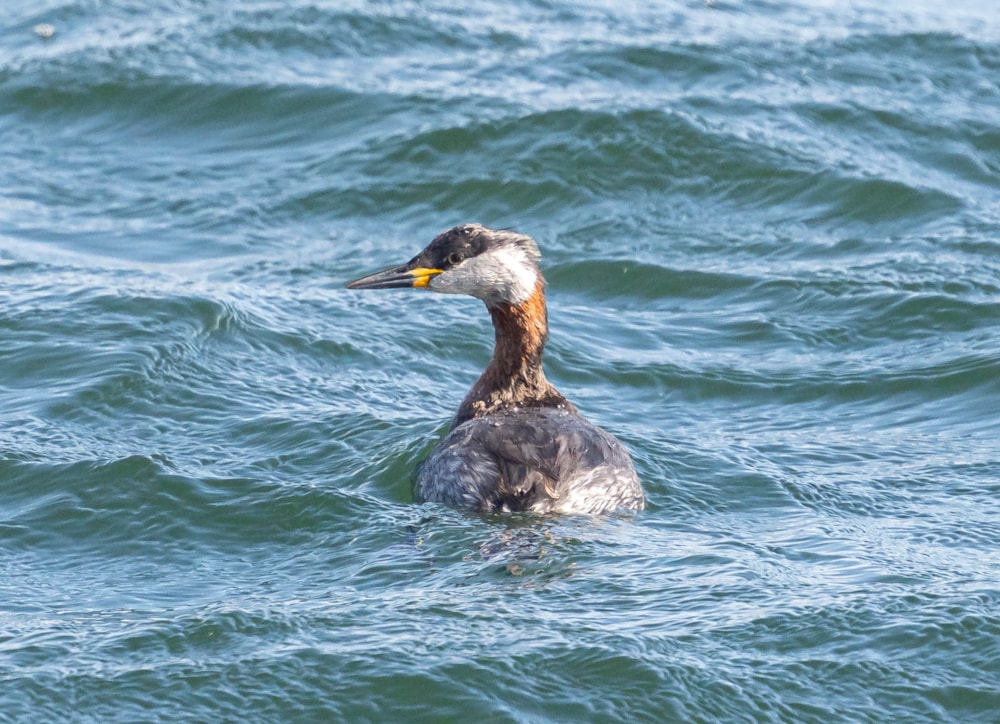 Red-necked Grebe, Carsington Water, Derbyshire (Ian Unwin).
Content continues after advertisements
In Nottinghamshire, the male Little Bunting remained at Langford Lowfields RSPB. An adult Dark-bellied Brent Goose was at Holme Pierrepont between 7-8th and one, or the same, was at Colwick CP on 13th. Blue-headed Wagtails hinted at spring's promise, with two in the region: one at Langford Lowfields and another at Holme Pierrepont.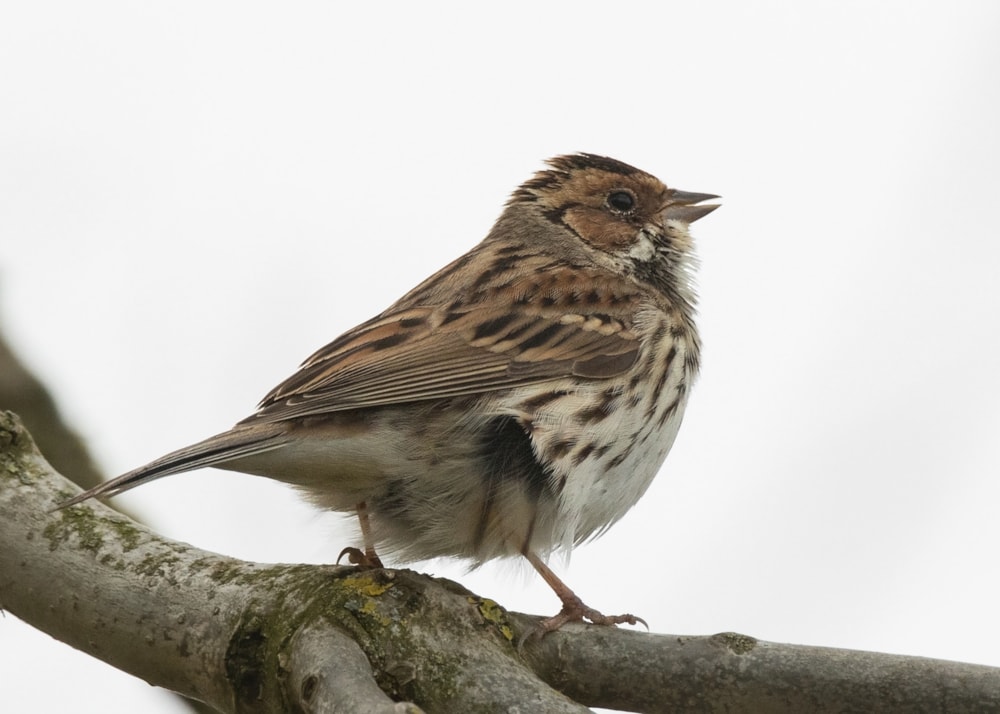 Little Bunting, Langford Lowfields RSPB, Nottinghamshire (Paul Coombes).
The drake Ring-necked Duck lingered at Clifford Hill GPs, Northamptonshire, as did the Glossy Ibis at Titchmarsh NR. Two flavours of 'white-winged' gulls were on offer: a juvenile Glaucous Gull put in sporadic appearances at DIRFT 3 development site, Lilbourne while a juvenile Iceland Gull was also present there on 8th.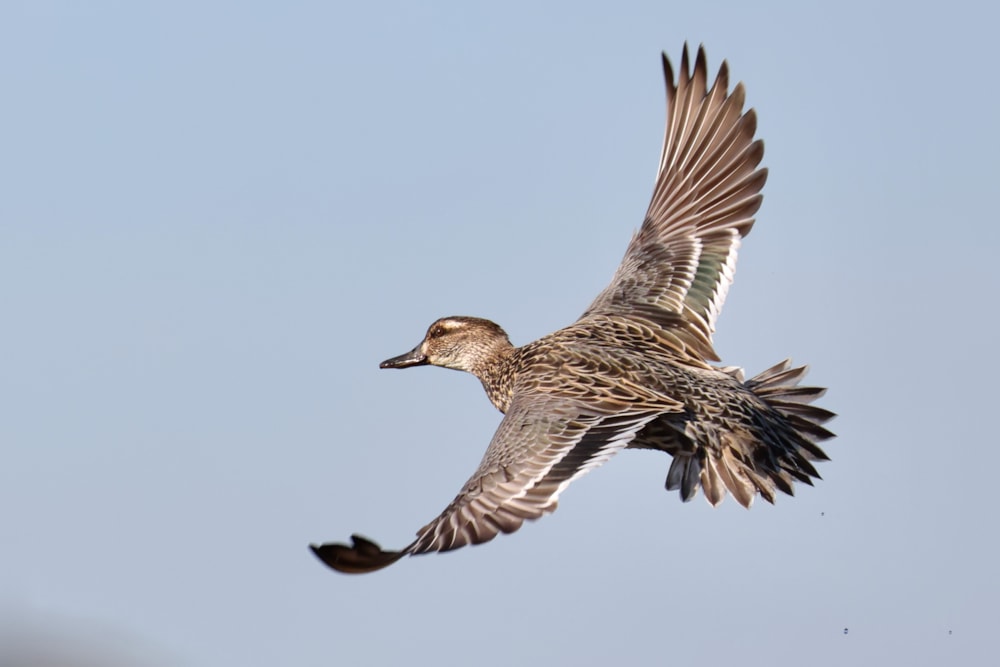 Garganey, Summer Leys LNR, Northamptonshire (Dave Jackson).
Rutland Water held onto two Great Northern Divers for another week, while the first Common Tern of the year moved through on 11th and a Eurasian Spoonbill flew north over Burley Fishponds on 12th. The Ring-necked Duck was still at Staunton Harold Estate, Leicestershire, throughout. Gulls were well-represented this week with an adult Kittiwake at Groby Pool on 9th and juvenile Glaucous and Iceland Gulls at Shawell sand pit. A male Blue-headed Wagtail mingled with the Yellows at Eyebrook Reservoir on 13th.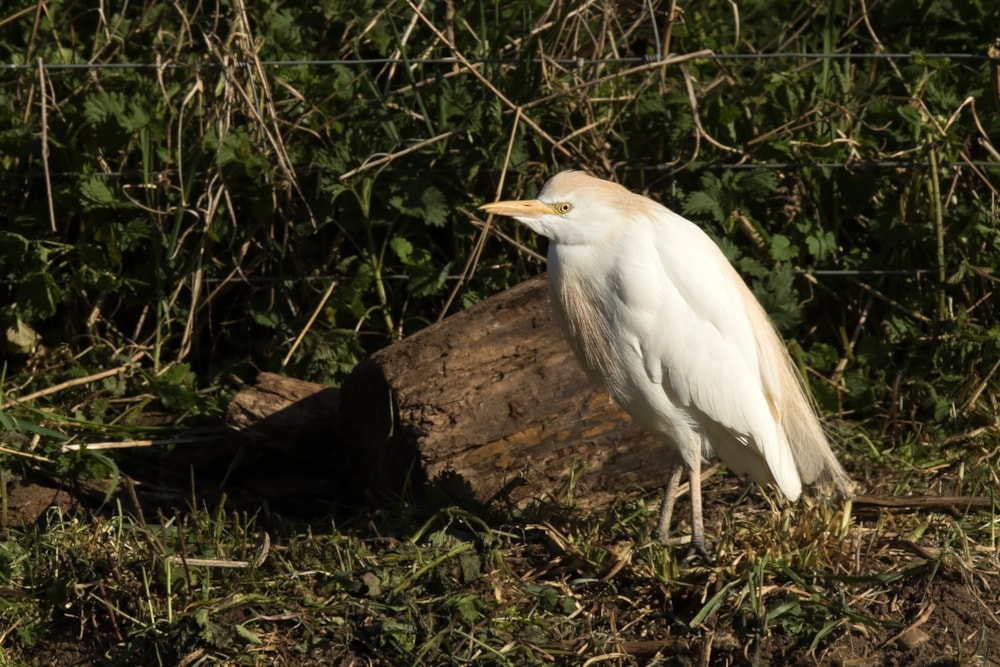 Western Cattle Egret, Misson, Nottinghamshire (Paul Coombes).
East of England
White-tailed Eagles and Common Cranes continued to dominate Norfolk's skies, although five White Storks flew over Hindolveston on 8th and Wymondham on 9th.
The Norwegian-ringed juvenile Glaucous Gull was still at Titchwell RSPB on the morning of 7th. Grey Phalaropes were at Rockland Broad on 7th, Cley to 9th and North Point Pools from 13th. The Nunnery Lakes Dusky Warbler was also still around, as were up to 12 Lapland Buntings at Happisburgh. In a good spring for records, inland Kittiwakes were at Billingford Lakes and Whitlingham Great Broad.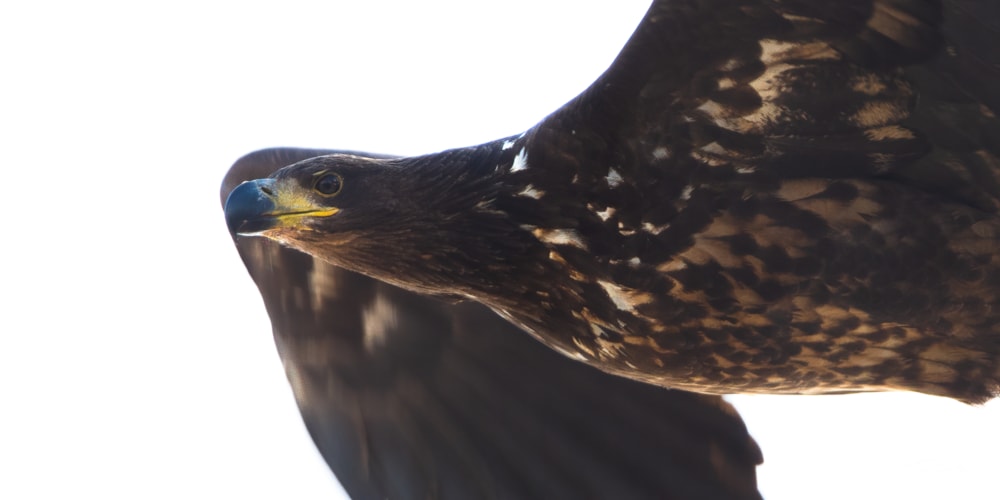 White-tailed Eagle, Winterton Dunes NNR, Norfolk (Tim Smith).
In Suffolk, the unringed White Stork continued in the Lakenheath area, with an Iceland Gull nearby at Cavenham Heath. Two Wrynecks were in the county this week: one in a private Ipswich garden on 10th and another at Gunton on 13th. A Grey Phalarope lingered at Minsmere RSPB from 7-10th, a White-tailed Eagle flew over Trimley Marshes SWT on 9th and the Great Grey Shrike hung on at Capel St Mary. Up to three Slavonian Grebes at Alton Water were popular.

Grey Phalarope, Southwold, Suffolk (Andrew Moon).
The first Purple Heron of spring was at Blue House Farm, Essex, on 7th. The county's other highlights were somewhat wintrier, with the Ring-necked Duck still in the Lee Valley and a couple of Black Brant sightings at Mersea Island. Two Common Cranes were over Fingringhoe Wick on 11th.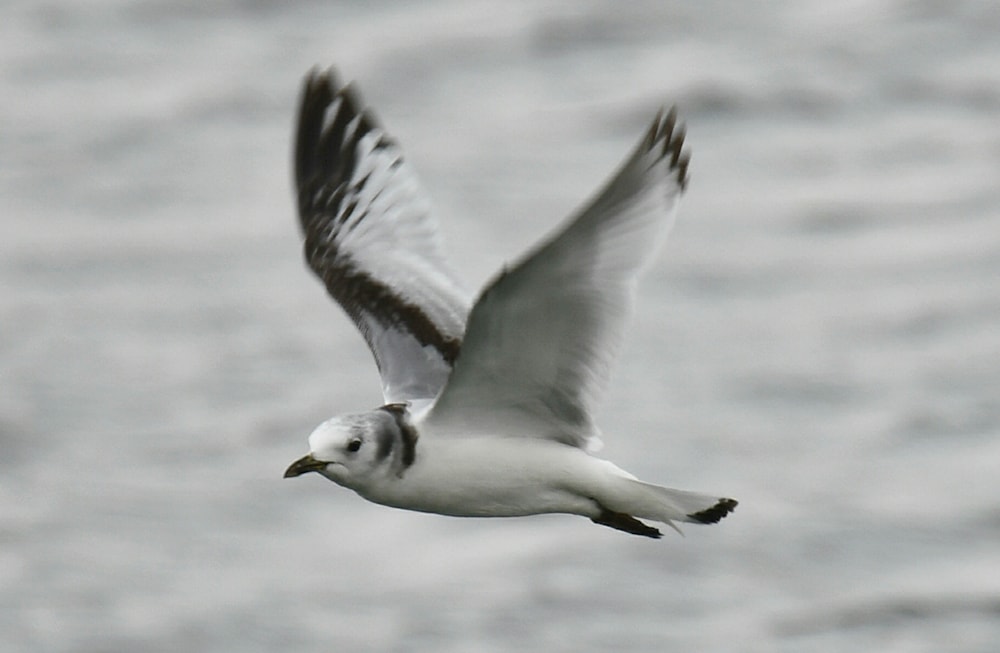 Kittiwake, Russell Green GPs, Essex (Brian Bolton).
A typical mid-April week in Hertfordshire produced Little Gulls at Tring Reservoirs, several Ring Ouzels dotted about the county and a lingering Kittiwake at Hilfield Park Reservoir (after last week's big flock), while one of the Isle of Wight White-tailed Eagles roosted near Potters Crouch overnight on 7th.
The Siberian Chiffchaff continued to sing at Broom GPs, Bedfordshire, to 12th, where a Eurasian Spoonbill called in on 10th. There was a typical spread of Ring Ouzels and Common Redstarts from the usual migrant hot-spots, too. As well as the wandering White-tailed Eagle, Cambridgeshire held on to its Kumlien's Gull (Cottenham) and Glossy Ibises (Earith).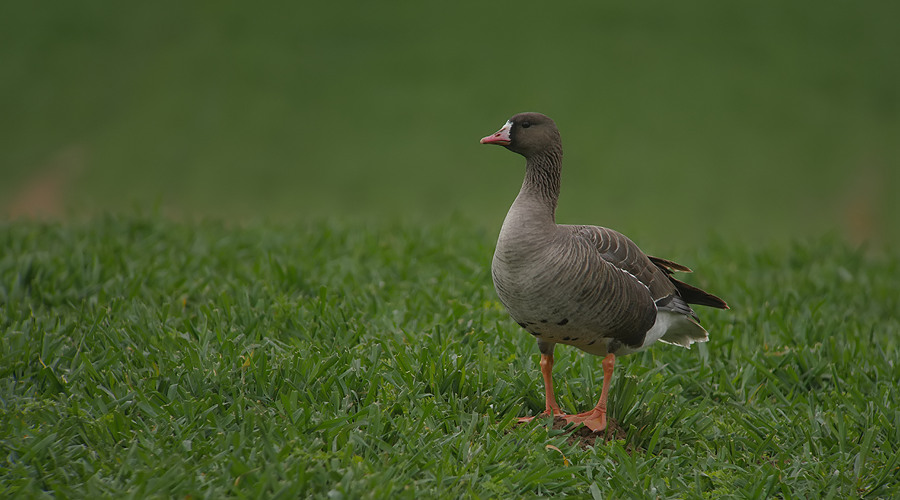 Russian White-fronted Goose, Hollesley Marshes RSPB, Suffolk (Craig Shaw).
South-East England
A spell of rather cold northerlies meant it was quiet in the region, despite the first notable arrival of Common Nightingale and Reed and Grasshopper Warblers, as well as a decent passage of Common Redstarts and Ring Ouzel.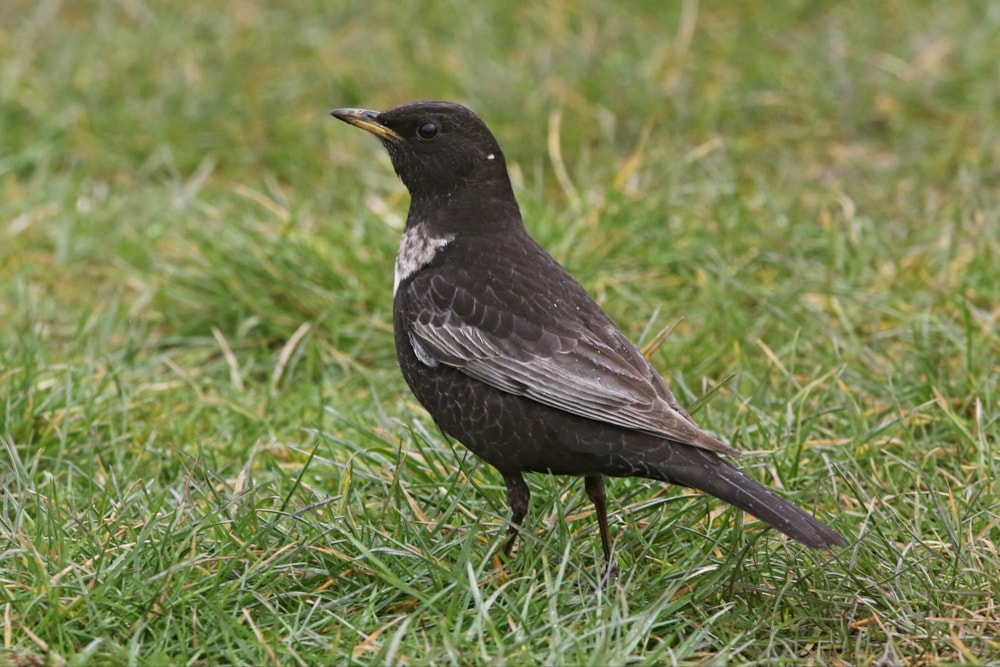 Ring Ouzel, Crossness, London (Richard Bonser).
Indeed, a Red-rumped Swallow in the Stour Valley, Kent, was clearly struggling with the weather and was watched falling off a wire on 13th. One of last week's bird at Hoo St Werburgh was still present on 8th. Other scarce passerine action in Kent was limited to a Wryneck at South Foreland on 8th and the lingering Worth Marsh Siberian Chiffchaff. A Spotted Crake was sound recorded over Sandwich Bay, two Common Cranes were at Elmley, a Lapland Bunting was at Worth Marsh and Dungeness held onto its Glossy Ibis and Iceland Gull.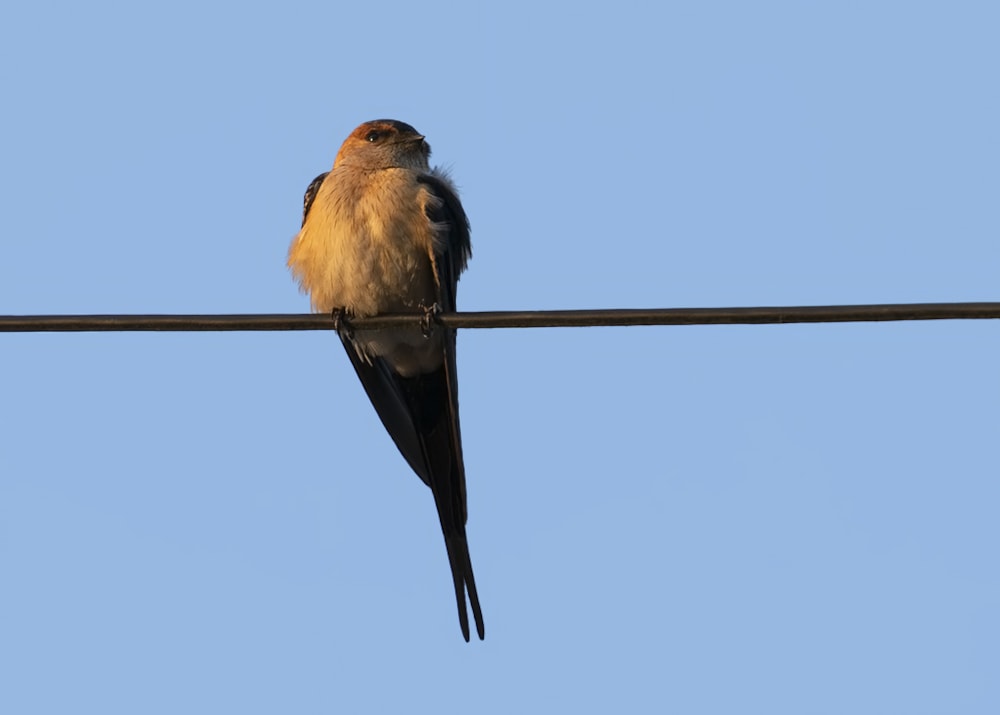 Red-rumped Swallow, Westbere GPs, Kent (Steve Ashton).
It was really quite quiet in the capital, with two Kittiwakes at Walthamstow Wetlands LWT and the drake Smew at King George V Reservoir arguable highlights. Aside the wintering Little Bunting and Ring-necked Duck, things were also uneventful in Surrey, while Western Cattle Egret and Greater Scaup headed up proceedings in Berkshire. It was a similar story in Buckinghamshire, where the Tattenhoe Park Sibe Chiff and a notable Ring Ouzel passage were of note. In Oxfordshire, the Ring-necked Duck pair were still at Radley GPs, the Rosy Starling reappeared in a Witney garden and the Glossy Ibis lingered at Otmoor.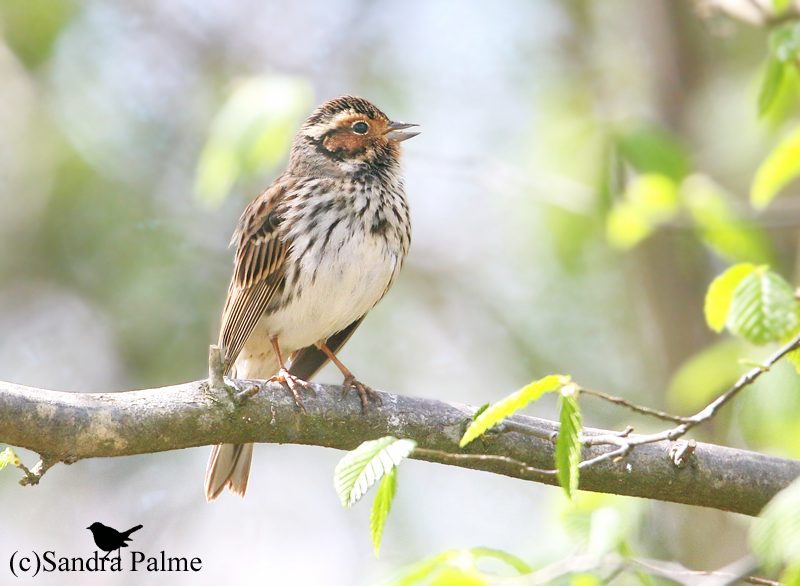 Little Bunting, Warnham LNR, West Sussex (Sandra Palme).
The Greater Scaup was still at Blashford Lakes, Hampshire, and a Wood Warbler at Casbrook Common was a decent record elsewhere in the county. At least two Black-crowned Night Herons were at Brading Marshes on the Isle of Wight during the week. In West Sussex, the Little Bunting continued at Warnham throughout, while the Patching Yellow-browed Warbler was seen until 8th. Another Yellow-browed was briefly in a Firle garden, East Sussex, on 7th and the Siberian Chiffchaff continued at West Rise Marsh.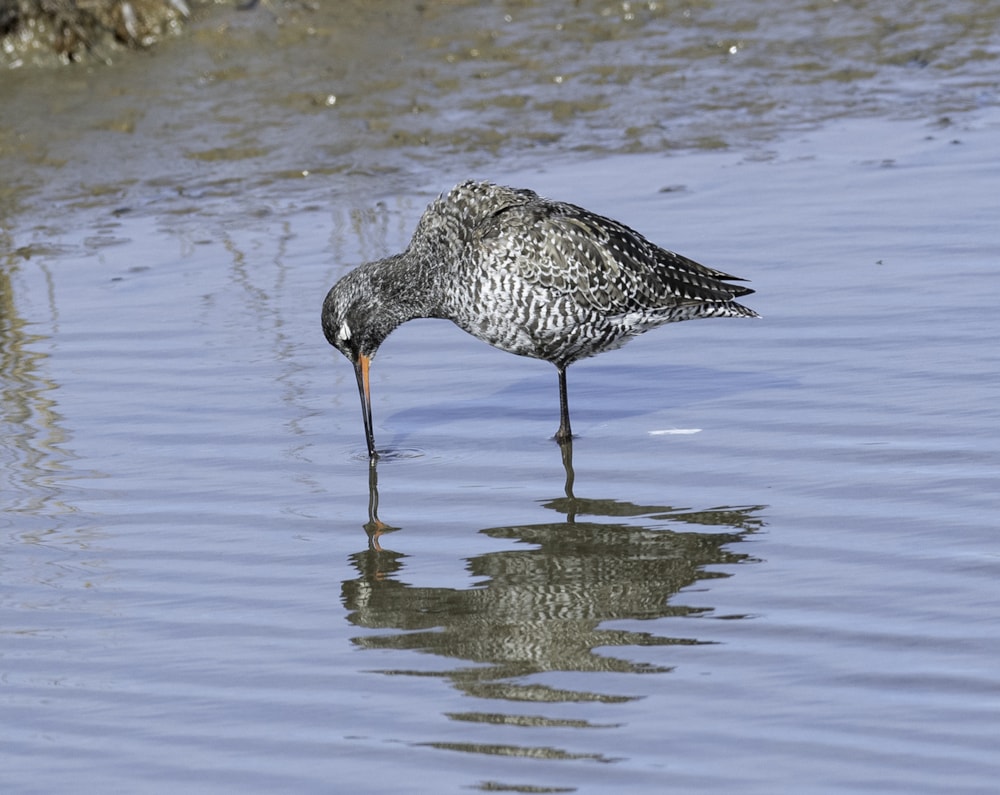 Spotted Redshank, Pennington Marshes, Hampshire (Geoff Dicker).
South-West England
Slapton Ley, Devon, was the recipient of a popular, yet elusive, first-summer Black-crowned Night Heron from 9th, while the Red-necked Grebe remained. Exwick's singing Yellow-browed Warbler was last reported on 8th, with Siberian Chiffchaffs at South Milton Ley and Dawlish Warren. Elsewhere, Aveton Gifford's Lesser Yellowlegs continued, as did the three Glossy Ibis at Fremington Pill and Beesands Ley's Ring-necked Duck. Russian White-fronts were at both Powderham and Exminster Marshes, a Glaucous Gull was at Seaton and a Black Kite was reported near Tedburn St Mary. Two early Arctic Terns flew past Thurlestone on 11th accompanied by four Little Terns.
In a quieter week for Scilly, six possible White Storks over St Mary's on 12th would have proved interesting if confirmed. Elsewhere on the island, a Wood Warbler and Blue-headed Wagtail were at Porth Hellick, a Hoopoe was at Telegraph and two Iceland Gulls remained. Another Hoopoe was on Bryher on 9th.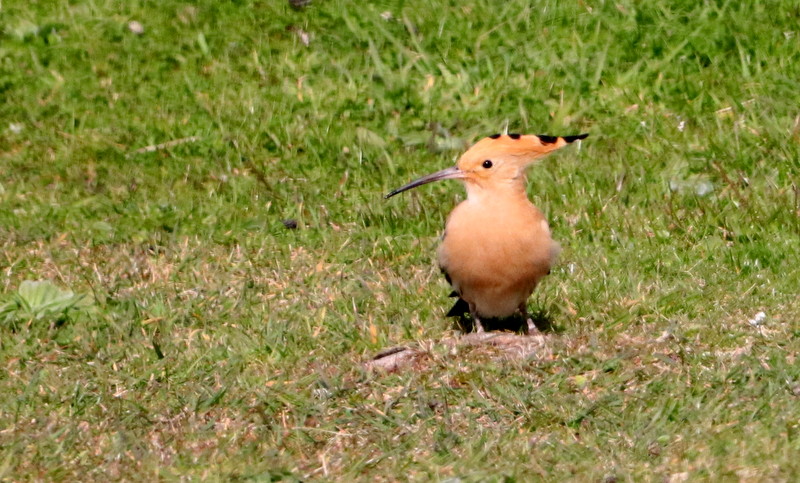 Hoopoe, St Mary's, Isles of Scilly (Kris Webb).
Providing true Mediterranean flavour, Cornwall scored the first European Bee-eater of 2021 at Windmill Farm NR on 10th; another was over Porthgwarra on 13th. Hoopoe were at four sites – Pendeen, Sithney, Mullion and Looe – and European Serin were at both Porthleven and Trevilley, with the Little Bunting remaining at the latter site. Marazion Marsh's Siberian Chiffchaff lingered until 10th at least, while a Hooded Crow was at Pendeen. Hangers on from winter included Ring-necked Duck at Foxhole and Siblyback Reservoir, Iceland Gulls and five sites and two Glaucous Gulls.
Dorset hosted a Glaucous Gull at Canford Heath from 10-12th, while a White Stork was at Cheselbourne on 9th. The Glossy Ibis at Stanpit Marsh shows no signs of moving on, while elsewhere, the Ring-necked Duck at Longham Lakes remained in place, as did the Silverlake Long-tailed Duck and West Bexington's Cirl Bunting. Four Long-tailed Ducks proved fleeting visitors to Abbotsbury Swannery on 12th.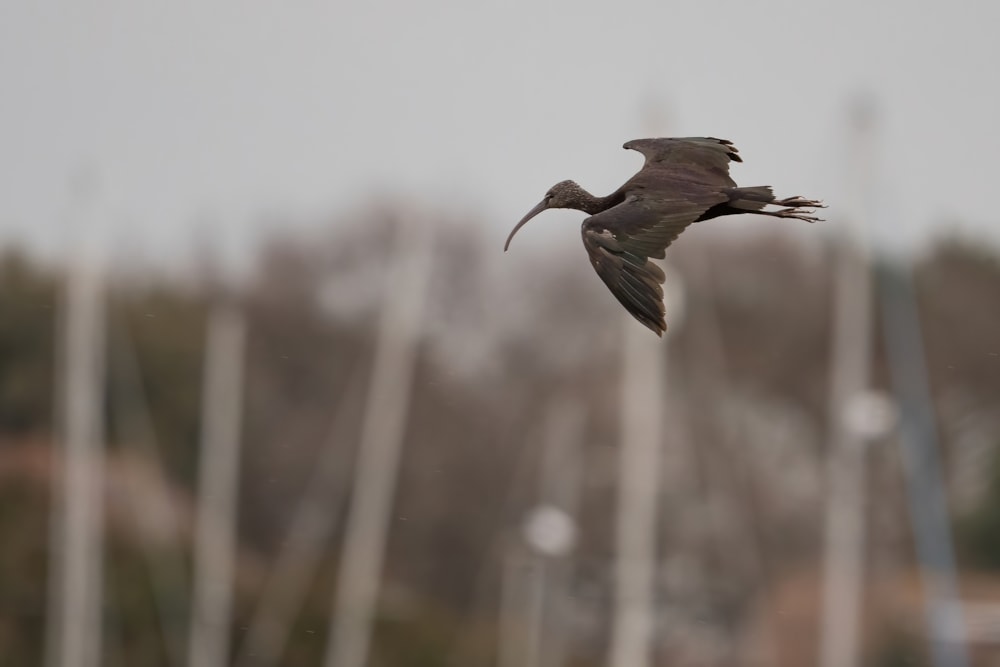 Glossy Ibis, Stanpit Marsh, Dorset (Matthew Barfield).
Two early Wood Warblers were at Cleeve, Somerset, on 9th, although at least one lingering Eurasian Penduline Tit at Weston Airfield provided an altogether more winter feel. Two Wrynecks were reported from Wells on 9th. Meanwhile, the Tundra Bean Goose and Long-tailed Duck remained at their respective locales and a Brent Goose was at Nailsea, while White-tailed Eagles were over Monkton Farleigh, Chard and Wells.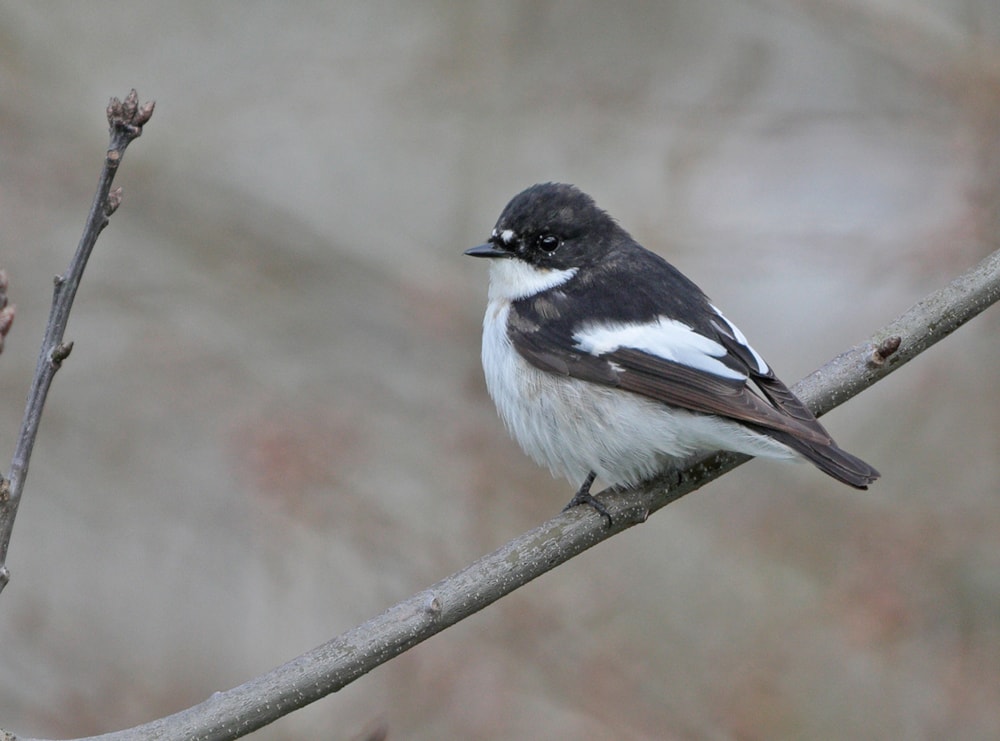 Pied Flycatcher, Bristol, Somerset & Bristol (Allan Chard).
A Little Bunting was a brief visitor to Gloucestershire's Oldbury Power Station on 13th, before it flew high south. Elsewhere, Crabtree Hill's Great Grey Shrike continued and a Little Stint was at Saul Warth. The Ridgway's Cackling Goose reappeared at Slimbridge WWT, alongside a Eurasian Spoonbill and at least 12 Western Cattle Egrets.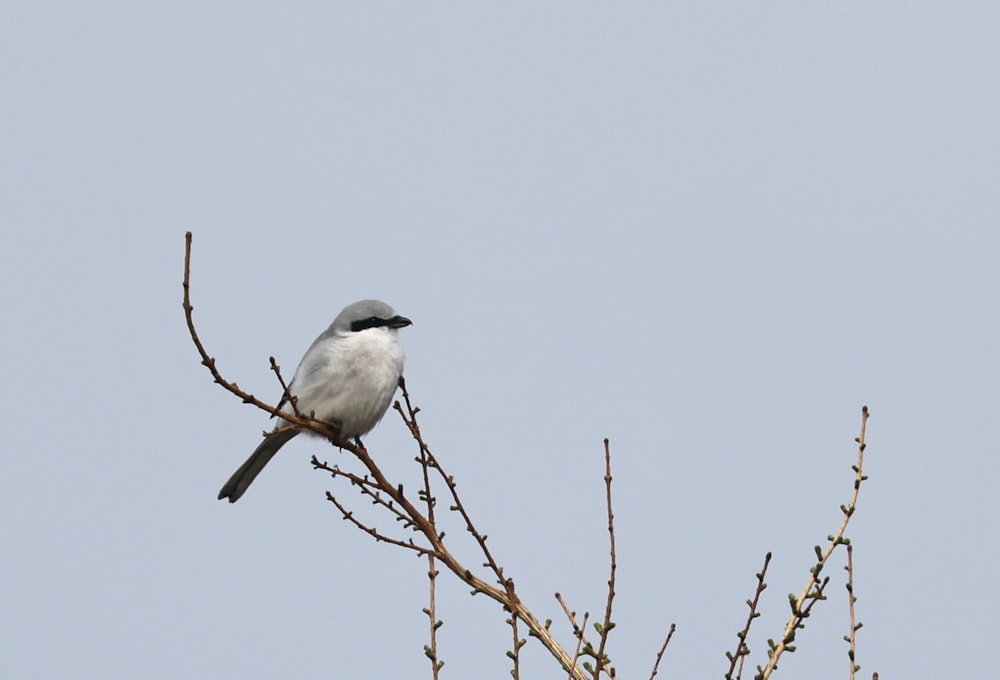 Great Grey Shrike, Crabtree Hill, Gloucestershire (Jon Mercer).
Wiltshire's second-ever Buff-breasted Sandpiper was at Cotswold Water Park on 7-8th, a stone's throw from the county's only other record. Meanwhile, two White Storks flew over Charlton-All-Saints on 13th and three sites hosted Ring Ouzels – including no fewer than nine at Liddington Hill – with Pied Flycatchers at five sites.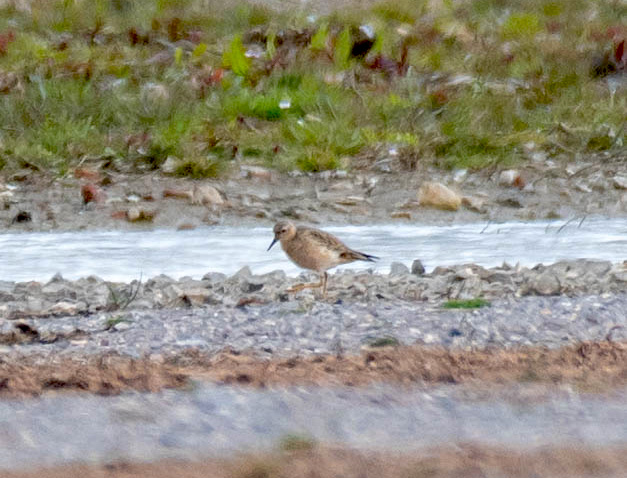 Buff-breasted Sandpiper, Cotswold Water Park, Gloucestershire (Alex Barclay).
Wales
Skokholm's Wryneck just managed to sneak into the review period but wasn't seen again after the 7th. On the same date, an Alpine Swift flew east over Strumble Head, Pembrokeshire, and is presumably last week's bird. A singing Wood Warbler was noted at Penglais Wood, Ceredigion, on 11th and was a welcome sign of spring. Belated news of a Hoopoe came from Portskewett, Gwent on the 6th. A Great Grey Shrike was living life in the fast line by the Zip World Take-off Station at Hirwaun, Glamorgan, and Lapland Buntings were at two sites.
The Tundra Bean/Russian White-front duo were still at Goldcliff Pools NR, Gwent throughout, while Ring-necked Duck were at two sites and the regular drake Surf Scoter was still off Llanddulas, Conwy. The continuing juvenile Iceland Gull was still performing for its admirers at Brickfield Ponds, Clwyd, while an adult Kittiwake at Llangorse Lake, Powys, served as a nice inland record on 9th.
Ireland
A new Black Brant was at Liscannor, Co Clare, on 10th, while the adult was also touring Dublin City. A Green-winged Teal was a fresh arrival at Lough Beg, Co Derry. A Russian White-fronted Goose at Ballymena, Co Antrim, was a very significant Northern Irish record. Totals from Killybegs, Co Donegal, included five Glaucous and six Iceland Gulls.
What is presumably the same Hoopoe was still at Hook Head, Co Wexford, on 11th, where there was also a Ring Ouzel. A Green-winged Teal was new at Tacumshin from 11th, with a Curlew Sandpiper there on 13th.
The Lesser Yellowlegs continued at Killongford, Co Waterford. It was otherwise steady, with an array of arriving common migrants and lingering white-winged gulls the best on offer.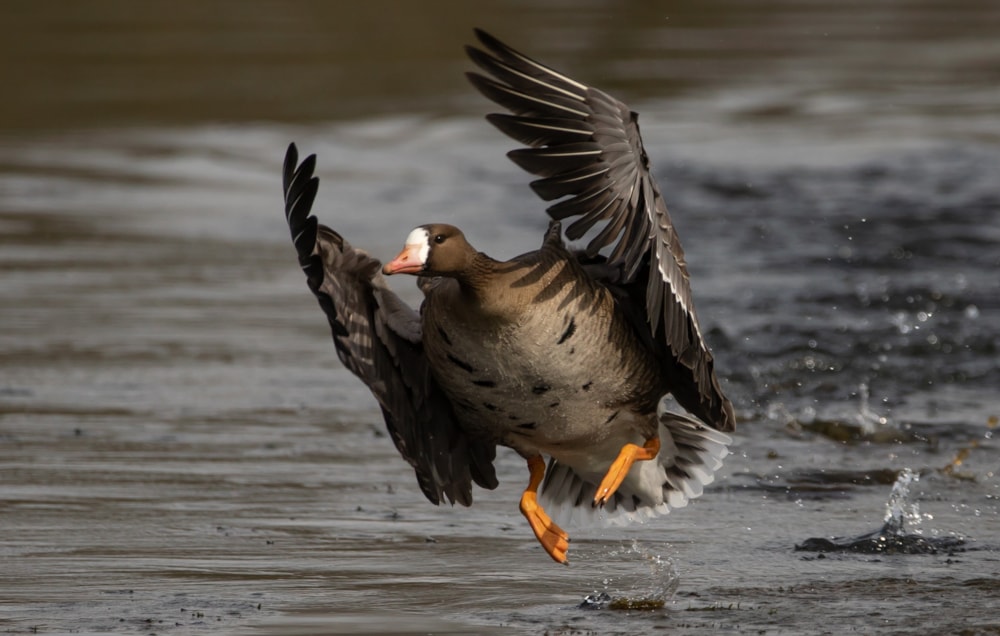 Russian White-fronted Goose, Ballymena, Antrim (Jonathan Rosborough).
Western Palearctic
Israel's first Chinese Pond Heron at Jerusalem's Botanical Gardens from 13th is especially noteworthy in helping to consolidate the vagrancy potential of the species to Europe and the Middle East, where there remains a number of records consigned to the Category D holding pen. Interestingly, the only two accepted Western Palearctic records come from Britain, in Norfolk and Hampshire in November 2004 and Kent from January 2014.
Very belatedly reported, Tunisia's first Dark Chanting Goshawk was photographed over Cap Bon in the far north-east of the country on 22 September 2019, the species' northernmost occurrence and just a short hop across to Sicily, Italy.
A gorgeous male Black-faced Bunting was a brief visitor to Ludo, Portugal, on 10th, while Maderia's first Trumpeter Finch was at Ponta do Pargo on 7-8th. In the Azores, an immature Purple Gallinule was taken into care at Ponta Delgada, São Miguel, on 12th. On Pico, two Double-crested Cormorants continued off Madalena, while the Belted Kingfisher was again at Lajes do Pico.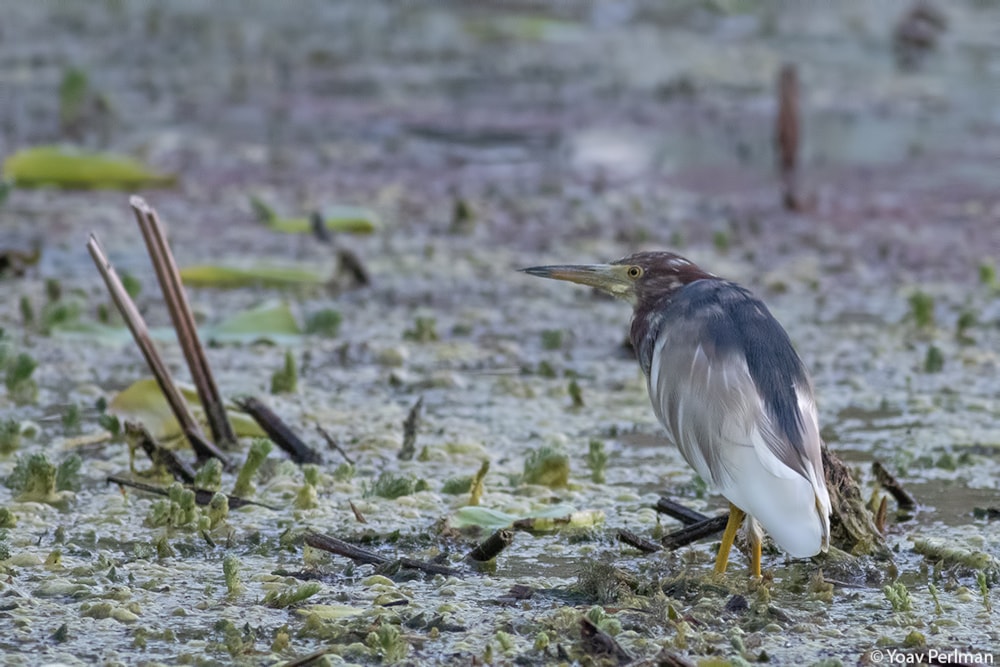 Chinese Pond Heron, Jerusalem, Jerusalem (Yoav Perlman).
Potentially the first Yellow-billed Kite for Europe and the Netherlands at Lauwersoog on 11-12th was very much out of left field, although captive origin presumably can't be ruled out for this sub-Saharan relative of Black Kite. A new drake Baikal Teal was at Zevenhoven; Belgium's female remained at Wechelderzande throughout. Elsewhere, Belgium's Franklin's Gull was at Stavele.
In a busy week for Spain, a Bar-tailed Lark at L'Albufera de València was the standout highlight. Meanwhile, two Elegant Terns were back at Marjal dels Moros from 6th, at least two Lesser Flamingos held out at Laguna de Fuente de Piedra and a Western Reef Heron was at Blanes, while Tenerife's Hudsonian Whimbrel continued.
An adult drake Hooded Merganser was at Ytterbo, Sweden, on 10th and a drake Black Scoter flew past Iso Harmaaletto the following day – just a seventh for Finland. Denmark's Sandhill Crane was still at Dokkedal on 7th, Iceland's fifth Killdeer was at Hamragarðar on 6th, and a White-headed Duck was at Durankulak Lake, Bulgaria, on 10th – a national third.
Serbia's first Isabelline Wheatear was at Pirot on 12th; the country's first Sociable Lapwing was at Niš on 9th. Elsewhere, an adult Sociable Plover was at Wierzbnica, Poland, and both the French Pygmy Cormorant and German Spotted Sandpiper remained in place, while Crete, Greece, scored the island's first Long-billed Dowitcher at Heraklion. Kuwait's Pectoral Sandpiper reappeared at Jahra Pools.
In the Channel Islands, three Black-winged Stilts were at Guernsey's Vale Pond on 11th and a Black Kite was over Longis Bay, Alderney, on 13th.