The week at a glance
The American Coot remained at Termoncarragh Loch (Co Mayo) to at least 8th, and the Pacific Diver remained through the week off Marazion, though was pretty much always distant. There were also fewer other divers to create confusion, with reports of just two Black-throated Divers and two Great Northern Divers. A second bird also returned for another winter, this time at Grande Havre Bay (Guernsey) on 8th. This is presumably the same bird that was present in the same area from 4th–9th January 2010, and again on 28th March.

Pacific Diver, Grande Havre Bay, Guernsey (Photo: Mark Guppy)
With no reports of the Irish House Crow, the last-but-not-least mega crown goes to the Lesser White-fronted Goose that remained on Cantley Marshes (Norfolk) to at least 9th.
The only Snow Geese were in Ireland, with one still at Greyabbey (Co Down) to 11th and another with Greylag Geese over Termoncarragh Loch (Co Mayo) on 7th. The Ross's Goose in the northwest was last reported at Burgh Marsh (Cumbria) on 6th, whilst another continued to roam between Burnham Norton and Cley Marshes (Norfolk) all week. One to be aware of, though, was an escape, and a hybrid, with Barnacle Geese at Cley on 7th.

Snow Goose, Strangford Lough, Down (Photo: Ed O'Hara)
Various Black Brants remained, with up to two in Norfolk, two at Hoo St Werburgh (Kent), one at Pagham Harbour (West Sussex) and one at Pett Level (East Sussex) with 10 Pale-bellied Brent Geese, nine White-fronted Geese and 74 Barnacle Geese. The only new bird was at Bembridge Harbour (Isle of Wight) on 9th–11th.

Black Brant, Bembridge Harbour, Isle of Wight (Photo: Kris Gillam)
Red-breasted Geese included presumed escapes at Whitlingham Country Park (Norfolk) on 8th–9th and Vange Marshes (Essex) on 9th. Others were at Staynall (Lancashire) on 6th–8th and possibly the same at nearby Pilling on 9th–10th and Cockerham Moss on 12th, and one still at Goose Green (Jersey) all week.

Red-breasted Goose, North Warren RSPB, Suffolk (Photo: Bill Plumb)
The Richardson's Canada Goose remained at Ballyconnell (Co Sligo) to 7th, with Lesser Canada Geese at Wigg Island (Cheshire) on 8th and a report of one at Testwood Lakes (Hampshire) on 9th. There was also a small Canada Goose at Minsmere (Suffolk) on 10th. Also of note was the return of the neck-collared Greylag Goose, seen at Longham Lakes (Dorset) on 11th–12th. It was originally ringed in Sweden in 2000 and has toured the country widely, being last seen at Hayle (Cornwall).
With most of the plethora of Ferruginous Ducks now moved on from English sites, those remaining were all drakes in Ireland: at Oxford Island (Co Armagh), with a hybrid, on 7th–9th, at Tacumshin (Co Wexford) to 9th and at Craigavon Balancing Lakes (Co Armagh) to 11th. There were just six reports of Ring-necked Ducks, the only new bird being a female at Bosherston Lily Ponds (Pembrokeshire) on 8th. Others were at Cowpen Bewley (Cleveland), Nosterfield Quarry (North Yorkshire), Lough Cowey (Co Down), Cork City (Co Cork) and Stithians Reservoir (Cornwall) briefly on 7th.

Ring-necked Duck, Cowpen Bewley, Cleveland (Photo: Chris Downes)

Lesser Scaup, Slimbridge WWT, Gloucestershire (Photo: Graham Cox)

Ring-necked Duck, Bosherston Lily Ponds, Pembrokeshire (Photo: David Astins)
Three drake American Wigeon also remained, at Cley Marshes (Norfolk) and Rutland Water all week, with one at Pilmore (Co Cork) last reported on 6th. There was just one new bird, at Stoke Ferry (Norfolk) on 10th.

American Wigeon, Cley Marshes NWT, Norfolk (Photo: Andy Thompson)
The first-winter female Lesser Scaup remained at Slimbridge (Gloucestershire) all week, with two Scaup, and the female was at Wester Sands (Orkney) to 7th. The only new bird was a drake at Dozmary Pool (Cornwall) on 9th–10th. The bird reported from Echna Loch turned out to be a hybrid or Tufted Duck, as did the one at Hatfield Moors (West Yorkshire), which remained to at least 9th. One other bird causing discussion was a possible first-winter female at Walthamstow reservoirs (London) on 8th. Also in the capital was a Marbled Duck on the Thames shore at Belvedere on 10th, though its origins are obviously unknown.

Lesser Scaup, Slimbridge WWT, Gloucestershire (Photo: Bill Dixon)
Only slightly more numerous were Green-winged Teal, with birds at only nine sites during the week. The only new birds were at Hesketh Out Marsh (Lancashire) on 6th–9th and Kilcoole (Co Wicklow) on 11th–12th.
The female Surf Scoter was again off Dawlish Warren (Devon) all week, also at Exmouth on 6th. There were also two drakes off Pendine (Carmarthen) on 8th–9th, a female at Murvagh (Donegal) still on 6th and a drake still in the Sound of Taransay (Orkney) on 10th. Scotland also continued to host the only King Eiders, the long-staying drakes still off Burghead (Moray & Nairn) and at West Voe of Sumburgh (Shetland).
Peak counts of Smew came from the expected sites, with 18 (seven drakes) at Pitsford Reservoir (Northamptonshire), 17 at Dungeness (Kent) and 12 (six drakes) at Wraysbury Gravel Pits (Berkshire).
The number of Balearic Shearwaters in Carbis Bay (Cornwall) dropped slightly, with up to four during the week. The only other shearwaters of note were Sootys past Berry Head (Dorset) on 10th and Brixham (Devon) on 11th.
The Glossy Ibis remained at Freeman's Marsh (Berkshire) to 9th and may have then moved back south, as one was at Dungeness (Kent) on 10th–12th. Many sites continued to hold Great White Egrets, including the colour-ringed bird at Blashford Lakes (Hampshire) and up to three in Somerset around the Ham Wall and Meare Heath area. The only Cattle Egret was one still on Guernsey, at St Andrews on 9th, and most of the Spoonbills reported were in the southwest. Probably two remained on Samson and St Mary's (Isles of Scilly), three were on Amble Marshes (Cornwall), eight were at Isley Marsh (Devon), with singletons in Plymouth (Devon) on 8th, Brownsea Island and Middlebere (Dorset) on 10th–11th and Courtmacsherry (Co Cork) on 11th.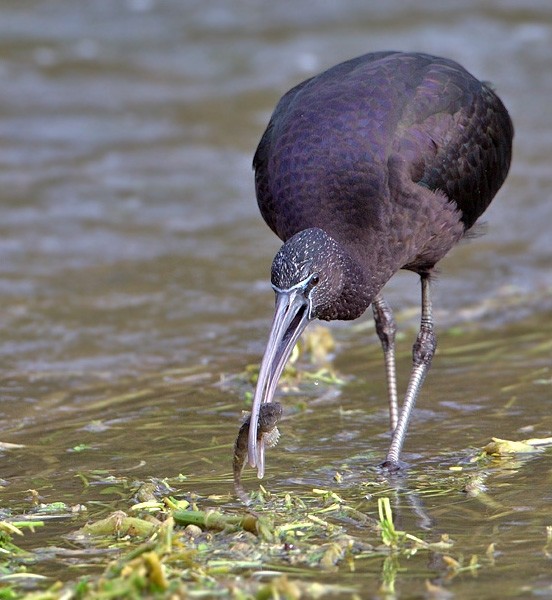 Glossy Ibis, Freeman's Marsh, Berkshire (Photo: Peter Walkden)

Great White Egret, Great Shefford, Berkshire (Photo: Dave Hutton)

Cattle Egret, St. Andrew's, Guernsey (Photo: Mark Guppy)
Up to three Rough-legged Buzzards were reported along the north Norfolk coast, with one or two more along the east coast as well. There were then birds at three sites in Kent and two in Lincolnshire, with the only truly inland bird at Howden Reservoir (Derbyshire) on 8th. The Tacumshin (Co Wexford) Northern Harrier was only reported on 7th, but the Norfolk bird was regularly seen in the Thornham area all week.

Northern Harrier, Thornham, Norfolk (Photo: Sean Nixon)
The White-tailed Eagle in Hampshire was refound on 4th, with general access available from 6th pleasing some but not all. It remained all week, making just one sortie out to Normandy (Hampshire, not France) on 10th. The possible 'Tundra' Peregrine Falcon at Amble Marshes (Cornwall) turned into a probable, present all week allowing some reasonable photographs to be taken.

White-tailed Eagle, Hordle, Hampshire (Photo: Simon Johnson)
Dorset's Long-billed Dowitcher was at Lodmoor all week, with the only Grey Phalaropes off Portstewart (Co Londonderry) on 9th and in the bay off Seaton Sluice (Northumberland) on 11th.
There were up to 20 Glaucous Gulls around the country, with eight in Scotland. Most were singletons, but there were two (a juvenile and adult) on Foula (Shetland), two (third-winter and adult) in the roost at Foremark Reservoir (Derbyshire) and two (juvenile and adult) in the roost at Ditchford Gravel Pits (Northamptonshire), with six first-winter Yellow-legged Gulls and a hybrid Glaucous Gull × Herring Gull. Again there were more Iceland Gulls this week, with birds reported from numerous sites. The only site with two was Stromness (Orkney), with an adult and third-winter on 9th. With no report of the Irish Forster's Tern the only tern of note was the rather pretty, but rather escaped, Inca Tern at Daventry Reservoir (Northamptonshire) on 6th.

Glaucous Gull, Dungeness, Kent (Photo: Steve Ray)

Iceland Gull, Lowestoft, Suffolk (Photo: Andrew Easton)
The long-staying Ring-billed Gulls were reported from Argyll, Hampshire, Essex, West Yorkshire, Co Limerick, Co Antrim, Co Cork and Co Galway. Others were also at Tramore (Co Waterford) and Lough Aderra (Co Cork) with one, perhaps new, bird at Ballydehob (Co Cork) on 10th. Also in Ireland, there was a probable juvenile American Herring Gull at Donnybrewer (Co Londonderry) on 9th. Other gull interest included the winter's first Kumlien's Gull, an adult that roosted at the Cotswold Water Park (Gloucestershire) on 6th.

Ring-billed Gull, Southend-on-Sea, Essex (Photo: John)

Probable American Herring Gull, Donnybrewer, Londonderry (Photo: Derek Charles)
The number of reports of Shore Larks seemed to drop, and the only double-figure counts were 23 at Gibraltar Point (Lincolnshire) and 13 at Dingle Marshes (Suffolk). Other groups included nine at Titchwell (Norfolk) on 9th and eight at Holkham Gap (Norfolk).
Plenty of Waxwings sporting colour rings were spread across the country, giving some indication of how far these birds have moved in recent weeks. The biggest flock was of around 500 birds in Northampton, but other notable counts included 259 in Romsey (Hampshire), 235 in Welwyn Garden City (Hertfordshire), 200 in Bilston (West Midlands), 200 in Watford (Hertfordshire), 200 in Oxhey (Hertfordshire), 192 in Leicester, 172 in Reading (Berkshire), 168 in Darwen (Lancashire), 165 in Hatfield (Hertfordshire) and 150 in Wolverhampton (West Midlands). The extremes were one on Foula (Shetland) on 5th–7th, 20 in Belfast (Co Antrim) on 6th–10th and one in Penzance (Cornwall) to 9th.

Waxwing, Stockport, Greater Manchester (Photo: Jaz)
As year-listers calmed down, Great Grey Shrikes were only reported from22 sites over the week, which still isn't too shabby. This included four in Devon and Hampshire, and three in Dorset. The only bird in the far north was on one Rousay (Orkney) on 6th. In the south, the first-winter Rose-coloured Starling remained on St Mary's (Isles of Scilly) to 9th.

Great Grey Shrike, Grimwith Reservoir, North Yorkshire (Photo: Rob Sewell)
With excellent numbers of Common Redpolls remaining, it's not surprising that there are still several Coues' Arctic Redpolls being found. New birds this week were at Bainton Gravel Pits (Cambridgeshire) on 6th, one around Whiteadder Reservoir (in both Lothian and Borders) on 6th–9th and another at Stewartby (Bedfordshire) on 11th–12th. Longer-staying birds included two still at Rainton Meadows (Durham) and singletons at Hatfield Moors (South Yorkshire) to 9th, Widdrington Tip (Northumberland) to 6th and an elusive bird at The Lodge (Bedfordshire) to 12th, with the reappearance of one at Woodwalton Fen (Cambridgeshire) on 9th.

Coues' Arctic Redpoll, Rainton Meadows DWT, Durham (Photo: Mark Newsome)
The largest groups of Lapland Buntings reported were 36 at Flamborough Head (East Yorkshire) on 9th, 22 at Mersea Island (Essex) on 10th, 15–20 in stubbles at Weybourne (Norfolk) on 9th, 14 at Sturt Pond (Hampshire) on 7th and 11 at the unusual location of Rainham Marshes (London) on 6th.
The most interesting races reported were two 'Nordic' Jackdaws at Belvide Reservoir (Staffordshire) on 8th, with another showing characteristics of the race at Walton Manor (Oxfordshire) on 8th, up to five Northern Long-tailed Tits looking suitably cotton-ball-like at Dymchurch (Kent) on 7th–12th and one remaining Northern Bullfinch, at Bragar, Lewis (Outer Hebrides) 10th. Lastly, a Sandwich Tern at Tullyhill Bay, Strangford Lough (Co Down) may be tempted to stay for the rest of the winter and a late (or early?) Swallow was seen over Probus (Cornwall) on 10th.

Northern Long-tailed Tit, Dymchurch, Kent (Photo: Mike Gould)
Photo of the Week: 6th–12th January 2011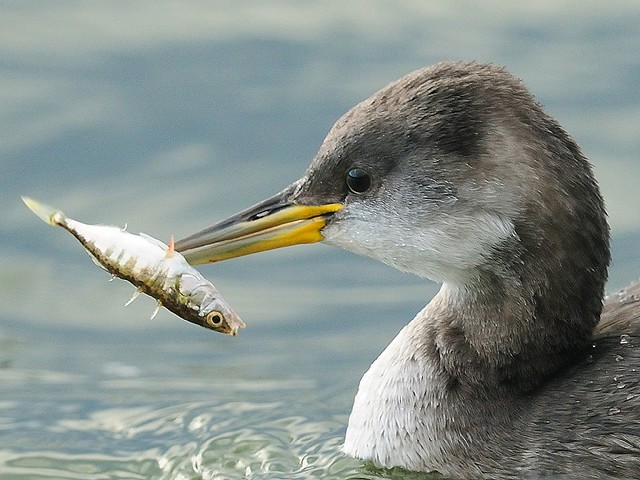 Red-necked Grebe, Fairhaven Lake, Lancashire (Photo: David Moreton)
The presence of a first-winter Red-necked Grebe at Fairhaven Lake (Lancashire) throughout the last week has provided bird photographers with a reliable opportunity and, as expected, we've had some great images uploaded as a result. With a relatively small and accessible lake like Fairhaven, the best technique is normally to pick a good vantage point and wait patiently for the bird to approach your position. The good thing about this technique is that you then have greater control over the way the bird will be lit as and when it does approach you. For example, positioning yourself on the south side of the lake at midday will ensure any sunlight comes from behind you and creates front-lighting on the bird. For local photographer David Moreton, the winning combination of technique, perseverence and good fortune resulted in a fantastic opportunity as the grebe surfaced with a Stickleback at close range. David definitely nailed the shot, producing a pin-sharp close-up of predator and prey, eye-to-eye. A well deserved Photo of the Week at last for David!
Other notable photos

Northern Long-tailed Tit, Dymchurch, Kent (Photo: Brian Harper)

Glossy Ibis, Freeman's Marsh, Berkshire (Photo: Stephen Burch)

Brambling, East Linton, Lothian (Photo: James Wood)

Waxwing, Romsey, Hampshire (Photo: Ian Williamson)

Black Redstart, Crail, Fife (Photo: John Anderson)

Jay, undisclosed site, Cheshire (Photo: Pauline Greenhalgh)

Tawny Owl, Swinsty Reservoir, North Yorkshire (Photo: Marcus Conway - ebirder)

Common Redshank, Minsmere RSPB, Suffolk (Photo: Carl Wright)

Red-breasted Merganser, Exminster Marshes RSPB, Devon (Photo: Charlie Fleming)

Hawfinch, Hungary (Photo: Tony McLean)

Fieldfare, Old Gore, Herefordshire (Photo: Mick Colquhoun)

Common Buzzard, Glasserton, Dumfries & Galloway (Photo: Chris Baines)

Common Kestrel, Filey, North Yorkshire (Photo: Rob Sewell)

Great White Egret, Great Shefford, Berkshire (Photo: Peter Walkden)

Lesser Redpoll, Roslin, Lothian (Photo: Mike Thrower)

White-tailed Eagle, Hordle, Hampshire (Photo: Darren Evans)