A persistent high-pressure weather system made meant it was far from a classic mid-September week of arrivals, although brief blasts of easterlies and an influx of Pectoral Sandpipers provided birders across Britain and Ireland with lots to look out for – even in inland areas.
Mainland Britain's first twitchable Green Warbler proved a highly attractive draw at Buckton, East Yorkshire, from 9th. Just the ninth for Britain and a Yorkshire first, the species has only been accessible on two brief occasions – at St Mary's, Scilly, in September 1983 and for a small number of individuals at Baltasound, Unst, Shetland, in May 2016. A relatively recent split from Greenish and Two-barred Warblers, records had been almost exclusively confined to offshore islands in the past (including four on Shetland alone), with the only other mainland occurrence at Lizard village, Cornwall, in June 2019.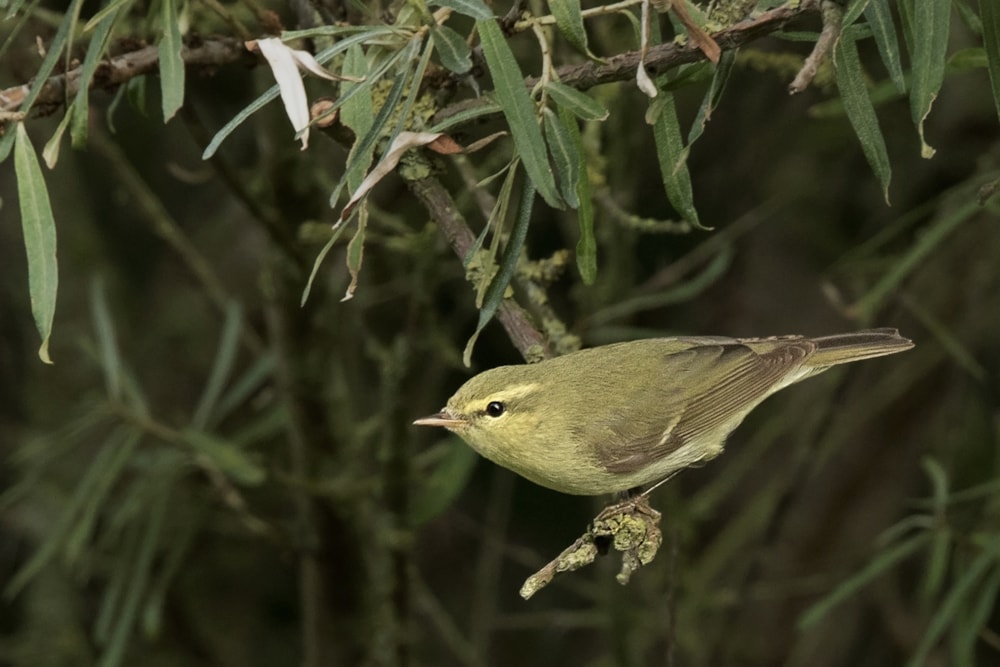 Green Warbler, Buckton, East Yorkshire (Paul Coombes).
Elsewhere in East Yorkshire, the warbler completed an exciting trio alongside the Black-browed Albatross at Bempton Cliffs RSPB and White-tailed Lapwing at Blacktoft Sands RSPB.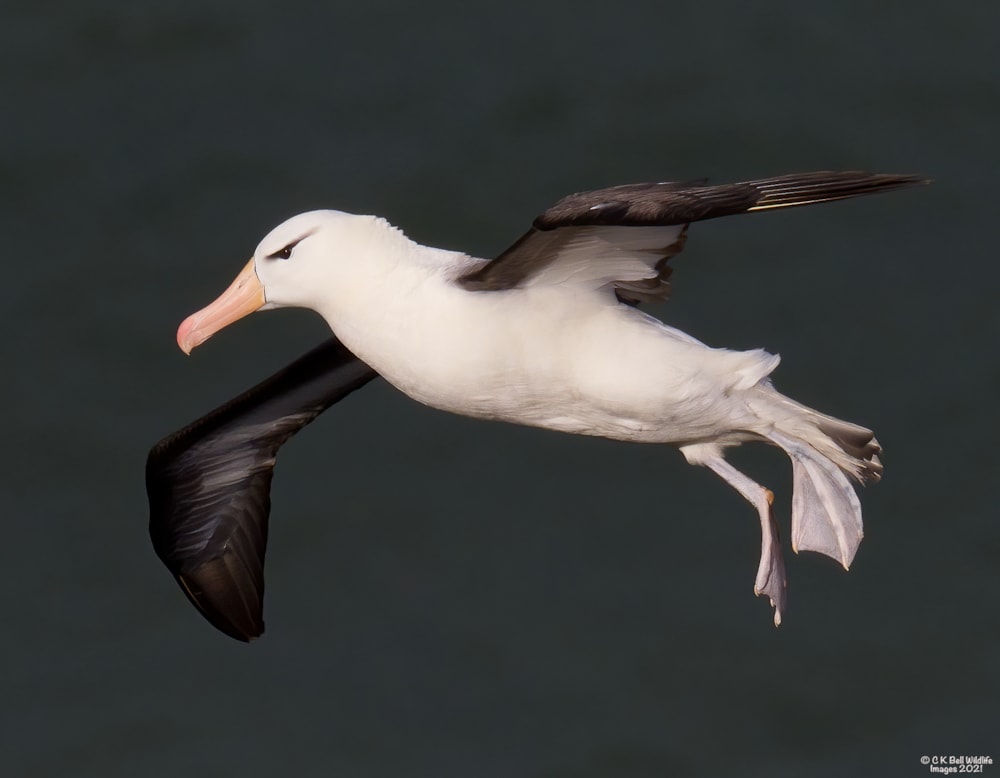 Black-browed Albatross, Bempton Cliffs RSPB, East Yorkshire (Craig Bell).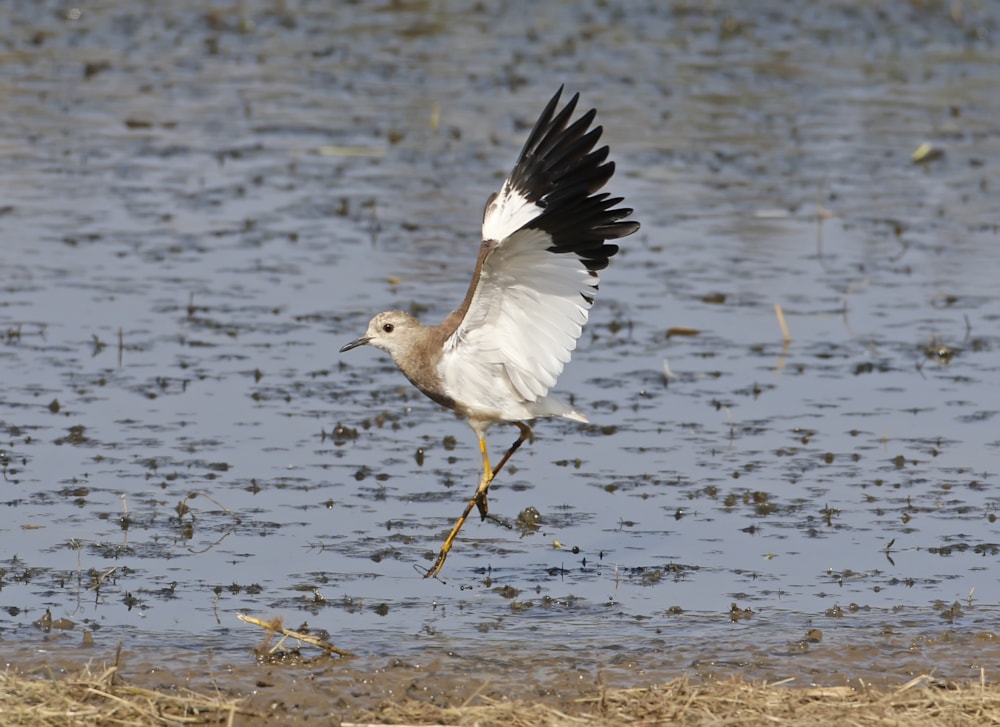 White-tailed Lapwing, Blacktoft Sands RSPB, East Yorkshire (Russell Hayes).
North Ronaldsay hosted a juvenile Oriental Turtle Dove on 9-10th – just the second for Orkney after one at Stromness, Mainland, in November 2002. Elsewhere on the island, a probable Wilson's Snipe briefly pitched down at Hooking Loch on 8th. An incredible find if confirmed, and the first away from the Isles of Scilly.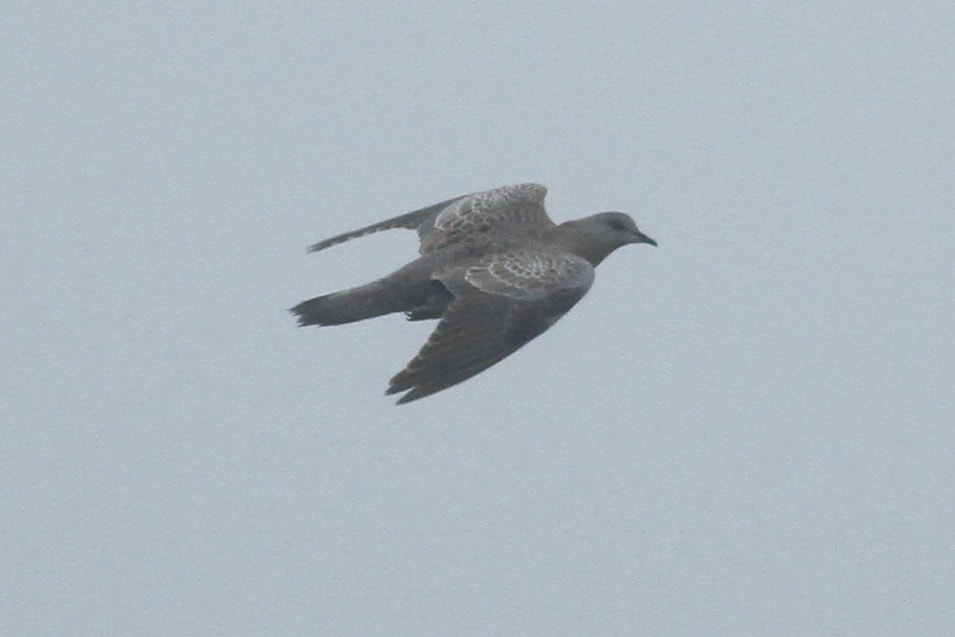 Oriental Turtle Dove, North Ronaldsay, Orkney (Dante Shepherd).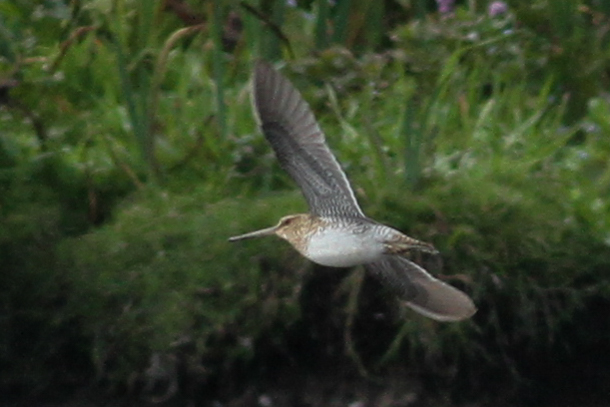 Probable Wilson's Snipe, North Ronaldsay, Orkney (Dante Shepherd).
A delightful Collared Flycatcher was Fair Isle's highlight on10th, with perhaps the same bird relocated on North Ronaldsay, Orkney, the following day.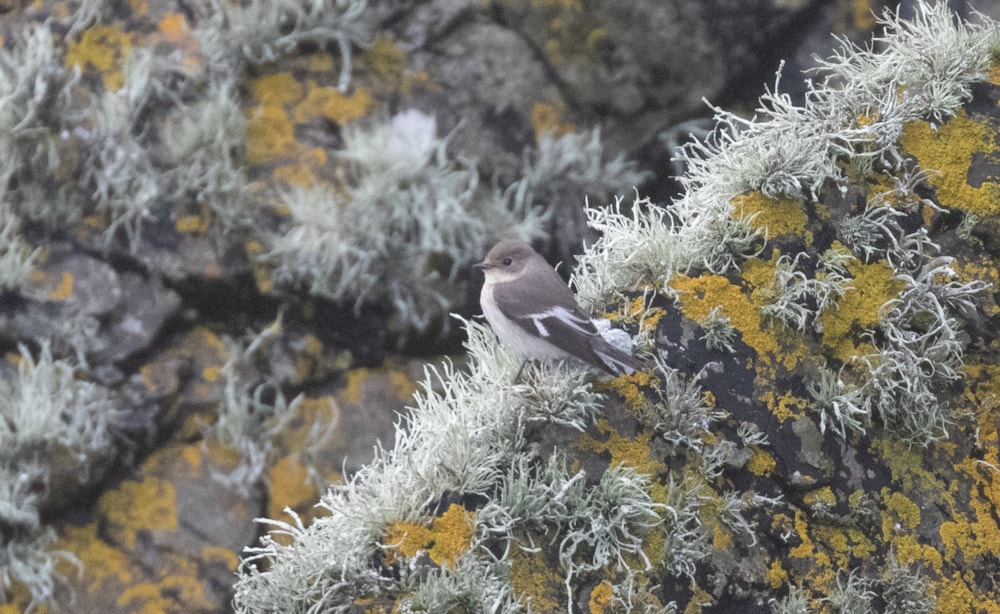 Collared Flycatcher, Fair Isle, Shetland (Daniel Gornall).
The week's best bird on Scilly was a Balearic Woodchat Shrike on St Mary's from 6th. A Balearic Islands endemic, the badius form is characterised by a lack of white bases to the primaries, as well as a marginally thicker bill, thin black forehead band, pure black back and gleaming white underparts.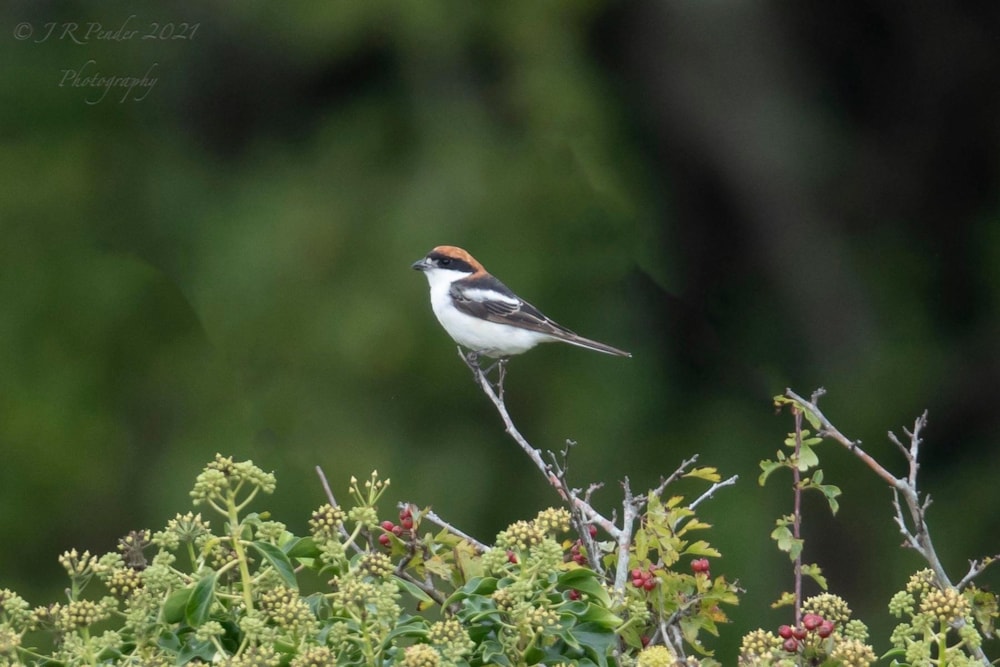 Balearic Woodchat Shrike, St Mary's, Isles of Scilly (Joe Pender).
In Highland, the Ben Macdui Snowy Owl tempted some to make the long journey north, while the St Kilda female remained. A ringing session at Gayton, Norfolk, was livened up by a flyover dark morph Eleonora's Falcon on 6th; a possible flew south-east over Gibraltar Point the previous day too. A juvenile Pallid Harrier was photographed at Compton Down, Isle of Wight, on 12th.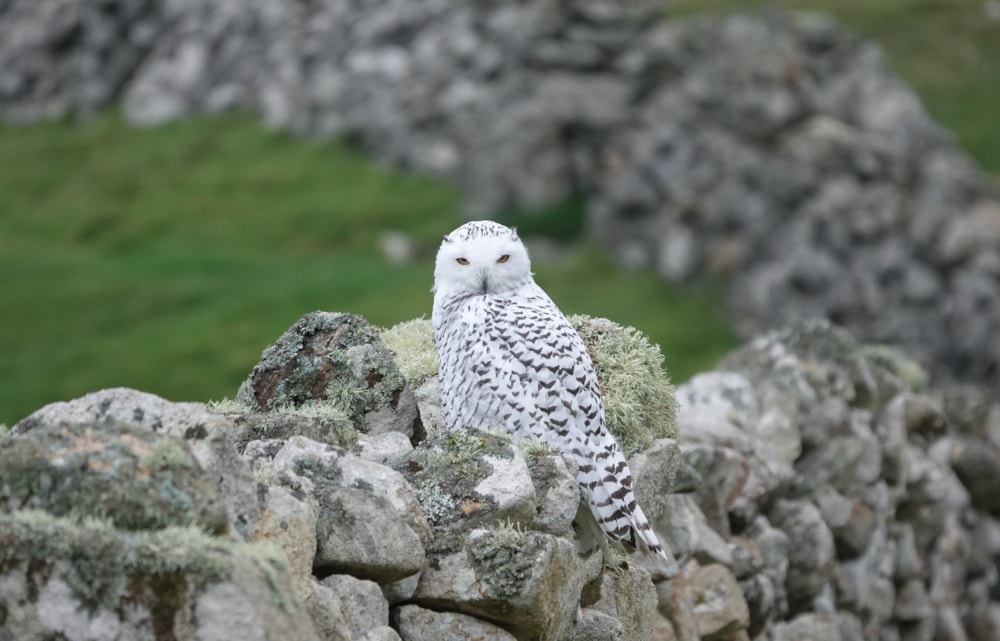 Snowy Owl, St Kilda, Outer Hebrides (Craig Nisbet).
In the Isle of Man, a Thrush Nightingale trapped and ringed at Calf of Man on 10th was a notable record. A new first-winter Booted Warbler was a late evening find at Earsary, Barra, on 12th, while a possible Iberian Chiffchaff was at Worth Marsh, Kent, the previous day. Also unconfirmed, a possible Pallid Swift flew north-west over Seaford, East Sussex and the juvenile Black Stork continued at Frampton Marsh RSPB, Lincolnshire, throughout.

Booted Warbler, Earsary, Barra, Outer Hebrides (Bruce Taylor).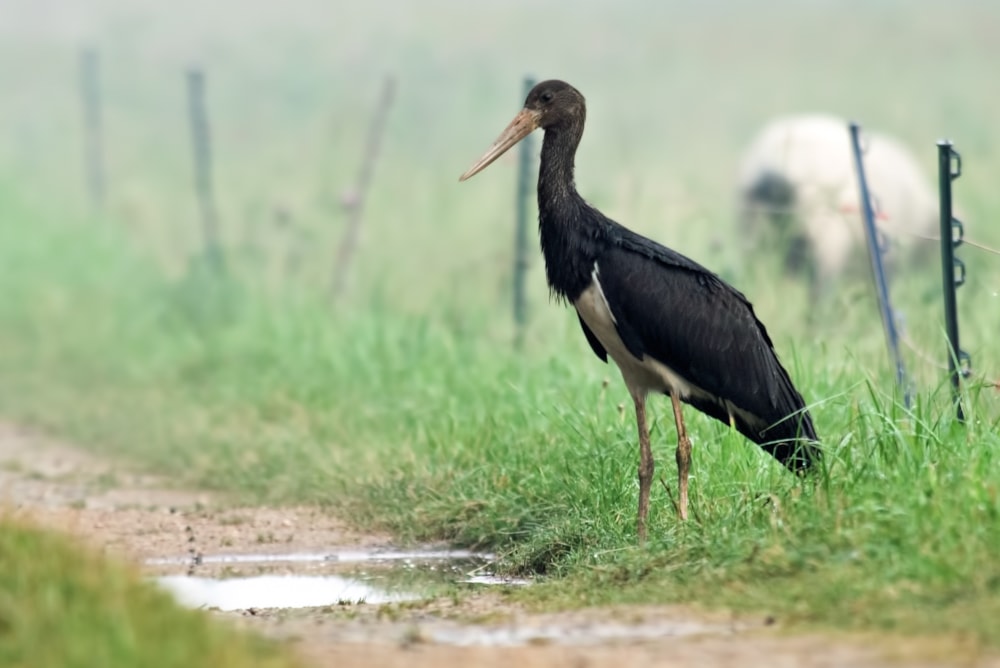 Black Stork, Frampton Marsh RSPB, Lincolnshire (Jack Bucknall).
A mini-influx of Bonelli's warblers to the south-west included at least two Western Bonelli's – on St Mary's from 4th and Bryher, Scilly, on 8th – with two further Bonelli's warbler species at St Martin's, Scilly, and Land's End, Cornwall (both on 9th).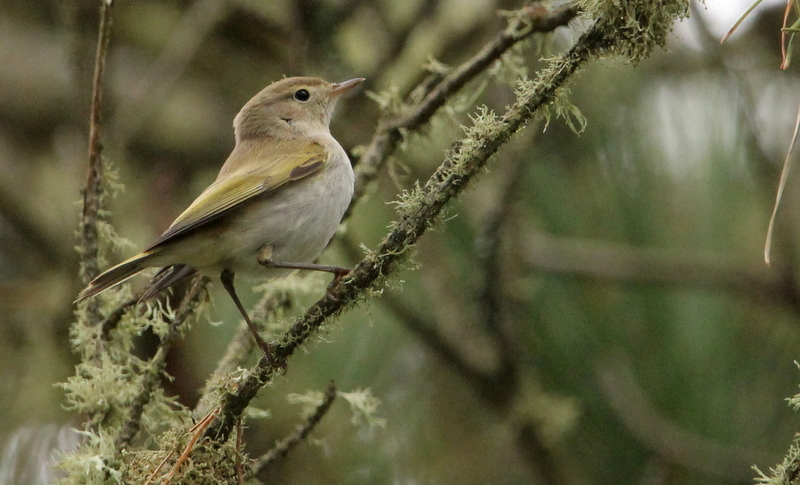 Western Bonelli's Warbler, St Mary's, Isles of Scilly (Kris Webb).
In Norfolk, the Long-billed Dowitcher lasted at Potter Heigham Marshes until 10th, while a possible Marsh Sandpiper was a brief visitor to Alkborough Flats, Lincolnshire, on 7th. Baird's Sandpipers were seen at three locations, including the continuing bird at Clonakilty, Co Cork and new individuals at An Mhuirioch, Co Kerry and Myroe, Co Derry.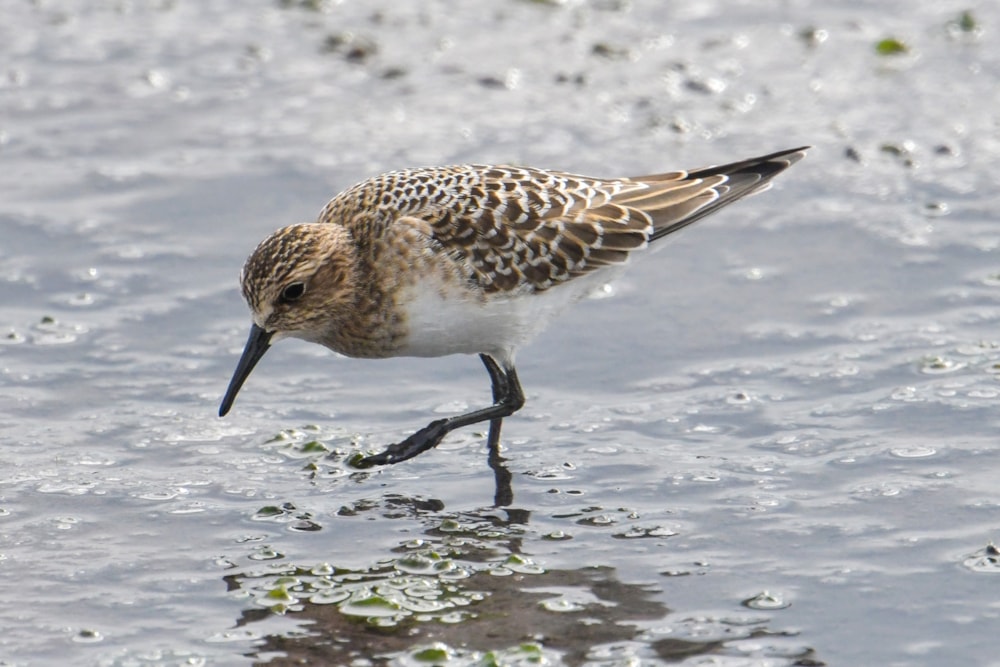 Baird's Sandpiper, Clonakilty, Cork (Richard Mills).
Another impressive week for Fea's-type petrels, North Ronaldsay, Orkney, jammed in again with sightings on both 6th and 7th. Elsewhere, one flew past Gallan Head, Lewis, on 6th, with another heading north past Flamborough Head, East Yorkshire, on 12th.
A probable adult Audouin's Gull flew south-east past Walcott, Norfolk, early on 8th would have proved popular if confirmed. In Ireland, the long-staying Bonaparte's Gull was still present in Belfast Lough, Co Down, until 11th at least, with another at Garretstown, Co. Cork on 6th. In Kent, the reliable adult remained at Oare Marshes NR too. Meanwhile, a Gull-billed Tern accompanied Sandwich Terns at Snettisham RSPB, Norfolk, on 10th and the Forster's Tern remained at Soldier's Point, Co Louth, until the week's end.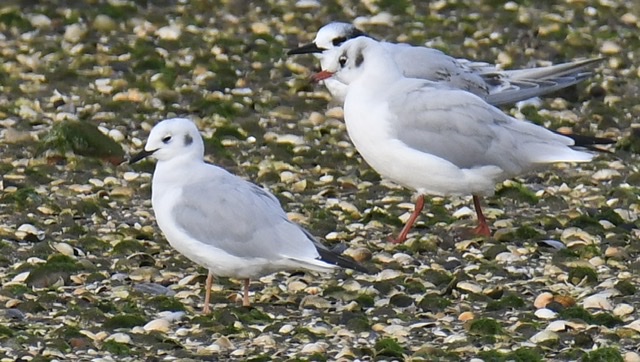 Bonaparte's Gull (left), Kinnegar Shore/Pools, Down (Ed O'Hara).
First-summer drake King Eider were at Basta Voe, Yell, until 8th and Wadbister Voe, Mainland, on 12th. The long-staying American Black Duck was still present on Belmullet, Co Mayo, to 9th at least, with the drake Black Scoter again at Kinnaber Links, Angus & Dundee, on 7th.
In Lepidoptera news, the anticipated Camberwell Beauty influx delivered with singletons to Beccles, Suffolk, on 6-7th and Burnham Overy, Norfolk, from 6-8th.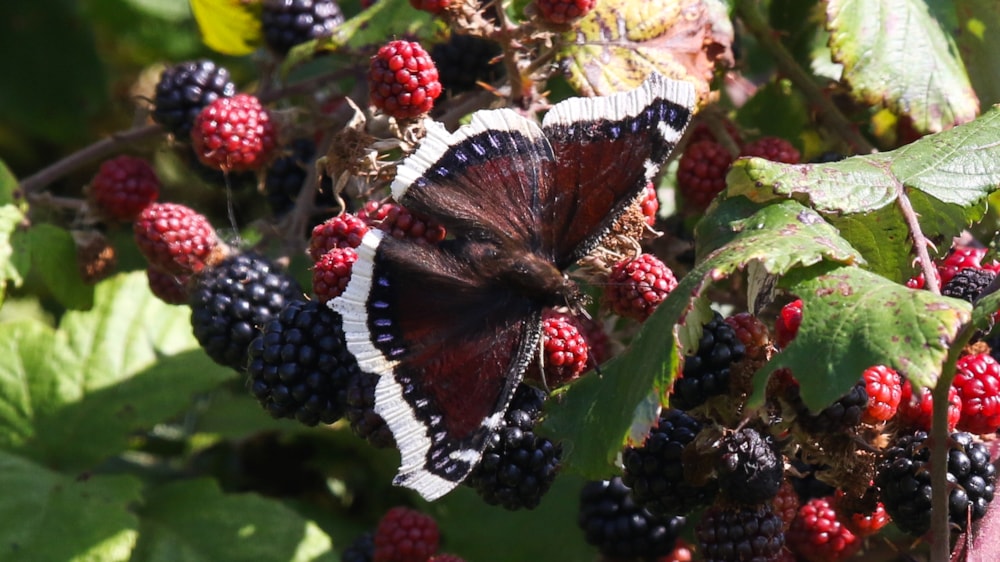 Camberwell Beauty, Burnham Overy, Norfolk (Marcus Nash / The Bird ID Company).
Scottish mainland
A White-rumped Sandpiper was at Skinflat Lagoons, Forth, on 7th only. Pectoral Sandpipers were present in a fair number, a juvenile was at Alturlie Point, Highland, on 5th and another mobile between Loch Bhasapol and Loch a' Phuill, Tiree, on 5-6th. Sadly, one was found dead on a road in Chapelton, Angus & Dundee, on 5th. Great Egrets were at three sites: River Garnock Estuary, Ayrshire, Lochwinnoch RSPB, Clyde and Moffat, Dumfries & Galloway.
At least three Surf Scoters were off Kinnaber Links, Angus & Dundee. A juvenile Sabine's Gull spent five minutes at Tyninghame Bay, Lothian, on 6th and an adult spent the day at Loch Fleet, Highland, on 7th. Pomarine Skuas were logged past eight sites and Long-tailed Skuas past two, while a Cory's Shearwater flew south past Kinnaird Head, Aberdeenshire, on 12th.
Juvenile Common Rosefinches trickled through, with one at Balephuil, Tiree, from 9-11th. Two were on the Isle of May, Fife, on 9th. Two Barred Warblers were on Tiree – at Balephuil and Balemartine. A Rosy Starling was at Skelbo, Highland, on 8th.
Dan Owen
Northern Isles and the Hebrides
Common Rosefinches continued their impressive showing with no fewer than 18 sites in Shetland reporting birds. The largest flocks included six at Valyie, Unst, and nine at Norwick, Unst, with more two sites hosting three birds apiece. South Mainland had a good run of Red-breasted Flycatchers; at least three were at Sumburgh alonside singles at Channerwick and Grutness. Arctic Warblers were at Boddam and Quendale, Mainland, and Aith Ness, Fetlar.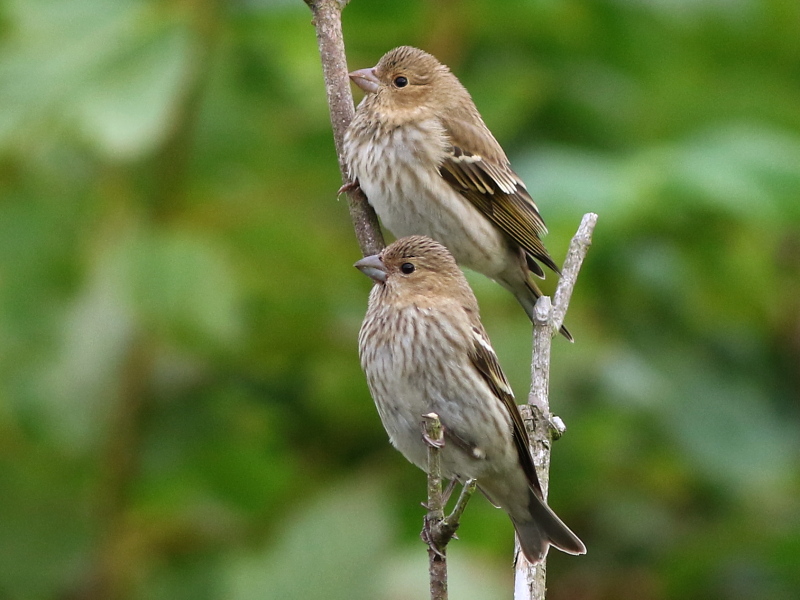 Common Rosefinches, Norwick, Unst, Shetland (David Cooper).
The male Siberian Chiffchaff remained singing along Hoswick Burn, Mainland, and a Marsh Warbler was at Norwick, Unst; Barred Warblers were at 11 sites. Bluethroats were at Noness, Mainland, on 10th and Grutness and Sumburgh on 12th. Other scarcities included Wryneck at two sites and Red-backed Shrikes at five, while the first Little Bunting of the autumn was at Norwick, Unst, on 11th.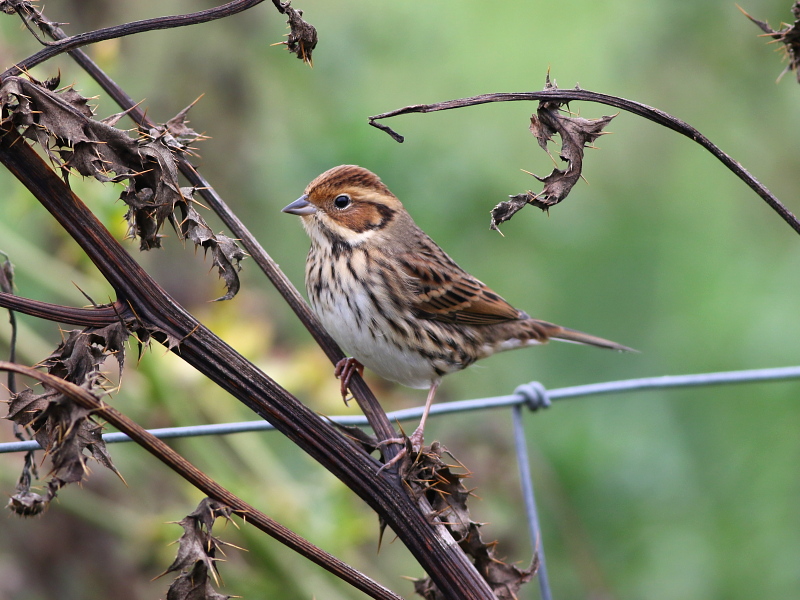 Little Bunting, Norwick, Unst, Shetland (David Cooper).
Pectoral Sandpipers moved through quickly, including one that paid a brief visit to Loch of Spiggie, Mainland, on 8th. Another was on Foula on 10-11th and a third was at the Viking Windfarm off Kergord on 10th. Little Stints were at five sites; a juvenile Black Tern was at Pool of Virkie, Mainland, on 9th.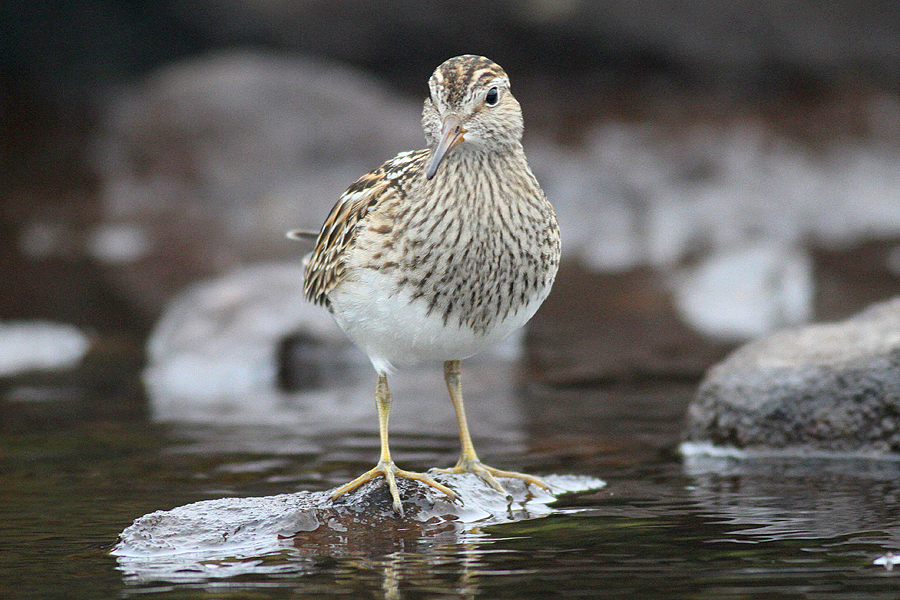 Pectoral Sandpiper, Kergord, Mainland, Shetland (Rob Fray).
Fair Isle's autumn continued apace. Two unringed Melodious Warblers were present early in the week, meaning a minimum of four birds for the isle this autumn! A smart adult Woodchat Shrike was present from 9th – the island's first since 2017. The first Wryneck of the season was present on 6th and a juvenile European Turtle Dove on 12th. A flock of 19 Pale-bellied Brent Geese was the island's highest-ever count, 13 of which were juveniles.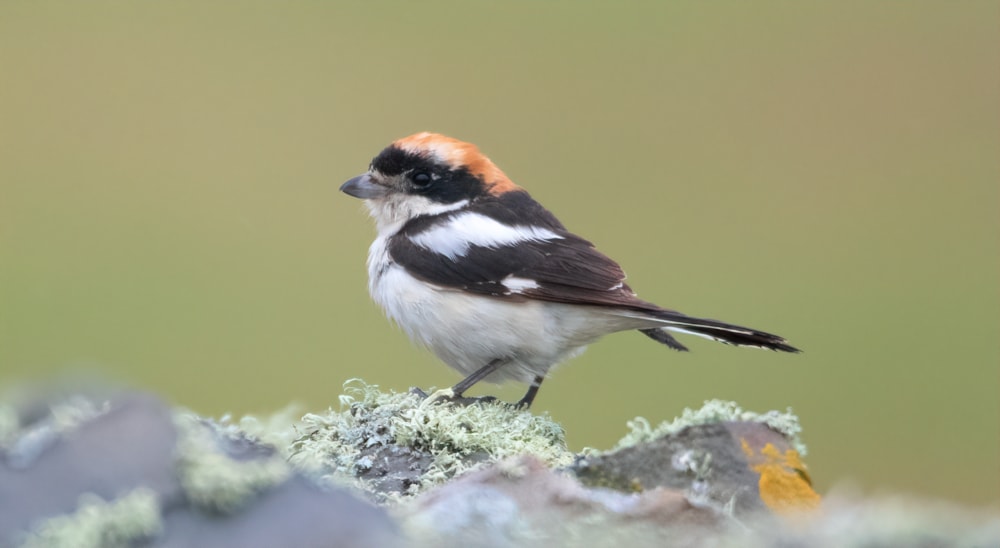 Woodchat Shrike, Fair Isle, Shetland (Alex Penn).
In Orkney, the Rosy Starling made another appearance at Stromness, Mainland, on 6th, while a Citrine Wagtail was on the beach at Broach of Gurness on 10th. Westray held juvenile Black Tern and Little Stint, with a Common Rosefinch, Lapland Bunting and Red-necked Grebe all present around Papa Westray. Sanday enjoyed good coverage this week, peaking with an Arctic Warbler at Lettan on the morning of 12th. At least four Barred Warblers were on the island, along with a handful of Common Rosefinches and three Pectoral Sandpipers (at Cleat and Tres Ness on 9th and Stove on 10th).
Some good seawatching was had from North Ronaldsay, with 520 Sooty Shearwaters past on 6th alongside a few Balearic Shearwaters for good measure. On land, at least eight Common Rosefinches and a scattering of Barred Warblers kept things flowing. Waders were well-represented, with two juvenile Pectoral Sandpipers and a Lesser Yellowlegs on 7th, the latter lingering until the following morning.

Lesser Yellowlegs, North Ronaldsay, Orkney (George Gay).
It has been a lean start for Buff-breasted Sandpipers, so one on the machair at Bornish, South Uist, from 11th was welcome. It was joined by three Pectoral Sandpipers, with one lingering until the following day. Further 'Pecs' were at Loch Ardvule, South Uist, on 8-9th and Loch Barvas, Lewis, on 10-11th. Little Stints were at two sites and Curlew Sandpipers at three.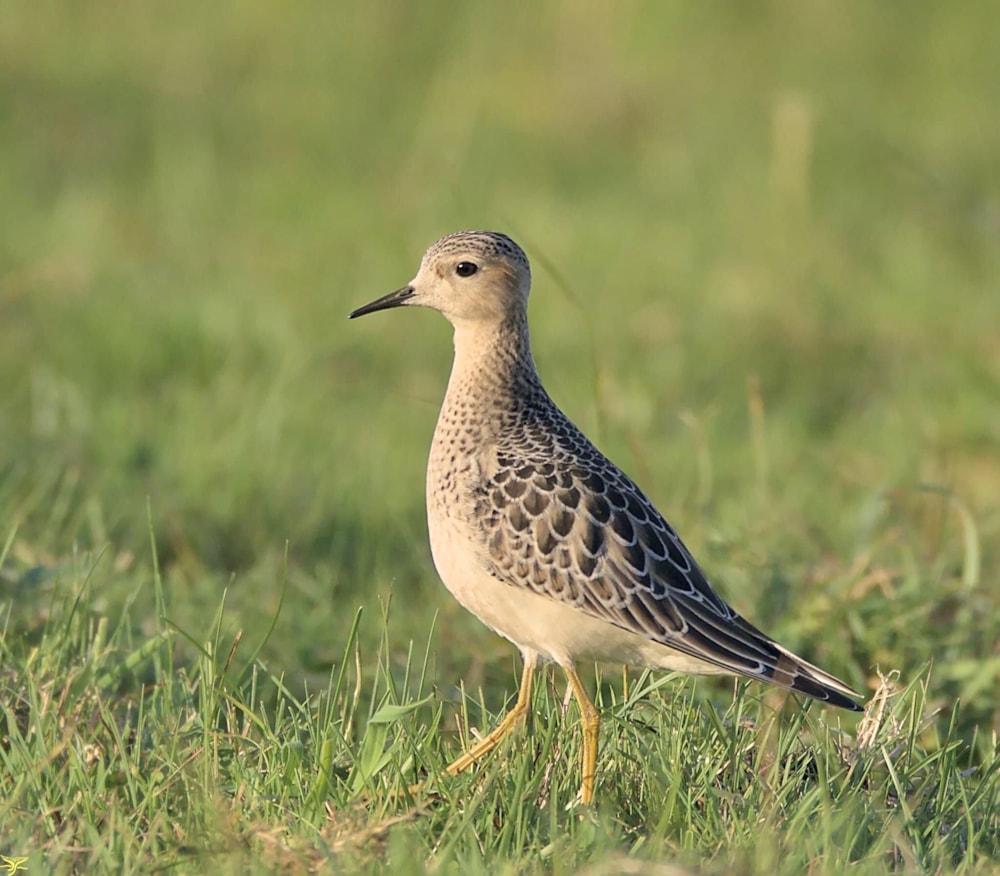 Buff-breasted Sandpiper, Ormiclate, S Uist, Outer Hebrides (Ron Macdonald ).
A Great Shearwater past Rubha Ardvule, South Uist, on 7th headlined the seawatching reports, and an immature Glaucous Gull was at Rubh' Arnal, North Uist, on 10th. A Common Rosefinch was at Garrygall, Barra, on 10th, while a smart male Red-backed Shrike was at Cleat, Barra, on 11-12th. St Kilda hosted a first-winter Citrine Wagtail on 9th.
Dan Owen
North-East England
Four Pectoral Sandpipers were found in Northumberland during the week: singles at Castle Island, Holy Island, Derwent Reservoir and Budle Bay. A new Barred Warbler was at Budle Bay with Holy Island still holding onto one at the start of the week. A Wryneck reported at East Chevington NWT on 6th was the only other scarcity. Seawatching was relatively quiet with two Sabine's Gulls past Cullercoats and a Balearic Shearwater off Boulmer highlighting. First-winter Caspian Gulls visited at Budle Bay and Seahouses and Garganey frequented three localities.

Pectoral Sandpiper, Castle Island, Northumberland (Alan Curry).
In Durham, Curlew Sandpipers were at Whitburn Steel and Boldon Flats NR with the latter also hosting a Eurasian Spoonbill and Wood Sandpiper. The Ruddy Shelduck flock remained in place at Bishop Middleham with two Great Egrets still at Hurworth Burn Reservoir. An early Fieldfare was at Whitburn on 11th with a Pied Flycatcher at Trow Quarry, South Shields the only other passerine migrant. A single Pomarine Skua flew past Whitburn Coastal Park on 12th.
In Cleveland, the Tees Marshes again dominated reports with three Black Terns and lingering Ruddy Shelduck and Great Egrets being highlights. A juvenile Garganey was still at South Gare on 9th and a Pied Flycatcher was at Boulby.
Jonathan Farooqi
North-West England
Anthorn, Cumbria, hosted two Little Stints and a Curlew Sandpiper, while a juvenile Little Stint joined the Curlew Sandpiper at South Walney NR. Another Curlew Sandpiper was at Drigg on 11th. A phalarope species was off Port Carlisle on 8th but sadly remained too distant to be identified.
Wader passage also continued through Lancashire this week. A juvenile Pectoral Sandpiper at Alston Reservoirs, and later Grimsargh Wetlands, from 10th took the crown, while Curlew Sandpipers and Little Stints were reported from five and nine sites respectively. News of a Wryneck trickled out of Brinscall, present from 6-8th, while a European Honey Buzzard flew lazily over the Marshside area on 7th.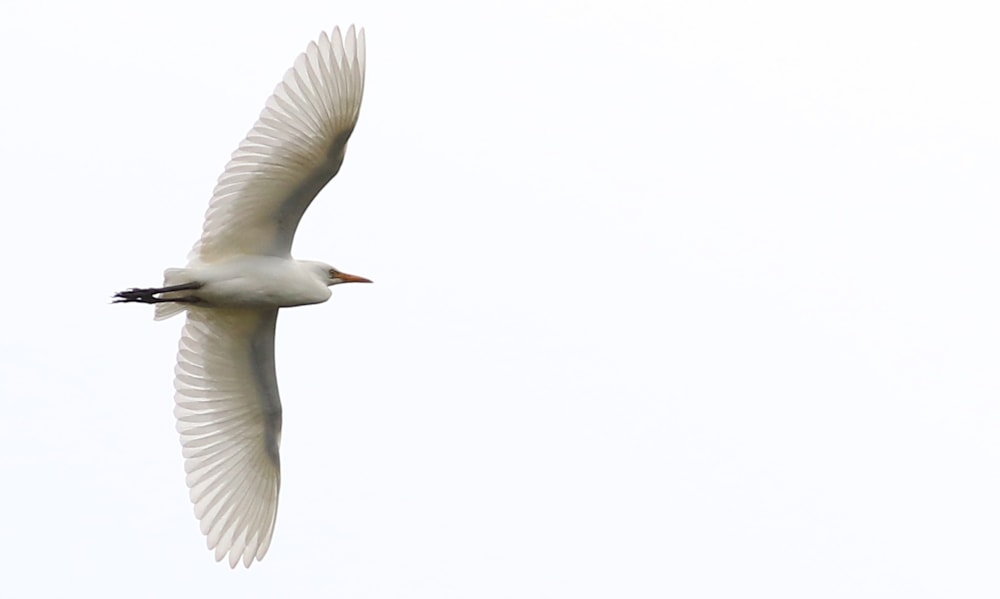 Western Cattle Egret, Burton Mere Wetlands RSPB, Cheshire (Elliot Montieth).
Both Little Stints and Curlew Sandpipers were present in Cheshire in good numbers too and Spotted Redshank numbers peaked at five at Frodsham Marsh on 12th. Single Firecrests were at Hilbre Island on 7th and Hale Park on 12th. A late adult Black-necked Grebe lingered at Woolston Eyes NR until at least 7th. Hilbre Island recorded Black Terns on three days and the first returning Pale-bellied Brent Goose on 11th, while the Ruddy Shelduck continued further down the Dee.
A juvenile Red-necked Phalarope spent all of two minutes at Little Woolden Moss NR, Greater Manchester, on 11th. The juvenile Black-necked Grebe remained at High Rid Reservoir until 7th, when a juvenile Little Gull was at Pennington Flash CP and three Garganey at Elton Reservoir. A Ruddy Shelduck flew east over the latter site on 8th.
Dan Owen
Lincolnshire and Yorkshire
Lincolnshire scored two Pectoral Sandpipers with singles at Alkborough Flats and Frampton Marsh RSPB. Frampton also produced a European Honey Buzzard on Saturday having earlier flown over nearby Freiston Shore RSPB. A Common Rosefinch was re-trapped at Gibraltar Point NNR with a possible reported at Covenham Reservoir at the start of the week. A Red-backed Shrike at Kirton in Lindsey on Friday was a smart inland find.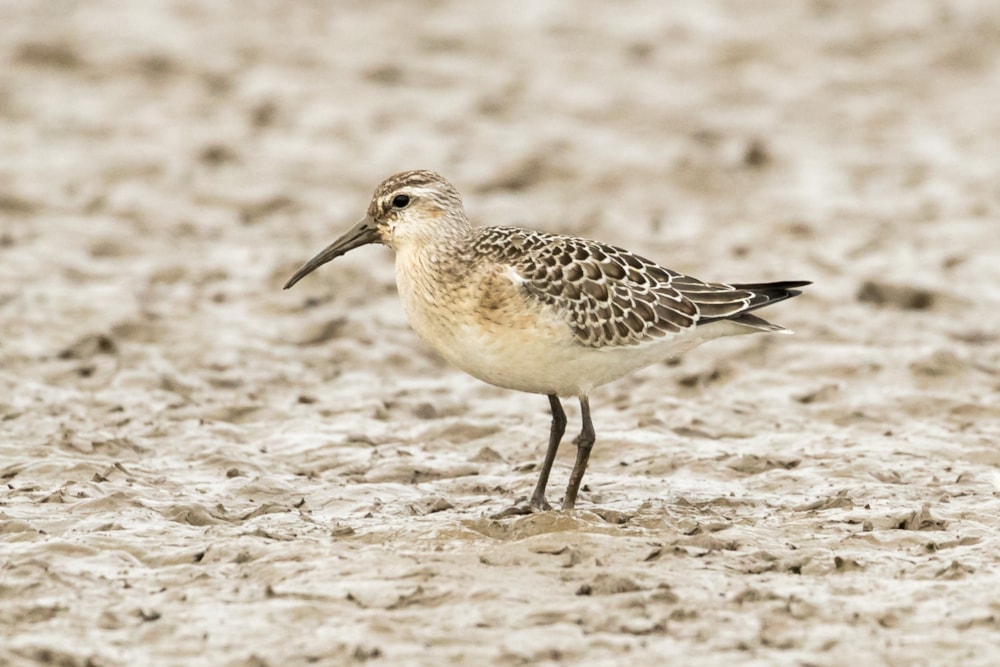 Curlew Sandpiper, Frampton Marsh RSPB, Lincolnshire (Ian Bollen).
In East Yorkshire, an Arctic Warbler was the highlight of another good week in the Spurn area. Other notable sightings included a Red-backed Shrike, Common Rosefinch, Barred Warbler, European Honey Buzzard, a possible Ortolan Bunting and a Eurasian Dotterel. Seabird highlights came in the form of several Long-tailed Skuas and a couple of Sabine's Gulls. A Glossy Ibis arrived at Blacktoft Sands RSPB on 12th.

Common Rosefinch, Spurn YWT, East Yorkshire (Craig Bell).
Flamborough Head's Barred Warbler remained in the Bay Brambles throughout and seawatching at Hornsea produced a Sabine's Gull and Long-tailed Skua. Three of the latter species passed Old Nab, Staithes, North Yorkshire, on 12th. A Pectoral Sandpiper was pitched up at Nosterfield LNR on in the 8th and a Guillemot was on the River Ouse at Cawood on Sunday.
In West Yorkshire, a European Honey Buzzard flew south over Hebden Bridge, while a possible Richard's Pipit over Fairburn Ings RSPB on Tuesday was somewhat intriguing. St Aidan's RSPB had a good week for waders including Grey Plover, Sanderling, Curlew Sandpiper and Little Stint.
Content continues after advertisements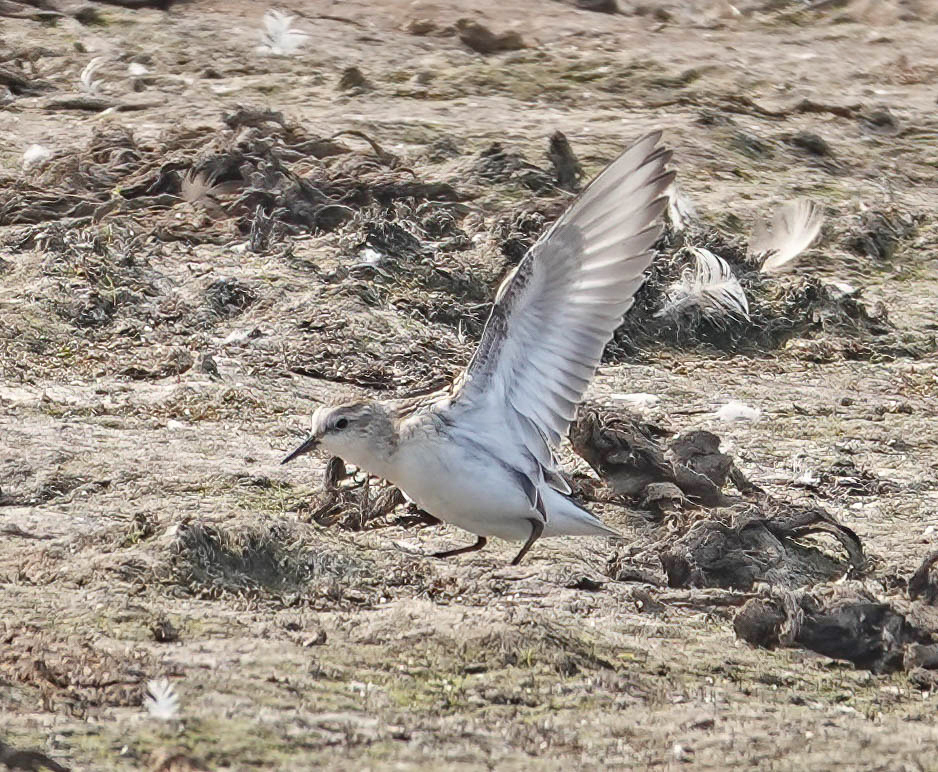 Little Stint, St Aidan's RSPB (Swillington Ings), West Yorkshire (Dave Ward).
An inland Wryneck was unearthed at Thorne Moors NNR, South Yorkshire, on 7th. Elsewhere, a ringed Baltic Gull was at Thrybergh CP on Friday with a possible at Adwick Washlands RSPB a couple of days later.
Jonathan Farooqi
West Midlands
Little Stints were at three Staffordshire sites, with a peak of three at Blithfield Reservoir on 6th, when a Curlew Sandpiper was also present. The juvenile Black Tern lingered at Belvide Reservoir, with juvenile Spotted Redshanks at both Branston GPs and at Cuckoo Bank. Shropshire had a quiet week, with a first-winter Caspian Gull at Telford and juvenile Wood Sandpiper at Wood Lane NR the highlights. A flock of Sandwich Terns were sound-recorded over Monkspath, West Midlands, in the early hours of 9th and a juvenile European Nightjar was trapped and ringed at Marsh Lane NR on 10th.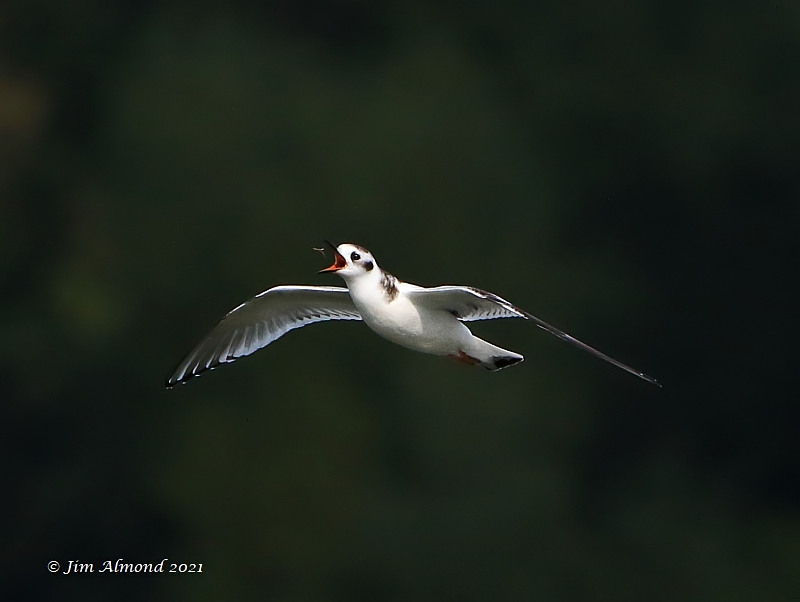 Little Gull, The Mere, Shropshire (Jim Almond).
In Worcestershire, a Wood Sandpiper was at Upton Warren NR on 10th and a male Ring Ouzel was at Bredon Hill on 6th. A Glossy Ibis was a brief visitor to Draycote Water on 6th. A single Little Stint was at Ladywalk NR (6th) and two at Bodymoor Heath (6-12th), while the juvenile Wood Sandpiper lingered at Brandon Marsh NR. Two Black Terns were at Draycote Water on 6th where the female Ruddy Shelduck persisted.
Dan Owen
East Midlands
A juvenile Pectoral Sandpiper was a smart find at Attenborough NR, Nottinghamshire from 11th. The Spotted Redshank lingered at Holme Pierrepont until 8th and singles were at Langford Lowfields RSPB (11th) and Collingham Pits (11-12th). Idle Washlands continues to do the job – up to three Little Stints remained this week, with a Curlew Sandpiper and 25 Ruff for company. A Black-necked Grebe and four Garganey made up the best of the rest.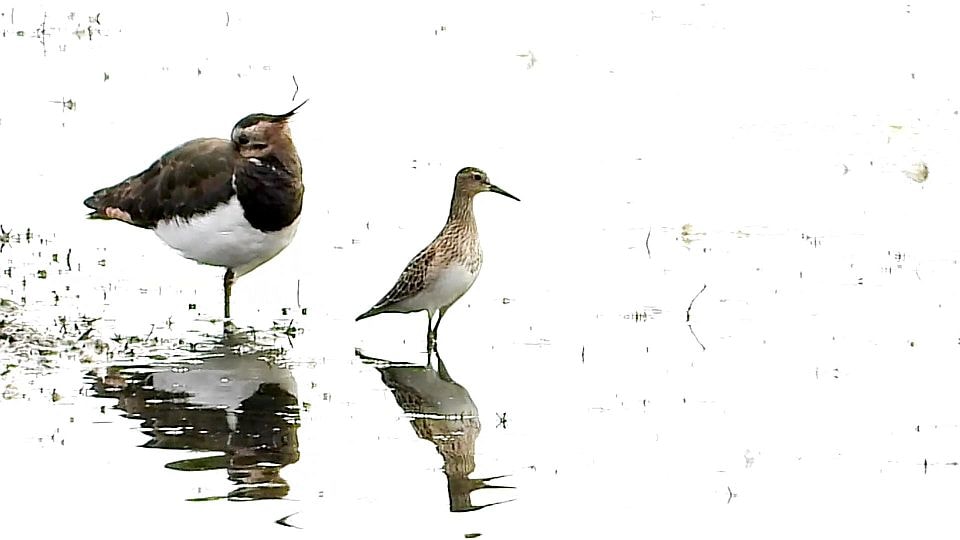 Pectoral Sandpiper, Attenborough NR, Nottinghamshire (Alan Shaw).
Eyebrook Reservoir, Leicestershire & Rutland, enjoyed a good week with a Pectoral Sandpiper on 11-12th and four Black Terns on 6th. Wader passage elsewhere remained light, with a Wood Sandpiper was at Rutland Water on 7th where a Little Stint was present on 9th. The Wryneck continued to show at Groby Pool until 7th. Four Black Terns were at Thornton Reservoir, with a Sandwich Tern sound-recorded over Earl Shilton during the night of 8-9th. A juvenile Montagu's Harrier flew north-west over a private site near Shepshed on the morning of 10th.
Wryneck, Groby Pool, Leicestershire and Rutland (Alan Shaw).
In Northants, Black-necked Grebe was at Clifford Hill GPs on 6th and two Black Terns were at Daventry Reservoir CP the same day. A single Black Tern was at Hollowell Reservoir on 11th. A Little Stint was at Titchmarsh NR on 8th, while the flock at DIRFT 3, Lilbourne, peaked at four. On 8th, a Wryneck at Bar Brook Reservoir was a decent Derbyshire find. Four Black Terns flew through Bottoms Reservoir on 6th and a juvenile Little Gull was at Ogston Reservoir on 9th.
Dan Owen
East of England
Norfolk's highlight was a popular Pectoral Sandpiper at Titchwell RSPB from 7th. Two Barred Warblers were also discovered – at Burnham Overy Dunes and Gramborough Hill – with a Wryneck found in a kitchen at Beeston Regis on 6th. A possible American Wigeon at Cley Marshes on 6th evaded confirmation. Two sites held Wood Sandpipers, with Garganey at four locations. Offshore, a juvenile Sabine's Gull was noted from a boat off Wells-next-the-Sea, while Pomarine Skuas flew past Weybourne and Cley Marshes.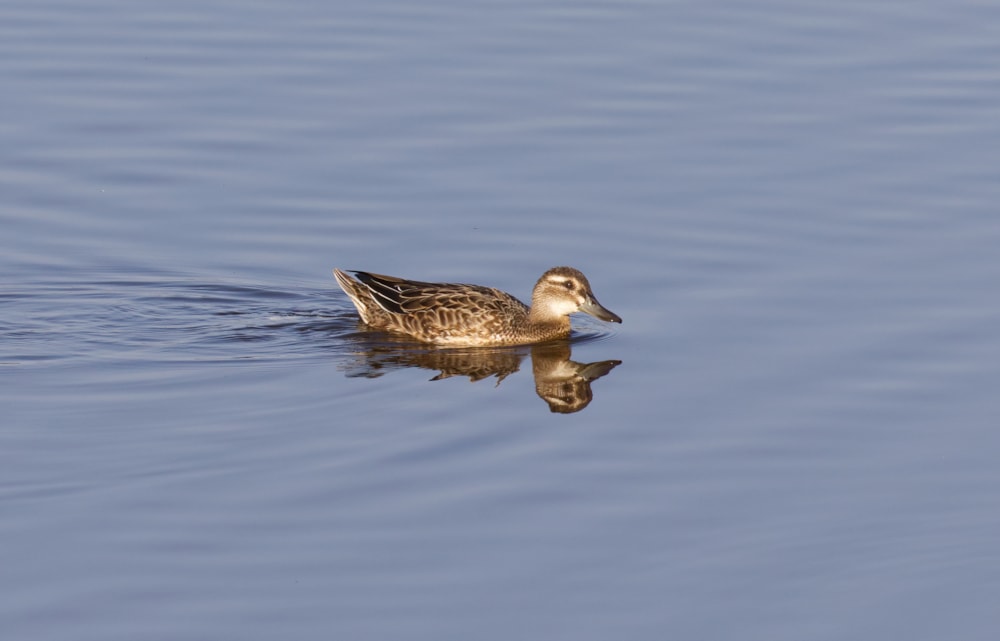 Garganey, Strumpshaw Fen RSPB, Norfolk (Jonathan Farooqi).
A healthy Essex week included a juvenile Pectoral Sandpiper at Abberton Reservoir from 11th and a Barred Warbler at Gunners Park on 12th, the former alongside a Wood Sandpiper. A juvenile Red-necked Phalarope was reported from Paglesham Lagoon on 11th, with a White Stork at Writtle a day later presumably of Knepp origin. Elsewhere, a count of 12 Little Stints at Blue House Farm was notable, a Common Quail sang at Old Hall Marshes and two Ruddy Shelduck were at Wallasea Island.
In a quieter week for Suffolk, three sites hosted Wrynecks – Landguard, Shelley and Kessingland – while a White Stork was back at Lakenheath Fen on 6th. Little Stints were at a plethora of sites, a lone Curlew Sand was at Hazlewood Marshes, with Garganey at three locations. A possible European Honey Buzzard flew over North Warren.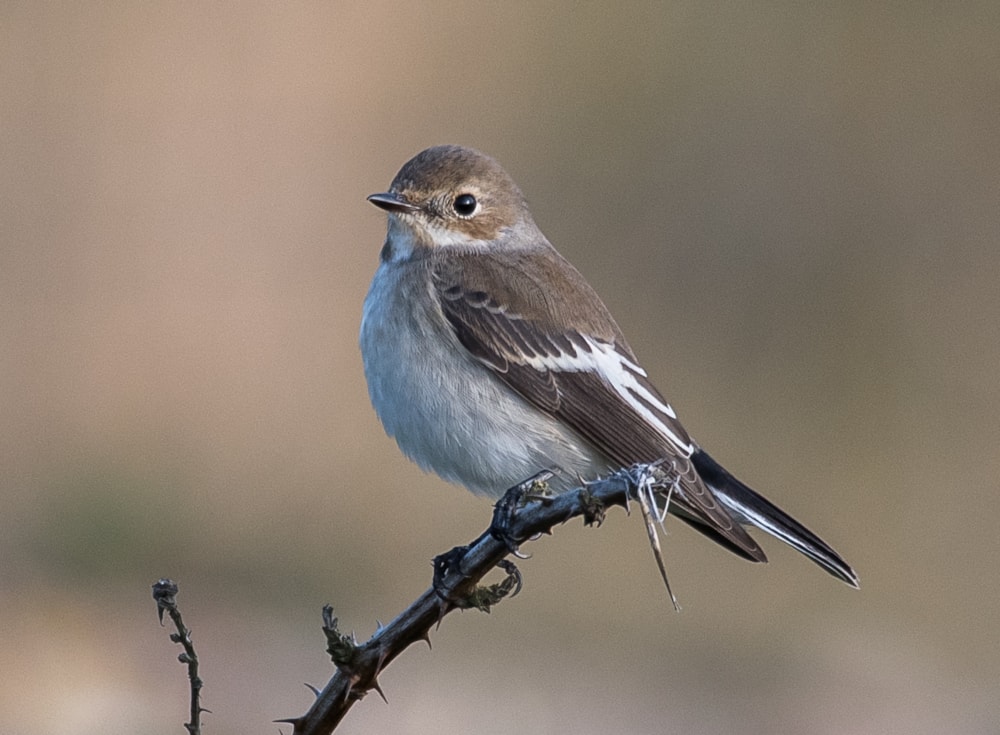 Pied Flycatcher, Landguard NR, Suffolk (Les Cater).
In Cambridgeshire, the wader hotspot of Smithy Fen, Cottenham, scored a delightful juvenile Pectoral Sandpiper on 10-11th, alongside a supporting cast of Garganey, Wood Sandpiper, four Little Stints and no fewer than six Curlew Sandpipers. Sunday saw five Glossy Ibises grace Fen Drayton Lakes RSPB and a Wryneck at Great Stukeley; two Ruddy Shelduck were at Kingfishers Bridge on 10th. Nocmigging at Chesterton, Cambridge, came up trumps with an Ortolan Bunting on 6th and a flock of Sandwich Terns on 9th.
A Sandwich Tern was on pools at Brogborough landfill site, Bedfordshire, on 8th, with another three at Wilstone Reservoir, Hertfordshire, the next day. Elsewhere, an unringed White Stork visited Rickmansworth and Stocker's Lake on 7-8th, a Common Quail was near Wallington and the Ruddy Shelduck remained at Amwell, while 15 Black Terns flew along the Grand Union Canal near Hemel Hempstead on 6th.
South-East England
London Wetland Centre's first Pectoral Sandpiper since 1994 was a notable record on 12th in the capital, where the Beddington Farmlands Spotted Crake and Wanstead Wryneck both lingered until 6th. An impressive eight sites hosted Pied Flycatcher and Rainham Marshes hosted Western Cattle Egret and Curlew Sandpiper.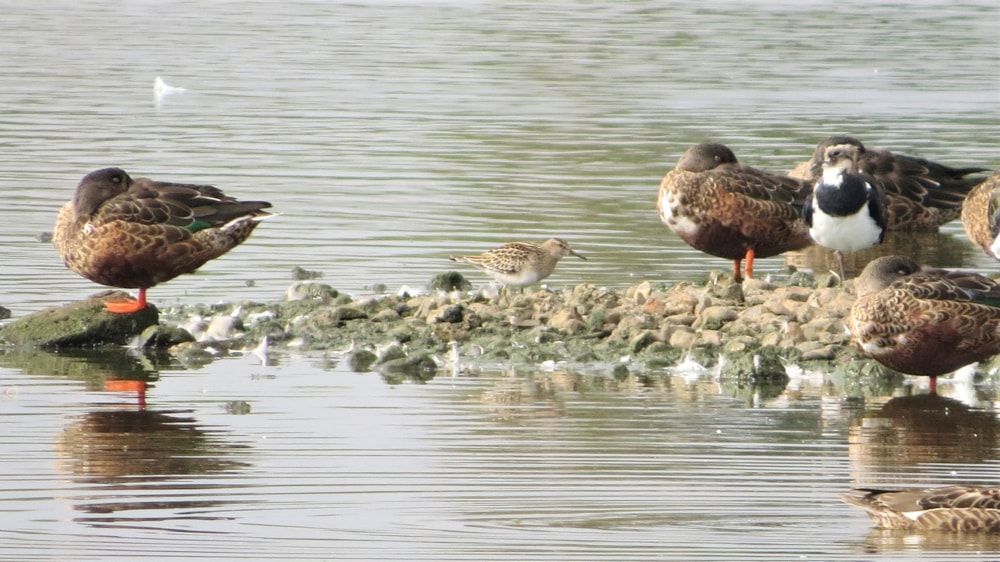 Pectoral Sandpiper, London Wetland Centre WWT, London (Jake Klavins).
Two Barred Warblers were new in in Kent: at Foreness Point on 6th and at Worth Marsh from 7-10th. The latter site also hosted a juvenile Purple Heron on 8th and at least one Eurasian Dotterel from 9-10th. The Dungeness Glossy Ibis continued throughout, St Margaret's at Cliffe scored a European Honey Buzzard on 7th and a Long-tailed Skua flew past Tankerton on 6th. A Corncrake over the A20 near Folkestone was an unbelievable record on 11th, the same day a Sandwich Tern was logged inland at East Malling. Wrynecks were at Abbot's Cliff, Pegwell Bay and Seasalter and some 45 presumably released White Storks were seen at a variety of sites on 12th.
In Sussex, a Pectoral Sandpiper visited Pulborough Brooks on the afternoon of 12th. The Pagham Harbour Red-backed Shrike continued to please crowds throughout and a Wryneck was at Findon on 8th. Brighton and Heathfield enjoyed flyover European Honey Buzzards, a Black-necked Grebe visited Arlington Reservoir and a handful of Balearic Shearwaters passed Selsey Bill. Little Stints were at five sites.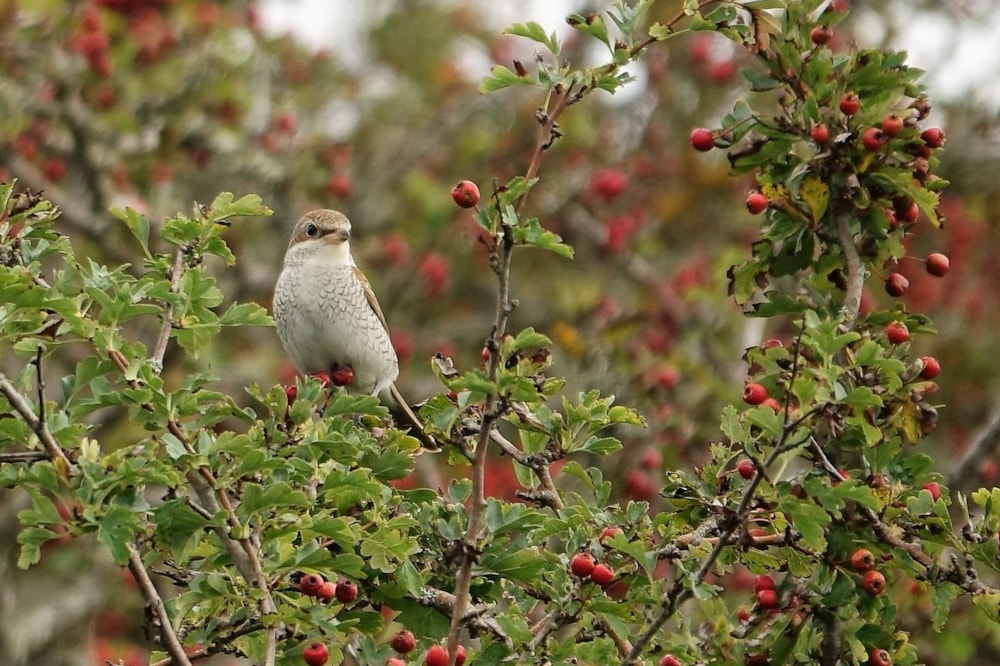 Red-backed Shrike, Pagham Harbour LNR, West Sussex (Graeme Duckworth).
The Hill Head White-winged Tern lingered in Hampshire until 8th, with the county hosting Wrynecks at Chawton and Brockenhurst. Four sites scored Pied Flycatcher and, interestingly, two European Nightjars were trapped and ringed at Titchfield Haven on 10th. On the Isle of Wight, Blackgang and Ventnor Downs scored Wryneck and a European Honey Buzzard visited Luccombe.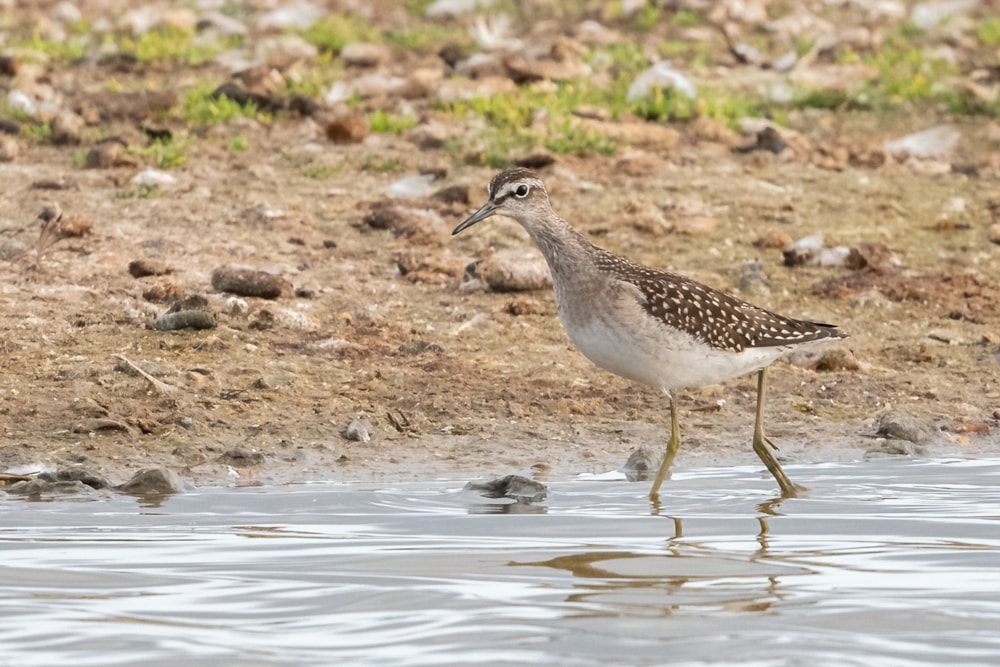 Wood Sandpiper, Pennington Marshes, Hampshire (Matthew Barfield).
Berkshire enjoyed an impressive second Red-backed Shrike of the month with a first-winter bird at Crookham Common on 12th. The Greenham Common Wryneck lingered too. Little Marlow GPs, Buckinghamshire, hosted a Glossy Ibis on 9th and a Red Knot from the same date until 11th. A Pied Flycatcher was at Denham on 7th. In Oxfordshire, a Wryneck was in an Oddington garden on 6th.
Ed Stubbs
South-West England
Wryneck were at as many as 17 Cornish localities, peaking with five at Nanjizal Valley on Sunday. A Melodious Warbler was in Kenidjack Valley on 6th, with a possible at Pendeen. Four Red-backed Shrikes were seen in the county and a Corncrake was at Trevalga. A European Honey Buzzard overflew Mullion, with a Glossy Ibis visiting Gwithian and Grunard's Head on 6th. Five Sabine's Gulls off Pendeen on 10th a notable count. The site also produced a Cory's Shearwater and another Sabine's was seen from St Agnes Head. A Wilson's Storm Petrel and a couple of Great Shearwaters were seen from Scillonian crossings. Foxhole's Ring-necked Duck remained in place.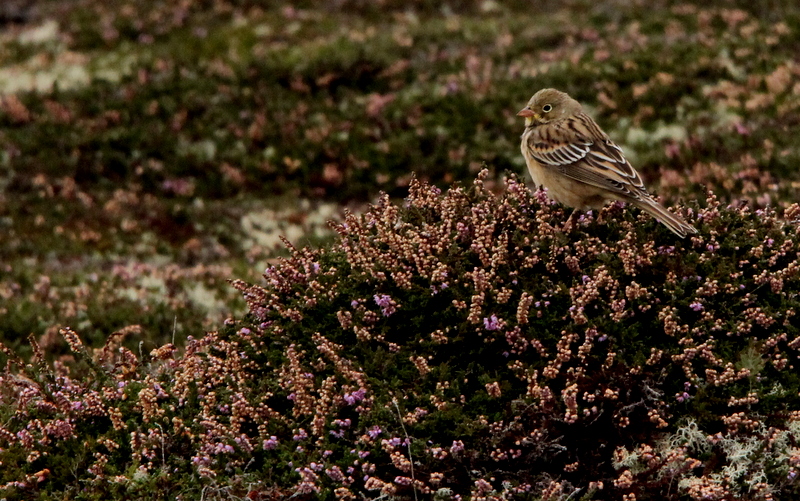 Ortolan Bunting, Tresco, Isles of Scilly (Kris Webb).
Scilly again delivered a good selection of scarcities during the week. St Mary's scored a European Bee-eater, Red-backed Shrike, Marsh Warbler and a possible Grey-headed Wagtail. Two Ortolan Buntings ended the week on Tresco, and a first-winter Woodchat Shrike and Barred Warbler were on St Martin's. Bryher produced a Rosy Starling and Common Rosefinch, while a Pectoral Sandpiper, Melodious Warbler and Ortolan Bunting were found on St Agnes. Good numbers of Wryneck were spread across the archipelago and a single Wilson's Storm Petrel was seen from Thursday's pelagic.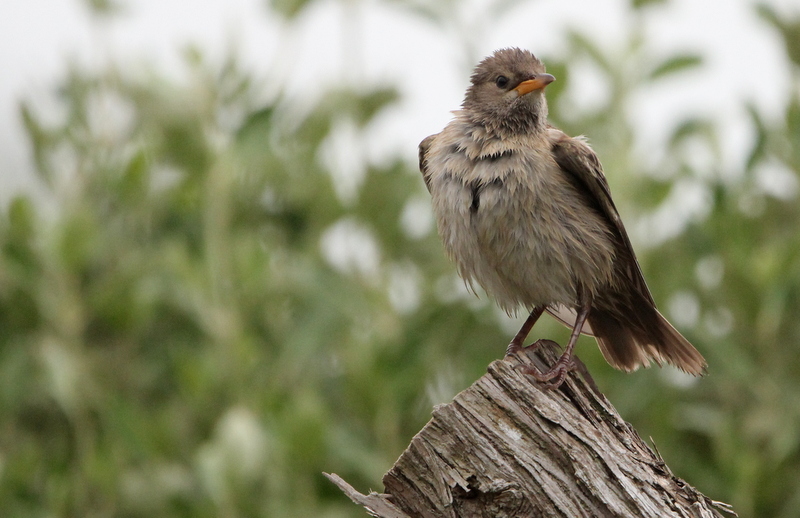 Rosy Starling, Bryher, Isles of Scilly (Kris Webb).
Devonian highlights included a Rosy Starling at South Huish Marsh on 10th, a Hoopoe at Slapton Ley and an Ortolan Bunting at Axmouth on 12th. Wrynecks were at seven localities and Red-backed Shrikes were found at East Prawle and Avon Dam Reservoir. There was a notable count of 500+ Balearic Shearwaters off Thurlestone, with Soar scoring a flyover Eurasian Dotterel at the end of the week.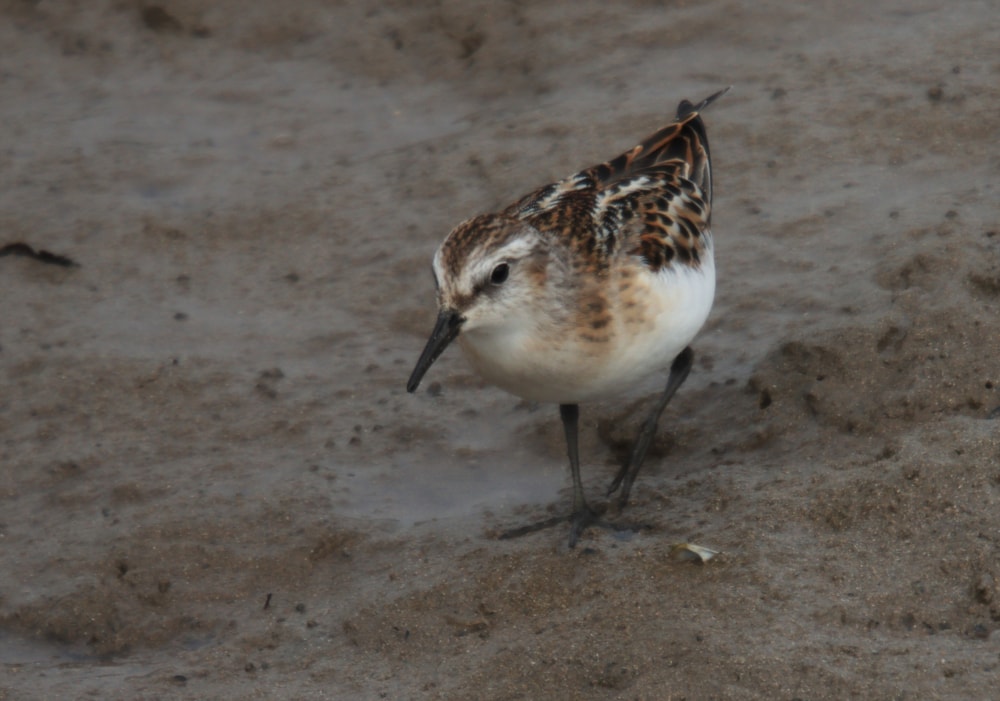 Little Stint, Fremington Quay, Devon (Martin Bennett).
Three Ortolan Buntings were recorded in Dorset with two on Portland and another over Abbotsbury Swannery (late news also concerned one sound-recorded over Lytchett Bay on 5th). European Honey Buzzards flew over Portland and Wimborne Minster, with a Red-breasted Flycatcher and three Wrynecks also reported from Portland at the start of the week. Further Wrynecks were at Weymouth (two) and Stanpit Marsh.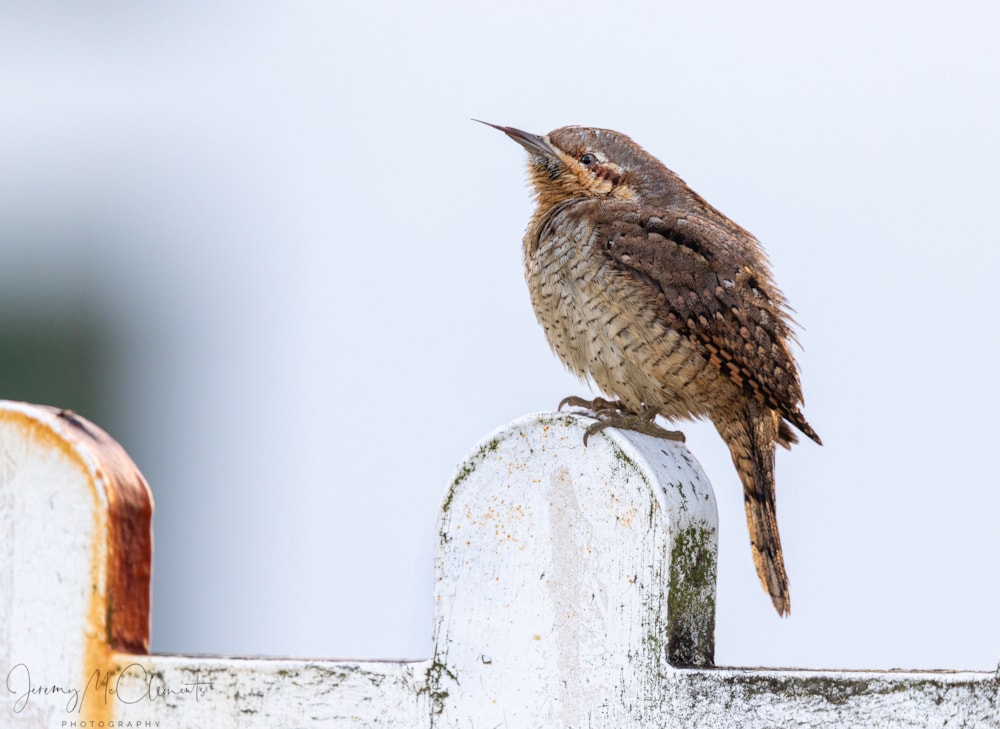 Wryneck, Portland, Dorset (Jeremy Mcclements).
In Gloucestershire, Slimbridge WWT had a productive day on 6th with both a male Bluethroat and a Glossy Ibis being found. A Hen Harrier flew through Coombe Hill Meadows and a few Curlew Sandpipers and Little Stints were still dotted about.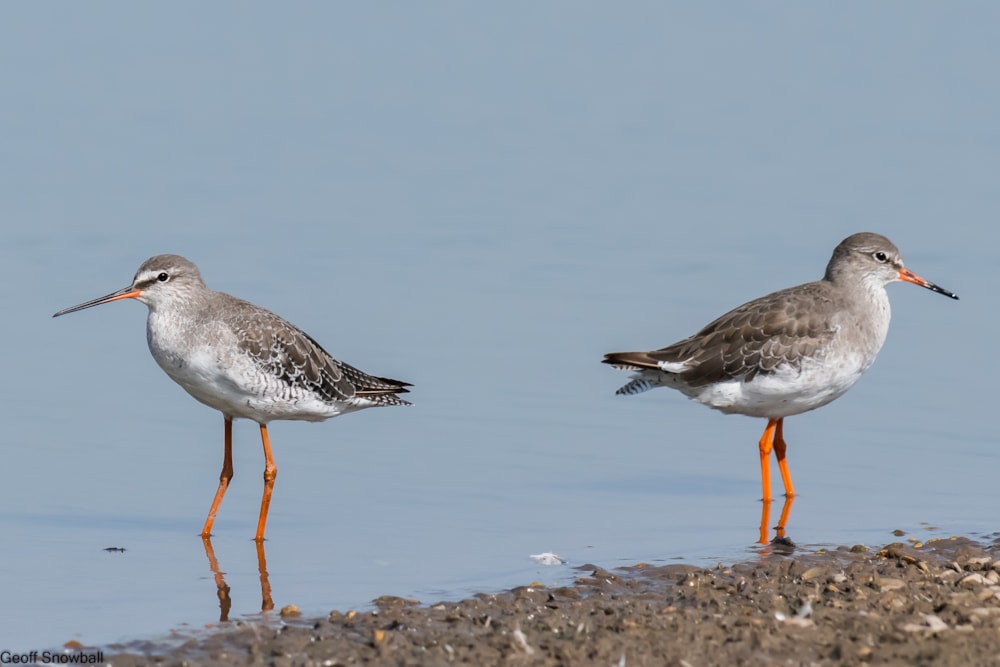 Spotted Redshank (left), Slimbridge WWT, Gloucestershire (Geoff Snowball).
Somerset produced a couple of Pectoral Sandpipers with singles at Catsford Common and Steart WWT from 10th. A juvenile Purple Heron was at Tadham Moor early in the week and the Glossy Ibis remained at Weston-super-Mare SW throughout. Wrynecks were in Bath and at Cothelstone. Wall Common proved attractive for passage waders with as many as nine Little Stints and five Curlew Sandpipers there on 8th. 10 Black Terns were at Chew Valley Lake on Monday.
Jonathan Farooqi
Wales
A fresh juvenile Rosy Starling entertained around Amlwch, Anglesey, from 9th, with a Common Rosefinch at Porth Meudwy, Gwynedd, on 10-11th another highlight. Plenty of Wrynecks remained at large – no fewer than six sites jammed in on the action, including three apiece on Bardsey Island, Gwynedd, and Skokholm, Pembrokeshire.
In Conwy, a nocmig setup at Penrhyn Bay recorded a Ring Ouzel on 12th. Skomer, Pembrokeshire, hosted a Common Nightingale on 9th and at least one Hooded Crow remained at The Range RSPB, Anglesey. Firecrests were at Aberdaron and Bardsey Island, Gwynedd.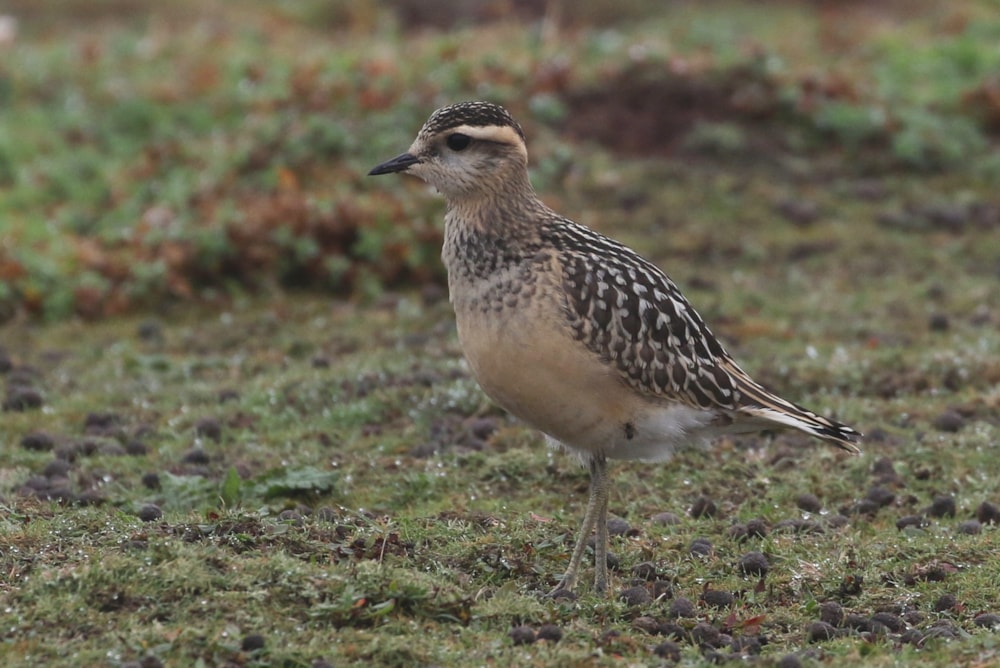 Eurasian Dotterel, Skokholm, Pembrokeshire (Richard Brown / Skokholm Warden).
14 Black Terns at Llangorse Lake, Powys, on 8th was a healthy count; a Snow Goose of unknown origin rocked up at Llyn Pencarreg, Carmarthen, the same day. Little Stints and Curlew Sandpipers were largely confined to the southern portion of the country, with Eurasian Dotterels at The Range RSPB on 10th and Skokholm on 11th.
Just the second Manx Shearwater for Rhondda Cynon Taf and the first since September 1937 flew high east over Abercwmboi, Glamorgan, on 11th.
Ireland
The star of the week was a first-winter Lesser Grey Shrike which was found on Galley Head, Co Cork on the 8th. It performed well until the end of the review period. Unfortunately, for twitchers at least, this bird is part of the Catalunya reintroduction program and was released from captivity on 29 August 2021. It was joined by an Ortolan Bunting from 8-10th.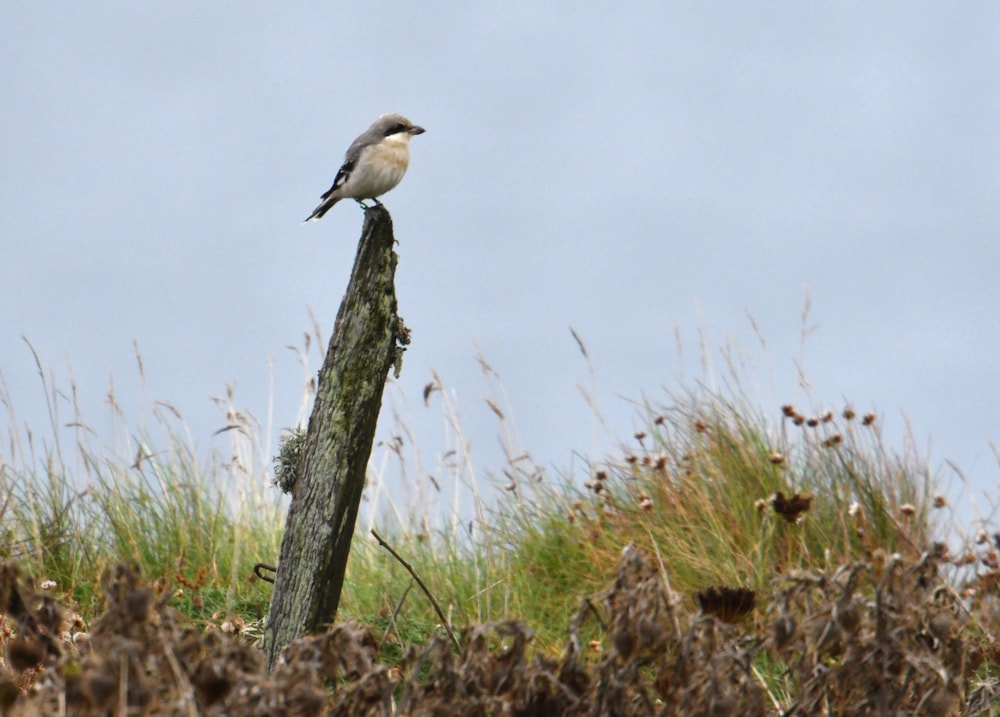 Lesser Grey Shrike, Galley Head, Cork (Richard Mills).
A small Wryneck influx consisted of seven individuals, with two on Galley Head, Co Cork, on 11th. Four Eurasian Dotterels were found near the summit of Cnoc Maol Reidh, Co Mayo, on 7th. A Melodious Warbler on Tory Island, Co Donegal, on 8th was just the second site record. Rosy Starlings were noted at Belmullet, Co Mayo, and Skellig Michael, Co Kerry – the latter becoming the first known record of a juvenile for the county.
A juvenile Red-backed Shrike was an excellent find on Howth Head, Co, Dublin, on 12th, representing the fifth county record. Another was found at Caher West on Mizen Head, Co Cork, on 10th. Still a rare Irish bird, a Blyth's Reed Warbler on Brownstown Head, Co Waterford, was found on the afternoon of 9th.
Two Hawfinch were noted this week with a two-day bird on Mizen Head on 9-10th. Another flew over Monaghan, Co Monaghan, on 12th. Tree Pipits were found at four locations during the week, including County Waterford's first since 1999 at Brownstown Head on 10th and one at Rinvyle Point on 12th – just the 11th for Co Galway.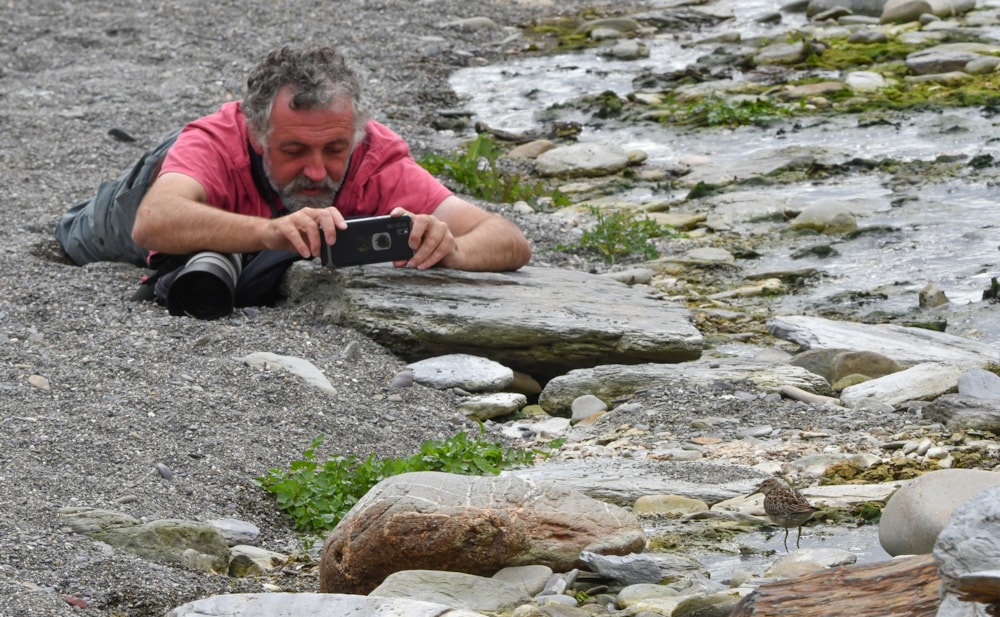 Pectoral Sandpiper, Galley Head, Cork (Richard Mills).
10 Pectoral Sandpipers were found at various locations with doubles at Muckrush and Caranavoodaun Turlough, Co Galway, and Belmullet, Co Mayo.
Brian McCloskey
Western Palearctic
The Azores rarity season began in style with a Cape May Warbler at Porto Pim, Faial, on 11th – just the second for the Azores and fifth for the Western Palearctic. Nearby Farol de Albarnaz held a Hudsonian Whimbrel from 7th, while Corvo's autumn began in style with an American Yellow Warbler on 11-12th.
An influx of Wilson's Phalaropes to the archipelago from 5th included birds at Cabo da Praia, Terceira, Corvo and Lagoa Branca, Flores. Another was in north-east Spain at Arteixo on 7th. Elsewhere, a Brown Booby flew past Estaca de Bares on 11th and remarkably early Yellow-browed Warbler was in the Portuguese Algarve near Lagoa on 7th.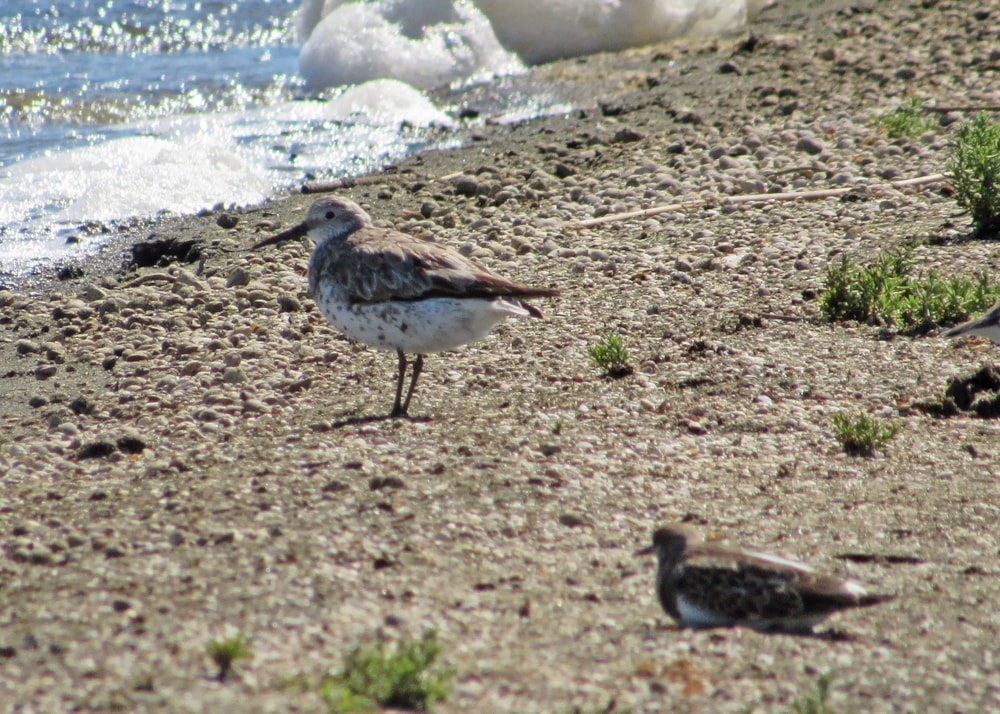 Great Knot (left), Pomorie, Burgas (Petar Stankov).
The first Great Knot for Bulgaria was a smart find at Pomorie from 2nd, while Finland's first Brown Shrike visited Hailuoto on 9th. A Black-winged Kite flew over the watchpoint at Besh Barmag on 6th – just the second for Azerbaijan. In Greece, a Pacific Golden Plover flew west over Paleochora, Crete, on 11th.
Further afield, a returning Lesser Flamingo was back at Sulaibikhat Bay, Kuwait, from 7th. In The Netherlands, a Great Snipe was at Wageningen and the Pygmy Cormorant continued near Utrecht. A Sociable Lapwing visited Kozmice, Czech Republic, on 9th, and the Lesser Spotted Eagle remained at Kinnarp, Sweden.
On 12th, a Steppe Eagle overflew Carraye, Switzerland, before heading west into French airspace – both a Swiss first and the sixth for France. A new Pygmy Cormorant was at Lavours, France, from 9-11th, with a remarkable six Kentish Plovers at Les Ecrehous, Jersey, on 6th – the island's highest count since the species last bred in 1937. In pinniped news, a Walrus visited Baltrum, Germany, on 7th.


Kentish Plovers, Les Ecrehous, Jersey (Nicolas Jouault).