That's more like it … the past week has seen a gradual return to wet and windy weather after late February's unnervingly summer-like conditions, culminating in the arrival of the Storm Gareth on Tuesday. The storm's rather affable name was misleading of its nature, with widespread heavy rain and strong winds that even saw the shipping forecast refer to "sea state very rough or high, becoming very high or phenomenal" for Malin.
Amid the maelstrom of wind and rain, tragic news came from Fair Isle on Sunday, where the world-famous bird observatory was mercilessly razed to the ground by fire over a 24-hour period. It goes without saying that our thoughts are with all those involved with Fair Isle Bird Observatory, particularly the Parnaby family who do such a magnificent job of running the place on a day-to-day basis. It's also heartening to see a fundraiser launched in aid of the Parnabys has also generated such a strong reaction from the public.
Back to the birds and while the fruits of Gareth will likely only come out the woodwork in the coming days, it's a reasonable assumption to make that they will be transatlantic or even Arctic in their nature, rather than involving overshooting migrants from summer climes. Indeed, all those migrants already here must have been feeling pretty miserable about life amid the gales.
In fact, there were a grand total of zero new rarities across Britain and Ireland in the seven days to 12 March, with the meagre scraps restricted to long-staying birds familiar to these pages over the past weeks, months or even years, as in the case of the continuing Pacific Diver in Gerrans Bay, Cornwall.
Aside the diver, the only other bird afforded 'mega' status on the BirdGuides website to linger throughout this week was the Pied-billed Grebe at Loch of Spiggie, Shetland, which was still there on 8th. However, the Gray-bellied Brant still near Inverness Airport, Highland, is probably also deserving of such status, although its position as an undescribed taxon continues to cloud the issue. It would appear that this bird is that seen in Norfolk in December 2018, while a bird seen in the latter county on 2 March appears to be a different bird (with the usual caveats applied for judging features from single images). Two Todd's Canada Geese were near Harpsdale, Highland, on 10th, while the white-morph Snow Goose was still at Ballyhealy, Co Wexford, on 6th and the two Lesser White-fronted Geese of questionable origin lingered on Anglesey.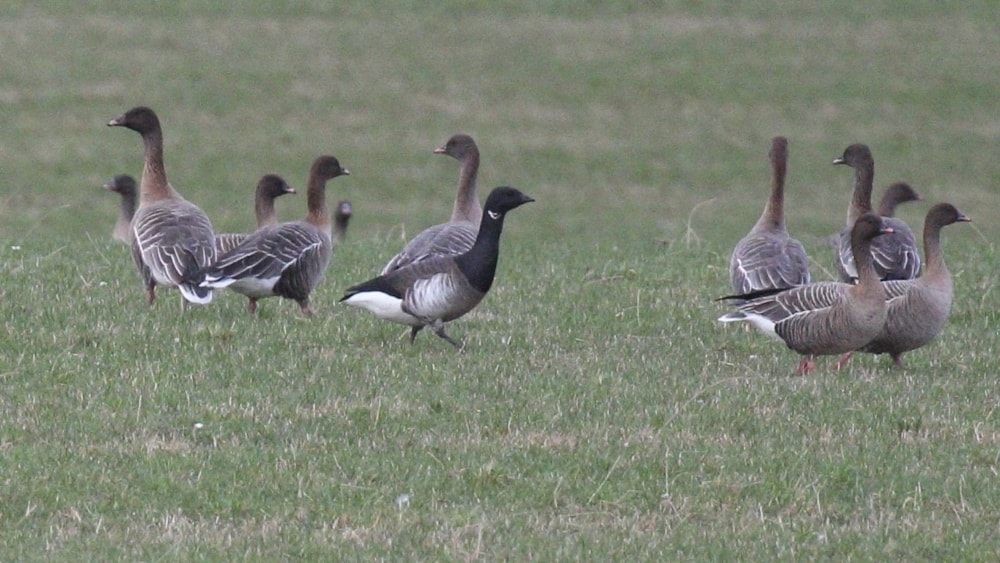 'Grey-bellied Brant', Inverness Airport, Highland (Peter Stronach).
Just two American Wigeon were seen – the drake at Tain, Highland, and the female at Grimley, Worcs. Green-winged Teal were more numerous, with nine seen, spread fairly evenly between England and Scotland. The Ferruginous Duck was still at Blashford Lakes, Hants, on 8th, a much-reduced figure of six Ring-necked Duck was amassed and Surf Scoter lingered in Co Meath (two) and Lothian.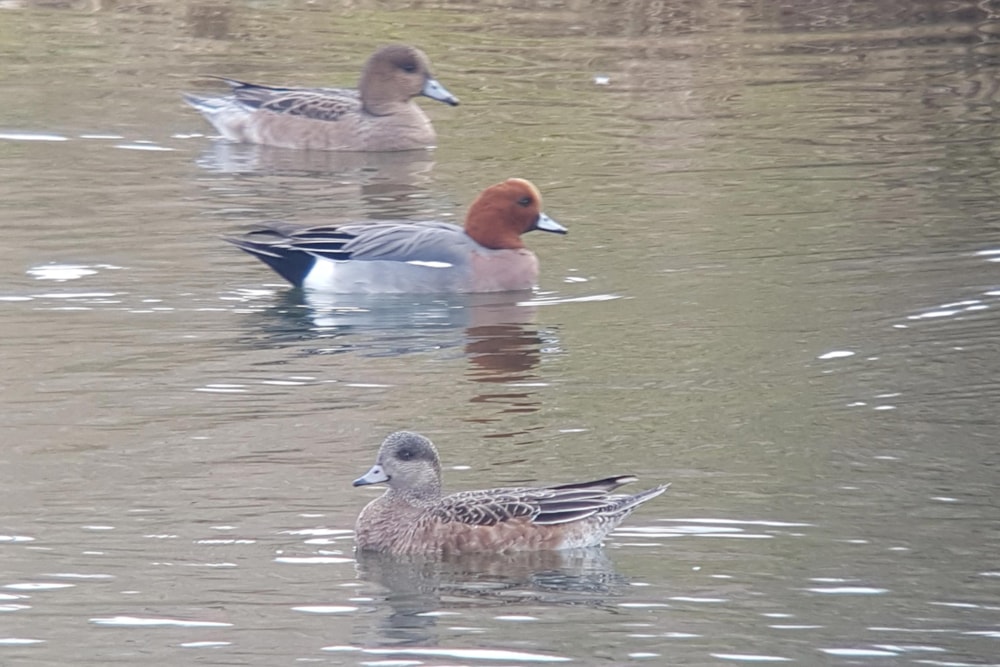 American Wigeon (lower bird), Grimley, Worcestershire (Sean Cole).
Nine sites produced Glossy Ibis records, with new birds reported from the likes of Suffolk and Cos Roscommon and Wexford. In Warwickshire, there was a report of a Black-crowned Night Heron at Kingsbury Water Park on 9th.
With no sign of the Tengmalm's Owl this week it was down to the resident male Snowy Owl on Eday, Orkney, to headline the Strigiformes – it was still there on 12th. Birds of prey included an immature White-tailed Eagle over Westdean Woods, West Sussex, on 7th – this being the bird seen earlier in the winter in Hampshire – and another over Idle Valley NR, Notts, on 11th. A third commuted between Yell and Unst, Shetland. Two Rough-legged Buzzards were in Cambridgeshire, with two also in Norfolk, one in Suffolk and at least three, perhaps four, in Kent.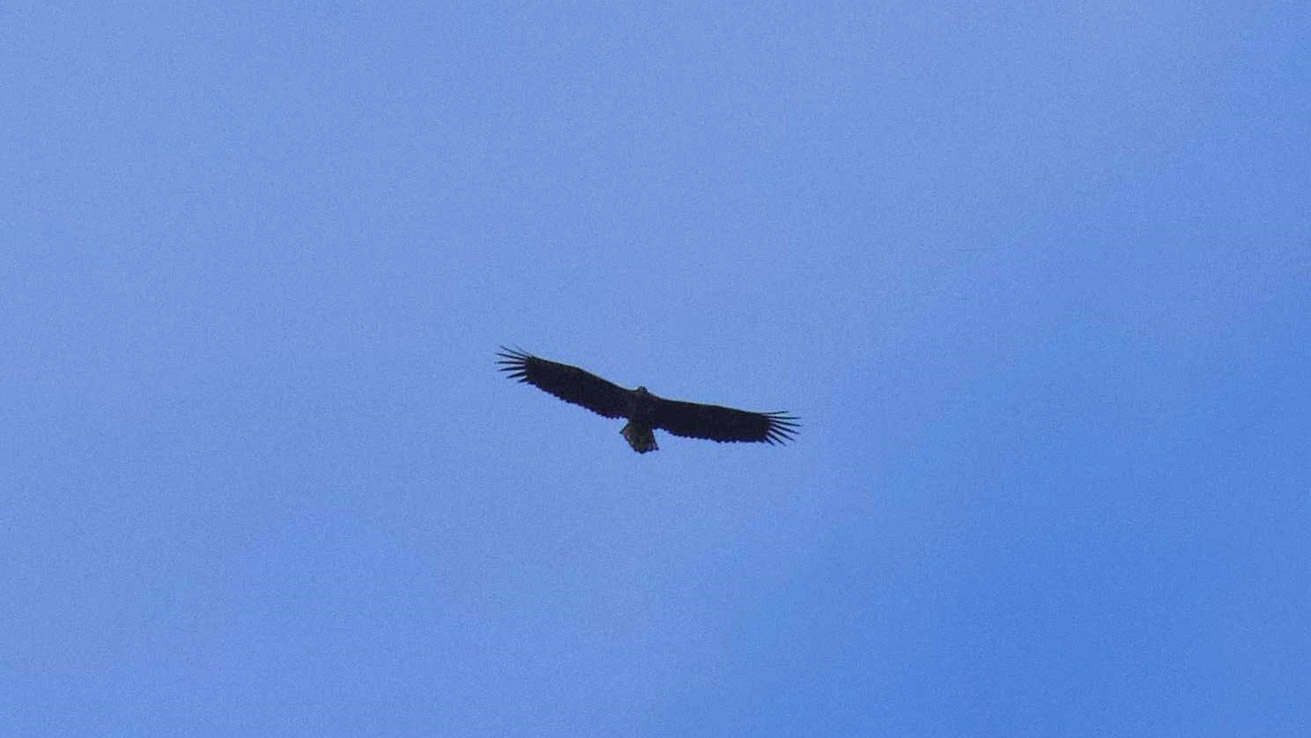 White-tailed Eagle, West Dean, West Sussex (Martin Jeffree).
As in previous weeks, Lesser Yellowlegs continued in Dorset and Cornwall, the Long-billed Dowitcher remained in Lincolnshire and the Spotted Sandpiper was in Co Wexford. Furthermore, the Temminck's Stint was also still at Chapel Amble, Cornwall, on 9th.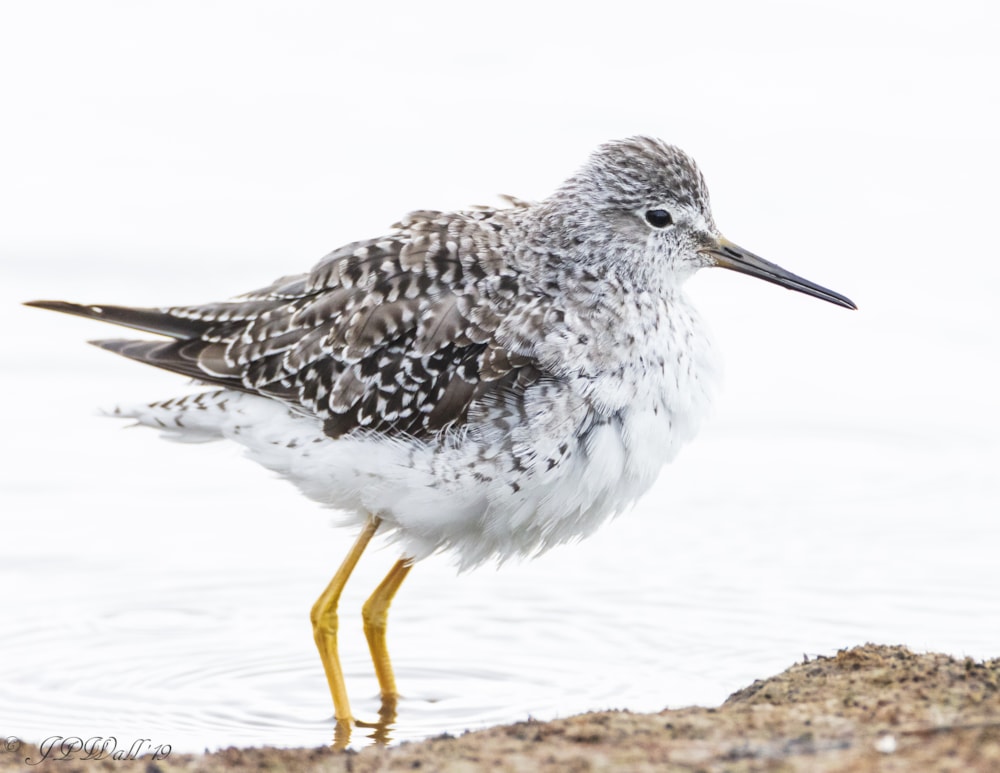 Lesser Yellowlegs, Lodmoor RSPB, Dorset (John Wall).
Content continues after advertisements
In Co Galway, the Forster's Tern was again off the seafront at Nimmo's Pier on 9th. The apparent American Herring Gull was still near Cahermore, Co Cork, on 9th, while four Irish Ring-billed Gulls all concerned familiar adults – as did the sole British record from Blashford Lakes, Hants. Iceland and Glaucous Gulls numbered around 25 apiece, while Caspian Gulls failed to reach 20 for the first time in months.

Glaucous Gull, North Shields, Northumberland (Alan Jack).
Scilly's Red-rumped Swallow was last reported from St Mary's on 6th, while a new bird was found at Youghal, Co Cork, on 7th, lingering there to 10th. A Hoopoe was still at Broad Haven, Pembs, on 6th. A couple of early Willow Warblers were reported in song at Belhus Woods CP, Essex, on 8th and Hatfield Moors, South Yorks, on 10th, but new migrants were otherwise low in number – a scattering of Northern Wheatears, Little Ringed Plovers and White Wagtails was about as dynamic as it got.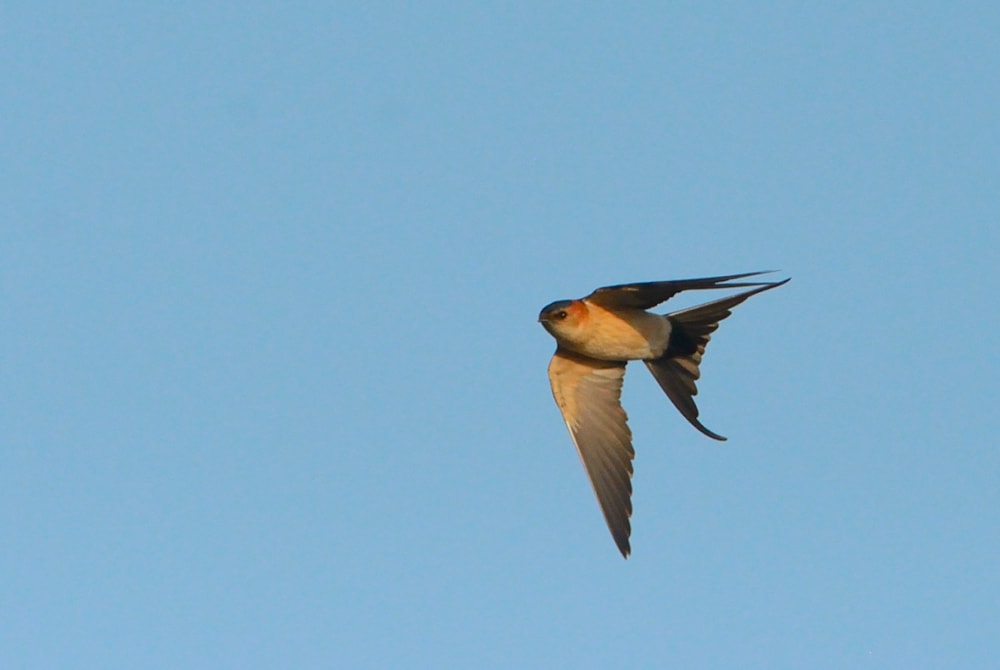 Red-rumped Swallow, Youghal, Cork (Gerard Murray).
Despite the brisk winds, Eurasian Penduline Tits were again glimpsed at Lodmoor, Dorset, on 9th and Crossness, London, on 11th. Other lingering birds included the Pallas's Warbler at Coverack, Cornwall, and the Richard's Pipit at Tacumshin, Co Wexford, both to 7th, while another Richard's was eked out the woodwork at Cahore Marsh, Co Wexford, on 9th. A total of seven Yellow-browed Warblers were seen. New Coues's Arctic Redpolls were in Shropshire and Powys, while the lingering bird continued at Sculthorpe Moor, Norfolk.
Western Palearctic
Remarkable news from Cape Verde concerned a second Lesser Moorhen – an immature – photographed at Barragem de Figueira Gorda, Santiago, on 24 February and belatedly reported over the weekend. Meanwhile the Sal bird was not seen north of Santa Maria beyond 8th (read more about that bird here), although the African Crake and Hudsonian Whimbrel were both still around on 11th. The Dwarf Bittern was also still on Fuerteventura, while at Hooded Crow at Taliarte, Gran Canaria, was a bizarre record.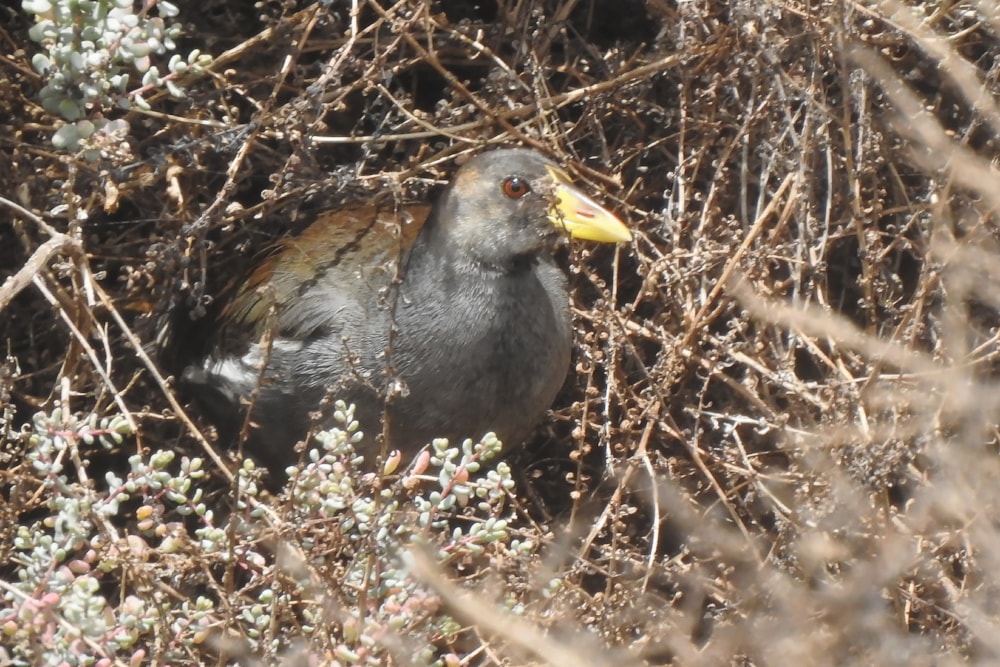 Lesser Moorhen, Santa Maria, Sal (Uwe Thom).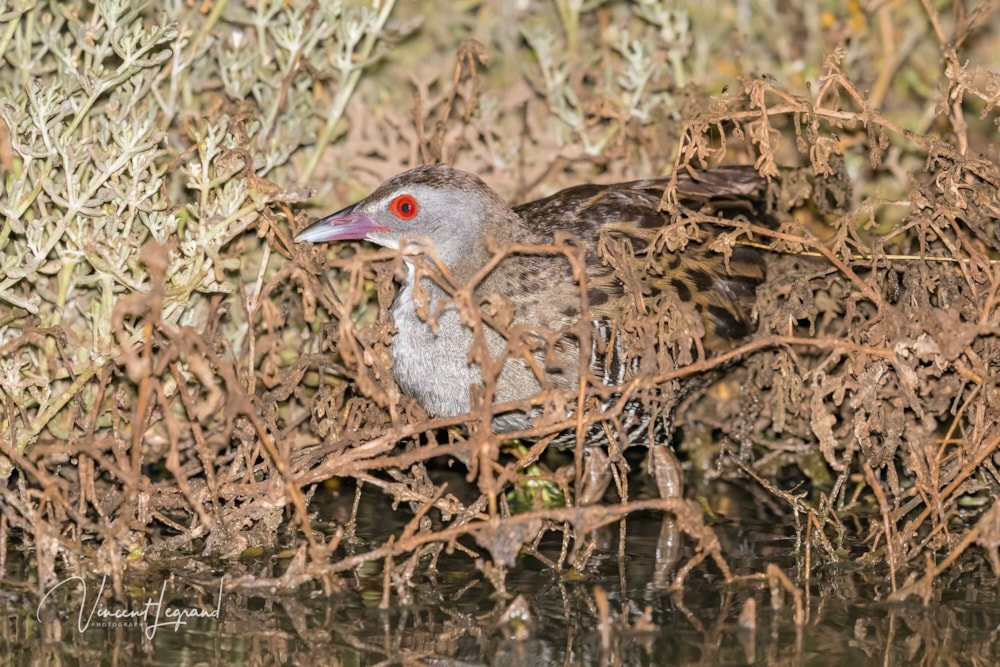 African Crake, Santa Maria, Sal (Vincent Legrand).
Both Thayer's and American Herring Gulls remained at Lago Fish Farm near Xove, Galicia, Spain, with the American Coot also still at Lagoa de Cospeito. At least a couple of Lesser Flamingos were seen in Castilla-La Mancha and the Steppe Grey Shrike lingered at Ebro Delta.
In The Netherlands, a new Oriental Turtle Dove was photographed at Zuidbarge, Drenthe, on 12th, while the Limmen bird was still there on 9th. The Nutcracker was still being seen in Wageningen to 11th.
The Stejneger's Scoter was last reported south of Halmstad, Sweden, on 7th, although this week's stormy weather can't have been conducive to tracking its movements. The Eastern Imperial Eagle also lingered near Skurup.
A Pink-footed Goose at Branisovice on 9th represents the first record for the Czech Republic, while a Rustic Bunting at Satu Nou that day is just the second for Romania. Meanwhile, at least a couple of Crested Honey Buzzards remained around Eilat, Israel.