The week at a glance
It was, on paper, a truly superb week, with no fewer than seven individual mega-rarities gracing our bird news pages over the past seven days — a number that would seem impressive even during the peak weeks of autumn. Top billing must go to the Western Palearctic's first Vega Gull, which was expertly picked out by Killian Mullarney at one of his local gull hot-spots at Duncannon, Co Wexford, on Sunday afternoon. With natural caution about the identification of what is often a subtle taxon, news went out of a "probable" before circulation of the images that evening brought a unanimously positive response that the bird in question was indeed vegae. A combination of primary pattern, dark(ish) eye, pink orbital ring and slightly darker grey upperparts than in argenteus Herring Gull pointed towards this Pacific wanderer, as did the fact it was still in active primary moult — p10 is clearly old and p9 regrowing. Such a state of moult in early January is essentially unheard of in Herring Gull but not unusual in Vega.

Vega Gull, Duncannon, Wexford (Photo: Victor Caschera)
The bird was still present on Monday morning but much more intermittent in its appearances, and it wasn't seen again that afternoon, nor at any point on Tuesday (though it reappeared again on Wednesday). With thousands of feeding gulls in the area, it is likely to still be around in the coming days, but luck will play a significant part in any further showings given the gulls' large feeding area and extremely mobile nature. Curiously, Vega Gull is still currently considered a subspecies of American Herring Gull by the BOURC, but the International Ornithological Congress sensibly affords this taxon full species status in its widely adopted world list — IRBC recognised vegae as a full species in 2004 and now they have a record to assess, the addition of this species to the national list seems imminent.

Vega Gull, Duncannon, Wexford (Photo: Victor Caschera)
In any other winter week, a lingering Brünnich's Guillemot would likely have been a shoo-in for find of the week but, when a Western Palearctic first is involved, circumstances change. With the famous Portland Brünnich's of December 2013 still a reasonably fresh memory for many birders, there was no great rush to head north, but a lack of intense popularity should not detract from what is a fantastic find anywhere in the country. Present in Scapa Bay, Orkney, from late morning on 8th, it was there again the following afternoon and once more on 11–12th.
Content continues after advertisements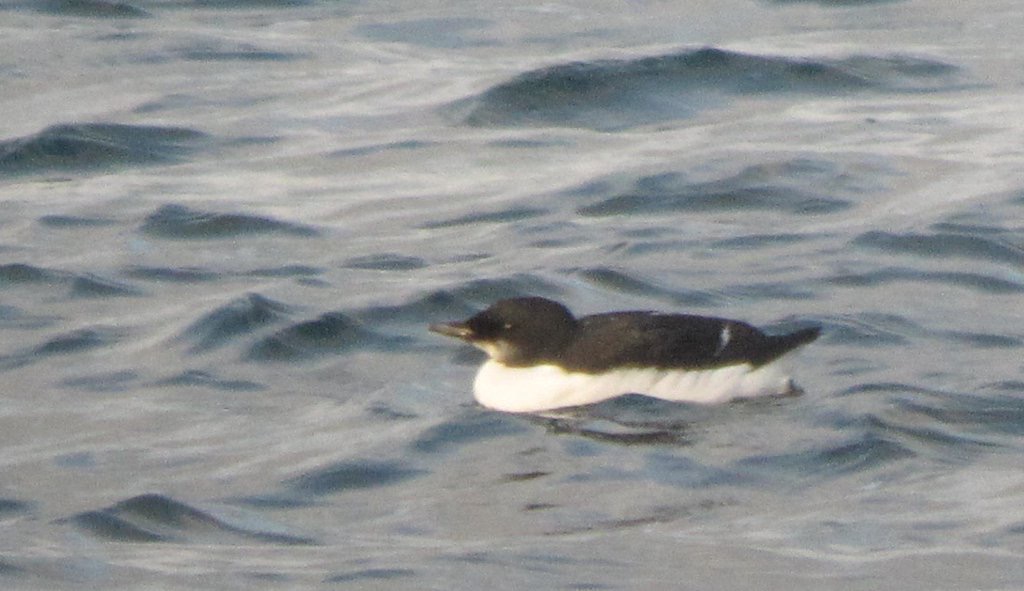 Brünnich's Guillemot, Scapa Bay, Mainland, Orkney (Photo: Martin Gray)
Elsewhere, the Glaucous-winged Gull continued to show well at Castletownbere, Co Cork, throughout the week — no doubt Irish birders will now be hoping to make it a memorable set of Pacific gulls and start praying for a twitchable Black-tailed. Meanwhile, back in the Northern Isles the Mourning Dove stuck around in Lerwick, Shetland. In Cornwall the wintering Hudsonian Whimbrel continued to make regular (but not daily) appearances in Mount's Bay, usually around Marazion, and the Pacific Diver was still off Newlyn to at least 11th.
Glaucous-winged Gull, Castletown Bearhaven, Co Cork (Video: M Cowming)
The ever-reliable Ruddon's Point, Fife, produced its usual double act of King Eider and Surf Scoter during the week, the former the only of its kind noted over the seven days. A young drake Surf Scoter was off Hermitage, Co Louth, from 6th and another male was off Finvarra, Co Clare, on 9th; two off the Lothian coastline included a new bird at Gullane on 10th, while others remained off North Yorkshire and Shetland.
Drake Lesser Scaup lingered at their respective haunts in Cornwall, Somerset and Shetland, while eight Ring-necked Ducks were logged, including the two together still in Hampshire. That county also laid claim to the week's only Ferruginous Duck, still at Blashford Lakes all week.

Ring-necked Duck, Rooksbury Mill LNR, Hampshire (Photo: Mike Trew)

Ferruginous Duck, Blashford Lakes HWT, Hampshire (Photo: Mark Leitch)
A dozen Green-winged Teal included an impressive three drakes together on Loch of Skaill, Orkney, on 12th; elsewhere the only new bird was at Alnmouth, Northumberland, on 8th. Five American Wigeon was a slight reduction on the Christmas period, with two drakes at Malin Town, Co Donegal, to 9th the standout record. Others were still in Devon, Northumberland and Highland.

Green-winged Teal, Neumann's Flash, Cheshire (Photo: David Bedford)

American Wigeon, Bowling Green Marsh RSPB, Devon (Photo: David Boult)
The flock of four blue-morph Snow Geese was seen again in Aberdeenshire on 11th, roosting at Loch of Skene. Elsewhere a white morph was at Stenness, Orkney, on 8th and the Cumbrian bird remained among Barnacle Geese throughout. A Cackling Goose was at Malin Head, Co Donegal, on 6th, with a Richardson's Cackling at Berneray, Outer Hebrides, on 9th and the Todd's Canada still in Co Sligo. Five Black Brants included two at Kilnsea, E Yorks, while a small arrival of Eurasian White-fronted Geese in recent days may be a sign of things to come, with cold weather forecast this week.

Snow Goose, Drumburgh (village), Cumbria (Photo: Darren Robson)

Black Brant, La Sente, Jersey (Photo: Romano da Costa)
A reasonable showing of seven Cattle Egrets was welcome after a few lean winters for a species that once showed strong signs of being the next UK colonist. One at Pentney, Norfolk, on 10th has lingered in the area since, but tends to prove quite mobile. Elsewhere the Suffolk bird was still at Iken to 12th, while others continued in Somerset (2), Devon, Co Wexford and on Jersey.

Cattle Egret, Pentney (village), Norfolk (Photo: John Saunders)
Glossy Ibis again featured prominently, with 19 still in the Tramore area of Co Waterford early in the week (and nine still on 12th); in Co Cork 16 were on private land near Carrigtwohill on 8th (with two thereafter) and three flew over Goleen on 9th. Birds were also recorded in Counties Wexford and Clare, while the typical south-west bias also saw several records from Devon, Somerset and South Wales: one wonders just how many must be scattered across the large swathes of flooded land across Britain and Ireland.

Glossy Ibis, Ramsholt, Suffolk (Photo: John Richardson)
The white-morph Gyr Falcon was again at Baleshare, N Uist, on 8th but hasn't been reported since. Norfolk's Pallid Harrier continues to draw plenty of admirers to the Flitcham area — the bird was present all week. Just six Rough-legged Buzzards were seen, including long-stayers near Choseley, Norfolk, and at Holland Haven, Essex; another was reported in the latter county at Newport on 7th, while two were on Haddiscoe Marshes, Norfolk, on 10th and another was at Eggleston, Durham, that day.

Pallid Harrier, Flitcham, Norfolk (Photo: Robin Chittenden)
The Greater Yellowlegs continued to while the winter away happily at Whippingham, Isle of Wight, this week, while the Long-billed Dowitcher reappeared across the Solent at Keyhaven Marshes on 12th. Northumberland's dowitcher was still alternating between Cresswell Pond and Hemscott Hill all week and the Spotted Sandpiper was still at Pilmore, Co Cork, on 10th.
Hertfordshire's first Bonaparte's Gull was refound at Wilstone Reservoir on 8th and, thankfully for county listers, became much more reliable thereafter, regularly visiting the reservoir throughout the week and also appearing in the roost at College Lake, Bucks, on a few dates. The adult also remained at Exmouth, Devon, to 12th.

Bonaparte's Gull, Wilstone Reservoir, Hertfordshire (Photo: Ian Williams)
At least 16 Ring-billed Gulls included two adults together at Tralee Bay Wetlands Centre, Co Kerry, and new adults at Kilcoole, Co Wicklow, on 11th and Chew Valley Lake, Somerset, on 12th. Other notable records included the adult again at Llys-y-Fran Reservor, Pembrokeshire, on 10th and the Hampshire bird seen regularly at Blashford Lakes throughout the week. Upwards of 70 Iceland Gulls were noted across Britain and Ireland, while Glaucous Gull numbers were lower at around 50. There appears to have been a decent influx of Caspian Gulls in the past week with a hugely impressive total of 13 reported from Rufforth, N Yorks, on 7th and 12 at Dartford, Kent, on 10th. The Forster's Tern remained excrutiatingly difficult to pin down and was seen off Corranroo Bay, Co Clare, on 9th before flying past Kinvarra the following day.
The Hoopoe remained present and correct at Wall Heath, Staffs, all week though it'll be interesting to see whether it moves on during the coming cold snap. Trios of Shore Larks remained at two sites in Norfolk and at Hartlepool, Cleveland, while the singleton remained on the Isle of Sheppey in Kent.

Hoopoe, Hinksford, Staffordshire (Photo: Paul Burgess)
In West Yorkshire the Richard's Pipit continued to favour Swillington Ings until 10th, while one remained at Flamborough Head, E Yorks, to 9th and the Kent bird was still on Sheppey. For the first time in what seems like a long time there were no reports of unidentified swift species and the only Barn Swallow report came from Jersey!

Richard's Pipit, Shell Ness/Swale NNR, Sheppey, Kent (Photo: Neil Hughes)
Both the Dusky Warbler at Ham Wall, Somerset, and Pallas's Warbler at Heswall, Cheshire, continued throughout the week, and at least five Yellow-browed Warblers included a new bird at Lough Leane, Co Kerry, on 8–9th. The Common Whitethroat was still on St Mary's, Scilly, on 10th.
Two male Penduline Tits were on the outskirts of Gloucester on 11–12th, while two were at Dungeness, Kent, from 6–10th and three remained at Titchfield Haven, Hants, all week. After last week's sighting of one bird, two European Serins were seen at Fen Drayton Lakes, Cambs, intermittently from 10th — a fine county record at any time of year, let alone in the middle of winter. The Rose-coloured Starling was still in Lizard, Cornwall, on 11th.

Penduline Tit, Gloucester, Gloucestershire (Photo: Jon Mercer)

Penduline Tit, Titchfield Haven NNR, Hampshire (Photo: Leigh Prevost)
Western Palearctic news
Two Hooded Mergansers were still on Faial, Azores, on 6th, with just the young drake thereafter. Also on the archipelago the Double-crested Cormorant continued at Mosteiros, São Miguel, and a drake Wood Duck arrived at Praia da Vitória, Terceira, on 10th. A female-type Bufflehead at Altura, Algarve, will be the second for mainland Portugal if accepted.

Bufflehead, Altura, Portugal (Video: Canal do XoFred)
Belarus' first Dalmatian Pelican was found at Chygirynskae Reservoir on 11th, while lingering highlights included the Bateleur and Red-billed Teal still in Israel, Grey-headed Gull in Italy, Pine Bunting in the Netherlands, American Coot and American White-winged Scoter in Iceland and Azure Tit in Finland. There was also an intriguing report of two sizeable flocks of Lesser Flamingo from near Afkhennir in southern Morocco, though this remains as yet unsubstantiated.