The week at a glance
Another lively week saw the recent westerly airflow punctuated by another blow from the east, ensuring that birds continued to turn up from both directions. It was really a week to admire the strong (at least for this early in September) arrival of Nearctic shorebirds — particularly Pectoral and Semipalmated Sandpipers — though the week's outstanding individual highlights were actually both passerines.
The first of those was an elusive Black-and-white Warbler, discovered at Funzie on Fetlar (Shetland) during the evening of 6th. With news released after dark, there was little hope of a twitch and, in poor conditions the following morning, there was no sign of what was Shetland's first occurrence of the species since 1936. Had it not been for the co-operative bird on Scilly in mid-September 2011, the pain of the dip would have reverberated more widely than just among Shetland birders. This is the second-earliest British record, following a bird picked up dead near Penryn (Cornwall) on 1st September 1982.
The other star passerine came from an altogether different corner of the globe. A species once disregarded as annual fodder, but rapidly ascending towards 'monster' status, the downturn in Yellow-breasted Bunting arrivals in the British Isles is a direct reflection of the species' population global crash, a result of illegal trapping, hunting, habitat loss and no doubt a number of other factors. As such, the discovery of a bird on the Farne Islands (Northumberland) on 5th–6th was significant to say the least. Unfortunately, its chosen location of Brownsman often proves impenetrable for prospective twitchers — the island's fragile make-up coupled with poor weather made any attempt to see the bird impossible. With the last accessible bird on the mainland now over ten years ago (Portland, August 2003), another shot at the species would prove all too welcome.

Yellow-breasted Bunting, Farne Islands, Northumberland (Photo: Graeme Duncan)

Yellow-breasted Bunting, Farne Islands, Northumberland (Photo: Graeme Duncan)
Turning our attention to shorebirds, the undoubted highlight of the week was an adult Greater Yellowlegs photographed at Coldharbour Lagoon (Kent) on 10th, though its identity was only realised late on 11th (and there was no sign early on 12th). Kent can boast five previous records, though the last of these was in March 1999 and was presumably the same bird responsible for occurrences in 1996 and 1997.

Greater Yellowlegs, Coldharbour Lagoon, Kent (Photo: Andy Luckhurst)
Following last week's influx, a further eight Semipalmated Sandpipers were discovered throughout the week. New Irish birds were in Counties Mayo, Kerry and, significantly, inland in Wicklow, with lingering birds including two still at Tacumshin (Wexford) on 6th (to 11th), and Aughinish Island (Clare). Eight British records included new birds at Marazion (Cornwall), Rubha Ardvule (Outer Hebrides) and Dungeness (Kent). Two on Tiree (Argyll) on 6th capped an excellent week for the island that also saw a Baird's Sandpiper on 5th, at least two Pectoral Sandpipers and three American Golden Plovers all recorded.

Semipalmated Sandpiper, Pennington Marshes, Hampshire (Photo: Ashley Howe)

Semipalmated Sandpiper, Louisburgh, Mayo (Photo: Dermot Breen)

Semipalmated Sandpiper, Marazion, Cornwall (Photo: Brian Mellow)
Further American Golden Plovers were at Tacumshin on 7th–11th, Sennen (Cornwall) on 10th–11th and Benbecula on 10th, with a 'Lesser' Golden Plover reported in flight at Kilnsea (E Yorks) on 8th. A Wilson's Phalarope was at Lough Beg (L'derry) on 8th and a Lesser Yellowlegs dropped in at Dawlish Warren (Devon) on 8th. In Hampshire, the Long-billed Dowitcher returned to Pennington Marshes on 9th and the Cheshire Stilt Sandpiper was last seen at Sandbach Flashes on 7th.

American Golden Plover, Sennen, Cornwall (Photo: Tony Mills)

Stilt Sandpiper, Sandbach Flashes, Cheshire (Photo: anon)
An unusual multiple occurrence of Baird's Sandpipers saw two at Stoneybridge, South Uist on 10th–11th, with further juveniles at Davidstow Airfield (Cornwall) on 7th–8th, Snettisham (Norfolk) on 8th, Annagh Beach (Mayo) on 9th–11th and an adult at Ferriter's Cove (Kerry) on 5th. The adult White-rumped Sandpiper remained at East Chevington (Northumberland) to 9th, and an adult arrived on Davidstow Airfield (Cornwall) from 7th. At least fifteen Buff-breasted Sandpipers included birds at a number of traditional locations, the airfield on St. Mary's (Scilly) boasting two from 8th — as did Tacumshin and Northton, Harris, on 6th. All but a handful of perhaps 45 Pectoral Sandpipers were new arrivals — Tacumshin typically led the way with up to four birds though, significantly, three were inland at Idle Valley NR (Notts) on 5th while twos were in Devon, Cornwall, County Galway and the Outer Hebrides. Contrastingly, just a couple of Temminck's Stints were seen — in Fife and North Yorkshire.

White-rumped Sandpiper, Davidstow Airfield, Cornwall (Photo: Dave Barnes)
Seabirds included another Barolo Shearwater past the Bridges of Ross (Clare) on 7th; a Fea's-type Petrel flew past the Farne Islands (Northumberland) on 6th, with another past Helmsdale (Highland) at 17:00 on 7th later seen past Duncansby Head at 20:20. With conditions a little more unsettled than the previous week, seawatching in the North Sea proved somewhat better, although still some way off vintage — nevertheless, numbers of Long-tailed Skuas increased considerably and there also several Sabine's Gulls thrown into the mix. Six Great Shearwaters passed Kilcummin Head (Mayo) on 10th.

Sabine's Gull, The Minch, Highland (Photo: Nick Davies)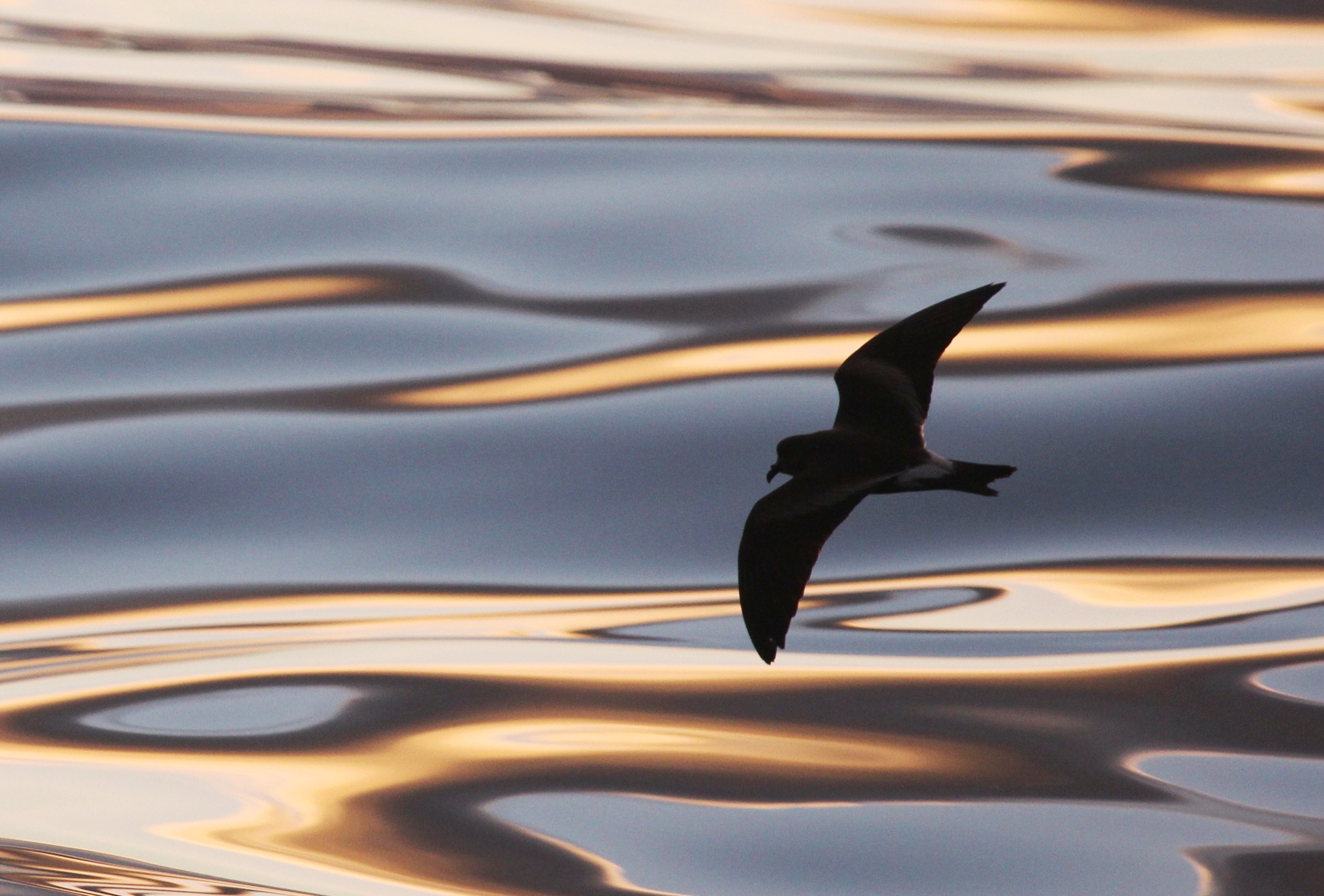 Leach's Storm-petrel, Gairloch, Highland (Photo: Nick Davies)
Way out west, the Pied-billed Grebe remained on Achill Island (Mayo), as did the drake Black Duck. A drake Blue-winged Teal was unearthed at Frankfield Loch (Clyde) from 7th, with the drake Ring-necked Duck still at Bishop Middleham (Durham) to 7th and the Lothian bird also still at Barns Ness. Two Ferruginous Ducks remained at Chew Valley Lake (Somerset), as did the Lesser Scaup at Pennington Flash (Gtr Manchester). Three Surf Scoters were off Murcar golf course (Aberdeenshire) on 8th, with the drake also still in the Sound of Taransay (Outer Hebrides) on 6th.

Lesser Scaup, Pennington Flash CP, Greater Manchester (Photo: Ivan Ellison)
A White Stork was seen to fly in off the sea at Dawlish Warren (Devon) on 11th, and continued off north inland. A Cattle Egret was at Tetney Lock (Lincs) on 7th–8th, with a Purple Heron seen flying over the M5 between junctions 19 and 20 on 8th, and a Night Heron at Amwell Nature Reserve (Herts) on 7th. Glossy Ibis remained at Durleigh Reservoir (Somerset) to 10th and again at Meare Heath on 10th–11th. Up to four Great White Egrets were at Minsmere (Suffolk).

Great White Egret, Minsmere RSPB, Suffolk (Photo: Nick Brown)
A grey-morph Gyr was reported at Brandon Point (Kerry) on 8th, as was a Black Kite over Lower Farm Gravel Pits (Berks) on 6th; another kite was photographed over Eriskay and later seen over South Uist on 11th. Snowy Owls remained on Arranmore Island (Donegal) to 6th and again on St. Kilda (Outer Hebrides) on 10th.
The productive autumn for Spotted Crakes continued, with eleven reported during the week, including new birds at Wilstone Reservoir (Herts) on 7th–9th, Lower Farm Gravel Pits on 10th and, in Kent, at Cliffe Pools on 8th–9th and the Oare Marshes on 11th.
Ring-billed Gulls were still in Highland and County Kerry, the latter also attracting a new adult to Barrow Harbour on 9th. A juvenile White-winged Black Tern at Attenborough Nature Reservoir (Notts) on 5th–9th proved confiding and also attracted journalistic attention, while another juvenile at Gormanstown Strand (Meath) on 5th was perhaps the recent County Louth bird.

White-winged Black Tern, Attenborough NR, Nottinghamshire (Photo: Tim Sexton)
Moving on to passerines, a Tawny Pipit was at Rye Harbour (E Sussex) on 5th, while the first Richard's Pipits of the autumn overflew Falmouth (Cornwall) on 7th and Wark (Northumberland) on 8th. A series of Citrine Wagtail records from Unst included a bird at Skaw on 8th–9th and flyovers at Norwick and Haroldswick on the latter date. Further birds were at Cahore (Wexford) on 7th and on St. Kilda (Outer Hebrides) on 9th, in addition to lingering birds at Virkie (Shetland) to 5th, Windmill Farm (Cornwall) on 8th and Marazion throughout. A Thrush Nightingale proved extremely elusive on Holy Island (Northumberland) on 7th, though some excellent photographs were obtained despite its secretive nature.

Citrine Wagtail, Skaw, Unst, Shetland (Photo: Mike Pennington)

Thrush Nightingale, Holy Island, Northumberland (Photo: Frank Golding)
Three Western Bonelli's Warblers were discovered this week: on Blakeney Point (Norfolk) on 6th, on Ramsey Island (Pembrokeshire) on 8th–10th and at Virkie (Shetland) on 8th–11th. Two new Arctic Warblers passed through Fair Isle on 5th and 6th, with a third at Maywick on the former date and a fourth at Baltasound, Unst, on 11th. Skaw, Unst's Greenish Warbler was last seen on 5th, while Baltasound claimed the first Yellow-browed Warbler of the autumn on 10th; another was in Wells Woods (Norfolk) the following day.

Western Bonelli's Warbler, Pool of Virkie, Mainland, Shetland (Photo: Hugh Harrop)

Arctic Warbler, Baltasound, Unst, Shetland (Photo: Brydon Thomason)
Fair Isle's long-staying Western Subalpine Warbler remained on the island throughout the week, and a Blyth's Reed Warbler was there on 7th. Marsh Warblers were on North Ronaldsay (Orkney) on 7th and at Baltasound, Unst on 11th, with a light scattering of Barred and Icterine Warblers also noted across the country. Finally, just when it seemed like being a blank year for the species, 2013's first Aquatic Warbler popped up at South Milton Ley (Devon) on 5th.

Barred Warbler, Skokholm, Pembrokeshire (Photo: Skokholm Warden)
A juvenile Woodchat Shrike was at Horsey (Norfolk) on 7th while 66 reports of Red-backed Shrikes on Bird News Extra throughout the week included several popular birds lingering on — such as those at Rottingdean (E Sussex), The Naze and West Canvey Marsh (both Essex). Of interest, a juvenile was at Dervaig, Mull (Argyll) throughout. A juvenile Rose-coloured Starling was in Lizard village (Cornwall) on 10th, while 70 Wryneck reports were disseminated on Bird News Extra.

Woodchat Shrike, Horsey, Norfolk (Photo: anon)

Red-backed Shrike, Rottingdean, East Sussex (Photo: Will Rawles)

Wryneck, Holme Dunes NWT, Norfolk (Photo: Ivan Ellison)
Of the week's Common Rosefinches, the exceptional find was a bird at Wormwood Scrubs (London) on 8th–9th. Elsewhere, it was Shetland that laid claim to the majority of records, with several multiple sightings, though the Spurn and Kilnsea area did claim at least two during the week. A new male Two-barred Crossbill was seen and photographed with Common Crossbills at Glenborrodale (Highland) during the morning of 6th, while at least five remained at Broomhead Reservoir (S Yorks) throughout.

Common Rosefinch, Whitburn Coastal Park, Durham (Photo: Andrew Kinghorn)

Two-barred Crossbill, Ardnamurchan, Highland (Photo: anon)
An impressive four Ortolans graced Portland (Dorset) on 5th, with one remaining there until 7th. Another was reported near Whitminster (Glos) on 8th and a lingering bird was on St. Mary's (Scilly) on 8th–10th. Finally, a Little Bunting arrived on Fair Isle on 10th.

Ortolan Bunting, Portland, Dorset (Photo: Carl Day)
Photo of the Week

Red-backed Shrike, Rottingdean, East Sussex (Photo: Ian Curran)
As we've acknowledged many times, there is no one attribute that determines whether an image will be popular. Less obvious is that there's no one attribute that prevents an image having wide appeal. If pushed, most people would say that the most essential prerequisite of a good bird image is sharpness. In practice, though, if the subject matter is good enough, even sharpness can be of secondary importance. A juvenile Red-backed Shrike that spent a full week around Rottingdean (E Sussex) provided the opportunity for some great portrait shots, but bird photographer Ian Curran managed something we've never seen before: a shot of a shrike catching a bee in flight! To have captured such a scene with reasonable, if not critical, sharpness is a once-in-a-lifetime achievement and has understandably seen Ian's image become our most popular image of the week. Our congratulations go to Ian for holding his nerve and recording this moment with absolutely perfect timing.

Hobby, Venus Pool NR, Shropshire (Photo: Paul Burgess)

Kingfisher, Bedlington, Northumberland (Photo: Bill Doherty)

Starling, North Wirral CP, Cheshire (Photo: David Cookson)

Osprey, Rothiemurchus, Highland (Photo: Austin Thomas)

Purple Heron, Malta (Photo: Natalino Fenech)

Ascension Frigatebird, Ascension (Photo: Jim P)

Sparrowhawk, Denmark (Photo: Morten Scheller Jensen)

Water Rail, Poland (Photo: Artur Stankiewicz)