The week at a glance
A second British first in as many weeks was the main talking point of a truly exceptional seven days across Britain and Ireland. Given their relative regularity as vagrants across Fennoscandia, two accentor species have long been considered overdue in Britain — and finally this week the wait ended as an utterly perfect-looking Siberian Accentor was discovered in a quarry on the hill just north of Scousburgh, in the south of the Shetland Mainland.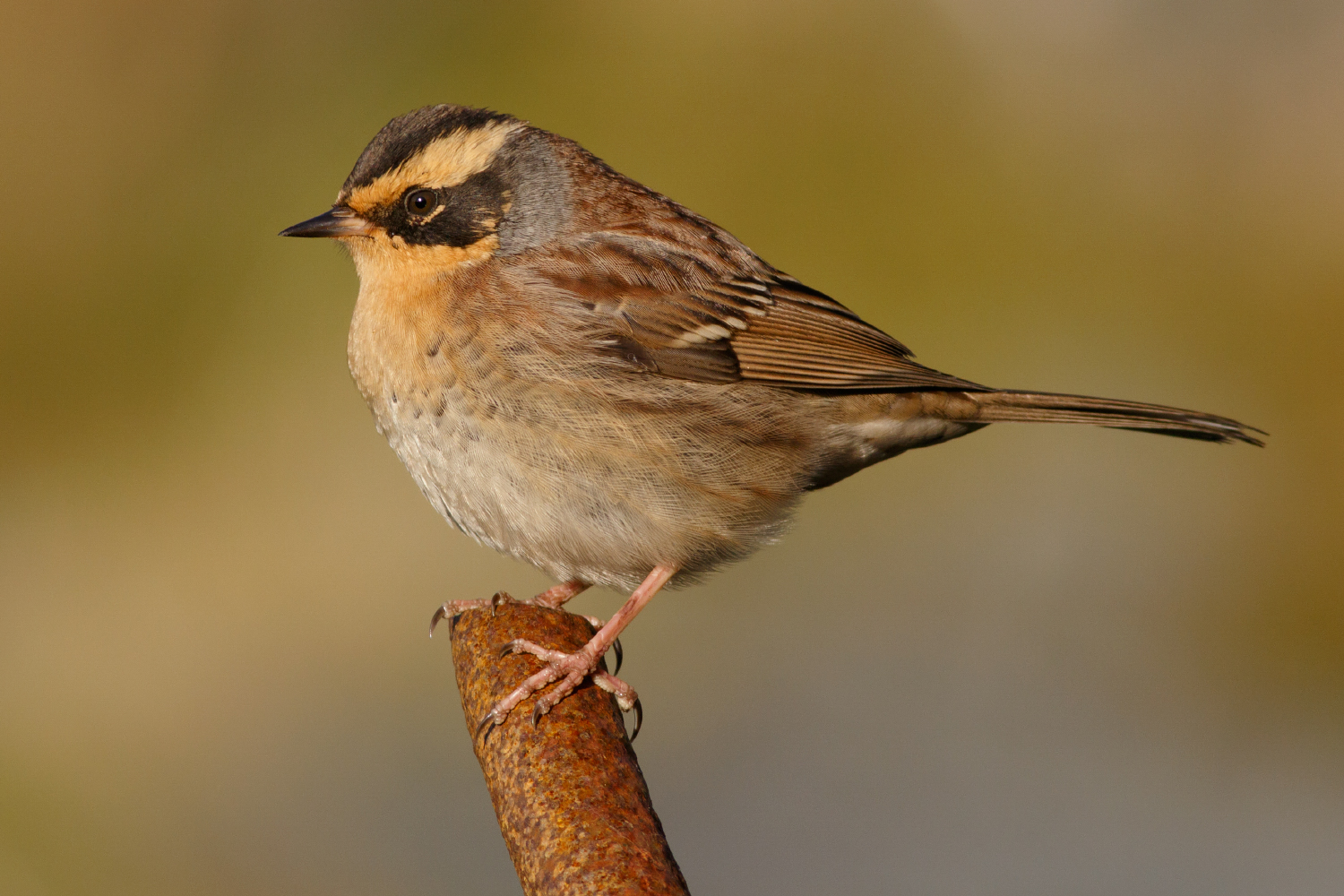 Siberian Accentor, Scousburgh, Mainland, Shetland (Photo: Josh Jones)
Showing irresistibly well after it was found in mid-afternoon on Sunday 9th, it happily lingered through a clear night and was still on show on Monday, though it had gone by Tuesday after becoming more and more mobile on the Monday afternoon. Perhaps the less expected of the two (Black-throated Accentor has been occurring more regularly in Northern Europe in recent years), it follows hot on the heels of two Finnish records — suggesting a mini-influx may be on the cards as high pressure continues to dominate and draws auspicious winds our way from, at times, far east of the Urals.

Siberian Accentor, Scousburgh, Mainland, Shetland (Photo: Mark Rayment)
The continuing Eastern Crowned Warbler was probably the week's most popular bird. Though there have been two previous accessible birds on the east coast since the first in 2009, a Far Eastern Phylloscopus such as this always sets the pulses racing and this week's bird at Bempton Cliffs, E Yorks, to 6th still drew a big crowd. Astonishingly, warbler twitchers on 5th were also treated to an immature Black-browed Albatross flying past close inshore following a radio alert from nearby Filey. The bird was also seen past Flamborough Head that morning and then was logged in Norfolk on two days — past Cley and Happisburgh on 6th and then Hunstanton, Scolt Head and Titchwell on 8th. Evidently lingering around the east coast, there's still hope that it may yet prove twitchable in the coming days. Another Black-browed was reported off Sheigra, Highland, on 7th.

Eastern Crowned Warbler, Bempton Cliffs RSPB, East Yorkshire (Photo: Craig Bell)

Black-browed Albatross, Bempton Cliffs RSPB, East Yorkshire (Photo: Dave Mansell)
On the basis of photos uploaded to the BirdGuides, website a male orphean warbler in the plantation by Loch of Benston, Shetland, on the evening of 6th appears to be a Western Orphean Warbler. A first for Shetland and potentially just the fourth hortensis for Britain if accepted as such, the bird was seen on just a couple of occasions and could not be found the next morning.

Western Orphean Warbler, Loch of Benston, Mainland, Shetland (Photo: Peter Churton)
Almost as rare was the Black-faced Bunting unearthed in a crop field at Gunnista, Bressay, on 10th. Just the sixth occurrence for Britain of this Far Eastern bunting, it proved mobile and elusive but lingered through a clear and cold night to relieve twitchers on 11th. It represents the first of its kind in Britain since a brief bird at Flamborough Head in October 2004 and will prove very popular in the coming days, should it stick.

Black-faced Bunting, Bressay, Shetland (Photo: Simon Mitchell)
It's extraordinary that birds such as Siberian Thrush and Two-barred Greenish Warbler were relegated to also-rans, yet in such a busy and rarity-filled week — we broke our all-time busiest day record twice in seven days — and with such memorable headline birds, it's quite understandable. Unfortunately the thrush, a first-winter male, was a one-evening wonder at Uyeasound, Unst, on 6th and was seen by just a few teams on Shetland's most northerly isle. The same applied to the Two-barred Greenish Warbler found on Papa Westray, Orkney, in the afternoon of 9th — gone the next morning, it was well photographed but didn't hang around to draw crowds.

Siberian Thrush, Uyeasound, Unst, Shetland (Photo: Richard Somers Cocks)

Two-barred Greenish Warbler, Papa Westray, Orkney (Photo: David Roche)
Major rarities were still being found on Tuesday, when Fair Isle picked up a female Pine Bunting — the first British record since a bird on Unst in 2011 of a species that hasn't been easily gettable in Britain since 2005.

Pine Bunting, Fair Isle, Shetland (Photo: Lee Gregory)
An apparent Stejneger's Stonechat was trapped and ringed (with samples taken for DNA analysis) at Landguard, Suffolk, on 6th. It remained until the following day and was one of three candidate stejnegeri recorded. Others were at Donna Nook, Lincs, from 6th and at Thornham, Norfolk, on 9th. Another taxon which is a strong candidate to be split by the BOU in the near future is Eastern Yellow Wagtail, and a brief bird was recorded at Brake, Shetland, on 11th, with another at Carinish, North Uist, that day.

Apparent Stejneger's Stonechat, Landguard NR, Suffolk (Photo: Will Brame)

Apparent Stejneger's Stonechat, Donna Nook, Lincolnshire (Photo: Graham Catley)

Apparent Eastern Yellow Wagtail, Carinish, North Uist, Outer Hebrides (Photo: Steve Duffield)
Excluding a couple of unconfirmed reports, we disseminated news of no fewer than 29 individual mega-rarities this week. Shetland just kept giving, with a new first-winter Brown Shrike — the third on the archipelago this autumn — at Voe from 6th, while Sanday, Orkney, claimed another example of the same species on the same day.

Brown Shrike, Voe, Mainland, Shetland (Photo: Alan Doidge)
No fewer than four White's Thrushes were logged — the stand-out occurrence being a twitchable bird on Holy Island, Northumberland, for much of the day on 5th. Others were on Fetlar on 5th and Unst on 7th, while there was late news of a bird in Kirkwall, Orkney, on 3rd. The Swainson's Thrush stayed on Fetlar all week and is presumably not going far — unfortunately it has a damaged wing.

White's Thrush, Skaw, Unst, Shetland (Photo: James Lowen)

White's Thrush, Holy Island, Northumberland (Photo: David dack)

Swainson's Thrush, Aith, Fetlar, Shetland (Photo: Ian Wells)
Other megas included the continuing Blyth's Pipit on St Mary's, Scilly, on 5th and another reported at Porthgwarra, Cornwall, on 9th. Also on Scilly the Sora remained on Tresco all week and over in Co Cork the Rose-breasted Grosbeak also continued to frequent Garinish Point to 10th.

Sora, Tresco, Isles of Scilly (Photo: Steve Young)
It's barmy that after several paragraphs we haven't got round to mentioning Co Kerry's first-ever Sharp-tailed Sandpiper, present at Carrahane Strand on 7th and 9th — significantly it was a juvenile, a plumage only very rarely seen in Western Europe. Two Semipalmated Plovers also barely got a look in, with last week's bird on Achill Island, Co Mayo, still present and another found at Ardmore, Co Galway, on 6th. It almost goes without saying that that other mega wader, the Cornish Hudsonian Whimbrel, lingered another seven days.

Sharp-tailed Sandpiper, Carrahane Strand, Kerry (Photo: Michael O'Clery)

Semipalmated Plover, Keel, Achill Island, Mayo (Photo: Dermot Breen)
It was a fantastic week for Siberian visitors. Among the now-expected multitude of Yellow-browed Warblers, which incidentally seemed to have infiltrated just about every nook and cranny of Britain and Ireland by the end of the week, there were eight Radde's, 10 Dusky and at least 30 Pallas's Warblers seen. Red-flanked Bluetail took another big step to removing itself from the list of species considered by the Rarities Committee with a fantastic 15 recorded — these included the first record for mainland Wales, at Great Orme on 10th, and the first for Northern Ireland at St John's Point, Co Down, on 8–10th.

Pallas's Warbler, Flamborough Head, East Yorkshire (Photo: Elliot Montieth)

Red-flanked Bluetail, Donna Nook, Lincolnshire (Photo: Graham Catley)

Red-flanked Bluetail, Easington, East Yorkshire (Photo: Paul Foster)
Four Arctic Warblers included one alongside the Eastern Crowned at Bempton from 6–8th; a Greenish Warbler was on Sanday, Orkney, on 8th. Nine Blyth's Reed Warblers and a couple of Booted Warblers (of the latter, the Great Orme bird was last seen on 8th) added spice and the Pechora Pipit lingered on Fair Isle all week. Four Red-throated Pipit records included one at Fleetwood, Lancs, on 11th, while Olive-backed Pipits totalled a dozen. A Black-throated Thrush, the third of the autumn, was at Nanjizal, Cornwall, on 9th.

Olive-backed Pipit, Easington, East Yorkshire (Photo: Ellis Lucas)

Booted Warbler, Great Orme, Conwy (Photo: Jaz)
Little Buntings are enjoying a bumper autumn, with birds reported from 42 sites, although numbers were much greater — flocks of two, three and even four were noted on Shetland. On the other hand just a single Rustic Bunting was reported (at Kilnsea from 6–9th) and it's looking like it could be another blank year for the declining Yellow-breasted Bunting, despite the seemingly perfect weather conditions to deliver one.

Little Bunting, Spurn YWT, East Yorkshire (Photo: Paul Leafe)

Rustic Bunting, Spurn YWT, East Yorkshire (Photo: Daniel Branch)
Other scarce migrants included at least 50 Red-breasted Flycatchers, 40+ Great Grey Shrikes, 30 Richard's Pipits, 25 Wrynecks, 20 Barred Warblers, perhaps 15 Bluethroats (the majority of which were on Shetland), a dozen Common Rosefinches and seven Red-backed Shrikes.

Red-breasted Flycatcher, Bempton Cliffs RSPB, East Yorkshire (Photo: Paul Leafe)

Great Grey Shrike, Winterton Dunes NNR, Norfolk (Photo: Andy McGuinness)

Wryneck, St Mary's, Isles of Scilly (Photo: Phil Gower)
From more southerly climes, a Tawny Pipit at Orcombe Point, Devon, on 10th is perhaps that seen back on 20 September, while Woodchat Shrikes were in Devon and at Spurn, the latter trapped and ringed on 11th. No fewer than six Short-toed Larks and 10 Ortolans were seen. Subalpine warblers were on Portland on 5th and 9th, with a showy individual entertaining birders on St Mary's, Scilly, from 9th.

Subalpine Warbler, St Mary's, Isles of Scilly (Photo: Phil Gower)
In contrast, it was not a week to remember for American landbirds. That said, Scilly bagged two Red-eyed Vireos: one on St Martin's on 5th and another on St Mary's on 10th.

Red-eyed Vireo, St Mary's, Isles of Scilly (Photo: Jim Almond)
Great Snipe were seen on Fetlar and Unst; other rare waders included Lesser Yellowlegs in Essex and Dorset, a new Long-billed Dowitcher at Oare Marshes, Kent, from 9th in addition to the continuing bird in Lincolnshire, and at least three Baird's and four Semipalmated Sandpipers. Just two Buff-breasted Sandpipers included a new bird on Shetland, while the absence of any westerly winds also ensured Pectoral Sandpipers remained in single figures (just nine were recorded).

Long-billed Dowitcher, Oare Marshes NR, Kent (Photo: Malcolm Freeman)

Baird's Sandpiper, Davidstow Airfield, Cornwall (Photo: Adrian Davey)
Scilly's first Caspian Tern, a smart adult, was an amazing record as it toured St Mary's all day on 6th and showed extremely well. Another was briefly at Penzance that evening, with a third record from Fremington Quay, Devon, on 7–8th — the latter seen alongside the long-staying Dalmatian Pelican! The Forster's Tern was still touring the coastline of eastern Ireland and was noted in both Louth and Dublin this week. An adult Bonaparte's Gull off Whitburn, Durham, on 5th may well be the returning bird, while just one Ring-billed Gull was seen (in Co Kerry).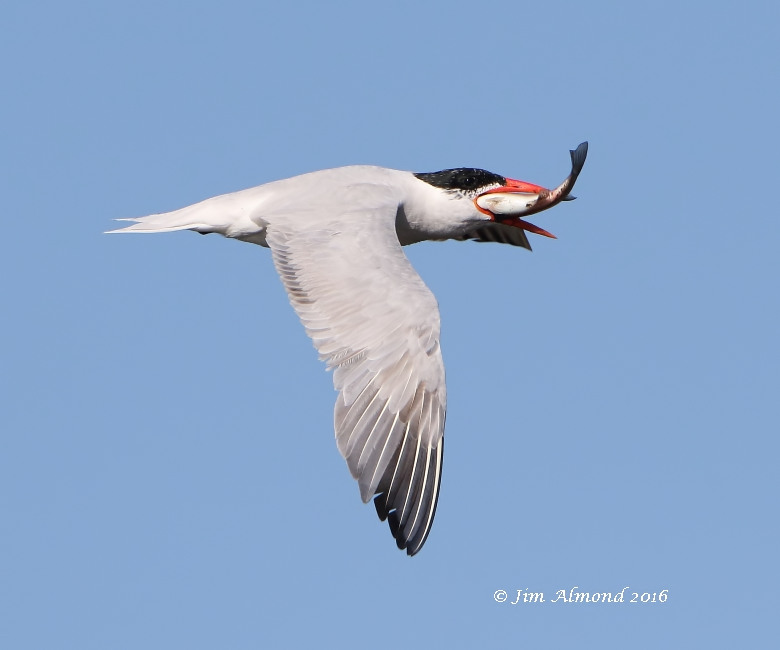 Caspian Tern, St Mary's, Isles of Scilly (Photo: Jim Almond)
As well as the ever-present American Black Duck in Highland, notable wildfowl records this week included American Wigeon on Orkney and in Lancashire, Green-winged Teal in Dumfries & Galloway, Orkney and Co Kerry, plus three Surf Scoters and a King Eider in Co Sligo. The mini-influx of Cattle Egrets continues with up to four on Cambridgeshire's Nene Washes, three together in Lancashire and two on the Isles of Scilly.

American Black Duck, Strontian, Highland (Photo: Zac Hinchcliffe)
Western Palearctic news
No fewer than nine Siberian Accentors were recorded away from Britain, with Sweden claiming five and Finland four. There were also reports of Eastern Black Redstart and Eastern Yellow Wagtail in Sweden, while Finland claimed its sixth Eastern Olivaceous Warbler at Säppi on 8th. Other juicy 'Sibes' included an Eyebrowed Thrush trapped and ringed in Vest-Agder, Norway, on 7th and Kuwait's third Amur Falcon, a juvenile, at Al-Abraq on 10th. A Pallas's Gull in eastern Germany was another reminder that this species is never far away from British shores.

Pallas's Gull, Germany (Photo: Felix Timmermann)
An Arctic Warbler near Silves is just the second for mainland Portugal, while a Mourning Dove at Lleida, Catalonia, on 5th is potentially just the second for Spain. Significant national records included Romania's first Green Warbler on 5th, Serbia's first Asian Desert Warbler on 11th and Belgium's third Pied Wheatear on 10th. A Firecrest seen briefly at Tórshavn will be the first for the Faroe Islands if accepted.

Asian Desert Warbler, Serbia (Photo: Ivan Medenica)
Records from Corvo included the continuing Canada Warbler to 7th, Yellow-billed Cuckoo on 10th plus a supporting cast that included Short-billed Dowitcher, Upland Sandpiper, Bobolink, Scarlet Tanager and Common Yellowthroat. France boasted its second Western Sandpiper of the autumn on 7th.

Canada Warbler, Azores (Photo: Mika Bruun)

Scarlet Tanager, Azores (Photo: Mika Bruun)

Yellow-billed Cuckoo, Azores (Photo: Rami Mizrachi)
Content continues after advertisements